It has been a while since we covered PLC (powerline communication) technology here, but we took the opportunity to check up on the latest and greatest in the area at CES. G.hn has been championed by the HomeGrid forum and the companies promoting them in early 2011 included Sigma Designs, Lantiq and Marvell. In fact, at CES 2011, we visited the Sigma Designs suite to see G.hn silicon in action for the first time. Lantiq had also demonstrated a G.hn chipset at the same show. Much water has flown under the bridge since then, and Lantiq seems to have quietly dropped off advertising their XWAY HNX solutions on their website. Sigma Designs is financially not doing too well, and Michael Weissman, one of their...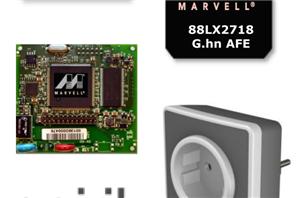 We have covered the powerline networking battle between HomePlug and HomeGrid in a lot of earlier pieces. With demonstration of working silicon at CES 2011, G.hn finally emerged from...
11
by Ganesh T S on 9/27/2011

Powerline networking products are quite popular in the European and Asian markets compared to the US. The Western Digital Livewire product was the first powerline product reviewed by AnandTech...
19
by Ganesh T S on 2/2/2011