Earlier this year, we had our first look at the GIGABYTE BRIX Pro, along with a note about further benchmarks to follow. It was our first look at the Intel Core i7-4770R, a Crystal Well part with 128 MB of eDRAM built into the package. The part was aimed squarely at making integrated graphics competetive with low-end discrete GPUs. As a direct result of this, PC manufacturers could make compact gaming units. The BRIX Pro was even distributed at the Steam Developers Conference as a Steam Machine. In our second look at the BRIX Pro, we changed the memory and storage subsystem to better reflect the expected use case. Read on for our refreshed performance evaluation results, gaming benchmarks, performance as a HTPC and...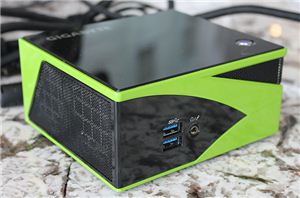 For the past 12-18 months, GIGABYTE's BRIX platform has made inroads into the small form factor ecosystem with the help of Intel's Haswell and AMD's APUs under the hood...
39
by Ian Cutress on 4/23/2014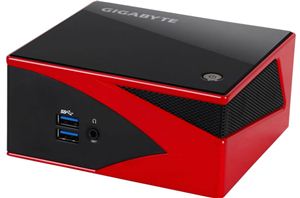 GIGABYTE's push on the BRIX has been with so much gusto it is hard to keep up with all the possible models coming to market and ones they are...
22
by Ian Cutress on 1/28/2014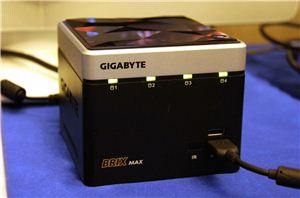 GIGABYTE is attacking the NUC sized form factor with seemingly every idea on the market. This is a good thing in a market that loves innovation. We...
25
by Ian Cutress on 1/10/2014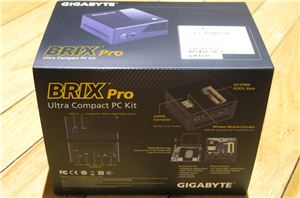 Intel's high-end Crystal Well, the Core i7-4770R, has remained out of reach for consumers despite being introduced back in June 2013. While Apple's notebooks use the mobile Crystal Well...
98
by Ganesh T S on 1/7/2014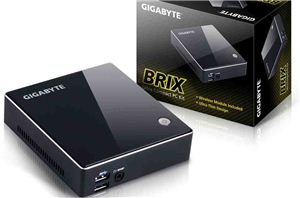 Very few products excite us enough to request the manufacturer to provide us with an engineering sample or demo model. The Intel NUC category has been particularly interesting as...
48
by Ganesh T S on 10/31/2013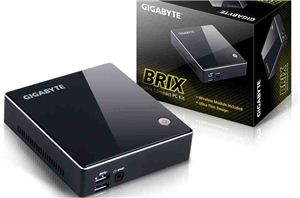 Back at Computex in June, GIGABYTE gave us a quick glimpse at future updates to their BRIX, their small form factor NUC type replacement. Today we get the...
26
by Ian Cutress on 9/7/2013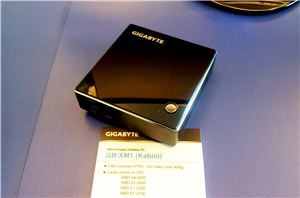 Despite Computex not officially starting yet, I am spending most of today in the Gigabyte suite. Before my booth tour I took a quick look around and a...
23
by Ian Cutress on 6/3/2013