The Servers
AMD was kind enough to send us two servers, identically configured, from Colfax. The configurations were as follows:
| | | |
| --- | --- | --- |
|   | AMD | Intel |
| Motherboard | Supermicro H8DMU+ | Supermicro X7DBE+ |
| BIOS Revision | DMU8157v3.ROM | R1.3C |
| CPU | 2 x Opteron 2350 (2.0GHz) | 2 x Xeon 5345 (2.3GHz) |
| Memory | 8GB (8 x 1GB DDR2-667) | 8GB (8 x 1GB FBDIMM-667) |
| Hard Disk | 1 x Seagate Barracuda ES (400GB) | 1 x Seagate Barracuda ES (400GB) |
| Power Supply | 700W Redundant | 700W Redundant |
| OS | Windows Server 2003 SP1, 64-bit | Windows Server 2003 SP1, 64-bit |
These are standard Socket-1207 servers, meaning they don't take advantage of the split power-planes of Barcelona. Newer motherboards (such as the one Johan used in his tests) will support split power-planes, allowing Barcelona to run its North Bridge at a higher clock frequency, thus improving memory performance. Note that our desktop benchmarks were run under Windows Vista Ultimate (32-bit). Update: AMD has confirmed that these motherboards are Socket-1207+ and thus support split power-planes. We apologize for the error.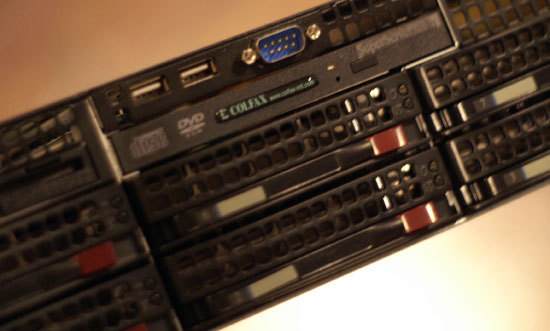 2U Colfax server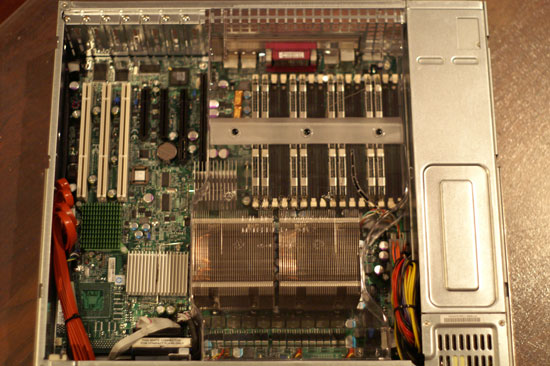 Colfax Intel Server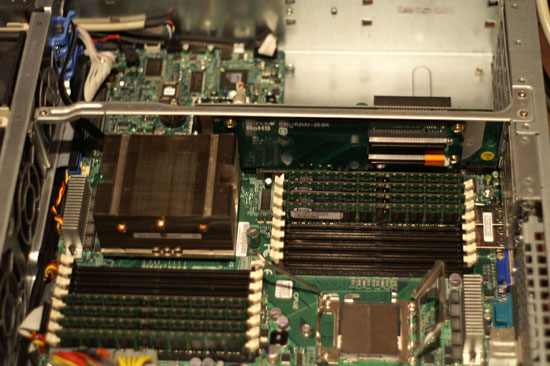 Colfax AMD Server, one CPU removed
Both systems worked just fine, but we did spend more time with the AMD system (obviously). During our testing we'd occasionally get a Hyper Transport error upon reboot, but it was intermittent and didn't interfere with our results: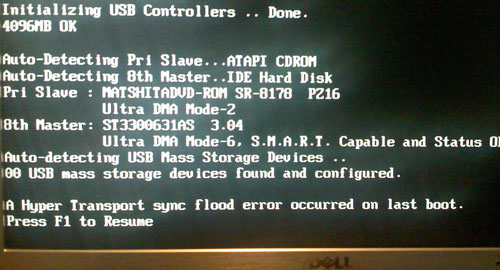 Then, at the very end (literally two hours before publication) of our benchmarking, the AMD server stopped POSTing. As of now the system will simply sit there and spin its fans without actually putting anything on the screen. A number of things could have happened, but thankfully the Barcelona system decided to die after we ran all of our tests.
The take away point here is that AMD is working as quickly as possible to push out this Barcelona release. While AMD states to expect availability as early as today, we're concerned about the maturity of these platforms. We got our test systems on Friday, if this were truly a large, widespread launch we would've had hardware long ago. Whereas everyone and their mom already has a sample of Intel's 45nm CPUs, Barcelona continues to be tough to come by and performance hasn't been anywhere near final until now.
Logistics aside, we now have final silicon in hand (and a dead server on our floor), so let's see what we can do.