Overclocking
As we mentioned in the introduction, and as we've seen in our performance tests, something to note with the 7900 GS is that it seems to be fairly good at overclocking. This is a factor that could potentially make the 7900 GS a formidable competitor to other cards in its price-range. Most of our 7900 GS's in this roundup have factory overclocks, but many users are interested in doing their own overclocking, so with this in mind, we've done some overclocking on these cards ourselves.
To get our overclocks, we use a method of gradually bumping up the clock speeds using coolbits, and then stress-testing the cards (using game benchmarks) to ensure stable operation at the highest possible clock speeds. "Stable Operation" is basically when a game benchmark runs without any tearing or graphical artifacts due to heat, and also without any lowered performance.
Every graphics card overclocks differently, and it's important to take some precautions when doing your own overclocking to avoid damaging your card. The speeds we achieved here do not necessarily reflect the exact overclock another XFX or EVGA 7900 GS owner might be able to achieve.
GeForce 7900 GS Overclocking
Manufacturer and Card
Factory Clock
User Overclock
Albatron GeForce 7900 GS
450/660
524/800
XFX GeForce 7900 GS RoHS Extreme
480/700
597/824
EVGA e-GeForce 7900 GS KO
500/690
591/812
Leadtek Winfast PX7900 GS TDH Extreme
520/700
556/790
BFG GeForce 7900 GS OC
540/660
571/751
The XFX 7900 GS was one of our cards that overclocked especially well, along with the EVGA 7900 GS KO. Two of our 7900 GS cards that came with fairly modest factory overclocks managed to achieve higher user overclocks than the others. Unfortunately, the card with the lowest factory clock, the Albatron 7900 GS, also got the lowest user overclock, which is something of a drawback for this particular card. Below are the performance results at these clock speeds.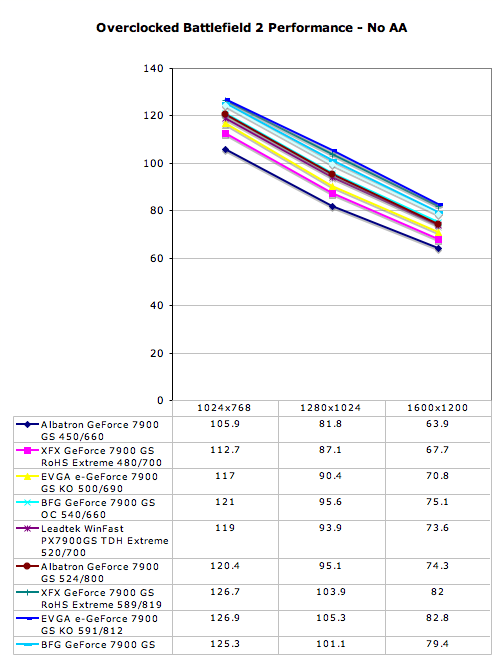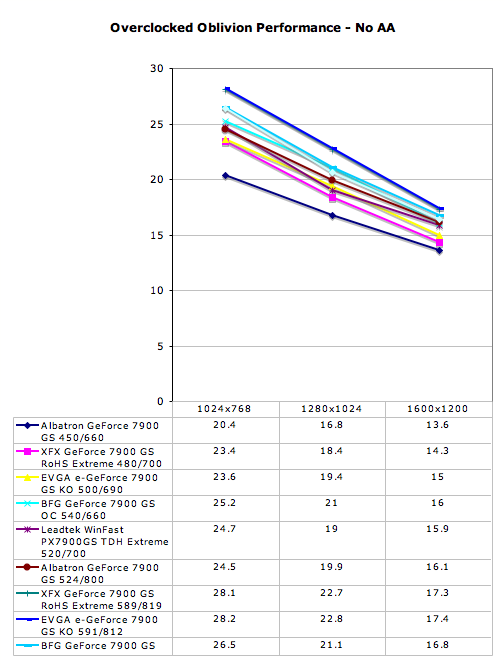 The data here shows the kind of improved performance these cards are capable of with further overclocking beyond the factory clocks. As expected, performance was the highest with the overclocked XFX and EVGA 7900 GS cards, and the improvements in framerates are impressive. In Oblivion for example, between the reference clocked Albatron 7900 GS and our user overclocked EVGA 7900 GS (591/812) at 1024x768, there is a 38% increase in performance. This kind of performance increase can mean the difference between being able to play at a higher resolution or with the quality settings turned up a little higher.
Even though the Albatron 7900 GS wasn't able to get as high of an overclock as the others, as the data shows, it still performs higher than most of the stock factory overclocked cards. Still, because there seems to be such variation between theses cards' overclocking ability, choosing the XFX or EVGA 7900 GS over the Albatron might be the best option if you plan to do your own overclocking. As we only have one sample of each card, we can't say for sure whether or not customers will be able match our overclocks or even exceed them, and as the saying goes your mileage may vary.