Original Link: http://www.anandtech.com/show/8450/gigabyte-x99-motherboard-launch-eight-models-from-x99ud3-to-g1-wifi-and-soc-force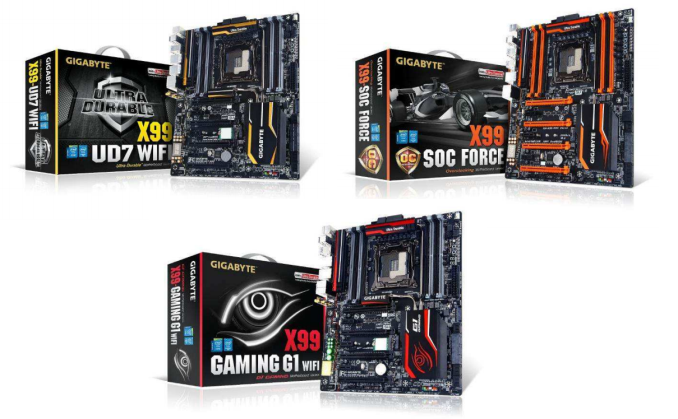 In previous generations, GIGABYTE has often been ambitious with the number of models it produces and supports. X99 is no different, so while the other manufacturers have four or five models coming through launch and September, GIGABYTE is starting with eight. These are split into three categories: Gaming, OC and Ultra Durable (aka 'channel').
The gaming line will be headed by the X99-Gaming G1 WiFi, an E-ATX motherboard aimed at four-way GPUs and as much functionality as possible. This means dual network ports (Intel + Killer), 2T2R 802.11ac WiFi, the Creative Sound Core 3D audio codec, AMP-UP audio, ten SATA 6 Gbps ports, twelve USB 3.0 ports, two M.2 ports (One 2.0 x4, one 3.0 x4), dual DAC-UP for clean USB power and the styling to complement GIGABYTE's brand of gaming graphics.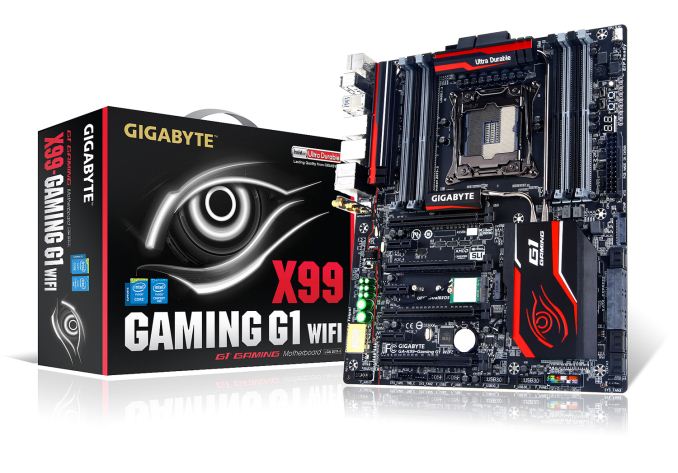 Interestingly enough GIGABYTE is going with sockets and slots with a higher gold content than standard. In previous generations we saw 15-micron gold pin connectors being advertised, however for X99 the advertising point has doubled to 30-micron. The aim of more gold in the socket and pins is to stave off corrosion in extreme environments as well as provide a path of lower resistance for signalling.
Also in the gaming line up are the Gaming 7 WiFi and the Gaming 5, which are both cut down versions of the Gaming G1. The Gaming 7 is still E-ATX but cheaper due to the lack of heatpipes connecting the heatsinks, and the Gaming 5 uses a single Killer network interface with fewer USB 3.0 ports and no WiFi connectivity.
There is only one model in the for GIGABYTE's X99 OC range so far, the X99-SOC Force. This is designed by GIGABYTE's in-house overclocker HiCookie, with help from overclockers like Sofos and Dinos22 to add in more support for extreme system builds. The SOC Force keeps the orange and black color scheme, using an Intel NIC with Realtek ALC1150 audio with AMP-UP. The main functionality for the overclocking boards is with the add-in buttons on the side allowing for easy adjustment under extreme conditions: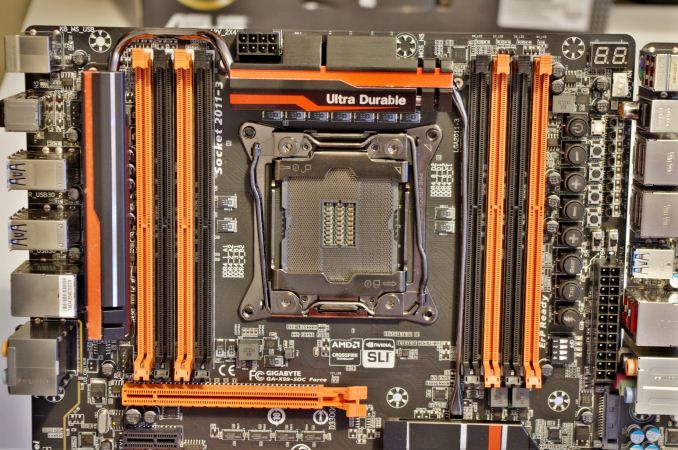 Going by HiCookie's facebook page, it would also seem that an LN2 (liquid nitrogen) version is in the works for DDR4 memory overclocking. These OC versions also include features like the 30 micron gold connectors, M.2, SATA Express and USB 3.0 support. Previous OC boards have incorporated a USB connector on the board itself, however due to the chipset SATA ports this is not possible. GIGABYTE is experimenting with a new feature to help users attach the board to the case, by expanding the clean area around the screw holes: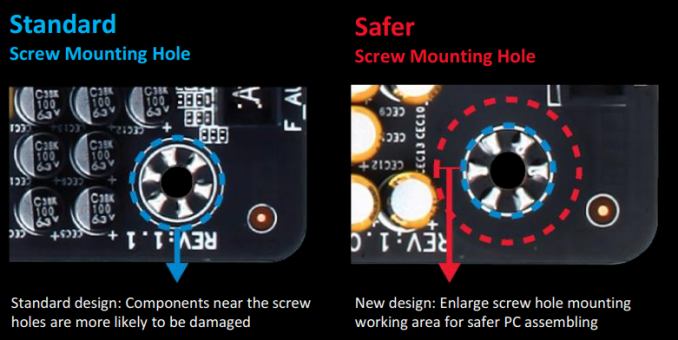 In the Ultra Durable line, GIGABYTE plan to release four models: the X99-UD7 WiFi, the UD5 WiFi, the UD4 and the UD3. As you can imagine this is a scaling from high end to low end, with the UD3 sporting single DIMM per channel but still focused on four-way gaming platforms. The WiFi models use dual Intel NICs along with 2T2R 802.11ac solutions, while the UD5/UD3 are single Intel network port enabled only. All four boards have dual M.2 and SATA Express as well as Realtek ALC1150 audio.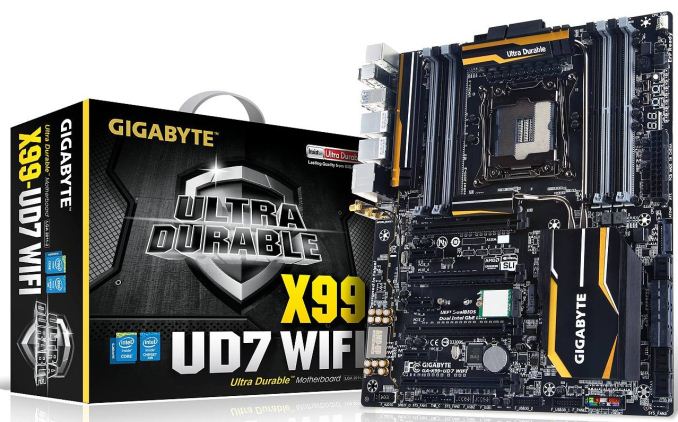 The main differences between the models will be in the WiFi/network connectivity, USB ports, heatpipe design and power delivery. All GIGABYTE models should be coming with an 'ambient LED' rear panel which causes the rear bracket to light up: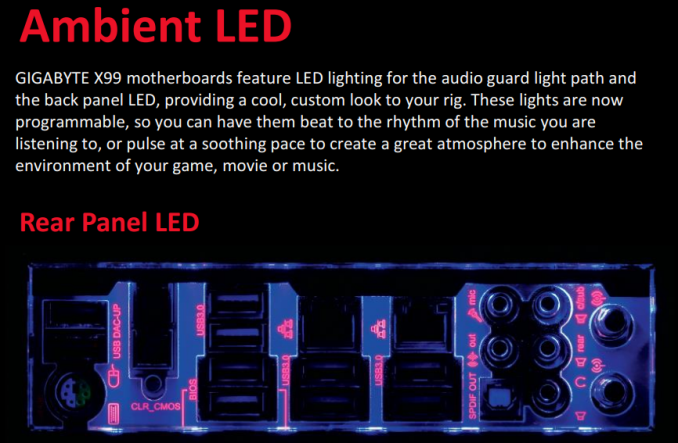 We are waiting on a full list of MSRPs for the North American market, and will update when we have the information.