Original Link: http://www.anandtech.com/show/8427/amd-fx-8370e-cpu-review-vishera-95w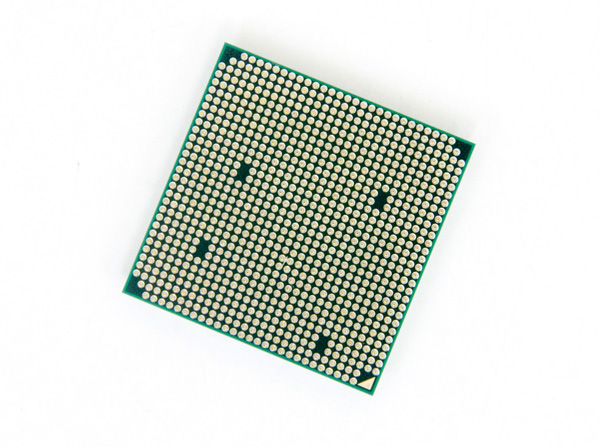 I will be honest, after AMD did not update its FX processor line using the Steamroller architecture, I was not too hopeful for the brand to see anything new in 2014. But since the start of the year the 5 GHz turbo FX-9590 has been rereleased as a consumer part and today AMD is showing it can get four Piledriver modules down to 95W with a few frequency adjustments and cherry picking the dies. This is accompanied with price cuts for the eight-thread FX parts, which AMD is aiming squarely at similarly priced Intel i5 and i3 processors.
The Information
The new CPUs being released today come in three flavors. The FX-8370 is an upgraded version of the FX-8350, giving an extra bump in clock speeds over the FX-8350 in the same 125W envelope. The other two processors, the FX-8370E and FX-8320E, carry this new 'E' designation from AMD, representing their 'energy efficient' range. For these processors, this means a four-module die with 8 threads with turbo frequencies matching their non-E counterparts but base frequencies reduced slightly.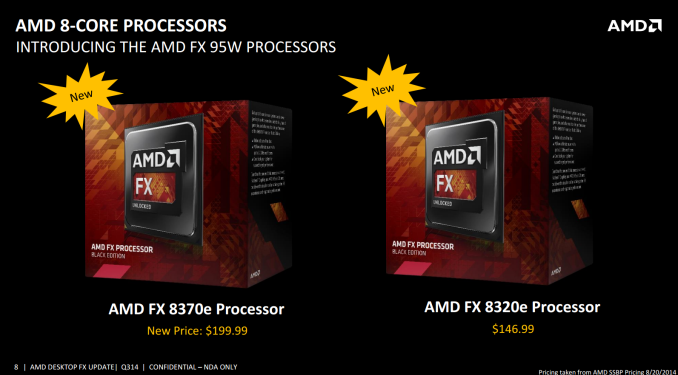 Part of this makes you wonder just how much energy is used per MHz to hit the high numbers. It only takes a relatively small drop in base frequency to net a large power gain. We saw similar things from AMD with their 65W configurable TDP Kaveri parts earlier this year.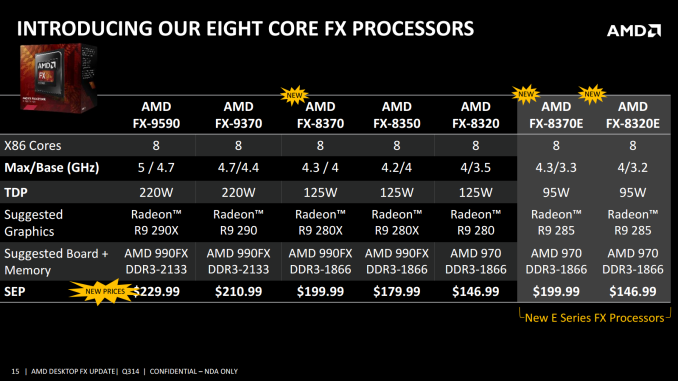 The base frequency drop does come across as a larger number than a first glance might suggest. The FX-8370E is 700 MHz lower than the FX-8370, while the FX-8320E is only 300 MHz lower. While I can imagine that 700 MHz reduces the power consumption by 30W, the 300 MHz number might indicate a better binned CPU from AMD. One of the issues AMD will have however is the Turbo mode. In the past, only specific workloads seem to cause the low thread count/high frequencies to kick in, meaning that an abnormal workload will keep the frequency low.
Also, unlike on Intel's side of the fence, the motherboard manufacturers have not embraced MultiCore Turbo on AMD with the same gusto. This is a feature that places all the cores of the CPU in its highest frequency state any time it is not idle in order to allow software to be completed faster at the expense of power consumption and some heat. While this does not affect our testing due to the way we test, it might affect the experience the user has on a day-to-day level by being down on the top turbo mode.
In terms of the processor architecture, one of the most obvious questions to ask is:
Why update the FX line with more Vishera based processors? Can't we get an update?
AMD's reasoning for these new processors, apart from the slowly increasing yields of the higher bin parts over the past year and tweaking the overall design, is because of the motherboards available on the market. Due to the construction of some of the early motherboards intended for AMD's no-IGP line, these early motherboards could only support 95W or 125W maximum, let alone the 220W of the FX-9590/9370 behemoths. By releasing an 8-thread Vishera processor with a 95W TDP, this allows these users to upgrade without spending an extra $120-$200 on a new motherboard.
With our CPU sample from AMD, we were also sent one of the newest motherboards that shows this limitation. We ran a news item on the 990FX Killer when it was first announced, and it was interesting due to its use of M.2 on 990FX. One of the items I spotted at the time on the specifications sheet was its recommended limit of processors: 125W TDP maximum. At the time (December 2013) AMD's Roy Taylor and I discussed this on Twitter. It seemed odd that new motherboards were coming out that would not support AMD's fastest CPU, even though motherboard manufacturers and AMD's partners wanted to push the FX-9590 as the top end product. To solve that conundrum, this line of E processors was launched.
At the moment, AMD's future roadmaps do not include FX processors based on new architectures, and there is no publicly disclosed new chipset, as we discussed in our recent FX-9590 review.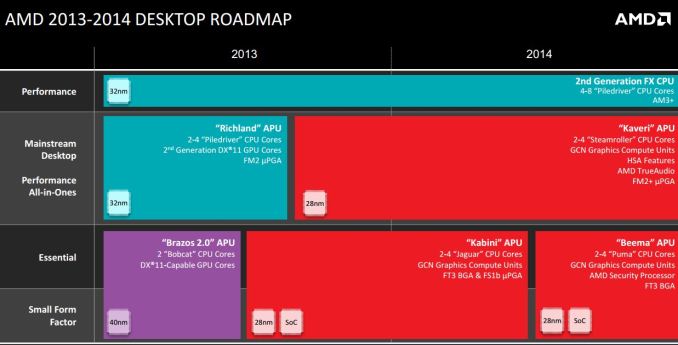 However, during the pre-briefings for these processors with AMD, one series of lines from AMD's Adam Kozak piqued my interest, regarding the future of the FX processor line. Particularly mentioned was the lack of further FX updates for the rest of 2014, however there were indications that 2015 might hold something. AMD's James Prior answered an email of mine regarding the exact wording, and aside from confirming that AMD are committed to supporting the current AM3+ lineup, one line gives hope:
"The AMD of today is funding the AMD of tomorrow by working hard to ensure the ongoing success of products like FX."
To say 'today funds tomorrow' is no big leap of the imagination, but 'ongoing success' could stress future updates for the FX line. Now that AMD has started this energy efficient nomenclature, it would make sense to sustain it and introduce it to more of its customers over time. The earliest indication is 2015 for anything slightly new, though it is currently difficult to predict exactly what would be coming. But if we take into context 'products like FX', it might imply that there are no future FX parts, or at least how we commonly recognize them.
But for now we have the energy efficient side of Vishera to test.
The CPU, The Chipset and The DRAM
While AMD is stating that the 32nm process for Vishera has been updated and tweaked over time to allow for better yields and more efficient products, they have not stated if the silicon is changed in any way. For all intents and purposes, 32nm is getting a bit long in the tooth in the land of processors – Intel's 14nm designs and second generation tri-gate transistors/FinFETs are almost upon us and 32nm is some way behind.
CPU Specification Comparison
CPU
Manufacturing Process
Cores
GPU
Transistor Count (Schematic)
Die Size
Intel Haswell-E
8C
22nm
8
N/A
2.6B
356mm2
Intel Haswell
GT2 4C
22nm
4
GT2
1.4B
177mm2
Intel Haswell
ULT GT3 2C
22nm
2
GT3
1.3B
181mm2
Intel Ivy Bridge-E
6C
22nm
6
N/A
1.86B
257mm2
Intel Ivy Bridge
4C
22nm
4
GT2
1.2B
160mm2
Intel Sandy Bridge- E 6C
32nm
6
N/A
2.27B
435mm2
Intel Sandy Bridge 4C
32nm
4
GT2
995M
216mm2
Intel Lynnfield
4C
45nm
4
N/A
774M
296mm2
AMD Trinity
4C
32nm
4
7660D
1.303B
246mm2
AMD Vishera
8C
32nm
8
N/A
1.2B
315mm2
AMD is keeping the new energy efficient CPUs in the AM3+ socket, which means the 990FX is still top of the chain. However, these new CPUs are aimed at the lower end motherboards or even the older chipsets that were not designed to cope with >95W TDPs. In AMD's briefing, they specifically called out the 700 series that supported AM3 and DDR3, although this applies to 800 series and 900 series equally.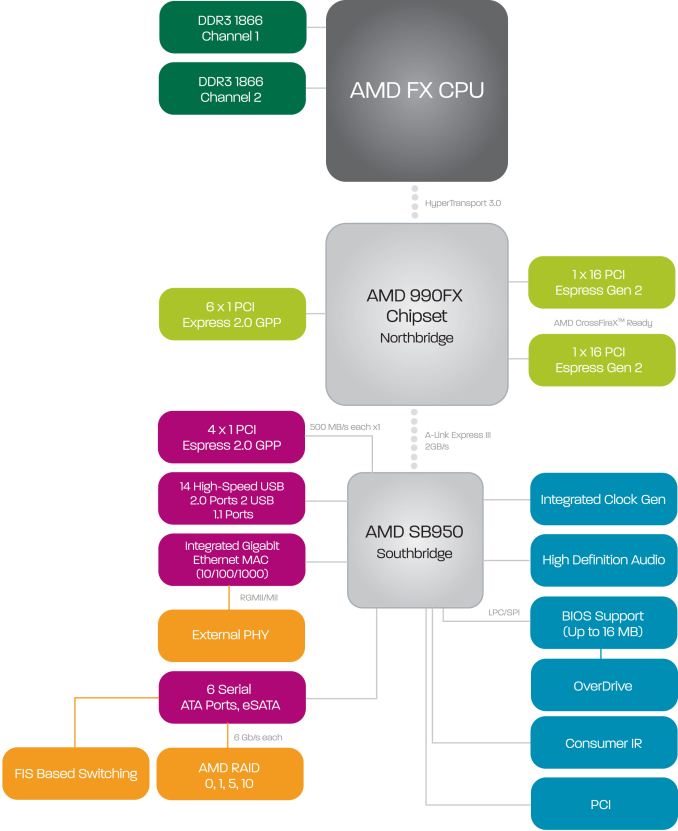 The 990FX+SB950 platform combination is still limited to PCIe 2.0 without using a PCIe 3.0 PLX chip, although the connection to the CPU in that orientation is still PCIe 2.0 - only the data between the GPUs is accelerated. Nevertheless this is still the latest platform from AMD to have SLI support, with the north bridge being able to use two PCIe 2.0 x16 slots. The south bridge gives out the IO, to which we get six SATA 6 Gbps ports that are RAID capable. No native USB 3.0 though, as this combination was introduced before USB 3.0 became a must-have feature. This is one of the common criticisms with AM3+ - it needs a chipset update. There are plenty of PCIe 2.0 x1 ports in order to use USB 3.0 controllers, however this adds cost and AMD motherboards are generally low cost to begin with. It also goes against the mantra AMD is using for the new energy efficient CPUs of keeping the motherboard.
Memory is still DDR3, with the new CPUs natively supporting DDR3-1866 MHz under JEDEC specifications. Nevertheless, in AMD's pre-brief it was stated that DDR3-2133 overclocking should be possible on almost all samples, with DDR3-2400 being a potential. Normal rules apply with DDR3: if you are buying new, buy a single kit with all the modules you need rather than two kits of the same modules. A kit is by definition only designed to work with itself, and it may be too strict on its timings to work with another kit, even if that kit is the same type. That is why four module kits often have a lower specification than a dual module kit. If the kit cannot combine with another kit at the rated settings, it can be a hard problem to diagnose. However the DDR3 market is quite mature at this stage, with plenty of options available.
Competition and Market
There are many ways in which a manufacturer can order up the competition. We could have 8-thread CPUs against 8-thread CPUs, or we could put 95W CPUs against 95W CPUs. For these processors, due to the accompanied price reduction across most of the FX desktop line, AMD is deciding to compare setups based on price.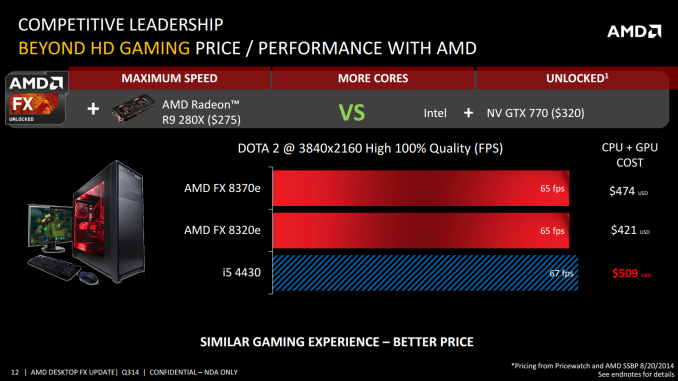 This slide AMD provided is rather amusing. It shows that an FX-8320E + R9 280X will perform similarly to an i5-4430 + GTX 770 while being $88 cheaper. This is despite the DOTA 2 benchmark being performed on a UHD monitor which would cost just as much. But then again, perhaps that extra $80 could be going on an SSD – AMD's focus over the past few years has always been oriented towards the cost effectiveness.
In real terms, the FX-8370 sits between the FX-8350 and the FX-9370, and the FX-8370E/FX-8320E are both equally priced to their non-E counterparts. The tradeoff is that for the lower TDP option, you pay a bit more compared to if we just looked at the speed.
AMD FX CPU Comparison
FX-
4350
FX-
6350
FX-
8320E
FX-
8320
FX-
8350
FX-
8370E
FX-
8370
FX-
9370
FX-
9590
Release Date
04-
2013
10-2012

09-




2014

10-2012

10- 2012
09-
2014
09-
2014
07- 2013
07- 2013
Modules
2
3
4
L1 Cache (Code)
128 KB
192 KB
256 KB
L1 Cache (Data)
64 KB
96 KB
128 KB
L2 Cache
4 MB
6 MB
8 MB
L3 Cache
8 MB
TDP
125W
95W
125W
95W
125W
220 W
Base Frequency
4200
3900
3200
3500
4000
3300
4000
4400
4700
Turbo Frequency
4300
4200
4000
4000
4200
4300
4300
4700
5000
Core Name
Vishera
Microarchitecture
Piledriver
Socket
AM3+
Memory Support
DDR3-1866
Price
$140
$140
$147
$147
$180
$200
$200
$211
$230
Unfortunately AMD's pricing is not telling the whole story. For the FX-9370 and FX-9590, that pricing is for the CPU-only version, whereas the FX-8370 and below pricing includes a boxed cooler. AMD's reasoning on this is that for users buying the 9000 series, even with the price cuts, many of them will either purchase the version with the all-in-one liquid cooler (+$80 or so), or use their own after-market cooling in order to deal with the 220W TDP.
If we do a direct comparison of the SEP of the new CPUs with prices at retail for Intel Haswell:
SEP vs Retail
CPU
TDP
Threads
US Price
(Newegg)
Core i5-4690K
88W
4
$240
FX-9590
220W
8
$230
Core i5-4690
84W
4
$225
Core i5-4670K
84W
4
$220
FX-9370
220W
8
$211
Core i5-4590S
65W
4
$200
Core i5-4590
84W
4
$200
FX-8370
125W
8
$200
FX-8370E
95W
8
$200
Core i5-4460
84W
4
$190
Core i5-4430
84W
4
$190
FX-8350
125W
8
$180
Core i3-4370
54W
4
$160
FX-8320
125W
8
$147
FX-8320E
95W
8
$147
Core i3-4350
54W
4
$145
At the high end, the FX-9590 has competition with the i5-4670K although with twice as many threads in tow. At the FX-8370 level, the pricing of both the Core i5-4590 and the S model would make for an interesting battle if we had these CPUs in to test. For the FX-8320E, we are split between two Core i3s, meaning that the i3 with two cores and HyperThreading is up against a full 8 threads from the FX-8320E. While this seems one sided, the i3's power consumption is almost half that of the FX processor. AMD is also keen to point out that all of its CPUs are unlocked for overclocking, unlike the competition where it is limited.
This Review
At this point in time AMD is currently only sampling the FX-8370E to the press, with the other CPUs to follow later this month. Due to our sample arriving only yesterday, this aims to be a quick overview of performance against other processors we have already tested. Note we only have a few from the list above, but as the new processors arrive we can aim for a more targeted punch-counterpunch scenario with overclocked testing. Our testing today encompasses the usual array of CPU and gaming benchmarks at stock speeds and official supported memory frequencies.
Test Setup
Many thanks to...
We must thank the following companies for kindly providing hardware for our test bed:
Thank you to OCZ for providing us with PSUs and SSDs.
Thank you to G.Skill for providing us with memory.
Thank you to Corsair for providing us with an AX1200i PSU and a Corsair H80i CLC.
Thank you to MSI for providing us with the NVIDIA GTX 770 Lightning GPUs.
Thank you to Rosewill for providing us with PSUs and RK-9100 keyboards.
Thank you to ASRock for providing us with some IO testing kit.
Thank you to Cooler Master for providing us with Nepton 140XL CLCs.
Load Delta Power Consumption
Power consumption was tested on the system while in a single MSI GTX 770 Lightning GPU configuration with a wall meter connected to the OCZ 1250W power supply. This power supply is Gold rated, and as I am in the UK on a 230-240 V supply, leads to ~75% efficiency under 50W and 90%+ efficiency at 250W, suitable for both idle and multi-GPU loading. This method of power reading allows us to compare the power management of the UEFI and the board to supply components with power under load, and includes typical PSU losses due to efficiency.
We take the power delta difference between idle and load as our tested value, giving an indication of the power increase from the CPU when placed under stress.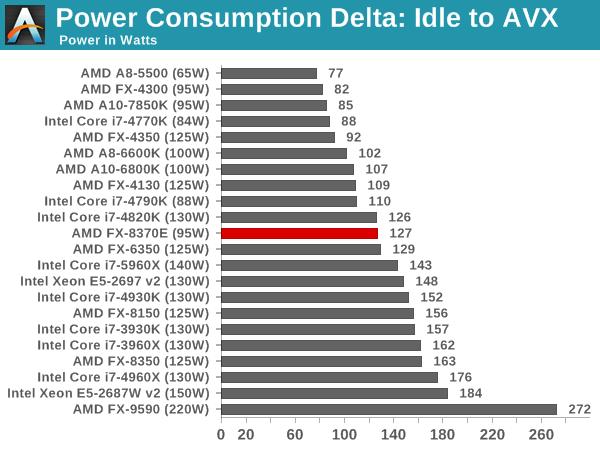 I retested our very early FX-8150/FX-8350 samples again for the power tests due to lack of data, and even though the result was very high over several tries it was consistent. Thus the power saving by comparison, switching to the efficient processors is great, but the latest AMD architectures perform best.
CPU Benchmarks
The dynamics of CPU Turbo modes, with both Intel and AMD, can cause concern during environments with a variable threaded workload. There is also an added issue of the motherboard remaining consistent, depending on how the motherboard manufacturer wants to add in their own boosting technologies over the ones that Intel would prefer they used. In order to remain consistent, we implement an OS-level unique high performance mode on all the CPUs we test which should override any motherboard manufacturer performance mode.
HandBrake v0.9.9: link
For HandBrake, we take two videos (a 2h20 640x266 DVD rip and a 10min double UHD 3840x4320 animation short) and convert them to x264 format in an MP4 container. Results are given in terms of the frames per second processed, and HandBrake uses as many threads as possible.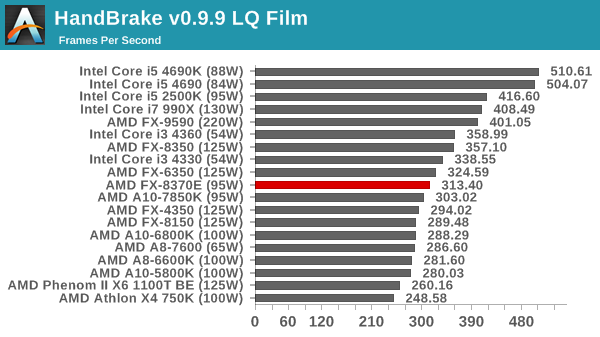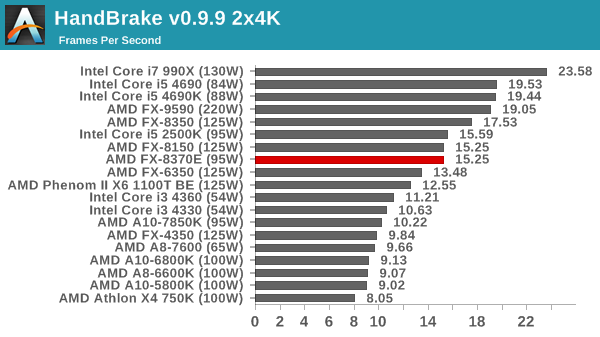 Handbrake balances cores and frequency, with the LQ film test often condensing CPUs based on frequency and the double UHD test expanding by cores. The double UHD test puts the 8370E at the bottom of the AMD 8-thread CPUs as expected.
Agisoft Photoscan – 2D to 3D Image Manipulation: link
Agisoft Photoscan creates 3D models from 2D images, a process which is very computationally expensive. The algorithm is split into four distinct phases, and different phases of the model reconstruction require either fast memory, fast IPC, more cores, or even OpenCL compute devices to hand. Agisoft supplied us with a special version of the software to script the process, where we take 50 images of a stately home and convert it into a medium quality model. This benchmark typically takes around 15-20 minutes on a high end PC on the CPU alone, with GPUs reducing the time.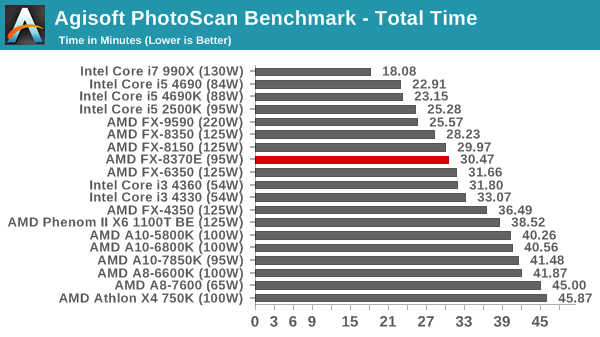 Photoscan results seem to take the following order: i7, i5, FX (8), FX (6), i3, FX (4), A10, A8. The 8370E sits at the bottom of the FX 8-thread section as before.
WinRAR 5.0.1: link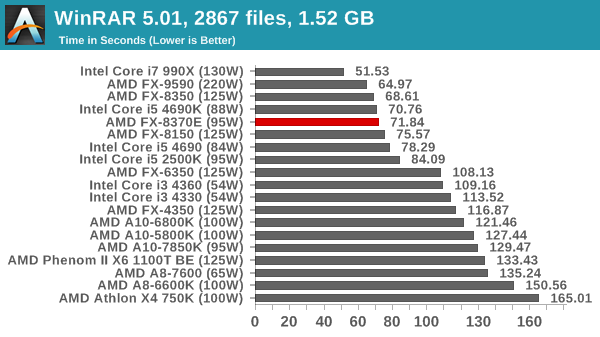 WinRAR takes advantage of all the AMD threads due to its integer workloads.
PCMark8 v2 OpenCL
A new addition to our CPU testing suite is PCMark8 v2, where we test the Work 2.0 and Creative 3.0 suites in OpenCL mode. As this test is new, we have not run it on many AMD systems yet and will do so as soon as we can.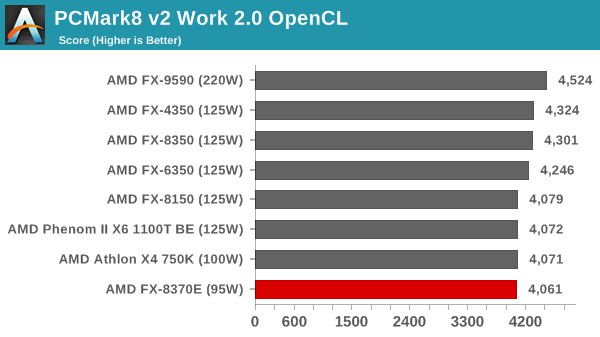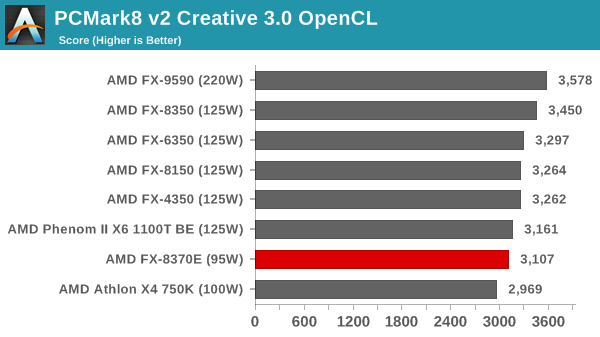 The PCMark8 tests both seem to favor frequency at this point, with the FX-9590 taking the lead.
Hybrid x265
Hybrid is a new benchmark, where we take a 4K 1500 frame video and convert it into an x265 format without audio. Results are given in frames per second.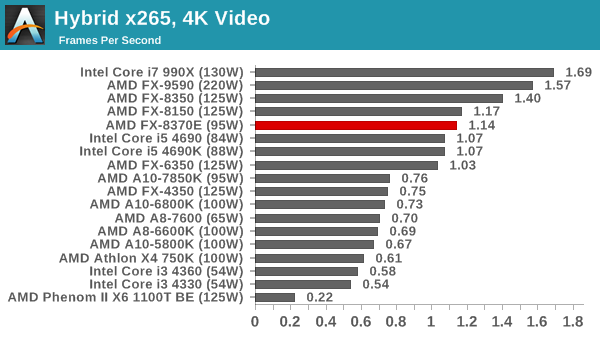 Again, more threads gives an intesting workload. The FX-8370E beats out the i5-4690K as well.
Cinebench R15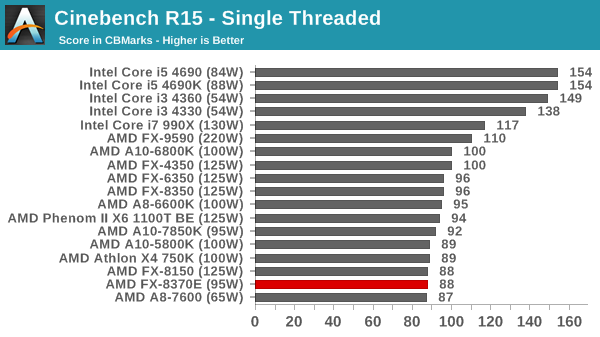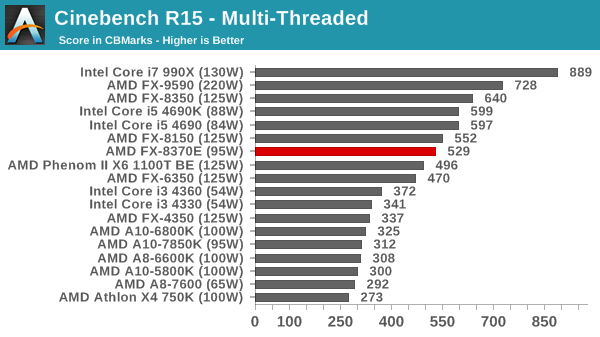 Unfortunately the Achilles heel strikes again in single threaded performance. Multithreaded puts it just behind the FX-8150.
3D Particle Movement
3DPM is a self-penned benchmark, taking basic 3D movement algorithms used in Brownian Motion simulations and testing them for speed. High floating point performance, MHz and IPC wins in the single thread version, whereas the multithread version has to handle the threads and loves more cores.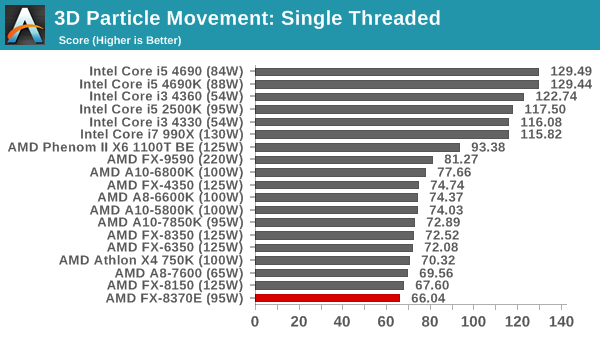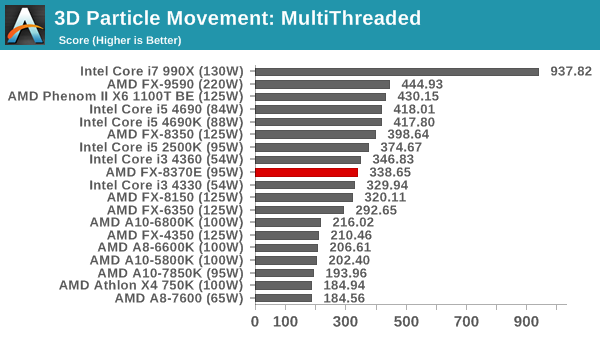 FastStone Image Viewer 4.9
FastStone is the program I use to perform quick or bulk actions on images, such as resizing, adjusting for color and cropping. In our test we take a series of 170 images in various sizes and formats and convert them all into 640x480 .gif files, maintaining the aspect ratio. FastStone does not use multithreading for this test, and results are given in seconds.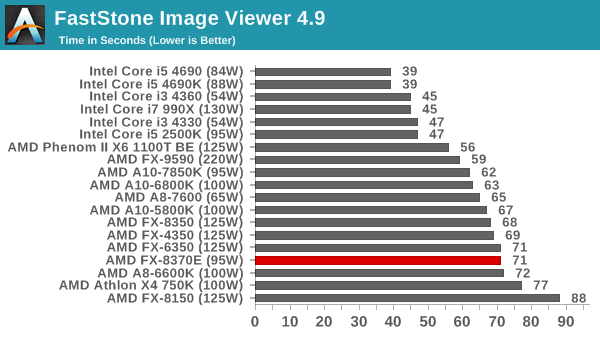 Web Benchmarks
On the lower end processors, general usability is a big factor of experience, especially as we move into the HTML5 era of web browsing. For our web benchmarks, we take four well known tests with Chrome 35 as a consistent browser.
Sunspider 1.0.2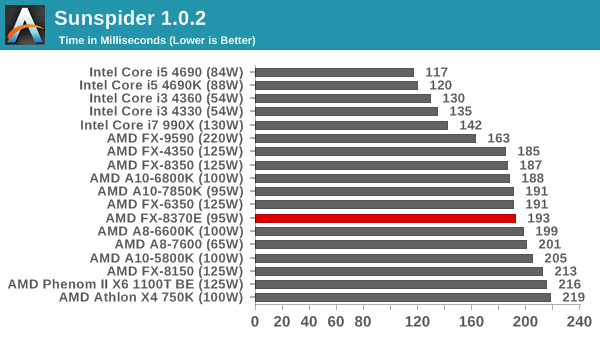 Mozilla Kraken 1.1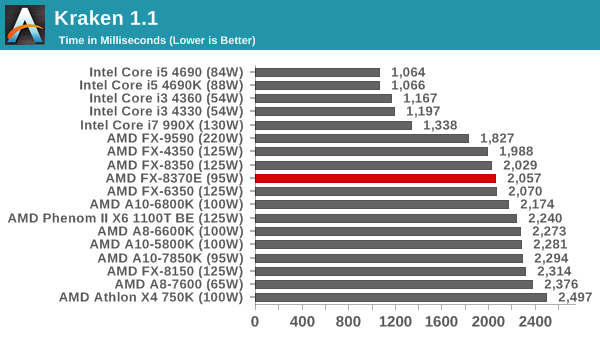 WebXPRT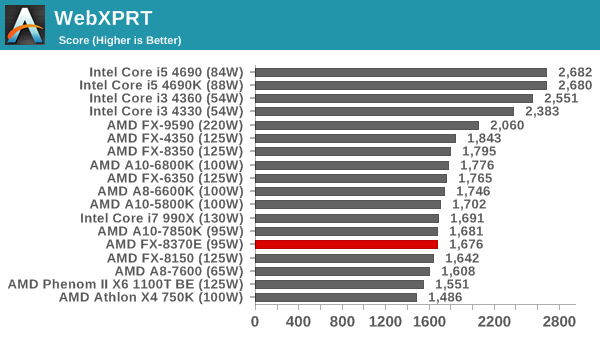 Google Octane v2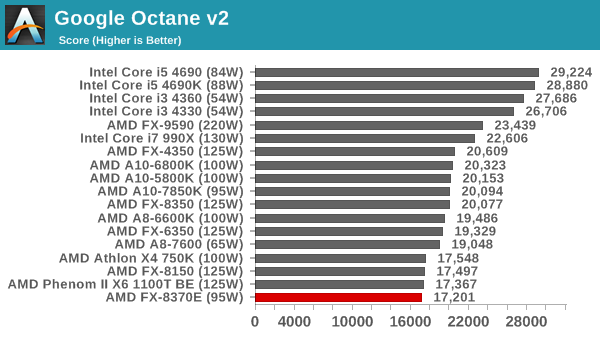 Gaming Benchmarks
F1 2013
First up is F1 2013 by Codemasters. I am a big Formula 1 fan in my spare time, and nothing makes me happier than carving up the field in a Caterham, waving to the Red Bulls as I drive by (because I play on easy and take shortcuts). F1 2013 uses the EGO Engine, and like other Codemasters games ends up being very playable on old hardware quite easily. In order to beef up the benchmark a bit, we devised the following scenario for the benchmark mode: one lap of Spa-Francorchamps in the heavy wet, the benchmark follows Jenson Button in the McLaren who starts on the grid in 22nd place, with the field made up of 11 Williams cars, 5 Marussia and 5 Caterham in that order. This puts emphasis on the CPU to handle the AI in the wet, and allows for a good amount of overtaking during the automated benchmark. We test at 1920x1080 on Ultra graphical settings.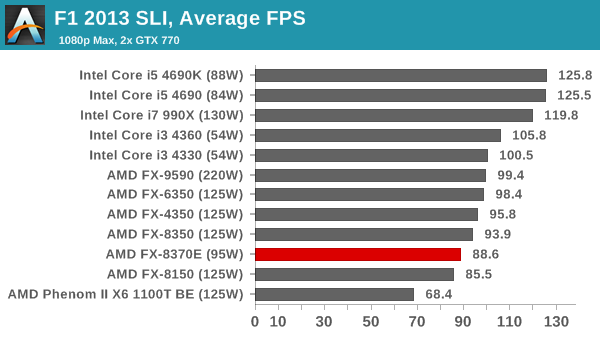 In all combinations, the 8370E and the 8150 duke it out. F1 2013 seems to be an Intel dominated title, given the i3 and outperform the FX-9590.
Bioshock Infinite
Bioshock Infinite was Zero Punctuation's Game of the Year for 2013, uses the Unreal Engine 3, and is designed to scale with both cores and graphical prowess. We test the benchmark using the Adrenaline benchmark tool and the Xtreme (1920x1080, Maximum) performance setting, noting down the average frame rates and the minimum frame rates.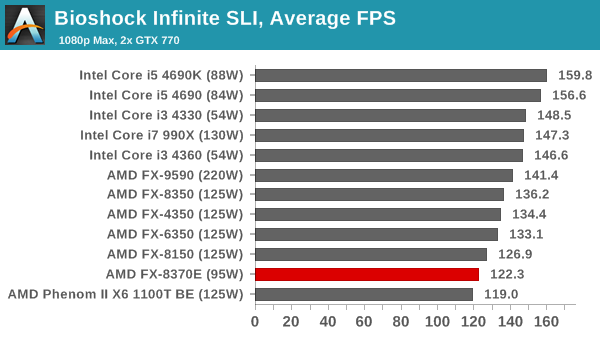 The FX-8350 again fits in just beneath the FX-8150, but for a lower power consumption.
Tomb Raider
The next benchmark in our test is Tomb Raider. Tomb Raider is an AMD optimized game, lauded for its use of TressFX creating dynamic hair to increase the immersion in game. Tomb Raider uses a modified version of the Crystal Engine, and enjoys raw horsepower. We test the benchmark using the Adrenaline benchmark tool and the Xtreme (1920x1080, Maximum) performance setting, noting down the average frame rates and the minimum frame rates.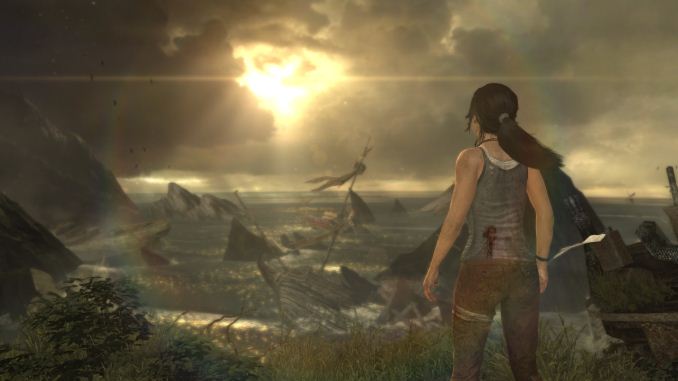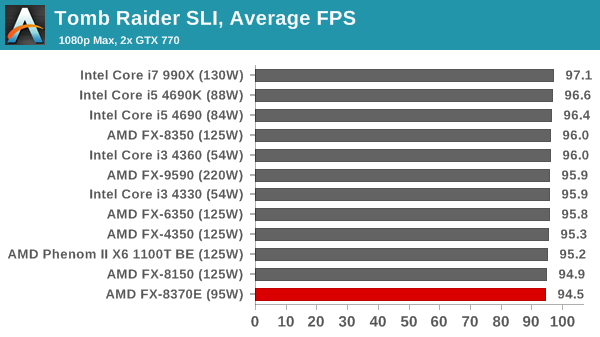 Tomb Raider continues to be CPU agnostic, even around the FX quad thread CPUs.
Sleeping Dogs
Sleeping Dogs is a benchmarking wet dream – a highly complex benchmark that can bring the toughest setup and high resolutions down into single figures. Having an extreme SSAO setting can do that, but at the right settings Sleeping Dogs is highly playable and enjoyable. We run the basic benchmark program laid out in the Adrenaline benchmark tool, and the Xtreme (1920x1080, Maximum) performance setting, noting down the average frame rates and the minimum frame rates.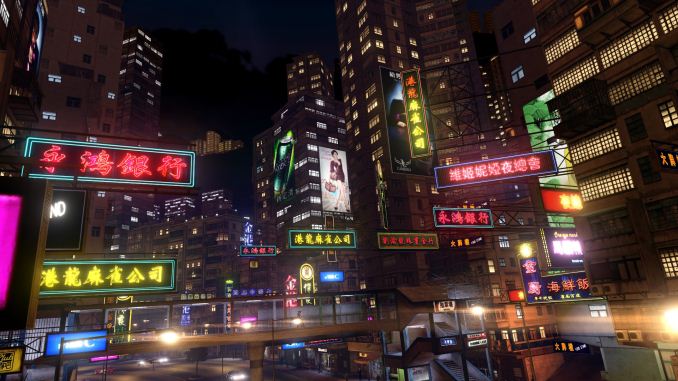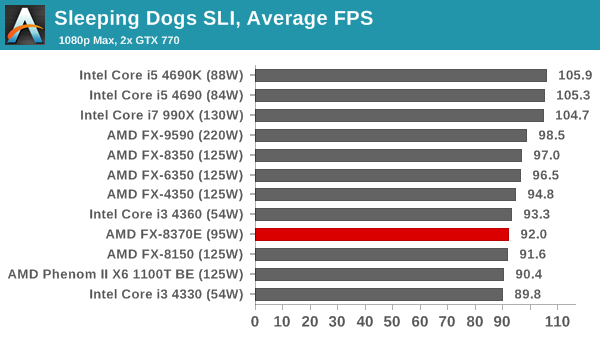 The eight threads offers some advantage in minimum frame rates, but average frame rates are still around the FX-8150.
Battlefield 4
The EA/DICE series that has taken countless hours of my life away is back for another iteration, using the Frostbite 3 engine. AMD is also piling its resources into BF4 with the new Mantle API for developers, designed to cut the time required for the CPU to dispatch commands to the graphical sub-system. For our test we use the in-game benchmarking tools and record the frame time for the first ~70 seconds of the Tashgar single player mission, which is an on-rails generation of and rendering of objects and textures. We test at 1920x1080 at Ultra settings.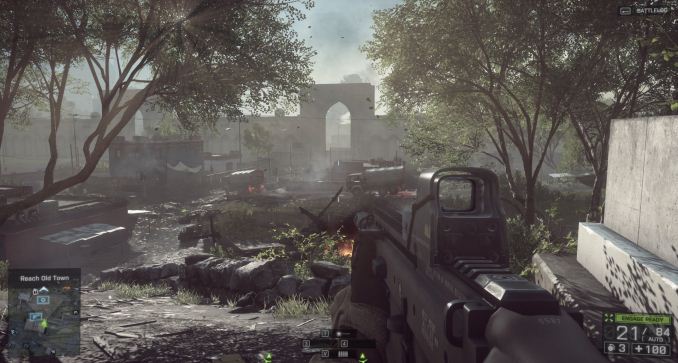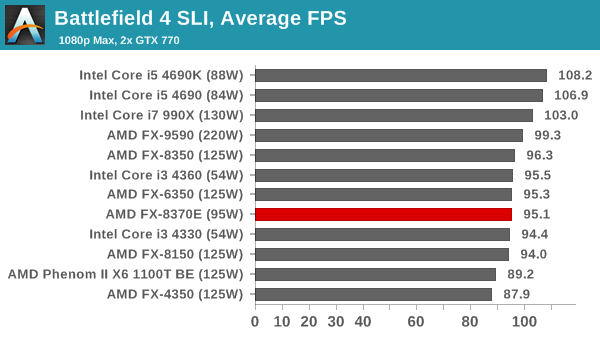 The FX-8370E stretches its legs a little in terms of minimum frame rates, particularly in SLI, however it is handily beaten by the i3-4330.
AMD FX-8370E Conclusion
Since the bygone days of the GHz wars, energy efficiency is now a key part in any x86 CPU manufacturer handbook. When designing a CPU, parts can be engineered to either be all-out guns blazing on performance, or it can strike a balance between performance and power. When AMD first announced the FX-9590, it was presumed that the Vishera architecture was the former, given the large power increase to get to 5 GHz with turbo. That same principle comes across in these new energy efficient processors, especially when the FX-8370E is 700 MHz less than the FX-8370 it tries to emulate for a 30W decrease.
Trying to have an energy efficient part of an architecture that loves high frequency at the expense of power is an odd scenario, one borne from the initial production of motherboards that supported these processors. When there were only 95W and 125W CPUs to worry about, motherboards were made to only cope with this setting, until 220W CPUs hit the ecosystem. These 95W parts allow AMD to offer an upgrade path to an 8-thread machine without replacing the motherboard. The fact that AMD is going this far might suggest they have some strong data that a user would more likely replace a CPU than a motherboard. Admittedly replacing a CPU usually requires a BIOS update or less, whereas upgrading a motherboard is a bigger ordeal.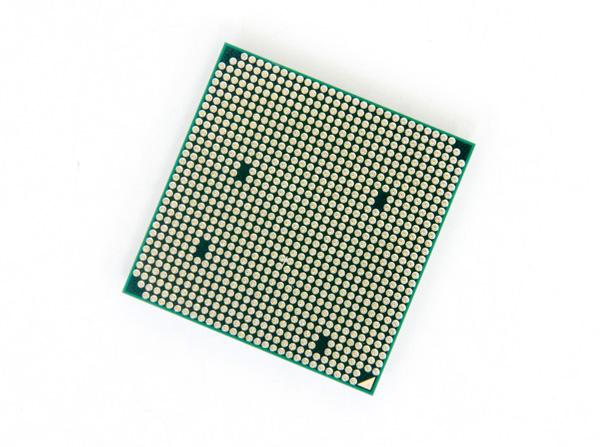 In terms of absolute performance, the FX-8370E sits somewhere between the FX-6350, FX-8150 and FX-8350. The multi-core performance puts it ahead of the FX-6350 CPU, but the single core performance can juggle around with all three, sometimes between the FX-8150 and FX-8350 due to the generational gap but often on par with the FX-8150. The same goes with gaming, where it competed with the FX-8150 near the bottom of our charts. The new FX-8370, the non-E part, should come out a clear winner over the FX-8350, so it stands to reason that the FX-8370E sits below them both due to the base frequency difference.
For competition against Intel, the nearest sets of numbers we have are the i3-4330, i3-4360 and the i5-4690, positioned well below and above the price point respectively. Intel wins hands down on the single threaded performance, even against the FX-9590, although having access to 8 threads on the FX-8000/9000 series is becoming more important for tasks like compression, multi-threaded web browsing and media creation.
AMD's ideal scenario is a gamer using a combination of an FX-8370E ($200) with, for example, an MSI 970 Gaming motherboard ($90) and an R9 285 GPU ($250). Altogether this would cost around $540 for the start of an 8-thread system. This will do fine in gaming at 1080p, and the parallel to draw is that this performs the same as an FX-8150, but at lower power. It is a shame that the FX-8150 came out in October 2011, and nearly three years later we are saving only 30 watts of TDP (24%) and $45 on release price difference (18%) for the same performance on what should be the flagship line for a major x86 manufacturer.
At the end of the day, AMD needs to upgrade the architecture (and the chipset). At some point the architectures of the FX and APU line either need to diverge their separate ways, or there needs to be a hard earned reconciliation attempt to find a node and a manufacturing process suitable for both low power graphics cores and high frequency processor cores. We know about AMD's plans for 2016, dealing with ARM and x86, and the announcements on K12 so far point to AMD targeting servers, embedded markets and ultra low power client devices. Here's hoping desktop side gets a good boost.