Original Link: http://www.anandtech.com/show/8410/msi-gs60-ghost-pro-3k-review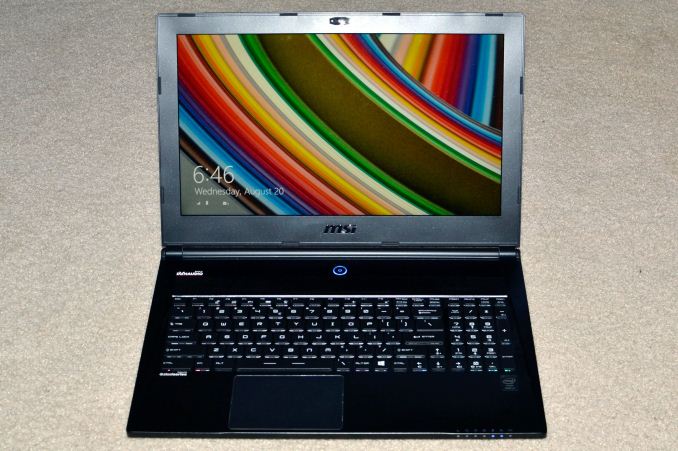 MSI GS60 Ghost Pro 3K Introduction
MSI has several lines of gaming notebooks catering to different types of users. In the past few months we've looked at MSI's top-of-the-line GT70, equipped with NVIDIA's GTX 880M GPU. While that's a great notebook for those who want performance first, the GE60 delivers decent performance in a smaller and less expensive chassis. Somewhere in between those two options sits the GS line of MSI notebooks, and today we have the updated GS60 on our test bench.
As usual, MSI has a few models of GS60 available, with GPUs ranging from the GTX 850M through the GTX 870M. The system we received is near the top of the product stack and includes the HiDPI 3K display along with an i7-4710HQ processor and GTX 870M GPU. This will round out our look at NVIDIA's current high-end mobile GPU options and show us where GTX 870M falls compared to the bigger 880M and the Maxwell-based 860M.
Perhaps more noteworthy with the GS line is that while many elements of the overall design are similar to the GE and GT models – they all have the same multi-colored backlit SteelSeries keyboard for instance – the GS line is slimmer and lighter, thanks in part to ditching the optical drive (RIP, DVD-RW). The GS series also sports a full aluminum chassis on the top and bottom, which gives it much more of a premium feel. Here's what we received for review:
MSI GS60 2PE Ghost Pro 3K Specifications
Processor
Intel Core i7-4710HQ
(Quad-core 2.4-3.4GHz, 6MB L3, 22nm, 47W)
Chipset
HM87
Memory
2x8GB DDR3L-1600 (Max 2x8GB)
Graphics
GeForce GTX 870M 3GB GDDR5
(1344 cores, 941MHz + Boost 2.0, 5GHz GDDR5)

Intel HD Graphics 4600
(20 EUs at 400-1200MHz)
Display
15.6" Glossy IPS 16:9 3K (2880x1620)
(Panasonic VVX16T029D00)
Storage
256GB SSD (2x Kingston RBU-SNS8100S3128GD SuperRAID)
1TB HDD (HGST HTS721010A9E630)
Optical Drive
N/A
Networking
802.11ac WiFi (Intel Dual-Band Wireless-AC 7260)
(2x2:2 866Mbps capable)
Bluetooth 4.0 (Intel)
Gigabit Ethernet (Killer e2200)
Audio
Realtek HD ALC892
Stereo Speakers
Headphone and microphone jacks
Battery/Power
6-cell, 52Wh
150W Max AC Adapter
Front Side
Activity LEDs
Left Side
Headphone and mic jacks
2 x USB 3.0
AC Power Connection
Kensington Lock
Exhaust vent
Right Side
1 x USB 3.0 (Sleep Charging)
Flash Reader (SDXC/SDHC)
1 x HDMI
1 x Mini-DisplayPort
Gigabit Ethernet
Exhaust vent
Back Side
Exhaust vent
Operating System
Windows 8.1 64-bit
Dimensions
15.35" x 10.47" x 0.78" (WxDxH)
(390mm x 266mm x 19.9mm)
Weight
4.31 lbs (1.96kg)
Extras
1080p FHD Webcam
103-Key 3-Zone Colored Backlighting Keyboard
Pricing
Starting at $1991 Online
$2048 as configured
The core features of the GS60 are similar to the GE60 we looked at, except it includes a 256GB SSD array for the OS and applications, it has 16GB of memory, and of course there's the 3K display. It's definitely an attractive system, and if you're more interested in an anti-glare 1080p display you can save about $300 (and lose 4GB RAM and half the SSD storage in the process). The feature set is good, with everything you'd want from a modern PC, including dual-band 802.11ac WiFi. Performance should also be good for gaming or other tasks, though it's worth noting that driving the 3K panel at native resolution in games is likely to prove difficult for even a GTX 880M, let alone the lesser GTX 870M.
The SSD configuration is a bit of a letdown, as MSI is still utilizing two M.2 SATA SSDs in RAID 0 (a single PCIe M.2 SSD could potentially outperform this configuration), but it certainly gets the job done. My only real complaint with the SSDs is that I'd like to see MSI go up to a 512GB configuration, drop the HDD, and hopefully increase battery capacity at the same time. That's something Dell offers with the XPS 15, and we're fast approaching the days where I even want to have a 2.5" HDD bay in a laptop; I'd rather have a good 512GB SSD and more battery life, though others may disagree.
MSI GS60 Ghost Pro 3K: Subjective Evaluation
On paper, the GS60 Ghost Pro gets just about everything right: it has a good CPU and GPU for performance, plenty of RAM, a cutting-edge 3K display, and multi-colored zoned backlighting for the keyboard. You also get plenty of storage from the 1TB HDD with a 240GB SSD RAID set for faster OS and general application performance. But what's it like using the device on a daily basis?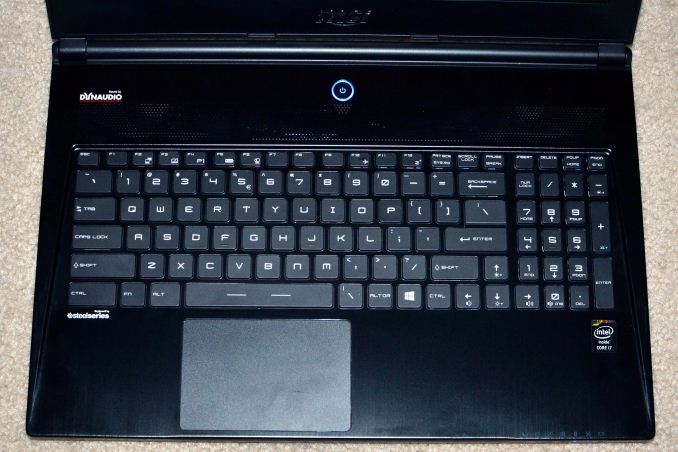 Starting with the good, the keyboard is the same as what you'll find on the GT70 and GE60 that we reviewed recently. There are some minor personal niggles (like having the Windows key on the right), but it's not a major concern. I still miss having dedicated document navigation keys (Home and End in particular), but you can remap some of the keys using the keyboard software if needed. The touchpad is the same as in the GE60, using Elan Smart Pad hardware. Again, it works well enough that I can adapt to using it, but I won't say it's the best touchpad I've ever used. Some will also dislike the placement, with the touchpad centered on the spacebar, but if you're going to have a 10-key I think this is the best way to do it. Speaker quality is okay as well – lacking in bass response, and not enough to fill a large room, but in normal use the speakers are sufficient.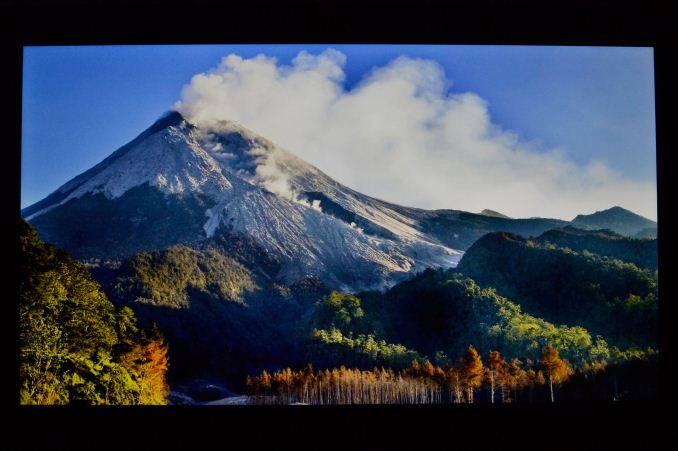 The display is where things get interesting, as MSI joins the HiDPI crowd with a 3K display (2880x1620). The out-of-box colors actually look pretty good, but oddly after calibration things seemed to get better in some ways and worse in others. The problem seems to stem from the use of an RGBW grid for the colors, which we've seen on some other HiDPI displays. It may be that our calibration software doesn't quite play right with RGBW, but the net result is that I almost prefer the out-of-box colors to the calibrated colors – and neither result is going to be acceptable for image professionals.
We could also get into the usual tangent about HiDPI and the various applications that don't work properly when you use Windows' scaling options. Humorously, when I first booted up the GS60 a notification from MSI popped up recommending I use 100% scaling. I suppose some people might be able to use a 15.6" 3K display at native resolution with no scaling, but I'm not one of them! I'm still more inclined to go with a good 1080p display over 3K for a laptop, though the 3K displays definitely look nice in the Windows Modern UI, and as a whole the 3K (and 4K) panels at least mean you won't get saddled with a low-end TN panel.
Build quality is definitely better than on the GE60, which is great to see, but the LCD cover is still a bit less rigid than I would like and the hinges could be stiffer as well. Compared to the GT and GE lines, however, the overall aesthetic is much improved, with a thinner chassis and more premium materials. It's a solid design overall, with perhaps the MSI Dragon Army logo on the LCD cover being a bit too "in-your-face" for some users. Cooling vents this time consist of left and right exhaust ports with two fans handling the CPU and GPU. The system can still get pretty warm under a heavy load (e.g. gaming), but if you're gaming you're probably using a mouse with the laptop on a hard surface, so it's less of a concern.
Unfortunately, there's still one other area to discuss, and once more MSI falls short, this time with the GS60: battery life. The GE60 didn't do very well, managing about 4.5 hours in our Light battery test; the GS60 (probably thanks to the 3K display) does even worse, mustering just 3.5 hours of useful battery life (and dropping down 2.5 hours in heavier workloads). I really prefer upwards of seven hours, which is something I've seen from other Haswell laptops like the Dell XPS 15 (over 9 hours, though granted that's with a much larger 91Wh battery). And that's really a good comparison point.
Dell is willing to offer you a higher build quality and what I would consider a better display, but you'll pay more for the privilege and you also get a substantially slower GT 750M graphics solution. In contrast, MSI will sell you a system with a faster graphics solution but lower overall build quality, with less than half the battery life. For gaming, I'd certainly say the MSI GS60 is the better notebook, but I really wish they could come a bit closer to the feel of the XPS 15. Ditch the hard drive, go with a 512GB or larger SSD configuration, and use increase battery capacity by at least 50%; then add in some BIOS/firmware tuning to improve battery life and we'd be golden. In the meantime, let's see just how well the current MSI GS60 Ghost performs.
MSI GS60 Ghost Pro 3K Gaming Performance
Since this is a gaming notebook, we'll start our performance overview there. It's going to be interesting seeing how the GTX 870M compares to the GTX 880M and GTX 860M; the latter was generally sufficient for my gaming needs, but we should see a decent jump in performance with the 870M. I still want a Maxwell-derived GPU to compete with 870M and 880M, but we'll probably have to wait until later this year (or early next?) for that to come.
We have our usual suite of 1366x768 Medium, 1600x900 High, and 1920x1080 Ultra (max quality with 4xAA). I won't include all of the results here but instead focus on the "Mainstream" (1600x900 with ~high settings) and "Enthusiast" (1080p maximum quality) performance. Also note that generally speaking bumping up to the native 2880x1620 resolution will require dropping to our Mainstream (High) settings – and in some cases even lower – which I'll include in the Enthusiast charts for comparison.
Mainstream Gaming Performance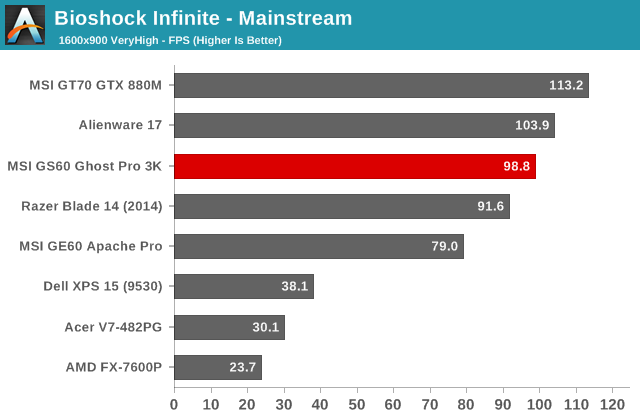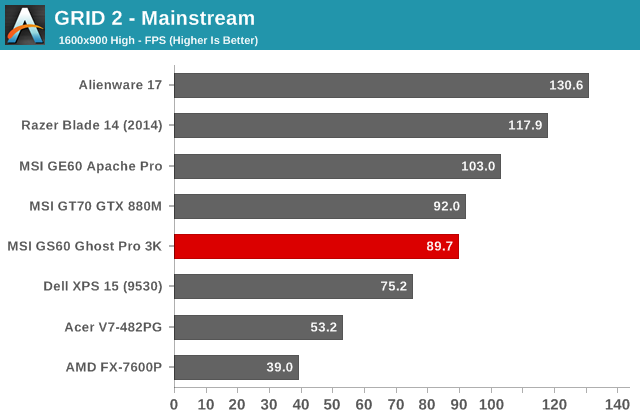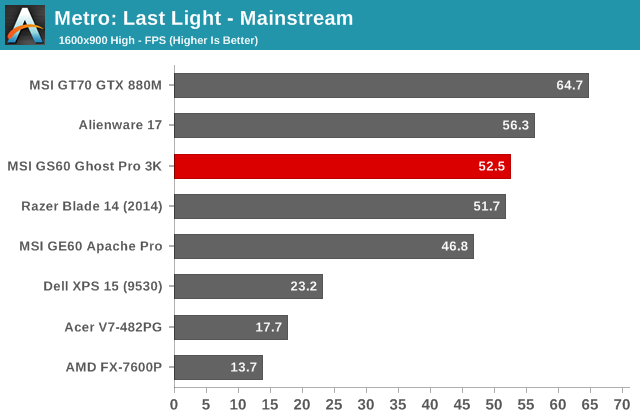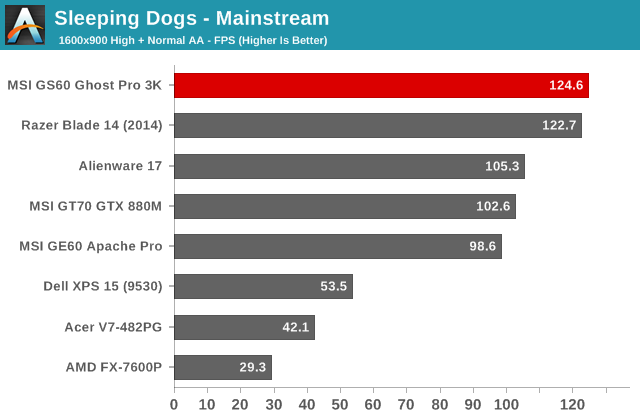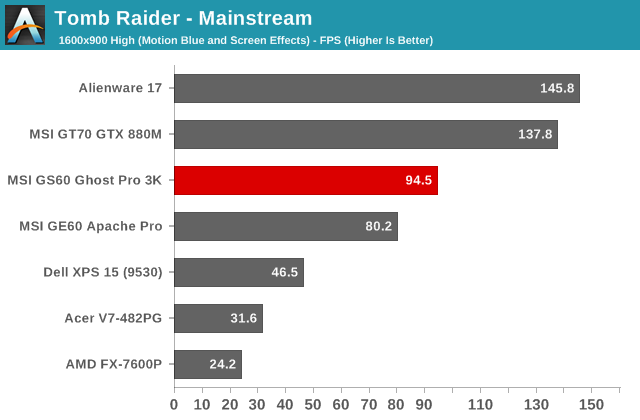 Enthusiast and 3K Gaming Performance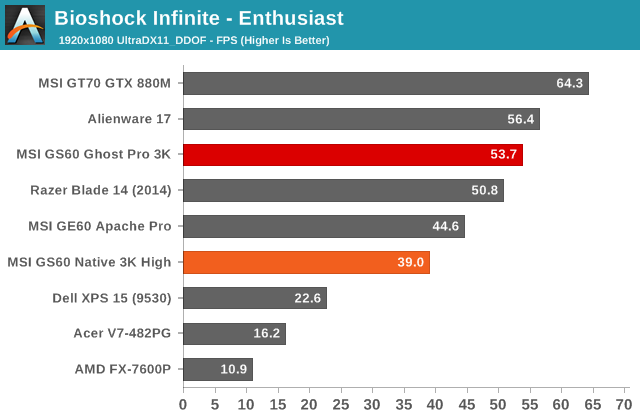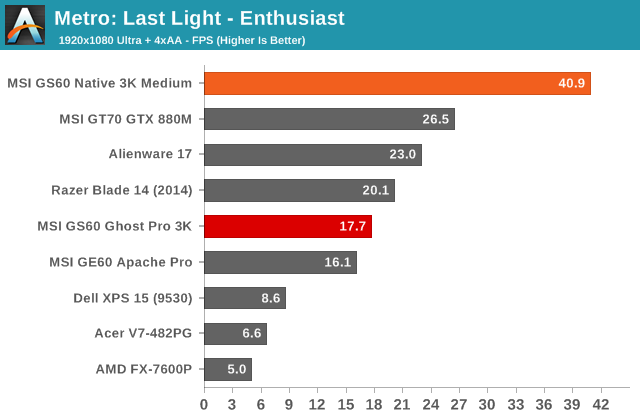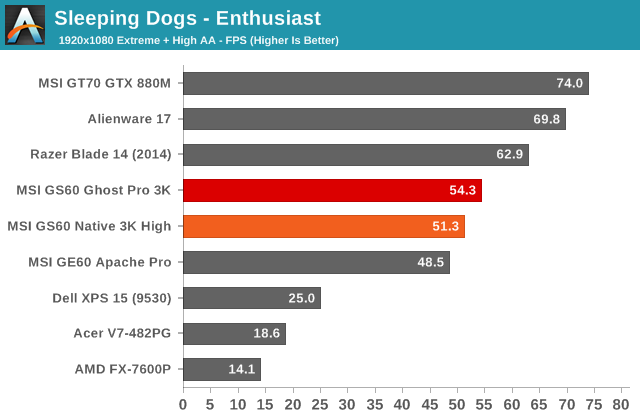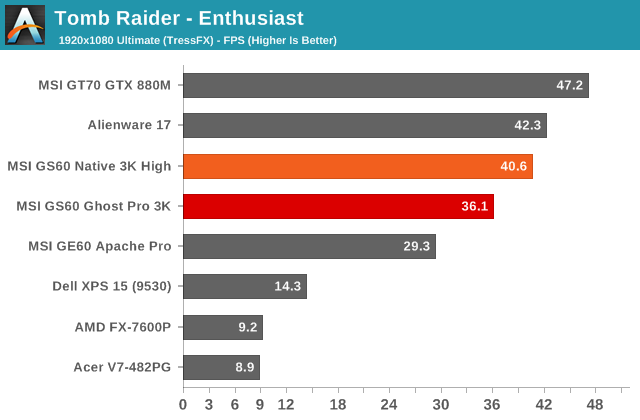 There aren't any real surprises to be found. In general, the GTX 870M is anywhere from 10% to as much as 25% faster than the GTX 860M in gaming results. While this means that 870M may be able to run certain settings while staying above 30FPS where the 860M falls short, in practice it mostly means turning off a few settings to tune the performance. Thankfully, NVIDIA does most of the dirty work for you and if you use GeForce Experience you can typically get 40+ FPS with settings that provide a good blend of image quality and performance. Unfortunately (maybe), GFE drops the screen resolution to 1920x1080, so if you want to take advantage of the native resolution you'll have to find your own balance of settings. For what it's worth, GFE tends to target slightly lower quality settings than our Enthusiast options, resulting in average frame rates closer to 50-70FPS on most titles.
Of the games we've tested, Metro: Last Light continues its reign as GPU killer, knocking performance down to sub-20 FPS rates even on a GTX 870M when we use our Enthusiast settings. Most games aren't quite so demanding, but 3K resolutions are a different matter. All of the above games can still hit 40FPS at native resolution and Mainstream (High) settings, again with the exception of Metro which needs to run at our Value settings for 3K to become playable. The graphics look super crisp at 3K, though aliasing still seems to be a problem on some games. GRID 2 in particular has aliasing problems, but even at 3K High settings the frame rates are still quite high, so enabling 4xAA fixes the problem.
Overall, GTX 870M is a potent gaming GPU, but the extra 10-25% increase in performance over GTX 860M isn't a huge deal. It uses quite a bit more power to hit the higher frame rates, which in turn yields higher temperatures, and Maxwell GPUs do have a few extra (like Compute 5.0 support). The price difference between GS60 models with GTX 860M and GTX 870M ends up being $200, with the 3K display adding an additional $100. Unfortunately, you don't get the choice between 860M and 870M with the 3K display, nor do you get a 256GB SSD configuration with 870M and a 1080p display – you have to take the entire package.
MSI GS60 Ghost Pro 3K General Performance
Where the GE60 was lacking in general performance (thanks to the lack of any SSD storage on the unit we reviewed), the GS60 has no such problems. Below you can see our results for PCMark 7 and 8, with CPU performance and WiFi results as well.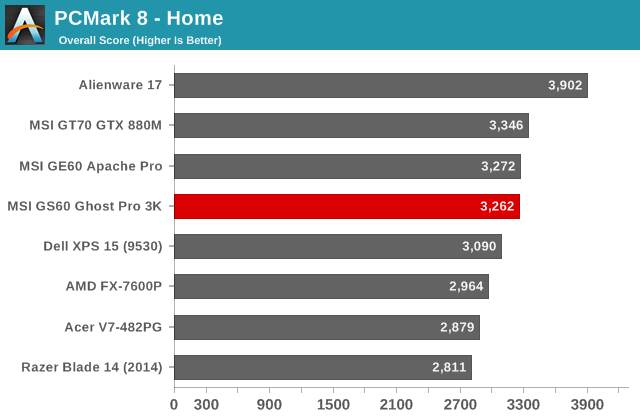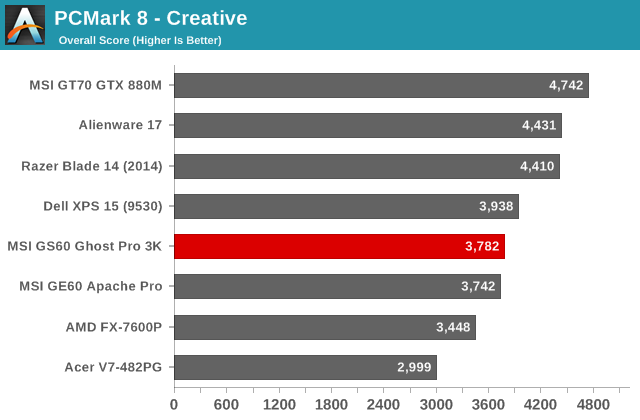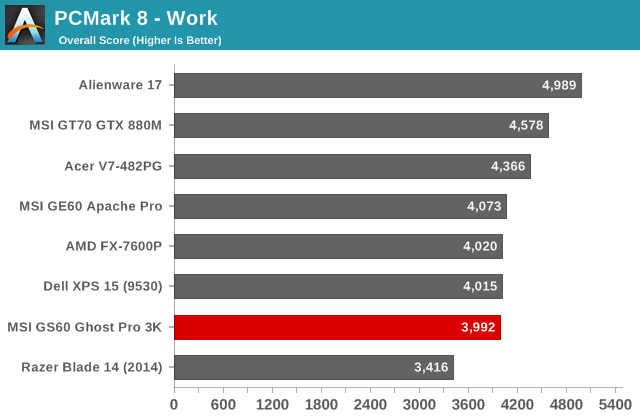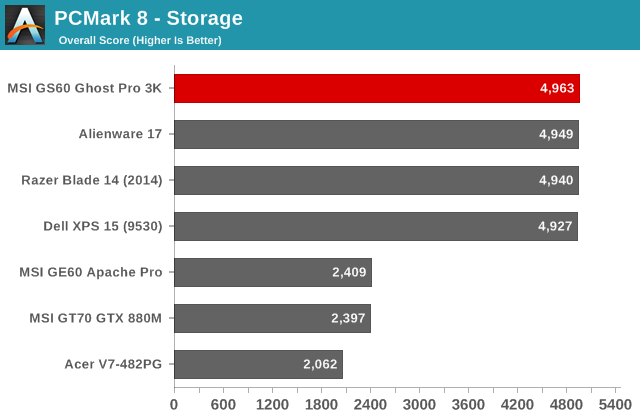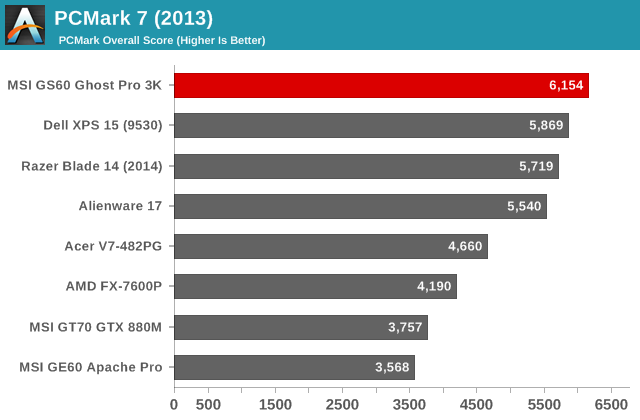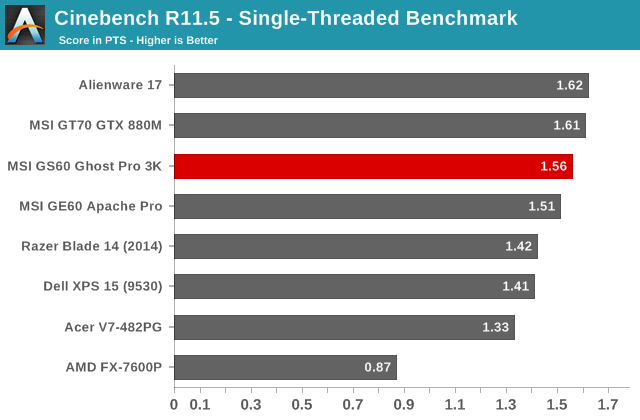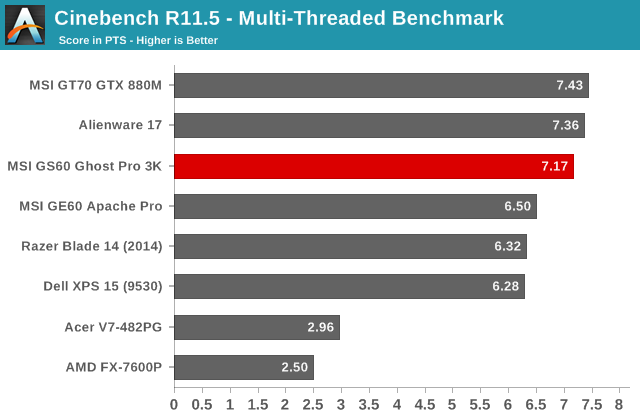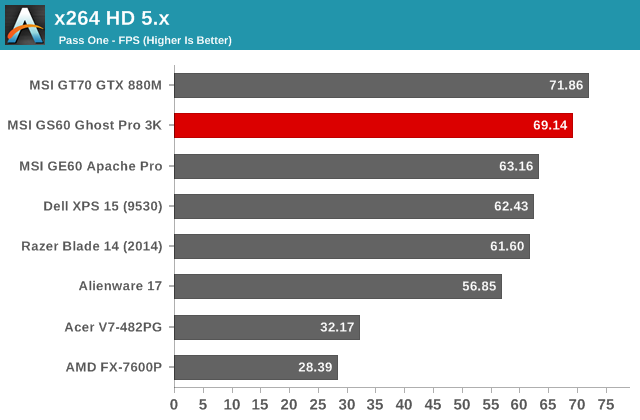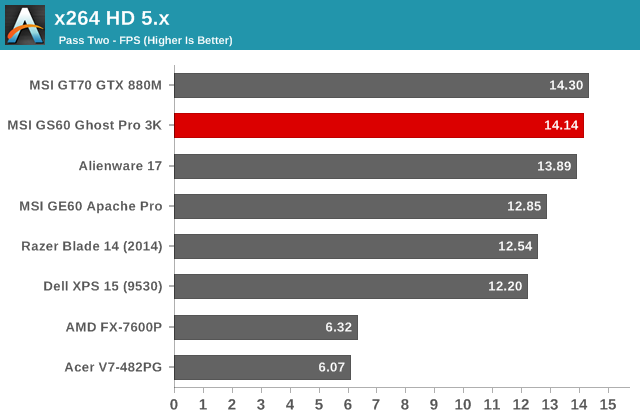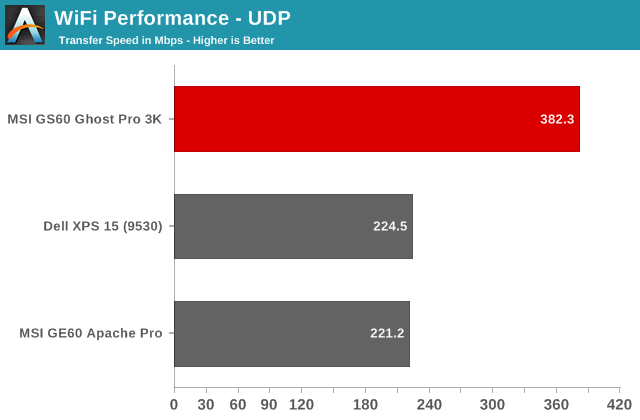 There's nothing shocking here: i7-4710HQ is a fast chip, and all the other components are up to par as well. For general use, the GS70 can handle pretty much anything you might want to throw at it. Including dual-band 802.11ac WiFi is also a plus, with transfer rates topping 380 Mbps on 5GHz connections thanks to the 2x2:2 antenna configuration. As for 3DMark, I include these charts mostly as a point of reference; it's far more useful to look at the performance of games you actually care about, but the results from 3DMark are more or less in agreement with our gaming scores.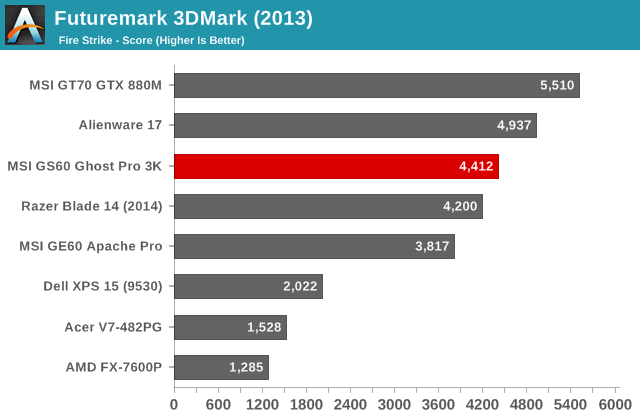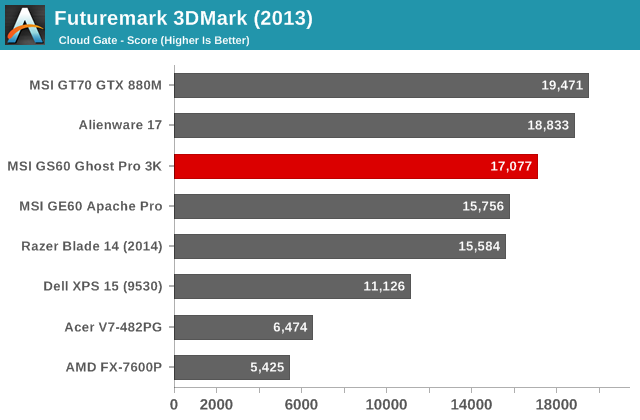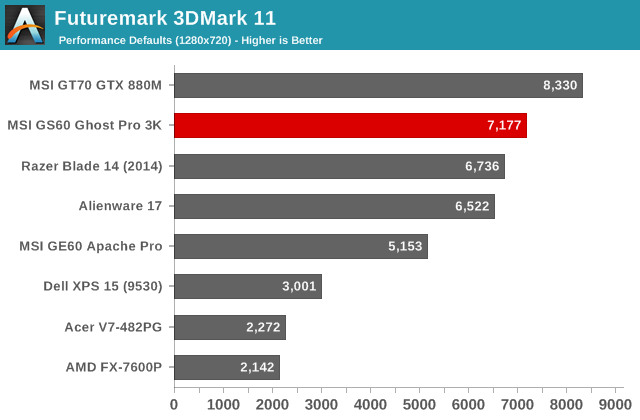 MSI GS60 Ghost Pro 3K Stress Testing
One area of performance that warrants a closer look with any gaming notebook is the question of temperatures and throttling. Simply slapping in a certain level of hardware inside a laptop isn't the same thing as truly ensuring that the hardware works as expected, and we've seen more than a few instances of notebooks that have severe throttling under sustained heavy loads. This is particularly true of the thinner class of laptops like the GS60, where cooling capacity often can't keep up with a sustained load.
While manufacturers might argue such loads are "unreasonable", it's still important that a system handle such loads gracefully. As an extreme example, dropping the CPU (or GPU) clocks to a minimum level while letting the GPU (or CPU) run at maximum clocks is generally not going to produce the best overall experience.
The ambient temperature for the stress testing is around 85F and represents a "worst case" scenario. The following graphs include temperatures and clocks using a 100% CPU + GPU stress test, a gaming workload, and a 100% CPU test. The data for the charts shows one hour of stress testing, though each test was run for at least two hours to verify that the system had reached equilibrium.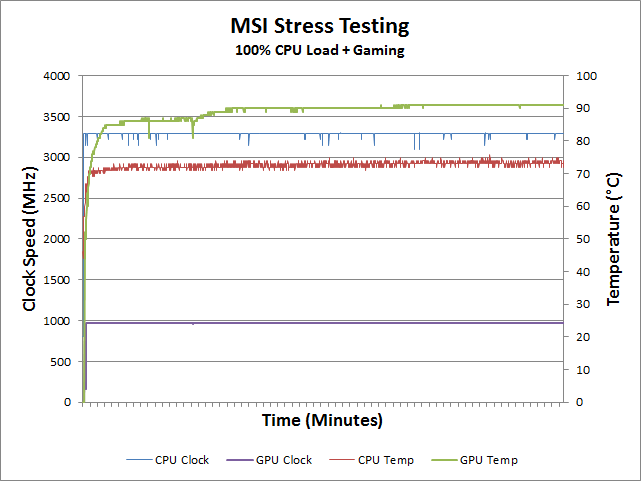 The good news is that the GS60 performed well during stress testing, and while it can get quite warm under heavy loads, that's pretty typical for when you push the CPU and/or GPU hard for a few hours – especially on thinner devices like this. Even in our worst-cast stress testing, the CPU continues merrily chugging along at 3.3GHz, which is the maximum Turbo Boost level for when all four processor cores are loaded. Meanwhile the GPU continues to run at Boost clocks of 967MHz (slightly above the rated 941MHz). Temperatures stabilize at around 90-92C for the GPU and 75C for the CPU. When compared with the bulkier MSI GE60, the thermal results are even more impressive. The GS60 is a thinner chassis and yet it still runs at higher clocks and lower temperatures compared to the GE60. Having two cooling fans certainly helps, of course.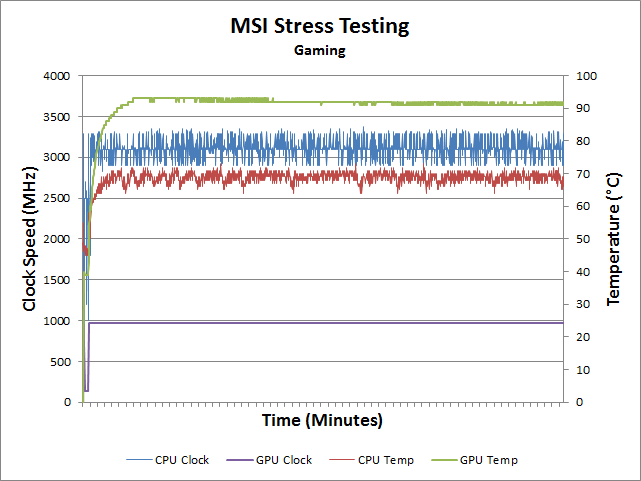 Gaming workloads aren't much different, as the system is basically hitting the same clock speeds as in the full stress test. The gaming workload has the GPU running at 967MHz once again, with the temperature hitting 90-92C. The average CPU clock across all four cores hovers between 2.9 and 3.4 GHz, though the maximum clock for an individual core is always at 3.3-3.4GHz. CPU temperatures are down slightly, sitting around 68-71C most of the time.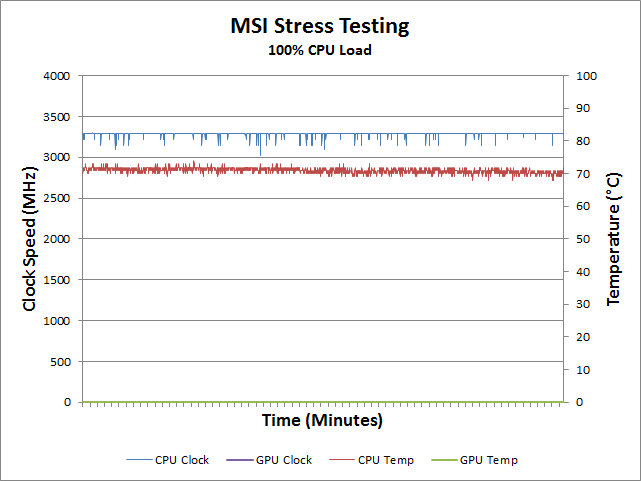 Last but not least, running a sustained 100% CPU load (e.g. video encoding or 3D rendering), the NVIDIA GPU is of course shut off so there's no GPU temperature or clock speeds to speak of. The CPU temperature is a bit higher than in the gaming test and a bit lower than in the full stress test, hovering around 69-71C with a few dips to 68C and the occasional bump to 72-73C. The CPU clocks once again are nearly static at 3.3GHz, with any fluctuations in average CPU clocks across all four cores being insignificant.
Surface Temperatures
While the core temperatures are decent compared to some other notebooks I've tested, perhaps part of the reason is that the aluminum chassis is acting as a heat sink. Let me just say that the GS60 consistently feels much warmer to the touch than the GE60. The GPU appears to be located near the back-left quadrant of the chassis, and the left vent tends to be warmer (when gaming) than the right vent.
Starting with the top of the chassis, the palm rest is thankfully reasonably cool, measuring 30-35C during testing, but the keyboard can be a bit warm at 32-40C. The back is only a few degrees higher, measuring 33-42C, again with the middle and left being warmer than the right third. But it's the bottom where you really feel the temperatures, at least if you're resting the GS60 on your lap.
The front third (under the palm rest) is again the coolest area, measuring between 32C at the corners to 45C in the middle section closer to the center. The middle third (underneath the keyboard area) ranges from 37C on the edges to as high as 61C near the back/middle. The back portion actually has felt pads, presumably to prevent you from scorching your skin, and the temperatures on the left and middle thirds measure 49-71C! The hottest spot is right between the left and middle thirds, at the intake vent. The right third of the back portion is actually quite a bit cooler, measuring only 38-55C, though that can still feel a bit warm.
While the stress testing was done in a warmer environment, the surface temperatures were taken with an ambient temperature of 25C (75F), so there's certainly potential for the system to run even hotter. On the other hand, if you're not running a game and are just using the GS60 as a normal laptop, surface temperatures drop substantially. Running our heavy battery life test, for example, the hottest spot I could find on the surface of the laptop is only 32C, which is actually right around skin temperature. Considering most people are going to be gaming with the laptop on a table or a desk, the high surface temperatures on the bottom aren't all that critical in my opinion, but if you like playing games with your notebook sitting on your lap, you'll probably want to avoid high performance systems with a metal chassis on the bottom.
MSI GS60 Ghost Pro 3K Battery Life
As I mentioned already, battery life is the one area where the GS60 doesn't do well. I keep waiting for someone to deliver a Haswell gaming notebook with a GTX class GPU that can still reach 8+ hours of battery life for light workloads, but I have yet to encounter such a system. The GE60 also had pretty mediocre battery life, and the GS60 with the 3K display does even worse. The finer dot pitch of HiDPI displays means you need a more powerful backlight to push the same level of light through, if nothing else, and it's possible that running at a higher resolution with 150% scaling is also playing a role. Regardless, battery life for a modern laptop is pretty weak, even for one with a 52Wh battery.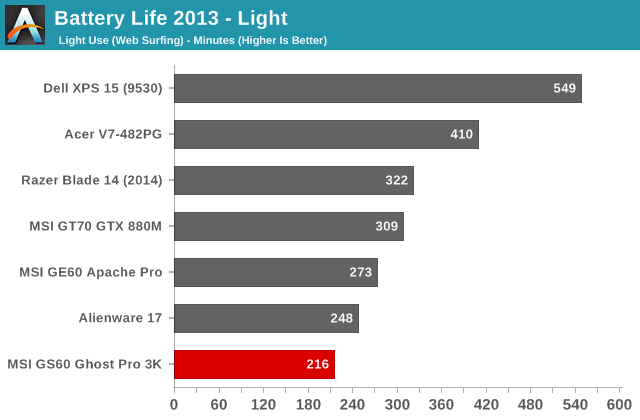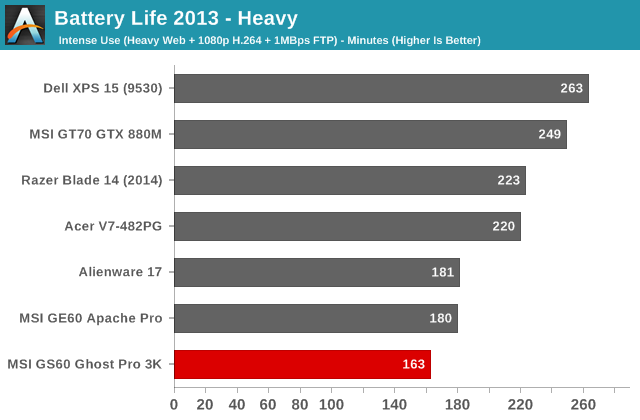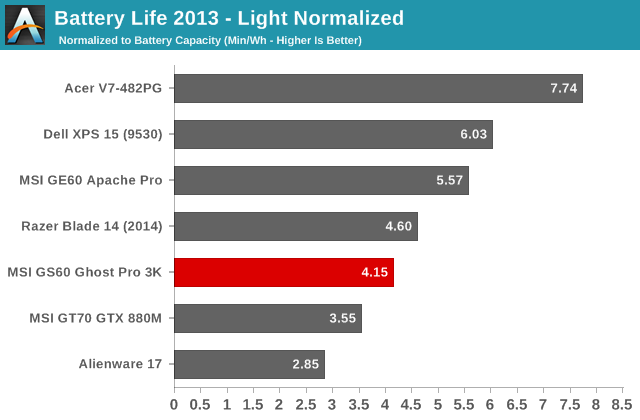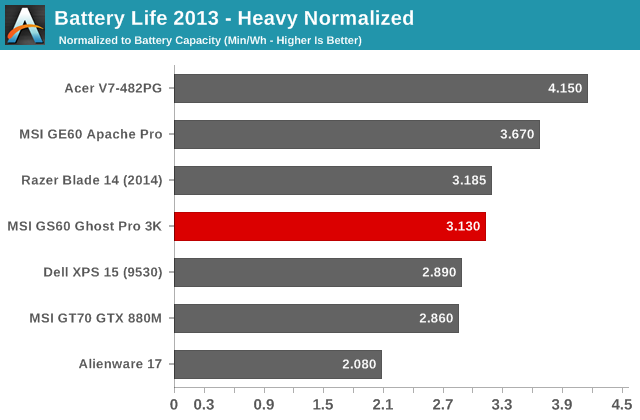 In our Light test, the GS60 manages just over 3.5 hours, while in the Heavy test it drops down to around 2.5 hours. That's enough to get you through most extended length movies, but it won't make it through a longer flight or a full day of use, no matter how hard you try. Normalized things look a bit better, but that doesn't help much when the GS60 has one of the smaller batteries in the above list.
Power draw in the Light test is ~14.4W (give or take), which is about 4W more than the GE60 in the same test. I'm not sure how much of the power difference is coming from the 3K display, but it's worth noting that AC power measured at the wall drops to 11W when the display is off and the system is idle. Dell's XPS 15 still manages to support a QHD+ touchscreen LCD and only consumes 9.9W in the same test, so whatever the cause there's room for improvement. And if you're wondering, in our Heavy battery life test the power draw jumps to ~19.1W – that's less than the GT70's result of 20.95W, but neither one is going to win an award for long battery life.
As you might expect, gaming battery life (with or without Battery Boost) is not very good. In a modern 3D game with medium to high 1080p settings, you're looking at around 40-45 minutes. You might get more than an hour with further tweaking and running Battery Boost with a 30FPS frame rate limit, but if you're hoping for 2+ hours of unplugged gaming you're going to need to look elsewhere.
MSI GS60 Ghost Pro 3K LCD: HiDPI, Decent Colors
The one great benefit of buying a system with a 3K display right now is that you're guaranteed two things: first, you'll have the option for using higher resolutions if/when those become more useful, but second and more importantly: you get something other than a low quality TN panel. The GS60 display is an IPS panel manufactured by Panasonic, model VVX16T029D00. As I mentioned earlier, it apparently uses an RGBW grid instead of the more desirable RGB stripe, and that does some interesting things to the color accuracy.
Before calibration, the display looks decent overall – not perfect, but not as bad as some displays that I've seen in recent months. Oddly, however, calibrating the display actually made things look more bluish, and the overall results improved in some areas and either stayed the same or in some cases even got worse in others. It's possible that CalMAN simply isn't handling RGBW properly, or more likely RGBW just doesn't allow for truly accurate colors across the entire color gamut. Here are the results of our LCD testing, including pre- and post-calibration scores.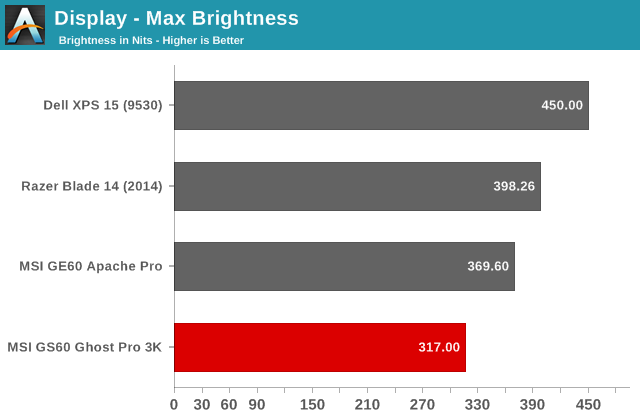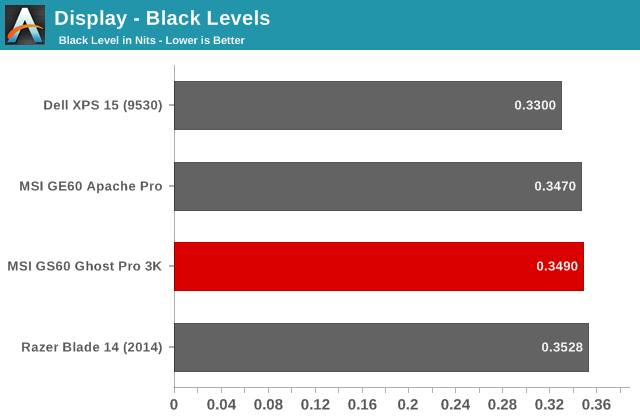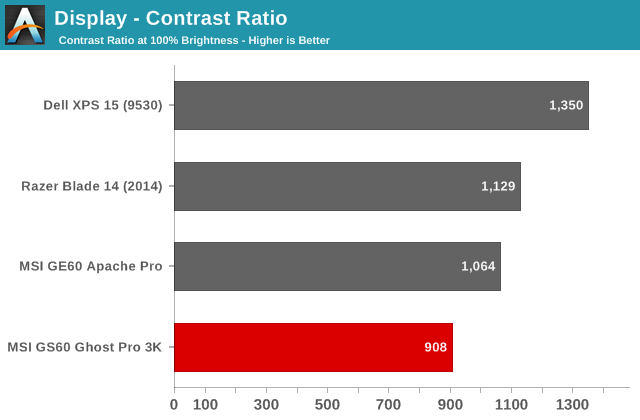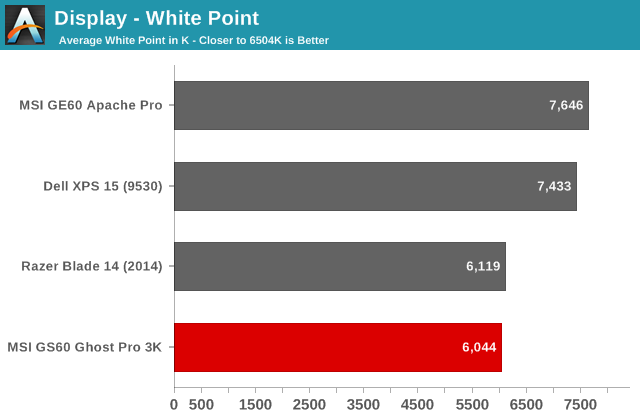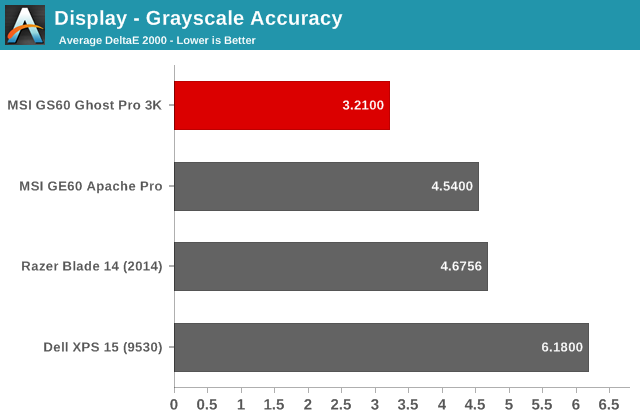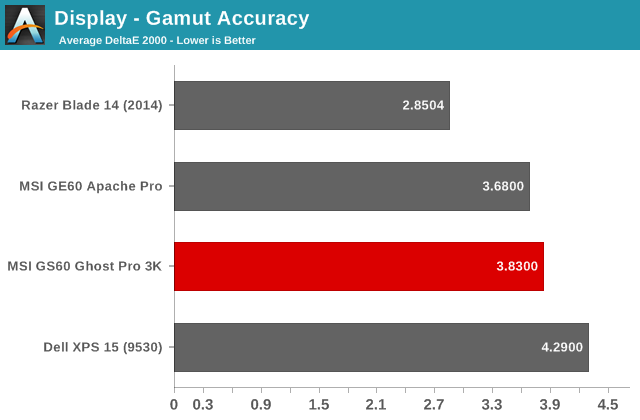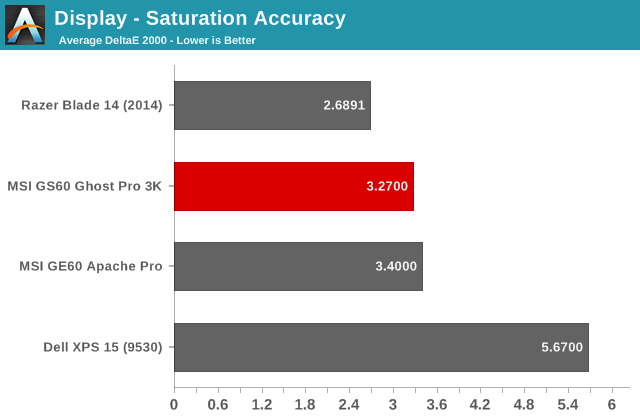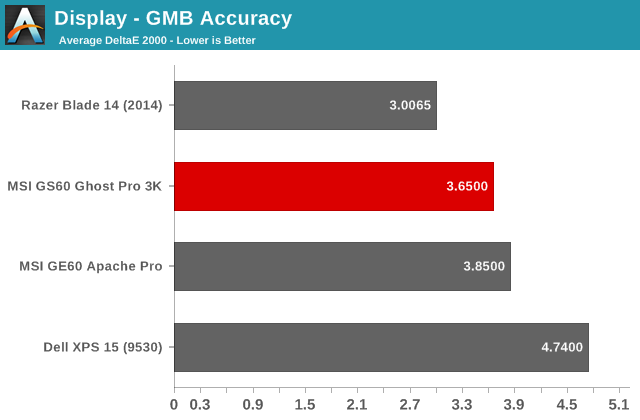 The white level of 317 cd/m2 is a good starting point, and with a black level of 0.349 nits at max brightness we end up with a contrast ratio of 908:1. That's not the best result that we've ever seen from a laptop, but it's not something I'd complain about. Dropping the brightness to 60% gives us a 200 nits white level with a 776:1 contrast, so it's a bit lower but still good. The native white point is also good compared to some of the other recent MSI laptops I've seen; it's lower than expected at around 6000K, but that's at least getting somewhat close to the "ideal" 6504K. Color accuracy is also fairly reasonable, which brings us to the full uncalibrated results:
Grayscale results are good up until about 45%, at which point the errors start to become visible. From 45% up to 100%, the Delta E is above 3.0, but it stays around 4.0 and never actually hits the 5.0 mark. It's not exceptionally accurate, but that's a better result than some other laptops I've looked at, and the average dE is 3.2. Results in the other charts tell a similar story, with some colors staying below 3.0 while others max out at around 6.0. Overall, the average dE is around 3.5 prior to calibration.
Post-calibration is where things become unusual. The greyscale DeltaE improves dramatically, measuring just 0.4 on average with the only result above 1.0 coming at pure black (not unusual as LCDs generally can't produce perfect black). On the other hand, the DeltaE on the gamma, saturation, and GMB charts only shows minor improvements, with the average dE being around 2.6. Certain colors still show errors of nearly 5.0, and about half of the colors still have a dE above 3.0.
What that means is that out of the box, the display will be good for most users, but if you demand accurate colors then you'll want to look elsewhere, as even professional calibration tools are unable to completely fix the color accuracy. Given the target market of gamers, however, the color quality and accuracy are not a major concern.
MSI GS60 Ghost Pro 3K: Almost There
After testing and using the MSI GS60 for over a month, there's plenty to like with the overall package. It's attractive and looks far better than the other MSI product lines (in my opinion at least), and it's not nearly as bulky to pack around. Performance is very good, and the build quality is decent as well. The optional 3K display is nice to have as well, and there's enough horsepower that you can even run quite a few games at 3K resolutions, though not at maximum details. There are really only three major concerns, and you'll have to decide if they're big enough problems that you look elsewhere.
First is the battery life, and if you want something that can get through a full day of light use there's simply no hope of the GS60 doing that without plugging in on a regular basis. MSI has had somewhat middling battery life on other gaming laptops, and the 3K display appears to make things worse, dropping useful battery life under the four hour mark. The second problem is with surface temperatures. I could use the GS70 for gaming with it sitting on a desk, but if you put it on your lap the metal chassis conducts a lot of heat right into your legs. In the winter it might actually be a welcome aspect of the system, but during the warmer months the surface temperatures of up to 70C under load are far too high. A cooling pad is another option, though that's yet one more piece of equipment to pack around with your laptop.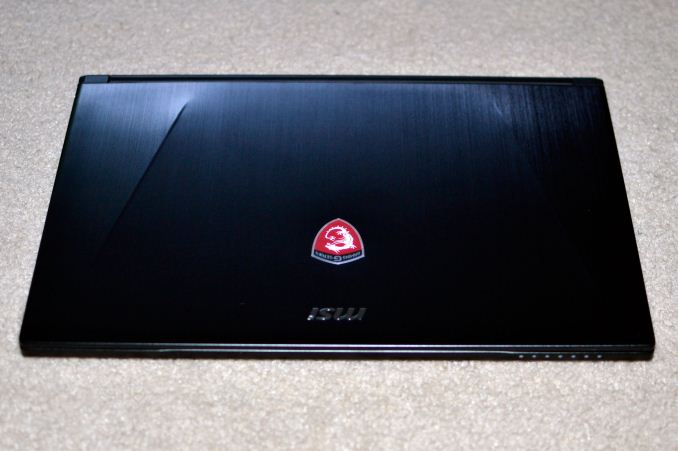 The final question is whether or not you're willing to pony up for the GS60 3K edition, so let's discuss how it compares to some of the other options out there. And truth be told, there aren't too many choices right now if you want a high performance gaming notebook with a HiDPI display. MSI has the GS60 3K starting at close to $2000, and the GT60 Dominator 3K is also $2000 (but with no SSD storage in that configuration); the new Razer Blade has a 3K (technically QHD+) panel and sleek design but will set you back $2400 with a 256GB SSD; Lenovo's Y50 even has a 4K display and will only set you back $1300 right now (with a 256GB SSD), making that a tough proposition to beat. It's interesting to note that each of those laptops uses a different panel (and resolution), though other laptops (e.g. Toshiba's Satellite P55T-B5262) can be found likely using one of those three displays, and there are more upcoming HiDPI laptops as well, like Gigabyte's AORUS X3 with a 13.9" QHD+ panel.
Besides HiDPI, the one thing that nearly all of these systems have in common is a relatively high price, with Lenovo's Y50 being something of an exception. Also worth note is that all of these HiDPI laptops appear to have relatively poor battery life as well. It's interesting that the only other 3K/4K Windows laptop we've tested so far is the Dell XPS 15, and while it delivers decent battery life it also packs a 91Wh battery. That's 75% more battery capacity than the MSI GS60, though the result is that the XPS 15 delivers 150% more battery life. Even so, you will likely get better battery life if you opt for a standard 1080p display, and while the HiDPI displays look great you still have to deal with Windows' scaling.
The bottom line is that you have to decide what's most important to you. If you want a HiDPI gaming notebook with good battery life, you'll unfortunately have to give up some gaming performance (i.e. get Dell's XPS 15 with GT 750M graphics) or battery life (all of the above laptops I just mentioned deliver less than five hours of battery life). You'll also need to decide how much you're willing to spend and what role aesthetics play in your decision. The MSI GS60 Ghost 3K is a good looking laptop with some nice features, but it has a few flaws that make it less than perfect. At $2000, the GS60 Ghost 3K is most definitely in the high-end market, but it does offer performance and features commensurate with the price.