Original Link: http://www.anandtech.com/show/8335/nec-ea244uhd-review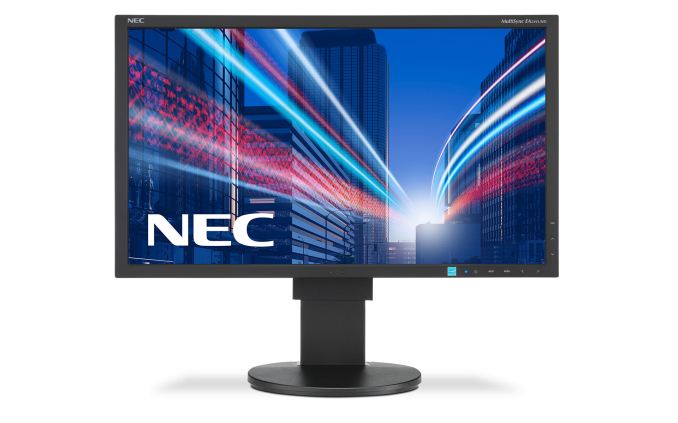 Meet the NEC EA244UHD
The NEC EA244UHD is the first UltraHD (UHD) monitor from NEC. While it's not from their professional line, it has many of the features we've come to expect in their monitors: uniformity compensation, a wider color gamut but also sRGB and AdobeRGB support, and many user configurable settings. It also has a few things NEC has never done before including SpectraView calibration support on an EA-series model and full USB 3.0.
The EA244UHD is also loaded when it comes to connectivity. There are dual DisplayPort 1.2 inputs, HDMI, HDMI with MHL, and dual DVI (but these are only single link). I wish there was a Mini DisplayPort input like Dell has on their UHD displays, but there are still enough inputs here for anyone. With so many inputs, the NEC can display a single input at once, two side-by-side (with auto-expansion), three at once, or even four where each gets a FullHD 1920x1080 area. The Auto-Expansion mode allows you to customize the width of one half of the display and the other half automatically adjusts. There is also a USB 3.0 hub with three USB 3.0 ports, and as a sign that someone is listening to comments, the headphone jack is on the side of the display instead of the bottom or rear, where it is easy to access. Hooray for small victories!
One difference with the NEC EA244UHD compared to other UHD monitors so far is that it defaults to MST being enabled for DisplayPort 1.2. With other UHD monitors I have had issues where MST would stop working, or the monitor would not come out of sleep. The NEC is designed to drop out of MST mode if a display card doesn't support it, but I can't test this since all my video cards do support MST. I'm not certain if MST always working correctly on the NEC is because it is enabled by default, or because video drivers have been updated since the last display to fix the problem. Whatever the reason, the NEC EA244UHD works at 60Hz without a problem.
The backlight of the EA244UHD is a G-B LED one as we have seen on other displays. This allows for a larger color gamut than traditional white LEDs but the lower power use and heat output of LEDs compared to CCFL backlights. Built into the EA244UHD are preset modes for the sRGB gamut, AdobeRGB gamut, DICOM (medical imaging), and the Native Gamut. There is also a Programmable mode, which relies on the SpectraView II software to calibrate the display.
Also in the menu system are a few more custom NEC features. The Human Sensor detects when you are at your desk and keeps the monitor on. If you're away for a defined period of time, it will turn off. Yes, you can use the power options to do this, but there might be reasons you don't want to do that and you can accomplish it here. The Uniformity option increases panel uniformity at the expense of maximum brightness. I always test with this on as the maximum brightness is still bright enough for almost anyone and the uniformity really does improve.
If you want to hook up more than one NEC monitor, you can chain up to six of them together. Doing so will let you adjust the brightness, mode, and other settings from a single unit. (This is just in case you need six UltraHD displays, because that sounds nice.) NEC also ships the EA244UHD fully assembled, including a stand with height, tilt, and pivot adjustments. NEC is using a new air-packing method for this display, which is a nice change from the styrofoam most people use. It weighs less, is easy to reuse and recycle, and makes no mess. Those that test 15-18 monitors a year like myself really like to see this, and I hope more vendors follow this method of packaging.
NEC EA244UHD
Video Inputs
2x DisplayPort
1x HDMI/MHL
1x HDMI 1.4a
2x Single-Link DVI
Panel Type
IPS
Pixel Pitch
0.14mm
Colors
1.07 Billion
Brightness
350 cd/m2
Contrast Ratio
1000:01:00
Response Time
6ms GtG
Viewable Size
24"
Resolution
3840x2160
Viewing Angle (H/V)
178 / 178
Backlight
G-B LED
Power Consumption (operation)
79W
Power Consumption (standby)
0.3W
Screen Treatment
Anti-Glare
Height-Adjustable
Yes, 5.1"
Tilt
Yes
Pivot
Yes
Swivel
No
VESA Wall Mounting
Yes, 100mm VESA
Dimensions w/ Base (WxHxD)
22.0" x 15.2" x 8.6"
Weight
19.2 lbs.
Additional Features
3.5mm stereo out, ControlSync, 3x USB 3.0
Limited Warranty
3 year
Accessories
DisplayPort Cable, ControlSync Cable, USB 3.0 Cable
Price
$1,366 online
DPI: Too High?
The real question with a 24" UltraHD display is how well can you see/use it at native resolution? To me, it's simply not usable at 3840x2160 resolution without DPI scaling. If you want to try and use it at this resolution you can, but I imagine you will stop after a short period of time. Scaled to 150% (or 2560x1440, which OS X Yosemite also supports as an option) it is easy to read and use everything. With applications that support DPI scaling correctly, like Lightroom, you can also have elements that are scaled while images utilize all the pixels that UHD offers.
Talking to NEC, they also realize that most people will be scaling images on the display. One issue, beyond OS support, is that applications that use custom UI elements take more work to improve for HiDPI and UltraHD displays. Those applications that only use standard OS elements (normal menus, no icons or images like Photoshop or Paint.NET) can migrate to supporting HiDPI far more easily.
There are many areas where UHD displays, even a smaller 24" one, are very valuable for their larger screen area. Content creation, including images and videos, can utilize the extra space. Financial users, who always want as much data on hand as they can have, are another large market. NEC includes DICOM support so the UHD display works for examining x-rays in as much detail as possible.
As I mentioned before, SpectraView II now works with the EA-series displays starting with the EA244UHD. Compared to the PA-series there are a few limitations to what SpectraView can do. It will calibrate the grayscale and color using the internal LUTs, but your only color gamut target is native. Since the EA244UHD has a large gamut that covers AdobeRGB, this causes issues. SpectraView II will create an ICC profile that lets ICC-aware applications see colors perfectly, but non-ICC applications will have a blown-out gamut. Since the EA244UHD also has an sRGB emulation mode, you can still use non-ICC applications and get an accurate gamut, but you must do so without calibration.
SpectraView II also now supports the BT.1886 gamma curve that is becoming more common in home theater use. One feature I was hoping to see, but NEC says will not be there, is support for 4:2:0 chroma subsampling over HDMI. Since HDMI 2.0 chipsets are just now becoming available, fitting a 60Hz UltraHD signal into the HDMI 1.4 bandwidth requires use of this chroma subsampling. For video content this is perfectly fine, Blu-ray and DVD content has always used it, and some vendors have used it with HDMI 1.4 chipsets. The NEC does not so the highest refresh rate you can achieve with an UltraHD signal over HDMI is 30Hz.
Brightness and Contrast
For all of the measurements I enabled the display uniformity option. This can reduce brightness and contrast ratio, but it also produces a more uniform image which I believe is worth the tradeoff. Given the target for the EA244UHD I feel most people would also leave this enabled.
The maximum light output with this enabled is only 269 cd/m2. Setting the backlight to minimum drops this all the way down to 16 cd/m2. This is a very wide range but it's not incredibly bright. Most people using the EA244UHD probably have some sort of light control but if you don't, bright sunlight will wash it out pretty well.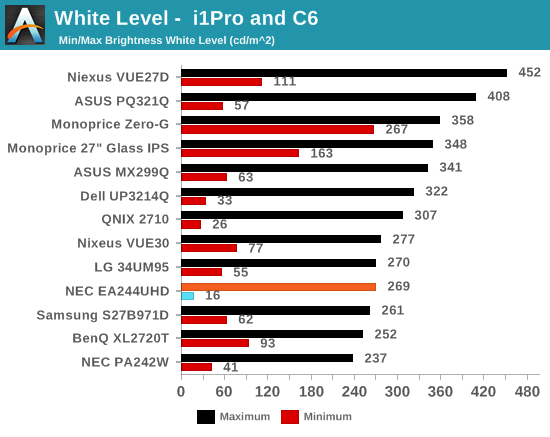 With an IPS panel and uniformity compensation, black levels are what I expect to see from an NEC display. They are okay but not excellent. NEC could improve these by using a VA-panel, but that leads to sacrifices in off-angle viewing. Instead of uniformity compensation, NEC could use some sort of dimming system to improve blacks, but those almost always harm image quality.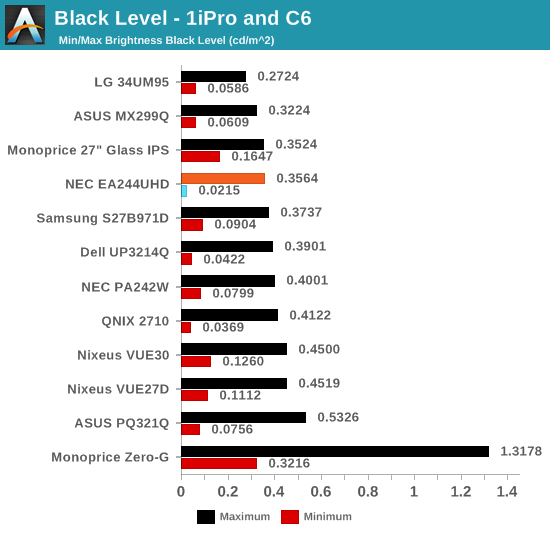 Due to those so-so black levels we get a contrast ratio right around 750:1. IPS panels can do 1,000:1 or almost 1,200:1 now, but not with the uniformity compensation feature. When we look at display uniformity later we can see if this is worth the tradeoff that NEC has made.
This section could have been copied almost verbatim from any other NEC monitor review I have done. The EA244UHD isn't as bright or punchy as other IPS displays, but it might offer better uniformity because of it. This is the compromise NEC has always made before, and in the past it has proven to be worthwhile.
sRGB Test Bench
The NEC EA244UHD has a built-in sRGB mode that is used for all of these measurements. SpectraView II can only calibrate the NEC to native gamut and while CalMAN 5.3.5 can use ICC-aware patterns for doing measurements, we do not use that option. Most programs are not ICC-aware and we want to show the most real-world performance that we can.
Pre-Calibration
Post-Calibration,
200 cd/m2
Post-Calibration,
80 cd/m2
White Level ( cd/m2)
202.6
198.5
80.5
Black Level ( cd/m2)
0.2677
0.2783
0.1143
Contrast Ratio
756:01:00
713:01:00
705:01:00
Gamma (Average)
2.06
2.17
2.37
Color Temperature
6347K
6734K
6593K
Grayscale dE2000
2.48
0.46
1.3
Color Checker dE2000
2.21
0.79
0.87
Saturations dE2000
2.42
0.78
1.1
The sRGB mode has a slightly red tint to the grayscale that gets worse as you get closer to 100% white. The gamma has a larger issue with it falling below 2.0 past 70% and giving us an average gamma of 2.06. Even with this gamma issue the color checker has a very good average error of 2.21 and the saturations error is only 2.42. The largest issue we see is actually the 100% white error, and this is something that calibration can usually correct quite easily.
As expected, calibrating to 200 cd/m2 using CalMAN gives us an RGB balance that is almost perfectly flat. The gamma drops down a bit at the end, but I expect we will see this happen more as I move to 256-point readings instead of 21-point. If I drop the readings back down to 21 it looks virtually perfect, so I wouldn't worry. The grayscale dE2000 has an average of 1.0, so it is very good.
Color saturations are not adjusted, but the luminance is adjusted because of the improved gamma after calibration. This lets the color checker error fall to 0.79 on average and the saturations error fall to 0.77. Both of these are incredibly good and it means you won't see any flaws when using the NEC EA244UHD after calibration. The contrast ratio takes a small hit from correcting 100% white, but not a major one.
Calibrating for the sRGB gamma and 80 cd/m2 also produces results that are very good. They are not as good as at 200 cd/m2 but are still good. I included gamma using both 21-point and 256-point charts so you can see the difference it makes in reporting. I don't see this gamma issue past 90% that the chart indicates, but I also don't do much work with nearly-white images. Overall these results are great and only look not-great when compared to the 200 cd/m2 ones.
I wish that SpectraView II could calibrate the gamut of the EA244UHD for sRGB but it doesn't need it. If you own the hardware that can calibrate it you can use software like CalMAN or DispCalGUI and get fantastic results.
AdobeRGB Test Bench
Pre-calibration the NEC AdobeRGB preset is still good but not great. Unlike sRGB the grayscale has a blue-tint instead of a red one. The gamma has the same roll-off in it, and I expect we will see this a lot going forward. Color Checker and Saturations are both very good pre-calibration with most of the issues at the lower light output levels due to some gamma issues. The color points also seem to indicate that we have the full AdobeRGB gamut here.
Pre-Calibration
Post-Calibration,
200 cd/m2
Post-Calibration,
80 cd/m2
White Level ( cd/m2)
200.35
200
78.5
Black Level ( cd/m2)
0.292
0.2966
0.1152
Contrast Ratio
686:01:00
674:01:00
681:01:00
Gamma (Average)
2.05
2.23
2.6
Color Temperature
6750K
6687K
6451K
Grayscale dE2000
2.8
0.79
1.44
Color Checker dE2000
1.53
0.64
1.09
Saturations dE2000
2.01
0.77
1.43
Post-calibration at 200 cd/m2 the grayscale moves to being almost perfect. The gamma is very flat and virtually every grayscale point has a dE2000 below 2.0. The color checker average has fallen to 0.644 and the saturations dE2000 has fallen to 0.77 on average. Again the post-calibration numbers for 200 cd/m2 are just about perfect.
Calibrating to 80 cd/m2 the results are just like sRGB: very good but not as good as 200 cd/m2. Everything is improved, from grayscale to colors, and it measures very well. There isn't too much to say when there aren't any large performance issues to be found.
Display Uniformity
As I mentioned earlier, I think giving up some contrast ratio to get better uniformity is worth it for the NEC EA244UHD. When you are a graphics professional, one of the major targets for NEC here, having what you see in one area of the monitor look the same as another section is essential.
NEC has delivered here with the EA244UHD as it has some of the best uniformity I have seen to date. On the white uniformity test, the largest error is +/- 6.8%. I usually consider 10% to be excellent and 15% to be good, so this is very good. It is a shift that is barely visible to the naked eye, if visible at all. You really don't need to be concerned about the brightness uniformity.


Black Uniformity isn't as good due to a bright corner in the lower-left. The top of the screen is actually darker which lets it have a better contrast ratio, but the lower left is the main issue here. That's the only spot that is really bad so this is still good overall for black uniformity.


The contrast uniformity is very good overall except for the lower-left corner. Take that away and we see the main contrast issues is that it gets better at the top, not worse.


The big story is the color uniformity. Since this test includes the brightness and color gamut, it really measures everything at once. Here there is not a single point with a dE2000 over 2.0. You can see that everything is a dark green indicating almost perfect performance. What you see at the center of the screen, or anywhere else, is going to be the same as another point on the screen. This makes the NEC EA244UHD an ideal display for media work.

With these uniformity results I think the trade-off of contrast for uniformity is worthwhile. It might make the display worse for watching a movie, but it makes it much better for the kind of work that is going to be done on the NEC EA244UHD.
Color Gamut, Input Lag, and Power Use
Measuring the color gamut using our calibrated profiles, the NEC EA244UHD in sRGB emulation mode encompasses 67.2% of the AdobeRGB gamut. This is a little low but not by much. We also can't fix it since SpectraView II only lets us calibrate to Native gamut. In the AdobeRGB mode we see 92.9% coverage, which is also lower than expected.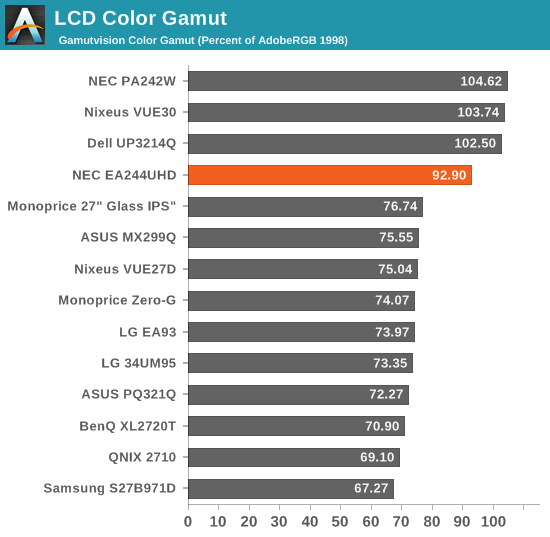 Input lag is measured using the Leo Bodnar lag tester over HDMI. I agree that DisplayPort testing would be better, but with no CRT that can do 3840x2160 resolution to pair with it there is not much to be done about it. The EA244UHD lets you disable scaling, so we can measure if that plays any factor. It turns out that it doesn't make any change as the lag is 28ms with scaling enabled or disabled. This is almost 2 frames at 60Hz so it probably isn't suitable for hard core gamers, but it likely wasn't going to be anyway.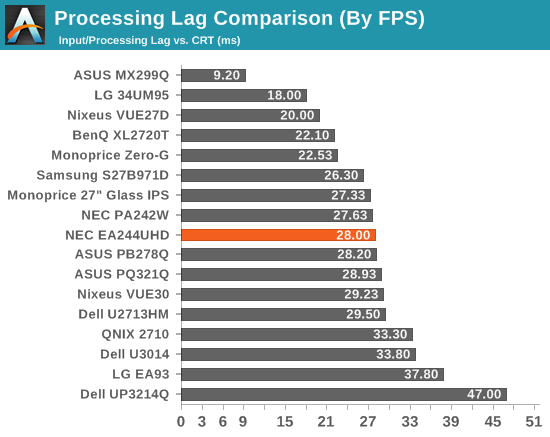 Power use is pretty high but might be typical of UltraHD panels. At maximum backlight the disaply uses 76 watts of power on a white screen and 25 watts at minimum power. This is much higher than other 24" monitors but we haven't seen any other UHD 24" monitors for comparison yet. You can find monitors that use less power, but not with this resolution.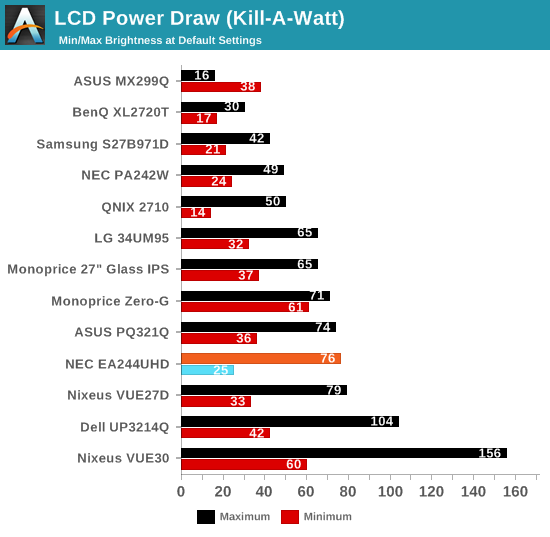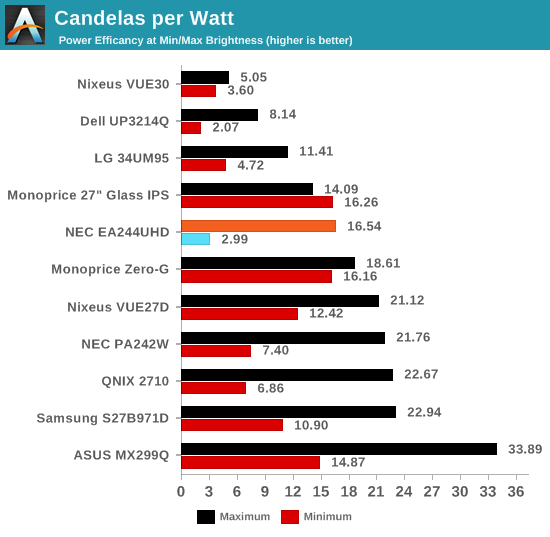 Conclusions
Is a 24" UltraHD display worth it? Yes, you get a lot of pixels but they're almost impossible to use at native resolution. I know many commenters have said they are fine with a 24" UHD display, but I can't use it without scaling. I don't think many people can if you're sitting the usual 1.5-2' away from it. If you can, consider yourself lucky to have such good vision at this point in your life.
Running with everything scaled to a resolution of 2560x1440, the EA244UHD is much more usable. Text is very crisp and there is still lots of room for editing photos and other aspects where you want high resolution. Combine this with the uniformity performance of the EA244UHD and you have a display that might make a good deal of sense for content creators.
For the average person, I'm not as certain it makes as much sense. It is cheaper than the 32" UltraHD displays by a good margin, but it isn't as easy to use with the smaller image size. The Dell UP2414Q, which I haven't reviewed, is available for under $900 often now (and sometimes much less) and also has the AdobeRGB gamut. It also has USB 3.0, multiple inputs, and a LUT you can access to calibrate the gamut. However given the issues I had with the 32" model waking up from sleep, I'm more hesitant about this. Dell has supposedly solved many of these problems but I haven't tested it to see.
I can't take much away from the NEC performance. Out of the box it isn't as good as I expect from their professional line, but it calibrates to be almost perfect. Even without calibration it still offers the flexibility to move between sRGB, AdobeRGB, and other color gamuts quickly that other displays cannot. The display uniformity cannot be undersold either, as that alone makes it work for certain professionals. For a general user, I don't think it is going to be worth the extra price to get the UHD resolution in a 24" screen size. We're still waiting for hardware (DisplayPort 1.3 and HDMI 2.0) and software to catch up to UltraHD displays a lot of the time.
I think there are certain classes of users that can do well with a 24" UHD display: photo and video editors, financial professionals, and medical imaging users immediately come to mind. For general users after a single display, the LG 34UM95 remains a better pick I feel, or multiple 27" displays if your desktop has room for that. If you are in the group where the NEC EA244UHD fits your needs, then it performs very well and is a solid, if expensive, pick.