Original Link: http://www.anandtech.com/show/8296/the-nvidia-shield-tablet-review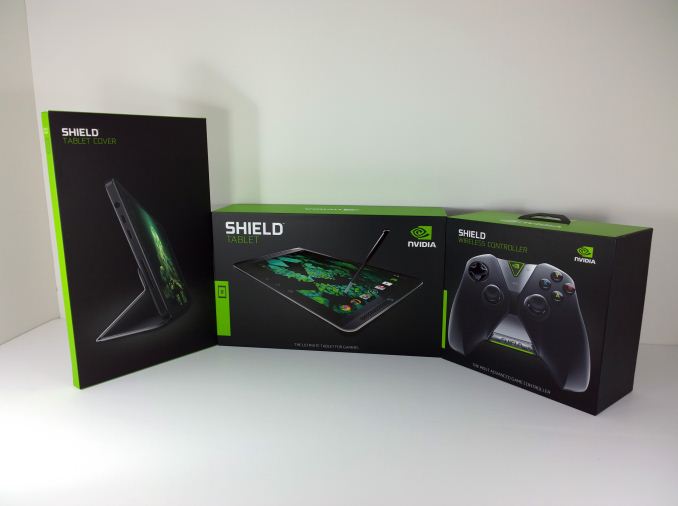 As I discussed in our launch article last week, the Shield tablet is very much the culmination of lessons learned from 2013. While the Tegra Note 7 was a decent tablet, it had to eke out a profit through hardware sales against competition that was willing to sell their tablets with no profit on hardware. Meanwhile the Shield portable was a good portable gaming device, but it was far too specialized to be anything but a gaming device. Without an established gaming ecosystem, NVIDIA struggled against established competitors.
As a result of these influences, today NVIDIA is becoming the first OEM to launch a serious gaming tablet running Android. While gaming tablets have been done before, they've been few and far between. Now it has always been technically possible to take a high end tablet and make it usable for gaming, but for the most part these attempts are marred by either the need for root or an application that requires extensive work on the part of the user to create proper control profiles for each game. In addition, the SoC in the tablet is often underequipped for intensive 3D gaming.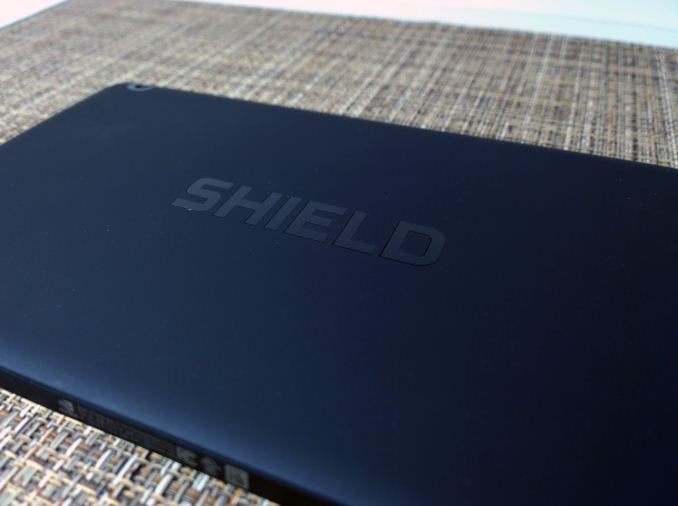 That's where the Shield tablet comes in. With Tegra K1, a dedicated controller, 2x2 WiFi, and a huge amount of custom software, there's definitely a lot of ground to cover. Once again, while the Shield tablet is a gaming device, it must also be a good tablet. To that end, NVIDIA has tried to differentiate this tablet with DirectStylus 2 and dual front facing speakers/bass reflex ports. I've included a table of specifications below to give a general idea of what the tablet is like.
| | |
| --- | --- |
| | NVIDIA Shield Tablet |
| SoC | Tegra K1 (2.2 GHz 4x Cortex A15r3, Kepler 1 SMX GPU) |
| RAM/NAND | 2 GB DDR3L-1866, 16/32GB NAND + microSD |
| Display | 8" 1920x1200 IPS LCD |
| Network | N/A or 2G / 3G / 4G LTE (NVIDIA Icera i500 UE Category 3/4 LTE) |
| Dimensions | 221 x 126 x 9.2mm, 390 grams |
| Camera | 5MP rear camera, 1.4 µm pixels, 1/4" CMOS size. 5MP FFC |
| Battery | 5197 mAh, 3.8V chemistry (19.75 Whr) |
| OS | Android 4.4.2 |
| Connectivity | 2x2 802.11a/b/g/n + BT 4.0, USB2.0, GPS/GLONASS, mini HDMI 1.4a |
| SIM Size | None or MicroSIM |
| Price | $299 or $399 (16GB/WiFi or 32GB/LTE) + $59 (optional controller) |
Hardware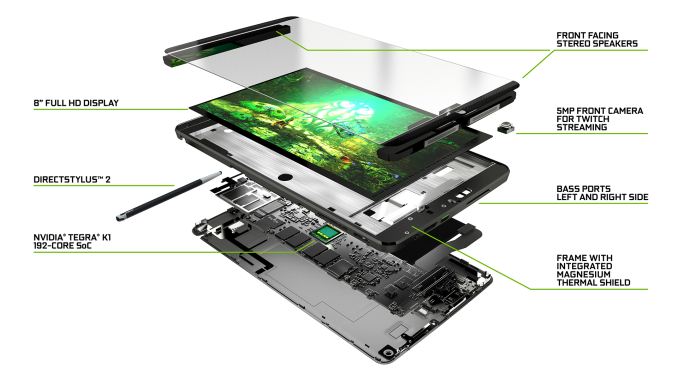 Outside of the basic specs, the tablet itself has a much more subtle industrial and material design. While the large speaker grilles are maintained from the Tegra Note 7, the dimpled look and feel is gone. Instead, the finish is very much reminiscent of the Nexus 5. The feel isn't quite rubbery the way soft touch finishes tend to be. Instead, it feels more like a high grain matte polycarbonate. Along the sides, there's a noticeable chamfered edge where the back cover meets the display, although in practice this mostly affects aesthetics rather than in hand feel. The flip cover that is designed for the device is almost identical to the one in the Tegra Note 7, and folds up similarly. As with the Tegra Note 7, there are two angles that the flip cover can take. Overall, the aesthetic is much more subtle than the Tegra Note 7, and looks quite similar to the Nexus 7 (2013).
While it's important for the tablet portion of the device to have decent material and industrial design, ergonomics and material design are critical for the controller. While the Shield portable had great ergonomics, it was heavy because the entire device had to fit in the controller. With Shield Tablet, that's no longer the case. The result is that the controller is significantly lighter. While it still has some heft to it, I no longer feel the need to rest my hands against a table after significant playtime.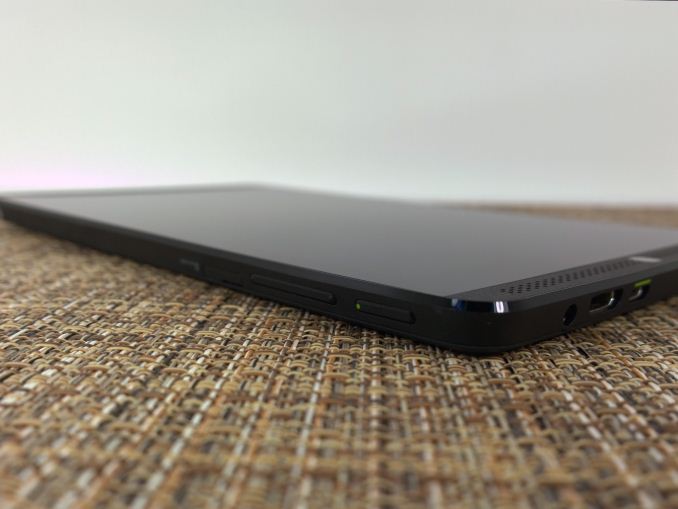 The controller itself is just as good as the one on the Shield Portable. The buttons, triggers, bumpers, and joysticks are all very close in feel. The one big difference are the tablet/Android controls. Instead of physical buttons, they've replaced the physical buttons with capacitive ones. The volume controls have also been moved down to the bottom of the controller and changed from a single button that triggers on-display volume controls to a rocker that allows direct manipulation of volume. Just above the volume rocker is a clickpad, which can be used to move a cursor through the UI. While this option exists, it's a bit unpolished as the sensitivity isn't tuned quite right to quickly navigate through the tablet.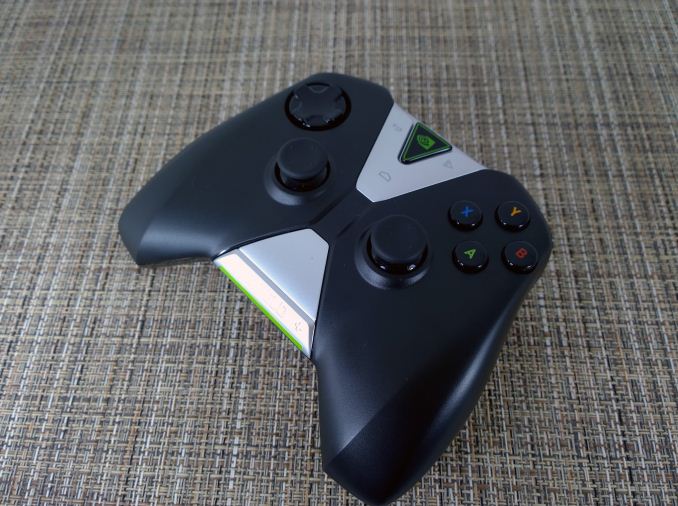 Of course, there's more to the controller than just the buttons and controls. NVIDIA has made sure to do things right by using WiFi Direct for communicating between the controller and the tablet. The frequency used depends upon what access point the tablet is connected to, so it can switch between 2.4 GHz and 5 GHz as necessary. NVIDIA claims that using WiFi Direct instead of Bluetooth drops latency by half, and also allows for microphone input and sound output via 3.5mm jack through the controller. In practice, the controller works great. I don't have any complaints about this at all. Pairing is as simple as pressing and holding on the NVIDIA logo for a few seconds, then opening the pairing application. Up to four controllers can be paired to the tablet this way, which introduces interesting possibilities for local multiplayer games such as Trine 2. I also didn't notice a difference in response time of the wireless controller when compared to the wired controller of Shield Portable. It's incredibly important to get the controller right for gaming devices, and NVIDIA has nailed it. Overall, I'm happy with the basic hardware for both the controller and tablet. While it would be interesting to see a metal unibody design on the tablet, it's difficult to justify at the price point that this device has to hit.
Of course, while hardware is important, software makes or breaks this tablet, so that's next.
Software
In the UI department, there's not too much to talk about. Much like Motorola, NVIDIA has stuck to using the AOSP UI design. Of course, there are plenty of NVIDIA-specific applications, but I didn't run into any issues using the tablet to do everyday tasks. In this respect, things have improved massively over Shield portable. Because this tablet works in both portrait and landscape, there aren't any issues with applications that force portrait mode like there were with the Shield portable. In normal tablet usage, it works as one might expect, with no real perceived lag throughout the UI. Of course, this is when compared to other Android devices. There are still frame drops involved in scrolling through lists and similar areas where Android has traditionally struggled to stay smooth, but Android L should fix this issue for the most part.
DirectStylus 2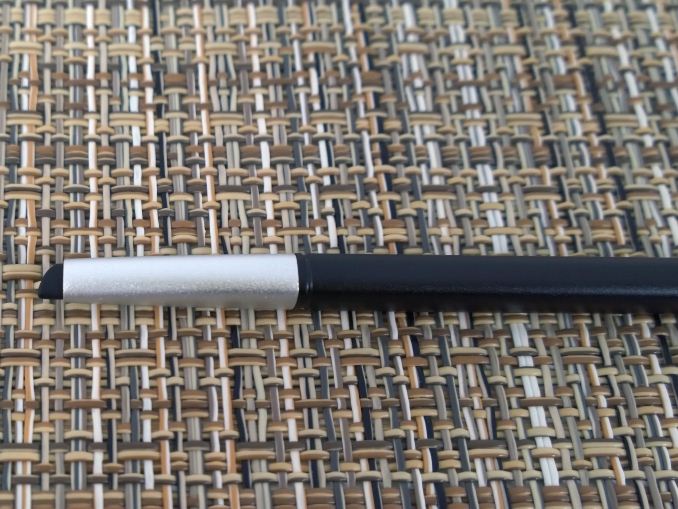 The real value that the Shield tablet brings as a tablet is the stylus functionality. DirectStylus 2 is definitely much, much better than any other capacitive stylus on the market. The tip allows for precise control and it's definitely responsive to changes in pressure. For the most part, there are only small issues here. Because the stylus is capacitive, it's not really possible to have a floating pointer the way Wacom styluses do. In addition, I noticed that I need to lift the stylus a bit more than I might with pencil and paper in order to start a new letter or word or else my words would start to flow together. For the most part though, it works well enough, and the inking latency is low. Unfortunately the issue here is more of ecosystem than hardware, as most stylus-enabled applications aren't nearly as robust as OneNote on Windows x86.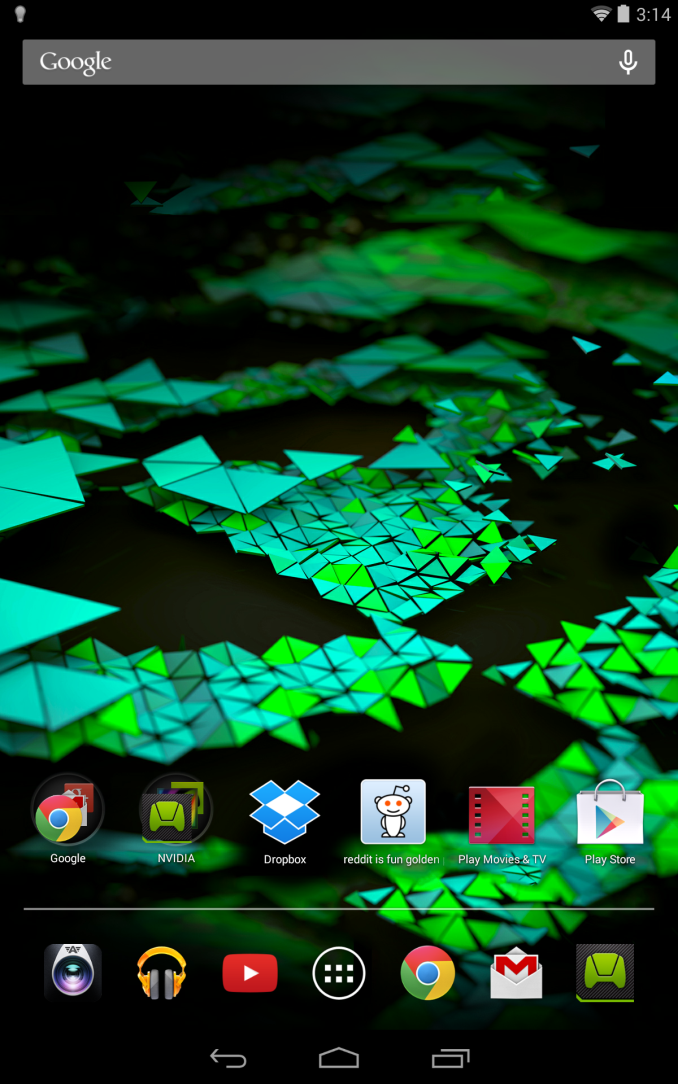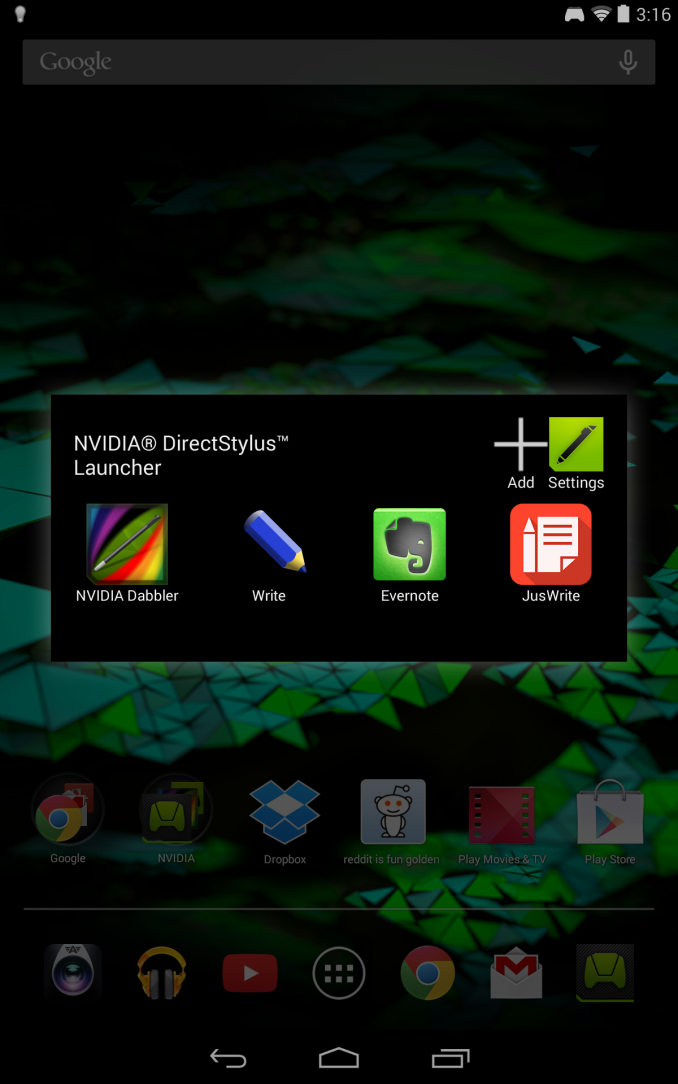 Console Mode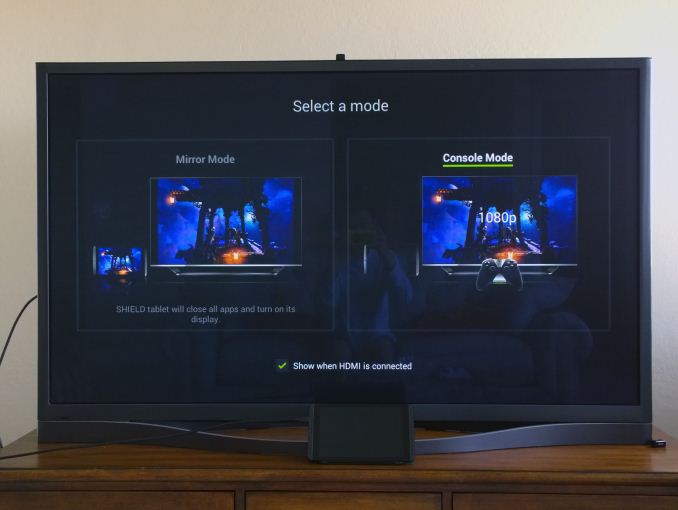 Of course, the real question here is whether the gaming side is worth the price premium. NVIDIA has gone all out on this area, and their efforts are split up into multiple aspects. The first is the TV interface/console mode, then the gameplay recording feature known as ShadowPlay. Finally, there's the aspect of GameStream and GRID, which make it possible for games to be played on the tablet that otherwise wouldn't work due to the compute requirements.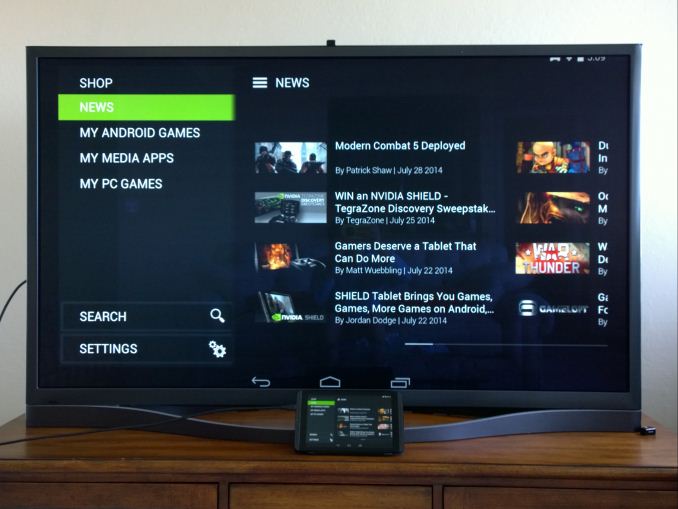 The TV interface effectively boils down to Shield Hub and Google Now, although it's fully possible to use the full tablet UI as desired in this mode. In the hub, launching games and various applications like YouTube and Netflix is rather simple compared to the more cumbersome full Android UI as they have their own category in Shield Hub. In addition, launching applications through Google Now works as expected. Overall, there aren't any friction points here. It works as well as one could expect. There is a strong reliance on voice input in general, but it's much better than trying to type with a controller and better than most smart TV experiences. While the TV interface is mostly targeted towards enabling a console gaming experience, YouTube and Netflix both work great in this mode. NVIDIA has also gone through the necessary DRM certification process to allow for 1080p Netflix streaming. In essence, this device is already ready to serve as an Android TV device.
ShadowPlay
ShadowPlay, which we first saw in GeForce GTX GPUs, is also another major advantage that NVIDIA brings to the table for software experience. In short, this leverages the hardware H.264 video encoder that is on the Tegra K1's Kepler GPU to provide video capture of gameplay or anything else displayed by the tablet. There are three possible options for video capture. The first is Twitch broadcasting, something that NVIDIA is quite proud of as they are the first to implement such a feature in an Android tablet. While I personally don't stream on Twitch, a demo of Twitch broadcasting in the initial launch briefing worked without any visible quality issues in either audio or video.
There are two other recording modes. One is a standard start/stop recording feature, but the other is ShadowPlay/Auto Recording. In short, this keeps anywhere from the past minute to 20 minutes in video. This makes it possible to set and forget about the recording feature rather than constantly managing recordings in manual mode. All of these modes can use the tablet's microphone and front facing camera for commentary purposes as needed. Local recordings seem to have a maximum of 1080p30, and Twitch broadcasts are limited to 720p30.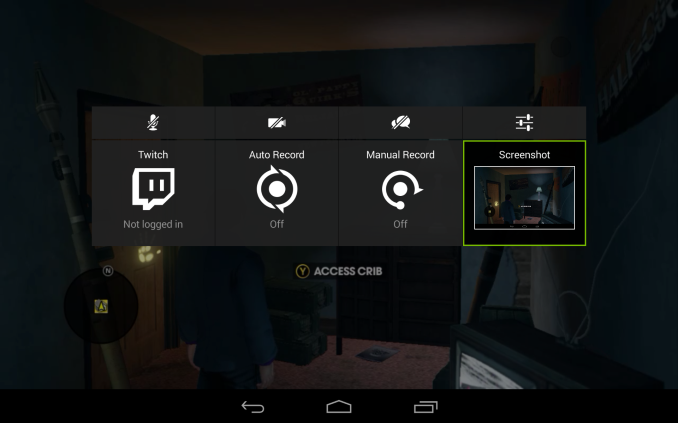 While those are the technical details, it's a painless process. All the user has to do is long press the back button on the controller and select what kind of a recording they'd like to do (Twitch, Auto, Manual, Screenshot) and that's it. I can see significant potential in this area especially if this device takes off as a gaming platform.
GameStream and GRID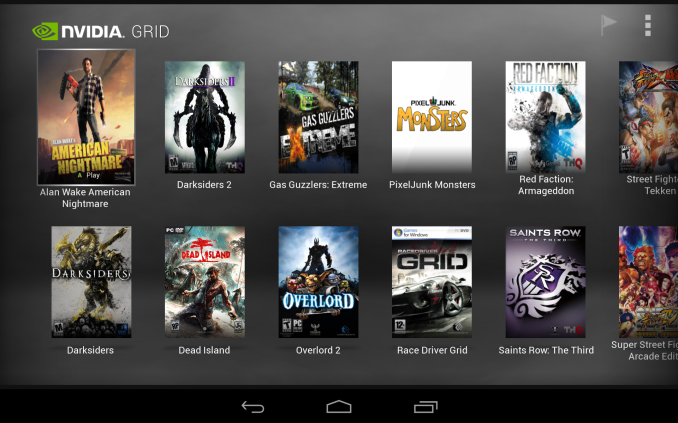 The final software features that Shield Tablet brings to the table are GameStream and GRID. These are effectively methods of turning the tablet into a thin client, as all of the rendering/computation is done on a computer either in the LAN or on a server in San Jose. From a technical perspective, both work great as long as the connection has high bandwidth and low latency. For GRID, I managed to get a great user experience on a symmetrical 10 Mbps connection and around 10ms latency to the server. Games like Saints Row 3 played as if running on a console when the device is actually streaming from NVIDIA servers. From the user's perspective, it's a matter of going into the app drawer, opening GRID, and selecting a game. It's simple and given sufficient server coverage I could easily see a Netflix-style usage model taking off quite successfully.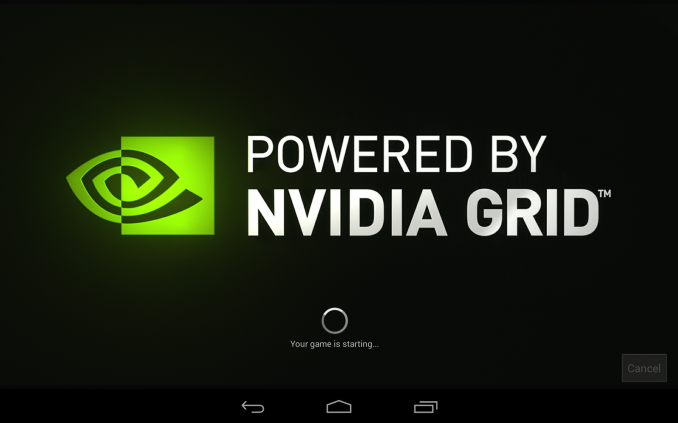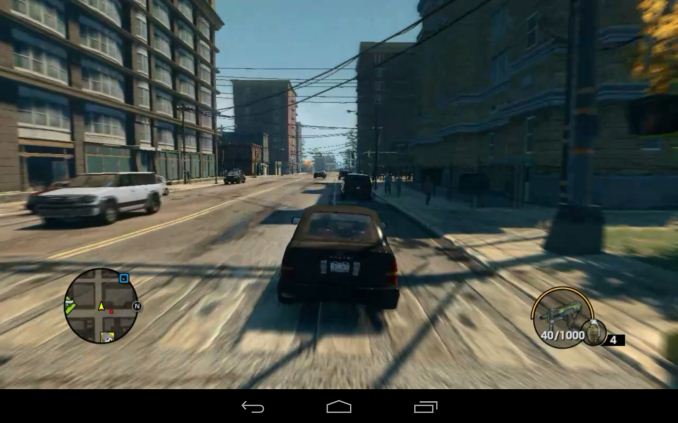 Although I didn't spend as much time with GameStream, I didn't detect any input lag and for the most part it's just as simple. As long as a GameStream-enabled PC is on the same network, accessing GameStream compatible games is just a matter of going to the Shield Hub application, entering a four digit code on the PC to pair it with the tablet, and selecting a game. GameStream also works remotely, but the same caveats that come with GRID apply to GameStream on both the server and client end. Of course, the games that will run on GameStream have to be carefully selected. While it's fully possible to play a twitch shooter like Call of Duty through GameStream, trying to use a controller in multiplayer is simply a massive disadvantage against people that are competent with a mouse and keyboard. I've included a screenshot of Mirror's Edge that I took while testing GameStream.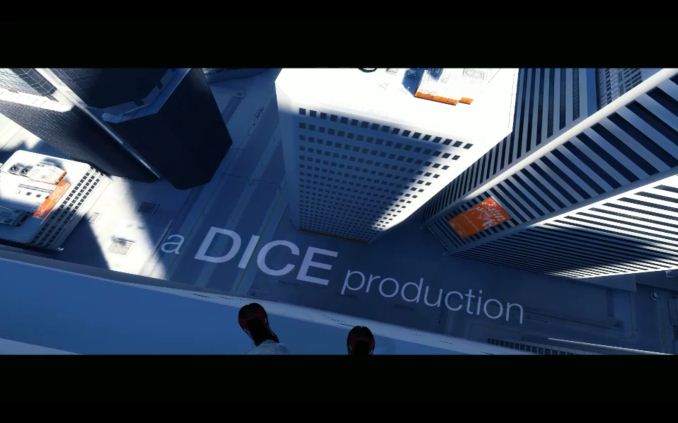 Gaming Ecosystem
Ultimately, I'm a bit conflicted on whether GameStream and GRID are really designed to stand on their own though. GameStream only works while you're at home, and GRID is highly dependent upon low latency and also needs around 10 Mbps download and 5 Mbps upload for an ideal experience. Due to the latency requirement and the fact that the only GRID server bank is in San Jose, the very low latencies that GRID is best suited for are generally only achievable in California and parts of other nearby states. They're definitely great in the situations that they work, but ultimately the native game library has to stand alone. To this end, the tablet is in a far better situation than the original Shield. The number of games that provide a quality gaming experience is now leaps and bounds better than what we saw with the launch of the Shield Portable. Trine 2 is included out of the box, and while I didn't get a chance to try co-op mode it's a compelling experience that once needed GameStream or GRID to be played on Shield. Along the same lines, the Grand Theft Auto series, Half Life 2, and Portal all play surprisingly well.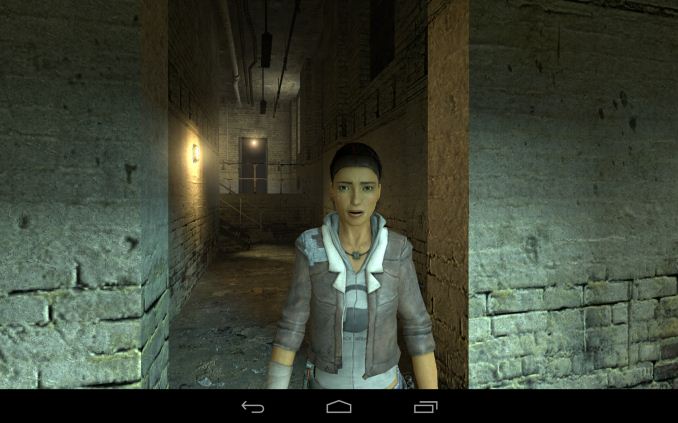 Fundamentally though, I don't think single player games alone will sell Shield as a gaming platform. A single player game can only have a certain amount of replay value. Something like Half Life 2 might have 12 hours of gameplay at best. In comparison, multiplayer has massive amounts of replay value because even the same map can play out differently depending upon the people that play in the round. It's that factor that makes it possible for people to spend 1200 hours playing a game like Battlefield 2. Unfortunately, for the most part the Shield tablet has a game library that seems to be skewed towards single player games. Fortunately, NVIDIA seems to understand this. While I haven't been able to play War Thunder on Shield tablet, the promise of compelling multiplayer games on this device would be a strong enough reason to excuse potential shortcomings in other areas. Although it's good that an immersive multiplayer title is coming to Shield tablet, the key point of emphasis is that people playing a Shield device can play with those on console or PC as well. Until NVIDIA hits critical mass for Shield device adoption, multiplayer titles that only allow people on Shield to play with others on Shield will struggle because people won't play multiplayer unless there are other people to play with.
CPU Performance
As the first Tegra K1 device the Shield tablet is especially interesting. For those unfamiliar with the Tegra K1, NVIDIA integrated four ARM Cortex A15r3 variant cores along with a fifth companion A15r3. While on the surface it seems the CPU configuration it's largely similar to the Tegra 4, there are some substantial differences. On the process tech side, the move to 28HPm adds SiGe source and drains for PMOS transistors, which dramatically improves drive current and makes it possible to bump clocks up to 2.2GHz for the CPU cores. The new revision of Cortex A15 also means that there's better power management which should help with power efficiency (and thus battery life). The result is that peak CPU voltage drops from 1.4 volts in Tegra 4 to 1.2V in Tegra K1, and peak clocks are higher in the K1 as well.
Of course, the truly interesting aspect are benchmarks, as those will really show the differences between Tegra 4 and Tegra K1. It will also help to establish how Tegra K1 fares against the competition.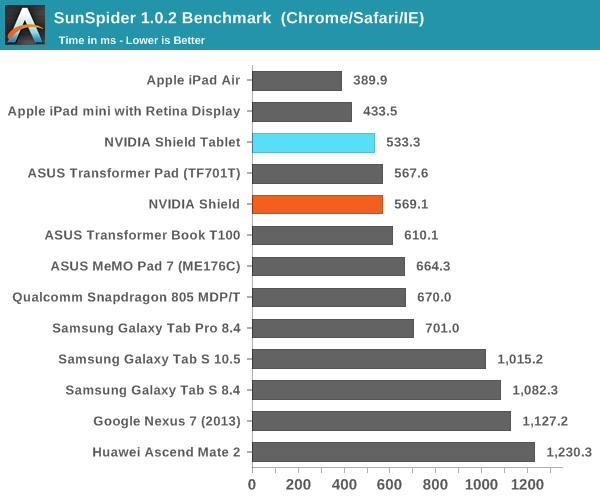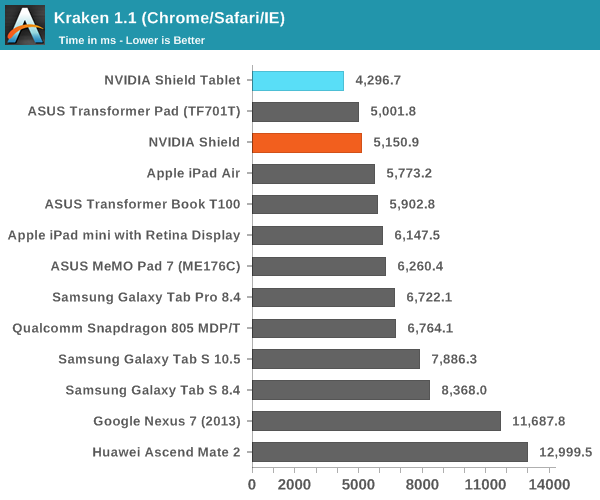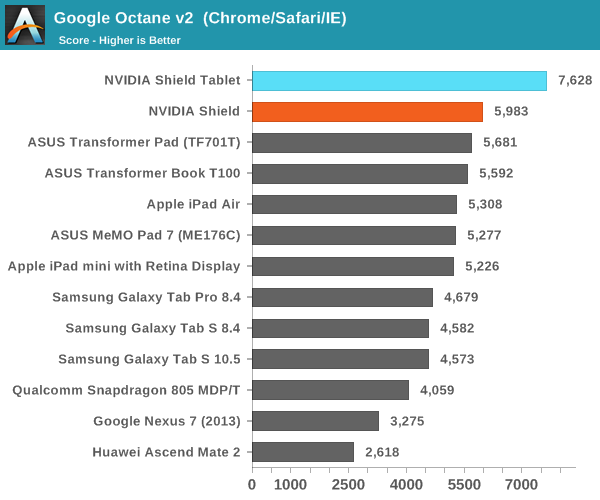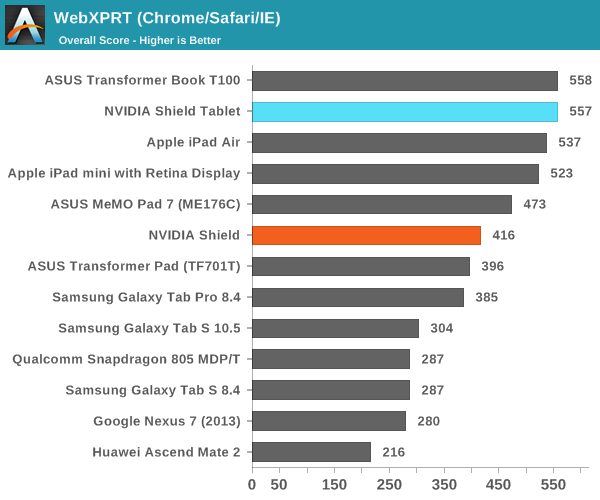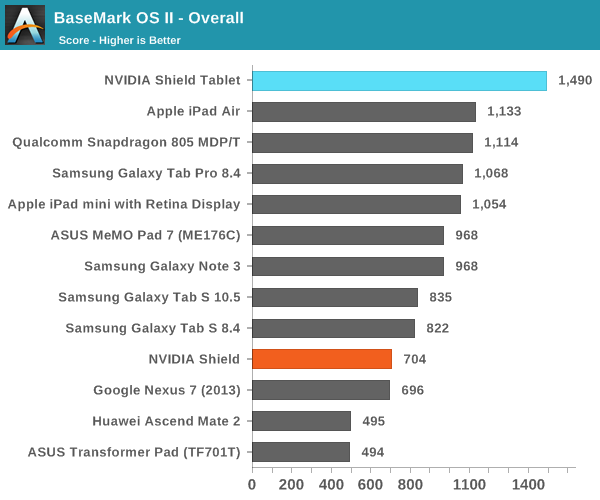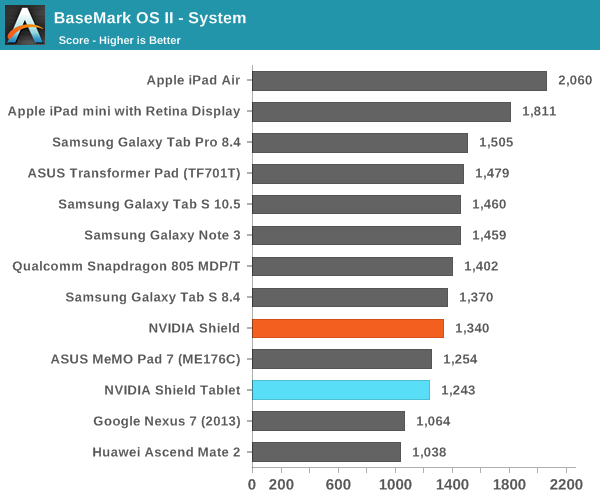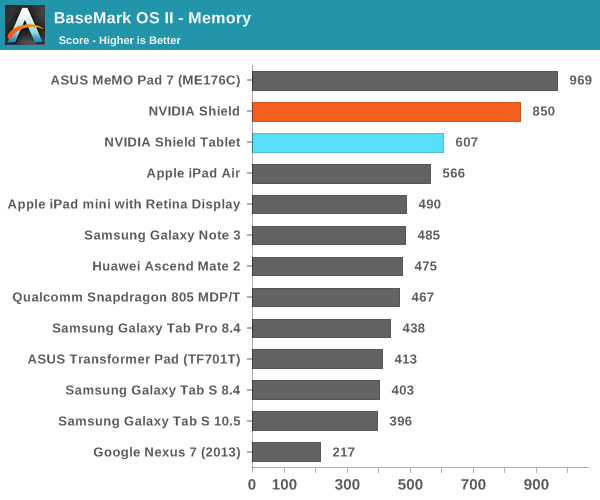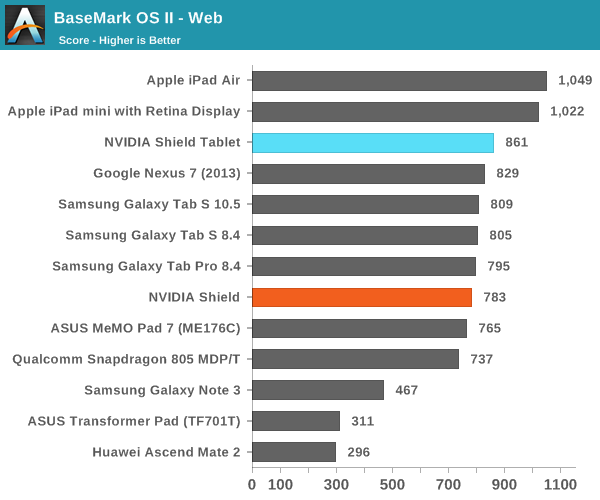 Despite the largely similar clock speeds compared to the Snapdragon 800 we see that the Tegra K1 is generally a step above in performance. Outside of Apple's A7 SoC and x86 SoCs, NVIDIA is generally solidly ahead of the competition. Of course, as a gaming tablet there's a strong need for GPU performance, so we'll look at that next.
GPU Benchmarks
On the GPU side, the Tegra K1's GPU is derived from the same Kepler GPU architecture we've seen in notebooks and desktops - albeit in a single SMX configuration. There are some power focused changes to mobile Kepler, and I'd reference our initial article on Tegra K1's architecture for those interested in learning more. In this device, the GPU can run anywhere between 72 MHz to 852 MHz.
I included Surface Pro in a couple of the tests below just to show how far NVIDIA's Shield Tablet and Tegra K1 get in terms of pushing the envelope in gaming performance. Tegra K1 can deliver better GPU performance than the original Surface Pro, and given its price and thermal constraints isn't too far off of the newer Surface Pro tablets as well.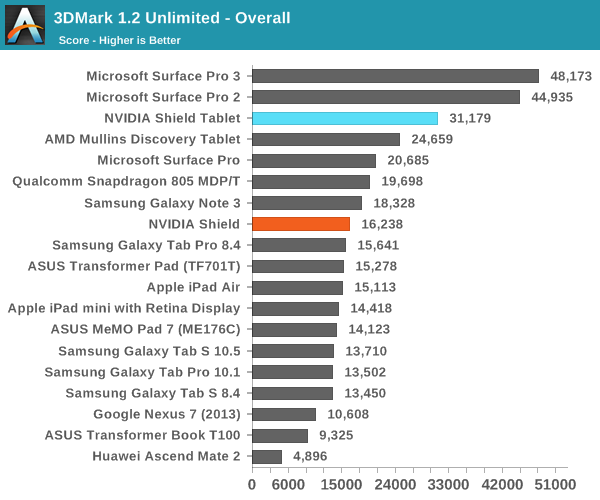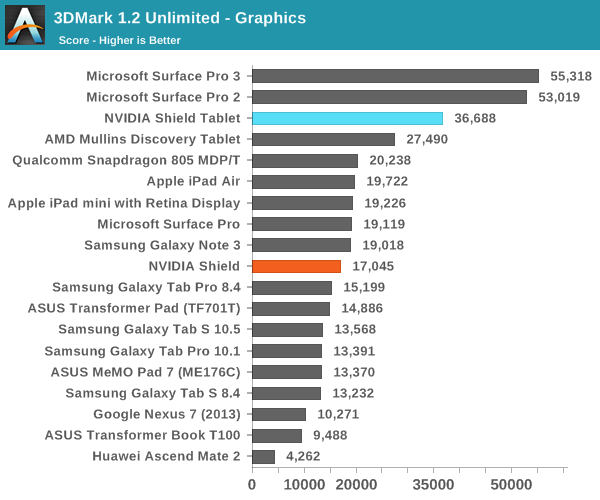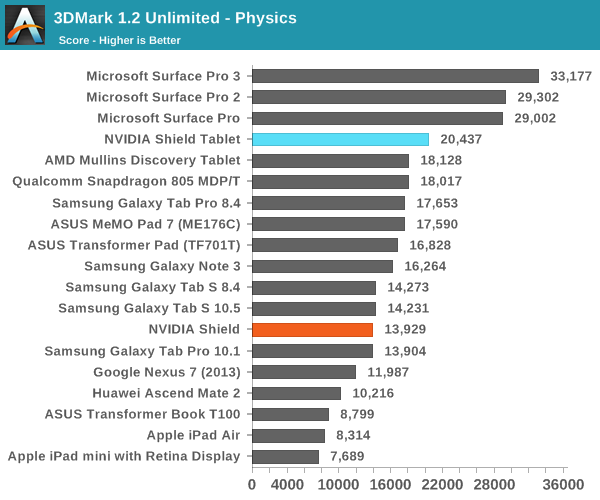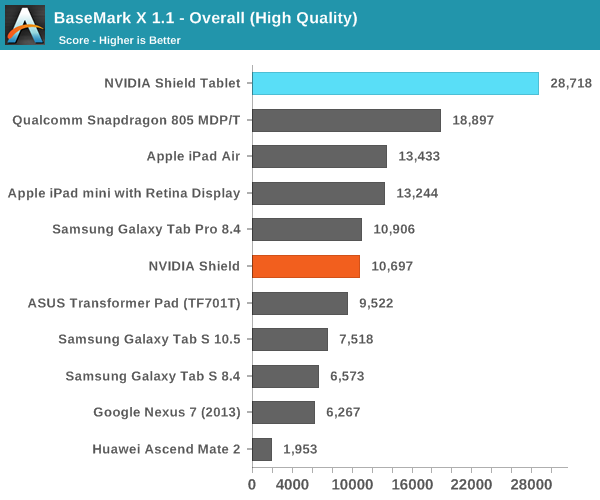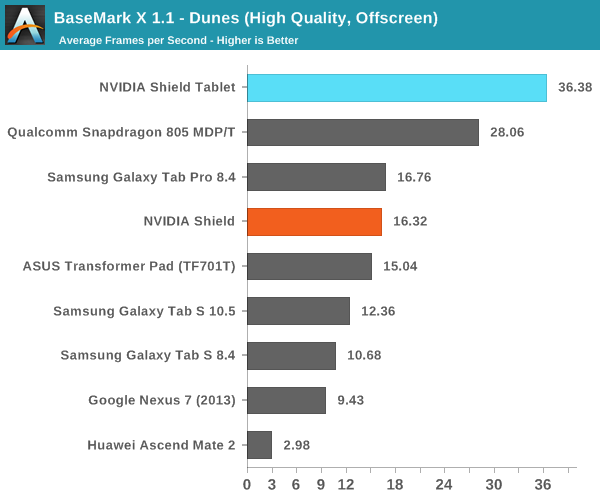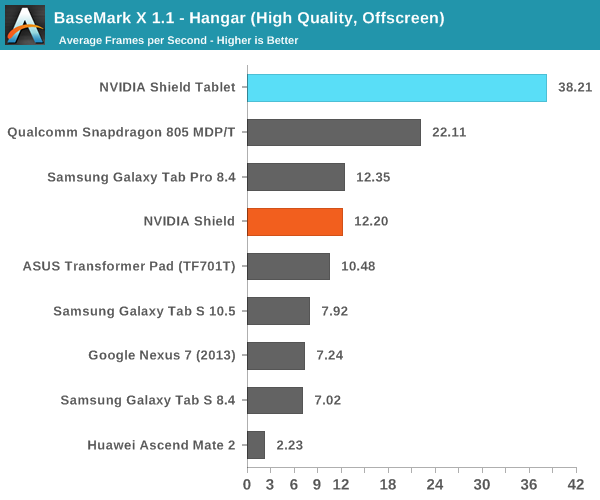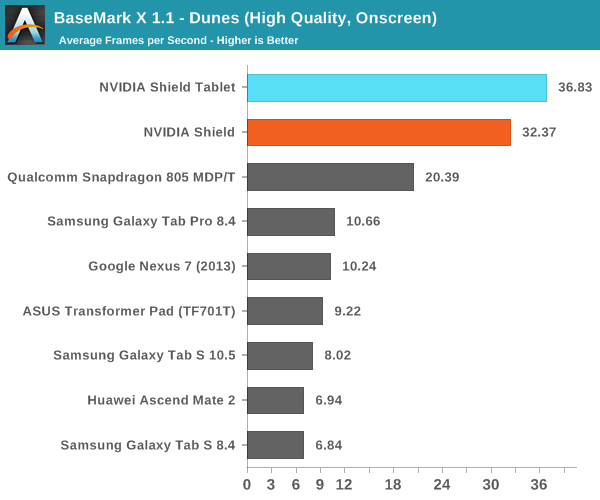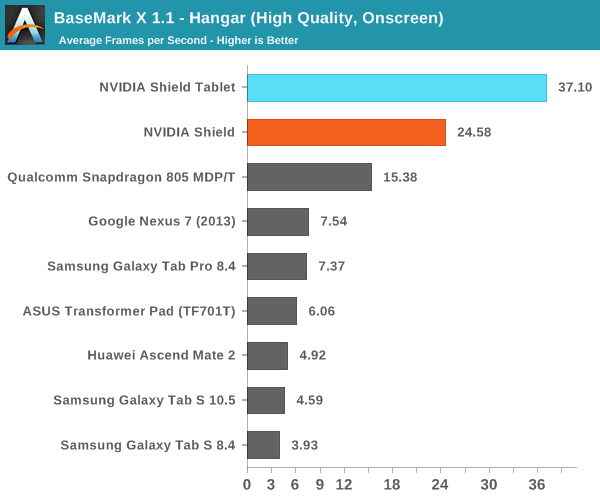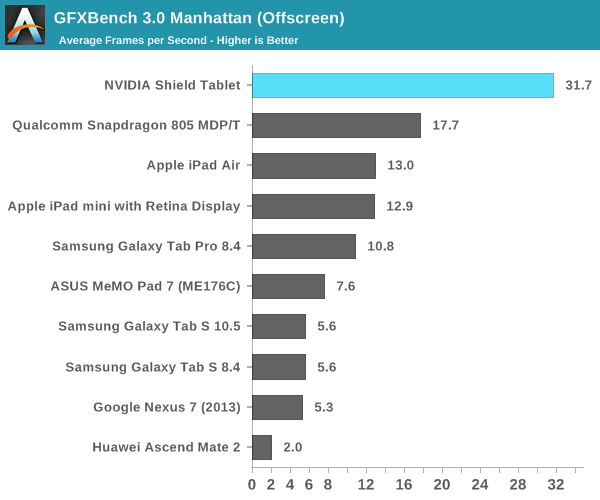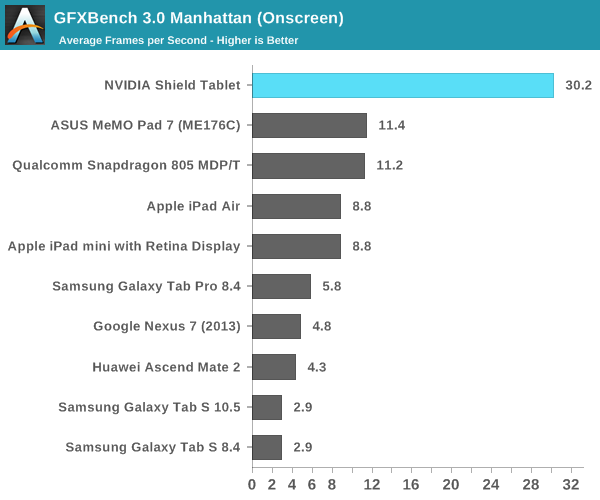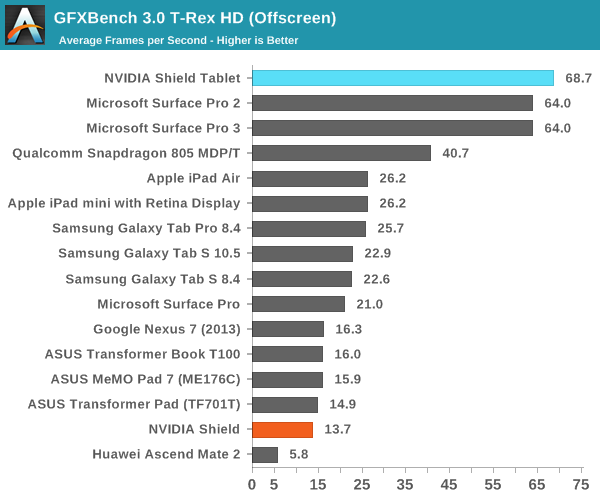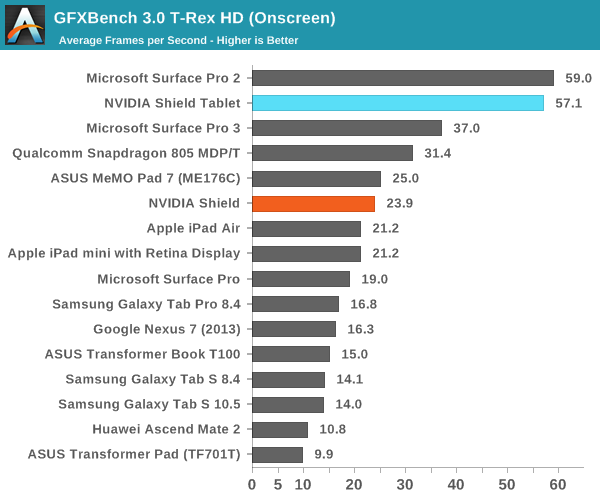 When it comes to GPU performance, there's really no question: the Tegra K1 is easily the fastest in all of our GPU benchmarks. It handily beats every other ARM SoC, including the newest generation of SoCs such as the recently introduced Snapdragon 805 and its Adreno 420 GPU. It's worth noting that the Snapdragon 805 is likely aimed more at smartphones than tablets, although we are looking at its performance in Qualcomm's tablet development platform here. Until we get a look at Snapdragon 805 power consumption we can't really draw any perf/watt conclusions here. Ultimately, the only thing that can top the Shield Tablet is Surface Pro line, which uses more powerful laptop-class hardware.
NAND Performance
While NAND performance used to receive relatively little attention, it's now clear that some devices can ship with internal storage poor enough to severely degrade the user experience. Even if storage performance is acceptable, improvements in this area can significantly improve user experience. In the case of this device, it seems that we're looking at a SanDisk iNAND eMMC 4.3 solution.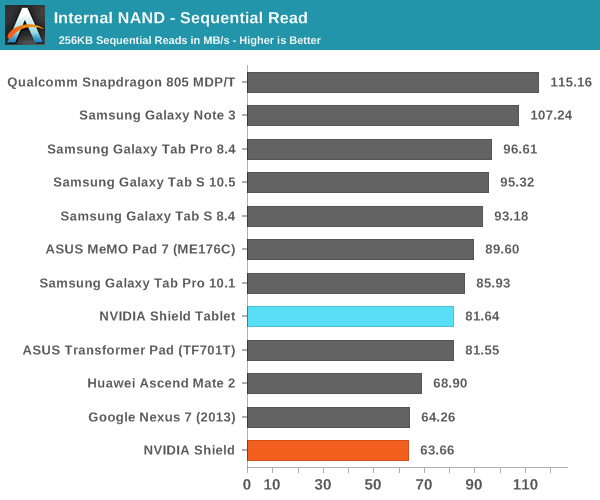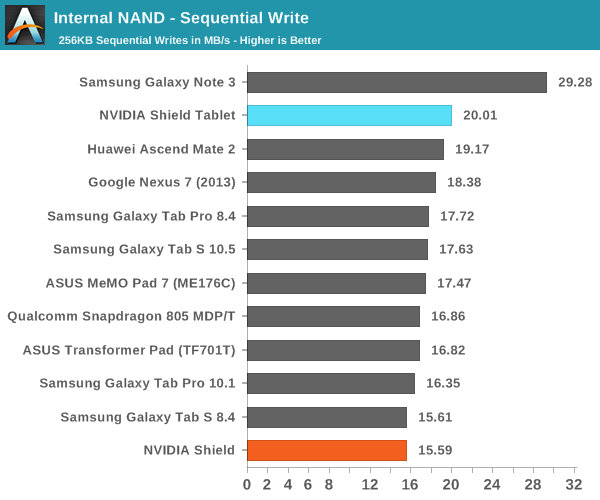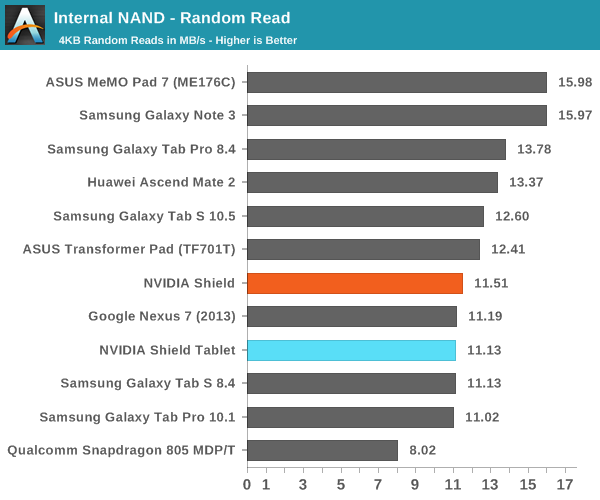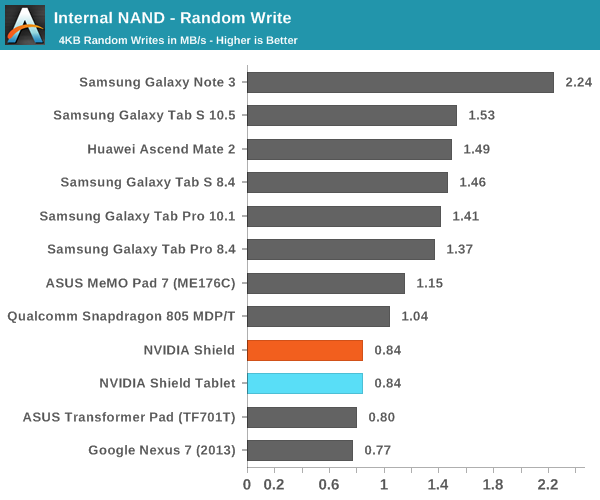 In NAND performance, the Shield Tablet does well against its peers, although random write speed is a bit on the low side. While no particular slight against NVIDIA, it's a bit disappointing how NAND performance in tablets seems to be lagging behind the smartphone space, although not entirely surprising due to stronger cost constraints.
Battery Life
As always, battery life is one of the most important aspects of any mobile device, and is crucial to staying mobile. There's not much introduction needed to this, as it's rather well understood that more battery life is usually better. The Shield tablet features an integrated 19.75Wh battery.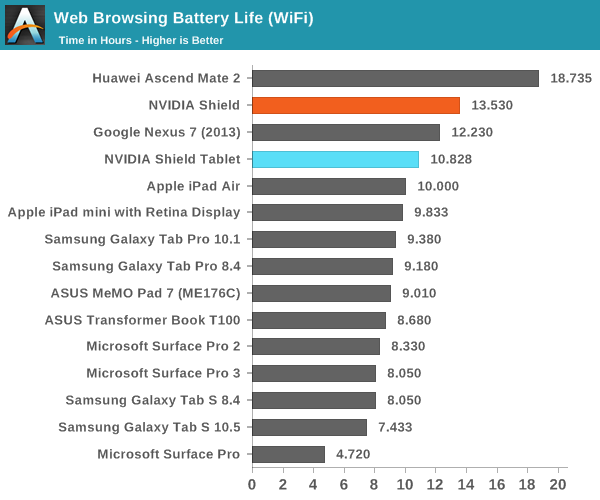 This device is a tablet first and foremost, so WiFi browsing battery life is important. In this area, the tablet does well. However, it's a bit strange how the device performs worse than the Nexus 7 (2013). The reason why I say this is that the Tegra K1 is on a far more power efficient process (28HPm), has broadly equivalent battery capacity to screen area scaling, and should have a more power efficient display due to the reduced gamut. However, it could be that Cortex A15 just isn't as power efficient as Krait and the silicon backplane of the display isn't as efficient as the one in the Nexus 7.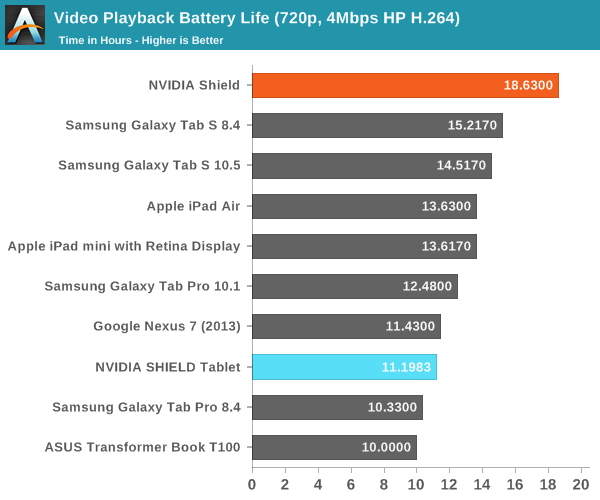 While normally web browsing tests are enough to cover the relatively low-compute use cases for smartphones, video playback is a significant use case for tablets. Here, we see that the gap between the Nexus 7 (2013) and the SHIELD Tablet narrows significantly, which can probably be attributed to the mostly display-bound nature of this test. Due to the much lower APL average of this test, we see that the Galaxy Tab S line does noticeably better in this test because their AMOLED displays mean that black-heavy content dramatically reduces power draw. This is because a black pixel in an AMOLED display is turned off and doesn't consume power, while an LCD display relies on a backlight so it isn't possible to turn off the backlight for a single pixel without turning off the entire display.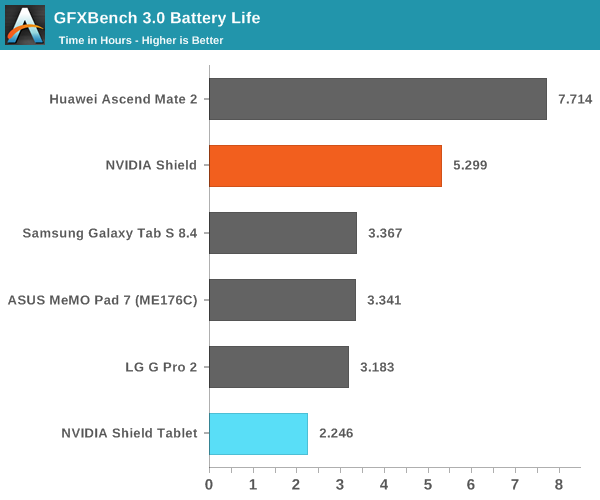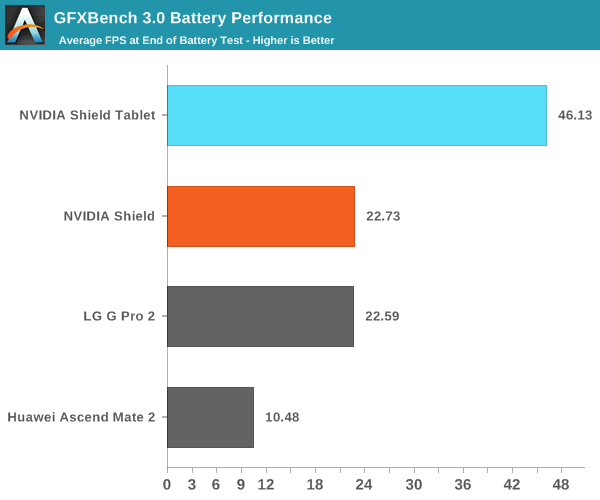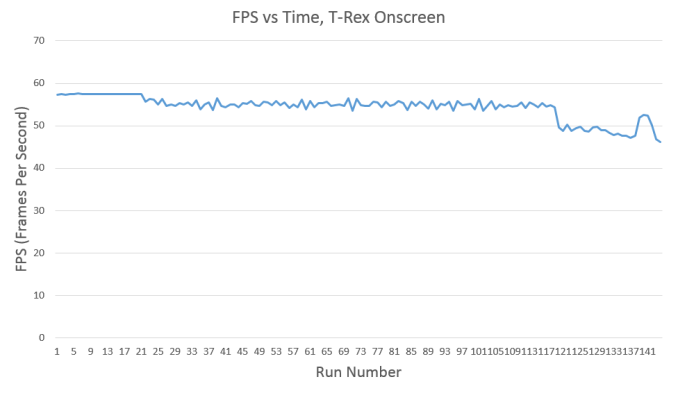 Of course, the Shield Tablet is also designed for gaming. Unfortunately, the Tegra K1 introduces quite a massive amount of dynamic range. While it's fully possible for the Shield tablet to last 10 hours of continuous use on a single charge, running the GPU at full blast gives battery life similar to a gaming laptop. Realistically, if a game is made for Tegra K1 and truly stretches the GPU to the limit, battery life is only around two and a half hours, assuming display brightness is kept down to 200 nits. Of course, anything less intensive will do much better.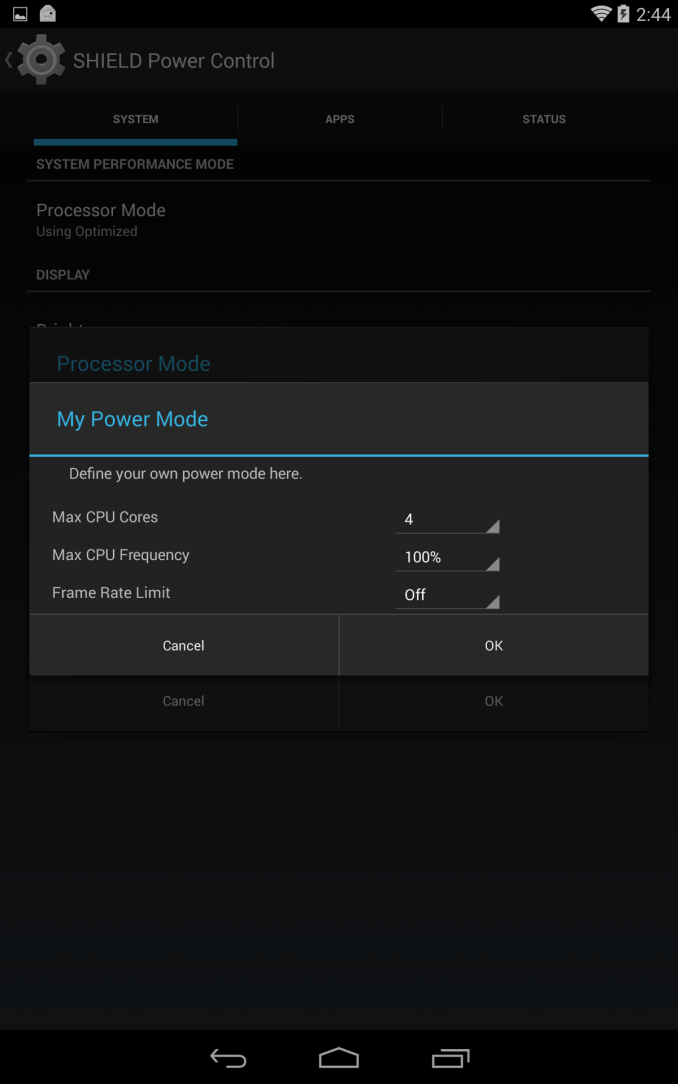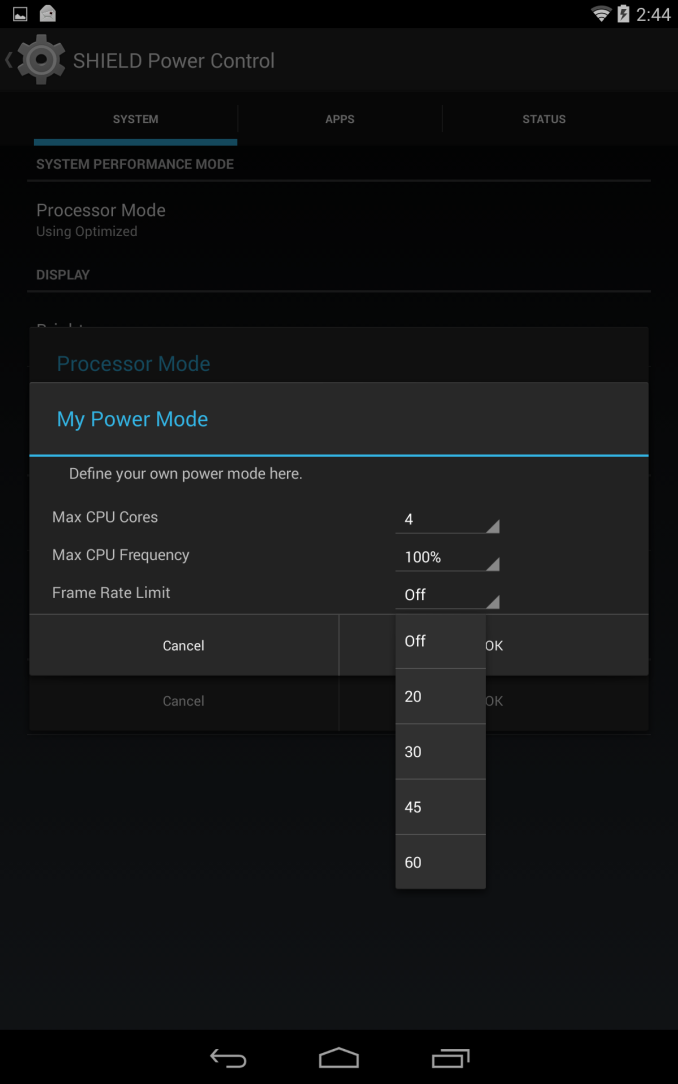 NVIDIA has also made it possible to cap the maximum frame rate and clock speed for better battery life. However, it's quite clear in this test that the tablet isn't capable of sustaining peak performance the way the Shield portable was, as the Shield portable sustained around 90% of the first run performance while the tablet sustained around 80% of its first run performance. The Shield Tablet also has noticeably higher skin temperatures, although this was a subjective observation.
Display
While this device is targeted towards gaming, as a tablet it also needs a great display. In order to better test this, we turn to our custom workflow in CalMAN 5 to get a better idea of how good the display is. To start, we'll look at the basics and move on from there. All of these tests were done with sRGB as it provides the best results.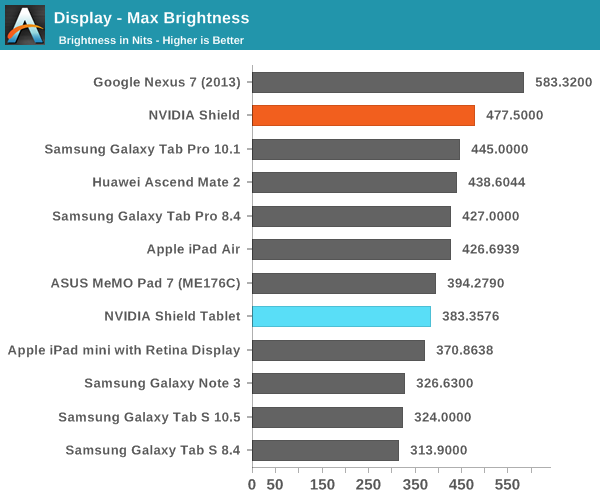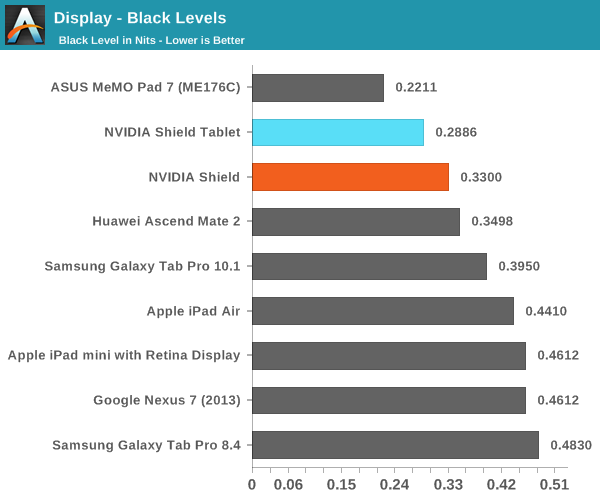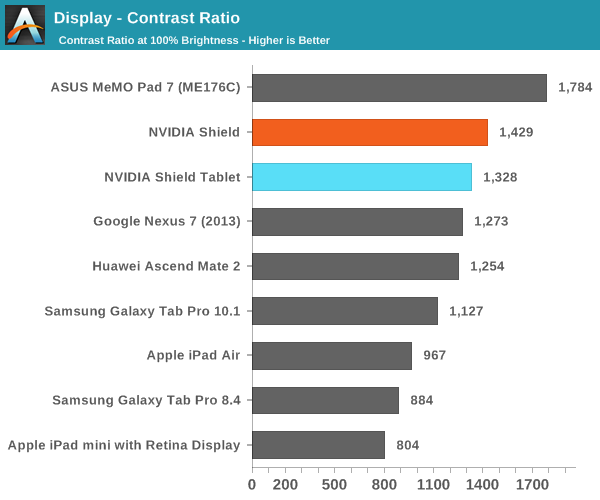 Unfortunately, it seems that the display is a bit dim compared to the competition. It's still well within spec and plenty bright for indoor usage, but outdoors it won't be as easy to read. Contrast is definitely up to par though, and as far as I can tell in normal usage image-dependent dimming is disabled, so the display has a relatively high native contrast.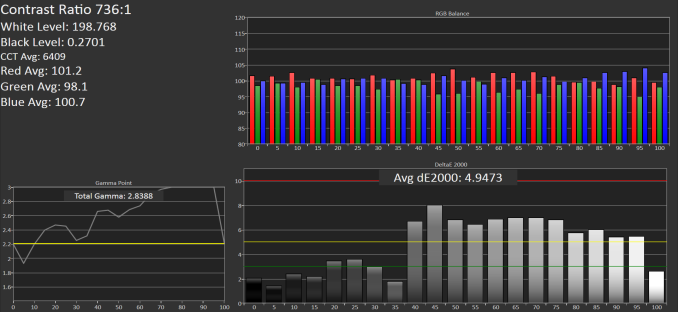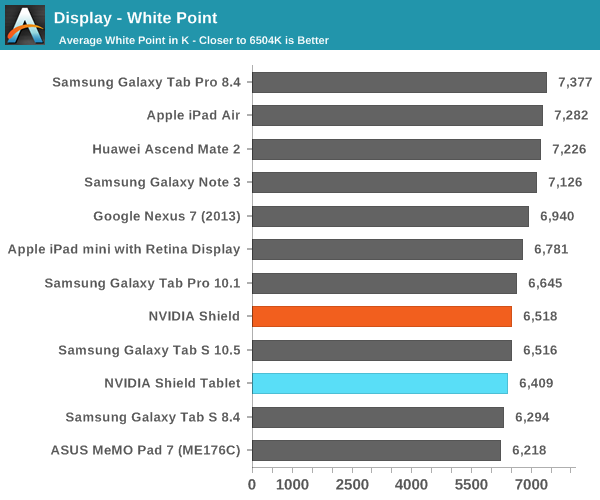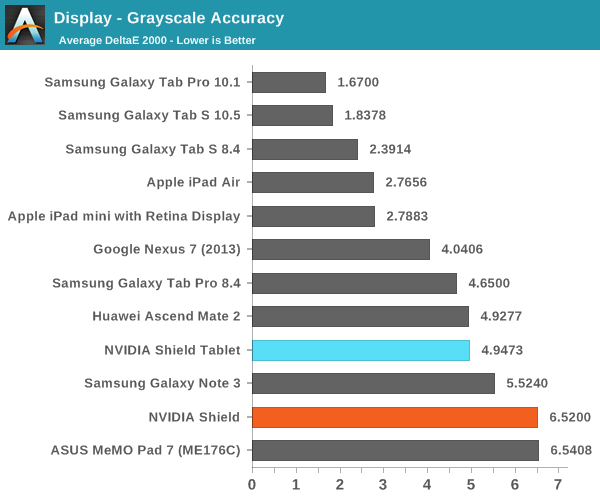 In the grayscale test, NVIDIA has done a relatively good job in keeping a balanced white point, although error ends up a bit high relative to what we've seen recently. It's definitely acceptable for most users, at any rate. It's important to note here that the grayscale accuracy error average is not just a measurement of RGB color balance, as vision also depends upon the luminance aspect to be correct.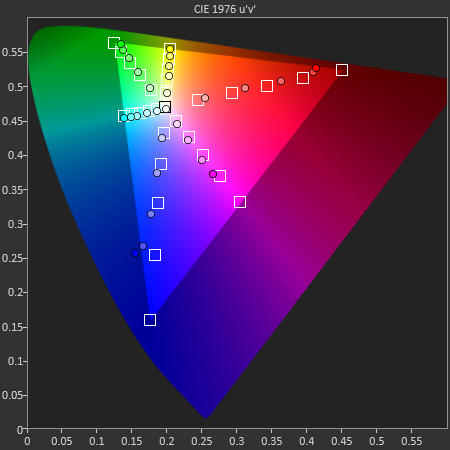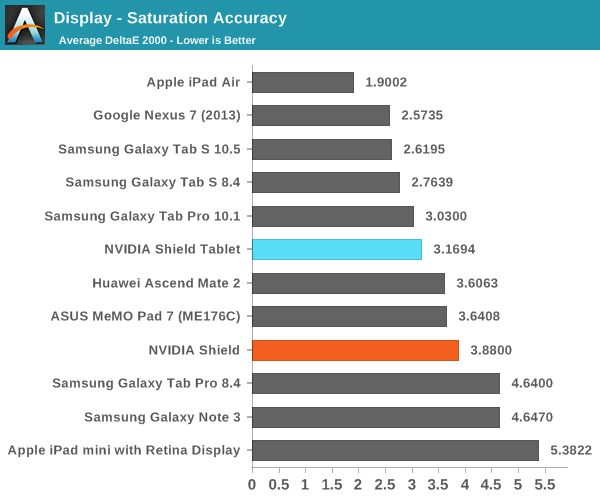 The saturation test is where things start to fall apart. Unfortunately, it's quite clear that the backlight used in this device just doesn't have pure enough wavelengths for red and blue, and the result is that the gamut is well below sRGB, around what we see for the iPhone 4/4s and iPad mini line. This may be an attempt to improve power consumption, but I suspect that most are willing to forgo some battery life for a higher quality display. NVIDIA's sRGB calibration is good up to the 80% saturation mark, but everything else past that point will have the same color, so it's clear that NVIDIA's display calibration tries to make do with what it has.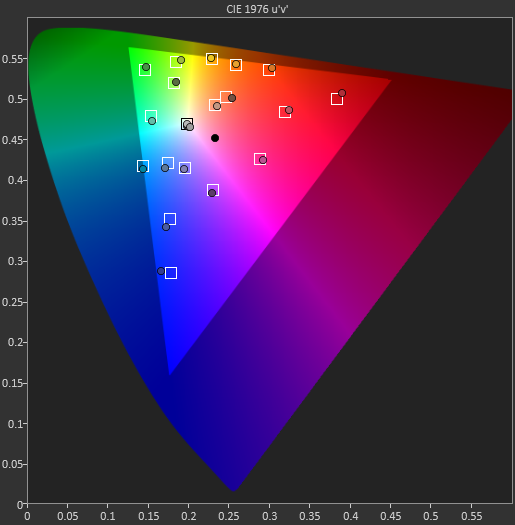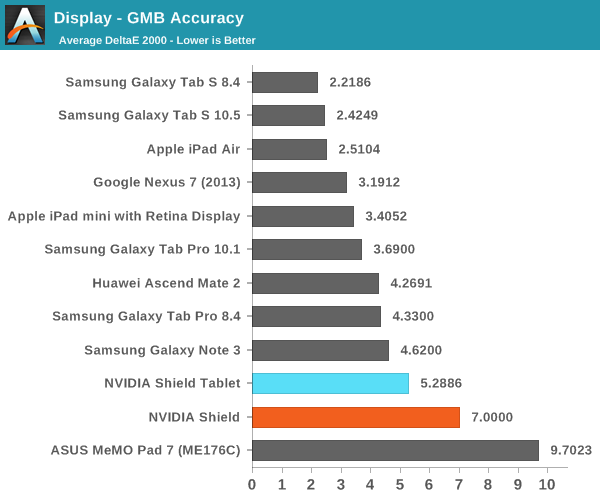 As expected, the ColorChecker shows the results of the poor gamut and some issues present in the grayscale. Error ends up relatively high. The display is still decent, but relative to the competition it doesn't stack up very well.
WiFi Performance
For the most part these days it seems that the situation for WiFi is much better in mobile than it is anywhere else, but it's still important to test throughput, especially on a device like the Shield tablet that requires low latency, high bandwidth connections in order to support GameStream and GRID. To this end, while NVIDIA hasn't shipped 802.11ac the Shield tablet ships with a 2x2 antenna configuration for a maximum PHY rate of 300 Mbps. Like the Shield portable, this is a BCM43241 chip, likely shared to improve economies of scale. To look at how it performs, we turn to iperf. Before we get into the results of the test, I'd like to thank ASUS for providing the RT-AC68U router to test WiFi perfomance.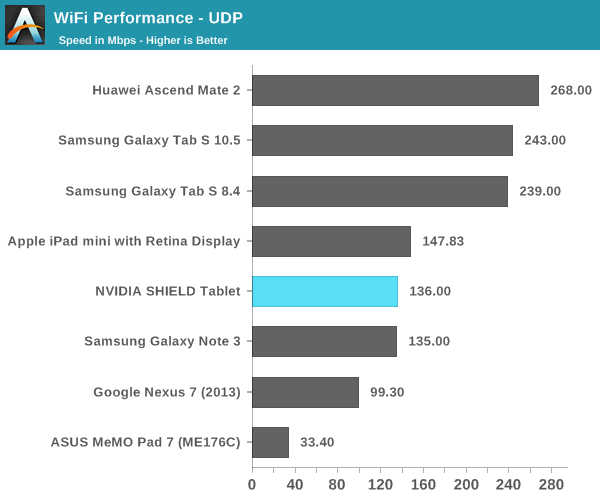 Surprisingly, the Shield tablet performs about as well as some single stream 802.11ac solutions like the one found in the Galaxy Note 3. Performance is generally in line with what we'd expect for such a solution, although it would be nice to see 802.11ac for future products.
Camera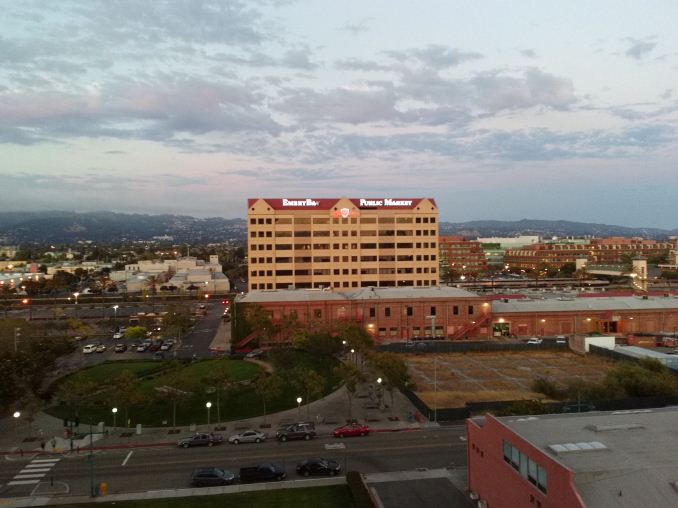 While I currently don't have the means to properly test camera, there are still some things to talk about for camera. Both the front and rear camera modules use OmniVision's OVT5963 sensor, which appears to be a 1/4", 5MP sensor. The rear camera has an F/2.0 aperture with 2.95mm focal length, and the front camera has an F/2.8 aperture, with a claimed 4.76mm focal length, although the field of view appears to be somewhat wider. This is the same sensor as the camera in the Nexus 7 (2013). As a rear facing camera, the quality is nothing special but as a front facing camera it's surprisingly high quality. The photo above is with the rear facing camera, the photo below is from the front facing camera. The stock camera application also doesn't show the correct aspect ratio for the camera, so the preview is cropped.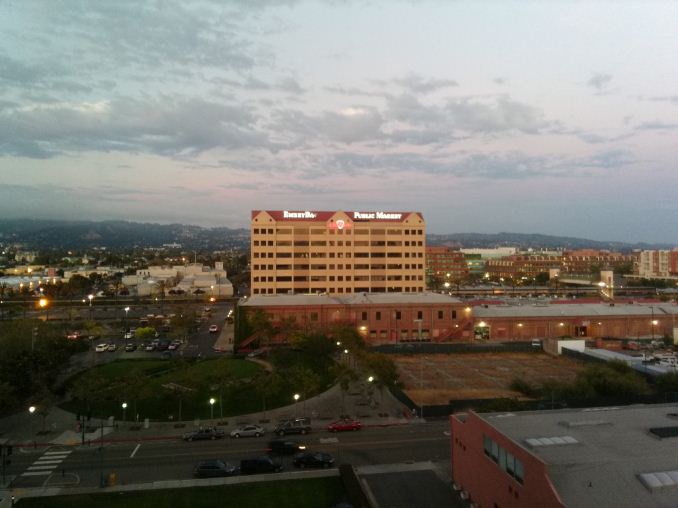 Audio
While I don't have the equipment available to test audio quality and peak volume quite yet, subjectively the two bass reflex ports and dual front facing speakers make for a great experience. It's definitely a major advantage over other devices when it comes to watching movies and playing games as I don't have to cup my hand around the speaker. The larger size of the tablet formfactor means that the stereo separation is much more obvious. On the headphone jack, the device appears to be using a Realtek RT5639 codec. It seems that NVIDIA has continued to use their own speaker protection system that runs on the SoC, as there isn't any clear evidence of a speaker protection IC connected via I2C.
Final Words
If I'm honest, it's hard for me to review tablets. While I academically understand why people like tablets, I've never really found a use for them. They're less comfortable to use in bed than a phone, I usually can't type on a tablet as quickly as I do on a phone due to the size and weight, and in general it's hard to justify a tablet when a phone is generally much more versatile. So when I got the Shield Tablet, I didn't really know what to expect. While I have a Shield Portable, I don't spend much time gaming on it, especially when I have a desktop that can do it much better. I came away from my experience pleasantly surprised.
Over the past five days, I've learned a lot about this device. As a tablet, it's good. The material design and industrial design is acceptable and the device itself is quite ergonomic but it doesn't blow me away. However, given the need to meet cost constraints, the matte plastic feel is really all that's necessary and I don't have any complaints in this area.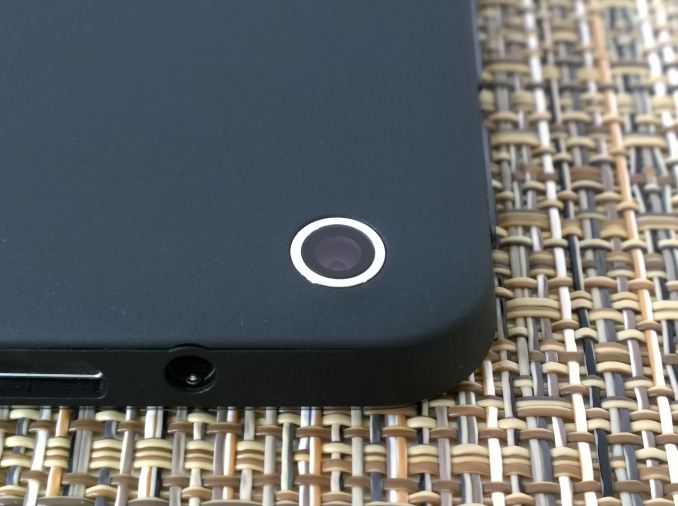 In the other fundamentals, we see a bit of a checkered pattern. In the display, the static contrast is quite high, and the calibration is good, but the gamut of the display doesn't cover sRGB. This would definitely be an area that should be improved for the next generation. Although there are some compelling reasons to go with smaller color gamut, it ends up as a disadvantage when compared to other general-purpose tablets. The display is still perfectly usable, but it's a bit more washed out than I'd like.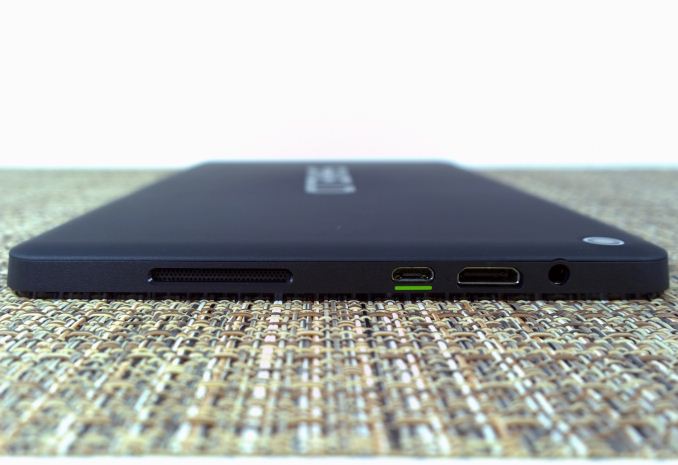 In battery life, we see that the Shield Tablet ends up doing relatively well in web browsing, but for intensive gaming the tablet can't spend much time away from an outlet before draining the battery completely. This is likely to be an unavoidable tradeoff, given the immense amounts of performance that Tegra K1 provides versus the power costs of doing so on a 28nm process. Anyone that has lived with a gaming laptop should understand this. As said before, it's also possible to improve battery life from the 2.5 hour figure if the game is light enough to allow the GPU to run at lower frequencies. Barring that, NVIDIA has included options to cap the maximum frame rate of the display and reduce maximum CPU frequencies.
Otherwise the only other notable difficulty I've run into is with the stylus. Generally speaking it works well enough, but the stylus requires a bit more lift between words than I'm used to and keeping it from feeling fully natural. But I will be the first to admit that this is a minor issue at best.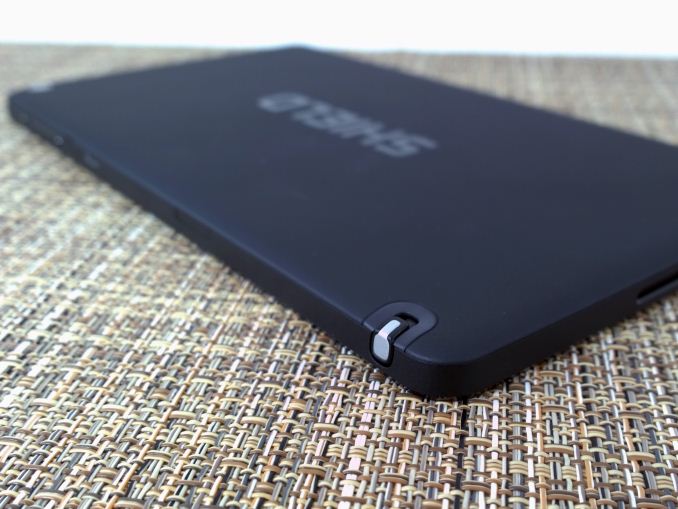 Outside of the tablet itself, the gaming features are compelling. The larger 8" display and massively improved SoC on the Shield Tablet made for a far better gaming experience than what I had on Shield Portable. There's a great deal of potential in ShadowPlay on a tablet, as while screen recording is nothing new in PCs this feature is often difficult to enable on Android. This is before we talk about the effects that live video encoding has on UI performance. ShadowPlay has managed to enable easy screen recording on a mobile device and do so without significantly impacting performance.
Meanwhile GameStream and GRID are even better on the larger screen that the tablet provides. While it was cool to play PC games on the Shield Portable, the size of the display simply made some elements too small to reasonably see. Now, there are no such issues. GameStream and GRID are definitely a lot of fun to use, especially if the game is well-adapted to playing on a controller.
Ultimately though, I feel that the native game library is the most important aspect of this device. While there are plenty of solid single player games, multiplayer games are few and far between. I still feel that multiplayer is where Shield has the strongest potential because it makes the difference between tens of hours per game and hundreds, even thousands of hours per game. There are definitely signs that this aspect of the ecosystem will improve in the near future as Trine 2 supports local multiplayer and War Thunder on Shield Tablet should be able to play online against console and PC players.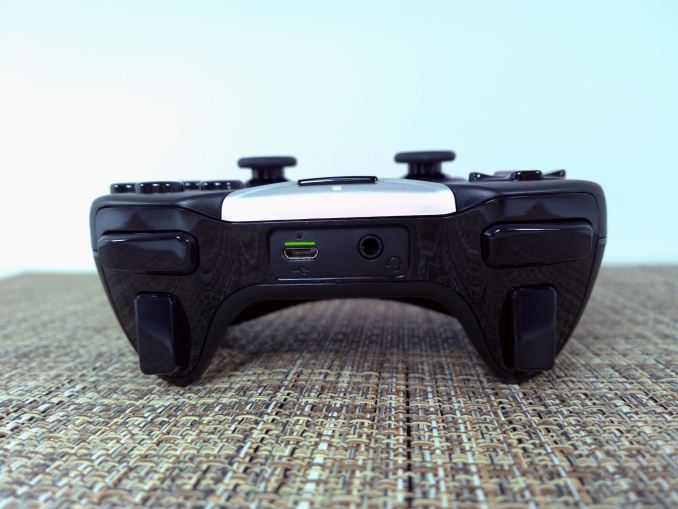 After getting through all of these observations over the past five days, I've come to realize that even though it's not the perfect tablet, all of the features that this device brings to the table right now would be enough for me to seriously consider buying one. If NVIDIA manages to get enough multiplayer titles with an active community on Shield Tablet, there wouldn't be a need to stop and consider at all. As someone that has spent the past few years never considering a tablet purchase at all, the Shield Tablet is the first ARM tablet that I would seriously think about buying.
The SHIELD Tablet is 299 USD for the 16GB WiFi model, 399 USD for the 32 GB LTE model. Each controller is 59.99 USD and the cover is 39.99 USD. While the 16GB model is 70 dollars more expensive than the Nexus 7 equivalent, the gap narrows to 50 dollars for the 32GB LTE model. Given the sheer amount of utility that this device brings to the table, the pricing is definitely set at the right place.