Original Link: http://www.anandtech.com/show/8267/msi-ge60-review-mainstream-mobile-maxwell


MSI GE60 Introduction
Earlier this year, NVIDIA launched their latest and "greatest" GPU architecture, codenamed Maxwell. The first parts launched on the desktop in the form of the GTX 750 and GTX 750 Ti, but given the improvements in efficiency relative to Kepler, Maxwell seemed a perfect fit for gaming notebooks. A month later, NVIDIA confirmed the use of Maxwell in several new GTX 800M mobile GPUs, but there's a catch: not all of the new 800M GPUs use Maxwell, and in fact certain models (GTX 860M in particular) are available in both Kepler and Maxwell flavors. While we weren't able to test the new GPUs at launch, we now have shipping hardware in hand, courtesy of MSI's updated GE60.
For those unfamiliar with MSI's notebook lineup, the breakdown goes something like this, starting at the top in terms of performance and pricing. The GT series comes equipped with the fastest GPUs and CPUs and targets the enthusiast notebook gaming sector; one step down from that in performance is the GS series, which comes with sleeker and more refined designs, but also slightly slower configurations (generally speaking). Below that sits the GE series, which is more of a mainstream gaming platform, delivering reasonable levels of performance at a price point that won't break the bank.
At present, MSI has three shipping GE series laptops: the GE40, GE60, and GE70; we're of course looking at the 15.6" GE60 variant, and while some of what we say will apply to the GE40 and GE70, there are differences in the components, display, and chassis design that you'll need to consider when shopping for one of the GE series notebooks. There are several models of each notebook as well as "whitebook" offerings that can be further customized by notebook resellers; the specific model we received for review is the GE60 Apache Pro-003, with the following specifications:
MSI GE60 Apache Pro Specifications
Processor
Intel Core i7-4700HQ
(Quad-core 2.4-3.4GHz, 6MB L3, 22nm, 47W)
Chipset
HM87
Memory
1x8GB DDR3L-1600 (Max 2x8GB)
Graphics
GeForce GTX 860M 2GB GDDR5
(640 cores, 1019MHz + Boost 2.0, 5GHz GDDR5)

Intel HD Graphics 4600
(20 EUs at 400-1200MHz)
Display
15.6" Matte PLS 16:9 1080p (1920x1080)
(Samsung 156HL01-102)
Storage
1TB HDD (HGST HTS721010A9E630)
Optical Drive
DVDRW (HL-DT-ST DVDRAM GTA0N
Networking
802.11ac WiFi (Intel Dual-Band AC-3160)
(1x1:1 433Mbps capable)
Bluetooth 4.0 (Intel)
Gigabit Ethernet (Killer e4200)
Audio
Realtek HD ALC892
Stereo Speakers
Headphone and microphone jacks
Battery/Power
6-cell, 11.1V, 4400mAh, 49Wh
120W Max AC Adapter
Front Side
Flash Reader (SDXC/SDHC)
Left Side
Headphone and mic jacks
2 x USB 3.0
1 x HDMI
1 x USB 2.0
Exhaust vent
AC Power Connection
Kensington Lock
Right Side
Optical drive
1 x USB 3.0 (Sleep Charging)
1 x VGA
Gigabit Ethernet
Back Side
N/A
Operating System
Windows 8.1 64-bit
Dimensions
15.08" x 9.82" x 1.27-1.48" (WxDxH)
(383mm x 249.5mm x 32.3~37.6mm)
Weight
5.72 lbs (2.60kg)
Extras
720p HD Webcam
103-Key 3-Zone Colored Backlighting Keyboard
Pricing
Starting at $1200 Online
The core components are definitely sufficient for gamers on the go, with the i7-4700HQ processor backing the GTX 860M (Maxwell) dGPU, and of course NVIDIA's Optimus Technology is also present. I'm also pleased with the inclusion of a 1920x1080 wide viewing angle LCD using Samsung's PLS technology. In fact, everything looks good until we get to the storage configuration, where we encounter a pure HDD storage solution and a DVD-RW drive. I'm not too worried about the latter – I rarely use DVDs these days, but some people still like to have that option without resorting to a USB peripheral – but the pure HDD storage definitely rears its head when it comes to everyday tasks like booting up the laptop (or resuming from hibernation), loading applications and games, etc.
Considering we now have 512GB SSDs like the Crucial MX100 selling for $220, or 128GB SSDs starting at just $75, skipping SSD storage entirely is a painful omission. The good news is that MSI has other GE60 models available with SSD + HDD storage configurations; the bad news: finding a store that carries one of the SSD-equipped versions who doesn't charge a "too much" price premium can be difficult/impossible. Bottom line: if you want to get the GE60 with an SSD in place of the hard drive, either plan on doing the upgrade yourself, or look at some of the notebook vendors (e.g. Powernotebooks) and customize the build to your liking for a bit more money. Personally, I'm at the point now where it's painful to go back to pure HDD storage, and 512GB for $220 is enough that I really don't need a secondary internal drive. YMMV.
On the connectivity front, the GE60 is once again pretty good, with a few small concessions. MSI uses an Intel 3160 dual-band 802.11ac solution, but this is only a 1x1 solution so maximum throughput is limited to 433Mbps on 5GHz channels or 150Mbps on 2.4GHz. Additional networking support comes via Killer Gaming Network's Gigabit Ethernet adapter, Bluetooth 4.0 (also from the Intel 3160), two USB 3.0 ports, two USB 2.0 ports (one for charging devices while the system is asleep), and HDMI and VGA video connections. Some might prefer seeing all USB 3.0 ports, and the lack of DisplayPort (or mini-DP) for video is also a bit odd.
Overall, the core specifications look good, with only a few small omissions to help keep prices in check. If your primary concern is gaming performance, the GE60 has plenty going for it, and the price of $1200 for the model we're looking at is quite reasonable. Competing laptops with the GTX 860M include the $1100 Lenovo Y50, MSI's own bulkier 17.3" GE70 for $1050, 17.3" Gigabyte P27Gv2-CF1 for $1280, and if you really aren't too concerned with size or weight there's the 17.3" ASUS G750JM-DX71 for $1279. Of those, I'd say the Y50 is the most compelling alternative, but all of these notebooks are viable contenders depending on your specific needs.
MSI GE60 Apache Pro: Subjective Evaluation
On paper, the GE60 Apache Pro gets just about everything right: it has a decent CPU and GPU for performance, sufficient RAM for most users, a decent quality display, and multi-colored zoned backlighting for the keyboard. The HDD storage on the review unit is of course going to make certain benchmark results look bad compared to the other laptops we've tested, but really that's only half of the story. What really sets a laptop apart is how it fares in day to day use; unfortunately, the MSI GE60 has some good and bad results in our subjective evaluation.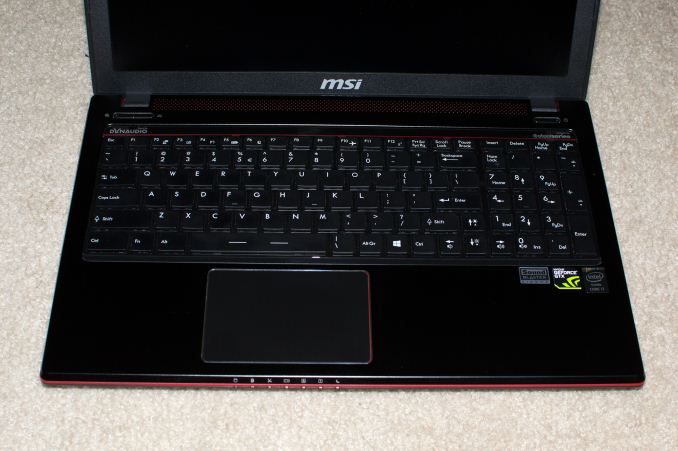 Starting with the good, the keyboard is generally the same as what you'll find on the GT70 that we reviewed recently – and in fact the keyboard looks to be the same across the 15.6" and 17.3" GE, GS, and GT line of MSI notebooks. Some people like having the Windows key on the right, some don't, but it's not a big enough problem that I couldn't adapt to using the keyboard – and that's especially true if you use the laptop on a daily basis instead of bouncing between keyboards. I'd still like dedicated document navigation keys (Home and End in particular), but I've beat that drum enough I think.
The touchpad is generally good as well, though I found the right-click action in the corner to be a bit finicky at times (as in, it didn't always register), and the clickpad in general sometimes missed presses. Again, it works well enough that I could adapt to using it, and I do want to mention that I find the GE60 touchpad is much better than the outdated model in the GT70.
Another good element is the display, with a good combination of resolution, contrast, viewing angles, and color quality. Post-calibration the LCD does very well, but out of the box you'll find the colors are certainly off in many areas (including grayscale). While it would be nice to see better color accuracy out of the box, that's usually a secondary concern so I won't harp on this aspect –the colors are better than the GT70 out of box colors, at least, and you're getting a non-TN panel as a bonus (all in a less expensive package). Speaker quality is okay as well – lacking in bass response, and not enough to fill a large room, but in normal use the speakers are sufficient.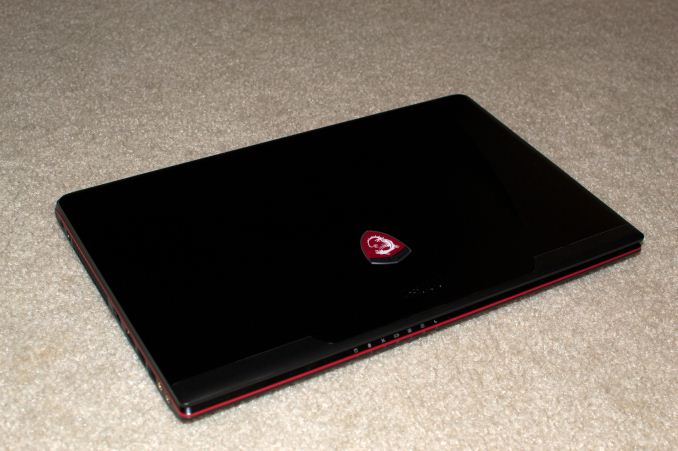 Where things take a turn for the worse is the one item I haven't covered yet: build quality. The general design and aesthetics don't really deviate from past designs so there's not much to say. The main chassis is plastic with brushed aluminum veneers, with red accents in a few places. The MSI "Dragon Army" logo is also on the top cover, with the white dragon lit up LCD backlight. The problem is that while the main chassis feels pretty solid, the top cover is very flexible – perhaps even bordering on flimsy. That doesn't inherently mean the display will get cracked or damaged, but compared to other laptops I do feel there's more of a risk that something will happen to the display over several years of use. And really that's my only real complaint with the build quality: the materials for the cover need to be about twice as thick (so really only about 0.5mm thicker) and MSI would clear of any major issues.
If the top cover was the only concern, the GE60 would still be easy to recommend, but there's one other issue: battery life. I'm used to seeing battery life upwards of seven hours for Haswell laptops with a 56Wh or larger battery, but the GE60 falls far short of that mark. In fact, it's similar to what I usually see with Clevo gaming notebooks: around 4.5 hours for light use, or three hours for our heavy workload. I suspect there are plenty of areas where MSI could tweak the BIOS/firmware to improve battery life, but that hasn't happened in the months since the GE60 was first released, so if you're looking at the GE60 now I'd just plan on getting subpar battery life. Since this is a gaming notebook, you'll probably be carrying the AC adapter with you regardless, and at 5.28 pounds (2.4kg) we're definitely well past the ultraportable category. Even so, I've seen similarly equipped laptops in the past that could manage at least 50% more battery life, so I can't help but be a little disappointed.
MSI GE60 Gaming Performance
I'm starting our performance section with gaming, as that's likely the most interesting part of this review. The Maxwell GM107 chip may not be NVIDIA's fastest GPU right now, but with some enhancements over Kepler and improved efficiency it could prove to be a great mobile solution. We have now tested GTX 880M (which is basically GTX 780M with slightly higher clocks), we have a GTX 870M notebook we're working on reviewing, and with the GE60 we can see where the "mainstream" GTX parts fall in terms of performance.
Compared to last generations GTX 760M, the 860M has slightly fewer CUDA cores (640 vs. 768), but they're clocked much higher (up to 1029MHz compared to 657MHz), leading to a potential performance increase of around 30%. Memory bandwidth has also improved by 25% over the GTX 760M, making for an overall much faster mobile GPU. The GTX 760M tended to be good for 1080p with medium to high detail settings, so the GTX 860M should be closer to 1080p high in most games.
For our tests, we look at 1366x768 Medium, 1600x900 High, and 1920x1080 Ultra (max quality with 4xAA). I won't include all of the results here but instead we'll focus on the "mainstream" (1600x900 with ~high settings) performance (update: with GeForce Experience 1080p as well). The full suite of results are available in Notebook Bench, as usual. Generally speaking bumping up to the native 1920x1080 resolution of the GE60 will reduce performance by 10-30%, depending on the title, so average frame rates of 45 FPS or higher with our Mainstream settings should equate to 30FPS or higher at 1080p.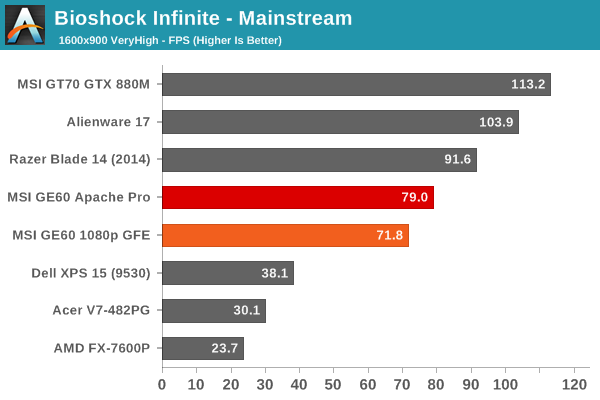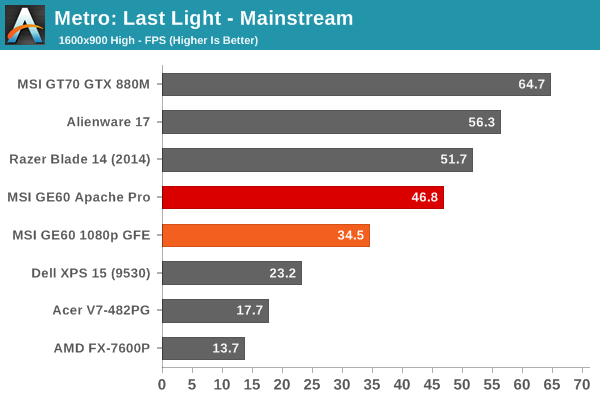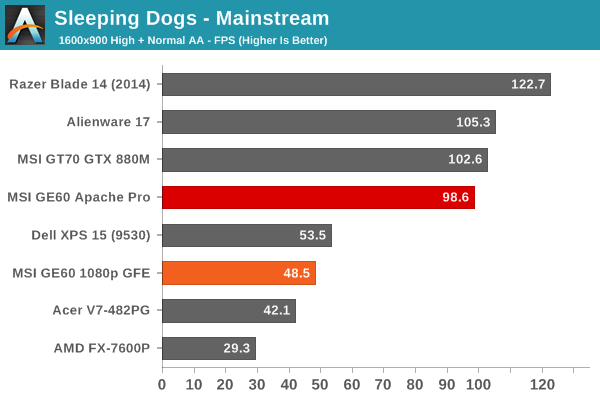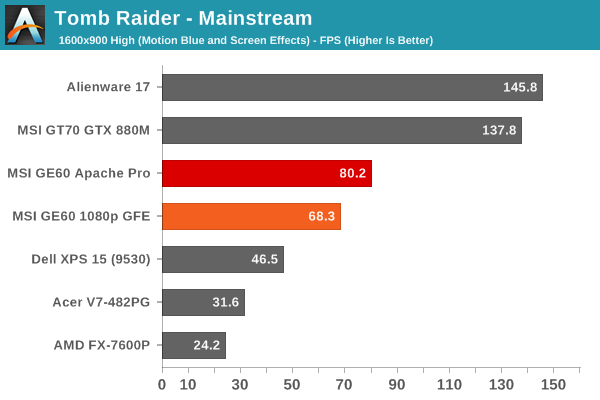 The results from our first mobile Maxwell GPU tests are quite promising; all of the games at Mainstream settings are well above 30 FPS, including the punishing Metro: Last Light; in fact, other than Metro all of the games are actually well above 60 FPS. There are other games that will hit the GPU hard, but few will be worse than Metro so for now we can be pretty safe assuming the GTX 860M will handle 1080p with high details while providing at least 30 FPS.
If you flip over to Notebook Bench, you'll note that our Enthusiast settings tend to be a bit much on a couple games – specifically Metro drops below 20 FPS, and Tomb Raider is just barely below 30 FPS. There's obviously going to be a need to balance the settings you choose to run at, but that's where NVIDIA's GeForce Experience comes into play. NVIDIA has a large automated setup that tests a bunch of games with a variety of settings, simulating all sorts of GPUs – including older GPUs as well as newer stuff like the GTX 860M. The result is that if you're not OCD about selecting your own game settings, GFE is a great way to get a nice balance of settings that will still give you a good frame rate. For the 860M, most of the time the settings are at high details or above, but a few demanding titles will tweak things.
Update: A reader requested I include 1080p results as well; I used the GeForce Experience "optimal" settings and they are listed in the above charts as "MSI GE60 1080p GFE". I've created a gallery of images showing the specific settings that GFE applies in each game on the GTX 860M below. Note that you can customize certain aspects of GFE as well (e.g. prefer higher performance or higher quality); I'm using the defaults here. The one exception is Metro Last Light, where GFE incorrectly thinks enabling PhysX is a good idea; as soon as the particles start to fly, PhysX causes the frame rates to plummet into the single digits! I know PhysX is an NVIDIA technology, but seriously: you cannot enable it on a GTX 860M with this game and still expect reasonable frame rates. Needless to say, I disabled the setting for the above results.
The short summary as far as gaming is concerned is that the GTX 860M offers plenty of performance in a reasonably priced package. It's not the fastest mobile GPU by any means, but really until we see larger mobile Maxwell GPUs I'd take the GTX 860M over the GTX 870M and GTX 880M. Those GPUs are faster, but they don't support the latest CUDA features – NVIDIA is up to Compute 5.0 now, which the Maxwell GPUs support whereas the Kepler mobile parts like 880M stop at Compute 3.0. Plus, the increase in price isn't enough to justify what's typically a moderate bump in performance in my book.
MSI GE60 General Performance
As I've commented already, the presence or lack of an SSD can dramatically alter the end user experience. In this case, the GE60 we're testing doesn't have an SSD and it can feel painfully slow when it comes to booting Windows, installing applications…or running PCMark 7. Versions of the GE60 with an SSD will of course be a different story, but I did run PCMark 7 and 8 on the GE60 and the scores are in the charts below. What you'll see is that PCMark 8 Storage as well as most of the PCMark 7 suite skew heavily in favor of SSDs, which isn't necessarily wrong, but it does make comparisons between HDD and SSD systems largely meaningless with these two benchmarks. Just remember: we're evaluating entire laptops, not individual components.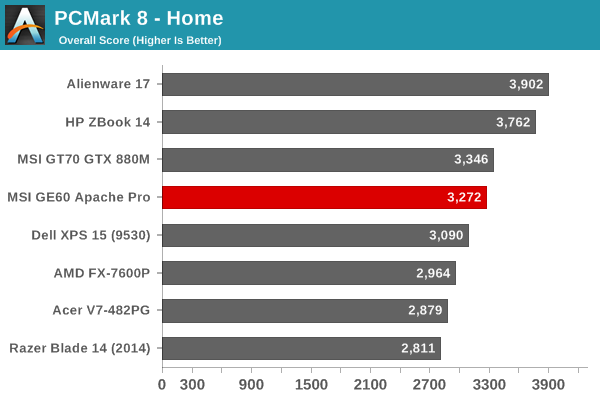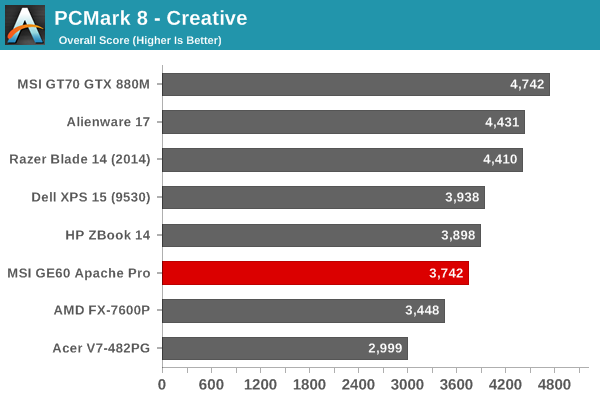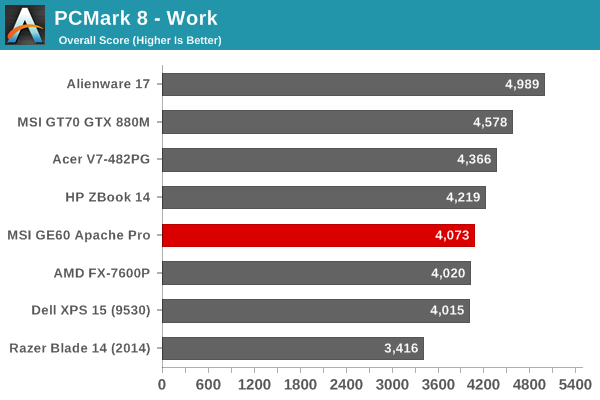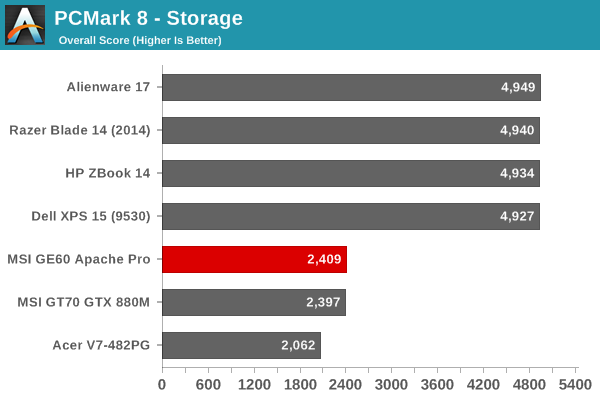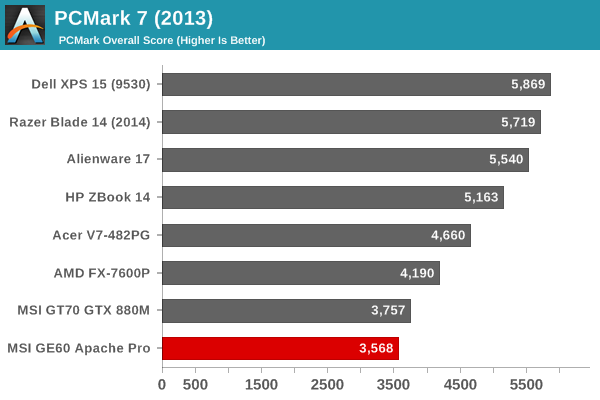 PCMark 8 apparently isn't as SSD biased on most of the tests, which is a bit odd to see. Or maybe Hitachi (who provides the HDD for the GE60 being tested) has done some special tuning to help this specific workload? Normally, about the only thing you can really glean from PCMark scores these days is whether a system is dual-core or quad-core, and whether or not it's using a pure HDD storage solution or something with an SSD (caching or pure SSD). Here, while the GE60 isn't the fastest at PCMark 8, it does beat several quad-core SSD laptops, and I'm not entirely sure why.
The Cinebench, x264 HD encoding, and 3DMark are basically component tests, so scores pretty much scale with the level of the hardware. Not surprisingly, everything falls where you'd expect, with the i7-4700HQ delivering good performance but trailing behind faster CPUs. 3DMark also more or less confirms the performance level of the GTX 860M. You'll also find results of WiFi throughput with several of the notebooks, though there's a huge amount of variance depending on your router, location, and other factors, so take the WiFi performance with a grain of salt. Here are the pertinent charts:
[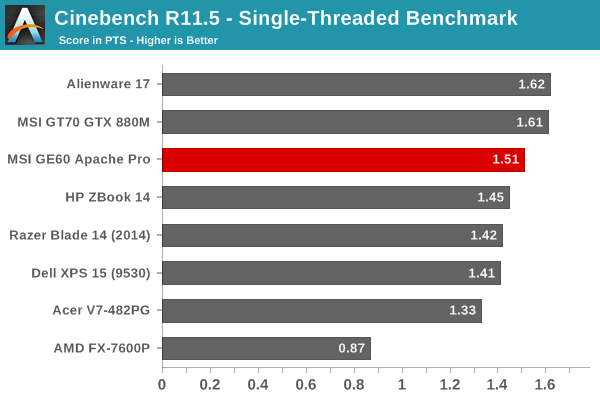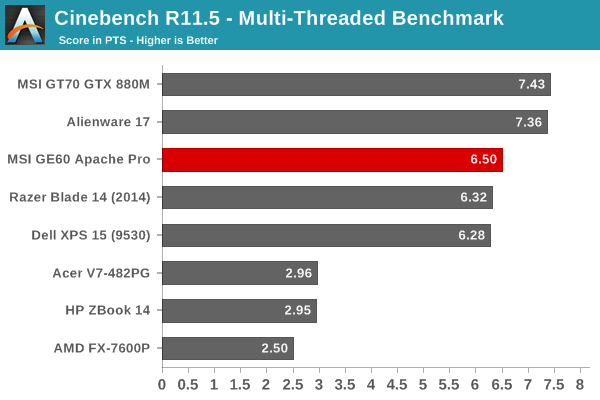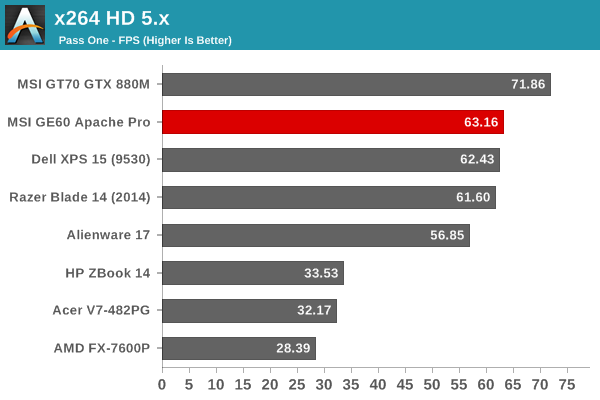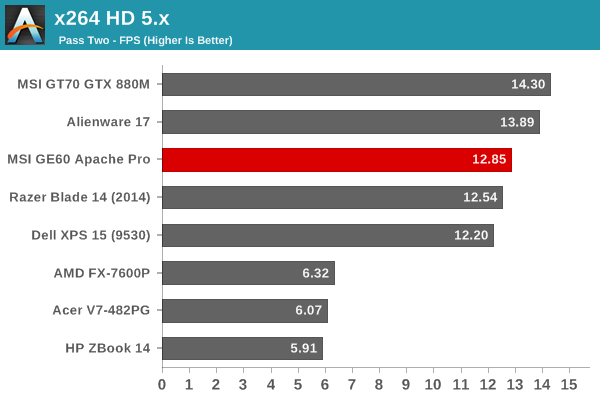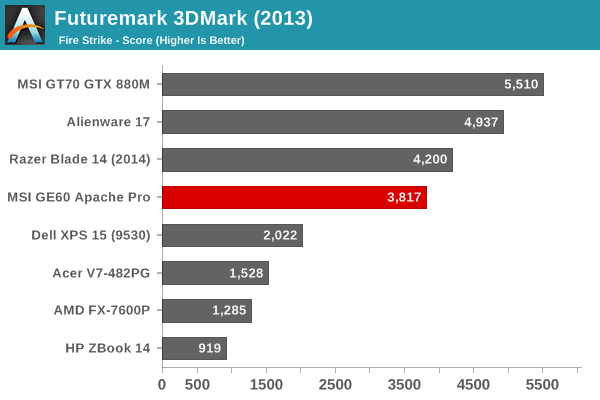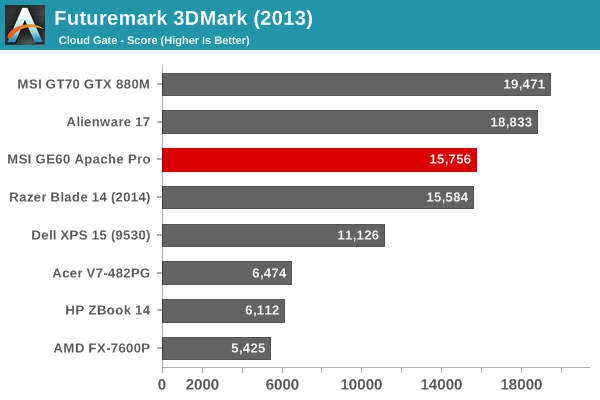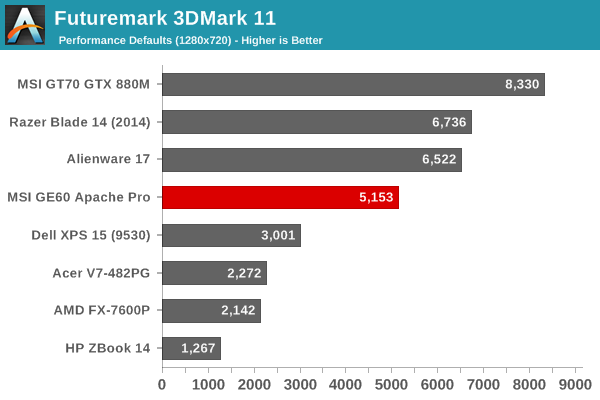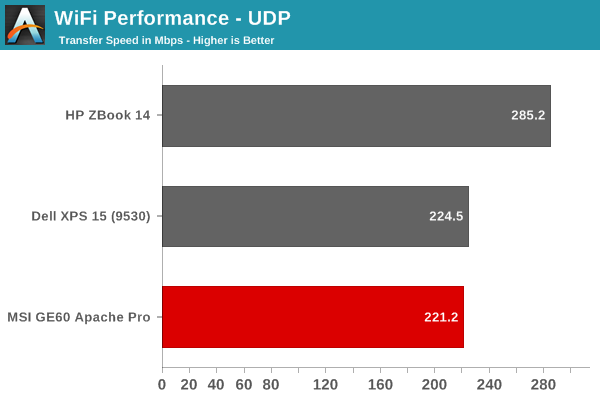 MSI GE60: Stress Testing
One area of performance that warrants a closer look with any gaming notebook is the question of throttling. Simply slapping in a certain level of hardware inside a laptop isn't the same thing as truly ensuring that the hardware works as expected, and we've seen more than a few instances of notebooks that have severe throttling under sustained heavy loads. This is particularly true of the thinner class of laptops, where cooling capacity often can't keep up with a sustained load. While manufacturers might argue such loads are "unreasonable", it's still important that a system handle such loads gracefully. As an extreme example, dropping the CPU (or GPU) clocks to a minimum level while letting the GPU (or CPU) run at maximum clocks is generally not going to produce the best overall experience.
The testing environment for this workload is unfortunately not temperature controlled, but that can be good in that the summer months allow for a better "worst case" scenario. For these tests the ambient temperature (in my office that has no AC, ugh...) was between 85-90F. The following gallery contains graphs for the temperatures and clocks using a 100% CPU + GPU stress test, a gaming workload, and a 100% CPU test:
The good news is that the GE60 performed well during my testing, and while it can get a bit warm under a heavy load… well, that's pretty much the case with every laptop if you push the CPU and GPU to 100% for a few hours. For the worst-cast stress testing, the CPU ended up clocking down to the minimum guaranteed speed of 2.4GHz while the GPU continues to run at close to max clocks (1020-1090MHz). Temperatures meanwhile look to stabilize around 90-92C for the GPU and 86-89C for the CPU. You can see at one point that we paused the GPU workload and the CPU almost immediately jumps up to 3.2GHz, which is what we want to see for a 4+ thread test.
For a more typical gaming workload or a sustained 100% CPU load (e.g. video encoding or 3D rendering), the temperatures aren't quite as high as with the worst-case stress testing, and clock speeds are better as well. The pure CPU test pegs the CPU cores at 3.2GHz and 82-84C. The gaming workload meanwhile has the GPU running at 1006MHz once the system is warmed up, with the temperature sitting at 87-91C. The CPU hovers between 3.2 and 3.4 GHz most of the time and thus ends up running a bit hotter than in our full stress test, but of course it's not actually working as hard as several of the cores are mostly idle. Interestingly, the CPU still heats up enough that periodically it drops down to 2.4GHz again, which lowers the temperatures as well; our graphs only show one such instance, but I let the testing continue and the pattern repeats every 10-15 minutes.
Surface Temperatures
If you're wondering about surface temperatures, the left and back sides of the GE60 are quite a bit warmer than the right side – not surprising considering that's where the CPU, GPU, and exhaust are located. Basically, everything left of the numeric keypad runs about 35-40C under load, while the 10-key is around 30-33C. The palm rest is also generally cooler than the keyboard area, again with more heat on the right than on the left; ranging from 30-35C. The exhaust on the left meanwhile is pretty consistently at 40-42C under load.
Flipping the notebook over, the plastic shell doesn't conduct heat as well as the aluminum covers on the top, which means most of the temperatures are actually slightly lower. The right half of the GE60 is at 30-32C, the middle section is 32-35C, and the left portion is again hottest and ranges from 35-40C with the area right around the heatsink (exhaust) hitting a rather uncomfortable 43-46C. The power brick actually ends up being the hottest part under load, with surface temperatures of nearly 50C, but that's not too surprising as it lacks any active cooling.
Again, keep in mind that it's quite warm right now in my testing environment, around 90F (30C), so these are pretty extreme conditions. Given the heat wave washing over the northwest, I'm actually quite impressed with how well the GE60 manages to cool the CPU and GPU. I can't say how well the laptop will continue to perform in a year or two, but at least any high temperatures so far have resulted in at worst minor throttling. The CPU and GPU in general appear to be able to run at their rated speeds without difficulty, and in a cooler (e.g. <80F) environment they should do even better.
MSI GE60 Battery Life
As I mentioned earlier, battery life is the one area where the GE60 doesn't do so well. I wanted to spend some additional time investigating NVIDIA's Battery Boost technology, but with a relatively low starting point I'm not sure how much it can really help. Anyway, I'll get to that later. As usual, we have our Light and Heavy workloads.
One oddity is that the Heavy workload was consistently causing a BSOD with a VIDEO_SCHEDULER_INTERNAL_ERROR message after updating drivers. I'm not sure if the Intel or NVIDIA drivers are to blame, but I suspect it might be Intel's drivers as H.264 offloading tends to work just as well on Intel as on NVIDIA GPUs these days, so there wouldn't be much point in powering up the dGPU for video decoding. (Oddly, I haven't encountered this error on other laptops with Intel + NVIDIA solutions, so perhaps the problem is related to Maxwell and the specific workload we're running.)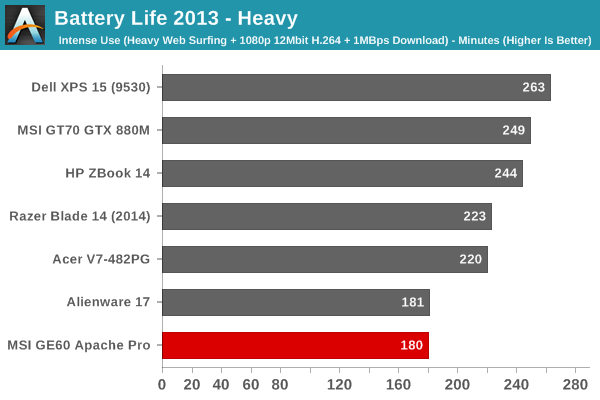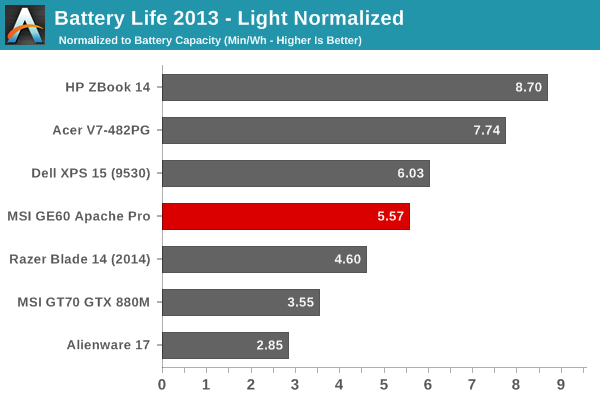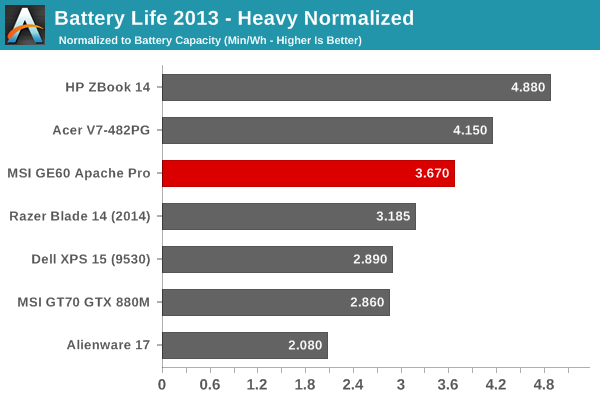 The 49Wh battery isn't exactly large compared so other 15.6" laptops, but even so the battery life from the GE60 is pretty disappointing. Last year's GE40 managed to hit nearly nine hours with a 65Wh battery, so I was hoping to see at least more than six hours out of the GE60. I'm not sure if the root cause is BIOS/firmware related, or if some of the components (e.g. the LCD) simply consume a lot more power. Regardless, the GE60 manages 4.5 hours in our Light test and 3 hours in our Heavy test.
Power draw in the Light test looks to be around 10.75W (give or take), which isn't all that bad, but Dell's XPS 15 manages to support a QHD+ touchscreen LCD and still only consumes 9.9W in the same test, so there's definitely room for improvement. Dell also wisely chose to stuff in a 91Wh battery in their SSD-only XPS 15 model, which is nearly twice the capacity of the GE60's 49Wh battery. Things do improve a bit in the Heavy test, with the GE60 managing three hours compared to 4.38 hours – that means at a higher load the GE60 is drawing roughly 16.33W compared to the XPS 15 drawing 20.75W. And if you're curious about the current best result for power use, Sony's 13.3" VAIO Pro 13 only used 4.6W during the Light test and 11.4W in the Heavy test.
As for gaming battery life, without Battery Boost being enabled, you're looking at around 40-60 minutes, depending on the game and settings you're running. With Battery Boost, in some situations you might get close to two hours of gaming, but in most of my testing it looks like 60-75 minutes is a better estimate.
MSI GE60 LCD: Surprisingly Good
I'll be honest: before actually seeing the GE60 in person, I wasn't expecting too much from the display. It's not that MSI has a reputation for using terrible LCD panels in their laptops, but the GT70 as one example is still sporting a TN panel even on the latest version. Thus, I was more than a little surprised to find that "lesser" GE60 using a Samsung PLS display, and while the out-of-box color accuracy could still be improved quite a bit, post-calibration the display performs exceptionally well. And even if you're not a stickler for accurate colors, the improved viewing angles offered by PLS/IPS/AHVA/etc. panels make using the laptop much more viable in cramped quarters (e.g. on a plane).
Full results for the display testing are in Notebook Bench, as well as in the galleries below; the charts mostly reflect the highlight right now (as we haven't tested very many laptops with the new software/hardware). But let's start with the core characteristics: white level, black level, and contrast.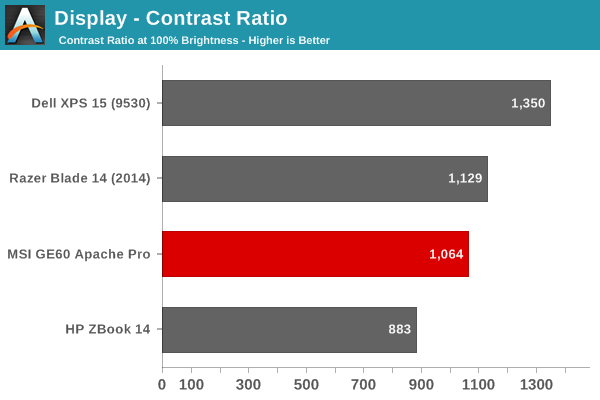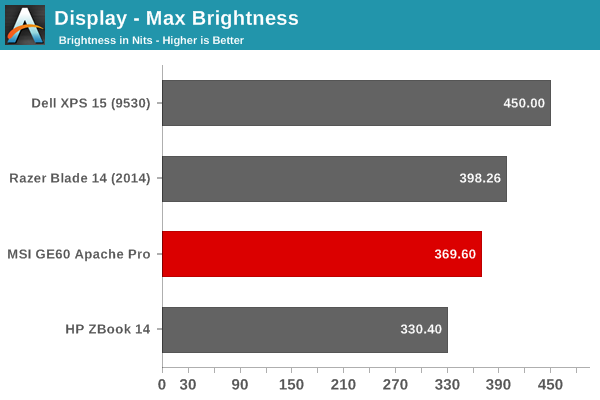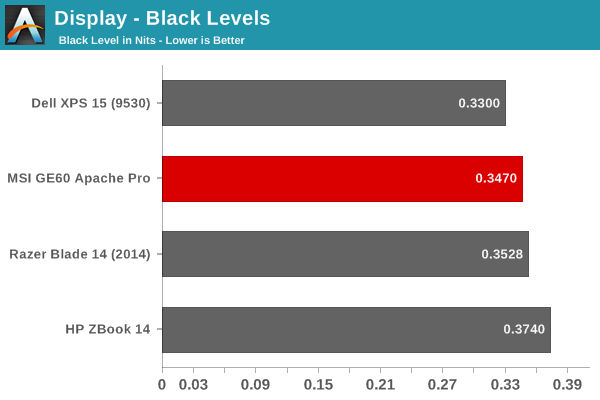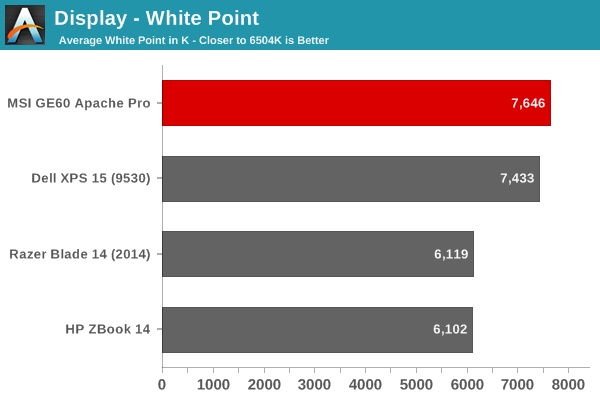 The white level of 370 cd/m2 is a good starting point, and with a black level of 0.3472 nits at max brightness we end up with a contrast ratio of 1064:1. That's not the best result that we've ever seen from a laptop, but it is quite good – even more so considering the display has an anti-glare coating (glossy displays tend to have a bit higher contrast). Dropping the brightness to 54% gives us a 200 nits white level with a 1016:1 contrast, so it's a bit lower but still good. The problem is the native white point is around 7650K, which is far from the "ideal" 6504K, so there's a definite blue tint to the colors. That brings us to the full uncalibrated results: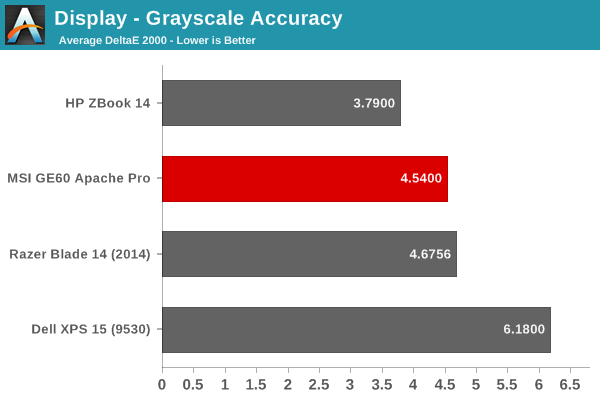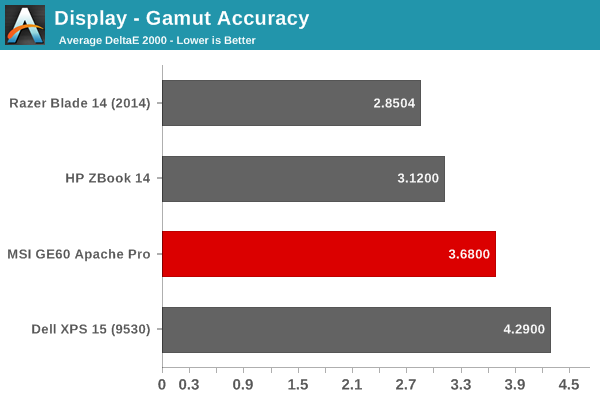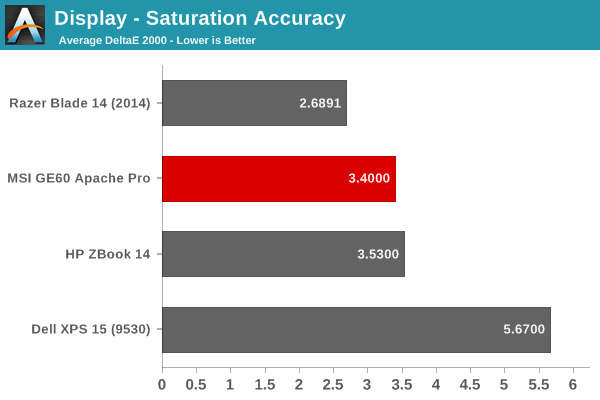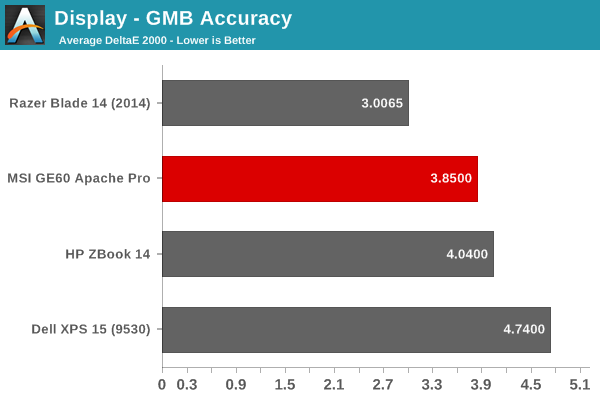 Grayscale results are good up until about 40%, at which point the errors start to become visible. By 50% the Delta E has increased to over 5, and by 75% dE is nearly 10. That's really not a very good result, though I've certainly seen worse (e.g. MSI's GT70 LCD had errors above 12 before calibration). Results in the other charts tell a similar story. While the average dE may only be in the range of 4.5 or so, there are many spikes into the high single digits – mostly in the reds, oranges, and yellows, but shades of green a blue also show some significant errors.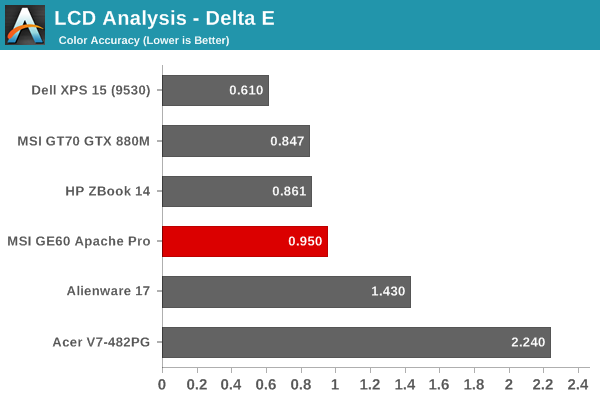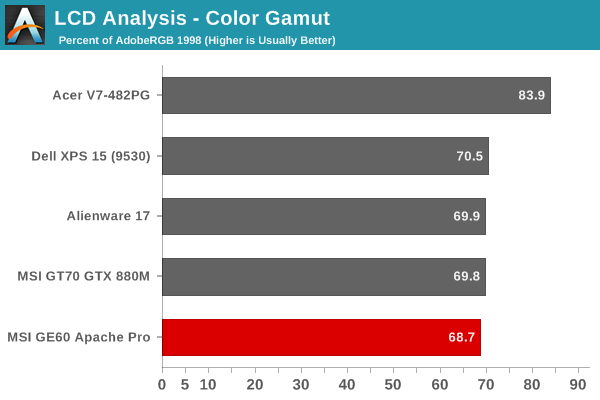 Post-calibration is a different story; the gamma, RGB balance, and color accuracy improve dramatically, to the point where there are very few errors even reaching 2.0. If you have the proper tools to calibrate the display, the GE60 can definitely suffice for professional work. The color gamut is also pretty close to the sRGB standard (it's 68.7% of AdobeRGB compared to a 72% target for sRGB), so outside of users who need high color depth it will work well.
Conclusion: Worth Considering
After testing and using the MSI GE60 for several weeks, I've come away reasonably impressed with what's being offered. It's not the fastest or flashiest laptop around, and it's not the cheapest either, but it gets most of the important areas right when it comes to building a good gaming notebook.
Perhaps most importantly, the performance is good, the keyboard and touchpad work well, and the display also looks nice. If you want a system you could take to a LAN party or a gaming session at a friend's house/apartment, the MSI GE60 could certainly fill that need. What's more, you get a good level of performance without breaking the bank. The GTX 860M is really the star of the show here, and NVIDIA's Maxwell provides a good boost in performance over the previous generation GTX 760M while adding a few new features in the process, but let's not forget Intel's Haswell i7-4700HQ, which is fast enough for other tasks as well.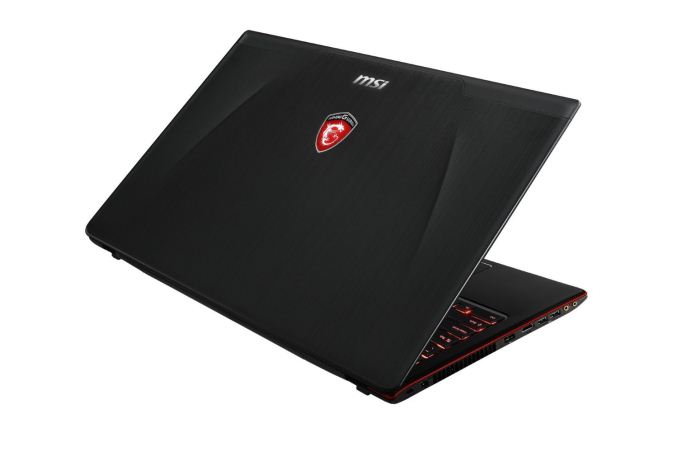 There are a few flaws however. The build quality is a bit suspect, particularly with the LCD cover, and the hinges don't feel all that solid either. Over months and years of use, I would expect the hinges to become quite loose, and the cover could potentially break. That's more conjecture than fact, however, so take it as you will. I could also raise a few concerns about the design and aesthetics of the GE60, but it's a difficult balancing act. Do you want a thinner, sleeker looking notebook, or do you want something that can run fast and not overheat?
More critically, the battery life is somewhat poor for a Haswell-based laptop. I'm not sure how much of this is simply due to component selection and how much could be caused by lack of power optimization efforts, but I remember testing the first quad-core Sandy Bridge notebook several years ago and seeing battery life of nearly seven hours in our Internet test at the time. 3.5 years later and two architectures updates and battery life (granted, on a shipping laptop) is still not able to match that old Sandy Bridge prototype; I'd like to see someone do better than this on a gaming notebook without sacrificing in other ways.
Ultimately, what it all boils down to is choice. If you want something fast and sleek, MSI's slightly more expensive GS series of laptops might be more your style, and I'll post the full review of the GS70 shortly. The GS series basically drops the optical drive and a bit of bulk, but increases the cost several hundred dollars. Razer has the Blade and Blade Pro, which of course are a much larger jump in price, and there's always the Apple MacBook and Dell XPS 15 to consider – but those aren't really in the same performance league, as the GT GPUs are a decent step down from the GTX GPUs. Probably the most compelling alternative is the Lenovo IdeaPad Y50, which ends up with very similar features in most respects (and it also targets four hours of battery life), so it's basically a question of design and aesthetic preference.
In terms of price, performance, and features, the MSI GE60 gets everything right. I just wish MSI had spent a little bit more effort on improving the chassis build quality and battery life, as those are the only things really holding this system back from an Editor's Choice award. As it stands, the MSI GE60 warrants at least an honorable mention, and if you're looking for a GTX 800M notebook for under $1250 there aren't a whole lot of alternatives. I'd still plan on at least upgrading the storage to an SSD if you can manage it, as dealing with pure HDD storage has become more than a little painful.