Original Link: http://www.anandtech.com/show/8265/wd-red-pro-review-4-tb-drives-for-nas-systems-benchmarked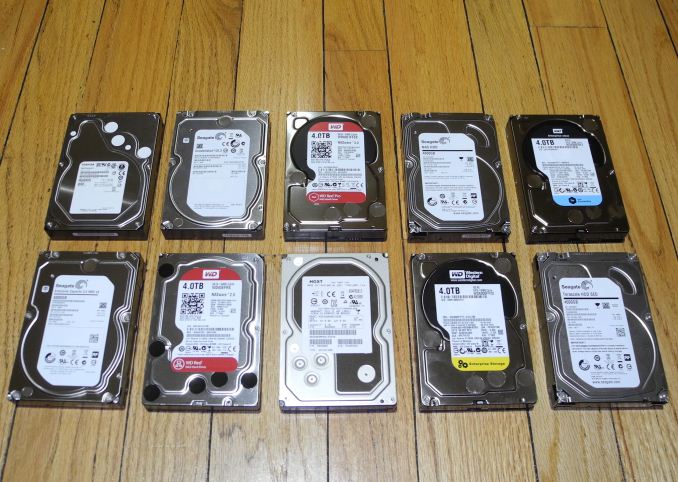 Introduction and Testbed Setup
A couple of weeks back, Western Digital updated their NAS-specific drive lineup with 5 and 6 TB Red drives. In addition, 7200 RPM Red Pro models with 2 - 4 TB capacities were also introduced. We have already looked at the performance of the WD Red, and it now time for us to take the WD Red Pro for a spin. In our 4 TB NAS drive roundup from last year, we also indicated that efforts would be taken to add more drives to the mix along with an updated benchmarking scheme involving RAID-5 volumes. The Red Pro gives us an opportunity to present results from the evaluation of various drives that have arrived in our labs since then.
The SMB / SOHO / consumer NAS market has been experiencing rapid growth over the last few years. With declining PC sales and increase in affordability of SSDs, hard drive vendors have scrambled to make up for the deficit and increase revenue by targeting the NAS market. The good news is that the growth is expected to accelerate in the near future (thanks to increasing amounts of user-generated data through the usage of mobile devices). In addition, security threats such as SynoLocker have also underscored the necessity of frequent backups.
Back in July 2012, Western Digital began the trend of hard drive manufacturers bringing out dedicated units for the burgeoning SOHO / consumer NAS market with the 3.5" Red hard drive lineup. The firmware was tuned for 24x7 operation in SOHO and consumer NAS units. 1 TB, 2 TB and 3 TB versions were made available at launch. Later, Seagate also jumped into the fray with a hard drive series carrying similar firmware features. Over the last two years, the vendors have been optimizing the firmware features as well as increasing the capacities. On the enterprise side, hard drive vendors have been supplying different models for different applications, but all of them are quite suitable for 24x7 NAS usage. While mission-critical applications tend to use SAS drives, it is the nearline SATA versions that are more suitable for home / SMB users. These enterprise drives provide better reliability / longer warranties compared to the NAS-specific WD Red and the Seagate NAS HDD lineups.
The correct choice of hard drives for a NAS system is influenced by a number of factors. These include expected workloads, performance requirements and power consumption restrictions, amongst others. In this review, we will discuss some of these aspects while evaluating ten different hard drives targeting the NAS market. One of the most glaring omissions in our list is HGST's Deskstar NAS. Due to HGST's strange sampling scheme, we are still trying to obtain enough drives for our NAS-specific benchmkaring, but they did send us their 4 TB SAS drive for participation in this roundup. Other than the HGST SAS drive, the other nine drives all carry a SATA interface.
WD Red Pro (WD4001FFSX-68JNUN0)
Seagate Enterprise Capacity 3.5" HDD v4 (ST4000NM0024-1HT178)
WD Red (WD40EFRX-68WT0N0)
Seagate NAS HDD (ST4000VN000-1H4168)
WD Se (WD4000F9YZ-09N20L0)
Seagate Terascale (ST4000NC000-1FR168)
WD Re (WD4000FYYZ-01UL1B0)
Seagate Constellation ES.3 (ST4000NM0033-9ZM170)
Toshiba MG03ACA400
HGST Ultrastar 7K4000 SAS (HUS724040ALS640)
The above drives do not target the same specific market. For example, the WD Red and Seagate NAS HDD are for 1- 8 bay NAS systems in the tower form factor. The WD Red Pro is meant for rackmount units up to 16 bays, but is not intended to be a replacement for drives such as the WD Re, Seagate Constellation ES.3, Seagate Enterprise Capacity v4 and the Toshiba MG03ACA400 which target enterprise applications requiring durability under heavy workloads. The WD Se and the Seagate Terascale target the capacity-sensitive cold storage / data center market.
Testbed Setup and Testing Methodology
Unlike our previous evaluation of 4 TB drives, we managed to obtain enough samples of the new drives to test them in a proper NAS environment. As usual, we will start off with a feature set comparison of the various drives, followed by a look at the raw performance when connected directly to a SATA 6 Gbps port. In the same PC, we also evaluate the performance of the drive using some aspects of our direct attached storage (DAS) testing methodology. For evaluation in a NAS environment, we configured three drives of each model in a RAID-5 volume and processed selected benchmarks from our standard NAS review methodology. Since our NAS drive testbed supports both SATA and SAS drives, but our DAS testbed doesn't, the HGST SAS drive was not subject to any of the DAS benchmarks. We plan to carry more detailed coverage of the HGST SAS unit in a future SAS-specific roundup.
We used two testbeds in our evaluation, one for benchmarking the raw drive and DAS performance and the other for evaluating performance when placed in a NAS unit.
AnandTech DAS Testbed Configuration
Motherboard
Asus Z97-PRO Wi-Fi ac ATX
CPU
Intel Core i7-4790
Memory
Corsair Vengeance Pro CMY32GX3M4A2133C11
32 GB (4x 8GB)
DDR3-2133 @ 11-11-11-27
OS Drive
Seagate 600 Pro 400 GB
Optical Drive
Asus BW-16D1HT 16x Blu-ray Write (w/ M-Disc Support)
Add-on Card
Asus Thunderbolt EX II
Chassis
Corsair Air 540
PSU
Corsair AX760i 760 W
OS
Windows 8.1 Pro
Thanks to Asus and Corsair for the build components
In the above testbed, the hot swap bays of the Corsair Air 540 have to be singled out for special mention.
They were quite helpful in getting the drives processed in a fast and efficient manner for benchmarking. For NAS evaluation, we used the QNAP TS-EC1279U-SAS-RP. This is very similar to the unit we reviewed last year, except that we have a slightly faster CPU, more RAM and support for both SATA and SAS drives.

The NAS setup itself was subjected to benchmarking using our standard NAS testbed.
AnandTech NAS Testbed Configuration
Motherboard
Asus Z9PE-D8 WS Dual LGA2011 SSI-EEB
CPU
2 x Intel Xeon E5-2630L
Coolers
2 x Dynatron R17
Memory
G.Skill RipjawsZ F3-12800CL10Q2-64GBZL (8x8GB) CAS 10-10-10-30
OS Drive
OCZ Technology Vertex 4 128GB
Secondary Drive
OCZ Technology Vertex 4 128GB
Tertiary Drive
OCZ Z-Drive R4 CM88 (1.6TB PCIe SSD)
Other Drives
12 x OCZ Technology Vertex 4 64GB (Offline in the Host OS)
Network Cards
6 x Intel ESA I-340 Quad-GbE Port Network Adapter
Chassis
SilverStoneTek Raven RV03
PSU
SilverStoneTek Strider Plus Gold Evolution 850W
OS
Windows Server 2008 R2
Network Switch
Netgear ProSafe GSM7352S-200
Thank You!
We thank the following companies for helping us out with our NAS testbed:
4 TB NAS and Nearline Drives Face-Off: The Contenders
Prior to getting into the performance evaluation, we will take a look at the special aspects and compare the specifications of the ten drives being considered today.
Western Digital Red Pro 4 TB
The Red Pro is meant for 8-16 bay SMB / SME rackmount units. Compared to the WD Red, it has better performance, thanks to its 7200 RPM rotational speed. While the WD Red has utilized 1 TB and 1.2 TB / platter configurations, the Red Pro units have 600 GB and 800 GB platters for the 2 / 3 TB versions and the 4 TB version respectively. The lower areal density platters have been in production for quite some time, allowing Western Digital to use a more mature configuration for the Red Pro parts. Like the enterprise drives, the Red Pro comes with hardware-assisted vibration compensation, undergoes extended thermal burn-in testing and carries a 5-year warranty.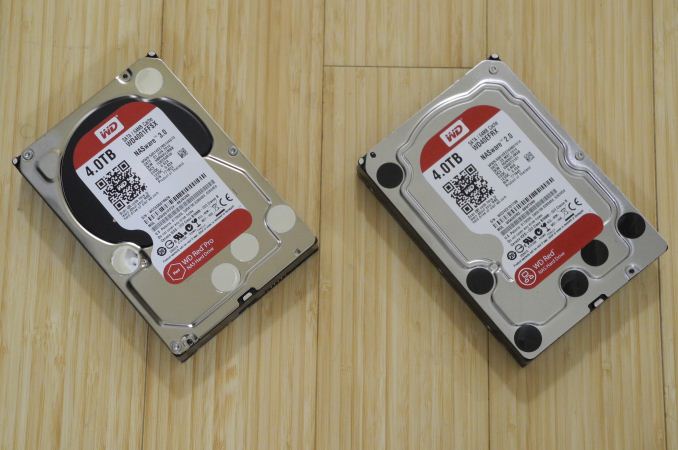 Western Digital Red 4 TB
The 4 TB WD Red that we evaluated for this piece is the same as the one that we used in last year's roundup, i.e, the NASware 2.0 version and not the NASware 3.0 version. Even though the WD Reds initially targeted 1-5 bay systems, NASware 3.0 updates the vibration handling mechanism (firmware / calibration) to enable usage in 1-8 bay units. Despite the firmware not being upgradable for older models, WD is honouring warranties even if the NASware 2.0 drives are used in 6-8 bay units. Other aspects of the WD Red models have already been touched upon in our previous reviews.
Seagate Constellation ES.3 4 TB
The Constellation ES.3 lineup is last year's enterprise play (sixth-generation) from Seagate in this market space. It targets applications where capacity, performance and durability under heavy workloads are primary considerations. The drives have a standard 7200 RPM spindle speed, but differ from other units by having a 128 MB multi-segmented cache on-board (64 MB is the standard nowadays). All models are 512N (i.e, native 512 bytes per sector, enabling usage without performance loss for legacy applications).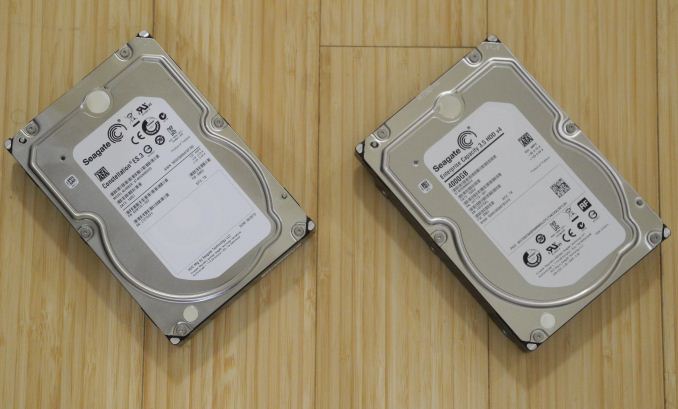 Seagate Enterprise Capacity 3.5" HDD v4 4 TB
The Enterprise Capacity 3.5" HDD features Seagate's eighth generation drive technology and retains the 128 MB cache of its predecessor. The main difference is that there are no 512N models (either 4K native for the 6 TB model, and 512 emulated for the others). Seagate happens to be the first to use 1 TB platters for its enterprise drives, and this has enabled the Enterprise Capacity lineup to include 6 TB variants. For this review, we managed to get hold of the 4 TB version. On the basis of paper specifications, it looks to be a very good alternative to the WD Red Pro.
Seagate NAS HDD 4 TB
The NAS HDD lineup goes head-to-head against the WD Red. The slightly higher spindle speeds (5900 RPM vs. 5400 RPM) tends to give it the performance advantage at the cost a slight power consumption penalty. Seagate implements the NAS-specific firmware features as part of the NASworks package. We have looked into various features of the NAS HDD lineup in our previous roundup.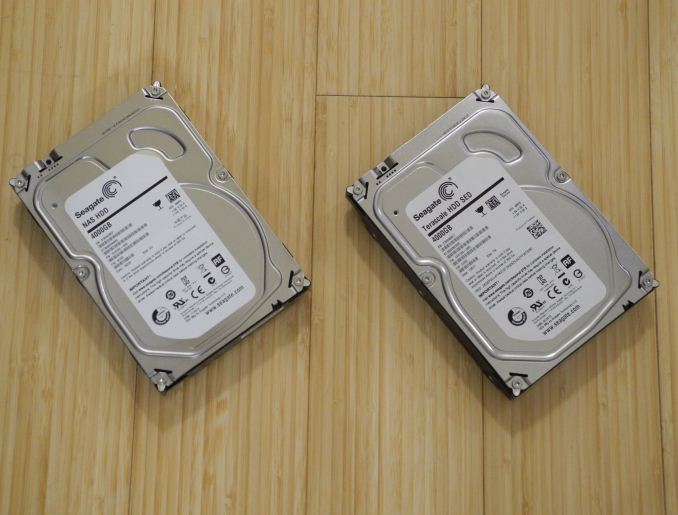 Seagate Terascale SED 4 TB
Seagate also supplied us the Terascale drives for this roundup, since we had the WD Se in our previous roundup. The Terascale (previously Constellation CS) goes head-to-head against the WD Se in all departments - it is meant for applications where scalability / capacity is a primary factor, followed by low power consumption and cost. Both 5900 and 7200 RPM versions are available, but our review units belonged to the former category and came with the Instant Secure Erase feature. Unlike the other Seagate enterprise drives in our review samples, this one comes with 64 MB of cache. Seagate claims lowest power consumption in the enterprise drive category for the Terascale drives.
Western Digital Re 4 TB
The Western Digital Re is meant to go head-to-head with the Seagate Constellation ES.3 and Enterprise Capacity 3.5" HDD v4. The application areas are the same - enterprise applications where performance, reliability and durability under heavy workloads are primary requirements. The Re drives are the highest-performing SATA drives from Western Digital. The Xe drives are a class above the Re, but they are available only in capacities of up to 900 GB and come with a SAS interface only. We have been using Re drives in all our NAS reviews so far.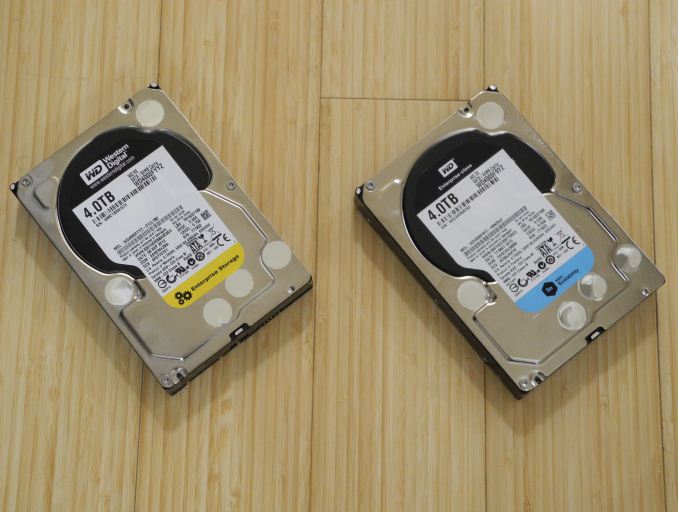 Western Digital Se 4 TB
The Se drives come from WD's Datacenter Storage Business Unit and meant for applications where scalable storage (i.e, reliable storage which doesn't cost an arm and a leg for scenarios where capacity, rather than performance, is of primary importance). WD uses them in their own datacenter. Like other enterprise drives, they come with a self-encryption option and carry longer warranties. When compared to WD Re, the difference comes in the URE (unrecoverable error rates), MTBF ratings and suggested workloads. Further details can be seen in our launch coverage of the WD Se.
Toshiba MG03ACA400
The MG03ACA400 is Toshiba's highest capacity nearline storage device targeting enterprise applications. The specifications are standard - a 7200 RPM drive with a 64 MB buffer. Toshiba makes it clear that the drives target entry-level servers, storage arrays and RAID systems - There is no emphasis on extreme performance, so it is only fair to expect it to slot with the WD Se and Seagate Terascale drives rather than the Re and Enterprise Capacity ones. The street price (as of the time of this article going live) is similar to that of the Terascale, and this only reinforces our perception.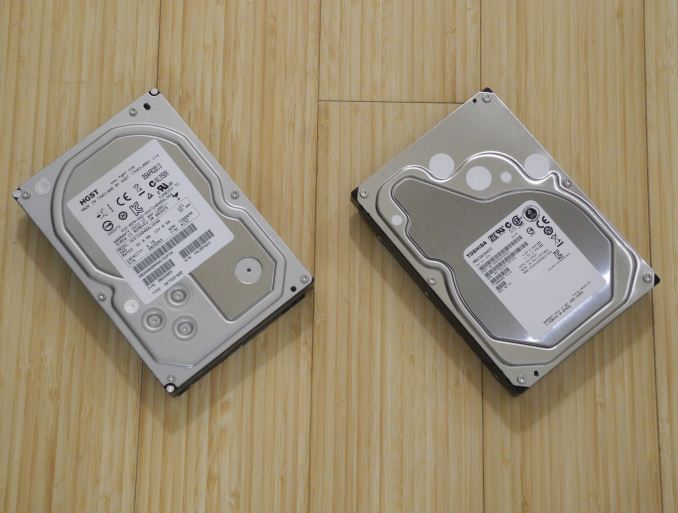 HGST Ultrastar 7K4000 SAS
The HGST Ultrastar 7K4000 is the odd-one out in our sample set today. We had requested HGST for the SATA version of the 7K4000, as that goes head-to-head with the Re, Constellation ES.3 and the Enterprise Capacity drives, but they only had the SAS interface version available for review sampling. The standout aspect of the Ultrastar lineup is the 2.0 million hours MTBF rating. Comparing SATA and SAS drives are like comparing apples and oranges, but, at least, we have the same 7200 RPM spindle speed and 64 MB buffer like most of the other drives. As mentioned in the previous section, we are only going to look at the RAID-5 performance benchmark numbers for this drive in today's review.
Feature Set Comparison
Enterprise hard drives come with features such as real time linear and rotational vibration correction, dual actuators to improve head positional accuracy, multi-axis shock sensors to detect and compensate for shock events and dynamic fly-height technology for increasing data access reliability. These hard drives also expose some of their interesting firmware aspects through their SATA controller, but, before looking into those, let us compare the specifications of the ten drives being considered today. Even though most of the data for all ten drives is available below, readers can view only two at a time side-by-side due to usability issues.
Comparative HDD Features
Aspect
DMA Setup Auto-Activate
Supported, Disabled
Supported, Disabled
Extended Power Conditions
Supported, Disabled
Supported, Disabled
Free-Fall Control
Not Supported
Not Supported
General Purpose Logging
Supported, Enabled
Supported, Enabled
In-Order Data Delivery
Not Supported
Not Supported
NCQ Priority Information
Supported
Supported
Phy Event Counters
Supported
Supported
Release Interrupt
Not Supported
Not Supported
Sense Data Reporting
Not Supported
Not Supported
Software Settings Preservation
Supported, Enabled
Supported, Enabled
Streaming
Supported, Disabled
Supported, Disabled
Tagged Command Queuing
Not Supported
Not Supported
Performance - Raw Drives
Prior to evaluating the performance of the drives in a NAS environment, we wanted to check up on the best-case performance of the drives by connecting them directly to a SATA 6 Gbps port. Using HD Tune Pro 5.50, we ran a number of tests on the raw drives. The following screenshots present the results for the various drives in an easy-to-compare manner. Note that some of the screenshots are from the previous roundup where we used HD Tune Pro 5.0.
Sequential Reads: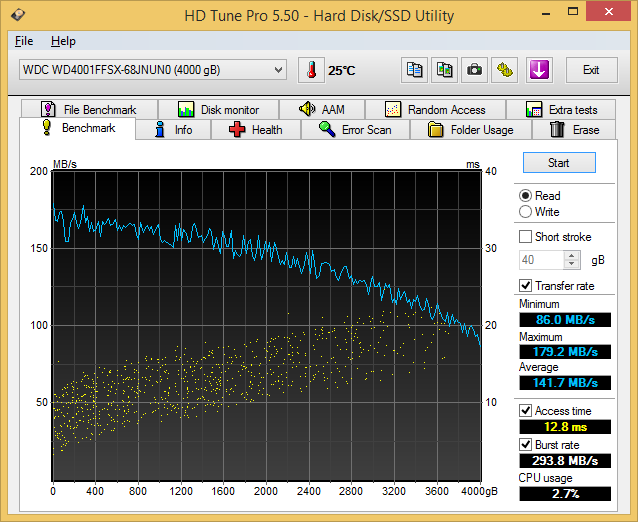 Sequential Writes: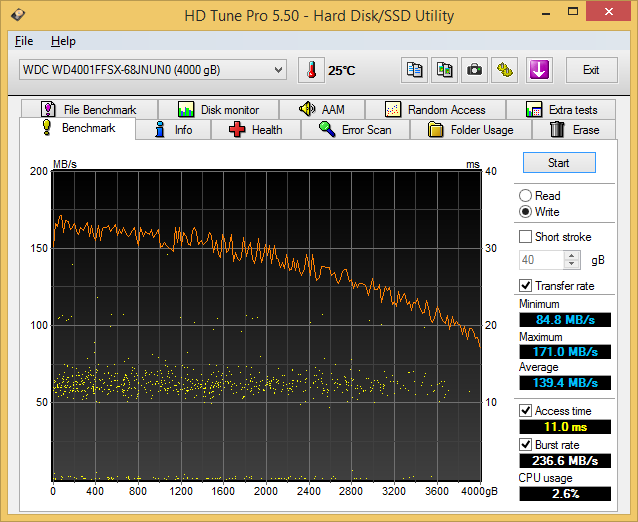 Random Reads: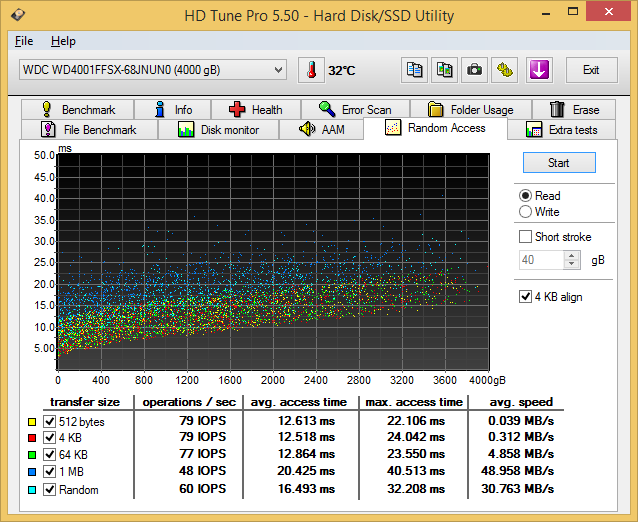 Random Writes: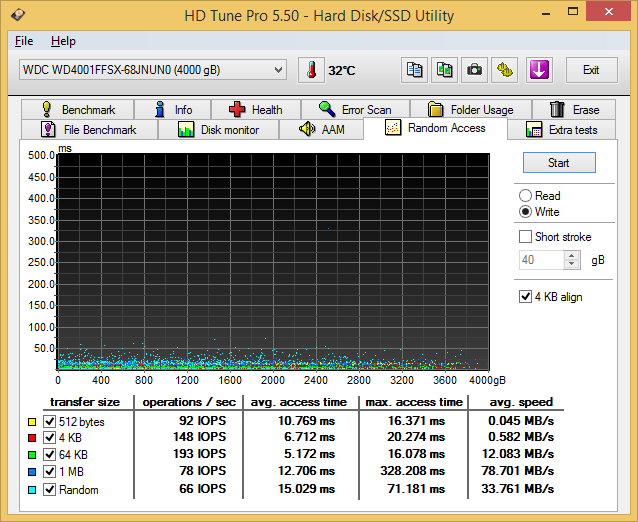 Miscellaneous Reads: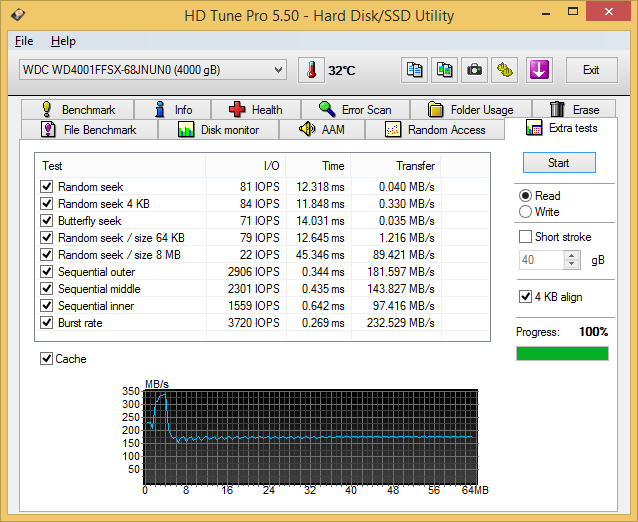 Miscellaneous Writes: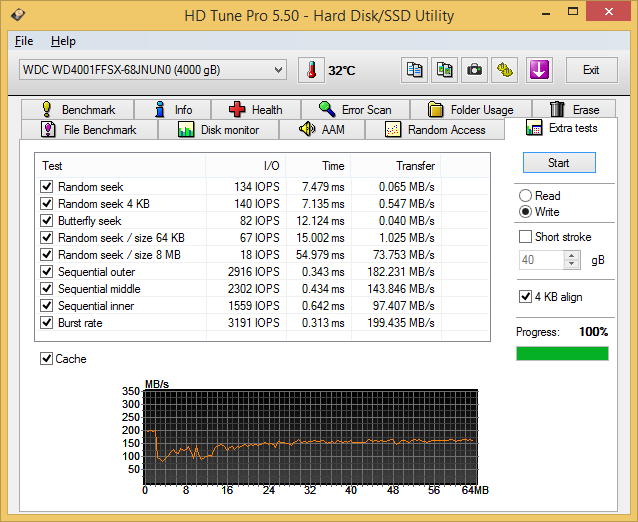 Single Client Access - DAS Benchmarks
The drives under test were connected to a 6 Gbps SATA port off the PCH in our DAS testbed. After formatting in NTFS, they were subject to our DAS test suite. The results are presented in the graphs below.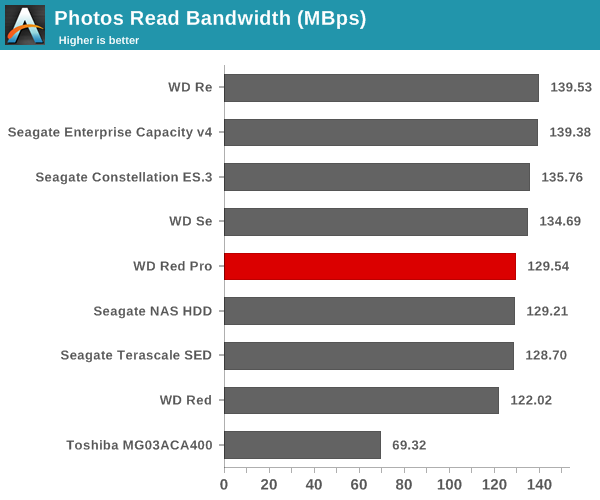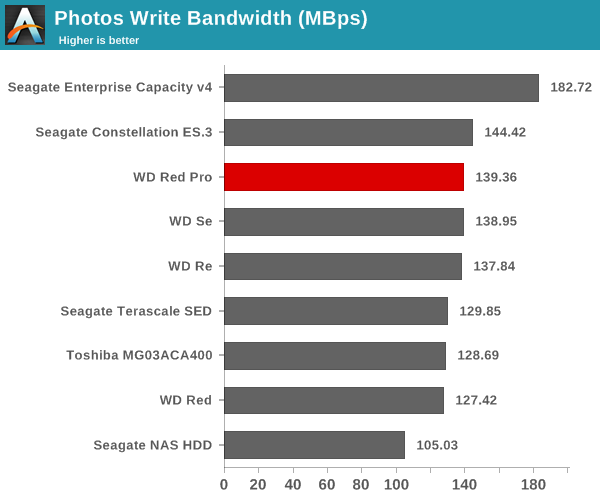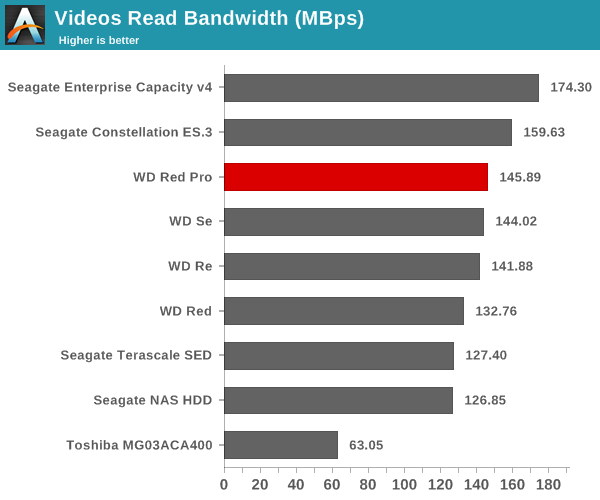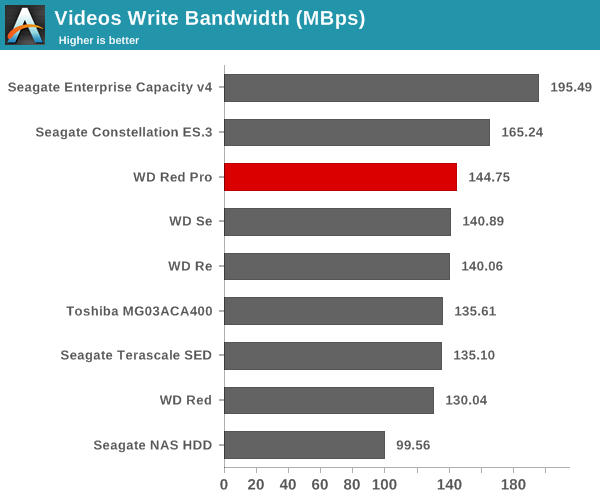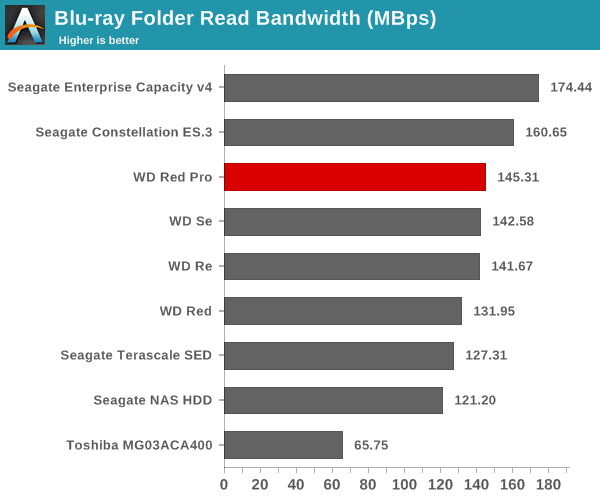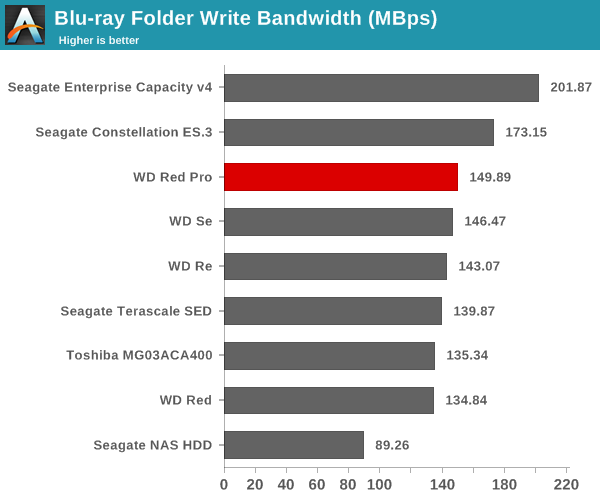 It appears that the extra cache in the Seagate Constellation ES.3 and Enterprise Capacity v4 do help in robocopy benchmarks.
We also used PC Mark 8's storage bench suite to record the bandwidth numbers for selected workloads including Adobe Photoshop, After Effects and Illustrator.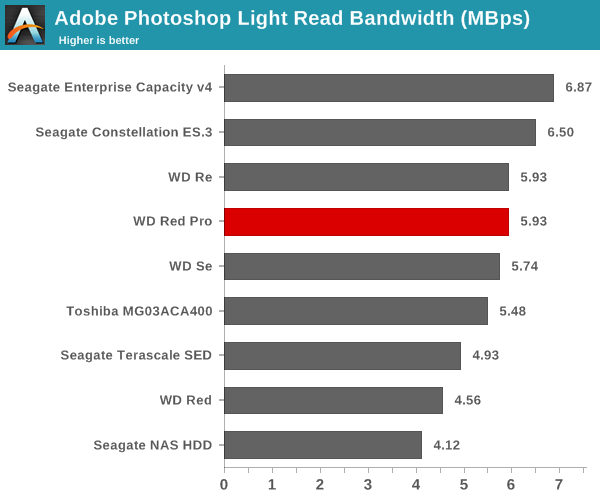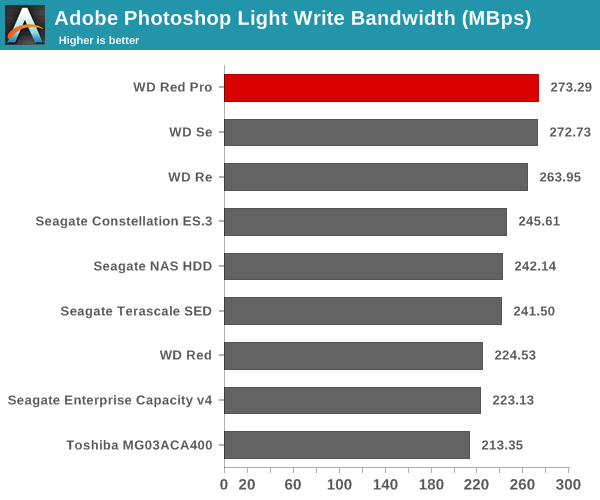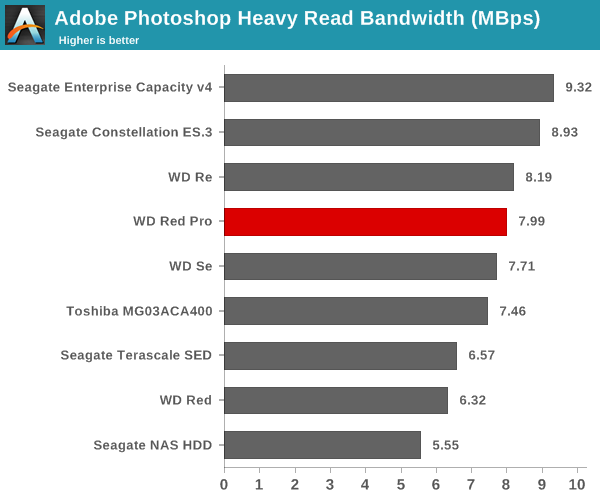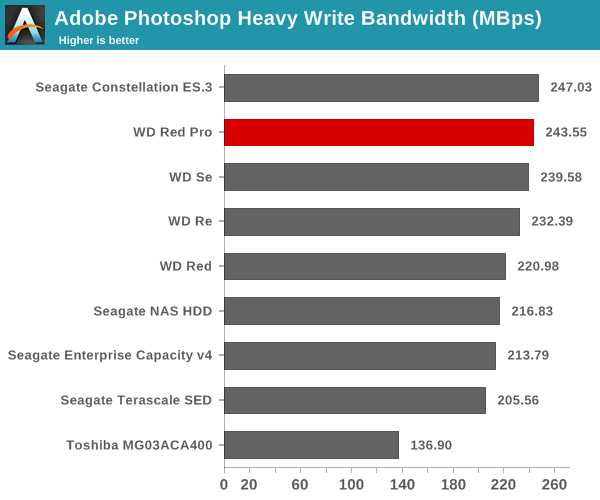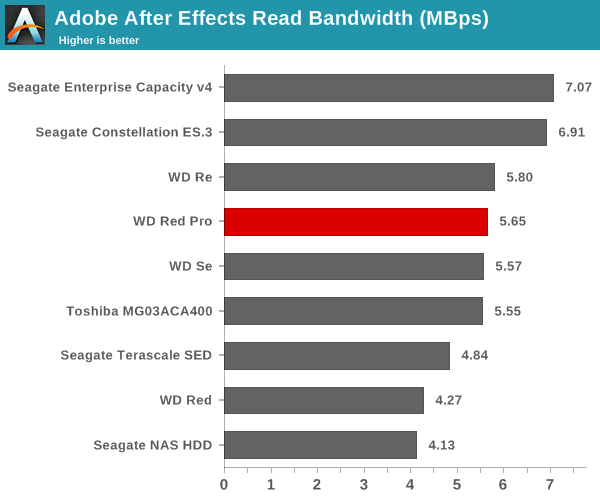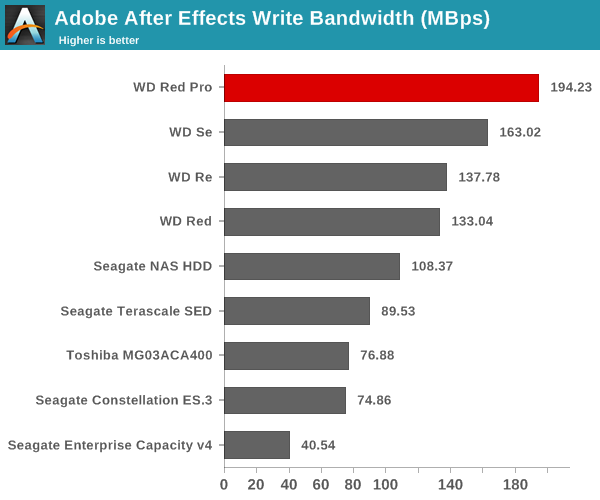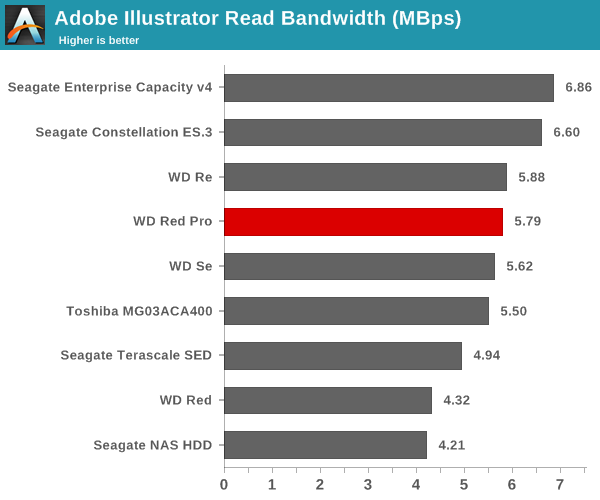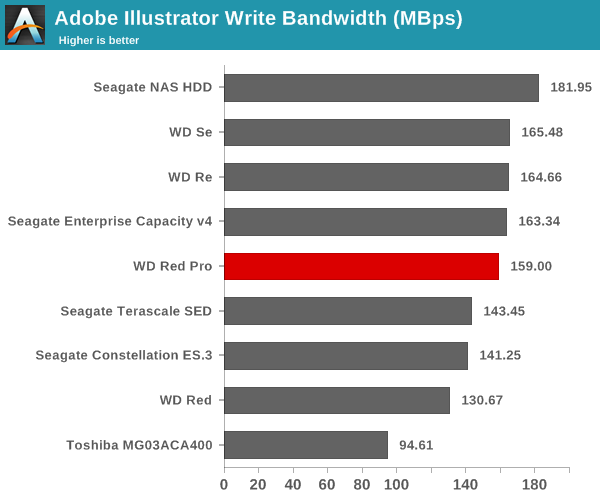 Single Client Access - NAS Benchmarks
Evaluation of single client performance in a networked environment was done by configuring three drives in RAID-5 in the QNAP TS-EC1279U-SAS-RP unit. Two of the network links were bonded (configured with 802.3ad LACP). Our usual Intel NASPT / robocopy benchmarks were processed from a virtual machine in our NAS testbed. The results are presented in the graphs below.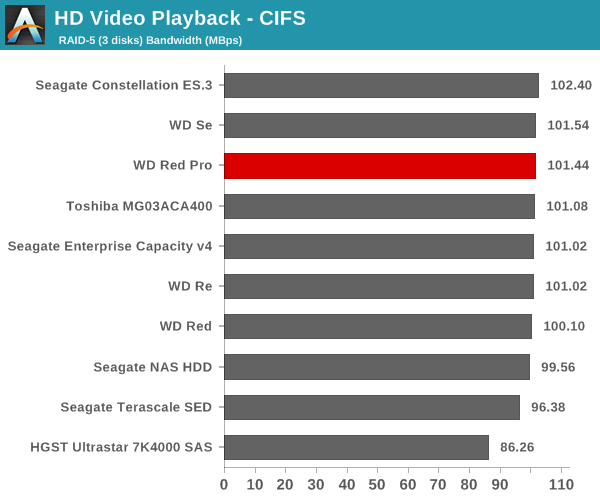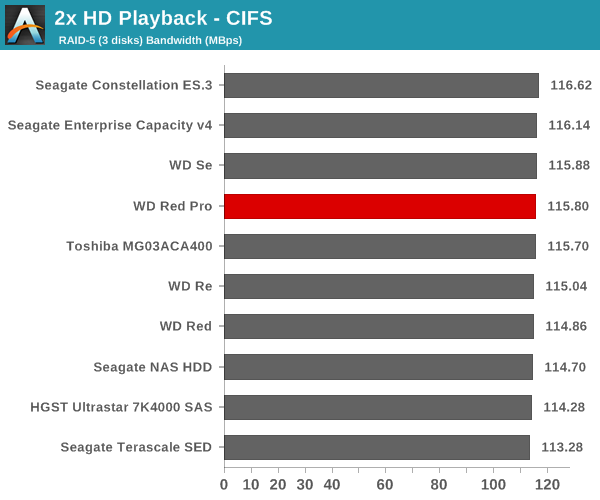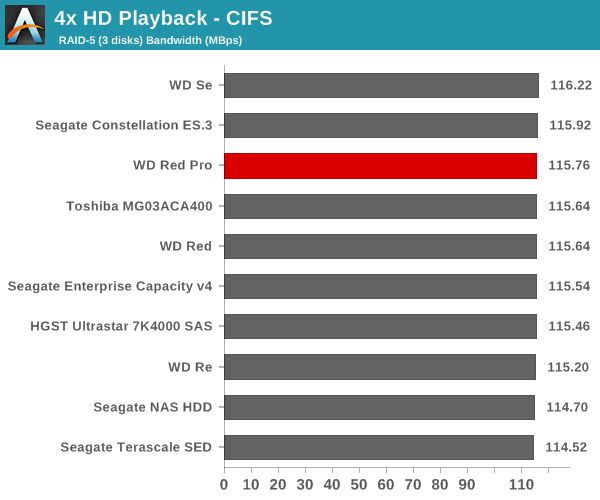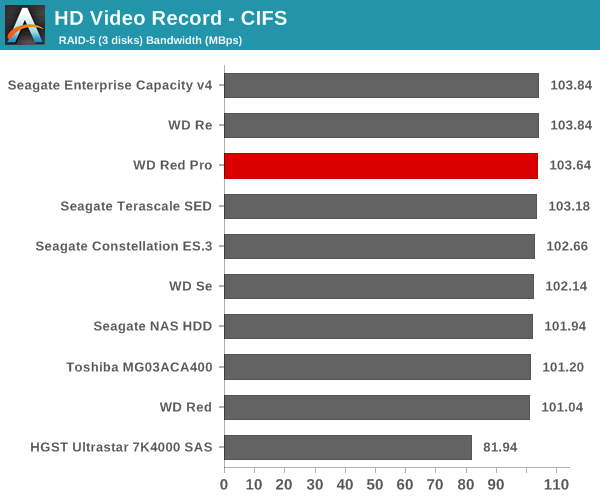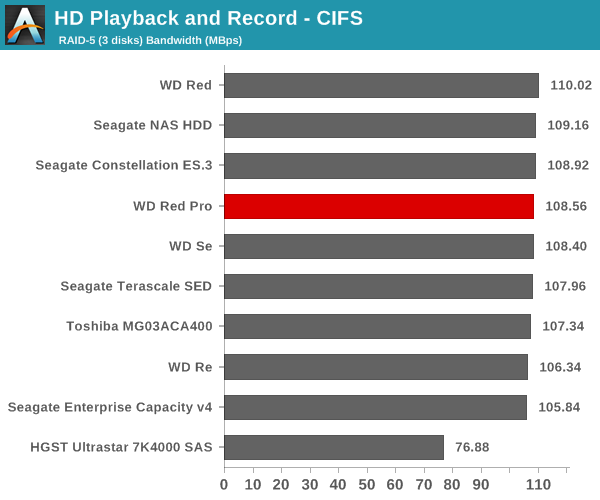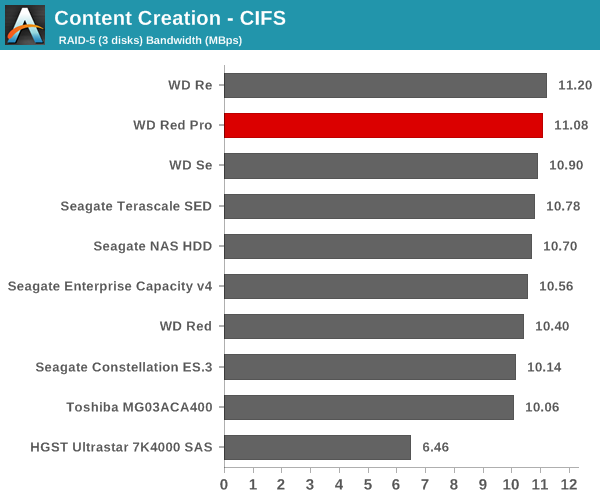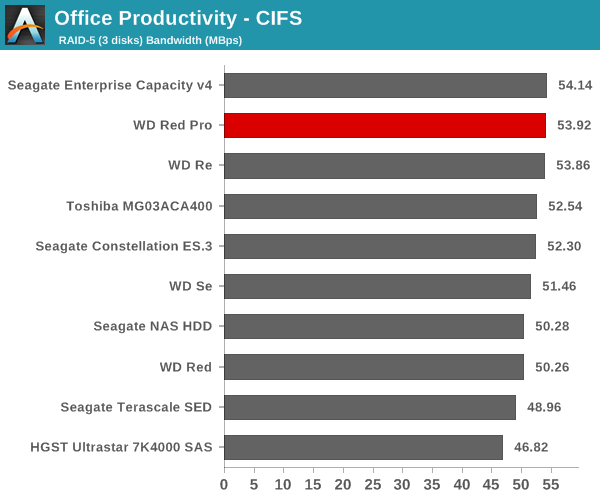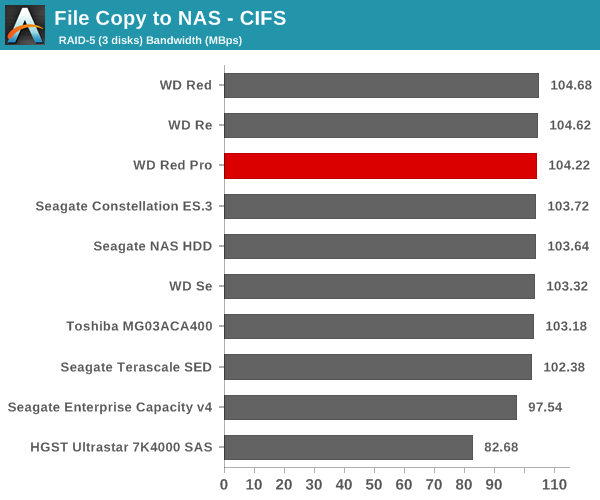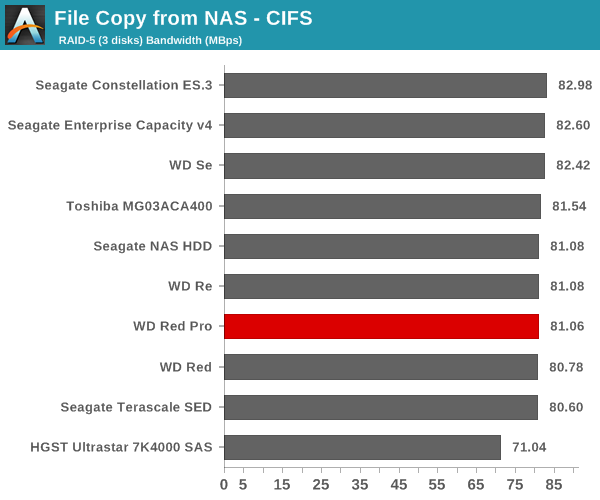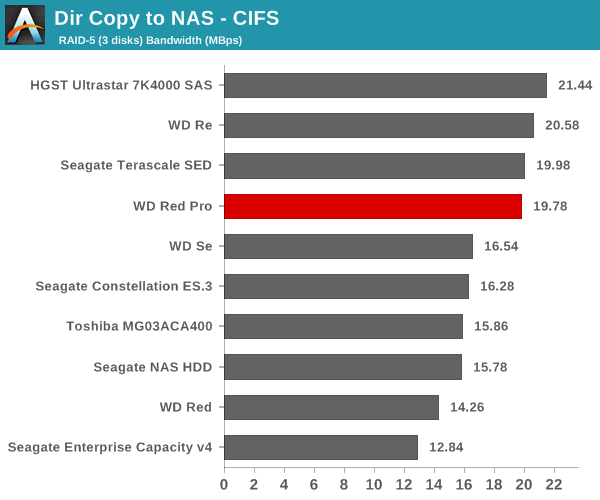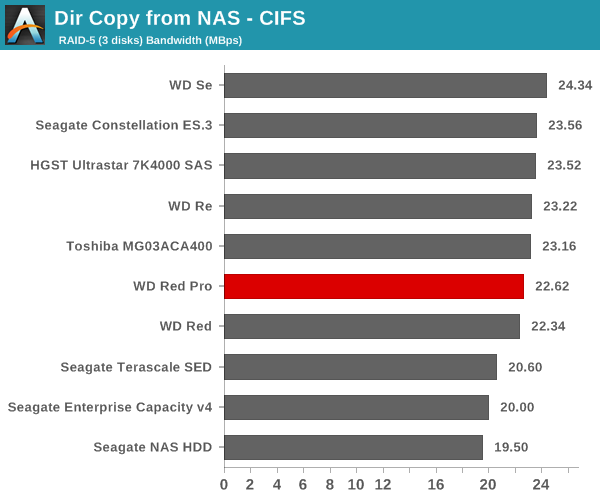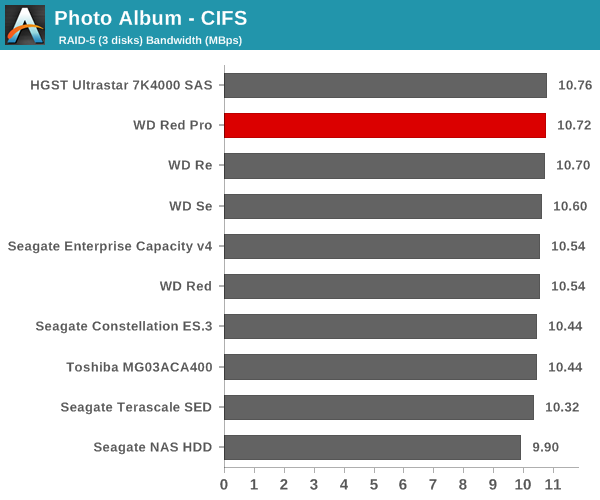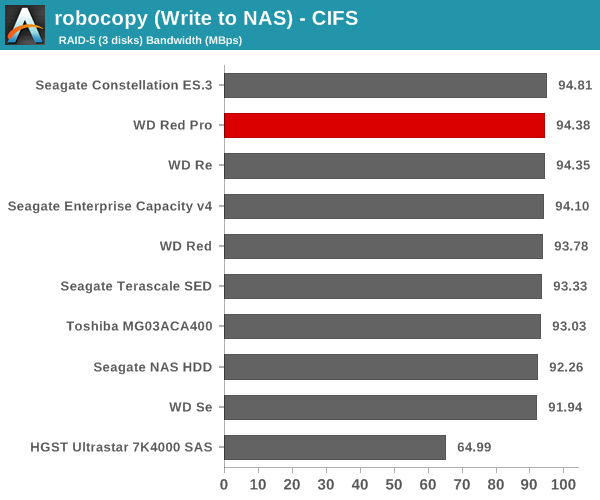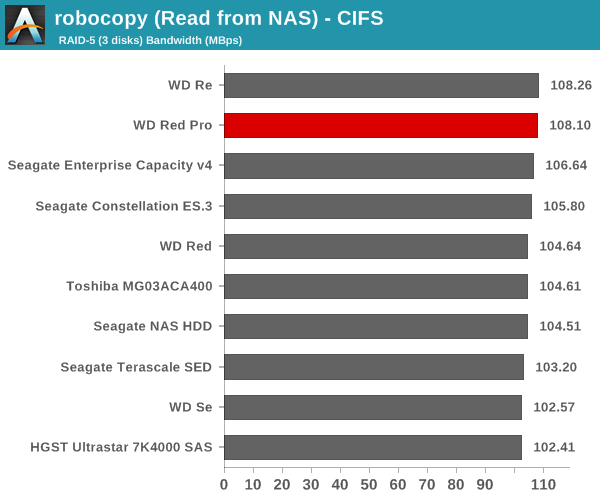 For almost all workloads, there is no discernible difference between the performance of various drives, indicating that it is the network acting as a bottleneck for single client access. Differences start to appear when there are multiple clients accessing the NAS.
Multi-Client Access - NAS Environment
We put the NAS drives in the QNAP TS-EC1279U-SAS-RP through some IOMeter tests with a CIFS share being accessed from up to 25 VMs simultaneously. The following four graphs show the total available bandwidth and the average response time while being subject to different types of workloads through IOMeter. IOMeter also reports various other metrics of interest such as maximum response time, read and write IOPS, separate read and write bandwidth figures etc. Some of the interesting aspects from our IOMeter benchmarking run are linked below: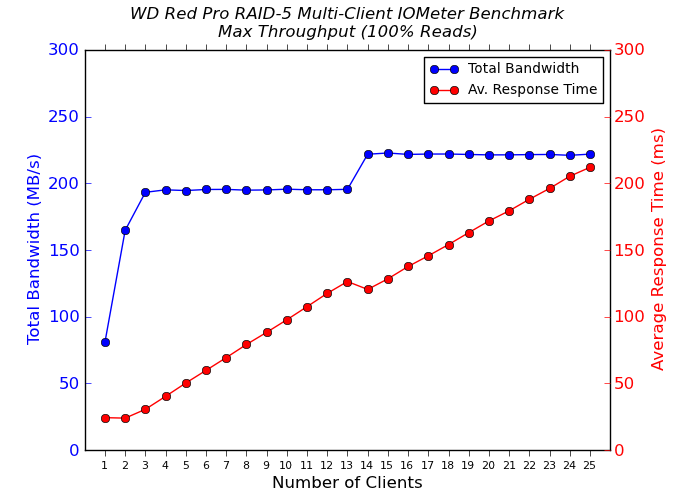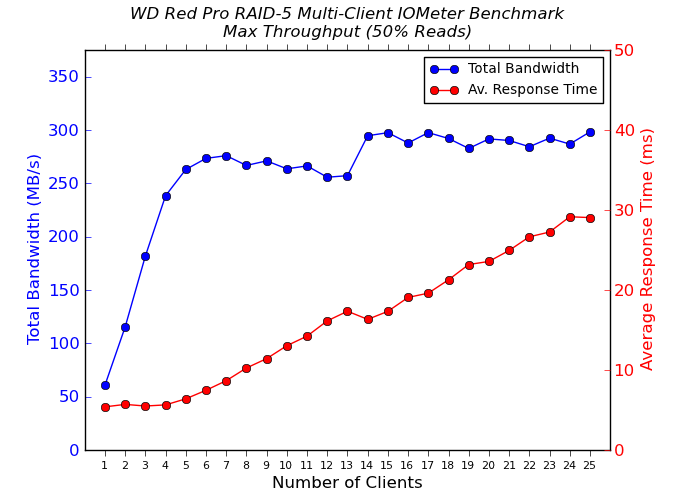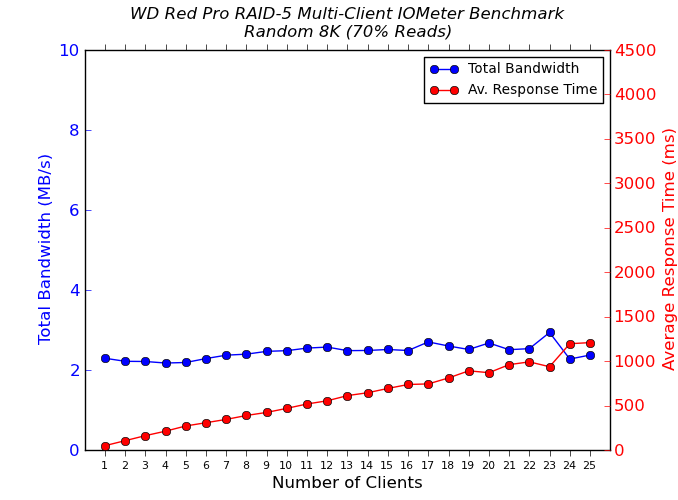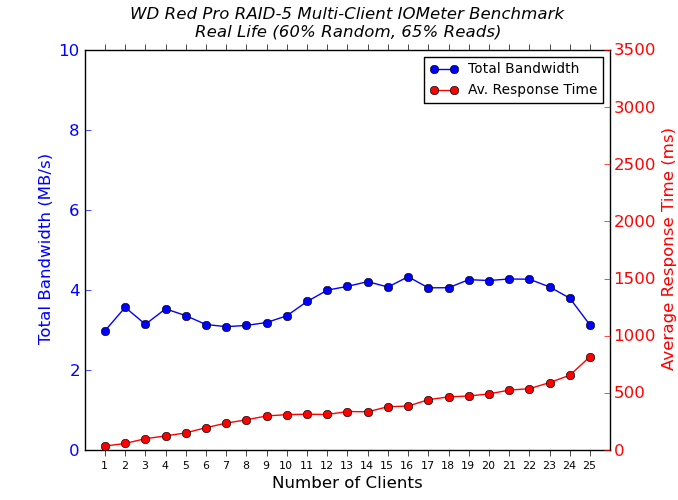 We see that the sequential accesses are still limited by the network link, but, this time, on the NAS side. On the other hand, our random access tests show markedly better performance for drives such as the Seagate Enterprise Capacity, Seagate Constellation, WD Re, etc. Not only is the total available bandwidth higher, the average response times also go down.
RAID-5 Benchmarking - Miscellaneous Aspects
Consumers are rightly worried about RAID rebuilds and the scope for drive failures during that process. As one of our evaluation aspects, we randomly yanked out a disk during operation and cleaned it up for rebuild. The graphs below show the resync durations (time taken to rebuild a 3-disk RAID-5 volume when one of the disks needs to be replaced) as well as the average power consumption during the resync process.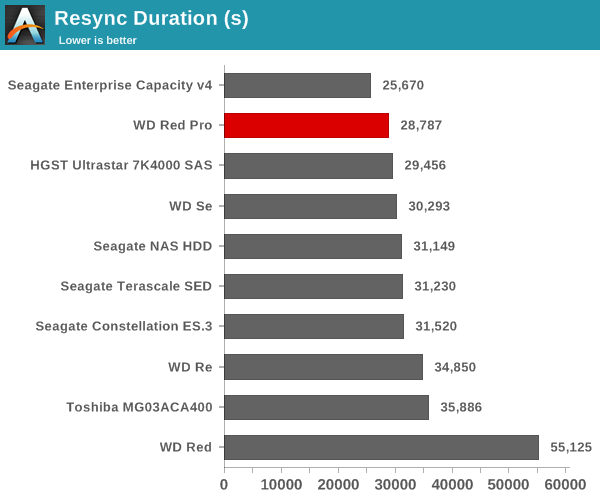 As expected, the low RPM drives tend to take a long time to complete the process. On the other hand, they also have the lowest power consumption during the process.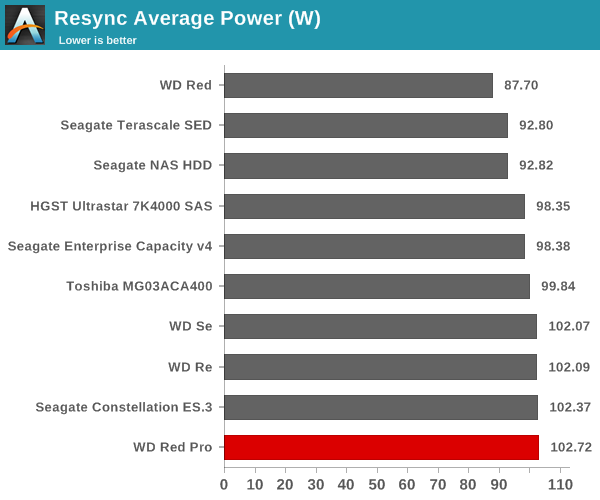 We also measured power consumption during the last stage of our multi-client test. With 25 different clients simultaneously stressing the NAS with different types of workloads, we recorded the power consumption at the wall for the NAS as a whole. The various numbers are presented in the graphs below.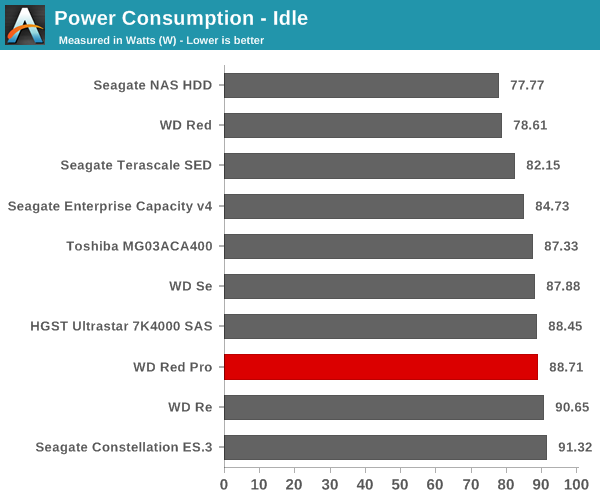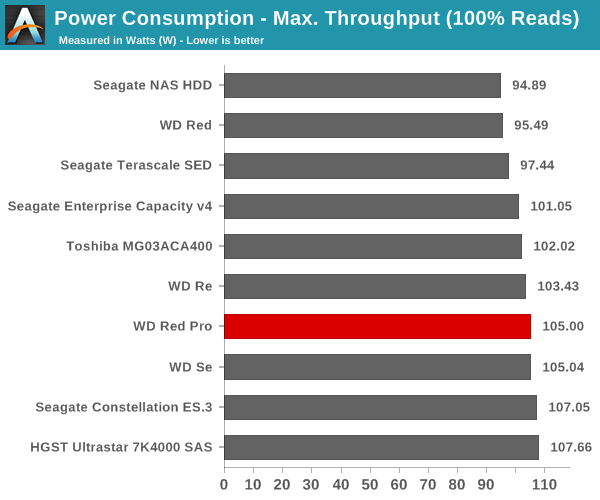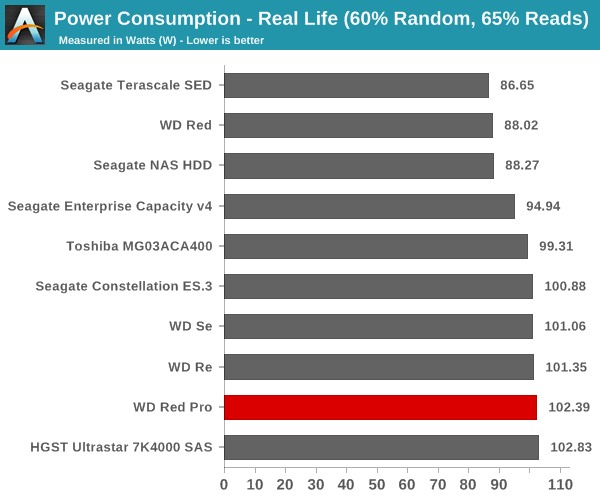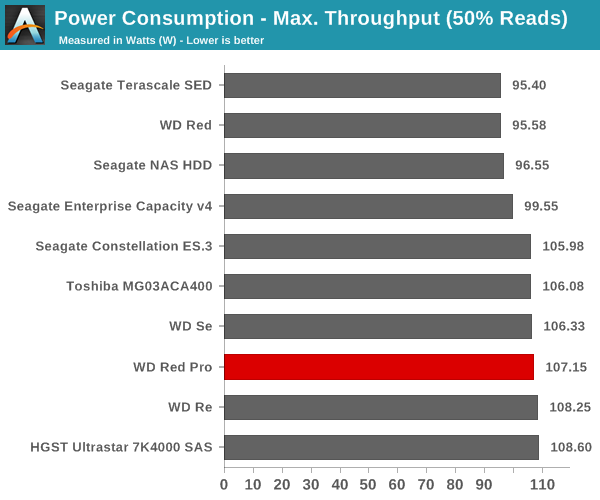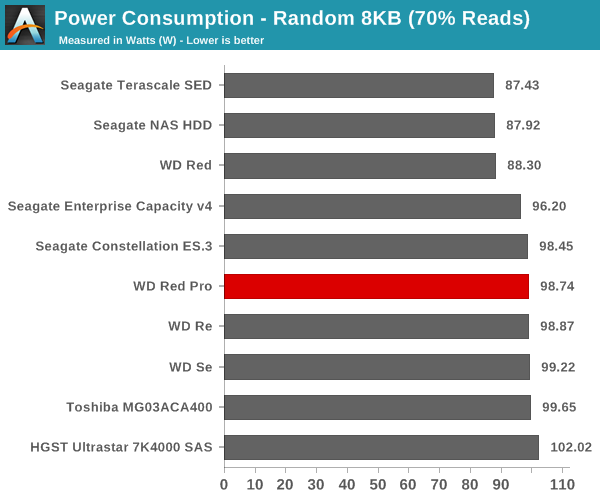 As expected, the units providing better performance have higher power consumption numbers.
Concluding Remarks
Ten different 4 TB hard drives have been analyzed for NAS and DAS applications. Coming to the business end of the review, it is clear that there is no 'one size fits all' model in this area. The hard drives themselves were launched targeting different markets and their resulting performance varies accordingly. However, based on our test results we can arrive at the following conclusions:
The lowest power consumption numbers were recorded, as expected, with the 5400/5900 RPM drives: the WD Reds, Seagate NAS HDDs and the Seagate Terascale units. While the WD Red drew the least power in the resync test, the Terascale and the NAS HDD drew less power during our access sequence tests (though not by much). If power constraints are a primary factor any one of the three would be a good choice. However with that said, despite possessing the highest workload rating of the three the Terascale has the lowest MTBF, coming in at a rating of 800K hours versus 1M hours for the Western Digital and Seagate NAS drives. Consequently depending on the usage scenario the extra premium for the Terascale might not be worth it.
The best overall performance is recorded by the Seagate Enterprise Capacity v4, thanks to its clear lead in the random access patterns segment of the multi-client evaluation. The drawback being that the part is quite difficult to come across for purchase and carries a premium wherever it becomes available.
Meanwhile the Toshiba drive is a strong value proposition as the cheapest enterprise hard drive in the scalable storage class of drives. Even though the MSRP and street price put it in the same category as that of the Seagate Terascale, we have seen occasional deals which give it only a slight premium over the non-enterprise WD Red and the Seagate NAS HDDs. Otherwise the Ultrastar 7K4000 SAS unit is also available for rock bottom prices from third-party sellers on Amazon, and is a good candidate for users running SAS-based storage servers. Though without a broader sample space it is difficult to recommend it further.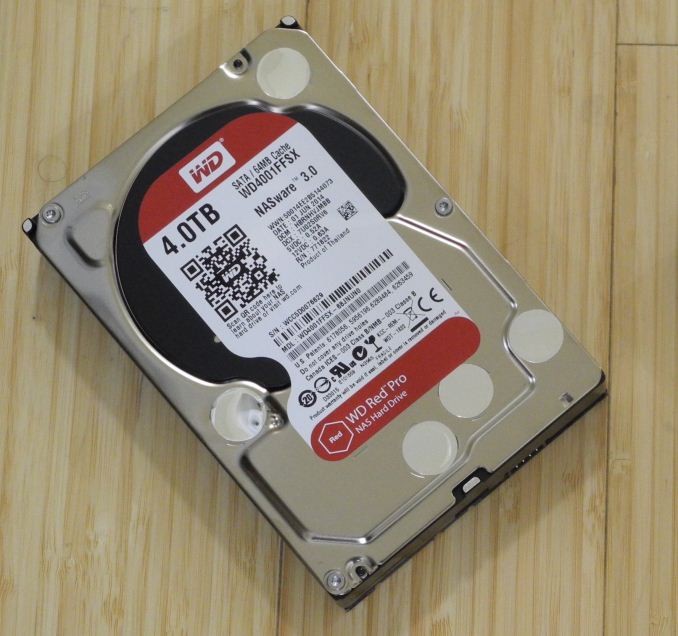 Finally we have the WD Red Pro, which aims to strike a balance between performance, power consumption and price. The attractive pricing (given the warranty) makes up for the fact that it doesn't impress in any particular category compared to the competition. If Seagate's Enterprise Capacity drive were to retail for the same price as that of the Red Pro, the choice would be a no-brainer in favour of the Seagate unit. But right now that is not the case, and Western Digital continues to present a unique value proposition with the Red Pro lineup.
All in all, there are plenty of options for NAS users looking to stock up their NAS units with high capacity drives. Though not at the bleeding edge of capacity, today's 4TB drives offer a good mix of pricing, performance, and capacity; and for the cautious buyer 4TB drives offer an alternative to the potential risk in going the new technology route with 6 TB drives. In the end, with the right data in hand it's easy enough to find the best fit by taking into consideration the expected workload and desired price points.