Original Link: http://www.anandtech.com/show/8263/6-tb-nas-drives-wd-red-seagate-ec-hgst-he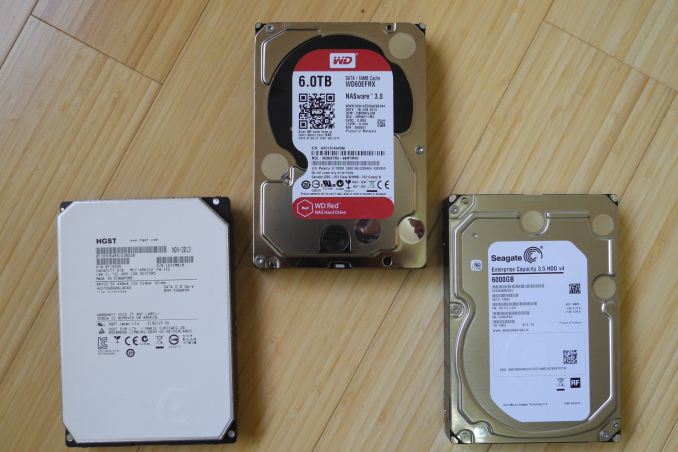 Introduction and Testbed Setup
The SMB / SOHO / consumer NAS market has been experiencing rapid growth over the last few years. With declining PC sales and increase in affordability of SSDs, hard drive vendors have scrambled to make up for the deficit and increase revenue by targeting the NAS market. The good news is that the growth is expected to accelerate in the near future (thanks to increasing amounts of user-generated data through the usage of mobile devices).
Back in July 2012, Western Digital began the trend of hard drive manufacturers bringing out dedicated units for the burgeoning SOHO / consumer NAS market with the 3.5" Red hard drive lineup. The firmware was tuned for 24x7 operation in SOHO and consumer NAS units. 1 TB, 2 TB and 3 TB versions were made available at launch. Later, Seagate also jumped into the fray with a hard drive series carrying similar firmware features. Over the last two years, the vendors have been optimizing the firmware features as well as increasing the capacities. On the enterprise side, hard drive vendors have been supplying different models for different applications, but all of them are quite suitable for 24x7 NAS usage. For example, the WD Re and Seagate Constellation ES are tuned for durability under heavy workloads, while the WD Se and Seagate Terascale units are targeted towards applications where scalability and capacity are important.
Usually, the enterprise segment is quite conservative when it comes to capacity, but datacenter / cloud computing requirements have resulted in capacity becoming a primary factor to ward off all-flash solutions. HGST, a Western Digital subsidiary, was the first vendor to bring a 6 TB hard drive to the market. The sealed Helium-filled HDDs could support up to seven disks (instead of the five usually possible in air-filled units), resulting in a bump up to 6 TB in the same height as traditional 3.5" drives. Seagate adopted a six-platter design for the Enterprise Capacity v4 6 TB version. Today, Western Digital launched the first NAS-specific 6 TB drive targeting SOHO / home consumers, the WD Red 6 TB. In expanding their Red portfolio, WD provides us an opportunity to see how the 6 TB version stacks up against other offerings targeting the NAS market.
The correct choice of hard drives for a NAS system is influenced by a number of factors. These include expected workloads, performance requirements and power consumption restrictions, amongst others. In this review, we will discuss some of these aspects while evaluating three different hard drives targeting the NAS market:
Western Digital Red 6 TB [ WDC WD60EFRX-68MYMN0 ]
Seagate Enterprise Capacity 3.5 HDD v4 6 TB [ ST6000NM0024-1HT17Z ]
HGST Ultrastar He6 6 TB [ HUS726060ALA640 ]
Each of these drives target slightly different markets. While the WD Red is mainly for SOHO and home consumers, the Seagate Enterprise Capacity targets ruggedness for heavy workloads while the HGST Ultrastar aims for data centers and cloud storage applications with a balance of performance and power efficiency.
Testbed Setup and Testing Methodology
Unlike our previous evaluation of 4 TB drives, we managed to obtain enough samples of the new drives to test them in a proper NAS environment. As usual, we will start off with a feature set comparison of the three drives, followed by a look at the raw performance when connected directly to a SATA 6 Gbps port. In the same PC, we also evaluate the performance of the drive using some aspects of our direct attached storage (DAS) testing methodology. For evaluation in a NAS environment, we configured three drives in a RAID-5 volume and processed selected benchmarks from our standard NAS review methodology.
We used two testbeds in our evaluation, one for benchmarking the raw drive and DAS performance and the other for evaluating performance when placed in a NAS unit.
AnandTech DAS Testbed Configuration
Motherboard
Asus Z97-PRO Wi-Fi ac ATX
CPU
Intel Core i7-4790
Memory
Corsair Vengeance Pro CMY32GX3M4A2133C11
32 GB (4x 8GB)
DDR3-2133 @ 11-11-11-27
OS Drive
Seagate 600 Pro 400 GB
Optical Drive
Asus BW-16D1HT 16x Blu-ray Write (w/ M-Disc Support)
Add-on Card
Asus Thunderbolt EX II
Chassis
Corsair Air 540
PSU
Corsair AX760i 760 W
OS
Windows 8.1 Pro
Thanks to Asus and Corsair for the build components
In the above testbed, the hot swap bays of the Corsair Air 540 have to be singled out for special mention.
They were quite helpful in getting the drives processed in a fast and efficient manner for benchmarking. For NAS evaluation, we used the QNAP TS-EC1279U-SAS-RP. This is very similar to the unit we reviewed last year, except that we have a slightly faster CPU, more RAM and support for both SATA and SAS drives.

The NAS setup itself was subjected to benchmarking using our standard NAS testbed.
AnandTech NAS Testbed Configuration
Motherboard
Asus Z9PE-D8 WS Dual LGA2011 SSI-EEB
CPU
2 x Intel Xeon E5-2630L
Coolers
2 x Dynatron R17
Memory
G.Skill RipjawsZ F3-12800CL10Q2-64GBZL (8x8GB) CAS 10-10-10-30
OS Drive
OCZ Technology Vertex 4 128GB
Secondary Drive
OCZ Technology Vertex 4 128GB
Tertiary Drive
OCZ Z-Drive R4 CM88 (1.6TB PCIe SSD)
Other Drives
12 x OCZ Technology Vertex 4 64GB (Offline in the Host OS)
Network Cards
6 x Intel ESA I-340 Quad-GbE Port Network Adapter
Chassis
SilverStoneTek Raven RV03
PSU
SilverStoneTek Strider Plus Gold Evolution 850W
OS
Windows Server 2008 R2
Network Switch
Netgear ProSafe GSM7352S-200
Thank You!
We thank the following companies for helping us out with our NAS testbed:
6 TB Face-Off: The Contenders
Prior to getting into the performance evaluation, we will take a look at the special aspects and compare the specifications of the three drives being considered today.
Western Digital Red 6 TB
The 6 TB Red's claim to fame is undoubtedly its areal density. While Seagate went in for a six-platter design for its 6 TB drives, Western Digital has managed to cram in 1.2 TB/platter and deliver a 6 TB drive with the traditional five platter design. The costs are also kept reasonable because of the use of traditional PMR (perpendicular magnetic recording) in these drives.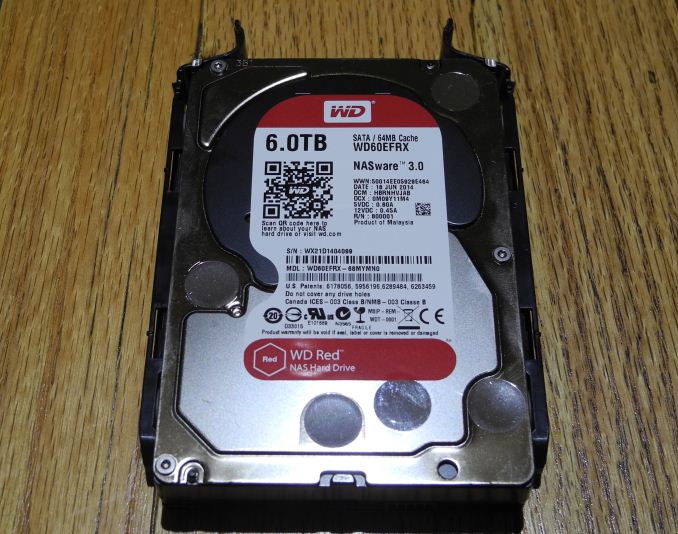 The 6 TB drive has a suggested retail price of $299, making it the cheapest of all the three drives that we are considering today.
Seagate Enterprise Capacity 3.5 HDD v4 6 TB
Seagate was the first to utilize PMR to deliver a 6 TB enterprise drive earlier this year. They achieved this through the use of a six platters (compared to the traditional five that most hard drives use at the maximum). A downside of using six platters was that the center screw locations on either side got shifted, rendering some drive caddies unable to hold them properly. However, we had no such issues when trying to use the QNAP rackmount's drive caddy with the Seagate drive.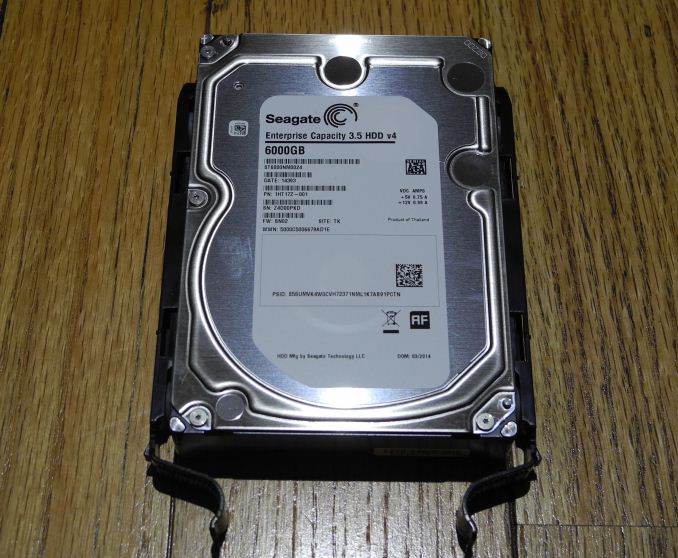 Seagate claims best in class performance, and we will be verifying those claims in the course of this review. Pricing ranges from around $450 on Amazon (third party seller) to $560 on Newegg.
HGST Ultrastar He6 6 TB
The HGST Ultrastar He6 is undoubtedly the most technologically advanced drive that we are evaluating today. There are two main patented innovations behind the Ultrastar He6, HelioSeal and 7Stac. The former refers to placement of the platters in a hermetically sealed enclosure filled with helium instead of air. The latter refers to packaging of seven platters in the same 1" high form factor of traditional 3.5" drives.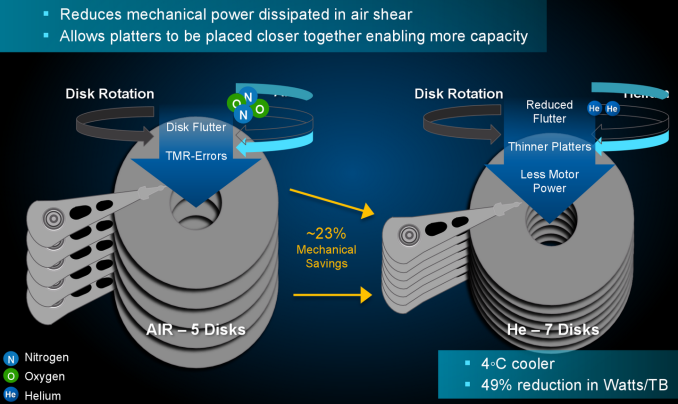 With traditional designs, we have seen a maximum of six platters in a standard 3.5" drive. The additional platter is made possible in helium filled drives because the absence of air shear reduces flutter and allows for thinner platters. The motor power needed to achieve the same rotation speeds is also reduced, thereby lowering total power dissipation. The hermetically sealed nature of the drives also allows for immersive cooling solutions (placement of the drives in a non-conducting liquid). This is something not possible in traditional hard drives due to the presence of a breather port.
The TCO (total cost of ownership) is bound to be much lower for the Ultrastar He6 compared to other 6 TB drives when large scale datacenter applications are considered (due to lower power consumption, cooling costs etc.). The main issue, from the perspective of the SOHOs / home consumers, is the absence of a tier-one e-tailer carrying these drives. We do see third party sellers on Amazon supplying these drives for around $470.
Specifications
The various characteristics / paper specifications of the drives under consideration are available in the table below.
6 TB NAS Hard Drive Face-Off Contenders
WD Red
Seagate Enterprice Capacity 3.5" HDD v4
HGST Ultrastar He6
Model Number
WD60EFRX
ST6000NM0024
HUS726060ALA640
Interface
SATA 6 Gbps
SATA 6 Gbps
SATA 6 Gbps
Advanced Format (AF)
Yes
Yes
No (512n)
Rotational Speed
IntelliPower (5400 rpm)
7200 rpm
7200 rpm
Cache
64 MB
128 MB
64 MB
Rated Load / Unload Cycles
300K
600K
600K
Non-Recoverable Read Errors / Bits Read
1 per 10E14
1 per 10E15
1 per 10E15
MTBF
1M
1.4 M
2M
Rated Workload
~120 - 150 TB/yr
< 550 TB/yr
< 550 TB/yr
Operating Temperature Range
0 - 70 C
5 - 60 C
5 - 60 C
Physical Dimensions
101.85 mm x 147 mm x 26.1 mm. / 680 grams
101.85 mm x 147 mm x 26.1 mm / 780 grams
101.6 mm x 147 mm x 26.1 mm / 640 grams
Warranty
3 years
5 years
5 years
The interesting aspects are highlighted above. Most of these are related to the non-enterprise nature of the WD Red. However, two aspects that stand out are the multi-segmented 128 MB cache in the Seagate drive and the HGST He6 drive's lower weight despite having more platters than the other two drives.
Feature Set Comparison
Enterprise hard drives come with features such as real time linear and rotational vibration correction, dual actuators to improve head positional accuracy, multi-axis shock sensors to detect and compensate for shock events and dynamic fly-height technology for increasing data access reliability. For the WD Red units, Western Digital incorporates some features in firmware under the NASware moniker. We have already covered these features in our previous Red reviews. These hard drives also expose some of their interesting firmware aspects through their SATA controller.
A high level overview of the various supported SATA features is provided by HD Tune Pro 5.50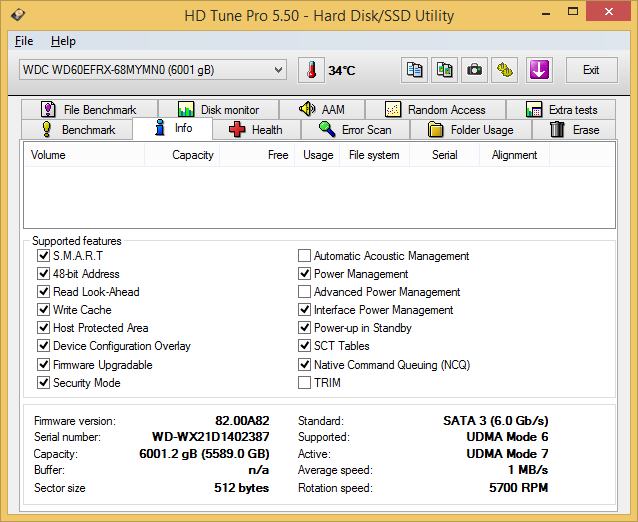 The HGST Ultrastar He6 supports almost all features (except for TRIM - this is obviously not a SSD - and Automatic Acoustic Management - a way to manage the sound levels by adjusting the seek velocity of the heads). The Seagate Enterprise Capacity drive avoids the host protected area and device configuration overlay, as well as the power management features. APM's absence means that the head parking interval can't be set through ATA commands by the NAS OS. Device Configuration Overlay allows for the hard drive to report modified drive parameters to the host. It is not a big concern for most applications. Coming to the WD Red, we find it is quite similar to the Ultrastar He6 in the support department, except for the absence of APM (Advanced Power Management).
We get a better idea of the supported features using FinalWire's AIDA64 system report. The table below summarizes the extra information generated by AIDA64 (that is not already provided by HD Tune Pro).
Supported Features
WD Red
Seagate Enterprise Capacity v4
HGST Ultrastar He6
DMA Setup Auto-Activate
Supported, Disabled
Supported, Disabled
Supported, Disabled
Extended Power Conditions
Not Supported
Supported, Enabled
Supported, Enabled
Free-Fall Control
Not Supported
Not Supported
Not Supported
General Purpose Logging
Supported, Enabled
Supported, Enabled
Supported, Enabled
In-Order Data Delivery
Not Supported
Not Supported
Supported, Disabled
NCQ Priority Information
Supported
Not Supported
Supported
Phy Event Counters
Supported
Supported
Supported
Release Interrupt
Not Supported
Not Supported
Not Supported
Sense Data Reporting
Not Supported
Supported, Disabled
Supported, Disabled
Software Settings Preservation
Supported, Enabled
Supported, Enabled
Supported, Enabled
Streaming
Supported, Disabled
Not Supported
Supported, Enabled
Tagged Command Queuing
Not Supported
Not Supported
Not Supported
Interesting aspects are highlighted in the above table. While the two enterprise drives support the extended power conditions (EPC) extensions for fine-grained power management, the Red lineup doesn't. NCQ priority information adds priority to data in complex workload environments. While WD and HGST have it enabled on their drives, Seagate seems to believe it is unnecessary. The NCQ streaming feature enables isochronous data transfers for multimedia streams while also improving performance of lower priority transfers. This feature could be very useful for media server and video editing use-cases. The Seagate enterprise drive doesn't support it, and, surprisingly, the Red seems to have disabled it by default.
Performance - Raw Drives
Prior to evaluating the performance of the drives in a NAS environment, we wanted to check up on the best-case performance of the drives by connecting them directly to a SATA 6 Gbps port. Using HD Tune Pro 5.50, we ran a number of tests on the raw drives. The following screenshots present the results for the various drives in an easy-to-compare manner.
Sequential Reads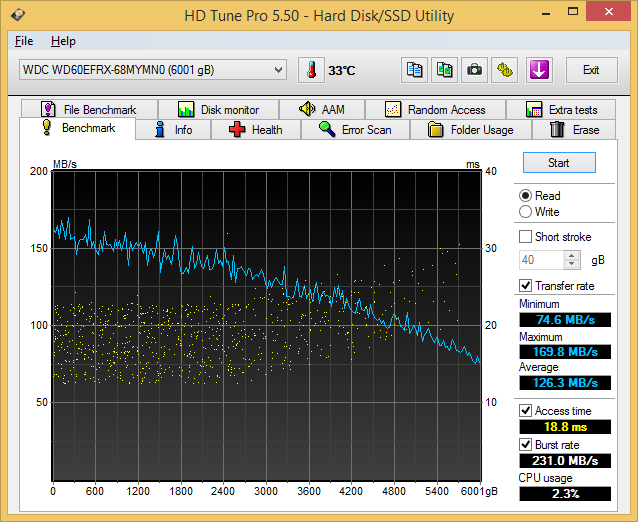 The Seagate Enterprise Capacity drive, as expected, leads the benchmark numbers with an average transfer rate of around 171 MBps. The HGST unit (142 MBps) performs better than the WD Red (126 MBps) in terms of raw data transfer rates, thanks to the higher rotational speed. The burst rate of the Seagate drive is also higher. In effect, the higher amount of cache memory on the Seagate drive helps it to perform well in this test.
Sequential Writes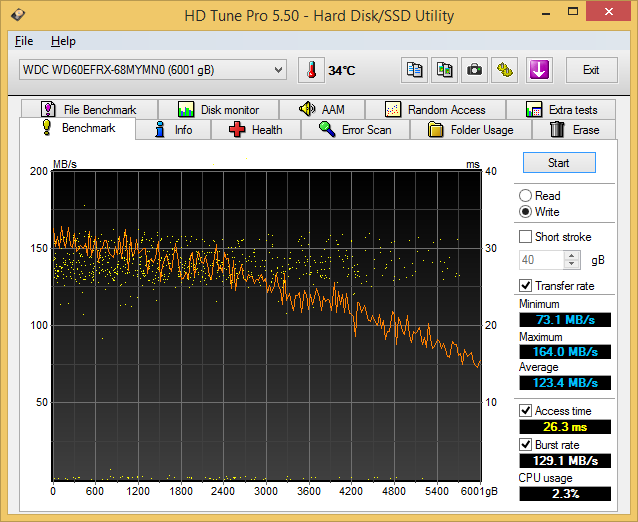 A similar scenario plays out in the sequential write benchmarks. The Seagate drive leads the pack with an average transfer rate of 168 MBps followed by the HGST one at 139 MBps. The WD Red's 123 MBps is the slowest of the lot, but these results are foregone conclusions due to the lower rotational speeds in the Red.
Random Reads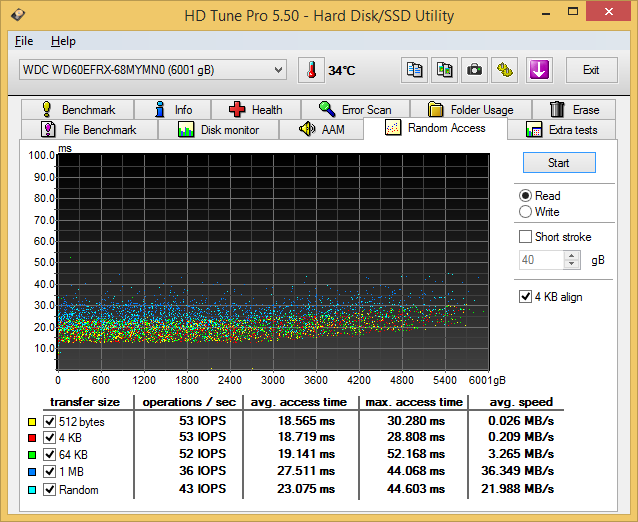 In the random read benchmarks, the HGST and Seagate drives perform fairly similar to each other in terms of IOPS as well as average access time.
Random Writes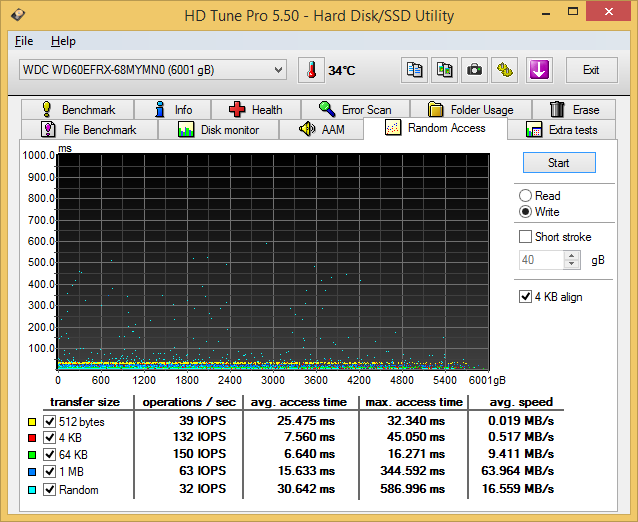 The differences between the enterprise-class drives and the consumer / SOHO NAS drives is even more pronounced in the random write benchmark numbers. However, the most interesting aspect here is that the HGST Ultrastar He6 wins out on the IOPS for 512B transfers due to its sector size. Otherwise, the familiar scenario that we observed in the previous subsections play out here too.
Miscellaneous Reads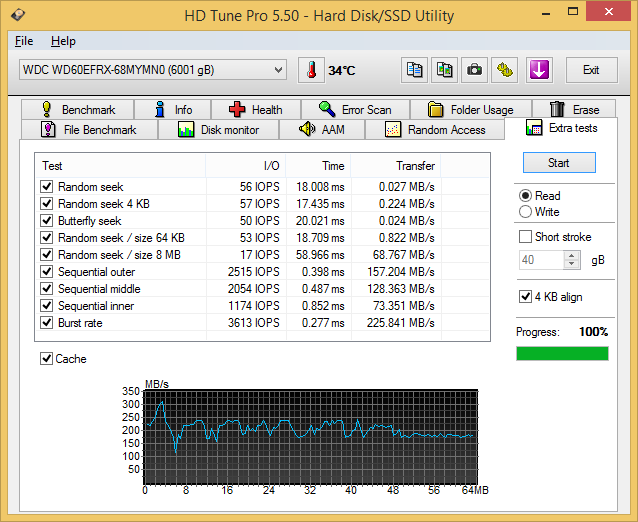 HD Tune Pro also includes a suite of miscellaneous tests such as random seeks and sequential accesses in different segments of the hard disk platters. The numbers above show the HGST and Seagate drives matched much more evenly. The cache effects are also visible in the final graph.
Miscellaneous Writes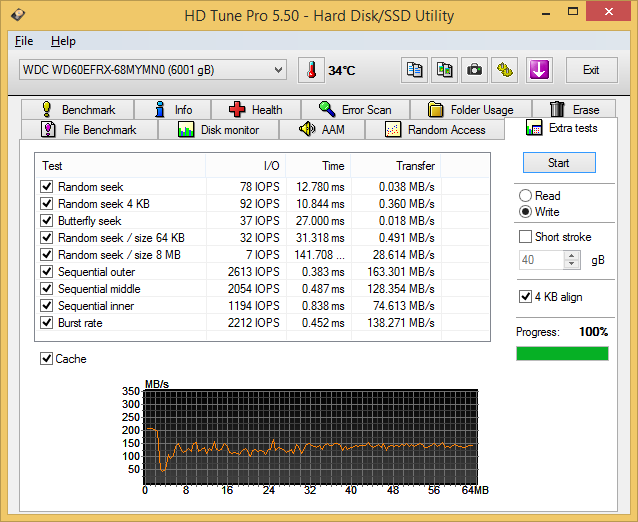 Similar to the previous sub-section, we find that the Seagate and HGST drives quite evenly matched in most of the tests. The HGST drive does exhibit some weird behaviour with the burst rate test and the Seagate one with the 8 MB random seek tests, while the Red is consistent across all of them without being exceptional.
We now have an idea of the standalone performance of the three drives being considered today. In the next section, we will take a look at the performance of these drives when subject to access from a single client - as a DAS as well as a NAS drive.
Single Client Access - DAS and NAS Environments
The drives under test were connected to a 6 Gbps SATA port off the PCH in our DAS testbed. After formatting in NTFS, they were subject to our DAS test suite. The results are presented in the table below.
6 TB NAS Drives Face-Off: DAS Benchmarks (MBps)
WD Red 6 TB
Seagate Enterprise Capacity v4
HGST Ultrastar He6
Read
Write
Read
Write
Read
Write
Photos
137.3
141.45
146.36
193.52
146.72
102.54
Videos
138.11
137.25
185.94
207.34
149.71
104.74
Blu-ray Folder
136.1
140.22
185.12
215.47
149.81
107.03
Adobe Photoshop (Light)
2.54
237.28
7.22
225.41
5.9
248.37
Adobe Photoshop (Heavy)
3.32
250.14
9.68
210.47
8.03
235.11
Adobe After Effects
2.27
96.75
7.27
49.66
5.98
17.05
Adobe Illustrator
2.36
101.77
7.11
163.16
5.9
71.59
On the NAS environment side, we configured three drives in RAID-5 in the QNAP TS-EC1279U-SAS-RP unit. Two of the network links were bonded (configured with 802.3ad LACP). Our usual Intel NASPT / robocopy benchmarks were processed from a virtual machine in our NAS testbed. The results are presented in the graph below.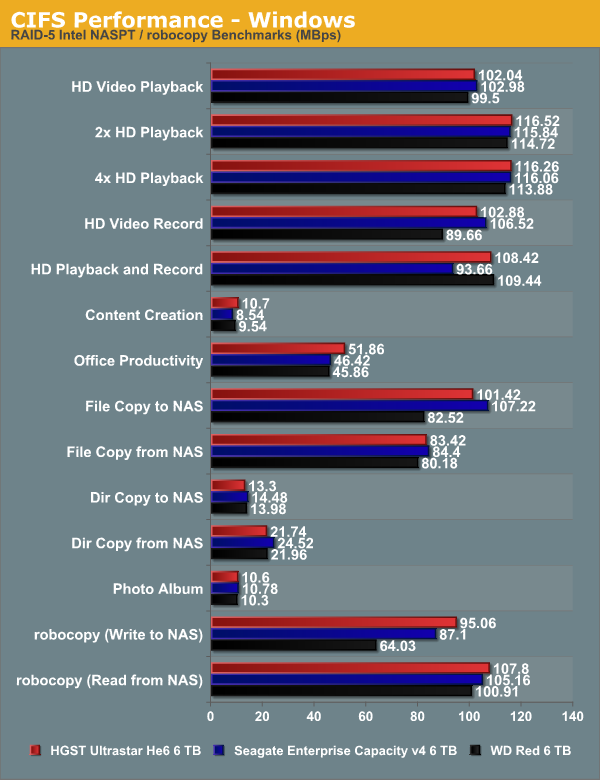 The results above indicate that when it comes to a networked environment, the lower rotational speeds of the WD Red 6 TB are not much of an issue for single client accesses. It manages to acquit itself well in most of the test cases. Write-intensive workloads do cause the performance to drop a bit. Between the HGST Ultrastar He6 and the Seagate Enterprise Capacity, there is not much to help differentiate in this particular evaluation routine.
Multi-Client Access - NAS Environment
We put the NAS drives in the QNAP TS-EC1279U-SAS-RP through some IOMeter tests with a CIFS share being accessed from up to 25 VMs simultaneously. The following four graphs show the total available bandwidth and the average response time while being subject to different types of workloads through IOMeter. IOMeter also reports various other metrics of interest such as maximum response time, read and write IOPS, separate read and write bandwidth figures etc. Some of the interesting aspects from our IOMeter benchmarking run can be found here (WD Red 6TB), here (HGST Ultrastar He6) and here (Seagate Enterprise Capacity v4 6 TB).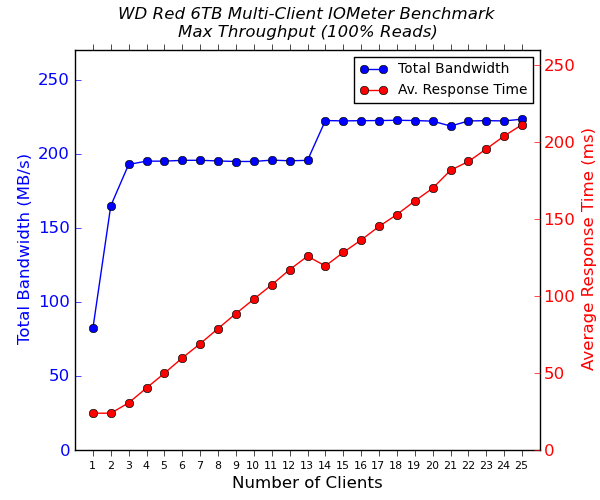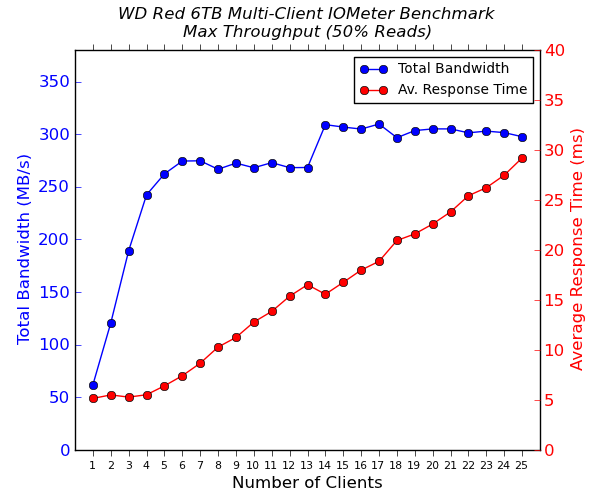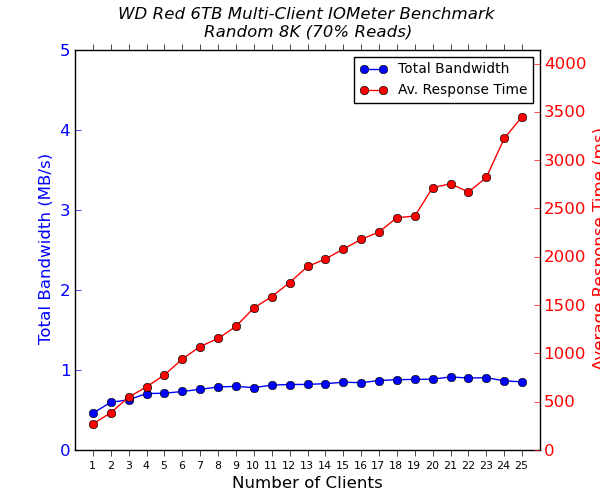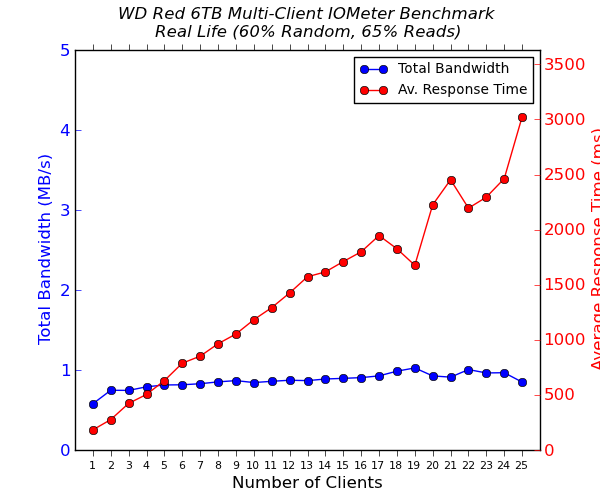 These tests reveal the shortcoming of the low rotational speeds of the WD Red. Random accesses from multiple clients can cause the performance to drop considerably, while the Seagate enterprise drive manages to hold its own. However, the good aspect is that the WD Red's target market (SOHO / home consumers) will not have these many concurrent accesses. The type of workload is also expected to be mostly sequential in nature. For those test cases, the Red 6 TB version manages to perform as expected.
Miscellaneous Aspects and Final Words
In the process of reviewing the Western Digital Red 6 TB drives, we did face one hiccup. Our QNAP testbed NAS finished resyncing a RAID-5 volume with three of those drives, but suddenly indicated an I/O error for one of them.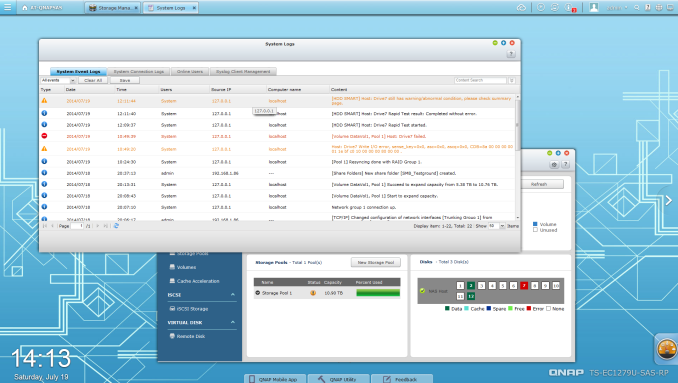 We were a bit surprised (in all our experience with hard drive review units, we had never had one fail that quickly). To check into the issue, we ran the SMART diagnostics and also a short test from within the NAS UI. Even though both of them passed clean, the NAS still refused to accept the disk for inclusion in the RAID volume. Fortunately, we had a spare drive that we could use to rebuild the volume. Putting the 'failed' drive in a PC didn't reveal any problems either. We are chalking this down to compatibility issues, though it is strange that the rebuilt volume with the same disks completed benchmarking without any problems. In any case, I would advise prospective consumers to ensure that their NAS is in the compatibility list for the drive before moving forward with the purchase.
RAID Resync and Power Consumption
The other aspect of interest when it comes to hard drives and NAS units is the RAID rebuild / resync times and the associated power consumption numbers. The following table presents the relevant values for the resyncing of a RAID-5 volume involving the respective drives.
QNAP TS-EC1279U-SAS-RP RAID-5 Volume Resync
Disk Model
Duration
Avg. Power
Western Digital Red 6 TB
14h 27m 52s
90.48 W
Seagate Enterprise Capacity 3.5" HDD v4 6 TB
10h 24m 22s
105.42 W
HGST Ultrastar He6 6 TB
12h 34m 20s
95.36 W
Update: We also have some power consumption numbers under different scenarios. In each of these cases, we have three of the drives under consideration configured in a RAID-5 volume in the NAS. The access mode is exercised by running the corresponding IOMeter trace from 25 clients simultaneously.
QNAP TS-EC1279U-SAS-RP RAID-5 Power Consumption
Workload
WD Red 6 TB
Seagate Enterprise Capacity 3.5" HDD v4 6 TB
HGST Ultrastar He6 6 TB
Idle
79.34 W
87.16 W
84.98 W
Max. Throughput
(100% Reads)
93.90 W
107.22 W
97.58 W
Real Life
(60% Random, 65% Reads)
84.04 W
109.25 W
94.03 W
Max. Throughput
(50% Reads)
96.74 W
112.82 W
99.25 W
Random 8 KB
(70% Reads)
85.22 W
105.65 W
91.47 W
As expected, the Seagate Enterprise Capacity 3.5" HDD v4 consumes the most power, while the He6 is much better off thanks to its HelioSeal technology while retaining the same rotational speed. The WD Red, on the other hand, wins the power efficiency battle as expected - a good thing for home consumers who value that over pure performance.
Concluding Remarks
We have taken a look at three different 6 TB drives, but it is hard to recommend any particular one as the clear cut choice unless the particular application is known. The interesting aspect here is that none of the three drives have overlapping use-cases. For home consumers who are interested in stashing their media collection / smartphone-captured photos and videos and expect only four or five clients to simultaneously access the NAS, the lower power consumption as well as the price of the WD Red 6 TB is hard to ignore. For users looking for absolute performance and those who need multiple iSCSI LUNs for virtual machines and other such applications would find the Seagate Enterprise Capacity v4 6 TB a good choice. The HGST Ultrastar He6 is based on upcoming technological advancements, and hence, carries a premium. However, the TCO aspect turns out to be in its favour, particularly when multiple drives running 24x7 are needed. It offers the best balance of power consumption, price and performance.