Original Link: http://www.anandtech.com/show/8252/be-quiet-power-zone-850w-cm-power-supply-review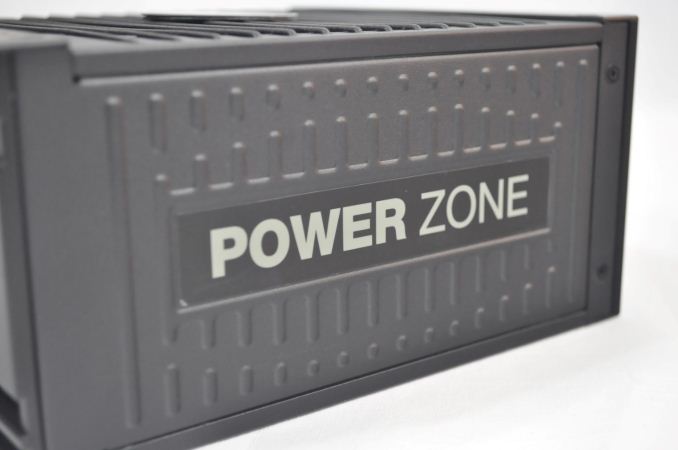 Introduction
be quiet! is a German company that is slowly making their way into the North American market. As you might guess from the name, be quiet! specializes in low-noise computer PSUs and coolers. (And yes, if you're wondering, the exclamation point is part of the company name, and it's supposed to be all lowercase as well.) Although they currently have a large number of interesting products, we've only had a chance to review a few of their products. It's been some time since we last looked at any of their PSUs, but be quiet! has sent us their Power Zone 850W CM, one of their most popular products right now.
The Power Zone is be quiet!'s "Gaming" series, meaning that they are not meant to be top performers but balanced between high performance, aesthetics, and value. As the name of our sample suggests, it has a maximum output of 850 Watts at 50 °C and is a modular (CM = cable management) unit. It is also 80 Plus Bronze certified and covered by a 5-year manufacturer's warranty, which is good for a middle-range product. be quiet! has a very long and impressive list of features for this unit, which we will examine in this review. However, the most surprising part about the Power Zone 850W CM PSU is not its list of features but the retail price. At $159.99 plus shipping, it is one of the most expensive 850W units available, regardless of specifications. Does it really worth such a steep price tag? Read on to find out.
Power specifications ( Rated @ 50 °C)
AC INPUT
100 - 240 VAC, 50 - 60 Hz
RAIL
+3.3V
+5V
+12V
+5Vsb
-12V
MAX OUTPUT
25A
25A
70A
3.0A
0.3A
160W
840W
15W
3.6W
TOTAL
850W
Packaging and bundle
be quiet! supplies the Power Zone inside a sturdy cardboard box with a dark theme based on the series logo. The rear of the box has a short overview of the product, with adequate information about the unit and its features. We found the unit very carefully packed inside the box, protected by cardboard pieces, polyethylene foam slabs, and a cloth bag.
The bundle is minimalistic with only a manual, an AC power cable, a few cable straps, and black screws included. Note that these screws are longer than your typical M3 case screw and are necessary for the installation of the Power Zone 850W CM inside a case, as typical screws are not long enough.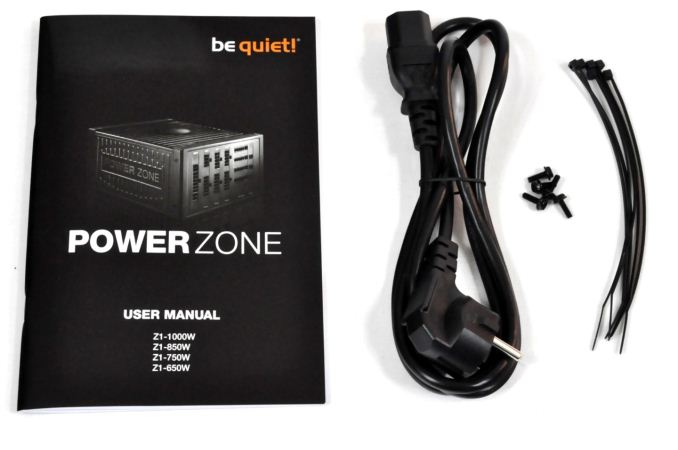 The cables of the Power Zone 850W CM are all sleeved and with color-coded wires, yet the sleeving is not so typical. Instead of using plain black sleeving, be quiet! uses a dense sleeving with orange-red thread traces. The sole exception is the fan power cables, which use two plain black/white wires. Four cable straps hold the cable packs together and can be repurposed after the PSU has been installed inside a case.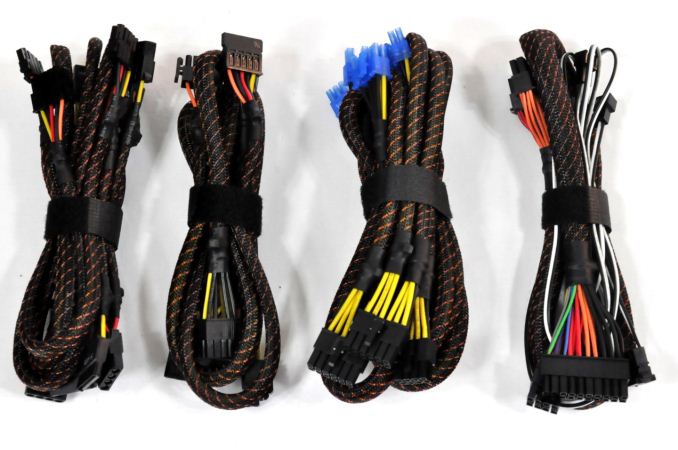 External Appearance
Visually, the Power Zone 850W CM PSU is certainly unique. Plastic frames cover the front and rear sides of the unit, while the series logo is embossed on the sides of the black chassis. The fan guard is not a typical circular grill but instead uses an array of parallel wires. A metallic badge is placed above the fan's engine, denoting the unit's maximum power output, and the sticker with the electrical specifications can be seen on the top of the chassis.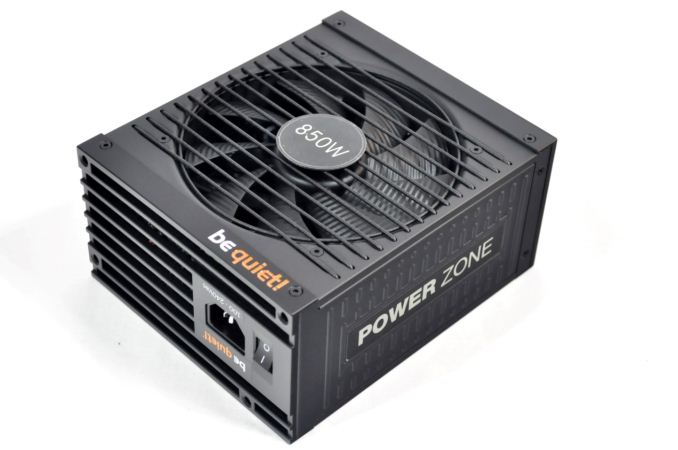 The visual enhancements however also add bulk, making the chassis 175mm deep, considerably deeper than a typical ATX PSU, thus the Power Zone 850W CM is incompatible with a large number of PC cases. The plastic frames also add spacing around the main PSU chassis, which is why be quiet! includes longer screws than normal.
For the cabling, this is a fully modular design, with no hardwired cables. Many modular PSUs will have hardwired 24-pin and ATX12V/EPS12V cables as these are always required, but by making a fully modular case it opens the door for shorter cable harnesses. Unfortunately be quiet! doesn't currently sell any shorter cable sets for the Power Zone series, but that may change.
Internal Design
One of this product's most important features is the use of a "Silent Wings" 135mm fan. These fans have been designed by be quiet! with ribbed blades that are supposed to reduce aerodynamic noise; however, this particular model is not very quiet, as it has a maximum speed of 2900RPM. It takes a very efficient 850 Watt unit to allow the use of a low-speed cooling fan, and with a Bronze rating this particular line benefits from better airflow and cooling. The fan does use a high quality fluid dynamic bearing, which will help to reduce noise, but as we'll see in a moment the PSU is still clearly audible at higher loads.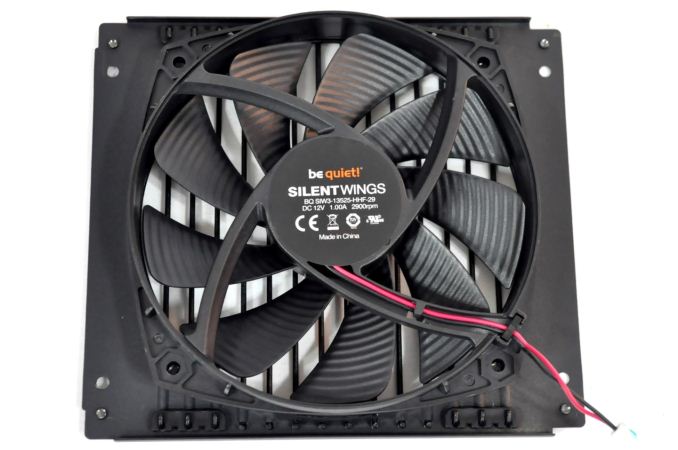 The OEM behind the Power Zone 850W CM is Fortron Source, a company we usually find behind middle and lower range products. This PSU uses a textbook filtering stage, with four Y capacitors, two X capacitors, and two filtering inductors at the back of the receptacle and on the main board. Two primary rectification bridges work in parallel, each bolted onto its own small heatsink next to the large APFC coil. The two 220 μF APFC capacitors are rated for operation at 105 °C and are supplied by Teapo. Actually, almost every single capacitor in the Power Zone 850W CM, electrolytic and polymer alike, is supplied by Teapo, with the weird exception of a single small Nippon Chemi-Con electrolytic capacitor on the distribution PCB.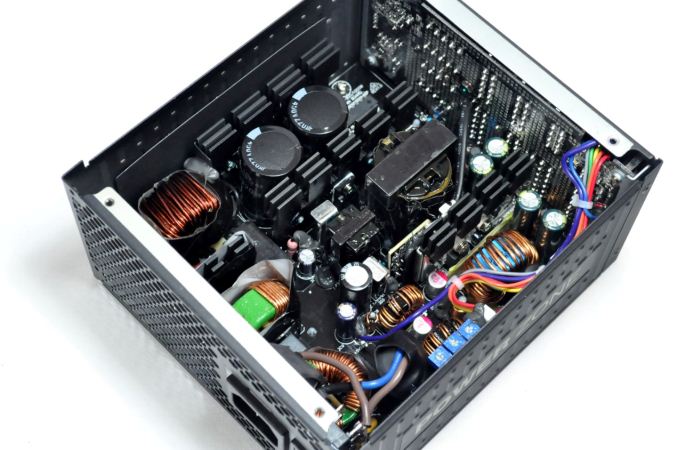 Strangely, although the platform has very good potential and implements modern technologies, such as an Active Clamp topology and DC-to-DC conversion circuits, be quiet! uses very basic active components (i.e. transistors) on the primary inversion and secondary conversion levels. This reduces the overall efficiency of the Power Zone 850W CM down to 80 Plus Bronze levels. If they would have chosen active components with lower resistance and/or better behavior, this design could easily qualify for 80 Plus Silver or Gold status.
The assembly quality of the Power Zone 850W CM is excellent, especially for a Fortron Source design. It is a clean design, with black glue used to mechanically secure the components and minimize high frequency vibration noises. The soldering job is not perfect, as we found a few joints where the use of solder was a bit too generous, but it is very good nonetheless.
Cold Test Results
For the testing of PSUs, we use high precision electronic loads with a maximum power draw of 2700 Watts, a Rigol DS5042M 40MHz oscilloscope, an Extech 380803 power analyzer, two high precision UNI-T UT-325 digital thermometers, an Extech HD600 SPL meter, a self-designed hotbox, and various other bits and parts. For a thorough explanation of our testing methodology and more details on our equipment, please refer to our How We Test PSUs - 2014 Pipeline post.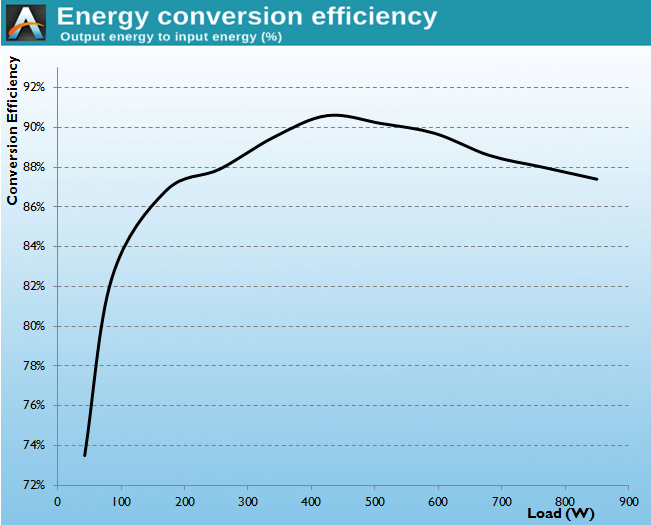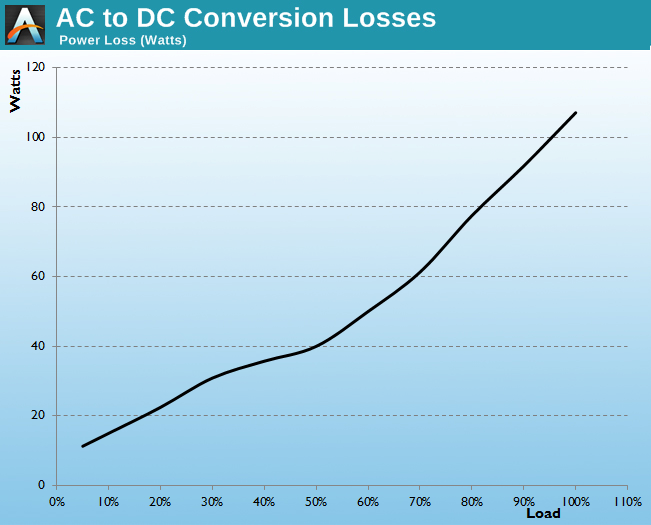 The performance of the Power Zone 850W CM at room temperature is surprisingly high. The average conversion efficiency of the power supply within the nominal load range (20% to 100%) is 88.7%, with the maximum being 90.6% efficiency at half load. As a matter of fact, this product should easily meet the 80 Plus Silver efficiency certification. We can only assume that it received an 80 Plus Bronze certification because of an old, now defunct revision, or because the efficiency drops dramatically if the unit is powered from a 110 VAC source; however, both of these scenarios are assumptions on our part. With a load of only 40 Watts, the efficiency of the Power Zone 850W CM drops down to 73.5%, which is a fairly good result considering the class and design of this unit.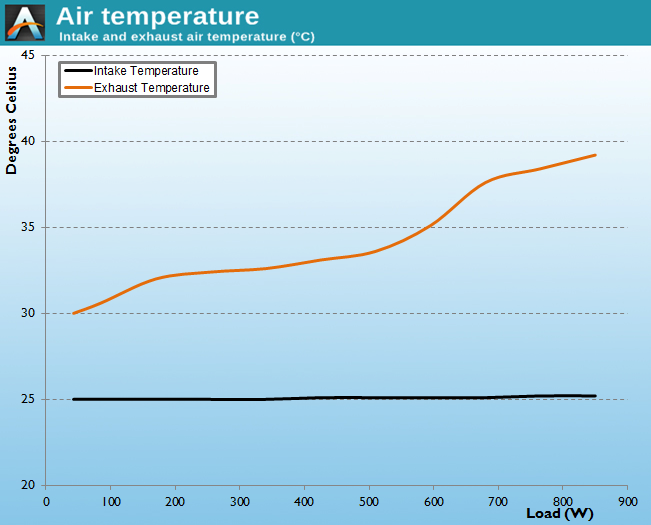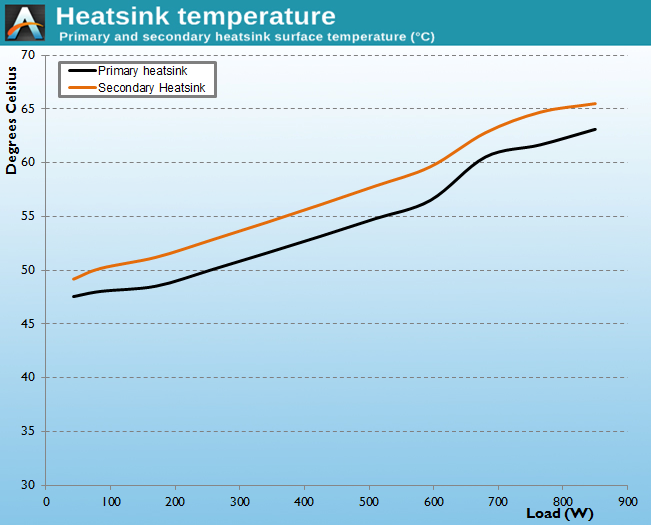 The cooling system of the Power Zone 850W CM is a bit unusual, considering the company name. The unit runs cool in general, with below average component temperatures for a power supply of this output, but it relies on the powerful cooling fan. From the moment that the load goes above 12-15% of the unit's capacity, the fan starts increasing its speed in a near-linear fashion. Although this does keep the unit cool, this is rather strange behavior for a unit from a company that takes pride on their low-noise solutions.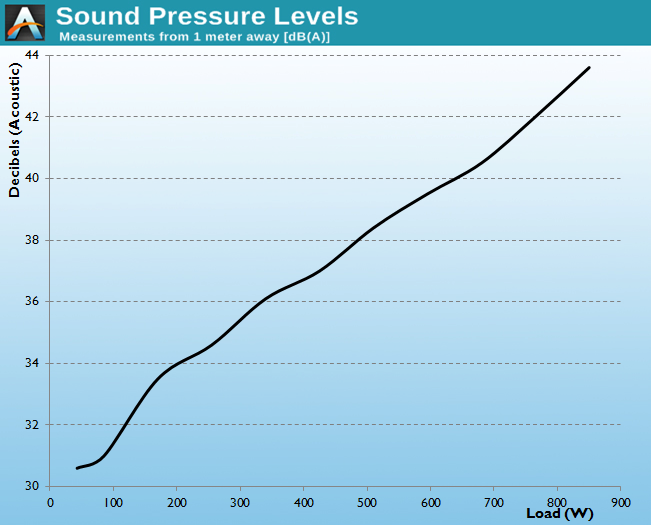 The result is that noise from the Power Zone 850W is never what we would really call "quiet". It's clear that this particular model has been designed to be more of a high-performance "gaming" PSU rather than a low-noise product. When you compare it with other PSUs like the EVGA SuperNova 850W G2, the noise and overall performance become even more questionable.
Hot Test Results
From the tables below, you can see that the output power quality of the be quiet! Power Zone 850W CM PSU is mediocre. The maximum voltage ripple that our instrumentation recorded was 64 mV under maximum load, which is about half of the 120 mV design guide limit but not impressive for a high-performance product. With the unit heavily cross-loaded, the maximum ripple increases even further, up to 78 mV. Voltage regulation is at 2.4% on the major 12V line and a little lower on the minor 3.3V/5V lines, which is good but not unusual for a high performance power supply.
Main Output
Load (Watts)
172.41 W
429.67 W
633.45 W
842.16 W
Load (Percent)
20.28%
50.55%
74.52%
99.08%
Line
Amperes
Volts
Amperes
Volts
Amperes
Volts
Amperes
Volts
3.3V
4.06
3.39
10.14
3.39
15.21
3.36
20.29
3.33
5V
4.06
5.08
10.14
5.05
15.21
5.00
20.29
4.97
12V
11.36
12.15
28.40
12.11
42.60
11.89
56.80
11.86
Line
Regulation
(20% to 100% load)
Voltage Ripple (mV)
20% Load
50% Load
75% Load
100% Load
CL1
12V
CL2
3.3V + 5V
3.3V
1.9%
12
18
24
30
10
34
5V
2.2%
10
16
26
30
14
38
12V
2.4%
24
34
48
64
78
30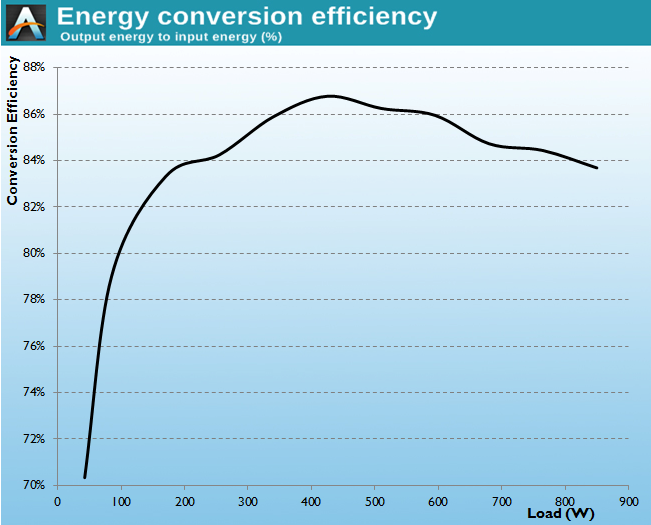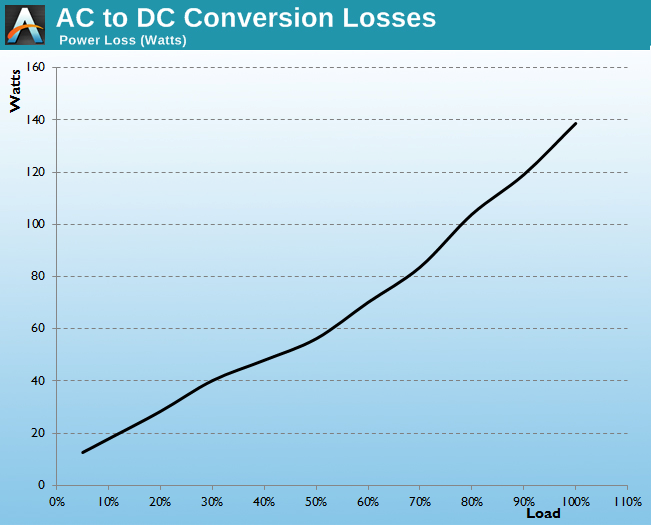 High ambient temperatures have a major impact on the energy conversion efficiency of the be quiet! Power Zone 850W CM, reducing the average nominal load (20-100%) efficiency down to 85.1 % and the maximum efficiency of the PSU to 87%. A >4% efficiency drop is very high for a premium product and is most likely caused by the high resistance of the active components (transistors) that this unit uses. The high resistance increases their thermal losses and temperature, the higher temperature increases their resistance even further, and the effect starts to cascade. Nevertheless, even though the efficiency drops quite a bit, the Power Zone 850W CM still meets the 80 Plus Bronze certification while running in a 50C environment (which isn't actually part of the 80 Plus requirements).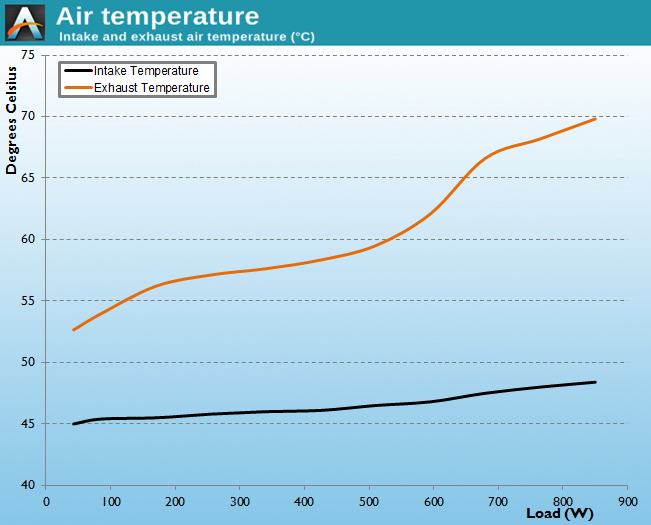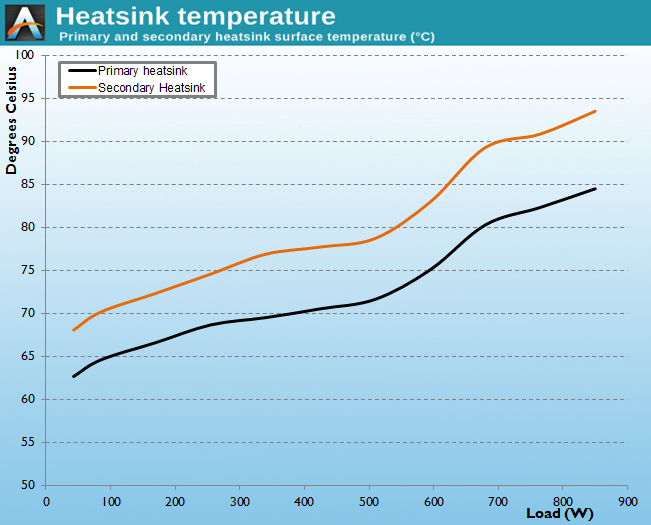 The cooling system of the Power Zone 850W CM displays similar cooling behavior as before once placed inside our hot box. The magnitude of the numbers changes, as the unit is obviously hotter and thus runs louder. The temperature of the unit reaches uncomfortable levels when it operates under maximum load for extended periods under such conditions, but the Power Zone 850W CM did work like a charm and we didn't encounter any issues...except for the noise levels.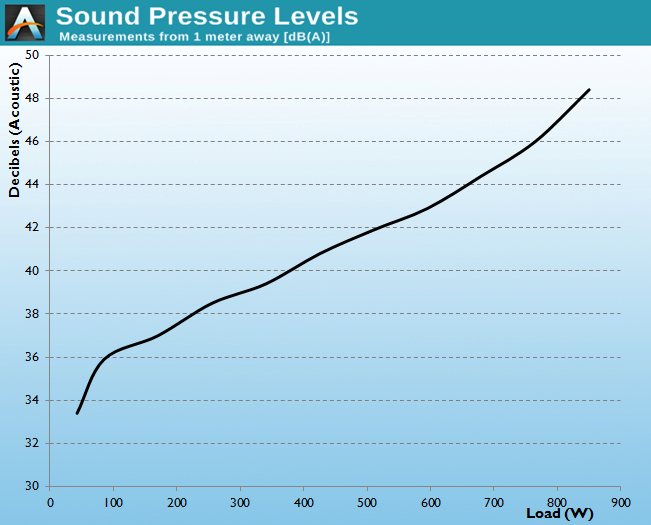 As you would expect, what was already a somewhat noisy PSU becomes even more so in our hot box. The Power Zone 850W CM will be audible at virtually any load inside a hot environment, which is not exactly what be quiet!'s company scope describes. Again, we've seen better results from the competition, and what's more they have products that cost less than the Power Zone 850W.
Conclusion
The Power Zone series is supposed to be a mainstream "gamer" series, to fill the gap between the basic Pure Power and the premium Dark Power Pro 10 series. True enough; the Power Zone units are far more advanced and more powerful than the basic Pure Power units are, yet cheaper than the top-tier Dark Power Pro 10 models. However, things are not quite as simple as that.
be quiet!'s strongest selling points are quality and low-noise operation. The Power Zone 850W CM is a well-made product, with great emphasis given on its external design. Aesthetics are a subjective matter, but we do believe that the Power Zone 850W CM is one of the best-looking PSUs currently available. It does stand out visually, yet not extravagantly so. Externally, the designers did an exceptional job.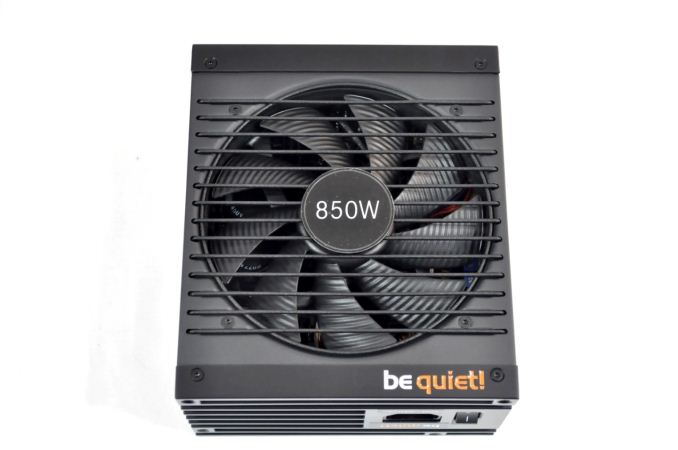 When the cover of the Power Zone 850W CM is removed however, our feelings become mixed. Fortron Source is a reputable OEM and the unit is indeed very well assembled, but the quality of the components is disappointing given its class. The use of better active components would both increase the conversion efficiency and decrease its operating temperature, allowing it to perform better, cooler, and quieter. Furthermore, the use of Teapo capacitors in a PSU of this league is disappointing. It's not that Teapo capacitors are bad - as a matter of fact, Teapo's products are nearly on par with Nippon Chemi-Con's and Rubycon's. However, the key word here is "nearly" and we cannot easily justify their use in a product with such a high price tag.
In terms of performance, the Power Zone 850W CM is mediocre. It does have high energy conversion efficiency for an 80 Plus Bronze certified product, but that's where the positive points end. Given its price class, the power quality is average and, ironically, the PSU is far from quiet. It most certainly is not a power supply that has been designed in order to remain quiet for as much time as possible, as the cooling system depends on a powerful fan that will not hesitate to speed up the moment a load is placed on it. Nothing about its performance is actually bad, yet nothing is actually very good either.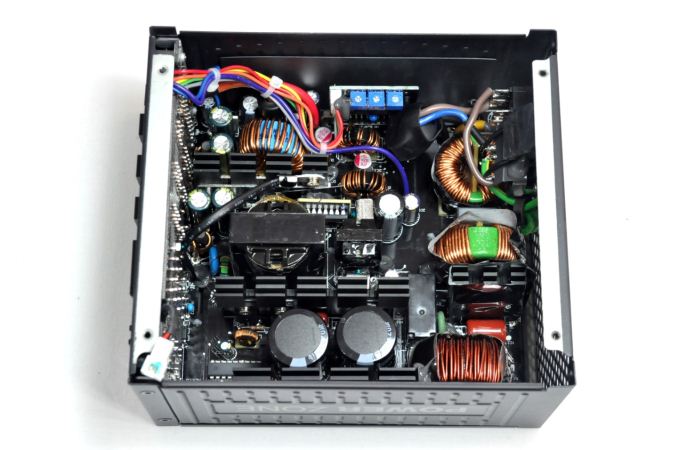 The retail price of the Power Zone 850W CM is $159.99 plus shipping at the time of this review, pitting it against many high quality products. As a matter of fact, it is more expensive than many 80 Plus Gold certified 850 Watt units, even top-tier products from other manufacturers. For example, the EVGA SuperNOVA G2 850 we reviewed is currently $139.99 (with a $20 mail-in rebate avaialble), and it performs better and runs quieter. Simply put, the Power Zone 850W CM is not a bad product, but the current retail prices make it virtually impossible to recommend against the competition.
This is a midrange 850 Watt power supply, yet it is priced 30-40% higher than its direct competition. If there is a major price cut, or if you live in central Europe where be quiet!'s products are often less expensive, the Power Zone 850W CM could become a very good choice. For the US market, there are simply far better options in the $160 price bracket.