Original Link: http://www.anandtech.com/show/8250/lumia-630-review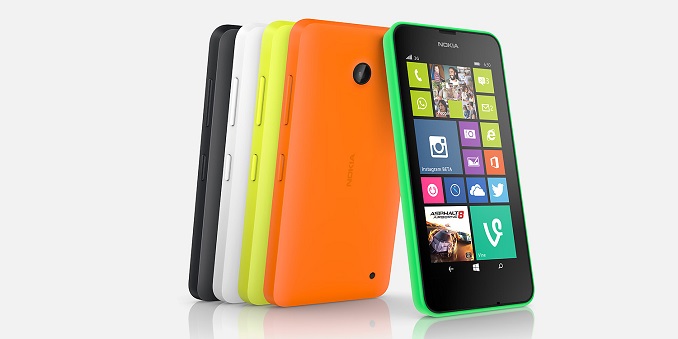 Introduction
With the introduction of the Lumia 630 and 635 models, we have our first look at the next generation of low cost Windows Phone devices, and the Lumia 630 is a phone with many firsts for this segment. It's the first phone launched with Windows Phone 8.1 from any manufacturer. It's also the first phone released after the acquisition of Nokia by Microsoft, though the phone was announced at BUILD prior to the final paperwork was completed on the acquisition. This is the first Windows Phone ever with an optional Dual SIM model. This is also the first Windows Phone which incorporates a SensorCore branded pedometer. It's the first Windows Phone which replaces the hardware back, home, and search keys with on-screen equivalents, and unfortunately it's the first Windows Phone which is lacking a hardware camera button, ambient light sensor, and proximity sensor. This is definitely a device of firsts for Windows Phone, but not all of the firsts are good news.
Last year, Nokia released the
Lumia 520
and to say that this one device changed the Windows Phone landscape forever would be an understatement. Microsoft was trying very hard to try and capture some of the high end smartphone segment, but with a smaller app store and generally lower specifications than competing devices running Android or iOS, it was a tough sell. Suddenly Nokia released a device which was a capable smartphone and could be had for a low price – often less than $100 off contract. At the time, competing Android phones in that segment would often be running very old versions of Android, have very low specifications, or both, and of course Apple doesn't play in this segment. Within a single year, the Lumia 520
accounted for over 30%
of all Windows Phone devices.
Clearly the high volume for Windows Phone was the low cost, off contract devices. Though Nokia (now Microsoft) still continues to make and sell higher end devices such as the Lumia Icon (930) and 1520 phablet, the low end of the market is where the volume is, and many of the changes to Windows Phone over the last year have been to help drive down costs of the devices by removing the requirements for certain sensors, hardware buttons, and creating a reference platform with Qualcomm to allow ODMs to easily create Windows Phone devices. We are seeing the same thing happening with Android as well, with the low cost segment practically ignored by all OEMs until Motorola launched the Moto G which is a capable smartphone for a budget price, and now with the Moto E they are aiming even lower. The Lumia 520 is still a capable competitor at a low price, but the landscape has changed in the past year, and good enough is no longer enough.
By name, the Lumia 630 is the successor to the Lumia 620. But truly it is a successor to the Lumia 520, as the Lumia 620 still outdoes both the 520 and 630 in features.
Low End Lumias
Nokia Lumia 520
Nokia Lumia 620
Nokia Lumia 625
Nokia Lumia 630
Display Size
4.0"
3.8"
4.7"
4.5"
CPU
Qualcomm Snapdragon S4 Plus
MSM8227 Krait Dual-Core 1.0 GHz
Qualcomm Snapdragon S4 Plus
MSM8227 Krait Dual-Core 1.0 GHz
Qualcomm Snapdragon S4 Plus
MSM8930 Krait Dual-Core 1.2 GHz
Qualcomm Snapdragon 400
MSM8226 Cortex A7 Quad-Core 1.2 GHz
RAM/NAND
512 MB / 8 GB + MicroSD
512 MB / 8 GB + MicroSD
512 MB / 8 GB + MicroSD
512 MB / 8 GB + MicroSD
Cellular Connectivity
HSPA+ 21.1 Mbps
HSPA+ 21.1 Mbps
LTE Cat 3 100 Mbps
HSPA+ 21.1 Mbps
Corning Gorilla Glass
No
No
Yes (GG2)
Yes (GG3)
Clear Black
No
Yes
No
Yes
Glance Screen
No
Yes
No
No
Front Facing Camera
No
Yes
Yes
No
Rear LED Flash
No
Yes
Yes
No
Near Field Communication
No
Yes
No
No
Sensors
Ambient Light Sensor
Accelerometer
Proximity Sensor
Ambient Light Sensor
Accelerometer
Proximity Sensor
Ambient Light Sensor
Accelerometer
Magnetometer
Proximity Sensor
Accelerometer
Sensor Core
The 630 loses a lot of features over the Lumia 620 in an effort to hit an even lower price point than the 620 did. It keeps the ClearBlack display (more on that later) but loses practically everything else. The Front Facing Camera is gone, the rear LED flash is no more. Near Field Communication (NFC) was in the 620, but is no longer in the 630. In fact, as seen in the above chart, the 630 even loses out over the 520 with the lack of proximity sensor, and more importantly the ambient light sensor. All of this was an effort to keep the Bill of Materials down to allow the device to be sold for a lower price, and on that front they did do well with the Lumia 630 having an off-contract price of around $160, compared to the Lumia 620 which was about $240 when it launched.
The biggest omission in my opinion though is the lack of Glance Screen support. For those that haven't used a Lumia with Glance, it arrived last year with the "Amber" firmware update, and first debuted on the Lumia 925. It's been updated several times, and the most current version of Glance is simply fantastic. With Windows Phone market share not being very high, it's probably a good idea to go over Glance. The Glance screen is simply the phone displaying some information on the display when the device is powered off.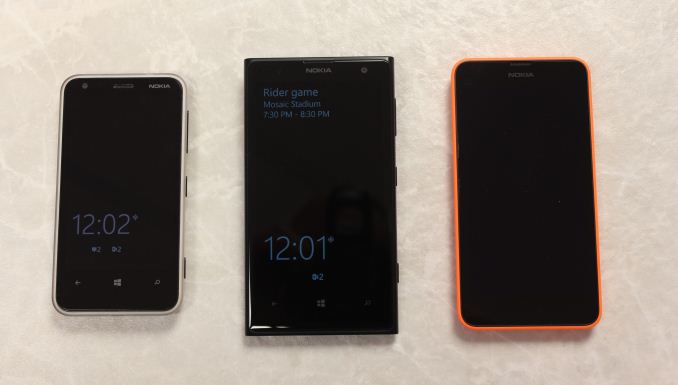 Lumia 620 Glance (left) vs Lumia 1020 OLED Glance (center) vs Lumia 630 no Glance (right)
With all versions of Glance, the clock and several phone settings such as vibrate or charging would be displayed on the screen. With updates to the firmware, other features soon came such as the ability to display lock screen notifications on the glance screen as well, so you can tell if you've missed calls, texts, or other notifications with the device off. With the last update to glance, the detailed lock screen notification for Windows Phone (in my case, my next appointment in the calendar) will briefly appear on the Glance screen when you either turn off the phone, or if the phone senses your hand over the phone. The detailed info goes away at the first Glance refresh to keep the power consumption down. You can optionally enable Glance periodically at an interval, or with a peek mode where it will only enable Glance when it senses your hand over the display.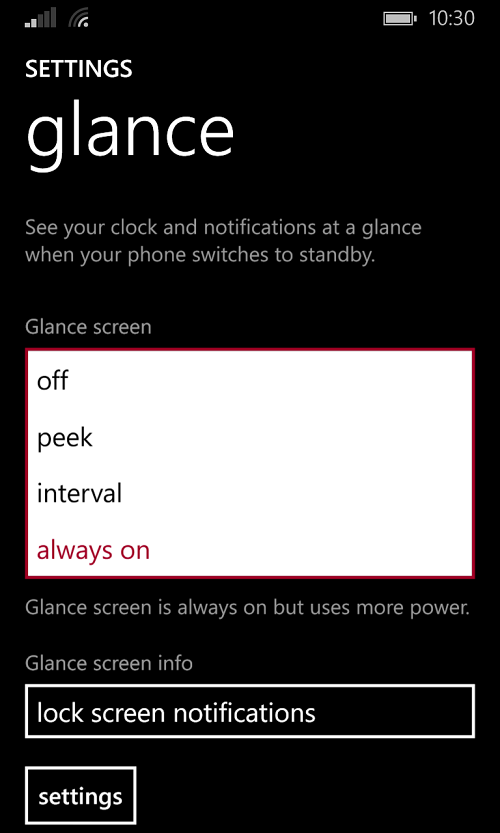 Glance works by utilizing panel self-refresh to be able to display some items with the display off. This feature is better with AMOLED displays, because they can display a small amount of white text with minimal power draw, but even so Nokia has made the Glance screen optional on LCD equipped devices as well, including the Lumia 620. As for why it's missing, as with everything it comes down to cost. The Lumia Icon (930) is also missing Glance because Nokia couldn't source a panel with memory for a reasonable price, but the 630 has the added caveat of not including either ambient light or proximity sensors to disable Glance when the phone is in your pocket. We're not sure if the 630 display includes memory or not but it could certainly be a contributing factor to it being unavailable on this model.
Hardware
The first thing that anyone will ever do with a smartphone is hold it, so we will start with the design of the phone. If you have ever seen or held any Lumia phone, then you will instantly recognize the 630 as a Lumia. The polycarbonate back is much thinner and more flexible than the 620, but has an excellent matte texture to it which makes it easy to grip and hold. The design has progressed from the earlier Lumia models with removable backs, and now features nicely rounded corners, and an angular side which makes the device quite comfortable to hold on to.
As is often the case with Lumia phones, there are several colors to choose from and in this case you can get white, black, yellow, green, or the color I received as a review unit which is a nice bright orange. As someone who has always owned black phones, I have to say that I've grown to really like the orange.
The power and volume buttons can be found on the right side of the device, with the micro USB port on the bottom, and the 3.5 mm jack on top. The back has the 5 MP camera sensor, a speaker hole, and a very faint Nokia logo. There is no fake chrome, or fake leather. This is a plastic phone that is made out of quality plastic, and with the small by today's standard display of 4.5", the phone fits nicely in the hand and is quite comfortable to hold.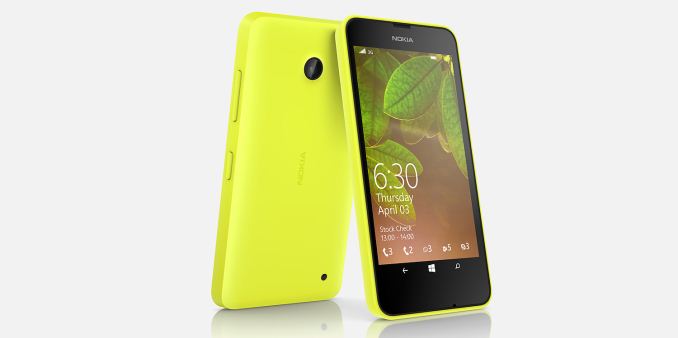 The back of the device peels off, unlike older Lumia phones which definitely popped off. Behind the removable back cover we get easy access to the SIM slot (or dual SIMs if applicable) as well as the replacable battery and a microSD slot.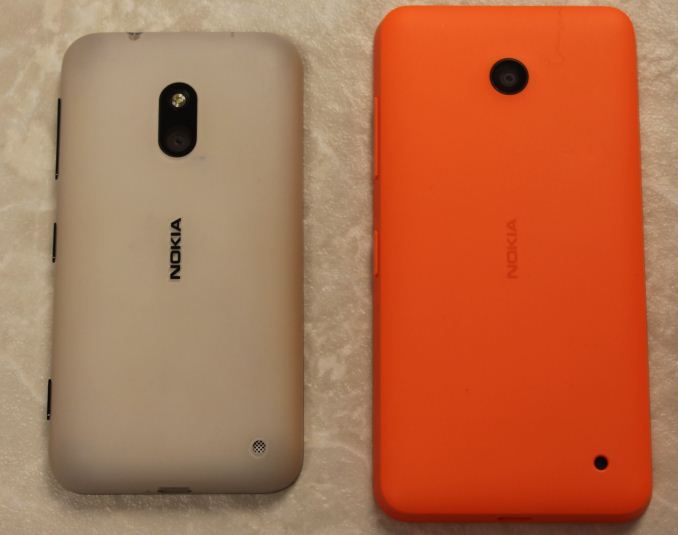 Lumia 620 (left) vs Lumia 630 (right)
The move to on-screen buttons for the back, home, and search keys was something that took me no time to adjust to. You can set the device to provide haptic feedback of button presses, and in that sense they work and feel exactly like the capacitive buttons of most phones. I also accidentally triggered the buttons less than the hardware buttons of other phones I've used, which I attribute to not having the buttons so low on the device, so if I rest my thumb at the bottom, I don't hit search. A nice touch to the on-screen buttons is you can customize the navigation bar color to be always dark, match the background, or match the accent color.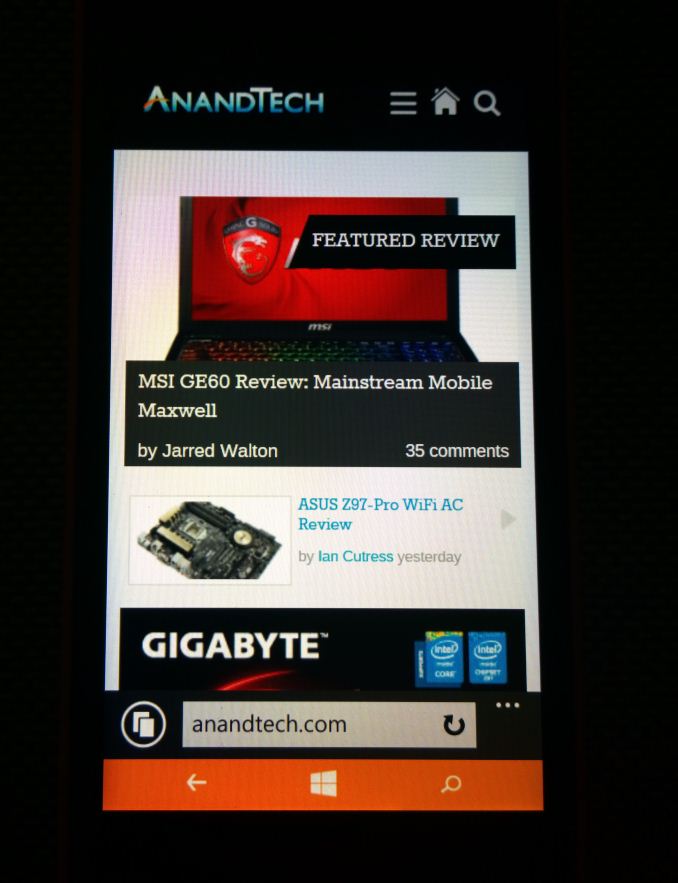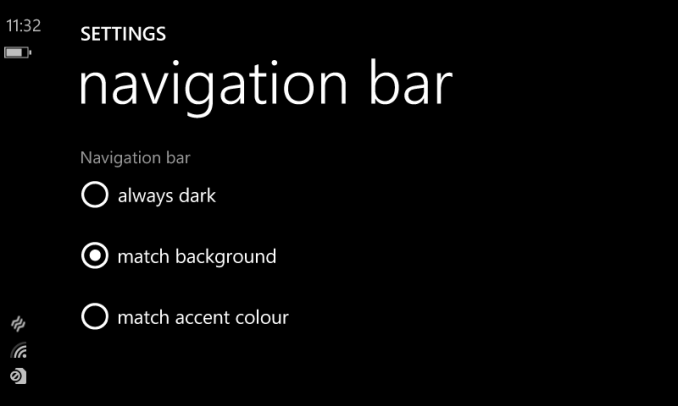 The one thing I do miss though is the camera button, and perhaps that's because Windows Phone 8.1 isn't ready to give this button up yet. There's no easy way to access the camera from the lock screen like on competing operating systems, and with other Windows Phones that's not an issue because of the physical button to launch the camera. The workaround on this device is that one of the quick action buttons in the action center is set to the camera function out of the box. It is not the ideal fix, and I hope they add a slide right for camera experience to the start and lock screens in a future update to address this issue.
As far as the specifications, the Lumia 630 is also the first Windows Phone to sport the Snapdragon 400 class of SoC. This brings the MSM8226 model which is a quad-core Cortex A7 CPU at 1.2 GHz, Adreno 305 Graphics, integrated modem, and improved ISP over the Snapdragon S4 of the previous generation. Also in-line with the Lumia 520 and 620 is the 512 MB of RAM which is a shame in 2014. Windows Phone as an OS gets by just fine with 512 MB of RAM, but many games in the store are limited to devices with at least 1 GB of RAM, so it would have been nice to see the 630 include the 1 GB to open the device to all apps in the store. The full specifications are listed below.
Lumia 630 Specifications
Nokia Lumia 520
Nokia Lumia 620
Nokia Lumia 625
Nokia Lumia 630
CPU
Qualcomm Snapdragon S4 Plus
MSM8227 Krait Dual-Core 1.0 GHz
Qualcomm Snapdragon S4 Plus
MSM8227 Krait Dual-Core 1.0 GHz
Qualcomm Snapdragon S4 Plus
MSM8930 Krait Dual-Core 1.2 GHz
Qualcomm Snapdragon 400
MSM8226 Cortex A7 Quad-Core 1.2 GHz
RAM/NAND
512 MB / 8 GB + MicroSD
512 MB / 8 GB + MicroSD
512 MB / 8 GB + MicroSD
512 MB / 8 GB + MicroSD
Display Size and Resolution
4.0" 800x480
3.8" 800x480
4.7" 800x480
4.5" 854x480
Network
GSM, GPRS, EDGE, UMTS, HSPA+ up to 21 Mbps
GSM, GPRS, EDGE, UMTS, HSPA+ up to 21 Mbps
GSM, GPRS, EDGE, UMTS, DC HSPA+, LTE up to 100 Mbps
GSM, GPRS, EDGE, UMTS, HSPA+ up to 21 Mbps
Dimensions
119.9 x 64 x 9.9 (mm)
115.4 x 61.1 x 11 (mm)
133.2 x 72.2 x 9.2 (mm)
129.5 x 66.7 x 9.2 (mm)
Weight
124 g
127 g
159 g
134 g
Camera
5MP rear camera, 1.4 µm pixels, 1/4" CMOS size, F/2.4, 28 mm focal length, No Flash, No FFC
5MP rear camera, 1.4 µm pixels, 1/4" CMOS size, F/2.4, 28 mm focal length, LED Flash, VGA FFC
5MP rear camera, 1.4 µm pixels, 1/4" CMOS size, F/2.4, 28 mm focal length, LED Flash, VGA FFC
5MP rear camera, 1.4 µm pixels, 1/4" CMOS size, F/2.4, 28 mm focal length, No Flash, No FFC
Battery
1430 mAh 3.7 V (5.291 Wh)
1300 mAh 3.7 V (4.81 Wh)
2000 mAh 3.7 V (7.4 Wh)
1830 mAh 3.7 V (6.771 Whr)
Current Shipping OS
Windows Phone 8.0 with Black Firmware
Windows Phone 8.0 with Black Firmware
Windows Phone 8.0 with Black Firmware
Windows Phone 8.1 with Cyan Firmware
Connectivity
802.11 b/g/n + BT 4.0, USB2.0, MPT, DLNA, FM Radio
802.11 a/b/g/n + BT 4.0, USB2.0, MPT, DLNA, NFC
802.11 b/g/n + BT 4.0, USB2.0, MPT, DLNA, FM Radio
802.11 b/g/n + BT 4.0, USB2.0, MPT, DLNA, FM Radio
Location Technologies
Cellular and Wi-Fi network positioning, A-GPS, A-GLONASS
Cellular and Wi-Fi network positioning, A-GPS, A-GLONASS, Magnetometer
Cellular and Wi-Fi network positioning, A-GPS, A-GLONASS
Cellular and Wi-Fi network positioning, A-GPS, A-GLONASS, BeiDou
SIM Size
MicroSIM
MicroSIM
MicroSIM
MicroSIM (Dual SIM Optional)
There's not too many surprises here. Wi-Fi is 802.11n and not ac, the 630 doesn't have LTE (although the 635 does for a bit more money) and the camera is decidedly low end. 8 GB of NAND may seem low, but to get to this price it's not unexpected. You can add up to 128 GB of storage via microSD though, and Windows Phone 8.1 now allows apps to be installed on the SD card, so storage isn't really an issue.
Performance
CPU Performance
The Snapdragon 400 is in a lot of devices these days, and is starting to appear in quite a few Windows Phones as well, but this is the first Windows Phone 8.1 device with Snapdragon 400 we have tested, so it will be interesting to see how it compares to Android and iOS with the move to quad core. Just to clarify what we are working with here again, it's a quad-core Cortex A7 CPU paired with Adreno 305 graphics. We'll also compare it to a Lumia 1020, and a Lumia 620, both of which are running Krait cores (1.5 GHz for the 1020, and 1 GHz for the 620) as we need to know if four A7s at 1.2 GHz are a real upgrade over Krait.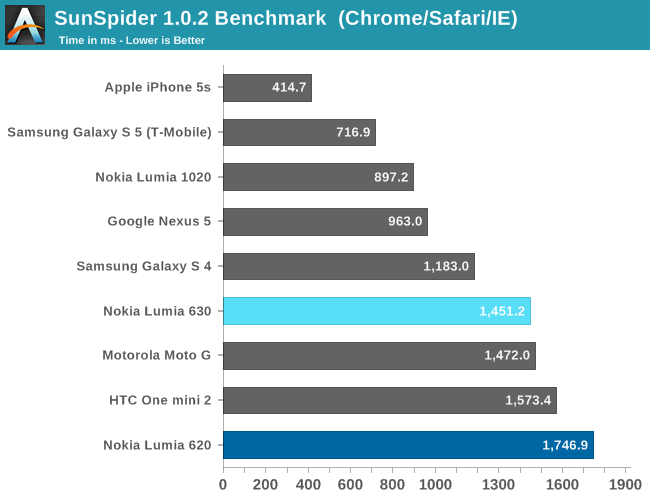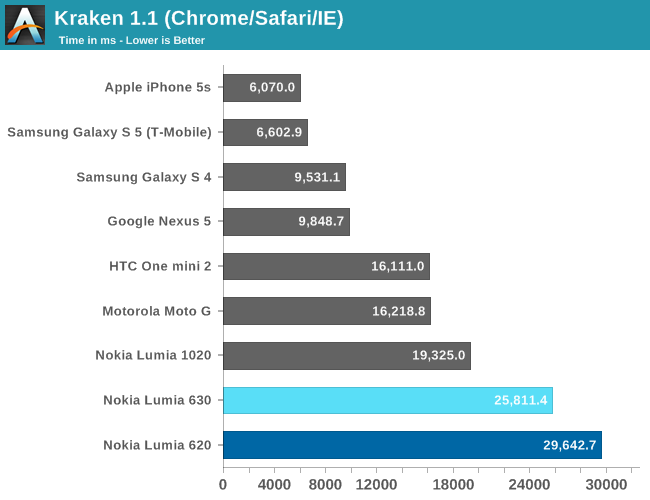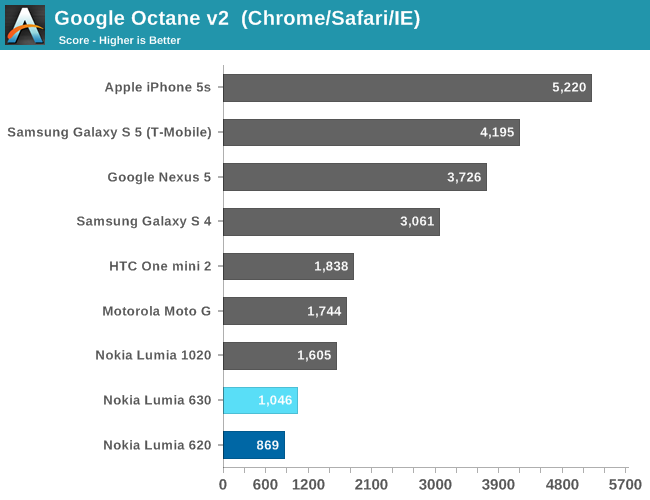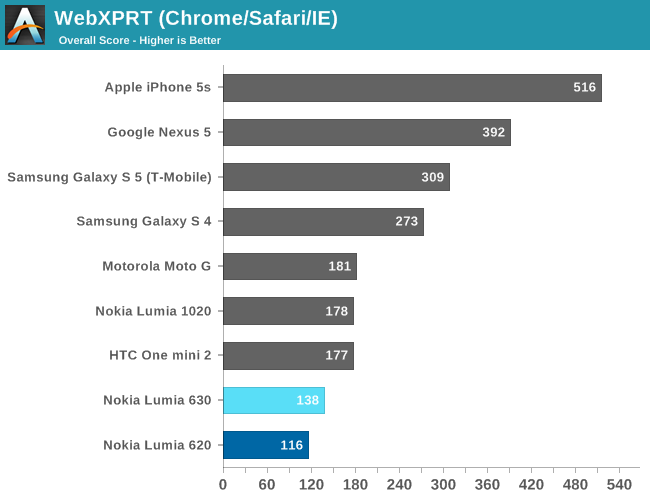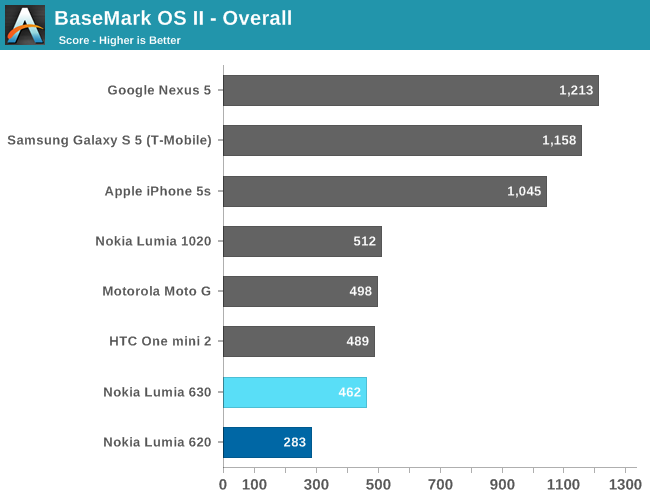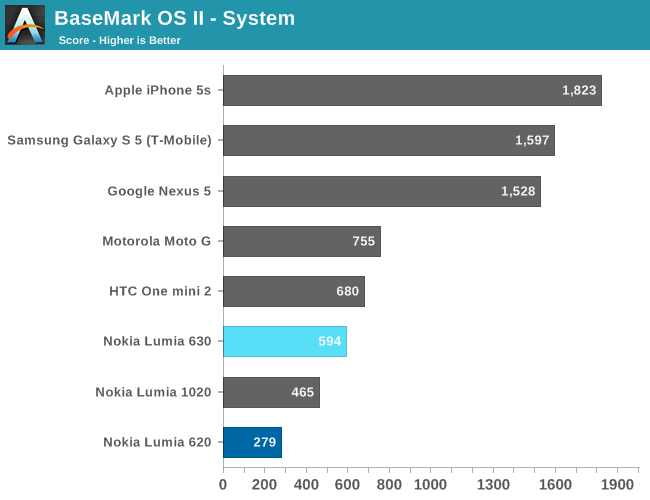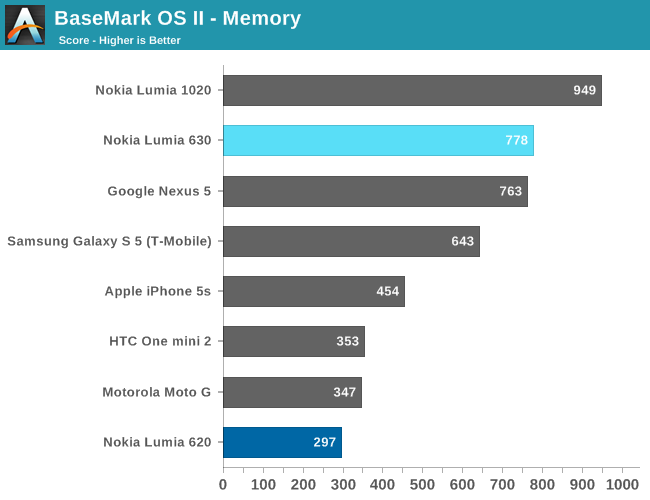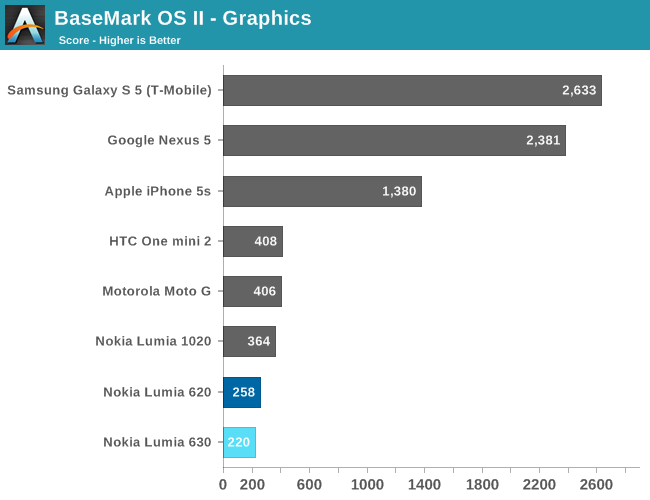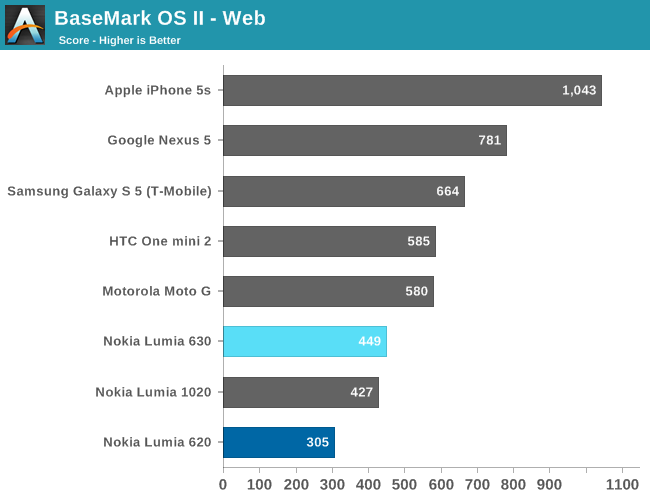 Performance is definitely an improvement over the dual-core 1 GHz Krait of the 620, but it's not spectacular. It's still slower than the dual-core 1.5 GHz of the 1020. A good comparison though is the Moto G, which is close to the same price, and sports the exact same SoC under the hood. Sunspider is very close between the two, but Kraken and Google Octane are much faster on the Moto G. Windows Phone 8.1 even with IE 11 now still has some work to do to be competitive on Javascript performance. WebXPRT falls into the same situation, with IE just not being as fast as Chrome.
Looking at Basemark II results are a bit closer, with the overall score being close. The Lumia 630 handily beats the Moto G in memory performance, but the Moto G wins the rest of the tests. We're still looking at a performance deficit for most tasks with Windows Phone 8.1 which is something Microsoft will need to work on going forward.
Windows Phone as an OS has always been very smooth, and this iteration is no different. The 630 is definitely an improvement over last year's version, but it isn't going to blow anyone away with its performance.
Graphics Performance
On the graphics side, we generally look at benchmarks which stress the GPU of the device. With Windows Phone, this means Rightware's Basemark X 1.1. The problem here is that Basemark X requires 1 GB of memory to install, so it won't run on the 630 with its limited RAM. As stated earlier, this also limits a lot of the gaming apps from being installed. If you play a lot of games, avoid this device.
NAND Performance
Storage performance isn't likely to be at the top of an engineer's list when so cost constrained, and it shows with the 630. We're at a disadvantage with Windows Phone again here because none of the standard storage benchmarks run on this platform. There are several benchmarks available on Windows Phone which do test storage, but they are either very inaccurate or give abstract results. For that reason we'll look into a storage benchmark of our own for Windows Phone but it's not available as of yet for this review.
The only numbers I was able to extract off of the 630 was basic file copy speeds. A large file transfer resulted in a sequential write speed of only 7.5 MB/s which isn't fantastic. Copying small 4 KB files was a very poor 0.03 MB/s. File copies to the device over USB 2 came in at 8.5 MB/s and file copies from the device over USB 2 resulted in 22.5 MB/s. When we get the storage benchmark completed I'll add the numbers for the 630 to bench, but I don't expect it to be very fast.
Display
The Lumia 630 display is surprisingly good, especially at this price point. Although not the brightest display around, it does have decent contrast due to good black levels. It also has the ClearBlack polarizer layer, which is a feature of many Lumia phones. ClearBlack uses linear polarizer and circular polarizer retardation layers between the phone and the display to attenuate reflections, much like polarized sunglasses work. The advantage is a less reflective display, which helps with outdoor readability.
The other part of outdoor readability though is a bright display, and here the results aren't quite as good, with the Lumia 630 only able to achieve 330 nits at maximum brightness. I did find though that it was generally bright enough to use outdoors, however most smartphones have an ambient light sensor. The Lumia 630 does not, so that means that there is no auto-brightness control on this device, which means using it outdoors you have to manually adjust the brightness. Nokia has attempted to remedy this by including three preset brightness levels which are all infinitely adjustable, and one of the quick launch buttons in the action center is set as display brightness out of the box. For those keeping track – two of the four quick launch buttons of this device are set at the factory to overcome missing features from the phone.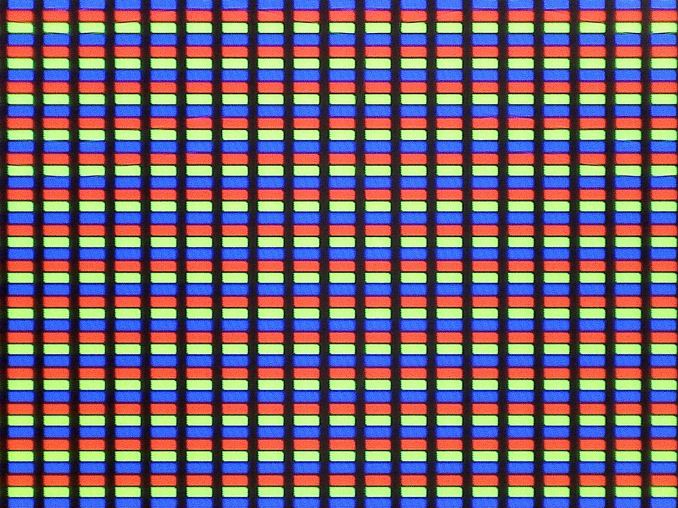 The biggest negative with this display though is the resolution. 854x480 (the bottom 54 pixels are for the on-screen buttons) on a 4.5" display results in around 218 pixels per inch. Although this can be slightly forgiven due to the cost of this device, it's definitely a drawback because you can clearly see the individual pixels on a display this size with that resolution. The competition from Android at around this price point is the Moto G, which sports a 1280x720 display and a much more impressive 329 ppi. The Moto E, which is slightly smaller at 4.3", also packs in 960x540 pixels for 256 ppi. The Lumia 630 doesn't live in a vacuum, and 800x480 effective resolution is just too low.
One other complaint with the display before we move on to color testing is that the Gorilla Glass has an almost matte texture to it, and I found in my time with the device that it attracts fingerprints much more easily than other phones I've used, including the 620 from last year. It's somewhat annoying, but not something that really bothered me, it's just noticeable.
To test the display accuracy, we turn to Spectralcal's CalMAN 5 software package with a custom workflow. We utilize the X-Rite i1Pro Spectrophotometer for color accuracy and saturation, and the X-Rite i1Display Pro for contrast ratios. First up is brightness and contrast, which we've touched on earlier.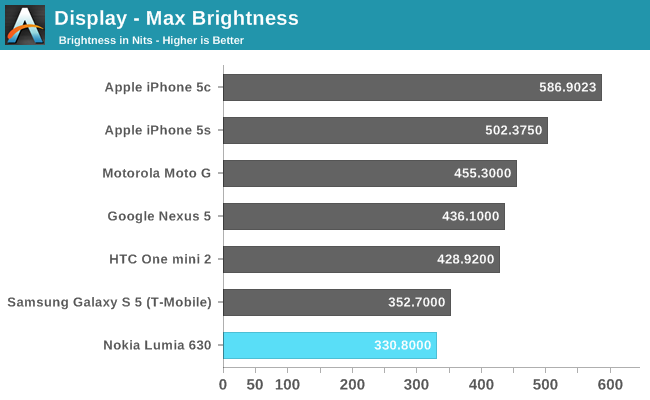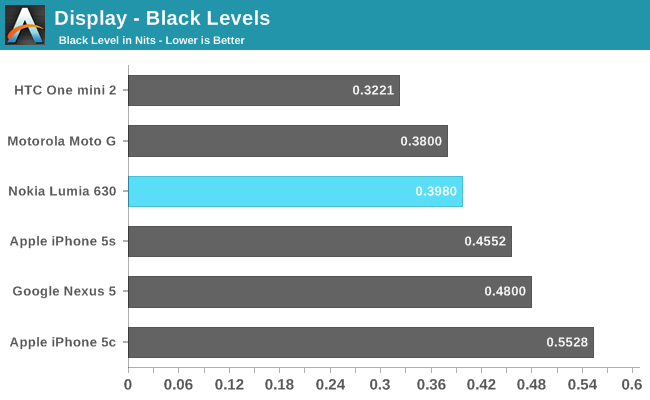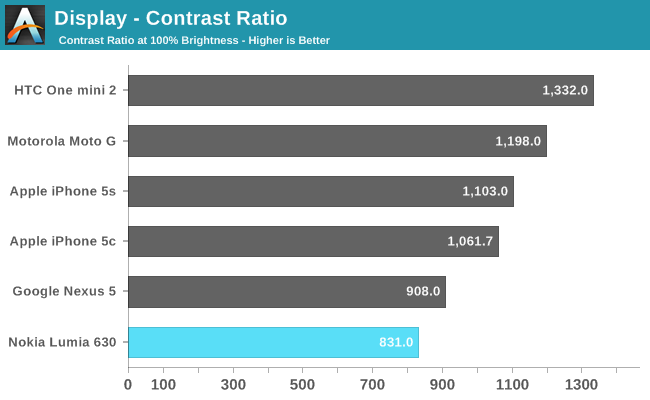 The overall contrast ratio is let down by the lack of a powerful backlight. At the minimum backlight level, the contrast ratio jumps way up to 1500:1. This display is once again bumping into the fact that this phone has competition at this price point, and screen brightness is once again a bit of a let down, but with the ClearBlack system, outdoor readability is still decent.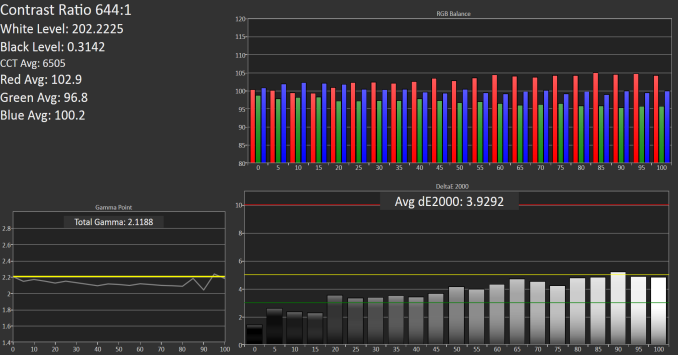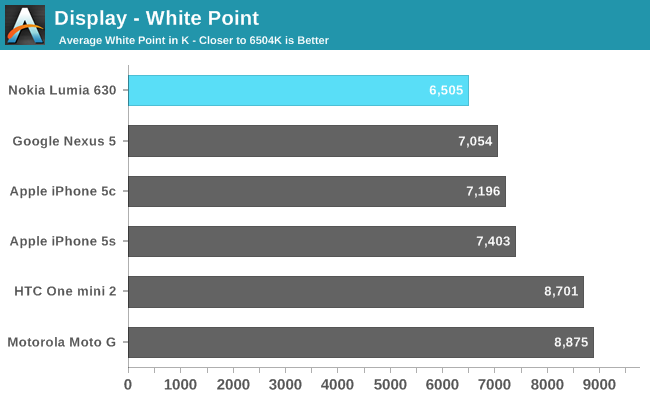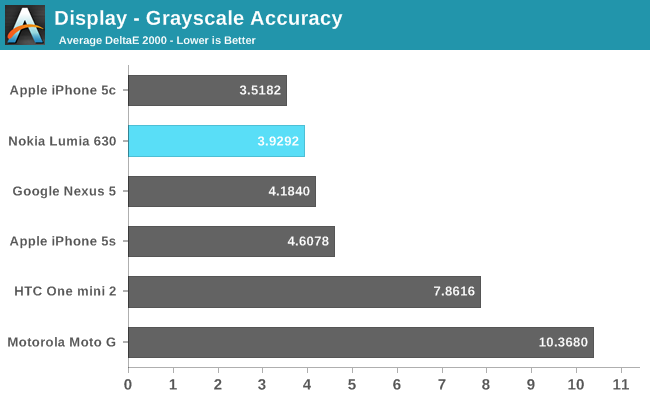 White Point is almost dead on at 6505, but the display is lacking some green. For this reason, you can't ever just look at color temperature for white and know the whole story. Red is also a bit strong, but overall the grayscale average is quite good for a smartphone, coming in close to the top for grayscale and right at the top for white point. It's a great start for a low cost phone. Please note that the contrast ratio in the screen capture is not accurate due to the i1Pro not having accurate low light measurements. Let's continue on and check the color accuracy and saturation sweeps.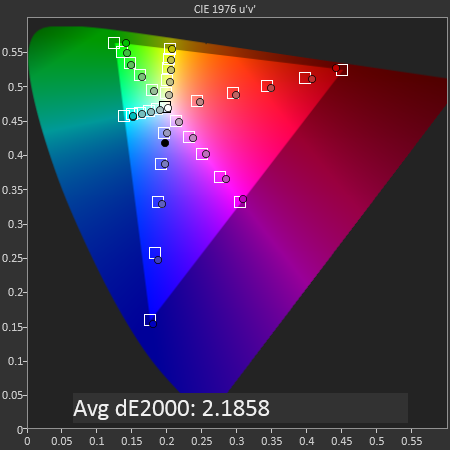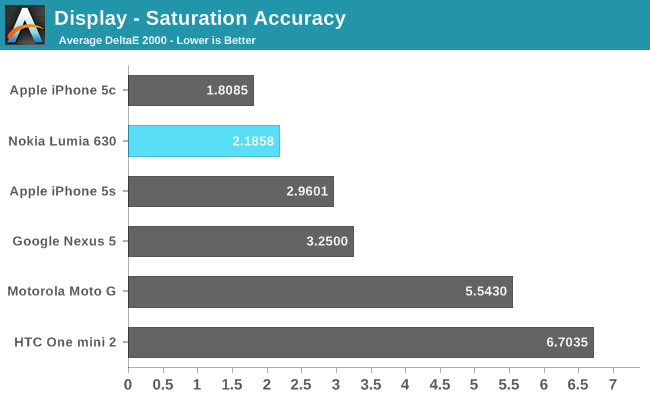 This display is fantastic here, outperforming even the iPhone 5S. While some phones seem to love to oversaturate colors to draw in perspective buyers at the store, the Lumia 630 keeps them almost perfect. If you do prefer to adjust the saturations, you can do that in the display options, but I found that moving them up or down was too drastic of a result, especially when the default setting is almost perfect.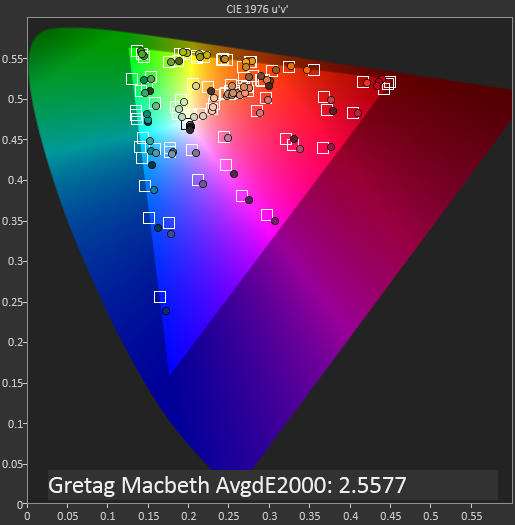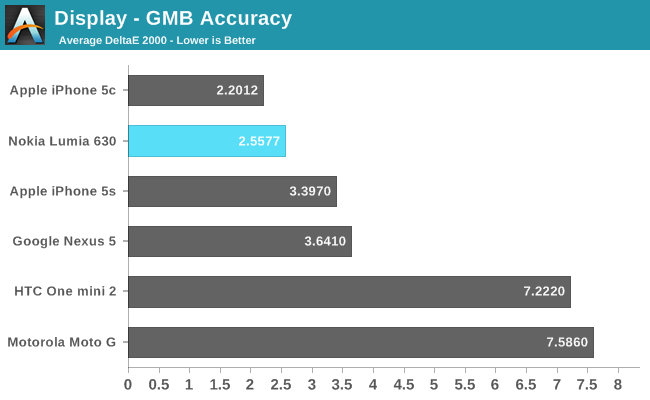 Once again, we have an excellent result in the colorchecker, and once again the Lumia 630 beats out the iPhone 5S for overall accuracy. That's a pretty fantastic result for a device of this cost. What drives up the average is the relatively poor greyscale performance and the lack of green in the whites, which comes through in the overall rating. You may notice a slightly different chart here than other smartphones, but it's the same chart just with more colors checked.
I have to commend Nokia on the accuracy of this display out of the box. It's also important to note that this is the first Lumia (at least that I've seen) that has both a brightness slider, and adjustable saturation levels.
Camera
Budget phones often have budget cameras, and the Lumia 630 is no exception. The camera module is a 5 MP 1/4" design. This means the pixels are 1.4 µm. It is an autofocus design, but lacks any sort of flash assist. I don't really like the flash of most smartphones anyway, since the LED often isn't bright enough to really illuminate the scene, and instead blows out the color accuracy of whatever you are trying to capture. However when you are working with a device with a 1/4" sensor, you are going to need a flash for any sort of low light photography so it's absence is certainly missed here. I also quite often use the LED flash as a flashlight, so it was doubly missed.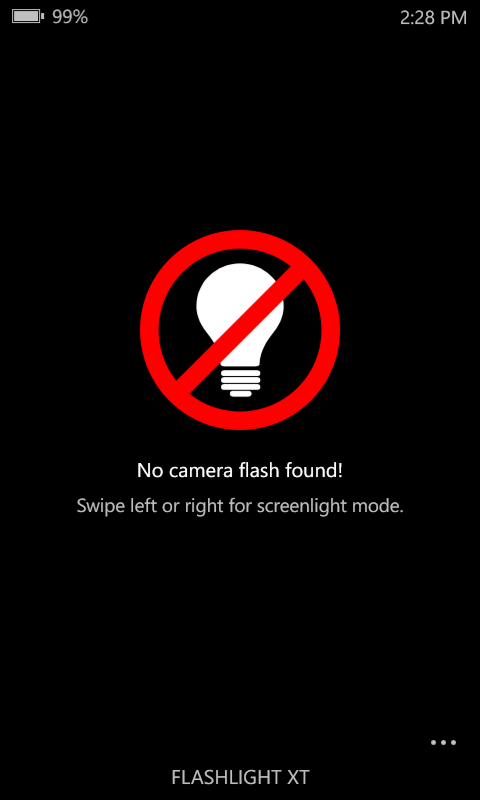 To measure camera performance, we'll put it through several test scenes and compare it to other devices. We'll start with the ISO 12233 test chart, and look specifically at the sagittal and tangential lines to see how well the camera can capture fine detail.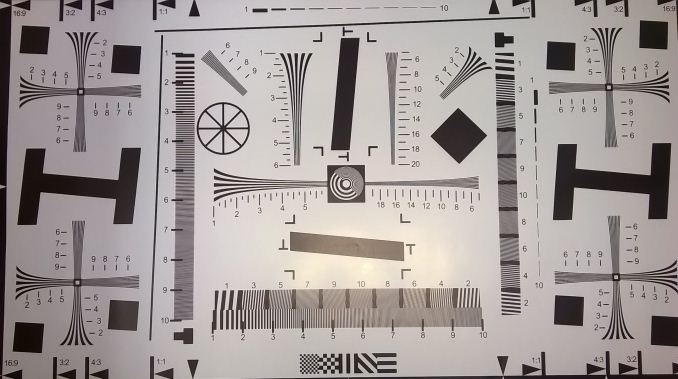 ISO 12233 Test Chart captured by Nokia Lumia 630
The Lumia 630, unsurprisingly, does a poor job of resolving fine detail. 5 MP isn't a lot to work with, and with such a small sensor size it really struggles to capture enough light. The gallery below will allow you to compare it to other devices.

Once cropped, we can really see the shortcomings of the camera system. A common theme that I found while using the phone is that it does a reasonable job capturing a scene, but any sort of cropping of the scene later will result in an unusable image.

The story is the same for the tangential crop. Once zoomed in, all detail is lost. The only good news is that the 630 appears to use the same camera module as the 520 and 620, so there shouldn't be a regression here from last year's models.
Lab Scenes
To get a feel for how the Lumia 630 can shoot pictures under a controlled environment, we have the following sample photos comparing it to the Lumia 1020. I also included the high resolution photos from the 1020 just to see how it does pixel binning to improve the image quality of the low resolution shots. These shots were all taken with the cameras set to their default automatic modes, and the Lumia 630 defaults to 16:9 where as the Lumia 1020 defaults to 4:3 photos.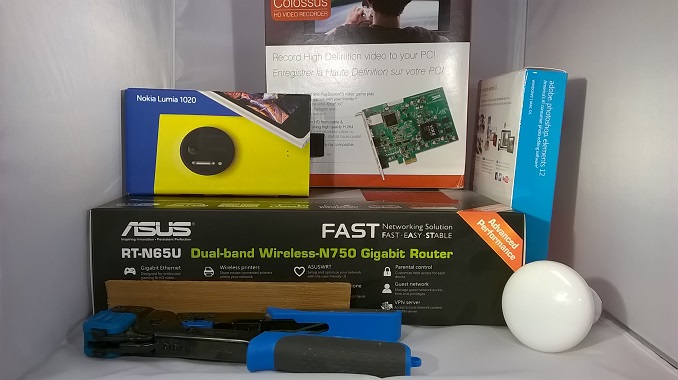 In the well lit controlled photos, the Lumia 630 does very well. It has good white balance, and the detail is actually pretty good. The white balance is better than the Lumia 1020 in this case, which historically has struggled with white balance in certain scenarios. Next up, we'll test both in a low light controlled scenario. You can use the gallery below to sample full resolution images from this test.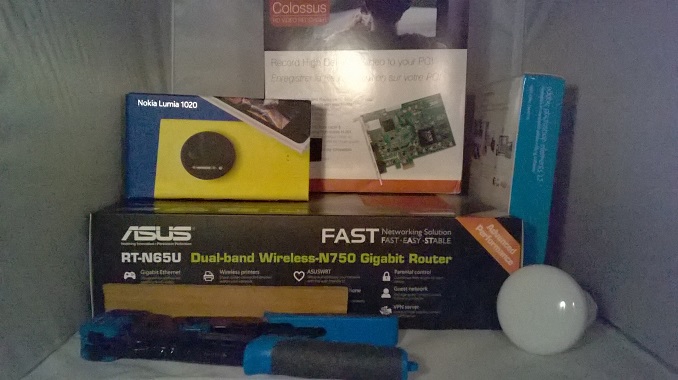 For the low light shots, the ambient light is dropped to 5 lux. Unsurprisingly, with such a small sensor size the Lumia 630 really struggles to capture enough light to properly portray the scene. The picture has a lot of noise in it. This is why a flash is so important on a phone such as this, as it makes shooting any sort of dim scene very difficult. LED flashes often blow out the shot, but at least they make the shot possible. The Lumia 1020, with its 1/1.5" sensor absolutely trounces the 630 in this test. I also included the high resolution shots for the 1020 in this test just to see the pixel binning in action. The high resolution shot actually comes across with slightly less pop than the low resolution image, even though both are very good. It's especially noticeable on the white text on the router box. You can use the gallery below to sample full resolution images from this test.
Outdoor Scenes (Night)
Moving away from controlled scenes to outdoor scenes, we can see how the Lumia 630 fares under real world conditions. First up, we'll check out its low light performance with a picture of a park bench, lit by a nearby path light.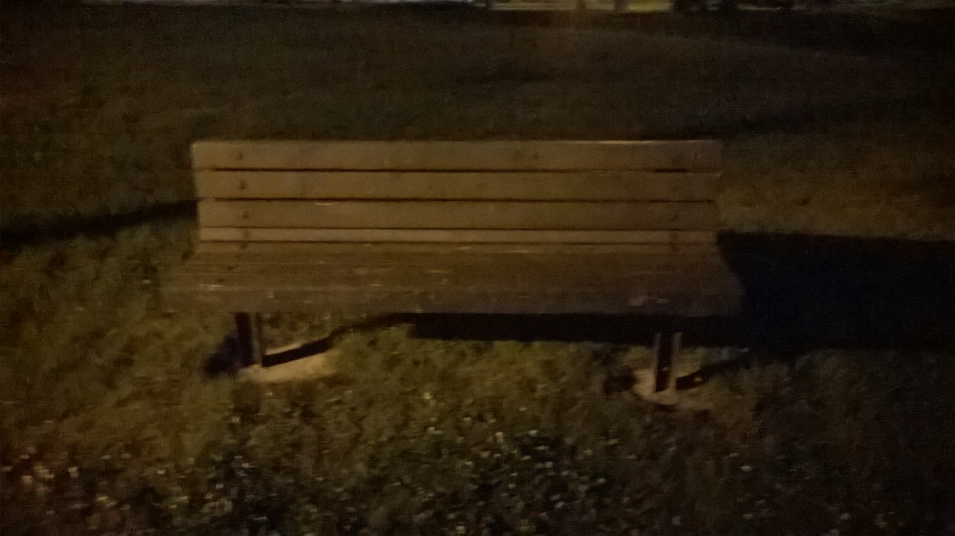 Going into the review, my assumption was that the newer ISP of the Snapdragon 400 SoC would result in slightly better shots than the outgoing 620, but that wasn't the case. Both devices struggled with the low light shots, but the 620 was able to achieve a better focus lock before taking a picture. The 630 did take pictures faster, but the results aren't great in low light.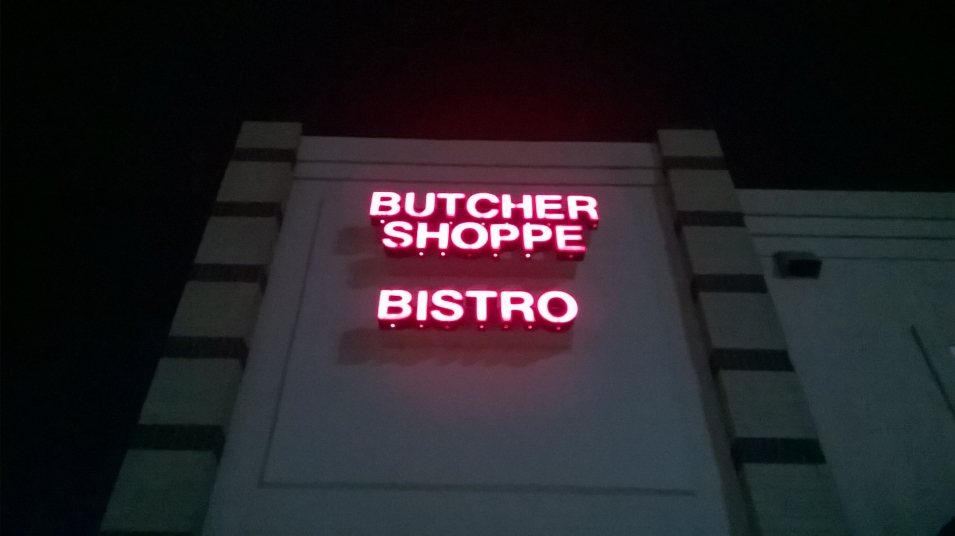 Next up is the picture of a Supermarket sign at night. Here we see similar results, with the Lumia 620 having a better white balance and better overall shot than the 620. The 620 actually has better white balance than even the Lumia 1020 in this comparison, even though the 1020 has a clearer result.
Outdoor Scenes (Daylight)
For the daylight pictures, the story changed. With enough light, the Lumia 630 can take some excellent pictures. It did have a tendency to oversaturate the images slightly, but generally the pictures were quite good.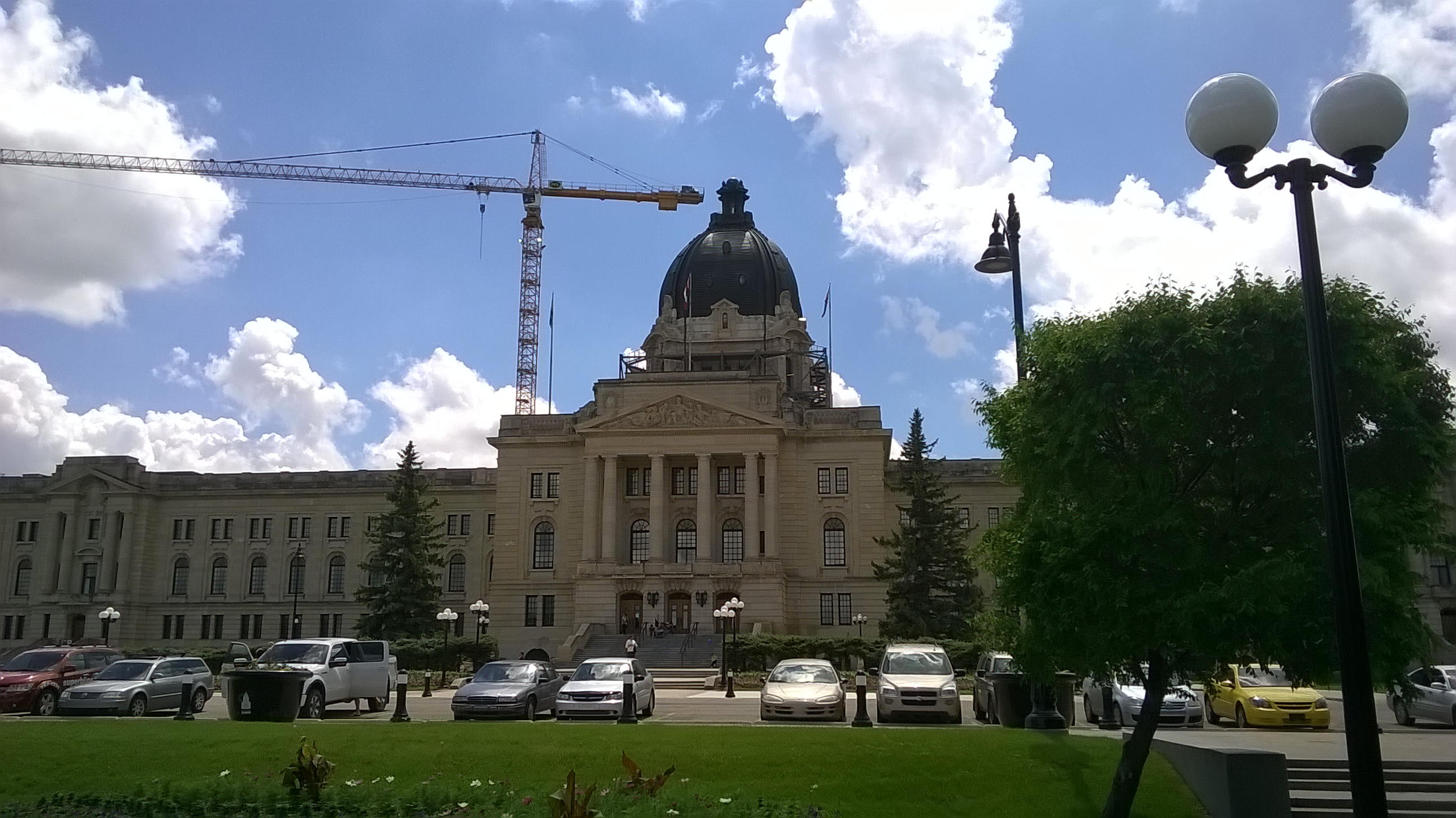 This photo gives a good example of the oversaturation, with the Lumia 630 coming in a bit too dark for the building. The Lumia 620 undersaturated the image a bit here.

This crop compares all three photos of the flower, and demonstrates that even with sufficient light, once you zoom in on a photo with the Lumia 630, it results in a blurry image much like the Lumia 620. Overall, for daylight shots, the Lumia 630 actually does surprisingly well assuming you don't want to zoom in on the results. Some of the pictures were oversaturated, but generally the white balance was good, and brightness and detail were both ok for a 5 MP result.
Capture Latency
The arrival of a new ISP has really helped with the speed of the camera. Both focus latency and shot latency are very good, and generally much improved over the prior generation of devices. There are no fancy rangefinders, so we're not going to break any records, but it's still a good result.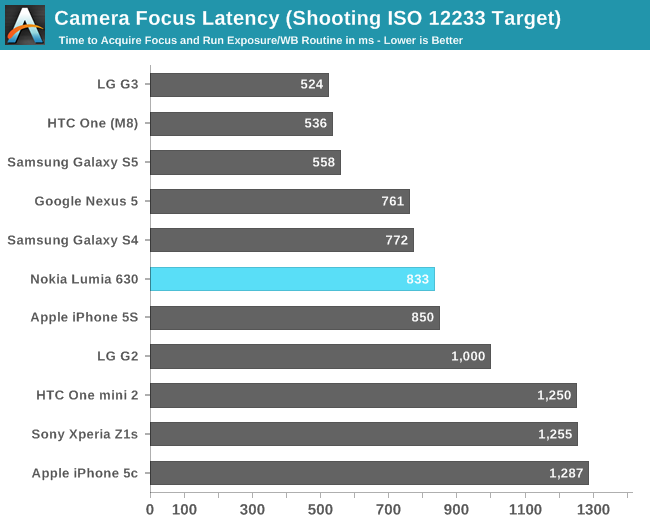 With a 833 ms focus capture, you can grab focus pretty quickly. While not up there with today's flagship devices where focus latency seems to be a competition, it still comes in better than other devices costing much more.
Once you have focus lock, the next step is of course to take the photograph, and for that we analyze the time in between each capture.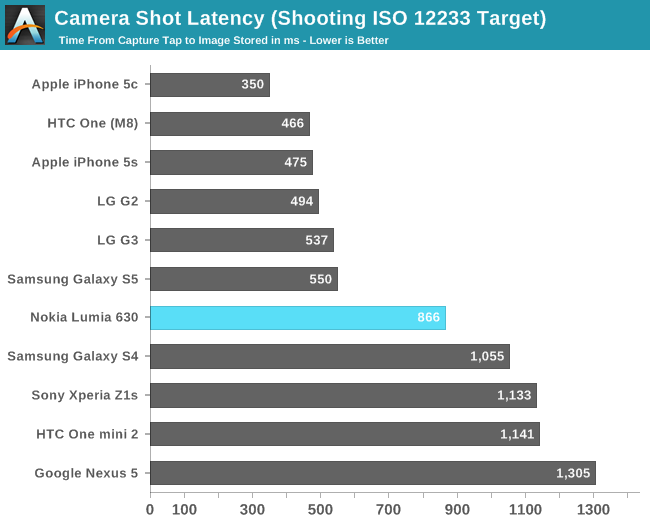 The camera latency is slightly longer than most of today's flagship devices but it still comes in at a reasonable 866 ms. For a device at this price point, that's a good result.
For total Camera Latency, we add the previous numbers together and compare total time to capture an image.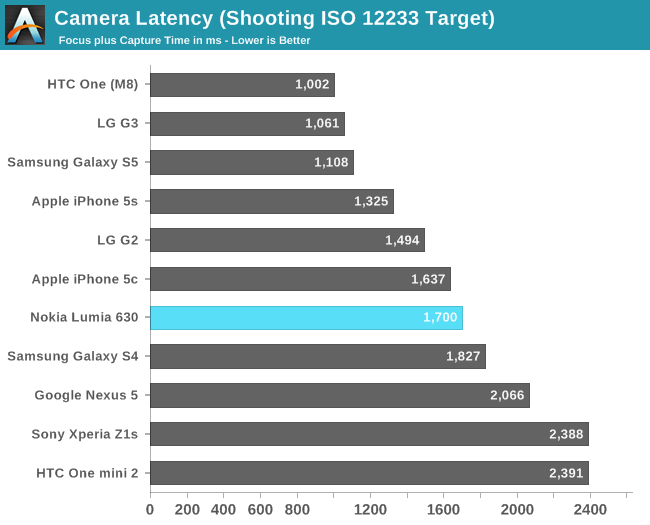 With an average focus lock and an average capture time, the Lumia 630 falls in to the middle of the pack, which is a good result for a device in this price range.
Video
The Lumia 630 is limited in what it can shoot for video. There are no options to change the resolution or frame rate at all on this device, so you are stuck with 720p30 video. With such a small sensor both in terms of size and pixels, this is probably all you can expect from the device even though the ISP can handle 1080p video.
The video quality is not exceptional, with a lot of detail missing. Being a $160 phone, it of course lacks any sort of optical image stabilization.
Battery Life
For the battery life tests, we have a standard workload that the phone performs while connected over Wi-Fi, or Cellular data. The display is calibrated at 200 nits for consistent comparison data for the charts. The device is run under this standard load until it shuts down.
Windows Phone added a battery saver mode last year, so these tests were done twice. Once with battery saver disabled, and another with it enabled which stops all background events from being run.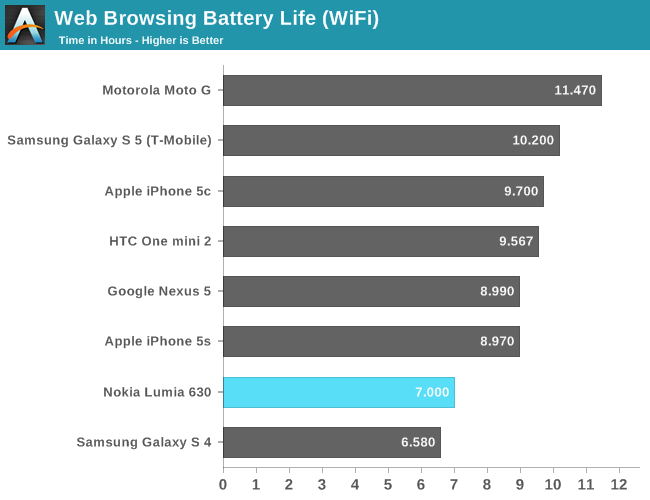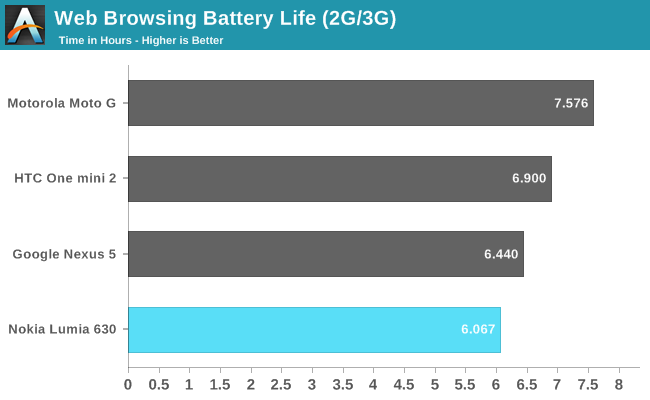 The Lumia 630 contains an 1830 mAh battery, which is 3.7 V. This works out to a 6.77 Wh battery which is quite a bit lower than the 7.9 Wh of the Moto G. People often wonder why manufacturers have moved to sealed batteries and this is a great example of why. In the same size chassis, with the same screen size, Motorola has packed a much larger battery inside. Still, there are those that prefer to be able to swap batteries on the go, and you can do that on the 630.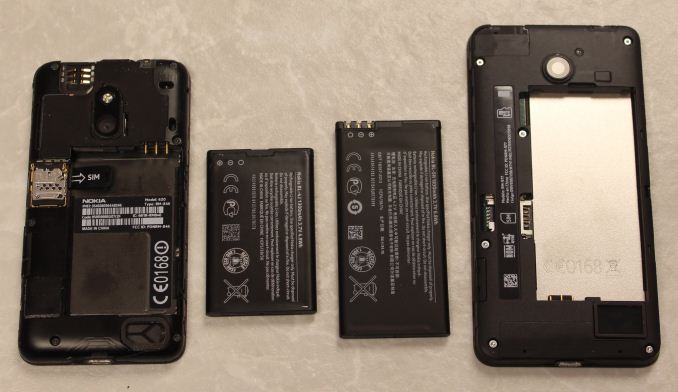 Lumia 620 Battery (left) vs Lumia 630 Battery (right)
Battery life is actually pretty good, with the Wi-Fi test just squeaking over seven hours of battery life. It's just far lower than the Moto G which has exceptional battery life. Seven hours of screen on time though is generally plenty for most people to get through a day, and my time with the phone I easily got well over a day's worth of use out of the phone on each charge.
Cellular data time is a decent six hours, which once again is generally enough to get you through a day even when you don't have access to Wi-Fi. With a battery that's not very large, the phone does all right.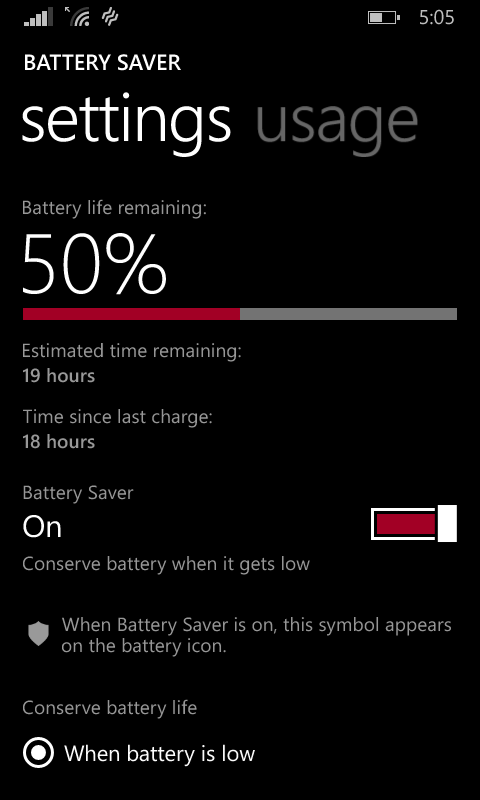 Battery Saver can change the situation somewhat. It disables most apps from being able to run in the background, so tasks such as email will require manual synchronization when Battery Saver is enabled. The behavior of apps can be controlled from within the Battery Saver usage screen, where you can pick and choose which apps can run with Battery Saver enabled. It can lead to some pretty large gains in battery life especially with the phone in standby.
You can enable Battery Saver in a couple of ways. First, you can just leave it on at the default, which will automatically enable battery saver when the charge drops to 10%. A second option, is to enable it from now until the next charge, which is a great idea if you know you'll be away from the mains for a while, and the third option is to enable Battery Saver always, which it warns you will limit functionality.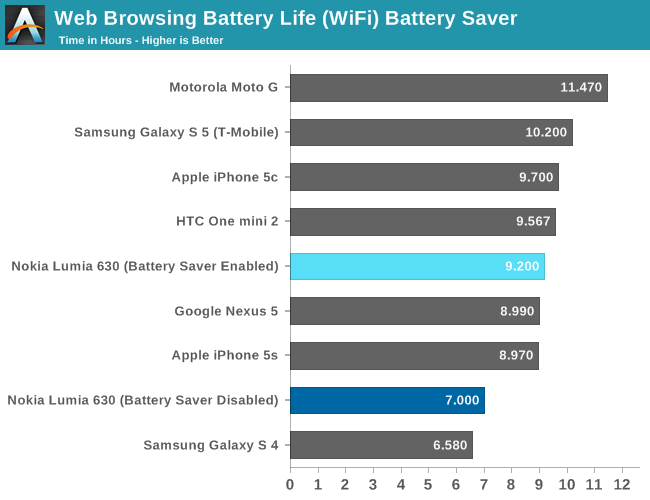 With Battery Saver enabled, I was able to squeeze more than an additional two hours out of a charge. That's two more hours of screen on time, so it's a big bonus. It moves the Lumia 630 from good battery life to quite good, but with only 6.77 Wh of power, it still won't break any records. The big bonus with Battery Saver is with standby time, since practically all idle functions are halted. As an example, I charged a Lumia 620 to full and then enabled Battery Saver and just left the device to its own for a couple of days. The results were pretty amazing, but this is with practically no screen-on time for the duration.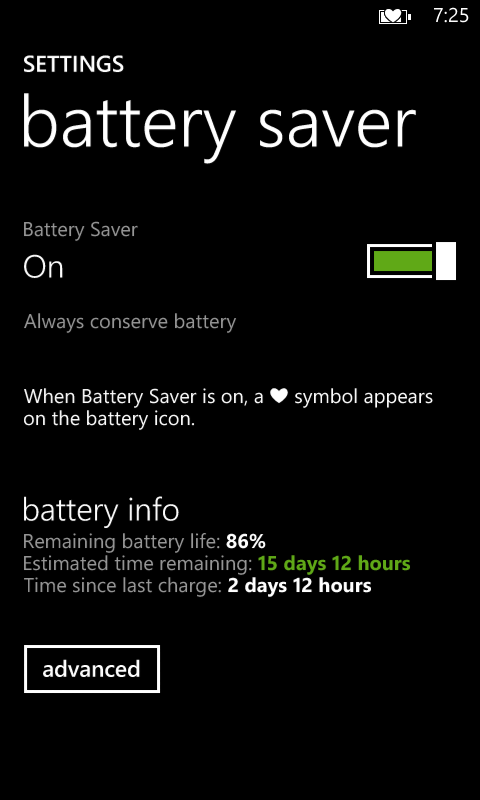 Next up we'll look at the charging times.
Charging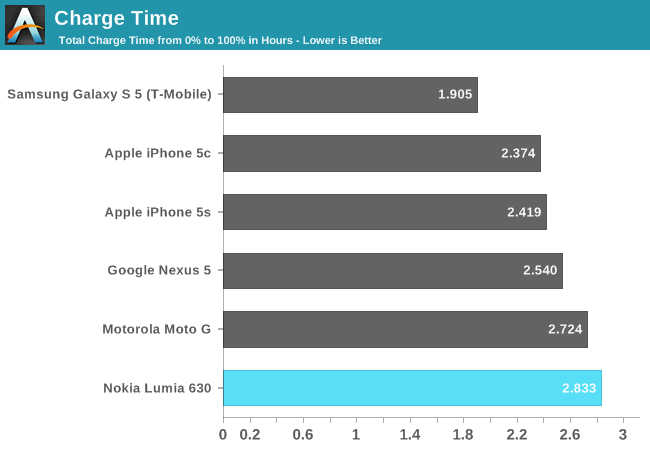 The Lumia 630 comes with a 750 mA charger in the box, and with that charger you can go from 0-100% in just under three hours. It's not spectacular, but since I've compared the phone so much with the Moto G, I have to applaud Nokia for still including the charger in the box since Motorola has deemed the charger to be optional. It's true that many of us have several, but for many who would be after a low cost smartphone, it may be that this is their first and they might not have one.
One other note about the charging times – the device goes from 0-99% charge in only 2:10, with the last 1% taking 40 minutes. It's not unheard of for phones to do this, so just take note that if you need to get a quick charge in, two hours will pretty much fill it.
WiFi
The Wi-Fi department is decidedly lacking, with the Lumia 630 only supporting 802.11b/g/n, and only on the 2.4 GHz bands. While I personally prefer the range 2.4 GHz gives me, people in more congested areas have come to rely on 5 GHz for quality connections. It's not surprising that this is cut it seems to be one of the first things to go once budgets are looked at. For the budget, I can understand why it was done.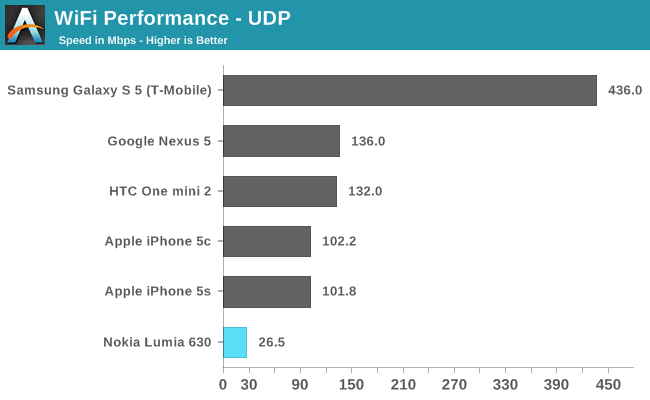 Once again we're bumping into the easy to cull features on an affordable smartphone. While the Lumia 630 is 802.11n, it has a single 2.4 GHz antennae which results in connection speeds that max out at 65 Mbps. With overhead, I have yet to see sustained speeds of over around 27 Mbps, though I've seen the occasional peak speeds of around 40 Mbps. Certainly not great but it gets the job done I suppose.
Cellular
The Lumia 630 utilizes the Qualcomm MSM8226 SoC, and is therefore limited to 21.1 Mbps HSPA+ speeds. If you want LTE, you need to go with the Lumia 635 which uses the MSM8926. The 8226 is definitely a known part at this point, with it being the heart of quite a few smartphones including the Moto G. Download speeds are right what you'd expect for a HSPA+ device. As always, these numbers are skewed by the current load on whatever cell site you are attached to, so keep that in mind. The theoretical maximum speed is never going to be reached.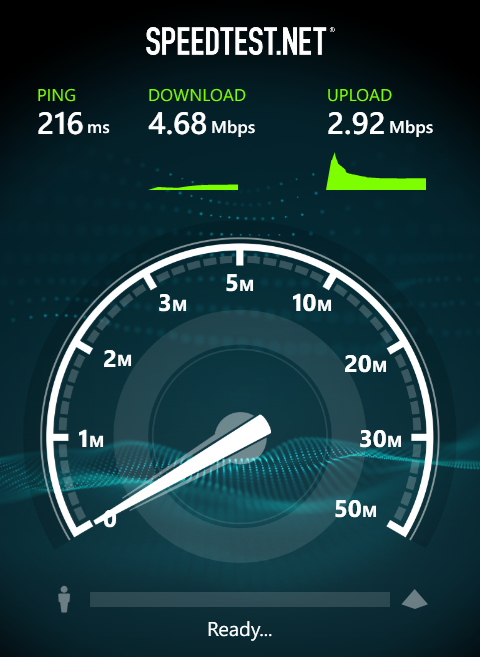 GNSS
Again, with the Qualcomm silicon at the heart of this device, we're working with well known, and well tested parts such as the GNSS. The Lumia 630 supports Cellular and Wi-Fi assist and supports GPS, GLONASS, and BeiDou for location, and it locks quickly. Hopefully the days of poor location tracking are over.
Speaker
With just a single speaker on the back of the device, the Lumia 630 is not great for playing music. The quality of the sound is typical of most smartphones – tinny and very low dynamic range. The overall volume is decent though, assuming the speaker isn't covered by your hand, which it normally would not be with the placement of the speaker grille.
For notifications, the speaker is adequate and provides ample volume so that you won't miss a call or notification. The same can't be said of the vibration mechanism. It's too weak, and if the phone is on vibrate and in your pocket, it is very easy to miss a notification.
Software
The Lumia 630 is the first phone sold with Windows Phone 8.1. Unlike Android, OEMs can't customize the actual user experience, so I'll refer you to Anand's Windows Phone 8.1 review for the whole story here. What OEMs can do though is add to the user experience with apps including custom camera launchers. This is also the first Lumia for sale with the "Cyan" firmware update, so let's go through some of what this gives you as well as the Lumia apps.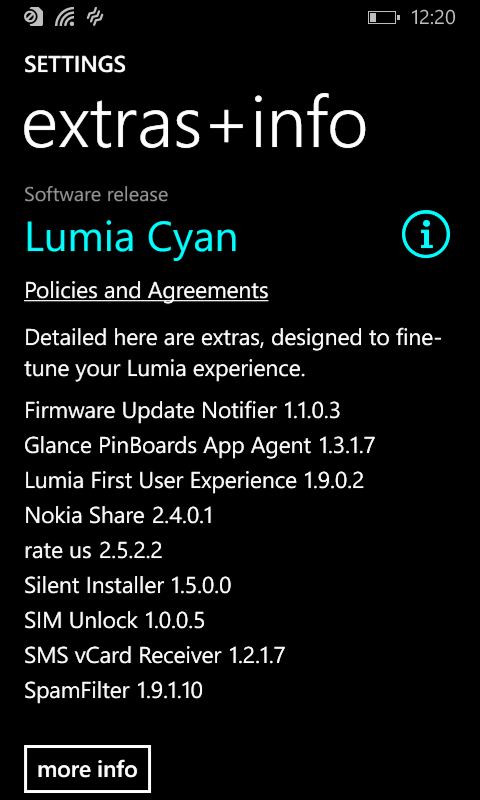 I've already alluded to this in the display section, but the Lumia 630 is the first Lumia to offer a brightness slider, and in this case, three levels due to the lack of an ambient light sensor. The three sliders for low, medium, and high brightness have a slightly different scale, so maxing all three will still give a slightly different maximum brightness. It's a big improvement over the previous choices of low, medium, high, and auto. In the same settings page, you can also adjust the display saturation and hue if it would so please you.
Being a Lumia, you also get access to the large number of Nokia apps which are generally quite good. Nokia also actively courted some developers, giving earlier access to the apps on Nokia devices. With the 630, you have access to all of these (assuming they don't require 1 GB of memory of course) and some of the highlights I'll break out below.
When Microsoft acquired Nokia's smartphone business, the one thing they weren't able to purchase outright was the HERE branded navigation information. They do retain rights to access it though, and HERE Maps, HERE Transit and HERE Drive+ are available out of the box on the Lumia 630. All are excellent apps with their own slant on how to display the information depending on the usage model. They also offer offline maps which is a bonus for anyone travelling and wanting to avoid roaming data costs but still have access to quality navigation.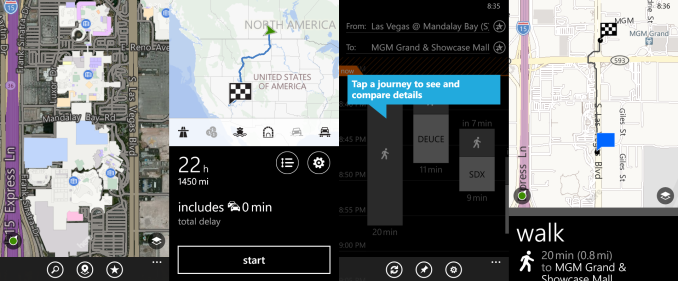 Another app from Nokia is App Folder, which does exactly as you'd think. You can add multiple apps and settings to each folder, and then pin them to your home screen. Before Windows Phone 8.1 I used App Folder for quick access to certain settings such as Bluetooth, but now with the action center I find I don't use it as much. Still, it adds a feature that's currently missing from the OS and it works great.
The last Nokia app I'll discuss is a rather unique one called Device Hub. Device Hub simply scans your network for all of the devices on it, and offers suggestions on apps to connect to each device. As an example, if it detects an Xbox One on your network, it will offer up SmartGlass. If it finds a device that you don't have any installed apps for, it will display a list of options you can use with that device. When it found my A/V Receiver on my LAN, it recommended several DLNA apps. I think it's a neat app, but my only issue with it is that it's tucked away under Settings, rather than being an app available in the app list.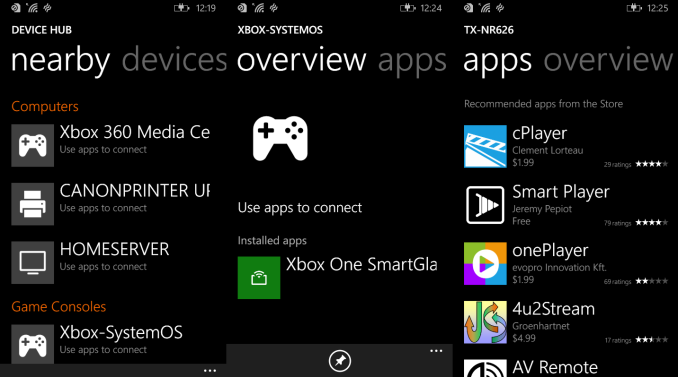 SensorCore
New to the platform is an integrated pedometer, and Nokia branded it SensorCore. It's not the first smartphone to include such a function, but it's the first Windows Phone with one built in. There is an API to access the pedometer, but for now the only app which can access your step count is the Microsoft Health and Fitness app. As an app, it follows exactly in the tradition of the once Bing branded apps for Windows Phone, and offers a clean, easy to use interface.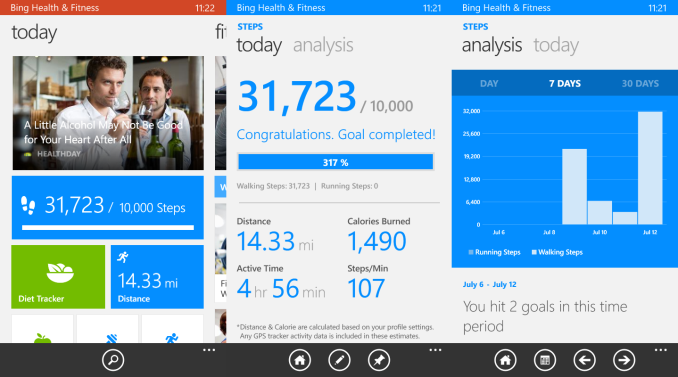 Testing the accuracy of a pedometer isn't easy, unless you want to actually count your steps for a day. I lost count quickly, so instead I'm comparing it to a FitBit One, which is one of the more popular health and fitness wearables.
I'm not sure if the Lumia was under-reporting steps, or if the FitBit over-reports steps, or if it's a combination of both, but at no time did the two devices ever end up even close to the same count at the end of any day. My feeling is the FitBit easily falls prey to certain movements which skew the numbers high. Driving seems to really send mine to the moon for instance. On a single day, the FitBit accounted for 9470 steps while the Lumia reported only 6500. I was in the car for around an hour that day, so the Lumia number is likely more accurate. Perhaps if I get another device I can test, I can use three, and hopefully two of them will be somewhat close and we can determine a winner.
There have been a number of smartphones come on the market in the last while with a built in pedometer, so it is nice to see the Lumia 630 include one even in a budget device. Whether or not it gets used is up to the individual buyer, but at least they have that option.
Final Words
Designing an affordable phone is always going to have compromises. In this case, Nokia has hit on some reasonable compromises but gone too far in others. The lack of a proximity sensor was something that I didn't miss at all, and the phone has no issue relying on the touch screen to know if it's against your face for a phone call. This worked flawlessly in my experience, so it was the right call. The lack of an ambient light sensor was too much for me though, as I've come to count on it for using a device outdoors.
Another such compromise was the 512 MB of RAM, which is definitely one that went too far. It limits a good chunk of the app store's game library from being able to be installed at all, which is just not acceptable in 2014. But again the storage of only 8 GB is no problem at all due to the included microSD card being able to add another 128 GB if needed, and Windows Phone 8.1 supports SD cards better than any other mobile OS.
The display is yet another compromise. Here we have a display which is almost at the top of our charts for accuracy, yet has a lowly resolution of 854x480. The lack of Glance screen support is another knock against it especially when the 620 of last year did include this feature.
One thing that Nokia nailed though is both the size and design. A 4.5" phone is a nice fit in the hand, and doesn't run into any of the issues larger screened devices do with one handed use or being able to fit in your pocket. The phone is also nice and light, and with a great feel to it. I love the texture of the polycarbonate for this model with its matte finish. It never felt like it was going to slip out of my hand. The colors, as usual with Lumia phones, have a great range from pedestrian black to eye popping orange.
Using the 630 as a daily driver for a couple of weeks wasn't a bad experience, and that says a lot about a phone with a retail price of around $160. Unfortunately for me, I found the phone had compromises in certain areas that were just too painful and would be issues for everyone. The first is the display resolution, which is just too low for 2014 and a device of this size. The second is the lack of RAM, which compromises the Windows Phone experience by limiting the number of apps available in the store.
I'll admit my expectations were high when I received this phone after a good experience with the 620, and they were not quite met. Going forward in time, we generally expect progress and there's not a clear case of progress here. As a successor to the 520, it does fairly well, and with the price of the 630 it's much closer to the initial price of the 520 than the 620. The device is certainly faster than last year's model and that's a good thing, but the loss of features like the ambient light sensor and dedicated camera button make for a phone that's not always a pleasure to use. If you don't do a lot of gaming on your mobile device, you can get by with the 630. It's always difficult to get the compromise just right, and in this case I think it's very close but comes up a bit short in a few key areas. Price isn't one of them though, and once again you get a decent smartphone experience for not a lot of money, but it's just not the clear upgrade I was hoping it would be.