Original Link: http://www.anandtech.com/show/8245/western-digital-my-book-duo-das-review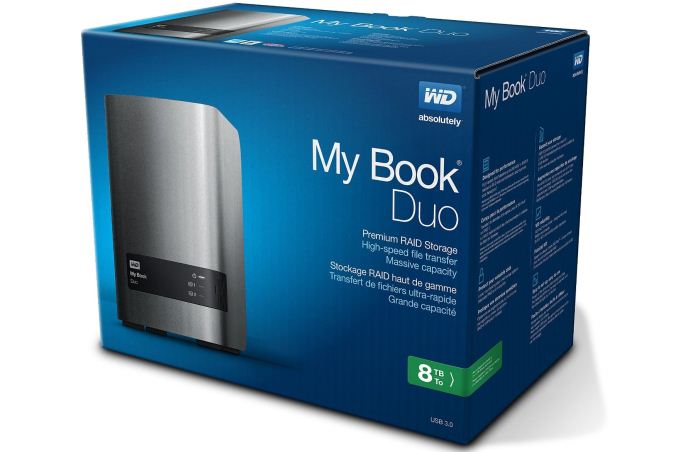 Introduction
Even as the consumer NAS market continues to experience rapid growth, it is impossible for consumers to have really fast access to data when the storage is bottlenecked by the speed of their network link. Single hard disks, by themselves, can hardly saturate today's high-speed direct-attached storage (DAS) interfaces such as eSATA, USB 3.0 and Thunderbolt. Users needing fast transfer rates (while maintaining the higher cost-effective capacities that hard disks provide) need to go in for RAID solutions. These tend to perform well for certain common workloads such as multimedia handling.
Earlier this week, we took a look at LaCie's high end 2-bay RAID DAS, the 2big Thunderbolt 2. It integrated both USB 3.0 and Thunderbolt 2 as connectivity options. At $800 for a 8 TB version, the pricing carries a premium for the Thunderbolt connectivity. USB 3.0 is, in a way, the poor man's Thunderbolt. With a focus on the average consumer, Western Digital launched the My Book Duo USB 3.0 DAS with hardware RAID capabilities a few weeks back. We got the 8 TB version in for review. The detailed specifications of the unit are provided below.
Western Digital My Book Duo

WDBLWE0080JCH

Internal Storage Media
2x 4 TB 3.5" WD40EFRX Red Hard Drives
Interface
1x USB 3.0 + 2x USB 3.0 (Downstream Hub)
RAID Modes
RAID 0 / RAID 1 / JBOD
Cooling
Fan behind the front face at the base of the unit
Power Supply
100-240V AC Switching Adapter (12V @ 3A DC)
Dimensions
165 x 157 x 99 mm | 6.5 x 6.2 x 3.9 in.
Weight
2.24 kg | 5.0 lbs.
Included Software

Acronis True Image WD Edition
WD SmartWare Pro
WD Drive Utilities / WD Security

Product Page
Western Digital My Book Duo
Price
$450
Testbed Setup and Testing Methodology
Evaluation of DAS units on Windows is done with the testbed outlined in the table below. For devices with USB 3.0 connections (such as the My Book Duo that we are considering today), we utilize the USB 3.0 port directly hanging off the PCH.
AnandTech DAS Testbed Configuration
Motherboard
Asus Z97-PRO Wi-Fi ac ATX
CPU
Intel Core i7-4790
Memory
Corsair Vengeance Pro CMY32GX3M4A2133C11
32 GB (4x 8GB)
DDR3-2133 @ 11-11-11-27
OS Drive
Seagate 600 Pro 400 GB
Optical Drive
Asus BW-16D1HT 16x Blu-ray Write (w/ M-Disc Support)
Add-on Card
Asus Thunderbolt EX II
Chassis
Corsair Air 540
PSU
Corsair AX760i 760 W
OS
Windows 8.1 Pro
Thanks to Asus and Corsair for the build components
Full details of the reasons behind choosing the various components in the above build, as well as the details of our DAS test suite can be found here.
Hardware Aspects and Setup Impressions
Western Digital is no stranger to dual-disk RAID-0/-1 capable solutions, having released a USB 2.0 / Firewire 800 capable unit back in 2011 and a first-generation Thunderbolt device in 2012 along with a high-performance variant using VelociRaptor drives later in the same year. All these used software RAID, and that is where things are changing now. The My Book Duo comes with hardware RAID (and hardware encryption, if opted for). It has a USB 3.0 interface. There are two additional USB 3.0 ports in a hub configuration at the rear of the unit.
Hardware & Platform Analysis
The picture below shows the contents of the package. Bundled along with the main chassis is a 36 W power adapter and a USB 3.0 cable. The design of the chassis is very similar to what was used in previous two-bay solutions that supported replacement of disks by users (such as the My Cloud EX2).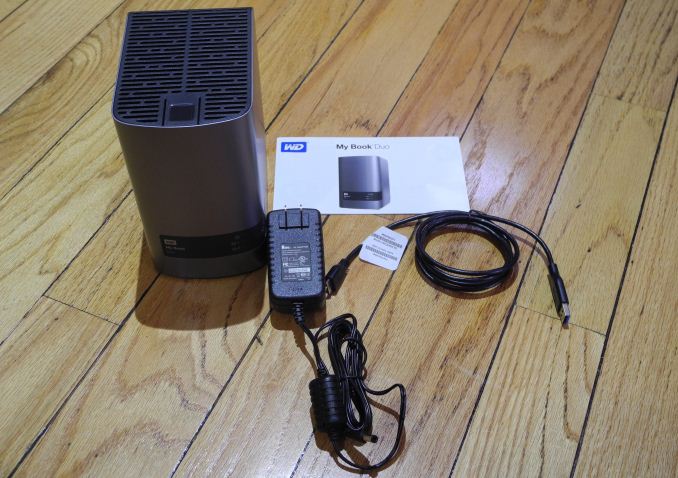 The gallery below has some more shots of the chassis as well as some teardown pictures.
In order to provide 'daisy-chaining' capabilities, WD has put in an ASMedia ASM1074 USB 3.0 hub chip on the board. This has one upstream and four downstream ports, and supports UASP (USB Attached SCSI Protocol). We also see a JMicron JMS561 USB 3.0 to dual SATA III bridge chip on the board. In terms of layout, it is obvious that the JMS561 links to one of the downstream ports on the ASM1074. Two other downstream ports are made available on the rear side of the chassis to connect additional USB 3.0 peripherals, as needed by the user.
One of the important aspects of the My Book Duo RAID storage box is the fact that the bundled drives are WD Reds. This allows for a balanced mix of performance and power consumption, while also allowing for the unit to be connected in continuous backup mode to a PC running 24x7.
Software Aspects
Unlike the LaCie 2big Thunderbolt 2, the WD My Book Duo doesn't have any way to configure the RAID level without connecting it to a PC and installing the WD software. At the minimum, the WD Drive Utilities software must be installed, unless the user wants to keep the default shipping RAID configuration (RAID 0). This software allows running of diagnostics (S.M.A.R.T, bad sector detection), RAID management, configuration of idle time for spinning down the disks and full erasure of the disk contents.
The WD Secure software allows setting up of a password to cryptographically protect the data on the disks. Mounting an encrypted drive without the password auto-mounts a UDF filesystem with the password unlocker utility. So, it is possible to move around an encrypted DAS without the need to install the WD Drive Utilities on the PC to which it gets attached.
In addition to these core software utilities, WD also includes a comprehensive backup suite. WD SmartWare Pro can be installed and configured to provide continuous or scheduled file backups. It can also integrate with Dropbox. For system level backup, the WD Edition of Acronis True Image is available. Readers interested in the details of various operational aspects of the WD My Book Duo can refer to the the user manual (PDF).
Performance Evaluation
The WD My Book Duo ships in a RAID 0 configuration by default. We first processed our DAS test suite with the default configuration, before switching over to RAID 1 (using the WD Drive Utilities). We also tried setting up an encryption password and rerunning the benchmark numbers. The figures were quite similar (within the margins expected in repeated runs of the same benchmark), which led us to the conclusion that enabling / disabling encryption has no effect on the performance of the DAS. The full numbers are provided in the table below.
WD My Book Duo 8 TB Performance (MBps)
RAID 0
RAID 1
Read
Write
Read
Write
Photos
178.04
73.21
147.95
110.53
Videos
248.63
133.11
145.25
142.26
Blu-ray Folder
279.44
161.43
148.64
144.65
Adobe Photoshop (Light)
3.81
147.16
3.26
188.7
Adobe Photoshop (Heavy)
5.1
171.04
4.47
181.61
Adobe After Effects
3.71
47.18
3.1
65.43
Adobe Illustrator
3.8
76.16
3.23
94.68
While RAID 0, as expected, performs better for large file transfers (such as Blu-ray folders), RAID 1 wins out on some types of workloads too. On the whole, the DAS fulfills its advertised potential. Reaching up to almost 280 MBps for certain workloads, it is definitely a compelling solution for consumers looking for fast and reliable high capacity storage at a reasonable cost.
Various power consumption numbers, as well as duration for RAID rebuild (which is discussed in detail in the next section) are provided in the table below.
WD My Book Duo 8 TB Power Consumption & RAID Rebuild
Activity
Duration
Avg. Power Consumption
Idle
-
12.41 W
Disks Head Parked
10.22 W
Disks Spun Down
-
2.19 W
Benchmark Mode (RAID 0)
-
14.61 W
Benchmark Mode (RAID 1)
-
16.15 W
RAID-1 Rebuild
9h 47m 9s
15.99 W
We find that the power consumption numbers are quite low compared to the 2big Thunderbolt 2. The presence of a 5400 rpm hard drive, coupled with some nifty firmware features help the My Book Duo score over the Desktop HDD-laden LaCie 2big Thunderbolt 2 in this aspect.
Miscellaneous Aspects and Concluding Remarks
Some of the miscellaneous aspects of interest in the WD My Book Duo include RAID rebuild and power consumption. The LEDs in front begin to flash red when the volume enters a degraded state (and also during the rebuild process). The WD Drive Utilities provides insights into the health of the array. We simulated drive loss by pulling out one of the disks during data transfer (the array was obviously configured in RAID 1). The hardware LED status immediately began flashing red. The monitoring program also reflected the degradation, but, only after the drive had been dismounted and remounted. Inserting the removed disk into a PC's SATA slot didn't show the stored data (as expected, since this is hardware RAID). The gallery below provides more insight into our RAID rebuild evaluation.
The unit does not support hot-swapping drives (unlike the 2big Thunderbolt 2). After dismounting, a new WD Red drive of the same capacity was inserted. At this juncture, WD provides us two ways to rebuild RAID - either by pressing the reset button on the back of the unit, or, via the WD Drive Utilities software interface. We took the latter approach, as evidenced in the above gallery.
Coming to the business end of the review, the WD My Book Duo is a very attractive solution for users looking to get high speed access to large amounts of data. Advertised speeds are reached for certain types of workloads. USB 3.0 support is now almost universal, and eSATA is losing favour in the mass market. Therefore, the choice of a USB 3.0-only interface for this RAID-enabled DAS solution looks perfect. The inclusion of a two additional USB 3.0 ports in a hub configuration enhances the versatility of the unit. It makes sure that average users (who are not focused on getting maximum bandwidth to their peripherals all the time) don't need to 'sacrifice' a USB 3.0 port in their systems. There is also a comprehensive software suite to take advantage of the high-speed DAS.
There are really no negatives to talk about with respect to the My Book Duo. While earlier DAS units from Western Digital allowed only certain drives to be used for RAID rebuilds (by including a firmware check before allowing the rebuild), the My Book Duo has no such problems. Western Digital confirmed that the Red and Green drives are certified for rebuilds, but there are no restrictions in place regarding usage of any other SATA drive model of the appropriate capacity. Potential areas of improvement, however, include support for hot-swapping drives and provision for data recovery from a RAID 1-member drive directly connected to a PC.