Original Link: http://www.anandtech.com/show/8241/lacies-2big-thunderbolt-2-and-rugged-thunderbolt-das-review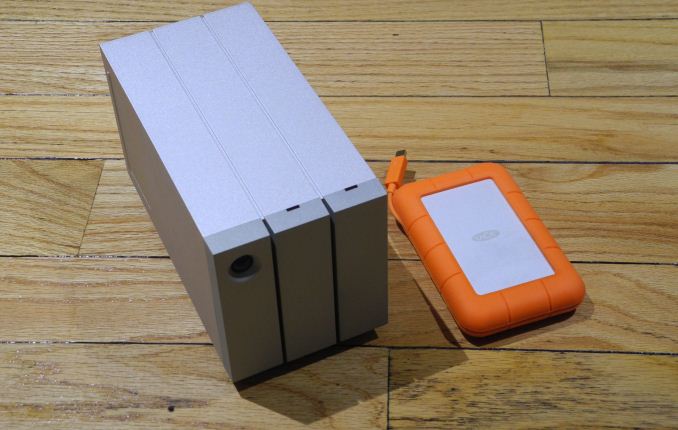 Introduction
Consumers dealing with multimedia workflows need to transfer large amounts of data around. Be it collecting data in the field or editing media at a workstation, the necessity for fast and accessible direct attached storage (DAS) units can't be stressed enough. LaCie and G-Technology are two vendors targeting this space. Back in April, we had covered the launch of some solutions in this space. Today, we are reviewing one of LaCie's introductions, the 2big Thunderbolt 2. LaCie's Rugged Thunderbolt bus-powered DAS forms a complementary offering for in-field use. Both units offer Thunderbolt as well as USB 3.0 connectivity.
The 2big Thunderbolt 2 is meant for use on the desktop and needs an external power adapter, while the Rugged Thunderbolt comes with a protective covering that enables a IP-54 rating for ruggedness. This ingress protection rating implies that the unit is dust proof and can also withstand water splashes. Our review unit was the 500 GB SSD version, which can also withstand vibrations and shocks. The detailed specification of the two review units are provided in the tables below.
LaCie 2big Thunderbolt 2 9000473U
Internal Storage Media
2x 6 TB 3.5" ST6000DX000 Hard Drives (Hot-Swappable)
Interface
2x Thunderbolt 2 + 1x USB 3.0
RAID Modes
RAID 0 / RAID 1 / JBOD - Hardware Selection Button
Cooling
Aluminium Chassis + Noctua 60mm Fan
Power Supply
100-240V AC Switching Adapter (12V @ 5A DC)
Dimensions
109 x 217 x 130 mm | 4.3 x 8.5 x 5.1 in.
Weight
3 kg | 6.6 lbs.
Included Software

Intego Backup Manager Pro for Mac
Genie Backup Manager Pro for Windows
LaCie Private-Public (Software Encryption)

Product Page
LaCie 2big Thunderbolt 2
Price
$999
LaCie Rugged Thunderbolt 9000491
Internal Storage Media
500 GB SATA 6 Gbps SSD
Interface
1x Thunderbolt + 1x USB 3.0
Ingress Protection / Ruggedness

Dust & Water: IP 54 rated (when cover is attached)
Shock: drops of up to 2 meters (6.6 feet) (in non-operating mode)
Pressure: 1 ton
Theft: password protection with AES 256-bit software encryption

Dimensions
89 x 140 x 24 mm / 3.5 x 5.5 x 1 in.
Weight
280 g | 8.8 oz.
Included Software

LaCie Backup Application
LaCie Private-Public (Software Encryption)

Product Page
LaCie Rugged Thunderbolt
Price
$500
The gallery below shows some of the internal components of the 2big Thunderbolt 2.
Our 12 TB review unit came with two 6 TB Seagate ST6000DX000 Desktop HDDs inside. These retail for around $300 each, and have six platters spinning at 7200 rpm internally. On the board side of things, the Thunderbolt 2 controller is a well-known entity at this point of time, and doesn't appear in the gallery above. Fulfilling the hardware RAID functionality is the ASMedia ASM1092R chip which has two device ports and one host SATA port. The SATA to USB 3.0 functionality is handled by the ASMedia ASM1053E SATA - USB 3.0. We also seem to have a ASMedia ASM1156 chip on the board for which no public documentation exists yet. Our educated guess is that it performs the necessary SATA / PCIe bridging in order to bring the Thunderbolt 2 DL5520 controller into play.
The Rugged Thunderbolt was subject to a much less invasive teardown.
We found a Samsung PM851 2.5" SATA SSD inside. Ideally, to take full advantage of Thunderbolt speeds, it would have been nice to have a PCIe SSD inside, but that premium market is served by the LaCie Little Big Disk. Given the bus-powered nature and the cost, it is not a surprising to find the PM851 inside.the unit.
Testbed Setup and Testing Methodology
Thunderbolt's adoption, till now, has mainly been driven by the Mac ecosystem. Solutions for DIY PC enthusiasts are not widespread. GIGABYTE has a few motherboard models with Thunderbolt integrated, while Asus's Thunderbolt-capable motherboards need an add-on PCIe card. Our Windows-based testbed for direct-attached storage (DAS) systems is based on the latest Z97 chipset from Intel. The build originally started out as a multimedia editing machine. The requirements of a DAS testbed fit in nicely with the original purpose of the build. The following table details the configuration of our testbed.
AnandTech DAS Testbed Configuration
Motherboard
Asus Z97-PRO Wi-Fi ac ATX
CPU
Intel Core i7-4790
Memory
Corsair Vengeance Pro CMY32GX3M4A2133C11
32 GB (4x 8GB)
DDR3-2133 @ 11-11-11-27
OS Drive
Seagate 600 Pro 400 GB
Optical Drive
Asus BW-16D1HT 16x Blu-ray Write (w/ M-Disc Support)
Add-on Card
Asus Thunderbolt EX II
Chassis
Corsair Air 540
PSU
Corsair AX760i 760 W
OS
Windows 8.1 Pro
Thanks to Asus and Corsair for the build components
We decided to prepare the testbed with 32 GB of memory in order to make a large enough RAM drive available for our file copy tests. Similar to our NAS testbed, we used OSFMount to allocate 20 GB of the DRAM for a RAM disk partition.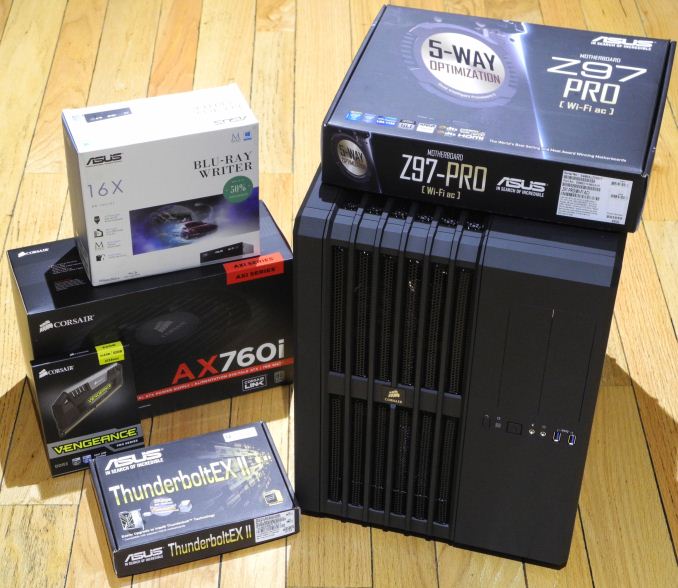 The internal layout of the Z97-Pro (Wi-Fi ac) board is presented below.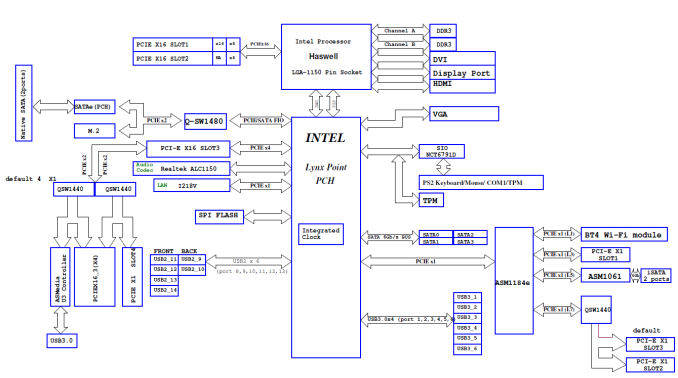 It should be noted that the Thunderbolt add-on card can only be connected to PCIe lanes hanging off the PCH (and can't be connected directly to the CPU). Apparently, this is a requirement for vendors to obtain Thunderbolt certification from Intel. In the above layout, we see that the add-on card can only go to the bottom PCIe slot (PCIEX16_3). In addition to the hardware restriction, the BIOS actually operates this slot in x1 mode, with the other three lanes being shared with the ASMedia USB 3.0 ports in the rear panel and the x1 PCIe slot (PCIE X1 SLOT4). The BIOS setting was altered to operate the x16 slot in x4 mode (maximum possible bandwidth for the card). The BIOS entry also has a PCIe cache line setting for Thunderbolt. It was left at 32 bytes (the default) for our evaluation.
Our testing methodology for DAS units takes into consideration the usual use-case for such devices. The most common usage scenario is transfer of large amounts of photos and videos to and from the unit. The minor usage scenario is importing files directly off the DAS into a multimedia editing program such as Adobe Photoshop.
In order to tackle the first use-case, we created three test folders with the following characteristics:
Photos: 15.6 GB collection of 4320 photos (RAW as well as JPEGs) in 61 sub-folders
Videos: 16.1 GB collection of 244 videos (MP4 as well as MOVs) in 6 sub-folders
BR: 10.7 GB Blu-ray folder structure of the IDT Benchmark Blu-ray (the same that we use in our robocopy tests for NAS systems)
For the second use-case, we take advantage of PC Mark 8's storage bench. The storage workload involves games as well as multimedia editing applications. The command line version allows us to cherry-pick storage traces to run on a target drive. We chose the following traces.
Adobe Photoshop (Light)
Adobe Photoshop (Heavy)
Adobe After Effects
Adobe Illustrator
Usually, PC Mark 8 reports time to complete the trace, but the detailed log report has the read and write bandwidth figures which we present in our performance tables. Note that the bandwidth number reported in the results don't involve idle time compression. Results might appear low, but that is part of the workload characteristic. Note that the same CPU is being used for all configurations / will be used for future DAS reviews. Therefore, comparing the numbers for each trace should be possible across different DAS units.
Performance Evaluation - 2big Thunderbolt 2
The 2big Thunderbolt 2 unit ships by default in RAID 0 with a HFS+ file system. On Windows, connecting through the Thunderbolt port made it necessary for the device to be approved in the OS (Intel's Thunderbolt utility, which gets installed with the Thunderbolt drivers, pops up). We left the hardware selection in RAID 0 initially and used the Windows Disk Management utility to format the volume. The results of our performance evaluation of the RAID 0 volume through both Thunderbolt 2 and USB 3.0 are provided in the table below.
LaCie 2big Thunderbolt 2 - RAID 0 Performance (MBps)
USB 3.0
Thunderbolt 2
Read
Write
Read
Write
Photos
209.98
252.74
207.23
204.3
Videos
249.68
243.98
233.75
217.68
Blu-ray Folder
257.86
229.7
216.65
202.19
Adobe Photoshop (Light)
4.6
175.56
4.63
158.54
Adobe Photoshop (Heavy)
5.68
101.66
5.78
99.76
Adobe After Effects
4.55
53.34
4.54
27.53
Adobe Illustrator
4.77
142.19
4.8
87.58
Formatting the volume in RAID 1 involves powering down the unit and keeping the Selection button pressed while powering up. The RAID selection itself could be made with the lights in a blinking state and confirmed within 5 seconds of the start of the blinking. On the whole, it was not a very intuitive process, but nothing too difficult to handle once the instruction manual was perused. We repeated our performance evaluation with the RAID 1 volume.
LaCie 2big Thunderbolt 2 - RAID 1 Performance (MBps)
USB 3.0
Thunderbolt 2
Read
Write
Read
Write
Photos
116.18
158.17
115.34
135
Videos
145.32
137.45
140.14
114.61
Blu-ray Folder
144.35
141.72
132.05
113.79
Adobe Photoshop (Light)
5.81
144.98
5.44
131.63
Adobe Photoshop (Heavy)
7.06
93.51
6.61
90.92
Adobe After Effects
6.36
41.27
5.87
24.51
Adobe Illustrator
6.06
101.36
5.62
75.43
On the whole, at least on our Windows system, we found the device to perform better over USB 3.0 compared to Thunderbolt. RAID 0 has obvious performance benefits over RAID 1 for certain workloads.
Performance Evaluation - Rugged Thunderbolt
The Rugged Thunderbolt comes in various capacities (two SKUs come with hard drives, while the other two come with SSDs). One of the important aspects to remember is that the connectivity is with first generation Thunderbolt (as well as USB 3.0). This is completely acceptable, as the device is meant to be used standalone (or as the end device in a daisy chain setup). No SSD exists right now with the capability to saturate a 10 Gbps Thunderbolt link, so there is really no need to go the Thunderbolt 2 route (with the 20 Gbps links that may be helpful in daisy chained setups with a display being driven).
Unlike the 2big Thunderbolt 2, there is no RAID involved. The stress is on portability (bus-powered nature), ruggedness and performance.
LaCie Rugged Thunderbolt - Performance (MBps)
USB 3.0
Thunderbolt 2
Read
Write
Read
Write
Photos
285.04
418.78
259.46
366.77
Videos
332.42
441.27
288.96
374.25
Blu-ray Folder
313.13
452.18
273.55
382.33
Adobe Photoshop (Light)
120.59
387.48
131.41
42.18
Adobe Photoshop (Heavy)
104.38
355.89
105.58
45.56
Adobe After Effects
147.84
78.17
137.9
13.35
Adobe Illustrator
142.66
299.61
139.69
36.3
One of the problems with SSDs is that performance may degrade over time, unless garbage collection / TRIM is activated on the SSDs. Availability of TRIM for external drives is a hit or miss. We checked for TRIM activation on the Rugged over both Thunderbolt and USB 3.0 connections using Vladimir Panteleev's TrimCheck tool.
On our particular testbed, we found that TRIM wasn't activated over Thunderbolt, but worked over the USB port directly off the PCH. These results are definitely dependent on the OS / nature of the end system and readers' mileage may vary.
Miscellaneous Aspects - RAID Rebuild and Daisy Chaining
While the Rugged Thunderbolt version had to be checked for TRIM support, the 2big Thunderbolt 2 had to be subjected to a RAID rebuild. Since the unit also uses an external power adapter, power consumption is also of interest. The LED behind the blue button on the front side of the unit serves as an indicator of the RAID status (amongst other things). The LaCie Desktop Manager also provides insights into the health of the array. We simulated drive loss by pulling out one of the disks during data transfer (the array was obviously configured in RAID 1). The hardware LED status immediately began flashing red. The monitoring program also reflected the degradation. Inserting the disk into a PC's SATA slot surprisingly showed the data preserved on the removed drive. This was a surprise, as we usually find disks subject to hardware RAID not being data-recovery-friendly in nature. The various aspects are covered in the gallery below.
After formatting the drive and putting it back in the 2big Thunderbolt 2's drive bay, RAID rebuild automatically started. Even though the Desktop Manager program doesn't display the progress of the rebuild, it does indicate whether the process is completed or not. The LED in the front panel also stops flashing red and blue after the rebuild is done.
We tracked various power consumption numbers (including the average power consumed during our robocopy tests - noted as 'benchmark mode' below). The collected data, as well as the inferred RAID rebuild duration (tracked by monitoring the power consumed at the wall) are presented in the table below.
LaCie 2big Thunderbolt 2 Power Consumption & RAID Rebuild
Activity
Duration
Avg. Power Consumption
USB 3.0
Thunderbolt 2
Idle
-
17.94 W
22.03 W
Disks Spun Down
-
4.06 W
8.49 W
Benchmark Mode
-
23.19 W
29.47 W
RAID-1 Rebuild
9h 51m 43s
23.85 W
-
The 2big unit carries two Thunderbolt 2 ports in order to enable daisy chaining. The 20 Gbps bandwidth is quite helpful when one wants to maintain bandwidth while daisy-chaining a display (or another Thunderbolt peripheral). In order to test out the daisy chaining aspect, we just connected the Rugged Thunderbolt to the spare Thunderbolt 2 port on the 2big unit. We repeated our first performance benchmarks set in this configuration by evaluating data transfer between the two units (with the 2big Thunderbolt 2 in RAID 0).
LaCie 2big Thunderbolt 2 & Rugged Thunderbolt Daisy Chaining Performance
Workload
Transfer Rate (MBps)
Read Target
Rugged Thunderbolt
2big Thunderbolt 2
Write Target
2big Thunderbolt 2
Rugged Thunderbolt
Photos
222.88
282.22
Videos
223.34
298.17
Blu-ray Folder
263.18
334.57
Given that the Rugged's Thunderbolt cable is permanently attached to the unit, the accessibility factor also plays an important role in this common use-case - data transfer can be achieved at Thunderbolt speeds between the on-field unit and the desktop unit meant for the processing workflow without hunting around on the server / workstation for a physical Thunderbolt port.
Concluding Remarks
LaCie's 2big Thunderbolt 2 and the Rugged Thunderbolt are both attractive pieces of technology. For users who just want a plug-and-play experience, both units just work. However, the scheme to change the RAID level is just not intuitive. A very similar problem existed with the LaCie 2big NAS that we reviewed a couple of years back when it came to starting from a diskless configuration. That issue has since been resolved in the later generation NAS units via the use of a dedicated boot up key. Hopefully, LaCie is able to do something for the future generation DAS units to resolve the non-intuitive requirements. We would have also liked to see the 6 TB enterprise drives being used in the unit, but given the cost, one really can't complain. The use of a high quality Noctua fan enables the unit to keep a low noise profile even under high loads.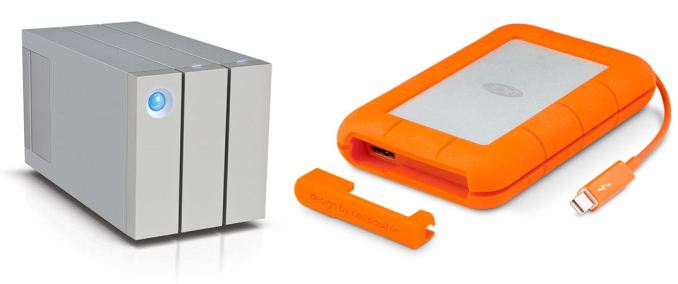 The LaCie Desktop Manager program also needs some updates. Display of RAID rebuild progress would be nice. The ability to change the RAID level of the unit from within the program would also be quite useful. On Windows systems, we found that the program would recognize the units only over USB. In addition, TRIM capability seems to exist only over USB for the Rugged Thunderbolt SSD version. Though the last aspect is something dependent on the system / OS and the ncessity is also dependent on the nature of the Rugged workload, prospective consumers would do well to remember that and keep the Rugged connected over USB to maintain performance levels.
On the whole, LaCie has managed to deliver a compelling solution for multimedia professionals. The devices work as expected, performance seems to be good enough for the target market (given the device parameters) and pricing is in-line with similar units from other vendors. Thunderbolt's capabilities are best brought out in daisy chaining scenarios (as we saw that a single unit was able to get better performance over USB 3.0 in our testbed). So, it is definitely a great idea on LaCie's part to integrate both USB 3.0 and Thunderbolt connectivity options in the 2big Thunderbolt 2 and Rugged Thunderbolt.