Original Link: http://www.anandtech.com/show/820


Just because Intel is the largest CPU manufacturer in the world doesn't mean that the Intel Developer Forum can't be about more than just CPUs. The demo showcase at this year's Fall IDF had some interesting technology being shown off but most of it is stuff that we have seen before.
Keeping your cool
With the rising temperature of today's CPUs it is quickly becoming necessary to improve cooling within the chassis. Something many retail manufacturers have been doing for years was implementing passive cooling (for example, just a heatsink) on the CPU and using case fans to remove heat from the processor.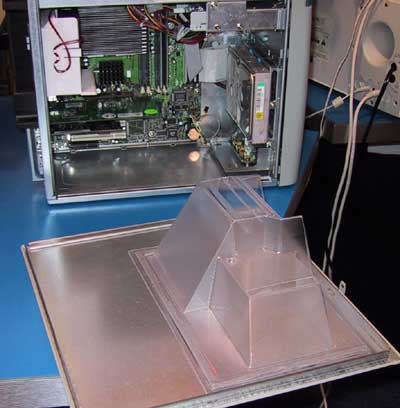 Intel had a demonstration of a very cheap duct system that was based on this principle of passive CPU cooling but active case cooling.
Another big thing being promoted by Intel at the Forum was the idea of a quiet PC. Intel's boxed Pentium 4 processors are very quiet since their fans only spin at 3000RPM.
Serial ATA: Still not here
Ever since we started going to IDF we have been bringing you reports on Serial ATA. For those of you that don't know, current ATA devices operate using a parallel interface where multiple bits are sent in parallel at a low frequency (relative to the rest of the system). As the name implies, Serial ATA operates on the principle of serial transfers where bits of data are sent one at a time but at a much higher frequency.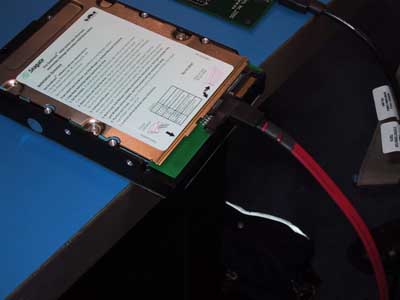 The Serial ATA specification has been finalized and it's much more mature than what we've shown you from previous IDF shows. This year we got to see a mechanical sample of a Seagate Serial ATA drive as well as what a standard Serial ATA cable will look like.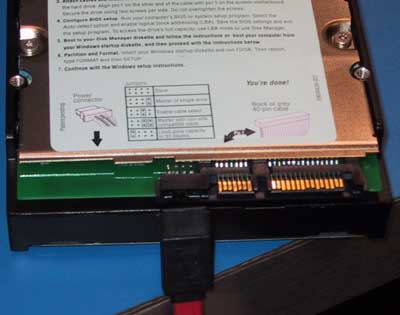 The drives themselves will have two connectors as you can see in the above picture. The smaller connector is for the Serial ATA data interface, and the longer connector is for power.
Another beauty of the Serial ATA connector is that it can be used in a hot swappable drive bay since the location of the connector has been standardized. The type, size and location of the connector will be the same between 3.5" and 2.5" (notebook) drives making it easy to copy files from one type of drive to the other without any special adapters.
Since Serial ATA is a point to point bus motherboards and controller cards will have one port for each device. This also means that each cable will only be able to connect to one device. During the transitional phase you can expect to see a mixture of Serial ATA and Parallel ATA ports on motherboards, eventually moving towards a minimum of four Serial ATA ports on board.
The standard Serial ATA cable will be 1 meter in length compared to the 18" Parallel ATA cables we currently use. This will give them more than enough length to be used in even the largest of towers. Because of their very low form factor the cables will tremendously improve airflow in the case.
We got to see a demo of a Serial ATA drive being hot swapped under Windows 2000. The process is very simple; you click eject on the drive's pop-up menu in My Computer just like you would a compact flash reader or any other sort of removable drive.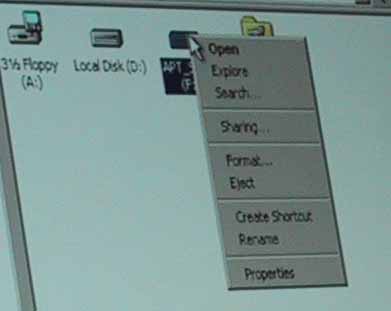 It will still be a while before we see Serial ATA drives hit the streets. You can expect to see the first drives sometime next year.
ServerWorks: The bandwidth kings
At the Spring 2001 IDF we brought you some of the first pictures from ServerWorks' Grand Champion chipset. The chipset is finally ready and they are simply waiting for OEM support for the platform which will increase tremendously after the launch of the quad-processor Xeon.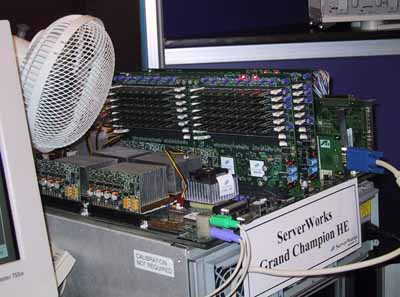 Click to Enlarge
The chipset will be available in a couple of versions: the Grand Champion-HE (GC-HE) and the Grand Champion-LE (GC-LE). The GC-HE supports 4-way Xeon MP processors and actually has a 4-way interleaved 64-bit DDR200 SDRAM controller. This means that the memory controller offers a peak bandwidth of 6.4GB/s. When dealing with the incredible I/O requirements of today's high-end servers this kind of serious memory bandwidth is necessary.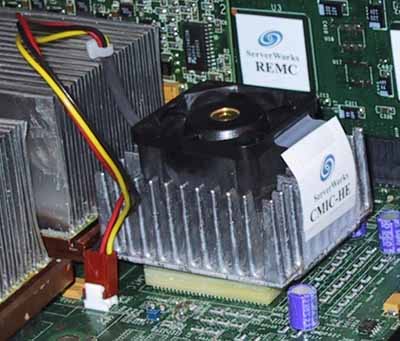 The heatsink/fan in this picture is located on the North Bridge of the Grand Champion HE chipset.
The GC-LE is ServerWorks' 2P solution and features a 2-way interleaved 64-bit DDR200 SDRAM controller. The reason for only choosing DDR200 is because it runs at the same base frequency as the Xeon's quad-pumped FSB (100MHz) which improves latency.
Both Tyan and MSI were at the show with ServerWorks based solutions. This was the first time MSI this sort of a presence at IDF and it marks their entry into the workstation/server market.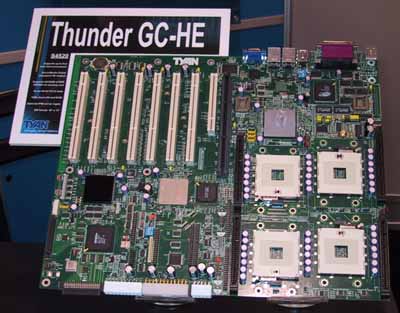 Click to Enlarge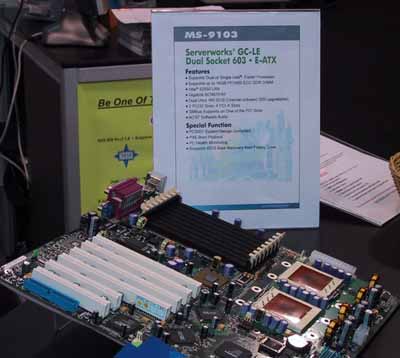 Click to Enlarge
ATI
ATI was demonstrating their recently announced Mobility Radeon 7500 at IDF. We'll have more on the Mobility Radeon 7500 and Power Play in an upcoming article here on AnandTech.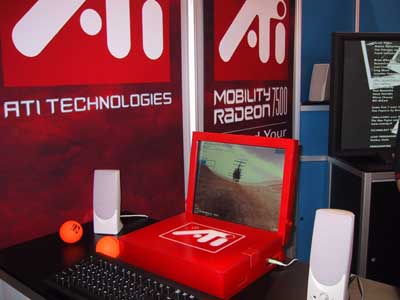 Rambus makes an appearance
In spite of all of the legal troubles, Rambus still made their usual presence at IDF as a Gold Sponsor. In terms of support, we have yet to see any signs of Intel backing away from Rambus as the ideal solution for the Pentium 4 and its successors going forward.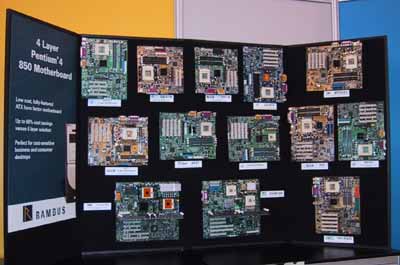 Click to Enlarge
Rambus didn't have much to show off other than the usual Playstation 2 and Direct RDRAM displays. This time around they showed off some 4-layer i850 motherboards that implement a dual channel PC800 RDRAM memory controller as well as a few i860 based Xeon boards.
Our contacts at Rambus had seen the 100MHz vs. 133MHz investigation we published in the Pentium 4 2.0GHz article and informed us that we can expect to see PC1066 RDRAM sometime early next year. The fact that Rambus will be producing it is almost a guarantee that Intel will be moving to a 133MHz FSB for the Pentium 4 since they are Rambus' only customer for PC1066 RDRAM. The question of when can only be answered by Intel but we'd expect it to be as the Northwood ramps up in clock speed.
Intel's Application Accelerator
During Computex we got word that Intel was working on some new drivers that enable higher disk performance on any i8xx series chipsets. We actually ended up getting our hands on a beta version of Intel's Application Accelerator shortly thereafter and ran it through a few tests only to be disappointed with the lack of performance improvement.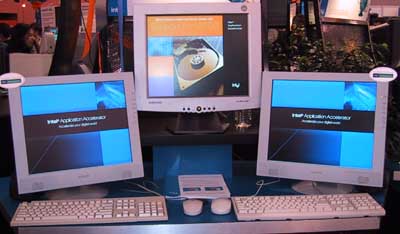 Part of the reason for our disappointment ended up being that Intel's performance measurements were in comparison to Microsoft's IDE drivers built into Windows 2000 and not Intel's currently available storage drivers.
We hypothesized that Intel's Application Accelerator was nothing more than a glorified version of their storage drivers. The Intel representatives doing the the IAA presentation for us at the show floor indicated that the performance difference between IAA and the regular storage drivers wasn't as great but they weren't the same exact thing. IAA actually enables some software level prefetching that looks at data access patterns and prefetches data from the hard disk to main memory. This speeds up functions such as compressing files and even loading levels in a game (they gave Quake III Arena as an example). These speed benefits are offered only for IDE drives running off of the chipset's I/O Controller Hub.
Boot time is also decreased but currently the majority of the performance boost comes under Windows 2000. Intel did inform us that upon the final release of Windows XP we should see a more tuned version to work with XP's inherent prefetching mechanisms to offer a performance improvement there as well.
In terms of compatibility, the IAA enables support for 48-bit LBA enabling support for ATA drives larger than 137GB. The final feature of IAA is that it will be the driver used to support Serial ATA devices.
The driver will be available as a free download on September 10, 2001 - the official release date of Intel's 845 chipset.
AMD
In their usual tradition, AMD was present at IDF but not officially as a part of the conference. I was personally in Austin visiting the good folks at AMD last week meeting about their future microprocessor technologies but at IDF the name of the game was Hyper Transport. AMD is very excited about Hyper Transport and the incredible support that has been thrown behind it from the major players in the industry. This is the first time that we have seen this sort of leadership initiative from AMD and it is quite refreshing to say the least. Now if they would only do the same in the CPU industry they wouldn't have to worry about playing the clock speed game with Intel.

There wasn't much to see outside of a functional demonstration of Hyper Transport. The setup was a dual Alpha 700/4MB server connected via a Hyper Transport link to a set of PCI slots in another case. Files were transferred from drives on both ends of the Hyper Transport chain with a Hyper Transport to PCI bridge at each end. Nothing too impressive but worth mentioning at least.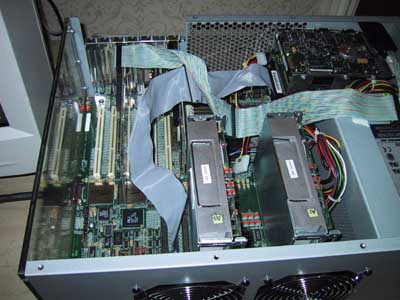 The above machine acted as the server and was running dual Alpha 700MHz CPUs equipped with 4MB cache. A close-up of the processors is pictured below.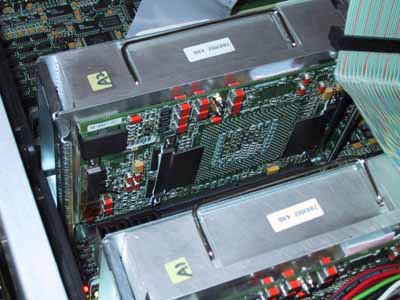 Click to Enlarge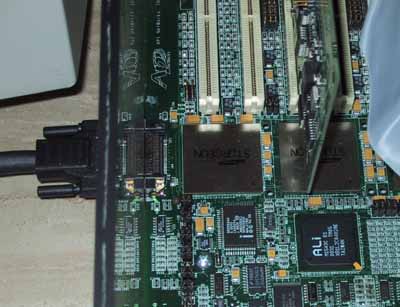 Click to Enlarge
Here you can see the PCI to Hyper Transport bridges. The cable to the left leads to the second machine pictured below.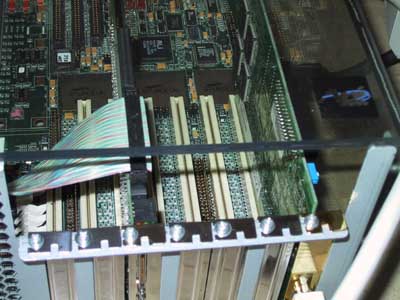 NVIDIA: Bigger than Ever
On the show floor NVIDIA was showing off Personal Cinema which is NVIDIA's answer to ATI's All-in-Wonder line of cards. The Personal Cinema does have its advantages but I'll save that for our review of the unit.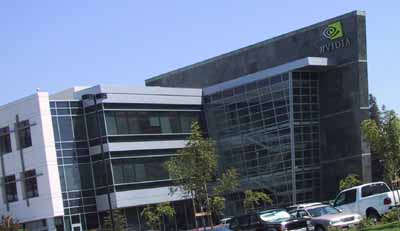 Click to Enlarge
We also got a chance to visit NVIDIA's new buildings in Santa Clara. Much larger than their old facilities, NVIDIA gave us a quick tour of their new home. One of the most interesting things we learned about was the incredible testing that goes into NVIDIA's hardware and software. For example, this picture below you can see the same arrangement of racks that you'd normally find in the datacenter of a web host. These 4,000 Linux machines run nightly and test every build of NVIDIA drivers that is worked on during the day.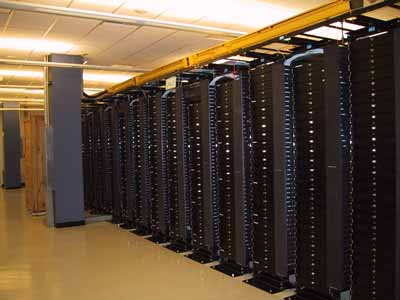 Click to Enlarge
This row of Sun machines is used for similar purposes; each one of the first two big cabinets are worth around $4M.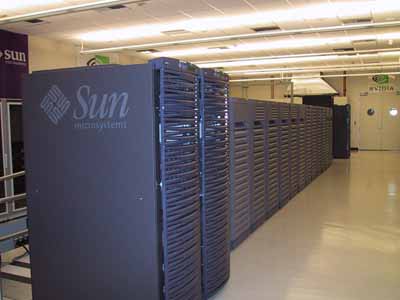 Click to Enlarge
SiS: Hard at work
With the solid performance of their 735 solution, it's no surprise that the officially licensed SiS 645 (DDR Pentium 4 chipset) is being highly anticipated. We managed to catch Shing Wong, the Senior VP and GM of SiS' US Operations working hard at IDF.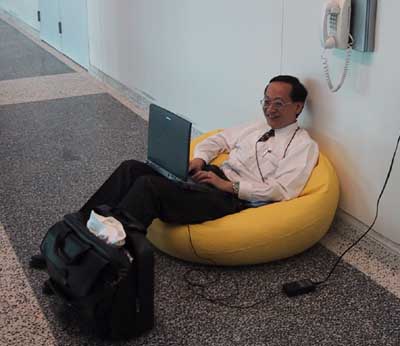 Mr. Wong was gracious enough to talk to us for a few minutes about 645 and we are eagerly awaiting its arrival in our labs.
Final Words
Another fall, another IDF and as usual there were some relatively interesting things to report on. We hope you enjoyed the coverage and there is much more to come from us in the future.