Original Link: http://www.anandtech.com/show/8197/samsung-galaxy-tab-s-review-105-84inch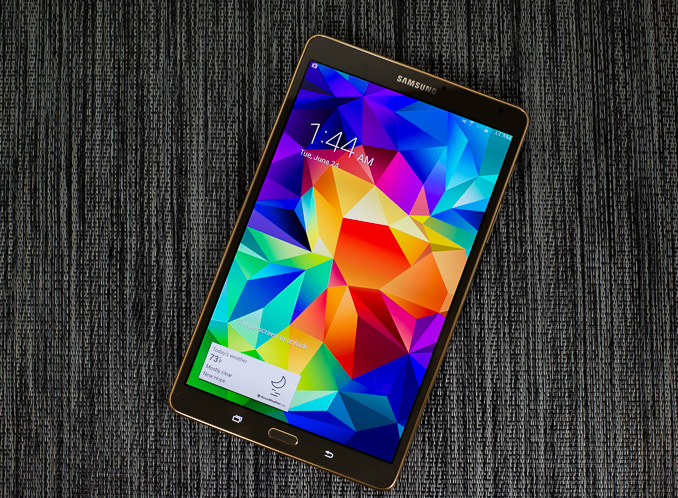 Samsung's tablet lineup can be confusing to follow. There's the regular Galaxy Tab lineup which is on its 4th generation and is available in three different screen sizes (7, 8 and 10.1-inches), all with 1280 x 800 displays. If you want a higher resolution panel there's the newly announced Galaxy Tab Pro line, also available in three sizes (albeit different ones at 8.4, 10.1 and 12.2-inches) at 2560 x 1600. If you're dying for an active digitizer there are the Galaxy Note Pro and Galaxy Note models as well. A quick search of WiFi Galaxy Tabs on Samsung's site shows off a total of 25 active models, an intimidating list if you're just browsing.
That all started to change earlier this month when Samsung opted to dust off its most popular smartphone sub-brand and apply it to a pair of new tablets. The Galaxy Tab S is designed to be the tablet counterpart to the Galaxy S smartphone. Available in two different sizes (10.5-inches and 8.4-inches), the Galaxy Tab S is also the only current Samsung tablet to feature a Super AMOLED display. The move to AMOLED brings with it great contrast and an incredibly thin display stack, which pays off handsomely in reducing the overall chassis size of the new tablets.
Samsung Galaxy Tab S Specifications
Galaxy Tab S 10.5
Galaxy Tab S 8.4
Model Number Tested
SM-T800
SM-T700
Dimensions
247.3 x 177.3 x 6.6mm
212.8 x 125.6 x 6.6mm
Display
10.5-inch 2560 x 1600 Super AMOLED (RGB S-Stripe)
8.4-inch 2560 x 1600 Super AMOLED (Diamond PenTile)
Weight
465g
294g
SoC
Exynos 5 Octa 5420 (4 x Cortex A15 1.9GHz + 4 x Cortex A7 1.3GHz) or Qualcomm Snapdragon 800 2.3GHz
Exynos 5 Octa 5420 (4 x Cortex A15 1.9GHz + 4 x Cortex A7 1.3GHz)
Connectivity
802.11a/b/g/n/ac 2x2 + BT 4.0, USB 2.0, GPS/GNSS/Beidou, WiFi Direct
802.11a/b/g/n/ac 2x2 + BT 4.0, USB 2.0, GPS/GNSS/Beidou, WiFi Direct
Memory
3GB
3GB
Storage
16GB/32GB + microSD
16GB/32GB + microSD
Battery
7900mAh (30Wh)
4900mAh (18.6Wh)
OS Version
Android 4.4.2, Kernel 3.4.39
Android 4.4.2, Kernel 3.4.39
Starting Price
$499
$399
Both Galaxy Tab S models measure 6.6mm thick. That's thinner than any of Apple's iPads, as well as the iPhone 5s and Galaxy S5. In hand it's arguably the weight that's more noticeable though. The 8.4-inch version weighs in at only 294 grams, barely heavier than a 2013 Nexus 7. The 10.5-inch model is just shy of the iPad Air at 465 grams (vs 469 grams for the iPad Air, admittedly a testament to just how light the Air is given its aluminum build).


Samsung Galaxy Tab S 10.5 (top), Apple iPad Air (bottom)
Although the display is a big part of the Tab S value proposition, its form factor and weight are really top notch. Both devices feel incredibly light and are great for one handed operation. The Tab S 8.4 is probably the better balance of display size and portability. I'd argue that the 10.5-inch Tab S, particularly in landscape mode, can be a bit much for prolonged one handed use but I think I made a similar comment about the iPad Air when I reviewed it last year. Either way we're quickly approaching the holy grail of tablet dimensions and weight.
The Galaxy Tab S features an all polycarbonate construction, like its smartphone counterpart. The styling is also borrowed from its more mobile brother, with the same pattern around back. The plastic ring around the tablet ditches the ridged treatment of the Galaxy S5 in favor of a flat, brushed finish. Both sizes are available in two colors: dazzling white and titanium bronze. Samsung sampled us with a 10.5-inch Tab S in dazzling white and an 8.4-inch Tab S in titanium bronze. Both colors feature the same gold color around the edge of the tablet.
I'm personally not bothered by the construction of the Tab S, but there's no denying that the iPad mini and Air have a more premium feel to them. In the case of the Air, the weight difference is negligible. In the case of the mini vs. the Tab S 8.4, Samsung does manage a noticeable 11% weight reduction.
The Tab S ditches USB 3.0 from the GS5 in favor of a smaller micro USB 2.0 port. The global models we were sampled feature 16GB of internal storage (32GB is optional) with a microSD card slot for external expansion. Both tablets feature IR transceivers and stereo speakers. The global variants we received are WiFi only and use Samsung's Exynos 5 Octa (5420) SoC, although North American bound LTE models will use Qualcomm Snapdragon 800 silicon (MSM8974AB v2) with integrated modem. All Tab Ses ship with 3GB of LPDDR3 memory.
There's a 2-stream 802.11ac WiFi implementation with WiFi Direct as well as Bluetooth 4.0 support.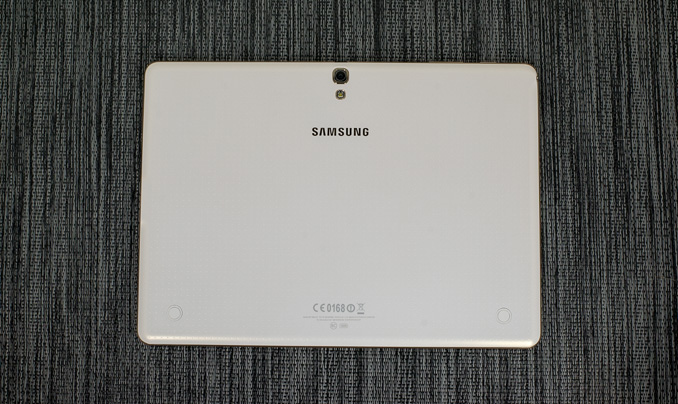 Both devices integrate an 8MP rear facing camera with flash and 1080p front facing camera.
Fingerprint Sensor and SideSync
Borrowed from the Galaxy S5 is the Synaptics powered fingerprint scanner integrated into the Tab S' physical home button. The fingerprint scanner design is identical to that of the Galaxy S5, although as I mentioned in my hands-on preview of the devices I believe the implementation is improved in Tab S. You go through the same 8-swipe process to register your finger, and you can store up to 3 fingers for unlocking the device. Swiping multiple fingers during a single finger's registration also expands the number of fingers you can store.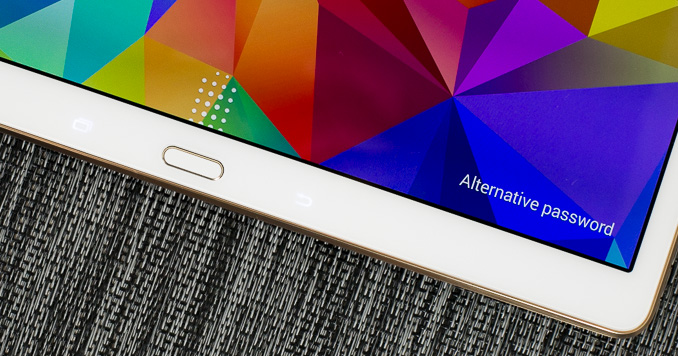 Overall the fingerprint unlocking experience is much better on the Galaxy Tab S than on the Galaxy S5. For starters, you're far less likely to attempt to hold the tablet and do a fingerprint swipe with a single hand like would on a phone. The two handed approach alone has a huge impact on fingerprint unlock success rate. I tried quick, slow and variable speed swipes over the fingerprint sensor, all of which worked. I tried fingerprint unlocks with the tablet on a desk, propped up as well as held in the air in my hand - again, all successful. The biggest issue I ran into was trying to unlock using the tip of my finger perpendicular to the surface of the scanner vs. just dragging it across, more parallel to the scanner. Despite registering my finger at an angle I could never get the more perpendicular approach to work. The iPhone 5s' approach is still probably the better way to handle this, but at least compared to the GS5 things are better on the Tab S. And like I said in the Galaxy S5 review, I'd still take the swipe scanner over not having one at all.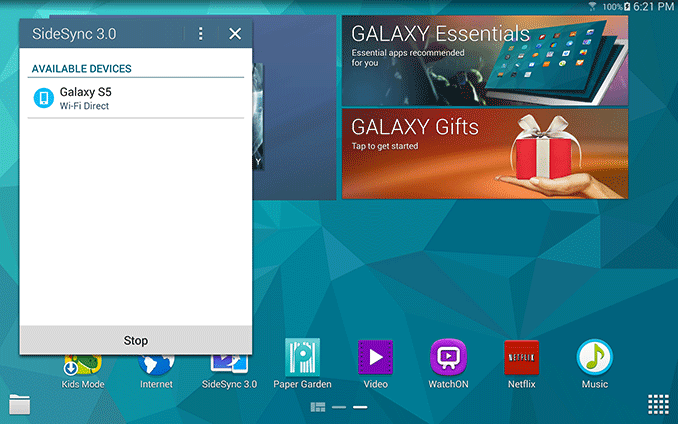 SideSync is the other big software/hardware feature with Galaxy Tab S. SideSync leverages WiFi Direct to give you access to your Galaxy S5 smartphone from the Tab S touchscreen. Just make sure the GS5 and Tab S are both on the same WiFi network, and then run the SideSync app on both devices for them to find one another. The Galaxy Tab S has SideSync preloaded on it, and you can download the app from the Play Store to your GS5.
The pairing process is remarkably painless. Just run SideSync on both devices, the Tab S finds your smartphone in a few seconds, tap on the device and you'll be presented with a virtual device on the Tab S' screen: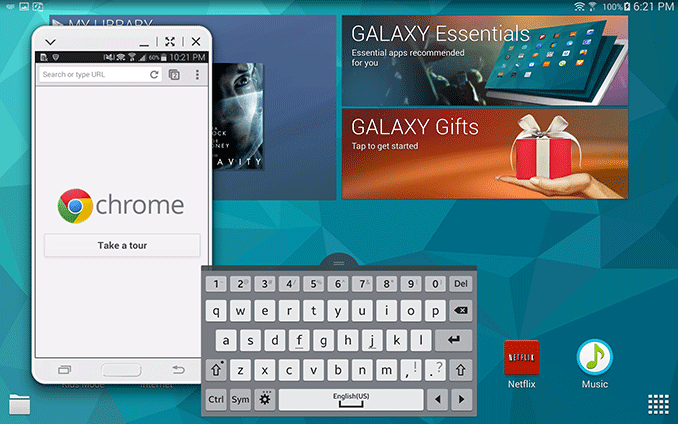 You can rotate the device and go into full screen mode. There's no network sharing between the two devices, all you're seeing is the display encoded and piped over WiFi to the Tab S (with touch commands being sent back to the smartphone). There's a minimal impact to CPU utilization as it seems like the decoding of the video stream is done using the Exynos 5420's hardware video decoder. There's a bit of overhead on the smartphone itself but the impact to performance seems limited to the 10 - 20% range. Audio is also streamed over along with video, so you can watch videos streamed over from your phone on a virtual phone on your tablet - if you're so inclined.
Although SideSync is expected to work with the Galaxy S4, Galaxy Note 3 and Galaxy S5, you can receive calls on your Galaxy Tab S if you SideSync with a GS5. You need to have SideSync enabled and paired, but once you do you can answer calls directly on your tablet. I haven't had time to measure the battery life impact of leaving SideSync active all the time on your GS5 and Galaxy Tab S, but I suppose that's a concern worth keeping in mind.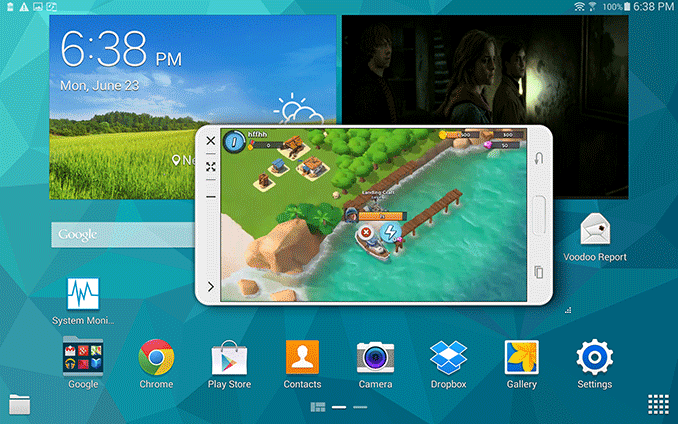 The usable range for SideSync really depends on what you're trying to do. If you're streaming video and audio and don't want any interruptions, you're going to want your phone within several feet of your tablet. For web browsing and even turn based gaming I had no issues streaming from a phone over 20 feet away and in immediately adjacent rooms. There's some obvious quality loss as you're staring at an encoded video of the smartphone's display, but SideSync manages to work surprisingly well. There's support for quickly copying a URL from a browser on your phone to your tablet, and you can also drag files/pictures/videos to copy them locally. It's not quite as seamless as dragging and dropping on a Windows or Mac, you still have to wait for the Tab S to launch its file manager to select a destination for anything you want to copy but it's a neat feature nonetheless.
You can minimize SideSync to an icon, or float it over virtually any other window on the Tab S. It's pretty flexible and works, although I must admit I don't see myself ever really using the feature outside of this review.
Simple and Book Covers
Samsung sent along samples of its simple and book covers for both Galaxy Tab S sizes. The covers button directly onto the tablet itself, anchoring to two points on the back of the device. It's a secure connection but one that's a bit awkward to get in/out of. The magnetic covers we're more used to seeing with tablets are effortless to mount, but they aren't quite as secure once mounted.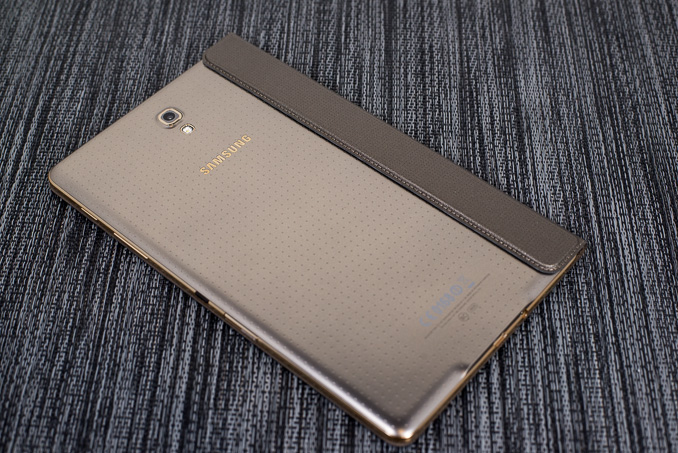 The $39.99 simple cover offers nothing more than protection for the screen when covered. It doesn't double as a stand and can't protect more than a single surface at a time. The more interesting option is the Book Cover:
It's a bit more expensive at $59.99 (or $69.99 for the 10.5-inch version) but you get complete protection when closed, and the cover can also act as a three-position stand.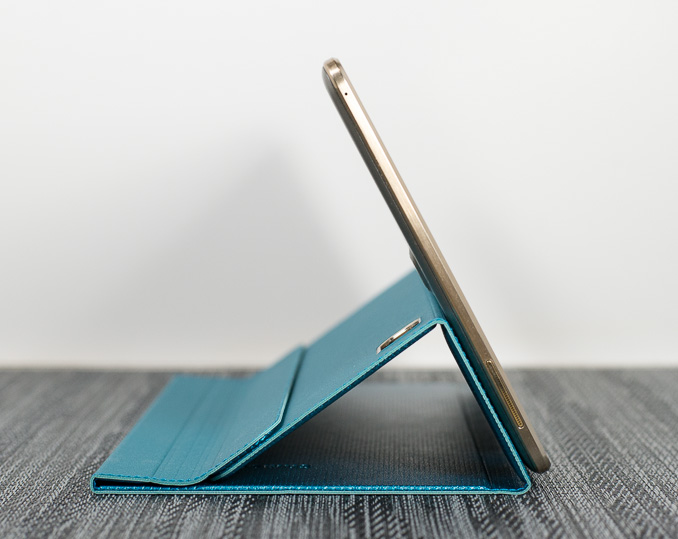 Although the covers don't use magnets to mount to the tablet, they still use magnets to automatically sleep/wake the tablet as well as magnets to aid in folding the Book Cover into a stand.
The material quality of the two covers isn't particularly impressive but the designs serve their purpose well.
Display
In addition to the dramatically reduced chassis thickness, the move to a Super AMOLED display is the other flagship feature of the Galaxy Tab S lineup. Both devices feature a 2560 x 1600 Super AMOLED panel. The 10.5-inch model features a derivative of the S-Stripe RGB subpixel layout and geometry we first saw in the Galaxy Note 2.
Each pixel features loosely spaced red, green and blue subpixels, with the latter being a thin strip in comparison to the more traditional rectangular red and green subpixels: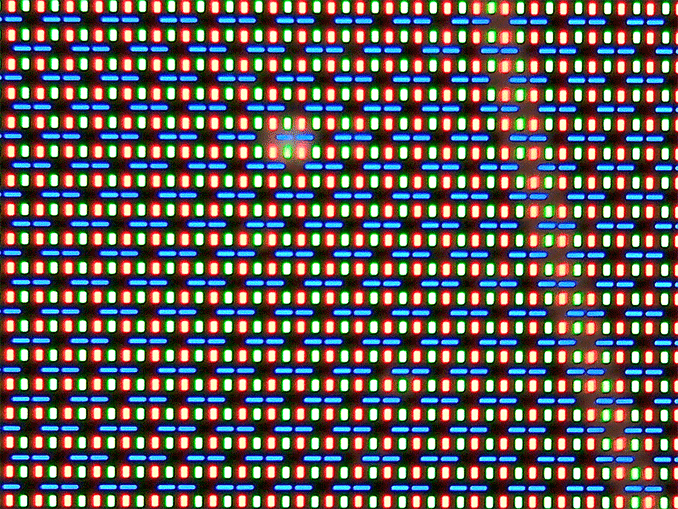 Samsung Galaxy Tab S 10.5, S Stripe RGB
Choosing different geometries for the blue subpixels makes sense as they have lower luminous efficiency than their red and green counterparts. Through balancing of subpixel size and drive power this design should allowed for equal luminance among all three subpixels. The uneven spacing is something new for the Galaxy Tab S 10.5, as the design looked far more structured back in the Note 2 days.
The 8.4-inch model by comparison uses a diamond PenTile RG,BG layout: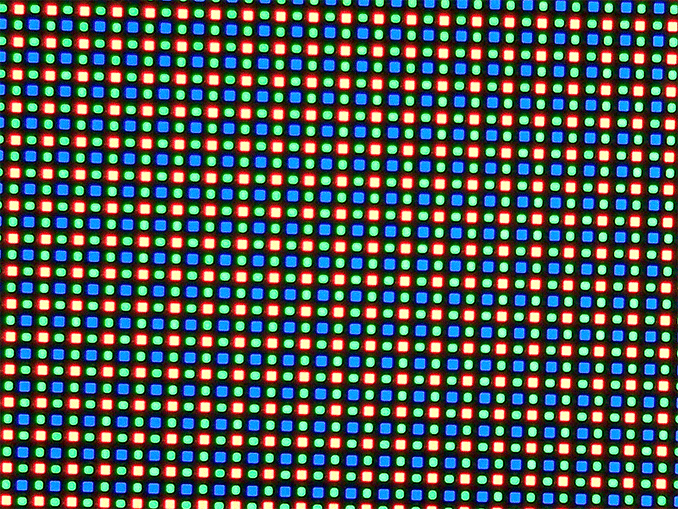 Samsung Galaxy Tab S 8.4, Diamond PenTile
This is similar to what we saw on the Galaxy Note 3, and just like before you get two subpixels per unit pixel instead of three in a traditional RGB stripe. Thankfully the pixel density on the Galaxy Tab S 8.4 is high enough that I wasn't able to discern individual pixels or be bothered by the diamond PenTile layout. I will admit that I've never been the most sensitive to PenTile or PenTile-like sub pixel arrangements, so your mileage may vary.
With the Galaxy S5, Samsung finally delivered a reasonably accurate out of box display calibration as an option. In bringing AMOLED to its tablet lineup, I wondered if Samsung would do the same here. Thankfully the answer appears to be yes.
The new displays have the same adaptive setting as the GS5, which adjusts display tint based on ambient light temperature. There are three predefined color settings, down from the five on Galaxy S5, if you prefer something a bit more predictable.
Although Cinema ends up being the most accurate on the GS5, AMOLED Cinema doesn't get the same treatment on the Galaxy Tab S. It's actually the new basic mode that most closely tracks with sRGB. The two AMOLED modes trade off color accuracy for more saturation. I ran our display suite through all of the modes on the Galaxy Tab S 10.5 to illustrate the difference:
Samsung Galaxy Tab S 10.5 Color Profiles
Average White Point
Grayscale DeltaE 2000
Gamut DeltaE 2000
Saturation Sweep DeltaE 2000
GMB ColorChecker DeltaE 2000
AMOLED - Cinema
7540K
5.2572
6.8855
5.9306
7.0418
AMOLED - Photo
6576K
1.7425
4.8109
4.5933
3.3633
Basic
6516K
1.8378
2.8114
2.6195
2.4249
Basic (Galaxy Tab S 8.4)
6294K
2.3914
3.4564
2.7639
2.2186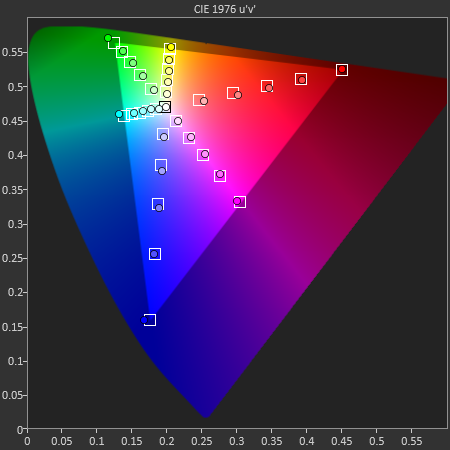 I've also included all of the CIE diagrams and test swatch comparisons in a gallery below if you want to have a closer look at what the AMOLED modes do. In short, both the photo and cinema modes oversaturate just in different ways. Photo appears to saturate evenly across all colors, while cinema mode compresses some while pushing out others.
As it's the most accurate setting, I ran all of our comparison data with the basic mode enabled. In this mode the Galaxy Tab S' display is among the best we've ever tested. On top of having good color accuracy, the new display delivers the awesome contrast ratio that AMOLED displays are known for. As you'll see later on, there are definite power benefits as well when it comes to watching movies on these displays.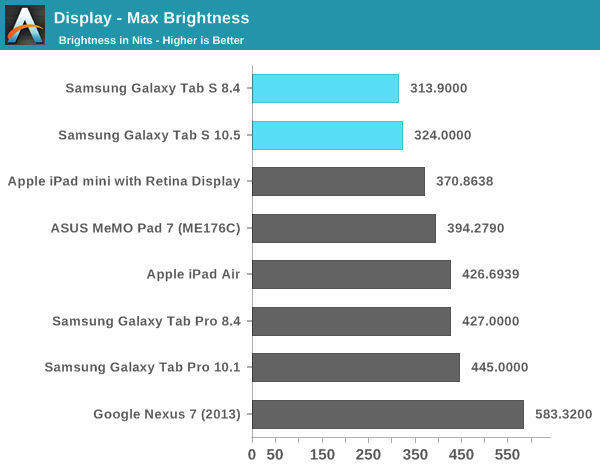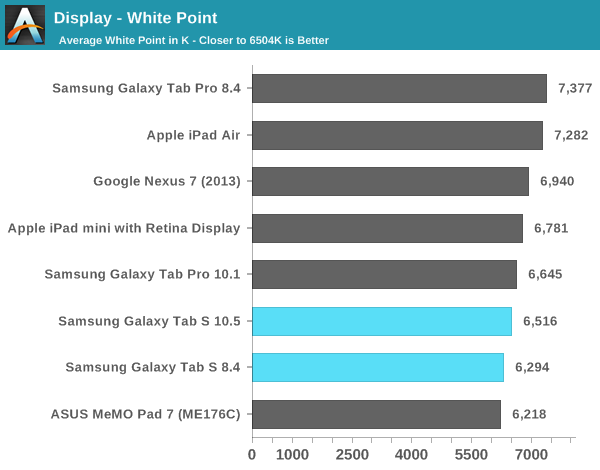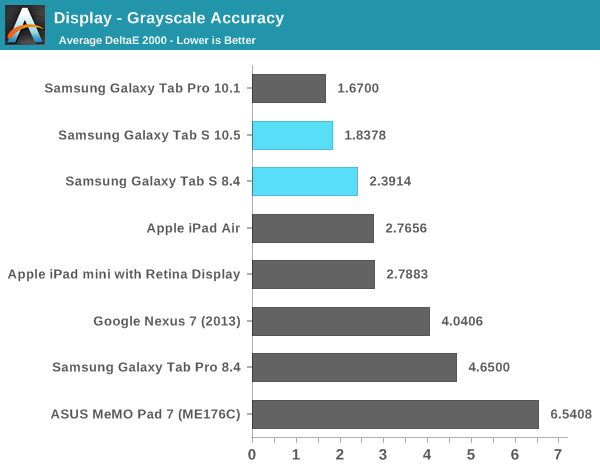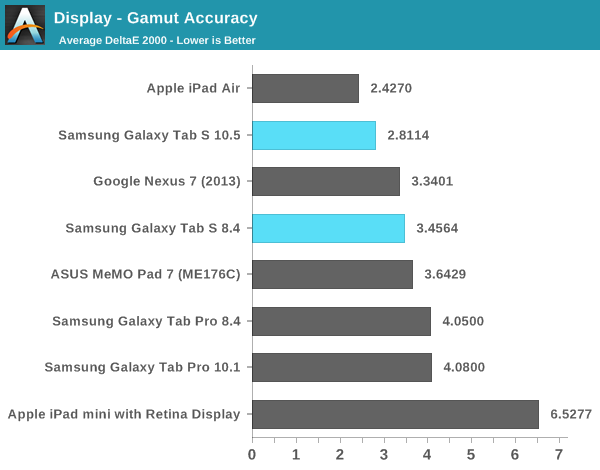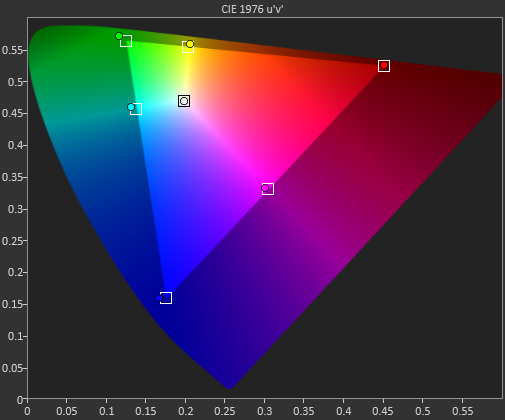 Samsung Galaxy Tab S 10.5 - Basic Profile


Samsung Galaxy Tab S 10.5 - Basic Profile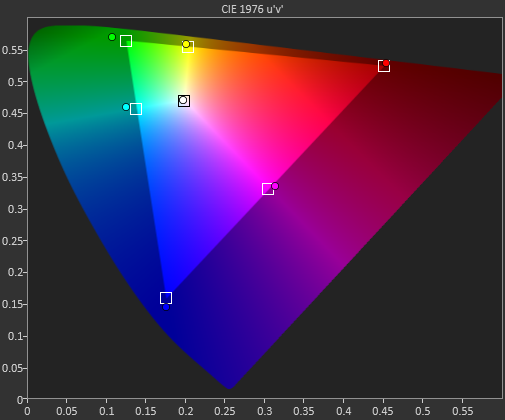 Samsung Galaxy Tab S 8.4 - Basic Profile


Samsung Galaxy Tab S 8.4 - Basic Profile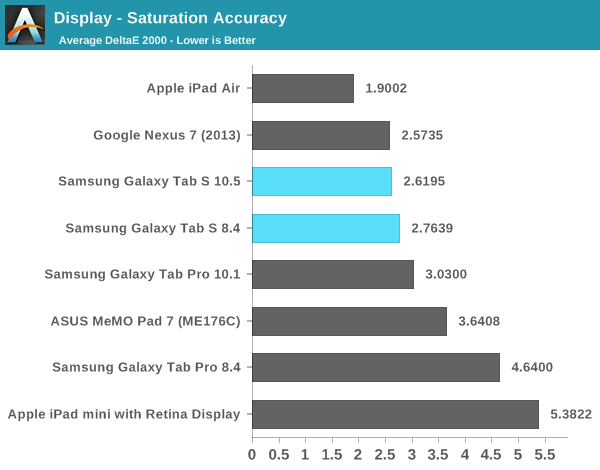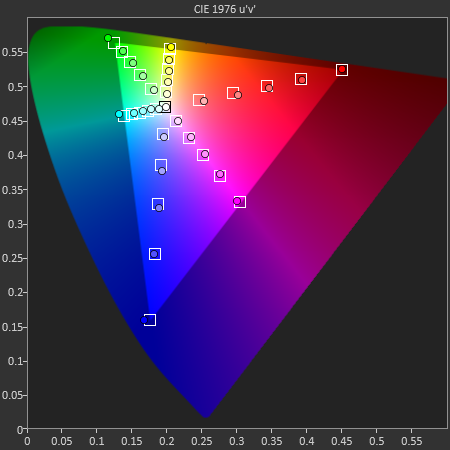 Samsung Galaxy Tab S 10.5 - Basic Profile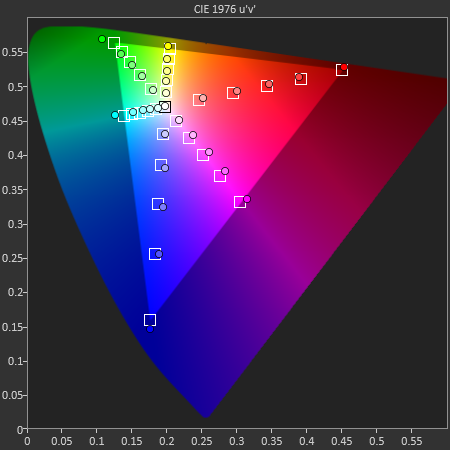 Samsung Galaxy Tab S 8.4 - Basic Profile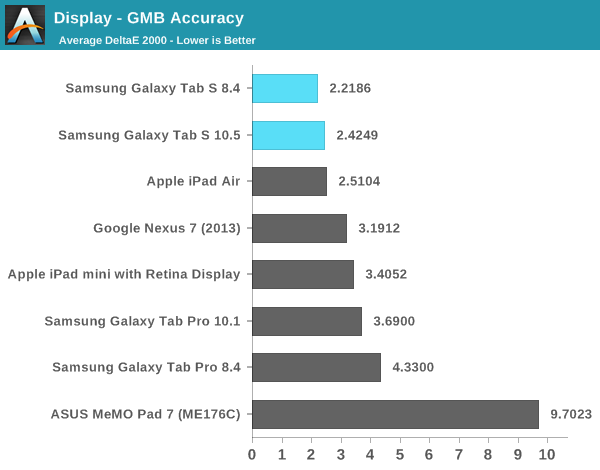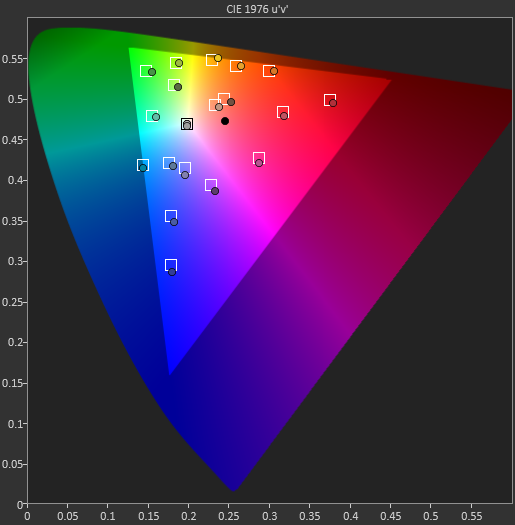 Samsung Galaxy Tab S 10.5 - Basic Profile


Samsung Galaxy Tab S 10.5 - Basic Profile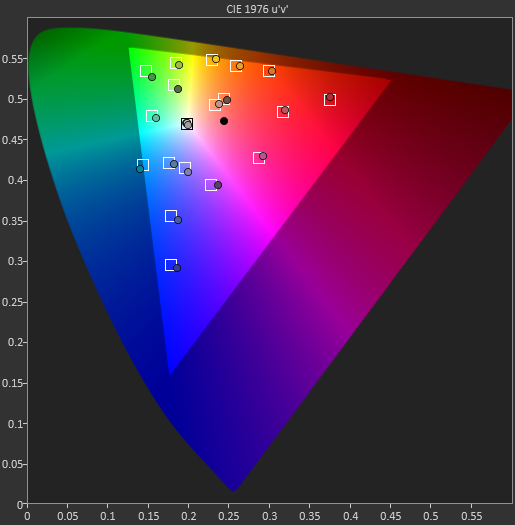 Samsung Galaxy Tab S 8.4 - Basic Profile


Samsung Galaxy Tab S 8.4 - Basic Profile
Battery Life
Both Galaxy Tab Ses feature somewhat small batteries, a downside to pursuing a very thin chassis. The 10.5-inch model gets a 30Wh battery compared to 32.4Wh in the iPad Air, while the 8.4-inch model only has an 18.6Wh battery compared to 23.8Wh for the iPad mini with Retina Display.
For our web browsing workload, the battery size and power requirements of displaying mostly white web pages on a high resolution AMOLED display result in substandard battery life. Both devices deliver around 8 hours on a single charge, which isn't bad in a vacuum - it's just a regression compared to the Galaxy Tab Pro and far behind the other competition.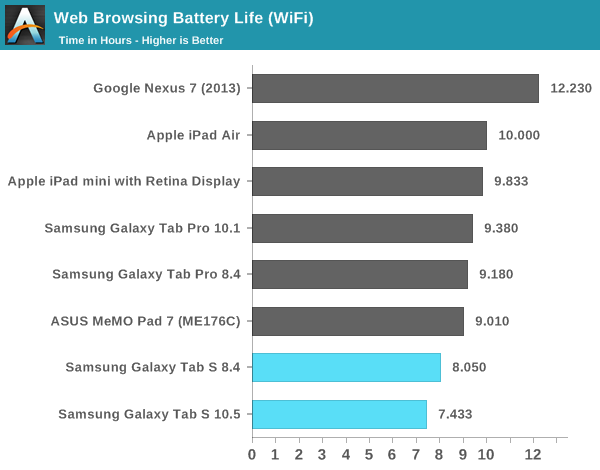 The story changes dramatically however once we look at video playback battery life: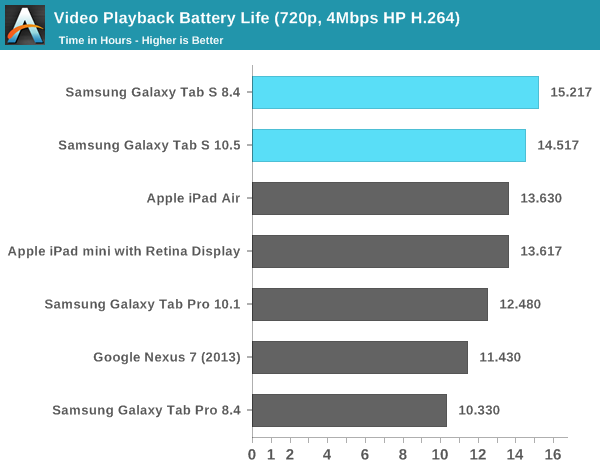 Our video playback test is perfect for an AMOLED display as the final Harry Potter movie ends up having a lot of dark scenes in it. With only a small percentage of the display showing white, display power is reduced substantially, resulting in the best video playback battery life of any tablet we've ever tested. Even the tiny 8.4-inch Galaxy Tab S can last over 15 hours on a single charge.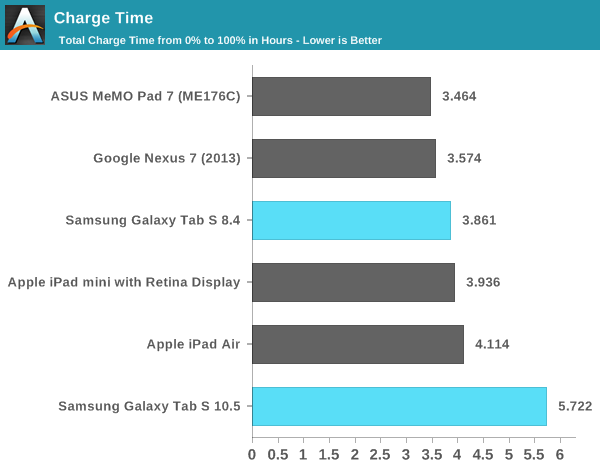 Charge time isn't particularly fast on any of the devices, but the 10.5-inch model in particular takes a while to make it to a full charge. The 10.5 will reach a 90% charge in just under 4 hours, but to make it to 97% takes another hour and the last 3% takes another 42 minutes on top of that. Usable charge time is competitive, but if you're obsessive about always charging to 100% the 10.5-inch model does take a while to get there.
Performance
The WiFi only variants of the Galaxy Tab S all feature Samsung's own Exynos 5 Octa (5420). Internally we're dealing with four ARM Cortex A15s and four ARM Cortex A7s in a big.LITTLE configuration, with a maximum of four cores of the same type being active at any given moment. The Cortex A7 cluster can run at up to 1.3GHz while the Cortex A15 cluster maxes out at 1.9GHz.
CPU performance is reasonable but definitely behind Apple's Cyclone cores in A7 and even Intel's value Bay Trail offerings that are cropping up in tablets like ASUS' Memo Pad 7. The problem with the latter is that those devices end up being substantially cheaper what Samsung is asking for with the Galaxy Tab S.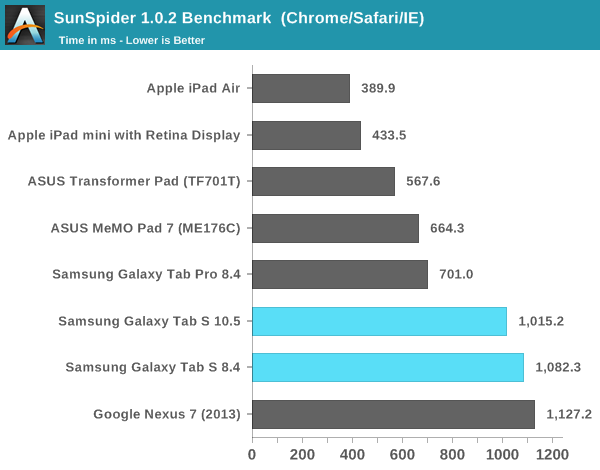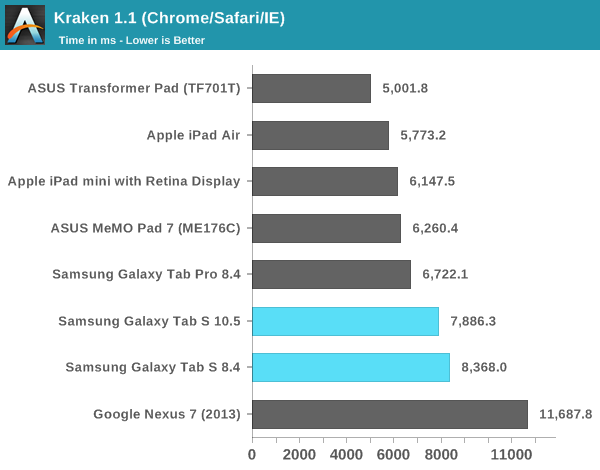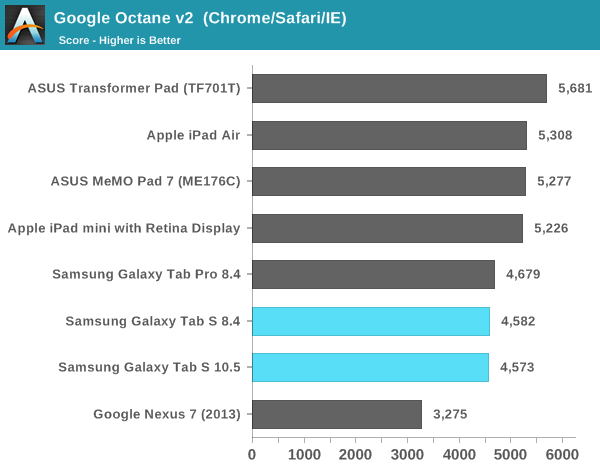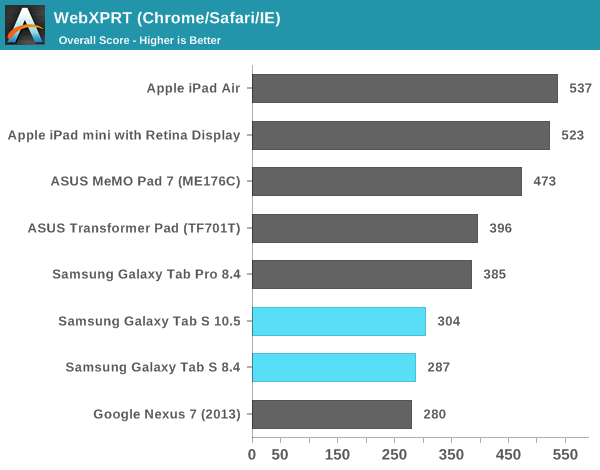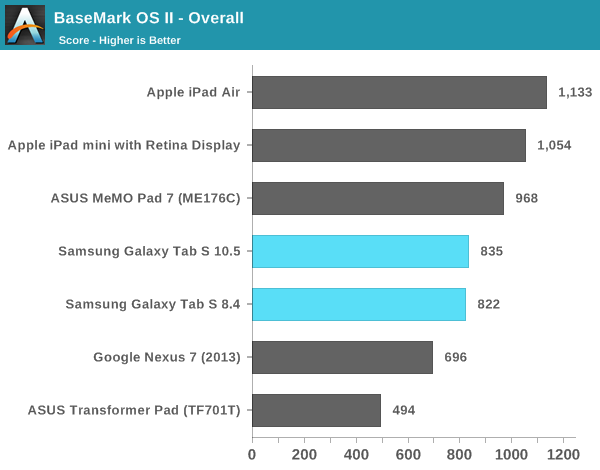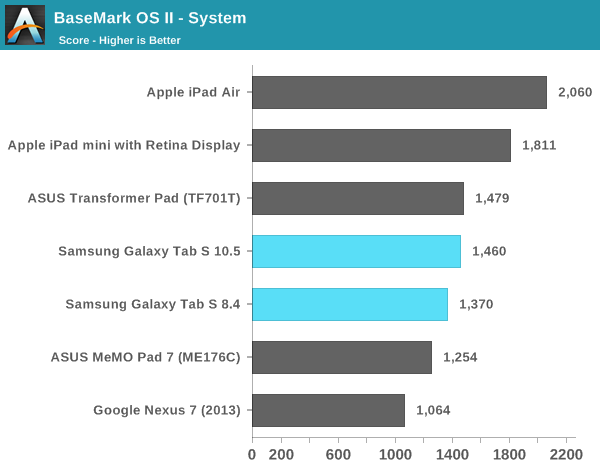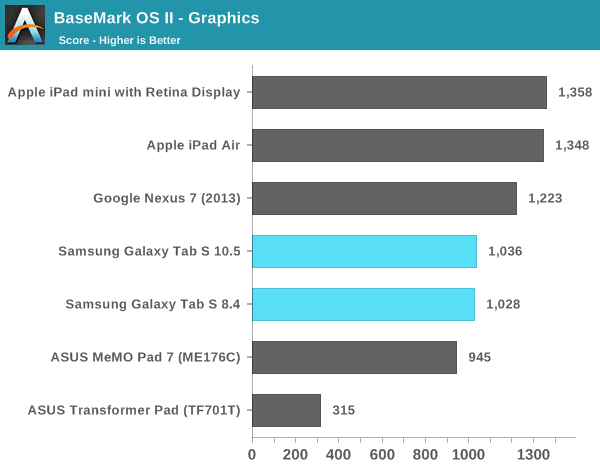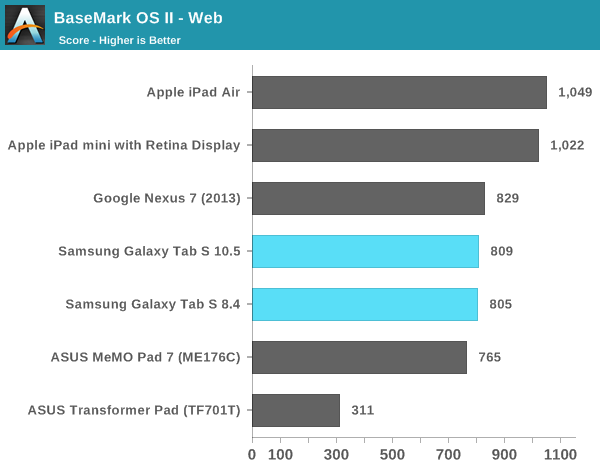 GPU Performance
The bigger problem really seems to be GPU performance. The Exynos 5420 integrates ARM's Mali-T628MP6 GPU, which just isn't competitive with Apple's PowerVR Series 6 implementations. The bigger problem is that the GPU doesn't seem quite cut out to driving the high resolution display. UI frame rates are typically smooth but I definitely noticed some dropped frames. The device is by no means unusable, I'm just spoiled by how good everything is at the high end of mobile that even mild deviations are noticeable.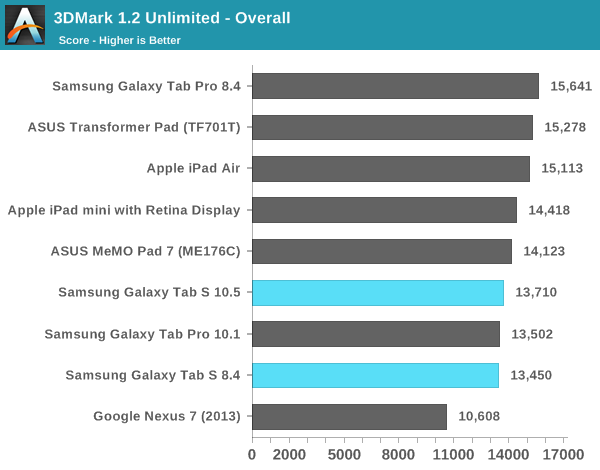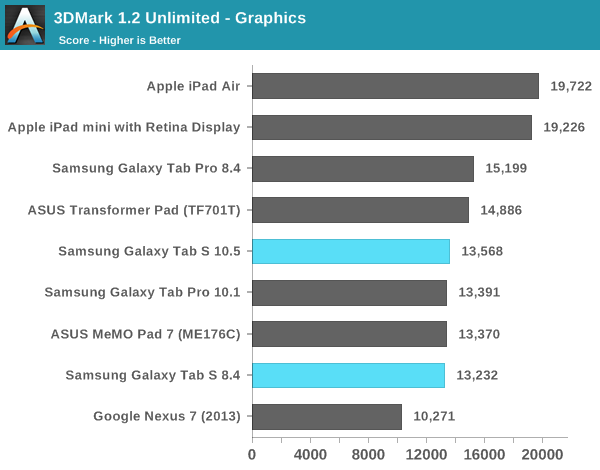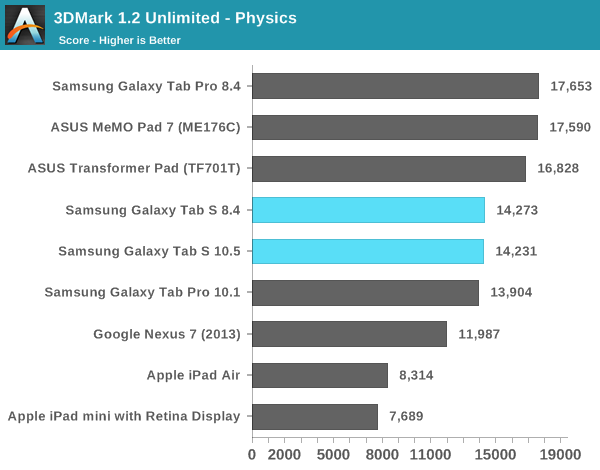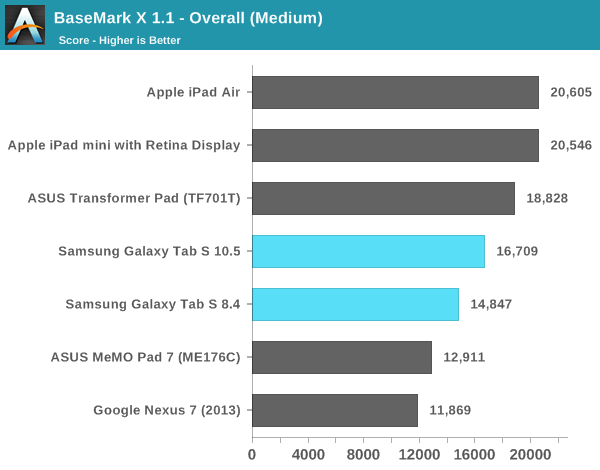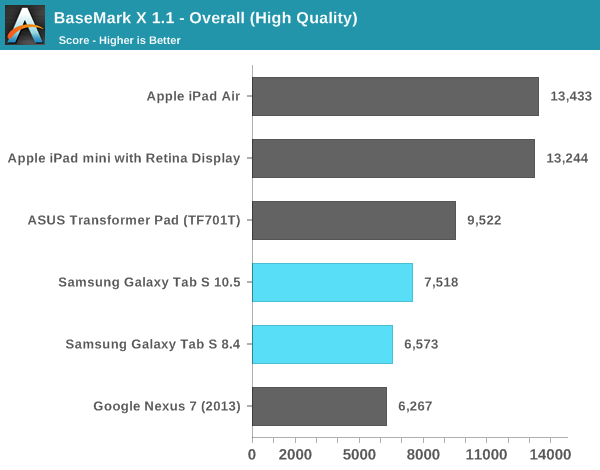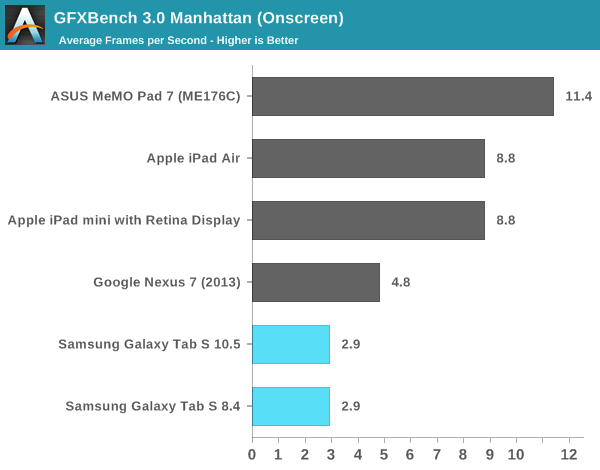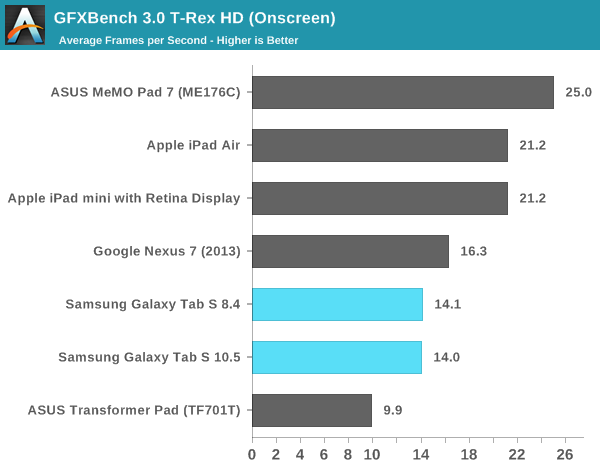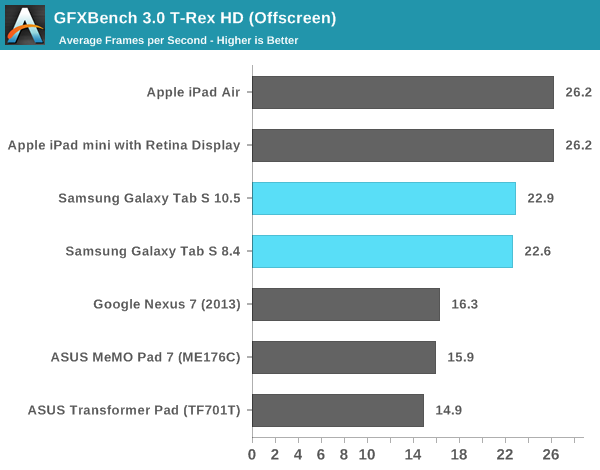 Internal NAND Storage Performance
Storage performance is pretty solid. Both read and write performance are good given what we're seeing from most players today. I'd always like more but there's not a ton to complain about here.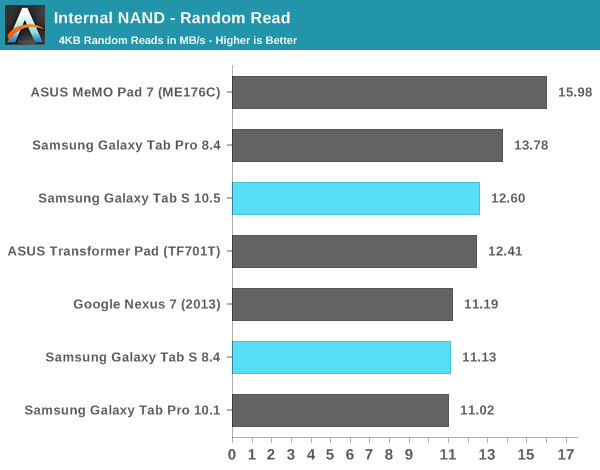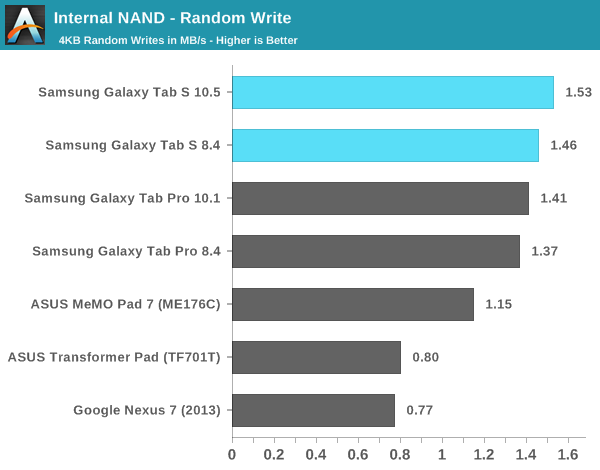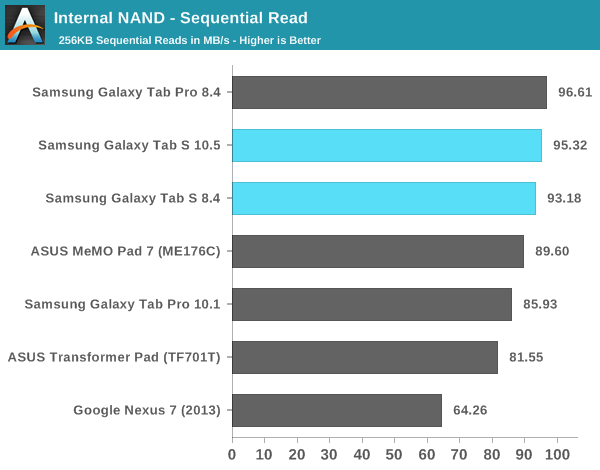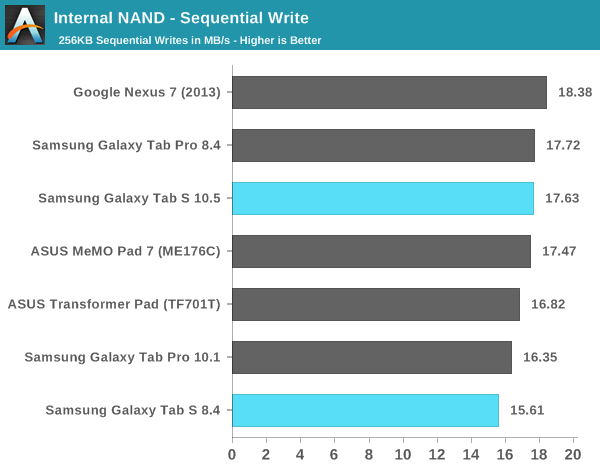 WiFi
Both Galaxy Tab S devices support 2-stream 802.11ac and can negotiate up to an 866Mbps link speed with a similarly capable router. Peak performance in practice is pretty shy of what we saw with the Galaxy S5 however. While the GS5 was capable of around 430Mbps under best conditions, the Tab S averages around 240Mbps. Compared to the immediate competition it's not bad, but against everything else we've seen it's less impressive.
Camera
Samsung only gave us a few days with the review samples so I didn't spend a ton of time focusing on camera performance. The rear facing camera is a 8MP design with F2.4 lens. The front facing camera shoots at 1080p and also has an F2.4 lens. In general the Tab S seems to be a decent shooter in well lit conditions. Low light performance isn't the worst I've seen but it's not a strong point for sure. Both tablets appear to use the same rear and front camera (Samsung S5K6B2) modules.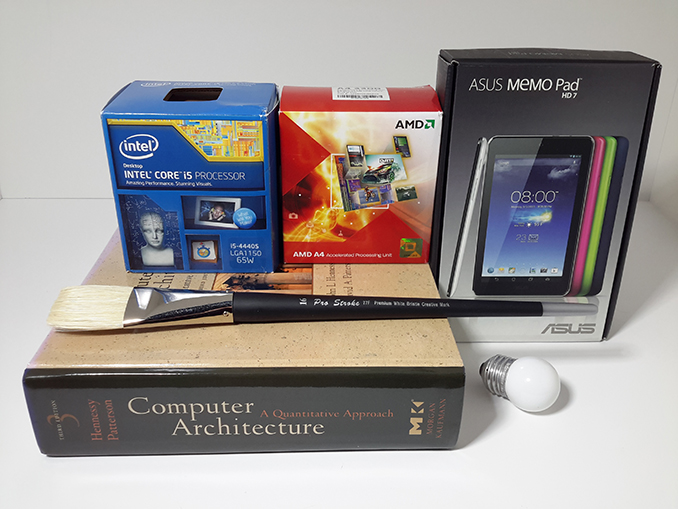 Samsung Galaxy Tab S 8.4 Rear Camera Sample
Final Words
The Galaxy Tab S is easily the most compelling tablet family Samsung has ever released. The devices are incredibly thin, very light and boast displays that can be easily configured to be among the most accurate in the industry. In the Android tablet space it's often a stretch charging $399 or $499, even for a flagship, given how good the Nexus line ends up being. With the Tab S, I think Samsung has something that's worthy of a price premium over the more cost effective Android tablets.
The Galaxy Tab S, regardless of size, is easy to hold and has a screen that's great to look at. These are two of the most important things to get right when building a tablet and the Tab S delivers on both.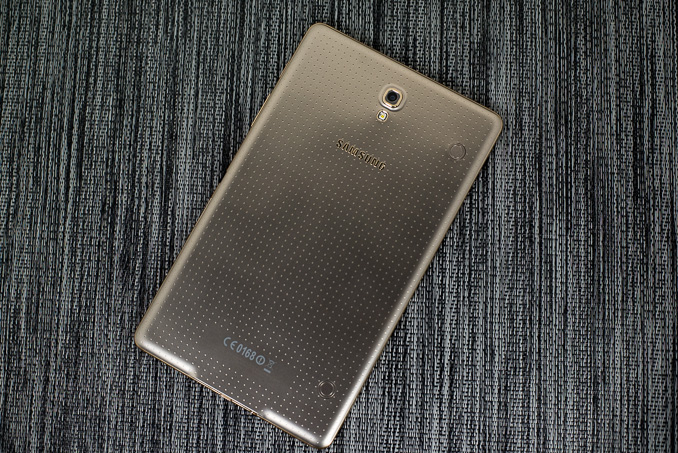 The features around the edges are nice additions. The integrated fingerprint scanner works better on the tablet than it does on the phone, and is a decent time saver if you've got a long passcode. Having 2-stream 802.11ac support is nice as well, although the implementation isn't as good as it is on the Galaxy S5. If you do have a Galaxy S5, having the ability to answer calls directly from your tablet is a neat feature.
The devices aren't perfect however. The Exynos 5420 SoC in both tablets is no longer class leading. CPU performance is reasonable but the GPU does seem to have issues keeping up with the high resolution display. If anything, Qualcomm's Snapdragon 805 would probably have been a better fit for the tablets across the board. I suspect Exynos 5420 won out due to pricing, but as a result we end up with a tablet that has the dimensions and display of a flagship and an SoC that is simply good enough.
Battery life is either going to be amazing or below par depending on your usage model. If you spend a lot of time looking at web pages, you'll find the high resolution AMOLED display to be a power liability. If however you mainly use your tablet to watch TV and movies, there's literally no better option on the market today when it comes to battery life. Even the tiny 8.4-inch Galaxy Tab S managed to best all of the other tablets we've tested in video playback battery life, delivering over 15 hours on a single charge. Start browsing the web however and you're looking at roughly half of that. It's an interesting tradeoff for sure.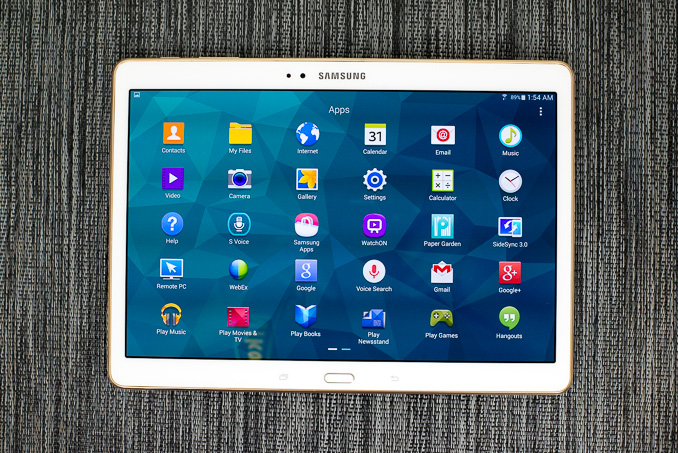 Overall the Galaxy Tab S feels like a solid reboot for Samsung's tablet ambitions. The trick from here on out will be to continue to iterate the design without losing focus. A successor with a better SoC might be a good start. Perhaps Snapdragon 808/810 might be a good option next year, or an 805 based solution by the end of this year depending on how aggressive of a schedule Samsung sticks to for tablet releases going forward.