Original Link: http://www.anandtech.com/show/8192/qnap-tsx51-nas-series-intel-quick-sync-gets-its-killer-app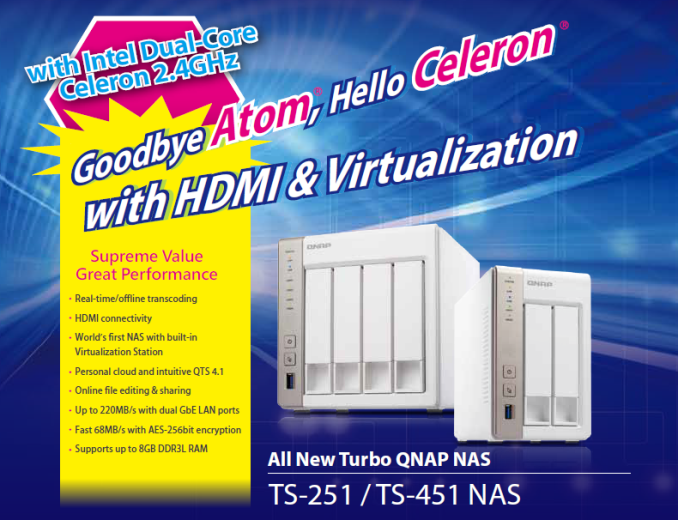 Introduction
At Computex 2014, we visited QNAP and came away with a lot of information (some of which we had already seen at CES). After Computex, QNAP got in touch with me to better explain the various features of the newly introduced TS-x51 series (which was not at CES). And, boy, was I floored?! Usually, you don't see me getting very excited over product announcements. They usually get a small write-up with analysis in our pipeline section. However, I believe that QNAP's TS-x51 family has the capability to revolutionize the NAS market for home users and media enthusiasts, particularly in the way it utilizes Intel Quick Sync technology. It also gives us an opportunity to understand the state of the market and where it is headed.
The consumer / SOHO / SMB NAS market (which, in our definition, is comprised of units costing less than $5K) has two major platform vendors. In the cost-sensitive low power / performance segment, we have Marvell, with its ARM-based SoCs. Units requiring higher processing power (where cost is not a primary factor) have typically utilized Intel's x86 platforms. Over the last year or so, the delineation has been blurring quite a bit. Marvell's ARMADA 370 is no slouch when it comes to CPU performance, and it integrates a healthy number of PCIe and SATA lanes. On the other hand, Intel realized that its Bonnell-based D525 and D27xx-based solutions for the NAS market (which required an additional PCH) were not particularly power or cost efficient. While announcing its Silvermont architecture last year, Intel mentioned that the Bonnell follow-up would be part of multiple SoCs for microservers (Avoton) as well as other infrastructure equipment (Rangeley). It was widely expected that NAS vendors would move to Silvermont soon for their x86-based units. We were expecting some announcements at CES, but there was really nothing new.
QNAP's TS-x51 series has been introduced into the market just as it is on the verge of a major change. The details of the various members of the TS-x51 series are provided below. The Celeron CPU mentioned in the first row happens to be the J1800.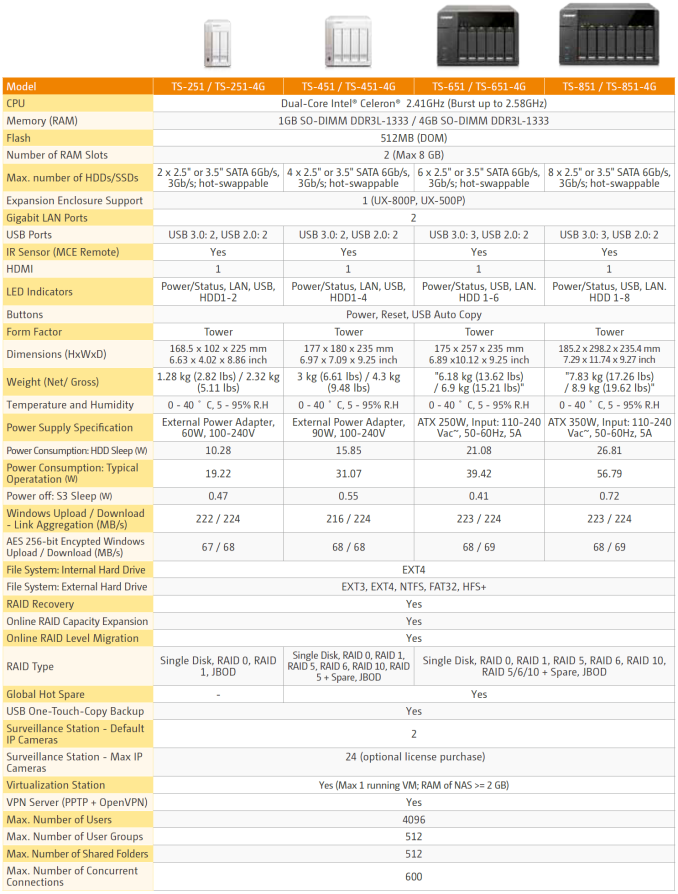 Before analyzing the product line and its features, let us take a short detour to understand Intel's play in this market.
Intel Storage Platforms for the NAS Market
The higher end segment of the SOHO / SMB NAS market uses Intel's Core-series and Xeon CPUs to deliver the required performance while supporting a large number of drive bays (typically more than 8, in a rackmount form-factor). Those are not the subject of discussion in this article. Over the last four years or so, Intel's play in the other tiers has been mainly with its Atom CPU lineup. A little bit of history gives us some perspective.
History
In 2010, Intel launched the first Atom-based storage platform (codenamed 'Bandon'), combining a D410 or D510 processor with the 82801R I/O controller (belonging to the ICH9 family). It was capable of supporting up to 6 drive bays, and we even reviewed LaCie's offering (5big Storage Server) using this platform. The Atom D410 / D510 were both based on the Bonnell microarchitecture (coming under the Pineview codename). Later in the year, Intel also pushed out updated Atom CPUs (D425 / D525) with slightly higher base frequencies for use with the storage platform. The QNAP TS-659 Pro II was one of the Atom D525-sporting NAS units that we reviewed.
Pineview (45 nm) was followed by Cedarview (32 nm) in late 2011. It was still based on the Bonnell microarchitecture, but offered higher clock speeds and better performance per watt. Almost a year later, the official storage platform (codenamed 'Milstead') announcement with the Atom D2550 (followed by the D2700) and the 82801JB I/O controller (belonging to the ICH10 family) was made. The focus was on the improved graphics capabilities and HDMI output, which enabled interesting new use-cases related to media playback and surveillance video. LaCie's 5big NAS Pro and the Synology DS1812+ were some of the NAS units that we reviewed in this family.
Between the rollout of products based on the Bandon and Milstead platforms, the NAS market for home consumers and power users started experiencing rapid growth. This market demanded a different set of features compared to SMB requirements. NAS vendors had to provide extensive multimedia support (not in terms of playback on a display, but the ability to manage and stream content). Being a cost-sensitive market, vendors were loath to use a two-chip solution (main CPU + I/O controller hub). Towards serving this market, Intel decided to re-purpose their Berryville CE processor (a 32nm SoC with two Bonnell-based Atom cores as the host CPU) which originally targeted the STBs. For storage solutions, these CE 53xx chips were relaunched in their Evansport avatar and pitched as a media server platform. The CE 53xx SoCs also happened to have a H.264 encoder in addition to a multi-format decoder (giving it the capability to act as a transcoder). We have been pretty bullish on Evansport, having reviewed devices from all of Intel's announced partners (Asustor, Synology and Thecus).
Silvermont into the Picture
In moving from 32nm to 22nm, Intel completely revamped the microarchitecture for their Atom cores. Bonnell was replaced by Silvermont, bringing out of order execution and other improvements into the picture. With so many code names associated with Silvermont-based products, we thought it would be best to present a bulleted list indicating the markets which Intel hopes to address with each of them.
Bay Trail

Bay Trail-T: Atom Z36xx and Z37xx series for tablets
Bay Trail-M: Pentium and Celeron branding (N-series) for notebooks and AIOs
Bay Trail-D: Penitum and Celeron branding (J-series) for desktops
Bay Trail-I: Atom E38xx for the embedded market

Merrifield

Atom Z34xx: Low-end to mid-range smartphones

Moorefield

Atom Z35xx: Premium smartphones

Avoton

Atom C2xx0: Microservers and cloud storage

Rangeley

Atom C2xx8: Network and communication infrastructure
From our analysis of the various products, we believe the highlighted ones make sense for the NAS market. While the suitability of the Avoton and Rangeley for the NAS market is without question (they have a large number of SATA ports and PCIe lanes integrated into the SoC), the Bay Trail-D parts are quite interesting.
The various possible components in a Bay Trail SoC are given in the diagram below.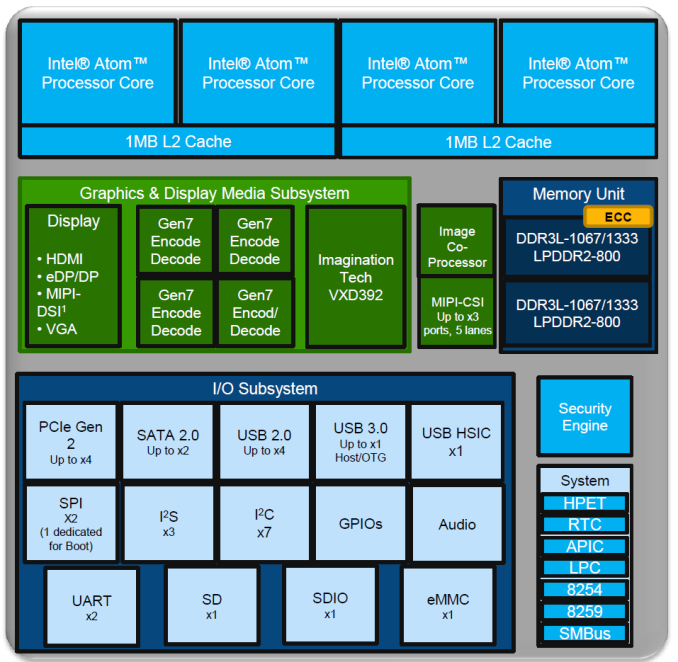 Depending on the target market (as specified in the bulleted list above), some of the components in the above block diagram are cut out. For example, Bay Trail-T does away with the SATA and PCIe lanes. Bay Trail-D is more interesting to us in this article, as the QNAP TS-x51's Celeron J1800 belongs to that family.
QNAP Goes Bay Trail
Intel's Bay Trail-D takes the original Bay Trail configuration pretty much as-is. One of Intel's marketing slides for Bay Trail-D (and -M) is reproduced below for aiding our analysis.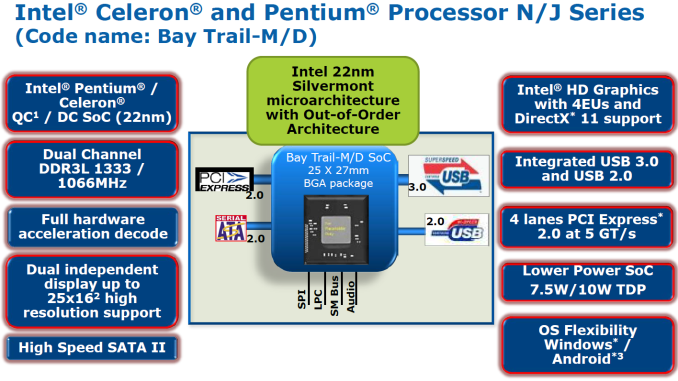 Despite not being specifically mentioned, we know there are two SATA II (3 Gbps) ports in Bay Trail-D from the previous section. Combined with the four PCIe 2.0 lanes, the configuration is pretty much similar to the Atom D2700 along with a NM10 chipset in terms of I/O. The advantage is that all the high-speed I/Os come direct from the SoC and are not bottlenecked by DMI lanes, and the PCIe revision is 2.0 instead of 1.0. In addition, we also have a USB 3.0 port.
The Celeron J1800 used in the TS-x51 is a 2C/2T solution with a base frequency of 2.41 GHz and a burst speed of 2.58 GHz. With a 10W TDP, it is amenable to passive cooling with the appropriate chassis, but, in a NAS like the x51, it is a moot point since the drives require cooling anyway. The TS-x51 series comes in 2,4,6 and 8-bay varieties and all of them come with two GbE ports. While the 2 and 4-bay varieties come with 2x USB 3.0 ports, the 6 and 8-bay ones come with 3x USB 3.0 ports. Based on the above information, we can infer the following distribution of the high-speed interfaces amongst the various I/Os.
QNAP TS-x51 Series High-Speed I/O Usage [ UPDATED ]
SoC I/O
TS-251
TS-451
TS-651
TS-851
PCIe 2.0 x1
GbE Port 1
GbE Port 1
GbE Port 1
GbE Port 1
PCIe 2.0 x1
GbE Port 2
GbE Port 2
GbE Port 2
GbE Port 2
USB 3.0 x1
2x USB 3.0 (Hub)
2x USB 3.0 (Hub)
3x USB 3.0 (Hub)
3x USB 3.0 (Hub)
PCIe 2.0 x2
Free for Drive Bays
SATA II x2
While the 2-bay unit is capable of having probably all I/Os accessible through the SoC fabric at full speeds, the 4-,6- and 8-bay varieties need some trade-offs. [Update: QNAP confirmed that they are using a USB 3.0 hub chip as one of the commenters pointed out]. In the above table, we see that two PCIe 2.0 lanes and two SATA II (3 Gbps) lanes are available for connecting all the drives in the bays to the SoC. In the absence of a I/O Controller Hub (that made the previous generations of Atom-based NAS units simple to design), each vendor is now free to choose between a number of different available options.
An issue with the Celeron J1800 (and Bay Trail-D in general) is that the SATA ports don't support port multipliers. In addition, there is only one SATA controller behind the two SATA ports. This places undue stress on the two free PCIe link to service a large number of bays. Our educated guess is that QNAP uses a number of PCIe to SATA bridges (such as the Marvell 88SE9130 and the ASMedia ASM1061 for PCIe x1 to 2x SATA and Marvell 88SE9215 for PCIe x1 to 4x SATA). This still doesn't explain how the TS-851 is configured (I am yet to see a PCIe x1 to 6x SATA bridge chip). It will be interesting to see the break-up, but, at this moment, QNAP has not got back with answers to our clarification requests. The addition of two USB 3.0 ports to the 6- and 8-bay models actually takes away a PCIe x1 lane that could have otherwise been used for the drive bays. I am not sure how many users need more than one USB 3.0 slot in a NAS.
Update: QNAP came forward with clarifications on the I/O distribution:
TS-251: 1x ASM1061 (i.e, two SATA ports are served by one PCIe link)
TS-451: 2x ASM1061 (four SATA ports from two PCIe links)
TS-651: 2x 88SE9215 (three SATA ports per PCIe link)
TS-851: 2x 88SE9215 (four SATA ports per PCIe link)
Coming back to the Celeron J1800 SoC, the two features most relevant to us in this piece are the availability of Quick Sync (something not claimed in the initial Bay Trail launch) and VT-x (support for virtualization). We will be covering this in the next two sections. Prior to that, a quick note on the J1800 which has both 2013 B3 as well as 2014 C0 steppings. Intel started playing up the Quick Sync capabilities of the Bay Trail-D / Bay Trail-M parts for products which are part of the push for the 'Back-to-School 2014' season.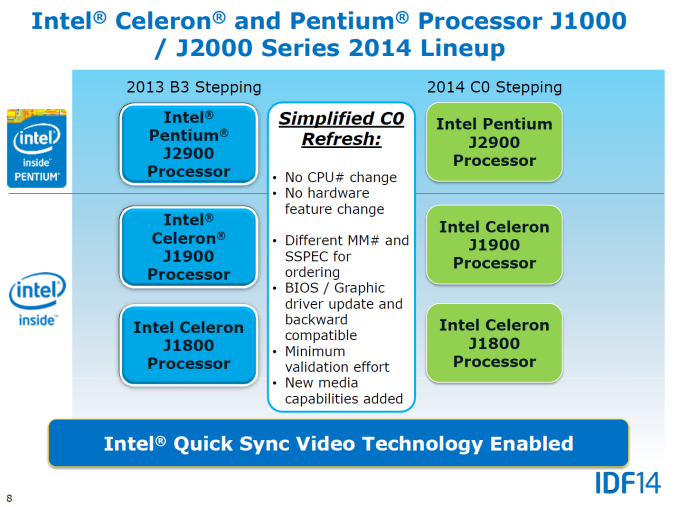 It appears from the above slide that only the 2014 C0 steppings of the J1800 have QuickSync enabled (we are still waiting for confirmation from Intel on this). Since the hardware accelerated transcoding features of the TS-x51 are dependent on Quick Sync, it is obvious that the TS-x51 must be using the C0 stepping of the Celeron J1800.
Hardware Accelerated Transcoding for Media Applications
One of the often-requested features from NAS units that act as media servers is the ability to transcode existing videos to better fit the requirements of the playback device. The popularity of Plex Media Server (which uses ffmpeg for transcoding) amongst consumers is an indication of the market demand for this feature. SoC companies as well as NAS vendors have been trying to address this problem in multiple ways.
Back at CES 2012, I saw Applied Micro's PhiPhi transcoding NAS platform, where the NAS SoC talked to a dedicated Zenverge transcoding chip to achieve the requirements. Unfortunately, I believe the reference design was never taken up by any NAS vendor. In the meanwhile, they continued to take efforts to include the Plex Media Server as a package installable on the NAS.
Evansport Makes the First Move
Intel entered into the picture with their Evansport NAS platform in March 2012. Based on their Berryville STB SoC, it also happened to have a H.264 encoder in addition to a multi-format decoder (giving it the capability to act as a transcoder). We have been pretty bullish on Evansport, having reviewed devices from all of Intel's announced partners (Asustor, Synology and Thecus). While Asustor and Thecus focused on the decoder aspects only, Synology was the only one to utilize the unique hardware transcoding feature.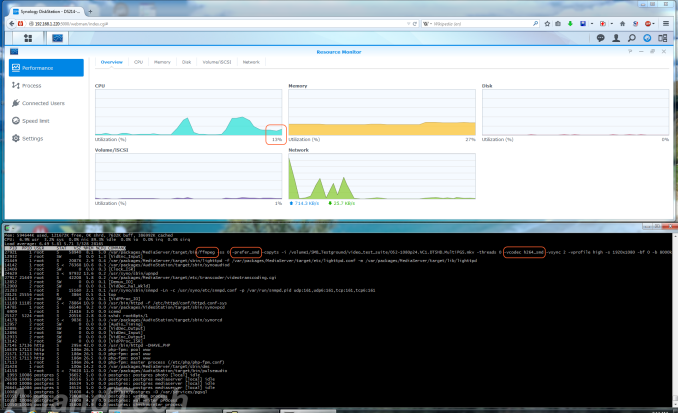 Synology's Custom ffmpeg Build for Transcoding using Evansport
In order to utilize the transcoder block, Synology had to prepare a custom build of ffmpeg. Given that Intel hasn't announced any follow-ups to either Berryville or Evansport, it is not clear what the future of this series would be. In this situation, it was no surprise that the three partners had nothing new to announce in this lineup at either CES or Computex.
Bay Trail-D and Quick Sync Take Over
QNAP was one of the major NAS vendors who opted out of using Evansport. With the introduction of the TS-x51 series, I can clearly see why they decided to pass it up. One of the major reasons for Evansport's existence in addition to the regular Atom-based NAS units was the fact that a SoC configuration would reduce BOM cost for the vendors. With the Silvermont-based Atoms (which are SoCs), this advantage goes away. While Avoton and Rangeley are great for high-end SOHO / SMB NAS units as well as enterprise cold storage applications, certain consumer-focused aspects are absent. The most important amongst them are the multimedia focused features that Evansport provided. Obviously, cost is also a factor.
In our review of the DS214play, we had talked about how it would be better if Intel actually movied QuickSync over to the Berryville / Evansport follow-up. Instead of waiting for Intel to officially launch a storage platform (like they did for previous generation Atoms), QNAP has just gone forward and built a NAS family with the Bay Trail-D platform. At this point, QNAP's decision to skip Evansport in favour of devoting attention to Bay Trail-D seems to be making a lot of sense.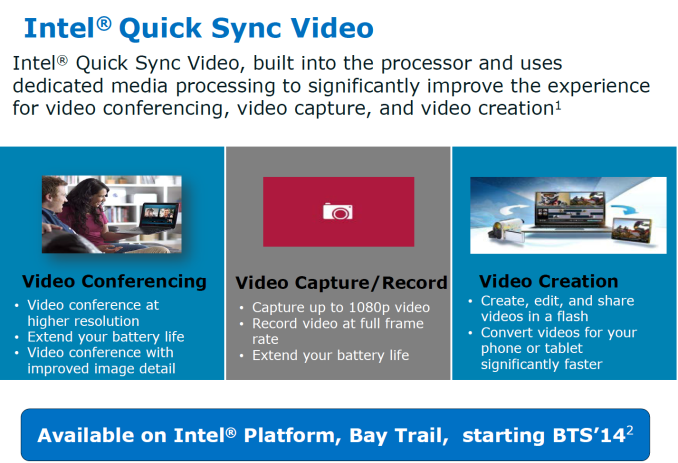 The Celeron J1800 is one of the first Bay Trail parts to come with Quick Sync, Intel's hardware H.264 encoder. QNAP's QTS OS is a Linux variant, and QNAP has decided to utilize the publicly available VA-APIs to access this Quick Sync engine.
Quick Sync Finds its Ideal Application
When Intel introduced its Quick Sync engine back with Sandy Bridge in 2010, it was pitched as a solution for users needing to transcode videos in a fast manner (particularly for mobile devices which couldn't handle the bit-rate or file sizes of the original stream). Support was restricted to paid software (such as CyberLink MediaEspresso) for a long time. It was only last year that HandBrake, the popular open source transcoding application, got Quick Sync support. However, purists and videophiles often were content with spending extra CPU time to get better quality encodes using x264's advanced options (and two-pass feature).
Quick Sync did make other GPU vendors sit up and put in video encoders on their GPUs too. NVIDIA came out with NVENC and AMD put in VCE. While NVIDIA seemed to have found its niche with recording game play in real-time, VCE is yet to gain as much traction. In addition to HandBrake support, integration into open source screen recorders (such as CamStudio) would help drive up adoption of the Quick Sync encoder in the PC space. Currently, even though Quick Sync was originally meant to be used as a transcoder, I wouldn't be surprised if Eric Gur's Quick Sync decoder (which is part of LAV Filters) was found to be used by more consumers. In any case, most of the interesting open source applications utilizing the Quick Sync hardware features have been restricted to Windows.
On Linux, Intel contributes extensively to the VA-API open source library / API specifications for video processing. Despite not being specifically mentioned, the documentation (table reproduced below) suggests that VA-API's H.264 encode capabilities are tied to the presence of the Quick Sync engine in the processor.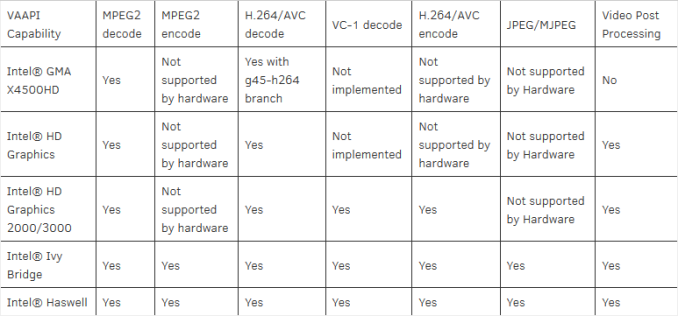 Wowza is one of the commercial applications which takes advantage of the Quick Sync engine on Linux. Downloading the driver package makes it clear that VA-API is being utilized. In the TS-x51 series, QNAP takes advantage of Quick Sync in two ways. The user can pre-transcode video files into different resolutions (where the use-case is similar to Handbrake), but the killer method is real-time transcoding for streaming media (using its mobile app or to a DLNA renderer).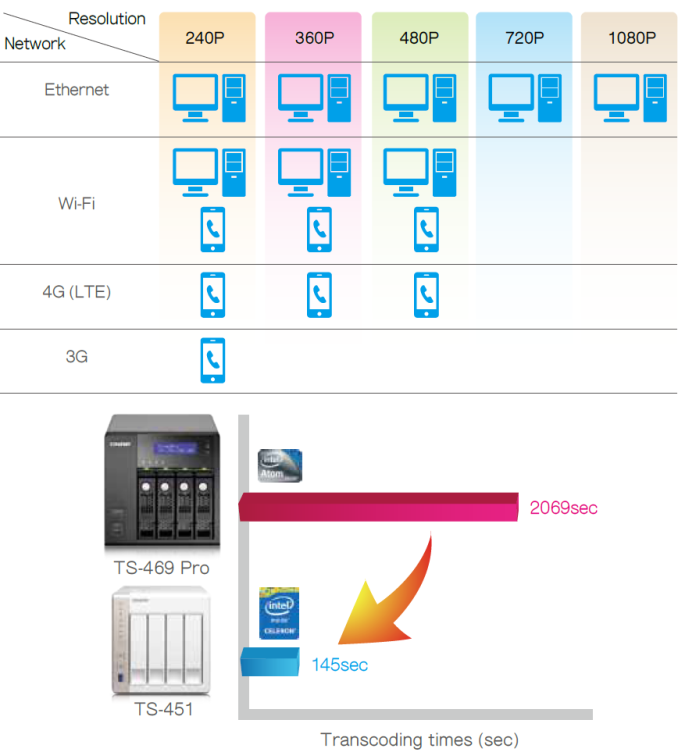 Consumers have long been clamouring for Plex to take advantage of the Quick Sync engine, but the developers have been quite hesitant - deciding to focus on being on as many platforms as possible, rather than optimizing for platforms on which Intel Quick Sync is available. The rapid rise in user-generated media and the evolution of the mobile lifestyle has brought to fore the necessity for low power real-time media transcoding. Quick Sync (particularly in low power SoCs such as the Bay Trail-D / -M) perfectly fits the bill and QNAP's efforts to harness this feature deserves recognition.
Virtualization for Home Users
QNAP heavily played up their unique Virtualization Station package when I talked to them at CES earlier this year. At that time, they were focusing on the TVS-x70. Quite frankly, I thought it would be a niche feature targeting very high-end SMB and enterprise customers. Users in that segment have traditionally preferred to separate their virtualization and network storage platforms, and are resistant to change. At that time, my impression was that It might take a couple of generations for Virtualization Station to catch on in that market segment.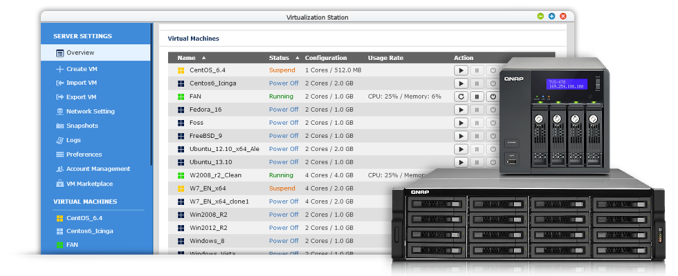 Now that QNAP is playing up Virtualization Station as a trump card for the TS-x51 series (albeit with the restriction that only 1 VM can be run, and the NAS has to have more than 2GB of RAM), I began to think about this more. In their marketing spiel, QNAP portrays using the VM feature for fulfilling functionality available only on certain OSes. The example provided was that of a printer with drivers available only for Windows.
Power users running Windows on their HTPCs often use the unit for other tasks too. In fact, the popularity of the 'multiple concurrent users on a single PC' article on Missing Remote stands testimony to this fact. Others might have a physical PC at home used in a 'headless' manner, i.e, no display attached and just accessed through the 'Remote Desktop' feature. Typical use cases include home automation servers or just running download tasks (say, JDownloader or torrents or anything similar). In the case that users want to run those tasks on a NAS (and avoid the PC altogether), they have usually been forced to rely on 'apps' from the NAS vendor or 'third-party apps' for fulfilling the required functionality.
The availability of a NAS to act as a VM host enables users to run their OS of choice, say Windows. Most required functionality can be implemented / is already available on Windows. The apps can then be run on the VM (and in addition, they have direct local access to the storage too, without going through the network). These type of use-cases make Virtualization Station a very nifty feature.
QNAP's implementation does leave scope for improvements, though. For example, running a VM takes out one of the network ports for NAS usage in the TS-x51 series. While allowing the host OS to share the network port with the guest OS might preclude link aggregation, it could be useful in other scenarios where the NAS is shared between two different networks. Obviously, we also need to see how much performance gets affected while running VMs. All said, QNAP has to be given credit for being the first NAS vendor (to our knowledge) to release a OS with VM host capabilities.
Concluding Remarks
This piece originally started out as a small pipeline article. However, digging deeper into the TS-x51 announcement brought to fore interesting information about Silvermont-based platforms in general (and Bay Trail, in particular). In particular, the appearance of Quick Sync as an update to the Bay Trail-D/-M platforms has opened up a a multitude of use-cases. QNAP has grabbed this opportunity to deliver compelling features in the TS-x51 series. Before proceeding further, I wish to comment upon two different aspects.
Value Proposition of the DIY NAS
In the comments section of every 'off-the-shelf' NAS review, we usually see multiple readers indicating how it would be cheaper to build a DIY NAS with a better CPU and/or more number of bays for the same cost. While I would have agreed with them wholeheartedly 2 or 3 years back, the market dynamics have changed quite a bit now, particularly in the consumer / SOHO NAS market. These units are no longer PCs with a Linux distribution, but more of an appliance.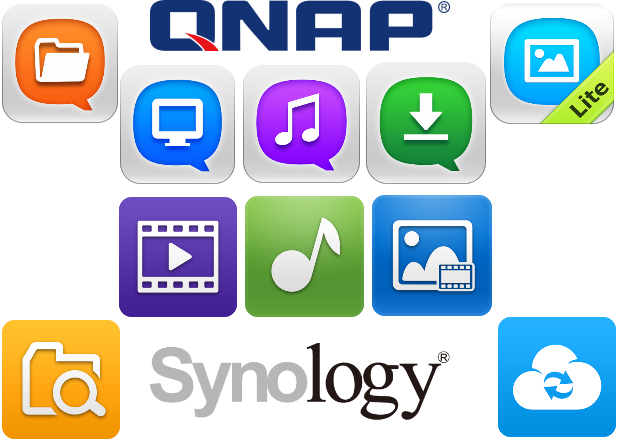 The increase in popularity of mobile devices for both content consumption and creation (capturing photos and videos using a smartphone camera, say) has resulted in a situation where the NAS OS has to be backed up by a complete suite of mobile apps. These apps have to provide a seamless experience while streaming media from the NAS, as well as backing up data, irrespective of the user's location. This also requires operation of a relay server and/or operation of a DDNS service (with appropriate port forwarding). As far as I can see, a one-stop solution to these problems for DIY NAS units is pretty much non-existent. Obviously, these factors are more important in NAS units targeting home consumers and the SOHO market. Even home consumers who are computer-savvy (the typical AnandTech readership) don't want to spend a lot of time building a NAS, configuring it with the appropriate OS, and be on the hook for regular maintenance. In this situation, the value proposition of a DIY NAS for the consumer / SOHO market segment is fading rapidly.
Consumer NAS Market Marches Ahead
In the concluding remarks of the DS214play review, I had praised Synology for being the first NAS vendor to try to bring hardware-accelerated transcoding for media serving into the market. QNAP has taken on the baton now, and brought the more widely tested and supported Quick Sync into the picture. In a similar manner, QNAP deserves praise for being the first to support hosting of virtual machines on the NAS. These types of interesting applications and innovative use-cases are helping the consumer NAS market march ahead.
The QNAP TS-x51 units also sport HDMI ports and XBMC support. In terms of hardware, it is possible to connect either 5- or 8-bay expansion enclosures using one of the USB 3.0 ports. An IR remote is also available as an optional purchase (the TS-x51 units all have an IR sensor for control of media playback). There are a host of other features. Readers interested in getting a more detailed overview are advised to check out the TS-x51 Series Brochure linked on QNAP's website.
I often get asked for NAS recommendations, and irrespective of the use-case, I have always recommended Synology units over the past few years. The reliability and mobile app ecosystem of Synology's DSM has simply remained unparalleled till now. If QNAP manages to deliver on the paper specifications of the TS-x51 (particularly with respect to the video transcoding and virtualization features) and back it up with a good suite of feature-rich mobile apps, Synology might end up with some real competition to worry about in the home consumer / power user / SOHO market.