Original Link: http://www.anandtech.com/show/8153/gskill-overclocking-world-cup-at-computex-2014-10000-for-1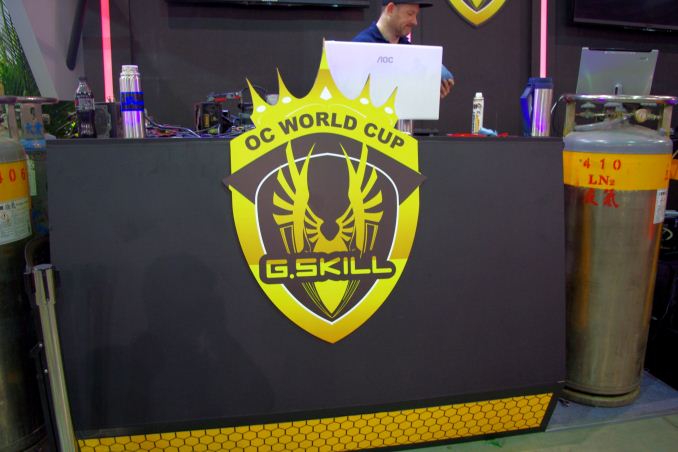 Extreme overclocking using LN2 (Liquid Nitrogen) to get the best scores possible has had a recent infusion of interest from PC component vendors. In the past there were some minor sponsored events, or there would be a tie-in with a major product release. However that changed fairly significantly last year with over 50 of the top overclockers descending on Taipei for Computex 2013 for a variety of vendor sponsored events. 2014 just kicked it up a notch, and G.Skill was at the forefront.
For the past two years, G.Skill has run their World Record Stage, inviting the employed or sponsored motherboard manufacturer overclockers to break records using G.Skill's memory live at Computex. For 2014, G.Skill added in another element: the First Annual Overclocking World Cup.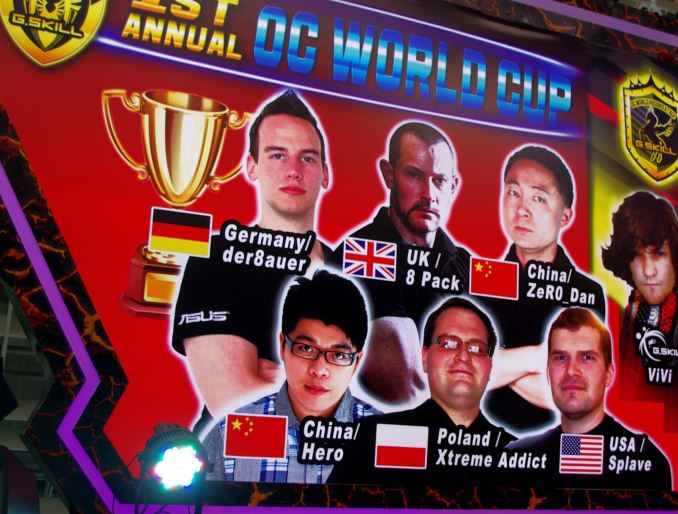 Through a pre-qualifier on overclocking record website HWBot, six of the top memory overclockers were invited to compete in Taipei for a $10,000 prize. For those in the extreme overclocking community, the names above will be fairly familiar, particularly 8 Pack as the current world #1, and Splave as an ASRock sponsored memory specialist. All six overclockers that qualified are also guaranteed G.Skill DDR4 sponsorship when it comes to market.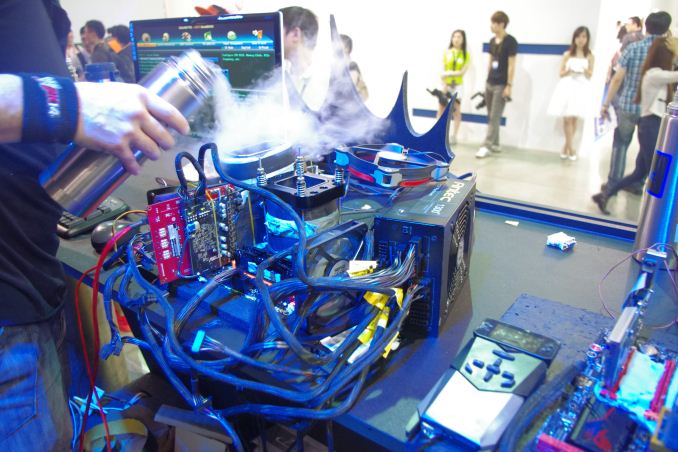 Each of the six finalists were given stage time from Tuesday to Thursday in order to qualify for the 1 vs 1 final. Competitors had to bring their own core hardware (CPU, motherboard, GPU, specialist G.Skill DRAM) while G.Skill provided the essentials and the liquid nitrogen. It might be odd that the competitors had to bring their own core hardware, but these are individuals who will test 50+ CPUs to find the best one and get the best score possible.
Benchmarks chosen for the on-stage live qualifier were SuperPi 32M at 5 GHz, Aquamark3, Maximum Memory Frequency and Catzilla 720P with a GTX750 Ti. These are all well-known benchmarks in the extreme overclocking community, and from these results Splave and 8 Pack both made it through to the final.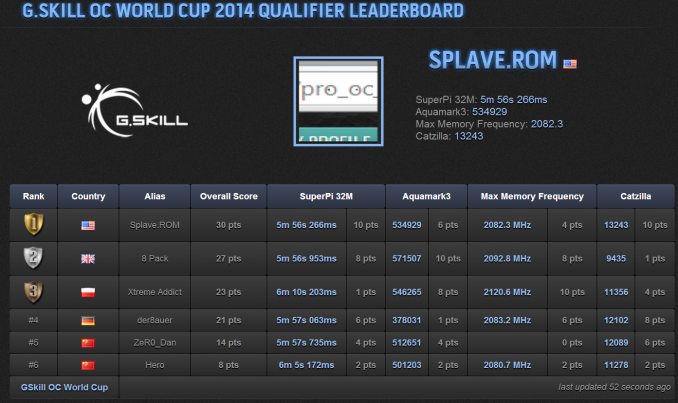 These two were then put on stage on the Friday, which is the day I happened to be visiting the G.Skill booth. As I visited in the morning, they were both still in the setting up stage: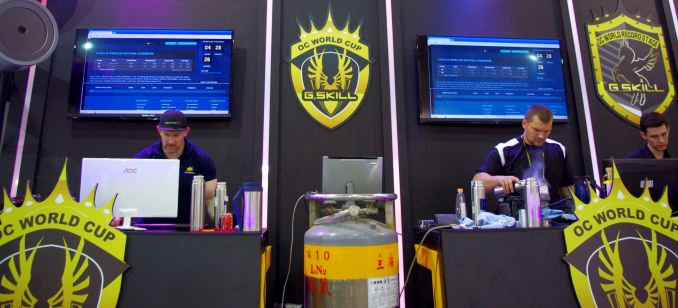 Benchmarks for the final were SuperPi 32M 5G and Maximum Memory Frequency again, but the other two benchmarks were replaced with 3DMark Fire Strike. The benchmarks were weighted in favor of the more memory oriented section of the contest.
Normally when users think extreme overclocking, it might involve liquid nitrogen on the CPU, or the CPU and GPU. Due to the push of G.Skill and others in recent years, we now develop special pots for cooling memory as well:
The colder the memory is, the more voltage can be pushed through and hopefully, the higher the frequency can be sustained.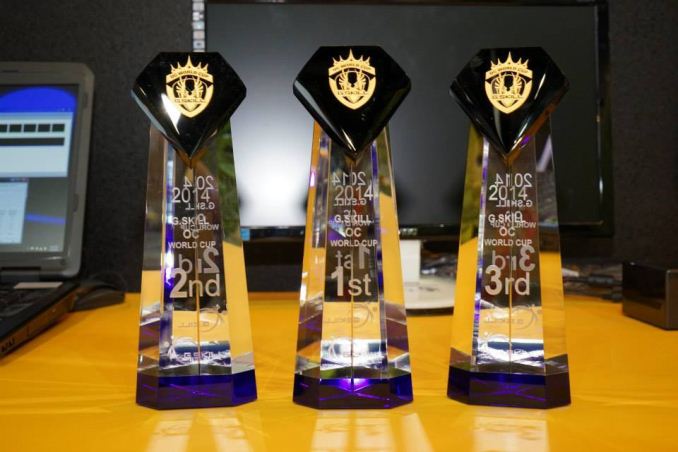 While the pre-event qualification and live qualification was a fast and furious blow-by-blow intense competition, the 1-on-1 final was a little subdued. In the first benchmark, 3DMark Firestrike, 8 Pack pushed out a strong score almost 50% more than what Splave was capable of. 8 Pack often gets his world records on GPU based benchmarks, so perhaps that was no surprise. However, the tables turned and 8 Pack's system started to behave abnormally. This left him without a score in SuperPi 32M at 5 GHz, making the contest all hinge on the Memory Clock result. In the live qualifier, 8 Pack had the better memory clock score, but was unable to match it in the final. Splave was able to surpass 8 Pack's original score and claim the title as well as the prize money.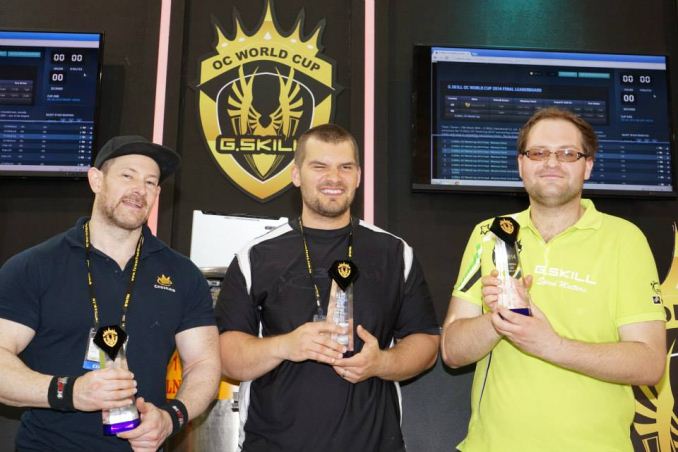 Congratulations to both competitors, as well as Xtreme Addict from Poland who came in third.
On the OC World Record Stage, the Friday happened to be the day that GIGABYTE's team of overclockers were trying to take other records. On stage were ViVi, Hiwa and Pro from G.Skill as well as Sofos, Dinos22 and HiCookie from GIGABYTE. The GIGABYTE team already had some success mid-week at the Intel overclocking event, but at the G.Skill booth there was no specific benchmark to run and a more relaxed atmosphere.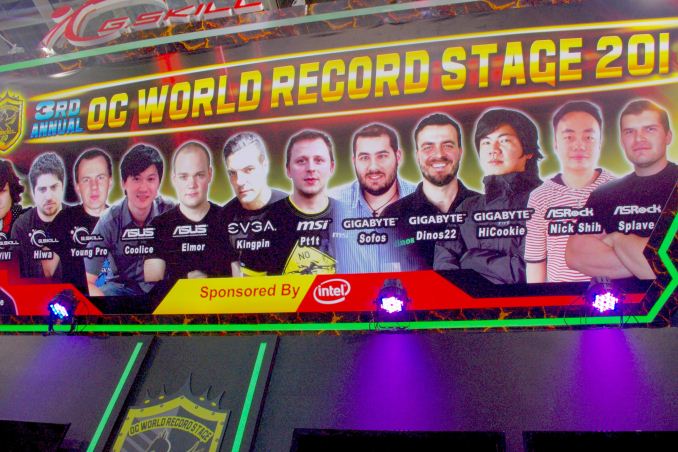 By far one of my most favorite images to come out of Computex is this one: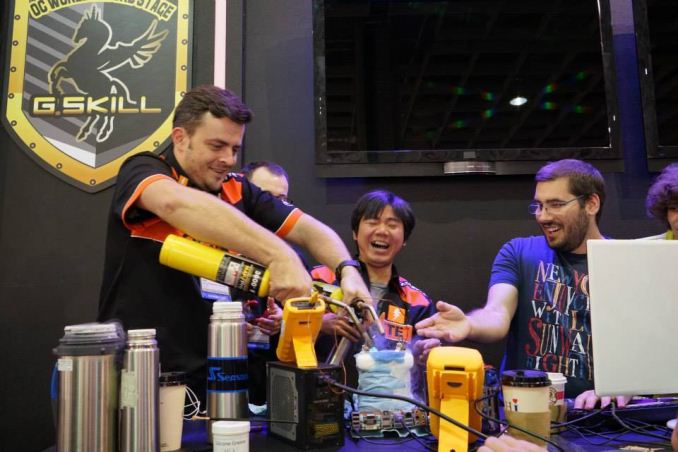 Here Dino is warming up the pot with two torches, while I have no idea what HiCookie and Sofos find funny. Being loosely associated with the extreme overclocking community myself, I know most of these people and have had social events with them in years past.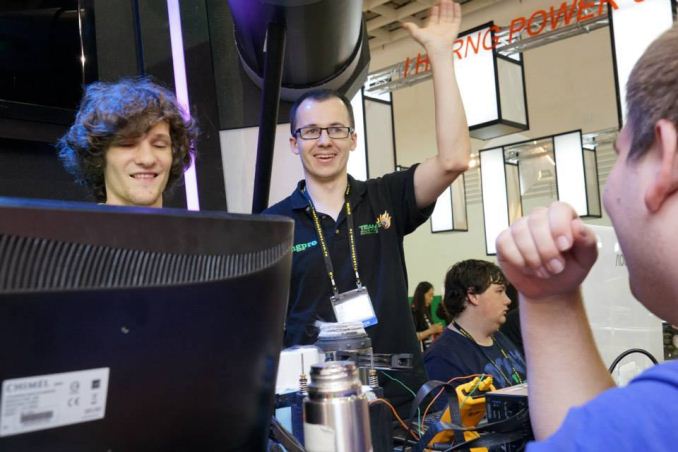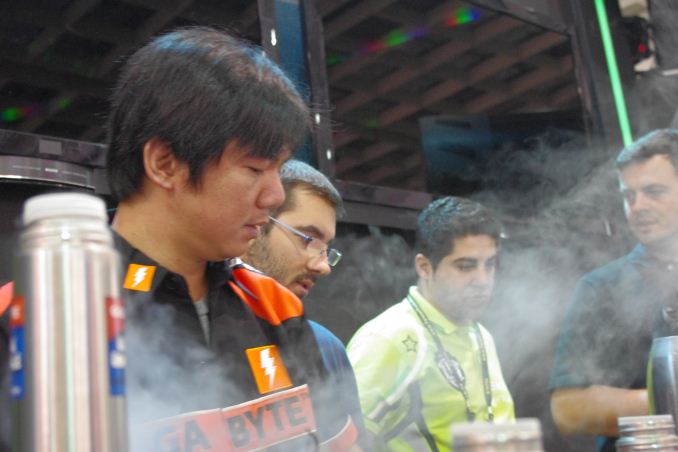 Unfortunately I could not stay for the whole day at the booth (many thanks to G.Skill for some of these post-competition images), but the last I had heard another world record had fallen by the end of the day. Here are some of my favorite images taken by G.Skill during the week: