Original Link: http://www.anandtech.com/show/8139/qualcomm-atheros-launches-fsm90xx-socs-for-lte-femtocells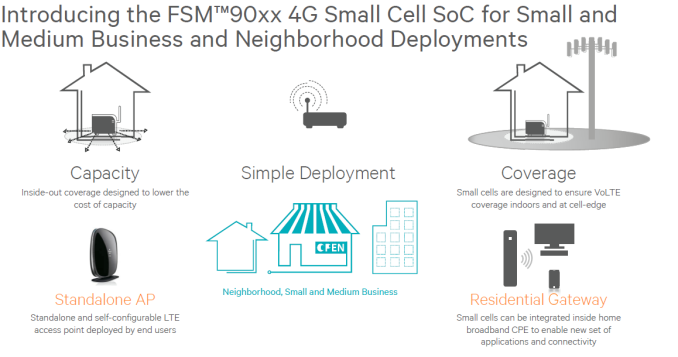 Today, Qualcomm Atheros is announcing a new line of SoCs targeted at residential deployments, along with small and medium business. The FSM90xx line is similar in purpose to the FSM99xx line of SoCs, but is designed for even higher density deployments. In short, this would be the SoC that an OEM or ODM would use to deploy a Home eNode B. This means that current 3G-only solutions such as the Sprint Airave and AT&T Microcell can be replaced with 3G/LTE combo solutions. Qualcomm also stated that this solution would support 802.11n/ac, in MU-MIMO configurations, presumably allowing WiFi router capabilities or operation without wired backhaul. This same SoC also supports up to 3GPP release 10 multi-cell HSDPA. There's no clear indication of what the maximum UE category is supported in the technical specifications for LTE, but carrier aggregation will be supported. This means that at minimum, the SoC will be able to provide category 4 LTE for devices like the Galaxy S5 and One (M8) that support carrier aggregation.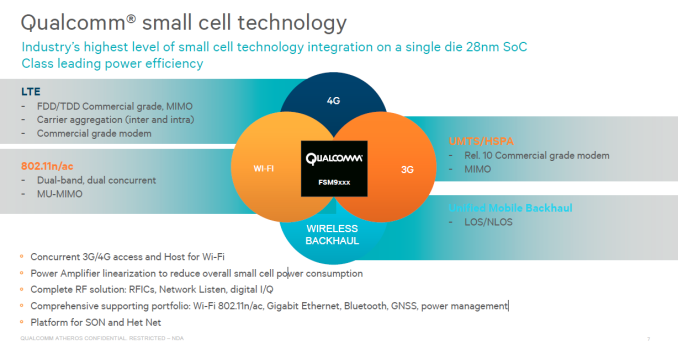 Ultimately, the greatest promise will be in mass deployment of femtocells using this SoC. Qualcomm has stated that their UltraSON software management solution would allow for dynamic power control on individual femtocells according to other femtocells within range, and also based upon the speed of the backhaul to maximize quality of service. Qualcomm hasn't given a date for when to expect devices based upon this new SoC, but it can't be too far out when the demand wireless bandwidth and coverage continues to increase.