Original Link: http://www.anandtech.com/show/810


One of the reasons that NVIDIA has been able to execute their product launches so well over these past couple of years has been because of their excellent driver development team.  As numerous companies in the past have proven, it is the drivers that can make or break a product.  Remember the original Savage3D from S3?  On paper it was a great chip but poor driver support from virtually all companies except for the Hercules lead to its premature demise.  What about its eventual successor, the Savage 2000?  The same story applies there.  The launch of the Matrox G200 was haunted by a missing OpenGL ICD; a ghost that remained as such for many months after its launch.  The bottom line is that drivers are key to the success or failure of a product, especially when dealing with 3D graphics cards.
Ever since the first set of Detonator drivers was released, NVIDIA has made it a ritual to offer performance enhancing drivers with every product release.  Because of NVIDIA's self-imposed 6-month product cycle, this translates into new drivers that offer increased performance for the majority of available cards at no cost to the end user.  The most recent example would be the release of the Detonator3 drivers back in August of 2000.  The Detonator3 drivers offered a 10 – 30% performance boost at 1024 x 768 x 32 for the GeForce SDR/DDR, GeForce2 MX and GeForce2 GTS/Ultra.  This increased performance came at no extra cost to owners of the aforementioned NVIDIA products.  The performance increase was the result of numerous tweaks and optimizations that NVIDIA had been working on prior to the release of the drivers.
In spite of the seemingly endless stream of NVIDIA driver leaks, NVIDIA was able to keep one little trick under raps.  While originally intended to be released alongside NVIDIA's fall product line, increasing pressure from their chief competitor forced NVIDIA to push the release of their Detonator 4 drivers earlier than expected.  The drivers will be released this week by NVIDIA and carry a version number of 20.xx, we tested with 20.80.  Do not ask us to send you the drivers, you will have to wait for NVIDIA's release later this week. 
Detonator 4 Improvements?
According to NVIDIA the new Detonator 4 drivers (which support all NVIDIA GPUs as well as the nForce's integrated GPU) include DirectX and OpenGL pipeline optimizations.  While we couldn't get much information about the specific optimizations included in the Detonator 4 drivers, we did find out the nature of some of the OpenGL enhancements.
The Detonator 4 drivers include a new OpenGL 1.3 ICD. Here's what NVIDIA had to say about the driver improvements:
Increased Data Bandwidth

Detonator 4 Software's new OpenGL ICD optimizes bus data transfers in order to reduce peak saturation of the bus, much like the new DirectX pipeline. 

Parallelized Memory Access

Detonator 4 Software's new OpenGL ICD is more efficient at helping the GPU and CPU access memory in parallel.  This allows each processor to cache data before it is transferred between system and graphics memory, increasing performance in high resolution antialiasing modes.

Vertex Programs

Vertex programs have been optimized in Detonator 4 Software, yielding performance gains in some applications, and even larger gains in heavily vertex-processing bound applications.  Examples of applications that utilize these features are SPECViewperf, Pro/E, and NVIDIA's Chameleon demo.
The end result seems to be more efficient usage of memory bandwidth in both OpenGL and Direct3D applications.  The one thing that caught our eyes was the "Parallelized Memory Access" which seemed to be best suited for the parallel memory access that would occur between the CPU and the integrated GPU on a nForce motherboard.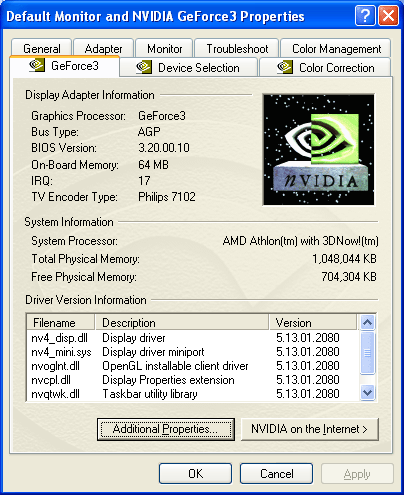 Another major feature of the new detonator release is improved performance under Windows XP.  For those of you that have had experience with Windows XP you'll know that the animations and effects can slow down normal OS interaction tremendously.  While we're still working on XP benchmarks to measure the effectiveness of the new Detonator 4 drivers under Windows XP we can say that the new drivers definitely feel faster under Windows XP.  We'll provide more performance analysis on that later this week.
The Test
Much like our Detonator3 comparison we stuck to NVIDIA cards alone for this quick comparison just to show you what kinds of improvements you can expect with the Detonator 4 drivers.  We'll have a much more thorough graphics card shootout including the latest NVIDIA drivers tomorrow.
We used three benchmarks to show off the improvements provided by the new Detonator 4 drivers: Quake III Arena, AquaMark and Max Payne.  All three of the games were run in 32-bit color, the details of their configurations is as follows:
Quake III Arena – sound disabled; graphics set to high-quality; v1.29g demo 'four'
AquaMark – sound disabled; textures set to 24MB; FSAA disabled; pixel shader enabled for GeForce3, disabled for everything else.
Max Payne – sound disabled; double buffering enabled; trilinear filtering enabled; 32-bit textures enabled; all detail sliders set to high; 'showextendedfps' command was used during the cut scene between chapters 4 & 5 in part I.
Windows 2000 Test System

Hardware

CPU(s)

AMD Athlon MP "Palomino" 1.2GHz
Motherboard(s)
MSI K7T266 Pro
Memory

256MB PC2100 Crucial DDR SDRAM (Micron CAS2)

Hard Drive

IBM Deskstar 30GB 75GXP 7200 RPM Ultra ATA/100

CDROM

Phillips 48X

Video Card(s)

NVIDIA GeForce3 64MB DDR
NVIDIA GeForce2 Pro 64MB DDR
NVIDIA GeForce2 MX400 Pro 64MB SDR

Ethernet

Linksys LNE100TX 100Mbit PCI Ethernet Adapter

Software

Operating System

Windows 2000 Professional Service Pack 2

Video Drivers

NVIDIA Detonator3 v12.41
NVIDIA Detonator 4 v20.80
VIA 4-in-1 4.32V was used for all VIA based boards

Benchmarking Applications

Gaming

Quake III Arena v1.29f demo four
AquaMark V22
Max Payne
GeForce3
The GeForce3 does extremely well under Quake III Arena and the Detonator 4 drivers give it a little boost at the lower resolutions.  The real improvement comes at the higher resolutions where the GeForce3 is finally becoming memory bandwidth limited.  At 1280 x 1024 x 32 the Detonator 4 drivers offer a 25% increase in performance and at 1600 x 1200 the drivers increase performance by 29%.
The new drivers allow you to run at 1600 x 1200 x 32, with all of the detail settings turned all the way up, at over 100 fps – very impressive.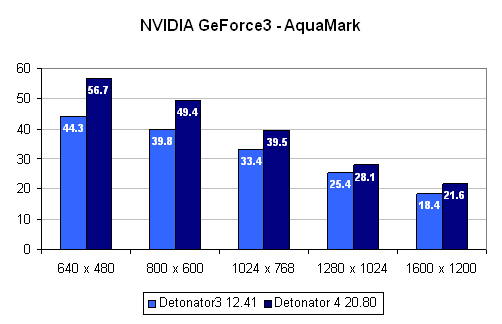 AquaMark is the only DirectX 8 test that we have which actually takes advantage of the GeForce3's Pixel Shaders.  It is clear that the improvements to the DirectX side of the drivers are taking effect as there is a 28% increase in performance at 640 x 480 x 32.  The performance increase continues all the way up to 1600 x 1200 where the advantage is reduced slightly to "only" 17%.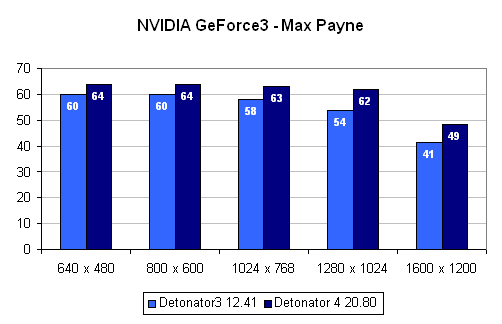 Since the game just recently came out we thought we'd include Max Payne as a benchmark for those of you that haven't gotten tired with the game yet.  The biggest improvements once again come at the higher resolutions.  The Detonator 4 drivers buy you another 15% at 1280 x 1024 and 19% at 1600 x 1200.
GeForce2 Pro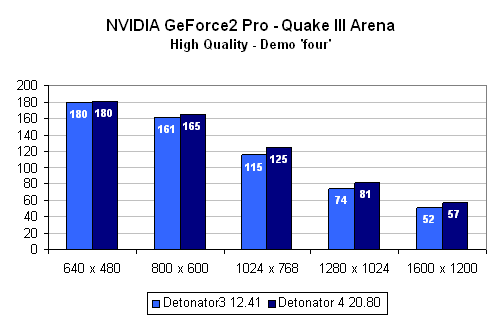 The gains are present on the GeForce2 Pro although not nearly as impressive as they were on the GeForce3.  At 1024 x 768 there is a 9% performance boost and the largest increase you get is at 1600 x 1200 where the Detonator 4 drivers give you just under a 10% increase in frame rate.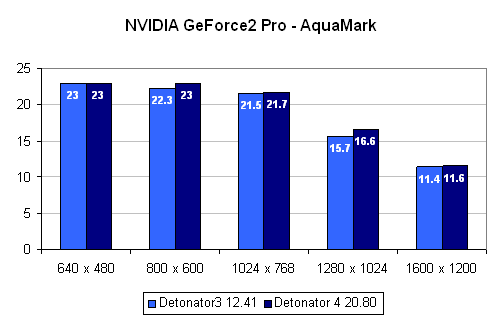 The GeForce2 Pro as well as virtually every other card out there is not able to do too well in AquaMark; the new drivers don't help much here at all.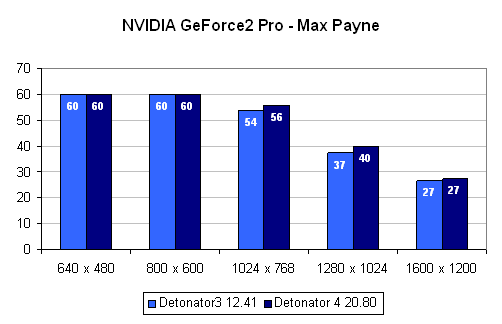 Again we're seeing a small increase in performance but noticeable at the more frequently used resolutions.  At 1025 x 768 there's a very small 4% increase in frame rate, while at 1280 x 1024 you get an 8% boost.  Definitely not as impressive as the improvements the GeForce3 boasted but you can never complain when you get a free treat.
GeForce2 MX400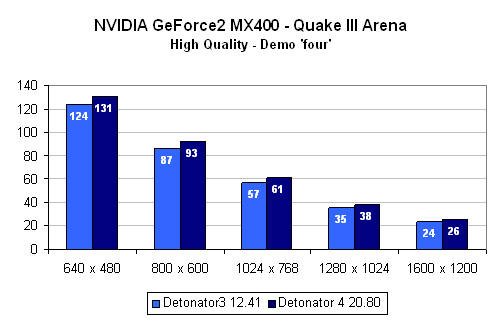 GeForce2 MX/MX400 owners will gain another 5 – 9% out of the new drivers if these Quake III scores are indicative of real world performance.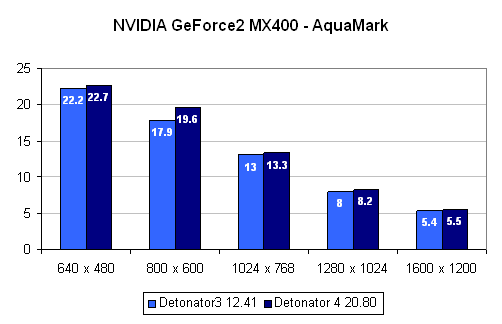 Other than the at 800 x 600, we don't see much of an improvement here for the GeForce2 MX.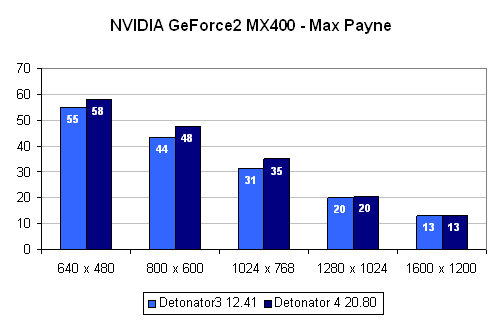 The Detonator 4 drivers will make Max Payne a little more enjoyable, with a 5 – 10% performance increase at the lower resolutions before the GeForce2 MX400 becomes completely bottlenecked by its memory bandwidth.
Final Words
There's not much to say here other than "Thanks NVIDIA" for the updated drivers.  Although the main recipients of the performance increase will be GeForce3 owners (as they very well should be for paying so much for their cards), GeForce2 GTS/Pro/Ultra and MX/200/400 owners will get a small boost as well.  You can't really complain about free performance.
While most of us will be happy with the new Detonator 4 drivers, it will unfortunately steal some thunder from another major announcement coming this week.  NVIDIA is playing their cards very well once again; soon it'll be time to see ATI's hand but don't assume that NVIDIA has shown all this early.