Original Link: http://www.anandtech.com/show/8087/best-smartphones-spring-2014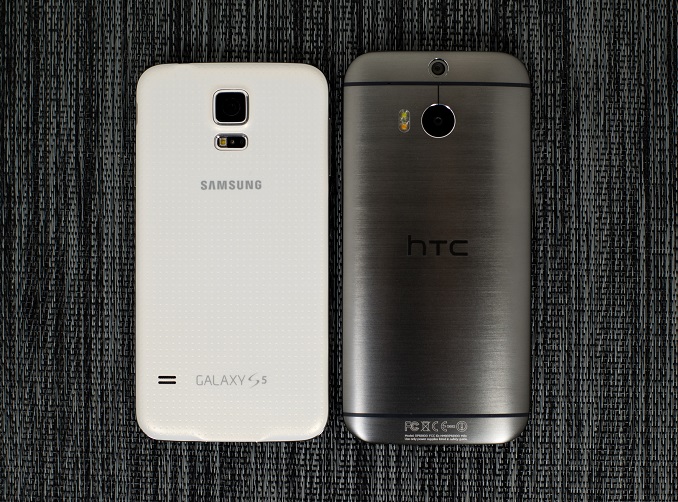 The major product launches for this spring are now behind us. This gives us the opportunity to evaluate the current smartphone market and identify the best smartphones in that market. We'll break this down into a few categories, as well as cover Android and Windows Phone separately. If you're on iOS, or leaning that way, then there's not much to say as clearly the iPhone 5S is the current high-water mark for iOS phones. Only devices that are currently available will be on this list. Those devices that have been announced but not yet released will be eligible for the next version. We're hoping to add this as a regular feature going foward, so please don't hesitate to send us feedback. Timing of course will depend on product launches and appropriate test time with the devices.
We test a lot of smartphones at AnandTech, and as far as I can tell there has yet to be a perfect product. Generally compromises are made on some aspects of the device. There is no way we can cover every single way anyone can use a device, so when it's named the best, that doesn't mean it's the best for everyone, but hopefully it's the best for the majority. Devices named the best will always have their flaws, and if those flaws fall right into your requirements, it may not be the best device for you.
We'll break each operating system group into four segments which are flagship, phablet, mid-range, and low cost. Flagship models will be the ultimate device from each manufacturer, and in theory should have no compromises. The phablet category is for the extra large screen phones, generally at or around 6" in display size. Mid-range phones will be compromised somewhat to reach a lower price point, but should still be a powerful, fully featured device. Finally, the low cost segment will be for the phones which are low cost, but still deliver a good smartphone experience.
Android
Let's start off the discussion with Android. This year there has been another move to the next biggest and best SoC, which in this case is the Qualcomm Snapdragon 801. While only a speed bump in actual clock speeds of the four Krait cores, the entire SoC got many small improvements, including eMMC 5.0, and a new silicon revision which resulted in a SoC which was more powerful, but also easier on the battery.
Flagship Device: Samsung Galaxy S5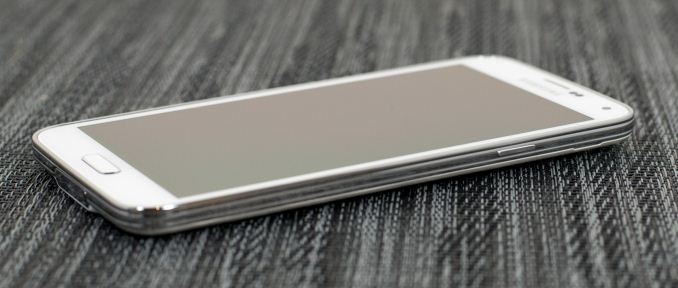 This was likely the hardest category to choose right now, and for all of the wrong reasons. It was a close competition between the HTC One (M8) and the Samsung Galaxy S5, but right now the edge is going to Samsung. The HTC is far and away better in the design department. It also has much better speakers and audio amplifier than the GS5, but unfortunately the HTC camera is only OK, and on a flagship device, that's not good enough. The display accuracy of the HTC is also still a disappointment, especially when the competition is starting to calibrate their displays. So enough about HTC. What gives the edge to Samsung right now? Obviously the display is better calibrated. The camera, at 16 MP and with ISOCELL, takes better overall images, but does lose to the Ultrapixel on the M8 in low light scenarios. The GS5 can also shoot 4k video, which while not important to everyone, it's a tick box that's unfilled on the HTC with only a 4 MP rear shooter. And while I'm not a big fan of plastic doors on charging ports, the door does factor into the IP67 rating of the GS5 for dust and moisture protection. Add in the bonus of a removable battery, and the GS5 just squeaks past the HTC One.
Like I said – it was very close, but only because neither device has it all. If the speakers on your smartphone are more important to you, then the HTC wins hands down.
Samsung Galaxy S5
Specifications
Height
142 mm
Width
72.5 mm
Depth
8.1 mm
Weight
145 g
CPU
MSM8974ACv3 2.45 GHz
(Quad Core Krait 400)
GPU
Adreno 330
RAM
2 GB LPDDR3
NAND
16/32 GB NAND
microSD
Camera
16MP (5132 x 2988) Rear Facing with 1.12 µm pixels, 1/2.6" CMOS size, 31 mm (35mm effective), 2MP FFC
Display
5.1" 1080p SAMOLED HD
Battery
10.78 Whr
Price
$749 (16 GB)
Currently N/A (32 GB)
Phablet: Samsung Galaxy Note 3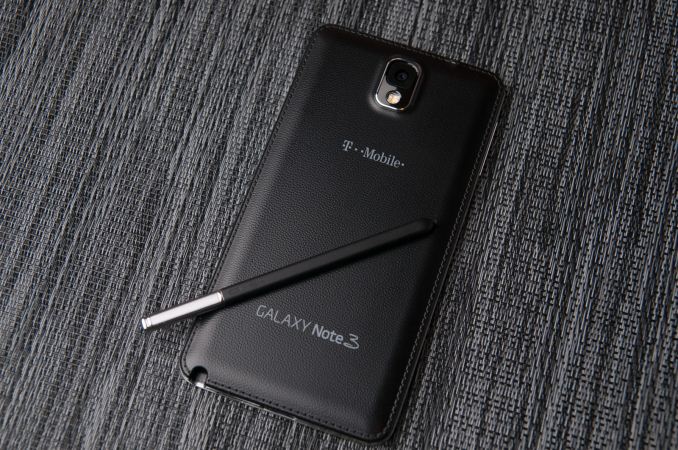 Samsung has another win here with the Galaxy Note 3. The S Pen is a key feature of the Note series, and it's well executed. While the Note hasn't been refreshed to the latest Snapdragon SoC, it still packs in a Snapdragon 800, and with everything else you'd expect from a device like this – 802.11ac Wi-Fi, a good (but not amazing) camera, and of course the 5.7" 1080p display. Following in Samsung tradition, the back panel is removable which gains access to the microSD and removable battery.
Samsung Galaxy Note 3
Specifications
Height
151.2 mm
Width
79.2 mm
Depth
8.3 mm
Weight
168 g
CPU
MSM8974AB 2.3 GHz
(Quad Core Krait 400)
GPU
Adreno 330
RAM
3 GB LPDDR3
NAND
16/32 GB NAND
microSD
Camera
13MP Rear Facing with 1.12 µm pixels, 1/3.06" CMOS size, 31 mm (35mm effective) F/2.2 4k30, 2MP FFC
Display
5.7" 1080p SAMOLED HD
Battery
12.1 Whr
Price
$570 (16 GB)
$600 (32 GB)
Mid-Range: LG Google Nexus 5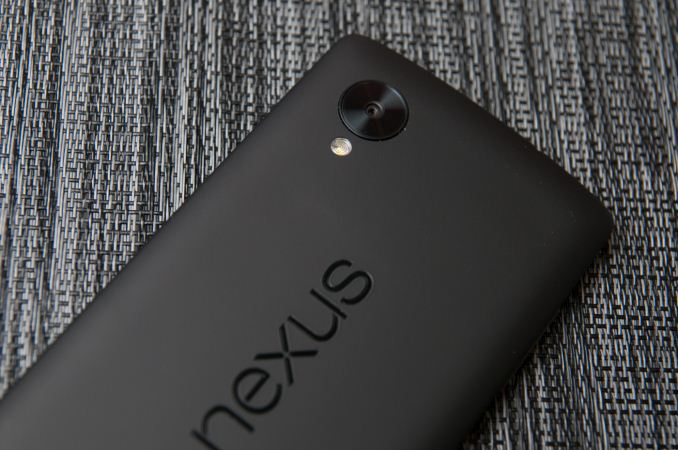 It's tough to compete against someone who's not out to make money. That's certainly the case here, and Google's Nexus 5 wins for best midrange phone. It's a lot of phone for the money, with the 5" 1080p display, Snapdragon 800, and a decent camera. Google might have some competition in this space though with another company that's decided it's not out to make money, but the OnePlus One is not officially available yet so we won't compare it right now.
Where else does the Nexus 5 do well? The display is well calibrated out of the box, there is 16 GB of internal NAND with an inexpensive upgrade to 32 GB, and it's fully unlocked.
Google Nexus 5
Specifications
Height
137.84 mm
Width
69.17 mm
Depth
8.59 mm
Weight
130 g
CPU
2.26 GHz MSM8974
(Quad Core Krait 400)
GPU
Adreno 330
RAM
2 GB LPDDR3
NAND
16/32 GB NAND
Camera
8 MP with OIS, AF, LED flash, 1.3 MP front facing
Display
4.95" 1920x1080 HD IPS LCD
Battery
8.74 Whr
Price
$349 (16 GB)
$399 (32 GB)
Low Cost: Motorola Moto G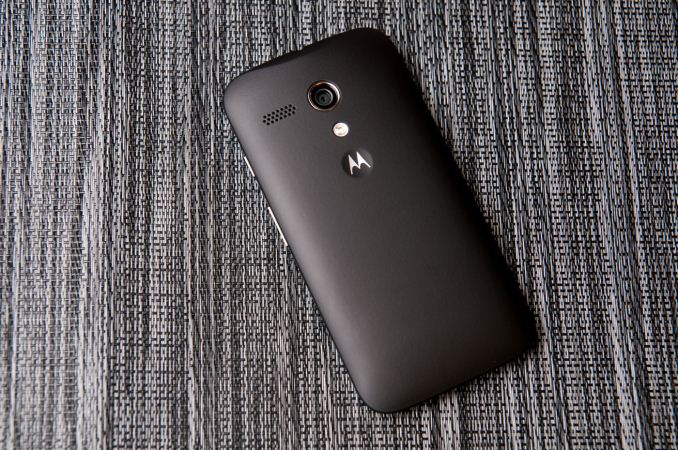 Affordable is the name of the game here. Motorola has proven you can get a good smartphone for a low price with the Moto G. For $179 off contract, you get a 4.5" display at 1280x720, Snapdragon 400, 8 GB of NAND, and all in a very nice chassis that feels great in the hand. If you're willing to spend another $20, you can get bumped up to 16 GB of NAND. It's a lot of phone for the money, and clearly you are giving up features on a device with a price like this, such as a great camera, but battery life is good, performance is good, and the price is low. The LTE version costs $219, but drops the NAND back to 8 GB, however it does offer microSD expansion whereas the regular Moto G doesn't offer expandable storage.
Motorola Moto G
Specifications
Height
129.9 mm
Width
65.9 mm
Depth
11.6 mm
Weight
143 g
CPU
MSM8x26 1.2 GHz
(Quad Core Cortex A7)
GPU
Adreno 305
RAM
1 GB LPDDR3
NAND
8/16 GB NAND
Camera
5 MP w/AF, LED Flash, 1.3 MP FFC
Display
4.5" LCD 1280x720
Battery
7.9 Whr
Price
$179 (8 GB)
$199 (16 GB)
Windows Phone
On the Windows Phone side, things are a bit easier. Although Microsoft is trying to change this, right now the market is Nokia, and pretty much nothing else. Luckily for Windows Phone fans, that's not really a bad thing since Nokia has made some nice devices. The Windows Phone side is generally behind Android on hardware specs, although with the latest releases it's only slightly behind with the best devices offering Snapdragon 800 rather than the 801 of the most recent Android devices. Let's take a look at the picks.
Flagship Device: Nokia Lumia 930 (Icon)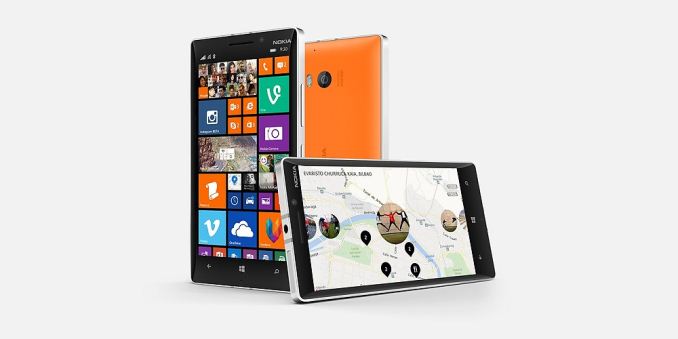 Right now, the flagship Windows Phone is an easy choice. The Nokia Lumia 930 is a 5" 1080p phone packing a quad-core 2.2 GHz Snapdragon 800. This phone is sold as the Lumia Icon in the USA, but globally it's known as the 930. As with most Nokia high end phones, the camera is excellent, with a PureView 20MP rear shooter which can deliver lossless zoom and high quality photos. It also contains four patented High Amplitude Audio Capture (HAAC) microphones for high quality stereo recording. The device comes with 32 GB of internal storage, but unfortunately has no microSD card support. With 2 GB of RAM, Qi wireless charging, and a svelte polycarbonate body, this device almost has it all when compared to other Windows Phone devices with the one glaring omission of no Glance Screen support despite the AMOLED display. Still, it's an easy pick.
Nokia Lumia 930 (Icon)
Specifications
Height
137 mm
Width
71 mm
Depth
9.8 mm
Weight
167 g
CPU
MSM8974 2.2 GHz
(Quad Core Krait 400)
GPU
Adreno 330
RAM
2 GB LPDDR3
NAND
32 GB NAND
Camera
20 MP PureView OIS 1/2.5" F/2.4 Dual LED, 1.2 MP FFC
Display
5" AMOLED 1920x1080
Battery
9.2 Whr
Price
$599 (32 GB)
Phablet: Nokia Lumia 1520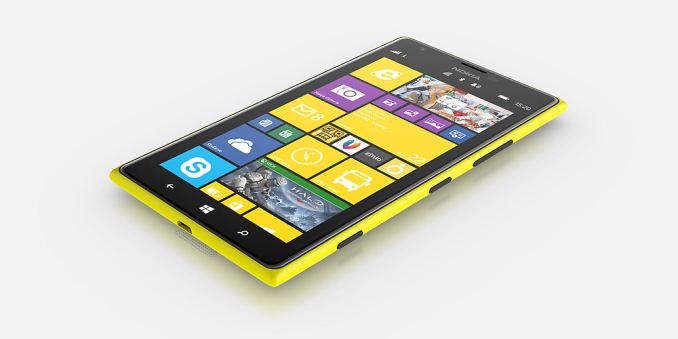 Also an easy selection is the Windows Phone phablet. The Nokia Lumia 1520 was the first Windows Phone device to utilize the Snapdragon 800, and with it's also the first 6" device running Microsoft's phone operating system. Since the only other 6" device is the lower spec Lumia 1320, we have a clear winner. The 1520 shares a lot in common with the later released 930 including the SoC, but as an added bonus the 1520 supports microSD cards in addition to the 16 or 32 GB of internal NAND. The display on the 6" phone is LCD rather than AMOLED on its smaller brother, but it does support Nokia's Glance screen for notifications when the display is off. All 1520s other than the ones sold by AT&T also include built in Qi wireless charging.
Nokia Lumia 1520
Specifications
Height
162.8 mm
Width
85.4 mm
Depth
8.7 mm
Weight
209 g
CPU
MSM8974 2.2 GHz
(Quad Core Krait 400)
GPU
Adreno 330
RAM
2 GB LPDDR3
NAND
16/32 GB NAND
microSD
Camera
20 MP PureView OIS 1/2.5" F/2.4 Dual LED, 1.2 MP FFC
Display
6" IPS LCD 1920x1080
Battery
12.9 Whr
Price
$575 (32 GB)
Mid-Range: Nokia Lumia 1020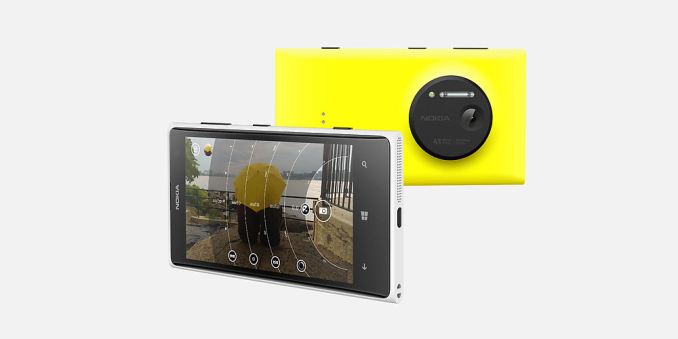 There is more competition in this range of devices than anywhere else. Unfortunately, there haven't been any updates to any mid-range devices since summer last year, so now's not a great time to buy a mid-range Windows Phone. The HTC 8X was a launch device for Windows Phone 8, and has a fantastic feel in the hand, and Nokia launched a couple of successors to the Lumia 920 which could be considered as well such as the lightweight 4.5" Lumia 925, but my selection (bearing in mind I already said it's not a good time to buy) is the Lumia 1020. Launched in July 2013, there is still no other phone on the market that packs as much camera into a smartphone, so if this is your price range, you may as well go for that. The Lumia 1020 comes with a massive camera both in size, as well as pixel count. At 41 MP, and 1/1.5", it's simply way larger than any other smartphone camera on the market today. Internals though are decidedly last generation with a Qualcomm Snapdragon S4 (dual-core Krait, 1.5 GHz), 2 GB of memory, and 32 GB of storage with no expansion options. The AMOLED screen is a 1280 x 768 resolution and supports Nokia Glance. Wireless charging is absent on this model, but can be added with a case. It's not the most powerful phone in the world, but it does have a fantastic camera.
Nokia Lumia 1020
Specifications
Height
130.4 mm
Width
71.4 mm
Depth
10.4 mm
Weight
158 g
CPU
MSM8960 1.5 GHz
(Dual Core Krait)
GPU
Adreno 225
RAM
2 GB LPDDR3
NAND
32 GB NAND
Camera
41 MP PureView OIS 1/1.5" F/2.2 Dual LED/Xenon, 1.2 MP FFC
Display
4.5" AMOLED 1280x768
Battery
7.6 Whr
Price
$440 (32 GB)
Low cost: Nokia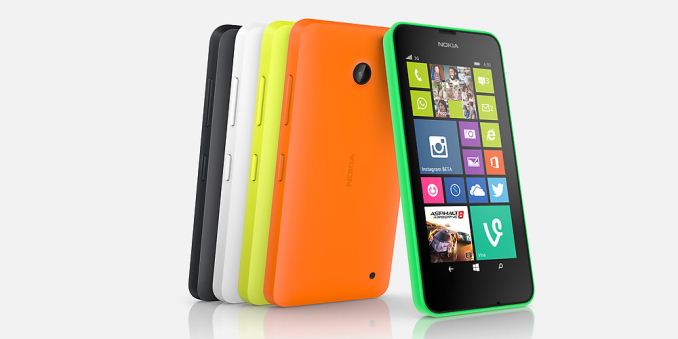 The low cost segment is also tricky, but it basically boils down to two devices. First is the Lumia 520. The Lumia 520 kind of took the Windows Phone market by storm last year. With an asking price often times well under $100 off contract, it quickly became the number one selling WP8 device by a large margin. However, I'm giving the pick to something that's slightly less compromised, and only slightly more money. The Lumia 630 is a just launched phone, packing a Snapdragon 400 quad-core Cortex A7 at 1.2 GHz, a 4.5" display with ClearBlack (a polarizing layer on the screen to improve both sunlight readability, and overall black levels), and an optional dual-SIM model. Internal storage is 8 GB, with microSD expansion. RAM on this device is a lowly 512 MB, which will restrict some apps from running on the device, and there is no LTE available on the 630. You can get LTE on the slightly more expensive 635. At $159 MSRP for the 630, or $169 for the dual-SIM model, it's a great way to get into the Windows Phone world for a low price. I'm picking it over the 520 for a few reasons. First, it's got a better SoC even though they have the same amount of RAM. Second, it has the ClearBlack polarizer, which is missing on the 520 and really makes a big difference in black levels as well as readability outside. Third, it's only slightly more money.
Nokia Lumia 630
Specifications
Height
129.5 mm
Width
66.7 mm
Depth
9.2 mm
Weight
134 g
CPU
MSM8x26 1.2 GHz
(Quad Core Cortex A7)
GPU
Adreno 305
RAM
512 MB LPDDR3
NAND
8 GB NAND
microSD
Camera
5 MP 1/4" F/2.4 Dual LED, No FFC
Display
4.5" IPS LCD 854x480
Battery
7 Whr
Price
$159 (Single SIM)
$169 (Dual SIM)
Please note that all prices quoted are either MSRP, or current sale prices from major retailers. All prices are quoted off-contract, and local prices may vary.