Original Link: http://www.anandtech.com/show/8077/microsoft-surface-pro-3-review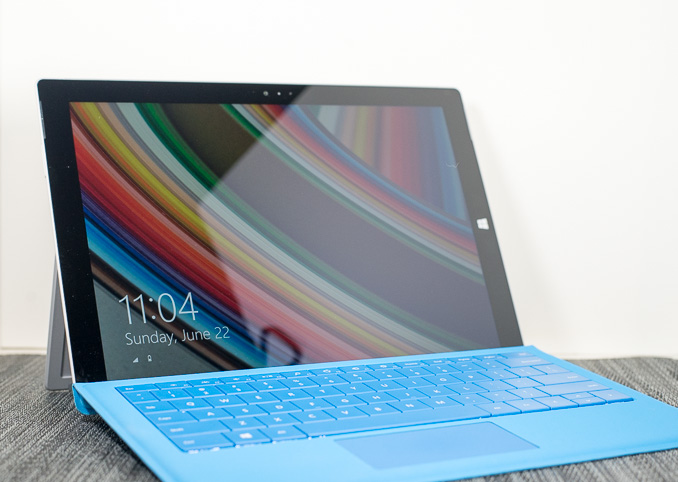 I can't believe it's only been sixteen months since I published our review of the original Microsoft Surface Pro. It feels like longer but that's likely because Surface RT made its sale debut a few months prior to that, and both devices were announced in the Summer of 2012. As far as an end user is concerned however, in February 2013 Microsoft released Surface Pro and proceeded to deliver two more iterations of the hardware in sixteen months. That's three Surface Pros in less than two years.
While the last two were largely similar, the third time is definitely more charming. Surface Pro 3 abandon's Microsoft's 10.6-inch 16:9 form factor in favor of 12-inch 3:2 design. The result is a far less cramped design, and one that does a better job of approximating a normal laptop. To offset the increase in surface area, Surface Pro 3 goes on a substantial diet and shrinks to only 9.1mm thick. Despite using the same SoC as Surface Pro 2, the 3rd generation device is substantially thinner.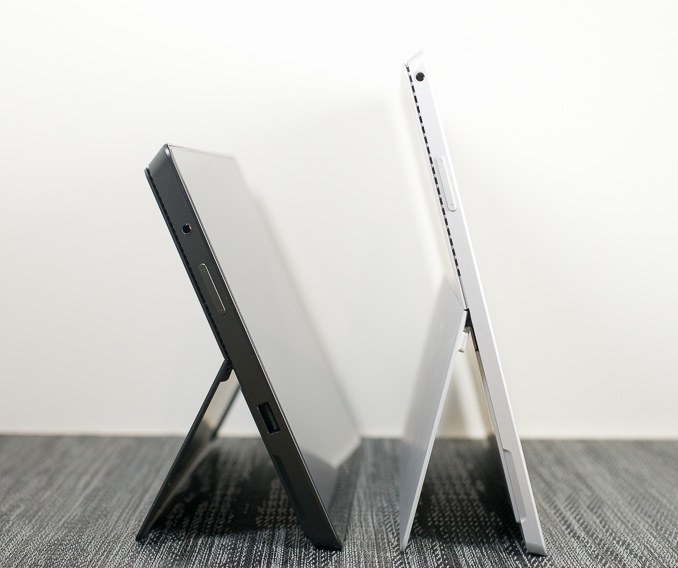 Surface Pro 2 (left) vs. Surface Pro 3 (right)
When Surface first launched, Microsoft set out to prove to the world that it too could build a thoughtfully designed, premium device. Much was said about Microsoft's custom injection moulded Magnesium process, VaporMg, and the extensive testing of the Surface kickstand and hinge. The latter was said to be able to last for over a million actuations.
Surface Pro 3 retains all of the build quality goodness that made the previous designs so unique in the Windows space. The chassis is still made out of Magnesium (although Microsoft curiously has dropped the term VaporMg), and now features the same lighter finish as Surface 2. The design is far more squared off than what we're used to seeing from Apple or any of Google's partners. Surface Pro 3 continues the line's tradition of exuding a more utilitarian design than the softer, more consumption (and consumer?) oriented tablet designs on the market.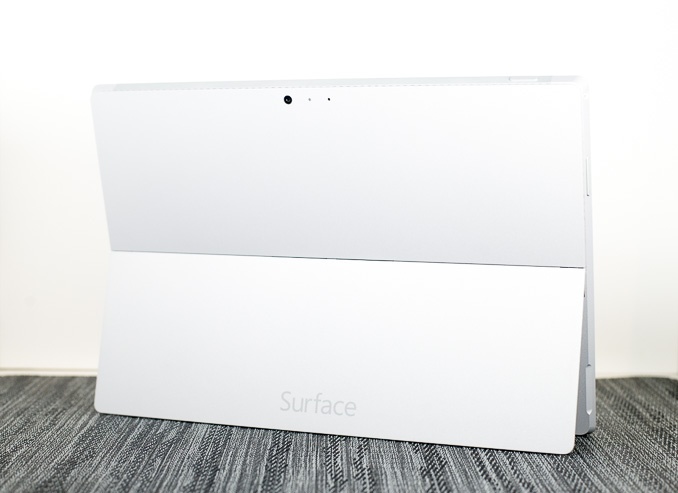 Microsoft Surface Pro Comparison
Surface Pro 3
Surface Pro 2
Surface Pro
Dimensions
11.5 x 7.93 x 0.36"
10.81 x 6.81 x 0.53"
10.81 x 6.81 x 0.53"
Display
12-inch 2160 x 1440
10.6-inch 1920 x 1080 w/ Improved Color Accuracy
10.6-inch 1920 x 1080 PLS
Weight
1.76 lbs
2.0 lbs
2.0 lbs
Processor
As Configured: Core i5-4300U with HD4400 Graphics (15W Haswell ULT) - Optional Core i3 or Core i7
Core i5-4200U/4300U with HD4400 Graphics (15W Haswell ULT)
Core i5-3317U with HD4000 Graphics (17W Ivy Bridge)
Cameras
5MP/5MP (front/rear)
1.2MP/1.2MP (front/rear)
1.2MP/1.2MP (front/rear)
Connectivity
2-stream 802.11ac WiFi
2-stream 802.11n WiFi
2-stream 802.11n WiFi
Memory
4GB or 8GB LPDDR3
4GB or 8GB LPDDR3
4GB
Storage
64, 128, 256 or 512GB
64 or 128GB (4GB RAM)
256GB or 512GB (8GB RAM)
64GB or 128GB
Battery
42.0 Wh
42.0 Wh
42.0 Wh
Starting Price
$799 ($1299 review configuration)
$899
$799
Other than the chassis upgrade, there are now more CPU options with the base model starting at $799:
Microsoft Surface Pro 3 Configuration Options
Configuration
$799
$999
$1299
$1549
$1949
CPU
Intel Core i3-4020Y
Intel Core i5-4300U
Intel Core i5-4300U
Intel Core i7-4650U
Intel Core i7-4650U
TDP
11.5W
15W
15W
15W
15W
Cores/Threads
2/4
2/4
2/4
2/4
2/4
Frequency Base/Max Turbo
1.5GHz/-
1.9/2.9GHz
1.9/2.9GHz
1.7/3.3GHz
1.7/3.3GHz
GPU
Intel HD 4200
Intel HD 4400
Intel HD 4400
Intel HD 5000
Intel HD 5000
GPU EUs
20
20
20
40
40
GPU Frequency Base/Max Turbo
200/850MHz
200/1100MHz
200/1100MHz
200/1100MHz
200/1100MHz
Storage
64GB SSD
128GB SSD
256GB SSD
256GB SSD
512GB SSD
RAM
4GB
4GB
8GB
8GB
8GB
The Kickstand: Perfected
From the moment I first used Surface RT, I fell in love with its kickstand. In fact, I went as far as as to say that it was one of the most useful features to ever meet a tablet. The original kickstand was great for desk use. The second generation kickstand added a second stop to improve usability in non-desktop (read: lap-bound) scenarios. With each generation, Microsoft improved its kickstand by adding in the one thing we asked for the last round. With Surface Pro 3, Microsoft perfected the kickstand.
The default opening is still 22-degrees, and the process of getting it open is just as easy as it was before. After you hit that initial stop however, friction in the hinge increases dramatically and with a bit more effort you can push and set the kickstand to any other opening between 22 and 150 degrees. The increased flexibility gives Surface Pro 3 the best kickstand implementation I've seen on any mobile device. Not only can I find a more comfortable position for notebook use, but I can also put the device into tent mode which is great for browser and other tablet workloads. In tent mode Surface Pro 3 is the most comfortable tablet I've ever used.
Lapability
For as much criticism as Microsoft received over Windows 8 and Surface, the company bet big on fixing one of the biggest unsolved problems in mobile. Tablets and notebooks are both great, wouldn't it be amazing if someone could converge the two. Given Microsoft's relative inaction in mobile for the years prior to Windows 8, attempting to leapfrog the market was a very sensible thing to do.
Surface Pro in particular running Windows 8 was designed to be the Swiss Army Knife of mobile computing devices. Whether you wanted a tablet, laptop or even a desktop, Microsoft had a single device it could sell you to serve all three functions. In reality however, Surface always ended up a series of compromises that never seemed to work for the masses. Windows 8 was a disappointment as a tablet OS, and Surface didn't quite work as a laptop, specifically in one's lap. Microsoft referred to the inability for the prior hardware to function ergonomically in the lap as "lapability".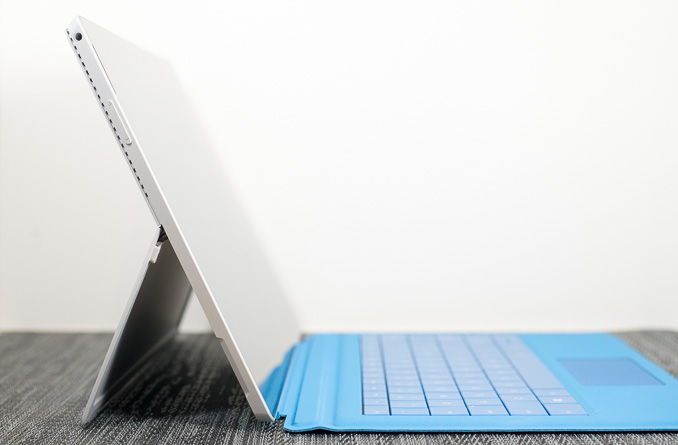 To understand how Surface Pro 3 changed mechanically in pursuit of better "lapability", we need to first understand the difficulties faced by all of the previous Surface designs (Surface RT, Surface Pro, Surface 2 and Surface Pro 2).
The challenge with the Surface design has always been the amount of room it requires on your lap. While you only need to accommodate the room behind the keyboard on a normal laptop, a Surface device requires that much room plus a contact point for the outer edge of the kickstand. At narrow angles, this amounts to another couple inches of lap-room. However, the kickstand opened at a narrow angle forces a less natural display viewing angle. Open the kickstand wider, a feature enabled by Surface Pro 2 (and furthered by Surface Pro 3) and you address the viewing angle concern at the expense of now requiring more room on your lap. You can always pull the device closer to you to compensate, but then you end up sacrificing typing position/comfort.
There's also the issue of stability on your lap. Traditional laptops have a rigid base supporting the device. The Surface devices, on the other hand, don't. The strongest, most rigid part of Surface is the display, which needs but doesn't give much support. Instead the stability duties come from the small contact point of the kickstand and the Type Cover. The Type Cover itself is quite rigid, but the flexible hinge between it and the Surface device was a clear weakspot. In order to allow the Type Cover to function as a cover, its hinge couldn't be totally rigid - it needed to be able to fold around the spine of the tablet. In doing so you get an incredibly useful cover, but a weakened base for using a Surface tablet as a notebook on your lap.
With Surface Pro 3, Microsoft managed to largely address the stability issue and in doing so somewhat addressed the lap-space requirement. The new Type Cover has a second magnetic strip in it that allows you to fold it in even closer to the display when you're in laptop-mode. Doing so completely occludes the bottom bezel, but it eliminates the floppy cover spine from resting on your lap. Now the only parts of the device touching your lap in laptop-mode are rigid elements, which tremendously improves the stability of the design.
As a side effect, by shortening the length of the cover in laptop-mode Microsoft reduces the amount of lap room needed by about an inch. It's not perfect, but it goes a long way to making Surface Pro 3 actually usable on your lap.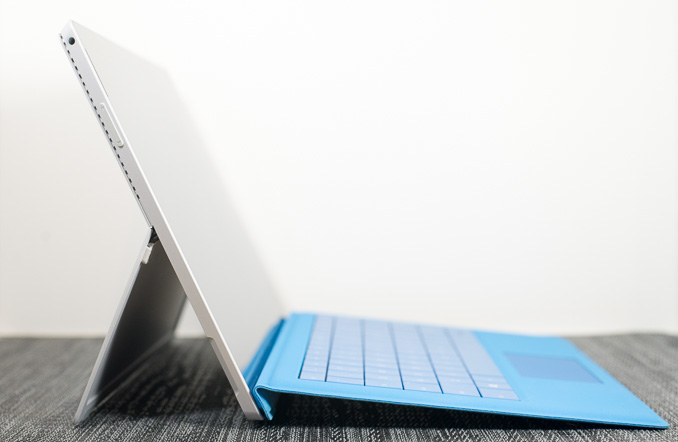 The design continues to be a tradeoff however. The new, continuously adjustable kickstand lets you maintain a better viewing angle by opening to wider angles, which require correspondingly more lap area. While the new Type Cover takes up less room, the wider angled kickstand can negate a lot of those savings. The net result is still an ergonomic improvement though. Surface Pro 3 is much easier to position properly on my lap compared to any previous Surface device. While the latter were all ultimately a pain to use on my lap, Surface Pro 3 is passable. I still prefer a laptop, but the gap has been narrowed considerably.
The only other issue that remains with the new foldable Type Cover hinge is the occlusion of the lower bezel on the display. Windows 8 was built around edge gestures, where a swipe in from a bezel would bring up a task switcher, the charms bar or an application-specific menu. By covering the bottom bezel you can no longer use it for edge gestures within an application. Thankfully the top bezel serves the same purpose, but it does require a longer reach than going for the bottom one - something I'd grown used to doing on previous Surface tablets. The occluded bottom bezel forced the relocation of the capacitive Start button to the right side of the panel, which can create issues with accidentally bringing up the Start Screen.
The New Type Cover
Along with the integrated kickstand, the Surface tablet was always designed around being used with a detachable keyboard cover. In the first two generations this meant having two different options: a pressure based Touch Cover and a Type Cover with low profile keys that actually move. The Touch Cover always offered the low profile behavior of a traditional tablet cover but it was never all that great as a keyboard. I could always justify the Touch Cover's existence by saying it was better than typing on glass, but the reality remained that I almost always used a Type Cover with Surface Pro.
It seems as if Microsoft came to the same conclusion as Surface Pro 3 is only offered with an optional Type Cover. All previous Type and Touch Cover accessories will still work with Surface Pro 3, including features like the backlit keyboard on previous Touch Covers. Keep in mind though, those old accessories are built for a 10.6" 16:9 Surface but the move to a 12" 3:2 requires a larger cover to completely protect the display.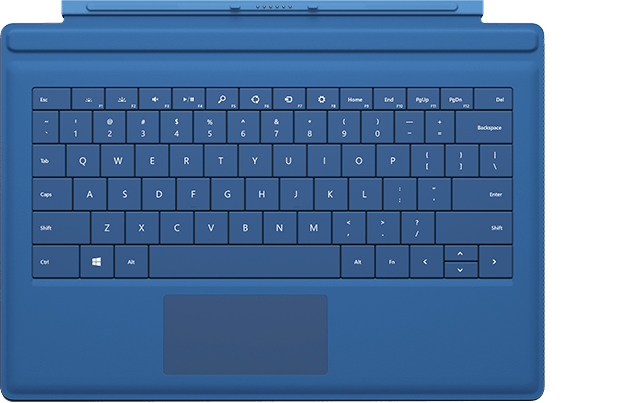 The new Type Cover has a larger surface area, it includes a second magnetic strip for added stability in laptop mode and it's thinner compared to last year's model. The larger cover doesn't result in larger keys or bigger spacing between the keys, the keyboard portion of the cover doesn't really change compared to the previous design. There's a slight difference in key feel. The design feels less mushy overall.
Substantial changes are limited to the trackpad. You get a few extra millimeters of height and a substantial increase in trackpad width. The surface of the trackpad is now a rigid plastic rather than the soft touch material surrounding it. The trackpad surface is also hinged at the top and physically moves like a clickpad, just smaller. The result is the first usable trackpad on a Surface device. Two finger scrolling works reasonably well. In the past scrolling was so bad that I almost always used the touch screen instead, but with the new Type Cover I'd say 80% of the time I'm ok with using it for scrolling. Edge gestures are supported by the new trackpad and although they work the action still doesn't feel all that natural. Clicking and dragging is still problematic.
Microsoft Touch/Type Cover Evolution - Thickness
Touch Cover
Type Cover
Surface Pro 1
3.35 mm
5.7 mm
Surface Pro 2
2.91 mm
5.22 mm
Surface Pro 3
-
4.95 mm
The only real issue with the Type Cover is that it's a bit thick when you're not using it as a keyboard. Microsoft is counting on the quick attach/detach mechanism to minimize the burden but you still have to deal with the cover when detached. There are also times when the keyboard and/or trackpad will stop responding. In some situations only certain aspects of the Type Cover won't work. For example right now I can't seem to get two finger scrolling or any other trackpad gestures to work. This is a problem I've seen on every single Surface since its release, although the problem itself seems to have gotten better over the years. Thankfully unlike previous implementations, detaching/reattaching the cover is usually enough to fix things.
Overall the new Type Cover is a substantial improvement over the previous design and a key part of the Surface Pro 3 experience. Once again Microsoft insists on charging extra for the accessory. The new Type Cover is optional and priced at $129. It comes in four colors Cyan, Red (exclusive to Microsoft Stores), Purple and Black plus Blue that's exclusive to Best Buy.
The Pen
The first two Surface Pro devices included an integrated Wacom digitizer layer. The Wacom electro-magnetic resonance grid integrated into the display would generate a weak EM field that could induce a current in the Surface Pro pen. Relying on induction, the pen didn't require a battery. As with many other Wacom devices, the first two Surface Pros featured 10-bit pressure resolution (the digitizer could recognize 1024 different pressure levels).
With Surface Pro 3, Microsoft hoped to reduce all aspects of the display assembly thickness in order to meet the 9.1mm thickness requirement of the tablet. Among other things, this meant the Wacom EMR layer had to go. Without the ability to induce current in an external pen, Microsoft had to move to an active pen that could interact with the display. Microsoft partnered with NTrig to provide a solution for Surface Pro 3.
The new pen ditches the magnetic mount of the previous design and instead needs to be carried separately. The old magnetic pen attached to the charge port on Surface Pro which wasn't much better as it meant that the pen only had a place to live whenever your tablet was unplugged.
The new pen is battery powered but ships with the batteries needed for operation. The body of the pen uses a single AAAA battery. This battery powers all writing and button functions (with the exception of the eraser launch button). The eraser portion of the pen houses two button-type 319 1.5V batteries. As far as I can tell, these batteries are necessary to enable the eraser launch button and to allow the pen to bring Surface Pro 3 out of sleep.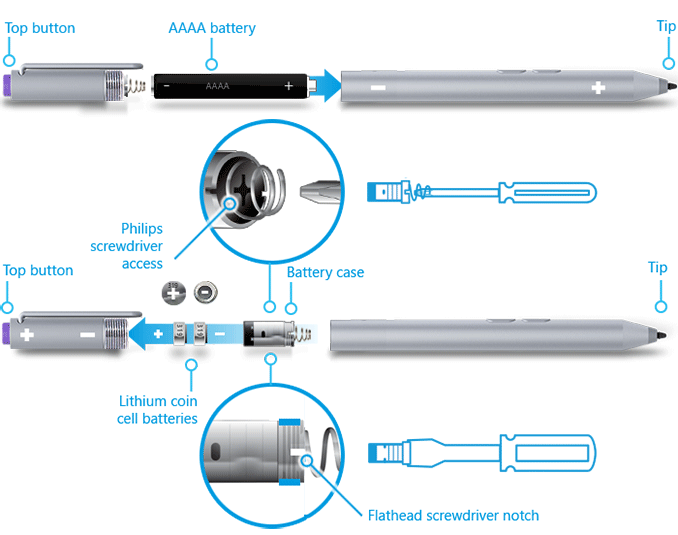 Feature wise the new pen is quite similar to its predecessor. You still get support for hover and the design is pressure sensitive. New to the Surface Pro 3's pen are a pair of buttons on the edge of the pen and a new eraser button. The latter comes configured to wake the tablet from sleep and launch OneNote by default. With Surface Pro 3 locked and asleep I can wake the device from a single click of the eraser button and have an active OneNote window open in around 1.5 seconds. That's around 200 ms longer than it takes to wake the device from sleep altogether. The pen's other two buttons are configurable in Windows.
On paper the big regression is in a reduction in pressure sensitivity. While the old design had 10-bit pressure resolution, Surface Pro 3 only allows for 8-bits of pressure resolution. In other words, Surface Pro 1/2 could detect 1024 different levels of pen pressure while Surface Pro 3 can only detect 256. In practice, I haven't found this to be an issue at all. I'm definitely not an artist, but I spent a lot of time drawing on both Surface Pro models (Wacom and NTrig) and couldn't find a situation where the new design regressed when it comes to pressure sensitivity. The pressure curves are definitely different between the Wacom and NTrig implementations, but in terms of pure ability I don't think the reduction in pressure resolution will amount to much.
The bigger difference is the new thinner display stack isn't as strong as the previous model. When applying maximum pressure to the pen on Surface Pro 2, I couldn't cause the LCD to distort at all. The same isn't true for Surface Pro 3. The new display stack behaves a lot more like a traditional LCD display in that pushing hard on it will cause color distortion at the point of pressure.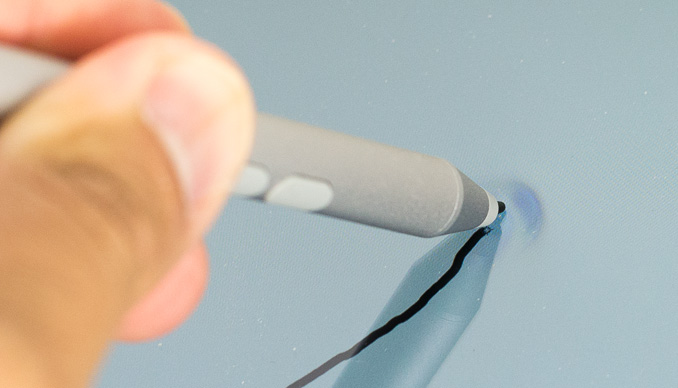 Surface Pro 3's display stack distorts under heavy pressure from the new pen, the older thicker display stack was more resilient
I don't know how well Microsoft has beefed up the display to ensure that doing a lot of heavy pressure drawing on it won't cause harm in the long run, but it's clear that the design isn't as robust as it used to be. Again, in the grand scheme of things this is likely the right tradeoff. The best solution here would be for control over the new pen's pressure curve so you don't need to press as hard to get reach max pressure levels.
I didn't notice a substantial difference in the feel of the new pen's tip. The old tip was spring loaded and would move inwards a bit as you pressed down on it. The new tip by comparison is rigid with virtually no play. Both felt as natural or unnatural as the other depending on how convincing dragging a plastic tip on a glass display is for you. There is a difference in the minimum attack angle supported by the pen. The old design allowed for as little as a 15-degree angle between the pen tip and the display's surface, the new design seems to only activate at around 30 or 40-degrees.
Palm rejection works quite well on Surface Pro 3, a definite step up from the Wacom based Galaxy Note Android devices if you're looking for a reference point. I didn't have any issues resting my palm on the display while writing or sketching. I also found the palm rejection did a good job of not accidentally triggering the capacitive Windows button, although PA's Gabe ended up being quite frustrated by its positioning. I have a feeling the Windows button's behavior may vary on a per app basis as it always seemed to do a good job of disabling itself while running SketchBook Express. I could get the Windows button to trigger but only if i poked at it with a finger while drawing with my other hand.
Microsoft was quick to point out that by thinning the display stack and reducing reflections it could do a better job of mimicking a traditional pen/paper setup by reducing the distance between the tip of the Surface pen and the resulting dot drawn on the screen. I have to say I didn't notice a substantial improvement in this area but it wasn't really bad to begin with in the previous design. I was curious to see if draw latency changed at all with a shift away from Wacom. I pointed a high speed camera at Surface Pro 2 and 3 and measured the lag between the tip of my pen and its impact in software. The results were consistently in favor of Surface Pro 3:
Surface Pro Pen Drawing Latency
Min
Average
Max
Surface Pro 3
75 ms
97.8 ms
141 ms
Surface Pro 2
100 ms
129.6 ms
166 ms
On average the new design seems to have reduced pen latency by around 30ms.
Overall I have to say the new pen is an improvement. You get a much thinner display, an unnoticeable impact to pressure sensitivity, improved latency and the experiential improvements are substantial (one click wake/OneNote launch is useful). There's definitely room for tuning the pressure curve on the pen though. The only unknown at this point is the pen's battery life, which I haven't had enough time to really devise a test for and measure.
Thickness, Thermals and Core: Understanding how Surface Pro 3 Got so Thin
Ever since Surface RT showed up I've wanted Surface Pro but in the RT chassis. Microsoft seemed to consciously avoid any lower TDP Core processors in favor of Ultrabook SKUs, which pretty much kept Surface Pro thicker than its ARM-based counterpart. Surface Pro 3 changes everything with a rethinking of how Microsoft embraced the thermal constraints of a tablet.
Surface Pro 3 is available with one of three CPU options: a Core i3, Core i5 or Core i7. The latter two are 15W TDP parts, while the former is a 11.5W TDP/6W SDP Haswell Y SKU. Haswell Y is really designed for passively cooled form factors, but all three CPU options receive the same heatpipe and fan cooling system offered by the Surface Pro 3. In short, the Core i3 model should behave a lot more like a standard Ultrabook part (sans Turbo).


Surface Pro 2 (left) vs. Surface Pro 3 (right)


Apple iPad Air (left) vs. Surface Pro 3 (right)
Microsoft's claim to fame is the ability to build the world's thinnest device with a Core series CPU inside. At 9.1mm thick, the Surface Pro 3 is just barely thicker than last year's Surface 2 but with a full blown dual-core Haswell instead instead of a high-end phone/tablet ARM SoC. As both the Surface Pro 2 and Surface Pro 3 used 15W Haswell Ultrabook parts and Microsoft claims a performance increase over last year's model, the question is how Microsoft can reduce thickness, keep TDP the same and increase performance. The answer is simply a difference in what's acceptable from a thermal standpoint.
Here's a look at the original Surface Pro while running an hour long loop of 3DMark Ice Storm Unlimited. I chose this test in particular as it behaves as a nice balance between CPU and GPU workloads on the device: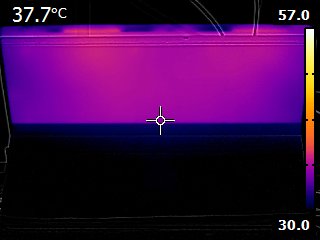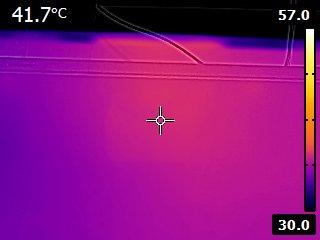 You can almost trace out the path of the heat pipe carrying the thermal load away from the CPU and to the two fans in the system. I measured peak temperature here at 41.7C.
Now let's look at Surface Pro 2: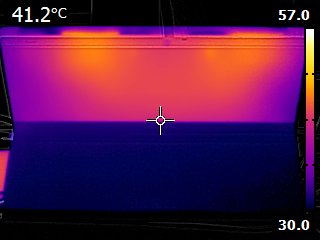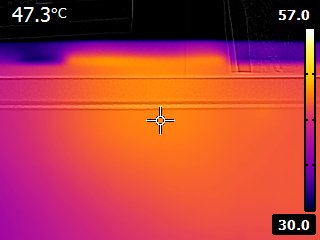 Despite a move to Haswell, Microsoft lets the device get much warmer. You can make out the same U-shape thermal distribution as heat is carried away using the two fans, but the temperatures are much higher. I measured a maximum temperature running the same workload of 47.3C.
Here we have Surface Pro 3: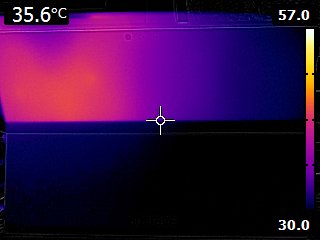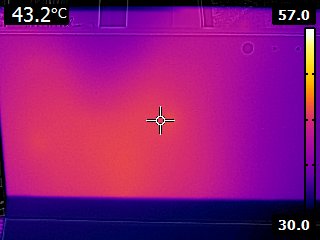 Right away you can see the new cooling system at work. The thermal load is mostly confined to the left side of the image (we are looking at the back with the kickstand unfolded towards the camera, so if you were looking at the display we're talking about the upper right side of the machine). The cooling solution is far more compact and I suspect ready for a move to Core M (Broadwell). Peak temps however are much closer to Surface Pro 1 at 43.2C.
The thermal story points us in the right direction. Either Surface Pro 3's fan and heatpipe configuration is able to remove heat far better than Surface Pro 2's design could, or the CPU in SP2 doesn't get as warm. I suspect it's the latter.
For starters, I'm guessing that Intel is helping Microsoft with delivering better binned Haswell ULT and Y series SKUs. But the big change is I believe Microsoft is more aggressive about reducing CPU and GPU frequencies in Surface Pro 3 compared to Surface Pro 2. Benchmarks will show an increase in performance due to more aggressive ramping up/down of clock speeds vs. Surface Pro 2, but prolonged load cases will likely show a decrease in performance vs. last year's model.
I first stumbled upon this behavior while trying to gather thermal data for Surface Pro 3. I noticed large run to run variance if I repeatedly ran 3DMark 11. I'm used to seeing this sort of behavior on smartphones that throttle quickly, but it was unique for a Surface Pro device.
3DMark is a synthetic test so the real question was how would Surface Pro 3 perform in a real world scenario where sustained CPU/GPU load was guaranteed for a long period of time. I figured a game playable on the machine like Dota 2 would be a great example. I asked our own Ryan Smith to whip up a custom benchmark using the game and I ran it on Surface Pro 1, 2, 3 as well as a 13-inch MacBook Air (Early 2014). The graph below illustrates average frame rate during our Dota 2 benchmark for all of the systems:
As you can see, even with Surface Pro 3's fan running the platform doesn't deliver sustained performance equal to last year's model. It's an understandable tradeoff given the substantial reduction in device thickness (and thus improvement in usability), but it's important to note nonetheless.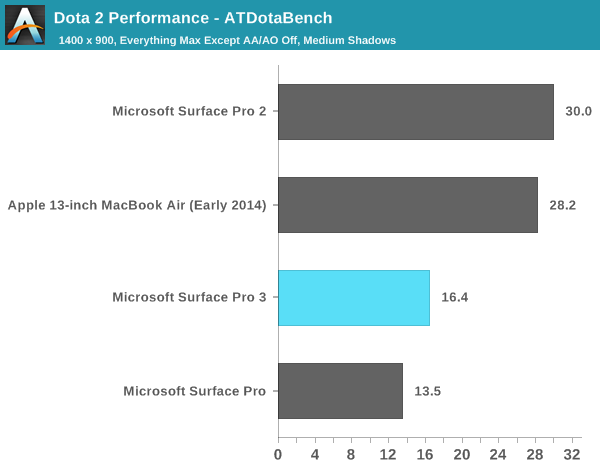 Workloads that are CPU and GPU heavy are one thing, but what about sustained productivity workloads? Penny Arcade's insanely talented artist Gabe mentioned that he noticed substantial lag when drawing on his Surface Pro 3. As Surface Pro 3's NTrig pen is actually lower latency than Surface Pro 2's, I wonder if what Gabe ran into might be thermal related rather than pen related (alternatively it could have to do with the much higher display resolution that Surface Pro 3 runs at). I needed a repeatable workload to see if non-gaming use cases also showed a regression. Thankfully PCMark 8 v2 provides a number of relatively long, repeatable workloads that are great for testing just this.
I decided to use the PCMark 8 v2 Work suite which includes web browsing, office producitivity (word processing and spreadsheet work) and video chat. It's a far cry from a Cinebench loop but I figured if I saw throttling here it would easily be present in heavier workloads. Each run of the suite actually repeats the tests three times and takes around 20 minutes to complete on the Surface devices. I measured performance for three suite runs (9 total runs of the Work loop) on both Surface Pro 2 and 3:
PCMark 8 v2 Work Performance Over Time
Work Suite Run #1
Work Suite Run #2
Work Suite Run #3
Microsoft Surface Pro 3 (Core i5)
3273
3031 (92% of peak)
3129 (95% of peak)
Microsoft Surface Pro 2 (Core i5)
3222
3223
3218
As you can see, there's a 9% drop in performance on Surface Pro 3 from the first suite run to the next while Surface Pro 2 delivers consistent performance between runs. By the third run Surface Pro 3's performance recovers a bit, although it's still a few percent below the initial, cool run.
PCMark 8 v2 also plots CPU temperature and frequency throughout the course of the benchmark. Unfortunately I don't think I can export the data so I'm forced to present screenshots from the benchmark harness itself. Thankfully even looking at these screenshots is enough to tell us what's going on between the two Surface Pro devices: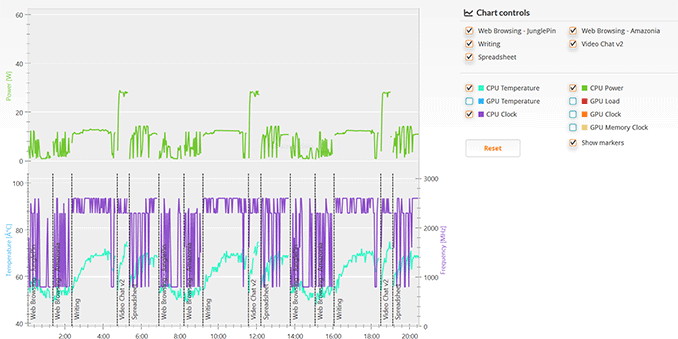 Surface Pro 2 PCMark 8 v2 Work Suite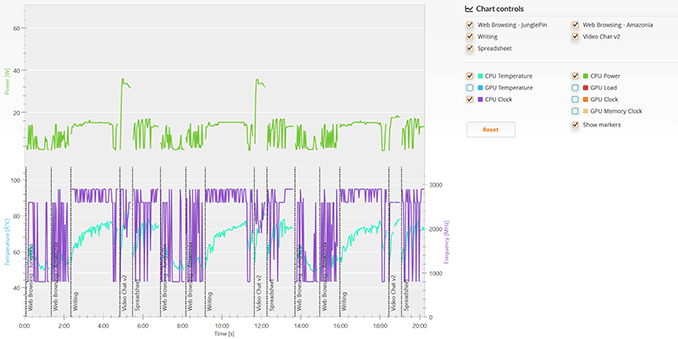 Surface Pro 3 PCMark 8 v2 Work Suite
Both devices do a good job of reaching max turbo fairly regularly, but Surface Pro 2 appears to spend more time at its max turbo state. By the last loop of the benchmark Surface Pro 3's max power is limited (green line) by the time we get to the video chat workload, I suspect that is where we lose a bit of performance. I'm only looking at the last of three suite runs here, if we looked at the second one the results would be even worse.
I haven't tested Surface Pro 3 in Microsoft's new docking station so I don't know if the device changes its thermal profile at all when docked, but in tablet or laptop mode it's definitely going to throttle quicker than Surface Pro 2 did. I must stress that I don't think this is necessarily a bad idea. Surface Pro 3 improves usability over Surface Pro 2 by leaps and bounds, and it's still faster under load than the original Surface Pro. All of this comes at the expense of reduced sustained performance. As you'll see from the rest of our tests, peak performance did get better over last year's model.
Fan Noise
Surface Pro 3's single fan is more noticeable than in Surface Pro 2. The sound it produces isn't necessarily louder, and when spinning it sounds a lot like any other Ultrabook with a fan in it. Compared to Surface Pro 2, the fan does kick in more frequently. For light tablet workloads or even light office work on Surface Pro 3, the fan remains silent. It's only when you're doing anything CPU or GPU intensive that you'll hear it spin up. The big difference is that in situations where you wouldn't hear fans spinning on Surface Pro 2, you'll sometimes hear it on SP3. This is the tradeoff that comes with the thinner chassis.
Battery Life
Microsoft made no sacrifice in battery capacity in pursuit of Surface Pro 3's thin chassis design. The new tablet features an integrated 42Wh battery just like the previous two models. Charging duties are handled by an external 31W charger with a brand new magnetic connector. Microsoft never seemed to get a good MagSafe clone working in the previous models, so Surface Pro 3 abandons the previous design entirely in favor of something a bit more sensible.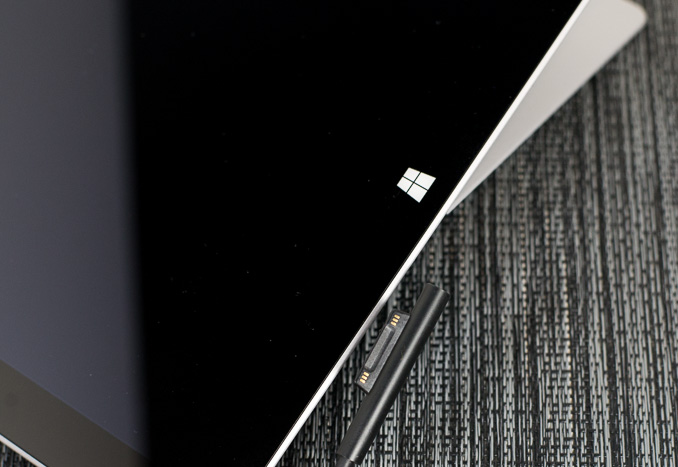 The new connector no longer looks like an oversized MagSafe connector, and instead features a thin plastic insert that mates with the charge port on Surface Pro 3. Charge time hasn't changed, you can fully charge the device in around 2.62 hours: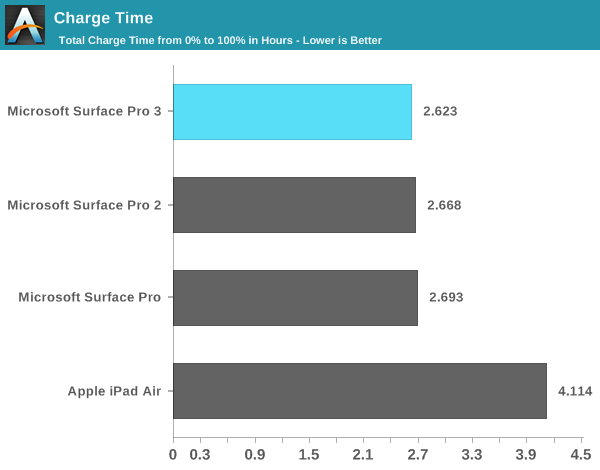 The device-side connector features 40 pins but you only need 12 of them to charge the device. The remaining pins are used for Gigabit Ethernet, USB, DisplayPort (up to 4096 x 2304) and audio. Microsoft seems hell bent on avoiding Thunderbolt at all costs so instead of embracing the standard it has created a custom alternative of its own doing. The benefit to Microsoft's connector is it can obviously deliver more power than Thunderbolt can, the downside is that it can't send PCIe and thus you don't get support for any ultra high bandwidth external storage devices. I still would rather see Microsoft implement Thunderbolt as there's at least an existing ecosystem built around that but here we are three generations into Surface and if we haven't seen it by now I don't think we're ever going to.
The supplied power adapter includes a USB charge port capable of delivering 1A at 5V.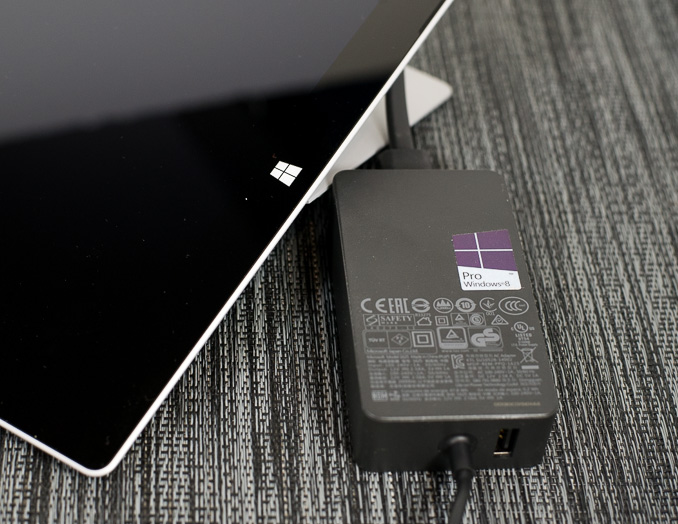 As Surface Pro 3 is designed to be both a laptop and a tablet I've run it through both our Windows laptop battery life tests and our tablet battery life tests.
Laptop Battery Life
As a laptop, Surface Pro 3 delivers comparable battery life to other optimized Haswell ULT designs. I threw in Sony's Vaio Pro 13 into the mix because it has a similar sized battery (37Wh vs. 42Wh) and is one of the most power efficient Windows Ultrabook platforms on the market. Surface Pro 3 manages to deliver similar battery life, which means it's a little less power efficient but the two are within the same range at least.
Compared to Surface Pro 1 and 2, Surface Pro 3 at worst delivers similar battery life and at best increases range on a single charge by up to 20%. We're looking at 3.75 hours - 7.6 hours of notebook usage on a single charge depending on usage.

It's worth noting that there's a substantial advantage in battery life if we look at the 13-inch MacBook Air running OS X. I only mention this because of Microsoft's insistence on comparing Surface Pro 3 to Apple's popular line of notebooks.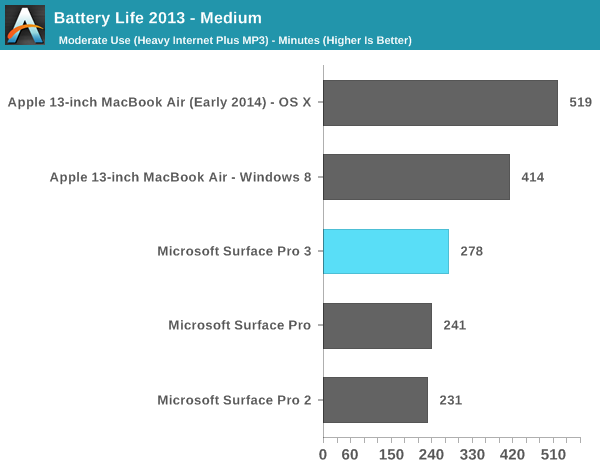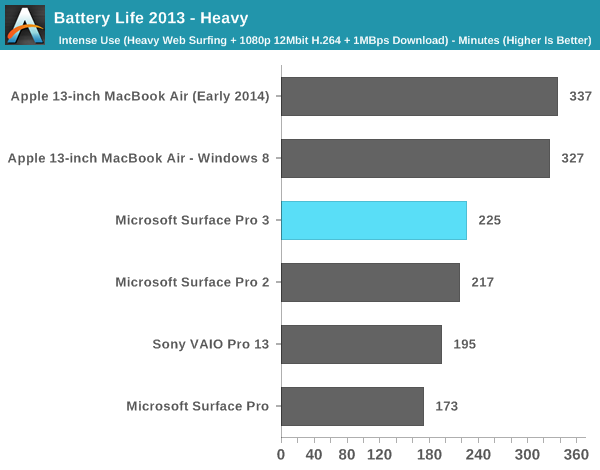 Tablet Battery Life

Tablet workloads are going to be far more display power bound than anything else. Here we see 7.58 - 8.03 hours of continuous usage, a slight regression compared to Surface Pro 2. Video playback remains more power hungry than web browsing, which is something I've noted in previous tablet-evaluations of Intel's Core silicon. I don't believe Intel's Core processors are very optimized for video decode power consumption. If anything is going to change with the move to Broadwell and Core M I suspect video decode power may be it.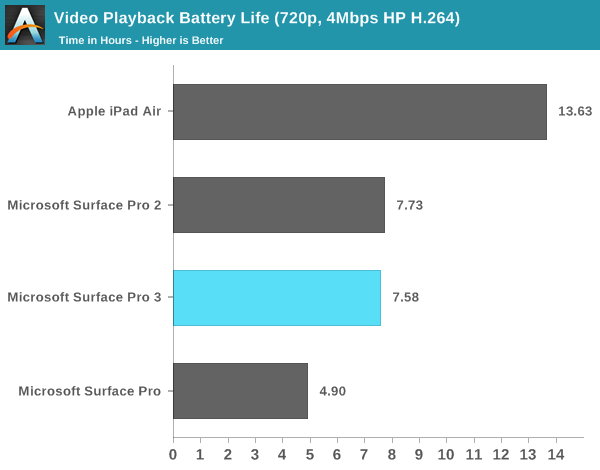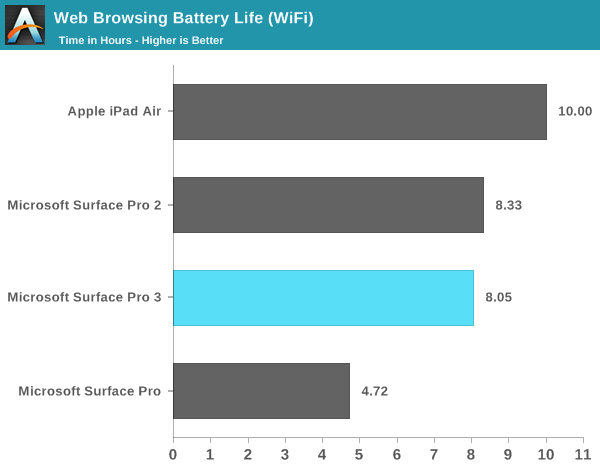 Display Analysis
I published an analysis of Surface Pro 3's display shortly after receiving my review unit. For those of who you haven't seen it already, the results and analysis are reprinted below.
With Surface Pro 3, Microsoft finally accepts that while 16:9 may be a great aspect ratio for watching movies but it's not optimal for a multi-purpose tablet. The tablet features a 12" 2160 x 1440 display (RGB stripe, not RGBW/PenTile), which ends up being a 3:2 aspect ratio. The difference is immediately noticeable in notebook-style use. While the Surface Pro 2 was never quite all that comfortable to use as a laptop, Surface Pro 3's display makes it substantially more laptop-like. There doesn't appear to be a big impact to tablet use either with the larger display. Particularly with Windows 8.1's split screen mode, the larger display ends up working extremely well. The LCD continues to be laminated to the cover glass just like with previous Surfaces.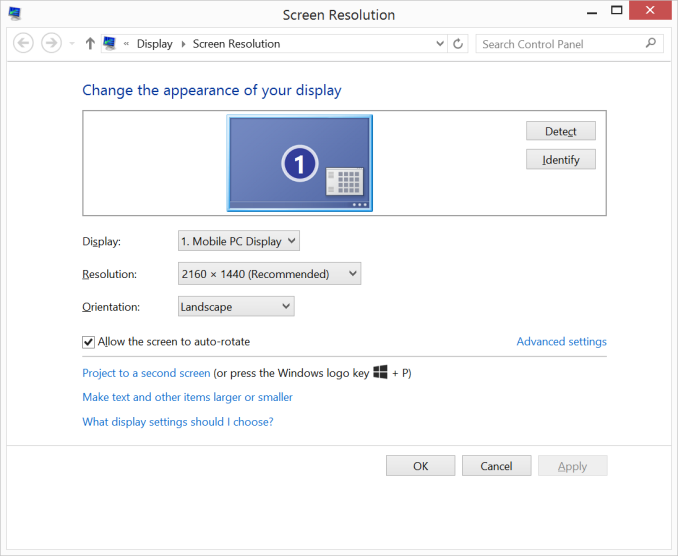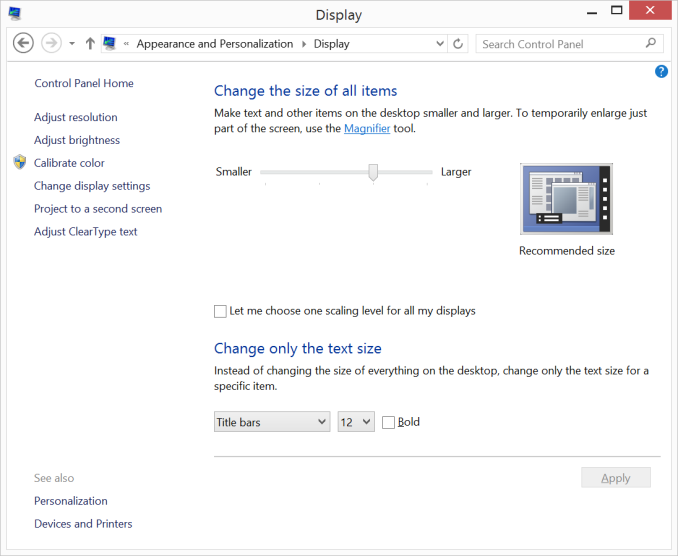 Default 150% Scaling on Surface Pro 3, the 2160 x 1440 display behaves like a HiDPI 1440 x 900 display
Color accuracy is improved out of the box as well. The original Surface Pro had a display capable of being quite accurate, if calibrated, but out of the box it was a bit of a mess. Microsoft slowly improved out of box calibration over the years, eventually culminating in what we have today with Surface Pro 3.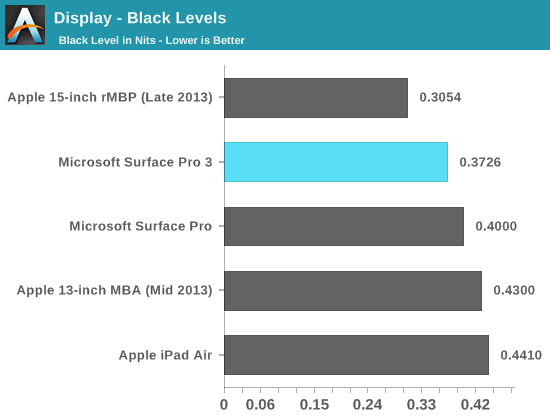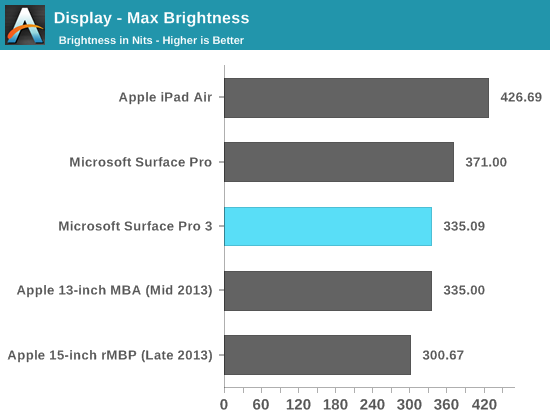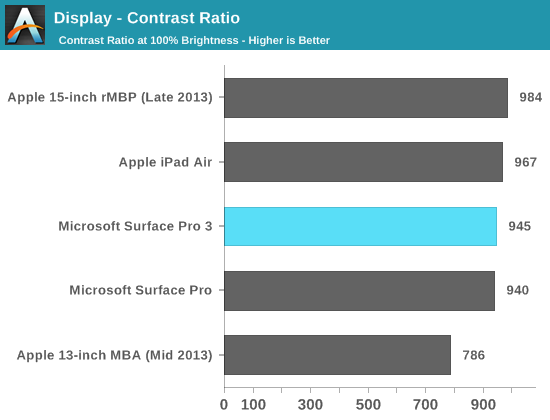 Max brightness drops a bit compared to Surface Pro 2, likely due to the Pro 3 having 50% more pixels to light. Black levels at max brightness are pretty good, thanks in part to Microsoft's optically bonded LCD/cover glass stack. Contrast ratio remains competitive with previous designs.

Grayscale accuracy is the biggest issue with the new display, green levels are just way too high: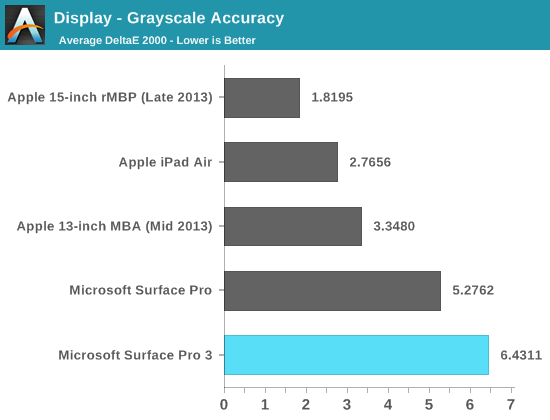 Our basic sRGB gamut test paints a great picture for Surface Pro 3. Full saturation color reproduction is excellent: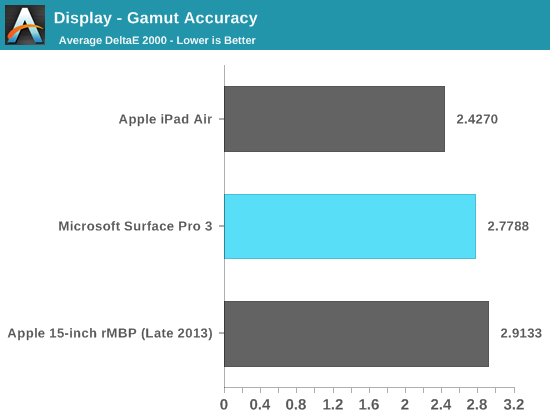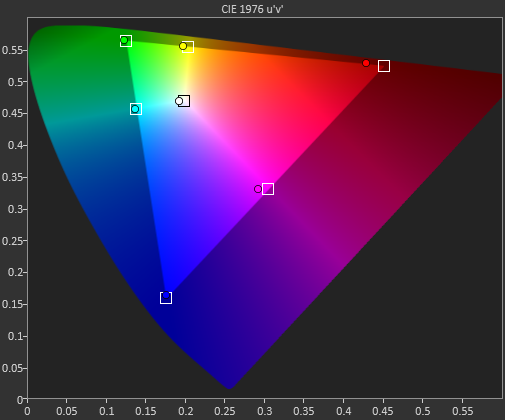 The saturation sweep also looks solid: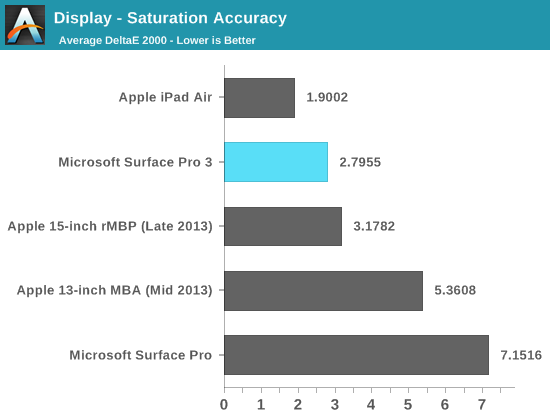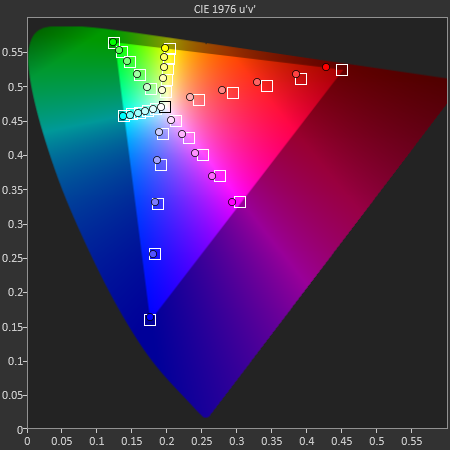 Unfortunately Surface Pro 3 doesn't do so well on our GMB color checker test. Part of the problem is its performance in the grayscale swatches included in this test: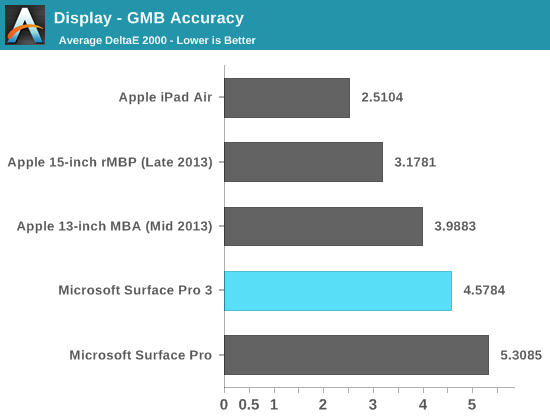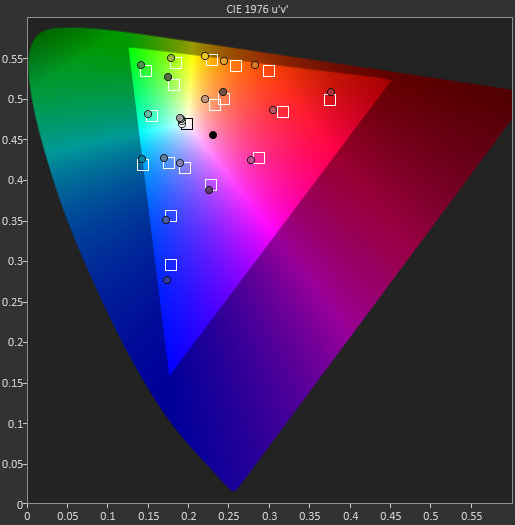 Overall the Surface Pro 3 display is a huge improvement over the previous two generations, but it doesn't quite meet the high standards set by some of the other competitors on the market today from both notebook and tablet spaces.
Laptop Performance

Just like with battery life, we need to evaluate the performance of Surface Pro 3 as both a laptop and a tablet. As a laptop, Surface Pro 3 delivers performance comparable to other Ultrabooks of similar specs - assuming we're talking about short bursts of performance. In prolonged workloads you'll see a bit of a gap, and even a slight regression vs. Surface Pro 2 due to the thermal design targets for the new chassis.

With the exception of the Work suite in PCMark 8 v2, we're mostly looking at performance in the range of a 13-inch MacBook Air - the prototypical Haswell ULT notebook. Surface Pro 3 is definitely in good performance company. In the Work suite however the MacBook Air (running Windows) is able to deliver around 16% better performance than Surface Pro 3. I'm guessing this has to do with thermals more than anything else.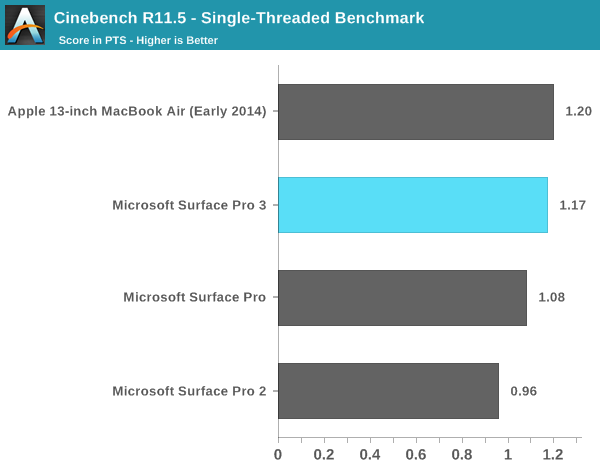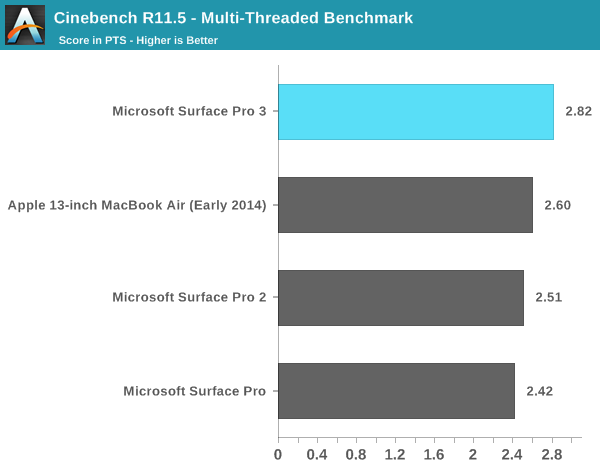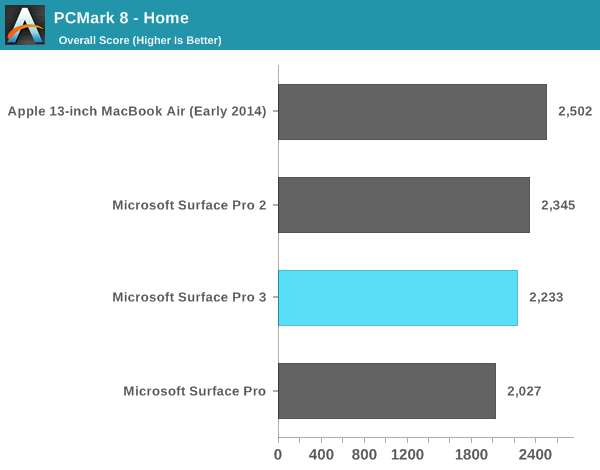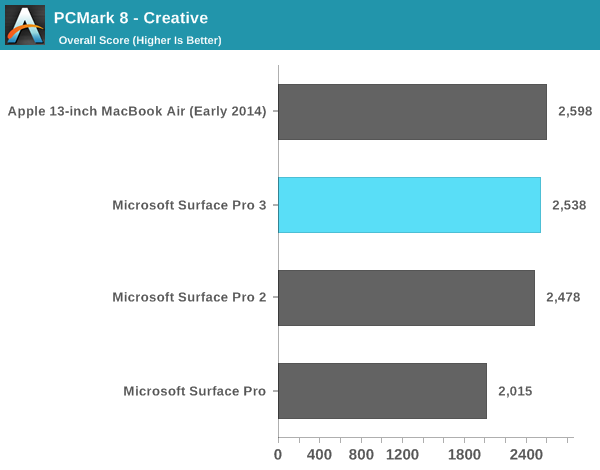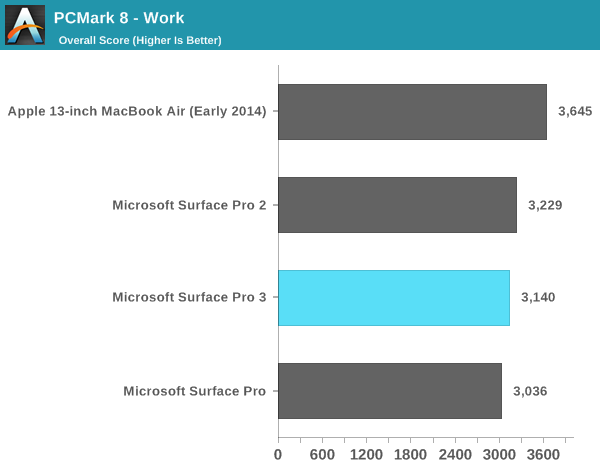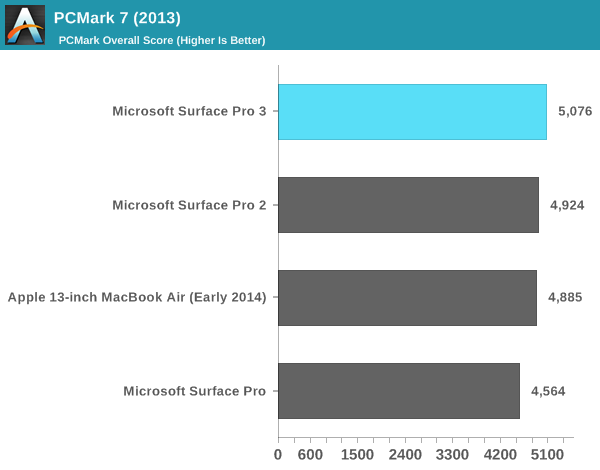 We see a similar story if we look at GPU performance: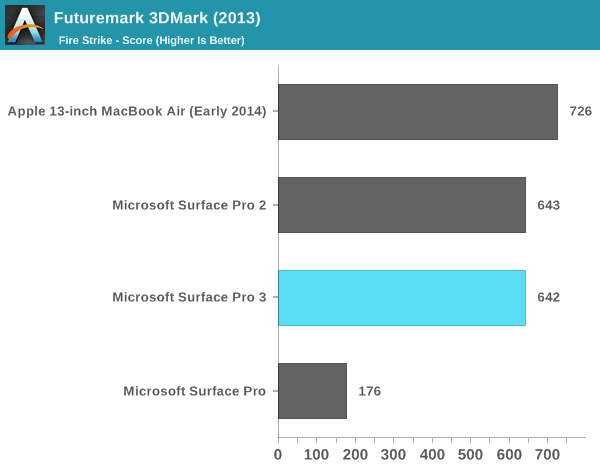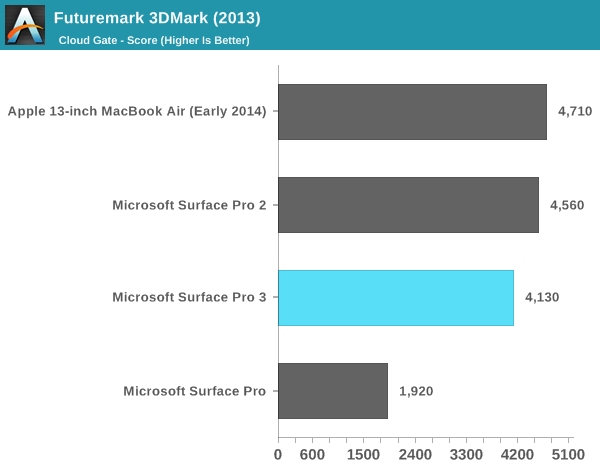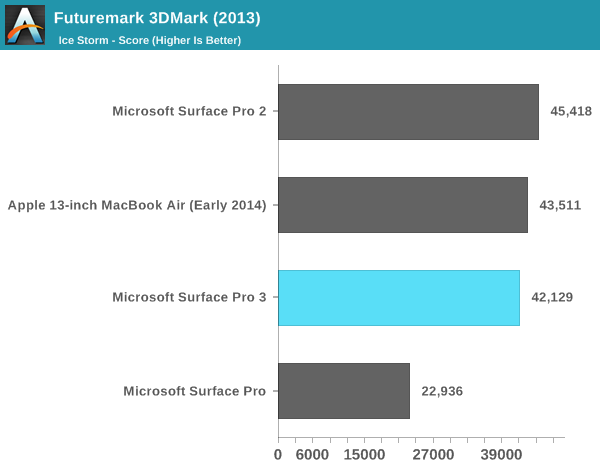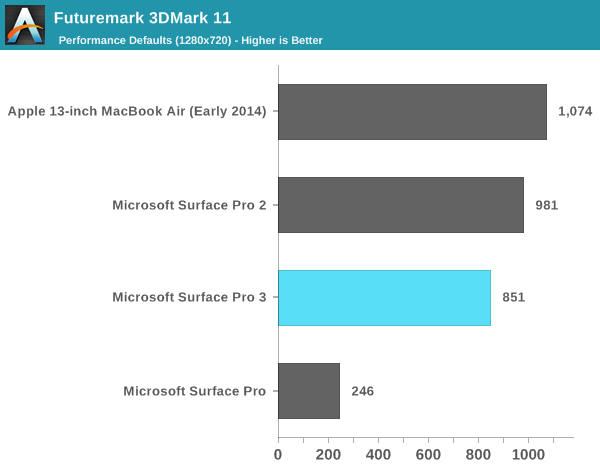 In terms of playable games, with some tweaking to detail settings you should be able to average 30 fps in titles like Dota 2. Running at the panel's native resolution is generally out of the question but for lighter titles on Steam like Transistor, you can have a reasonable experience. The higher end Core i7 Surface Pro 3 does ship with Intel's HD 5000 graphics instead of HD 4400 in the Core i5 review sample I tested. It's entirely possible that we see better gaming performance or thermal management (more EUs at lower voltage) in that design.

Just like in previous designs, Surface Pro 3 integrates a SATA SSD (likely M.2 this time). In this case Microsoft uses an OEM version of Samsung's SSD 840 EVO, a 3-bit-per-cell MLC design that we've found to be a pretty good value. I am disappointed we didn't see a move to PCIe storage but for general use I doubt there's much value in it. PCMark 8 v2's storage test isn't particularly stressful but it does show that Surface Pro 3's SSD is at least competitive with its predecessor and the MBA despite moving to TLC NAND.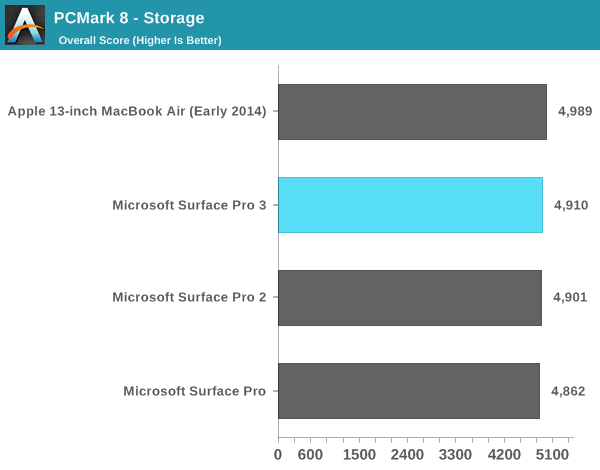 Tablet Performance

The tablet performance comparison is as ridiculous as it's ever been. Surface Pro 3 is substantially faster than any ARM based tablet on the market. Web pages load quicker and you can play a completely different caliber of game on the device.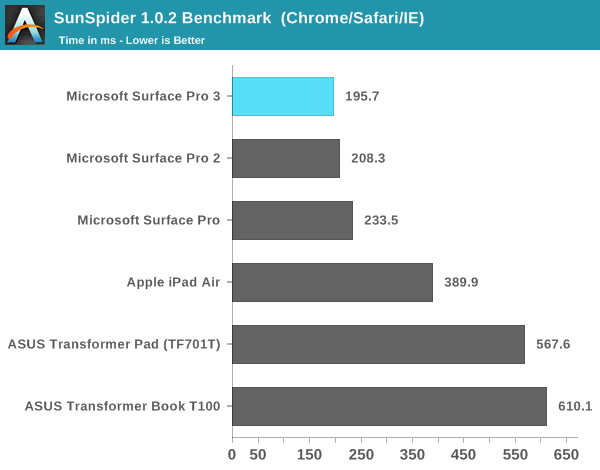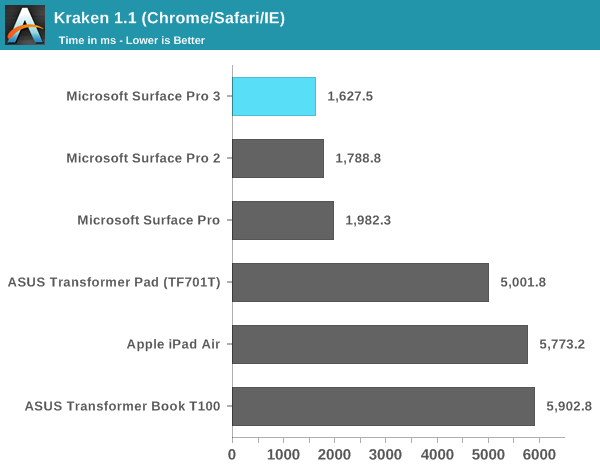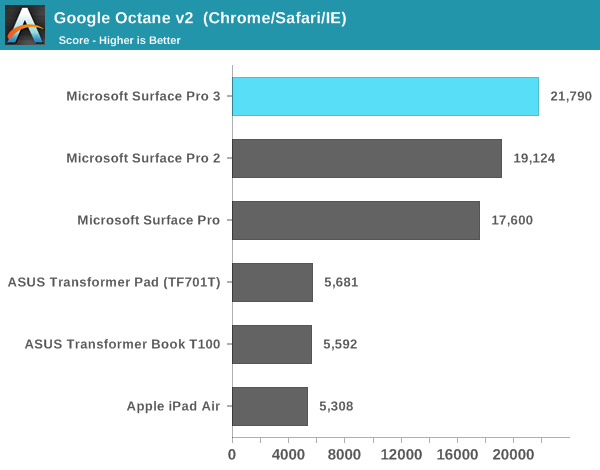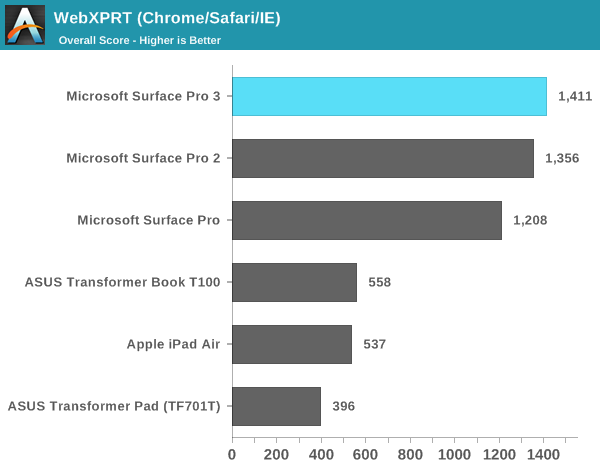 Tablet GPU Performance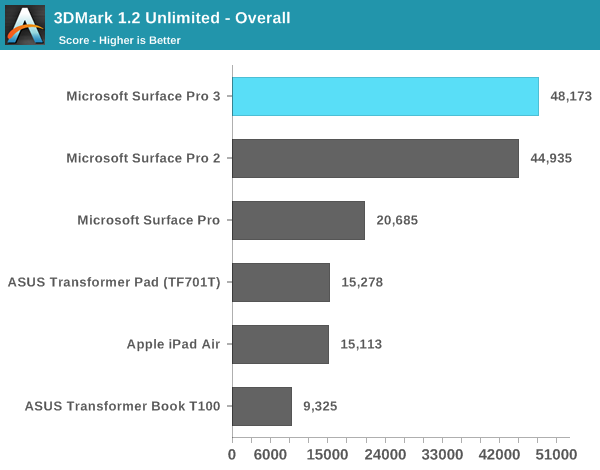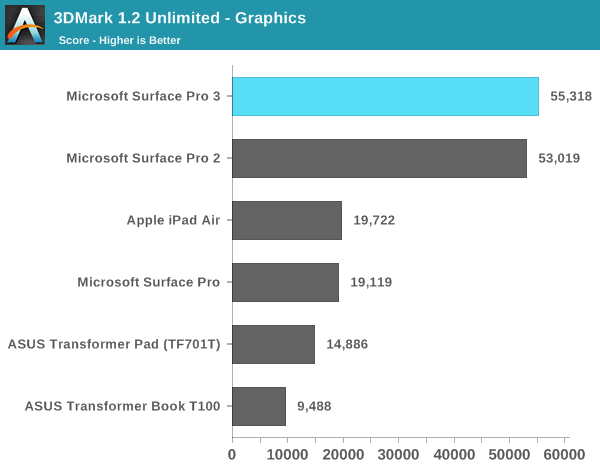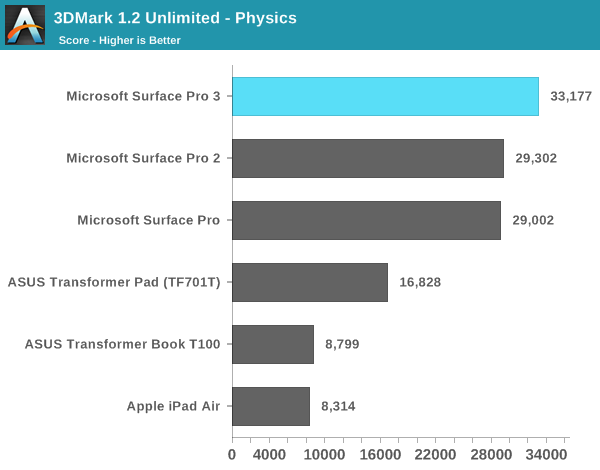 All news isn't good though on the tablet front. Surface Pro 3 still struggles to behave completely like a tablet, despite finally gaining support for Connected Standby. Waking up the device from sleep still requires around 1300ms, a period that sounds small but feels like an eternity compared to an Android or iOS tablet.

WiFi

Marvell remains Microsoft's partner of choice when it comes to the WiFi implementation on Surface Pro 3. The updated design features a Marvell Avastar 88W8897 SoC supporting 2-stream 802.11ac and Bluetooth 4.0. The SoC also features NFC support but it's not leveraged in Surface Pro 3.

WiFi performance is better than on Surface Pro 2. Peak performance improves from around 160Mbps to 260Mbps when connected at an 866Mbps link rate. I didn't notice any weird behavior or poor performance when connecting to WiFi networks, although as 2-stream 802.11ac implementations go this is hardly the fastest.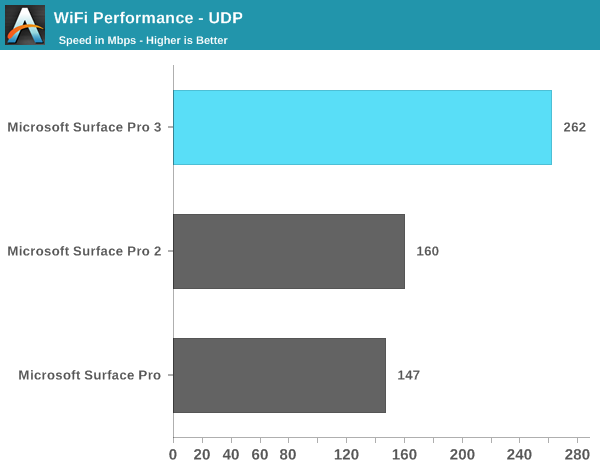 Final Words
When I reviewed the first Surface Pro I was intrigued by the idea, but felt it needed a few more iterations to get to the right point. In less than two years what we have in front of us looks very different than Microsoft's original vision for the platform. Display size, aspect ratio and even the mechanics of the whole thing are all quite different. The changes are for the better as Surface Pro 3 is a much better laptop and a much better tablet than any of its predecessors. The device no longer feels cramped and tiring to use as a laptop. The new Surface Pro no longer feels heavy to use as a tablet either. It's truly an improvement on both vectors.
Microsoft might be overselling the design to say that it truly is the only device you need. Like most compromises, Surface Pro 3 isn't the world's best laptop nor is it the world's best tablet. It serves a user who wants a little of column A and a little of column B.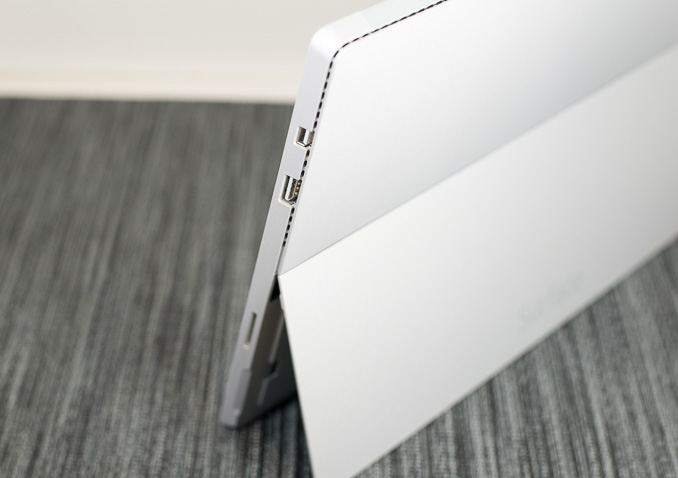 The device's "lapability" is tremendously better than any of its predecessors. While I wrote all of the previous Surface reviews on the very Surface devices I was reviewing, this is by far the most comfortable one to use as a laptop. It's still not perfect, and you still need a fairly long lap to make it work, but the design is finally really usable as a laptop.
As a tablet the thinner and lighter chassis is much appreciated. The new kickstand remains one of the best parts of the design, enabling a flexibility unmatched by any other tablet. Tent mode in particular is awesome for tablet usage models.
Surprisingly enough the move away from Wacom to an active NTrig pen model comes with very few issues. The device could use some tuning of its pen pressure curves. Applying max pressure on the screen now distorts the LCD, something I'm never comfortable doing. But overall the new pen gives up very little and even improves performance and functionality.
The new Type Cover is awesome. The keyboard is probably as good as it's going to get, and the new trackpad is finally usable. The latter isn't perfect but it's so much better than anything that's come before it.
The device also launches with a far more polished version of Windows. With its latest updates, Windows 8.1 is a far cry from where it first started. I still think there's lots of room for improvement, but it's clear that Microsoft is marching towards a more cohesive vision of modern and desktop Windows UIs.
The downsides for Surface Pro 3 are obvious. Windows 8.1 remains a better desktop/notebook OS than a tablet OS. Yet in a device like Surface Pro 3 where you're forced to rely on touch more thanks to a cramped trackpad, I'm often in a situation where I'm interacting with the Windows desktop using the touchscreen - a situation that rarely ends well. As Microsoft improves the behavior of its modern UI apps, I would love to see a rethinking of what touch looks like on the desktop. If Surface Pro 3 exists to blur the lines between laptop and tablet, Windows 9 needs to do a better job of the same. The desktop needs to react better to touch and the modern apps need to feel even more integrated into the desktop.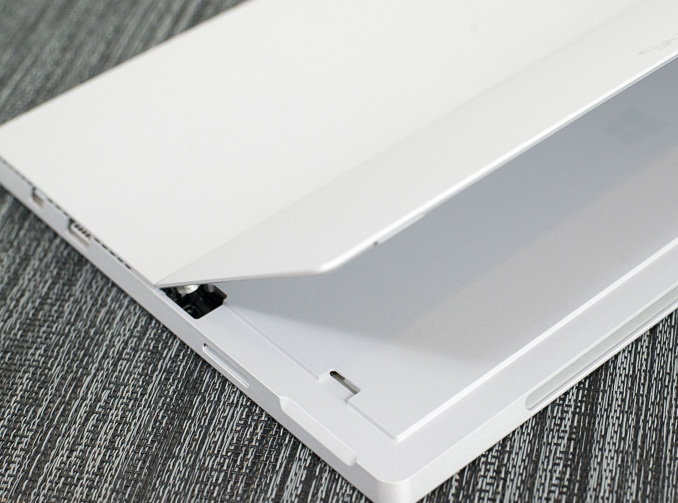 On the hardware side, the device is a compromise. You have to be willing to give up some "lapability" in order to get a unified laptop/tablet device. Whether what you get as a tablet is worth the tradeoff is going to be up to how good of a tablet OS Windows 8.1 is for you. Personally I find that Android and iOS deliver better tablet experiences particularly when it comes to 3rd party applications. If everything you need on the tablet front is available in the Windows Store however then the point is moot.
Those users upgrading from Surface Pro 2 may notice a regression in performance, particularly when it comes to running prolonged CPU/GPU intensive workloads. In games, the difference can be noticeable. The simple fact is that in becoming a thinner device, Surface Pro 3 inherited more thermal constraints than its predecessors. While performance regressions aren't ideal, in this case I can appreciate what Microsoft has done. From the very beginning I wanted a lower TDP part in a thinner chassis. Had Microsoft done that from the start we wouldn't have seen any performance regression but rather a steady increase over time. From my perspective, Surface Pro 3 is simply arriving at the right balance of thermals and performance - the previous designs aimed too high on the performance curve and required an unreasonably large chassis as a result.
The remaining nitpicks are the same as last time: Microsoft needs to embrace Thunderbolt, and a Type Cover should come with the device. The display's color accuracy is good but grayscale performance needs some work.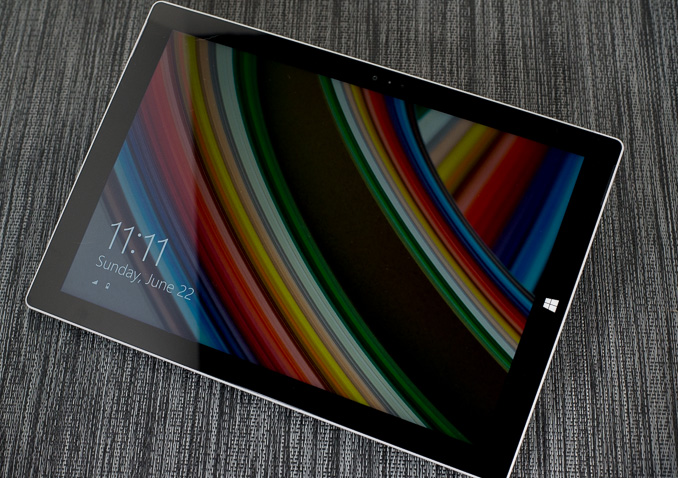 Surface Pro 3 is easily the best design Microsoft has put forward. If you were intrigued by the previous designs, this is the first one that should really tempt you over. I was a fan of the original Surface Pro, and with Surface Pro 3 I think Microsoft has taken the hardware much closer to perfection. At this point the design needs more help on the software side than hardware, which is saying a lot for the Surface Pro hardware team. Personally I'd still rather carry a good notebook and a lightweight tablet, but if you are looking for a single device this is literally the only thing on the market that's worth considering. I don't know how big the professional productivity tablet market is, but it's a space that Microsoft seems to have almost exclusive reign over with its Surface line. With its latest iteration, Microsoft is serving that market better than ever.