Original Link: http://www.anandtech.com/show/8051/evga-supernova-850-g2-power-supply-review


Introduction
Diversification is the natural course for a growing company, especially if they reach the point where they cannot grow any further within their target markets, which often happens when markets become saturated. As you might expect, most of the larger graphics card manufacturers have been trying to diversify into other markets lately, as the profit margins continue to diminish and competition is becoming brutal. A few weeks ago, we had a look at XFX's effort to enter the chassis market with a gaming mid-tower case. Today, we are reviewing EVGA's effort to deliver a high performance power supply, the Supernova 850 G2. This isn't EVGA's first PSU, as they first started shipping PSUs over a year ago, but they're still a relative newcomer to the PSU scene.
While naming a power supply after an exploding star may not be the most sensible choice, the Supernova 850 G2 is based on the very popular Superflower Leadex platform, so we are off to a good start here. It features an 80 Plus Gold efficiency certification and, as its name suggests, the rated maximum continuous power output of this particular model is 850 Watts. Pay attention to the details however, as this unit's maximum power rating is at an ambient temperature of 50 °C. Other notable features of this particular model include an "ECO thermal fan control" and a ten-year warranty, all for $129.99 after rebate. Sounds too good to be true? Read on to find out more about the quality, performance and features of the Supernova 850 G2.
Power specifications (Rated @ 50 °C)
AC INPUT
100 - 240 VAC, 10A, 50 - 60 Hz
RAIL
+3.3V
+5V
+12V
+5Vsb
-12V
MAX OUTPUT
24A
24A
70.8A
3.0A
0.5A
120W
849.6W
15W
6W
TOTAL
850W
Packaging and bundle
EVGA supplies the Supernova 850 G2 inside a large, aesthetically plain cardboard box. All of the unit's major specifications and features are printed on the rear of the box. The PSU is well protected with a combination of polyethylene foam and cardboard pieces.
Inside the box, we find a bag for the modular cables, five long Velcro strips for cable management, black mounting screws, and a typical AC power cable. EVGA also supplies a jump-start ATX connector that may be used to start the PSU without a motherboard, a perhaps unusual but welcome addition to the bundle of the power supply (this can be useful for doing things like running a Bitcoin ASIC, bleeding a water block, or anything else where you need to power on the PSU without booting a PC).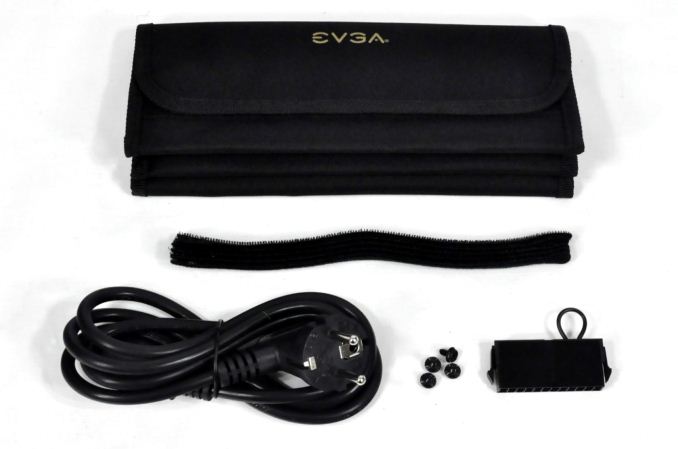 The Supernova 850 G2 is a fully modular unit, meaning that every single cable is detachable, including the main ATX cable. For improved aesthetics, EVGA ditches the color-coded wires for all-black wires; however, they are not using ribbon-like black cables without sleeving but normal free wires wrapped in black sleeving instead.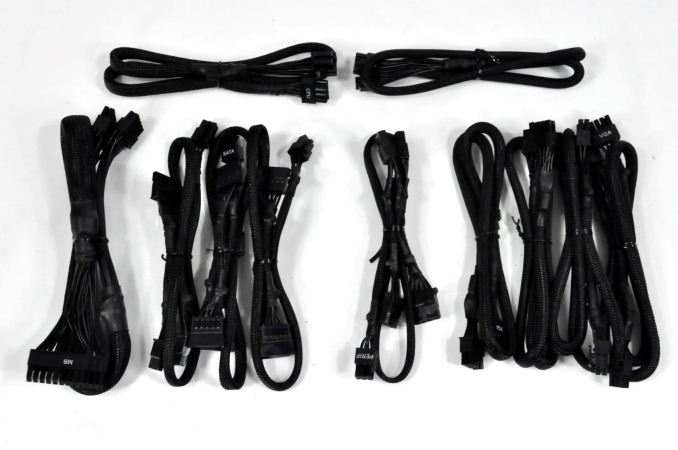 External Appearance
EVGA clearly made a serious effort to make the Supernova 850 G2 aesthetically unique. Instead of using a typical fan guard, the company went with a modified cover that has a circular-pattern opening integrated, as well as rounded edges. Stickers with the model and its specifications cover both sides of the chassis. The top side of the chassis is all clear, with the exception of two small stickers with the unit's serial and part numbers.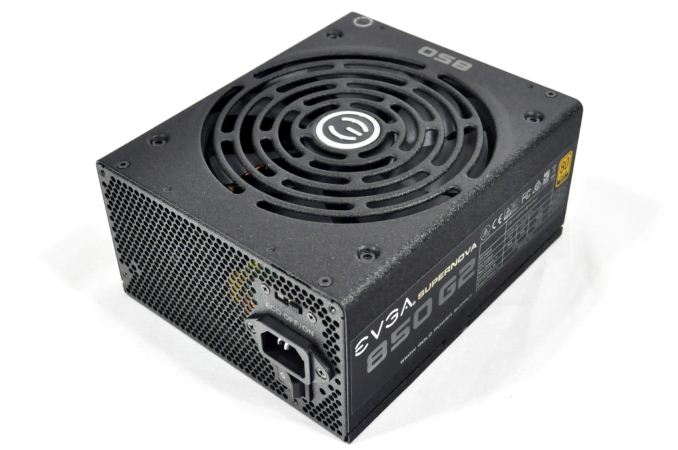 A textured, dark grey paint has been used for the entire unit. The chassis of the power supply is 180mm long, which could be a problem in tight mid-tower cases. As this is a fully modular unit, the front side is littered with the connectors for the cables. There is a legend indicating which connector goes where and we should note that the eight pin CPU connectors are different than the eight pin PCI Express connectors. The rear of the chassis is pretty much standard, with the exception of the "ECO on/off" switch that allows the user to switch between the standard and a more aggressive cooling profile.
Internal Design
EVGA installs a 140 mm dual ball bearing fan from Globe inside the Supernova 850 G2. Although this is a very powerful and notoriously loud model with a maximum speed of 1800 RPM, thankfully it will not even start when the unit is lightly loaded due to the smart "ECO" thermal control. The ECO fan control is based on temperature rather than load, starting the fan once the sensor reads a temperature of 55 °C and stopping it when the temperature drops below 45 °C.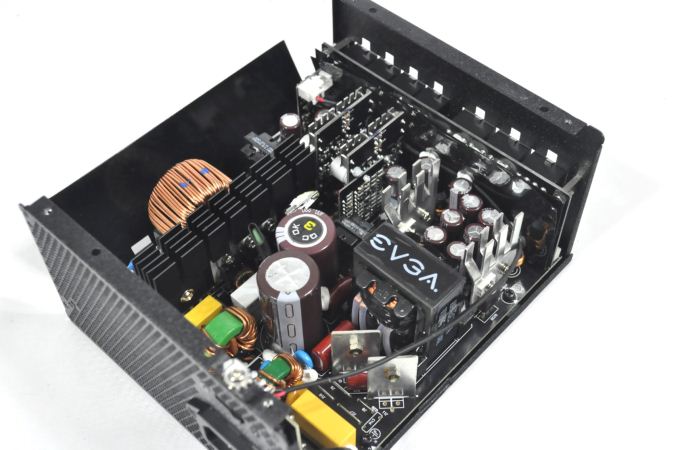 EVGA entrusted the Supernova 850 G2 to Super Flower, a very reputable ODM of high performance PSUs. It is based on the Leadex platform, a design that became very popular for combining high performance and reliability at a reasonable cost.
The filtering stage of the unit is very basic, with two Y capacitors, two X capacitors and two filtering inductors on the main board. There is a small PCB behind the AC receptacle but it has no components soldered on it. Two extra Y capacitors can be found after the primary rectifying bridge, which is rather odd for a switching PSU. The primary rectifying bridge is mounted on the large black heatsink, alongside the active parts of the APFC circuit. As the rest of the heatsinks are much smaller, it can be clearly derived that the majority of the unit's losses originate before the primary inversion stage.
The passive components of the PFC are two Nippon Chemi-Con 330 μF capacitors and a large inductor. Nippon Chemi-Con supplies all of the smaller capacitors as well, electrolytic and polymer alike. Six transistors convert the main transformer's output to a single 12 Volt line and the lower voltage lines are being derived from it with DC to DC conversion circuits.
The assembly quality of the Supernova 850 G2 is very good, but not really perfect. There is enough glue to improve the mechanical cohesion of the unit but not really a lot of it on the large inductors, which can make this model prone to high frequency vibrations (coil whine noise). The soldering job is good, yet not textbook, with some crude joints and uneven use of solder.
Cold Test Results
For the testing of PSUs, we are using high precision electronic loads with a maximum power draw of 2700 Watts, a Rigol DS5042M 40 MHz oscilloscope, an Extech 380803 power analyzer, two high precision UNI-T UT-325 digital thermometers, an Extech HD600 SPL meter, a self-designed hotbox and various other bits and parts. For a thorough explanation of our testing methodology and more details on our equipment, please refer to our How We Test PSUs - 2014 Pipeline post.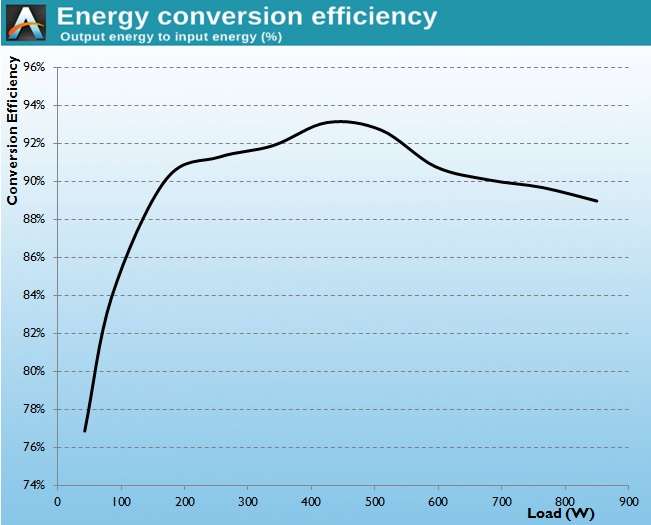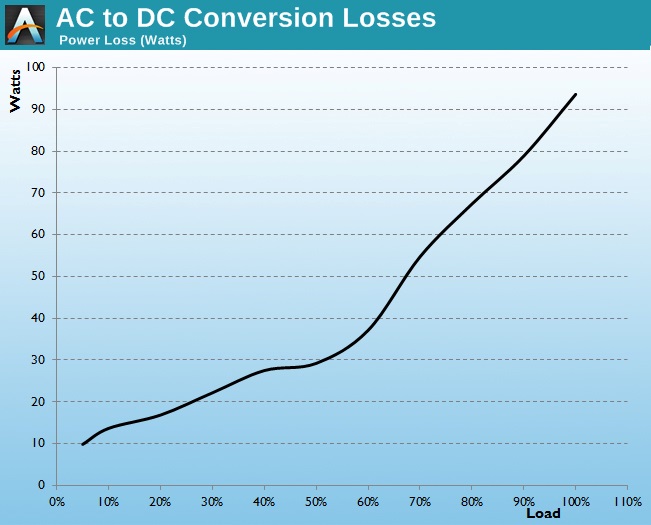 The performance of the Supernova 850 G2 at room temperature displays why Superflower's Leadex platform became so popular among enthusiasts. With an average energy conversion efficiency within the nominal load range (20% to 100%) of 91.0% and a maximum efficiency of 93.1%, the EVGA Supernova 850 G2 honors its 80 Plus Gold certification without issues. Loads lower than 170 Watts will make the efficiency of the Supernova 850 G2 plummet, dropping down to 76.9% with a load of 43 Watts, which however is natural for most switching PSUs and does not affect the 80 Plus certification, which takes into account only the 20% to 100% nominal capacity range.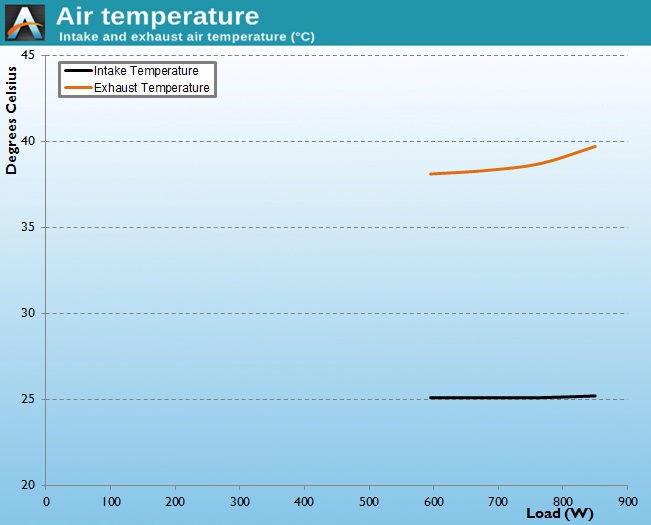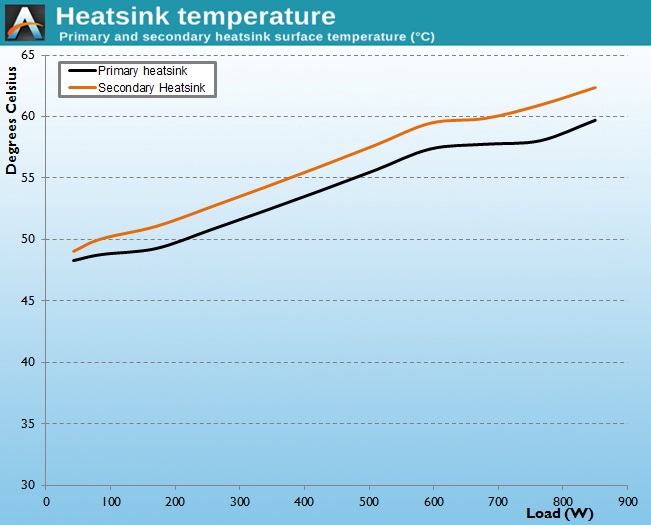 The most surprising outcome of our cold testing is the thermal behavior of the PSU. Instead of hectically working to keep the temperature of the unit low, the fan will only kick in when it is really needed; therefore, with a highly efficient power supply such as this working in room temperature, the fan did not even start until the load was over 550 Watts. This sort of thermal control however allows the PSU to reach higher temperatures than units of similar specifications, with the temperature of the primary and secondary side heatsinks reaching up to 59.7 °C and 61.8 °C respectively.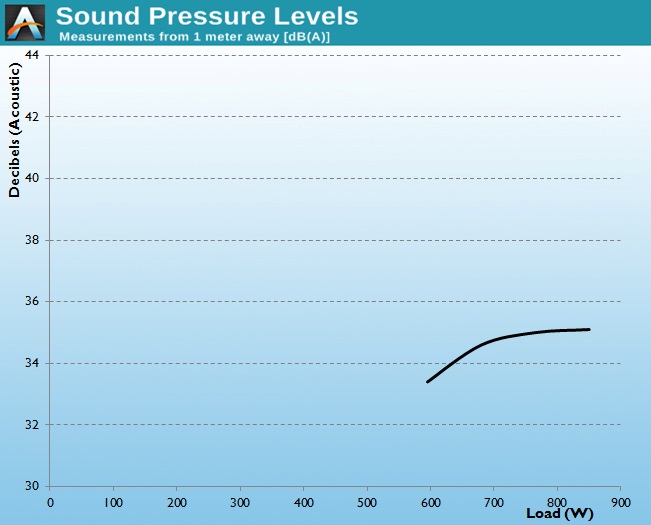 Hot Test Results
From the tables below, it can be seen that the output power quality of the EVGA Supernova 850 G2 is well above average. The maximum voltage ripple that our instruments recorded is below 24 mV under maximum load, even with the unit heavily cross-loaded, which is nothing short of exceptional. Voltage regulation is about 2% for all voltage lines, a good figure but not unusual for a high performance power supply.
Main Output
172.78 W
428.49 W
638.78 W
845.38 W
20.33%
50.41%
75.15%
99.46%
Line
Amperes
Volts
Amperes
Volts
Amperes
Volts
Amperes
Volts
3.3 V
3.89
3.39
9.73
3.36
14.59
3.33
19.45
3.32
5 V
3.89
5.12
9.73
5.10
14.59
5.04
19.45
5.02
12 V
11.48
12.17
28.69
12.07
43.03
12.01
57.38
11.91
Line
Regulation
(20% to 100% load)
Voltage Ripple (mV)
20% Load
50% Load
75% Load
100% Load
CL1 12V
CL2 3.3 V + 5V
3.3 V
2.1%
6
8
14
16
4
18
5 V
2.0%
8
8
12
16
8
20
12 V
2.2%
8
12
16
20
24
12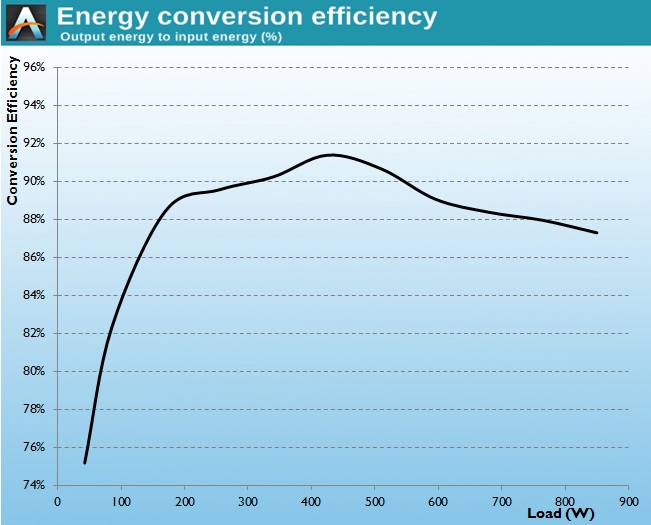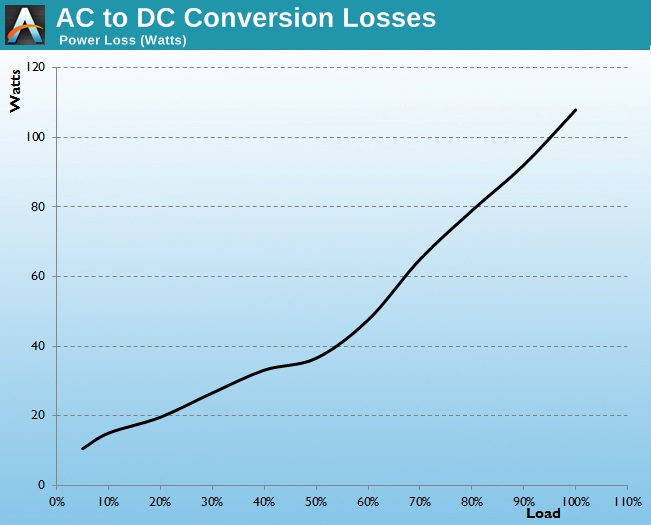 The high ambient temperature has a serious impact on the energy conversion efficiency of the EVGA Supernova 850 G2, reducing the average nominal load (20-100%) efficiency down to 89.2 % and the maximum efficiency of the PSU to 91.3%. Higher temperatures are expected to have a negative impact on the performance of any PSU but a drop of nearly 2% across the entire range is more than normal. The performance remains good but it would seem that this unit does not really like very hot environments.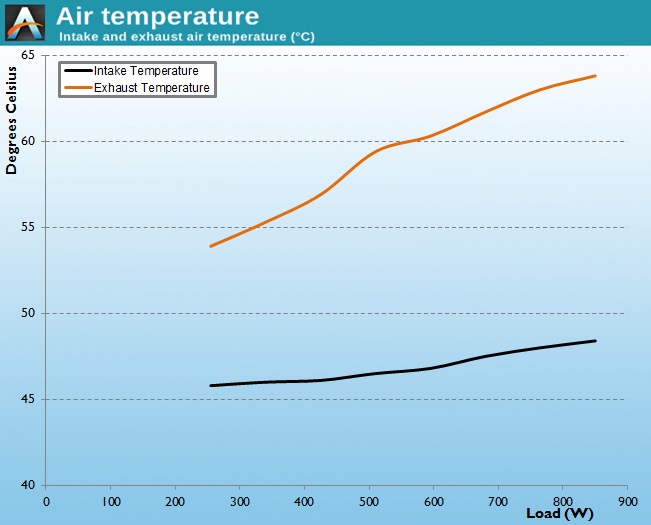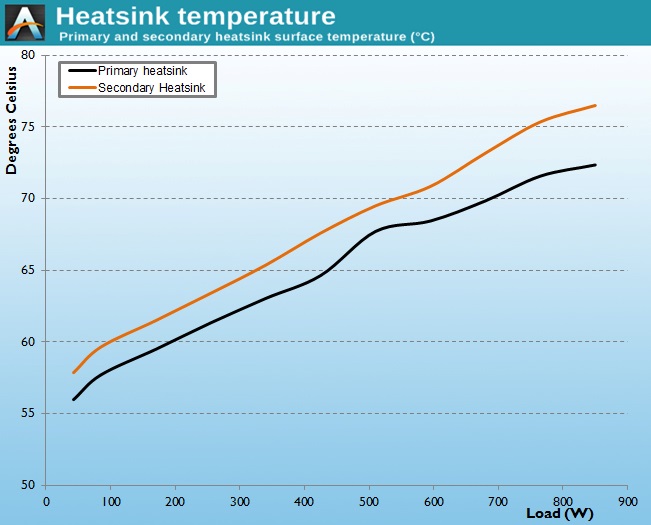 With the Supernova 850 G2 being tested inside our hot box, the fan begins spinning as soon as the load exceeds 200 Watts. The thermal control circuit reacts well under these adverse conditions, ditching acoustic comfort in order to keep the temperatures of the unit within a safe limit. As such, the Supernova 850 G2 becomes notoriously loud while heavily stressed inside our hotbox, but the temperatures of the unit do not reach figures that would make us concerned about its longevity. We should clarify that the Supernova 850 G2 is not a cool-running unit, as the heatsink temperatures are rather high for such a design, but the thermal control circuit makes sure that they will not reach unsafe levels.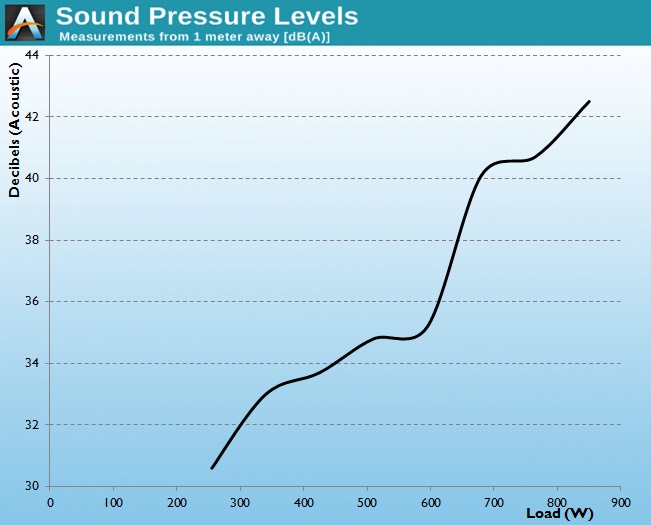 Conclusion
EVGA is not the only graphics card manufacturer that has tried to diversify into the power supply market, neither the Supernova 850 G2 is their first attempt to market a high performance computer PSU. It is however true that the particular segment of the market is somewhat saturated, making it difficult for companies to present something really innovative or exceptionally competitive. With the Supernova 850 G2, it would appear that EVGA attempted to deliver a high performance product balancing all primary selling points of a computer PSU -- aesthetics, performance, quality and value. In our opinion, they managed to do quite well.
Super Flower's Leadex platform is very popular for a reason. The power quality of this platform's output is exceptional, with the configuration of the Supernova 850 G2 presenting brilliant ripple suppression. It also is highly efficient, allowing the thermal control circuit to operate the unit without ever starting the cooling fan inside a good case. Higher temperatures do have a significant degrading effect on the efficiency of the Supernova 850 G2, dropping the overall efficiency of the PSU below the 80 Plus Gold certification requirements, yet the thermal control reacts well, ensuring that no quality-threatening temperatures will develop. Remember that the 80 Plus certifications are being granted for operation at room temperature (25 °C), so the Supernova 850 G2 does not fail to meet that requirement.
Quality should perhaps be the leading marketing point of EVGA for the Supernova 850 G2. It is a unit made by a very well-known ODM, based on one of their most popular platforms, and made with the highest quality components. The quality of the assembly is not perfect but it is well above average, leaving us no room for real complaints. Taking into consideration the ludicrous ten year warranty that the company offers, it is perhaps the most reassuring deal you can find for that kind of money.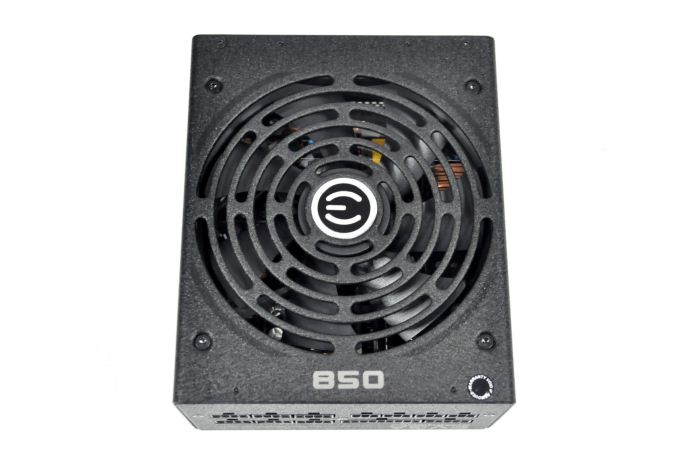 The Supernova 850 G2 is also aesthetically different. Aside from the fully modular design and the grainy paint, the company performs several minor improvements, such as the all-black cables and the chamfered edges, which complete a very nice looking product. EVGA managed to design a unique product without making it overly flashy, which we believe that will be appreciated by all kinds of users.
The MSRP of the Supernova 850 G2 is $149.90 but we found it retailing for $129.99 after rebate. Simply put, for an 850 Watt unit this well-made, with an 80 Plus Gold certification, capable of delivering such overall performance and backed up by a ten year warranty, the price is more than reasonable. If you are in need of such a powerful PSU for your gaming system, workstation, or cyptocurrency miner, the EVGA Supernova 850 G2 should definitely be on your shortlist.