Original Link: http://www.anandtech.com/show/8031/huawei-ascend-mate-2-review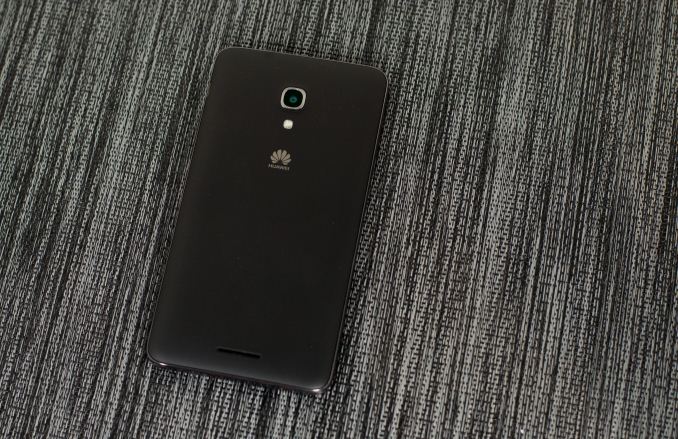 The commoditization of the smartphone segment has been predicted for more than a while now. It's almost obvious in a way though, especially when one looks at the progression of the PC industry. It was once effectively impossible to buy a good PC that cost less than a thousand dollars. Similarly, it was once effectively impossible to buy a good smartphone that cost less than 500 dollars. While Google, Motorola, and small Chinese OEMs have been bringing high-end specs to a price point around 350-450 dollars, the relative marketshare compared to OEMs like Samsung and Apple has been miniscule.
While there's some level of choice for high-spec, high-value smartphones at the ~5" display size segment, the same is far from true for phablets. The Galaxy Note line is generally considered to be the only phablet worth looking at, and there really isn't such thing as a "midrange phablet". The closest thing to a midrange phablet is the Galaxy Mega. The one experience I had with a Galaxy Mega 6.3 was anything but positive, especially when it was priced at around 400 dollars off contract or more. The value simply wasn't there.
Huawei seems to have noticed this, and in response to the unfulfilled niche, introduced the Ascend Mate 2. In the US, this phone is renamed to the Ascend Mate2 4G to indicate the different SoC and LTE modem, but the experience is largely the same. Huawei hopes to use this launch as its way to break into the unlocked device market in the US, and also as a way to build brand recognition in the US. Branding is definitely a big challenge for Huawei, especially because in the US they've effectively been relegated to ODM status. The only Huawei devices that I can name off the top of my head are the MyTouch phones sold by T-Mobile, and those aren't advertised as Huawei phones at all.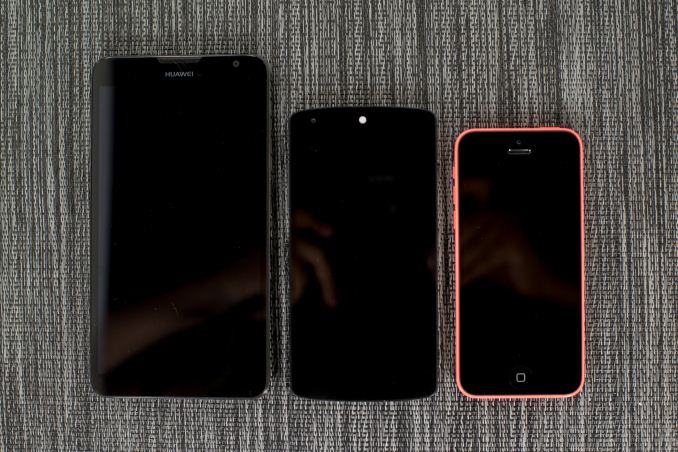 From Left to Right: Huawei Ascend Mate 2, Nexus 5, iPhone 5c
Hardware
The real question now is whether the Ascend Mate2 is any good. The first place to start is industrial and material design. While many people like to suggest that any weight given to ID or MD is effectively evaluating fashion for the sake of evaluating fashion, design is critical to a phone's utility. A phone or a tablet is something that people will be constantly feeling and looking at, thus a phone that's unergonomic or finished poorly will dramatically affect the rest of the experience.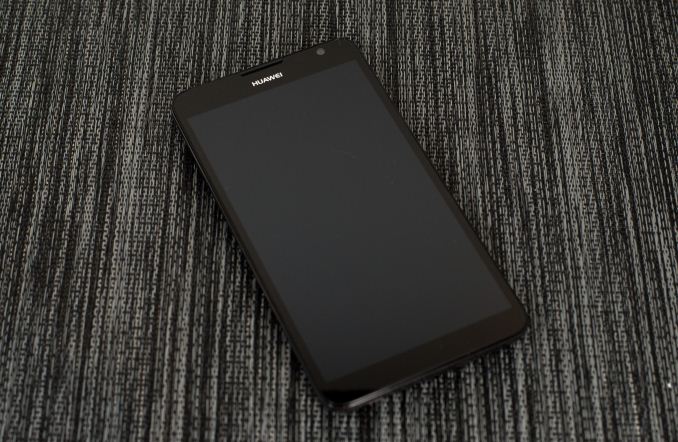 With that in mind, the Ascend Mate2 is surprisingly good. The black model that we were sampled has a relatively small amount of bezel around the display, with very little visual clutter. On the front, the only three visible elements other than the display are the front facing camera, an OEM logo, and the earpiece. On the sides, a glossy plastic band wraps around the phone, with a small lip that is slightly above the display. This makes it possible to place the phone face-down on a flat surface without risk of scratching the glass, which helps with durability. On the back, the battery cover has a hatched surface to increase grip and it feels like some sort of soft-touch coating has been applied to increase grip and improve in-hand feel as well. Overall, it feels great in the hand, and reminiscent of the Samsung Galaxy S2 in design. The speaker, camera, and LED flash are on the back as well, along with another Huawei logo. The power button and volume rocker are all placed on the right side of the phone, and the 3.5mm jack is on the top right. Strangely, the USB port is on the bottom left of the phablet, something that suggests the phone should be rotated to the right to use the phone in landscape while charging. While the design is nothing like the One (M8), it's certainly well designed and minimalistic. If anything, it's nice to see a plastic phone that doesn't pretend to be another material that it isn't. Huawei also avoided the poor feel that comes with glossy finishes that are easily covered with fingerprints and feel grimy within minutes of use.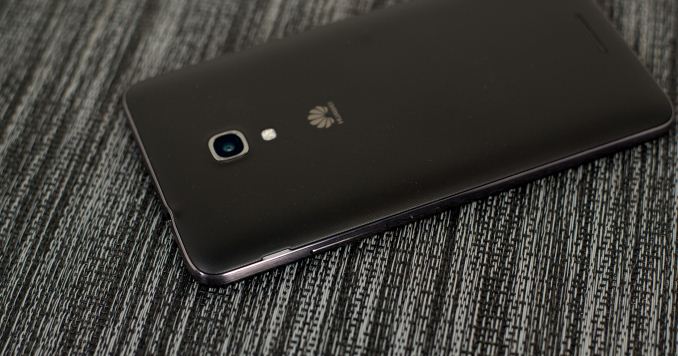 Outside of ID/MD, the Mate2 has a removable back cover, which allows for easy access to the microSD and microSIM slots. The battery isn't removable, but judging by the design it's trivial to replace the battery if you can use a screwdriver. Overall, the phone is very solid in the hand, with no perceivable flex or creaks. For a first impression, the Ascend Mate2 does quite well. Of course, a phone is more than just a dummy model to hold in the hand, so the specs matter as well. In this respect, the Mate2 is appropriate for its price point, although there are a few surprises.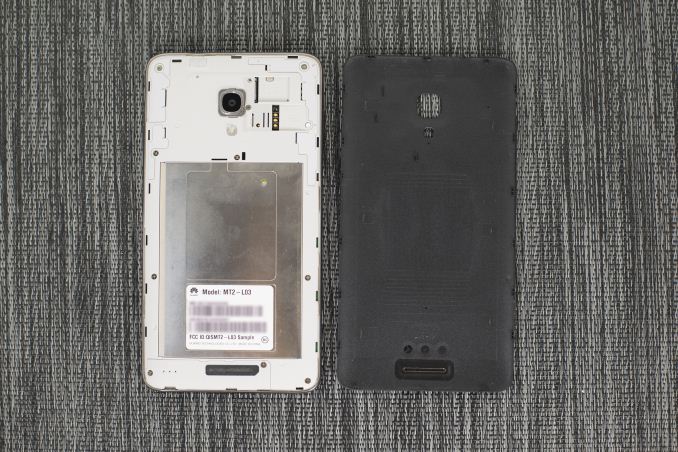 I've listed the specs in the table below for easy reading.
| | |
| --- | --- |
| | Huawei Ascend Mate2 4G |
| SoC | MSM8928 1.6 GHz Snapdragon 400 |
| RAM/NAND | 2 GB LPDDR2, 16GB NAND + microSD |
| Display | 6.1" 720p IPS LCD |
| Network | 2G / 3G / 4G LTE (Qualcomm MDM9x25 UE Category 4 LTE) |
| Dimensions | 161 x 84.7 x 9.5mm, ~202 grams |
| Camera | 13MP rear camera, 1.12 µm pixels, 1/3.06" CMOS size, F/2.0. 5MP F/2.8 FFC |
| Battery | 3900 mAh (14.82 Whr) |
| OS | Android 4.3 with Emotion UI 2.0 Lite |
| Connectivity | 802.11a/b/g/n/ac + BT 4.0, USB2.0, GPS/GNSS, MHL, DLNA, NFC |
| SIM Size | MicroSIM |
As you can see, the SoC is the higher binned version of the MSM8926 seen in phones like the Moto G LTE and the One mini 2. The surprises are effectively the addition of 802.11ac, 2GB of RAM, and the absolutely massive battery. The only possible issue at this point is that this phone runs Android 4.3. Huawei stated that it will be upgradeable to Android 4.4, but there's no official timeline of when to expect the update. It's important to examine the phone beyond the spec sheet, which means testing to validate whether the phone is any good.
Battery Life
With each successive generation, the general trend in smartphones has been better battery life. At the high end, this is now partially gated by process node, as we see major leaps in battery life mostly coming from newer generations of SoCs running on 28LP, 28HPm, and 20nm SoC in the near future. Of course, the other direction to scale has always been battery size. This is usually most easily accomplished by simply increasing the overall device size because the total PCB area is generally constant. After all, once you have all the necessary chips that make up a smartphone, you don't suddenly need more of them to enable a bigger version of a smartphone. Therefore, the battery can be a bigger proportion of the phone overall.
This means that the Ascend Mate2's large size enables it to use a 3900 mAh battery, with a 14.82 WHr capacity. While I've used multiple phablets of similar size, none of them truly approach the level of battery capacity that the Mate2 does. Huawei even offers an accessory that allows for the Mate2 to charge other phones by drawing on the internal battery and converting it into a 5V power supply. This seems to be a feature of the TI BQ2419X charge controller on board.
At any rate, to evaluate battery life on smartphones and tablets, we run a specific workload of web pages looping endlessly until the device dies, with the display calibrated to 200 nits, with background services disabled in order to create a controlled environment.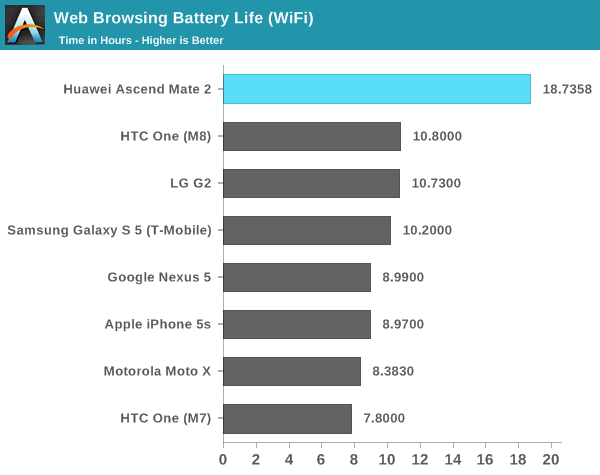 In the WiFi test, Huawei sets a new record for battery life here, almost to a ridiculous extent. The Mate2 does around 73% better than the One (M8) in this test. A combination of the relatively low pixel density display, large battery, and low power SoC (Snapdragon 400, MSM8928) can explain how Huawei pulled this off.
In the LTE test, while the result isn't quite as game-breaking as in the WiFi test, Huawei still sets a new record. It's around 48% higher than the result posted by the One (M8), and I suspect that part of the difference is due to the 28LP process that the integrated modem is built upon for the Snapdragon 400 (MSM8928), which would cause a noticeable increase in power consumption when compared to the modem in the Snapdragon 801, which is the same in design but built on a 28HPm process.
While battery life testing used to end at web browsing, we've now implemented more tests to see how devices perform under CPU/GPU stress tests run in endless loops. This is also run at 200 nits and controlled to ensure similar conditions from device to device. First, we'll look at GFXBench, which does an endless loop of T-Rex until the battery dies.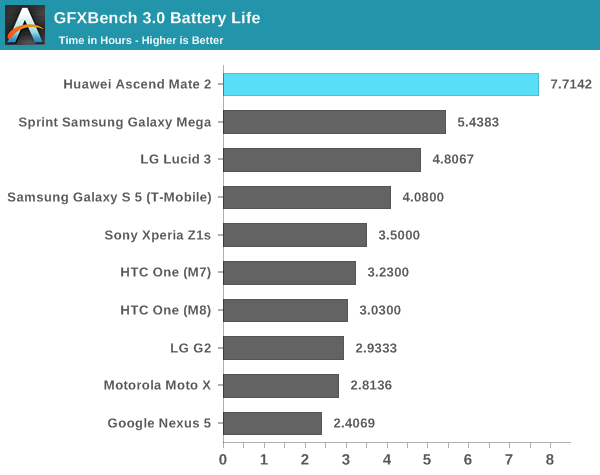 Once again, we see the same pattern. A combination of the device's massive battery, and the relatively low power consumption of the Snapdragon 400 platform makes this phablet set new records in our battery life test.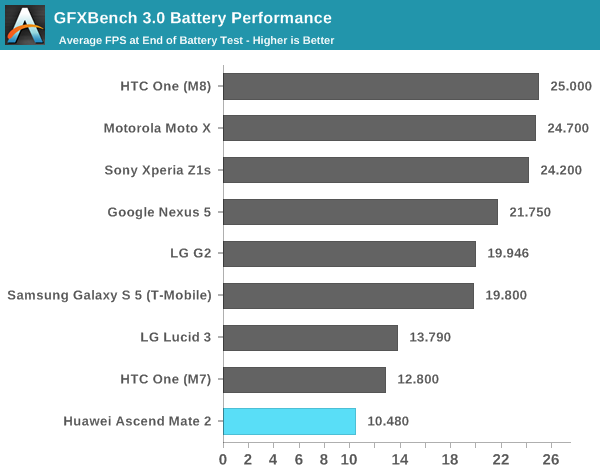 In the end of run FPS, it appears that the Mate2 effectively doesn't throttle over time for GPU, although performance in general is a bit lower as a product of the older operating system. A more powerful GPU would produce better FPS throughout the run, although thermal throttling is more likely and battery life will be worse during the test.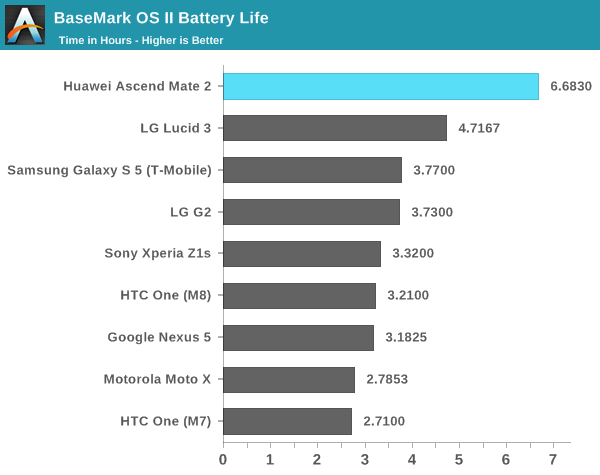 The next test is Basemark OS II on an endless loop. It's almost a broken record now, but the Ascend Mate2 breaks our record for this test as well.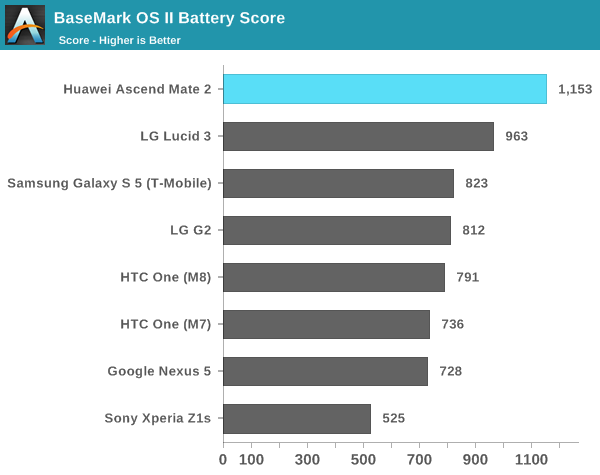 The sheer size of the device means that throttling is much less significant when looking at the final score recorded. This basically means that in most conditions, the Mate2 maintains performance without throttling. However, this is mostly a function of the low power SoC, and the trade-off is worse performance under initial conditions where all SoCs are usually not affected by thermal throttling.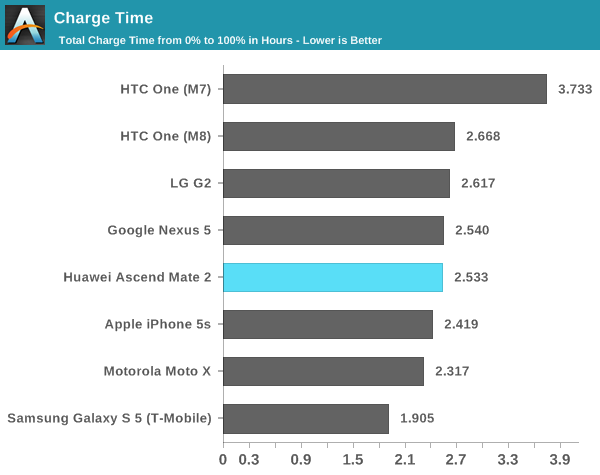 Surprisingly, the sheer size of the battery didn't affect the charge time. The Mate2 charges around as quickly as a Nexus 5. This is mostly because the Mate2 can afford to spend more time drawing the maximum possible current, which compensates for the larger battery size.
In short, there's not much else to say here. For those that want the very best in battery life, the Ascend Mate2 is as good as it gets, based upon all of the phones that we've tested.
CPU Performance
For those that have been following recent reviews, they might notice that the CPU performance section is now mostly similar. In short, the Ascend Mate 2 uses Qualcomm's Snapdragon 400. This particular version has four Cortex A7s for CPUs, and an Adreno 305 for the GPU. Because this is the 8x28 variant, rather than 1.2 GHz maximum the CPUs can reach as high as 1.6 GHz. Based upon some testing, it doesn't appear that the GPU has a higher clock, so performance in 3D/2D applications generally remains equivalent to other Snapdragon 400 SoCs. While I'll cover my thoughts in more detail in the software section, this SoC doesn't have any issues with performance in general day to day tasks, and the UI isn't too heavy for the SoC.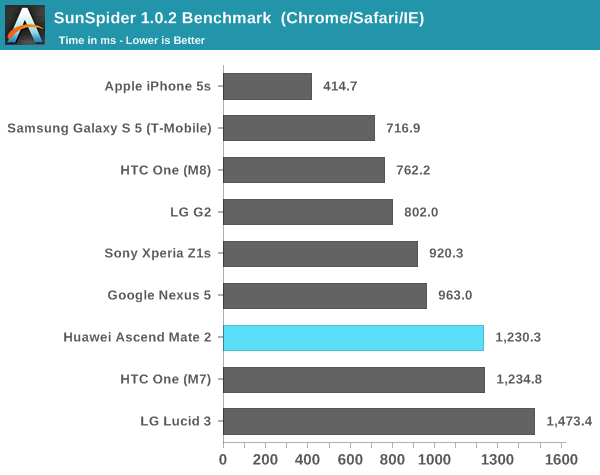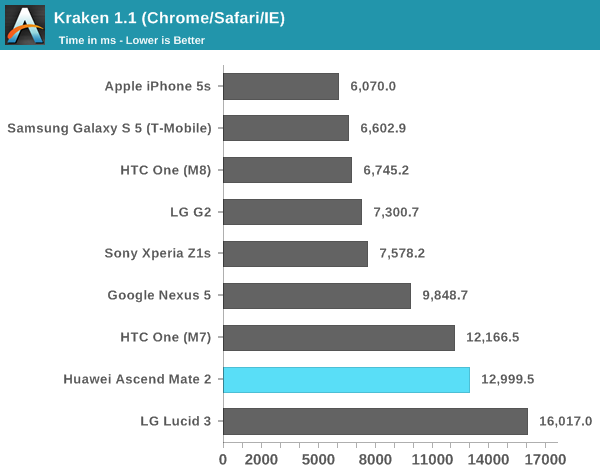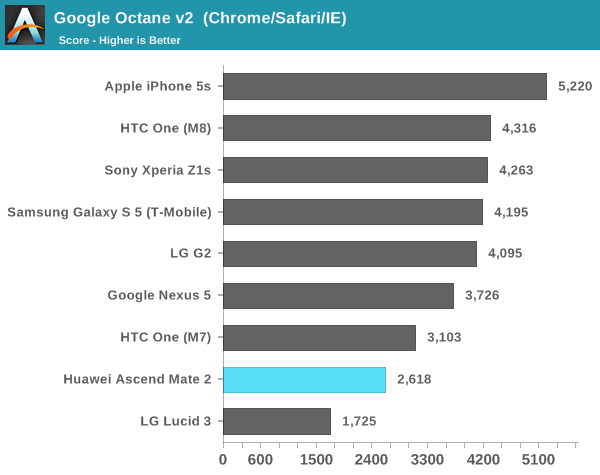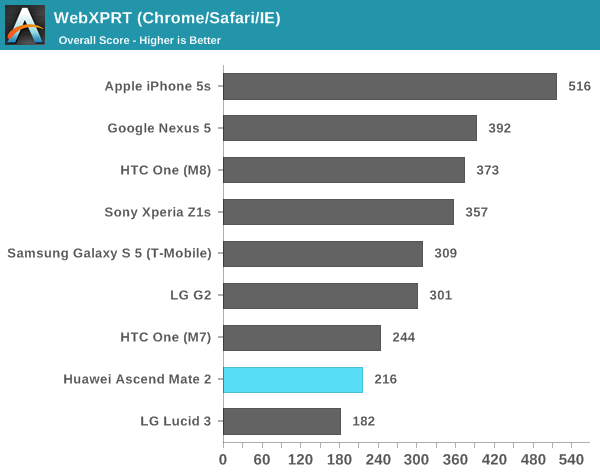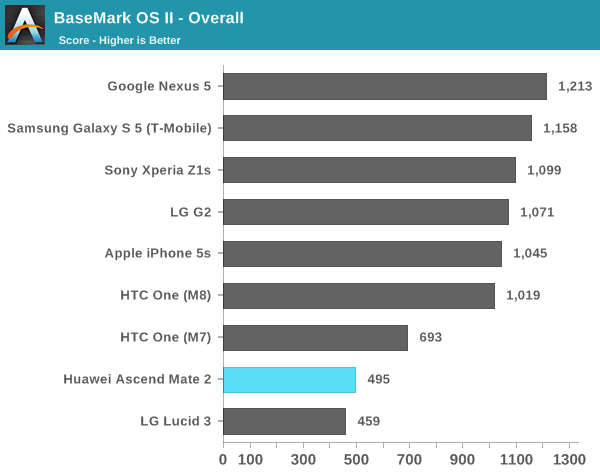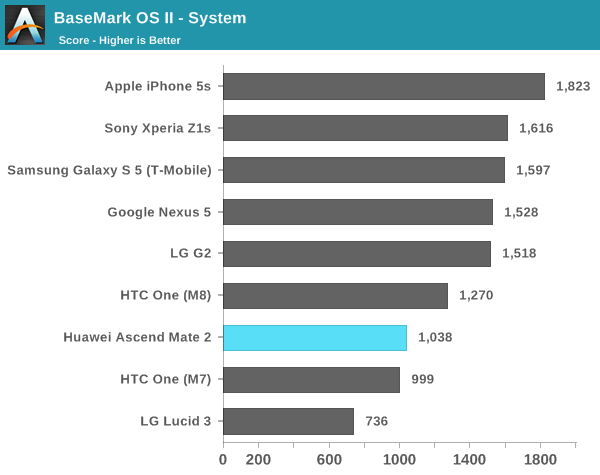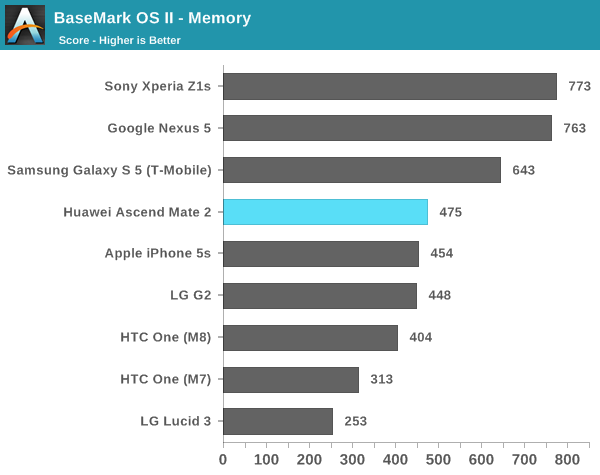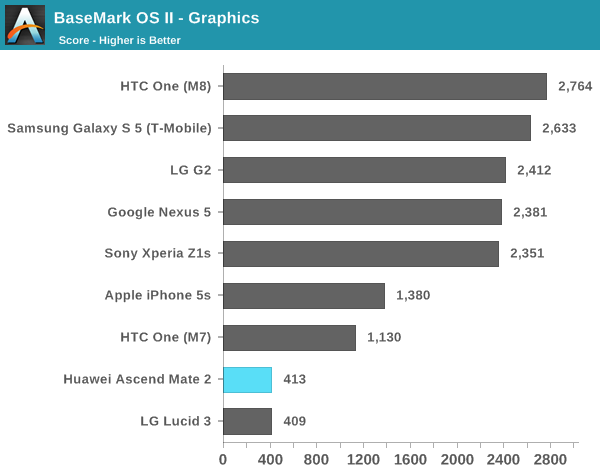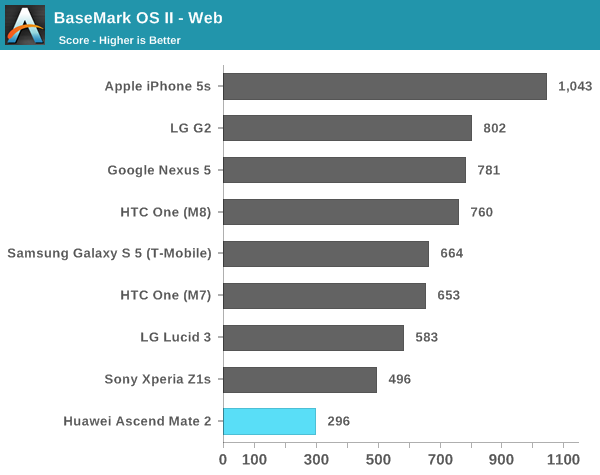 GPU Performance
In GPU and this SoC in general, there's very little to talk about by this point that hasn't been said before, so I'd refer to the One mini 2 review or the Moto G review. Across the board, performance results are as expected for this platform, although the older Android version can hurt performance.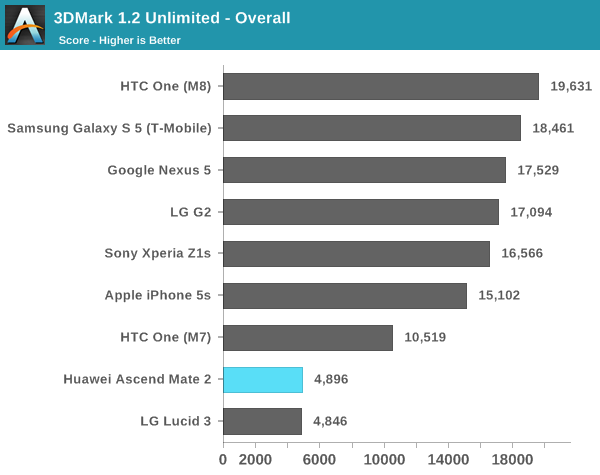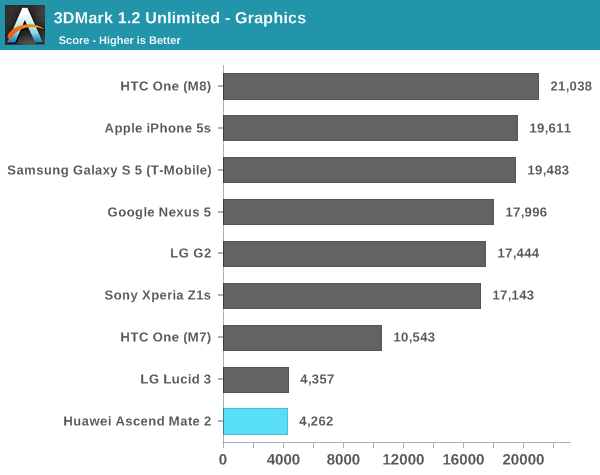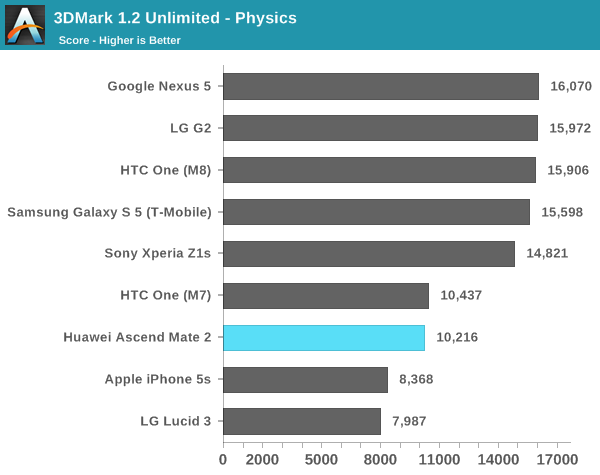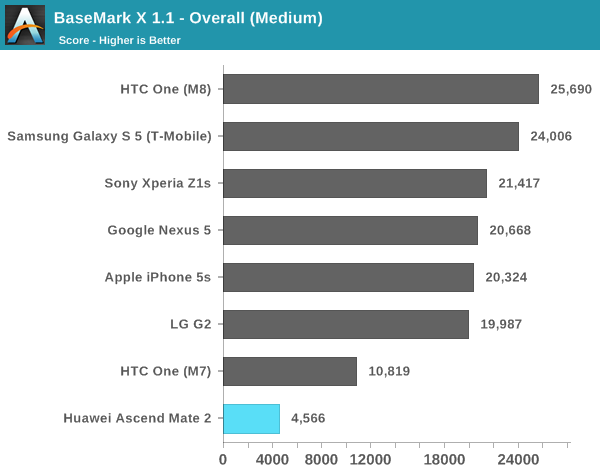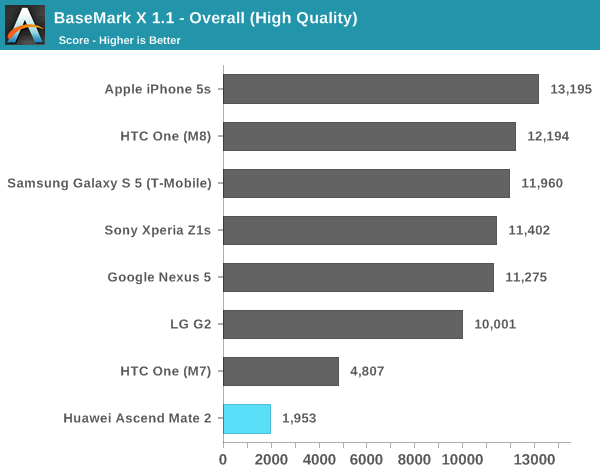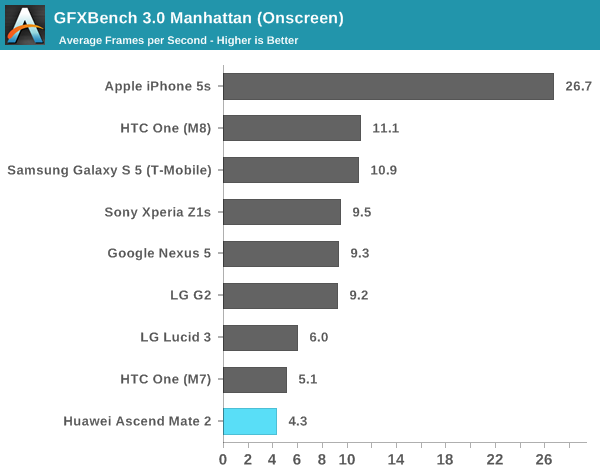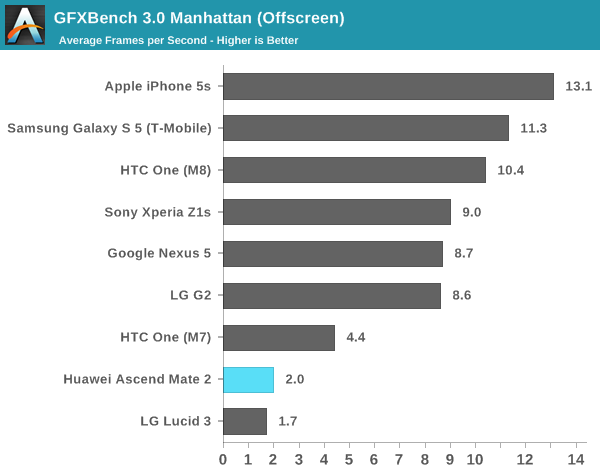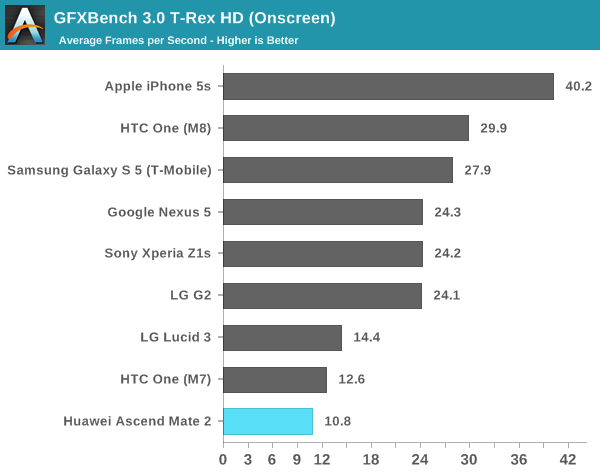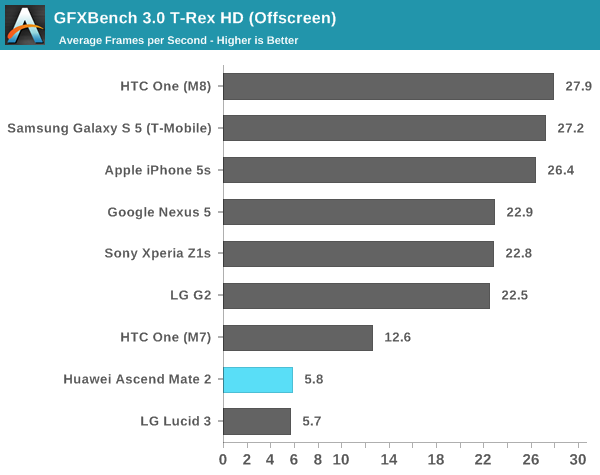 NAND Performance
Like much of the rest of the phone, the Mate 2's internal NAND performance is surprisingly competent for its price class. In fact, when it comes to random write performance, the Mate 2 is not far off present generation flagships (and ahead of the Galaxy S5)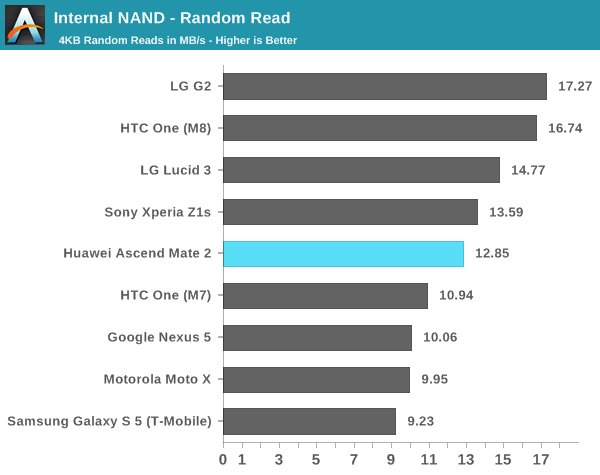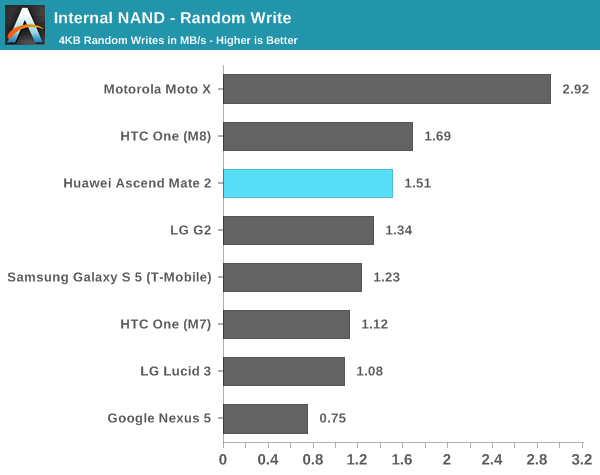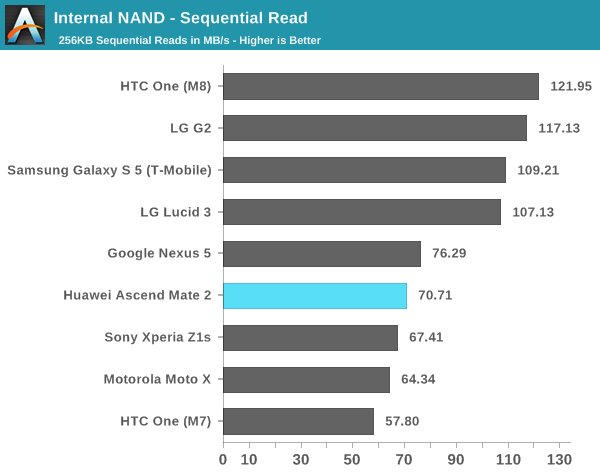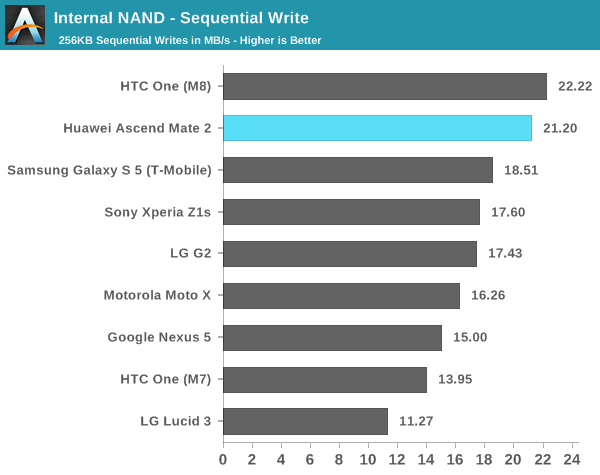 Display
As always, with all touch-only devices the display is one of the most critical aspects of the experience. A poor display can often make the experience worse, even frustrating. Things like poor viewing angles, poor color calibration, low peak brightness, high minimum brightness, and other flaws in the display are all potential areas where a display can fall short. In order to try and add a level of quantitative analysis, we turn to SpectraCal's CalMAN 5 with a custom workflow to test our displays.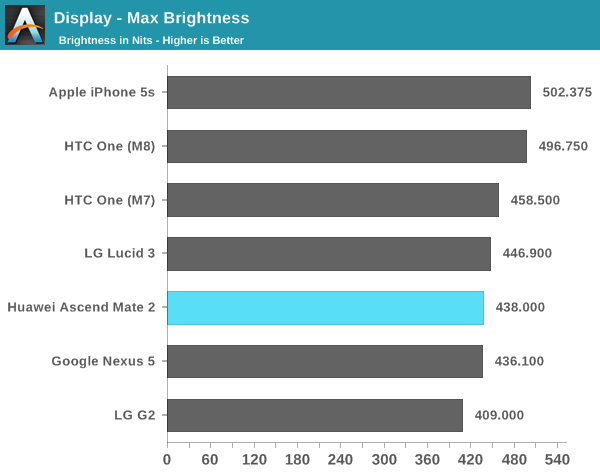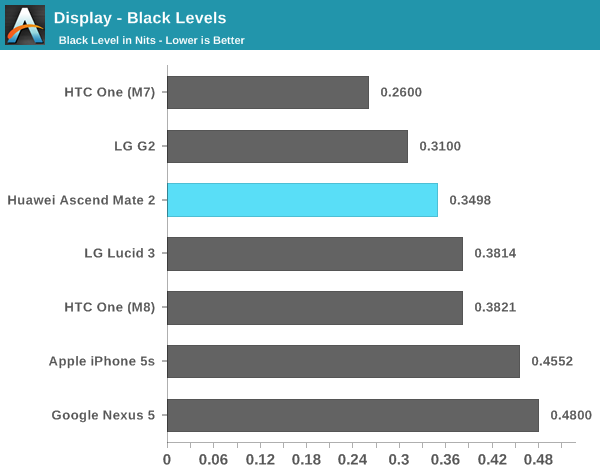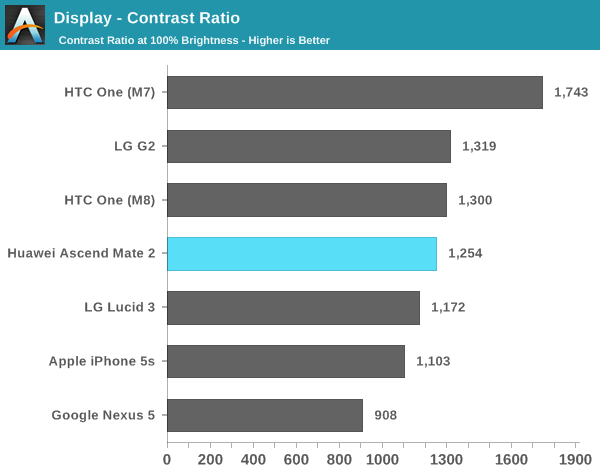 As always, before we get to colors, it's important to cover the basics. In brightness and contrast, the Mate2 is great, there's really nothing else to be said. While I'd like to see LCDs start hitting higher brightness levels (without RGBW subpixel layout), this is a great start compared to its competition. I also didn't notice any issues with viewing angles, and while the pixel density is below 300 PPI, it's surprisingly acceptable.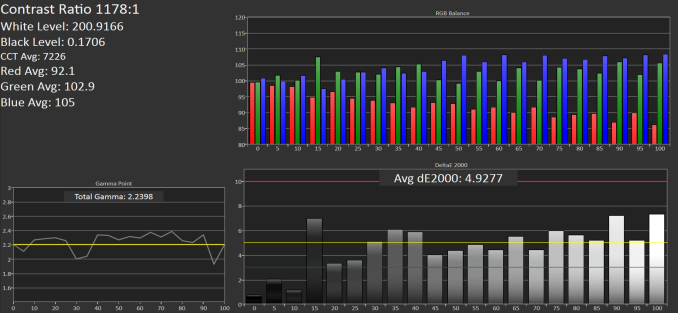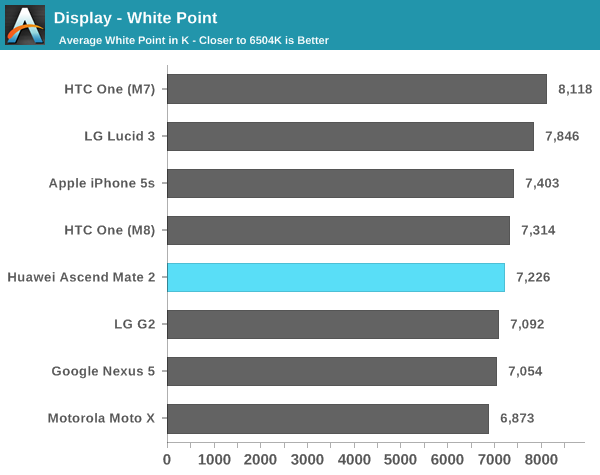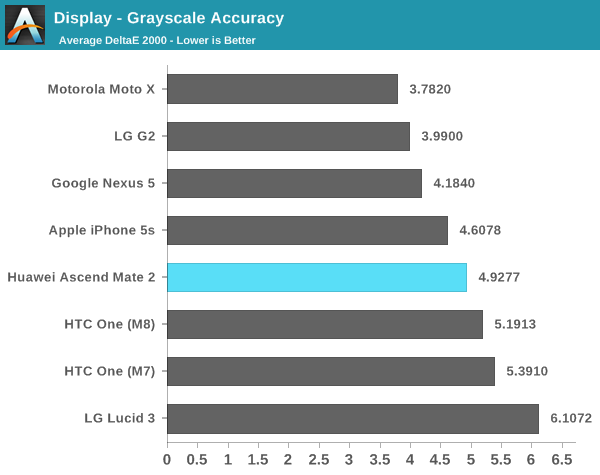 Next up is grayscale. It's important to note here that these grayscale measurements were done with the i1 Pro, so the luminance values at the low end are usually inaccurate, thus the contrast won't agree with the i1Display Pro. Here things are still in line with most flagships today, but it's still a bit disappointing to see that most OEMs favor higher maximum luminance over proper white balance. Like the Galaxy S5, some levels of gray have a noticeable green tint to them. Nokia and Sony are probably the ones to follow here by offering adjustable white point based on user preference. For a 300 dollar phone, this is a great showing.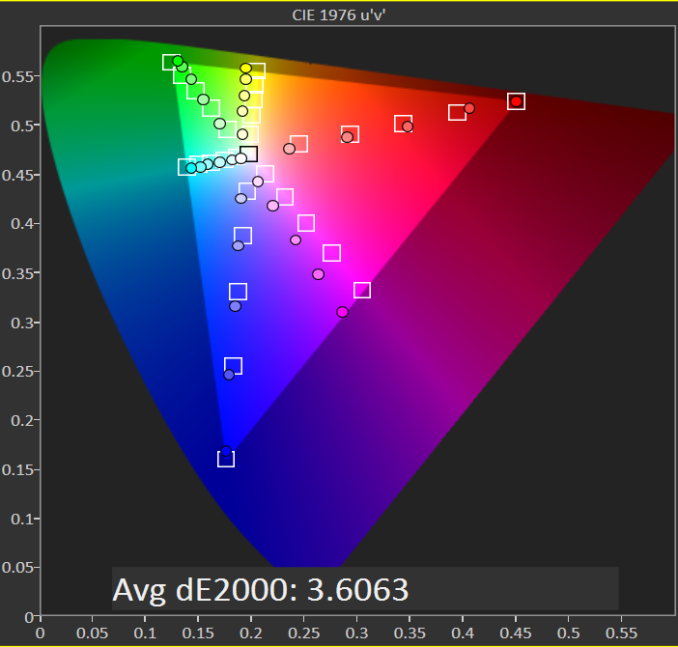 In the saturation sweep, Huawei effectively puts many other OEMs to shame. While there's a hint of saturation compression, this is a great calibration out of the box. The only notable issues are that the magenta saturations are a bit too blue, and that the yellows are shifted towards the green. This level of calibration is withing reach of Apple's iPhones, the Nexus 5, and the One (M7).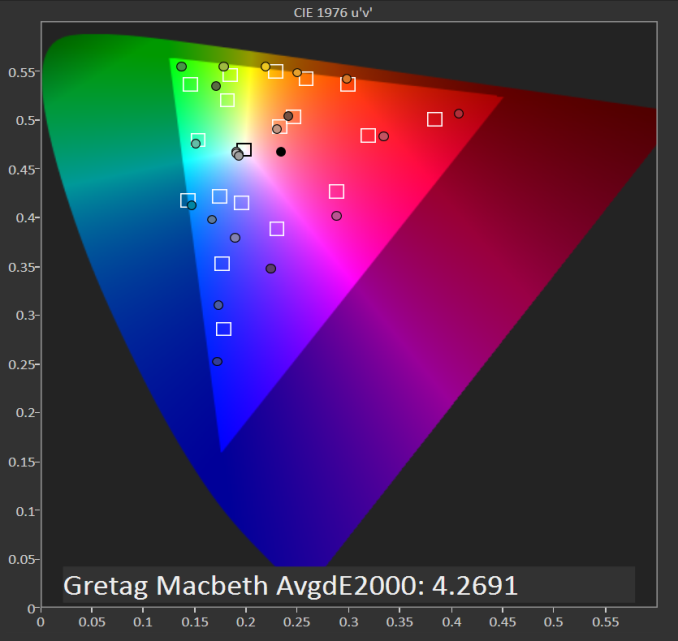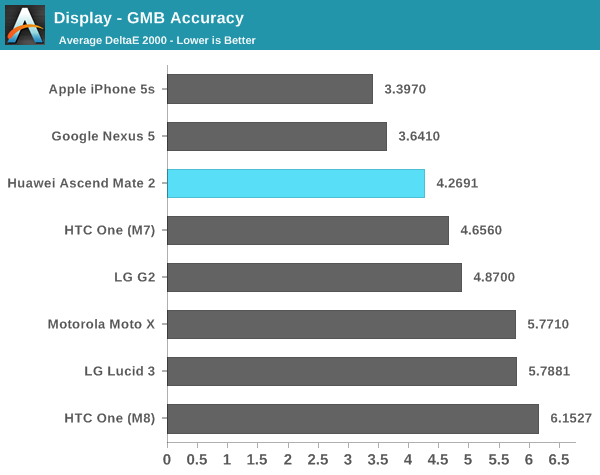 Finally, the same trend is seen in the GMB ColorChecker. Huawei excels here, and is easily competitive with high-end phones. Overall, this is an extremely good display. It's good enough to put some recent high-end smartphones to shame.
Camera Architecture
These days, it's harder to distinguish between cameras. While previously it was easy to point to a higher megapixel count and declare a winner that way, most OEMs have converged on largely similar sensor formats and pixel sizes. So it's worth taking a closer look at the camera setup of the Ascend Mate2. On the rear camera, Huawei uses a Sony IMX135, and the front camera is a Samsung S5K4E1, something that I haven't really seen in another phone. Surprisingly, based upon some quick calculations, this may actually be a 1/ 4" sensor. A casual Google search for this model number leads right back to the rear facing camera in our Galaxy Nexus review. If anything, this may be the biggest sign of how the industry has advanced over the years. At any rate, I've put up the relevant information that I know on the table below.
Camera Architecture
Huawei Ascend Mate2 4G
Front Camera
5.0MP
Front Camera - Sensor
S5K4E1
(1.4µm, 1/4")
Front Camera - Focal Length
2.41mm
Front Camera - Max Aperture
F/2.8
Rear Camera - Sensor
IMX135
(1.12 µm, 1/3.06")
Rear Camera - Focal Length
3.85mm (28mm eff)
Rear Camera - Max Aperture
F/2.0
As can be seen by the table above, the rear camera of the Ascend Mate 2 is quite similar to many other camera systems. The focal length means the field of view is broadly equivalent to the One (M8), and the sensor itself was one shared by the Exynos Galaxy S4, Oppo Find 5, LG G2, and LG G3. In short, the camera should be solidly in the middle of the pack. It's not going to blow anyone away with superior low light capabilities like the iPhone 5s, HTC One (M7), or the Nokia PureView phones. It's also not going to blow anyone away in daytime detail like the Xperia Z1/Z2 or the Lumia 1520/1020/930. Of course, to figure out just how well all of the pieces come together, controlled testing is still needed.
On the front facing camera, I suspect that Huawei made a mistake in their EXIF data, as the focal length of the sensor most nearly corresponds to a 26mm equivalent focal length, which implies that the sensor is a 1/ 3" size, rather than 1/ 4" size that it's most likely to be. While the 1/ 4" sensor seems large, the 1.4 micron pixel size is effectively equivalent to the 1.1 micron pixel size on the One (M8)'s front facing camera, as the S4KE1 sensor is front-side illuminated, rather than back-side illuminated.
On the UI side, Huawei has done a reasonably good job. All the necessary controls are present, although it's a bit disappointing that Huawei doesn't include an option for guidelines in the preview. Preview frame rate is acceptable, as is the resolution. However, I suspect that the 8x26 ISP is once again a gating factor here as the preview doesn't appear to be as high of a resolution and frame rate as on Snapdragon 801 devices. The UI is very much reminiscent of the Galaxy S2's camera UI before the Android 4.0 update. Qualitatively, the camera has little shutter lag, but like the One mini 2 there's a noticeable shot to shot latency, and burst shot isn't nearly as fast as it is on Snapdragon 801 devices. As a result of the weaker ISP, 1080p30 is the maximum quality/frame rate that can be selected.
Outside of standard UI, the two main features of note are the object tracking and "groufies", or panorama mode on the front facing camera. Object tracking is only available on the rear facing camera, but it's quite amusing to use and generally quite cool. In short, by enabling this mode the camera will automatically attempt to stay focused upon the selected object. At first glance, this mode seems to use accelerometer/gyroscope information on the phone. However, the fact that you can move the object around in the field of view with the camera locked to the correct target suggests that this is simply interpreting the image to determine the focus point. I don't know the specifics of this mechanism, but it's surprising how well it works.
Overall, while Huawei isn't breaking new ground with this camera system, it has the pieces to make a camera that's competitive with 2013/2014 high end phones. Of course, image quality requires integration as well. This means comparison shots are necessary, as even the same camera system can be tuned differently depending upon the OEM that uses it.
Spatial Resolution
We'll start by measuring the rear facing camera's ability to resolve fine details by shooting at an ISO12233 test target. For now we'll be looking at horizontal and vertical resolution using the sagittal and tangential lines in the upper right of the center of the test chart: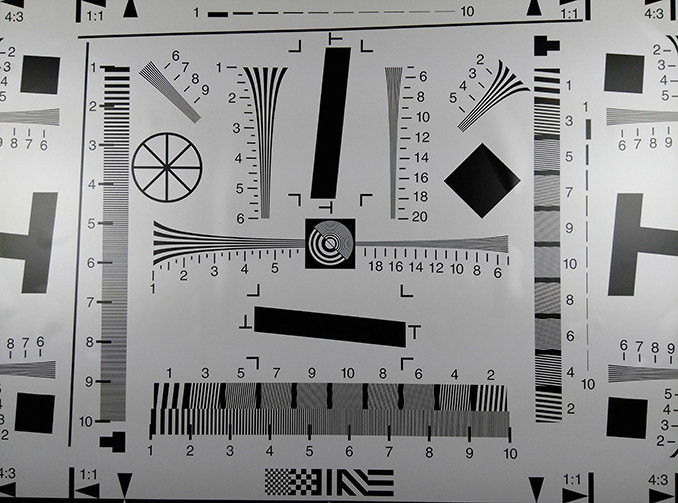 ISO12233 captured by Ascend Mate 2
The gallery below has links to the original chart captures for all of the phones compared in this review:

The Ascend Mate 2 starts out strong. Here we see a great example of how two 13MP rear shooters deliver vastly different performance, even when it comes to resolving fine details. Look at HTC's One mini 2 (13MP) compared to the Mate 2, and you'll see a substantial difference in spatial resolution. The Mate 2 does incredibly well in this test, I see very few signs of aliasing throughout the test range. There's some blurriness beyond the 11 marker but we never really see substantial aliasing.With enough light, the Mate 2 should have no issues retaining fine details.
You can see full 1:1 resolution crops in the gallery below:

The Mate 2 still does relatively well in the tangential crops but I definitely see more blur as we go down the chart. I suspect this has more to do with uniformity across the rear camera.
Color Reproduction
For the next comparison I shot the standard x-rite colorchecker classic card under 6500K light.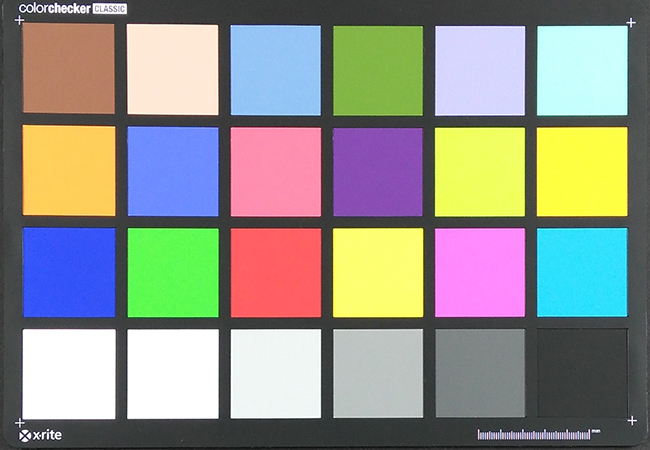 The Mate 2 does an ok job with colors. Grayscale performance looks reasonable, none of the colors are oversaturated but they are perhaps a little undersaturated for my tastes. Yellow/green handling is a bit off but otherwise it's a fairly solid performer here.
Lab Scene
As we march towards our outdoor test scenes, we shift to a light controlled lab setup. We'll start with a well lit test: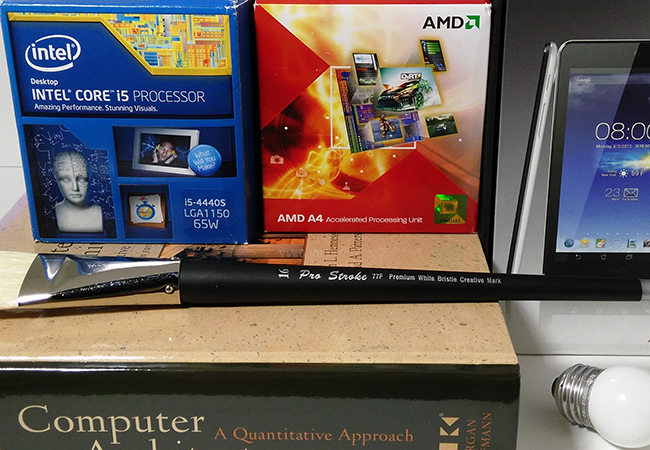 The Mate 2 does a decent job here, we get a lot of detail in all of the subjects and there aren't any color balance issues either.
Next up is the same scene, but in much lower light (~7 lux):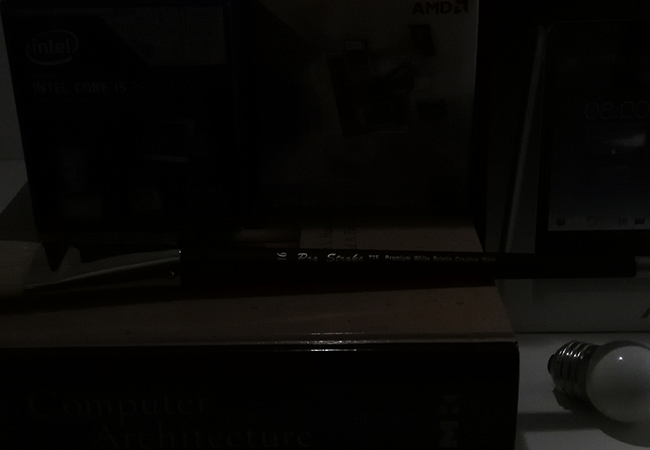 And this is the Mate 2's weakness. I swear I didn't take a picture of a black poster, this is the same scene as above. The Mate 2 just doesn't drive ISO up (or shutter speed down) in order to even remotely try to capture the low light scene. Huawei seems to optimize for low noise, but in this case the optimization is so extreme that we end up with a completely unusable shot. You can't see either of the CPU boxes, the tablet box on the right is barely visible and you can kind of tell there's a book and paintbrush in the scene. Only the lightbulb in the lower right is actually discernible from the sea of darkness here.
Outdoor Scenes (Night)
Next we transition to some shots on location. First up is the same night shot of a storefront that we used in the Galaxy S 5 review: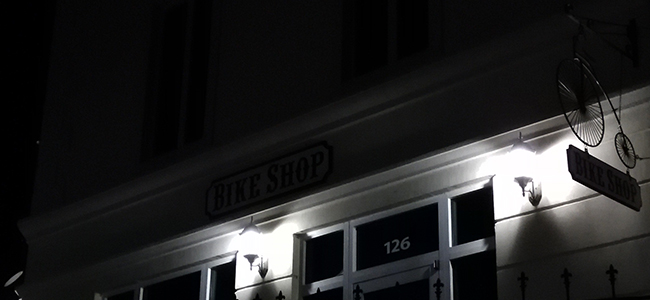 Once again the Mate 2 delivers a low noise image, but it's mostly useless. I can make out the sign but there's no detail anywhere else in the scene.
This is one of my favorite shots, there's a car in there, the Mate 2 just doesn't really attempt to convey it. Low light performance is definitely not a strong suit of the Mate 2. There's no dedicated night mode, but if you shoot in Smart Auto the Mate 2 will trigger a lower light mode. Here we get something a bit more useful, it's still not great but I can at least make out the car in the image.
Outdoor Scenes (Daylight)
All of the photos below were taken during the late afternoon with very little cloud cover and tons of sunlight.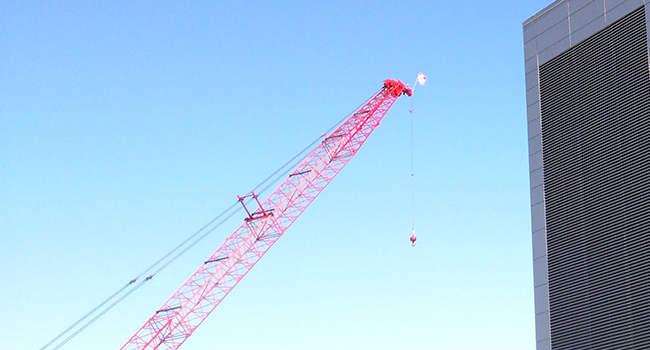 The Mate 2 loses a lot of detail here in the crane, the device seems to have trouble dealing with low contrast highlights.
This next scene takes a different angle on the crane and mixes more subjects at varied distances from the camera: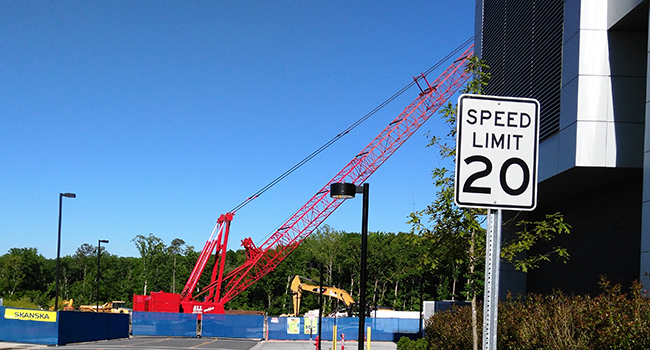 The Mate 2 does a great job dealing with the sky both in color and exposure. The overall scene is a bit softer than I would've liked but overall it's not half bad.
For the last shot I'm looking at a crop of downtown Raleigh, taken from a distant bridge.
Once again we see highlights are washed out a bit, but many devices don't do a great job of properly exposing for the background here. We also see the Mate 2's blurryness rearing its head once again.
Video
The rear camera can shoot a maximum of 1080p30 encoded in H.264 base profile (~20Mbps). In practice I saw frame rates drop as low as 20 fps when shooting 1080p video in lower light indoor scenes.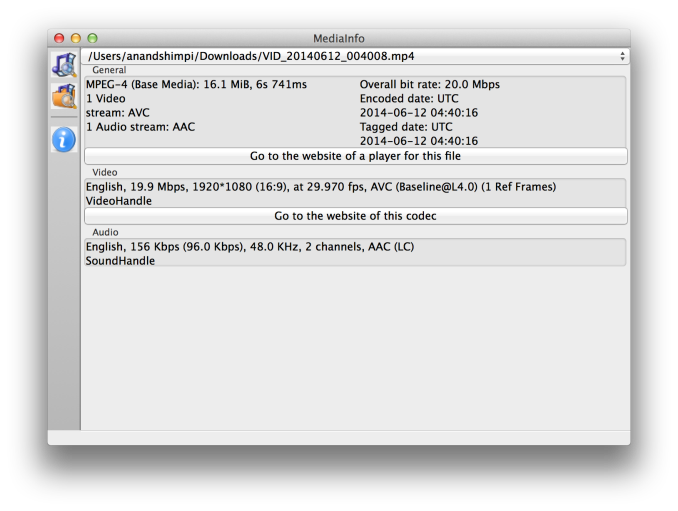 Rear Facing Camera Conclusions
The best way to put the Mate 2's rear facing camera performance is that it's great for a $300 phone. The 13MP sensor does a good job of resolving fine details, color reproduction is solid and in most (well lit) scenes the module does a good job. Low light performance suffers but it's honestly not much worse than a Galaxy S 4 if you shoot in Smart Auto. There are also the usual set of uniformity and sharpness issues we see at lower price points, but overall the Mate 2's rear facing camera hardware is a good value.
WiFi
It's self-evident that reaching lower price points will mean that compromises will have to happen. Ultimately, the big issue is where the compromises happen. While most people are willing to give up the niceties that the high-end, high-margin flagships have, far fewer are willing to compromise on fundamental parts of the experience. Unfortunately, WiFi is one of the areas that the average consumer and OEMs alike tend to see little issue with cheaping out on WiFi modules. That is, of course, until one deals with the pain of using a 2.4 GHz-only phone in an area where 5 GHz is the only usable spectrum.
Fortunately, Huawei hasn't done this at all. While the spec sheet doesn't give any immediate indication of the WiFi module in the Mate2, some digging through files such as the build.prop can give clues. The reference to a WCN WiFi part effectively limits the possible controllers to WCN3620, WCN3660, or WCN3680. From there, simply determining the band support and fastest 802.11 standard supported based on PHY rate and other information gives all the necessary information. In the case of the Ascend Mate2, we're looking at a WCN3680 part. This means that 2.4 and 5 GHz are both supported, with a maximum data rate of 433 Mbps via single spatial stream 802.11ac.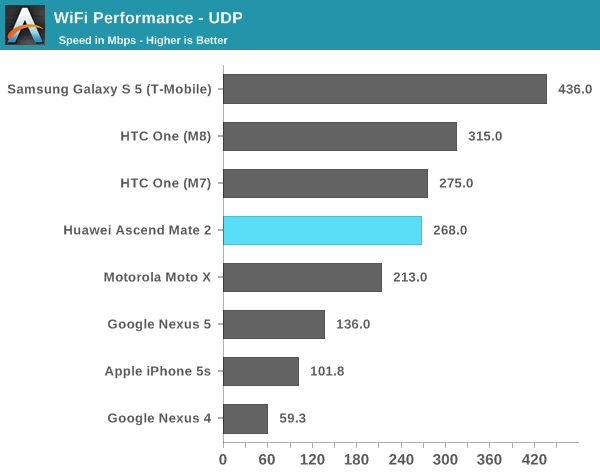 As seen by the graph above, the Ascend Mate2 does respectably well for maximum speed, although it's not quite as fast as the One (M8). Anything that doesn't support 802.11ac would be far slower than the Mate2.
GNSS
As with any MDM9x25 IP block, the Ascend Mate2 uses Qualcomm's GPSOne Gen8B, which supports GPS, GLONASS, and Beidou. I didn't notice any significant issues here, and I managed to acquire an accurate lock in around 10 seconds when doing a cold lock (no WiFi, no assistance data, airplane mode). A cursory search of the FCC documents for the Mate2 seems to lack any specific information on antenna placement for the phablet.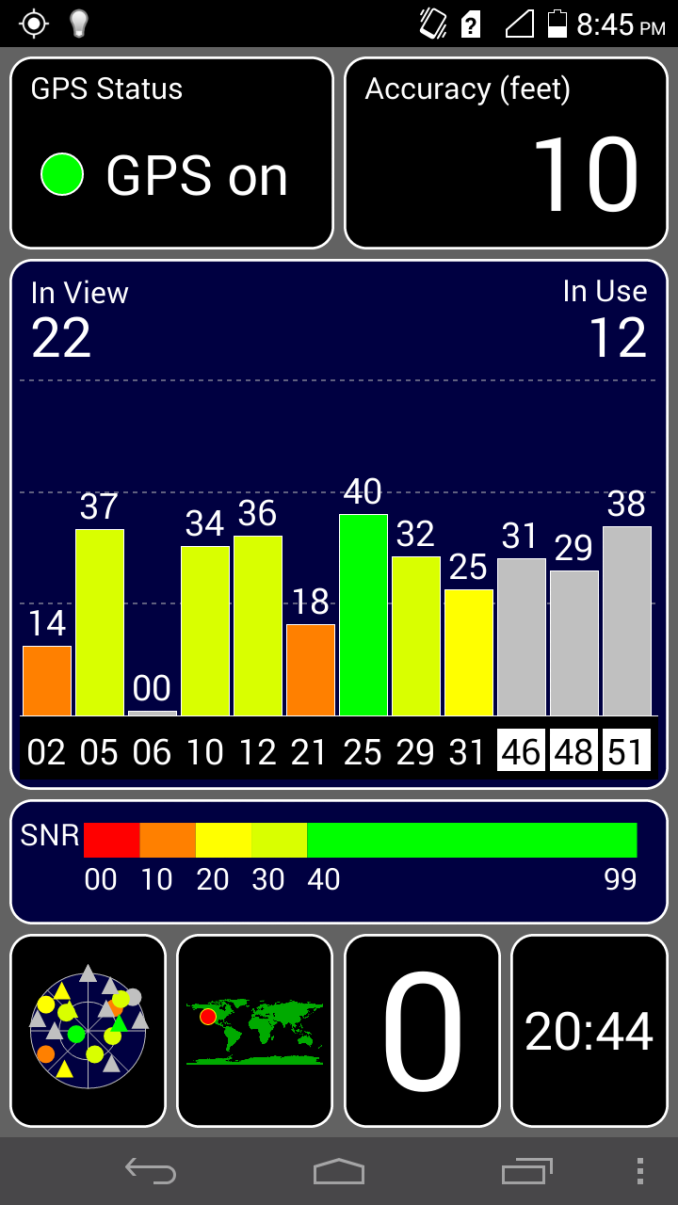 Cellular
Although I haven't had sufficient time to run a ton of speedtests to see the distribution of data speeds, the cellular architecture of the Ascend Mate2 is rather typical. There's receive diversity, but no transmit diversity, which means that this is similar to the Samsung Galaxy S4 in antenna setup. Based upon the FCC test data, this phone supports quad band GSM (850, 900, 1800, and 1900 MHz), and band I (2100 MHz), II (1900 MHz PCS), V (850MHz CLR), and IV (AWS 1700/2100 MHz) for quad band WCDMA. LTE band support is for bands 2, 4, 5, and 17 for AT&T and T-Mobile US LTE support. In short, there shouldn't be any issue getting this phone to work on US/Canada GSM operators.
Software
While fans of AOSP and those that generally like to flash custom ROMs often don't care at all about the stock UI that comes with a phone, the vast majority of people end up using whatever ships with the phone. It's not unusual to see users refusing to update past the launch firmware, so it's important to evaluate the software as-is, rather than focusing upon updates that could arrive months after the initial launch. In this case, we'll be looking at Huawei's EmotionUI 2.0 Lite, which runs on top of Android 4.3 for the launch firmware.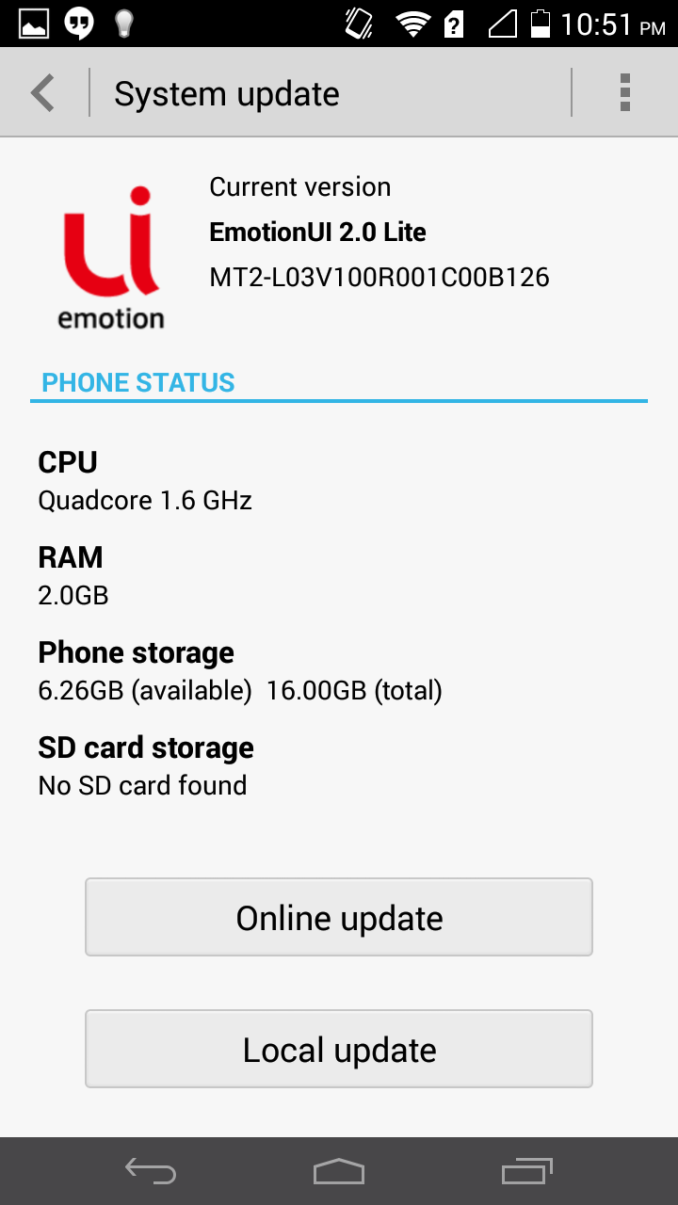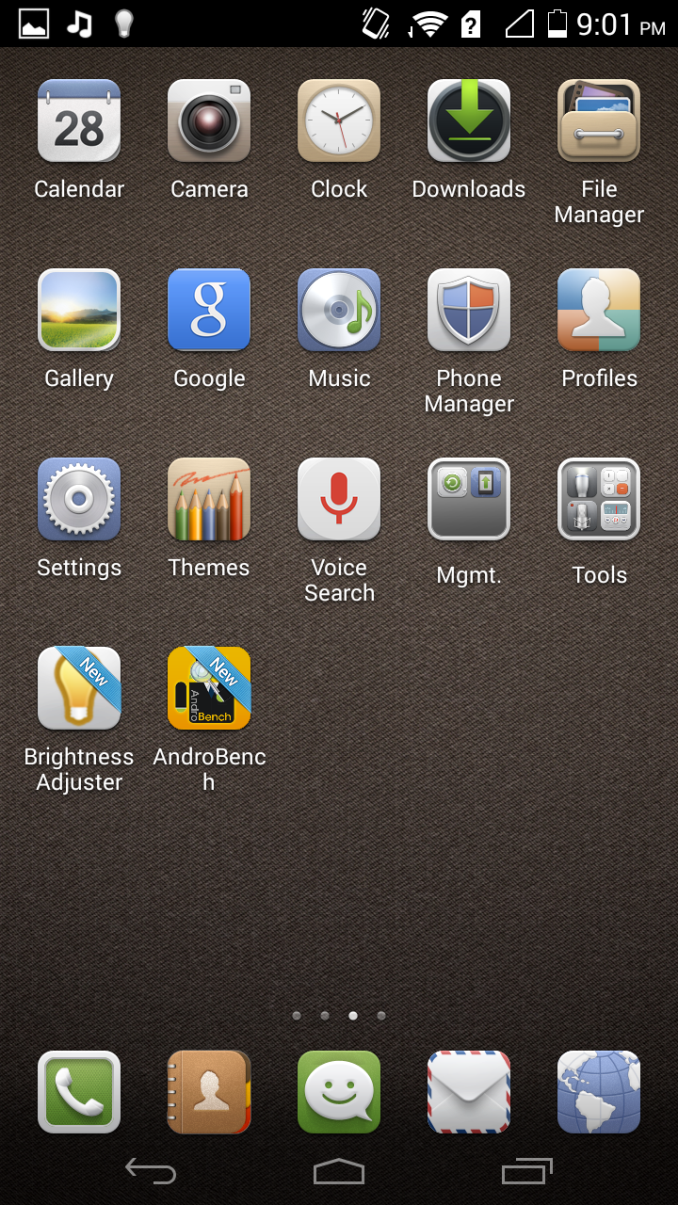 Unfortunately, if there's any one place where the Mate2 falls flat, it's the software. That's not to say that it's necessarily bad, it's just not as surprisingly good as other aspects of the device. The UI is very much like MIUI in style, and overall usability. While some may find this to be great, it can actually be a problem for those used to UIs more similar to AOSP UI. This means that by default, the launcher has no app drawer, and every application icon is placed somewhere on a homescreen. Therefore, searching for an application can be difficult if you don't immediately recall which homescreen it's on. Editing homescreens is very much similar to the experience one might have experienced on TouchWiz 4 as seen below, and while it's easy to understand, it doesn't really mesh well with currrent Android design guidelines. However, for the most part applications in the UI are built to fit Google's design guidelines, so using a custom launcher can alleviate some of the issues. I'm not too sure about the general aesthetics of the UI though, as there are some issues going on there as well, especially in how the iconography is distinctly un-Android. I should also mention that we both experienced issues with the camera application crashing when it's opened from a sleep state, although for some reason as soon as we tried to get a screenshot of the issue it mysteriously stopped happening. The simple home mode is also surprisingly useful as a tile-based launcher, although it effectively disables most widgets. I've included a screenshot of this mode below as well.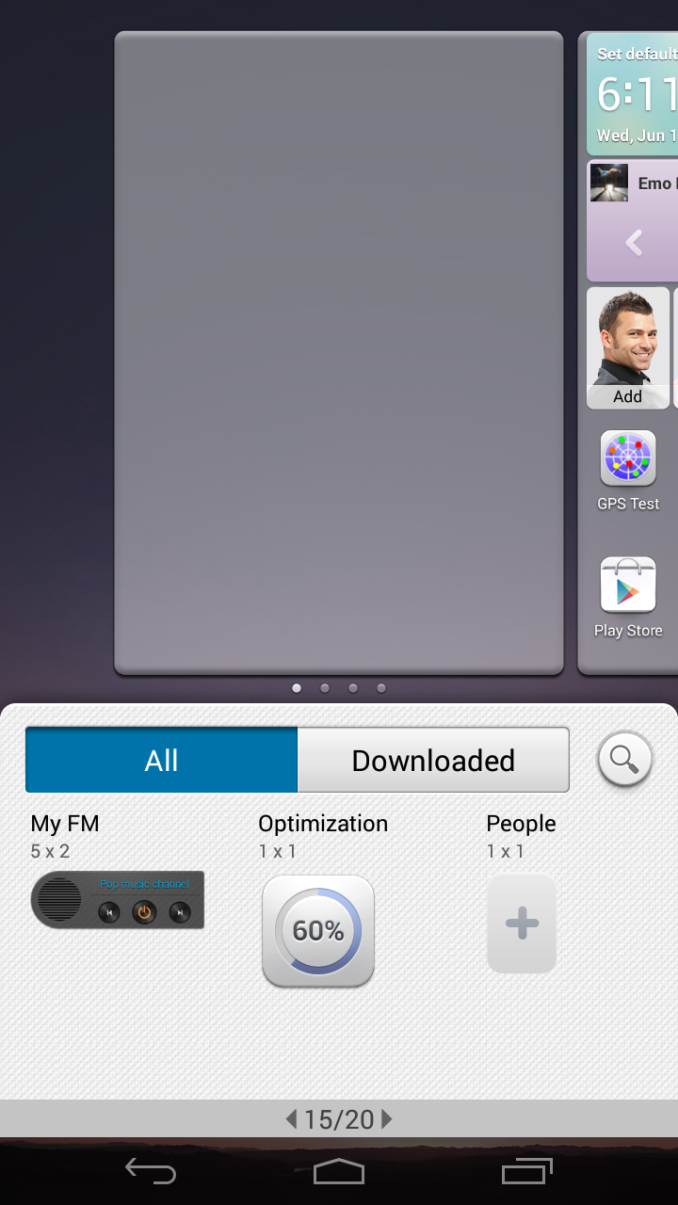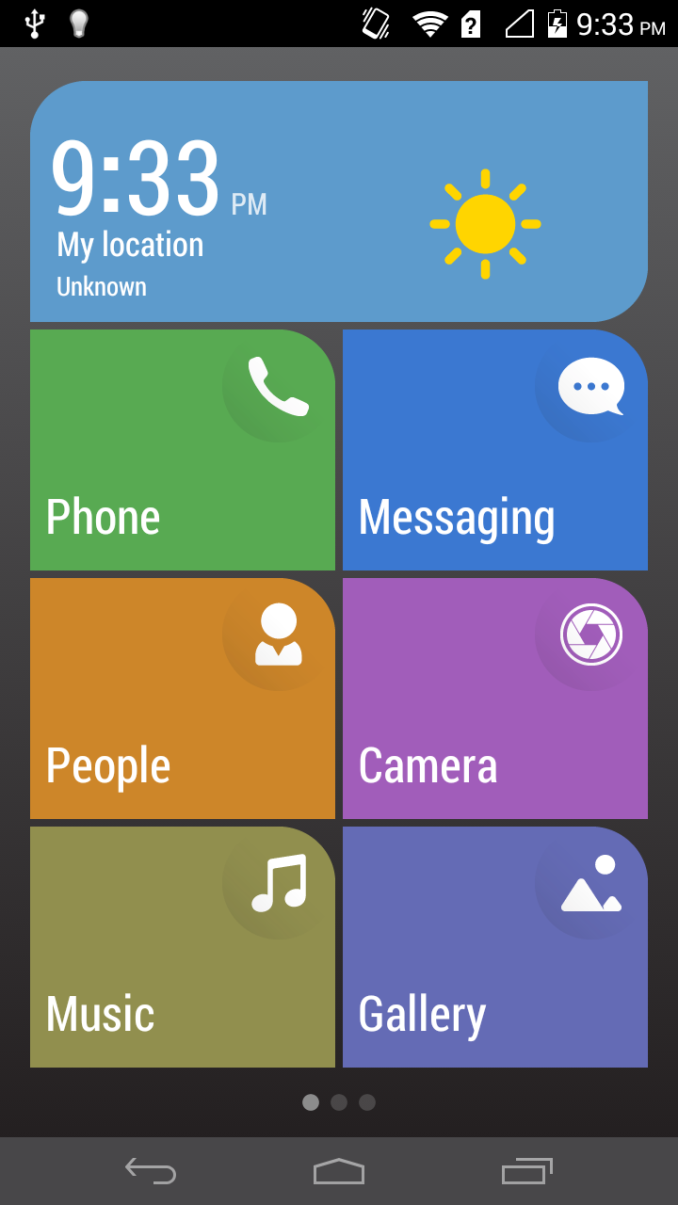 Outside of some oddness in the UI design, Huawei included a bunch of surprisingly useful applications. For example, the backup utility makes it possible to save applications, photos, and system data to the microSD card or internal storage. This means that a factory data reset no longer requires a significant amount of time to restore settings and applications, something that most Android phones can't do. Huawei also included the ability to selectively permit what applications are allowed to hold wakelock, which works based upon a whitelist system. Huawei also includes three different power plans, Smart, Endurance, and Normal. It seems to me that Smart and Normal share similar CPU/GPU governors, but it's likely that network management is the major difference in this case. Endurance seems to take things one step further by clocking the CPUs down to a max of 1 GHz (998 MHz to be exact), and while there's nothing wrong with this, it's probably not the best idea from a race to sleep perspective. There are a lot of neat features that I've included screenshots of in the gallery, but most of these are small touches rather than major features to discuss.
Final Words
I'll have to admit here that coming into the review, I wasn't expecting much - not from the Ascend Mate 2 and not from Huawei itself. After all, while Huawei was making some interesting smartphones as an OEM outside the US, it remained an ODM in the US that was best known for the MyTouch smartphones on T-Mobile. Of course, even the announcement of the Ascend Mate 2 at CES was generally ignored by most. In short, Huawei has a lack of brand and product recognition.
Yet after using the phone for a while, there's plenty to be surprised about. The first surprise was the design and feel of the device. The phone shows no signs of poor fit and finish, and it's refreshing to see a design that embraces its material for what it is. More and more these days, it seems OEMs try to make plastic into a material that it isn't. While some people might have no objections to this, it almost universally cheapens the design of the phone. The worst part about this trend is that such attempts often come at the expense of actual in-hand feel. Huawei has thankfully avoided this trend. The result is a phone that resembles the Galaxy S2 in feel, which was already well-designed. If anything, it ends up better due to the soft touch coating applied to the back cover.
Other OEMs highlight various technologies with an alphabet soup of acronyms to try and convince a buyer that their display is the best. Huawei seems to have taken the approach of not talking about their display at all outside of basic specifications, yet the display is one of the best we've tested this year. If anything, it's surprising to see a midrange phablet beating out ~600 dollar phones and phablets.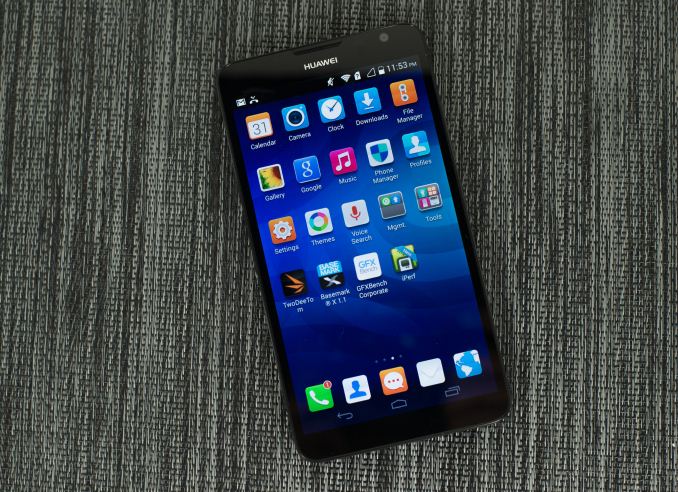 Outside of display, battery life is record-breaking. This is the first device that I've seen to come close to 24 hours of continuous usage. A combination of an efficient display, SoC/RF, and a giant battery means that it's almost guaranteed that the phone will last a full day, if not more. If battery life is truly the only concern you have in a phone, this would be the phone to buy.
The camera is also great for a 300 dollar phone. While low light performance is effectively nonexistent, the quality in daytime is surprisingly great, and a far cry from the Moto G or Nexus 4.
Of course, it's not as if this phone is perfect. There are still some areas that could be improved. The single biggest issue is the SoC. While four Cortex A7s at 1.6 GHz is acceptable, it would be great to see a better SoC in general, especially to resolve some of the issues related to the ISP such as low preview resolution and frame rate. I suspect that this won't happen until Snapdragon 410 begins shipping to OEMs. The only issues that really mar the device are some friction points in the OEM UI, and some concerns over future update support.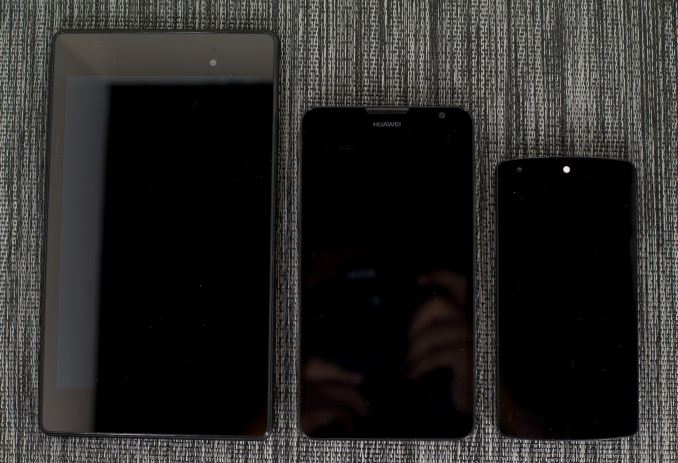 From Left to Right: Nexus 7, Ascend Mate 2, Nexus 5
It's important to get back to pricing. The Mate 2 will be sold unlocked at GetHuawei.com, and from June 12th to June 22nd, Huawei will be including a $50 prepaid SIM card and $30 flip case with the Mate2. The phone itself sells for $299, which is a decent price on its own. For the same price as the Moto G LTE, Huawei is giving far better battery life, display, faster SoC, better camera, and a far better WiFi module. Of course, there's the issue of the 6" display size and phablet formfactor, but if a large device is what you want Huawei delivers incredible value for the money.