Original Link: http://www.anandtech.com/show/7948/asus-a88x-pro-review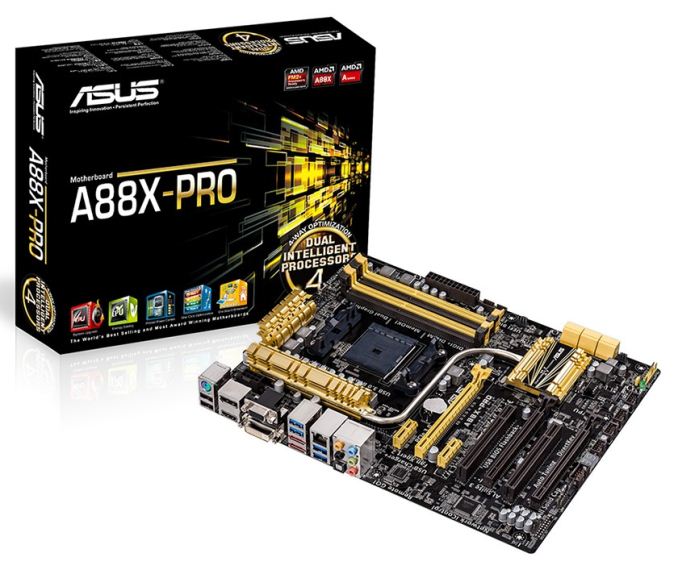 Pricing for motherboards varies wildly. While the performance platforms command a premium, those based on significant integrated graphics performance are considerably cheaper. In fact in 2014 it seems relatively odd to find a mainstream AMD motherboard for more than $150. For example the ASUS A88X-Pro sits at the top of ASUS' AMD product stack and is only $124. Read on for the full review.
ASUS A88X-Pro Overview
As mentioned in our recent FM2+ coverage, innovation on AMD platforms has somewhat stagnated. The performance from Team Blue means that they get the initial attempts at something awesome from the motherboard manufacturers, and the AMD side of the equation only gets something if the extra R&D cost is minimal. This is what makes an AMD build into a power-play in terms of price/performance rather than feature set. Unless AMD makes a future performance platform, we might never see the likes of the ROG series' OC features on an AMD motherboard again.
ASUS has brought over some hardware component choice and software optimizations from their Intel lines. For the A88X-Pro we get a digital power delivery implementation, followed by Dual Intelligent Processors IV (DIP4) for power saving and turbo implementations. Features like USB BIOS Flashback, MemOK, DirectKey and enhanced audio also copy over.
The main issue with Kaveri from our motherboard reviews so far is the inability for a system to remain stable at stock frequencies while under certain prosumer workloads (video editing, 3D mapping). The A88X-Pro has some extra money spent on the power delivery and heatsink orientation, using R68 chokes and connecting the CPU area with the chipset for extra temperature dissipation.
Unfortunately the forced reboot issue we have seen on other A88X motherboards appeared on the A88X-Pro during our Photoscan benchmark, solved only by an extra fan being placed over the power delivery. I relayed this information back to ASUS, with the benchmark itself, and they have been unable to perform this error that I can consistently show. ASUS has suggested that my review CPU from AMD is from an initial batch of A10-7850K which may have higher-than-retail leakage issues. We are currently investigating this further.
Putting this to one side (as we have done in other reviews), the A88X-Pro is designed to be at the pinnacle of FM2+ motherboard implementations. The performance is better than most of the other FM2+ motherboards we have tested. Alongside the features brought over from the enthusiast platforms mentioned above, we also get a Realtek ALC1150 audio codec, five fan headers, a two-digit debug readout, two eSATA 6 Gbps ports, six USB 3.0 ports, a quartet of IGP video outputs and support for up to 64GB of DRAM (when those 16GB modules are released).
Performance wise, the ASUS A88X-Pro seems to do something a little differently than the other A88X motherboards we have tested – turbo modes seem to last longer and have a direct effect on benchmarks. As a result the A88X-Pro hits the top notes when paired with the A10-7850K in almost all our tests when compared to other A88X reviews. The audio solution also gets some of the best combination Dynamic Range and Noise results out of any previous motherboard tested.
ASUS' new graphical BIOS from Z87 is used, implementing features such as Last Modified and My Favorites. The software stack revolves around AI Suite 3 with the Dual Intelligent Processors 4 option flanked with USB 3.0 boost, USB BIOS Flashbook, quick charging options, fan controls and power saving modes.
Compared to the $63 MSI motherboard we tested previously at AnandTech, the ASUS comes in at almost double price with good performance numbers, extra features (DIP4, four DIMM slots, Realtek ALC1150) and a more robust BIOS and software package. Whether the A88X-Pro is worth double is more up to the reader, but ASUS is aiming the motherboard at the high end.
Visual Inspection
Speaking of all things golden, ASUS has implemented the same color scheme on the A88X-Pro to that of their 8-series main motherboard line – a dash of mustard yellow and gold on a black PCB: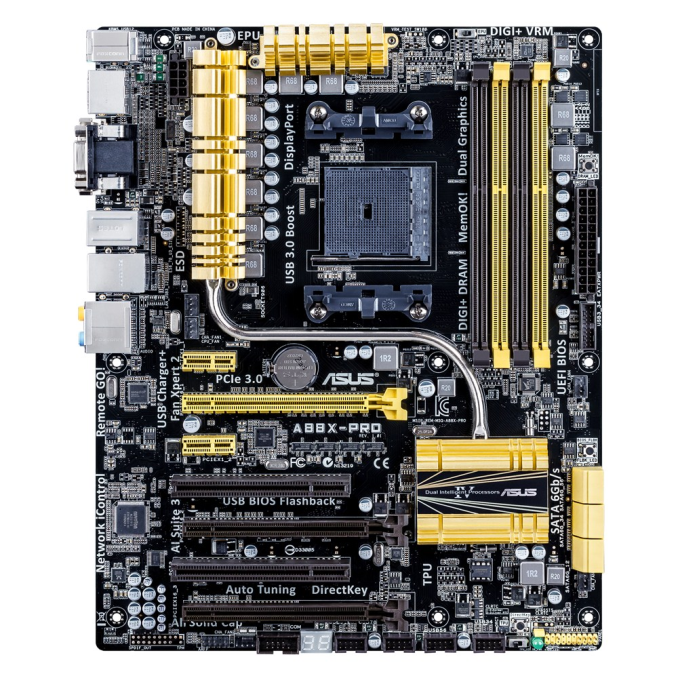 The socket area gives plenty of room in all directions for air coolers. Although the heatpipe to the bottom of the socket is close, it is also flush against the PCB to not get in the way. The socket area has three fan headers within immediate reach – two four pin to the bottom left of the power delivery heatsink and a four pin below the USB 3.0 connector on the right hand side. There are two other fan headers on board, one four-pin below the SATA ports and another next to the COM header at the bottom of the motherboard.
The top of the motherboard does look very busy in terms of components, and it is worth noting that the DRAM slots are slightly (a couple of mm) lower than usual. This does not interfere with the PCIe lane allocation unless a super large PCIe x1 card is used. The DRAM slots use a double sided-latch mechanism.
At the top of the motherboard is an EPU switch to activate energy saving enhancements automatically at boot. This is the sibling to the TPU switch on the bottom of the motherboard which enables an overclock in a similar fashion. To complement these two switches, ASUS also offers several buttons on board. The one at the top right is the MemOK button which allows memory overclocks to recover the system if the memory settings are too high. Below this next to the SATA ports is the BIOS Flashback button that allows users to update the BIOS via a USB stick without a CPU, DRAM or GPU present. The final button is above the TPU switch and is called DirectKey. When this is pressed when the machine is off, the system will restart straight into the BIOS.
On the right hand side of the motherboard is the USB 3.0 header, powered by the chipset. Below this is a fan header, one of the aforementioned buttons, and the six SATA 6 Gbps ports in the gold/mustard yellow color. The A88X chipset allows for eight SATA 6 Gbps ports, and ASUS put six here with two more on the back panel as eSATA ports. They are all powered by the chipset, which uses a heatsink that is connected to the power delivery to help with keeping the system cool.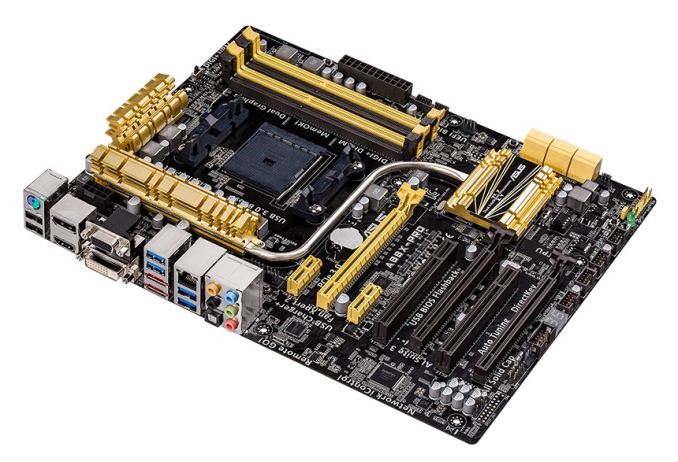 Along the bottom of the motherboard we have our front panel headers, four USB 2.0 headers, two digit debug, COM port, fan header and front panel audio header. Note that despite being the high end motherboard in the A88X range, we have not any power or reset buttons, but there is a two digit debug. The DirectKey button on the bottom row almost acts like both, as it also forces the system to shut down when the in the OS.
The PCIe layout is somewhat oddly color coded. ASUS support full sized PCIe devices in an x16 and x8/x8 configuration using the first two x16 sized slots, but they are of different colors. The final slot is a PCIe 2.0 x4 from the chipset, but is colored the same as the PCIe 3.0 x8 slot. Normally the main GPU capable slots are colored the same. The only reason I can deduce from this layout is for NVIDIA GPUs which cannot be in SLI on the A88X platform.

The rear panel features a combination PS/2 port, two USB 2.0 ports, DisplayPort, HDMI, VGA, DVI-D, two eSATA 6 Gbps ports, two USB 3.0 from the chipset, two USB 3.0 from an ASMedia controller, a gigabit Ethernet port from a Realtek controller, and finally audio jacks from a Realtek ALC1150 audio codec.
Board Features
ASUS A88X-Pro
Price
Link
Size
ATX
CPU Interface
FM2+
Chipset
AMD A88X (Bolton D4)
Memory Slots
Four DDR3 DIMM slots supporting up to 64 GB
Up to Dual Channel, 1333-2400 MHz
Video Outputs
D-Sub, 1920x1600 @ 60 Hz
DVI-D, 2560x1600 @ 60 Hz
DisplayPort, 4096x2160 @ 60 Hz
HDMI, 4960x2160 @ 24 Hz or 1920x1200 @ 60 Hz
Onboard LAN
Realtek 8111GR
Onboard Audio
Realtek ALC1150
Expansion Slots
2 x PCIe 3.0 x16 (x16 or x8/x8)
1 x PCIe 2.0 x4
2 x PCIe 2.0 x1
2 x PCI
Onboard SATA/RAID
6 x SATA 6 Gbps, RAID 0,1,5,10 2 x eSATA 6 Gbps
USB 3.0
4 x USB 3.0 (Chipset) [2 back panel, 2 via header]
2 x USB 3.0 (ASMedia ASM1042) [2 back panel]
Onboard
6 x SATA 6 Gbps
1 x USB 3.0 Header
4 x USB 2.0 Headers
5 x Fan Headers
1 x COM Header
Front Panel Header
Front Audio Header
DirectKey Button
MemOK! Button
USB BIOS Flashback Button
TPU Switch
EPU Switch
Power Connectors
1 x 24-pin ATX
1 x 8-pin CPU
Fan Headers
1 x CPU (4-pin)
4 x CHA (4-pin)
IO Panel
1 x PS/2 Combination Port
D-Sub
DVI-D
HDMI
DisplayPort
2 x eSATA 6 Gbps
4 x USB 3.0
2 x USB 2.0
1 x Realtek NIC
1 x Optical SPDIF Output
Audio Jacks
Warranty Period
3 Years
Product Page
Link
ASUS' extra features (DirectKey, MemOK, BIOS Flashback, TPU, EPU) are all substantial investments in design which may be part of the reason why the A88X-Pro sits up the stack. ASUS is trying to provide enough features and video support (DisplayPort + HDMI) as well as 4-pin headers (five in total), an extra two USB 3.0 ports (ASMedia ASM1042) and the top end Realtek ALC1150 audio codec.
ASUS A88X-Pro BIOS
The move to a graphical BIOS gives a motherboard manufacturer more room to grow and expand their options for enthusiasts. Broadly speaking, there are two sets of enthuisasts in this crowd – those that want an easy way to get more performance, and those that want to squeeze every drop they can from the system under their feet. ASUS goes to great lengths to explain to reviewers how the BIOS works and offers access to user guides to explain how each function works, as well as delivering a platform that allows the user to visually identify what each function does. As the ecosystem evolves, ASUS has been in on the positive side of the divide, because users in this market are requesting more than the bare minimum.
The BIOS starts in EZ mode with ASUS' characteristic design. As the A88X-Pro is in the channel range of motherboards (i.e. neither ROG nor Sabertooth), the color scheme relies on blues and whites to get the messages across.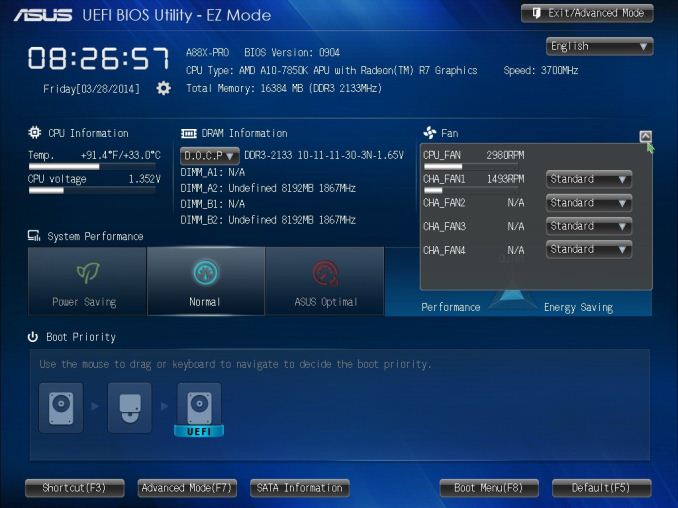 This frontage contains the useful information that a user (or debugger) will need: the motherboard name, the BIOS version, the CPU installed, the current CPU speed, the memory installed, the CPU temperature, the CPU voltage, where the memory is installed and the current fan speeds. This screen also allows the memory to be adjusted between default and DOCP (XMP for AMD on ASUS, I believe it stands for Digital/Dynamic Over Clocked Profile) as well as the fan profiles of each fan based on pre-determined settings. Users can also select a power saving or performance setting as well as the boot priority. In order to navigate to the advanced menus, there are options at the top and bottom of EZ mode.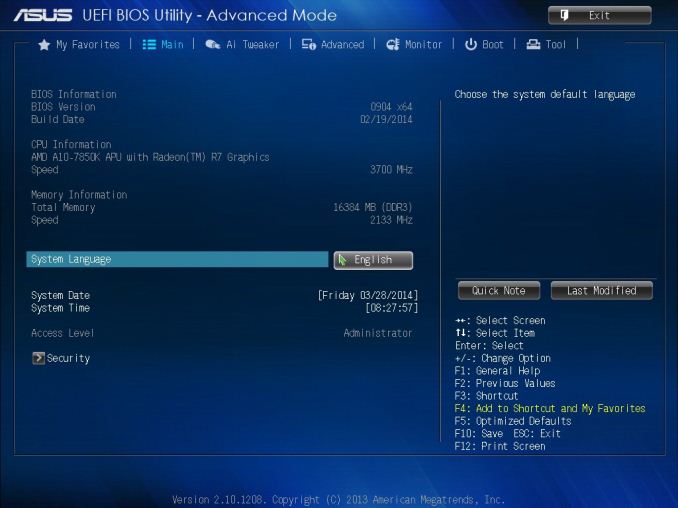 The advanced modes offer more information in a more text based format. The BIOS is set out with the tabs at the top, options to the left, information about the option selected on the top right and the controls on the bottom right. Two of the features on the right are Quick Note and Last Modified which are on the Z87 platform. Quick Note allows users to leave messages for future reference, such as settings for overclocks: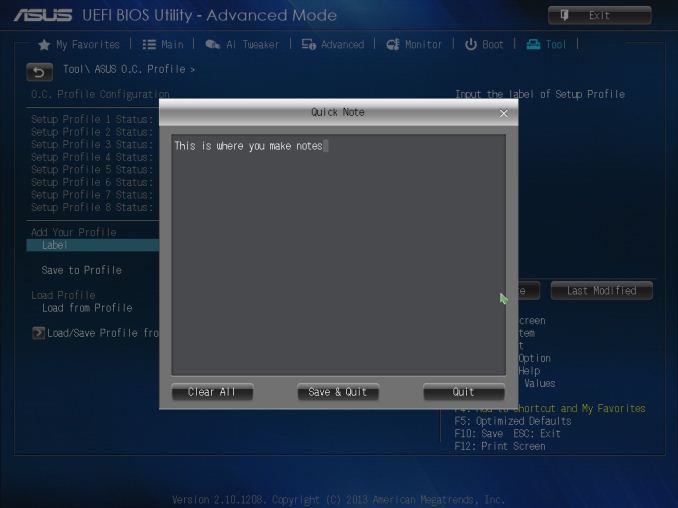 Last Modified also pops up before a user exits the BIOS and shows what settings have changed since the BIOS was opened: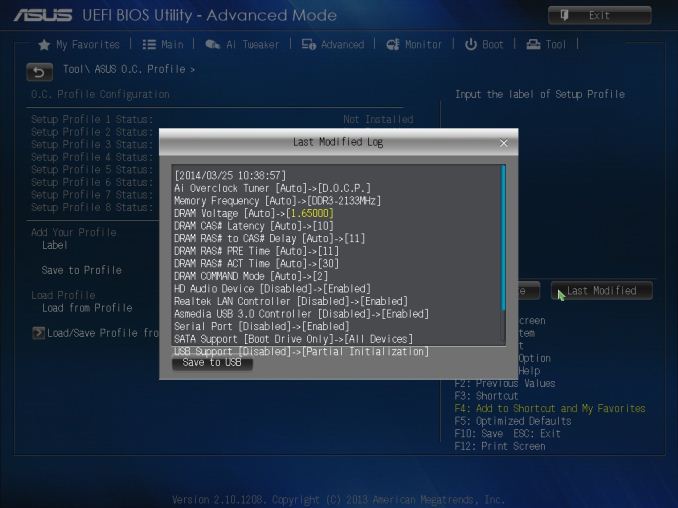 The first tab in advanced mode is the My Favorites menu. This screen collates the user selected options to help with faster adjustments. For example, an overclocker may only require several settings (Memory, CPU multiplier, CPU voltage) in order to test their overclocks. This screen is designed to help reduce the scrolling through the options. Users can add options to the My Favorites menu by highlighting an option and pressing F4 or right clicking. Here are some of the ones I usually add to this menu when reviewing an A88X motherboard: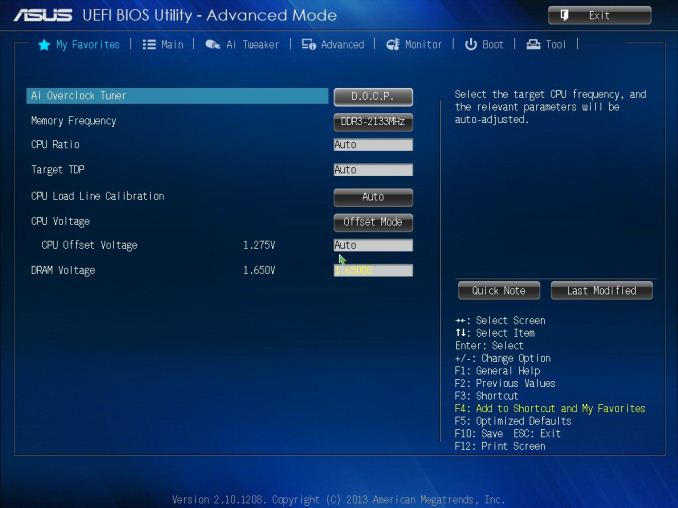 For a more detailed list of overclocking options, these are found in the AI Tweaker menus. ASUS lists these options in stages: first the CPU, then memory, then voltages.
Selecting OC Tuner will enable the TPU setting on the motherboard, whereas the DRAM Timing control gives the memory subtimings for extreme tweaking.
I am typically fond of a variety of automatic overclock options, such as users selecting a frequency and the platform implementing a pre-configured set of voltages and settings. ASUS has shied away from this in recent platforms, preferring the OC Tuner method as a single option, with potentially more in the operating system.
ASUS also uses DIGI+ Power Control if users want to offer more headroom to the power delivery or adjust load line calibrations: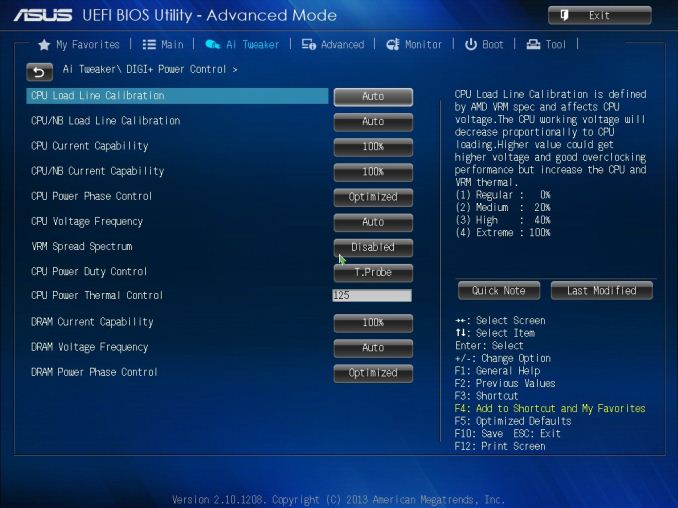 The Advanced tab in Advanced mode gives all the options related to the various controllers on board and input/output features. This includes CPU, SATA, USB and IGP configurations, such as IDE/AHCI or forcing integrated graphics or CPU power states.
The Monitor tab gives the results of the temperature, fan control and voltage probes located on the motherboard. Here is also the BIOS fan settings, allowing users a two point fan gradient based on power rather than RPM: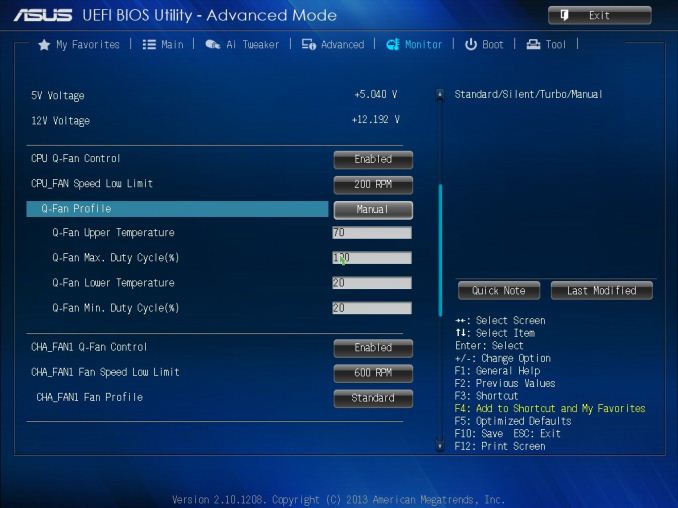 The BIOS also contains EZ Flash so users can update the BIOS, SPD information for details about the DRAM being used and OC Profiles for users to save their settings for future use. The Boot menu contains options for faster booting with Windows 8 as well as boot order and boot override.
ASUS A88X-Pro Software
The idea behind manufacturer based OS software is multi-faceted: it has to provide the options similar to the BIOS but in an easier to use way. Because the manufacturer now has the full scope of graphical prowess that is afforded by the operating system, it has to look good and work smoothly. The more features a motherboard manufacturer decides to add to their software stack, the more effort has to go in to developing and testing the visuals around such options. ASUS' software goes by the AI Suite name, and has been attached to ASUS software for several generations. The latest incantation, AI Suite III, came to pass during the Z87 release and moved to a Java based platform rather than Flash.
ASUS' software revolves around their Dual Intelligent Processors 4 platform. This is the combination of the TPU and EPU alongside the fan controls and digital power delivery to create '4-Way Optimization':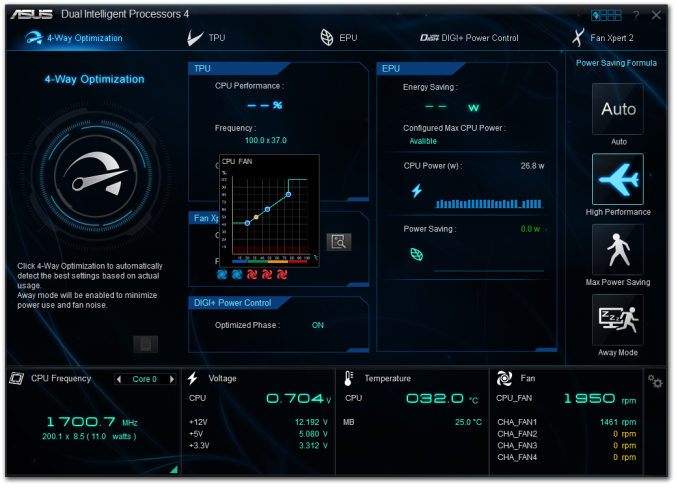 From this initial screen the user can see the CPU sensors, the fan profiles, the CPU power and choose from several presets for energy conserving or performance. The button on the left offers an automatic test based on environment and usage – it will go through each of the four ways in turn (TPU, EPU, Digi+ Power, Fans) and attempt to optimize for temperature, CPU frequency and power consumption. As a result, we get something like this: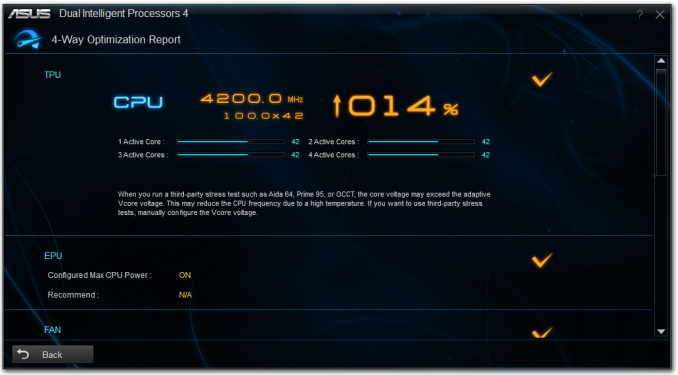 Each of the four sections can also be manually configured. For CPU overclocks, the TPU menu offers frequency and voltage adjustments: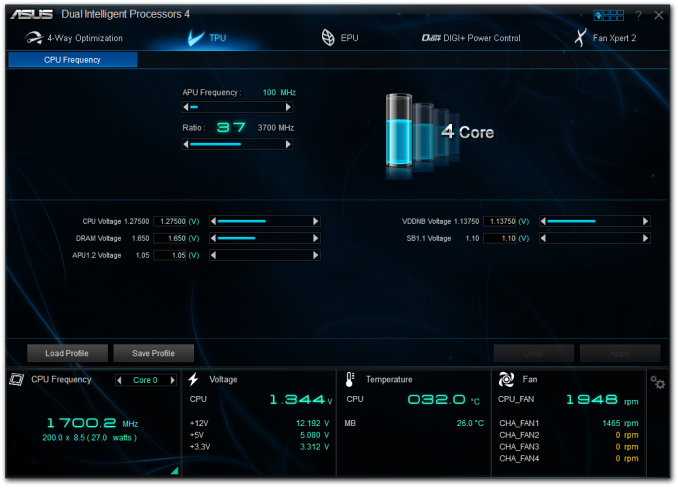 The EPU menu gives each of the four presets on the front page (Auto, High Performance, Max Power Saving, Away Mode) and allows users to adjust features like time-to-sleep or aggressive power saving.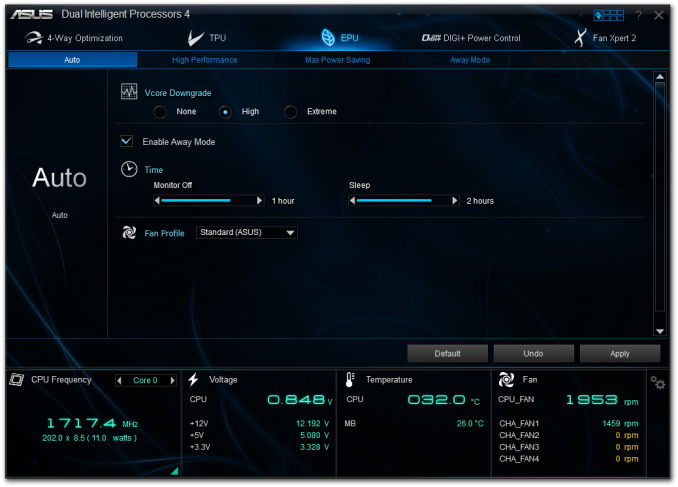 DIGI+ Power Control offers access to the load line calibrations for the system and improving the headroom of the power delivery above defaults. Fan Xpert 2 allows users to test fans to find how RPM varies with power applied and then implement this into the fan profiles:
There are also several presets for fans, including Silent, Turbo and Full Speed. Users can ask the system to probe the fans power response and update the fan profiles automatically.
Slightly hidden away from the initial screen are the rest of AI Suite's functions. By clicking the icon on the top navigation bar, next to the question mark, we get access to AI Charger+, USB 3.0 Boost, EZ Update, Network iControl, System Information, USB BIOS Flashback, USB Charger+ and Remote Go!. We have covered these features in previous reviews, but here is a brief overview:
AI Charger+: Quick Charging of BC1.1 compliant devices
USB 3.0 Boost: Offers an additional speed for Windows 7 USB 3.0 devices by implementing an updated driver on-the-fly.
EZ Update: Software to allow updates to the system, primarily drivers, software and BIOS. I can now confirm that it works and offers updates.
Network iControl: Software implementation for network data prioritization.
USB BIOS Flashback: Converts the appropriate BIOS to the correct format for USB BIOS Flashback.
USB Charger+: Quick charging of a single device via USB 3.0 by disabling data transfer and increasing power delivery.
Remote Go!: Home cloud computing for media, files, remote desktop and so on.
ASUS A88X-Pro In The Box
Being the top of the line ASUS A88X product, we should be expecting something more than the average in the box for the A88X-Pro. The downside to this is the price. Because the motherboard is $124, we have had other motherboards in this price range offer next to nothing apart from the basics. It all boils down to how aggressive the pricing of the motherboard is for this segment – in the box contents can add value but only when the margin is there or price is no object.
In the ASUS A88X-Pro we get the following:
Driver DVD
Manual
Rear IO Shield
Four SATA Cables
Q-Connectors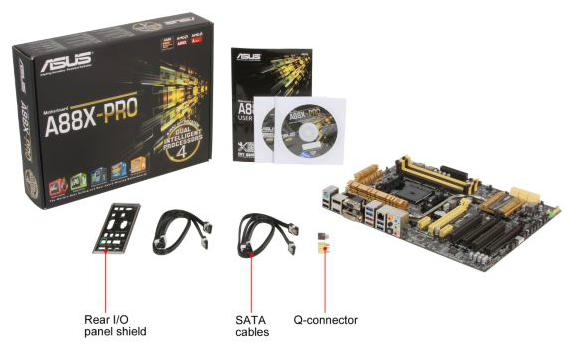 Admittedly this is two more SATA cables than the standard, however when a system offers 8 SATA 6 Gbps connectors it would seem rather tight to offer less than four. I was not expecting a USB 3.0 connector due to the lack of a second USB 3.0 header, but because the system has four USB 2.0 headers I could be forgiven in expecting some tool to take advantage of those, either via a front or rear panel.
ASUS A88X-Pro Overclocking
Experience with ASUS A88X-Pro
Overall our overclocking experience on A88X with our A10-7850K is a bit disappointing. Most motherboards we have tested up until this point find the limit of our CPU early on, and the resulting high temperatures cause the CPU to throttle. 4.2 GHz seems to be the main limit, but the A88X-Pro does at least stretch that a bit to 4.3 GHz in our testing. In fact 4.4 GHz seemed plausible, but the throttling was present during our OCCT test.
One point I would like to make to ASUS would be in automatic overclock options. I enjoy having access to a dynamic scaling utility such as the 4-Way Optimization tool, however by implementing a series of presets to choose from would be beneficial. Something to think about in the future I would imagine.
Methodology:
Our standard overclocking methodology is as follows. We select the automatic overclock options and test for stability with PovRay and OCCT to simulate high-end workloads. These stability tests aim to catch any immediate causes for memory or CPU errors.
For manual overclocks, based on the information gathered from previous testing, starts off at a nominal voltage and CPU multiplier, and the multiplier is increased until the stability tests are failed. The CPU voltage is increased gradually until the stability tests are passed, and the process repeated until the motherboard reduces the multiplier automatically (due to safety protocol) or the CPU temperature reaches a stupidly high level (100ºC+). Our test bed is not in a case, which should push overclocks higher with fresher (cooler) air.
Automatic Overclock:
Using the 4-Way Optimization tool in AI Suite, our system was overclocked to 4.2 GHz: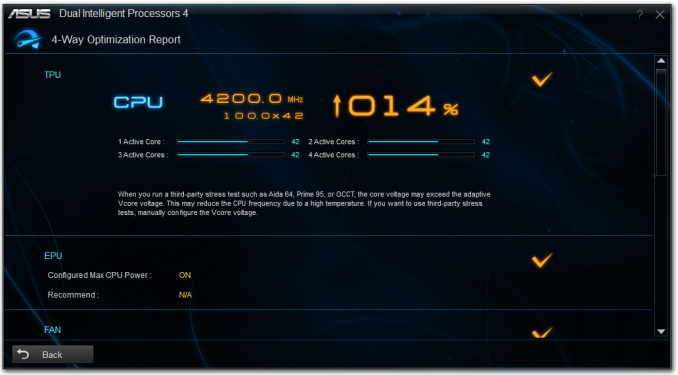 This gave a PovRay score of 933, compared to the stock score of 820.
Manual Overclock:
We started our manual overclocking in the BIOS, with the CPU set to 1.1 volts and 4.0 GHz. Given that the stock voltage reading was 1.288 volts, it was no surprise that it took 1.225 volts set in the BIOS to get 4.0 GHz stable. The system was consistently stable to 4.3 GHz, however 4.4 GHz was a step too far:

The 4.4 GHz setting was stable for at least a minute, however a sustained workload gave the following CPU frequency profile over five minutes: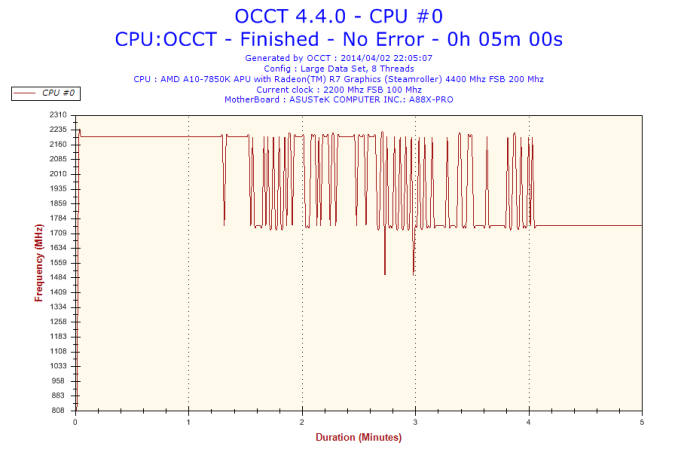 Many thanks to...
We must thank the following companies for kindly providing hardware for our test bed:
Thank you to OCZ for providing us with 1250W Gold Power Supplies and SSDs.
Thank you to G.Skill and ADATA for providing us with memory kits.
Thank you to Corsair for providing us with an AX1200i PSU, Corsair H80i CLC and 16GB 2400C10 memory.
Thank you to ASUS for providing us with the AMD HD7970 GPUs and some IO Testing kit.
Thank you to MSI for providing us with the NVIDIA GTX 770 Lightning GPUs.
Thank you to Rosewill for providing us with the 500W Platinum Power Supply for mITX testing, BlackHawk Ultra, and 1600W Hercules PSU for extreme dual CPU + quad GPU testing, and RK-9100 keyboards.
Thank you to ASRock for providing us with the 802.11ac wireless router for testing.
Test Setup
Power Consumption
Power consumption was tested on the system as a whole with a wall meter connected to the OCZ 1250W power supply, while in a single MSI GTX 770 Lightning GPU configuration. This power supply is Gold rated, and as I am in the UK on a 230-240 V supply, leads to ~75% efficiency > 50W, and 90%+ efficiency at 250W, which is suitable for both idle and multi-GPU loading. This method of power reading allows us to compare the power management of the UEFI and the board to supply components with power under load, and includes typical PSU losses due to efficiency. These are the real world values that consumers may expect from a typical system (minus the monitor) using this motherboard.
While this method for power measurement may not be ideal, and you feel these numbers are not representative due to the high wattage power supply being used (we use the same PSU to remain consistent over a series of reviews, and the fact that some boards on our test bed get tested with three or four high powered GPUs), the important point to take away is the relationship between the numbers. These boards are all under the same conditions, and thus the differences between them should be easy to spot.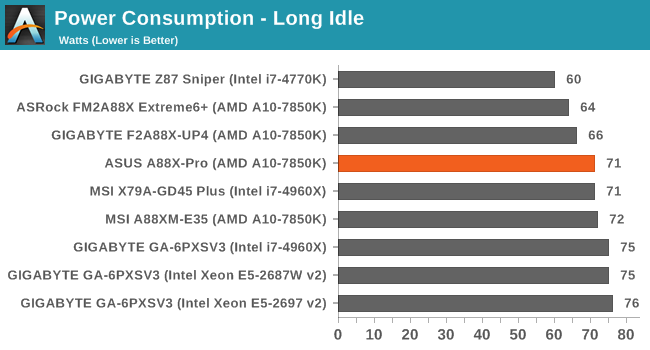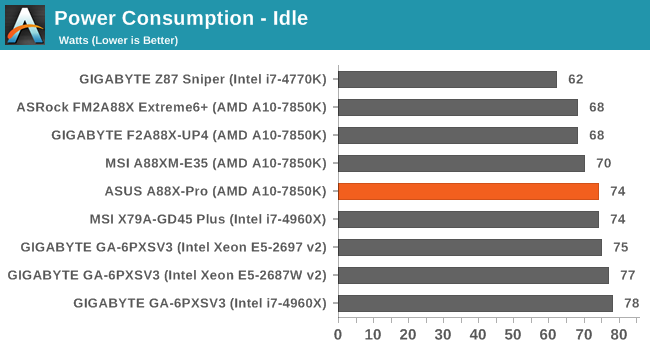 Power consumption on the A88X-Pro is in line with other motherboards, however the IR355x ICs of the GIGABYTE seem to have the advantage during high CPU loading.
Windows 7 POST Time
Different motherboards have different POST sequences before an operating system is initialized. A lot of this is dependent on the board itself, and POST boot time is determined by the controllers on board (and the sequence of how those extras are organized). As part of our testing, we are now going to look at the POST Boot Time - this is the time from pressing the ON button on the computer to when Windows 7 starts loading. (We discount Windows loading as it is highly variable given Windows specific features.) These results are subject to human error, so please allow +/- 1 second in these results.
With the focus on fast booting into Windows 8, there is little incentive to optimize the POST sequence for other OSes. Nevertheless we see that a good ~1/3 of ASUS' boot time can be saved by disabling unwanted controllers.
System Benchmarks
Rightmark Audio Analyzer 6.2.5
The premise behind Rightmark:AA is to test the input and output of the audio system to determine noise levels, range, harmonic distortion, stereo crosstalk and so forth. Rightmark:AA should indicate how well the sound system is built and isolated from electrical interference (either internally or externally). For this test we connect the Line Out to the Line In using a short six inch 3.5mm to 3.5mm high-quality jack, turn the OS speaker volume to 100%, and run the Rightmark default test suite at 192 kHz, 24-bit. The OS is tuned to 192 kHz/24-bit input and output, and the Line-In volume is adjusted until we have the best RMAA value in the mini-pretest. We look specifically at the Dynamic Range of the audio codec used on board, as well as the Total Harmonic Distortion + Noise.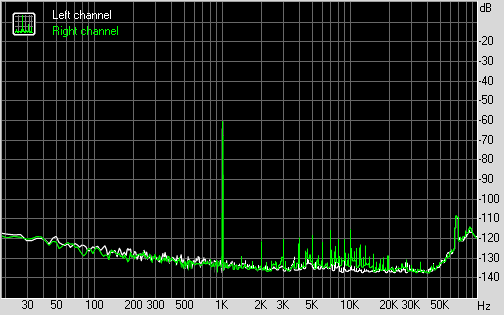 Dynamic Range of the ASUS A88X-Pro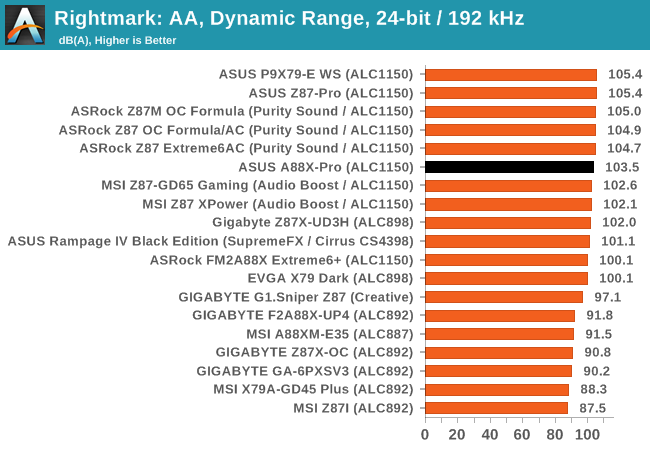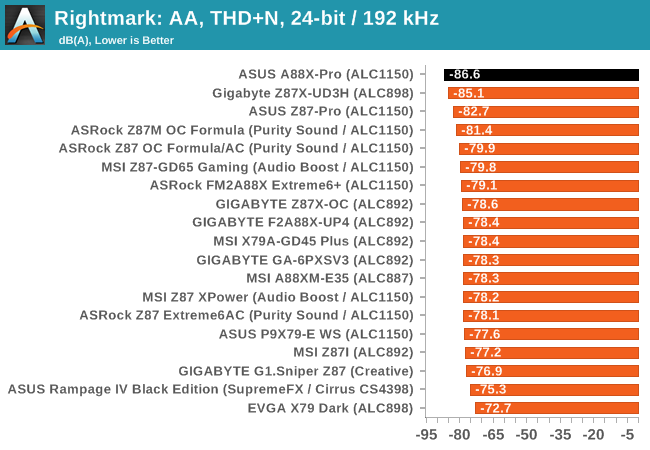 The THD+N results from the A88X-Pro are some of the best we have ever seen on a motherboard. Being the only A88X motherboard we have tested with an ALC1150, this seems to make a difference.
USB Backup
For this benchmark, we run CrystalDiskMark to determine the ideal sequential read and write speeds for the USB port using our 240 GB OCZ Vertex3 SSD with a SATA 6 Gbps to USB 3.0 converter. Then we transfer a set size of files from the SSD to the USB drive using DiskBench, which monitors the time taken to transfer. The files transferred are a 1.52 GB set of 2867 files across 320 folders – 95% of these files are small typical website files, and the rest (90% of the size) are the videos used in the WinRAR test. In an update to pre-Z87 testing, we also run MaxCPU to load up one of the threads during the test which improves general performance up to 15% by causing all the internal pathways to run at full speed.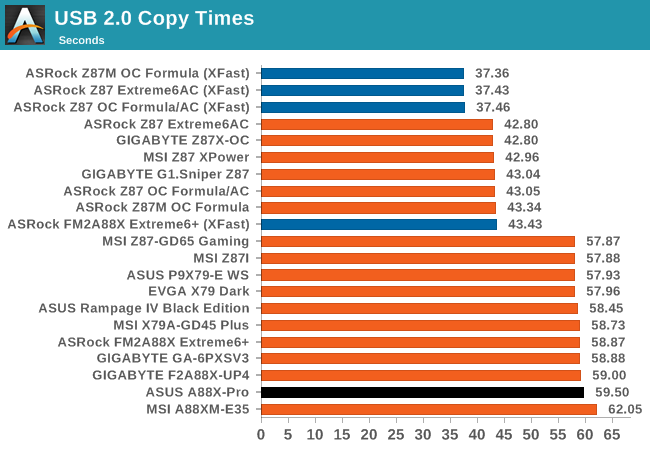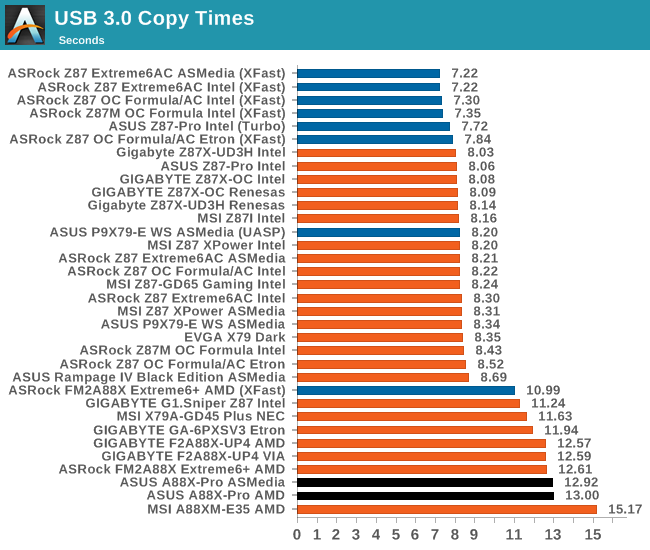 DPC Latency
Deferred Procedure Call latency is a way in which Windows handles interrupt servicing. In order to wait for a processor to acknowledge the request, the system will queue all interrupt requests by priority. Critical interrupts will be handled as soon as possible, whereas lesser priority requests, such as audio, will be further down the line. So if the audio device requires data, it will have to wait until the request is processed before the buffer is filled. If the device drivers of higher priority components in a system are poorly implemented, this can cause delays in request scheduling and process time, resulting in an empty audio buffer – this leads to characteristic audible pauses, pops and clicks. Having a bigger buffer and correctly implemented system drivers obviously helps in this regard. The DPC latency checker measures how much time is processing DPCs from driver invocation – the lower the value will result in better audio transfer at smaller buffer sizes. Results are measured in microseconds and taken as the peak latency while cycling through a series of short HD videos - less than 500 microseconds usually gets the green light, but the lower the better.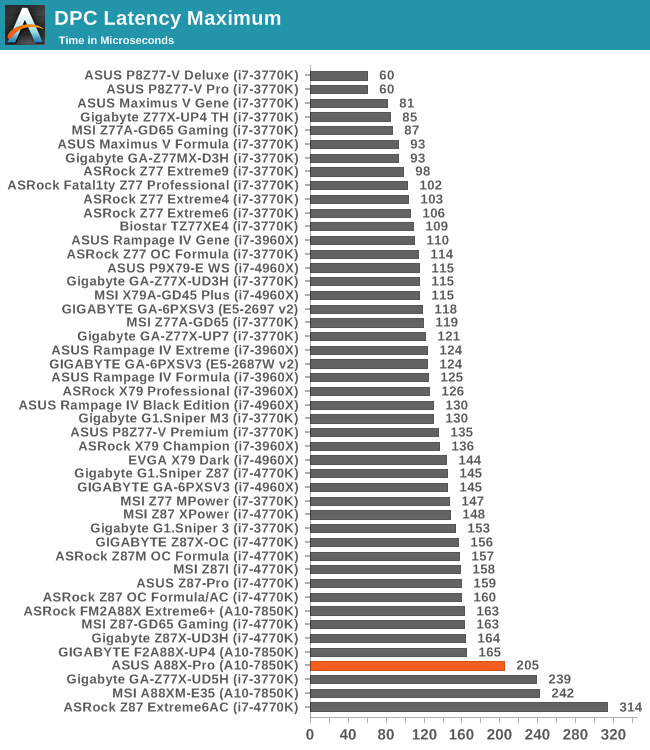 Somewhat uncharacteristically ASUS' DPC latency on the A88X-Pro hits above 200. In our test we were seeing spikes up to 205, with the average being lower. We could not find the source of the spikes.
Real World CPU Benchmarks
Readers of our motherboard review section will have noted the trend in modern motherboards to implement a form of MultiCore Enhancement / Acceleration / Turbo (read our report here) on their motherboards. This does several things – better benchmark results at stock settings (not entirely needed if overclocking is an end-user goal), at the expense of heat and temperature, but also gives in essence an automatic overclock which may be against what the user wants. Our testing methodology is 'out-of-the-box', with the latest public BIOS installed and XMP enabled, and thus subject to the whims of this feature. It is ultimately up to the motherboard manufacturer to take this risk – and manufacturers taking risks in the setup is something they do on every product (think C-state settings, USB priority, DPC Latency / monitoring priority, memory subtimings at JEDEC). Processor speed change is part of that risk which is clearly visible, and ultimately if no overclocking is planned, some motherboards will affect how fast that shiny new processor goes and can be an important factor in the purchase.
As far as we could determine, the ASUS A88X-Pro did implement a form of Multi-Core Turbo given some of the results in multithreaded workloads.
Rendering – Adobe After Effects CS6: link
Published by Adobe, After Effects is a digital motion graphics, visual effects and compositing software package used in the post-production process of filmmaking and television production. For our benchmark we downloaded a common scene in use on the AE forums for benchmarks and placed it under our own circumstances for a repeatable benchmark. We generate 152 frames of the scene and present the time to do so based purely on CPU calculations.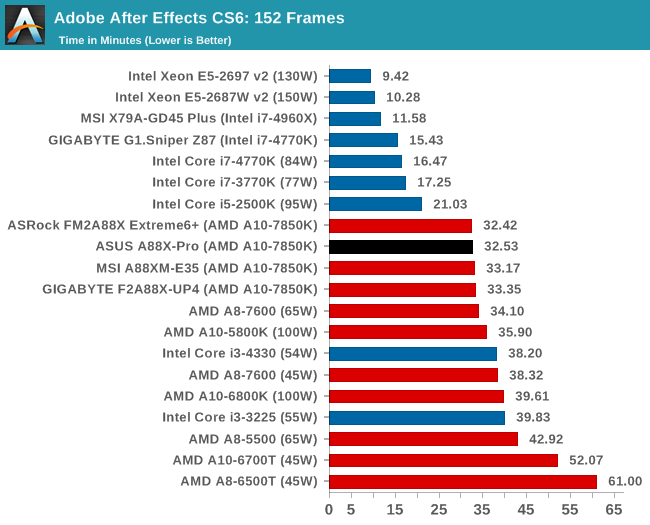 Compression – WinRAR 5.0.1: link
Our WinRAR test from 2013 is updated to the latest version of WinRAR at the start of 2014. We compress a set of 2867 files across 320 folders totaling 1.52 GB in size – 95% of these files are small typical website files, and the rest (90% of the size) are small 30 second 720p videos.
Image Manipulation – FastStone Image Viewer 4.9: link
Similarly to WinRAR, the FastStone test us updated for 2014 to the latest version. FastStone is the program I use to perform quick or bulk actions on images, such as resizing, adjusting for color and cropping. In our test we take a series of 170 images in various sizes and formats and convert them all into 640x480 .gif files, maintaining the aspect ratio. FastStone does not use multithreading for this test, and thus single threaded performance is often the winner.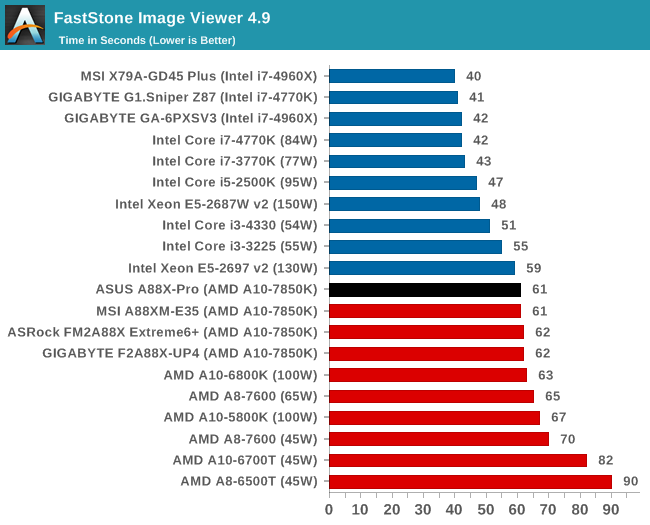 Video Conversion – Xilisoft Video Converter 7: link
The XVC test I normally do is updated to the full version of the software, and this time a different test as well. Here we take two different videos: a double UHD (3840x4320) clip of 10 minutes and a 640x266 DVD rip of a 2h20 film and convert both to iPod suitable formats. The reasoning here is simple – when frames are small enough to fit into memory, the algorithm has more chance to apply work between threads and process the video quicker. Results shown are in seconds and time taken to encode.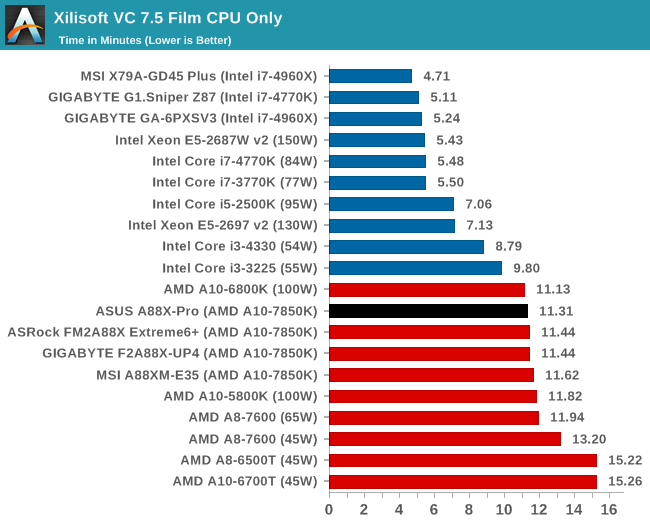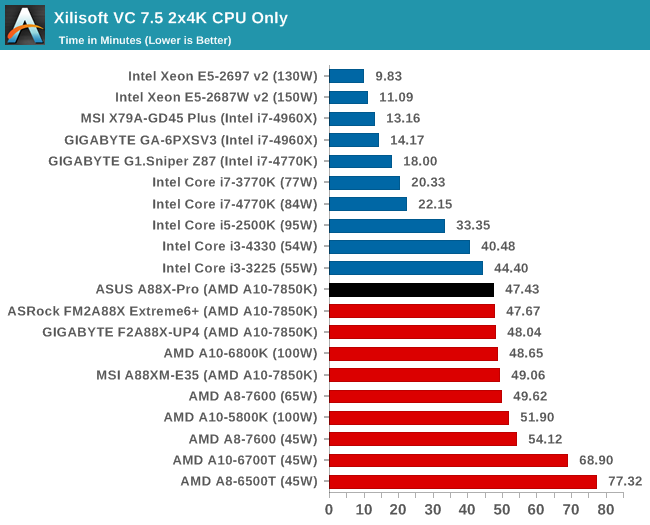 Video Conversion – Handbrake v0.9.9: link
Handbrake is a media conversion tool that was initially designed to help DVD ISOs and Video CDs into more common video formats. The principle today is still the same, primarily as an output for H.264 + AAC/MP3 audio within an MKV container. In our test we use the same videos as in the Xilisoft test, and results are given in frames per second.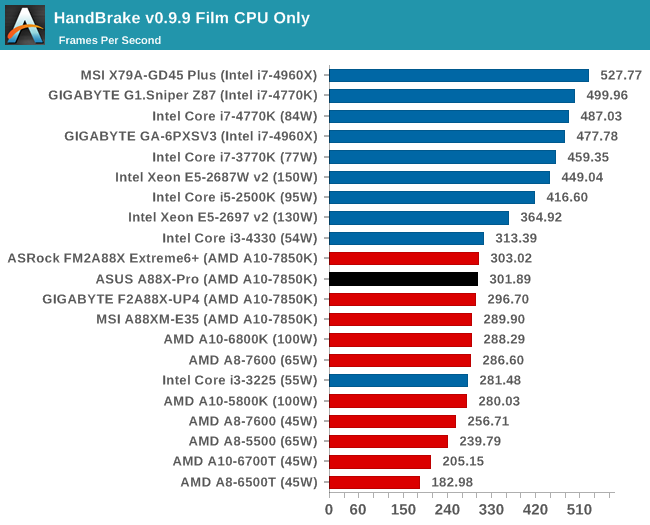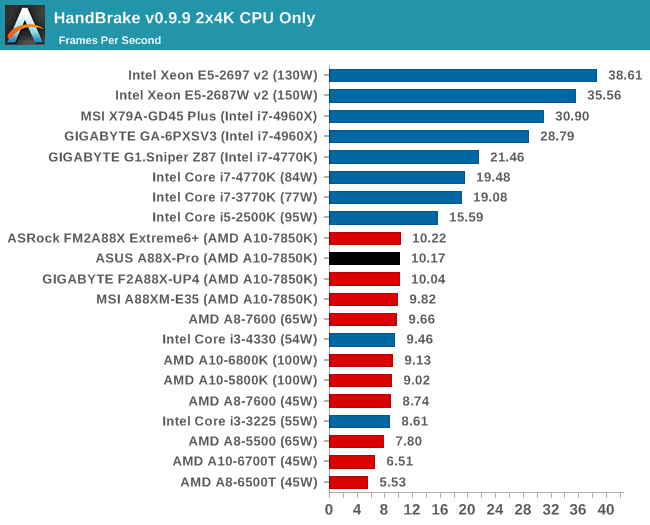 Rendering – PovRay 3.7: link
The Persistence of Vision RayTracer, or PovRay, is a freeware package for as the name suggests, ray tracing. It is a pure renderer, rather than modeling software, but the latest beta version contains a handy benchmark for stressing all processing threads on a platform. We have been using this test in motherboard reviews to test memory stability at various CPU speeds to good effect – if it passes the test, the IMC in the CPU is stable for a given CPU speed. As a CPU test, it runs for approximately 2-3 minutes on high end platforms.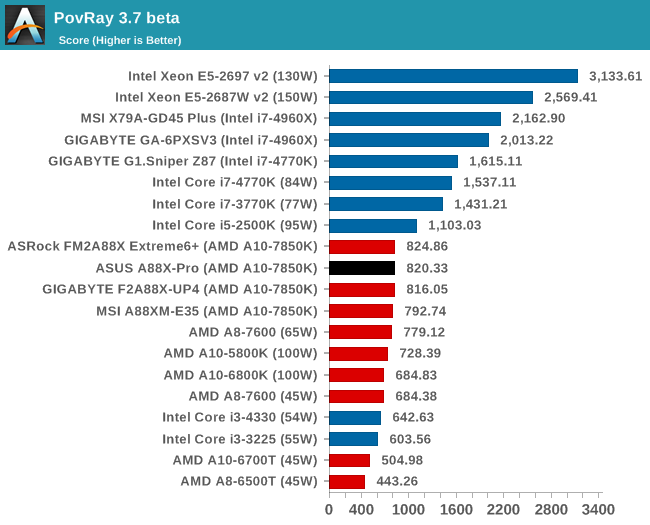 Scientific and Synthetic Benchmarks
2D to 3D Rendering –Agisoft PhotoScan v1.0: link
Agisoft Photoscan creates 3D models from 2D images, a process which is very computationally expensive. The algorithm is split into four distinct phases, and different phases of the model reconstruction require either fast memory, fast IPC, more cores, or even OpenCL compute devices to hand. Agisoft supplied us with a special version of the software to script the process, where we take 50 images of a stately home and convert it into a medium quality model. This benchmark typically takes around 15-20 minutes on a high end PC on the CPU alone, with GPUs reducing the time.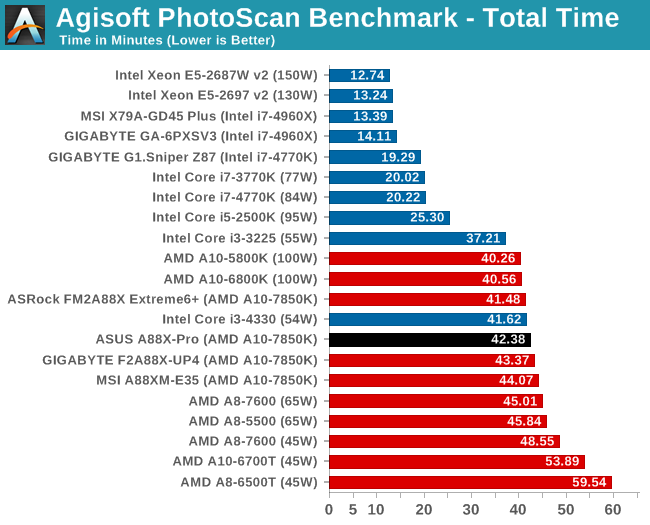 Console Emulation –Dolphin Benchmark: link
At the start of 2014 I was emailed with a link to a new emulation benchmark based on the Dolphin Emulator. The issue with emulators tends to be two-fold: game licensing and raw CPU power required for the emulation. As a result, many emulators are often bound by single thread CPU performance, and general reports tended to suggest that Haswell provided a significant post to emulator performance. This benchmark runs a Wii program that raytraces a complex 3D scene inside the Dolphin Wii emulator. Performance on this benchmark is a good proxy of the speed of Dolphin CPU emulation, which is an intensive single core task using most aspects of a CPU. Results are given in minutes, where the Wii itself scores 17.53; meaning that anything above this is faster than an actual Wii for processing Wii code, albeit emulated.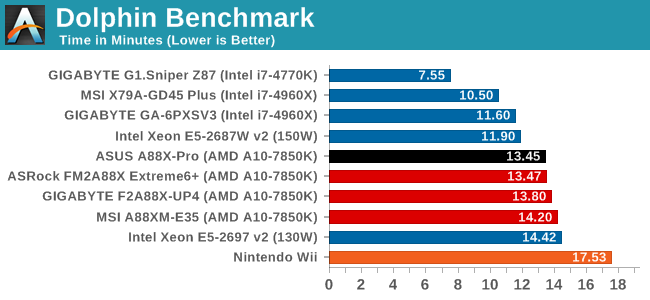 Point Calculations – 3D Movement Algorithm Test: link
3DPM is a self-penned benchmark, taking basic 3D movement algorithms used in Brownian Motion simulations and testing them for speed. High floating point performance, MHz and IPC wins in the single thread version, whereas the multithread version has to handle the threads and loves more cores.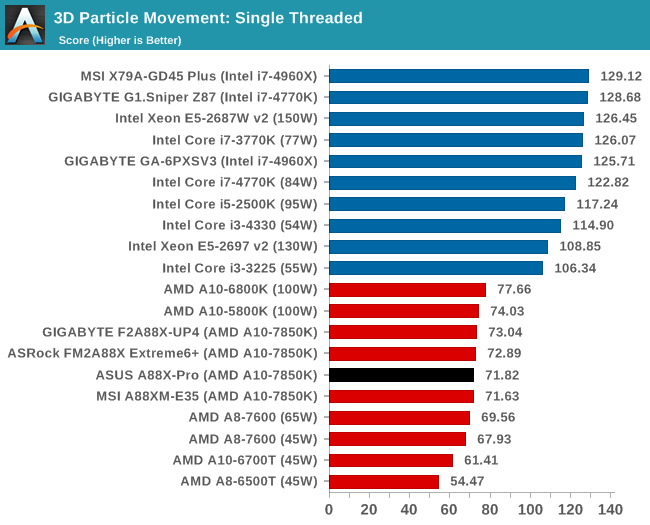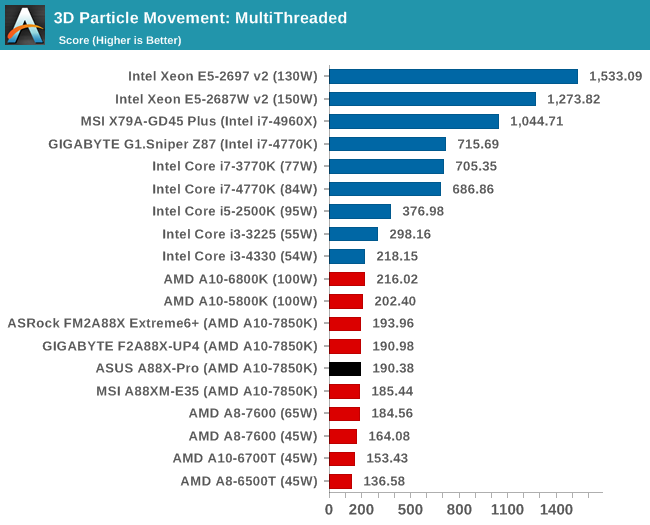 Encryption –TrueCrypt v0.7.1a: link
TrueCrypt is an off the shelf open source encryption tool for files and folders. For our test we run the benchmark mode using a 1GB buffer and take the mean result from AES encryption.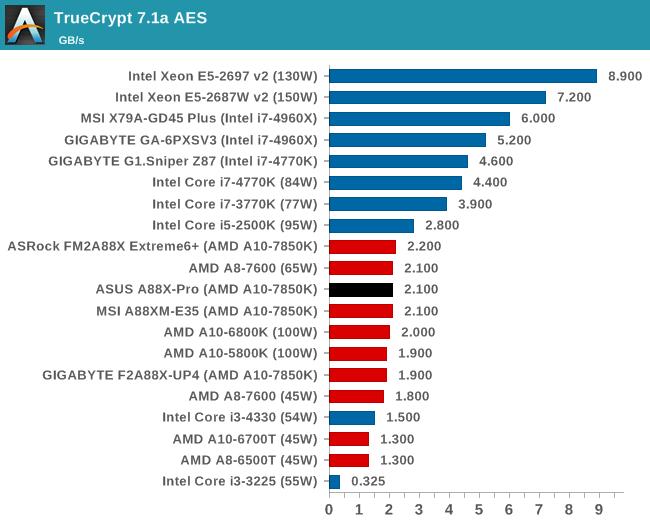 Synthetic – 7-Zip 9.2: link
As an open source compression tool, 7-Zip is a popular tool for making sets of files easier to handle and transfer. The software offers up its own benchmark, to which we report the result.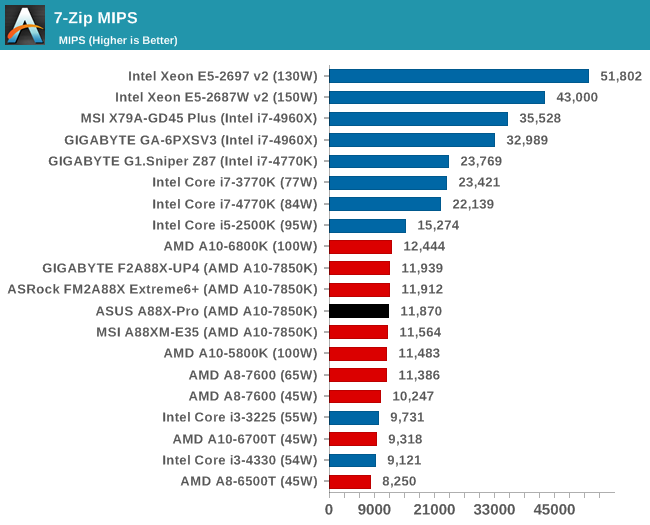 F1 2013
First up is F1 2013 by Codemasters. I am a big Formula 1 fan in my spare time, and nothing makes me happier than carving up the field in a Caterham, waving to the Red Bulls as I drive by (because I play on easy and take shortcuts). F1 2013 uses the EGO Engine, and like other Codemasters games ends up being very playable on old hardware quite easily. In order to beef up the benchmark a bit, we devised the following scenario for the benchmark mode: one lap of Spa-Francorchamps in the heavy wet, the benchmark follows Jenson Button in the McLaren who starts on the grid in 22nd place, with the field made up of 11 Williams cars, 5 Marussia and 5 Caterham in that order. This puts emphasis on the CPU to handle the AI in the wet, and allows for a good amount of overtaking during the automated benchmark. We test at 1920x1080 on Ultra graphical settings.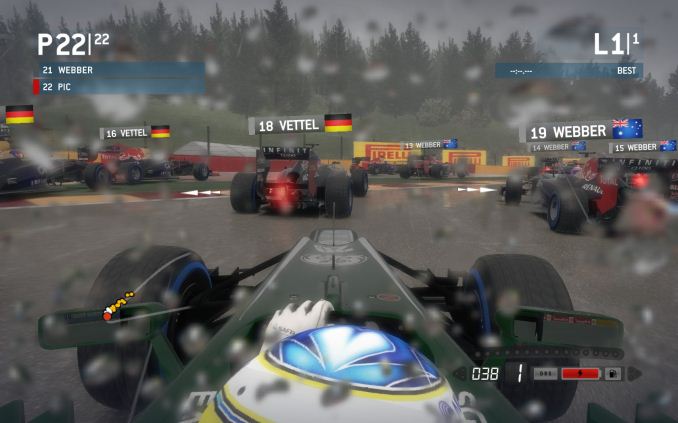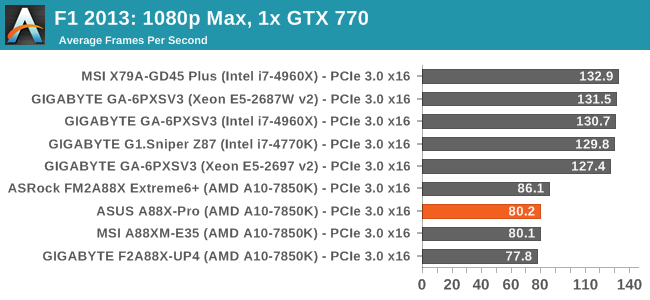 F1 2013, 1080p Max
NVIDIA
AMD
Average Frame Rates



Minimum Frame Rates



Bioshock Infinite
Bioshock Infinite was Zero Punctuation's Game of the Year for 2013, uses the Unreal Engine 3, and is designed to scale with both cores and graphical prowess. We test the benchmark using the Adrenaline benchmark tool and the Xtreme (1920x1080, Maximum) performance setting, noting down the average frame rates and the minimum frame rates.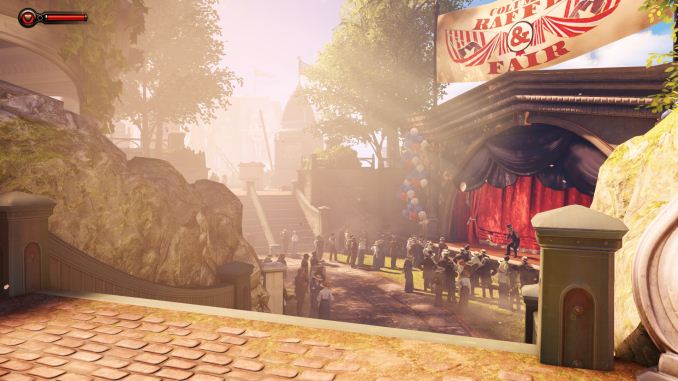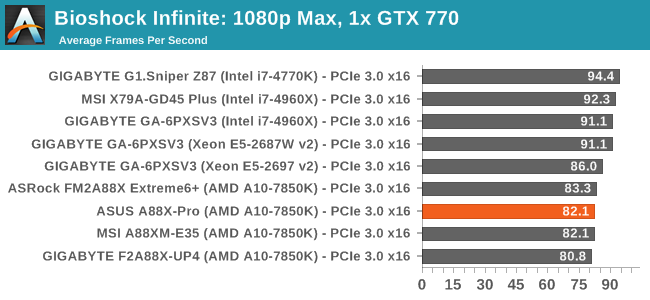 Bioshock Infinite, 1080p Max
NVIDIA
AMD
Average Frame Rates



Minimum Frame Rates



Tomb Raider
The next benchmark in our test is Tomb Raider. Tomb Raider is an AMD optimized game, lauded for its use of TressFX creating dynamic hair to increase the immersion in game. Tomb Raider uses a modified version of the Crystal Engine, and enjoys raw horsepower. We test the benchmark using the Adrenaline benchmark tool and the Xtreme (1920x1080, Maximum) performance setting, noting down the average frame rates and the minimum frame rates.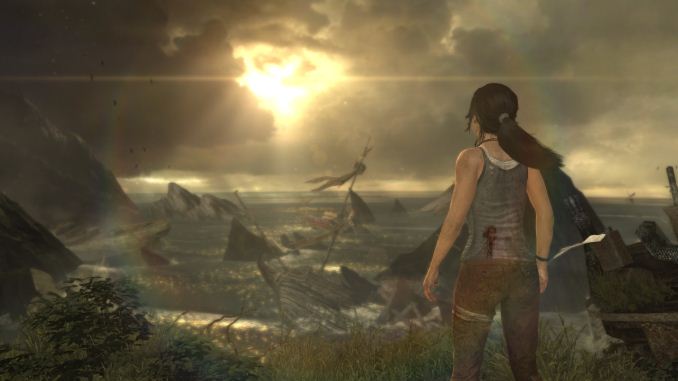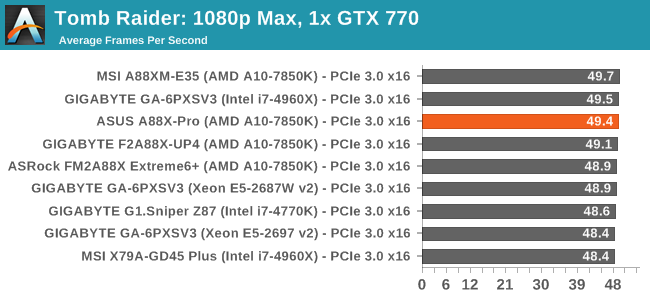 Tomb Raider, 1080p Max
NVIDIA
AMD
Average Frame Rates



Minimum Frame Rates



Sleeping Dogs
Sleeping Dogs is a benchmarking wet dream – a highly complex benchmark that can bring the toughest setup and high resolutions down into single figures. Having an extreme SSAO setting can do that, but at the right settings Sleeping Dogs is highly playable and enjoyable. We run the basic benchmark program laid out in the Adrenaline benchmark tool, and the Xtreme (1920x1080, Maximum) performance setting, noting down the average frame rates and the minimum frame rates.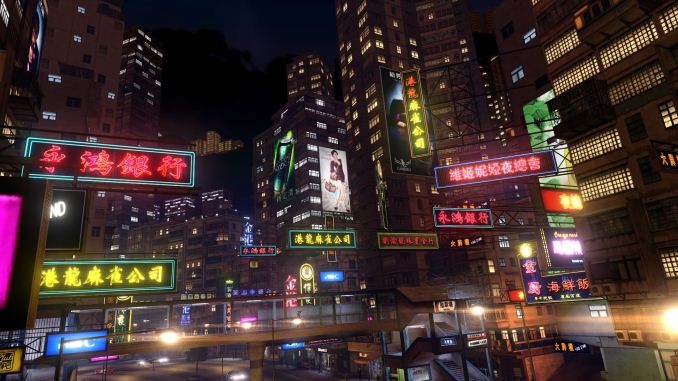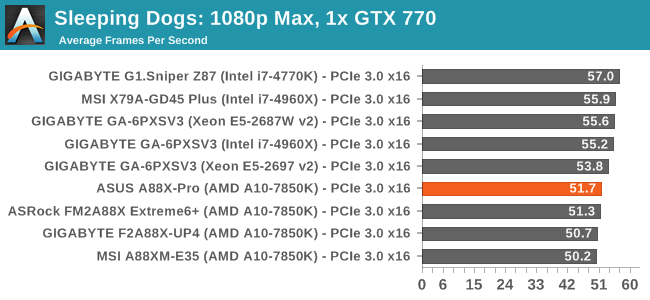 Sleeping Dogs, 1080p Max
NVIDIA
AMD
Average Frame Rates



Minimum Frame Rates



Company of Heroes 2
Company of Heroes 2 also can bring a top end GPU to its knees, even at very basic benchmark settings. To get an average 30 FPS using a normal GPU is a challenge, let alone a minimum frame rate of 30 FPS. For this benchmark I use modified versions of Ryan's batch files at 1920x1080 on Medium. COH2 is a little odd in that it does not scale with more GPUs with the drivers we use.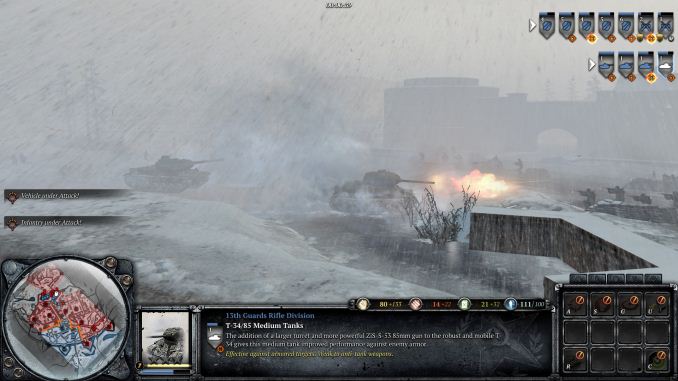 Company of Heroes 2, 1080p Max
NVIDIA
AMD
Average Frame Rates



Minimum Frame Rates



Battlefield 4
The EA/DICE series that has taken countless hours of my life away is back for another iteration, using the Frostbite 3 engine. AMD is also piling its resources into BF4 with the new Mantle API for developers, designed to cut the time required for the CPU to dispatch commands to the graphical sub-system. For our test we use the in-game benchmarking tools and record the frame time for the first ~70 seconds of the Tashgar single player mission, which is an on-rails generation of and rendering of objects and textures. We test at 1920x1080 at Ultra settings.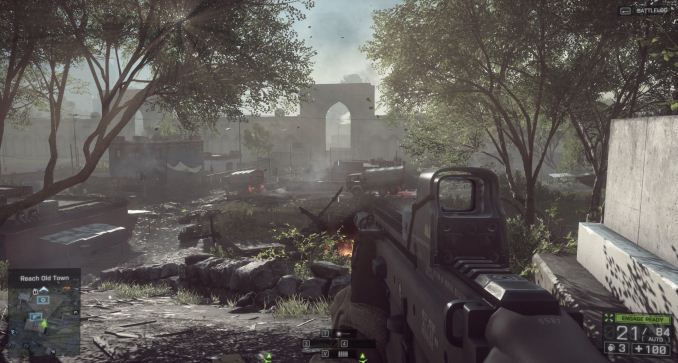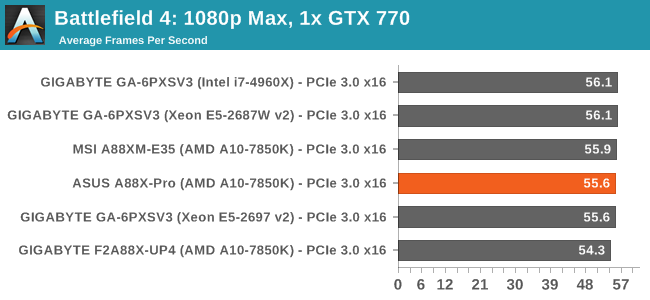 Battlefield 4, 1080p Max
NVIDIA
AMD
Average Frame Rates



99th Percentile Frame Rates



ASUS A88X-Pro Conclusion
High-end motherboards of any platform should come under strict scrutiny. The problem arises when one platform's 'high-end' is the mainstream's 'lower-mid-range'. What is a premium on this cheaper platform is par for the course on the mainstream, which is an issue that can cloud judgment.
The ASUS A88X-Pro sits atop of the FM2+ stack with a variety of added features, especially over the $68 A88XM-E35 we reviewed previously. For almost double the cost, the ASUS A88X-Pro gives a larger overclock, more memory space, a better audio codec, more USB 3.0 ports, more SATA ports, support for Crossfire, intelligent processors to manage power consumption and a strong software platform. At the end of the day it performs slightly better at stock as well.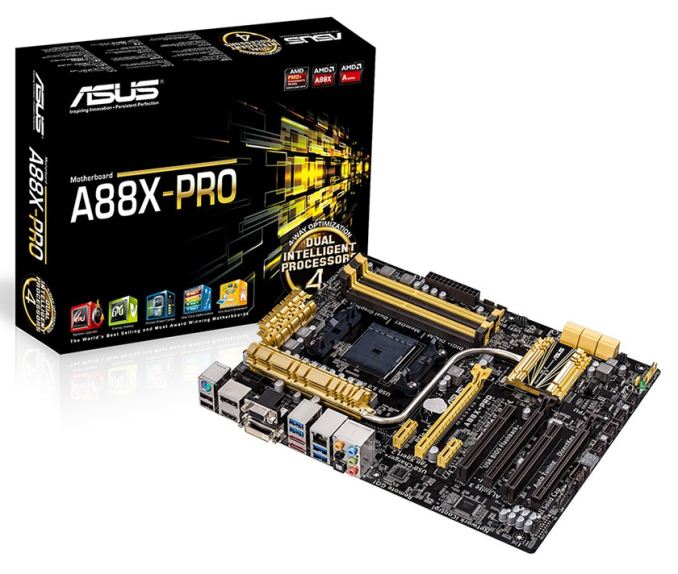 I have seen users in the comments of previous reviews on AnandTech comment along the following lines:
"If it costs 10% more but does not give +10% performance, what is the point?"
The A88X-Pro is never going to give +82% performance over the A88XM-E35. While the A88X-Pro offers +100% in DRAM slots and power delivery VRMs, it gives only +33% in USB 3.0 ports, +0% in network ports, an unknown percent in audio codec improvement and ~+30% in motherboard area. If we look at IO performance, asking for +82% seems silly. You cannot even put a percentage in terms of software and BIOS differences.
The flaw here is expecting linear gain for linear cost increase. To start there is a fixed base cost in the motherboard industry (chipset and PCB), then we must consider that moving up the stack in terms of feature set which increases both complexity and R&D cost. You are going to be up against the law of diminishing returns very early on. When deciding how much of a budget should be put towards a build, the motherboard segment often comes lower down the list (CPU, GPU and SSD might come first) unless you need specific functionality. But the market for high-end models still exists, and the A88X-Pro comes across as highly recommended in this range.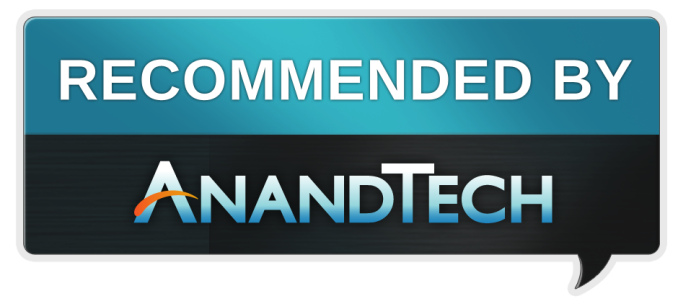 A side note: we are looking into the restarting flaw that seems to occur during our specialised benchmark under high CPU load. Signs may point towards early batch of Kaveri processors that draw higher current, or the silicon lottery. We need to get a newer one in to retest our Photoscan benchmark.