Original Link: http://www.anandtech.com/show/7946/digitalstorm-slade-pro-workstation-pc-review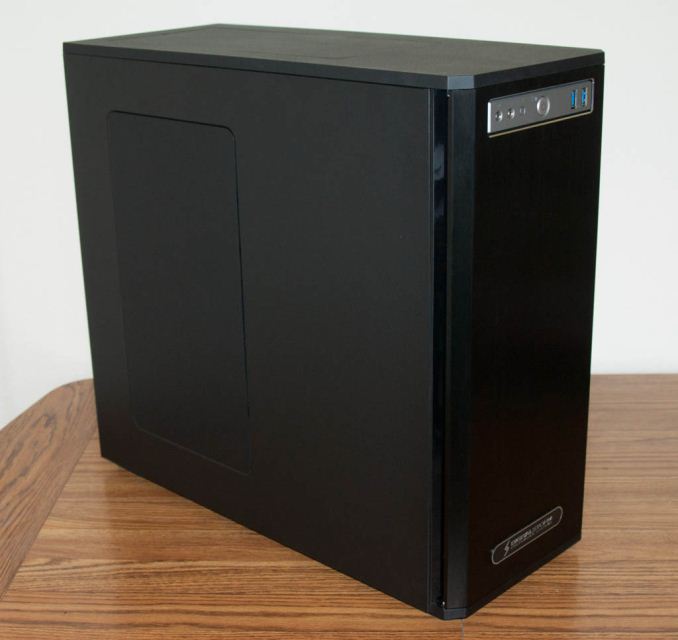 When we talk about workstation systems, the elephants in the room are typically Dell and HP, with Lenovo still going strong in ThinkPad sales and Apple picking up the rear for content professionals. Yet there remains a fairly vibrant market for system integrators to produce more specialized workstations. Today we have one of those systems on hand, an octalcore beauty from DigitalStorm that they dub the Slade Pro.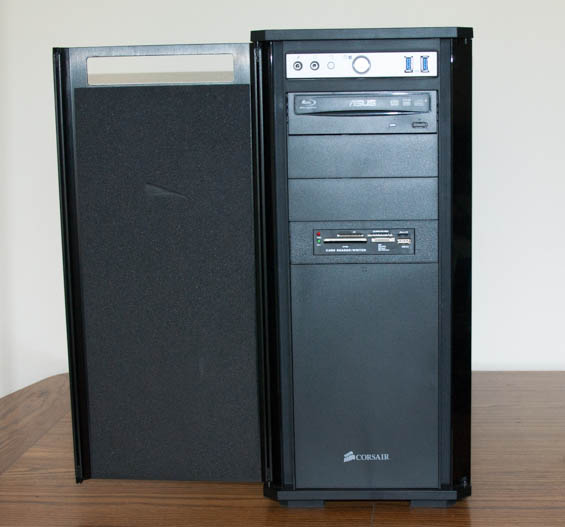 I've tested workstations from other system integrators in the past and I'll admit that I've often come up a bit perplexed with their component choices. I was unimpressed by some of the enthusiast level selections iBuyPower made with their Professional Series, and Puget Systems sent me a Genesis II workstation with a consumer grade graphics card in it and an unwieldy price tag. DigitalStorm faces an uphill battle; they need to compete on quality and on price because by virtue of being a smaller boutique, they're just not going to be able to compete on enterprise class service.
DigitalStorm Slade Pro Specifications
Chassis
Corsair Obsidian 550D
Processor
Intel Xeon E5-2687W v2
(8x3.4GHz, Turbo to 4GHz, 22nm, 25MB L3, 150W)
Motherboard
ASUS Sabertooth X79
Memory
4x8GB Corsair Vengeance Pro DDR3-1866
Graphics
NVIDIA Quadro K4000 3GB GDDR5
(768 CUDA Cores, 810MHz/5.6GHz core/RAM, 192-bit memory bus)
Hard Drive(s)
Samsung SSD 840 Pro 256GB SATA 6Gbps SSD

Western Digital Re 4TB 7200RPM SATA 6Gbps HDD
Optical Drive(s)
ASUS BC-12B1ST BD-ROM/DVD+-RW
Power Supply
Corsair CX750M 80 Plus Bronze
Networking
Intel 82579V Gigabit Ethernet
Audio
Realtek ALC892
Speaker, line-in, mic, and surround jacks
Front Side
Optical drive
Card reader
2x USB 3.0
Headphone and mic jacks
Top Side
-
Back Side
PS/2
4x USB 3.0
6x USB 2.0
6-pin FireWire
2x eSATA
Optical out
BIOS reset
Gigabit ethernet
Speaker, line-in, mic, and surround jacks
DVI-I
2x DisplayPort
1x Stereo
Operating System
Windows 7 Professional SP1 64-bit
Dimensions
20.9" x 8.7" x 19.5"
Extras
Card reader
80 Plus Bronze PSU
CoolIT closed loop liquid cooler
Warranty
Lifetime tech support, 1-year parts, 3-year labor
Pricing
Starts at $1,881
Review system configured at $5,869
The Intel Xeon E5-2687W v2 is the fastest octalcore processor in Intel's Xeon line at present. Boasting eight cores at a nominal 3.4GHz and able to turbo up to 3.6GHz on all eight or 4GHz on a single core, it strikes a good balance between optimized single-threaded performance and more heavily threaded workloads. Dissipating its 150W TDP is a closed loop liquid cooler with two fans in a push-pull configuration, and for a system like this, that cooler is actually a fairly smart idea.
I'm a little more circumspect about the ASUS Sabertooth X79 motherboard and Corsair Vengeance Pro DDR3-1866 memory. This isn't necessarily a bad configuration, but it's not workstation class either; a proper workstation motherboard and ECC memory would, I feel, have been the right way to go.
Graphics duties are thankfully handled by an NVIDIA Quadro K4000. This card is based on the GK106 chip that powers the GeForce GTX 660 and bygone GTX 650 Ti Boost. It employs a single slot cooler, but has been cut down from the stock 960 CUDA cores to 768 and runs at 810MHz, allowing the TDP to drop to a respectable 80W. The flipside is the lack of any kind of double precision performance, but for that you'd have to spend up on a much bigger and more expensive workstation card.
The storage subsystem is also a strong point. The Samsung 840 Pro SSD is a solid choice and at 256GB features a healthy amount of capacity. For mass storage, DigitalStorm equipped the Slade Pro with a 4TB 7200RPM workstation class drive from Western Digital.
Where I'm going to get fussy again are the power supply and warranty coverage. The Corsair CX750M is by no means a bad power supply, but HP went 80 Plus Gold across the board some time ago. One year parts coverage is also just not going to cut it in this industry; HP and Dell both start at three years. You could reasonably argue that DigitalStorm is trying to use higher quality parts, but that doesn't do you any good when you wind up being the unlucky one with a bad motherboard.
All in all, this isn't a bad build, but it does continue to suffer from the same reliance on consumer grade parts that other SI systems tend to.
The DigitalStorm Slade Pro possesses an extremely powerful processor, a healthy amount of memory, and a solid workstation graphics card. In standard testing it's not going to really go the distance, but when we get to workstation tests it should prove its worth.
Note that some of these benchmarks have been updated and as a result, no comparison results are available.
| | |
| --- | --- |
| BENCHMARK | SCORE |
| PCMark 8 (Home, OpenCL) | 4879 |
| PCMark 8 (Creative, OpenCL) | 4094 |
| PCMark 8 (Work, OpenCL) | 4591 |
| Cinebench R15 (OpenGL) | 102.85 |
| Cinebench R15 (Single-Threaded) | 123 |
| Cinebench R15 (Multi-Threaded) | 1218 |
| x264 5.0 (Pass 1) | 95.53 |
| x264 5.0 (Pass 2) | 25.43 |
PCMark 8 is predominately a consumer performance metric and not really designed for systems like this one; AVADirect's recent Silent PC review consistently outscored the Slade Pro, owing largely to the overclocked Intel Core i7-4770K and beefy NVIDIA GeForce GTX 780.
Note that there are no 3DMark results; 3DMark results have virtually no bearing on the performance of a system like this. A cut down GK106 isn't a compelling GPU for gaming (especially not with Maxwell running around), but the Quadro K4000 isn't a gaming card either.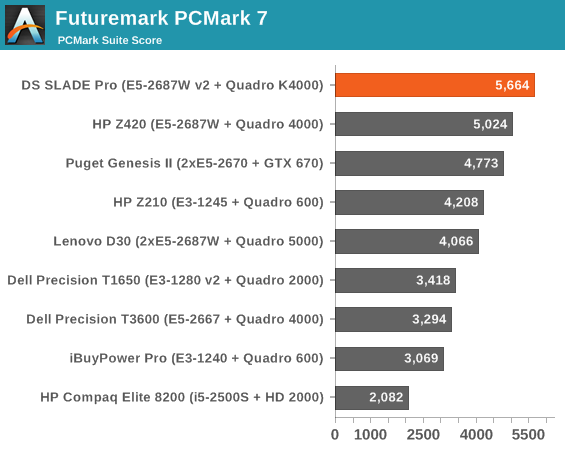 DigitalStorm's system is faster across the board than every system we've tested up to this point in PCMark 7, owing to both its high IPC and high core clocks; the Sandy Bridge-EP generation E5-2687W is ~300MHz slower than the newer E5-2687W v2.
While the DigitalStorm Slade Pro is solid if unexceptional in more garden variety consumer level tasks, it fares much better when tested in workstation applications. SPECviewperf11 is a reliable suite that should give us a pretty good idea of how an 80W Kepler GPU can stack up against some of the older Fermi architecture cards.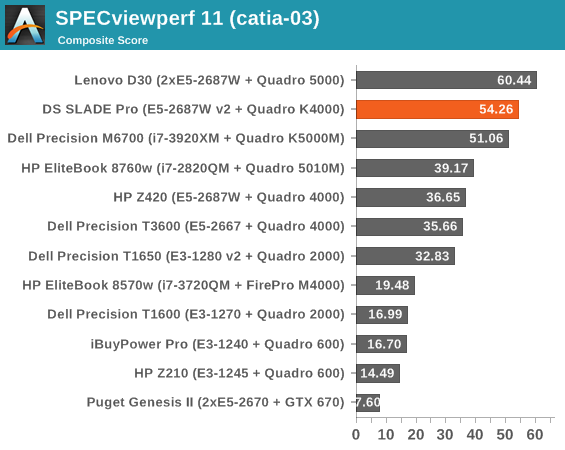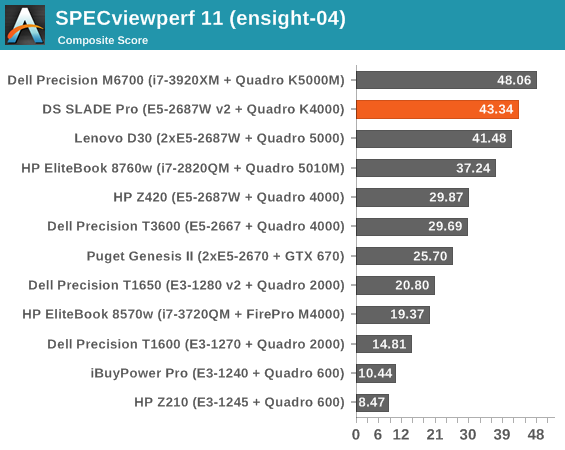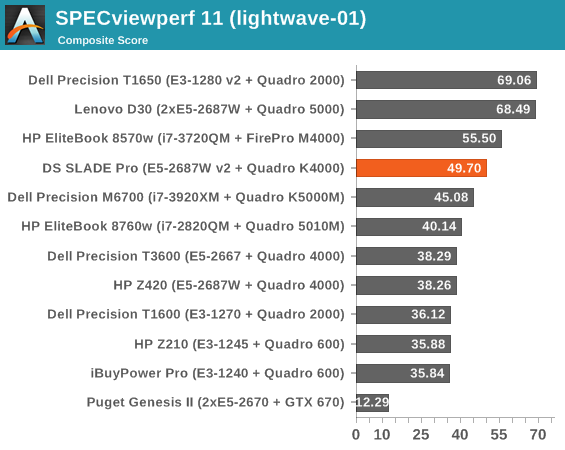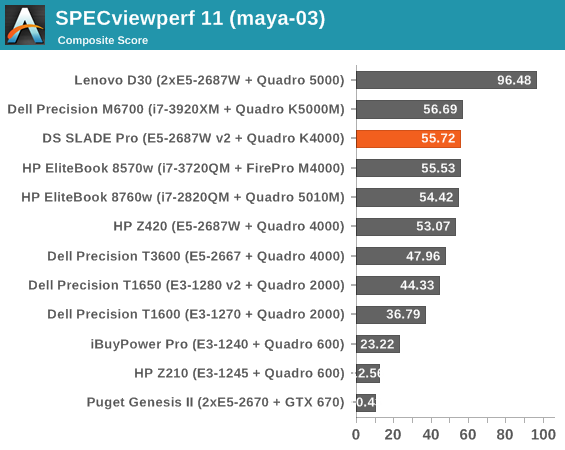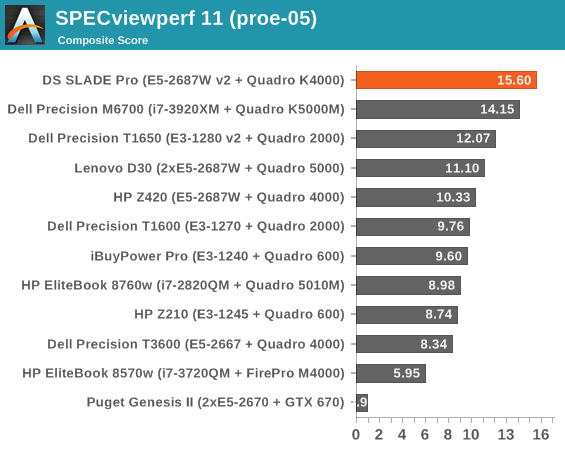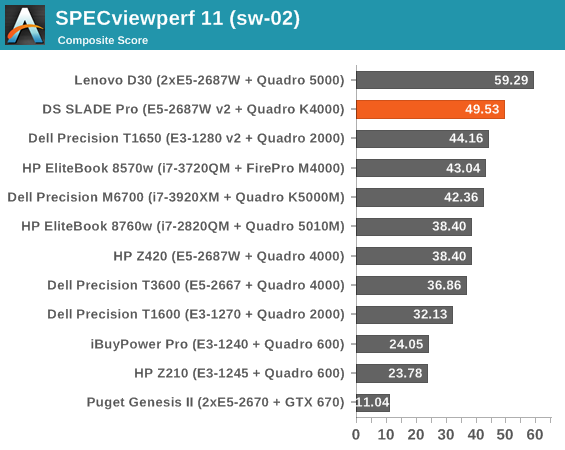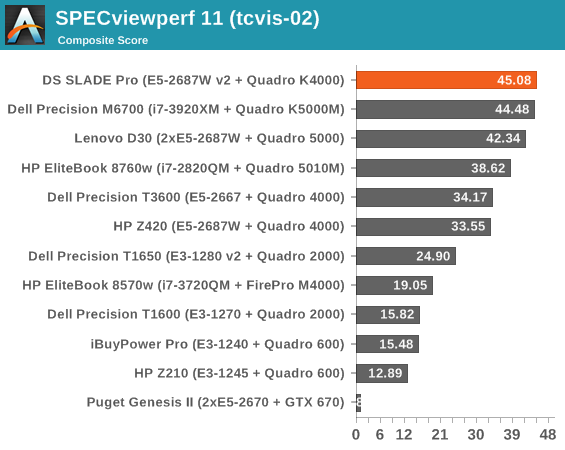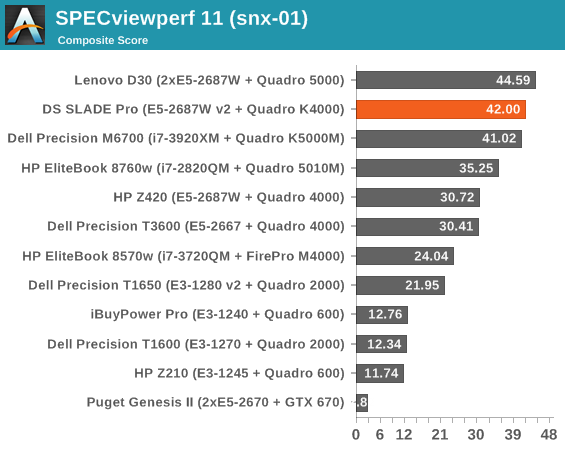 The march of progress continues unabated. In most tests, the Slade Pro is at or near the top. At least where workstation benchmark performance is concerned, this is a well rounded, solid machine.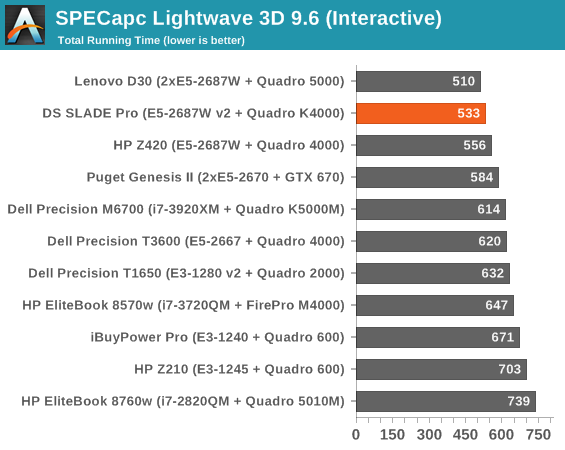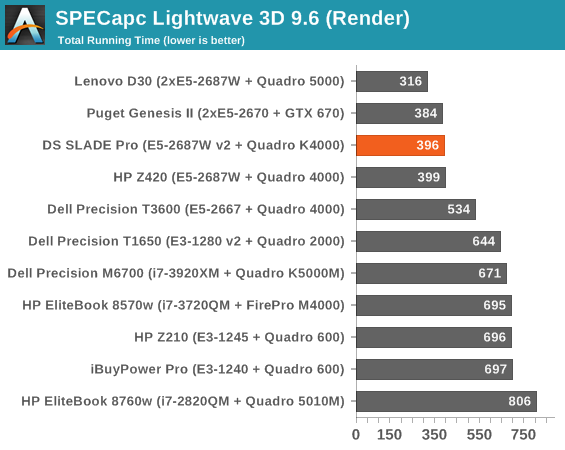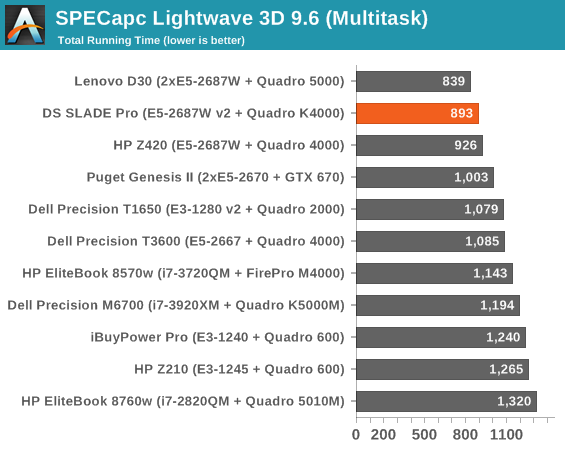 Lightwave 3D 9.6 is traditionally CPU bound and fairly well threaded; the only system to consistently best the Slade Pro's powerful octalcore Xeon is the Lenovo D30, which features two octalcore Xeons (albeit from the previous generation.) As workstation CPUs go, the Xeon E5-2687W v2 is actually very close to as good as it gets for a single socket system.
I've already aired my grievances earlier regarding DigitalStorm's choice of components for the Slade Pro. The mishmash of a consumer level motherboard and memory with a Xeon that accounts for nearly half the system's price tag rubs me the wrong way and feels like a bit of a waste; if you're going to spend that much on a CPU, it should be bolstered not by a high end consumer board or high end consumer memory, but by a full on workstation board and ECC memory.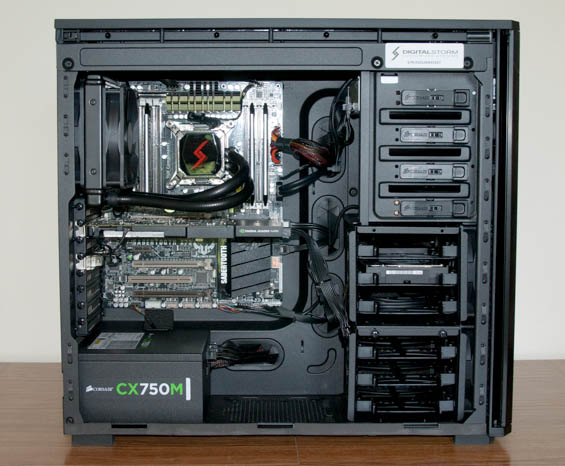 Actual fit and finish of the build is very solid. DigitalStoorm gives you room to grow, and the rear-mounted push-pull closed loop liquid cooler ensures that heat gets properly exhausted out of the case. Meanwhile, the 80W NVIDIA Quadro K4000 doesn't spit out much in the way of heat. This is more or less an ideal use of a silent case; minimal fan noise that's brought well below 30dB by the case itself. At the very least, where noise is concerned, DigitalStorm is in the ballpark of the big boys and even faring a bit better.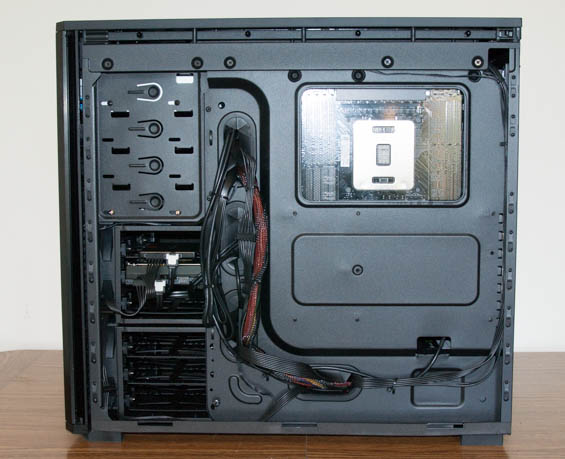 Cabling is fairly neat and makes ample use of the channels in the enclosure.
Power consumption is also extremely low, with the bulk of it going to the CPU.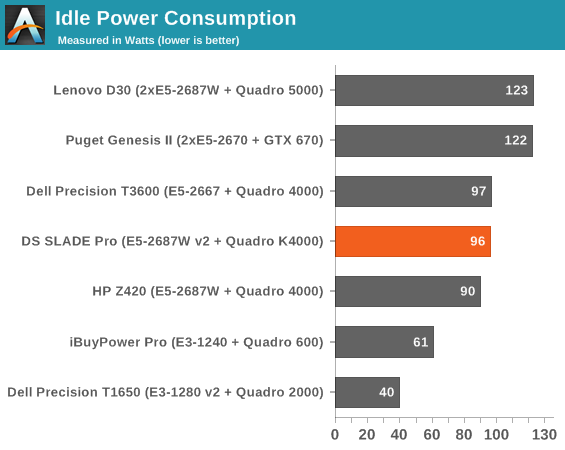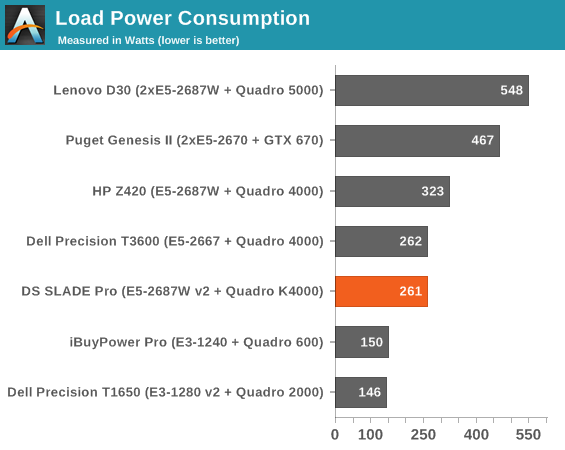 Idle and load power are both excellent. The DigitalStorm Slade Pro isn't just a quiet workstation, it's an efficient one as well. Keep these power characteristics in mind when you flip back to the last page; consistently low power consumption, consistently high performance.
When it comes to performance, the DigitalStorm Slade Pro is definitely a strong contender. The octalcore Ivy Bridge-EP CPU is one of the best workstation chips you can buy, and the NVIDIA Quadro K4000 is an efficient and capable partner for professional rendering tasks. If performance is your primary deciding factor in looking at a workstation, then DigitalStorm certainly has you covered here.
As far as pricing, we're still in the ballpark, but it's a little hazier. Dell will charge you $5,527 for a similarly configured Precision T5610 system, ~$300 less than this one, but theirs includes a dual socket workstation board and ECC memory and comes with a three year professional level warranty complete with on site service. HP wants nearly $3,000 more for a comparable system, pricing them out of competition. Even with their 20% coupon code, you're still looking at ~$1,500 more. And Lenovo wants a hilarious $3,500 premium just for a $2,000 CPU. Ultimately, Dell continues to be the one to beat.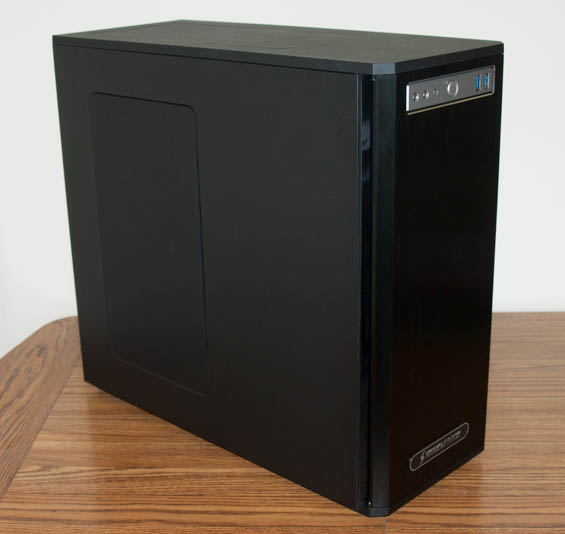 And that's kind of the issue that DigitalStorm ultimately faces. There are things you can get from DigitalStorm that you can't get from Dell: the 4TB hard drive, the blu-ray reader, the liquid cooling. But these are comparatively small potatoes. As long as Dell is this hungry in the enterprise space, system integrators are going to have an extremely hard time producing a value proposition to compete with them. Dell's cheaper, their service is more capable, their warranties are longer, and the parts are workstation class across the board.
Compared to other system integrators, DigitalStorm makes a solid argument for their Slade Pro. The performance is there, it's quiet, it's efficient, and the components are generally quality. But the elephant in the room for SIs is going to continue to be Dell for the foreseeable future. They win on price, arguably win on service, and on value adds. The Slade Pro is the finest system I've tested yet from DigitalStorm, and for small businesses who just need one or two solid workstations it's a fine alternative to ordering from the evil empire. But for everyone else, I'd still strongly recommend sticking with Dell.