Original Link: http://www.anandtech.com/show/7924/msi-gt70-review-gtx-880m-edition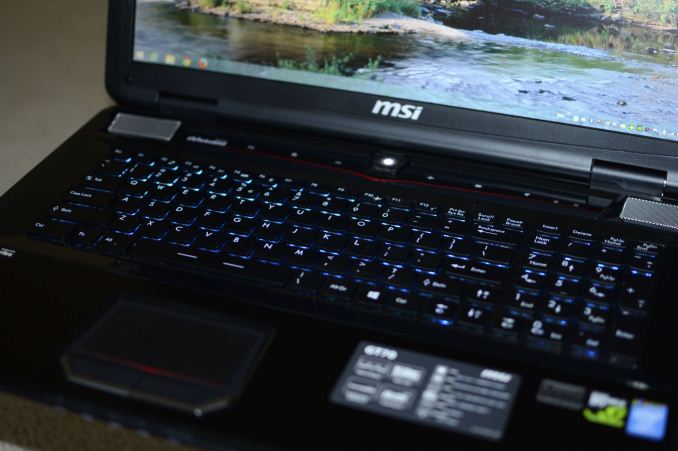 MSI's GT70, GTX 880M Update
For better or for worse, MSI has had the same core designs for several of their high-end laptops for at least a couple years now, specifically we're talking about the GT60 and GT70 series (and with a few minor differences in features, the GX60/GX70 AMD APU variants). There have been updates and tweaks to the internal components, but the chassis remain largely the same as before. The latest updates bring NVIDIA's new GTX 800M parts into the picture, and today we have the GT70 equipped with the top-of-the-line GTX 880M. Let's quickly look at the specs for the system we're testing/reviewing.
MSI GT70 Specifications
Processor
Intel Core i7-4800MQ
(4x2.7-3.7GHz + HTT, 22nm, 6MB L3, 47W)
Chipset
Intel HM87
Memory
1x4GB + 1x8GB DDR3-1600 (Maximum 32GB)
Graphics
NVIDIA GeForce GTX 880M 8GB GDDR5 256-bit xxx
(1536 CUDA cores, 954MHz + Boost/5GHz GDDR5)

Intel HD 4600 Graphics
(20 EUs, up to 1.3GHz)
Display
17.3" LED Matte 16:9 1080p
Chi Mei N173HGE-L11
Hard Drive(s)
HGST 1TB 7200-RPM HDD (HTS721010A9E630)
Optical Drive
TSSTCorp SN-506BB Blu-ray writer
Networking
Killer Networks E2200 PCIe Gigabit Ethernet
Killer Wireless-N 1202 dual-band 2x2 802.11a/b/g/n
Bluetooth 4.0
Audio
Realtek ALC892 HD audio (Sound Blaster Cinema)
2.1 speakers
4 x 1/8" audio jacks
Battery
9-cell, 87Wh
Front Side
-
Right Side
2x USB 2.0
Optical drive
Left Side
Line-out, Line-in, Mic, and Headphone jacks
3x USB 3.0
SD card reader
Exhaust
Back Side
Kensington lock
AC adapter
Ethernet
D-SUB (VGA)
Mini-DisplayPort
HDMI
Exhaust
Operating System
Windows 8.1 64-bit
Dimensions
16.9" x 11.3" x 2.2"
429.3mm x 287mm x 55.9mm
Weight
8.6 lbs.
3.9kg
Extras
Webcam
USB 3.0
Card reader
SoundBlaster Cinema audio
Killer Networks WiFi and wired networking
RGB backlit keyboard
Keyboard macro support
Warranty
2-year parts and labor
Pricing
$1,900
Other than the upgrade to the GTX 880M graphics card, the most noteworthy item in the above list is the lack of an SSD. That means general performance and responsiveness in many cases will be rather sluggish, but this is easily remedied by purchasing a model that includes some form of SSD storage (or adding your own). The impact on our performance benchmarks will be most apparent in PCMark, but for gaming purposes it won't really matter. Otherwise all of the key items remain the same as the previous model GT70. There are a few other oddities with this configuration as well, like the inclusion of a Blu-ray burner and the 12GB RAM in two of the four SO-DIMM slots (why not just use 2x8GB; are the cost savings of using one 4GB SO-DIMM really that great?), but there are other GT70 models.
There's a benefit to this particular configuration of course: the starting price is only $1900, so even after adding your own 256GB SSD you're still looking at a price of less than $2100. As an alternative, there's another GT70 that comes with a 1TB HDD with a 128GB SSD, Blu-ray reader, and drops the GPU to a GTX 870M for $1600, but obviously that's going to be a pretty big hit to gaming performance. Step up to 16GB RAM and add a 128GB SSD and the price jumps to $2200, so it's best to just stick with the base model and upgrade to an SSD on your own; just remember that the PCMark scores for our system are going to be lower than competing solutions. And one final interesting note is that the previous generation GT70 with a GTX 780M 4GB card is only $50 less than the new model; I'm not sure 8GB RAM on a GPU is really needed (and likely won't be during the lifetime of the GT70), but $50 more to improve performance and gain additional VRAM is certainly a worthwhile upgrade.
MSI GT70 Subjective Overview
We've already covered the core design, keyboard, touchpad, cooling, etc. several times so I'm not going to spend a long time rehashing that subject for this review. Aesthetically, I think the GT70 looks a bit dated, but at least this version isn't quite so garish/gaudy as the Dragon Edition at the GTX 780M launch. The short summary is that the GT70 is a large and rather bulky gaming notebook, with the capacity to support three mSATA SSDs in RAID 0, or two 2.5" drives, an optical drive, and it has a moderate quality 1080p matte display. Cooling performance is similarly merely acceptable, as MSI uses a single large heatsink + fan to cool both the CPU, GPU, and chipset; the result is that under load (e.g. gaming) the GT70 can get a bit loud; that said, I didn't see any indication of CPU or GPU throttling during testing.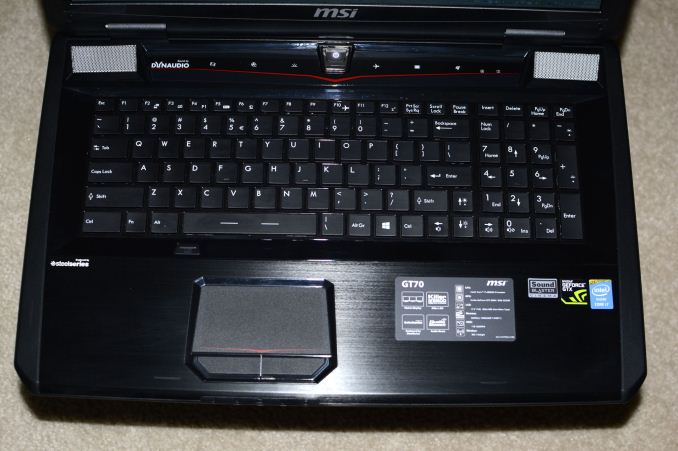 Personally, some of the most important elements for me with any laptop are the user facing devices, and by that I mean the keyboard, touchpad (and potentially touchscreen), and display. Some people might be willing to overlook flaws in these areas, but if any of these areas fall short it greatly detracts from the overall functionality of a laptop. Let's quickly cover each of these in turn.
The good news is that, outside of a minor complaint regarding MSI's location of the FN and Windows keys, and the 10-key having a half-size "0" key, the keyboard works well. The backlighting is zoned RGB, and the SteelSeries software now allows you to remap/reprogram any key. So that bit about not liking the default location of the FN and Windows keys could be easily remedied…except you can't remap the FN key [sigh]. Taking things a step further, the SteelSeries software also allows you to create and assign macros to every single key (except FN), and you can create four custom layers with different macros and ligting effects/colors on each – switching between them via the FN + 1…4 key combination. It's really quite slick and can truly be a differentiating factor between gaming notebooks, especially if you're the type of gamer that likes using/creating macros.
The touchpad story isn't quite so good, as MSI continues to use an older touchpad – specifically Synaptics v7.2 hardware. Synaptics is generally a good choice and the tracking and multi-touch support work well enough, but the lack of a clickpad is a mistake in my opinion and the size of the touchpad is somewhat small in today's market. However, for gaming I expect most people will use a dedicated mouse regardless, so the touchpad isn't really a problem. Having it recessed slightly also looks a bit dated as far as designs go, but it does help to prevent inadvertent touchpad activation while typing/gaming.
As for the display, I've been a bit spoiled by the recent spate of IPS panels, and it's sad that MSI hasn't looked at upgrading that element. Maybe there just aren't many (any?) good 17.3" panels out yet, but I've seen so many IPS panels in Ultrabooks and other laptops that it's a bit disheartening to be back to a TN panel. Pre-calibration, the colors on the GT70 panel are very skewed with oversaturated blues (with undersaturated reds), and while the display hits a reasonable 350 nits maximum brightness, post-calibration (i.e. after correcting for the massively overblown blues) that drops to only 300 nits. In fact, in order to get the red levels close to where they're supposed to be, I had to calibrate at 90% brightness, which means those who want good color accuracy will have to compromise a bit on battery life. But battery life isn't a huge factor here, so it's not the end of the world, and at least post-calibration the colors are quite good.
If I had one major thing other than the LCD panel that I'd like to see MSI change, it would be their cooling system. It gets the job done right now, but Clevo, Alienware, and ASUS are all using dual fans for their competing notebooks, and there's a reason for that. GTX 780M and now 880M can use a lot of power, and even though MSI proves it's possible to cool both the CPU and GPU with a single fan, a lot of the heat is concentrated in the back-left corner and the GT70 tends to run louder and hotter than other competing gaming notebooks.
When you look at newer designs like the Razer Blade Pro and MSI's GS70, they look far more attractive and aren't nearly as bulky. With such designs readily available, I'm not really convinced about the need for a large notebook with GTX 880M. You might have to turn down a few settings in games to hit 60+ FPS with a GTX 870M, but even High detail without anti-aliasing looks quite good (i.e. better than current consoles) and games will run well on a slightly slower but far more attractive notebook. However, large notebooks do offer more in the way of expansion options, so for example the GT70 supports up to three mSATA drives, two 2.5" drives, four SO-DIMM slots, and it still includes an optical drive. The sleeker GS70 on the other hand has a single mSATA slot, two SO-DIMM slots, and no optical drive. I prefer that over the size of the GT70, but not everyone will feel that way.
Ultimately, if you want maximum gaming performance in a notebook, right now GTX 880M is where it's at. The only way to currently beat the GTX 880M for mobile gaming is by using two of them in SLI, which is a topic for another day. So let's see what the NVIDIA's latest mobile monster can do….
MSI GT70 GTX 880M Gaming Performance
We're at the point now where the fastest mobile GPUs can run just about everything at maxed out settings. There are a few exceptions, e.g. Metro Last Light will need to drop a setting or two to stay above 30FPS at 1080p, but the GTX 880M – and even the previous generation GTX 780M – are fast enough that some games are running into CPU limitations. That's not really a problem in practice, since games that are CPU limited tend to still hit 60+ FPS, and if you're running at lower detail settings just to show CPU bottlenecks it's an artificial constraint.
Anyway, if you happen to have a system with a GTX 880M paired with an i7-4700MQ and you compare performance to a GTX 780M with an i7-4930XM, you'll find instances where the faster CPU wins out. At our Mainstream and Enthusiast settings, however, all of the games we currently use for testing favor the faster GPU over a faster CPU. We've included results from some of the fastest notebooks we tested during the previous year for comparison. I'm only going to post charts of our Enthusiast settings, as anyone buying a notebook with a GTX 880M inherently qualifies as a gaming enthusiast in my book, but you can find the Mainstream and even Value scores in Mobile Bench (though the Value scores in particular are mostly meaningless).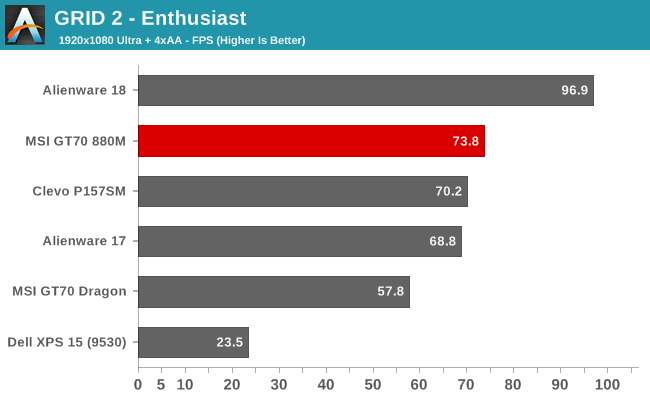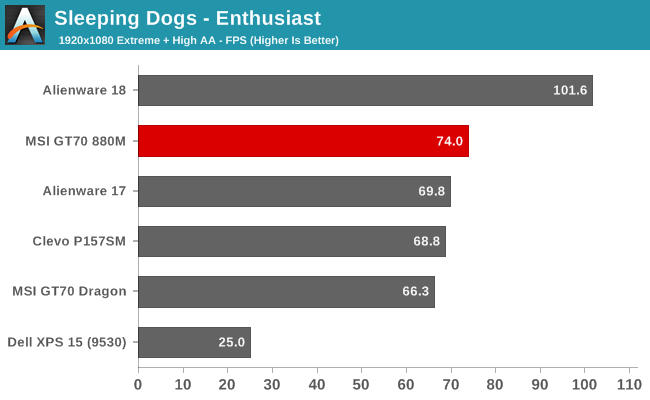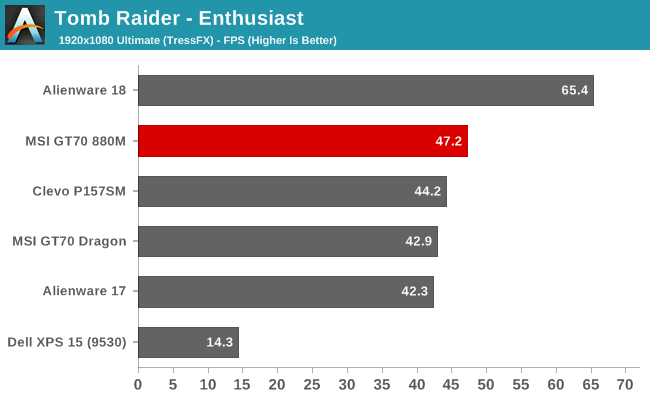 In their launch materials, NVIDIA claimed the new GTX 880M as being 15% faster than last year's GTX 780M. Overall, our results with the GT70 compared to the Clevo P157SM or the previous GT70 Dragon don't really agree with that figure, though it varies by game. It's more accurate to state that the 880M is "up to 15% faster" rather than a 15% increase on average. The 880M boasts core clocks that are around 16% faster than the 780M, but memory bandwidth is the same so titles where the memory bandwidth comes into play (which is most games when we're running at high/max details) will see quite a bit less than the maximum 16% increase in performance. The 880M does come with 8GB GDDR5 RAM, so there may be a few instances where the additional memory can help slightly, but right now most games are still targeting 4GB or less VRAM as the vast majority of GPUs shipped fall into that classification.
Overall, if we take the better result of the MSI GT70 Dragon and Clevo P157SM (on the assumption that driver differences may have negatively affected a few titles), the new GTX 880M ends up around 7% faster than the GTX 780M. It's not too surprising, considering we're looking at the same core architecture and the same memory bandwidth. 8GB VRAM is clearly more than the GTX 880M needs, at least with current titles; it might prove beneficial in the future, but I suspect by the time games are routinely using more than 4GB the 880M will be replaced by something newer/faster/better. While 7% isn't much of an improvement, keep in mind that the increase in cost (at least for an entire notebook) is only around $50. On an $1800 notebook that's a 3% increase, and considering the difficulty of acquiring a GPU upgrade for a notebook without buying a complete system, if you're in the market for a gaming notebook the GT70 certainly offers a good value. If on the other hand you already own a gaming notebook with GTX 780M, you'll likely want to wait for the inevitable "Big Maxwell" notebook GPUs to appear.
MSI GT70 GTX 880M: Battery Boost
After the gaming potential, the next most interesting aspect of the GT70 – and the GTX 880M – is going to be NVIDIA's new Battery Boost technology. Battery Boost is part of the GeForce Experience software package, and it's currently only available with GTX 800M GPUs. It's a single setting that you can either enable or disable, with a target frame rate slider ranging from 20 FPS to 50 FPS. Given this is a work in progress, you can expect changes to the feature over the coming months, but let's just start with what we have right now.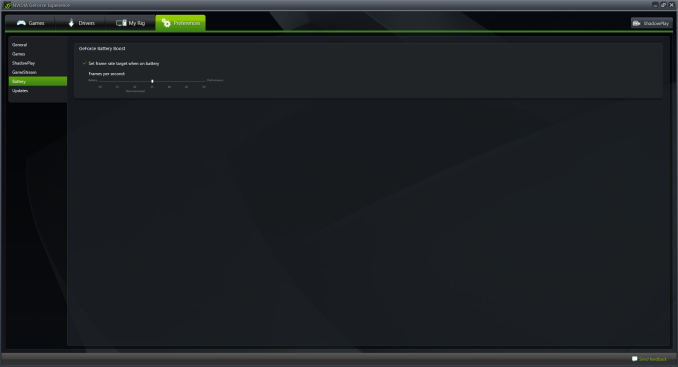 We'll need to spend additional time investigating the quality, performance, and battery life tradeoffs that are available, but for the time being we ran some tests with three games, choosing a specific quality setting for each and testing without Battery Boost and with Battery Boost using both 30FPS and 40FPS targets. We'll also repeat our discussion of gaming performance on AC power as a reference point, and as you'll see even without Battery Boost enabled, at least on the MSI GT70, there's a rather large loss in performance that comes with the removal of AC power. The three games and settings we used are Batman: Origins at our "Enthusiast" settings (1080p, 4xMSAA, and everything else maxed out with the exception of PhysX, which is left off), Tomb Raider (1080p and "High" defaults), and Bioshock Infinite (1080p and "Medium" defaults).
There are many things we can look at with Battery Boost: average frame rates, minimum frame rates, battery life, GPU core/RAM clocks, and GPU utilization are all potentially interesting. Something else that came up during testing that's also worth a short discussion: game/level load times. You wouldn't think that would be much to talk about, but at least in our initial testing – and keep in mind that we're using a notebook with pure HDD storage – we found level load times could be almost unbearable with Battery Boost set to 30FPS in some games. We've mentioned this to NVIDIA, and they were able to reproduce our longer load times, but the 5+ minute load times in Batman Origins were not something they could recreate; most of the other games I checked took 25-50% longer to load with Battery Boost at 30FPS compared to running off the battery without Battery Boost. This should be fixed in a future update, either to the drivers, or GeForce Experience, or both.
As for reporting the other figures, we're going to hold off on that for a bit longer while we run additional testing. We're working on a lengthier analysis of Battery Boost, and we'll cover such things as minimum frame rates, average power use, etc. in a future article. For now, let's just focus on the battery life as well as the average frame rates (though we won't have graphs for the latter). We used the "Balanced" power profile with the display at 200 nits (70%) and timed how long it took before the system shut down. To keep things repeatable and consistent, we just loaded a save on each game and left it running, so there are no level loads (other than the initial startup of a game) or any "real" gameplay, but there is a constant load on the system during the testing.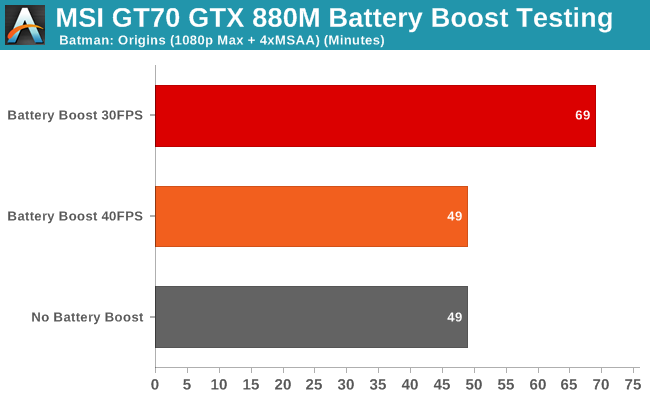 Starting with Batman, if you focus solely on the percent increase in gaming battery life, Battery Boost looks pretty promising. In Batman: Origins, there's a 41% increase in gaming time at the 30FPS target. Unfortunately, setting the target to 40FPS, there appears to be no change at all in battery life, likely because average frame rates even without Battery Boost are only 44FPS at the selected settings. As we're using our Enthusiast settings, the average frame rate under AC power for our particular save is only 65FPS. Since Batman was the first game we tested (and one of the few games that clearly breaks 60FPS average at maximum quality settings on AC power), we decided to drop to slightly lower quality settings for the next two games.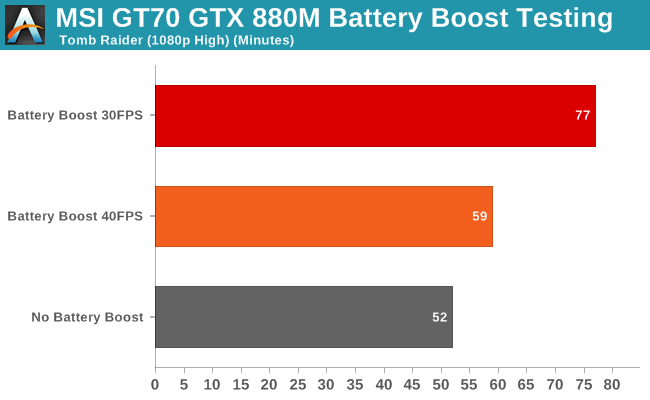 Dropping the quality settings a bit, Tomb Raider at High detail shows an improvement in battery life both at the 30FPS and 40FPS targets, but not surprisingly the boost is larger with the lower frame rate. The increase in battery life is 48% at 30FPS compared to just 13% at 40FPS. Average frame rates without Battery Boost are 63.9, so despite NVIDIA's claims to the contrary, it seems like most of the increase in battery life comes by capping the frame rate – in fact, the loss in average frame rate is greater than the increase in battery life (though obviously there are other factors at play). Frame rates on AC power for this particular scene average 88FPS.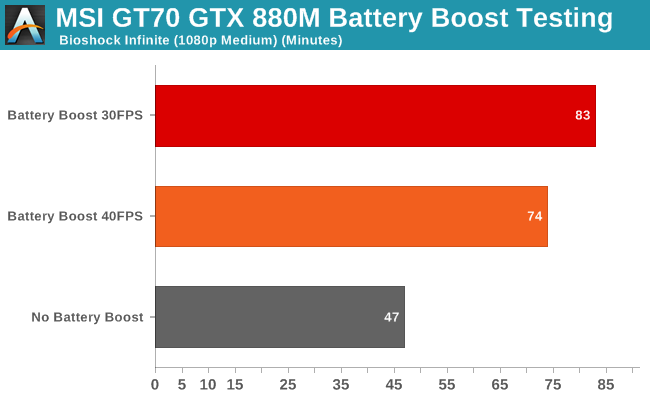 Given that higher base frame rates appear to result in a larger improvement in battery life, for our third test we decided to drop down to medium quality in Bioshock Infinite. Here we see the largest increase in battery life of our testing: 77% additional battery life with a 30FPS target, and a still sizeable 57% increase with a 40FPS target. The non-Boost framerate is 63FPS, so again we see a very strong correlation between frame rate targeting and Battery Boost. Interestingly, however, at 40FPS we see a greater benefit compared to Tomb Raider, so at least we do have some evidence that there's more than just frame rate targeting coming into play. AC frame rates at our test settings, incidentally, are 123FPS.
As noted, there are a lot of potential items to discuss with Battery Boost, and I'm not going to spend too much more time on the subject here. The technology does work, but the gains are going to be heavily influenced by your choice of game as well as graphics settings. My recommendation is to generally shoot for Medium to High detail at 1080p (at least on the GT70), as that still provides a decent quality level while allowing the GPU to rest a bit (i.e. average frame rates without Battery Boost will typically be north of 60FPS).
Besides the odd behavior with level/game load times taking longer with Battery Boost – sometimes substantially longer – there's one other piece of information I need to quickly mention: minimum frame rates. With Battery Boost at 30FPS, the minimum frame rates can periodically dip well below 30FPS – sometimes even into the teens or single digits on some titles. This appears to be buggy behavior, as at 40FPS the minimum frame rates are often close to 40FPS, but right now there are at least a few games where using a 30FPS target will result in a rather poor gaming experience; targetting 35 or 40 FPS currently results in a much better experience.
MSI GT70 General Performance
I don't want to dwell on the general performance of the GT70 too much, mostly because the use of a pure HDD storage solution in our test unit means it can feel very sluggish at times. I simply would not want to use a computer – desktop or laptop – that doesn't have an SSD as the primary storage device. I've been "spoiled" over the past few years, and when I go back to conventional storage it can be unbearable. Basically, my usage habits have shifted thanks to SSDs, and so now I "require" one in order to function. PCMark 7 and 8 both have a storage test, and that's as good a place to start as any: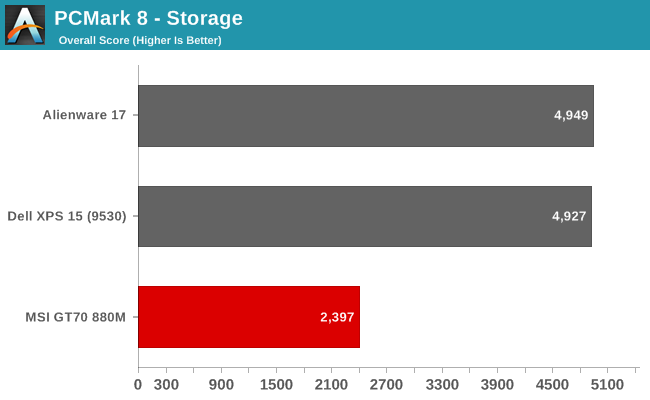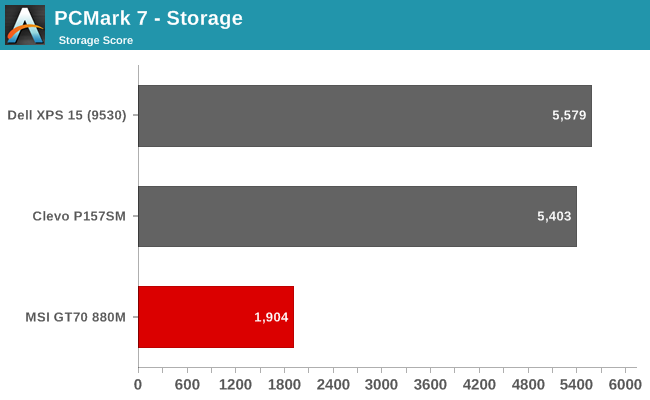 With storage being such a bottleneck, it's pretty much pointless to discuss the other PCMark scores as all of them (except for Computation in PCMark 7) place any SSD equipped laptops ahead of the HDD-equipped GT70. The scores are in Mobile Bench, but we won't bother listing them here as they basically just reiterate the point that an SSD scores much better than an HDD in PCMark.
For CPU and GPU testing, we do have a few things we can run, but we've covered this ground before and the i7-4800MQ is a known quantity. It's faster than any other mobile CPU with the exception of the i7-4900MQ and i7-4930MX, just as you'd expect. 3DMarks also illustrate what we've already shown with our gaming benchmarks: the GTX 880M is the fastest mobile GPU around right now.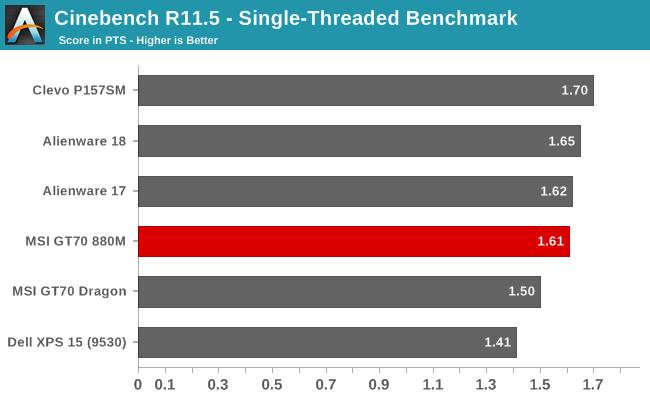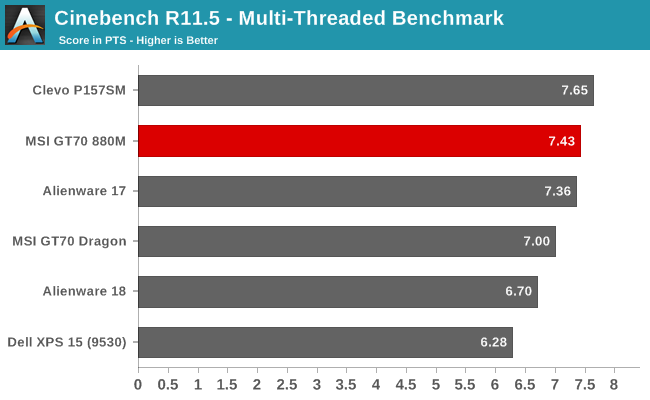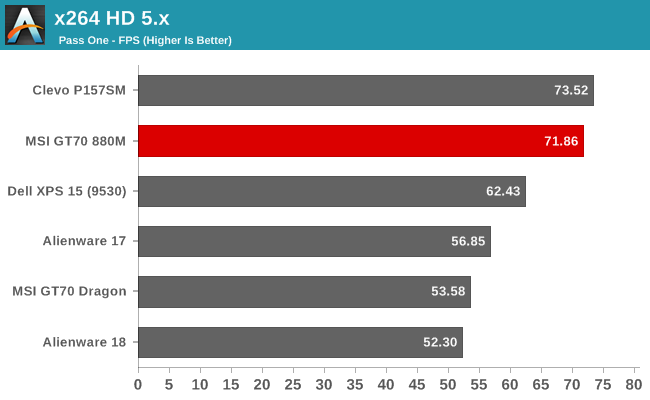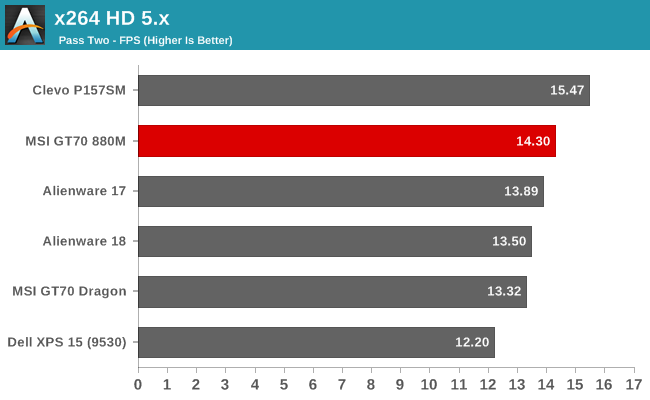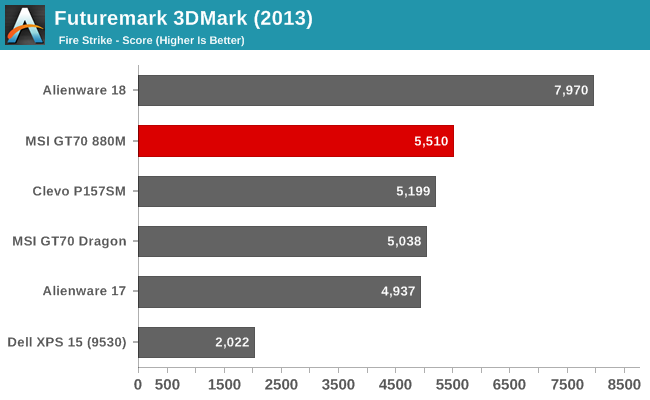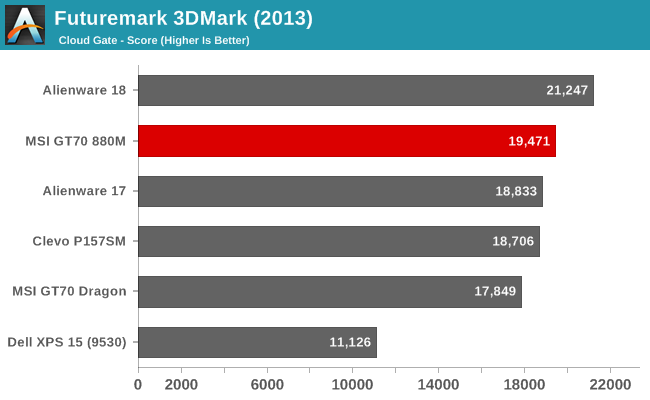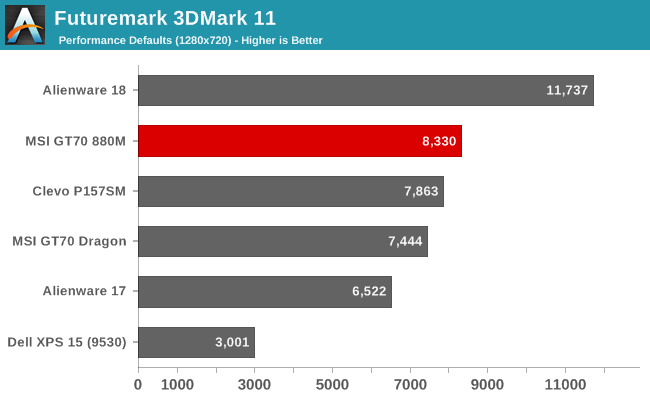 MSI GT70 LCD Quality
I noted earlier that the GT70 display is merely "okay", and here's where you'll see why I have such a mediocre opinion of the panel. It actually delivers good colors overall once you calibrate it, but out of the box the colors are horribly skewed towards the "cool" end of the spectrum, with highly oversaturated blues. I used our tablet display testing workflow to gather this image, showing a relative representation of what the colors on the GT70 look like out of the box compared to what they should look like (the "desired color" is on the bottom). Most devices you'll see minor differences, but the tinting of the various colors is extremely noticeable on the GT70:
I'm not quite sure why so many displays have such inaccurate colors, but my best guess is that in order to hit higher maximum brightness values (e.g. 350 cd/m2 – or "nits" if you prefer), the LCD panel makers are just pushing the LED backlights as hard as they can. Most seem to end up with very blue tints, and rather than correct that via the LUTs and end up with a lower maximum brightness value, we get poor colors.
It's not just the colors that are disappointing on the GT70 display, though. With tablets helping to pave the way, people are becoming more knowledgeable about display quality, and the poor viewing angles of TN panels are finally earning the scorn of consumers they deserve. Most Ultrabooks are now using IPS (or similar technology) panels, and while I don't necessarily feel every laptop needs a high quality display, it's pretty sad when $400-$500 tablets have substantially better displays than $2000 notebooks. Given the woes of Windows DPI scaling and the continuing lack of broad application support for High DPI displays, we may not need or want QHD or QHD+ panels on a 15.6" or 17.3" notebook, but a slightly higher quality 1080p display would certainly be nice.
Below are the galleries and charts for uncalibrated and calibrated colors on the GT70. We've switched our LCD testing to use CalMAN 5.3 with an i1 Display Pro spectrometer, which gives far better results than our previous testing using ColorEyes Display Pro with an i1 Display 2, so we can't really compare older scores directly with the new results. However, the brightness, contrast, and gamut should all be within a few percent regardless of which testing method was used. What we see is that the MSI GT70 is at least a better display than the budget TN panels, but it's definitely not one of the top displays these days. That's not too surprising considering the actual panel appears to be the same as in previous GT70 notebooks, which means it's now at least a few years old in terms of the core technology.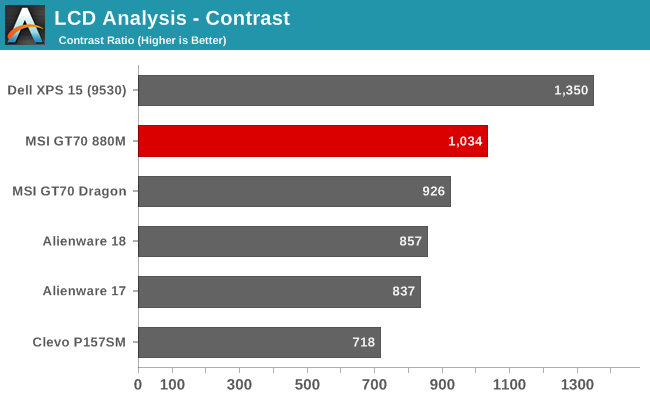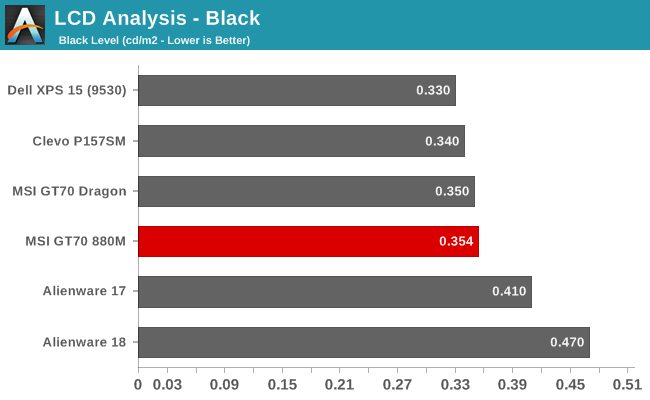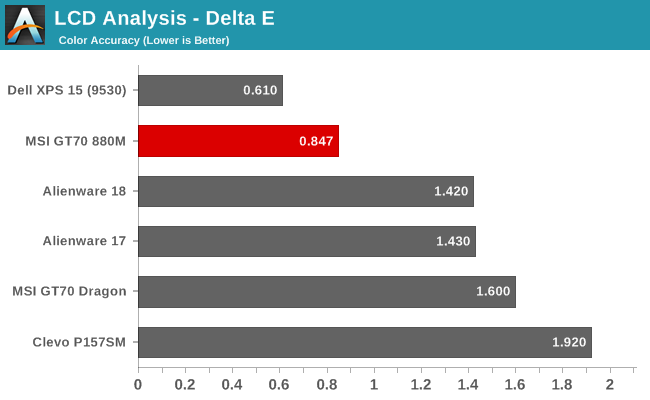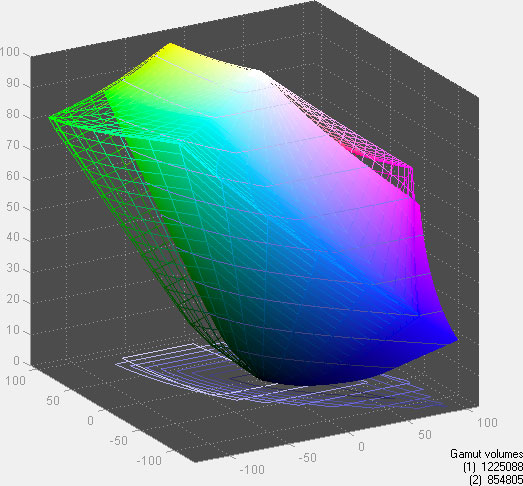 Overall, the display in MSI's GT70 is certainly better than what you'll find in budget notebooks and it will work well for gaming, but if you prefer higher quality displays you might just need to wait for the next round of updates and hopefully well see some IPS/AHVA/PLS or some other similar technology start showing up in the gaming notebooks. The colors can be calibrated to the point where they're quite good, but out of the box the display doesn't look very good at all.
Battery Life
We've already covered the gaming aspect of battery life and Battery Boost, but we still haven't properly addressed "normal" battery life. We ran our two standard tests for battery life; the Light workload simulates constant web surfing by loading four pages every minute until the battery is drained, while the Heavy workload loads the same four pages every 10 seconds while downloading (via Filezilla from a local PC) a constant 8Mbps stream of data and playing back a 1080p MP4 H.264 movie. We have switched to using the Video app on Windows 8, so our updated Heavy workload tends to get better battery life than our previous setup, but the results are at least moderately comparable.
For all of our battery life tests, we optimize the power profile and software to deliver what should be a best-case result. This includes disabling/uninstalling any firewall or anti-virus software, turning off other extraneous utilities that are not needed (e.g. Live Updates), and we use the Power Saver profile. We find a brightness setting as close as possible to 200 nits (cd/m2), set the minimum CPU performance to 0% and the maximum to 100%, disable screen dimming or powering off, and disable sleep/hibernate modes. The HDD/SSD is set to power off after 1 minute of inactivity, and the WiFi is set to maximum power savings. Here are our results.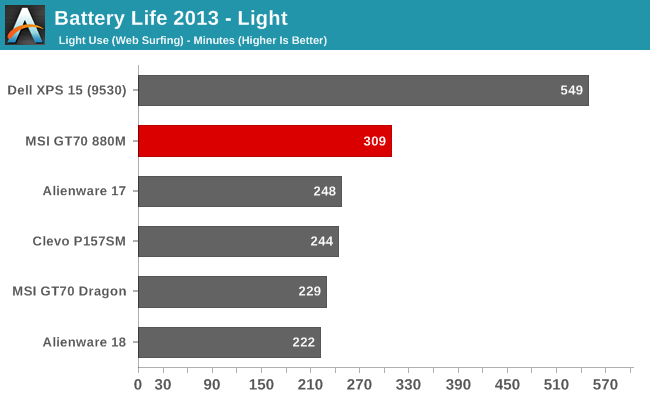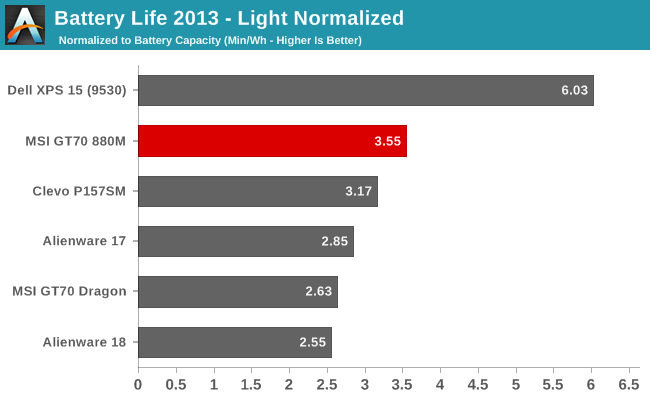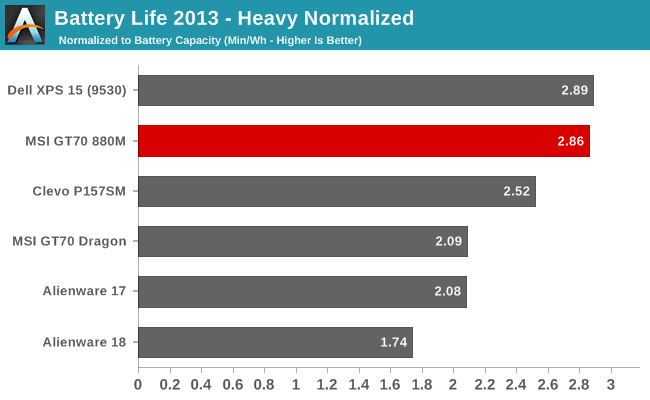 The updated GT70 shows a nice improvement in battery life compared to the previous model, though it should be noted that BIOS updates to the earlier GT70 Dragon did help as well. Perhaps even more impressive is the result in our Heavy workload, though at least some of the difference is due to the change in video playback software and the movie we use for testing. The Dell XPS 15 is the only other notebook in our charts to use the same file/player, and interestingly it's only slightly ahead of the MSI GT70 (compared to easily surpassing it in the Light test). It looks like the GT70 is better optimized for performance over battery life in lighter loads, and while five hours of useful battery life won't make it through an entire day for most people, it's at least enough that you won't need to pull out an AC adapter during a typical domestic flight. Unless you're gaming, in which case you can expect closer to 1-1.5 hours, even with Battery Boost enabled; that's the price of a high performance gaming notebook.
Temperatures and Noise
Running a "worst-case" 100% CPU+GPU workload, the GT70 does get quite toasty, but we've seen worse. Typical gaming temperatures (i.e. without loading all the CPU cores as well) run about 10C lower on the CPU and a 5-10C cooler on the GPU, and pure CPU loads are not really a concern at all. I'd be a hesitant to try running a fully loaded GT70 24/7, but for normal use where you'd only hit the system hard for a few minutes at a time, MSI's GT70 should suffice. Even in our full stress-test workload, the CPU cores never dropped below 3.1GHz. The GPU dropped a bit lower – 875MHz – but this is really an atypical workload on both the CPU and GPU. If we turn off our GPU load and replace it with a game, the clocks don't drop below 950MHz (at least, not that we've seen).
As for noise levels, not much has changed since our last look. At maximum load the GT70 fan generates 51.5dB from 18", which is very loud – in fact, I'm pretty sure it has the dubious distinction of being the loudest notebook we've ever tested. This is really the major complaint we have with the single fan cooling arrangement. Games do tend to be a bit quieter (45dB), but if you're in a warmer environment you'll likely hear the full speed fan kick in.
The temperatures may or may not be "too high", depending on whom you ask, but when other gaming notebooks never get above 45dB – and notebooks like the ASUS G750JH stay under 40dB – the GT70 makes a statement in a way that's likely to turn heads with people wondering, "who turned on the blow dryer!?" Other notebook manufacturers have shown that it's possible to put two largish fans into a 17" gaming chassis, so it's not a matter of it being too difficult; instead, it appears MSI is simply content to stick with their several years old design, and perhaps pass along some of the cost savings to the users.
Conclusion
MSI's GT70 (and their similar but slightly smaller GT60) line of notebooks are designed to cater to a specific class of users. If you want as much performance as possible in a notebook and size isn't a major factor, they're definitely worth a look. Pricing of the MSI models (and boutique derivatives from places like iBuyPower) also tends to be better than what you'll get from an Alienware 17, ASUS G750, Clevo P177/P157, etc. MSI's SteelSeries keyboard is also one of the better options out there, with decent key travel and colorful RGB LED backlighting. However, cooling is one area where some of the alternatives fare better; it's not that the MSI can't handle heavy workloads, but it does tend to generate more noise than similar notebooks that have two cooling fans.
If there's a major shortcoming other than the single cooling fan in our GT70, it's the lack of solid state storage. Nearly every laptop that costs $1000 or more ships with SSD caching at a minimum, and most of the laptops I've used in the past year have had pure SSD storage. MSI does have models with SSDs, and I'd highly recommend you look at those – or go through one of the boutiques that allow you to customize the storage setup – as even a moderate dual-core Ultrabook often feels more sprightly than the GT70 in non-gaming tasks. That said, the $1900 price point of this model is quite good, and there's space for you to add your own 2.5" SSD so you can pick what you want and still get a 256GB class SSD with a final price of under $2100. When you compare that with last year's GT70 Dragon that featured three 128GB SSDs in RAID 0 and carried a price tag of $2700, dropping $800 and getting a better CPU and GPU in the process is a nice alternative.
In terms of aesthetics and design, I'd really like to see MSI update the GT70 chassis and modernize the design language, though I understand the costs involved may not seem worthwhile. Still, when you look at the chassis there's a lot of extra plastic that's unnecessary – the quarter inch lip around the keyboard area could easily be removed, and the LCD bezel is much larger than is strictly required. Trim down these areas as well as the thickness and create a less busy look – something more like a larger/thicker Dell XPS 15 or Razer Blade Pro with colored LED backlighting on the keyboard and a 10-key layout is what I'm thinking. I'd also like to see fewer seams and pieces used in the exterior, so a single piece of aluminum, magnesium alloy, or even plastic for the LCD cover and palm rest would help. Creating such a chassis would cost more however, and it would likely be more difficulty in terms of accessing the internals to assemble/upgrade the system, so I understand why MSI continues to stick with their existing design; unfortunately, the design still looks dated, more like something you'd see from 2008 than from 2014.
As far as NVIDIA's new GTX 880M, performance is pretty much what you'd expect from a slightly higher clocked GK104. It's fast enough to run nearly any current game at maximum quality settings, and for those few titles that are still a bit too demanding, disabling anti-aliasing or dropping the quality setting to "high" is usually all it takes to get frame rates well above 40 FPS. We could say the same for the GTX 780M as well, however, and if you already have such a notebook I don't see any pressing reason to upgrade. In other words, if you didn't feel the need to buy a GTX 780M last year, there's little reason to buy a slightly faster GTX 880M right now. What gamers really want is the next generation "Big Maxwell" mobile GPU. NVIDIA hasn't given us any details on when such a chip will ship, but given the past few years we're likely to see something like that in the fall (or maybe summer) timeframe. If any of the alleged specifications for GM100 are true, we may not see GM100 in any notebook part this year, but GM104 is almost certain to make an appearance and deliver superior performance to the current GTX 880M.
NVIDIA's other new additions for the GTX 800M line are interesting, but the only GTX 800M exclusive – Battery Boost – probably needs a better showcase vehicle than the GT70 (or any other GTX 880M notebook for that matter). We did see a measurable increase in battery life with Battery Boost, and we'll be doing a more detailed look at the technology in the near future, but if your goal is to achieve two or more hours of gaming battery life, the best we could manage with the GT70 is only about 90 minutes. Maxwell mobile GPUs again are likely to fare better, and we hope to have a GTX 850M or GTX 860M notebook for testing sooner rather than later. [Ed: And if you're a manufacturer with such a laptop and you can get us one for review, please contact me!]
ShadowPlay and GameStream on the other hand are basically known quantities from the desktop world, and they work with the GT70 as well as they work on a desktop GTX 760. I did notice a bit of sluggishness after 20 or so minutes of gaming with ShadowPlay enabled, but I'm not sure if that was just the game (Batman Origins), or the slow HDD storage, or perhaps something else – I think it was likely the HDD, as doing a dump of the ShadowPlay buffer would clear the problem for another 20 minutes (the buffer size I set). GameStream over my local WiFi worked fine as well, but I haven't had a chance to play with Remote GameStream yet so I can't comment on that. Incidentally, anyone that thinks "gaming notebooks" are underpowered either has seriously high "requirements" or they simply haven't used a system with a GTX 780M/880M, because outside of a few specific titles, I can run every game at 1080p with maximum quality, often at 60+ FPS. Doing that on a laptop (or desktop) and then streaming the result to a SHIELD is at least a somewhat novel experience, though as a PC gamer used to mouse and keyboard controls, I have to admit I'm not very good at playing games with the SHIELD controller.
When reviewing any products, besides determining what I specifically like and/or dislike about the product, I want to figure out the target market and whether or not the overall package represents a good value. In the case of the MSI GT70, It's pretty straightforward: the target market is primarily gamers that are willing to sacrifice on the size, weight, and battery life areas in pursuit of improved gaming performance. The corollary to that is that a good gaming notebook can generally do everything else as well – office applications, multimedia, video and photo editing, etc. in most cases are far less taxing on a system than modern games – so if you don't mind the added bulk, you can get a fast notebook that can do pretty much everything you might want. There are even models of the GT70 shipping with NVIDIA Quadro GPUs, though the maximum Quadro offering is the K4100M rather than the K5100M, which is a bit odd as the K5100M is the same core design as the GTX 880M.
Ultimately, what MSI does well with the GT70 is they give you a high performance gaming notebook (or mobile workstation) platform that can be customized in a variety of ways, and the price is generally comparable or somewhat lower than what you'll pay for equivalent offerings from Clevo resellers – not to mention the ASUS G750JZ and Alienware 17 alternatives. While there are pros and cons to every notebook, at least in my two weeks of testing and stress testing, the MSI GT70 held up well. I didn't see any throttling or other signs of performance issues, and other than a few areas where the component choices fall short (i.e. the HDD storage on this particular model) and some subjective opinions on the aesthetics of the design, there are no deal breakers. $1900 isn't pocket change, and if you don't absolutely need maximum gaming performance I'd suggest giving the lower tier GT70 with GTX 870M a look – it has a bit less RAM and a slower GPU, but at $1400 it's going to be hard to match in terms of price/performance. (Newegg is out of stock, but you can find it elsewhere for just a bit more.)
The GT70 may not win any beauty pageants, but it's an otherwise capable gaming notebook that can serve equally well as a desktop replacement. If you'd like something less bulky and are willing to sacrifice a bit of performance, MSI's new GS70 looks like a better alternative. We should be getting one for review in the near future, at which point we'll be able to provide a more thorough breakdown of how the two fare in daily use.