Original Link: http://www.anandtech.com/show/7903/samsung-galaxy-s-5-review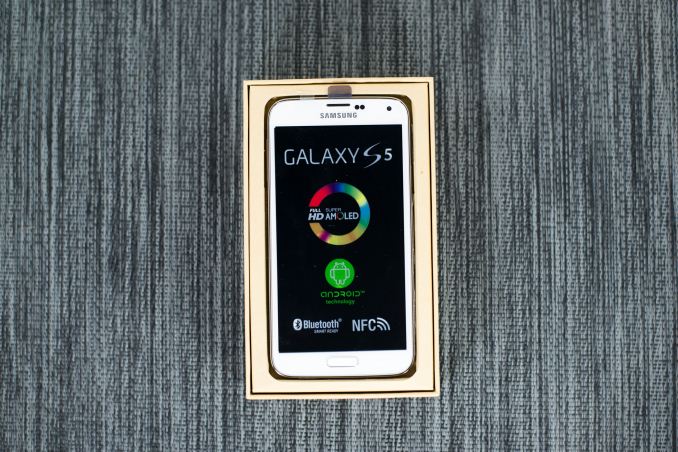 Samsung is now the undisputed king of the Android smartphone space. It was only a few years ago that the general public referred to every Android phone as a "Droid". Now, it's not uncommon for people to refer to every Android device as a "Galaxy", and it speaks to the level of market penetration that Samsung has achieved with their Galaxy line-up. The Galaxy S series has been a sales hit, and with the initial impressions piece, it was said that the average consumer lives and dies by what's familiar. Samsung continues to iterate with their Galaxy S line with consistent improvement and little, if no regression from generation to generation. This is where Samsung dominates, as the Galaxy S5 is clear evolution of the Galaxy S3 and S4, but made more mature.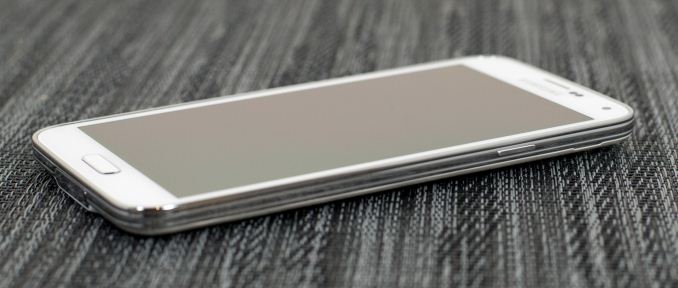 The inspiration of the Galaxy Note 3 is also evident in the Galaxy S5's design. Like the Note 3, the sides of the phone have the same ribbed chrome-colored plastic, which helps with gripping the phone. The front, like the Note 3, also has a subtle pattern beneath the glass. The same layout that has been used since the original Galaxy S is still mostly unchanged here.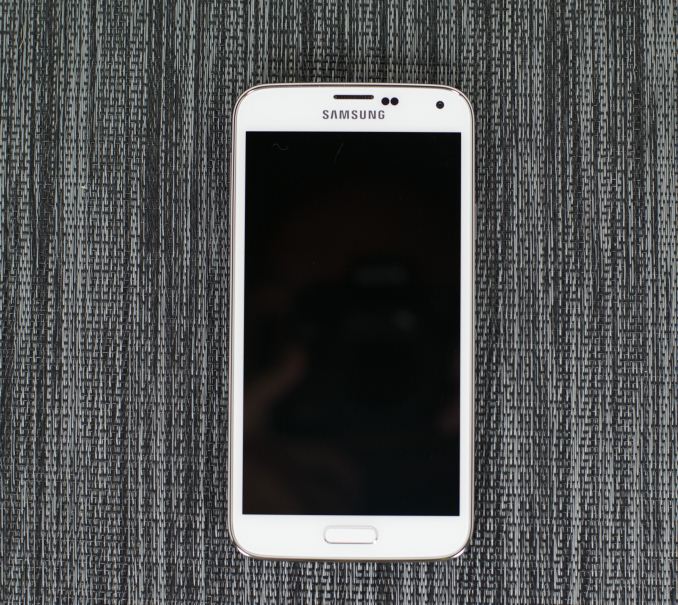 There's a single rectangular home button, with two capacitive buttons on the side and an earpiece on top, with holes for the sensors. There's also a noticeable lip as you swipe off the glass lens, which is noticeably thicker than the one on the Galaxy S4. This lip keeps the glass from touching the surface if the phone is set face down on a table. The only major departure on the front is the capacitive button configuration which replaces the menu action overflow button with a multitasking button, something that has been sorely lacking from Galaxy phones, although this change is likely to annoy those that preferred to have a dedicated menu button. On the bright side, long pressing the multitasking button acts as an action overflow button.
On the back, the phone has undergone some serious changes, although it's still quite familiar. The speaker is still present, as is the camera bump with the flash module underneath. The heart rate sensor is also next to the flash, and the single speaker is on the back as well. What's really interesting is that the texture is no longer glossy. The back has a grid pattern of indentations in it that help with gripping the phone, and there's a noticeable texture that seems to resemble the same pattern that the Note 3 had, but there's no stitching to suggest a faux-leather texture. Along the sides, the power button is on the right side, the volume rocker on the left. The IR transmitter continues to be in the same position that it was before, as is the 3.5mm headphone jack which is on the top right. The microUSB 3.0 port is on the bottom, covered by a flap that is supposed to protect against water immersion according to IP67 spec.
Overall, while the Galaxy S5 isn't as nice in the hand as the HTC One (M8), it's certainly not as bad as the Galaxy S4 or S3. I have to say that compared to the GS4, the back makes a huge difference in improving the feel of the device. It's not what I'd consider premium (despite the GS5's price point), but it's much better than before.
While the Galaxy S4 and HTC One were generally comfortable to use, the Galaxy S5 and HTC One (M8) are both teetering at the edge of too large. I found that both are effectively sitting right at the edge of what I'd consider to be usable with one hand. HTC continues to have a bit more ergonomic shape as the rounded back cover fits in the hand better, although it makes the phone have a higher maximum thickness.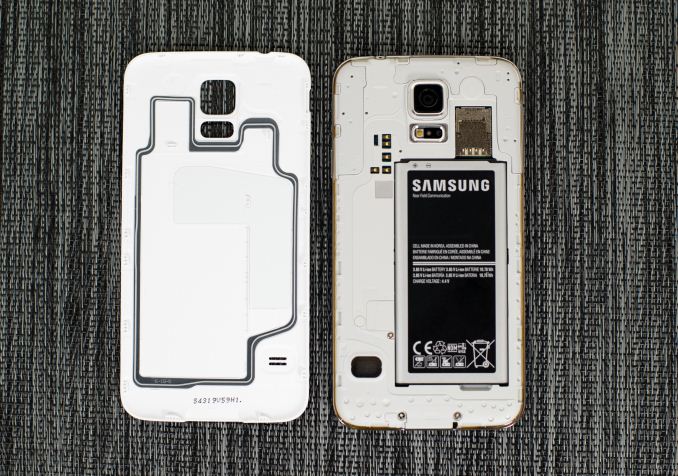 Taking off the back cover of the phone, it's clear that the entire phone has been designed with water resistance in mind, as there's a rubber gasket all along the back cover, and there's an extra plastic snap in the center that helps to ensure that the gasket seals the phone properly. The GS5, like the GS4 Active, retains an IP67 (Ingress Protection) rating. The first digit (6) indicates that the design is fully sealed against dust, while the second digit indicates that the device is submergible up to 1 meter for up to 30 minutes. Another consequence of this need to waterproof the phone is that taking apart the phone for repair is no longer done by removing screws from the cover that is underneath the backplate unlike the Galaxy S4. Instead, based upon some teardowns done by others, repairing this phone must be done by removing the display first, then the midframe and the rest of the phone can be accessed for repair. In short, the assembly of this phone most closely resembles the Galaxy S4 Active, which is hardly surprising because both are IP67 certified. However, as Samsung emphasized at their launch event, this doesn't make the Galaxy S5 waterproof in any way.
Outside of the physical construction of the device, the Galaxy S5 continues to ship the latest and greatest hardware for its time. Samsung has used the MSM8974ACv3 Snapdragon 801 for this phone, an updated AMOLED display with a claimed 500 nit brightness for outdoor visibility, and a new ISOCELL 16MP camera sensor. A comparison of the Galaxy S4 and S5 can be seen in the table below.
Samsung Galaxy S4
Samsung Galaxy S5
SoC

APQ8064AC 1.9 GHz Snapdragon 600

MSM8974ACv3 2.45 GHz Snapdragon 801
RAM/NAND

2 GB LPDDR3, 16/32GB NAND + microSD

2GB LPDDR3, 16/32GB NAND + microSD
Display
5" 1080p SAMOLED HD
5.1" 1080p SAMOLED HD
Network
2G / 3G / 4G LTE (Qualcomm MDM9x15 UE Category 3 LTE)
2G / 3G / 4G LTE (Qualcomm MDM9x25 UE Category 4 LTE)
Dimensions

136.6 x 69.8 x 7.9 mm

, 130 grams

142 x 72.5 x 8.1 mm

, 145 grams
Camera

13MP (4128 x 3096) Rear Facing with 1.12 µm pixels, 1/3.06" CMOS size, 31 mm (35mm effective), 2MP F/2.4 FFC


16MP (5132 x 2988) Rear Facing with 1.12

µm pixels, 1/2.6" CMOS size, 31 mm (35mm effective), 2MP FFC

Battery

2600 mAh (9.88 Whr)

2800 mAh (10.78 Whr)
OS
Android 4.4 with Nature UX 2.0
Android 4.4 with TouchWiz
Connectivity
802.11a/b/g/n/ac 1x1 + BT 4.0, USB2.0, GPS/GNSS, MHL, DLNA, NFC
802.11a/b/g/n/ac 2x2 + BT 4.0, USB3.0, GPS/GNSS, MHL, DLNA, NFC
SIM Size
MicroSIM
MicroSIM
Outside of camera, display, and SoC, battery gets a noticeable bump and a new higher voltage chemistry (3.8V vs 3.85V) , the WiFi solution becomes a dual spatial stream solution, and there's a mild increase to size and mass.
Camera Architecture & Still Image Analysis
Samsung's real potential has yet to be realized as a highly vertically integrated silicon and device house. The Galaxy S 4 for example still relied on a Qualcomm SoC with a Sony sensor for the rear facing camera. While the GS5 continues to leverage Qualcomm's silicon, Samsung did transition to its own sensor for the rear camera module as well as the front facing camera.
The front facing camera remains 1080p, despite competitors like HTC moving to 5MP. The front camera uses a 16:9 sensor with 1.12µm pixels shooting at 1080p.
Samsung Galaxy S 5 Camera
GS5
Front Camera
2MP
Front Camera - Sensor
S5K8B1YX
(1.12µm, 1/7.3")
Front Camera - Capture Resolution
1920 x 1080
Front Camera - Aspect Ratio
16:9
Front Camera - Focal Length
1.2mm
Front Camera - Max Aperture
f/2.4
Rear Camera
16MP
Rear Camera - Sensor
S5K2P2XX
(1.12µm, 1/2.6")
Rear Camera - Capture Resolution
5312 x 2988
Rear Camera - Aspect Ratio
16:9
Rear Camera - Focal Length
4.8mm
Rear Camera - Max Aperture
f/2.2
The rear camera is the interesting one as it uses Samsung's own 16MP 16:9 sensor. This makes the GS5 and M7/M8 the only two modern shooters we have with 16:9 rear facing sensors. The GS5 unfortunately doesn't move to larger pixels, remaining at 1.12µm. To somewhat improve low light performance, Samsung is using its own ISOCELL technology to reduce crosstalk between pixels by introducing additional barriers between individual pixels. The video below does a decent job at summarizing what we know about ISOCELL:
Unlike Apple and HTC, there's no dual-color flash on the GS5 - just a single LED unit.
As always we turn to a collection of controlled test shots and live scenes to evaluate the GS5's camera quality.
Spatial Resolution
We'll start by measuring the rear facing camera's ability to resolve fine details by shooting at an ISO12233 test target. For now we'll be looking at horizontal and vertical resolution using the sagittal and tangential lines in the upper right of the center of the test chart: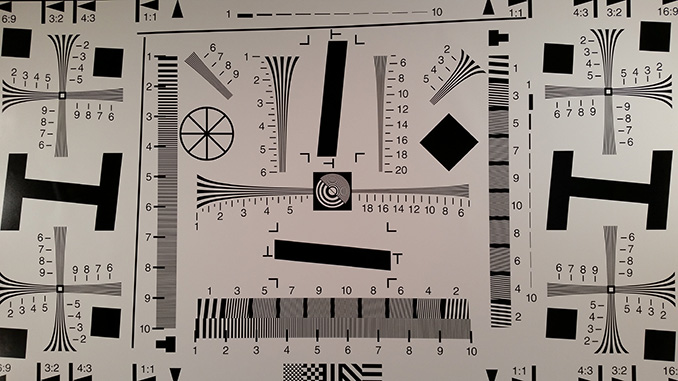 ISO12233 captured by Galaxy S 5
The gallery below has links to the original chart captures for all of the phones compared in this review:

The GS4 already did well in this test, easily resolving the entire length of sagittal lines. The GS5 maintains slightly more detail past the 18 mark (units of line pairs per image height). The iPhone 5c and 5s do reasonably well here but can't resolve detail as well at the very left edge of the crop. Google's Nexus 5 has similar struggles, although nothing is anywhere near as bad as HTC's M8. Here we see the real limits of HTC's 4MP UltraPixel sensor as there's serious aliasing around the 12 mark. Sony's Xperia Z1s running in its native 20MP mode on the other hand is the clear winner here.
You can see full 1:1 resolution crops in the gallery below:

The story is unchanged if we look at the tangential crops as well. The GS4 and GS5 remain among the upper contenders in this space, losing out only to Sony's Z1s. Interestingly enough the GS5's image appears to be softer than what the GS4 produced. We'll have to spend some more time with Samsung's ISOCELL sensor to really get a feel for the images it produces.
Outdoor Scenes (Day & Night)
We grabbed test shots from four different locations using the GS5 and its immediate competitors. I've included all of the originals in the galleries below, but let's take a look at crops from a couple of them first.
I'll start with a low light test shot as that's one of the more challenging environments for such a sensor with such tiny pixels. Here we'll be able to see just how much ISOCELL buys us: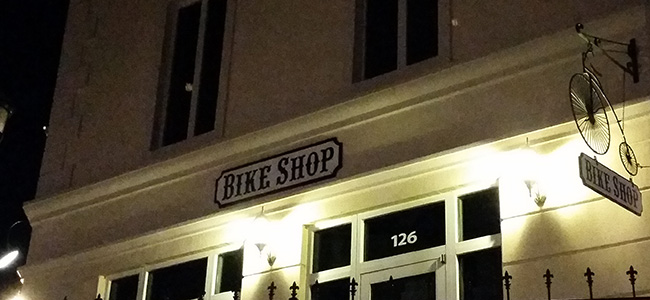 The GS5 shot this scene at 1/15s, ISO 2000. The GS4, by comparison, kept the shutter speed the same but ran at ISO 1000. The GS5 is naturally brighter as a result, but without substantially more noise. The image is relatively usable. Toggling picture stabilization (the new word for night mode on the GS5) trades off noise for exposure length, although Samsung obscures the latter in its exif data. When shooting without a tripod, longer exposure times aren't desirable (particularly without OIS).
The GS5's low light performance obviously pales in comparison to devices with larger pixels like the M8 and especially the iPhone 5s. There's an obvious tradeoff here. Samsung delivers clearly better spatial resolution (as seen from our ISO12233 test shots), while HTC on the other hand offers better low light performance. Apple finds itself in the middle of the two with the iPhone 5s. The Xperia Z1s does give us a good example of what you can get from oversampling as we're shooting in the 8MP superior auto mode here.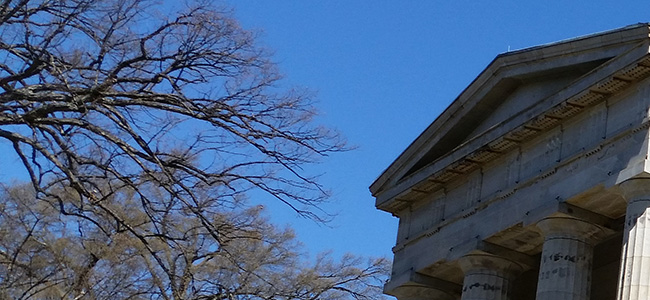 Moving to the opposite end of the spectrum, this daylight shot gives us an example of where the M8 clearly loses out to the GS5. You lose all details in the tree, and there's quite a bit of noise in the sky on the M8. The GS5 however delivers a substantially better shot.
Lab Scene
The next set of shots use a light controlled lab setup. Here we are immune to natural variances of sunlight and can do some true apples to apples comparisons.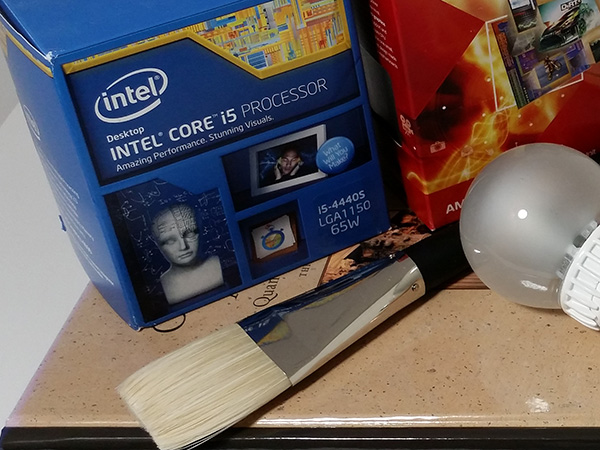 The GS4 and GS5 are pretty close to one another in our scaled/cropped shot. There are some differences in color handling and dynamic range between the two devices. I actually find that there's some loss in detail in the paintbrush on the GS5 compared to the GS4. I've seen a number of situations where aggressive noise reduction on the GS5 seems to mangle detail and deliver a very oil painting like effect, although that's an extreme that we're not seeing here.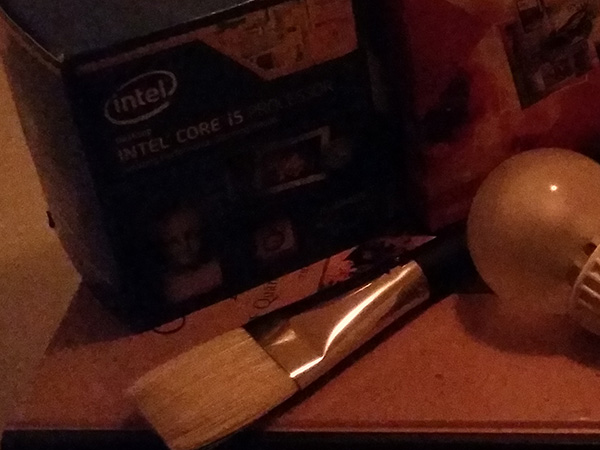 The GS5 once again defaults to 1/15s at ISO 2000, compared to the same exposure time but ISO 1000 on the GS4. Here we really see what Samsung's sensor can do as the resulting image goes from unusable on the GS4 to passable on the GS5. The final image isn't particularly great by any means but it's at least usable. If you're looking for ultimate low light winners here there really are only two: the 5s and the M8.
HDR
The GS5 has a very fast and usable HDR mode. You can toggle the mode on directly from the default camera UI (tap the icon on the left side of the display) and you get effectively instant HDR captures: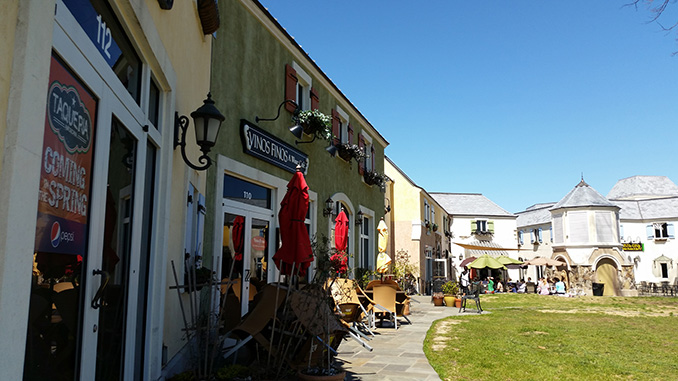 The GS5's HDR captures do a good job of retaining detail in the shadows while bringing in detail in the highlights.
Capture Latency
Along with its own rear facing camera sensor, the GS5 adapts a dual-mode autofocus system. Traditional AF designs in smartphones rely on testing contrast differences in order to determine when a point is in focus. With GS5, Samsung introduces a second mode: phase detection auto focus. Instead of relying (primarily) on contrast to determine focus, PDAF splits incoming light and compares intensity patterns to determine focus direction.
Low light scenes and scenes that can't generate appropriate phase info will default to contrast AF. PDAF appears to work across the camera's FOV although I did notice that the fastest AF times almost always happened in the center of the display.
Samsung claims a 300ms AF time thanks to its phase detection AF. In order to validate that claim I pointed a camera at a bunch of phones and measured AE/AF latency while preparing our ISO 12233 target shots from the previous page.
I measured from the moment I tapped the focus target to the time the image stopped moving (I didn't rely on the AF lock indicator as some devices report focus lock prematurely). There's a bit more variance than I'd normally like in these numbers due to the nature of the capture, although I'm working on getting a higher speed camera to smooth some of that out.
The GS5 definitely runs its AE/AF routine quickly, basically tying the M8 at the top of the charts here. The improvement over the GS4 is substantial, and there's even a big advantage over Apple's iPhone 5s. Note that if you move to lower light conditions you can see this number at least double, but that's something that impacts all of the devices here.
The Z1s is pretty frustrating because it has a great imaging system but an absolutely terrible camera UI. Focus speed is pretty bad compared to anything else here, basically on par with the iPhone 5/5c.
The shortest time to focus I was able to record on the GS5 was 450ms in a different test scene, compared to 516ms for the M8. The GS5 can definitely be a hair faster but I found the M8 to be comparable if not slightly quicker overall.
Focusing is just one piece of the puzzle, I also measured capture latency as well. Here I'm looking at the time between when I tapped the capture button on the screen and when the camera UI was ready to take another shot.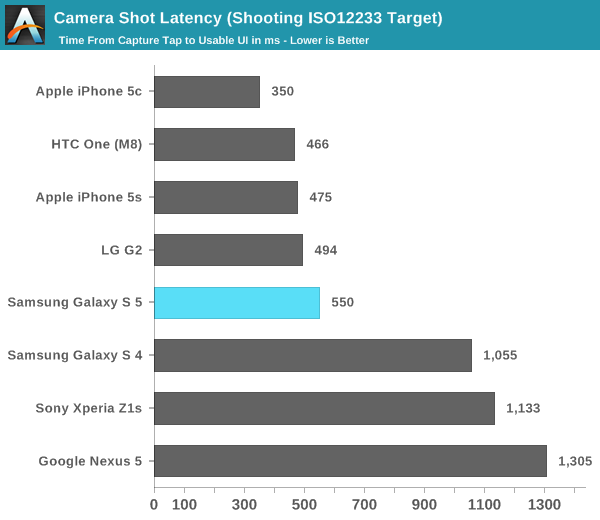 The GS5 remains solid, but here Apple actually pulls ahead. The 5c (and 5 by extension) are actually at the top of the charts here. Apple does some more work upon capture on the 5s, which is the only reason I can think of for the discrepancy here. Either that or the NAND on my 5s is in a dirtier state, impacting capture performance.
Either way there's a huge improvement in capture speed compared to the GS4. Capture latency is one area where the Nexus 5 is absolutely horrible in. The latest updates made AE/AF reasonably responsive, but the capture latency kills the experience on the N5.
This next chart combines the previous two values to give an overall picture of capture latency on these devices: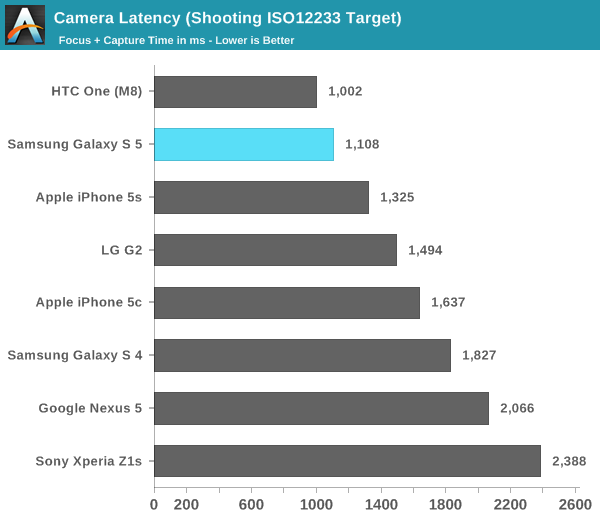 Samsung's PDAF and ISP companion seem to do their job well as the GS5 is substantially quicker than the GS4 at image capture. That being said, HTC's M8 is slightly faster by comparison.
The Galaxy S5 is another phone to join the list of phones that ship with a fingerprint scanner for unlocking the device. While the Motorola Atrix 4G was the first to have a fingerprint scanner, it was mostly forgotten as a feature until Apple reintroduced it to the market in the form of TouchID. HTC also released the One max with a fingerprint scanner, which was generally viewed with mixed reactions due to the swipe sensor. Overall, it seems that while no one has a perfect implementation, Apple has the best implementation on the market today.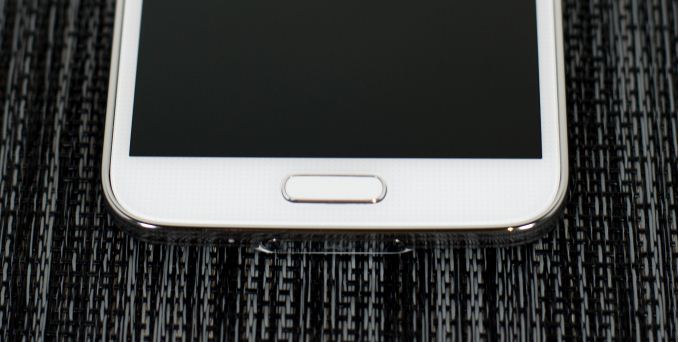 I do think it's important to give Samsung some credit, as the Synaptics-provided capacitive fingerprint scanner does work. Although not perfect, the GS5 is definitely better with its fingerprint scanner than had it shipped without it.
Samsung integrated Paypal and Samsung Account verification into the fingerprint scanner software as seen below, which is neat and shows the direction that fingerprint scanners could take in terms of identification and verification.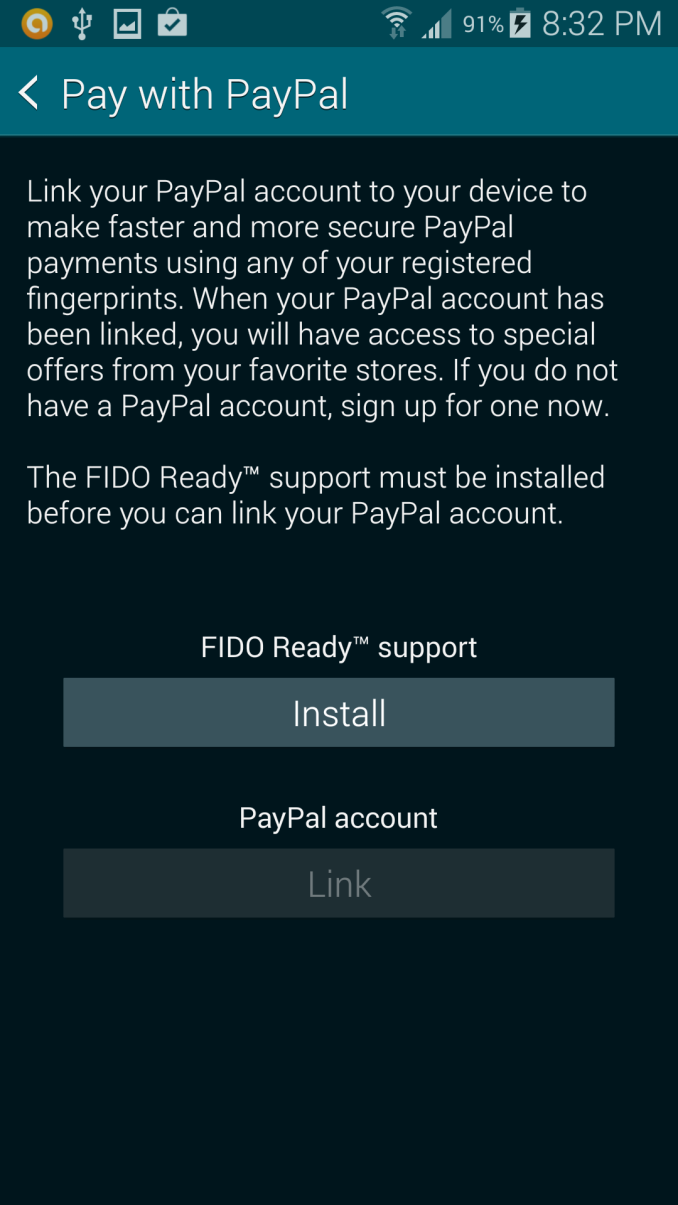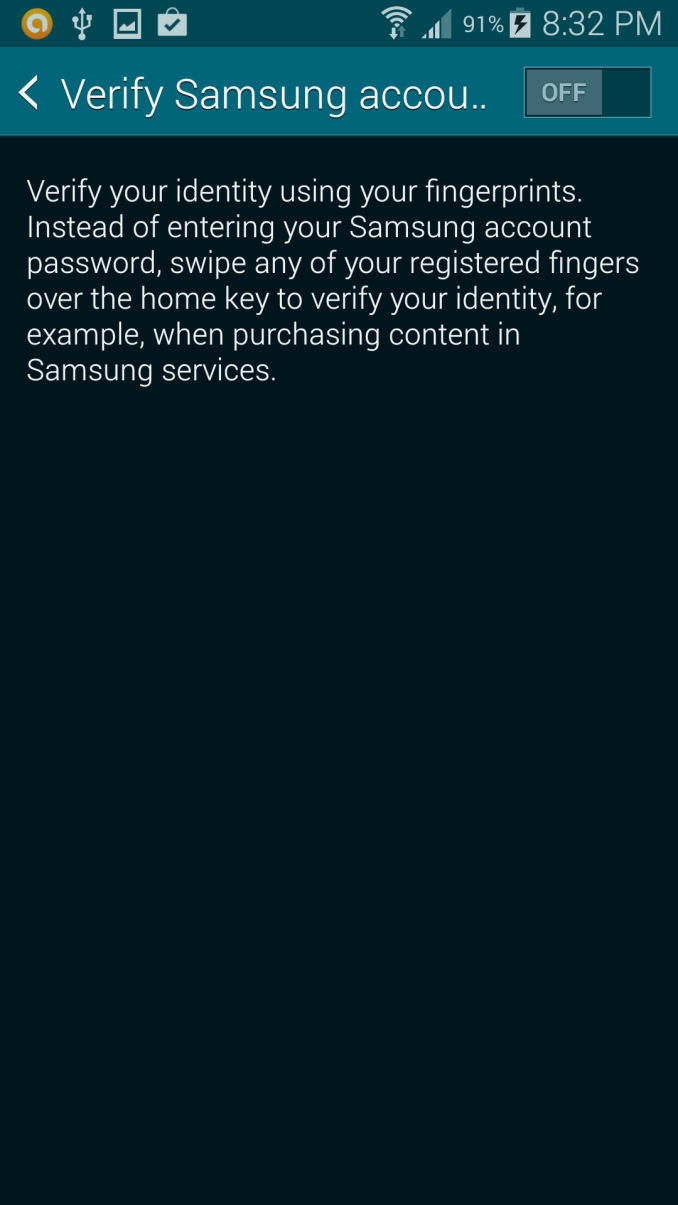 The fingerprint scanner is a high-DPI capacitive one based upon the Chipworks teardown, and in effect, is identical to the fingerprint scanner in the One max. The big difference is that it's integrated into the home button on the front of the phone as seen above, although based upon my experiences the home button is the only area with high precision capacitive sensing. The sensor detects features of the finger by measuring the effect that the dermis of the skin has on the electrostatic field that is generated by the touchscreen, and at sufficiently high resolution, the sensor can interpret the effect accurately enough that a map of the finger can be generated.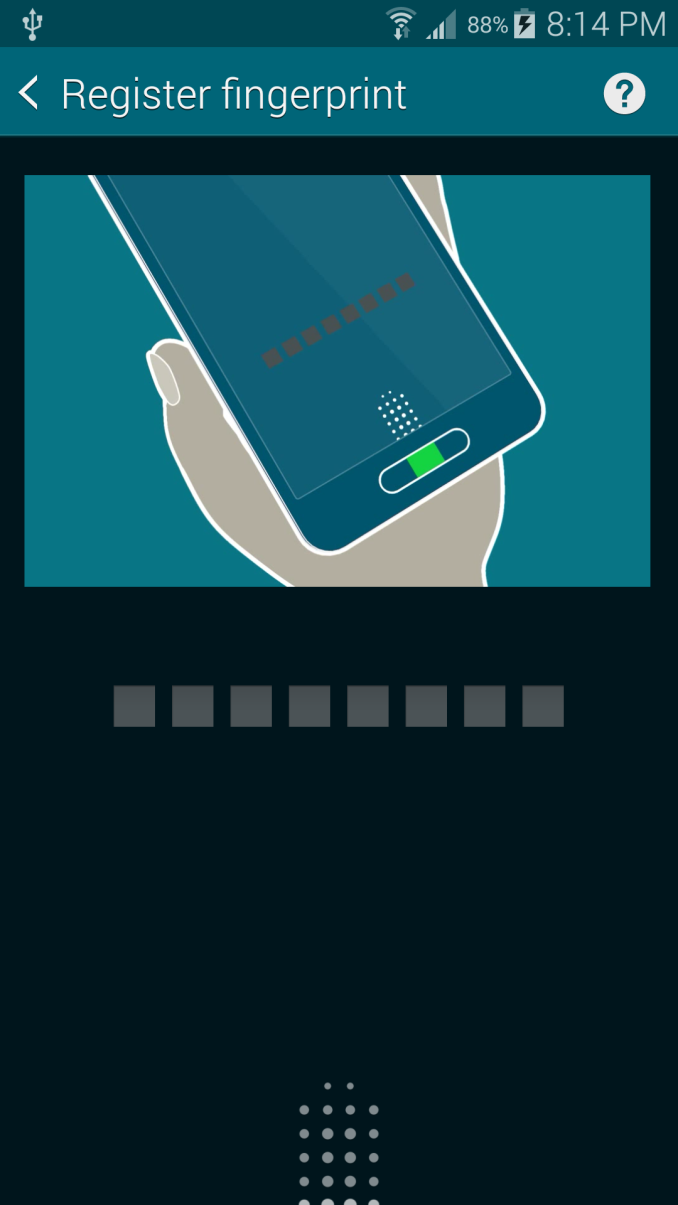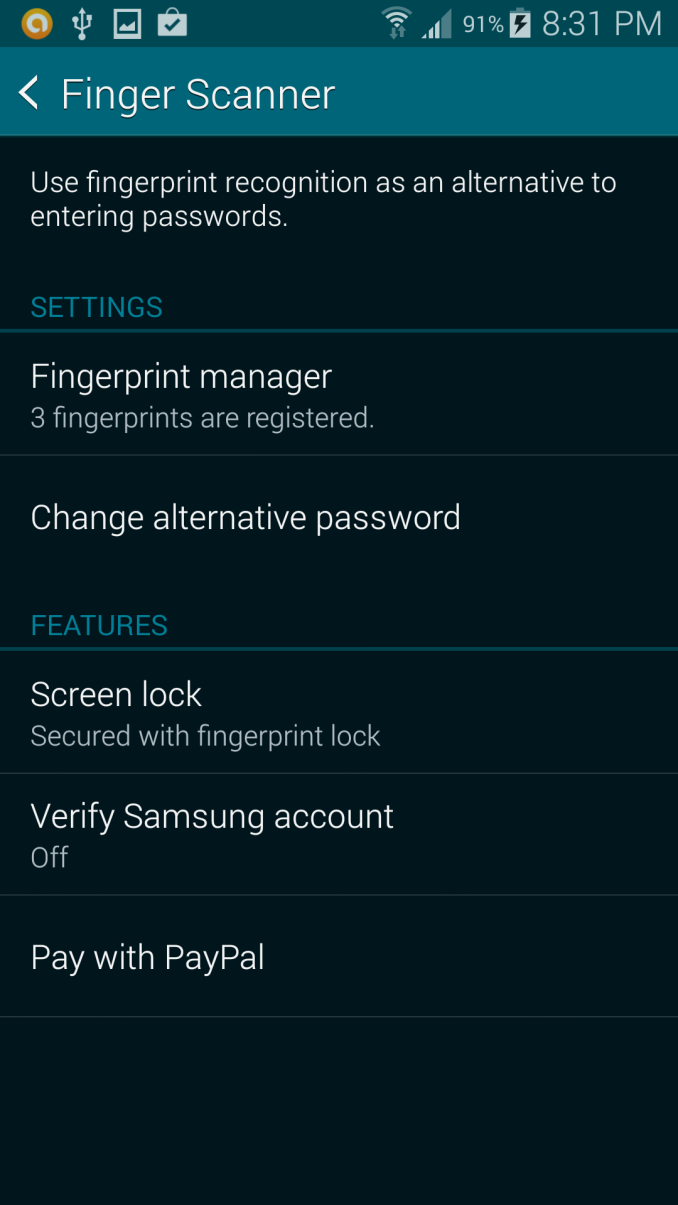 What is different from the One max is that it is much more difficult to use. The enrollment process is simple enough, and is accomplished by swiping eight times over the sensor as seen above (just like with TouchID, you can enroll multiple fingers in place of one by switching the digits you swipe with during the 8 swipe training process). After that, the fingerprint scanner can be used as a unlock method, along with the Paypal and Samsung Account login as previously stated. Where things get difficult is actually unlocking the phone. The sensor is simply too low to reasonably use with one hand, especially because the fingerprint scanner requires straight swipes with very little diagonal deviation. The scanner is also quite sensitive to swiping either too slow/fast or swiping at an inconsistent rate, and will often fail if the user is not consistent in swiping from enrollment to unlock. Enrolling the finger at multiple angles does help a bit with the issue, but it doesn't fundamentally change the experience.
It's pretty easy to adjust to the GS5's fingerprint sensor if you give up on the hope of a one hand unlock. If you're ok with swiping with another hand, the sensor works pretty well and is a great alternative to a long password.
Platform Power
The Galaxy S 5 includes Samsung's hallmark removable back cover and battery. The GS5 uses a 10.78Wh (2800mAh @ 3.85V) battery. The modest increase in battery capacity over the Galaxy S 4 is only a small part of the story. With the GS5, Samsung significantly improved the overall platform power story compared to the Galaxy S 4 (even more so than HTC's M7/M8 transition).
The move to a Snapdragon 801 SoC brings with it all of the performance and power efficiency benefits of the design and its updated 28nm HPm manufacturing process. The connectivity side sees a big improvement in power efficiency thanks to the use of Qualcomm's QFE1100 envelope tracker. Samsung also significantly reduced display power consumption on the GS5 compared to the GS4, which is likely the result of higher quantum efficiency (more brightness for less power), and panel self refresh. The result is a device that's bigger, faster and at the same time, far more power efficient than its predecessor. To me the biggest benefit of having a removable back cover and removable battery is the ability to quickly instrument the device to measure power consumption. I did just that with the Galaxy S 5 (T-Mobile) and GS4 (AT&T) to help characterize the improvement in total device power. All of the numbers below are taken with both displays calibrated to 200 nits.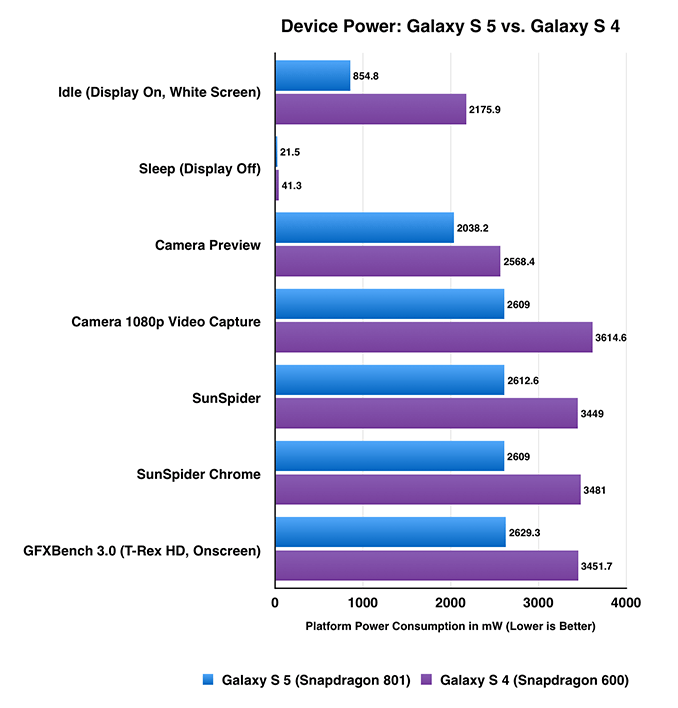 The GS4's display in particular was horribly inefficient, particularly at higher brightness values. The GS5 addresses that problem and appears to shoot for a sub-3W operating envelope in most situations. It is absolutely possible to get the device to draw more power than that however. Running a Speedtest while connected to T-Mobile's LTE network (with the display at minimum brightness), I measured an average power draw of 4.38W. With the display running at full brightness I measured 5.18W platform power draw while capturing 1080p video, and a whopping 6.54W while capturing 4K video. Assuming no thermal throttling, you could run through the GS5's battery in 1.64 hours by simply recording 4K video with the display set to max brightness.
I characterized the GS5's display power as well for those of you who are interested. Note that all of this data was gathered with both cellular and WiFi connected, but all background sync tasks disabled. I'm not reporting absolute minimums here but rather an average over a short idle period.
Galaxy S 5 Device Power vs. Display Brightness
Minimum Brightness
200 nits
Max Brightness
Max Brightness (w/ Boost)
Idle at Home Screen
456.2mW
591.2mW
754.4mW
1274.9mW
Idle Displaying White
453.2mW
1517.4mW
2148.0mW
You can see the impact content has on the AMOLED power draw by comparing the home/white rows. The GS5 display has a boost mode that kicks in when the ambient light sensor detects over 30,000 lux. The power penalty from running in this mode is pretty substantial as you'd expect. At worst, the GS5 will pull over 2W at idle while running in this max brightness boost mode. As is always the case, your display brightness has a big impact on battery life. If you run at max brightness you can conceivably run through your battery in 7 hours without doing anything at all. Run the display at 200 nits however (~60% on the GS5) and you can easily triple that battery life.
Ultra Power Saving Mode
The Galaxy S 5 has two low power modes that can be manually triggered: power saving and ultra power saving. The former offers the usual control over the CPU governor, limiting max frequency to 1.5GHz but keeping all four cores plugged in. You can also force the display into grayscale mode and choose to block background data.
Ultra power saving mode is the big new feature of the Galaxy S 5. In this mode all running apps are forced to quit, the display switches to grayscale mode, max brightness is clamped to 87 nits and the display refresh rate is reduced from 60Hz to 30Hz. When the screen turns off, ultra power saving mode turns off mobile data.WiFi and BT are also disabled upon entry (although you can manually re-enable them). Also in UPSM, Samsung disables two of the Krait 400 cores and caps the remaining two at 1.5GHz.
You can only run a handful of apps in ultra power saving mode, including Samsung's own browser (Phone, Messages, Internet, Calculator, ChatON, Clock, Google+, Memo and Voice Recorder).
Samsung claims that with only 10% left on your battery, switching into ultra power saving mode can give you up to 24 hours of standby time. To vet the claim I measured device power consumption while in UPSM. Just as before, this is total device power consumption measured at the battery.
Galaxy S 5 Ultra Power Saving Mode
Sleep
Idle (Home Screen)
SunSpider
Ultra Power Saving Mode
16.8 mW
421 mW
1231.2 mW
Normal Mode (min brightness)
21.5 mW
2461.5 mW
Assuming a full battery can deliver 10.78Wh and a battery drained to 10% of that capacity only has 1.078Wh, if the GS5 consumes 16.8mW asleep with the display off on average I'd expect just over 64 hours of standby battery life - well above Samsung's claim of 24 hours. In reality, if you look at the power draw curve while sleeping the GS5 will wake up periodically and draw 200 - 300mW for a second or two. My guess is that's where the 24 hours of estimated time comes in.
Now keep in mind that if you're actively using the device you'll see substantially higher power consumption. Running SunSpider in UPSM cuts platform power in less than half compared to normal mode with the display set to minimum brightness, so there's definitely a tangible benefit to UPSM even under active use. In the same 10% scenario from above, running a heavy web browser workload would kill your battery in 26 minutes normally or 52 minutes in ultra power saving mode. It's not a silver bullet but sometimes another 30 minutes of battery life is all you need.
Battery Life
I put the Galaxy S 5 through our standard suite of battery life tests. As always, all of our battery life tests are run with the display set to 200 nits. We've documented our workloads in the past so I won't go through them again here. We're also working on populating our BaseMark OS II and GFXBench 3.0 battery life results so those charts may look a bit incomplete for now.
The Galaxy S 5, like the new HTC One, sees a tremendous improvement in battery life thanks to the Snapdragon 801 platform. The move to an updated 28nm HPm process has a tangible impact on battery life compared to recent Snapdragon 800 designs. The increase in battery life compared to the Galaxy S 4 is incredible.
We're also seeing a slight advantage to low power LTE battery life compared to WiFi in our test. Ultimately what this tells me is Snapdragon 801 is now fast enough to make our battery life test more display bound than anything else. It looks like it's time to build something new.
The Galaxy S 5 falls behind the new HTC One by a little bit, especially if you consider the smaller capacity battery. I suspect this has more to do with display power consumption than anything else.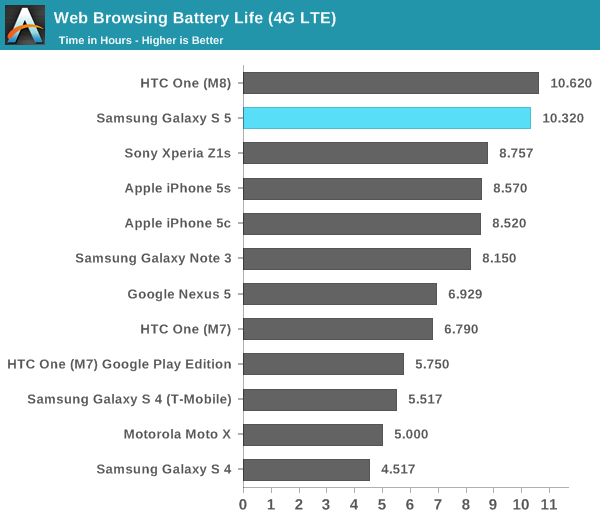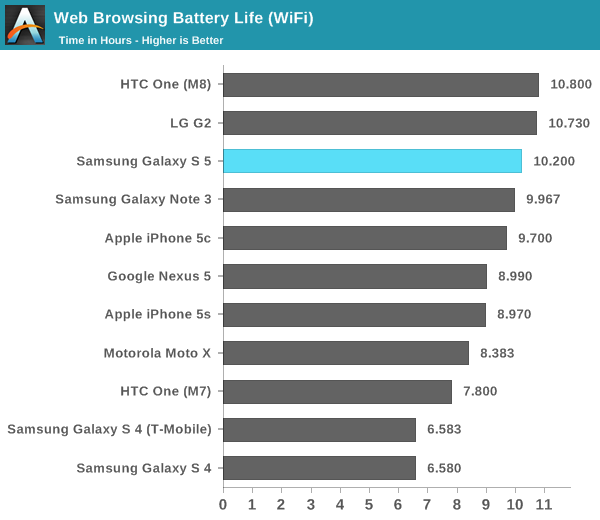 More often than not, when you're faced with faster compute you end up doing more. To see what the other extreme of battery life looks like (where we aren't bound by display power) I turned to two canned tests: BaseMark OS II and GFXBench 3.0.
I ran both of these tests under the same controlled conditions we always use, with all displays calibrated to 200 nits. BaseMark OS II runs through a bunch of CPU and storage benchmarks (basically the same tests used for the BaseMark OS II system and memory tests), as fast as possible, until the battery dies.
I like this benchmark as it gives us an indication of worst case battery life if you're absolutely hammering the CPU (and storage) relentlessly.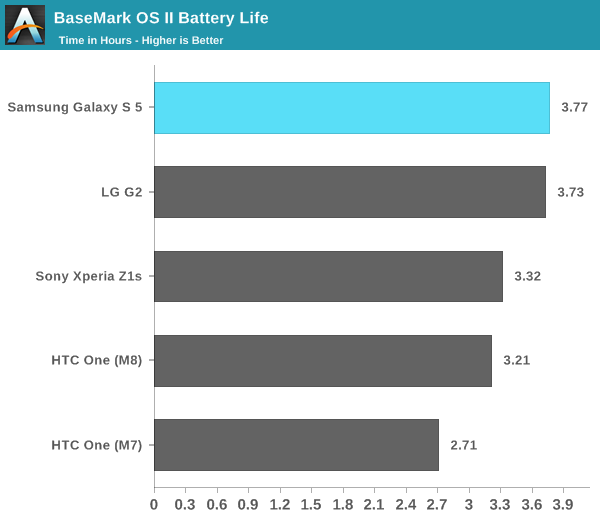 While the M8 outlasted the Galaxy S 5 in our web browsing tests, the GS5 pulls ahead in our two compute bound tests. To better understand why, let's look at what happens to the GS5's performance over time during the GFXBench 3.0 test: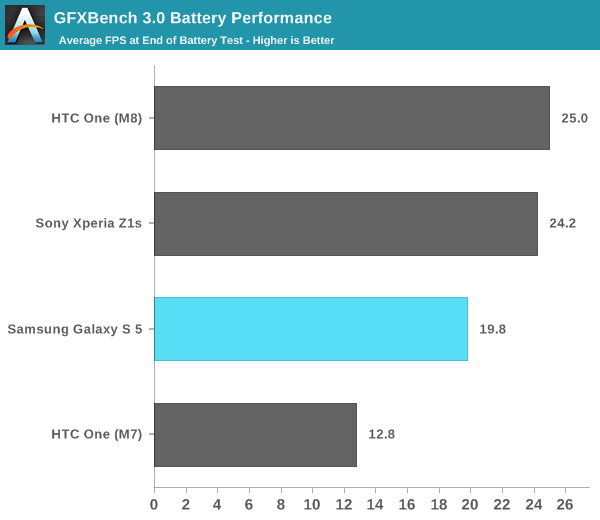 While the M8's thermal chassis is able to dissipate heat nicely and keep the SoC running closer to full clocks, the GS5's plastic body acts as more of an insulator and forces GPU clocks down over the duration of the test. The result is a reduction in performance, but an increase in battery life. The Galaxy S 5 won't let you run the battery down as fast as you could due to thermal limitations of the chassis.
Charge Time
Samsung includes a 5.3V/2A charger in the GS5's box along with a USB 3.0 cable. You can still charge the GS5 using a USB 2.0 cable as well. Despite an increase in battery capacity, the GS5 can attain a full charge in less than 2 hours. Combining excellent battery life with a very short charge time, the Galaxy S 5 is a solid performer for anyone who is on the go.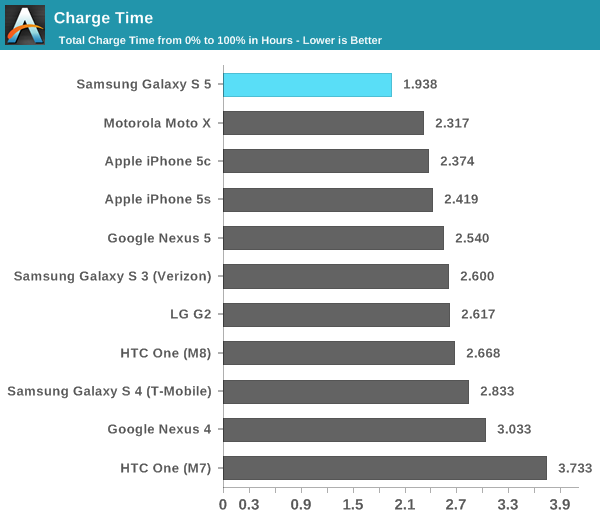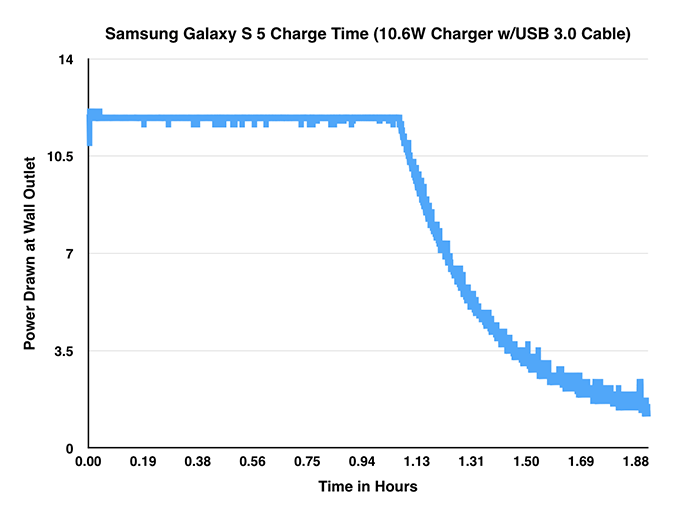 Display
As the smartphone market continues to mature, the distinguishing between smartphones becomes harder and harder as OEMs continue to converge in platform and in most other aspects. This is most evident when looking at the progression from the Galaxy S2 generation to today. Back then, the Galaxy S2 was notable because of its Exynos 4210 SoC, which was far ahead of Qualcomm's dual core Scorpion solutions at the time, which meant non-Samsung OEMs had notably worse CPU and GPU performance. The same was also true for the original Galaxy S with its Hummingbird SoC. Today, just about every OEM ships the same SoC. The difference between 8974AB and 8974AC is effectively only an eight percent CPU bump for the AC variant.
One of the key differentiators now in the market is display. The Galaxy S 5 features a 5.1-inch 1080p Full HD Super AMOLED display, equipped with the usual set of software defined color profiles. The GS5 gets a new adaptive profile that automatically adjusts the tint of the display according to the color of the ambient light. It's a neat effect, however Samsung's Cinema mode still ends up being the most accurate.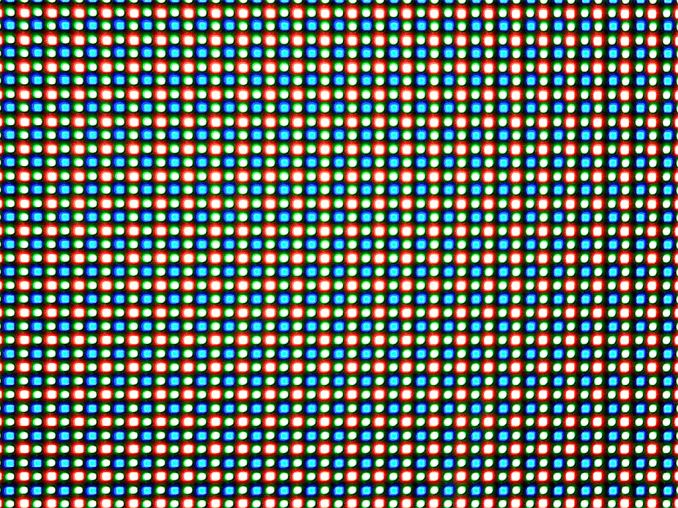 As always, we measure color accuracy using Spectracal's CalMAN 5 software and a custom workflow for smartphones and tablets.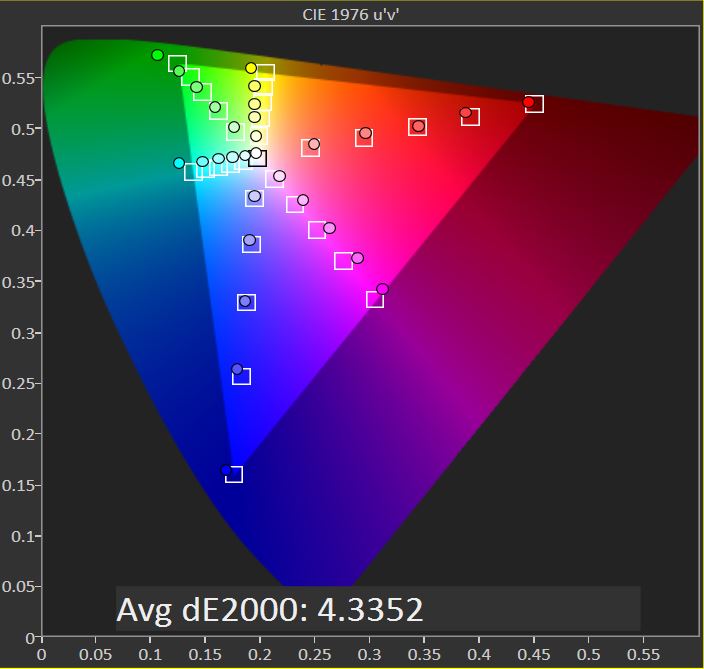 The results show that the Galaxy S5 has a display that is dramatically improved from the Galaxy S4. However, the Galaxy S line doesn't exist in a vacuum, so it's important to also look at how it compares against the best LCDs in other phones. In this department, things aren't quite as perfect. To start, the color gamut control is still rather poor even on Cinema mode, as effectively all of the secondary colors miss the sRGB targets for saturation sweep. Yellow, cyan secondaries and green primaries are also notably out of the sRGB gamut triangle. While recent headlines have raved about the Galaxy S5's record-setting color accuracy, I don't see this at all in the results. Still, against the competition in the Android space, Samsung has improved a tremendous amount while other OEMs seem to be stagnating or even regressing in color accuracy. The only Android OEM that actually beats Samsung in the color accuracy department is now Google, which is strange because they contract out their hardware to other Android OEMs.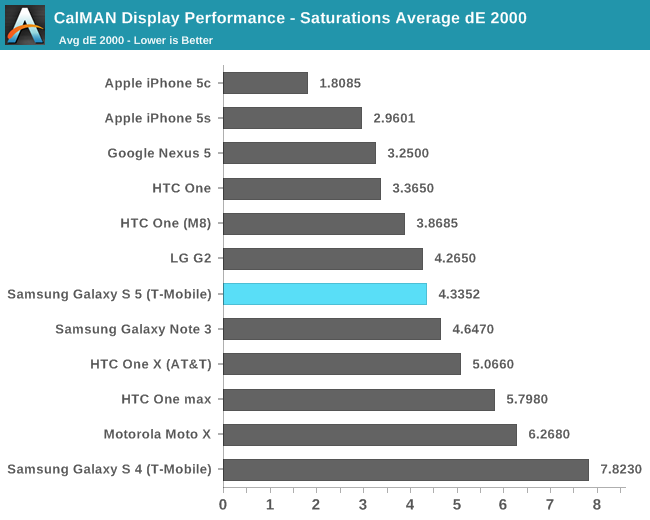 Looking at the saturation sweep, it's evident that Samsung is now about equivalent to LG in color accuracy for their displays. HTC is barely ahead, with such a small difference that it's not worth counting. Only Google and Apple have a noticeable lead in this department, a huge improvement from 2013 when Samsung trailed far behind most other competitors in this test.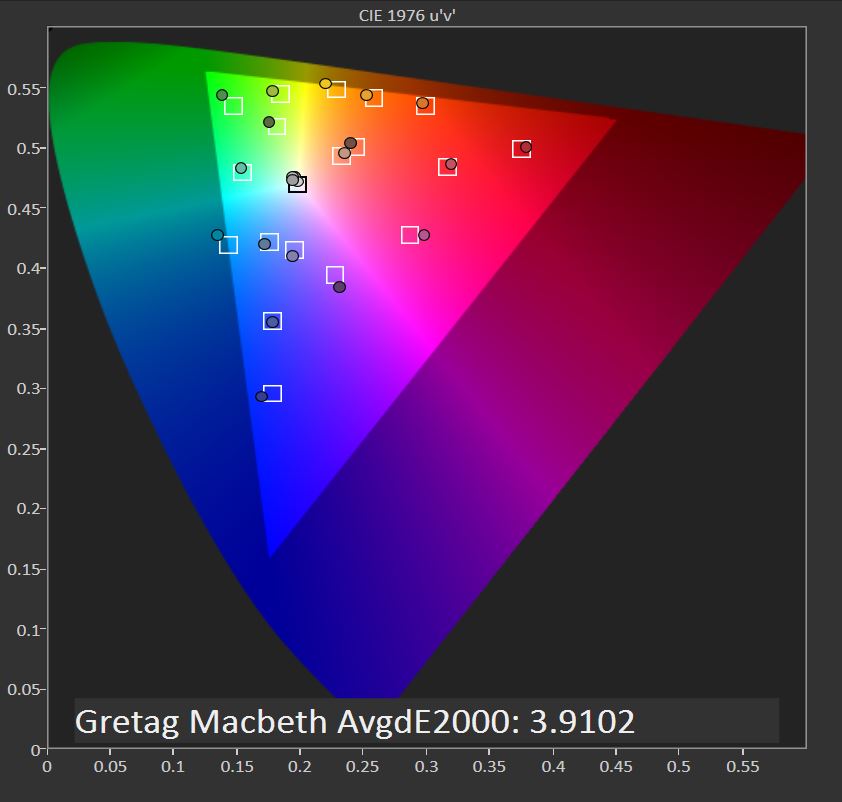 In the Gretag Macbeth Colorchecker, Samsung continues to hold its position, beating all but Google and Apple. HTC is noticeably behind in this department compared to Samsung, as the One (M8) is horrific in this department compared to even the original HTC One.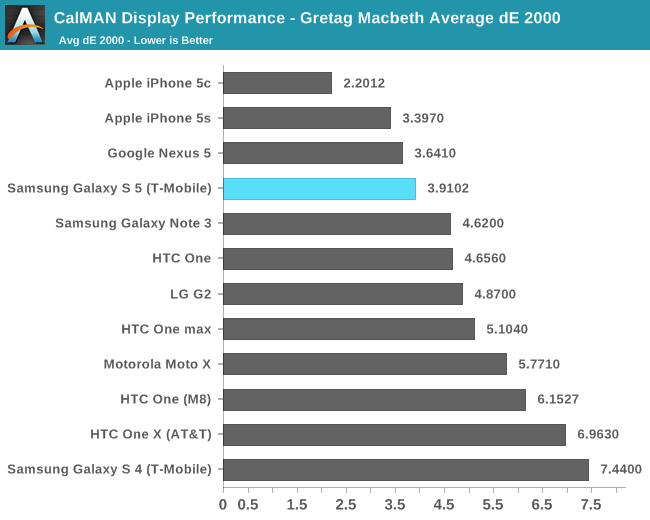 In the contrast department, Samsung continues to dominate, with effectively infinite contrast. Based upon some quick viewing of the display in the darkest room I have in the house, I don't see any obvious DC bias issues. Unfortunately, I still see some ghosting on the display at low brightness which manifests as a purple trail when scrolling. This seems to be unchanged from the Galaxy S4. The minimum white brightness is around 1.8 nits, which is great for reading at night, as many LCD-screened phones such as the LG G Pro 2 have a minimum white brightness of around 7-12 nits.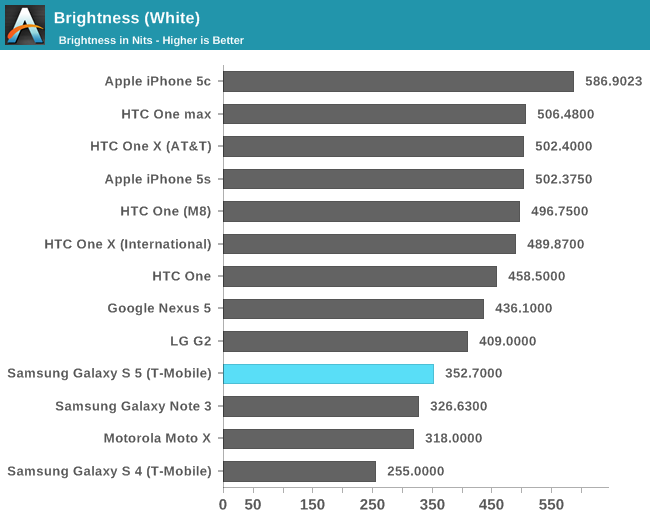 Samsung has also made great gains in the maximum brightness department, which is especially pleasing because for the longest time, AMOLED was noticeably less bright which made it incredibly difficult to read webpages and similar content outdoors. I'm happy to say that this is no longer the case, as the Galaxy S5 now has a display that realistically reaches around 440 nits outdoors with a pure white image, although this requires auto-brightness to be on and will vary with the screen mode. The maximum that is accessible without this daytime boost mode is somewhere around 350 nits.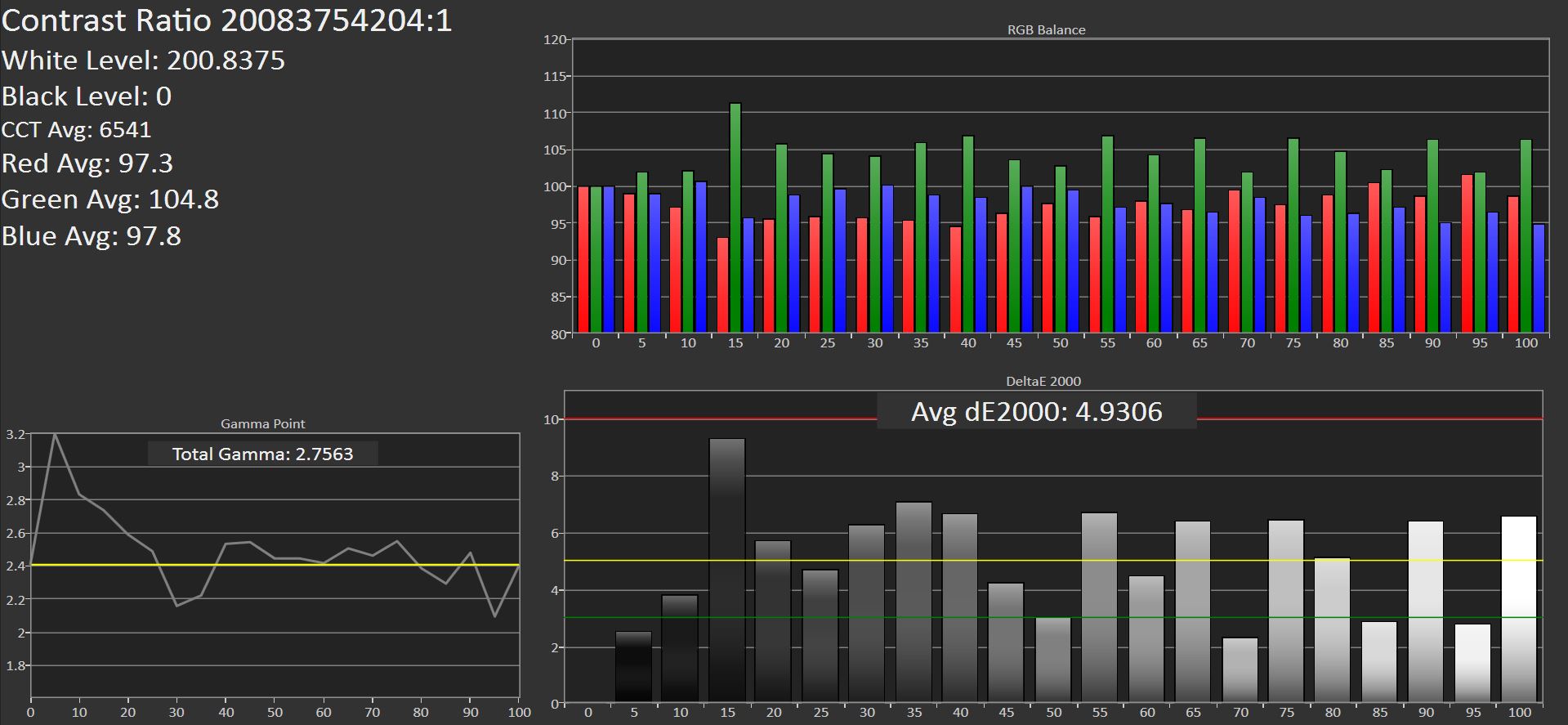 The problem is the way Samsung has achieved this, something that is shown in the grayscale tests. While Samsung has done a great job in clamping down the white point to around 6504k, grayscale is so noticeably green that not only does CalMAN show this in the measurements, but also casual observation. I can literally see that the grayscale image is not gray, but an off-green. I'm not quite sure how this happened, but I suspect that this was done in an effort to increase peak brightness as even in the bluest display mode, green is still closely tracking with blue.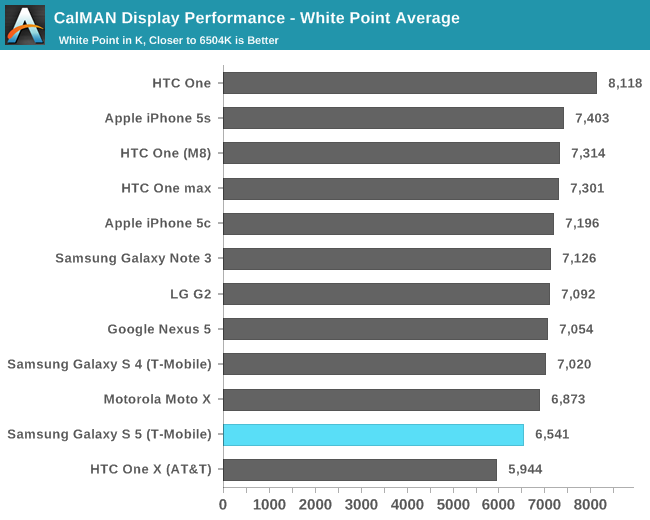 Overall, I'm quite pleased with the display. The AMOLED display in the Galaxy S5 is finally equivalent to LCD displays in color accuracy and peak luminance, areas that LCD used to be the best in. Throw in the incredible contrast that AMOLED has always had and the ability to toggle between wide color gamut and accurate color, and I would say that AMOLED is finally equal, if not slightly better than LCD. With a few more iterations, I wouldn't be surprised if I were to write that AMOLED is clearly superior to LCD. Of course, there are some issues such as a noticeable green tint to the display in grayscale and Samsung still needs to improve their clamping of gamut to sRGB for Cinema/Movie mode, but none of these issues seriously detract from the viewing experience.
CPU Performance
The Galaxy S 5 marks the second Snapdragon 801 based device we've reviewed at AnandTech, the first being HTC's M8. I've gone through the Snapdragon 801 in depth already, but we're basically dealing with a reasonable upgrade to Snapdragon 800 on an improved 28nm HPm process. The bulk of the improvements impact GPU and ISP performance, but the SoC is just better overall. GS5 owners are lucky as all versions of the device that use Qualcomm silicon feature the MSM8974AC v3 SKU, which includes four 2.5GHz Krait 400 cores and a 578MHz Adreno 330 GPU.
Snapdragon 800/801 Breakdown
SoC Version
Model
Max CPU Frequency
Max GPU Frequency
ISP
eMMC
DSDA
Memory IF
MSM8974VV
v2
S800
2.2GHz
450MHz
320MHz
4.5
N
800MHz
MSM8974AA
v2
S800
2.3GHz
450MHz
320MHz
4.5
N
800MHz
MSM8974AB
v2
S800
2.3GHz
550MHz
320MHz
4.5
N
933MHz
MSM8974AA
v3
S801
2.3GHz
450MHz
320MHz
5.0
Y
800MHz
MSM8974AB
v3
S801
2.3GHz
578MHz
465MHz
5.0
Y
933MHz
MSM8974AC
v3
S801
2.5GHz
578MHz
465MHz
5.0
Y
933MHz
Although Samsung was the first major OEM to be caught cheating in Android benchmarks, it appears to have completely abandoned the practice with the Galaxy S 5's shipping software. Not only was I unable to find any evidence of the old cheats, I couldn't find any evidence of HTC's new subtle cheating either. The Galaxy S 5 appears to be clean as far as I can tell. Kudos to Samsung on doing the right thing, and I hope all other OEMs take this as a sign to stop the silliness.
For our performance tests I turned to our usual suite of browser and native applications. If there's one obvious takeaway from our CPU tests it's that despite having faster silicon than HTC's M8, the GS5 isn't always faster. I believe this has more to do with thermals than anything else. HTC's metal chassis is able to do a better job of dissipating heat than the GS5's plastic chassis. I don't believe there's a substantial impact on user experience, but it's interesting to note how choice in materials can have a performance impact like this.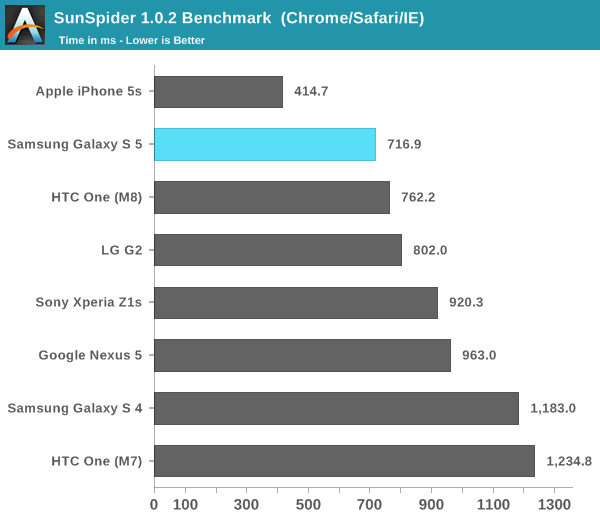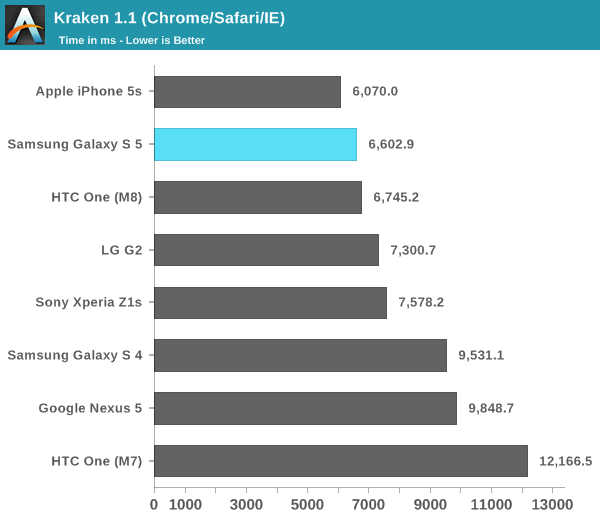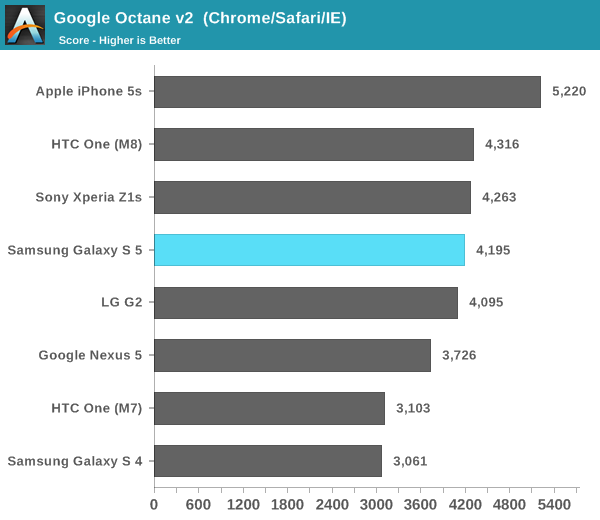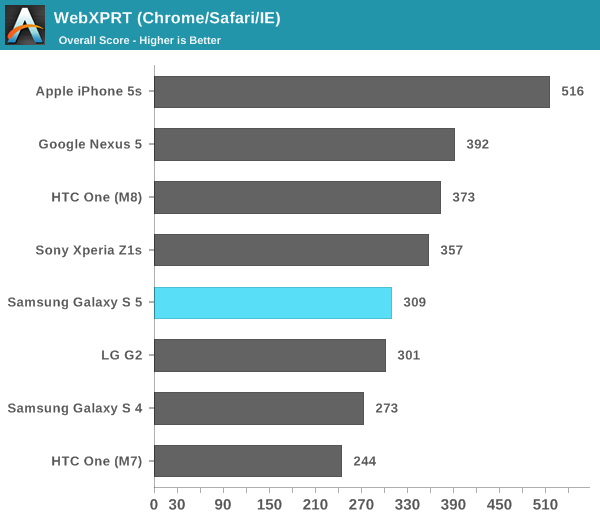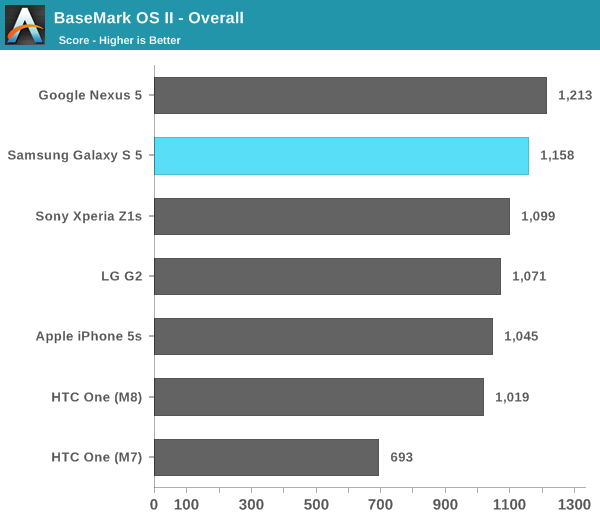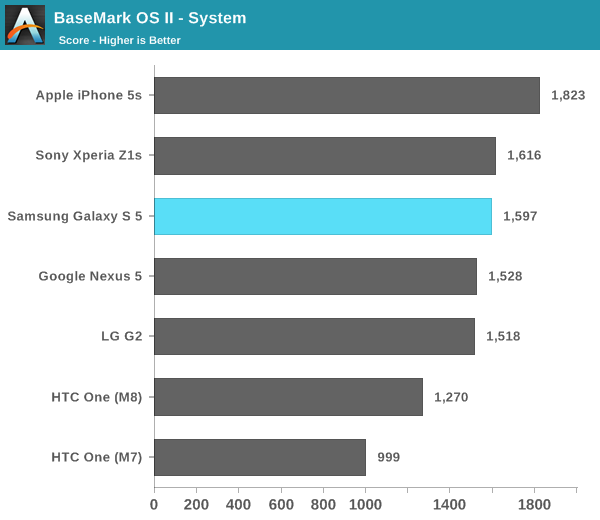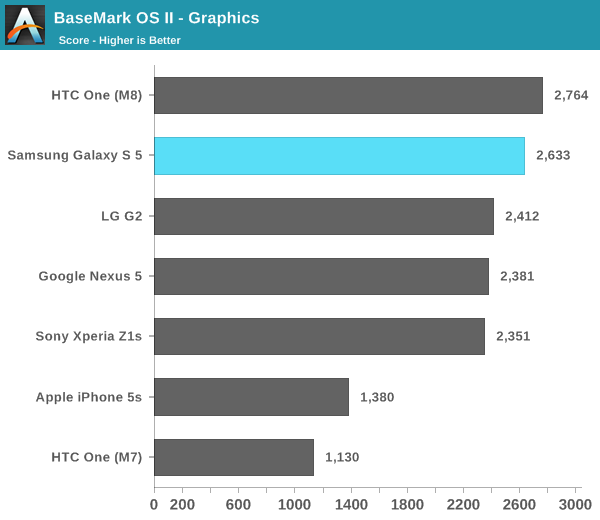 GPU Performance
GPU performance remains where we see the biggest benefit from Snapdragon 801 vs. 800, and since the GPU gains are almost entirely due to frequency scaling it's not too surprising that the M8 pulls ahead of the GS5 here in most cases.
There aren't any surprises here. The Adreno 330 in the Galaxy S 5 is more than capable of driving the device's 1080p display both in current and near term future 3D games.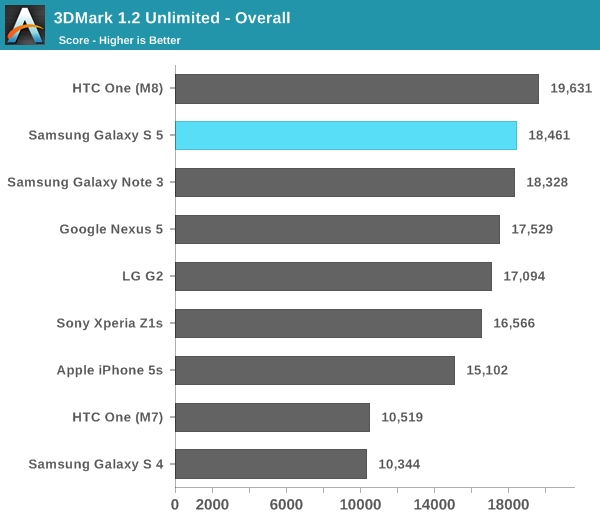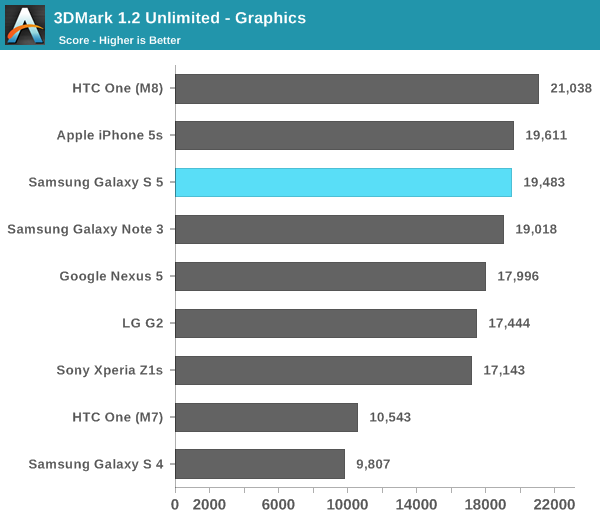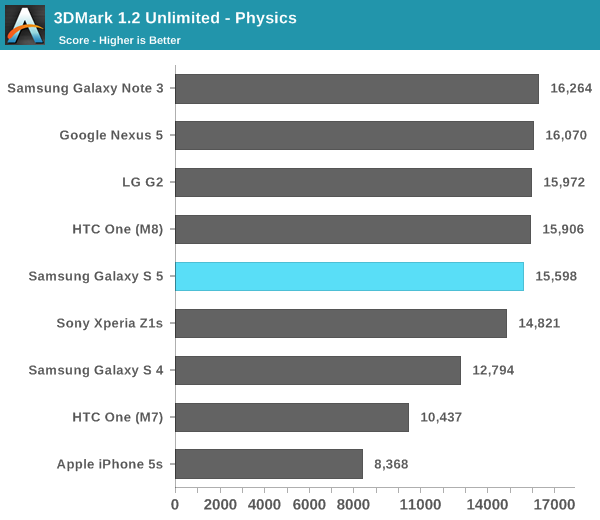 BaseMark X 1.1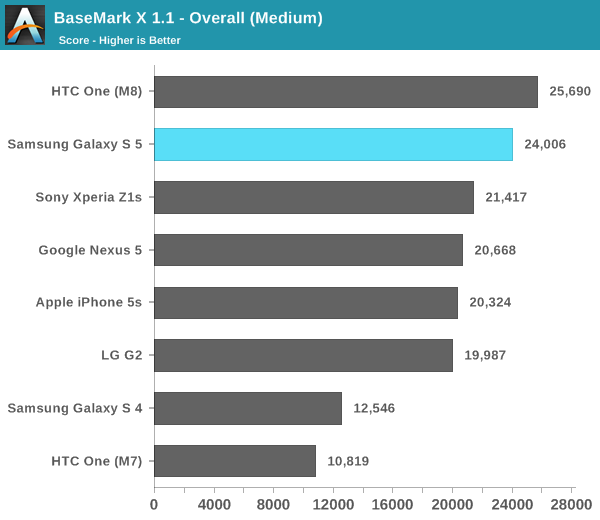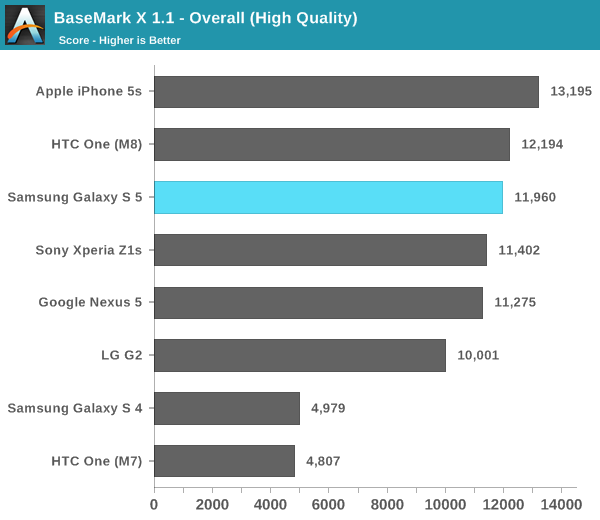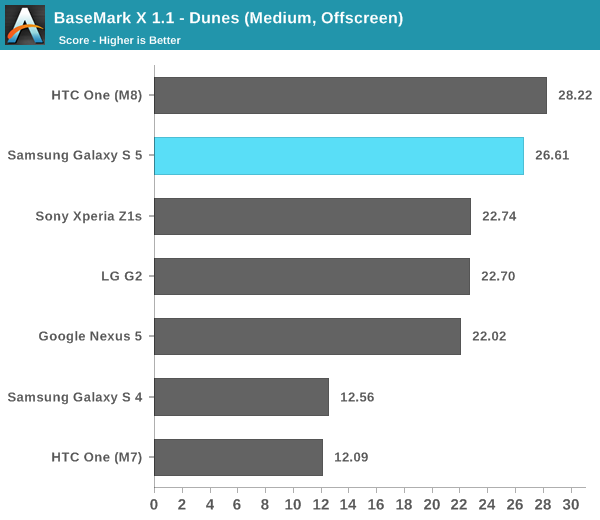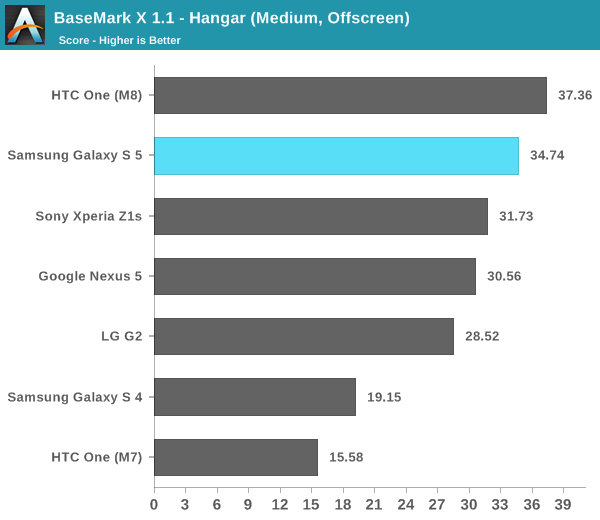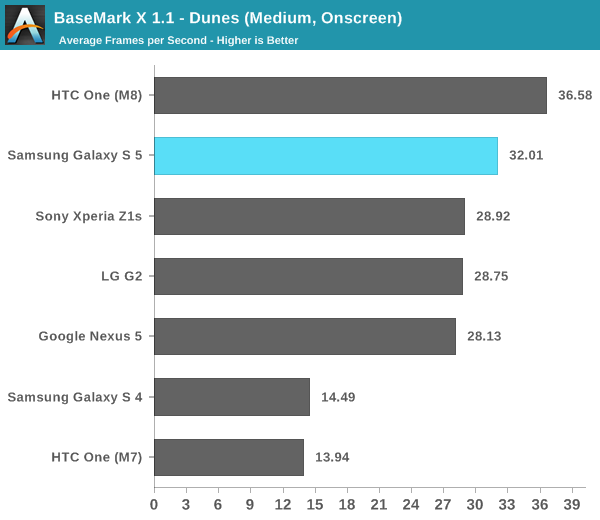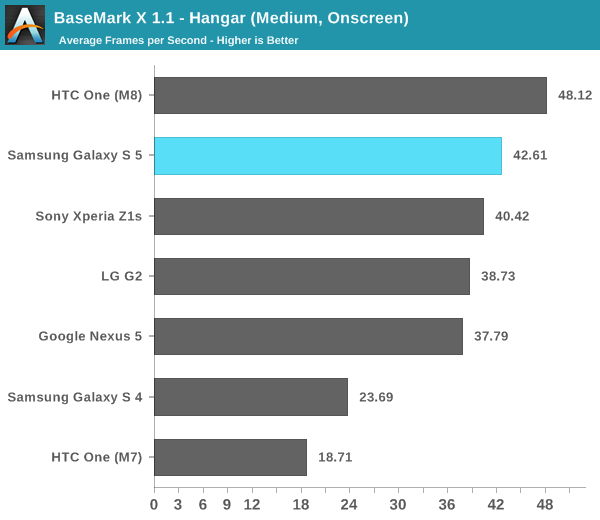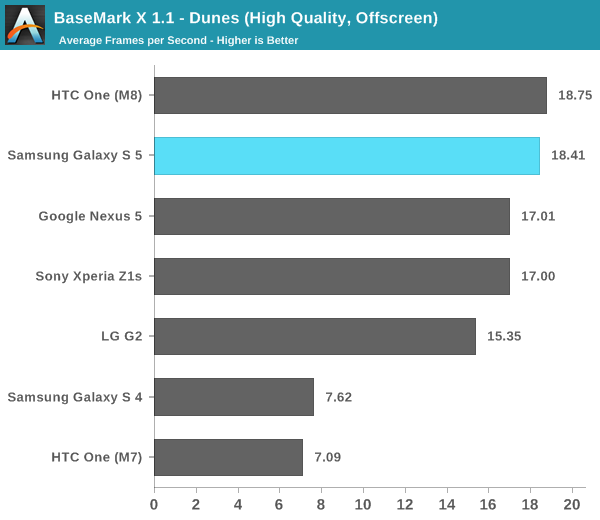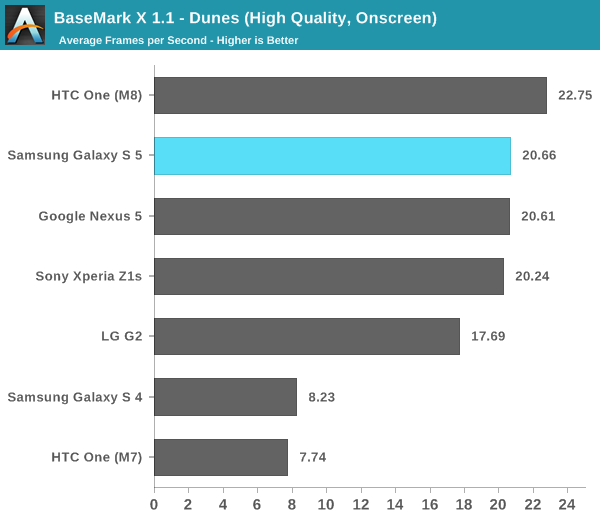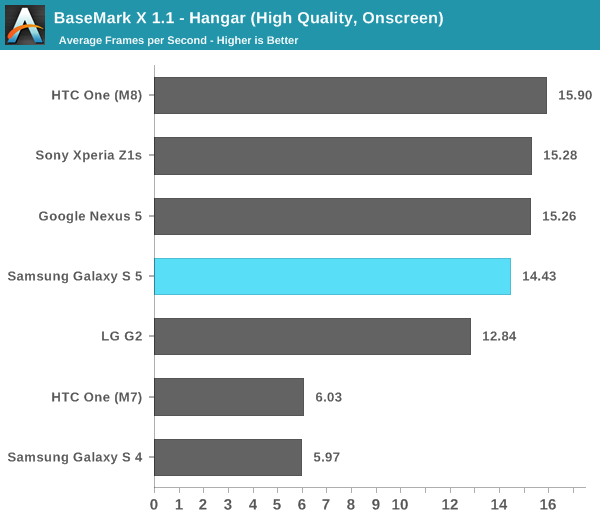 GFXBench 3.0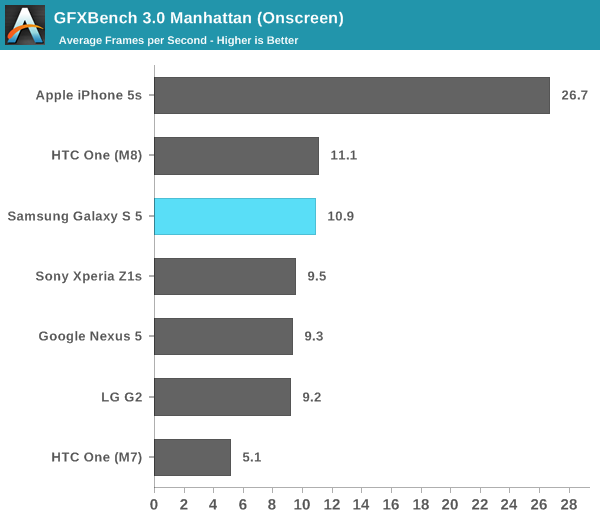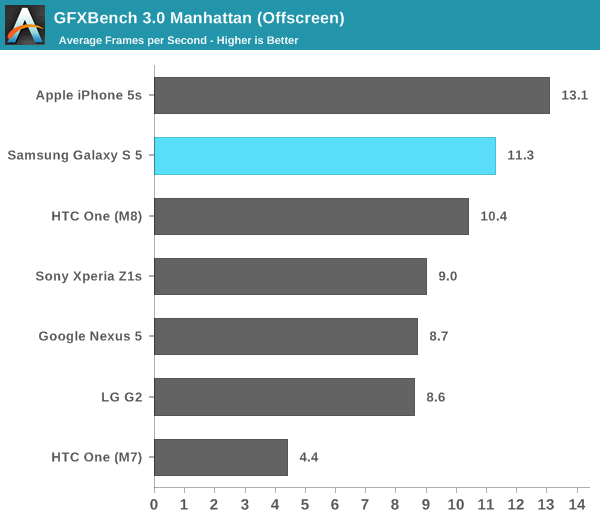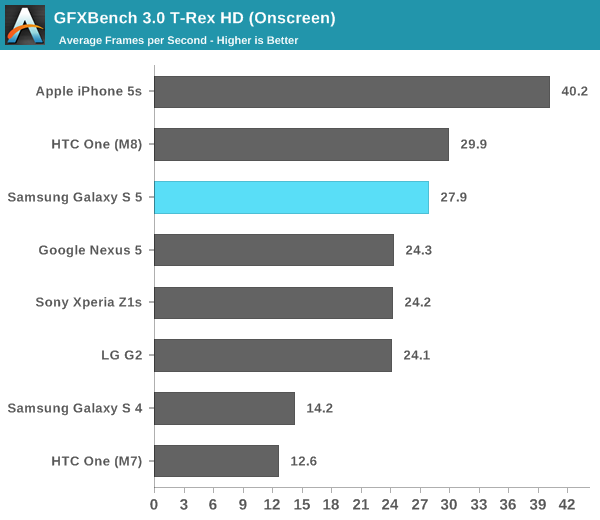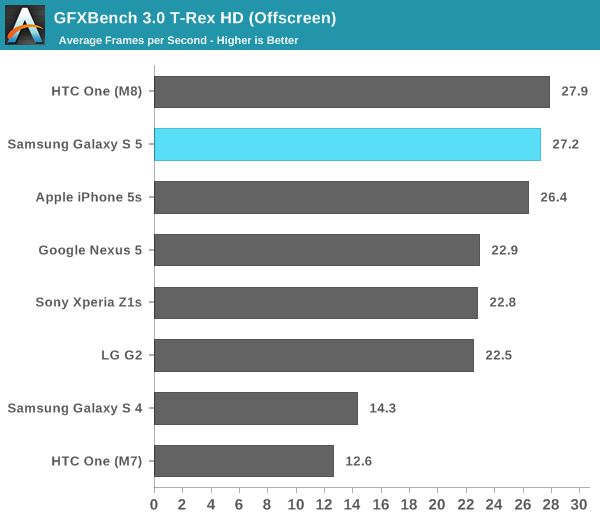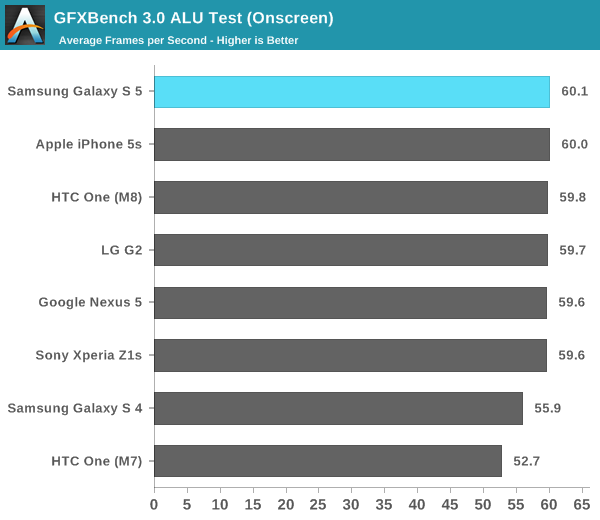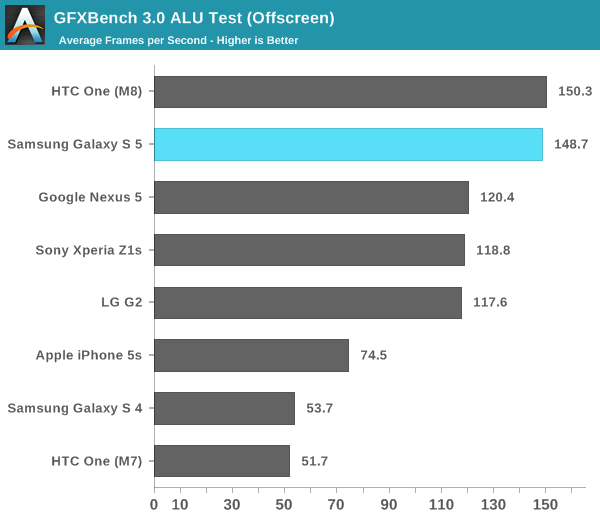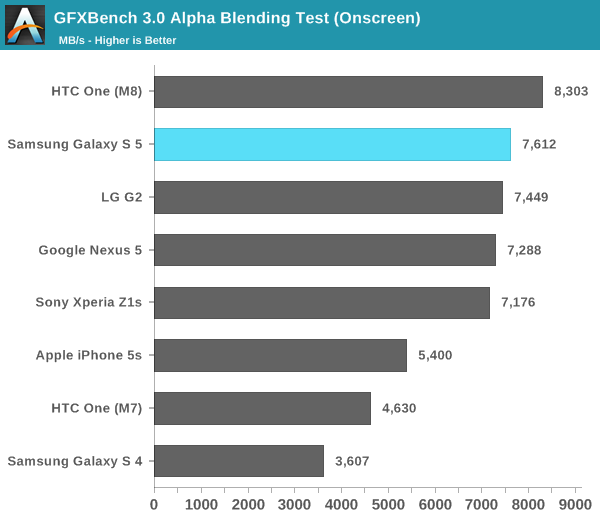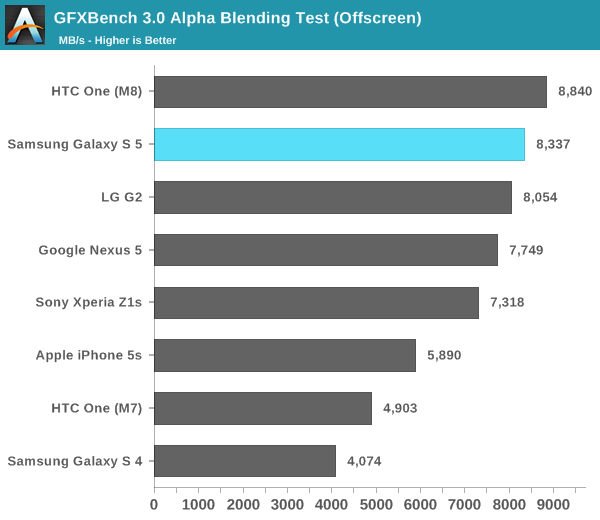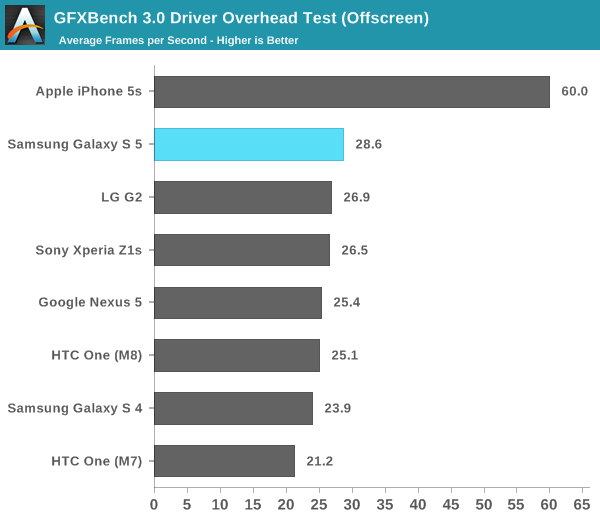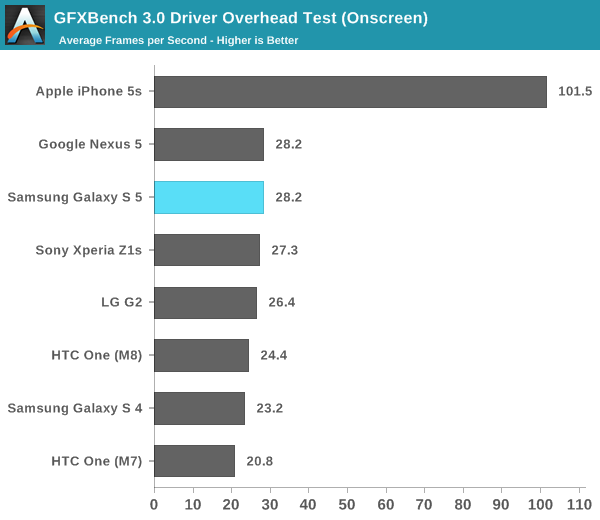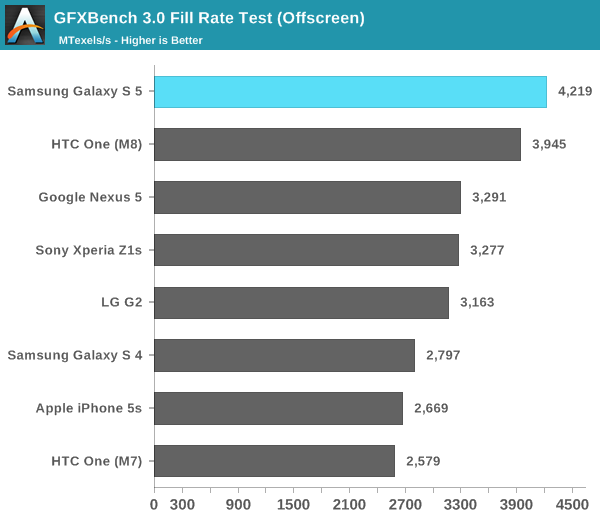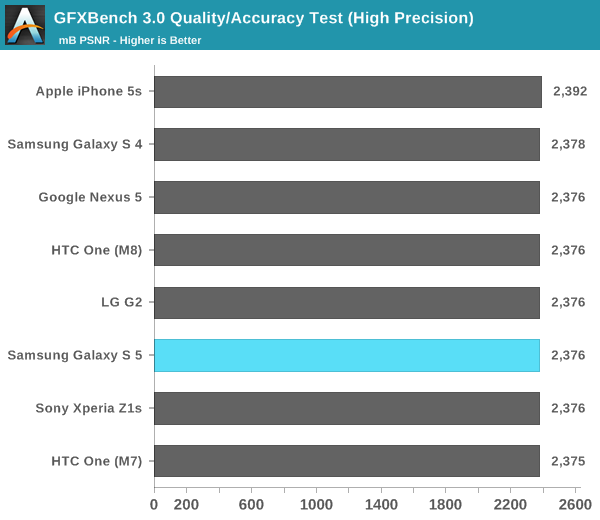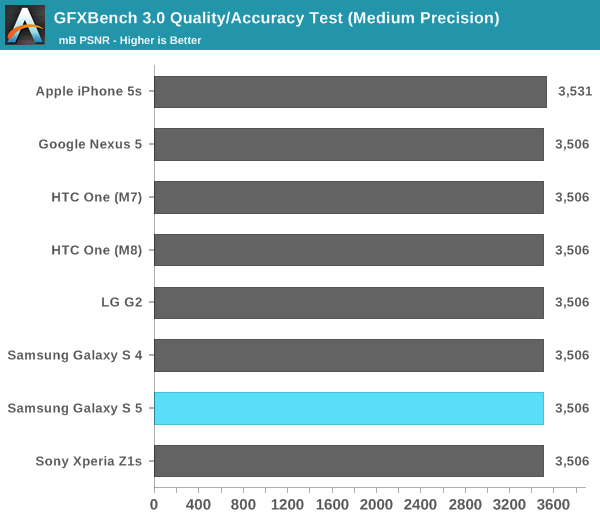 NAND Performance
The GS5 ships with 16GB or 32GB of NAND internally on an integrated eMMC device. Expansion is supported through a microSD card slot behind the removable back cover. Although the Snapdragon 801 inside supports eMMC 5.0, that alone doesn't guarantee a substantial increase in NAND performance. Keep in mind that most OEMs find multiple sources for their internal eMMC/NAND solutions, so what I'm testing here may only be representative of a portion of all GS5 devices.
Samsung sampled a 16GB GS5 review device. I put it through our usual random/sequential IO tests on a 100MB span of LBAs.
Random read performance is disappointing, it falls behind all modern devices we've tested. Random write performance is middle-of-the-road at best. It's unclear to me if this is a cost optimization or a lack of concern for NAND performance, but either way I'd rather see these metrics improve rather than regress.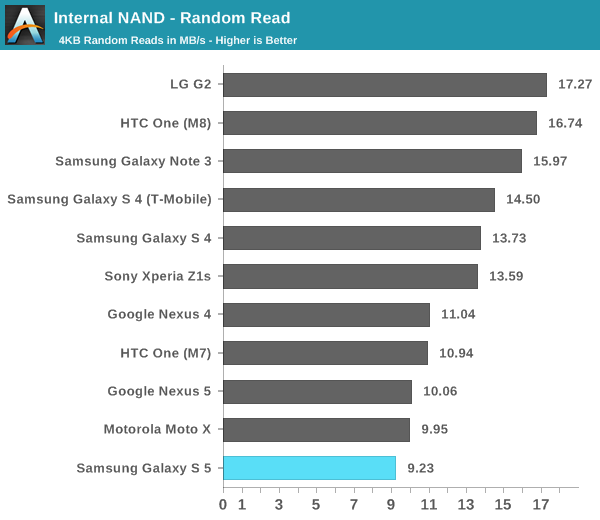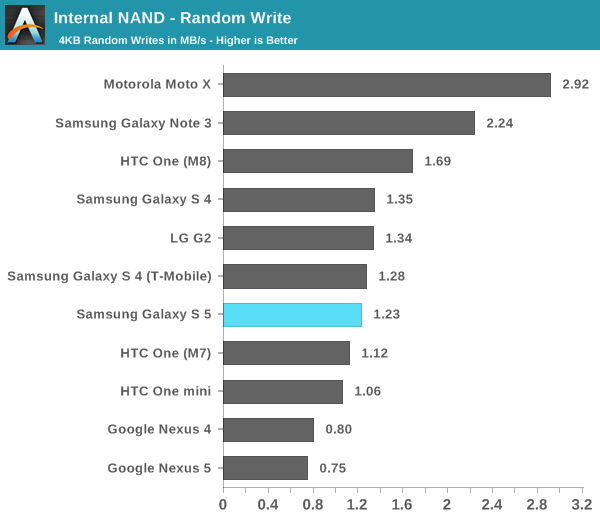 Sequential read/write performance both improve handsomely compared to the Galaxy S 4. I can see why Samsung would want to optimize for these two cases as they are quite common in regular usage, but random read/write performance can also significantly impact user experience.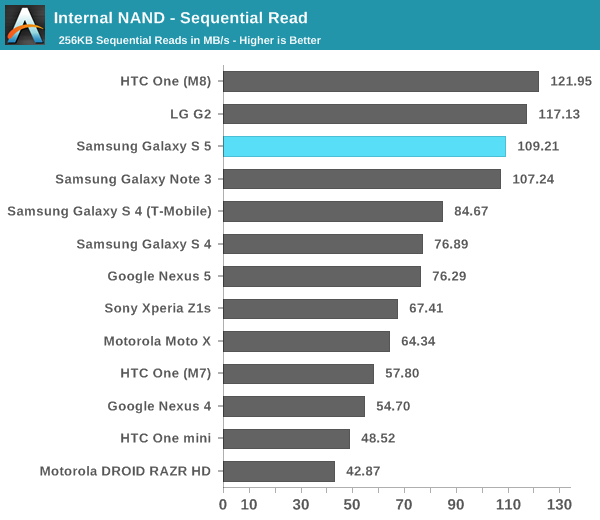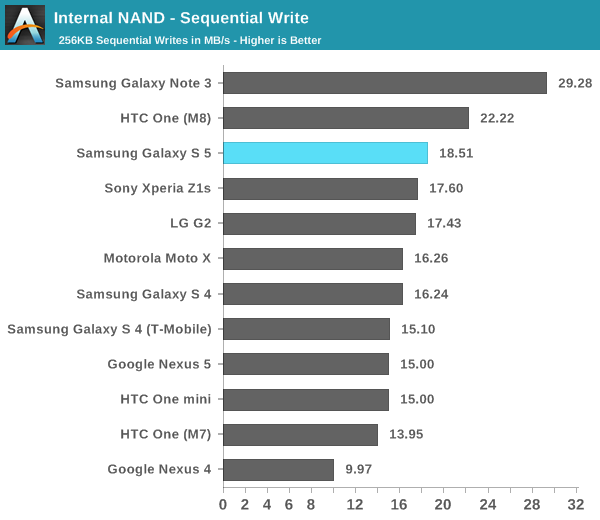 WiFi, Cellular & Download Booster
At MWC this year Broadcom announced its BCM4354 802.11ac 2x2 MIMO WiFi combo chip for smartphones/tablets, which found its way into the GS5. The result is a smartphone capable of negotiating with an 802.11ac AP at 867Mbps, and transferring data at up to 436Mbps.
Although peak performance is nice, there are also power benefits to being able to transfer data quickly over WiFi (race to sleep applies to network interfaces as well).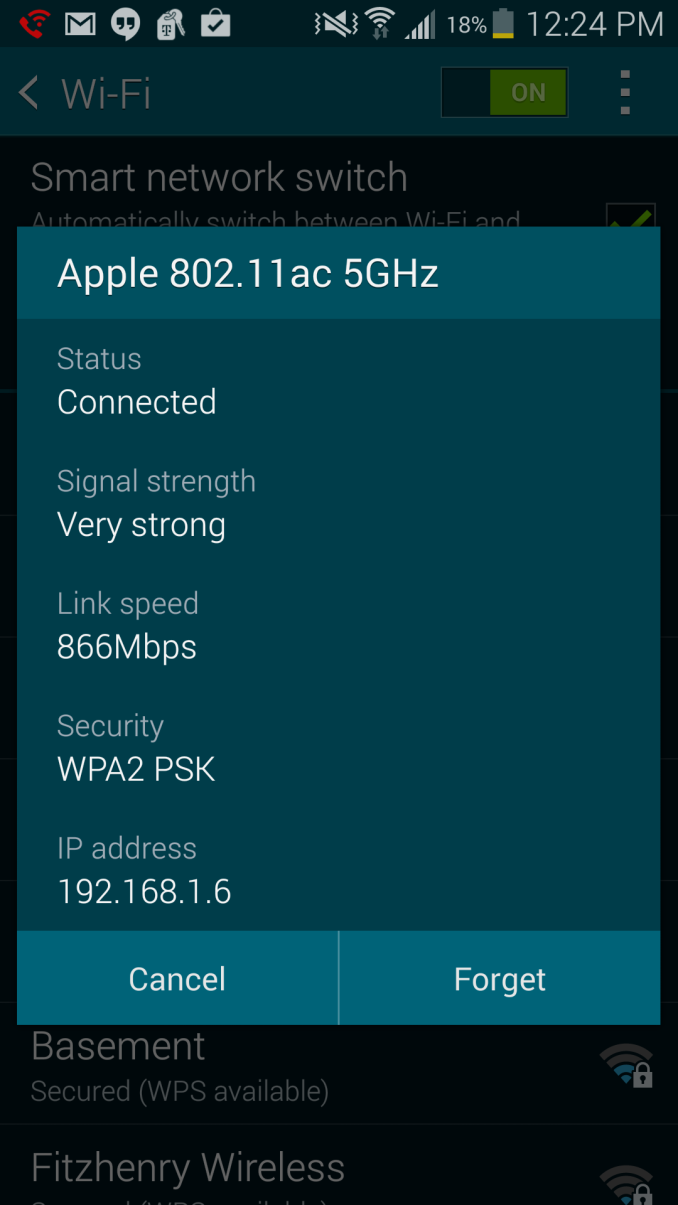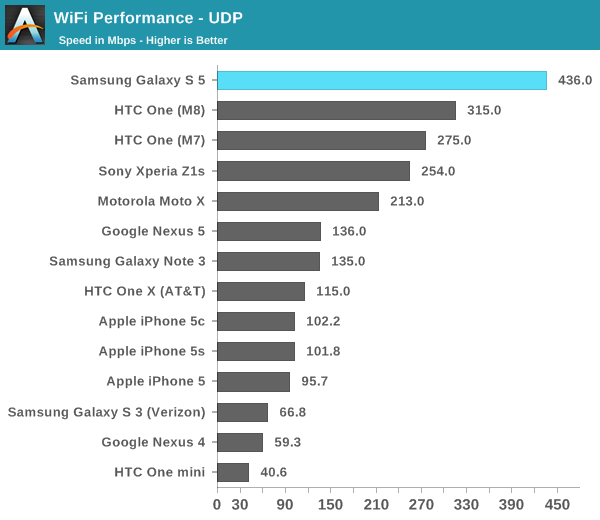 The Snapdragon 801 features Qualcomm's integrated category 4 LTE 9x25 modem core. As I mentioned in our power analysis, Samsung also chose to include Qualcomm's QFE1100 envelope tracker (just like in the Galaxy Note 3). The GS5 is also the first flagship Samsung device to include support for 2 carrier aggregation on supported LTE networks. Samsung doesn't appear to be using Qualcomm's antenna tuner or any other RF360 components in the Galaxy S 5.
Seamless transition between network interfaces is one component of Qualcomm's vision of the future of connected devices. The problem is presently more of a software one than a hardware challenge. Samsung is beginning to explore software abstraction of underlying network interfaces with the GS5's software stack. There's now an option to prevent transitioning to WiFi networks that don't offer an improved network experience compared to your broadband connection. I haven't had a ton of time to test this feature out yet but it's something I plan on messing with more over the coming weeks.
The other big feature is what Samsung is calling Download booster. If enabled and under the right conditions, download booster allows you to combine WiFi and cellular network interfaces to accelerate large file downloads. All you have to do is enable download booster and you'll get a notification if it's active and working:
Download booster uses HTTP range requests to divide up files between the two network links. The feature can migrate data sessions from one link to another (WiFi to LTE, LTE to WiFi). Supported apps include the Play Store, YouTube, Facebook photo/video downloads, Samsung apps and standard HTTP web browsing (both Samsung's own browser and third party browsers). FTP and UDP aren't supported, nor is HTTPS.
There are other limitations as well. File downloads smaller than 30MB won't trigger download booster. Similarly, if one of the interfaces is substantially faster than the other download booster won't activate either. My home internet connection can regularly pull files down at 50 - 60Mbps, compared to < 10Mbps for T-Mobile LTE. When I was getting ~7Mbps over LTE and 50Mbps over WiFi, download booster automatically turned itself off. If I throttled my home network to 22Mbps however, download booster did its thing and gave me a healthy combined download speed of 30Mbps.
Download booster is a neat feature, although of limited use for those of us without truly unlimited high speed data plans. That being said, if you need to speed up a download in a pinch it's a great way to do that. I'm often at a press event wanting to download a benchmark onto a device as quickly as possible, usually without great WiFi or cellular reception - I can see download booster being very useful there at least.
Software: KNOX & TouchWiz
Around a year ago, Samsung announced SAFE with KNOX, which was effectively Samsung's attempt to enter the Enterprise sector that BlackBerry and Apple were dominating. This announcement was effectively ignored, but it set the tone for things to come. With the Galaxy S4, at launch it was effectively untouched by these new policies outside of SEAndroid enforcement. However, as 2013 progressed, we began to see the true effects of Samsung's attempt to gain ground in the BYOD space, as the Note 3 was the first Android phone to have a Knox warranty void QFuse that would lock out any KNOX features if tripped by unsigned software loaded into the system partition or any other partition that had signature checking enabled. This isn't unusual for Samsung as they have had warranty void flags before, but what was truly exceptional was that this leveraged a QFuse, which makes it impossible to revert the warranty void flag if tripped, because QFuses are physically modified on the SoC rather than on a file in random partition on the eMMC device.
The next noticeable step was when the Galaxy S4 received an OTA update that enabled such behavior as well, and not only did it add the KNOX warranty void flag, it also would make it impossible to downgrade the firmware, which was likely done for security reasons and any attempt to do so would trip the warranty void flag.
With the Galaxy S5, KNOX has finally come full circle, as all US carrier variants are shipping with a locked bootloader. While it's true that some variants of the Galaxy S4 had a locked bootloader, it wasn't quite indicative of a real trend, as both AT&T and Verizon are well known for their bootloader locking policies and will often place such a requirement in their RFPs for a new device. On the other hand, Sprint and T-Mobile US are generally accepted as less stringent in their policies for rooted devices. In short, you cannot flash a custom ROM the same way that you could on the Galaxy S4 with an unlocked bootloader.
Update: Based upon recent events the Sprint and TMOUS variants both have an unlocked bootloaders, despite statements to the contrary.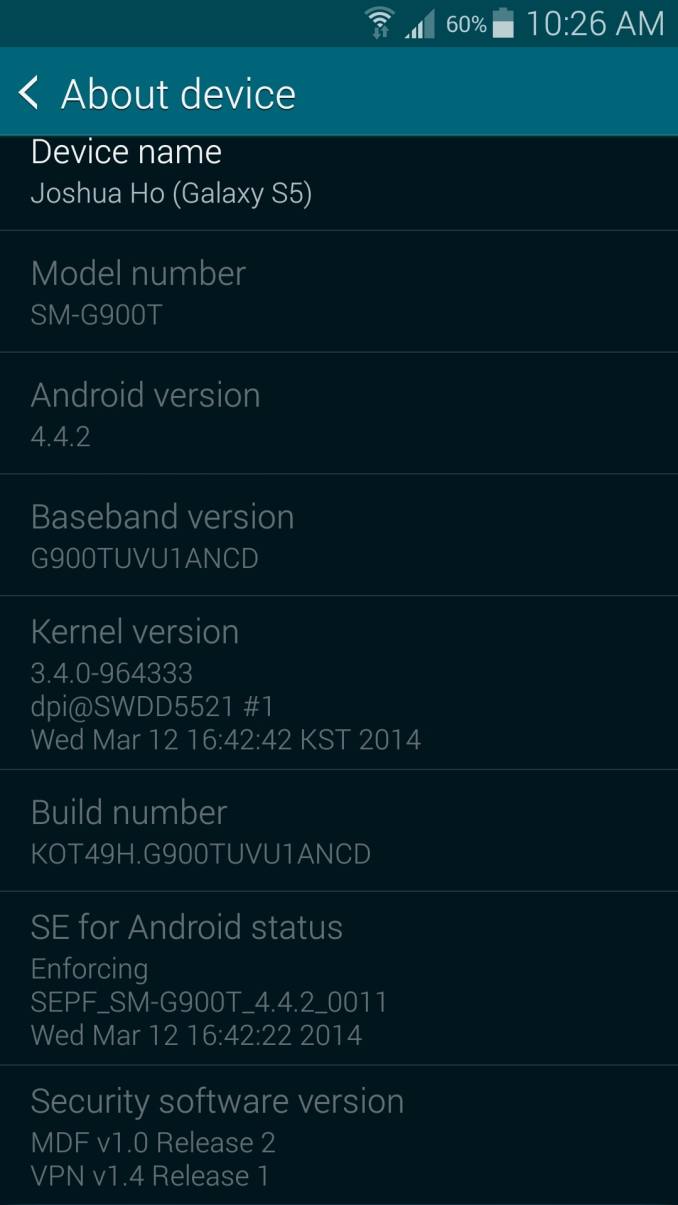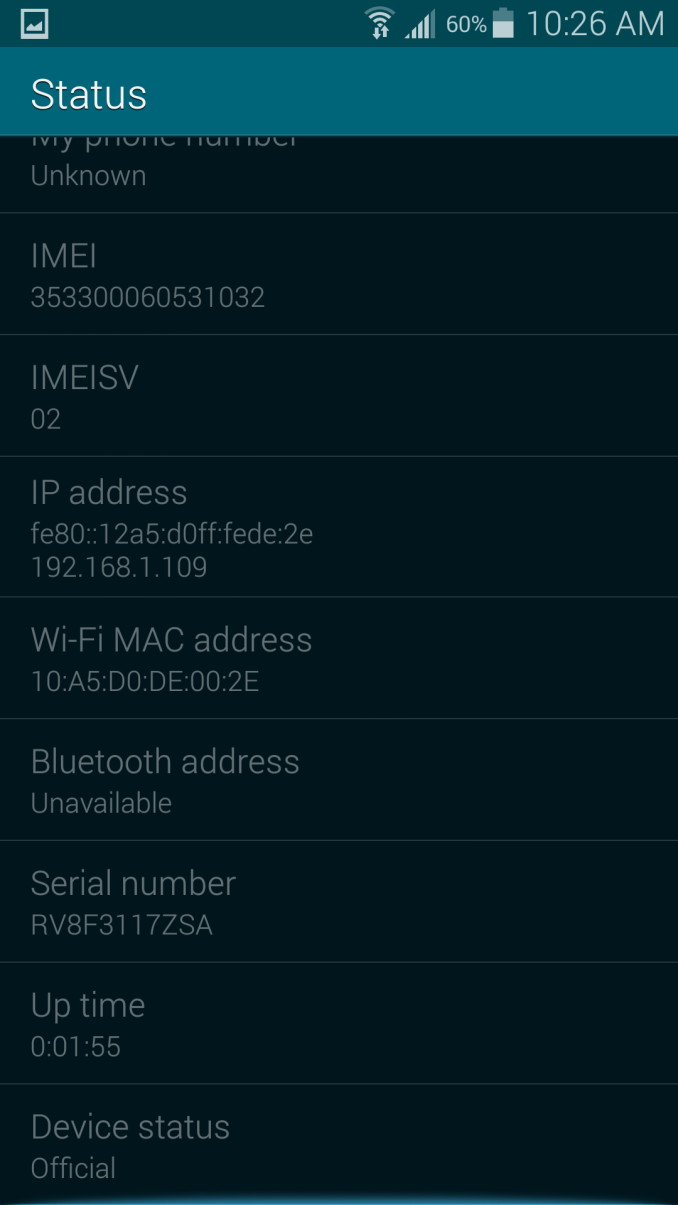 Based upon my own cursory examination, the Galaxy S5 has SEAndroid active, and also has the warranty void flag, although I can't find any evidence within the system that the Galaxy S5 has a locked bootloader. The AT&T and Verizon versions still retain the locked bootloader, and they don't have any outward indication of such a bootloader lock.
Quibbles with the Knox flag aside, Samsung truly has improved TouchWiz. I'm happy to say that they have finally added some level of aesthetic cohesiveness and just about every major application that I tried was noticeably better than before. Previous pain points such as the horrific tab view that effectively made the settings menu impossible to navigate without frustration, the stuttery launcher, and difficult keyboard have been fixed. The keyboard is now usable, and with Swiftkey's prediction engine, I don't actually feel a strong need to immediately replace the keyboard, although I still prefer SwiftKey due to its rather cramped layout from the very large spaces that Samsung has put between the keys, which means the spacebar is incredibly small. The launcher is now smoother than the one I used in TouchWiz 4 on the Galaxy S2, and the settings menu has a much more tolerable grid view by default, although I still find myself preferring the list view, which is thankfully also an option.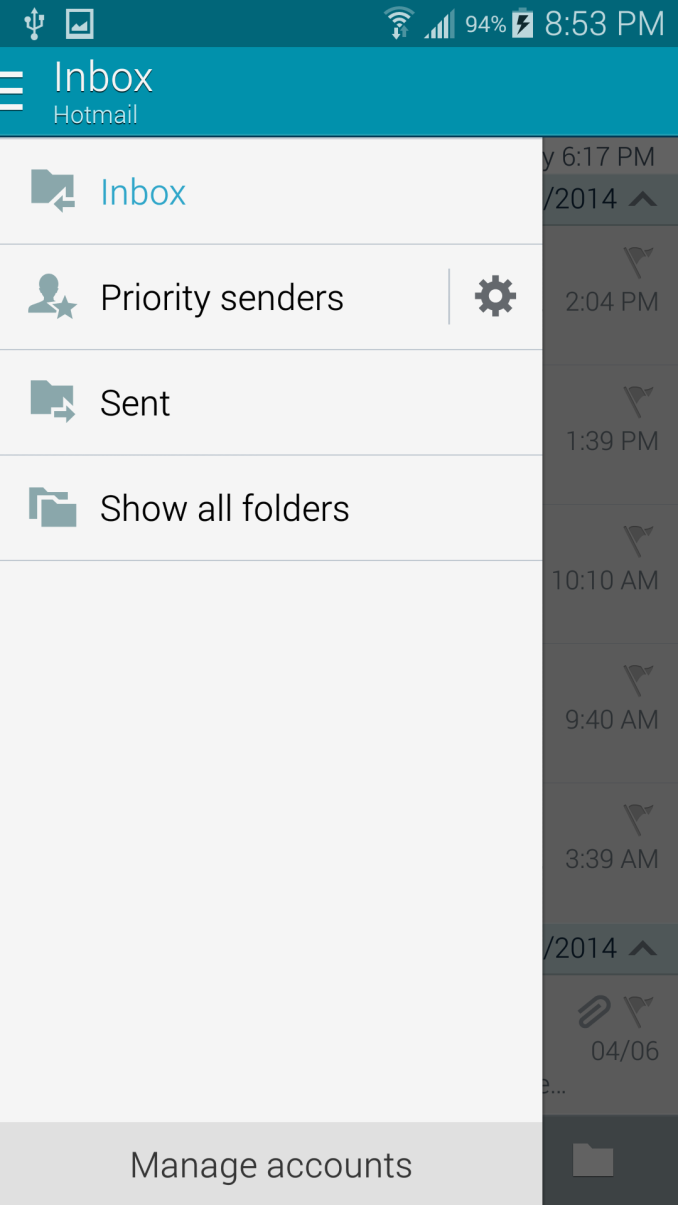 Even the simplest things have been changed dramatically for the better. The multitasking menu as seen below is much cleaner in its aesthetics, and the email application (as seen above) finally looks like it was made for Android 4.0 and newer rather than a port of an email application made for Gingerbread/Android 2.3.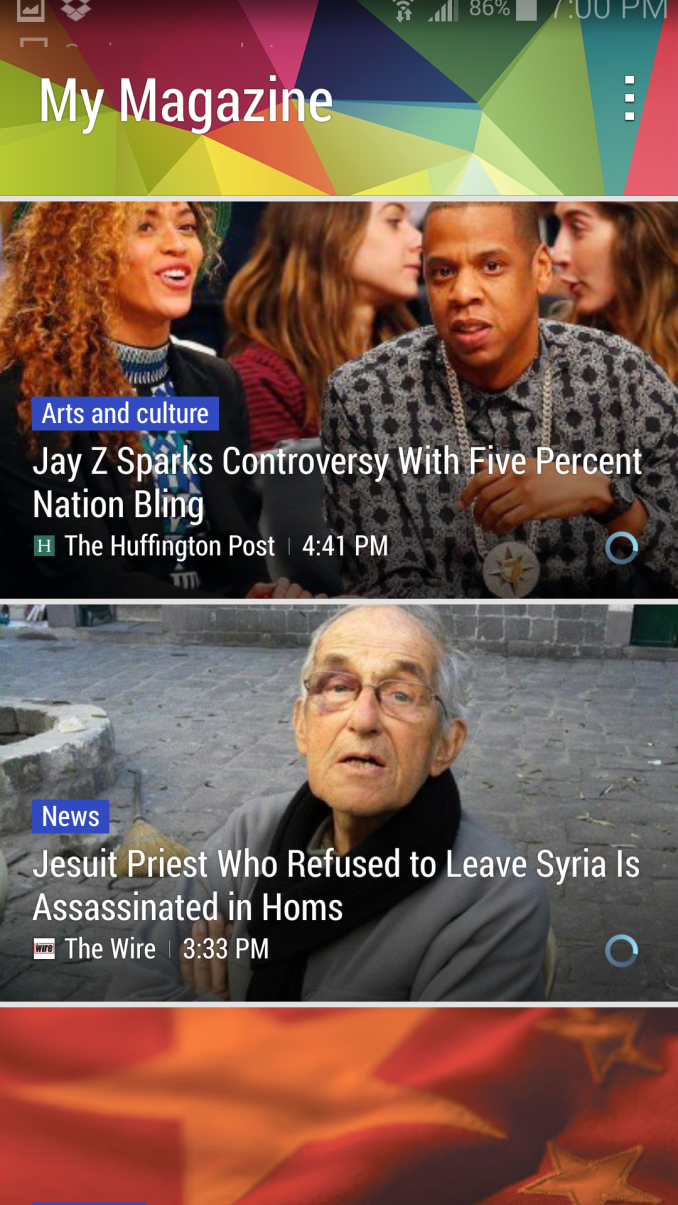 However, in some ways TouchWiz takes a step back. There is still quite a bit of inconsistency with their icon design as some icons retain the old rectangular format while others gain the new circle design and the new launcher. Although the launcher is now smooth and clean in its aesthetics, there's a new homescreen called My Magazine, as seen above. Samsung emulates HTC's BlinkFeed down to the placement of it, which is the left-most homescreen. Unlike BlinkFeed though, it is noticeably more limited in functionality as only a few selected topics can be added with no custom RSS feed capability and it can only show one article from each topic at a glance, rather than providing a feed that can scroll infinitely if desired. Trying to look at more than one article requires going straight into FlipBoard, which seems to be the application that drives My Magazine. It's also quite clear that My Magazine is separate from the home screen because the multitasking menu shows it as a discrete application, and swiping back from the application has a noticeable lag compared to swiping on the homescreens. On the bright side, this can be disabled by going into the home screen settings menu, which is conveniently accessed by pinching on a homescreen to enter the helicopter view, which activates the home screen edit mode. This new view doesn't display all the screens at once, rather it provides a card view of sorts that the user can swipe left and right upon to view all of the homescreens as seen below.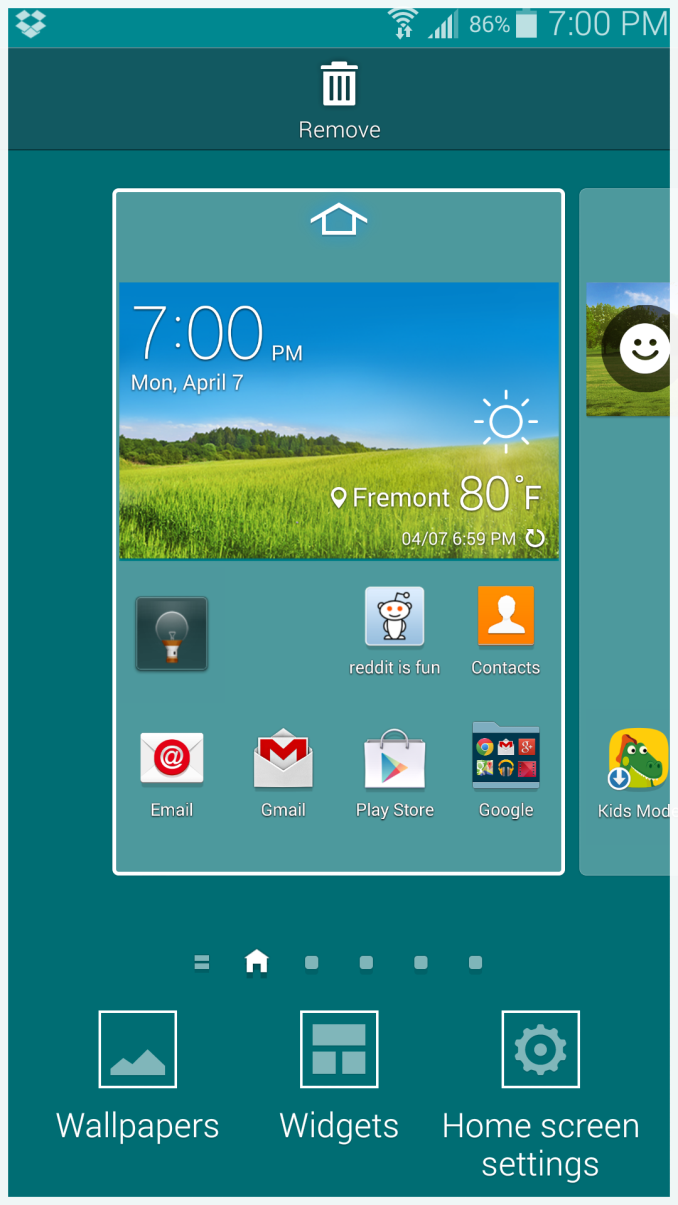 If this sounds familiar, that's because it is. This is quite literally the exact same way that one accesses the home screen edit mode for Sense 5 and 6 on HTC devices. Even the widget panel has been moved from the application drawer to this display.
Samsung has finally brought their user interface up to date, and while there are still improvements to be made (e.g. bringing up the multitasking UI takes way too long), I finally no longer feel like TouchWiz is a negative to Galaxy phones.
Final Words
The Galaxy S 5 is a healthy update to the series. With the Galaxy Note 3's release last year we saw a device that ultimately became the new flagship from Samsung. The GS5 takes the crown back for those users who want a more reasonably sized device.
The GS5 sees upgrades across the board compared to its predecessor. The underlying silicon is both faster and more power efficient. The battery is larger, and battery life has improved dramatically thanks to silicon and display upgrades. Much like the gains we saw with HTC's M7 to M8 transition, anyone who is on a Snapdragon 600 based device today is going to be incredibly happy upgrading to a Snapdragon 801 platform like the GS5.
Connectivity sees a boost with the addition of Qualcomm's envelope tracker and support for carrier aggregation on LTE. The inclusion of 2x2 MIMO 802.11ac brings WiFi performance to a new level with the GS5.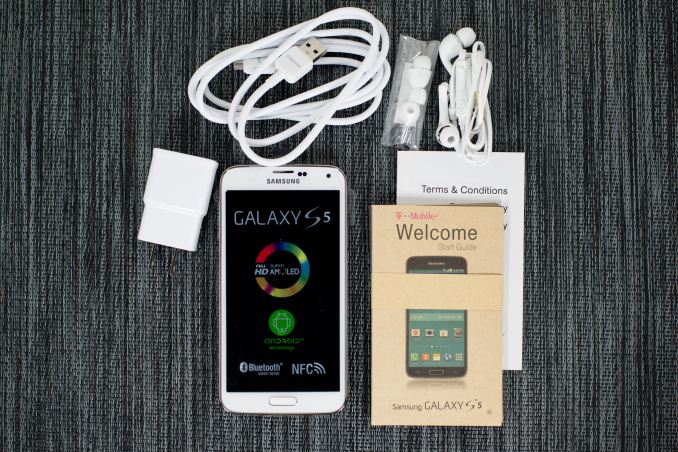 The move to Samsung's own 16MP rear facing camera sensor brings about an increase in spatial resolution, and some improvements in low light performance compared to the Galaxy S 4. I'm not totally sold on the GS5's image processing but the overall camera experience is pretty solid. I would still like to see Samsung move to a slightly lower resolution sensor with larger pixels to provide a more balanced solution. As of now the GS5 is a solid shooter outdoors and with decent light, but indoors and in low light solutions it struggles.
NAND performance is about the only downside to the GS5's hardware upgrade, mainly in that it seems to ignore random read/write performance in favor of sequential gains. Anyone who has followed our SSD coverage at AnandTech should know the issues with this approach.
Display is also dramatically improved from the Galaxy S4. Samsung's AMOLED panels have finally caught up with LCD in most of the key metrics while retaining the key advantages of AMOLED such as infinite contrast and higher power efficiency at lower average picture level.
It's not all hardware upgrades that makes the GS5 what it is. Samsung did an excellent job of cleaning up its UI from the crowded mess that we saw in GS4 to something much more polished. It's not perfect, but a huge step in the right direction. While the GS4 felt more like feature creep for use in marketing materials, the GS5's software is far better executed.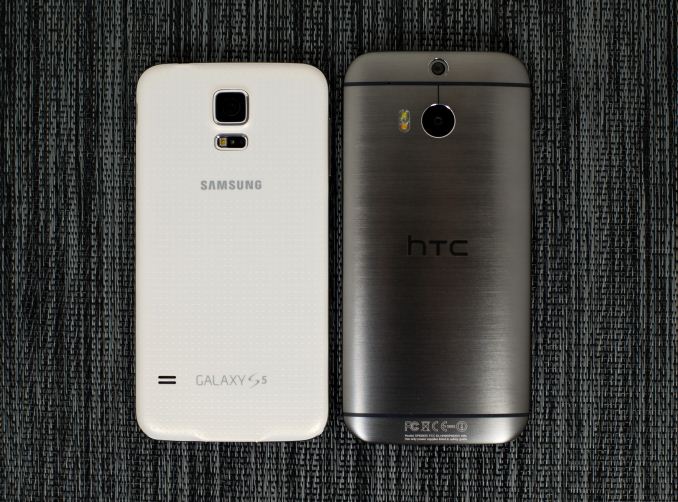 There are even some nifty additions that can come in handy. Ultra low power saving mode is one in particular that seems to have a measurable impact on battery life if you're willing to give up some performance.
Overall the Galaxy S 5 is a solid replacement to the GS4 (and definitely to any previous Samsung device). I find that pretty much all the flagships offer some set of tradeoffs that prevent any one from being the perfect device (iPhone's screen size, GS5's materials, M8's camera). It's unfortunate because I'd really like to crown a single device the king of them all, but instead we're faced with a handful of differing optimization points. Samsung got it almost perfect with the GS5. With a metal body, a rear facing camera with larger pixels (perhaps with some tweaks to camera output processing), a better NAND controller, and stereo front facing speakers, the GS5 would probably be perfect.