Original Link: http://www.anandtech.com/show/7893/the-htc-one-m8-review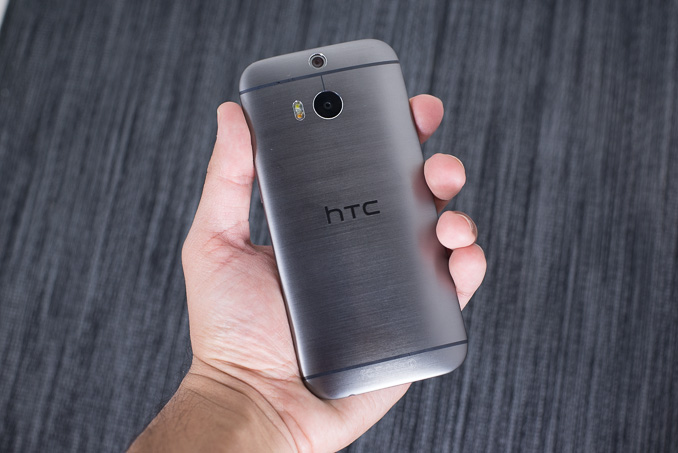 HTC remains one of few Android OEMs insanely focused on design. Even dating back to the origins of the One brand in 2012 with the One X and One S, HTC clearly saw design where others were more focused on cost optimization. Only time will tell which is the more viable long term business strategy, but in the interim we've seen two generations of well crafted devices from what would otherwise be thought of as a highly unlikely source. With its roots in the ODM/OEM space, HTC is one of very few ODM turned retail success stories that we've seen come out of Taiwan. ASUS is the closest and only real comparison I can make.
As its name implies, the goal of the One brand was to have a device that anyone, anywhere in the world could ask for and know they were getting an excellent experience. Although HTC sort of flubbed the original intent by introducing multiple derivatives (One X, One S, One X+), it was the beginning of relief from the sort of Android OEM spaghetti we saw not too long ago. With the One brand, HTC brought focus to its product line.
Last year HTC took a significant step towards evolving the brand into one true flagship device, aptly named the One. Once again there were derivatives (One mini and One max), but the messaging was far less confusing this time around. If you wanted small you got the mini, if you wanted big you got the max, otherwise all you needed to ask for was the One.
With last year's One (codenamed M7), HTC was incredibly ambitious. Embracing a nearly all metal design and opting for a much lower resolution, but larger format rear camera sensor, the One was not only bold but quite costly to make. With the premium smartphone market dominated by Apple and Samsung, and the rest of the world headed to lower cost devices, it was a risky proposition. From a product standpoint, I'd consider the M7 One a success. A year ago I found myself calling it the best Android phone I'd ever used.
It didn't take long for my obsession to shift to the Moto X, and then the Nexus 5, although neither delivered the overall camera experience of the One. Neither device came close to equaling HTC on the design front either, although I maintain Motorola did a great job with in hand feel. Although I found myself moving to newer devices since my time with the One last year, anytime I picked up the old M7 I was quickly reminded that HTC built a device unlike any other in the Android space. It just needed a refresh.
It's been leaked beyond belief, but in case you haven't seen it by now this is the M8, the new HTC One: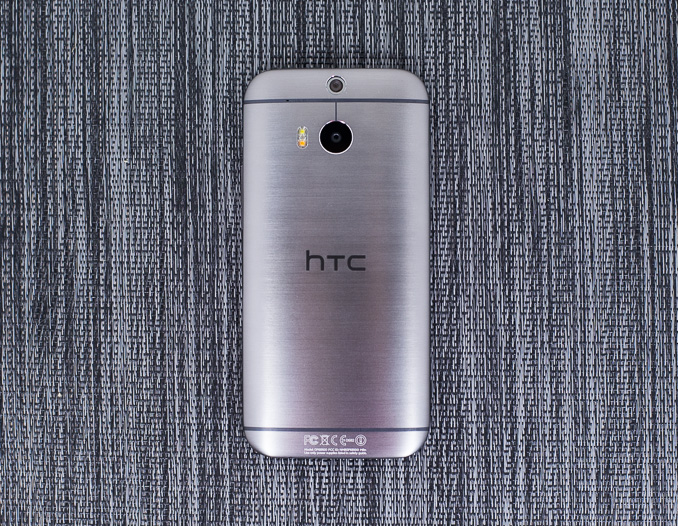 It's taller and slightly wider than last year's model (with a correspondingly larger 5" 1080p display), but all at roughly the same thickness. The all metal chassis is back, but with more metal. If you remove the display and internals, HTC claims the M8 chassis is now 90% metal compared to 70% with the M7. There is a weight impact, but the M8 never feels heavy at 160 grams.
The plastic ring around the M7 is gone, replaced with a single piece of aluminum that curves around the body. With the exception of a strip along the top edge, BoomSound speaker grills and some narrow strips on the back for antennas, the M8 is all metal.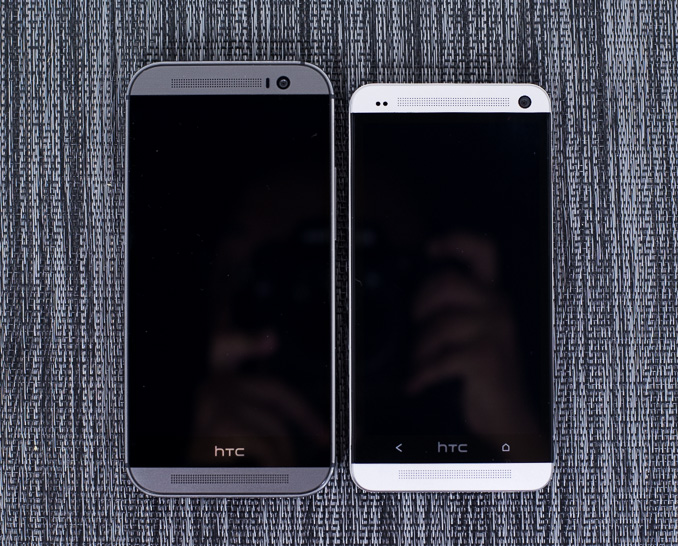 The M8's surface is a bit smoother than the M7, and there's now a nice horizontal brushed effect in the gunmetal gray finish. The device is still every bit as wonderful to hold as its predecessor. The design is different, and overall I'd consider it better. For those who care about material feel and design it's clearly a level above what you see on the market at this price point.
The device will be available in three different colors: Gunmetal Gray (what I was sampled), Glacial Silver and Amber Gold.
HTC also ditched the two fixed capacitive buttons, which was a pain point for some with the M7. Instead we have up to four on-screen buttons at the bottom of the display: back, home, multitasking, and menu as appropriate.
Appearances are meaningless if the device doesn't have the hardware to back it up, and thankfully the M8 is an upgrade almost entirely across the board. I threw the relevant spec differences into the table below:
| | | |
| --- | --- | --- |
| | HTC One (2013) | HTC One (M8) |
| SoC | APQ8064AB 1.7 GHz Snapdragon 600 | MSM8974ABv3 2.3 GHz Snapdragon 801 |
| RAM/NAND | 2 GB LPDDR2, 32/64GB NAND | 2GB LPDDR3, 16/32GB NAND + microSD |
| Display | 4.7" SLCD3 1080p | 5" 1080p LCD |
| Network | 2G / 3G / 4G LTE (Qualcomm MDM9x15 UE Category 3 LTE) | 2G / 3G / 4G LTE (Qualcomm MDM9x25 UE Category 4 LTE) |
| Dimensions | 137.4 x 68.2 x 9.3mm max / 4mm min, 143 grams | 146.36 x 70.6 x 9.35mm max, 160 grams |
| Camera | 4.0 MP (2688 × 1520) Rear Facing with 2.0 µm pixels, 1/3" CMOS size, F/2.0, 28mm (35mm effective), 2.1 MP front facing | 4.0 MP (2688 × 1520) Rear Facing with 2.0 µm pixels, 1/3" CMOS size, F/2.0, 28mm (35mm effective) and rear depth camera, 5MP f/2.0 FFC |
| Battery | 2300 mAh (8.74 Whr) | 2600 mAh (9.88 Whr) |
| OS | Android 4.4 with Sense 5.5 | Android 4.4 with Sense 6 |
| Connectivity | 802.11a/b/g/n/ac + BT 4.0, USB2.0, GPS/GNSS, MHL, DLNA, NFC | 802.11a/b/g/n/ac + BT 4.0, USB2.0, GPS/GNSS, MHL, DLNA, NFC |
| SIM Size | MicroSIM | NanoSIM |
There's a faster (and more power efficient SoC), a larger battery, and a higher resolution front facing camera. BoomSound gets a new amp and better sounding speakers, there's also a new dual color flash and a well integrated micro SD card slot (one that doesn't require a removable back). If you were pleased with last year's One, chances are that you'll be very happy with this one. If, however, you weren't totally sold on the M7's 4MP UltraPixel camera there's a bit of bad news.
The story of last year's One revolved around HTC's decision to use a larger format 4MP camera sensor instead of moving to a higher megapixel sensor with smaller pixels. It was a polarizing tradeoff, but one that was somewhat validated by Apple with its choice of maintaining resolution but increasing pixel/sensor size with the 5s. The most obvious fix for those who had issues with the lack of spatial resolution with last year's One would be to go to a higher resolution sensor, without going as far as Samsung and LG. Unfortunately, without the buying power of a company like Apple, HTC is left to pick from those sensors that are more widely available. In other words, options are limited.
The solution this round was to keep the rear sensor from the M7 (without OIS), and augment it with another rear facing camera module. I'll get to the use of the second sensor in a bit, but ultimately that's the going to be the biggest friction point with the new One. Those customers who were happy with the M7's camera will be pleased this round, but those who wanted a slight bump in spatial resolution will be left wanting more.
Cellular Bands and What's Launching
I'm aware of seven different M8 SKUs launching today. In the US, AT&T, T-Mobile, Sprint and Verizon are all getting the new HTC One. Verizon had immediate availability in stores 2 hours after launch, while AT&T and Sprint were available online the same day. All three operators should have devices by April 11th. T-Mobile is the exception as it won't have the M8 in stores until next month.
Google will be taking preorders for the Google Play Edition of the new One today. Despite shipping with GPE Android, HTC claims the GPE M8 will support Duo Cam via HTC's APIs (perhaps via a modified AOSP camera app?).
As far as I can tell only the AT&T and Google Play Edition SKUs support carrier aggregation. The two SKUs are quite similar from a cellular standpoint, with the AT&T model locking out UMTS band 4 to discourage movement to T-Mobile.
HTC One (M8) Cellular Band Support
FCC ID
Operator/Region Target
CDMA Bands
GSM
WCDMA
LTE
CA
NM80P6B100
EMEA
-
850, 900, 1800, 1900
850, 900, 1900, 2100
3, 7, 8, 20
-
NM80P6B120
AT&T
-
850, 900, 1800, 1900
850, 1900, 2100
2, 4, 5, 7, 17
4+17, 2+17
NM80P6B130
T-Mobile
-
850, 900, 1800, 1900
850, AWS, 1900, 2100
4, 17
-
NM80P6B200
Verizon
800, 1900
850, 900, 1800, 1900
850, 900, 1900, 2100
4, 7, 13
-
NM80P6B700
Sprint
800, 1900
850, 900, 1800, 1900
850, 1900, 2100
25, 26, 41
-
NM80P6B160
Canada
-
850, 900, 1800, 1900
850, AWS, 1900, 2100
4, 7, 17
-
NM80P6B170
Google Play Edition
-
850, 900, 1800, 1900
850, AWS, 1900, 2100
2, 4, 5, 7, 17
4+17, 2+17
With the exception of the Sprint SKU, all of the remaining M8 SKUs feature Qualcomm's QFE11xx envelop power tracker. In addition, all SKUs with the exception of the T-Mobile and Sprint devices use Qualcomm's QFE15xx antenna matching tuner. None of the M8s use the CMOS power amps and it's still too early for the rest of Qualcomm's RF360 platform. Unfortunately this present refresh comes a little too early for Qualcomm's next-generation Category 6 LTE 9x35 modem.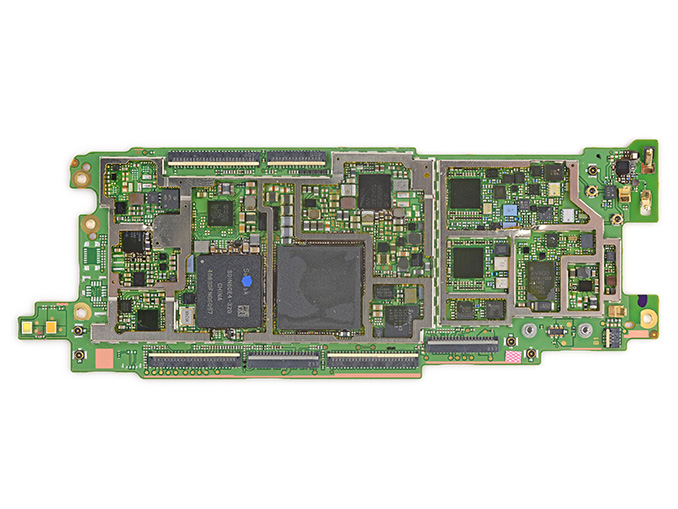 Launching with immediate availability in the US and UK, with other regions following in the coming weeks, is an incredibly difficult feat to pull off. It also helps explain why there were so many leaks leading up to today's launch. The real trick is timing launch availability and sampling so you don't have operator partners spoiling your launch, but that's a challenge for another day.
Inside the One's box you'll find the usual suspects: earbuds, USB cable and charger. New this round is you'll find a simple case in your box. The included case is a no frills design, but it's awesome to find something like that in the box these days.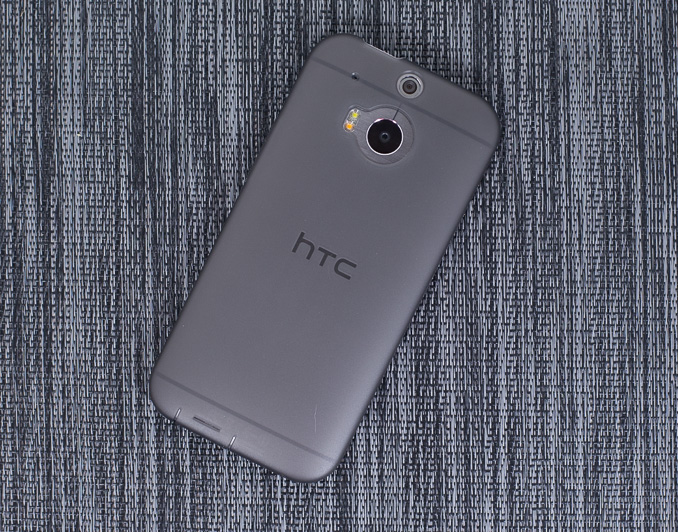 HTC will gladly sell you one of their Double Dip, Flip or new Dot View cases. The former now includes two sets of top/bottom colors with each case. The Dot View case is interesting as it enables some glance usage models, but without an AMOLED display I'm curious about the power impact.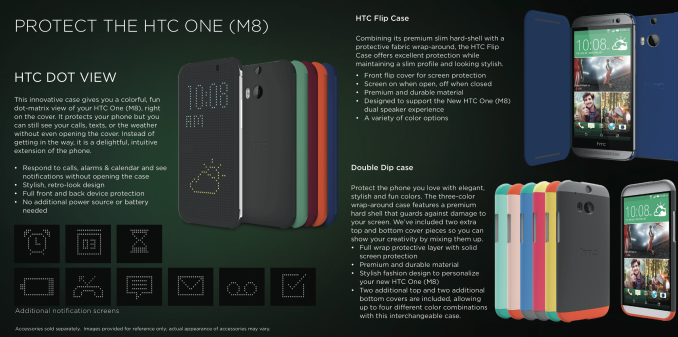 Camera Architecture & Duo Cam
The last HTC phone I used with two rear facing cameras was the EVO 3D. Thankfully the M8 One doesn't fall victim to the 3D fad of the early 2010s. I remember seeing Intel demos years ago (think Moorestown timeframe) that showed a smartphone with two rear cameras, each with a different lens system, in order to computationally improve image quality. Unfortunately, the M8's Duo Cam system doesn't go that far either.
HTC One Cameras
HTC One (M7)
HTC One (M8)
Front Camera
2.1MP
5.0MP
Front Camera - Sensor
OV2722
(1.4µm, 1/5.8")
S5K5E2
(1.12µm, 1/5")
Front Camera - Focal Length
1.59mm
1.83mm
Front Camera - Max Aperture
F/2.0
F/2.0
Rear Camera - Sensor
ST VD6869
(2.0 µm, 1/3")
OV4688
(2.0 µm, 1/3")
Rear Camera - Focal Length
3.82mm (28mm eff)
3.82mm (28mm eff)
Rear Camera - Max Aperture
F/2.0
F/2.0
Secondary Rear Camera - Sensor
-
OV2722
(1.4µm, 1/5.8")
The architecture is pretty simple. The primary shooter is still the 4MP UltraPixel camera from last year, without optical image stabilization (more on this later). The secondary sensor is actually the front facing camera module from the M7 (OmniVision OV2722, 1080p sensor with 1.4µm pixels).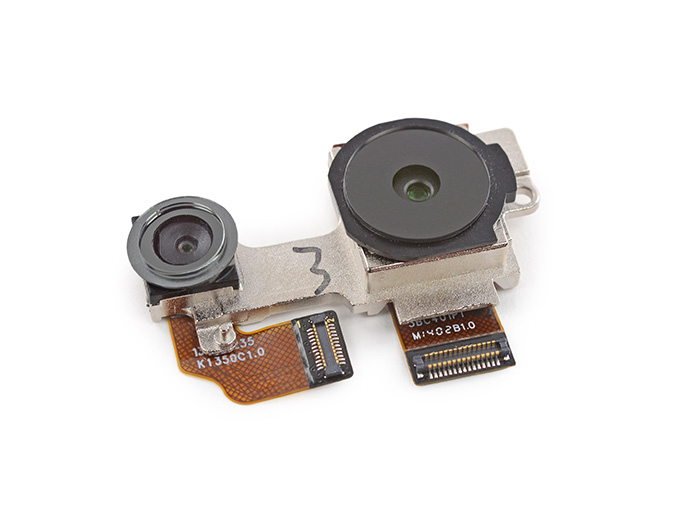 Assuming you're shooting in the right conditions, both sensors capture an image although only the image from the primary sensor is displayed. The second sensor captures what appears to be a wider field of view, as well as stores some depth information about the scene. This added data is stored outside of the normal address space for a JPEG file, and allegedly in a non-readable format (although my guess is with enough time you'd be able to extract the secondary image).
Images captured with Duo Cam enabled end up being around 60% larger than those shot with the rear sensor alone. Around 40% of the added file size is due to the secondary 1080p image, while the remaining 60% of the data is depth information.
HTC uses this depth information to enable a number of post processing effects that can be done on the One itself. Simply take a picture using the rear facing camera, tap edit, then effects and you're presented with a list of all of the Duo Cam effects available on the One.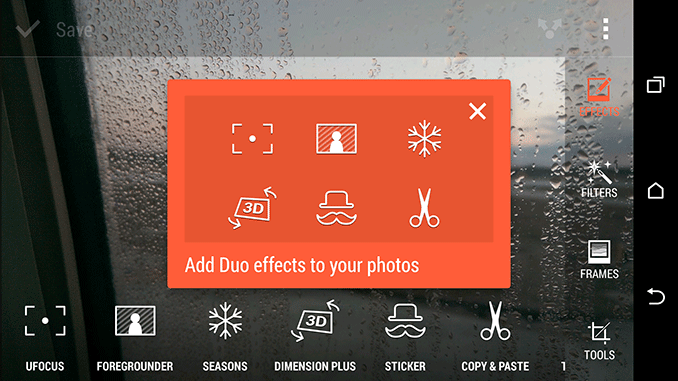 UFocus allows you to change the part of the scene in focus, either using the focus plane of the primary or secondary sensor. This isn't completely open ended where you can selectively focus on anything in a scene. Instead, you're basically toggling between focus captured by the primary or secondary sensor with the rest of the scene computationally put in/out of focus from what I can tell. In portraiture you end up with simulated bokeh, giving you heavily blurred backgrounds while keeping your subject in sharp focus. I was sitting across a table from Scott Wasson at a coffee shop and decided to snap a photo of him. Then I fired up UFocus, tapped on his face, and in about a second I had a processed result. I've embedded both images below, click on the buttons to toggle between the two images: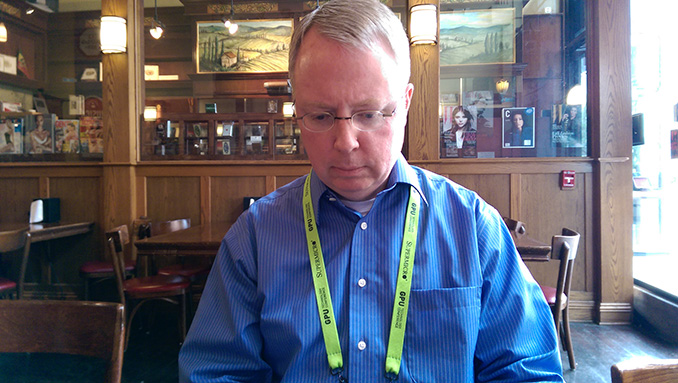 It's an awesome effect, something that would take considerable time in post normally (not to mention time on a PC). You'll notice the effect isn't perfect though. Pay attention to the top of his left shoulder (on the right side of the image). There are clearly some difficulties determining boundaries between foreground and background. Scott then turned the camera on me. With my back to a scene with more depth enabling UFocus around took much longer to process, a matter of a few seconds. The result was even more impressive: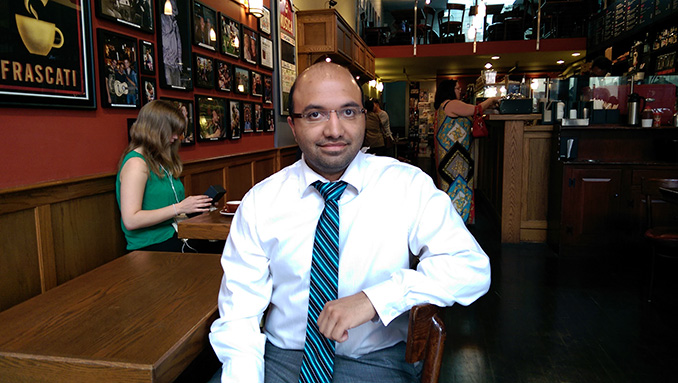 Here I'm clearly separated from the background. You can see some of the limitations of UFocus here as I'm not the only subject in focus. The table to my right is also in focus. It's still impressive, and something that would be very difficult to do with manual editing (without multiple exposures).
UFocus is easily one of the most compelling applications for the Duo Cam. There's no real flexibility with the feature though. Moving focus to the background is basically useless. And you can forget about using UFocus for anything other than a portrait. In most other scenes you end up with awkward focus boundaries.
Foregrounder is a pretty neat effect. Similar to UFocus you select a subject to be the focal point, but instead of blurring the rest of the scene HTC uses the depth information to apply shading effects to the rest of the scene. The result can be pretty dramatic if you're shooting the right scene.
I came across this burrito shop in downtown San Jose, home of the Burritozilla: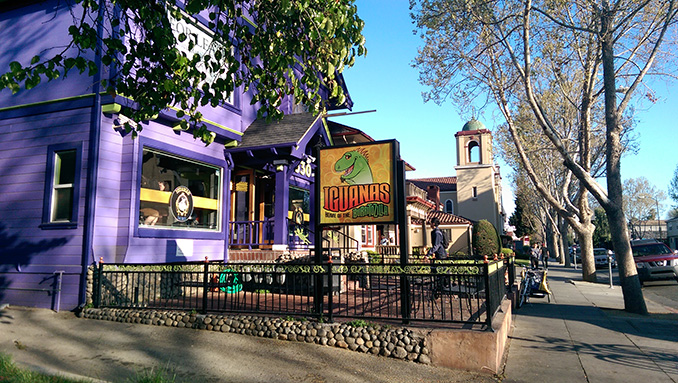 The scene itself made for a great photo, but have a look at what happens when I use HTC's Duo Cam to select the sign and apply an effect to everything physically behind it: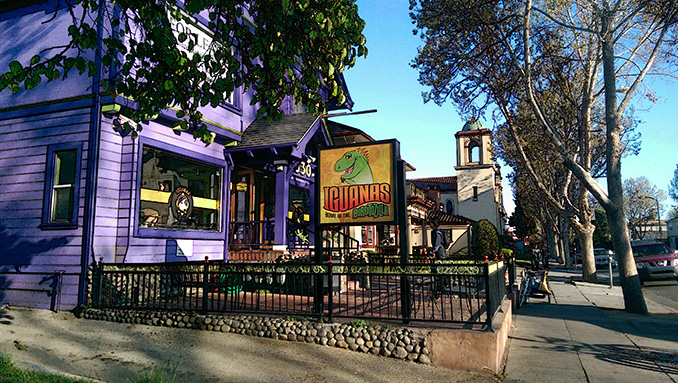 In the right scene the effect can be pretty cool.
Seasons is a bit cheesier although I can see it being quite popular with some folks. Here HTC uses the depth information as well as the image from the second sensor to create a panning effect through a scene while computationally adding in some element of a season (e.g. falling leaves or oversized snowflakes). The effect is best shown off in a video:
Dimension Plus uses the second sensor to enable a parallax effect on a given scene, allowing you to tilt the One in any direction to manipulate the effect. Unlike the other effects, this one can't be easily exported to a video or other commonly used file format.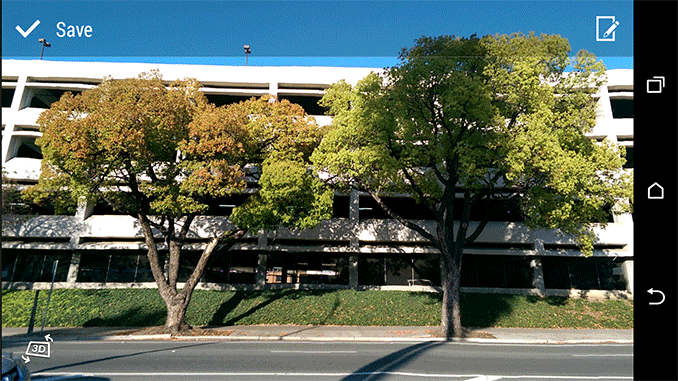 Stickers let you apply props to an image: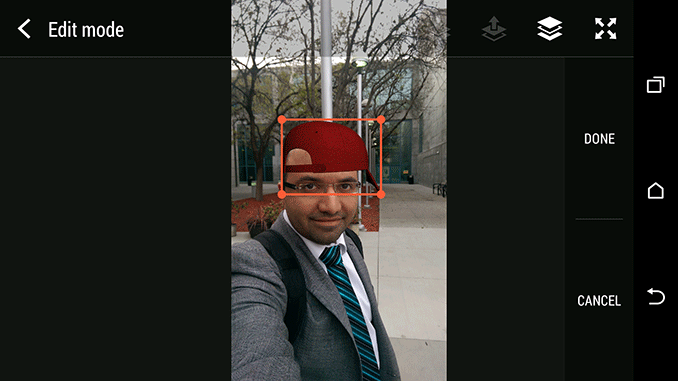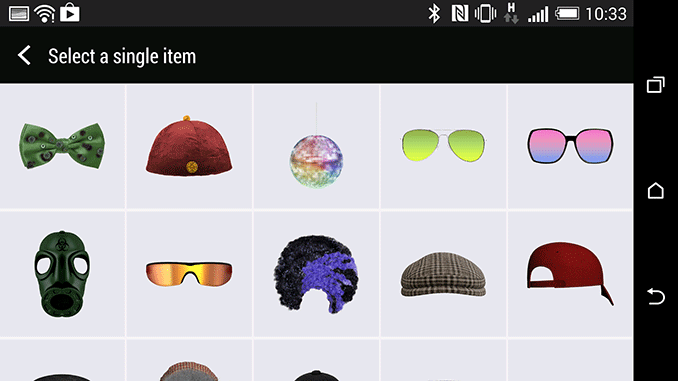 Copy and paste lets you quickly copy a person from one image and paste him/her into another. Even here, HTC is using the depth information captured from the secondary sensor to quickly separate the subject from the background. Typically these types of functions involve the user manually selecting the area of interest, here HTC is using the second sensor and a bunch of compute to do that for you. In practice even HTC's Duo Cam approach requires user intervention, but not a ton if you're fine with sharing an unpolished image. I figure many of these effects have pretty high comedic value, so something that's a little less polished likely isn't a problem.
Applying any of the Duo Cam effects is non destructive to the source image. You can cancel at any time, and hitting save creates a copy of the image - the original always remains intact (images with effects just get a numerical suffix e.g. _2).
There are a number of situations where Duo Cam won't work. If you cover up the secondary sensor you'll get a warning, but you're still able to take shots. I've found the secondary sensor is pretty sensitive to things even partially occluding the image. The less obvious situations where Duo Cam disables itself automatically make sense when you think about the architecture of the setup.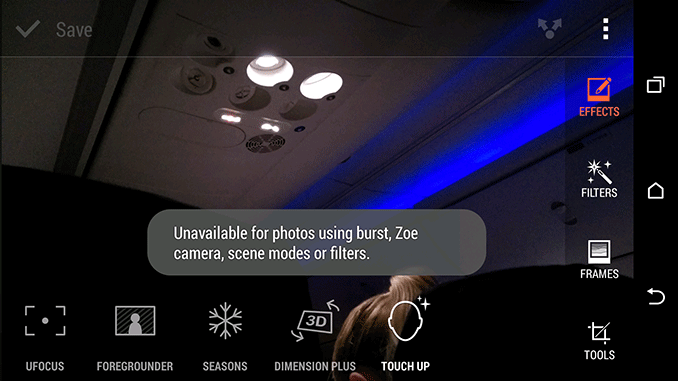 Very low light and macro photography both disable Duo Cam. In the former case you're dealing with a fairly small 1080p sensor that likely becomes useless as noise levels rise. In the latter case, there's just nothing left for the secondary sensor to do. Burst mode also disables the second sensor, probably because all of the ISP's bandwidth is being used for delivering throughput for the primary sensor and can't be split between the two. Dual capture (front + primary rear sensors in tandem) disables Duo Cam, probably for the same ISP limitations. Finally, Duo Cam also won't work if the flash fires.
I can see many of the Duo Cam effects being fun things to play around with. I originally wrote them off pretty early on, but just in writing this section alone I can see them resonating very well with some users. They are fun. The good news is that most of the Duo Cam effects can be shared as simple JPEGs or videos with anyone, the bad news is they don't really do much to further improve image quality. And ultimately that's one of the biggest challenges with using the M8 to further increase marketshare at the high end.
Return of the UltraPixel
As I mentioned earlier, the One's primary camera sensor remains unchanged from last year's model. The M8's primary shooter is a 4MP "UltraPixel" camera with 2.0µm square pixels. As Brian (correctly) theorized last year, there were two sources for HTC's UltraPixel camera: ST (VD68969) and OmniVision (OV4688), the latter being the limited second source. Due to quality control problems with the ST sensor the M8, like later models of the M7, uses the OmniVision sensor exclusively. The entire module is almost identical to what we saw last year in the M7, with one notable exception: it no longer has OIS (Optical Image Stabilization). Dropping OIS was likely due to a combination of cost and performance concerns. HTC's OIS was never quite as good as Nokia for example, and there's surely an impact on yield. I'm curious as to whether or not we'll see it return in a future flagship, but for now the feature is gone.
The impact is obvious. I carried both versions of the One (M7 and M8) and recorded some video while walking around RDU. The lack of OIS has a tremendous impact on image stability while recording a video:
The impact on still photography is also significant, although it's easier to mitigate through tuning of the camera software.
HTC is quick to point out that although the camera sensor and lens system haven't changed since last year's model, they are backed by an improved Qualcomm ISP (Snapdragon 801 vs. 600). HTC maintains the dual-ISP approach with both its own Imagechip and Qualcomm's integrated ISP working to process sensor data. It's unclear just how different the underlying ISP architecture is in Snapdragon 801, however it is considerably faster (930MP/s vs. 320MP/s).
The camera UI has been substantially improved (not that it was bad to begin with). With enough light, the preview appears to be full res, accurate and at a high frame rate. In lower light the preview will drop frames as it attempts to maintain visual accuracy.
A full pass of the autofocus routine should take around 300ms. There's virtually no capture lag as images are dumped directly from a capture buffer to NAND. Burst capture is supported, just hold down the capture button and the One will grab a maximum of 99 frames at a rate of around 12 fps. HTC offers a best shot button that will analyze all 99 frames, determine the best one and delete the rest. You can also use HTC's Gallery to quickly select and delete all photos.
HTC continues to do an excellent job with the software tuning of its camera. The One's auto mode is really good. There do seem to be some tweaks compared to the M7's camera software (above and beyond mitigation for the missing OIS), for example color accuracy is improved on the M8. There's also a new dual flash, similar to what's in the 5s.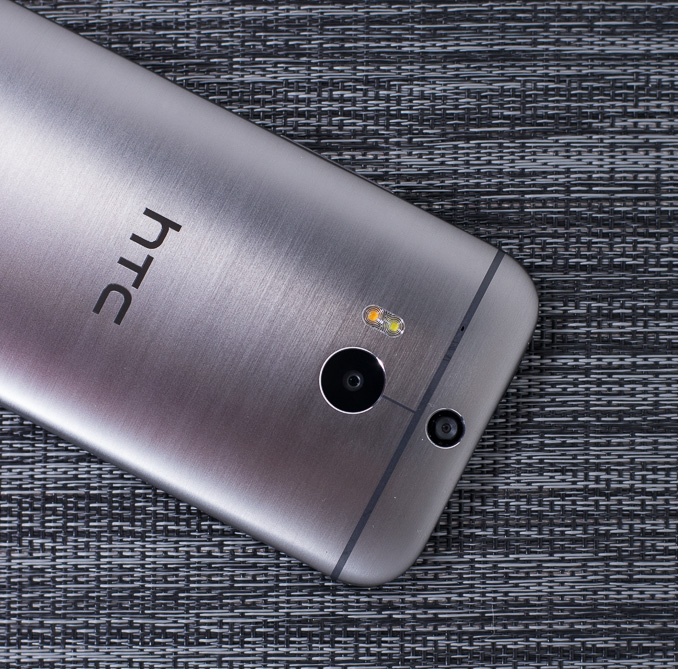 The whole point of HTC's UltraPixel sensor was to capitalize on the fact that most of the time we're taking these ultra high resolution photos on our phones, only to have them reduced to less than 1MP and shared on the web, Facebook or Twitter. If that's your primary use case, the One's camera is really one of the best, most versatile shooters on the market. HTC's 2.0µm square pixels enable great low light performance.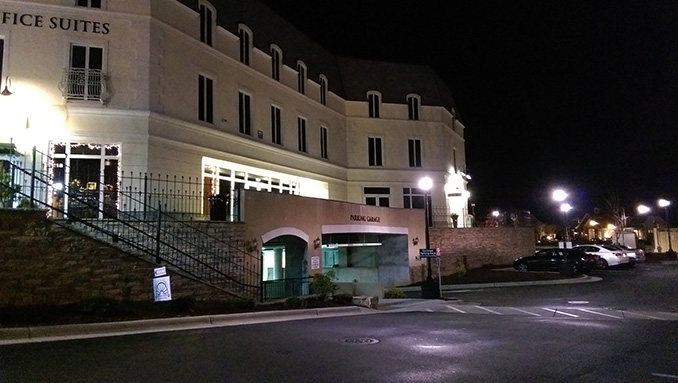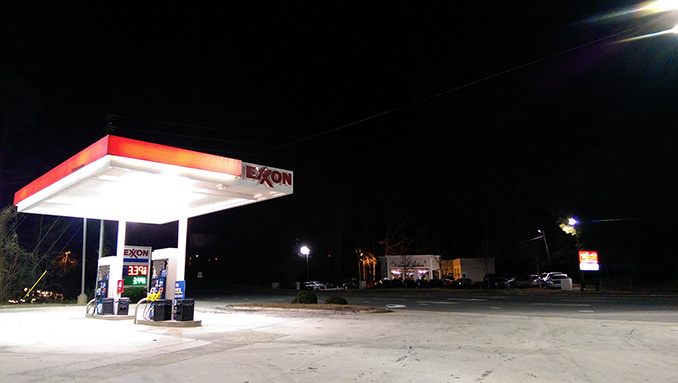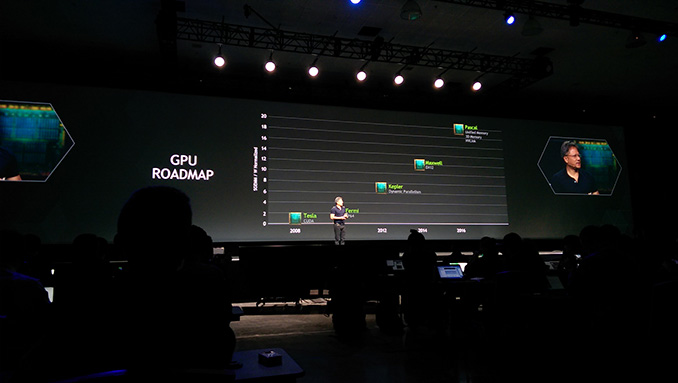 Performance in well lit scenes is also more than reasonable if you're talking about sharing for the web at reduced resolutions: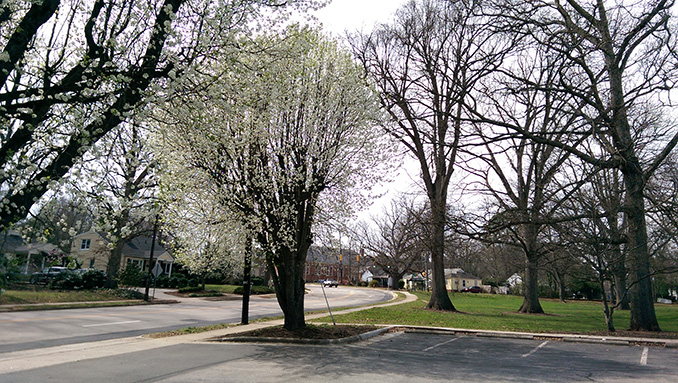 The problem becomes when you start trying to share at full resolution: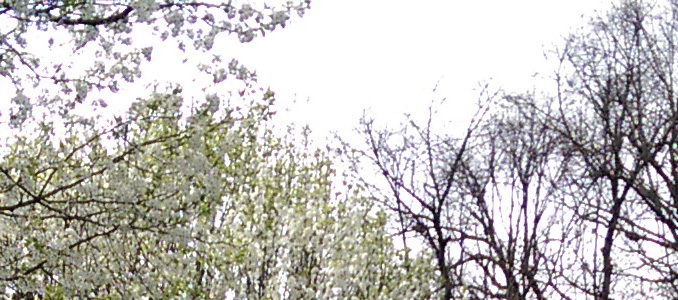 The fact remains that there are more pixels on a 15-inch MacBook Pro's Retina Display than you can get out of the One's UltraPixel camera. On the M8 in particular, you actually get higher resolution shots from the front facing camera than you do out of the rear.
If you look back at last year's coverage of the M7, you'll find large pockets of people who were put off by the sensor's lack of spatial resolution. Unfortunately HTC did nothing to address this weakness with the M8.
One complaint I definitely had about the previous One was its insistence on driving to higher than needed ISO values when in really low light scenarios. I remember being so incredibly pleased with this shot taken with the M7, but having to manually set the ISO to 200 in order to get it.
With the new One, HTC seems to do a slightly better job of choosing ISO levels in auto to begin with. If it goes too aggressive however, HTC now offers an easy way to cap max ISO with an Auto Max ISO setting. Previously the ISO toggle was in the settings menu and only forced a single value, now with Auto Max ISO you can set the absolute maximum ISO level you'd like the camera to use and it'll choose any value up to but not exceeding that.
HTC continues to limit the minimum ISO level to a fairly high value of 100. I'm not entirely sure why this is, but there's definitely a negative impact on performance in scenes with lots of light. Both Apple and Samsung by comparison can go down to much lower ISO values.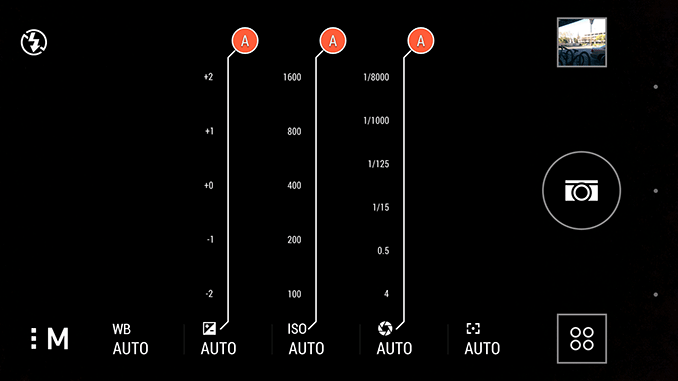 If you need more control over the M8's camera, HTC now exposes full manual controls for ISO and shutter speed, in addition to white balance, exposure and focus point. The UI is reminiscent of Nokia's Camera+ manual controls. Tap on any of the values you'd like to adjust and you'll get a vertical slider. The UI isn't entirely intuitive. Instead of dragging down from the red A (which won't work), you slide up from the bottom or tap directly on the desired value. The manual controls won't hide automatically either, so tap on a few of these things and your camera preview becomes crowded with adjustments.
The biggest problem is that HTC attempts to give you a live preview reflecting the settings you've chosen. Drop shutter speed down too low and you'll get a camera preview that's effectively unresponsive as it updates the display in line with your shutter speed. HTC's head is in the right space though, exposing full manual controls is a great step forward - it just so happens that HTC's auto mode is good enough to not have to rely on them.
The One's HDR mode requires around 2.5 seconds from the moment you capture until it's done processing. The multi-exposure HDR still produces blown out highlights in bright scenes, somewhat defeating the point of HDR photography to begin with.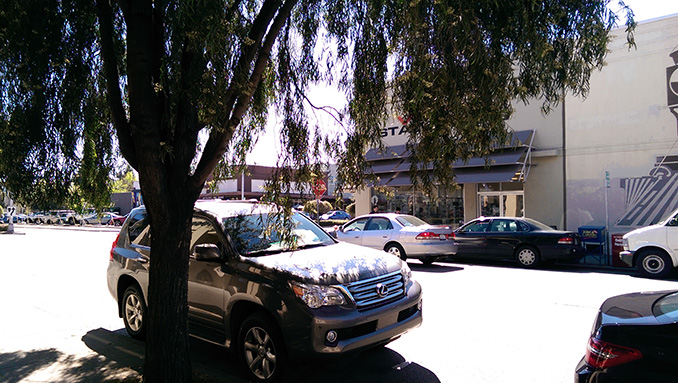 Not all situations are terrible for HTC's HDR mode however. In this setup below, I actually get more detail in the shadows and highlights rather than just one: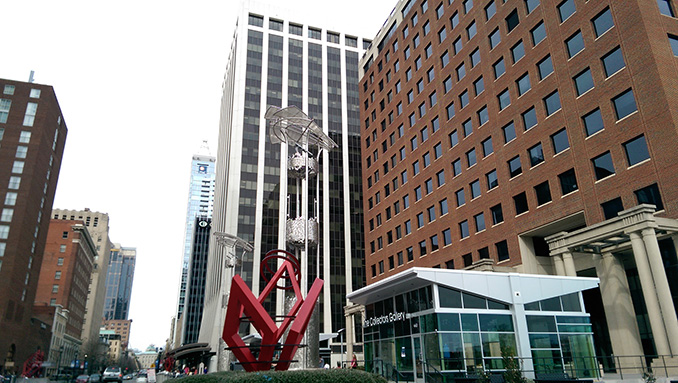 Overall HTC's more aggressive HDR definitely increases detail in the shadows, but often fails to preserve detail in highlights.
Switching between front and rear cameras is a simple downward swipe (and the same to switch again). Switching between other modes is similarly quick by using the new camera selector button in the lower right of the UI. Tapping it will bring up this screen exposing all six modes supported by the camera: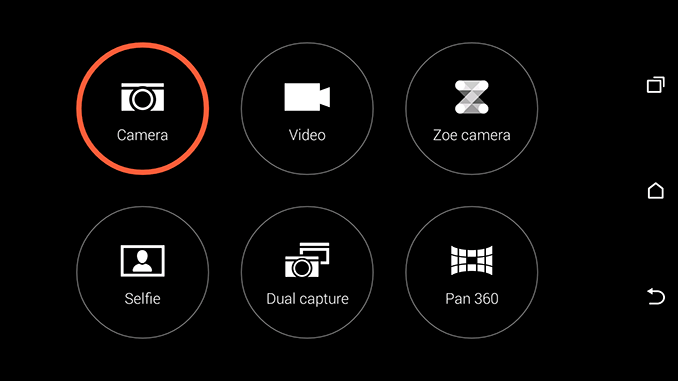 Pretty much all of the modes here are self explanatory, though there are two I want to focus on in particular. HTC's Zoe camera was a big focus of the original One, and it's obviously back here with the M8. Instead of Zoe being an awkwardly placed button on the left side of the camera UI, it's now a separate camera mode.
Just as before, you can use the Zoe camera to capture full resolution stills or 1080p30 video. Tap the capture button and you'll dump a still just like in the standard camera. Hold the capture button down and you'll record a short, vine-like video as well as capture 20 stills in tandem. Unlike Zoe on the M7, the short videos aren't of a fixed length. The M8's Zoe camera records video as long as you have the capture button depressed, and after a short while it'll lock into recording letting you free up your finger. The Zoe experience is much better on the new One.
The M8's Gallery app automatically grabs photos, videos and short videos recorded with the Zoe camera, adds some filters and background music and creates a short 30 second highlight of your event/day. There are a number of predefined themes, but you can also add your own music, select start/end photos and directly control what content appears in the highlight. The real beauty of the feature is that if you don't want to do any of that, you don't have to - the One will automatically put together a highlights reel without any user intervention.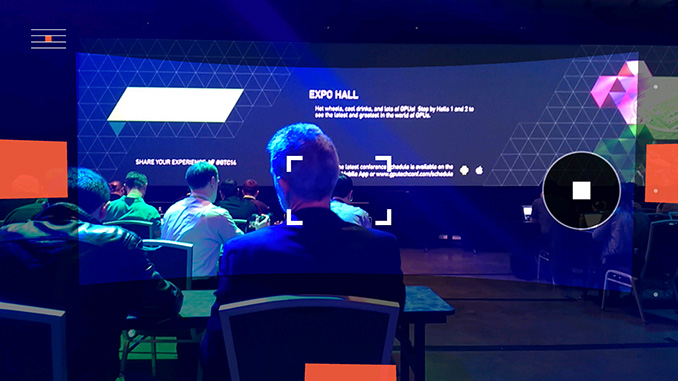 The Pan 360 mode lets you stitch together awesome panoramas with an incredibly easy to use UI. The tool just presents a bunch of red boxes on the display, line up the focus target with each box and it'll automatically capture/move to the next one. You never have to hit the shutter button.

5MP Front Facing Camera
The front facing camera uses a 5MP Samsung S5K5E sensor with 1.12µm pixels. The rear sensor is still capable of better images, but it is sort of funny that the front facing camera has a higher resolution sensor than the primary shooter. It's interesting just how important the front facing camera has become in recent times. Moving to a 5MP sensor on the front of the M8 is something that would've been unheard of not too long ago.
| | |
| --- | --- |
| Front Facing Camera | Rear Facing Camera |
| | |
| | 1520 x 2688 - 2.5MB (1.65MB without Duo Cam) |
Video
Since the rear facing camera only has a 4MP sensor resolution, there's no support for 4K video recording - the maximum supported video resolution is 1080p. The available video modes are: 1080p30 (20Mbps High Profile H.264), 1080p60 (also 20Mbps High Profile), slow motion (720p) pand HDR video.
The camera preview in the video modes is pretty good. I noticed some dropped frames when recording 1080p30 but nothing substantial. The preview window when recording HDR video definitely dropped frames, to the point that it was fairly distracting. The resulting video itself was consistent in frame rate but not smoothly responsive to changes in dynamic range.
Extreme Power Saving Mode
This is a feature that seems to be all the rage these days. HTC now includes support for an Extreme Power Saving Mode that can be manually or automatically set to turn on when your battery reaches 20%, 10% or 5% remaining capacity. In the Extreme Power Saving mode you're locked out from all but five apps (phone, messages, HTC Mail, HTC Calendar and Calculator ). The display brightness is clamped to 170 nits and max CPU/GPU frequency is limited to 1.2GHz and 320MHz, respectively. All four cores remain capable of being plugged in. Background data is also restricted - only SMS/MMS and phone calls will come in automatically. Emails need to be manually refreshed, and all other apps are quit upon entering the mode. The sensor hub is powered down, which disables features like the Motion Gestures and Pedometer.
The Extreme Power Saving Mode features a large, simplified UI. The 5-inch display is evenly divided into large touch targets for each of the five apps as well as a button to exit the mode. The notification shade is disabled as well. You'll still get alerts for things like open WiFi networks, but you'll have no way to join/dismiss them while in this mode.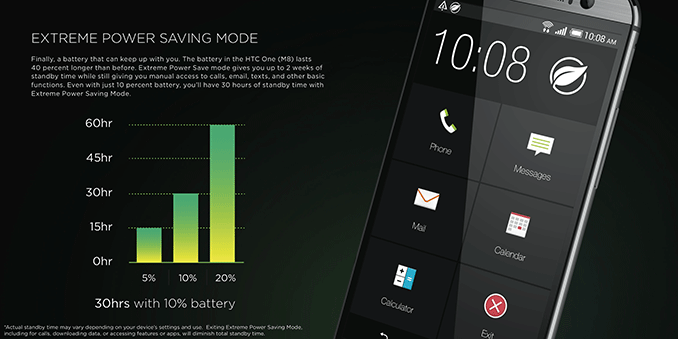 HTC claims up to 15 hours of standby time on the new One when running in Extreme Power Saving Mode (with 5% battery remaining). I still haven't devised a good battery life test for these modes but I plan on measuring screen on standby time as soon as I get an opportunity to do so.
Sense 6.0
More than any other OEM, HTC's Sense UI has continued to be a defining part of its product lineup for better or worse. It's not uncommon to hear the refrain that HTC is wasting its time on Sense and that they should really stop trying to reinvent the wheel and focus upon adding features to an AOSP UI rather than make their own, following in the footsteps of Motorola. While this seems reasonable, historically HTC has done well because of its TouchFLO/Sense UI rather than suffered from it. While modern Android is a relatively well-designed GUI without any skin on top of it, Windows Mobile was effectively impossible to navigate without a stylus and was pretty close to unusable without a UI like HTC's TouchFLO. TouchFLO was a huge selling point at the time because it turned Windows Mobile into something actually usable with a finger. The same also applied to early versions of Android, which were similarly in need of OEM UIs to bring some semblance of usability out of the box and a user interface that was consistent and relatively intuitive.
That leads us to Sense 6, HTC's latest incarnation of their custom UX. If you read nothing else in this entire section, all you need to know is that Sense 6 is one of the most usable OEM UIs on the market, when it comes to UIs that deviate from the AOSP UI style. Of course, once at a certain point it does become a great deal of user preference, but few OEM UIs ever actually reach that point. HTC is launching Sense 6 on Android 4.4.2, so unlike last year HTC isn't launching with a version of Android that's already out of date. With Android 4.4 comes all the caveats that one might expect. HTC has stopped backporting Flash Player to work with the stock browser, the transparent status bar UI is present and fully working, immersive mode also works with supported applications such as YouTube, and the gallery, there's a printing service in the settings menu, microSD now requires system signature in order to have global write access, and for anyone wanting to know more about what has changed in Android OS, I'd refer to Brian's writeup on Android 4.4 in the Nexus 5 review.
Above Android OS is what's truly different between the 2013 and 2014 versions of the One, although Sense 6 should come to the former version if the past is anything to go by. BlinkFeed has been mildly changed, with the clock and weather application removed from BlinkFeed and the entire UI changed from a paginated UI to a free-scrolling one, although the scrolling is noticeably limited in its maximum velocity, presumably to avoid stuttering from image loading. As in Sense 5, tapping the status bar or pressing either the home or back button will return the feed to the top so this isn't a major issue. HTC has added more services and applications, such as real time restaurant recommendations and FitBit fitness tracking to BlinkFeed, and significantly more granularity in the feeds that can be selected in the default topics. As always, it's possible to add custom feeds by searching for a given keyword or by going to an RSS feed in the browser.
Last year, general consensus on BlinkFeed was that it was effectively just another gimmick to try and sell the One, and with the initial release of Sense 5, I was rather inclined to agree. For the most part it didn't really have a lot of useful information floated to the top, but with Sense 5.5 and some of the new additions to Sense 6, I've found that it does serve as a useful aggregator of content when it comes to reading the news. When a feed says "highlights", it's definitely true. Only the major news of the day will show up in the feed, and it really does help to be an effective source of information. The picture-based format helps to also see things at a glance rather than getting bogged down with excessive depth. It's great to also have a visible reminder for calendar events and similar cases where novel information can be floated to the top.
HTC also continues to be one of the only OEMs that seems to be capable of making a keyboard that is usable without being an aesthetic mess. The keyboard in Sense 6 is a mild refresh of the one from Sense 5. The same swipe to the right/left will switch to the number/symbol menu and back, bilingual prediction is also present, along with next word prediction, the trace keyboard, and arrow key toggles. The only real difference here is that the noticeable texture and gradient in the keyboard of Sense 5 is gone and replaced with a flat-color version in Sense 6. The keypress indicator is also changed, with a soft grey glow rather than a blue outline of the key.
The other applications continue to follow AOSP design guidelines while infusing their own unique design, which is evidenced by applications like the dialer, which have Android design elements such as the transparent status bar, pivot bar, and Holo colors, but are clearly different from the AOSP dialer in interface and design. For the most part, the design of Sense 6 is similar to that of the design in Sense 5.x, but made flatter and generally more modern. For example, the accordion-like scroll effects of Sense 5.x are gone, and replaced with a simple bounce-back and flat colors throughout the settings menu. Some areas that proved to be confusing or otherwise difficult to use have been changed as well, such as the app drawer's hidden settings menu that required a swipe down to view. Overall, the UI complements the new One quite well.
Motion Launch
With the M8 and Sense 6.0, HTC enabled a number of motion gestures for waking up the device. All of the motion gestures require that you first pickup the device, you can then turn on the display by double tapping on the screen, swiping up, left or right. A double tap just wakes the phone, swiping in a direction puts you on a particular homescreen. Swiping down launches voice dialing. It's always interesting to me how quickly we see features implemented by one OEM incorporated into other designs. Unlike LG's G2 however, the new One can't use any motion gestures to put the device to sleep outside of the lockscreen. Double tap only wakes the device up (and only after you've picked it up), it won't put the device back to sleep if you actually unlock the phone.
There's a camera launch motion gesture as well: pick up and hold the One in landscape mode, then press and hold the volume down button.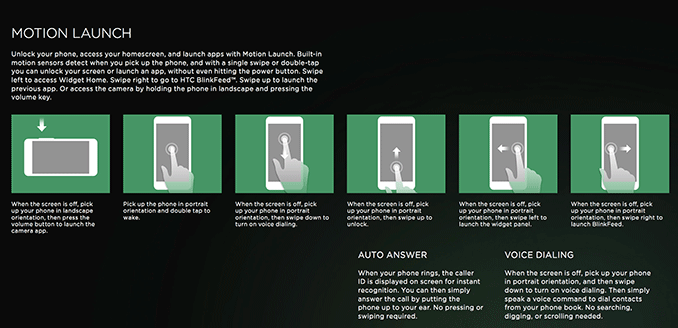 The wake gestures are a nice addition to the One, particularly given how tall the design became this generation. I almost never used the power button to wake the device, instead relying on HTC's Motion Launch.
Sensor Hub
Another feature that's all the rage these days is the inclusion of a discrete sensor fusion hub in any flagship smartphone. These are low power microprocessors that accept and store sensor input without waking up the primary SoC. Apple made a big deal about its M7 coprocessor (a sensor hub sourced from NXP), and HTC joins the fray with the new One.
An obvious fit for HTC's Sensor Hub is using the M8 as a pedometer. HTC will be shipping most of if not all M8s preloaded with the Fitbit app, which is capable of reading and accessing the device's sensor hub. Unlike Apple's M7, the sensor hub in the M8 doesn't appear to always store the previous x-days of data but once you pair the One with the Fitbit app it'll begin tracking. I carried both the One and the iPhone 5s with me and noticed similar step/distance counts between the two devices.
Subtle Cheating: New Benchmark Optimizations
We've been tracking the state of benchmark optimizations among Android OEMs for a while now. It wasn't too long ago that we published a piece calling out nearly all Android OEMs for optimizing for benchmarks. The optimizations are pretty crude. Upon detecting a whitelisted benchmark by APK identifier alone, most OEMs would enable a performance mode that would:
1) Plug in all CPU cores
2) Run all cores at max frequency
3) Raise thermal limits to eliminate/reduce throttling

Defeating the optimization was just as simple: thorough renaming of the benchmark and all internal application IDs. For the past several months we've been working with benchmark, silicon and handset vendors to curb the behavior. Although we found the optimizations to have minimal impact on our test results, it's still a messy practice that isn't worth doing.
We've seen early (encouraging) indications that some vendors have reconsidered their position on benchmark optimizations. Unfortunately HTC isn't quite there yet.
The M8's Android 4.4.2 build includes a new, more subtle form of benchmark optimization that we hadn't seen in previous devices. Benchmarks are still detected according to their application identifier, but instead of hot plugging in all CPU cores and driving them to max frequencies, everything appears to be normal at launch.
Here's the state of the CPU cores after launching the Play Store version of any optimized benchmark: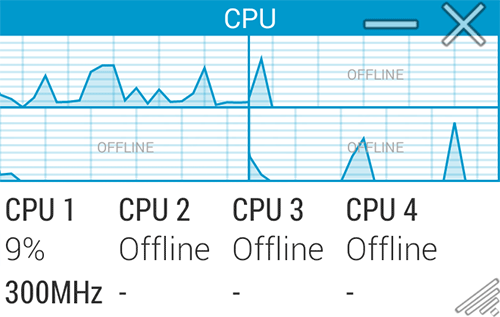 Everything looks just fine. But look at what happens if we monitor CPU frequency over time on the Play Store and a special renamed version of 3DMark: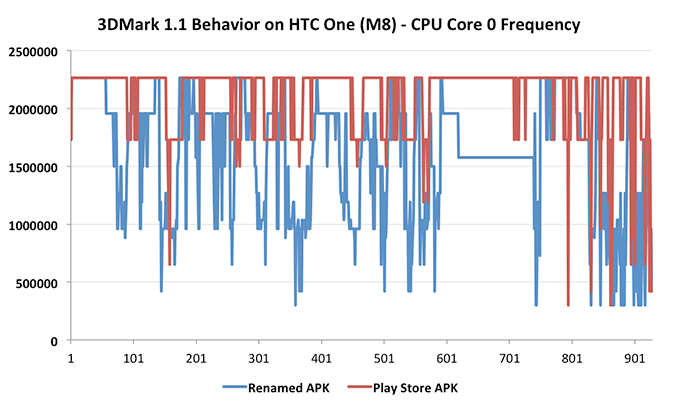 Average CPU frequency is about 15% higher while running the Play Store version of 3DMark. I still need to run some thermal analysis on the device but I don't think HTC is raising thermal limits. Instead what appears to be happening is HTC is simply more aggressively tuning the governor response to performance demands, allowing for higher frequencies. Note that the frequency response latency is now so low that I couldn't even grab the 300MHz screenshot above in the Play Store version of 3DMark. As soon as the device detected a button press it would ramp up to 1.7GHz.
The impact on performance goes hand in hand with the increase in average clock speed. I measured performance during 3DMark's Physics test (which is CPU bound). The difference was about 15%.
I also tracked GPU clock speed over time. Thankfully the optimization seems limited to CPU frequencies alone: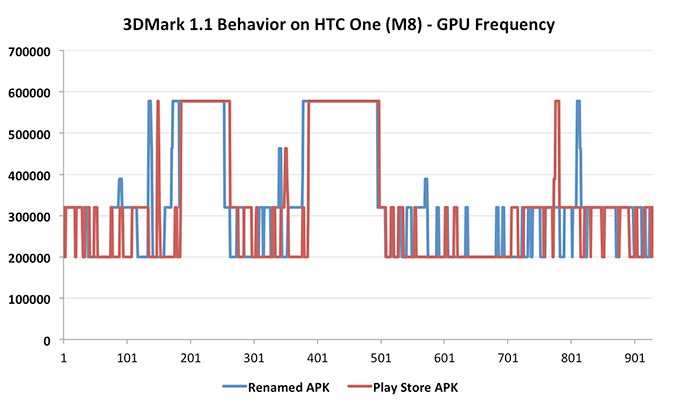 The list of optimization targets has also expanded since we last looked at HTC. The latest versions of GFXBench, BaseMark X and BaseMark OS II are now included in the benchmark whitelist.
HTC made one small concession - it's allowing users the ability to run their device in this high performance mode at all times. Under developer tools (tap on the build number 5 times in Settings > About > Software information > More), you'll find an option to enable high performance CPU mode. Checking that box will put your device in the same mode that's enabled when a whitelisted benchmark is detected.
I do appreciate that HTC is exposing the optimization control, the only thing missing is the ability to toggle the benchmark optimization off (not to mention that I'd prefer if it was disabled to begin with). I fear that HTC's justification in all of this is that everyone else is doing it so why opt out. The reality seems to be trending the other direction however. We'll have to see what Samsung does with the Galaxy S 5, but I have a feeling that HTC is going to end up on the wrong side of history with this move. All of our benchmarks are already immune to the optimization, so it's really a matter of sacrificing integrity for no real gain. There's nothing more to say other than I'm disappointed.
Snapdragon 801 Performance
The M8 is the first smartphone we've tested to use Qualcomm's newly announced Snapdragon 801 SoC. At a high level the 801 is a frequency bump enabled by a 28nm HPm process push, giving it a tangible increase in performance (and potential decrease in power consumption) compared to the outgoing Snapdragon 800. The table below compares the 801 variants to the Snapdragon 800:
Snapdragon 800/801 Breakdown
SoC Version
Model
Max CPU Frequency
Max GPU Frequency
ISP
eMMC
DSDA
Memory IF
MSM8974VV
v2
S800
2.2GHz
450MHz
320MHz
4.5
N
800MHz
MSM8974AA
v2
S800
2.3GHz
450MHz
320MHz
4.5
N
800MHz
MSM8974AB
v2
S800
2.3GHz
550MHz
320MHz
4.5
N
933MHz
MSM8974AA
v3
S801
2.3GHz
450MHz
320MHz
5.0
Y
800MHz
MSM8974AB
v3
S801
2.3GHz
578MHz
465MHz
5.0
Y
933MHz
MSM8974AC
v3
S801
2.5GHz
578MHz
465MHz
5.0
Y
933MHz
In most parts of the world the M8 will ship with a 2.3GHz Snapdragon 801. In Asia/China however we'll see the 2.5GHz MSM8974AC v3 SKU instead.
Compared to the outgoing Snapdragon 800, peak CPU performance shouldn't increase all that much. What we may see however is an improvement in power efficiency thanks to the improved 28nm HPm process.
It's really the GPU that will see the largest increase in performance. With a maximum speed of 578MHz and paired with faster LPDDR3-1866 memory, we should see up to a 30% increase in GPU bound performance over Snapdragon 800 designs.
- Physics
Snapdragon 801 vs 800 vs 600
HTC One (M8) - Snapdragon 801
Google Nexus 5 - Snapdragon 800
HTC One (M7) - Snapdragon 600
801 vs 800
801 vs 600
SunSpider 1.0.2
772.8 ms
686.9 ms
1234.8 ms
-12%
+37%
Kraken Benchmark 1.1
6745.2 ms
7245.9 ms
12166.5 ms
+7.4%
+45%
Google Octane v2
4316
3726
3103
+16%
+39%
WebXPRT Overall
373
392
244
-5%
+53%
AndEBench - Native
17430
17480
12381
-1%
+41%
3DMark 1.1 Ultimate
19631
17529
10519
+12%
+87%
3DMark 1.1 Ultimate - Physics
50.5
51
33.1
-1%
+53%
Basemark X 1.1 - HQ
12194
11275
4807
+8.1%
+154%
GFXBench 3.0 - Manhattan Onscreen
11.1 fps
9.3 fps
5.1 fps
+19%
+118%
GFXBench 3.0 - Manhattan Offscreen
10.4 fps
8.7 fps
4.4 fps
+20%
+136%
GFXBench 3.0 - T-Rex HD Onscreen
29.9 fps
24.3 fps
12.6 fps
+23%
+137%
GFXBench 3.0 - T-Rex HD Offscreen
27.9 fps
22.9 fps
12.6 fps
+22%
+121%
CPU Performance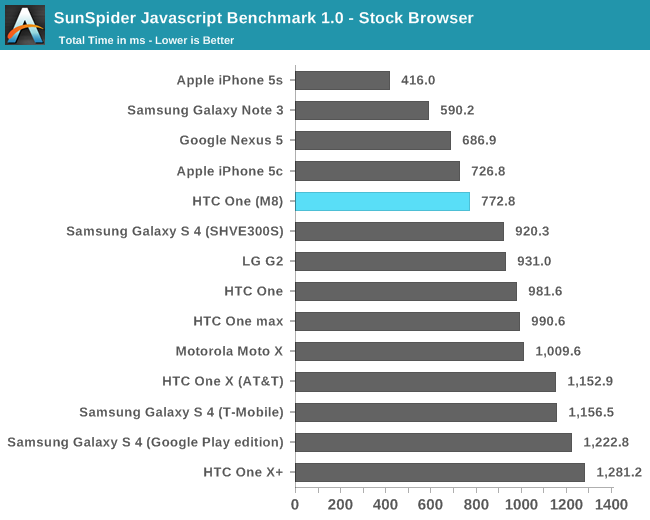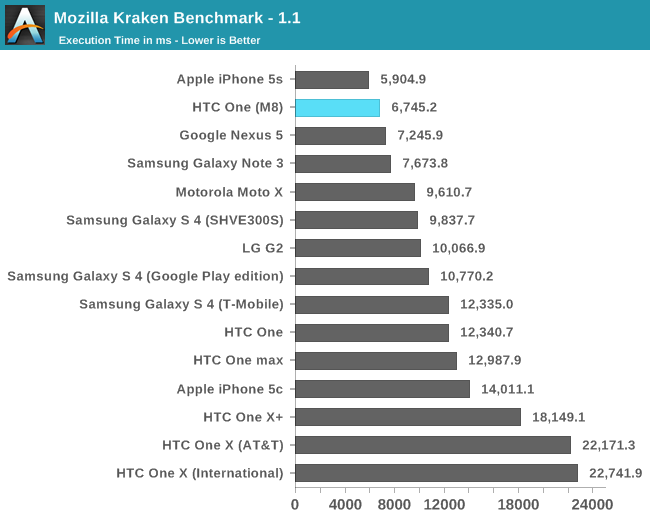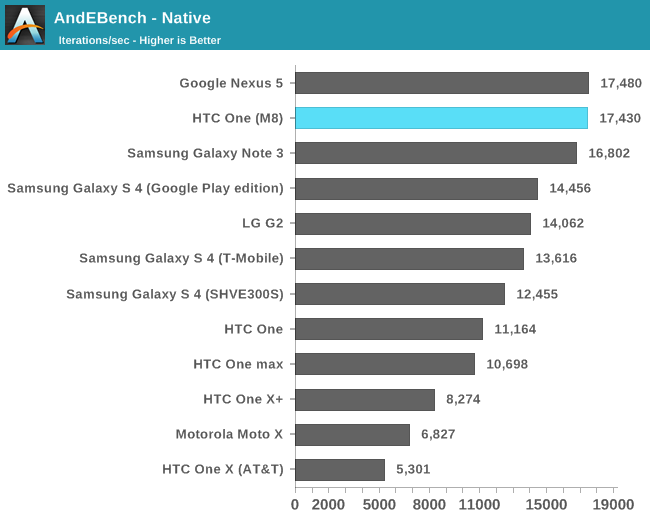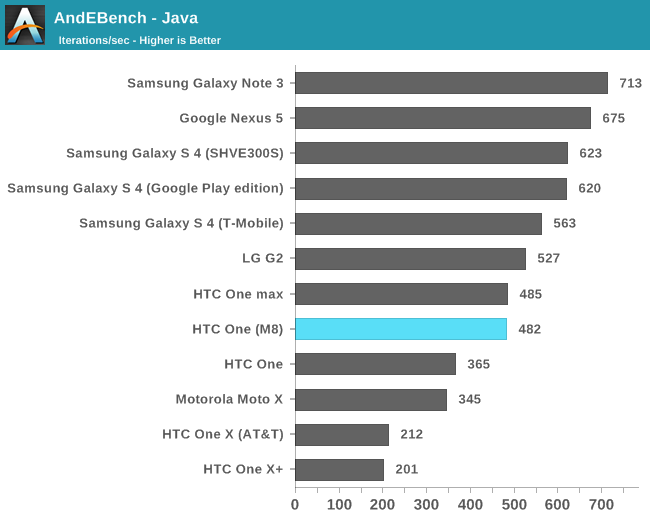 GPU Performance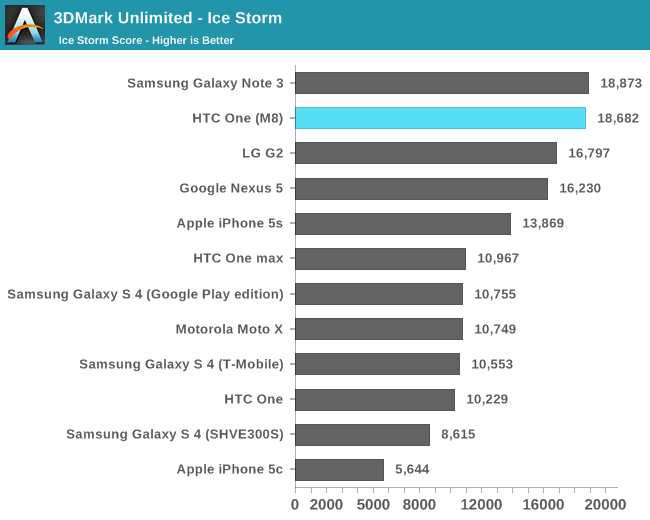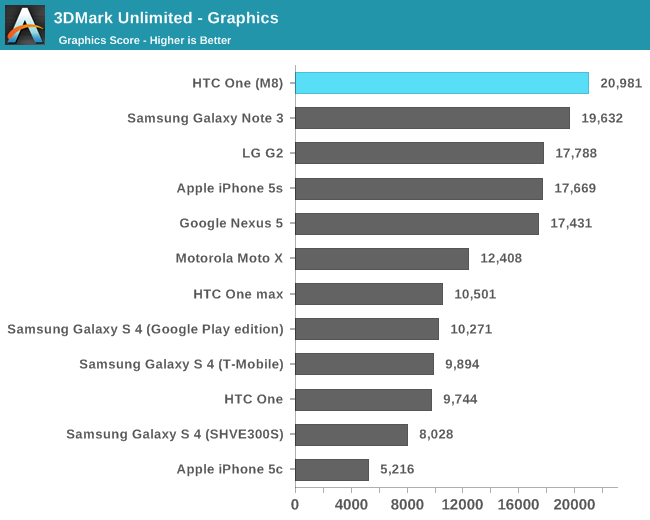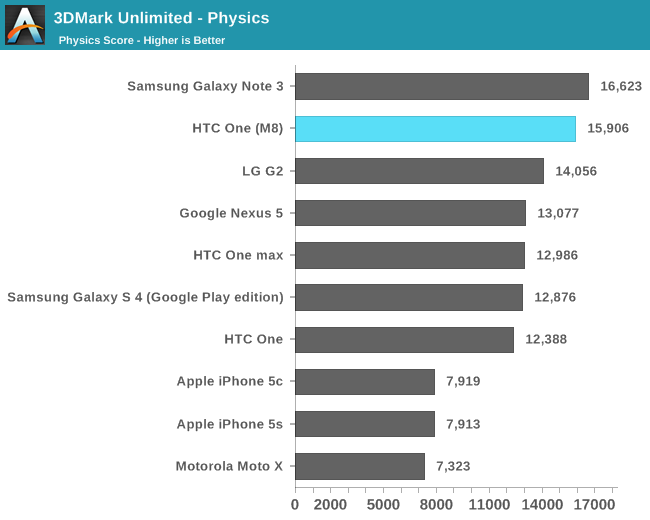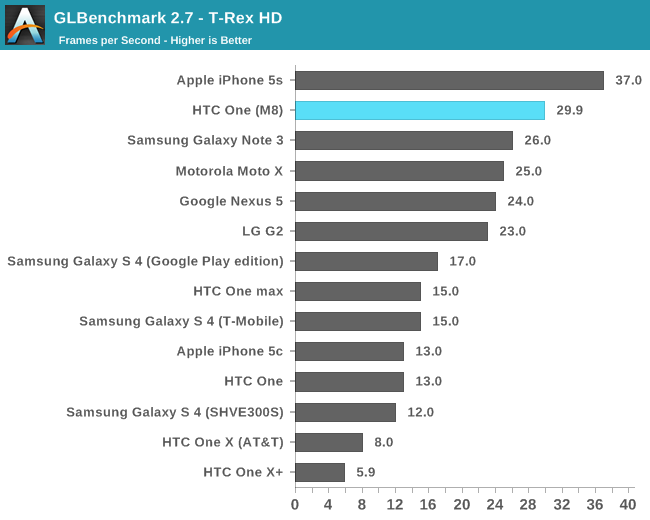 NAND Performance
The One is available in either 16GB or 32GB configurations, there are no higher capacity versions offered. There is now a micro SD card slot on the right side of the device, just above the volume rocker.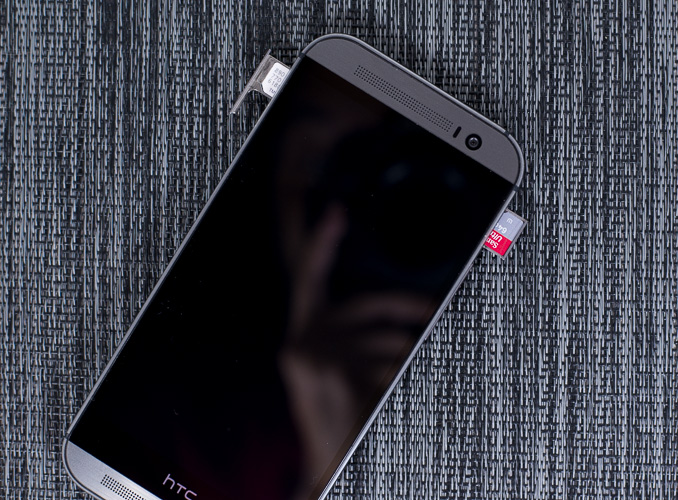 Despite using a Snapdragon 801 SoC, the internal storage is still an eMMC 4.5 solution.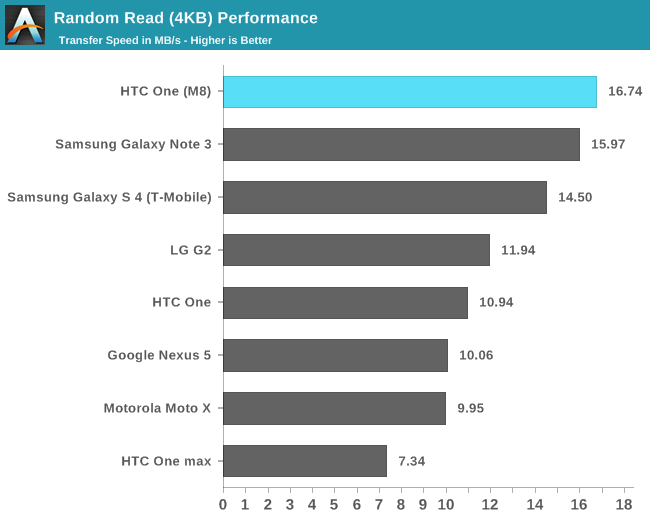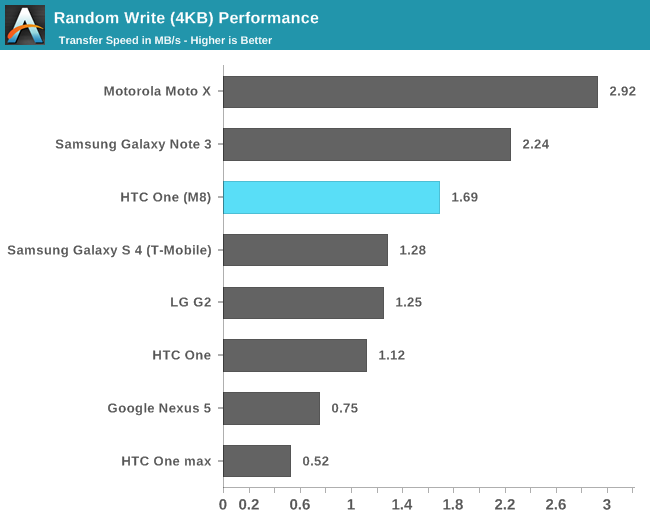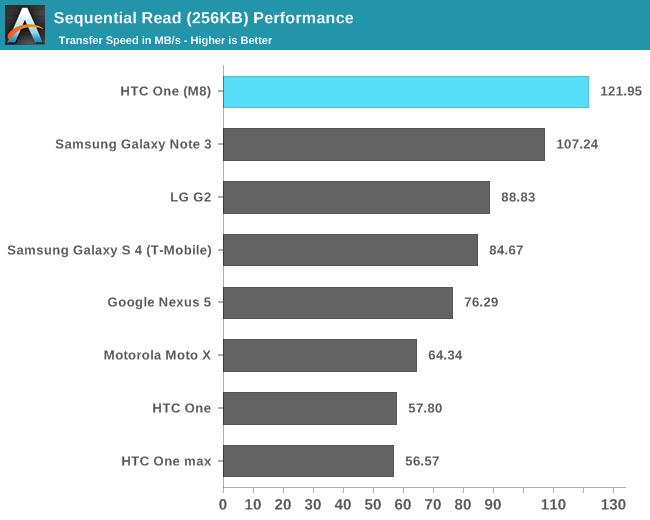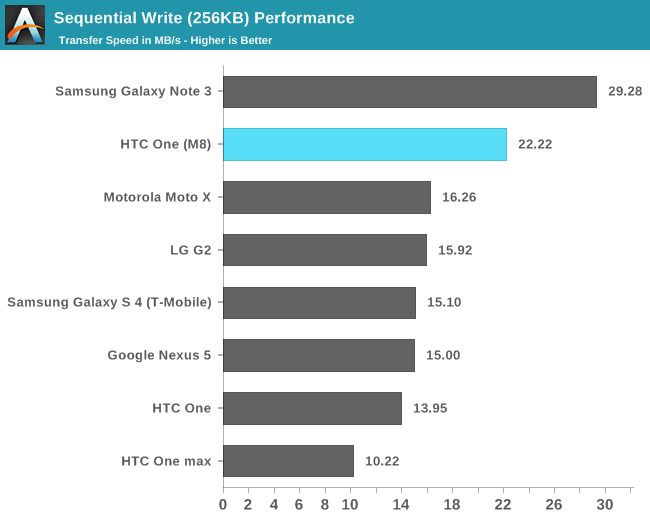 Battery Life
The new One features an integrated 3.8V 2600mAh battery (9.88 Wh), a 13% increase in capacity compared to the previous model. The battery comparison isn't that simple however. The M8 has a larger display (5" vs 4.7") but it also has a higher performing and more power efficient SoC (Snapdragon 801 vs. 600). To find out how the new One stacks up against its predecessor, we turn to a mix of old and new battery life tests to help better characterize the device.
We'll start with our standard browser based battery life tests. Keep in mind here these tests are as much about replicating a particular CPU profile as they are about loading specific web pages in order.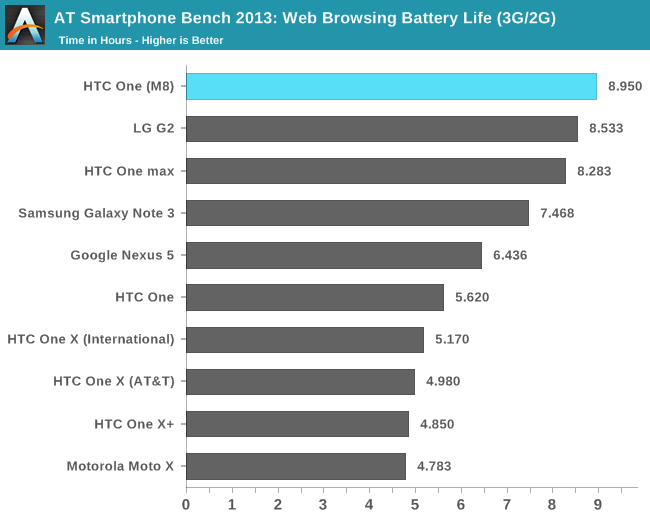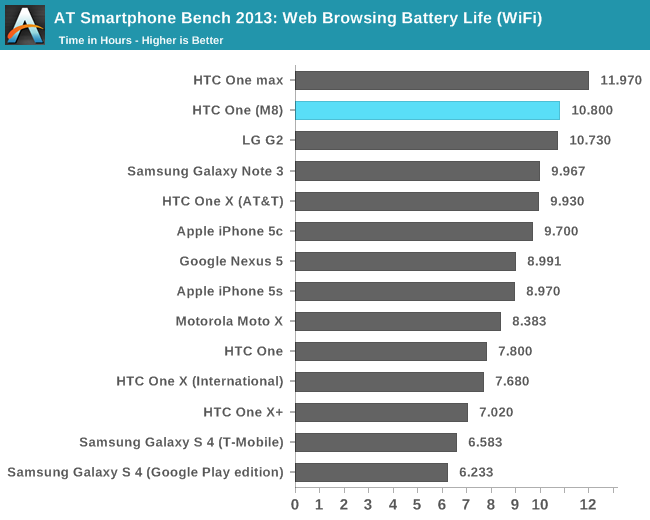 We saw a substantial gain in battery life with Snapdragon 800, and 801 extends that even further. For the same, relatively light (yet constant) workload, the M8 improves battery life over the M7 by as much as 71%. On WiFi the advantage drops to only 38%, but we're still talking about absolutely huge generational gains.
A constant workload is only one part of the story though. More often than not, when you're faced with faster compute you end up doing more. To see what the other extreme of battery life looks like I turned to two canned tests: BaseMark OS II and GFXBench 3.0.
I ran both of these tests under the same controlled conditions we always use, with all displays calibrated to 200 nits. BaseMark OS II runs through a bunch of CPU and storage benchmarks (basically the same tests used for the BaseMark OS II system and memory tests), as fast as possible, until the battery dies.
I like this benchmark as it gives us an indication of worst case battery life if you're absolutely hammering the CPU (and storage) relentlessly.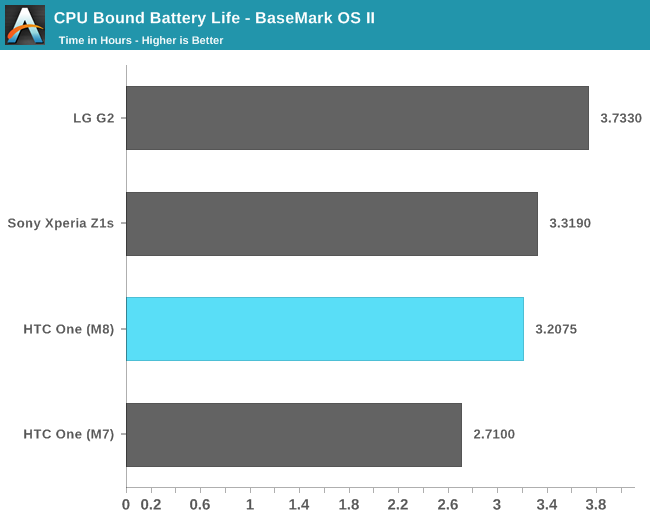 Despite the faster CPU cores, the M8's battery life actually goes up compared to M7. Here we're really seeing the benefits of 801's updated 28nm HPm process compared to the Snapdragon 600's 28nm LP process.
GFXBench provides a similar test, with effectively uncapped performance (on today's devices at least since we're not hitting v-sync limits), but stressing the GPU instead of the CPU. Here we're running the T-Rex HD benchmark, onscreen, until the battery dies.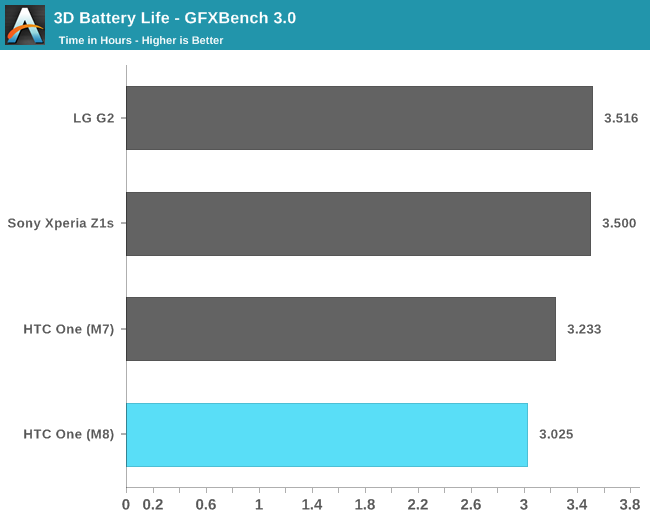 This is the first and only test we've got here that shows a regression in battery life compared to M7. The M8 loses about 6% of runtime compared to the M7, despite having a larger battery. Now look at what happens if we look at performance at the end of the run: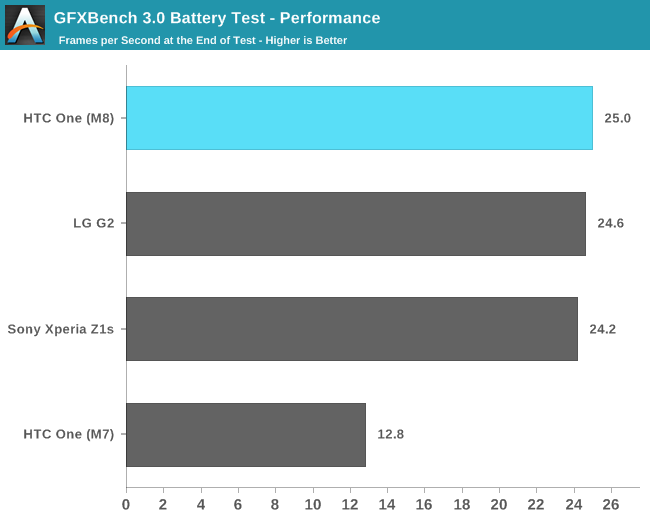 Now the M8's battery life regression doesn't look so bad. You give up 6% of runtime but you get almost twice the performance compared to M7. Snapdragon 801 is just a huge upgrade compared to 600.
Charge Time
The M8 features a Qualcomm Quick Charge 2.0 enabled PMIC, which enables faster battery charge times through higher voltage charging. Unfortunately the in-box wall adapter is only Quick Charge 1.5 compliant so you'll only pull 7.5W from the wall. HTC expects to offer a Quick Charge 2.0 compliant power adapter later this year.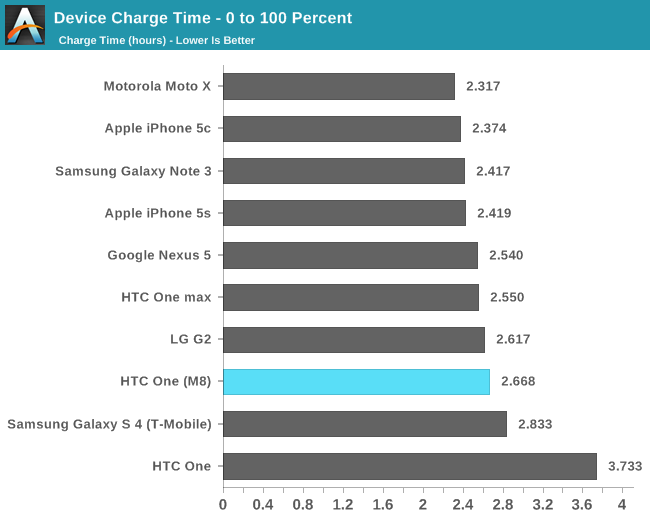 The M8's charge time is a bit slow compared to what we've seen from other devices with larger batteries.
Display
The new One increases its display size from 4.7" to 5.0". The M8's IPS Pro panel (read: IPS) still features a 1080p resolution. There are no funny subpixel arrays here, just a standard RGB stripe. HTC isn't using in-cell touch, although Synaptics supplies the touch controller for the M8. The display is a MIPI command mode type panel (effectively supporting self refreshing of the panel).
The overall display experience on M8 is near identical to M7 from a color accuracy standpoint. Black levels are higher than our original M7 sample, but max contrast ratio is still a healthy 1300:1.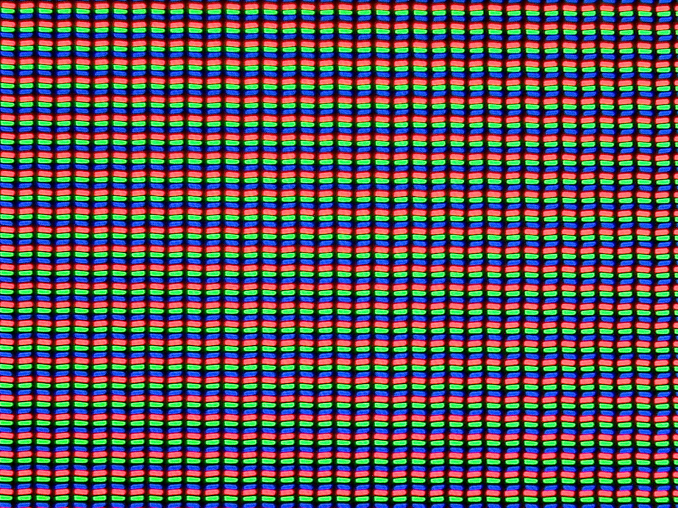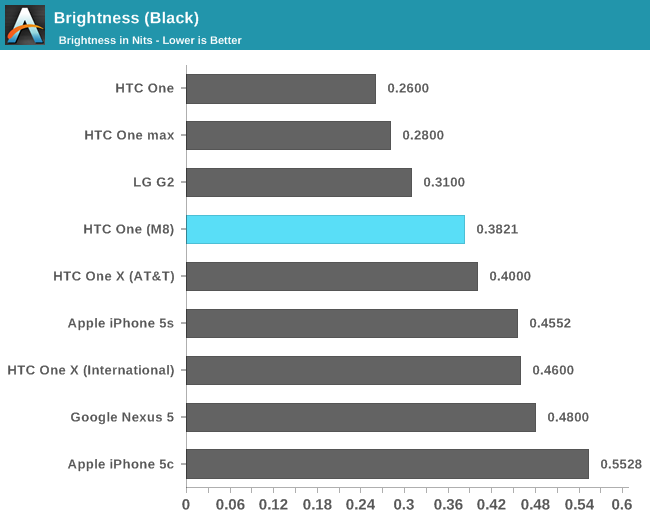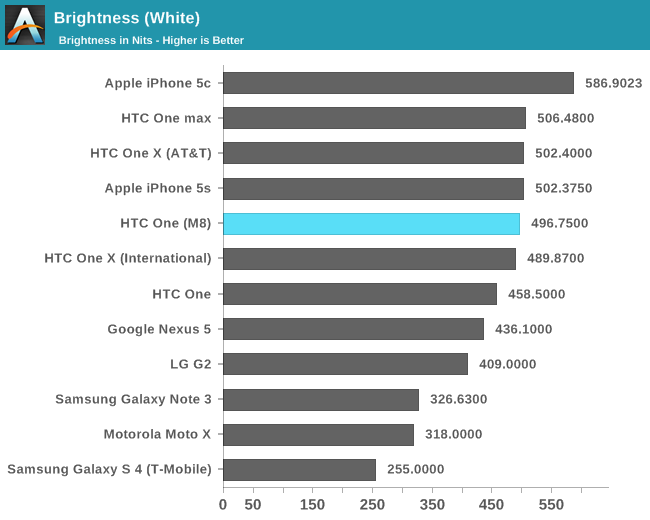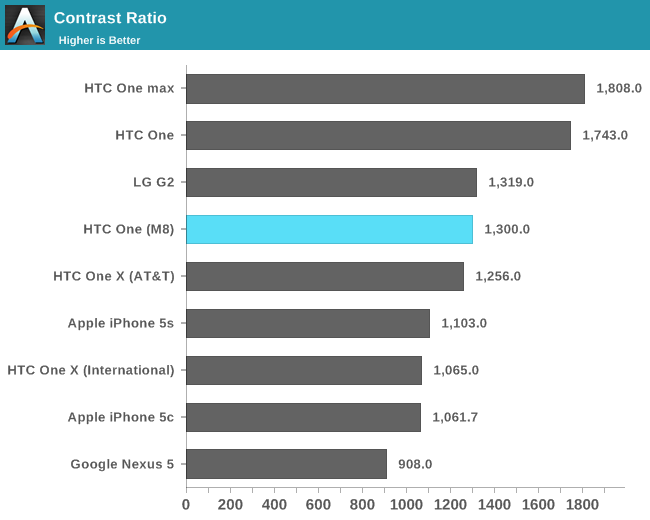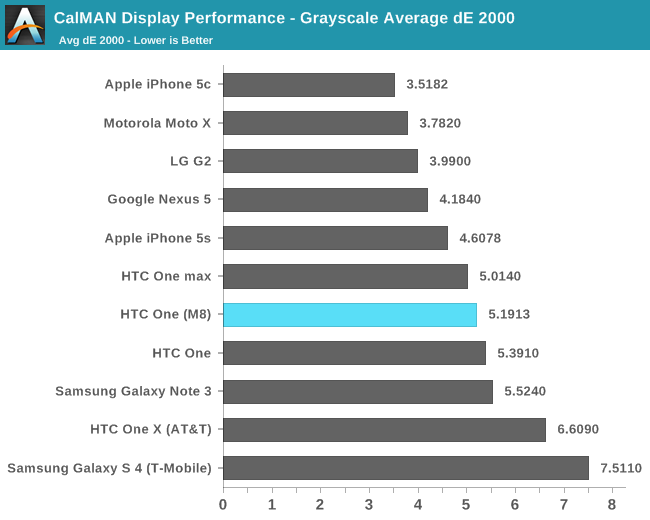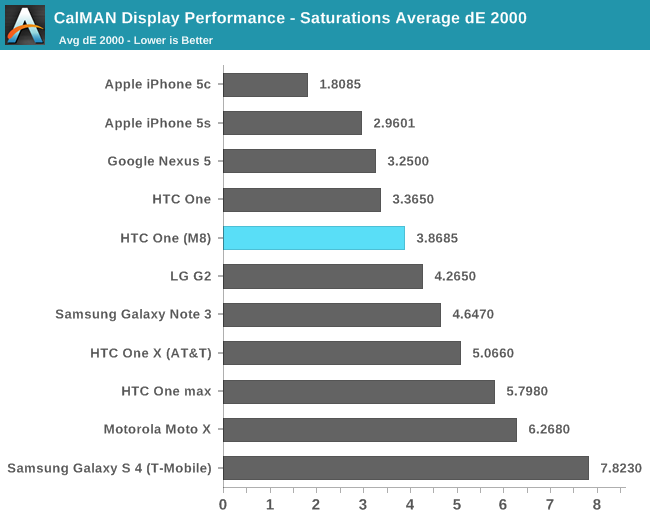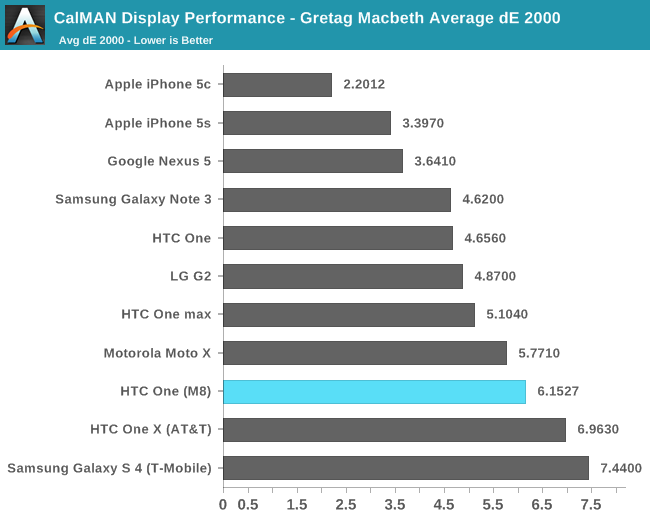 The M8's display isn't bad by any means, but I continue to be disappointed in the lack of attention paid to pursuing greater color accuracy among most Android OEMs. The Nexus 5 and 7 are the targets to aim for in that space - I hope we'll eventually have more than Google pursuing them.
Final Words
Earlier in this review I commented on just how quickly handset OEMs seem to adopt features pioneered by one another. Combine that with the fact that silicon providers like Qualcomm enable a lot of these features across all partners and it's no surprise that differentiation is becoming an increasingly difficult problem in the smartphone industry. Add to that the trend towards lower cost, lower margin devices making up more of smartphone volume and it becomes very obvious that what HTC is trying to do with the One is incredibly difficult.
There's good reason that we don't see many full metal designs in the Android space. It's a crowded market and when the cost differential between a plastic and full metal chassis approaches an order of magnitude, it's an easy decision for most. HTC picked the road less traveled with the One last year, and I'm honestly quite glad to see continued commitment to the path with the M8.
While I often praise the Moto X for its wonderful ergonomics, there really is no other Android phone like the One (both old and new) when it comes to feel. The M8's design is different than its predecessor, but everything I liked about the M7 I find myself liking in its replacement. The device is great to look at, it's great to hold and it's built with an eye for design that we just don't see in a lot among Android OEMs. Including a micro SD card slot is sure to win over some users, and I'm happy to see a move to nano sim as well.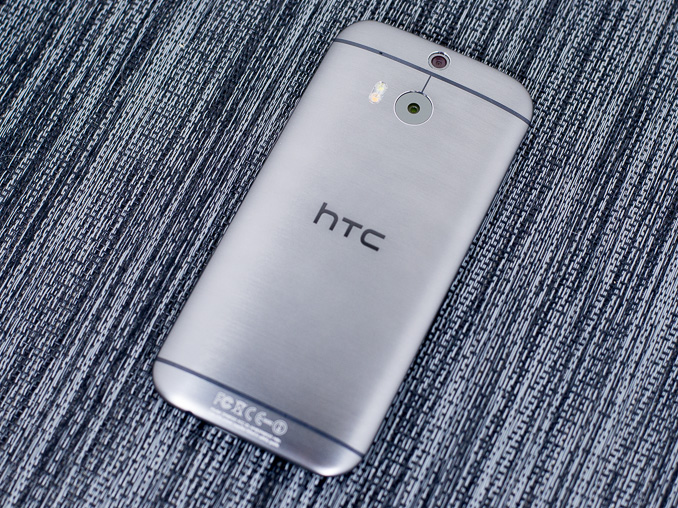 The biggest issue I have with the M8's design is that it is a little too tall for me. I feel like that was a concession to support the second camera sensor on the back and I'm not sure it was worth it. I will readily admit though that this is very much a personal preference. I remember holding the M7 and thinking it was a bit too big for me, and that was just a year ago. Either my eyesight is getting worse (probably) or I'm beginning to come around to even larger form factors (not quite at the 6-inch range though).
The M8 is more than a pretty face, it's very well executed on a number of fronts. The underlying hardware is a substantial upgrade compared to the Snapdragon 600 platform in the original One. Battery life is up by as much as 70%. And in areas where battery life doesn't increase, performance goes up by almost double at effectively no power cost. What was most surprising to me is that even in situations where I ran the CPU or GPU at max performance, the Snapdragon 801 based M8 was able to deliver better battery life or power efficiency compared to the S600 based M7. I shouldn't really be caught off guard by that given the substantial difference in process, but it just feels rare these days to get these sorts of improvement in a 12 month period.
The RF stack gets a worthwhile upgrade compared to M7 as well. Most SKUs use two components from Qualcomm's RF360 platform (the envelope tracker and antenna tuner). It's still to early to get the full RF360 platform in a device, but both of these components play a role in improving power efficiency in connectivity bound scenarios.
Sense 6.0 is a nice improvement over the previous version. Lately I've been feeling like the right solution is somewhere between AOSP and these fully custom UIs, but HTC is probably closer than most in getting there. Sense 6.0 is fairly non-intrusive and having a camera UI/app that actually works is definitely worth a departure from stock Android.
HTC's camera tuning and app remain some of the best executed in the Android space. The new camera UI is even more simplified, without sacrificing flexibility should you need it. The new Auto Max ISO settings are incredibly useful, and honestly solved one of the biggest problems I had with the M7.
The Duo Cam features vary from gimmicky to surprisingly cool. I don't know that the addition of a second camera sensor is good allocation of BoM (Bill of Materials) resources, particularly if it's not going to improve image quality. Just like with the M7's UltraPixel camera however, HTC has its finger on the pulse of where things are headed. With physical limits to what can be done with camera modules in ever shrinking smartphone z-heights, using compute to improve the experience is an obvious next step. In the case of the M8, HTC leverages compute to automate effects processing and not improving IQ, which is the main problem. I feel like there's an audience for HTC's Duo Cam effects, but it would be a broader one if the setup improved image quality as well.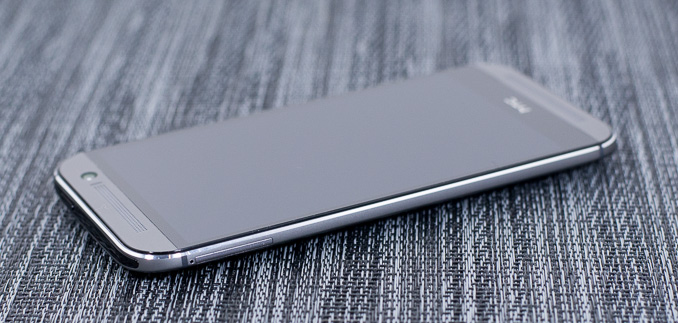 There are differences in camera tuning compared to the M7, but by and large captures aren't really improved. In some cases there's even a regression thanks to the lack of OIS. Ultimately that's the biggest problem with the new One. It's an upgrade in so many areas but it lacks the substantial step forward in primary camera quality that is necessary to move the high end to a better place. I will say that the UltraPixel camera can still produce some amazing photos. Particularly for web use and sharing the way we do, I'm still very pleased with what comes out of the One. It's an extremely versatile shooter, I just wish it improved as much as the rest of the platform did this generation.
I ran into someone last week who was on the verge of purchasing an M7. I told him all about the different options on the market, including those about to be on the market, and he responded by saying that it didn't matter. Material feel and quality both mattered more to him than anything else, and for someone in that boat, HTC is virtually peerless in the Android space. I don't know how big of a market that is, and thankfully the M8 delivers more than just design. It's a very well executed phone, and as I mentioned earlier - if you liked the M7, you'll be very happy with the M8. The question is whether or not that's good enough. I feel like HTC has the makings of a real success story, but it needs slightly broader appeal. HTC has the right formula, which is the hard part - it just needs a little tweaking.