Original Link: http://www.anandtech.com/show/7886/samsung-galaxy-tab-pro-84-and-101-review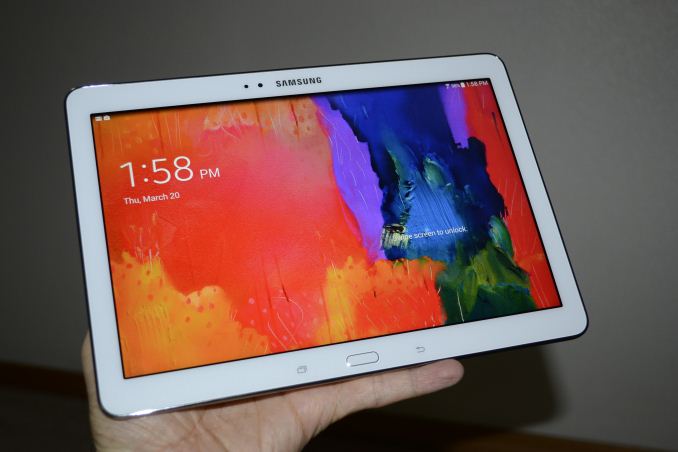 Introducing the Samsung Galaxy Tab Pro Lineup
Samsung Galaxy series of tablets and smartphones have been well received since they first started appearing on store shelves, and with good reason. Not all manufacturers really get industrial design, aesthetics, and the goal of building a cohesive whole that doesn't cut corners. With the latest Pro series of tablets, Samsung looks to improve on their existing devices, with better performance, some tuning of the industrial design, and some software updates as well. We have the 8.4" and 10.1" Galaxy Tab Pro models in house, though there's also a larger 12.2" model and a Note version of the 12.2" model that includes a Stylus as well as some other tweaks. Also worth mentioning is the that the Note 10.1" 2014 model appears to be nearly identical to the 10.1" Tab Pro, other than the fact that it has a stylus (S Pen). Here's the short overview of the current Galaxy Pro product stack:
Overview of Samsung Galaxy Tab/Note Pro/2014 Models
Galaxy Tab Pro 8.4
Galaxy Tab Pro 10.1
Galaxy Note 10.1 2014
Galaxy Tab Pro 12.2
Galaxy Note Pro 12.2
Dimensions
128x219x7.1mm
(5.1"x8.6"x0.28")
243x171x7.3mm
(9.6"x6.7"x0.29")
244x173x7.6mm
(9.6"x6.8"x0.31")
296x204x8mm
(11.6"x8.0"x0.31")
295x204x7.9mm
(11.6"x8.0"x0.31")
Display
8.4" WQXGA
(1600x2560)
10.1" WQXGA
(2560x1600)
10.1" WQXGA
(2560x1600)
12.2" WQXGA
(2560x1600)
12.2" WQXGA
(2560x1600)
Weight
332g (WiFi)
(0.73 lbs.)
470g (WiFi)
(1.03 lbs.)
541g (WiFi)
(1.19 lbs.)
751g (WiFi)
(1.65 lbs.)
732g (WiFi)
(1.61 lbs.)
SoC (CPU)
Snapdragon 800
(Qualcomm MSM8974)
(4 x Krait 400 @ 2.3GHz)
Exynos Octa 5420
(big.LITTLE up to 1.9GHz,
4+4 Cortex-A15+A7)
Exynos Octa 5420
(big.LITTLE up to 1.9GHz,
4+4 Cortex-A15+A7)
Exynos Octa 5420
(big.LITTLE up to 1.9GHz,
4+4 Cortex-A15+A7)
Exynos Octa 5420
(big.LITTLE up to 1.9GHz,
4+4 Cortex-A15+A7)
SoC (GPU)
Adreno 330
Mali-T628
Mali-T628
Mali-T628
Mali-T628
Connectivity
802.11ac WiFi
802.11ac WiFi
802.11ac WiFi
802.11ac WiFi
802.11ac WiFi
Memory
2GB
2GB
3GB
3GB
3GB
Storage
16GB
16GB
16GB/32GB
32GB
32GB/64GB
Battery
25.4Wh (~10 hours)
31.2Wh (~10 hours)
31.2Wh (~9 hours)
36.1Wh (~13 hours)
36.1Wh (~13 hours)
Online Price
$399
$499
$549/$599
$649
$749/$849
Many of the core elements in the new line of Galaxy Pro offerings are similar –the displays for example are all WQXGA, and frankly that's probably the biggest selling point right there. Coming from the world of laptop reviews, it's awesome – and a little disheartening – to see such great displays on tablets. I've been asking for good laptop displays for years, and while we are starting to see a shift in the marketplace, most budget laptops still have lousy displays. Not all tablets come with awesome displays, but just about every tablet out there right now at least uses an IPS panel, and more and more we're seeing high resolution displays as an added bonus. Worth note is that the 10.1 and 12.2 models are available in either black or white versions, but the 8.4 only comes in white (for now?); I actually prefer the white version, though, so that's not a problem.
Obviously the size and weight of the three core models differs, and the Note versions with their S Pen weigh a bit more, but somewhat surprisingly the SoCs aren't all the same. The odd man out here is the Galaxy Tab Pro 8.4, which uses a Snapdragon 800 processor whereas the other four all use the Exynos 5 Octa 5420. (Reportedly the LTE versions of the Pro 10.1 models appear to also use the Snapdragon 800.) What's ironic about this bifurcation is that in most of our benchmarks the Snapdragon 800 and up being faster than the Exynos 5420. It's not a major difference in performance, but it is measurable. Battery life on the other hand appears to be better on the Exynos SoC, so it's not a clear victory regardless. Basically, not all SoCs are created equal in every area.
Wrapping up our quick overview, the amount of RAM varies slightly; the 8.4 and 10.1 "Tab Pro" models come with 2GB, but the 10.1 Note and 12.2 models come with 3GB memory. Battery capacity also varies, with the larger devices having larger batteries – presumably to help power the larger displays, though in practice it often means the larger tablets also get better battery life. The cameras are the same 8MP rear/2MP front, with a flash on the rear camera as well. There are of course different storage capacities available, though they're more limited than what you might see with, e.g. Apple, as some of the devices only have one eMMC size. The 8.4 and 10.1 Tab Pro models we received have 16GB, with the 10.1 Note 2014 having 16/32GB options; the 12.2 Tab Pro gets bumped to 32GB (only) while the 12.2 Note has 32/64GB options. At least all the models come with an SD card slot (up to 64GB SDXC supported), though that doesn't necessarily help with (all) applications.
In terms of pricing, the 8.4 is the least expensive of the devices, with an MSRP of $399. The 10.1 costs $499 ($50 extra for the S Pen in the Note, and another $50 to go to 32GB eMMC storage) and the Tab Pro 12.2 costs $649 while the Note Pro 12.2 costs $749 ($849 with 64GB eMMC). LTE versions of the 10.1 and 12.2 devices will typically add another $100 or so (off contract), but there's no LTE 8.4 option. While none of these are inexpensive tablets, I do have to say that after using the 8.4 and 10.1-inch models, I find myself gravitating towards the 8.4-inch form factor. It's small enough to be easily transportable and you can hold it with one hand, but it's significantly larger than any smartphone so it doesn't overlap that use case. I also generally like using the 8.4 in portrait mode, though some of that is certain personal preference. The fact that it also happens to be a bit faster in many cases doesn't hurt either, though it would be nice to have a 32GB option.
Let's move on to a subjective overview of the two devices we received for testing.
Samsung Galaxy Tab Pro 8.4 Subjective Analysis
When I first started using tablets a few years back, I was generally in the "bigger is better" crowd – within limits of course. Basically, I liked the 10" form factor. As time has passed, I've started to gravitate towards a slightly smaller screen. Smartphones are still a bit too small for some things I do (hey, I'm getting old so staring at a 4-5" screen and reading text isn't all that fun anymore), but carrying around a 10-inch tablet can be a bit cumbersome. That leaves 7-inch and 8-inch devices, and since I have a 5-inch smartphone (Nexus 5), I like the 8-inch class devices as a nice middle ground between smartphones and laptops.
I've seen some noise about Samsung going with an 8.4-inch device (as opposed to 8.0-inch). I haven't had a chance to use a lot of tablets (yet – that's coming with future reviews), but I do have the Dell Venue 8 still hanging around. That's a budget 8-inch tablet, so it's not necessarily the best comparison, but while the screen on the Samsung 8.4 is visibly larger, the dimensions aren't really that different – it's maybe a quarter inch taller and actually slightly narrower than the Dell. The actual screen however feels quite a bit larger than that; the Samsung display diagonal is about 8.43" while the Dell display is 8.0", but the Samsung LCD measures 7.15"x4.45" compared to 6.8"x4.2" on the Dell – basically more than a quarter inch in each dimension. Perhaps the bigger factor is that Samsung uses a dedicated Home button on the bezel with capacitive task switcher and back buttons next to it, so you don't lose some of the screen real estate to these buttons…except, in practice I'm not so sure I like this approach.
Moving over to the physical characteristics, having these buttons on the bezel sounds nice in theory, but I have two issues with this design. First, Samsung locates the buttons such that the Tab Pro 8.4 is designed to be held in a portrait orientation. That's fine most of the time, but if you happen to switch to landscape orientation, suddenly your home/back/task switcher buttons aren't where they're supposed to be – which is at the bottom of the device. The second problem is that the capacitive buttons in particular are quite sensitive, so if you use the Pro 8.4 in landscape mode (which is what I do for a lot of games as an example), frequent inadvertent activations of the navigation buttons on the bezel occur. I'm not sure I can say that either approach is universally better, but after having the navigation cluster as part of the display for every other Android tablet I've used, having them locked into positions on the bezel feels less…intuitive I guess. Apple also has a discrete Home button, but note that there's only one button instead of three, which in my experience doesn't present as much of a problem.
In terms of the port locations, there's not a whole lot to discuss. There's a micro-USB port on the bottom (used for charging and connecting external devices) along with stereo speakers, a headset jack is on the top, the microSD slot is behind a cover on the left, and the power and volume controls are on the top-right edge along with an IR port in the center. That IR port location is a bit odd once again – the device is clearly designed to be held in portrait mode, but if you want to use it as a remote, you'll need to switch to landscape mode. That's not really a problem, but now your navigation buttons are going to be right where your right thumb typically rests while holding the device. Also note that the speaker location means you'll only get audio from the right (or left) side of the tablet in landscape mode – it's not a problem with headphones, of course, but it's slightly distracting without them.
Outside of those small complaints, however, the Samsung Tab Pro 8.4 is a great tablet. Performance is good, and the display is absolutely beautiful. Samsung has also used a bonded display with fewer layers, so you don't get that "sunk down" appearance that you'll see on budget displays (e.g. the Venue 8). Colors are bright and vibrant (and oversaturated, but I'll get to that later), and the touchscreen is responsive as well. As for the resolution, at 2560x1600 in an 8.4-inch LCD, there's no way I can resolve individual pixels without a magnifying glass or microscope. I'm pretty sure this is the highest PPI display I've ever encountered, and it's a bit funny that I now have the same resolution display on an 8.4-inch tablet as what I've been using on my 30-inch desktop for about a decade. It's also interesting that even with such a high resolution, in general I didn't have any issues with performance – in 3D games or elsewhere. There's probably some scaling going on in some cases, but if so it wasn't enough to be distracting (and of course we're not trying to render Crysis level visuals either).
Other aspects of the tablet worked as expected in the limited amount of time I had to use the 8.4. The GPS picked up a signal and tracked location better than some of the other (cheap and/or old) tablets I've used, WiFi was nice and snappy, and including support for 802.11ac is always appreciated. The camera is also pretty decent as far as tablets and smartphones go – I'd rather use a point-and-shoot or smartphone, personally, but at least the photos it captures are serviceable.
One thing I didn't appreciate as much: TouchWiz UI. It's another "personal preference" thing, but having used a Nexus 5 smartphone as well as the Dell Venue 8, both of which use stock Android, I wasn't as keen on the "extras" Samsung's TouchWiz brings into play. It's not that it's bad, and I'll have more to say about the software after discussing the general impressions of the Pro 10.1, but there's definitely some choppiness in the UI at times. That's sort of the way of Android though – it can be buttery smooth and then suddenly it's not. If that sort of thing bothers you a lot, you might need to switch to a different OS.
The feel in hand with the Pro 8.4 is excellent, with slightly rounded corners that don't become uncomfortable to hold. There's a metal trim around the outside, and the back has a white faux-leather backing (made of plastic). While battery life isn't exceptional, it should get most users through a full day of use (outside of playing games for several hours). I think most of us are at the point now where we are used to plugging in our smartphones at the end of each day (and sometimes during the day), and I basically do the same thing with tablets. If you're using a tablet constantly for work and navigation during the day, however, you might want something that can last longer than the rated 9-10 hours of the Pro 8.4.
I'll be honest in stating that I'm usually a fan of budget tablets, just because they're so economical. I have children as well (ages 2, 4, and 11), and I'd much rather let them play with (and potentially damage) a $150 or $200 tablet as opposed to a $500 tablet. Plus, most things that I do on a tablet (besides games) don't really need more than a budget offering. That said, remove the kids from the equation and the difference in feel, responsiveness, and just general quality is very palpable, making devices like the Samsung Tab Pro 8.4 very compelling. $400 is as much as you'll pay for a budget laptop, but instead you get a premium tablet. I usually have several laptop options around that I can use if needed, and yet there are plenty of times where I now grab a tablet simply because it's more convenient. I do wish Samsung had opted to go with 32GB of storage (even if it added $25 to the price), but the display, performance, and overall design are all so good that I can almost overlook the lack of storage space.
Samsung Galaxy Tab Pro 10.1 Subjective Analysis
Visually, the Tab Pro 10.1 looks very similar to the 8.4, only larger. There are a few little differences, however, like the fact that the 10.1 is designed to be held and used primarily in landscape orientation. Again, we have the same potential issue with the navigation buttons being integrated into the display bezel – if you're not in landscape mode, "you're holding it wrong." What it really boils down to however is personal preferences. I just finished saying out I tend to like the 8-inch class tablets as a nice middle ground between smartphones and laptops, but I can certainly see the draw in larger devices. The bigger display can work better at times (i.e. if you're watching a movie with a friend), and depending on your eyesight it might simply be easier to read.
The I/O and port options are identical to the Pro 8.4, with the only real difference being their locations. The micro-USB port is on the bottom again (but in landscape mode this time). The stereo speakers are moved to the left and right sides near the top, which creates a better soundscape in my experience (though headphones would still produce much better audio). The headset jack is on the left just above the speaker in the corner, the microSD slot is behind a cover on the right, and the power and volume controls are on the top edge near the left side along with an IR port in the center.
Like the Pro 8.4, the display is again beautiful, and the colors are actually better as well (particularly white levels). Samsung does have three screen modes on the 10.1, and considering the other similarities I was surprised the same option didn't exist on the 8.4. Anyway, you can choose between Dynamic, Standard, and Movie modes, with an option to automatically adapt the display based on your current app. We'll see in a moment how those modes compare in terms of color quality, but if you're not a stickler for having accurate colors you'll probably never notices. This is a tightly bonded display, so you almost feel like the content is resting on the surface of the device rather than residing below the glass. Reflections can still be a problem (especially in sunlight), but that's pretty much the case with every tablet out there; in general the display can get bright enough to remain usable outdoors.
Other than being larger and heavier, the feel is otherwise identical to the 8.4. There's a metal trim around the outside edge with a slightly rounded edge, and the back has a faux-leather (plastic) finish. We received the white model for review, though you can also buy the Pro 10.1 in black if that's your preference. I find white tends to not show fingerprints and smudges as much, though actual dirt and grime can become a problem over time. The in-hand feel is excellent, with slightly rounded corners that don't become uncomfortable to hold. Battery life is also quite a bit better than the 8.4, thanks to the larger battery capacity and perhaps the change in SoC as well.
I mentioned performance being better on the 8.4 in many of our benchmarks, but let me clarify that a bit before we get to the actual scores: in practice, the difference is often imperceptible. Yes, there are cases where the 8.4 might score 20% higher in benchmark frame rates, but there are other instances where the Exynos CPU cores appear to be faster. Most of the time, you can use either one and not really worry about the lower level details. With graphics, however, I do notice the difference between the devices. Angry Birds Go! for example just runs a bit better on the 8.4 than on the 10.1. If you're looking for a device that can handle all the latest games well, I'd go with the 8.4; if you're more interested in browsing the web, checking contacts, etc. and want the larger display, there's nothing wrong with the Pro 10.1 – and if you want a really large tablet, you can always look to the Galaxy 12.2 models. I already feel like 10.1 is a bit large and heavy for a tablet, though, so you'd need a very specific use case to convince me that a 12.2-inch display is the way to go.
Samsung Galaxy Pro Software
We've discussed TouchWiz UI extensively in the past, so I'm not going to rehash that here. Some people like it, others like me are mostly ambivalent, and still others seem to really dislike it. Besides the enhancement to the UI, Samsung has some other additions. Let's quickly cover some of these here.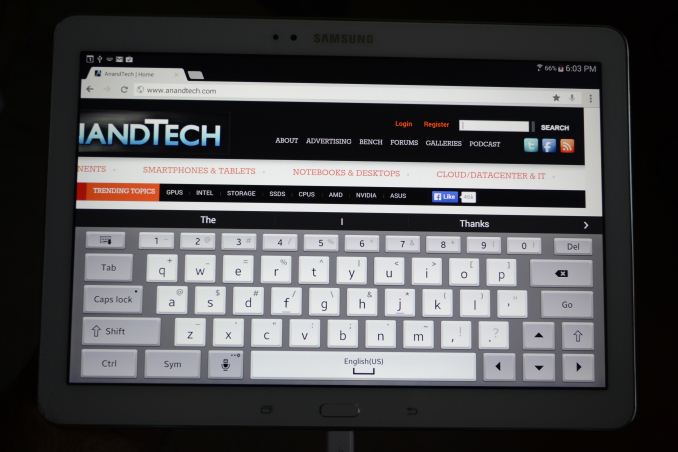 One of the biggest changes for me is the keyboard, and this is one of those items that I'm actually very happy using. I don't like typing a lot on tablets, but Samsung's addition of a dedicated row of number keys – basically emulating a regular keyboard – makes it that much less painful to do certain tasks (like entering passwords with numbers, letters, and symbols). The first time it appeared, I was a little confused as the keyboard looked quite a bit different than what I'm used to seeing, but after that initial surprise I found myself liking the keyboard more and more. Some people prefer Swype, or the regular Android keyboard, and that's fine – if you know enough to prefer a different keyboard, you can always install one. The Samsung keyboard does support swiping as well as audio feedback; the Pro 10.1 also offers haptic feedback (vibration) on keyboard input, but I didn't find that necessary.
Interestingly, since I just discussed the keyboard aspect, Samsung has their own custom gesture to capture a screenshot – the standard "Volume Up + Power" shortcut doesn't work. To capture a screen, you swipe the side of your palm left to right or right to left across the screen. The only problem? It doesn't always work properly, or at least I don't think it works if the keyboard is active, hence the above photos of the keyboard rather than screen grabs. Personally, I'd prefer something less obtuse or difficult – how about just a long press of the task switcher or back button to take a screen shot? But I digress….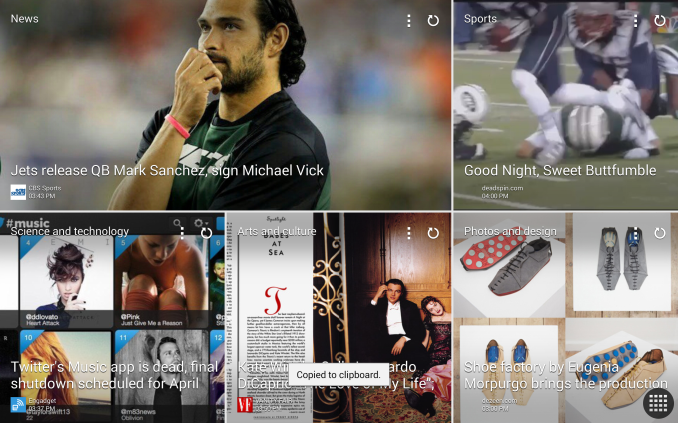 Moving on in the software coverage, probably the biggest addition here is the new Magazine UX. I wasn't sure about it at first, but man you could waste a lot of time in there. There are tiles for News, Sports, Science and Technology, Arts and Culture, Photos and Design, Business, New and Noteworthy, and Style – and that's it; you can't add more than those eight categories, but you can disable some of them. You can also customize what each of those panes shows with all sorts of additional feeds (no, AnandTech isn't in the Science and Technology section – boo!), and once enabled all you have to do is click on the tile to be presented with a "magazine". Technically all of this appears to be using a piece of software called Flipboard, and Magazine UX is just the integration into the home screens of Android as far as I can tell – task switcher even labels the app as "Flipboard". The biggest gripe people are going to have with Magazine UX is that it can't be disabled – you will always have at least one Magazine UX screen in addition to the home screen (and you can make Magazine UX into your default screen if you prefer); end of discussion.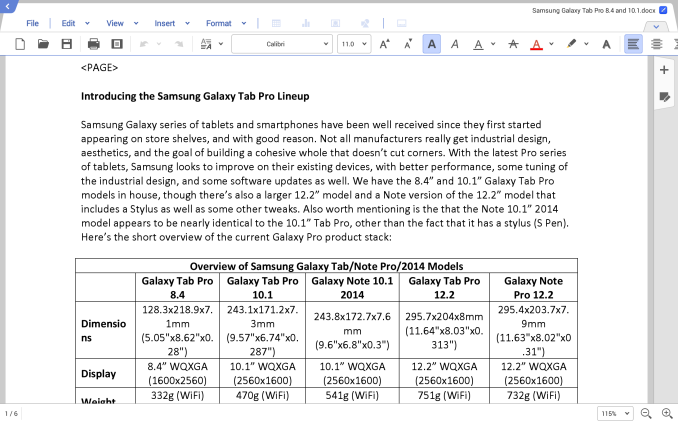 Another additional piece of software is Hancom Office, which allows you to run the typical office applications. You get a word processor, spreadsheet, presentations program (Hword, Hcell, and Hshow), and yes, they can open MS Office files – or at least the Office 2010 files I tried worked okay. Editing office files on a tablet isn't something I've really tried to do, but even the ability to view them can be very useful. There are other free office apps out there, but Hancom looks fine from what I can see, and it's normally a $17.77 purchase. You do need to create a Samsung account to access Hancom, apparently, but that was easy enough to do.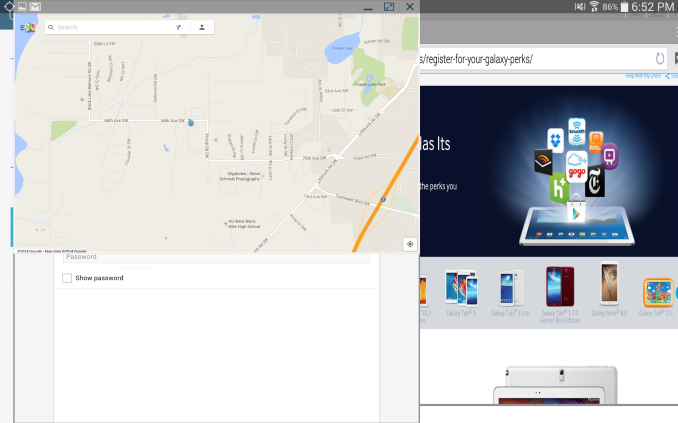 There's at least one truly interesting feature with the latest TouchWiz UI on the Galaxy Pro line of tablets that is perhaps a sign of things to come. While Microsoft is busily moving us more towards a one screen, one app world with their Modern UI (okay, with the ability to do split-screen as well), Samsung has added multi-window mode on the Galaxy Pro tablets. It's a bit raw right now, and it only supports certain applications, but you can actually have three (on the 8.4 and 10.1) or four windows (on the 12.2) open and resized at once. The window contents basically end up being stretched to fit, however, so you can get some weird warping if you don't maintain the aspect ratio. When you minimize a window, it becomes a circular button that you can move around, and click on it to restore it to an active window.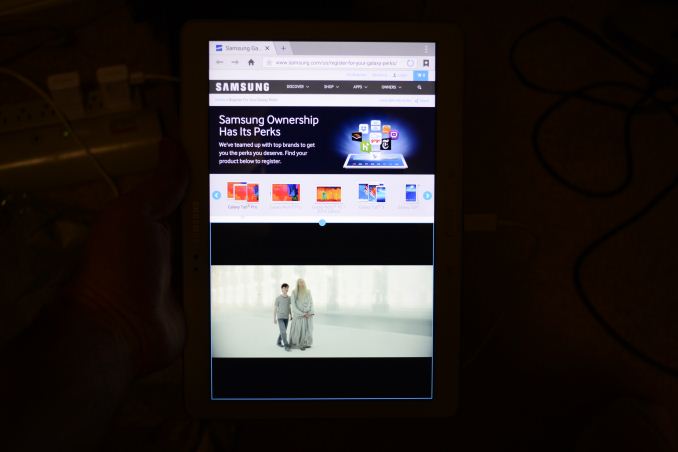 An alternative that proves a bit more useful is the split-screen mode. Apparently the 12.2 can support four tiled apps (restricted to the support apps list), while the 8.4 and 10.1 only support split-screen, but you could open a browser in the bottom window and a video in the top, or two browsers, or some other combination. I tested the multi-window and split-screen modes with the web browser, video player, office, gallery, and Hang Outs (not all at once). It all worked as advertised, but there's a limited amount of resizing available and clearly most apps aren't really designed for this sort of operation. Maybe in a future version of Android we'll see additional multi-tasking/multi-windowing features, but Samsung is at least playing around with the idea right now.
There are two more pieces of software that I didn't have a chance to try out yet, E-Meeting and Remote PC. E-Meeting allows you to share a file (or files?) locally, with everyone on the same WiFi network. They can then join the meeting and see your presentation, spreadsheet, pictures, etc. on their own tablet. It's basically the inverse of a projector, where instead of everyone seeing one screen you're all given individual screen to look at. There's also an integrated White Board for people to use for notes and such. Remote PC is a way to remotely access your Windows or OS X PC via your Samsung Pro tablet, through your Samsung account. You can copy files from your PC to your tablet (and I'd assume the reverse as well), or just remotely control your PC via the tablet. I'm not sure if Samsung is working with a third party (i.e. LogMeIn or Teamviewer), but similar functionality is available on Android devices in general with the right software.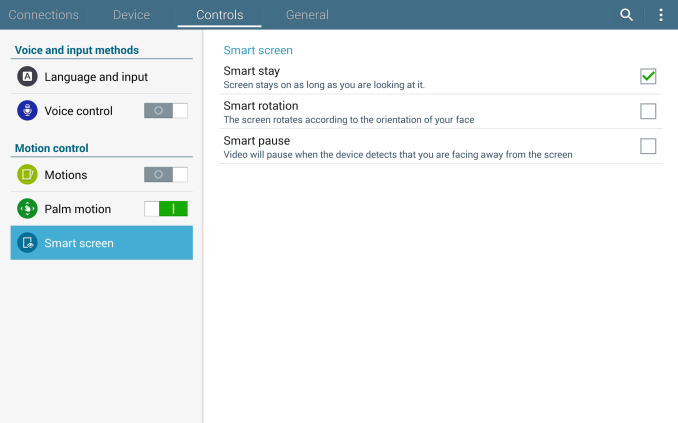 There are plenty of other items I could discuss with the software and features, but let's just wrap this up for now with one last feature: Smart screen (as I don't think we've covered this previously). Smart screen uses the front-facing camera with face/eye recognition and has three settings available. "Smart stay" will keep the display from going to sleep as long as you are looking at the tablet; "Smart rotation" will rotate the tablet based on the orientation of your face; lastly, "Smart pause" will pause video playback if you look away from the tablet and resume when you start watching again. While some of this may be novel/useful, I have a couple problems with Smart screen.
First, it requires a decent amount of ambient light, so if you're watching a movie on the tablet in the dark, Smart pause won't work and I'm not sure if Smart stay works either. In proper lighting, I can confirm that they both appear to work, but Smart pause can still be a bit touchy – it pauses quite quickly if you look away from the screen (and sometimes even if you don't but just shift position) – almost too quickly I'd say – but it's slower at resuming. The second problem is that I never could get the Smart rotation to work, no matter how hard I tried – it would only rotate if I picked up the tablet and then the normal gravity-based sensors would do what I needed. So basically, other than potentially Smart stay, the feature is of questionable utility. I'm also not sure how much extra power drain enabling Smart screen would entail – it would have to do something to look for your face, and even if it's only a 2% reduction in battery life, that could mean another 15+ minutes.
Overall, the software package that Samsung delivers with the Galaxy Pro does offer some useful and interesting features. It would be nice if users could disable Magazine UX entirely, for those that don't want it, but considering tablets are often use as media consumption devices there's a lot of curated content available with minimal effort on the part of the user, and that's pretty cool to see. I probably wasted (used) at least an hour or two just poking around at news stories from around the Web when I was "testing" Magazine UX. And even after more than a week with the Galaxy Pro, there are plenty of things I haven't really had the time to fully investigate (or write about). If you're in the camp with those that think Android should be a unified experience across all devices, Samsung will probably frustrate you, but as someone who has used over a dozen Android tablets over the past few years, my feeling is that there really isn't a need for perfect uniformity – the flexibility Android provides OEMs is one of its advantages over iOS. If you don't like one particular tablet, there are plenty of others to choose from!
LCD Testing: A Feast for Your Eyes
Let's start out the testing by going straight to the biggest draw with the Galaxy Pro tablets: the WQXGA displays. Even without testing, I could see by looking that the colors on the Pro 10.1 looked a bit better/more natural than on the Pro 8.4, but I was curious to see if the colors were truly accurate or merely not as oversaturated. Depending on your display setting, it's a little of both.
I tested the Pro 10.1 in four modes ("Auto", Dynamic, Standard, and Movie), and contrary to what I've seen reported elsewhere, the Movie mode resulted in the most accurate colors. Most tablets and laptops often use white points that are far too hot (blue), and that applies to the 10.1 on the Dynamic and Standard modes, though Standard is a bit better perhaps; it also applies to the Pro 8.4 display. The Movie mode on the other hand clearly reduces the saturation levels and ends up being very good overall. Here are five sets of galleries showing the testing results for the various display modes on the 10.1 as well as the sole mode on the 8.4.
As for brightness, contrast, and DeltaE results, both models do reasonably well, again with the color accuracy advantage going to the 10.1. Keep in mind that the only other tablets in these charts just happen to be some of the best displays on the market, with the iPad Air being factory calibrated and the Nexus 7 being one of the best non-Apple devices in terms of color accuracy.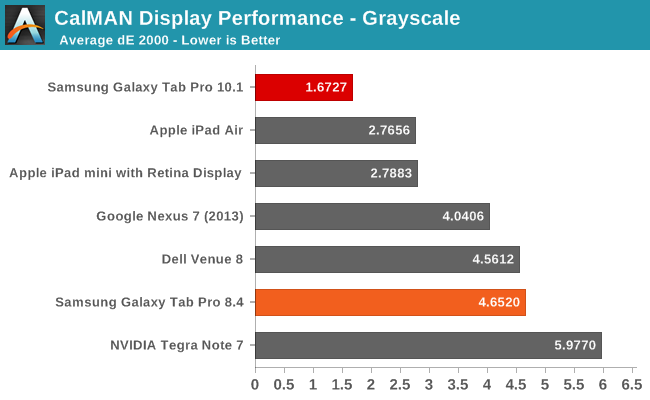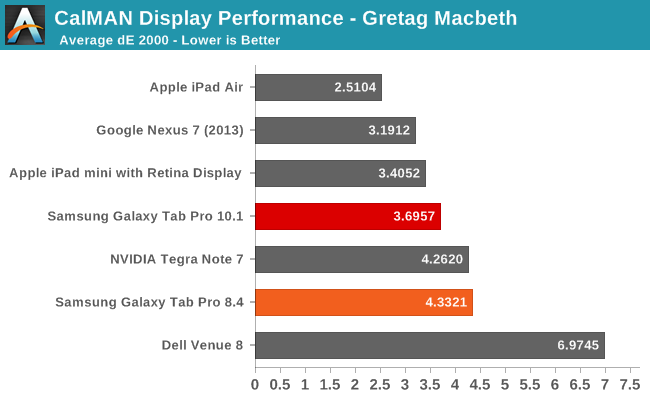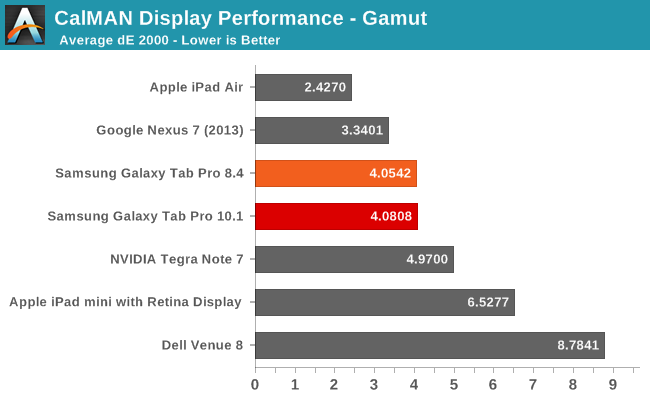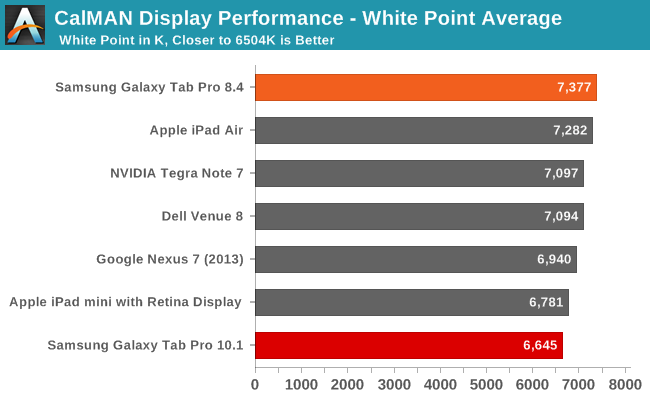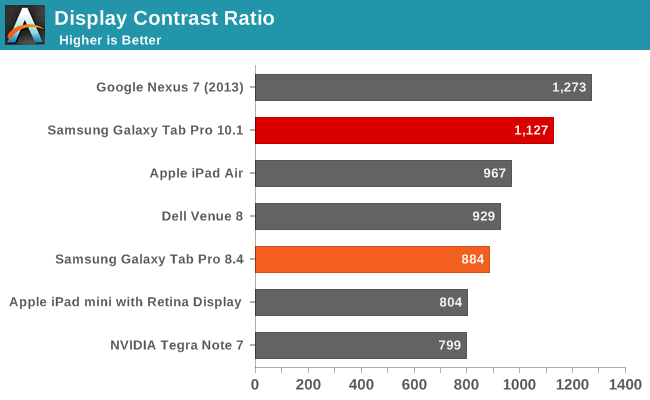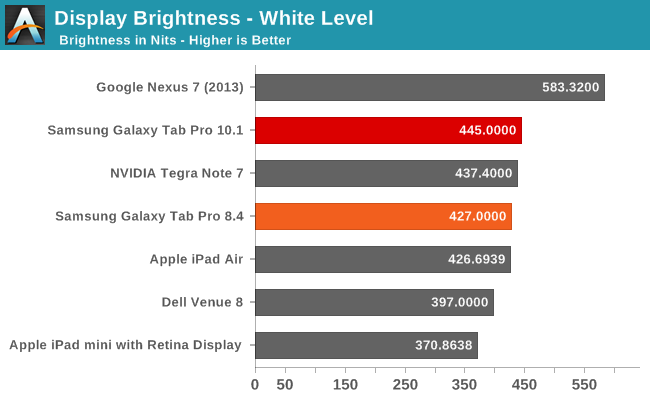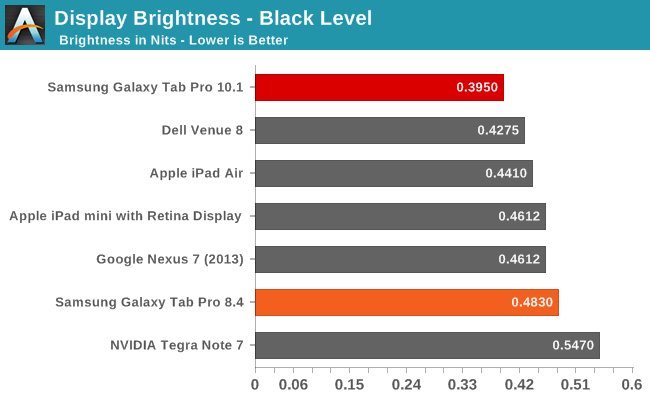 While none of the results are necessarily standouts (other than the grayscale dE 2000 on the Pro 10.1), we again have to keep in mind the fact that these are 2560x1600 panels in 10.1 and 8.4 inch devices. Factory calibration would push them over the top, but even without that they're going to provide a wow factor to anyone used to lower resolution, lower quality displays.
Performance Benchmarks
In the world of laptops where I come from, we're fast reaching the point – if not well beyond it – where talking about raw performance only matters to a small subset of users. Everything with Core i3 and above is generally "fast enough" that users don't really notice or care. For tablets, the difference in speed between a budget and a premium device is far more dramatic. I've included numbers from the Dell Venue 8, which I'll be providing a short review of in the near future. While the price isn't bad, the two Samsung tablets feel substantially snappier – as they should. We'll start with the CPU/system benchmarks and then move to the GPU/Graphics tests.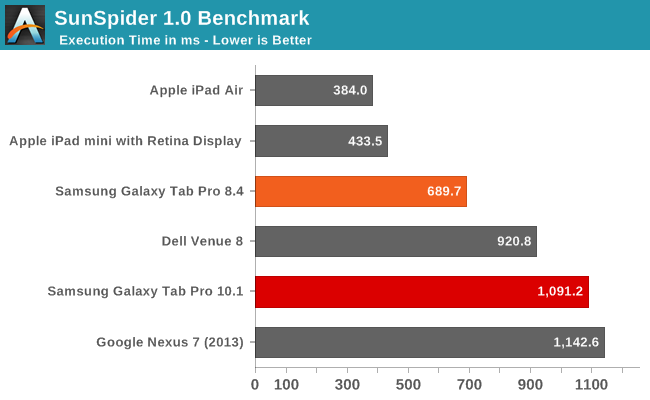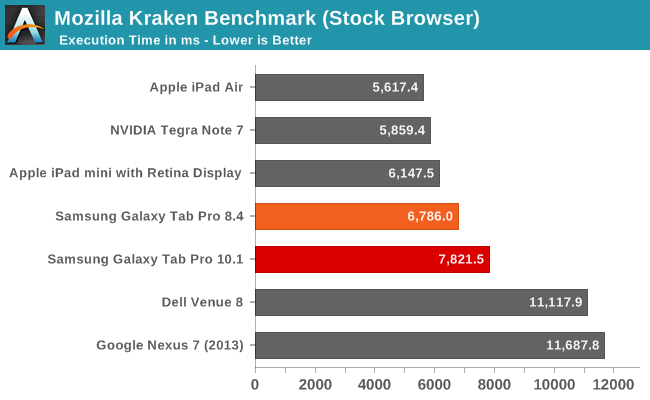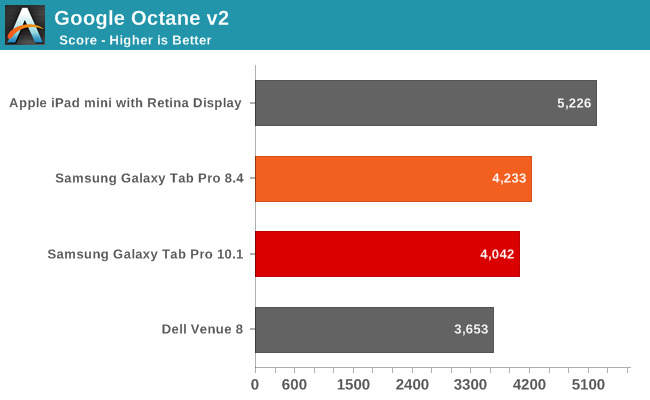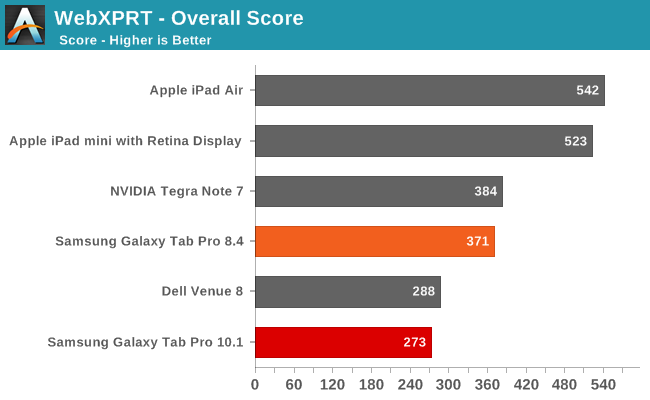 In terms of CPU speed, the Apple A7 chips still take the lead in all of our tests, though not always by a large margin. We're also using different browsers (Chrome vs. Safari), and JavaScript benchmarks aren't always the greatest way of comparing CPU performance. I ran additional benchmarks on the two Samsung tablets just to see if I could get some additional information; you can find a table of results for AndeBench, Basemark OS II, and Geekbench 3.
CPU/System Benchmarks of Samsung Galaxy Tab Pro
Benchmark
Subtest
Tab Pro 10.1
Tab Pro 8.4
Andebench
Native
13804
17533
Java
708
790
Basemark OS II
Overall
865
1062
System
1542
1529
Memory
419
503
Graphics
1032
2555
Web
838
724
Geekbench 3
Single
942
910
Multi
2692
2847
Integer Single
1028
967
Integer Multi
3135
3343
FP Single
897
848
FP Multi
3106
3080
Memory Single
860
922
Memory Multi
982
1391
Interestingly, the Samsung Exynos 5 Octa 5420 just seems to come up short versus the Snapdragon 800 in most of these tests. However, there's a bit more going on than you might expect. We checked for cheating in the benchmarks, and found no evidence that either of these tablets was doing anything unusual in terms of boosting clock speeds. What we did find is that the Pro 10.1 is frequently not running at maximum frequency – or anywhere near it – in quite a few of our CPU tests.
Specifically, Sunspider, Kraken, and Andebench had the cores hitting a maximum 1.1-1.3GHz. The Pro 8.4 meanwhile would typically hit the maximum 2.3GHz clock speed. The result, as you might imagine, is that the 8.4 ends up being faster, sometimes by a sizeable margin. Basemark OS II, Geekbench 3, and AnTuTu on the other hand didn't have any such odd behavior, with the Pro 10.1 often hitting 1.8-1.9GHz (on one or more cores) during the testing, and when that happens it often ends up slightly faster than the Pro 8.4.
Which benchmark results are more "valid"? Well, that's a different subject, but as we're comparing Samsung tablets running more or less the same build of Android, we can reasonably compare the two and say that the 8.4 has better overall performance. Updated drivers or tweaking of the power governor on the 10.1 might change things down the road, but we can only test what exists right now.
Overall, both systems are sufficiently fast for a modern premium tablet, so I wouldn't worry too much about whether or not you're getting maximum clock speeds in a few benchmarks – in normal use you likely won't notice one way or the other. But we're only talking about the CPU performance when we say you won't see the difference; let's move over to the graphics benchmarks to see how the Galaxy Pro tablets fare.
Graphics Performance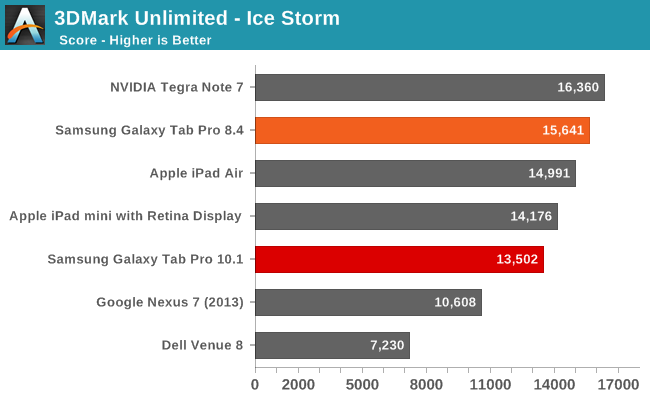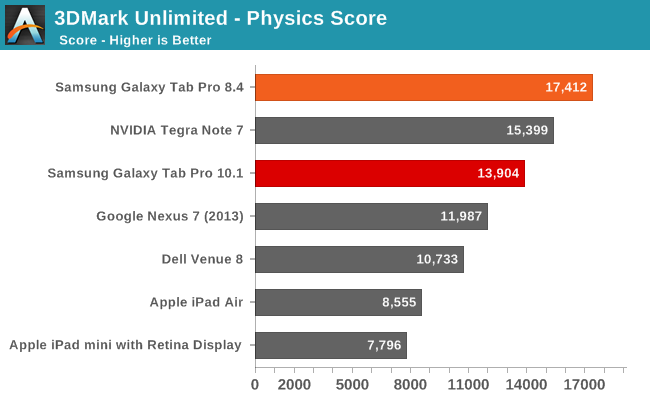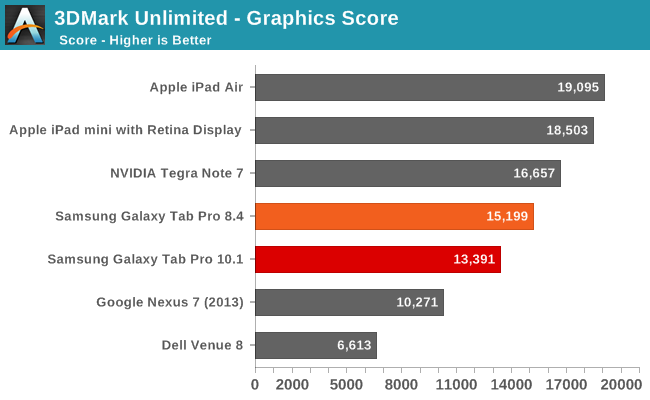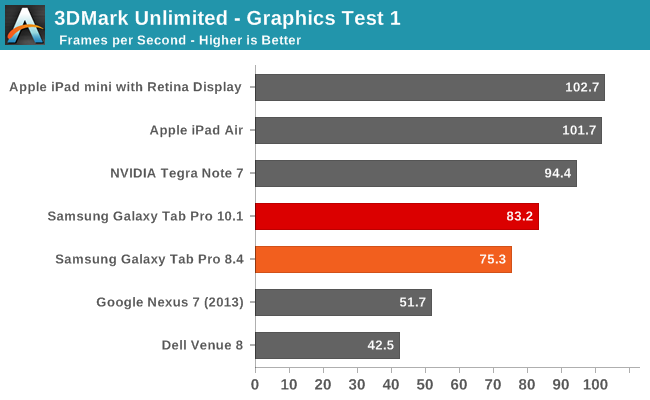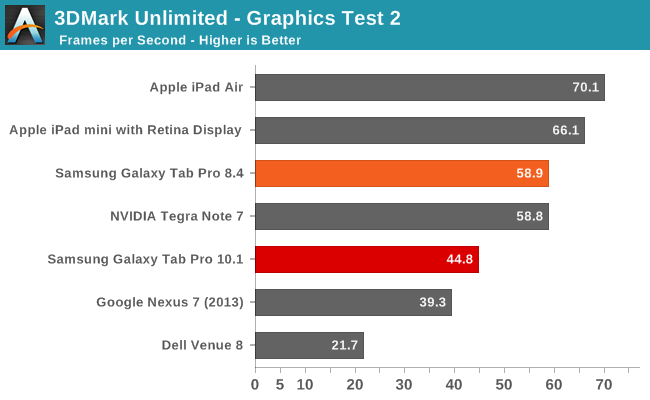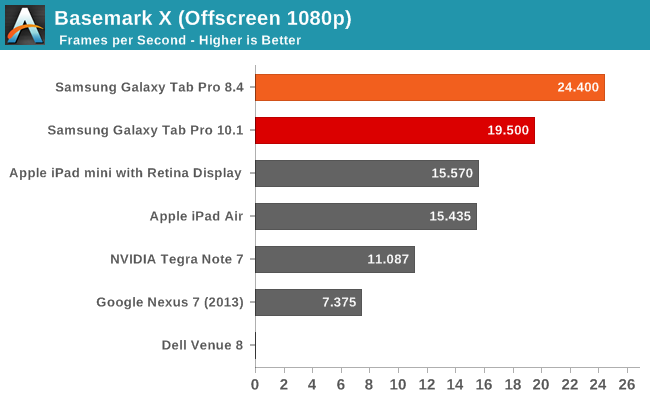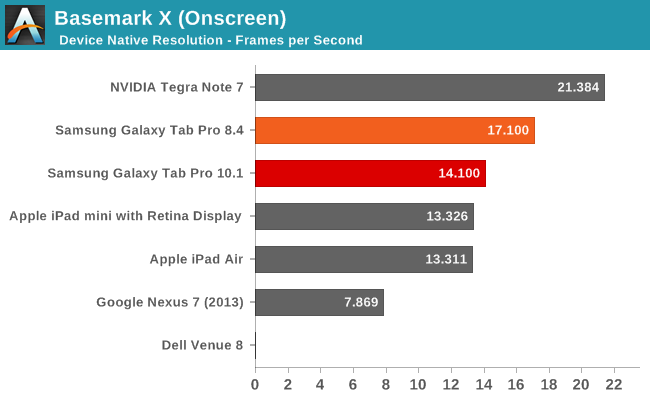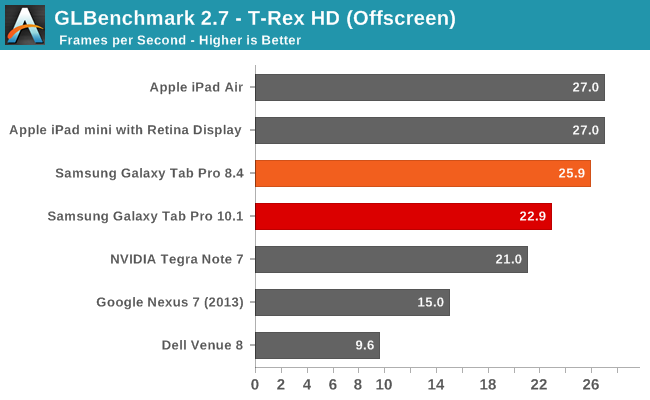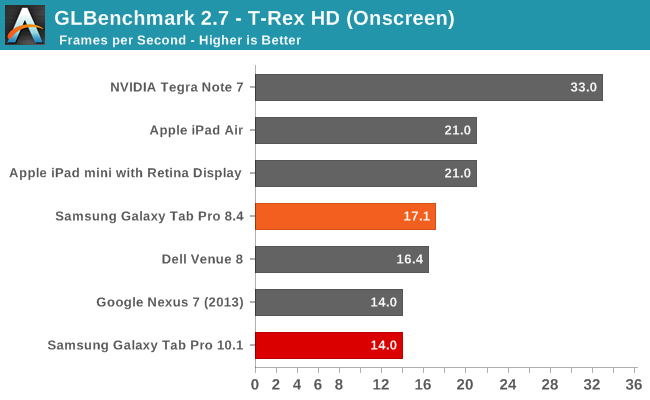 Outside of the 3DMark Unlimited Graphics Test 1 result, the Pro 8.4 sweeps the tables against its big brother. Playing games like Angry Birds Go! or any other reasonably demanding 3D titles in my experience confirms the above results – Adreno 330 beats the Mali-T628; end of discussion. I also had a few quirks crop up with the Pro 10.1 graphics, like Plants vs. Zombies 2 at one point stopped rendering all the fonts properly; a reboot fixed the problem, but I may have seen one or two other rendering glitches during testing. I have some additional results for GPU testing as well via GFXBench 3.0 if you're interested:
Graphics Benchmarks of Samsung Galaxy Tab Pro
Benchmark
Subtest
Tab Pro 10.1
Tab Pro 8.4
GFXBench 3.0 Onscreen
Manhattan (FPS)
2.9
5.8
T-Rex (FPS)
14
17.1
ALU (FPS)
13
59.8
Alpha Blending (MB/s)
3295
6847
Fill (MTex/s)
1956
3926
GFXBench 3.0 Offscreen
Manhattan (FPS)
5.5
10.8
T-Rex (FPS)
22.9
25.9
ALU (FPS)
25.6
138
Alpha Blending (MB/s)
3093
7263
Fill (MTex/s)
1956
3780
The new Manhattan benchmark was one of the other tests where the Pro 10.1 didn't seem to render things properly, and even then the Pro 8.4 ends up with nearly twice the frame rates. The ALU, Alpha Blending, and Fill rate scores might explain some of what's going on, where in some cases the Pro 8.4 is more than four times as fast. Regardless, if you want maximum frame rates, I'd suggest getting the Pro 8.4 over the 10.1.
Battery Life
For battery life testing, we run the displays at 200 nits and test Internet surfing and H.264 720p video playback. In some cases the tablet OEMs have features built into the software that lock display brightness to a low (minimum) setting when battery life is less than 10%. The Galaxy Pro offerings appear to do this, though you can override the behavior in the power options. In real-world use, you can expect perhaps slightly better Internet battery life (as it's unlikely you'll be refreshing pages every 20 seconds) while the video playback results are exactly what you would do if watching a movie.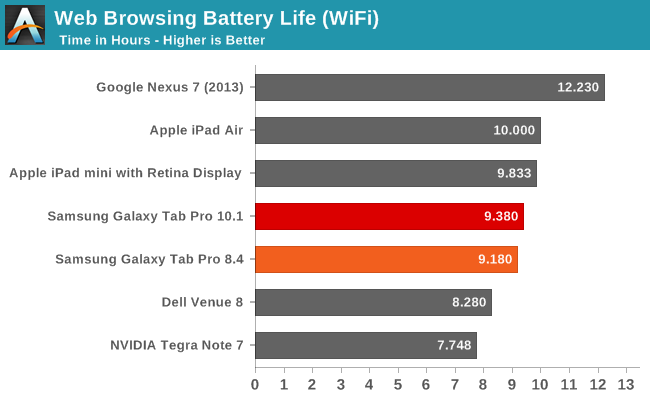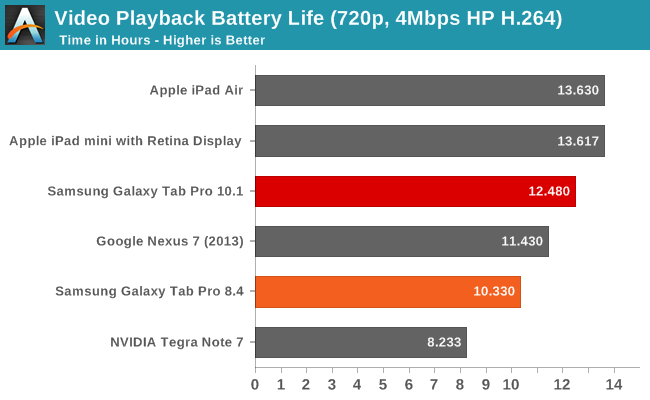 The Nexus 7 wins the WiFi testing result while the iPad Air and Mini Retina take the top two spots for the video playback (and silver and bronze in the Internet testing). It's interesting that the two Galaxy Pro tablets are so close on the Internet results but the 10.1 does substantially better on the video playback. Either way, both tablets are at least capable of reaching their "up to 9/10 hours" advertised battery life, with perhaps a bit more if you're willing to turn down the display brightness or shut off WiFi.
There are better tablets if you want as much battery life as possible, but given the ready availability of portable chargers and such I'm not sure it's all that critical. Gaming battery life is lower than the above results, of course, so plan on more like four to six hours of gaming (depending on the game) before needing to plug in.
Storage Performance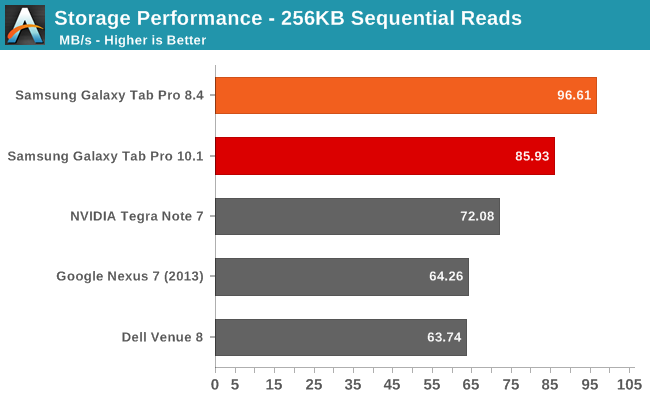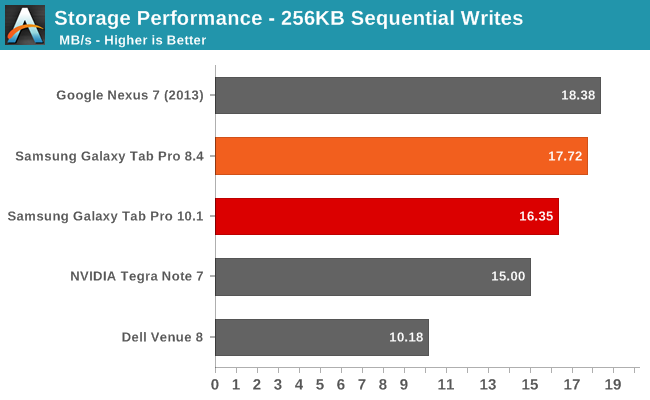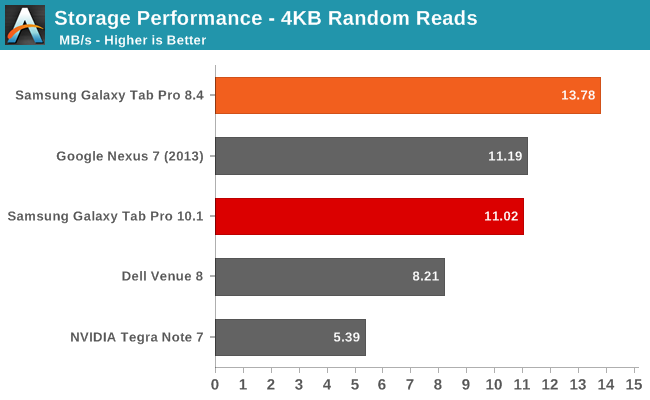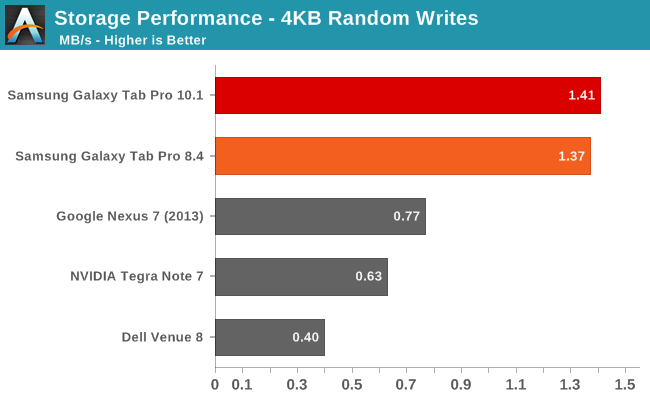 Having used several older Android tablets, the drop in storage performance over time can be extremely painful. With Android 4.3 and 4.4 now supporting TRIM, hopefully things will stay running a bit more smoothly over a long period of time. As it stands, we don't have all that many results for our Android storage benchmarks (and no cross-platform test for iOS yet), but the Samsung eMMC looks to be better than most of what we've tested. The random write speeds in particular are nearly twice as fast as that of the Nexus 7, and we're at least consistently beating typical hard drive performance with >1MBps random I/O. Hopefully we'll see even faster NAND/controller solutions upcoming tablets.
Camera and Video Analysis
I still need to upload the videos so you'll have to wait for those, and if you haven't figured it out by now I'm really not the best photographer in the world...not even close! But I did run around inside and outside for a bit snapping pictures with both tablets.
The cameras are identical in the 8.4 and 10.1 Galaxy Pro, so while the galleries below contain images taken with both tablets there's really no difference to speak of (other than perhaps the location of the camera lenses and the potential to accidentally get upside-down photos from the 8.4 if you're not careful).
For video, both the front and rear cameras record at 1080p30 with a bitrate of ~17Mbps; the rear-facing camera has a slightly higher quality, but either one will work for basic video needs. Pictures are a different story, with the front-facing camera supporting up to 1920x1080 with an f/2.4 aperture and the rear-facing camera supporting up to 3264x1836, also with an f/2.4 aperture. Compression artifacts are clearly evident with both cameras, but the rear-facing does offer much better overall quality.
Low-light performance is nothing special as far as I could tell; a mostly dark room will present problems, dimly lit photos will be very grainy, and even indoor photos in general are merely okay. Outdoors the camera does better, but that's typical of any camera.
Overall, the cameras do a serviceable job at taking photos and videos. I find tablet cameras to be a bit unwieldy personally, but at least the Samsung Galaxy Pro line can provide decent photos that will rival inexpensive point-and-shoot cameras.
Closing Thoughts
Samsung is no stranger to the tablet market, and the latest refresh of the Galaxy Tab lineup shows their experience. The Galaxy Tab Pro 8.3 and Galaxy Tab Pro 10.1 are both good tablets, and the displays in particular are going to be worth the price of entry for some users. As with laptops and smartphones, it's not just about any one item pushing a tablet over the top, though the reverse isn't true – if any area is severely lacking, that might be enough to kill interest in a particular device. Basically, it's more of a gestalt approach: the sum is greater than the parts, and Samsung delivers the goods with the Galaxy Pro tablets.
Of the two, it shouldn't come as much of a surprise now that we think the Pro 8.4 is the best one to buy. The more compact form factor coupled with a lower price and better performance gets the trifecta to win out over the Pro 10.1. There are areas where the 10.1 clearly wins out (color quality and battery life, specifically), but is it worth $100 more to get those, along with a bulkier, heavier device? I don't think so; feel free to disagree however, as they're both good tablets.
Unfortunately, as good as they are they're also rather expensive – as usual, quality has a price, and so do the WQXGA displays. Compared to other offerings, obviously the iPad Air and iPad Mini Retina are right in the same price range. Really, the question over which to get is going to come down to your OS and app ecosystem preferences; I'm happy with Android, so for the price I'd be inclined to go with Samsung's Galaxy Pro tablets, but iOS fans will have plenty of reasons to stick with Apple.
Android alternatives include the Nexus 7, which delivers slightly less performance in most cases than the Pro 8.4 and it "only" has a WUXGA display, but it has one big selling point: it costs $170 less than the Pro 8.4, and you could even pick up two for the price of a single Pro 10.1 – or you could grab the 32GB model and still only pay $269. The Pro 8.4 looks and feels nicer in my opinion, but it's really difficult to argue with that sort of price competition. If you want two more options, the Kindle Fire HDX 7" ($200) and Kindle Fire HDX 8.9" ($379) pack similar performance with their Snapdragon 800 SoCs and have a lot to offer, but the lack of Google Play Services is a pretty massive drawback in my book. I really can't find any other direct competition in the Android market for the Samsung Pro 8.4 right now, so it's an easy recommendation.
For larger tablets, there are a couple more contenders worth considering. The ASUS TF701T 10.1" ($424 with WQXGA LCD and 32GB, with a Tegra 4 SoC) and the Toshiba Excite Pro 10.1" ($471 and also Tegra 4, WQXGA, and 32GB) are 10.1-inch offerings with similar core features (Tegra 4), with both pros and cons relative to the Tab Pro 10.1. Slightly lower pricing is one benefit, more storage by default is another perk, and the lack of TouchWiz UI may be another, depending on how you feel about that. Performance goes back and forth depending on the benchmark you want to look at, though I'd still give the edge to the Snapdragon 800 overall. Plenty of other budget tablets can be found, but they'll all come with slower SoCs, lower quality displays, and generally worse build quality.
Bottom line then is that if you're looking for a high quality Android tablet, Samsung's latest offerings should be at the top of your list. There are a few quirks at times (like physical buttons), but nothing that I'd consider a deal breaker. If you have the money and you want one of the best Android tablets I've had a chance to use, the Galaxy Pro tablet series likely has what you're looking for. We're still seeing pretty major jumps in performance with each new generation of SoCs, so these won't be the "new hotness" for long, but right now this is about as good as it gets. If you have the necessary funds, I can definitely recommend both of these tablets. We'll likely see additional competition in the coming months, but until we get the next generation SoCs I don't think you'll see anything clearly faster/better than the Galaxy Pro line. Now if they could just reduce the price a bit, it would be a much easier recommendation.