Original Link: http://www.anandtech.com/show/7861/seagate-business-storage-8bay-32tb-rackmount-nas-review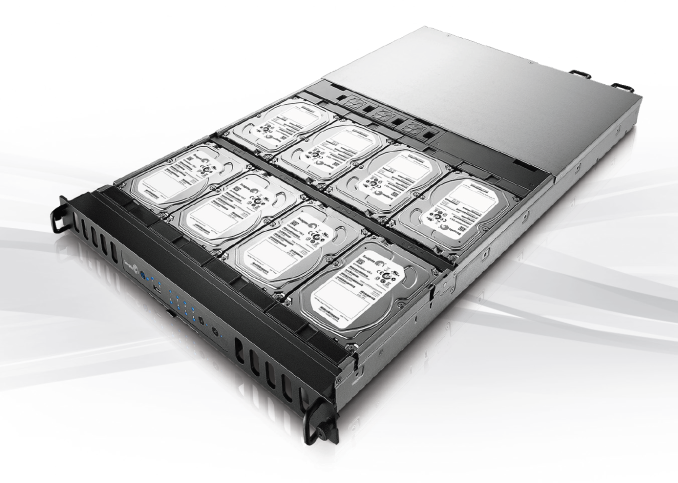 Introduction
Seagate's acquisition of LaCie in 2012 made quite a bit of sense as most of their product lines were complementary in nature. However, they had a bit of an overlap in the NAS market, particularly in the SOHO ARM-based segment. Early last year, we reviewed the LaCie 5big NAS Pro, a desktop form factor x86 NAS with an embedded Linux OS developed in-house by LaCie. With Seagate not having a presence in this space, it was an ideal segment to target with the help of LaCie's expertise. The result of the attempt is the Business Storage 1U rackmount lineup.
The Seagate Business Storage 1U Rackmounts come in 4-bay and 8-bay varieties. The Business Storage lineup also includes 1-4 bay versions based on a Cavium chipset, but the OS running on those is not based on LaCie's NAS OS. There is also a 4-bay Windows Server. The Cavium-chipset based units as well as the Windows Server come in the desktop tower form factor, while the units based on LaCie's OS are all rackmounts.
The specifications of the Seagate Business Storage 8-Bay Rackmount unit being reviewed today are provided below.
Seagate Business Storage 8-Bay 32TB Rackmount (STDP32000100) Specifications
Processor
Intel Celeron G1610T (2C/2T @ 2.3 GHz)
RAM
4 GB DDR3 ECC RAM
Drive Bays
8x 3.5" SATA 6 Gbps HDD [ Populated with 8x ST4000NM033 Constellation® ES.3 SATA 6Gb/s 4-TB Hard Drives ]
Network Links
2x 1 GbE
USB Slots
3x USB 2.0
eSATA Ports
None
Maximum Capacity
8-bays
VGA / Console / HDMI
VGA
PSU
Redundant (2x) 250W
Full Specifications Link
Seagate STDP32000100 Specifications (PDF)
Suggested Retail Pricing
US $5100
After taking a brief look at our testbed setup and testing methodology for the unit below, we will move on to the hardware and setup impressions. Following that, we will cover performance in single client scenarios and our usual multi-client tests. The final section will cover rebuild times and power consumption numbers while also providing some closing thoughts.
Testbed Setup and Testing Methodology
Our NAS reviews use either SSDs or hard drives depending on the unit under test. While rackmounts and units equipped with 10GbE capabilities use SSDs, the others use hard drives. Despite being a rackmount, the STDP32000100 was evaluated with the bundled drives because of the vendor's market positioning. Evaluation of NAS performance under both single and multiple client scenarios was done using the SMB / SOHO NAS testbed we described earlier.
AnandTech NAS Testbed Configuration
Motherboard
Asus Z9PE-D8 WS Dual LGA2011 SSI-EEB
CPU
2 x Intel Xeon E5-2630L
Coolers
2 x Dynatron R17
Memory
G.Skill RipjawsZ F3-12800CL10Q2-64GBZL (8x8GB) CAS 10-10-10-30
OS Drive
OCZ Technology Vertex 4 128GB
Secondary Drive
OCZ Technology Vertex 4 128GB
Tertiary Drive
OCZ RevoDrive Hybrid (1TB HDD + 100GB NAND)
Other Drives
12 x OCZ Technology Vertex 4 64GB (Offline in the Host OS)
Network Cards
6 x Intel ESA I-340 Quad-GbE Port Network Adapter
Chassis
SilverStoneTek Raven RV03
PSU
SilverStoneTek Strider Plus Gold Evoluion 850W
OS
Windows Server 2008 R2
Network Switch
Netgear ProSafe GSM7352S-200
Thank You!
We thank the following companies for helping us out with our NAS testbed:
Hardware and Setup Impressions
The 4-bay variant of the Seagate Business Storage Rackmount series can be purchased diskless, but the 8-bay variant comes with 4TB enterprise-class SATA disks (Constellation ES.3) pre-installed. Available drive configurations include 8TB (4x2TB), 12TB (4x3TB), 16TB (4x4TB) and 24TB (8x3TB). In order to accommodate 8 hot-swappable drives, the unit adopts a sliding tray design with the front part of the top cover capable of being propped open. The eight bays are laid out flat in two rows. The hard drives are mounted on a special caddy designed for this particular configuration. Due to the nature of the chassis, and the bundled hard drives in certain configurations, the storage density offered by the Seagate Business Storage 8-Bay unit is simply unparalleled.
In terms of hardware design, the unit is top-notch. The sliding rail design and the tool-less cooling system access, as well as the front USB port and sound suppression buttons make it easy to access service the unit when necessary. If we had to find scope for improvement, it would be in the caddy design. While the layout of the bays precludes intuitiveness, it could do with some vibration dampening mechanism. While hot-swapping disks, we could feel the vibration of the chassis frame's base from the other spinning disks and that did leave us a bit worried. However, considering that the Constellation ES.3 disks have RV (Rotational Vibration) tolerance built-in, it should not be much of a worry.
In terms of platform design, we can see that six of the bays are serviced by on-board SATA ports and two cables come from a riser card attached to the PCIe slot. The motherboard is a custom one from Asus, and without SSH access, we were unable to determine the chipset being used for the Ivy Bridge ECC-enabled board.
The OS on the unit (Seagate NAS OS) is an evolved version of the LaCie NAS OS that we evaluated in the 5big NAS Pro review. The UI is more streamlined, but some features (such as encryption support and volume expansion above 12 TB) have been cut. Starting the unit in diskless mode involves booting the unit with the rescue USB key inserted. This results in the unit getting a DHCP address, after which the setup process can be completed via the web interface.
Most of the OS features are similar to the LaCie NAS OS. The unit comes with support for the secure Wuala Cloud Storage. We have already covered the capabilities of Wuala's Hybrid Cloud in our LaCie 5big NAS Pro review, so we will not address that aspect further in this review.
A quick overview of the available options in the web interface is provided in the gallery below.
Users can be added (along with an optional e-mail address for Wuala / hybrid cloud access). Shares can be set up with restricted access protocols. For example, a share can be configured to be accessible only over NFS and not SMB. The OS also features an in-built download client which supports BitTorrent, as well as direct HTTP / FTP downloads. Backup jobs can be configured through a front-end for rsync. It is also possible to set up the NAS to act as a rsync destination for other compatible clients (the backups go to a default Net Backup directory). One of the nice features in NAS OS is the ability to restrict access protocols to particular network links. Seagate also provides a dynamic DNS service for accessing the unit over the Internet. It requires forwarding of ports 80 and 443 for HTTP and HTTPS respectively. This service is available only on the primary LAN port. Power management (including scheduled power on and off times as well as hard disk sleep configuration) and monitoring features (CPU, chassis fans, S.M.A.R.T etc.) are present in the OS.
Our usual review methodology for rackmount units uses SSDs, but, considering that Seagate promotes storage density with this solution, our benchmarks were processed with the bundled Seagate Constellation ES.3 4TB drives. The testing usually starts in the diskless mode, with disks being added one-by-one to test out the RAID migration and expansion capabilities. This process went fine for the first four drives. We were able to successfully migrate from a JBOD 4TB volume to a 12 TB RAID-5 volume with four disks. Unfortunately, when adding the fifth disk and trying to expand the existing volume, some OS limitations were exposed.
With the version that we evaluated (NAS OS 3.2), a volume cannot be expanded by more than 8TB per expansion step. In addition, a volume cannot be expanded to exceed 16TB (despite support for creation of a volume bigger than 16TB). The limitations are due to the e2fs component in-charge of the volume format. Seagate assured us that an upcoming firmware update would resolve this issue. In any case, we moved directly to create a 8-disk RAID-5 volume for benchmarking. There were no issues in the RAID-5 rebuild process when we replaced one of the 8 disks.
Single Client Performance - CIFS and iSCSI on Windows
The single client CIFS performance of the Seagate Business Storage 8-Bay Rackmount was evaluated on the Windows platforms using Intel NASPT and our standard robocopy benchmark. This was run from one of the virtual machines in our NAS testbed. All data for the robocopy benchmark on the client side was put in a RAM disk (created using OSFMount) to ensure that the client's storage system shortcomings wouldn't affect the benchmark results. It must be noted that all the shares / iSCSI LUNs are created in a RAID-5 volume.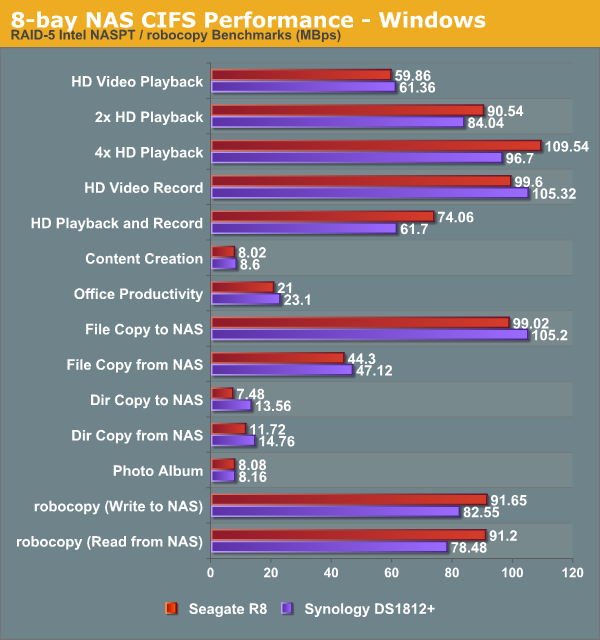 We created a 250 GB iSCSI target and mapped it on the Windows VM. The same benchmarks were run and the results are presented below.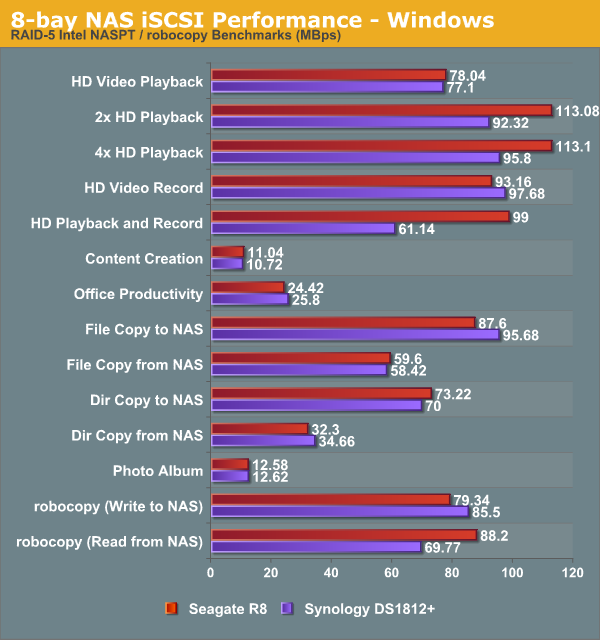 It is interesting to note that the Atom D27xx-based Synology DS1812+ runs neck-to-neck with the Seagate R8, but the extra CPU grunt of the Celeron G1610T helps the Seagate unit march ahead in a number of benchmarks.
Encryption Support
The Seagate NAS unit, unfortunately, doesn't have native encryption support. Even though the Celeron G1610T doesn't support AES-NI, software-based enryption would have definitely yielded better results compared to what is obtained from Atom-based units. In any case, Seagate believes that using SEDs (Self-Encrypting Drives) for the disks would be a better option for customers with no impact at all to the NAS performance. Even though none of the SEDs are currently in the public compatibility list, Seagate says they do support them.
Under usual circumstances, we would not have liked the limiting of consumer options (since SEDs definitely cost a bit more compared to the non-encrypted versions). However, given that the HDD vendor and the NAS vendor are both the same for this product, it wouldn't be too much of a drawback. In essence, if the user / company is looking for a diskless enclosure, there are multiple options available with a better feature set. We believe the allure of these units stem from the fact that the disk and NAS vendor are one and the same, allowing for better support and lesser overhead for the IT department.
Single Client Performance - CIFS and NFS on Linux
A CentOS 6.2 virtual machine was used to evaluate NFS and CIFS performance of the NAS when accessed from a Linux client. In order to standardize the testing across multiple NAS units, the following parameters were used to mount the NFS and Samba shares:
mount -t nfs NAS_IP:/PATH_TO_NFS_SHARE /PATH_TO_LOCAL_MOUNT_FOLDER
mount -t cifs //NAS_IP/PATH_TO_SMB_SHARE /PATH_TO_LOCAL_MOUNT_FOLDER
Note that these are slightly different from what we used to run in our previous NAS reviews. We have also shifted from IOMeter to IOZone for evaluating performance under Linux. The following IOZone command was used to benchmark the shares:
IOZone -aczR -g 2097152 -U /PATH_TO_LOCAL_CIFS_MOUNT -f /PATH_TO_LOCAL_CIFS_MOUNT/testfile -b <NAS_NAME>_CIFS_EXCEL_BIN.xls > <NAS_NAME>_CIFS_CSV.csv
IOZone provides benchmark numbers for a multitude of access scenarios with varying file sizes and record lengths. Some of these are very susceptible to caching effects on the client side. This is evident in some of the graphs in the gallery below.
Readers interested in the hard numbers can refer to the CSV program output
here
. These numbers will gain relevance as we benchmark more NAS units with similar configuration.
The NFS share was also benchmarked in a similar manner with the following command:
IOZone -aczR -g 2097152 -U /nfs_test_mount/ -f /nfs_test_mount/testfile -b <NAS_NAME>_NFS_EXCEL_BIN.xls > <NAS_NAME>_NFS_CSV.csv
Some scenarios exhibit client caching effects, and these are evident in the gallery below.
The IOZone CSV output can be found here for those interested in the exact numbers.
A summary of the bandwidth numbers for various tests averaged across all file and record sizes is provided in the table below. As noted previously, some of these numbers are skewed by caching effects. A reference to the actual CSV outputs linked above make the entries affected by this effect obvious.
Seagate Business Storage 8-Bay - Linux Client Performance (MBps)
IOZone Test
CIFS
NFS
Init Write
67
68
Re-Write
68
65
Read
26
103
Re-Read
25
102
Random Read
16
45
Random Write
65
65
Backward Read
15
36
Record Re-Write
660
671
Stride Read
24
76
File Write
65
67
File Re-Write
65
68
File Read
18
74
File Re-Read
18
72
Multi-Client Performance - CIFS
We put the Seagate Business Storage 8-Bay Rackmount through some IOMeter tests with a CIFS share being accessed from up to 25 VMs simultaneously. The following four graphs show the total available bandwidth and the average response time while being subject to different types of workloads through IOMeter. IOMeter also reports various other metrics of interest such as maximum response time, read and write IOPS, separate read and write bandwidth figures etc. Other interesting aspects from our IOMeter benchmarking run can be found here. Some of the numbers exhibit caching effects.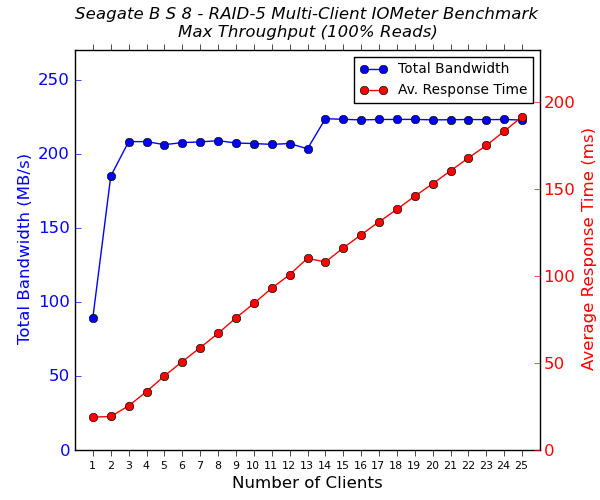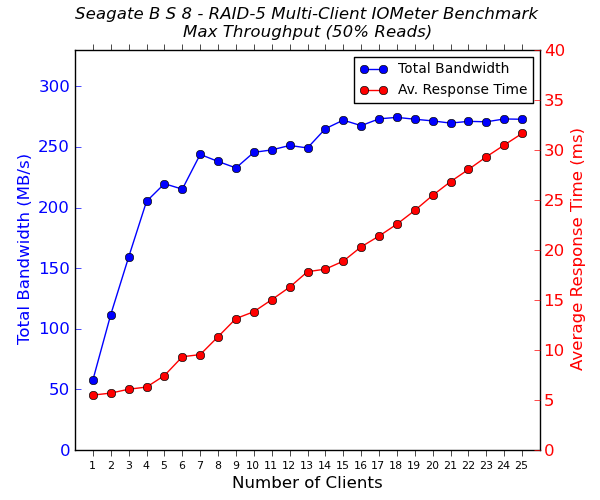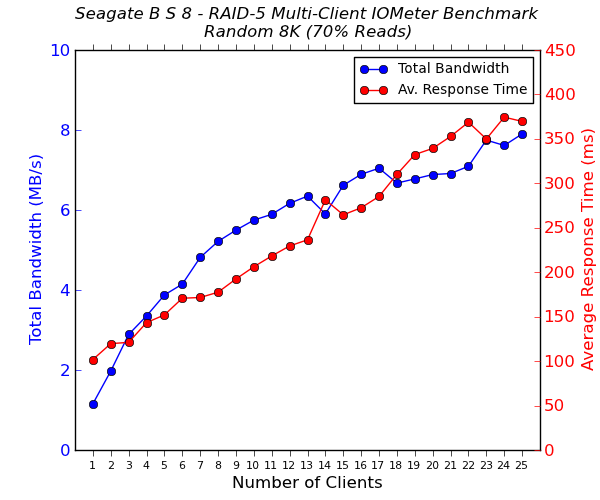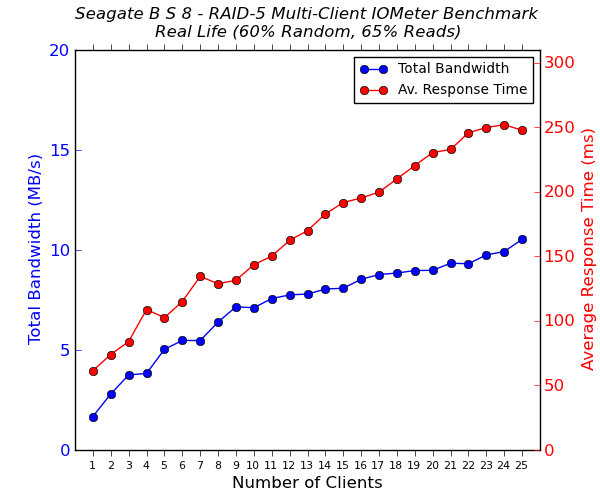 For comparison, we have the multi-client benchmarking results from our evaluation of the Synology DS1812+ also. The testing conditions are similar (8x 4TB 7200rpm HDDs in RAID-5, 2x 1GbE ports in 802.3ad link aggregation). It is under these conditions that the weakness of the Atom CPU in the DS1812+ gets exposed. We find that the Seagate STDP32000100 is able to provide faster response times as well as more throughput when a large number of clients try to access the NAS simultaneously.
Miscellaneous Factors and Final Words
The Seagate Business Storage 8-Bay Rackmount NAS has many applicable disk configurations (JBOD / RAID-0 / RAID-1 / RAID-5 / RAID-6 / RAID-10). Most users looking for a balance between performance and redundancy are going to choose RAID-5. Hence, we performed all our expansion / rebuild duration testing as well as power consumption recording with the unit configured in RAID-5 mode. The table below presents the average power consumption of the unit as well as time taken for various RAID-related activities.
Seagate STDP32000100 RAID Expansion and Rebuild / Power Consumption
Activity
Duration
Avg. Power Consumption
Deep Sleep (WOL Supported)
N/A
7.32 W
Idle (Diskless)
N/A
36.21 W
4TB Single Disk Initialization
N/A
45.14 W
4TB JBOD to 4TB RAID-1 (1 to 2 Disks)
11h 42m 49s
54.41 W
4TB RAID-1 to 8TB RAID-5 (2 to 3 Disks)
1d 2h 44m 18s
63.83 W
8TB RAID-5 to 12TB RAID-5 (3 to 4 Disks)
1d 3h 13m 41s
74.53 W
28TB RAID-5 (8 Disks) Initialization
13h 39m 30s
122.72 W
28TB RAID-5 Rebuild (Replace 1 of 8 Disks)
18h 56m 40s
119.47 W
Coming to the business end of the review, the most striking aspect of the unit is its storage density. Cramming 32TB in a 1U enclosure is an attractive option in many situations. We know that the OS is still a work in progress. Feature-wise, the unit may not be able to compete with the likes of Synology, QNAP, Netgear etc. For example, there is no support for encrypted volumes or extensive third party applications.
Surprisingly, despite the obvious targeting of the unit towards IT departments, there is no SSH access or native encryption support available in the OS right now. However, for enterprise applications where the unit may only be serving a single purpose (say, as a storage server with multiple iSCSI LUNs for use by VMs, or just serving up a fast CIFS share for access from multiple PCs), the unit can turn out to be a very good choice. We have very satisfactory performance numbers even when the unit is being accessed by a large number of clients. In addition, we didn't find any long-term reliability issues with the unit, which is more than what we could say for some of the other NAS units that have been subject to our evaluation. As mentioned earlier, the real allure of the Seagate Business Storage 8-Bay Rackmount lies in the NAS and disk vendor being one and the same, thereby providing a single point of support for IT departments deploying these units. That said, we look forward to Seagate putting in more work on the NAS OS to achieve feature parity with its competitors.