Original Link: http://www.anandtech.com/show/7829/lg-g-pro-2-mini-review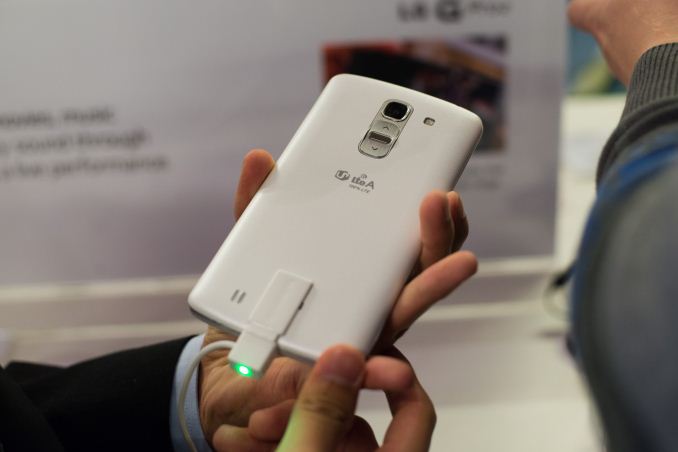 At MWC, LG announced their new G Pro 2, which was written up for an early hands-on and some analysis based upon the information given out by LG's press release on the device. This is definitely not a device that was unexpected either, as the Optimus G Pro was unveiled at MWC as well, and was effectively a similar upgrade from the Optimus G, with a bigger display, and added a removable battery and microSD slot. What is different is that the G Pro 2 doesn't have a newer SoC than the one found in the G2. It's the same MSM8974AA chipset.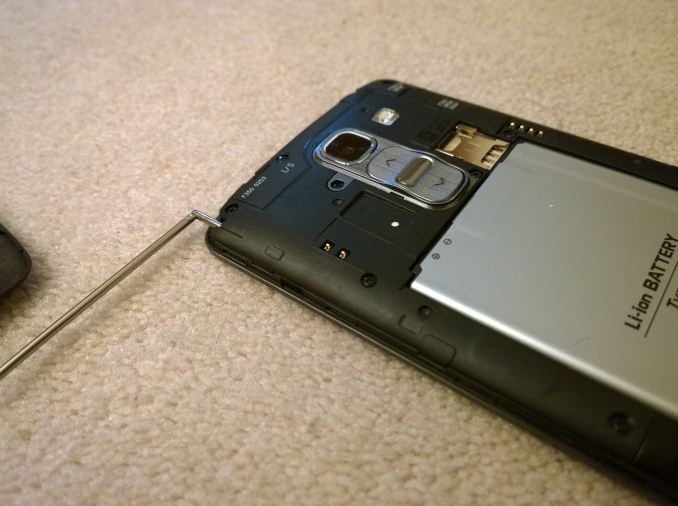 In the same vein as the Optimus G Pro, the G Pro 2 is a phablet that is a direct cousin of the G2. Some news outlets have described it as a flattened G Flex, but there's more to it than that. While the G2 and G Flex both had a flat black bezel in the front, the G Pro 2 adds a pinstripe texture beneath the glass that makes it shimmer under direct light.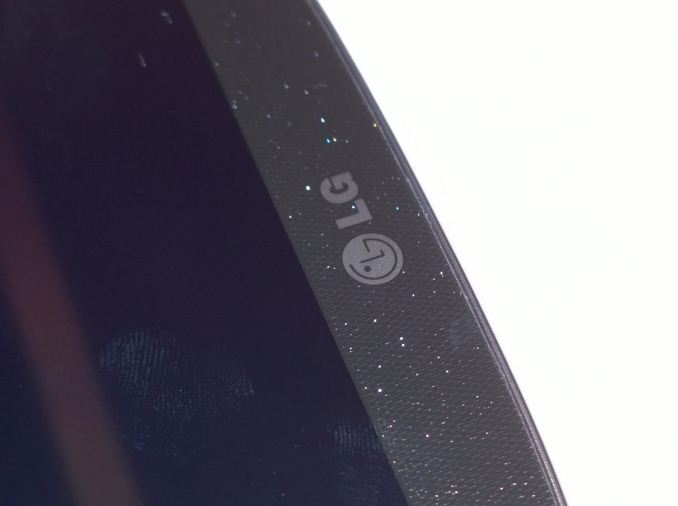 However, the real story is the back cover, because LG has finally gotten rid of the glossy finish and replaced it with a matte back cover that is reminiscent of the Samsung Galaxy S2, but with a much finer texture. For a plastic phone, the G Pro 2 is an example of how to do things right, as the fine texture is understated and looks as if the clear glossy coat of the LG G2 has been removed to leave the textured plastic underneath. The side is also a matte plastic, although the finish is of a much higher grain to approach a glossy finish.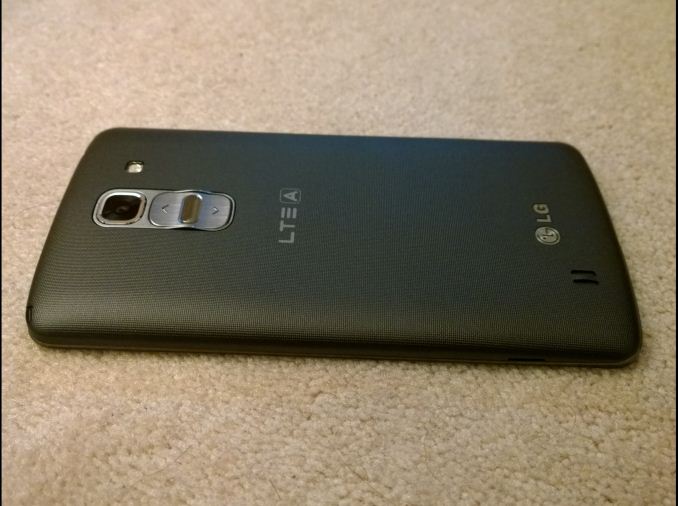 The overall shape of the phone is also very ergonomic, with smoothly rounded edges that make the shape almost identical to that of the LG G2. The bezels are incredibly thin as well. LG claims that 77.2% of the front face of the phone is dedicated to the screen, which is likely helped by the rear key design that LG is carrying forward from the G2.
Outside of material feel and industrial design, the G Pro 2 continues to use some of the very best hardware on the market today, with the MSM8974 SoC, 3 GB of RAM, a 3200 mAh battery, and a 5.9" 1080p IPS panel. I've made a table of the highlights below to compare it with the Note 3 and the Optimus G Pro. I should also note that before the review I was sure that the G Pro 2 was running 8974AB as that would be the latest SoC available for the MWC timeframe launch, but based upon some tests it never reaches a 550 MHz GPU clock.
LG Optimus G Pro
Samsung Galaxy Note 3
LG G Pro 2
Display

5.5" 1080p IPS

5.7" 1080p SAMOLED
5.9" 1080p IPS
SoC

APQ8064AB, Snapdragon 600, 4x 1.7 GHz Krait 300, Adreno 320 @ 400 MHz

MSM8974AA, Snapdragon 800, 4x 2.3 GHz Krait 400, Adreno 330 @ 450 MHz
MSM8974AA, Snapdragon 800, 4x 2.3 GHz Krait 400, Adreno 330 @ 450 MHz
RAM
2GB LPDDR3
3GB LPDDR3
3GB LPDDR3
WiFi
802.11a/b/g/n/ac + BT 4.0
802.11a/b/g/n/ac + BT 4.0
802.11a/b/g/n/ac + BT 4.0
Storage

16/32GB + microSD

32/64GB + microSD

16/32GB + microSD

Battery

3140 mAh, 3.8V, 11.9 Whr

3200 mAh, 3.8V, 12.2 Whr
3200 mAh, 3.8V, 12.2 Whr
Size/Mass

150.2 x 76.1 x 9.4mm, 174g

151.2 x 79.2 x 8.3mm, 168g
157.9 x 81.9 x 8.3mm, 172g
Camera

13MP w/AF, LED, 1080p30, 720p60, 2.1MP FFC

13 MP w/AF, LED (Rear Facing) – 1080p60, 720p120, 4K30
2 MP FFC
13 MP w/AF, OIS+EIS, LED (Rear Facing) – 1080p60, 720p120, 4K30
2.1 MP FFC
As seen by the table, the G Pro 2 is a direct competitor to the Galaxy Note 3, and outside of the OIS on the camera, a larger display, newer SoC, and no Wacom stylus, they're almost identical. There's definitely very little in the way of differences in core specs, so the tertiary characteristics become far more important. LG is trying to differentiate their hardware with things like the 1 watt speaker on the back, and the use of G-RAM to enable panel self-refresh for better battery life.
Software
LG is doing more than just hardware differentiation though, software is becoming increasingly important to them. Some of the key software features that the G Pro 2 pushes are a software-based addition to OIS, "KnockCode", flash for the FFC, "Magic Focus", "Natural Flash", "Mini View", "Content Lock", and "Dual Browser". I'll get to the camera features later, but KnockCode should definitely be at the top, especially because LG's entire presentation on the G Pro 2 and other devices strongly emphasized KnockCode. While it was presented in a rather silly manner, KnockCode is actually quite good, and a logical evolution of the KnockOn feature found in the G2. It's great to be able to unlock the phone without ever turning the display on, and LG's implementation of the feature has no major issues to talk about.
The Mini View feature is also good, but I'm not too sure that this is the fix for those that don't want a huge phone. Rather, it is a workaround for the sheer size of the formfactor when only one hand can be used. The window can be resized, and the window is created when the on-screen buttons are swept from one direction to another.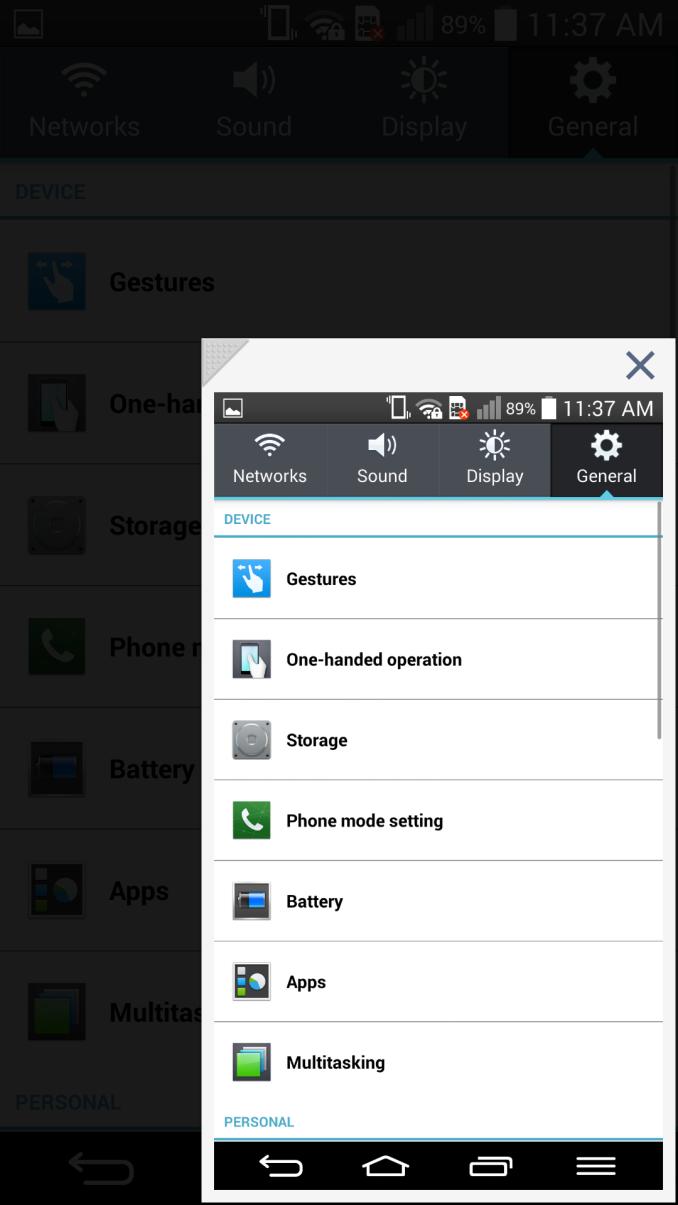 One feature that LG hasn't really been talking up is Slide Aside, which is effectively a way of saving up to three applications to view at a later time. I'm not quite sure how valuable this is, especially because the multitasking menu effectively does the same thing, although it's admittedly not as consistent in saving application states.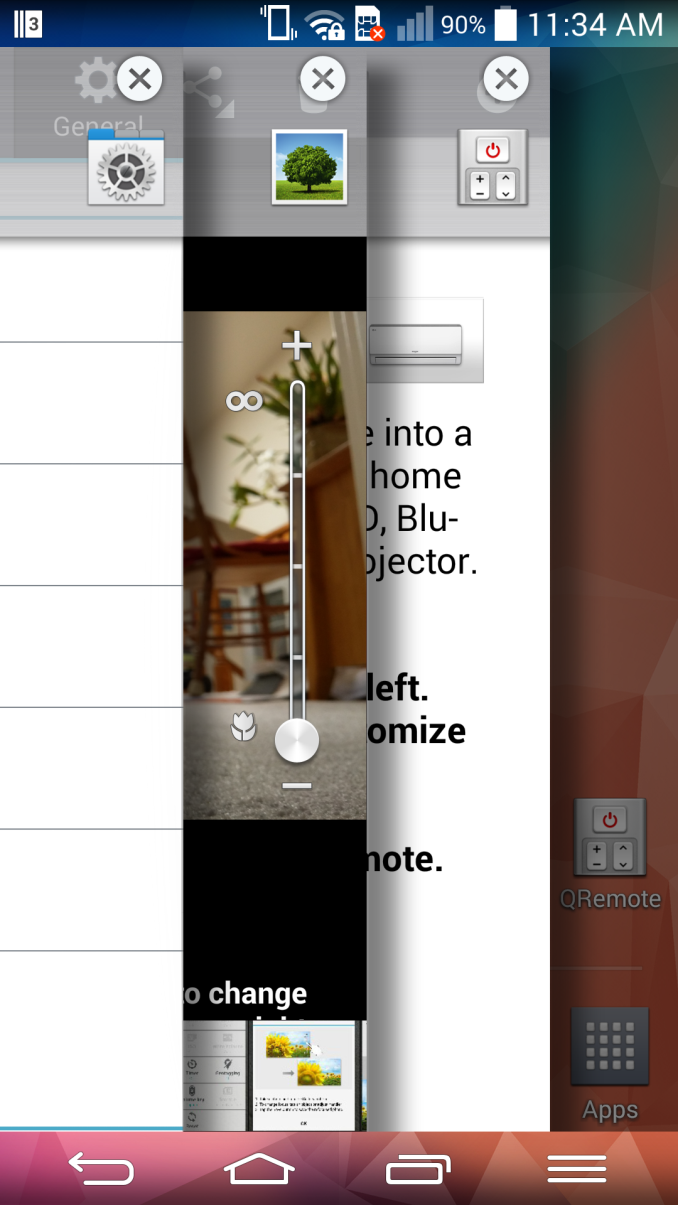 Outside of the new features that LG is pushing, the UI is mostly the same. Out of the box, LG continues to leave QSlide and volume sliders/brightness sliders in the notification drawer to take up half of drawer, although all but the quick settings can be removed to tidy things up, as seen below.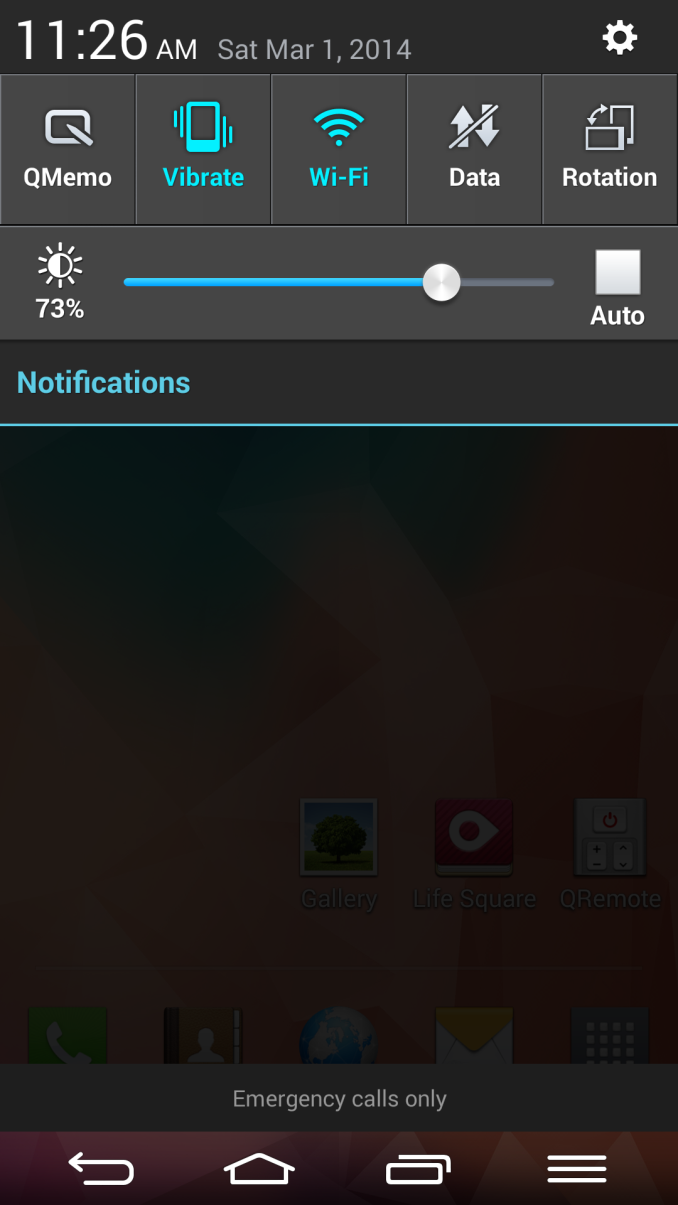 The settings drawer in the tab view is logically organized and the ability to actually swipe from one tab to another instead of tapping the tab on top of the display helps a lot, as does the ability to convert the settings application to a single scrollable list, although I noticed that some settings go missing when this is done, such as modifying the front display keys.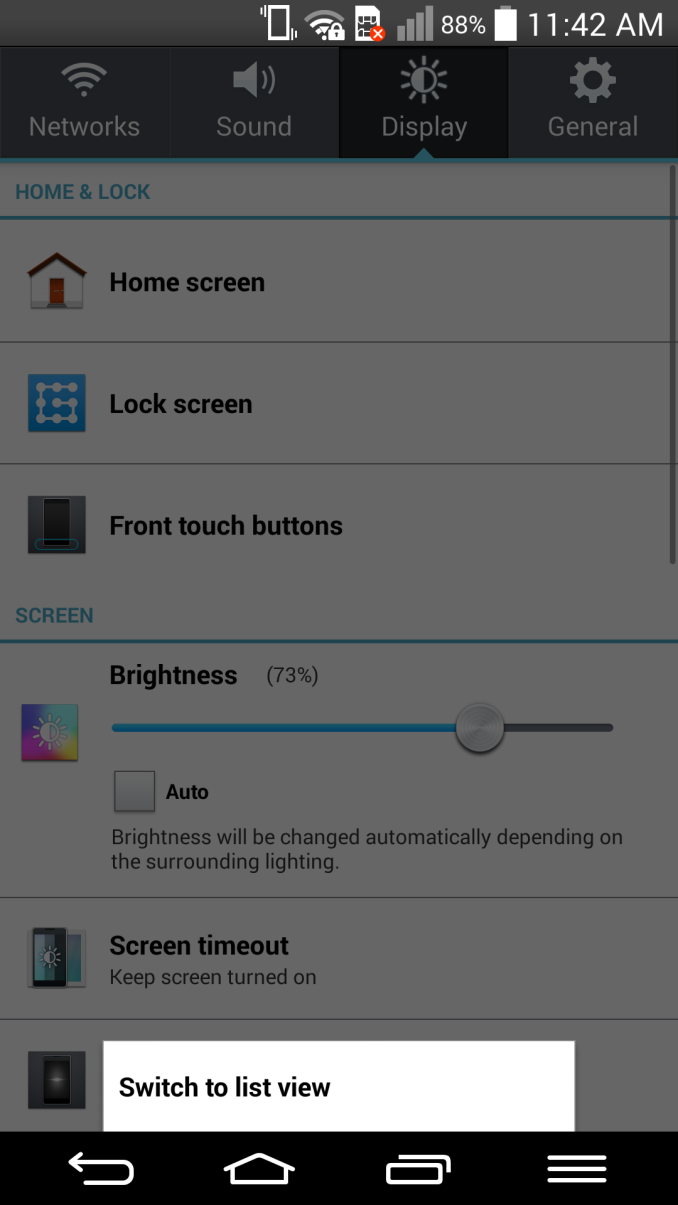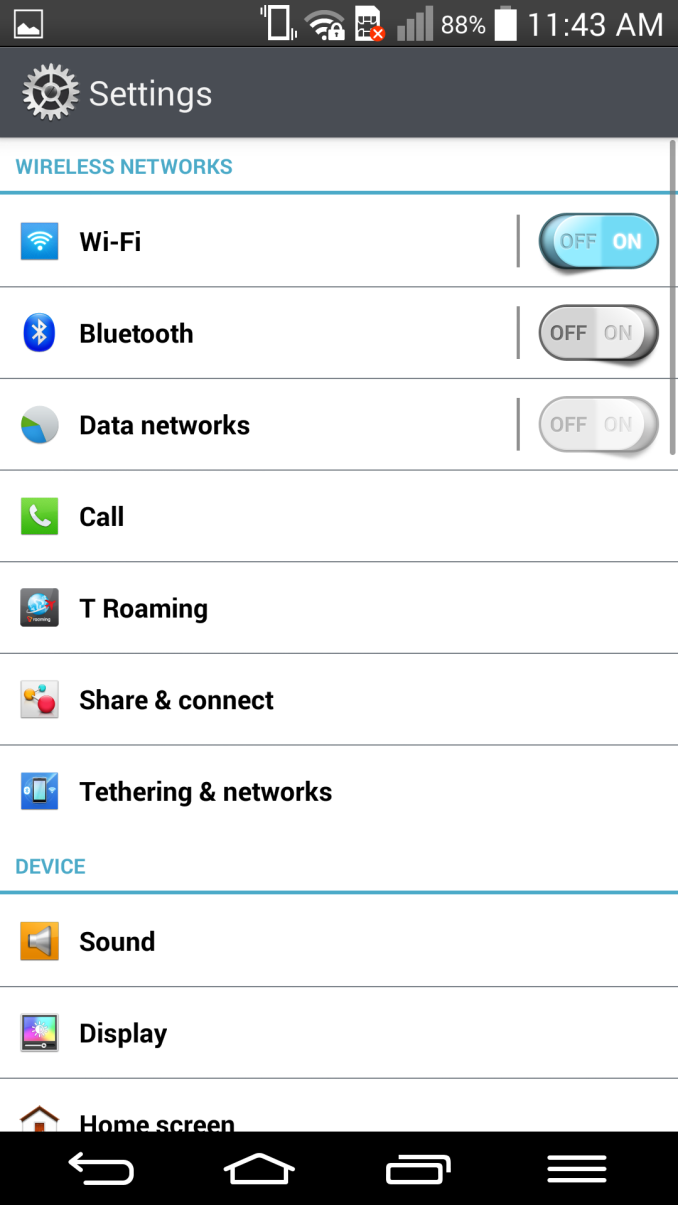 The dialer and the contacts aren't really much to talk about, and I found that those parts worked just fine, although it certainly shares quite a bit with TouchWiz when it comes to visual design. The launcher was smooth and there really wasn't anything out of the ordinary when it comes to how LG's UI is made. It's almost identical to the one in the LG G2, and I wouldn't expect this to change too much any time soon, although based on Samsung's changes to TouchWiz I would guess that the Korean OEMs may be shifting their visual styles soon.
Display
As always, every smartphone reviewed has to go through our CalMAN 5 workflow to determine accuracy of calibration. I have to applaud LG for fixing their issues with the G2's uneven saturation sweep, as it's gone in the G Pro 2. However, it seems that LG is still missing the targets for the sweep, especially on the secondary colors.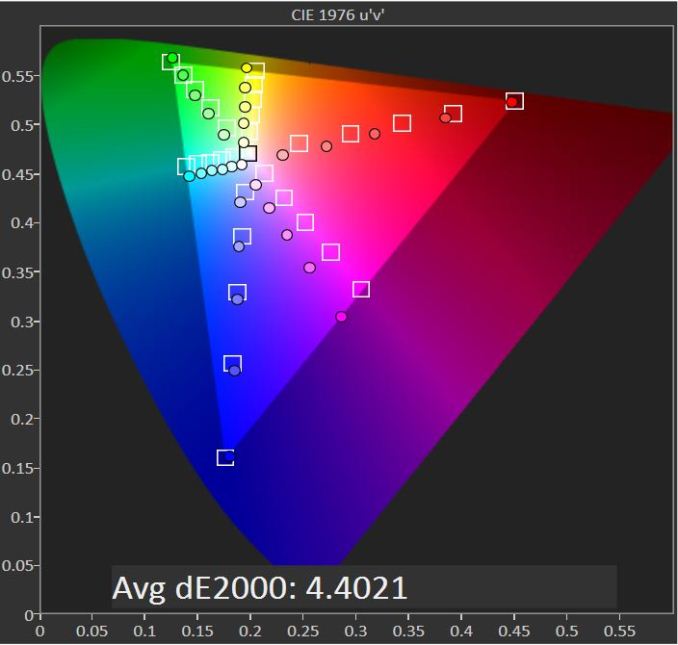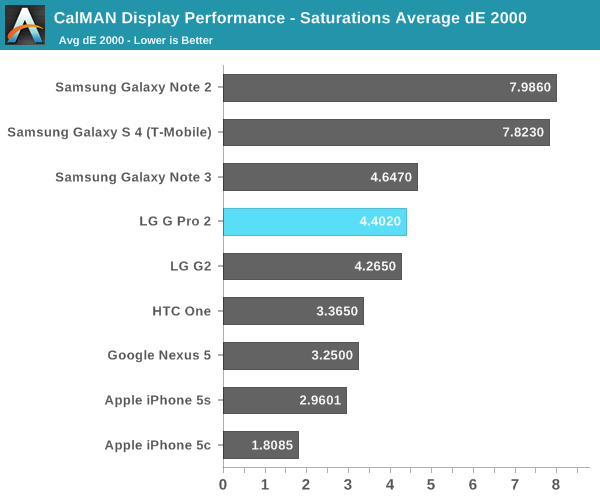 The white point is also quite blue, likely because this phone is intended for the Asian market, although I don't know if things will change if this phone makes it to Western markets.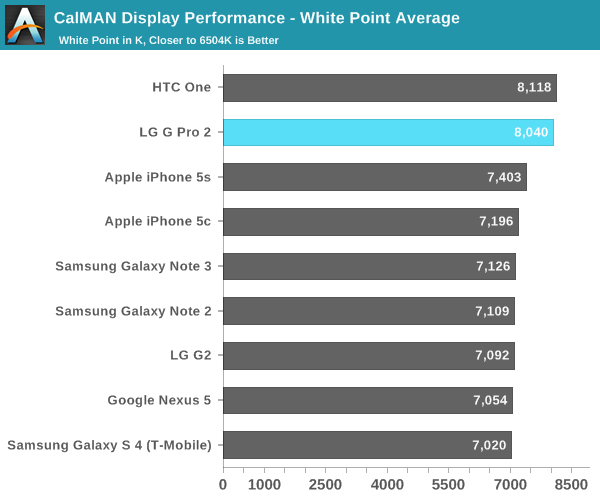 Overall, the G Pro 2 doesn't really rock the boat when it comes to color accuracy, although LG seems to be taking the right steps to rectify some of the issues that they've had. The Gretag Macbeth chart performance improves a bit as well.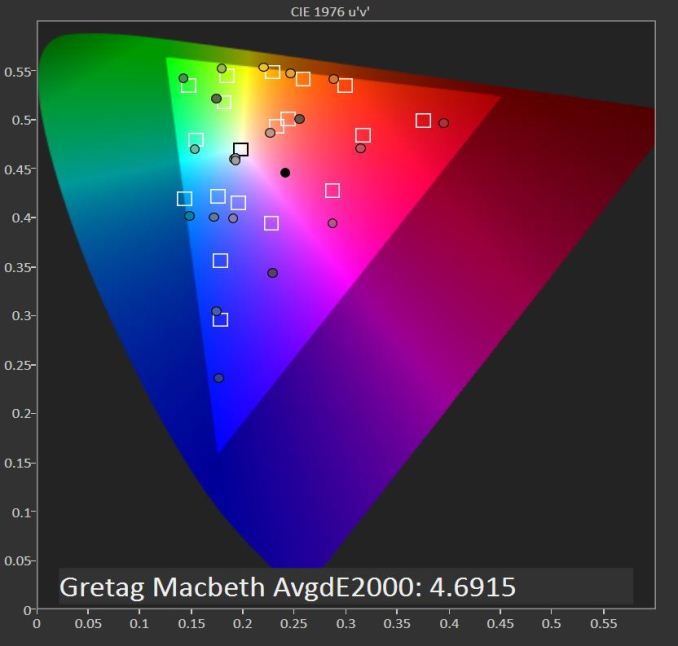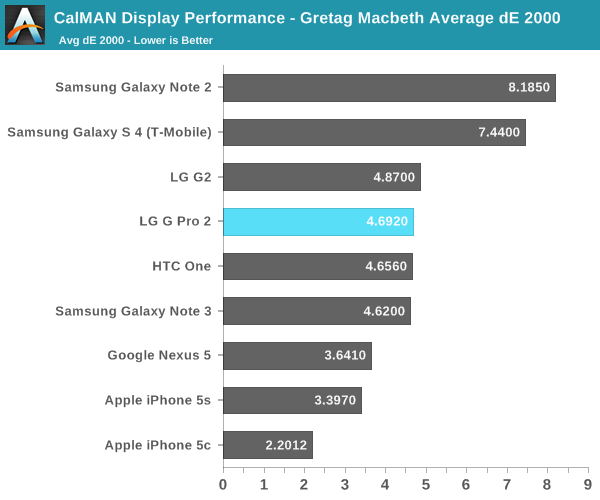 It's important to keep in mind for the grayscale data that I use an i1pro, which means that the extremely low brightness values are likely to be inaccurate, so I'm not posting official contrast numbers for the G Pro 2 quite yet.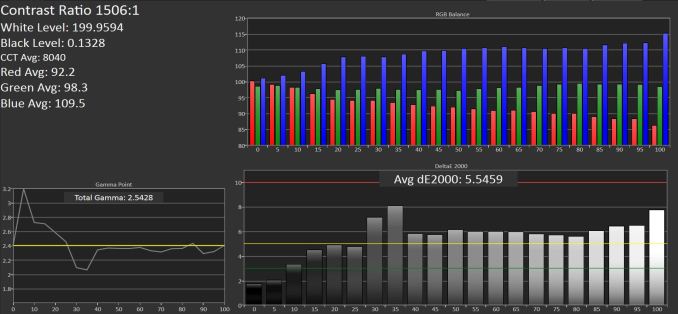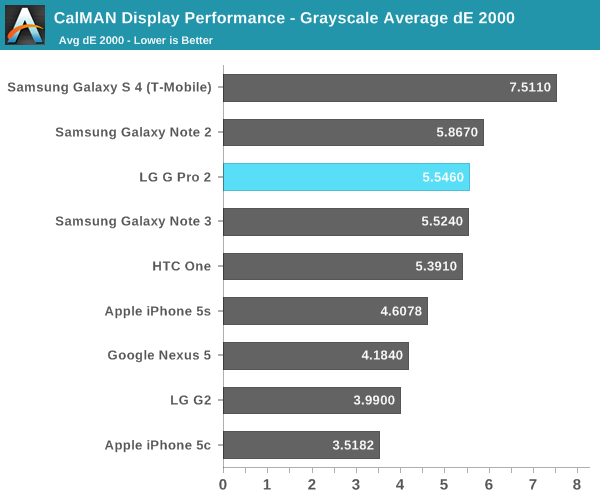 Brightness seems to be relatively low at maximum relative to the best LCDs at 400 nits or so, but it's in line with the LG G2. The minimum white level is 7.63 nits for those that use their phones in dark environs, so this certainly makes it easier on the eyes than the HTC One, which goes down to around 12 nits at the lowest brightness.
I'll be sure to update this review with additional information, as time constraints dictate that I can't quite get all the data collected to do a proper comparison across multiple phones for minimum 100% APL brightness.
Camera
I must defer to Brian in this case, as the camera is effectively unchanged from the LG G2. There is the OIS+ feature, and LG has added a few extra features such as 4K recording, flash for the front facing camera, and a natural flash feature that tries to emulate a dual temperature LED flash without the dual temperature LED. The OIS+ feature definitely works, and it's effectively EIS on top of the OIS. Compared to the G2, I can definitely see a difference, although I don't have a camera rig to show the effect. What doesn't quite work out is the natural flash feature, which despite its best efforts, doesn't seem to noticeably reduce the change in color balance that happens when flash is used. As seen below, I took the first photo with the flash off, and the second with the flash on.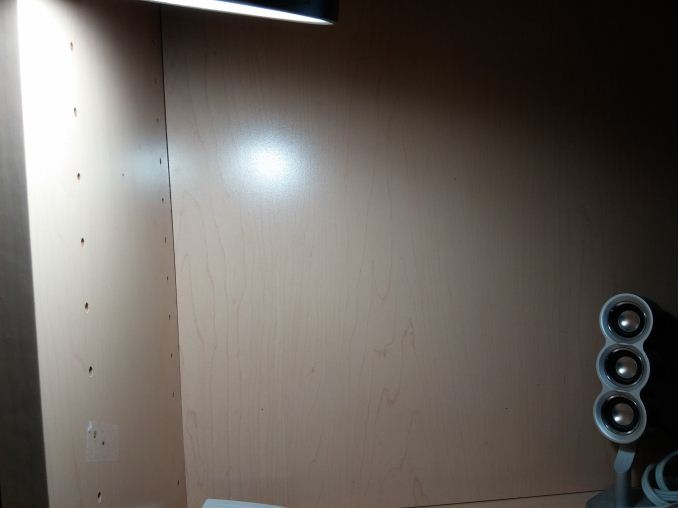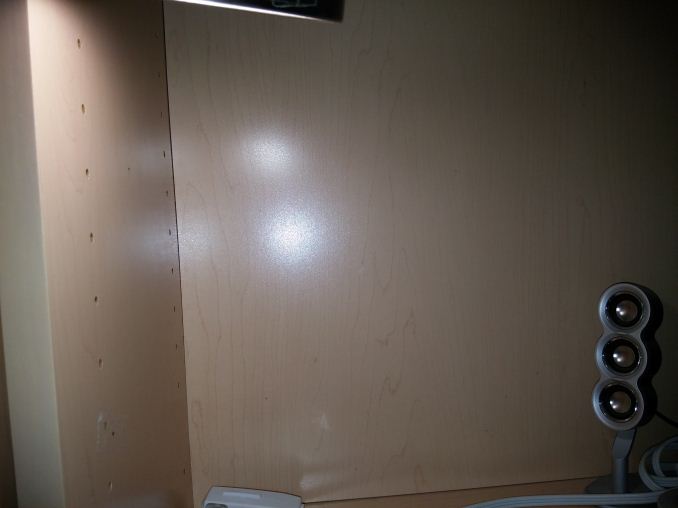 One of the simplest features is the front facing camera flash, which is actually a great idea despite its simplicity and makes an enormous difference when it comes to low light photos with the front facing camera.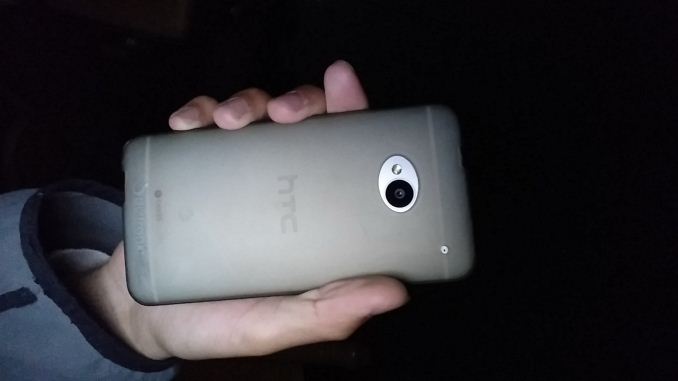 The Magic Focus feature also works, but like most HDR modes, it needs still subjects to work right. Otherwise it's pretty easy to end up with severe ghosting. The UI also only lets you refocus once, which is a bit disappointing.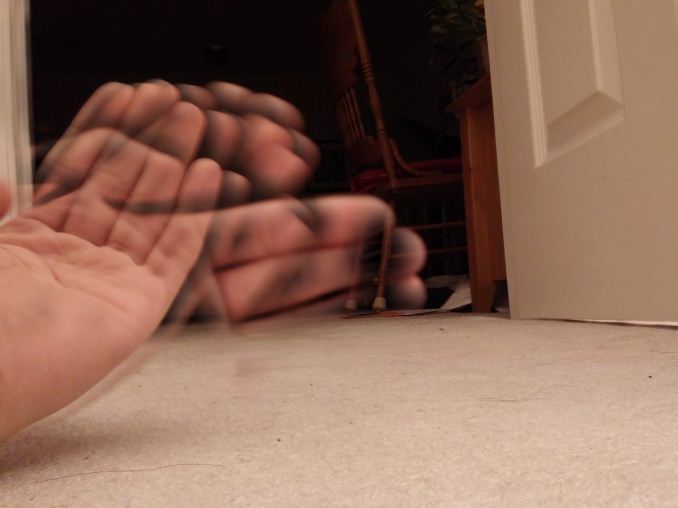 CPU, GPU & NAND Performance
It's really tough to say much here on the CPU and GPU side, although it seems that since we first looked at the MSM8974 there has been quite a bit of optimization in general, based upon some browser benchmarks that I tested. Once again, Brian has covered this, so I would reference the Nexus 5 review.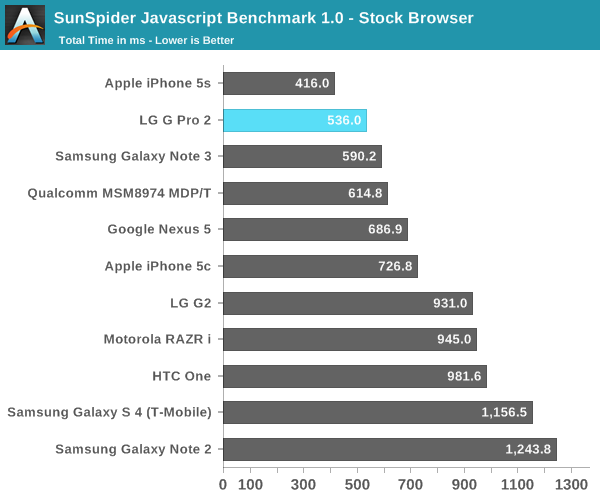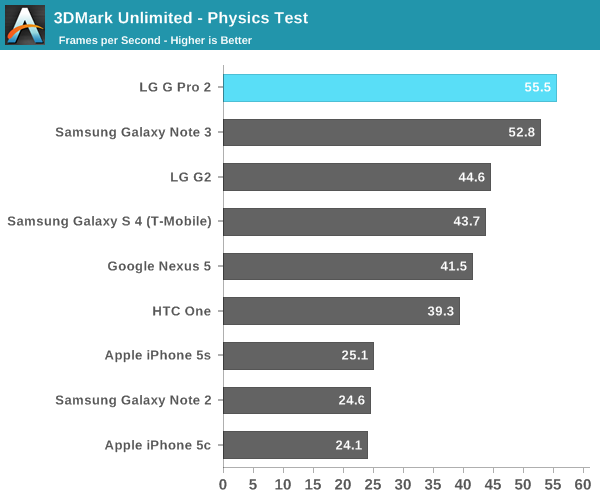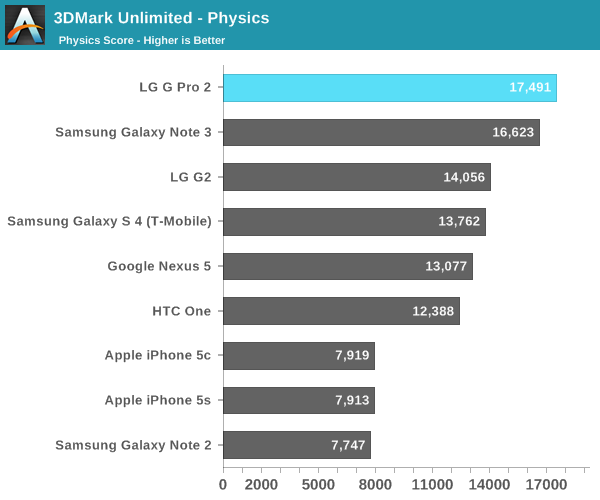 On GPU, absolutely nothing changes here as far as I can tell, the performance I get on T-Rex and on the 3DMark suite is effectively identical to the numbers I've seen on other 8974 platform devices.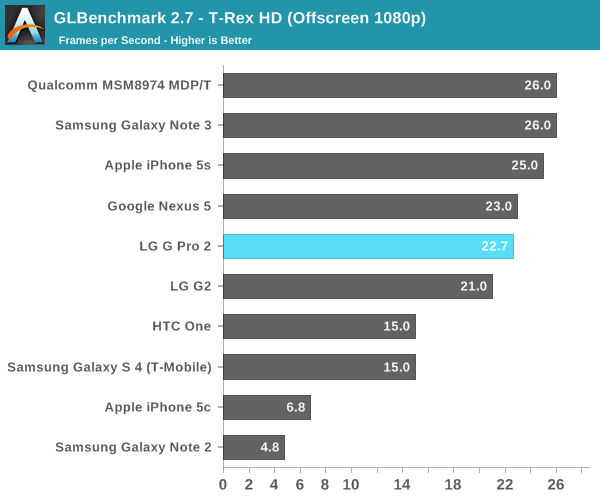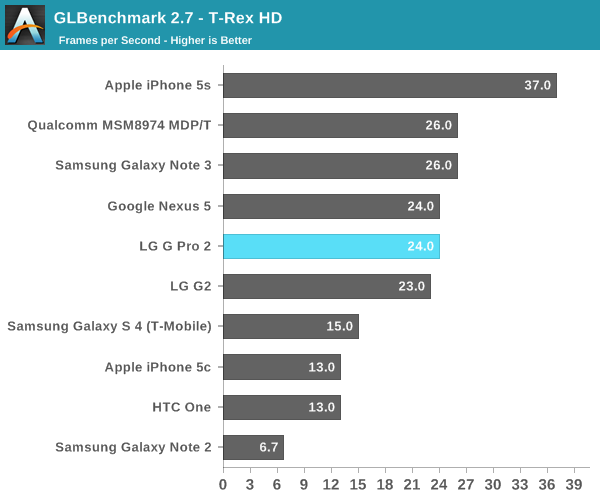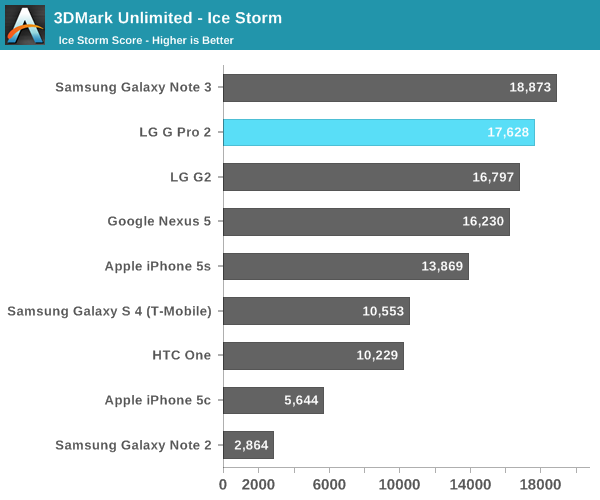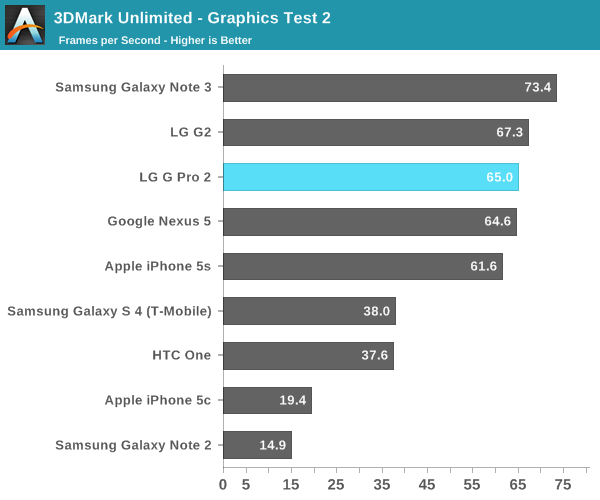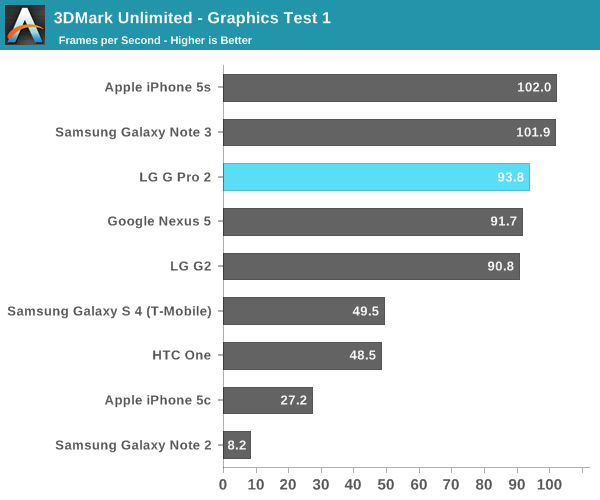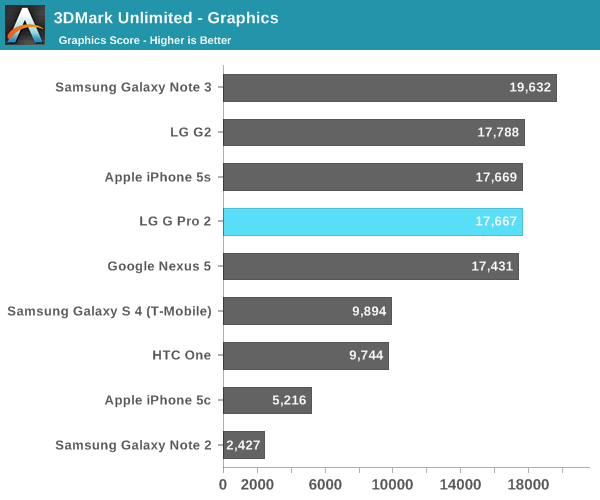 The real story here is that LG doesn't seem to be running any benchmark optimizations, which is certainly a far cry from other devices that I've looked at recently. This is good to see, and I hope that this becomes a trend with OEMs as the year goes on.
I Can't Believe I Also Have To Update This Table
Device
SoC
Cheats In
3DM
AnTuTu
AndEBench
Basemark X
Geekbench 3
GFXB 2.7
Vellamo
ASUS Padfone Infinity
Qualcomm Snapdragon 800
N
Y
N
N
N
N
Y
HTC One
Qualcomm Snapdragon 600
Y
Y
N
N
N
Y
Y
HTC One mini
Qualcomm Snapdragon 400
Y
Y
N
N
N
Y
Y
HTC One max
Qualcomm Snapdragon 600
Y
Y
N
N
N
Y
Y
LG G2
Qualcomm Snapdragon 800
N
Y
N
N
N
N
Y
LG G Pro 2
Qualcomm Snapdragon 800
N
N
N
N
N
N
N
Moto RAZR i
Intel Atom Z2460
N
N
N
N
N
N
N
Moto X
Qualcomm Snapdragon S4 Pro
N
N
N
N
N
N
N
Moto G
Qualcomm Snapdragon 400
N
N
N
N
N
N
N
Nexus 4
Qualcomm APQ8064
N
N
N
N
N
N
N
Nexus 5
Qualcomm MSM8974
N
N
N
N
N
N
N
Nexus 7
Qualcomm Snapdragon 600
N
N
N
N
N
N
N
Samsung Galaxy S 4
Qualcomm Snapdragon 600
N
Y
Y
N
N
N
Y
Samsung Galaxy Note 3
Qualcomm Snapdragon 800
Y
Y
Y
Y
Y
N
Y
Samsung Galaxy Tab 3 10.1
Intel Atom Z2560
N
Y
Y
N
N
N
N
Samsung Galaxy Note 10.1 (2014 Edition)
Samsung Exynos 5420
Y(1.4)
Y(1.4)
Y(1.4)
Y(1.4)
Y(1.4)
N
Y(1.9)
NVIDIA Shield
Tegra 4
N
N
N
N
N
N
N
Samsung Galaxy Mega 6.3 (Sprint)
Qualcomm Snapdragon 400 (MSM8930AB)
N
Y
Y
N
N
Y
Y
On NAND, LG seems to be going after Samsung with their relatively fast storage, although it doesn't quite beat the Note 3 when it comes to random writes.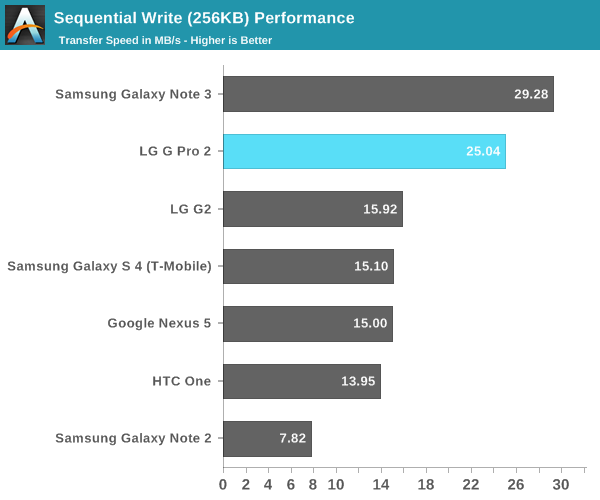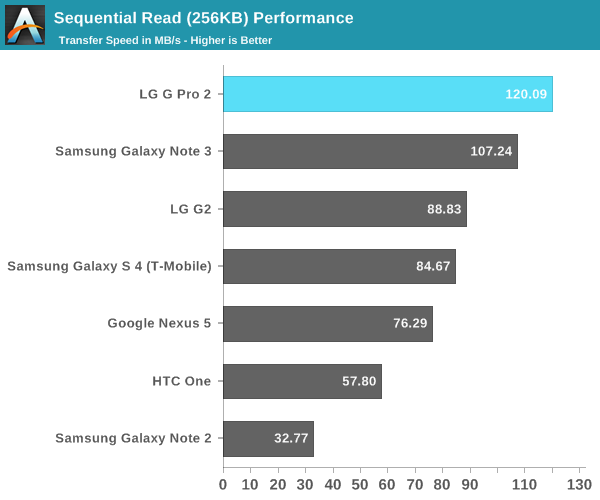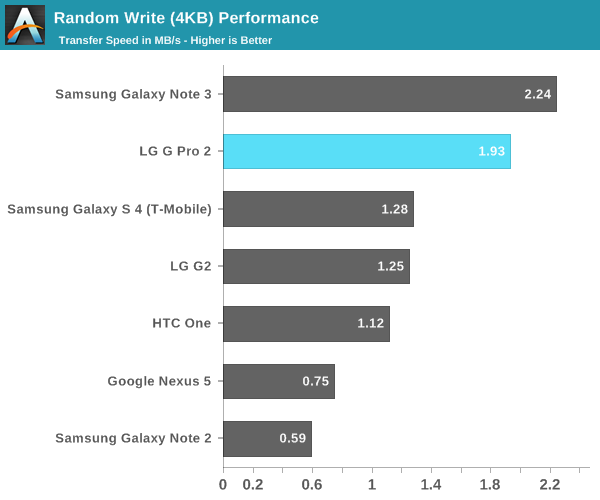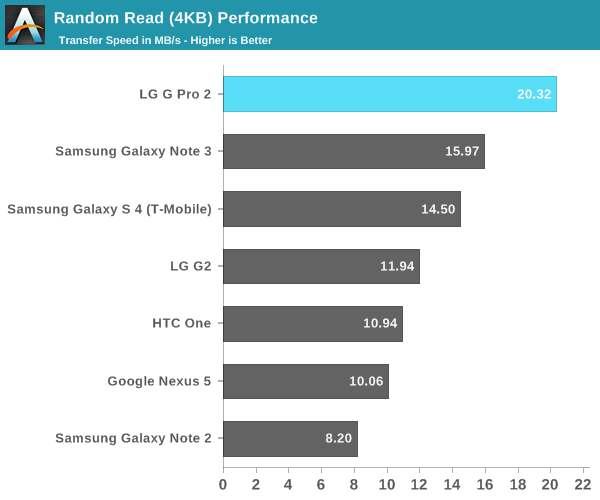 Unfortunately, I just haven't had enough time with the phone to be able to run all the battery life tests that are normally run for these reviews, but based upon the WiFi battery life test, LG seems to be doing all the right things when it comes to battery life, seeing as how they're now occupying the top spot for the one test I've been able to run.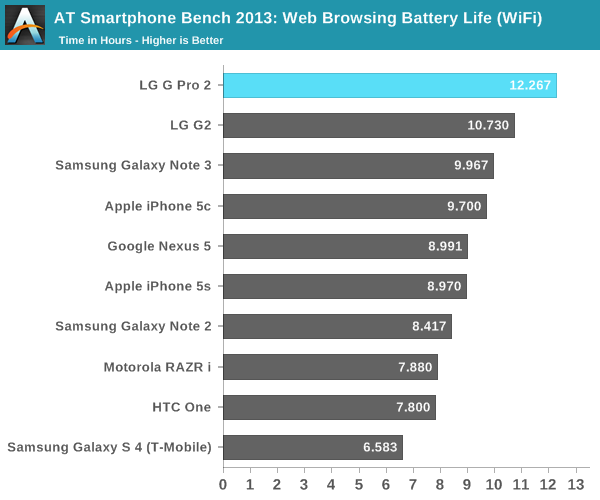 Currently I don't have any particular equipment that lets me test dBA, but based upon some testing with my ears and listening to random video clips of choice, I think that the HTC One continues to be louder, but the speaker on the LG G Pro 2 far from bad, and is likely one of the better rear-facing speakers that I've heard. The bass is probably the best that I've heard on a smartphone, although for ideal acoustics the speaker really needs a cupped hand or something similar to help with resonance. I hope to be able to follow-up this review with actual data in the future, but I think that it's still possible to make a good judgment on the LG G Pro 2 even without all the data.
Final Words
Simply put, I think the LG G Pro 2 is a solid evolution of the LG G2 design. While I went into the review expecting a phone that wasn't much more than an attempt to cash in on the phablet trend, LG has definitely put in enough that I found the phone to be surprisingly good. LG has managed to avoid many of the pitfalls that TouchWiz has with its UI by keeping things somewhat more tidy and understandable, but also added features that are good enough to be incredibly obvious in hindsight. While there's some room for improvement in display calibration, the UI could use a better theme, and I'm not sure who will use features like Content Lock, the phone is surprisingly good. Features like KnockCode are a great addition to KnockOn, Mini View helps to alleviate some of the issues with using a phablet, and the multiwindow function works well, if a bit clunky from a UI perspective. LG is doing many things right with this phone, possibly more than Samsung did with the Note 3. The real question now is whether it'll come to western regions without major changes.