Original Link: http://www.anandtech.com/show/7601/sapphire-radeon-r9-290-review-our-first-custom-cooled-290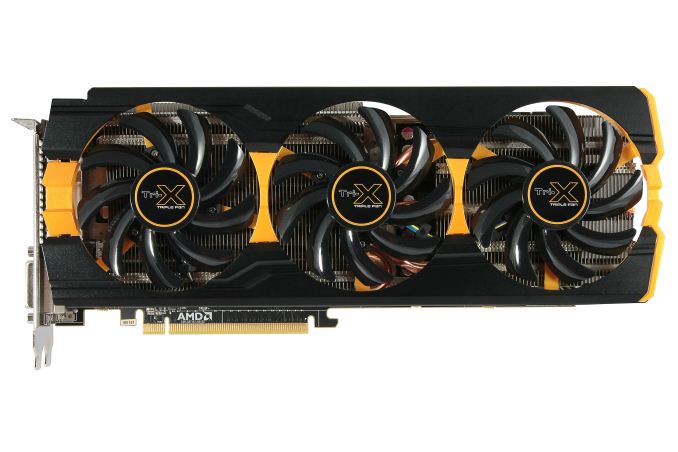 When we first took a look at AMD's Radeon R9 290 back in November, what we found was a card that was on the whole a mixed bag. On the one hand the amount of performance offered for the price was unequaled. AMD decided they wanted to take on the $500 GeForce GTX 780 and win, and they did just that by delivering performance better than the GTX 780 for just $400. This made 290 a very potent card for gamers still looking for a value at the high-end.
On the other hand AMD had to make significant sacrifices elsewhere to get there. AMD's reference cooler already struggled to keep the 290X without generating excessive noise, and for the 290 AMD needed to turn up the fan speed even further in order to ensure the 290's average performance was very close to its maximum performance. The end result was that while the reference 290 was fast it was also obnoxiously loud, especially in comparison to the high-end cards of the last few years. Ultimately this meant that for buyers concerned about noise the options available were either to take a performance reduction or pay quite a bit more for a GTX 780.
With that said, we have known since that first day that the stories of the 290 and 290X weren't yet complete. While the reference cards set the bar for performance and (for better or worse) drive the overall perception of the series, the modern board partner system means that in time we can look forward to partners eventually releasing semi-custom and fully-custom cards, which use custom coolers and custom boards respectively. Customization allows the board partners to differentiate from each other by designing cards around different capabilities – be it size, cooling, or overclocking – in the process creating a wide spectrum of cards for a wide spectrum of use cases. Or with respect to the 290 in particular, customization offers partners a chance to go back and try to improve on the reference 290's weakness, its noisy cooler.
Ever since the 290 review there has been a lot of chatter and questions about when we'd see the first customized cards show up, and the answer is that customized cards are finally here. There are already a handful of models on the shelves now with a number more to arrive over the next few weeks, and over the coming weeks we'll be taking a look at several of those models. The first such card we'll be looking at is Sapphire's first customized card, the Sapphire Radeon R9 290 Tri-X OC.
AMD GPU Specification Comparison
AMD Radeon R9 290X
Sapphire Radeon R9 290 Tri-X
AMD Radeon R9 290
Stream Processors
2816
2560
2560
Texture Units
176
160
160
ROPs
64
64
64
Core Clock
727MHz
699MHz
662MHz
Boost Clock
1000MHz
1000MHz
947MHz
Memory Clock
5GHz GDDR5
5.2GHz GDDR5
5GHz GDDR5
VRAM
4GB
4GB
4GB
Typical Board Power
~300W
~300W
~300W
Width
Double Slot
Double Slot
Double Slot
Length
10.95"
12"
10.95"
Warranty
N/A
2 Years
N/A
MSRP
$549
$449
$399
Meet The Sapphire Radeon R9 290 Tri-X OC
The first customized 290 series card in our hands, Sapphire's Radeon R9 290 Tri-X OC is a rather straightforward semi-custom card. Sapphire has taken AMD's reference design and replaced AMD's reference blower with their recently introduced Tri-X open air cooler, which as we'll see significantly changes the cooling/performance equilibrium compared to the reference 290. At the same time Sapphire has also given the 290 Tri-X OC a mild factory overclock to boost its out of the box performance and differentiate it from the reference 290 and competing customized 290s. The end result is a card that is intended to be faster and quieter than the reference 290 we saw barely more than a month ago.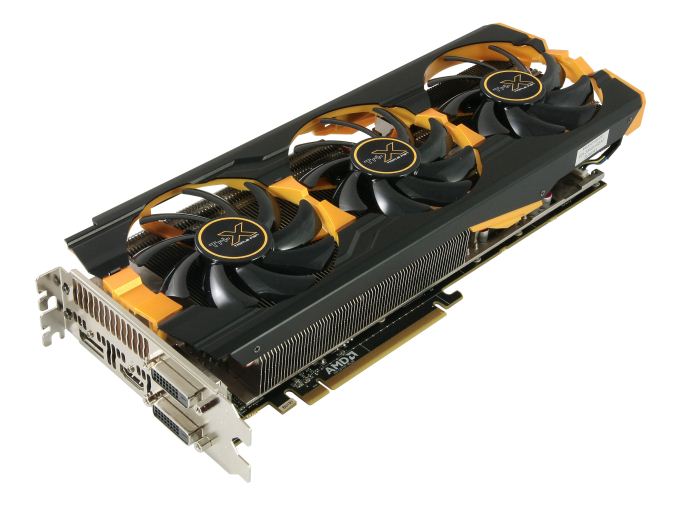 Diving into specifics, we'll start with the 290 Tri-X OC's specifications. As Sapphire typically does numerous tiers of factory overclocked cards – OC, VaporX, and Toxic – the 290 Tri-X OC represents the lowest tier for a factory overclocked part and comes with a mild but meaningful factory overclock. On the GPU side Sapphire has essentially erased the 290's clockspeed disadvantage versus the 290X, bumping the maximum boost clock back up from 947MHz to 1000Mhz, an improvement of 53MHz (6%). Meanwhile the memory clockspeed has also received a slight bump, going from 5GHz to 5.2GHz, a smaller 200MHz (4%) increase. Compared to the reference 290, the reference card was typically cooled just well enough to sustain its maximum boost clock, so the real world clockspeed difference between Sapphire's card and the reference card should match the maximum boost clocks mentioned above, while the real world performance difference will be more tapered as few games scale perfectly with clockspeeds.
More significant however is Sapphire's replacement of the reference 290's blower with their in-house Tri-X cooler. First introduced back in October on their R9 280X Toxic, the Tri-X is Sapphire's latest design for a high performance open air cooler. As the years have gone by and designs have been continually tuned, the board partners have increasingly settled on a handful of basic cooler designs, with these large multi-fan open air coolers being among the most common. Sapphire in that respect is no different, with the Tri-X cooler implementing these principles to create a very sound, very effective design.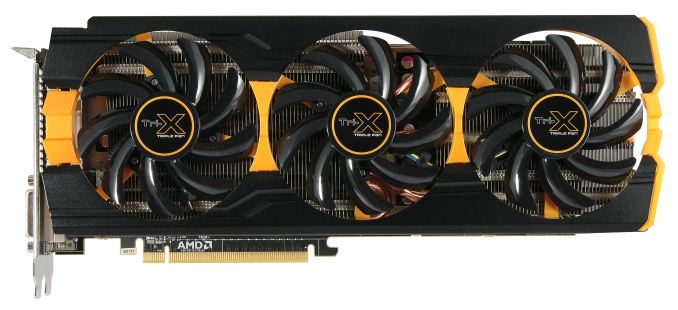 For the 290 Tri-X OC Sapphire is using a slightly different variation of their Tri-X cooler than what we saw on the 280X Toxic. The variably sized 80mm/90mm fans are gone in favor of a trio of equally sized 85mm fans, maintaining the triple fan design of the Tri-X while ever so slightly changing the airflow and aesthetics. The shroud has also been changed to accommodate the new fan sizes, though functionally it's identical to the previous one. The three fan setup ultimately ensures that Sapphire has plenty of airflow to work with even at low fan speeds and that virtually every inch of the heatsink is covered by the airflow coming off of those fans.


Speaking of heatsinks, the heatsink assembly on the Tri-X has also received some minor modifications in order to accommodate the 290 series. Most significantly here, Sapphire has put together a new baseplate to match the component locations on the reference 290 PCB and to cover the VRM circuitry. Otherwise the primary heatsink itself remains unchanged from what we saw with the 280X Toxic. Here Sapphire uses a two segment vertical fin design with 5 copper heatpipes to move heat between the GPU and the heatsink. Two pipes going to the first segment located over the GPU while the other three go to the segment at the tail end of the card, with the largest of these heatpipes measuring 10mm in diameter.
As for the board itself, as was previously mentioned this is a semi-custom card, so Sapphire is melding their custom cooler to AMD's reference board – complete with the AMD logo. This isn't an overclocking-centric card, so AMD's board is a reasonable choice here, especially if it means getting cards out quickly. Using AMD's board also means that the power requirements and I/O options are identical to the reference 290. This means we're looking at a peak power consumption of about 300W, augmented by a 6pin + 8pin PCIe power socket set at the top of the card. Meanwhile I/O is 2x DL-DVI, 1x DisplayPort, and 1x HDMI. This also means that the BIOS selection switch is present; it of course didn't do anything special for the 290, so Sapphire has repurposed it to allow selecting between UEFI and BIOS type VBIOSes.
On a related note, because Sapphire is using AMD's reference board this means that Sapphire's cooler is larger than the board itself. The board is 10.5" long, while the Tri-X cooler brings the total length of the card to a clean 12". Though despite the size difference, Sapphire has done an extremely good job with their build quality here, more than resolving the issues we saw with our 280X Toxic sample. Sapphire has mounted the board to the Tri-X cooler at every single screw point available on the board, including 3 points at the rear of the card, securely attaching the card to the cooler. There is no flex or bending of any kind in the board or the cooler, so the card is as solid as solid can be.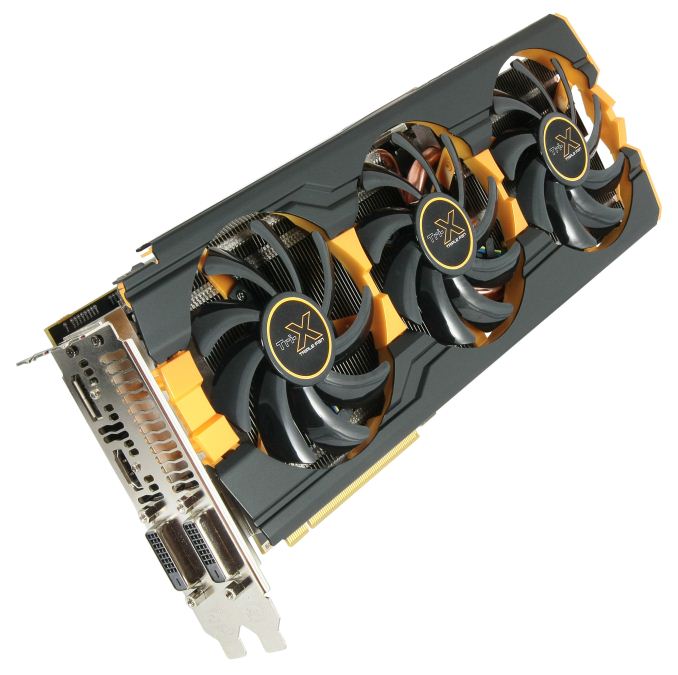 Finally, let's quickly talk about warranties, pricing, and availability. As with all of their cards, Sapphire is offering a 2 year warranty on the 290 Tri-X OC, which is middling for a video card warranty these days. Meanwhile for pricing Sapphire is setting the MSRP for the card at $449, $50 above the official MSRP for the reference 290. The price difference is admittedly more than we're used to seeing for a low tier semi-custom card, but Sapphire is coming into this with a very strong hand, as we'll see in our power/temp/noise testing. Ultimately the pricing Sapphire will be able to maintain will be based on the quality of other board partners' cards and their own pricing. Compared to the reference 290 Sapphire is in a good position, but until we've seen other customized cards it's hard to say just how they're going to compare.
The other factor of course will be what retail prices are like when this card arrives at etailers, which is currently scheduled for the end of this week. Cryptocoin mania has continued to rage on over the past month, which has resulted in highly distorted video card prices. This should (theoretically) abate soon, but for the time being there's a good chance the 290 Tri-X OC is going to premiere at closer to $550 than $450. Given the exceptional nature of what's going on right now we're going to make our comparisons using MSRP pricing on the basis that all of this is temporary, but it's something that bears mentioning.
290 Tri-X OC Thermal Management
Before jumping into our benchmarks, due to the significant focus we're placing on cooling and noise for the 290 Tri-X OC (amidst the reference 290's weaknesses) we also wanted to spend a moment discussing the card's thermal management algorithms.
With the 290 series AMD introduced their next generation PowerTune technology, which allows for thermal management based on temperatures, power consumption, and now fan speeds. For the reference 290X in particular this was especially important as AMD used this functionality to keep fan speed noises in check despite the heavy thermal load Hawaii placed on the cooler. At the time we had assumed that everyone would use this technology even if they used different coolers, but as it turns out this isn't the case.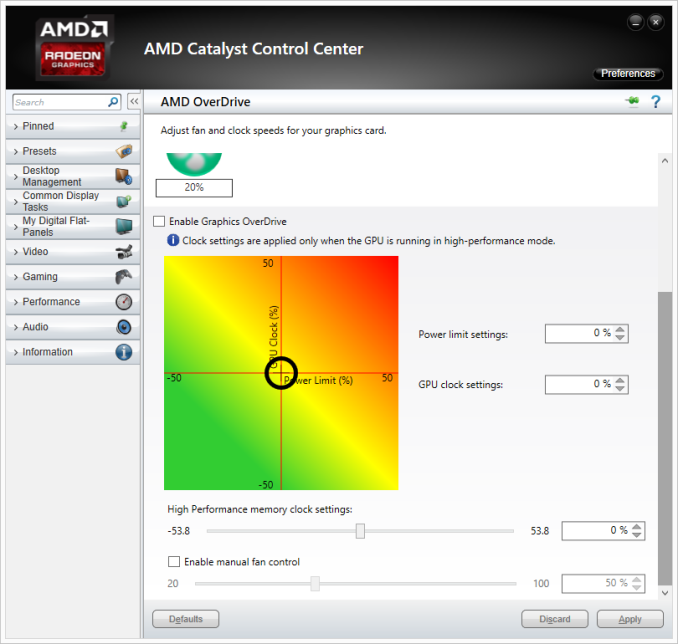 For the 290 Tri-X OC Sapphire has reverted to traditional power and temperature based throttling, opting not to use the functionality of next generation PowerTune. This means that the 290 Tri-X OC does not offer the ability to throttle based on fan speeds, nor does it offer the ability to adjust the temperature it throttles at, instead throttling at Hawaii's TjMax. This implementation caught us off guard at first since we had expected everyone to use next generation PowerTune, however as it turns out this is something that board partners get to decide for themselves on their customized cards.
Sapphire for their part has told us that based on the ample cooling performance of the Tri-X cooler that they've opted to use a traditional thermal management implementation in order to better sustain performance. Though we can't readily test Sapphire's statements about sustainability, we certainly can't argue against Sapphire's statement on the performance of their cooler. We'll see the full breakdown in our benchmark section, but they are having absolutely no problem balancing noise and temperatures right now without next generation PowerTune.
Realistically we wouldn't be surprised if this was also chosen because the Tri-X cooler predates the 290 series – and hence it wasn't necessarily designed to work well with next generation PowerTune – but that's just speculation on our part. To that end it would have been interesting to see a full next generation PowerTune implementation on this card, however it's really just an intellectual curiosity. Out of the box the 290 Tri-X OC works just fine with a traditional thermal management implementation.
The Test
CPU:
Intel Core i7-4960X @ 4.2GHz
Motherboard:
ASRock Fatal1ty X79 Professional
Power Supply:
Corsair AX1200i
Hard Disk:
Samsung SSD 840 EVO (750GB)
Memory:
G.Skill RipjawZ DDR3-1866 4 x 8GB (9-10-9-26)
Case:
NZXT Phantom 630 Windowed Edition
Monitor:
Asus PQ321
Video Cards:
AMD Radeon R9 290X
AMD Radeon R9 290
XFX Radeon R9 280X Double Dissipation
Asus Radeon R9 280X DirectCU II TOP
Sapphire Radeon R9 280X Toxic
AMD Radeon HD 7970 GHz Edition
AMD Radeon HD 7970
NVIDIA GeForce GTX 770
NVIDIA GeForce GTX 780
NVIDIA GeForce GTX 780 Ti
Video Drivers:
NVIDIA Release 331.93
AMD Catalyst 13.11 Beta v8
AMD Catalyst 13.11 Beta v9.5
OS:
Windows 8.1 Pro
Gaming Performance
Diving into our performance benchmarks, we'll be running light on the commentary here due to the fact that there's really not much to say about the gaming performance of the 290 Tri-X OC. Sapphire's 6% core overclock and 4% memory overclock translates into a real world performance difference of 3% on average. This makes the 290 Tri-X OC a bit faster than a reference 290, but it doesn't otherwise change the relative rankings of various cards. At most this slightly extends the lead over the GTX 780 to 9% and wipes out the 290X quiet mode's marginal lead over the 290.
In the end the difference is slight enough that the bulk of the interest in this card should rightfully be on the card's cooler, and ultimately whether that cooler justifies the $50 premium.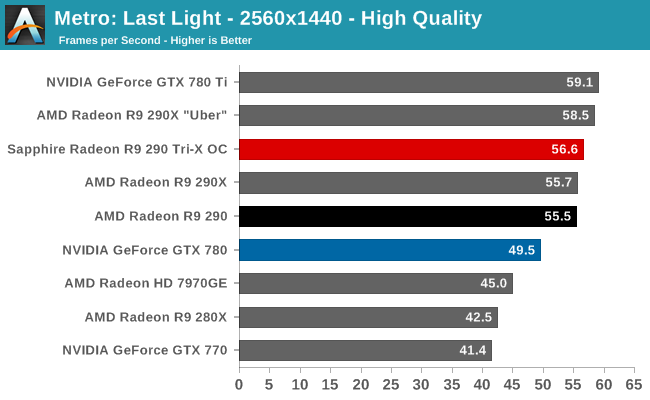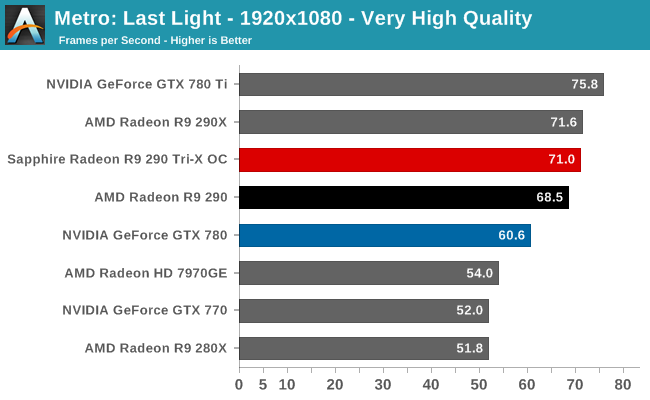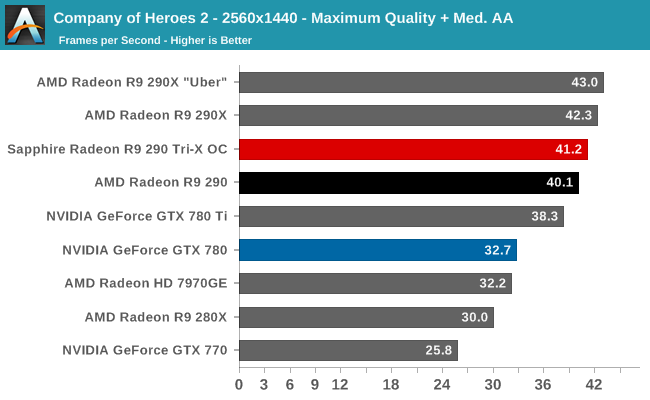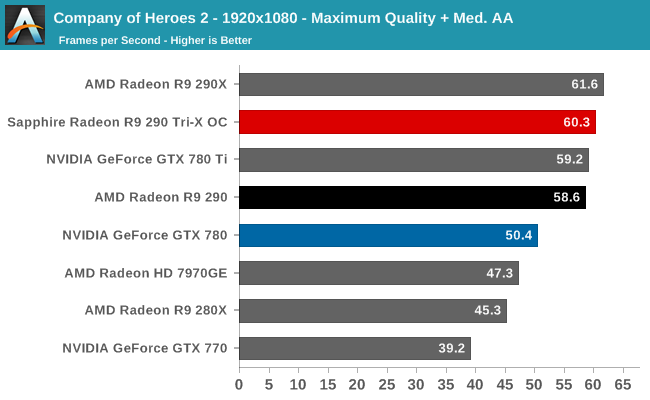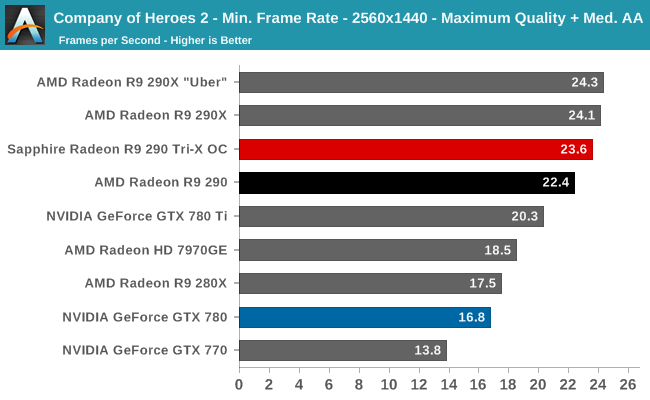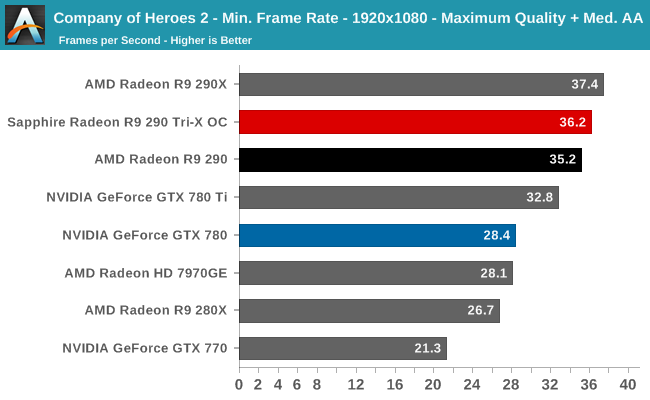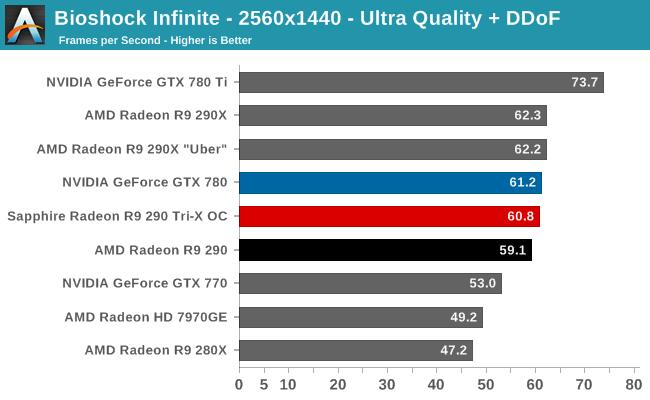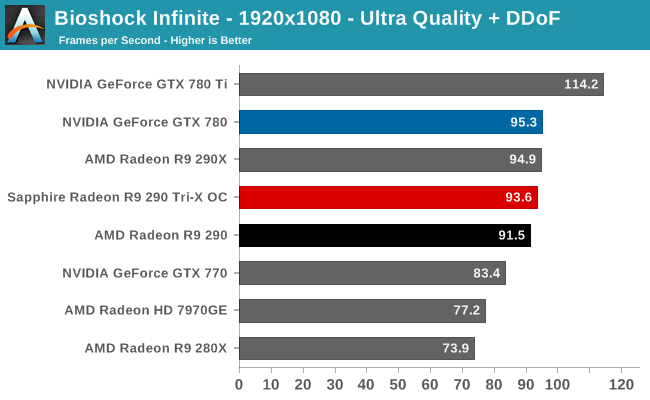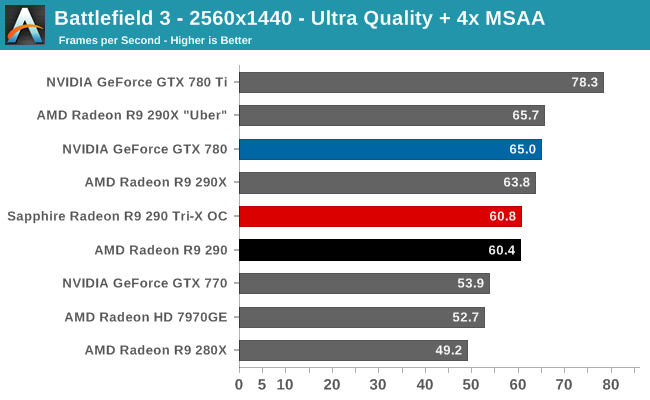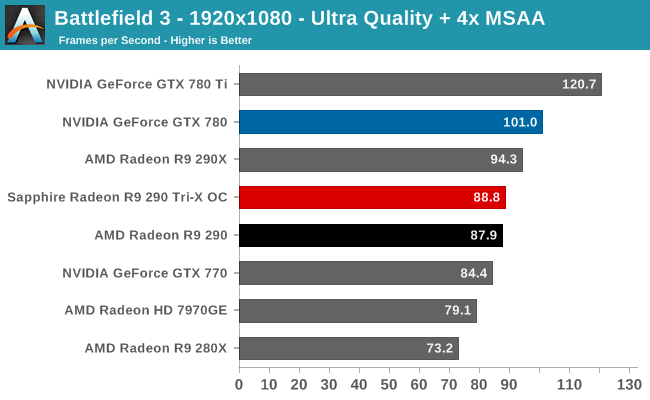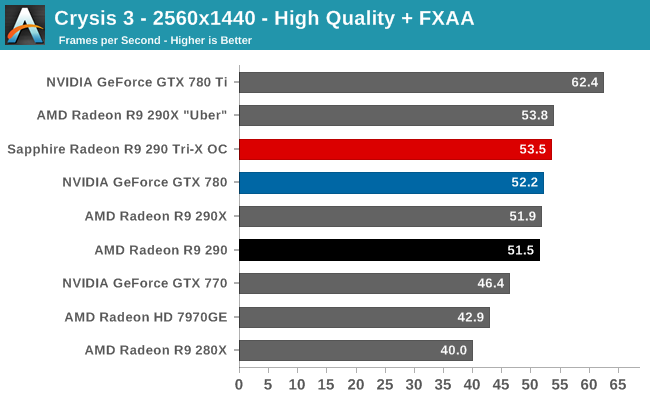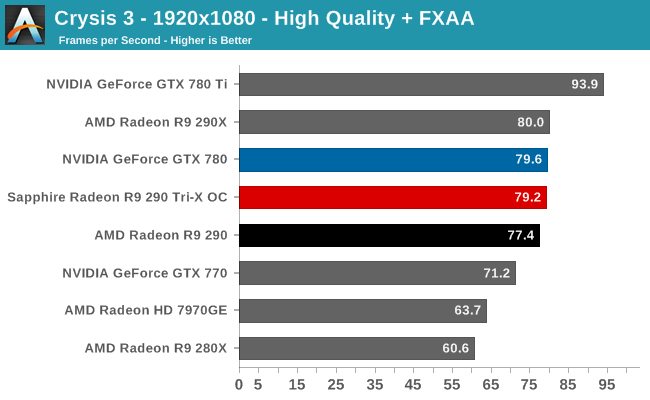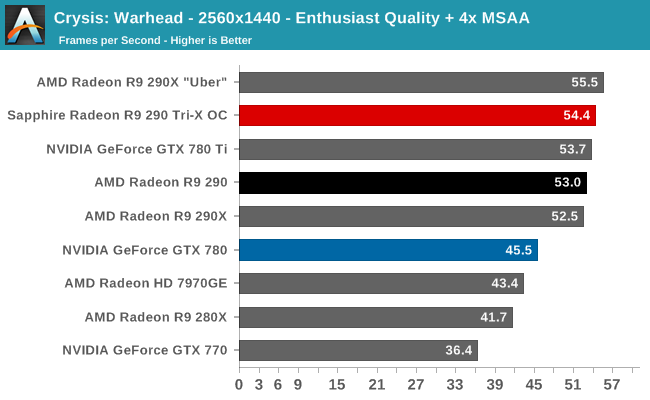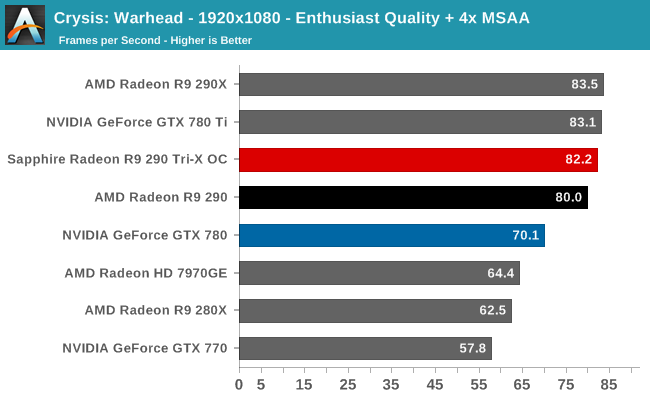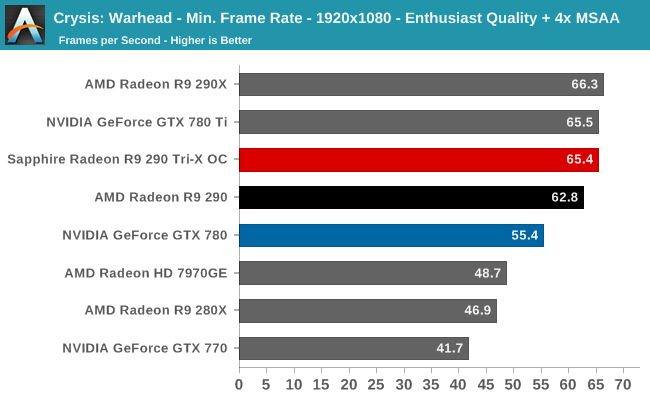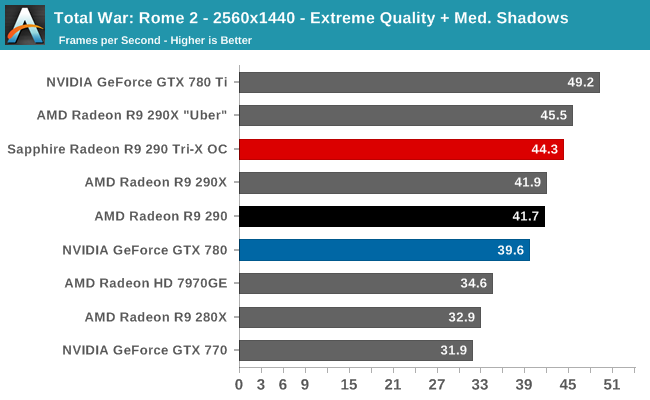 On a quick note looking at Rome, as one of the games the 290X throttles in the most, this is also the game where the Sapphire 290 Tri-X OC takes the largest lead over the 290X. The 6% performance lead here reflects on the fact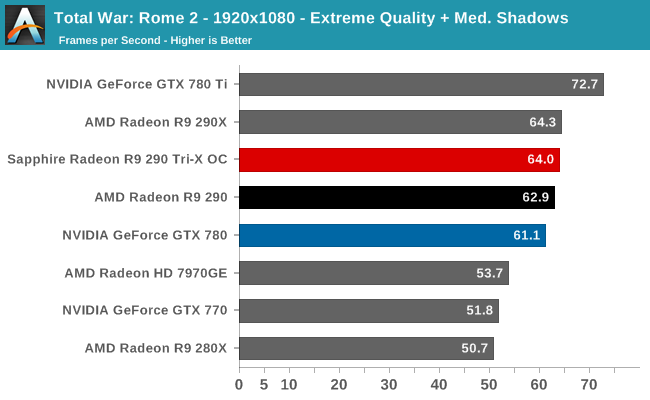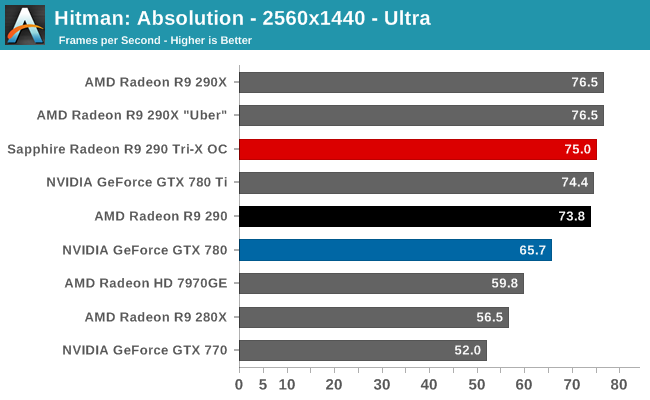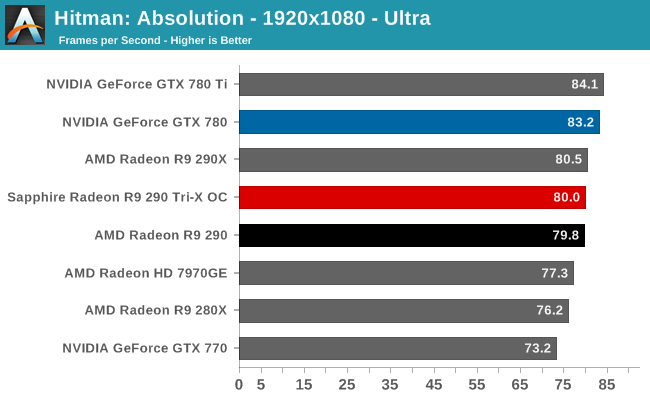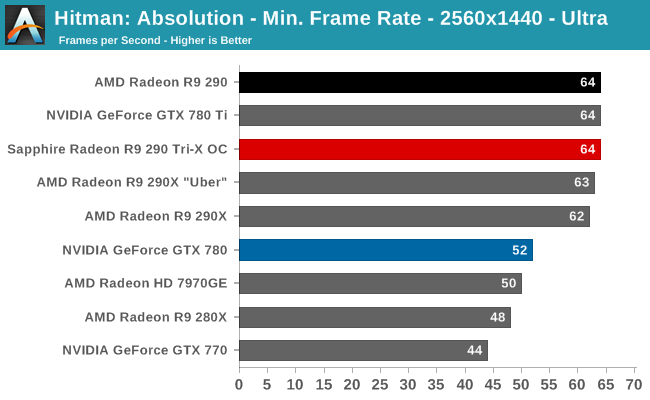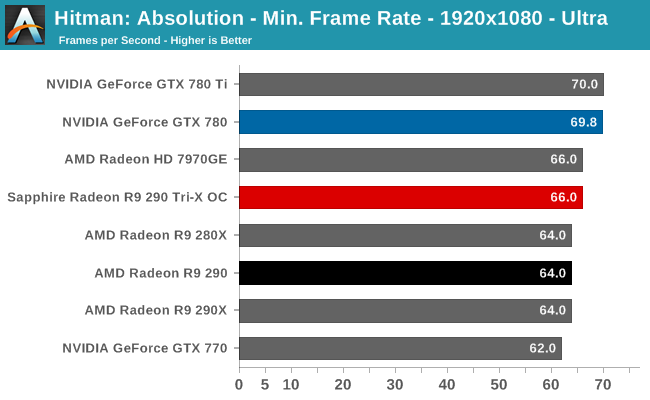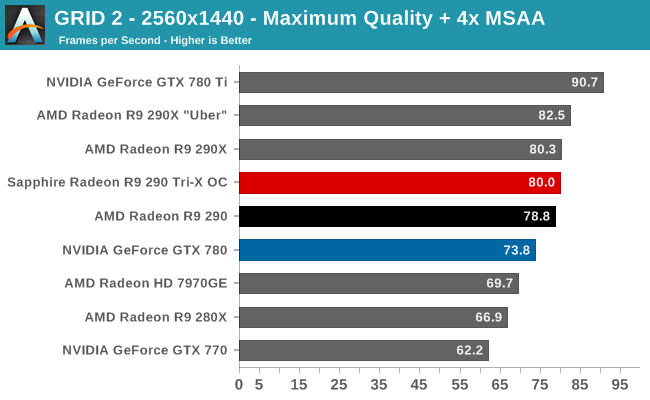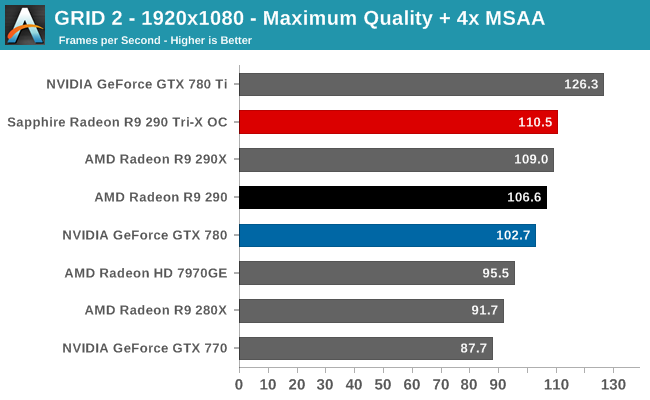 Power, Temperature, & Noise
As always, last but not least is our look at power, temperature, and noise. With the reference 290 the high performance of the card came at the cost of significant noise, so the arrival of customized cards presents board partners with a chance to offer better, quieter cooling solutions than what the reference 290 was capable of. In the case of Sapphire and their Tri-X cooler, we've already seen that it has proven to be a very capable cooling solution for the heavily overclocked 280X Toxic, so this bodes well for Hawaii based cards. Simply put, if Sapphire can match the 280X Toxic's cooling performance on the 290 Tri-X OC, then they will have solved the reference 290's biggest drawback.
Radeon R9 290 Series Voltages (VDDC/GPU-Z)
Ref. 290X Boost Voltage
Ref. 290 Boost Voltage
Sapphire 290 Boost Voltage
1.11v
1.18v
1.18v
Looking briefly at voltages, our 290 Tri-X OC is indistinguishable from our reference 290. Sapphire is doing some degree of binning here to identify boards capable of hitting their higher factory overclocks, but it doesn't look like they're picking chips for low power usage, or alternatively making any voltage adjustments to help hit those clockspeeds.
Radeon R9 290 Series Average Clockspeeds
Ref. 290
Sapphire 290
Ref. 290X (Quiet)
Boost Clock

947MHz

1000MHz

1000MHz

Metro: LL

947MHz

1000MHz

923MHz

CoH2

930MHz

1000MHz

970MHz

Bioshock

947MHz

1000MHz

985MHz

Battlefield 3

947MHz

1000MHz

980MHz

Crysis 3

947MHz

1000MHz

925MHz

Crysis: Warhead

947MHz

1000MHz

910MHz

TW: Rome 2

947MHz

1000MHz

907MHz

Hitman

947MHz

1000MHz

990MHz

GRID 2

947MHz

1000MHz

930MHz
Moving on to average clockspeeds, to no great surprise the 290 Tri-X OC has absolutely no problem hitting and sustaining 1GHz across all of our games. The 290 series is not seriously power limited except in the case of FurMark, so being able to sustain the GPU's maximum boost clocks is solely a function of cooling, an easy task for the Tri-X cooler to accomplish. Company of Heroes 2 is of course the sole outlier here for the reference 290, but the 290 Tri-X OC had no problem sustaining 1GHz even though it's based on an AMD reference board.
Finally, for our power/temperature/noise testing, along with our standard data we're also going to throw in our results from the various open air cooled Tahiti cards we've tested in the past two months. Since most of our reference cards are blowers this will give us a better baseline for open air coolers, especially since some of these open air cooled Tahiti cards have proven to be rather impressive.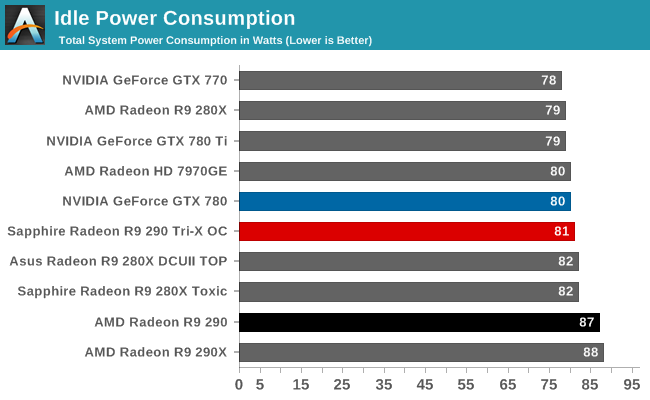 Curiously, the power consumption of the 290 Tri-X OC is notably lower than the reference 290. This isn't a fluke in our results and we don't have a solid explanation for this at this time, but for some reason we're able to idle at a lower degree of power consumption with Sapphire's card than we are our reference card. There is a difference in fans due to the different coolers, but based on what we've seen in the past we don't believe the fans are responsible for this.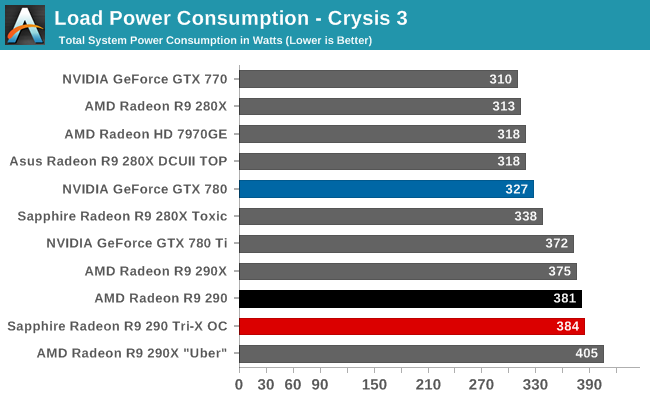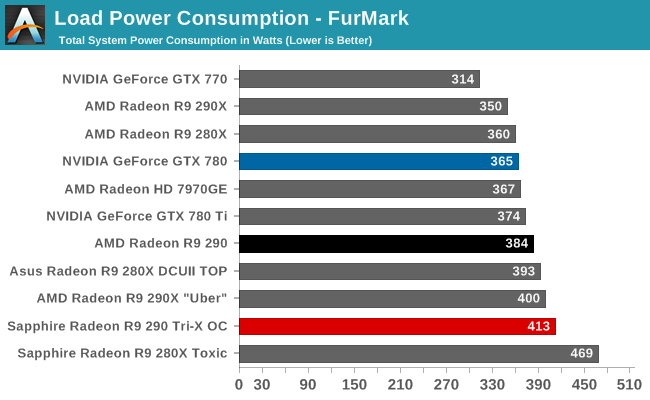 As for load power consumption, we have two different scenarios going on. Under our gaming workload the reference 290 was already able to hit its maximum boost clock, so with the 290 Tri-X OC operating at a similar voltage and only a slightly higher clockspeed, we're not seeing a meaningful increase in power consumption. This being despite the lower temperatures of the GPU, which would normally offer at least some savings due to reduced leakage. What this means is that custom coolers will not be able to do anything about the 290's lesser weakness, which is its power consumption relative to the GTX 780.
Meanwhile for FurMark, the reference 290 would throttle here based on both thermal and power limitations, whereas the Sapphire 290 is only limited by power. As a result it's able to maintain higher clockspeeds and hence higher power consumption levels than the reference 290. Or in other words, the reference 290 was held back by its cooler here, while the 290 Tri-X OC is held back by its board power limits.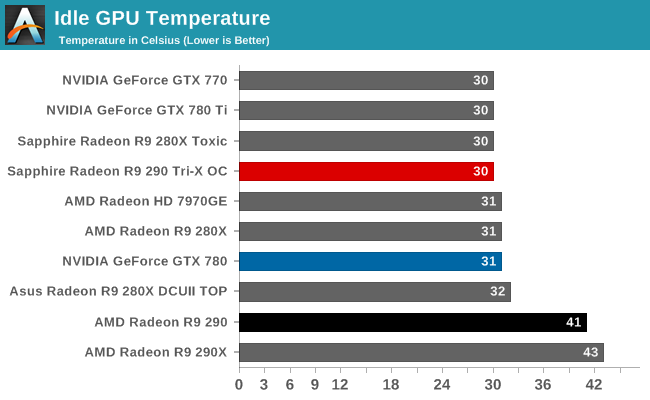 Moving on to idle temperatures, Sapphire's 290 performs as we'd expect it to. AMD's blowers were somewhat hobbled here, but with an open air cooler in the mix idle temperatures for just about every card is going to bottom out at around 30C.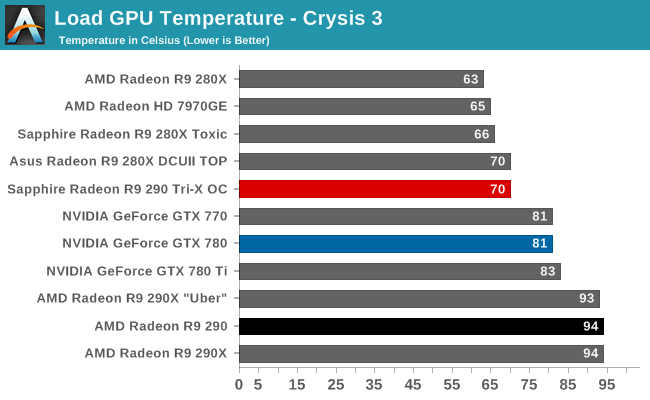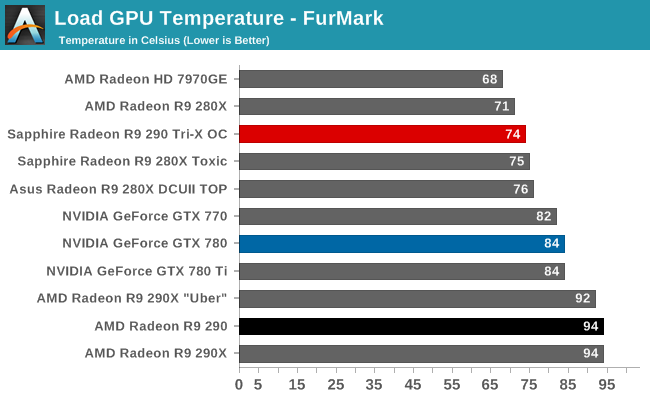 With our load temperatures we get our first sign of how well Sapphire's Tri-X cooler can handle a Hawaii GPU, and so far things are looking good. Under Crysis 3 the Sapphire 290 is topping out at 70C, right in the range we'd expect an open air cooler. Meanwhile in our worst case scenario of FurMark the Sapphire card only warms up a few more degrees to 74C. Compared to AMD's reference card this is of course a huge difference, representing a 24C and 20C improvement respectively. As we saw in our review of the 290X high temperatures aren't necessarily a problem so long as they've been planned for in the design phase, but at the same time for the reference 290 series cards this went hand-in-hand with thermal throttling. Meanwhile Sapphire's card will have no such problem, as it clearly has plenty of thermal headroom to work with.
Ultimately the fact that we're in the 70s tells us that (by our metrics) Sapphire has done a good job balancing temperatures and noise on their fan curve. It means the Sapphire 290 doesn't deliver the coolest temperatures, particularly under our gaming workloads, but it also means the cooler isn't working harder than it really needs to (and generating more noise in the process). For a non-overclocking card there's little benefit to having temperatures below 70C.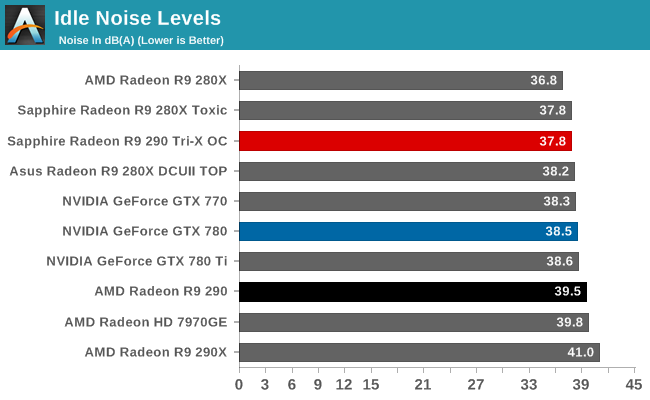 Last but not least is of course our section of noise benchmarks, starting with idle noise levels. Given the reference 290's weaknesses and the 290 Tri-X OC's strengths, Sapphire's card is in a good position to resolve the 290's biggest drawback, making our noise testing by far the most interesting aspect of this review in our eyes.
Anyhow, idle noise testing starts off well enough. At 37.8dB(A) the 290 Tri-X OC is near the top of our charts, tightly clustered among other open air coolers and tying the other Tri-X card in our roundup, the 280X Toxic.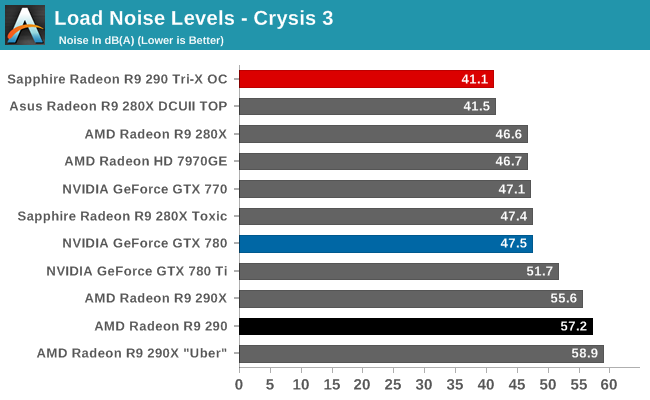 Over the last few months we've seen some very impressive open air cooled cards come across our labs. But as 2013 comes to a close it may very well be Sapphire's 290 Tri-X OC that's the most impressive of them all. Despite the high power load presented by a 290 card and in contrast to the problems AMD's reference cooler encountered, Sapphire's 290 Tri-X OC completely sweeps the field here. We would just as well have expected it to beat all of our blower based cards and even tie some of our other open air cooled cards, but as we can see it has gone above and beyond every other card when it comes to noise levels under our Crysis 3 gaming workload.
At 41.1dB the 290 Tri-X OC beats a number of Tahiti based cards, including our 7970GE and Sapphire's own 280X Toxic, and it even edges out Asus's impressive 280X DirectCU II. This not only makes Sapphire's 290 the quietest high-end card we have, but it also means we're seeing Sapphire dissipate an estimated 250W of heat while only generating a very, very limited amount of noise while doing so. Or to put this another way, Sapphire's 290 is 16dB quieter than the reference 290, nullifying our earlier noise concerns and then-some.
Under FurMark Sapphire's extremely impressive cooling performance continues unabated. Even with the additional thermal load imposed by FurMark our noise levels only rise to 43dB, which by our standards would still be considered very quiet under even Crysis 3, never mind a pathological program like FurMark. With FurMark being the worst case scenario for a card's cooler, this is clear evidence that the Tri-X cooler is capable of handling everything that Hawaii can throw at it, and that it can be handled with ease.
Ultimately at the risk of reducing an entire review down to a few numbers, these noise values are the metrics we came into this review interested in measuring, and to that end Sapphire has completely blown our expectations. Just being an "average" open air cooled card would have been a significant improvement over the reference 290, but to cool a 290 this well makes it a significant game changer.
Overclocking
Our final evaluation criteria is overclocking. Since the 290 Tri-X OC is based on AMD's reference board, the card has the same overclocking functionality and capabilities as any reference card. Which is to say that we have voltage control and monitoring, but the board itself is not particularly engineered for extreme overclocking. At the same time the nature of putting together a card like the 290 Tri-X OC means that Sapphire is doing some degree of binning,
Radeon R9 290 Overclocking
Sapphire Radeon R9 290 Tri-X OC
Ref. Radeon R9 290
Shipping Core Clock
699MHz
662MHz
Shipping Boost Clock
1000MHz
947MHz
Shipping Memory Clock
5.2GHz
5GHz
Shipping Boost Voltage
~1.18v
~1.18v
Overclock Core Clock
824MHz
790MHz
Overclock Boost Clock
1125MHz
1075MHz
Overclock Memory Clock
6GHz
5.6GHz
Overclock Max Boost Voltage
~1.23v
~1.18v
For overclocking the 290 Tri-X OC, we increased the PowerTune limit by 20% and the voltage by 50mV to what's roughly 1.23v. Out of this we were able to get another 125MHz (13%) out of the GPU and 800MHz (15%) out of the VRAM, now topping out at 1125MHz for the GPU boost clock, and 6GHz for the VRAM. The final clockspeeds are better than our previous efforts at overclocking our reference 290 (which was prior to voltage control), although only moderately so.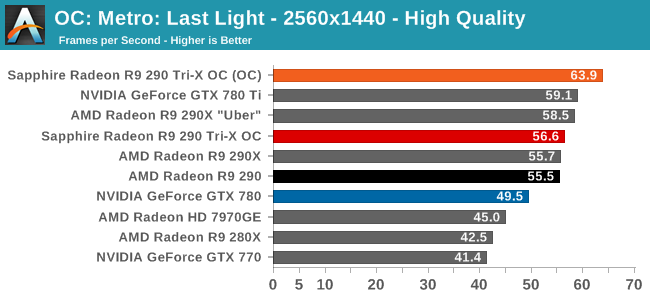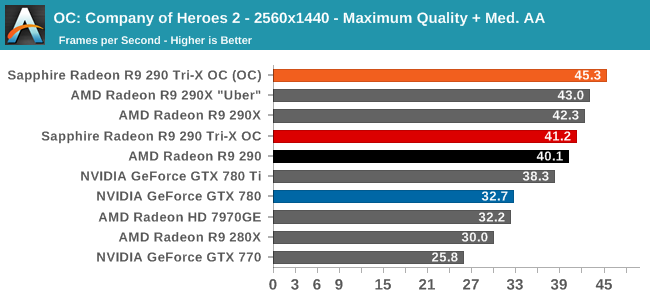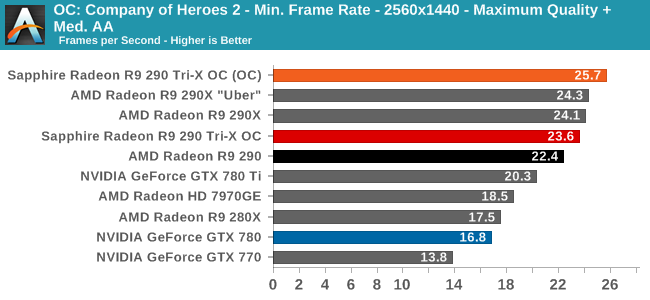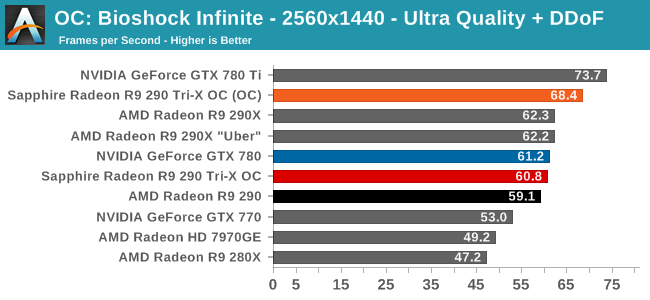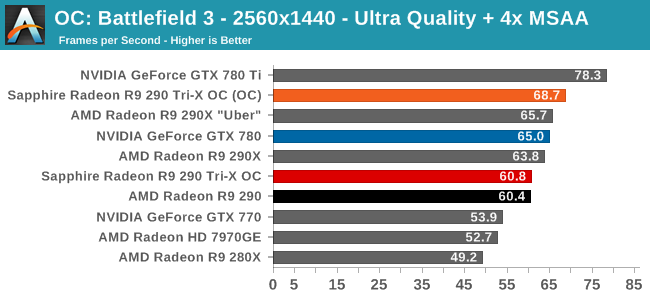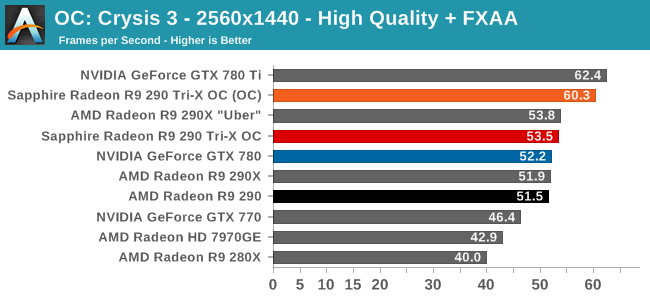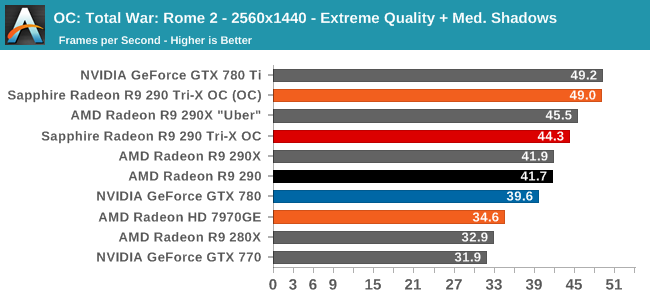 Starting first with gaming performance, as a more extensive overclock relative to Sapphire's factory overclock, the performance gains from our own overclocking have yielded very solid results, despite the fact that this isn't explicitly an overclocking board. Between the 13% core overclock and 15% memory overclock, the average performance increase measures in at 12%, varying depending on whether a game is more bandwidth limited, GPU limited, or CPU limited.
At 12% faster the overclocked 290 Tri-X OC is fast enough to largely close the gap between it and the reference GeForce GTX 780 Ti. Otherwise it will consistently outscore the 290X in "uber" mode, even in spite of the pared down nature of the Hawaii GPUs used in 290 cards.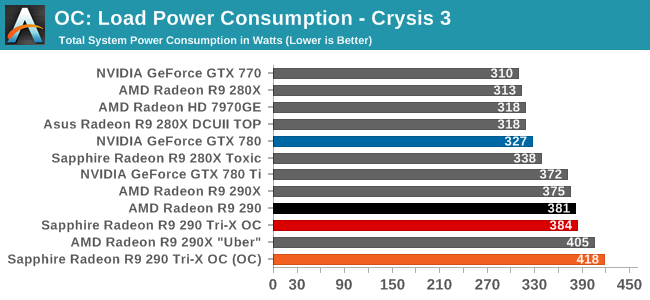 The power consumption penalty for overclocking is significant, but outside of the outright power limited FurMark, is not unreasonable. Under Crysis 3 the additional 13% in performance comes at a cost of 30W at the wall, most of which will be from the video card.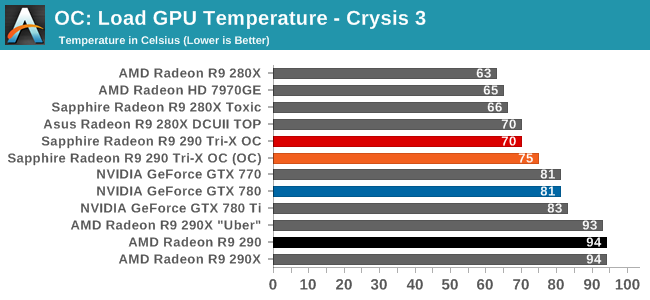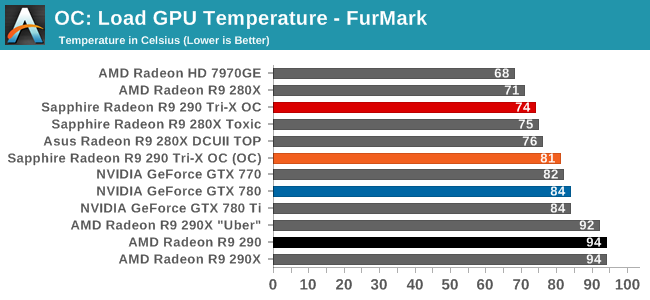 Along with power consumption overclocking also comes with the expected increase in operating temperatures. Under Crysis 3 this is an increase of 5C to 75C, while for FurMark (where the increase in power was greater) this is an additional 7C to 81C. FurMark definitely gives the Tri-X cooler a harder time when the video card is overclocked, but as this is a worst case scenario it also means that operating temperatures should still remain well under 80C, as evidenced by Crysis 3.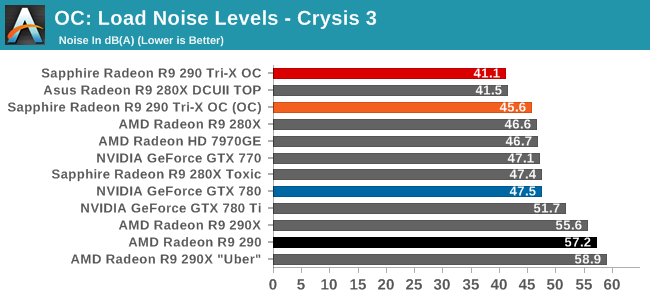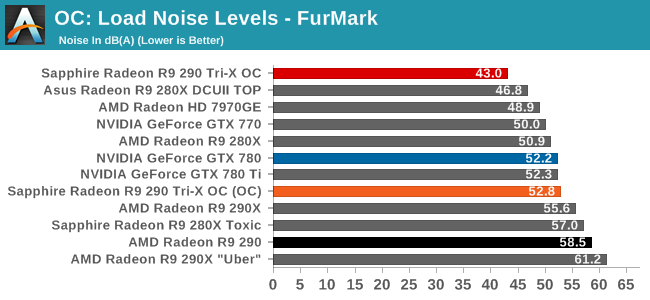 Even with our overclocking the 290 Tri-X OC still holds up rather well when it comes to Crysis 3. At 45.6dB this is a 4.5dB increase in noise, more than enough to be noticed, but notably it's still quieter than our stock 280X and 7970GE, both of which are similarly open air coolers. FurMark on the other hand pushes the card much harder since it's reaching the new 120% PowerTime power limit, leading to a jump in noise of just under 10dB to 52.8dB. Even faced with an overclocked FurMark the Tri-X cooler is still holding up very well, though we've clearly reached the point (with regards to thermal loads) where it has lost its near-silence.
Final Words
As we mentioned towards the start of this review, immediately following the launch of the Radeon R9 290 series and leading up until now there has been a lot of chatter and a lot of questions over the subject of custom 290 series cards. Customized, open air cooled cards is all but obligatory these days, so the fact that we're now looking at these cards is in and of itself not all that surprising. Even in a more typical launch these cards attract quite a bit of attention due to the various tweaks worked into their designs by board partners and the greater variety of options that come from this process. But the launch of the 290 series has been atypical due to the fact that we don't normally put this much attention on customized cards or await their arrival quite this eagerly.
We've already written a small tome on the reference 290 so we won't completely rehash that here, but in summary, while AMD had a major hit on their hands with the 290 with respect to pricing and performance this came at the cost of noise. The cooling performance required to hit those performance marks meant that the reference 290 was not as well balanced of a card as we've seen in previous launches. For cases where noise wasn't a concern (both in the literal and figurative sense) this was a fine tradeoff, but in other cases where noise was a concern the reference 290 missed the mark compared to other blowers. Ultimately this has fueled a greater than usual interest in custom cards – and more specifically the open air coolers they're typically equipped with – as open air coolers offer a better acoustic profile than blowers like the one used in the reference 290.
This brings us to the subject of today's review and the very first of the custom 290s we've seen, Sapphire's Radeon R9 290 Tri-X OC. The 290 Tri-X OC is just one of what will be many customized designs to be released in the weeks to come, but it represents something much bigger and much more important in the AMD ecosystem: variety. The lack of balance in the AMD reference design has opened up the door to board partners to offer designs that lean the other way, making different tradeoffs to reach different results, and this is the path Sapphire has followed for their 290 Tri-X OC.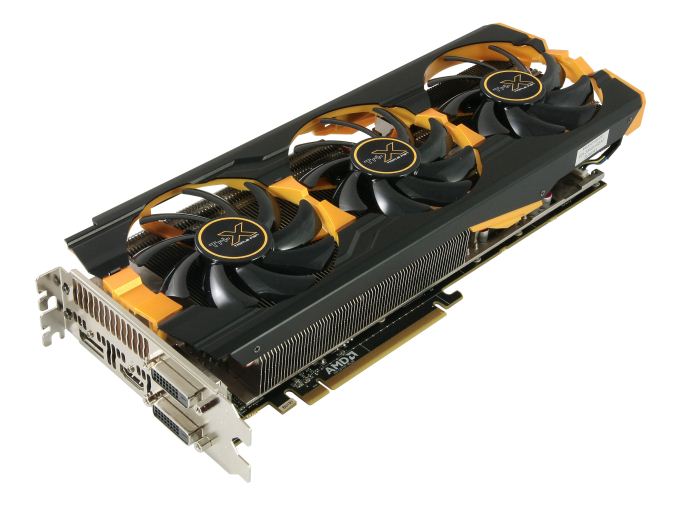 Without putting the weight of the entire 290 series on a single card, the 290 Tri-X OC is exactly the 290 card AMD needs to have hit the market to bring that necessary variety to the market. From a performance perspective and an acoustics perspective the 290 Tri-X OC has exceeded our expectations for an open air cooled card, and in the process proves that you can have a quiet 290. A very quiet 290, as it turns out. 41dB(A) under load would already be an impressive result for a high end card, but especially contrasted against the 57dB(A) reference 290 it becomes outright sublime.
And while a large part of these remarkable results has to do with the style of the cooler used, Sapphire deserves a lot of credit for seemingly doing everything right in putting this card together. Even among open air cooled cards the 290 Tri-X OC is well ahead of the pack on acoustics (all the more so when you consider the thermal loads involved) and at the same time Sapphire has hit the mark on build quality and overall performance. We've seen a number of open air designs over the years, but few of them would qualify as being as good as what Sapphire has pulled off for the 290 Tri-X OC.
On that note, while Sapphire's mild factory overclock doesn't significantly change the performance equation it does reinforce the 290's strong points. For $450 the card will consistently outperform the GTX 780 or outright tie the 290X in quiet mode, offering equal-to-better performance than those $500+ cards without the noise drawback that came with the reference 290, making it an even more practical replacement for those cards. Given that, Sapphire is essentially charging $50 for a better cooler, but as we've seen from our results they can easily justify it due to the fact that there isn't anything else on the market right now that can match both their performance and their acoustics at the same time.
With that in mind, for all of our concerns over the reference 290 this is the card that will help put to bed a lot of those concerns. For users who were already happy with the 290 nothing really changes, while for those users on the edge over noise concerns this is the card that can deliver on 290's performance without the noise, albeit by giving up the benefits of a blower. To that end an open air cooler is not always the right solution – the lack of a blower that can compete with NVIDIA's will continue to exclude the 290 from some builds – but it's important that both options are available rather than just a blower or just an open air cooler.
Ultimately it is admittedly something of a narrow focus in recommending a card based on noise, but as far as high performance cards go Sapphire has set a very high bar here that we expect few other cards will be able to meet. Both as a 290 card and as a high performance card in general, Sapphire has managed to put together something special.