Original Link: http://www.anandtech.com/show/7582/nvidia-gsync-review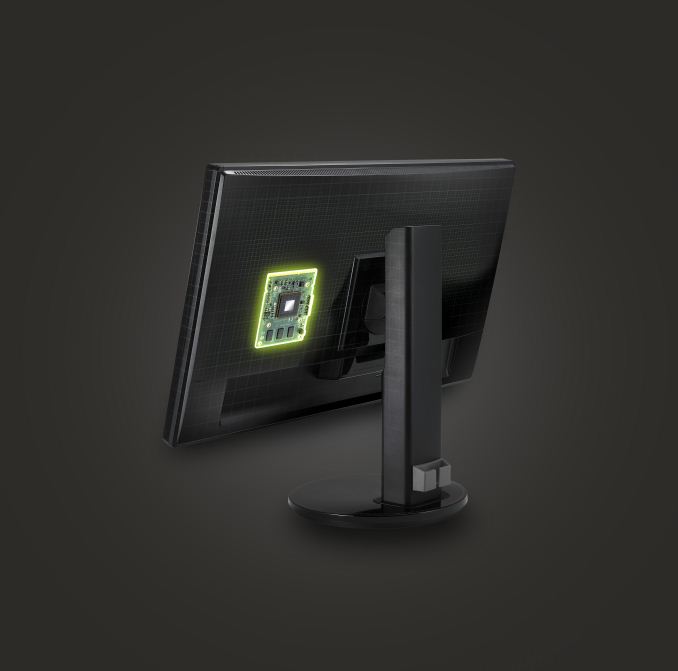 It started at CES, nearly 12 months ago. NVIDIA announced GeForce Experience, a software solution to the problem of choosing optimal graphics settings for your PC in the games you play. With console games, the developer has already selected what it believes is the right balance of visual quality and frame rate. On the PC, these decisions are left up to the end user. We've seen some games try and solve the problem by limiting the number of available graphical options, but other than that it's a problem that didn't see much widespread attention. After all, PC gamers are used to fiddling around with settings - it's just an expected part of the experience. In an attempt to broaden the PC gaming user base (likely somewhat motivated by a lack of next-gen console wins), NVIDIA came up with GeForce Experience. NVIDIA already tests a huge number of games across a broad range of NVIDIA hardware, so it has a good idea of what the best settings may be for each game/PC combination.
Also at CES 2013 NVIDIA announced Project Shield, later renamed to just Shield. The somewhat odd but surprisingly decent portable Android gaming system served another function: it could be used to play PC games on your TV, streaming directly from your PC.
Finally, NVIDIA has been quietly (and lately not-so-quietly) engaged with Valve in its SteamOS and Steam Machine efforts (admittedly, so is AMD).
From where I stand, it sure does look like NVIDIA is trying to bring aspects of console gaming to PCs. You could go one step further and say that NVIDIA appears to be highly motivated to improve gaming in more ways than pushing for higher quality graphics and higher frame rates.
All of this makes sense after all. With ATI and AMD fully integrated, and Intel finally taking graphics (somewhat) seriously, NVIDIA needs to do a lot more to remain relevant (and dominant) in the industry going forward. Simply putting out good GPUs will only take the company so far.
NVIDIA's latest attempt is G-Sync, a hardware solution for displays that enables a semi-variable refresh rate driven by a supported NVIDIA graphics card. The premise is pretty simple to understand. Displays and GPUs update content asynchronously by nature. A display panel updates itself at a fixed interval (its refresh rate), usually 60 times per second (60Hz) for the majority of panels. Gaming specific displays might support even higher refresh rates of 120Hz or 144Hz. GPUs on the other hand render frames as quickly as possible, presenting them to the display whenever they're done.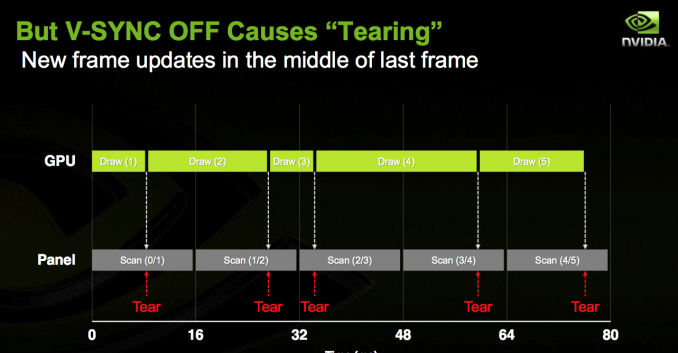 When you have a frame that arrives in the middle of a refresh, the display ends up drawing parts of multiple frames on the screen at the same time. Drawing parts of multiple frames at the same time can result in visual artifacts, or tears, separating the individual frames. You'll notice tearing as horizontal lines/artifacts that seem to scroll across the screen. It can be incredibly distracting.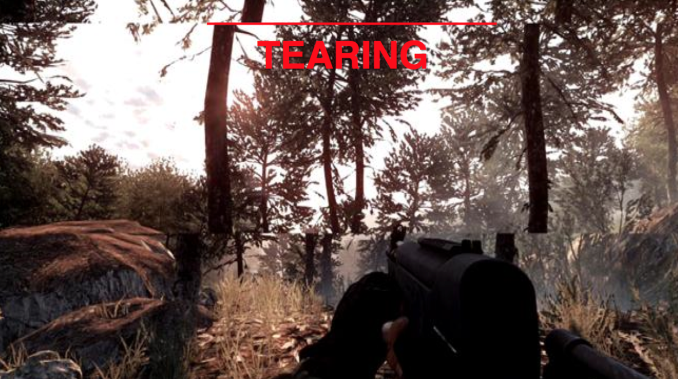 You can avoid tearing by keeping the GPU and display in sync. Enabling vsync does just this. The GPU will only ship frames off to the display in sync with the panel's refresh rate. Tearing goes away, but you get a new artifact: stuttering.
Because the content of each frame of a game can vary wildly, the GPU's frame rate can be similarly variable. Once again we find ourselves in a situation where the GPU wants to present a frame out of sync with the display. With vsync enabled, the GPU will wait to deliver the frame until the next refresh period, resulting in a repeated frame in the interim. This repeated frame manifests itself as stuttering. As long as you have a frame rate that isn't perfectly aligned with your refresh rate, you've got the potential for visible stuttering.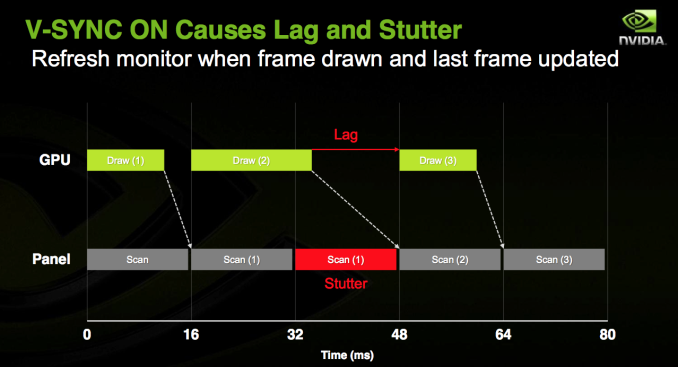 G-Sync purports to offer the best of both worlds. Simply put, G-Sync attempts to make the display wait to refresh itself until the GPU is ready with a new frame. No tearing, no stuttering - just buttery smoothness. And of course, only available on NVIDIA GPUs with a G-Sync display. As always, the devil is in the details.
How it Works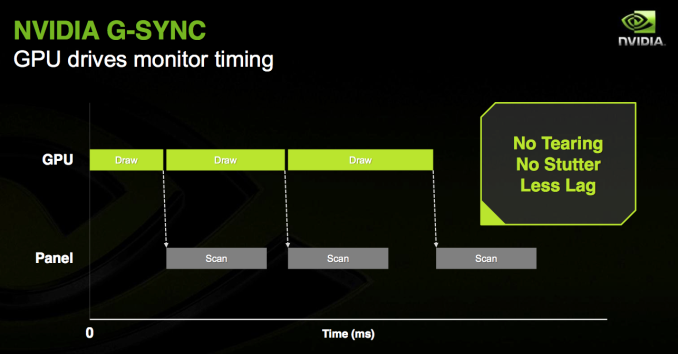 G-Sync is a hardware solution, and in this case the hardware resides inside a G-Sync enabled display. NVIDIA swaps out the display's scaler for a G-Sync board, leaving the panel and timing controller (TCON) untouched. Despite its physical location in the display chain, the current G-Sync board doesn't actually feature a hardware scaler. For its intended purpose, the lack of any scaling hardware isn't a big deal since you'll have a more than capable GPU driving the panel and handling all scaling duties.
G-Sync works by manipulating the display's VBLANK (vertical blanking interval). VBLANK is the period of time between the display rasterizing the last line of the current frame and drawing the first line of the next frame. It's called an interval because during this period of time no screen updates happen, the display remains static displaying the current frame before drawing the next one. VBLANK is a remnant of the CRT days where it was necessary to give the CRTs time to begin scanning at the top of the display once again. The interval remains today in LCD flat panels, although it's technically unnecessary. The G-Sync module inside the display modifies VBLANK to cause the display to hold the present frame until the GPU is ready to deliver a new one.
With a G-Sync enabled display, when the monitor is done drawing the current frame it waits until the GPU has another one ready for display before starting the next draw process. The delay is controlled purely by playing with the VBLANK interval.
You can only do so much with VBLANK manipulation though. In present implementations the longest NVIDIA can hold a single frame is 33.3ms (30Hz). If the next frame isn't ready by then, the G-Sync module will tell the display to redraw the last frame. The upper bound is limited by the panel/TCON at this point, with the only G-Sync monitor available today going as high as 6.94ms (144Hz). NVIDIA made it a point to mention that the 144Hz limitation isn't a G-Sync limit, but a panel limit.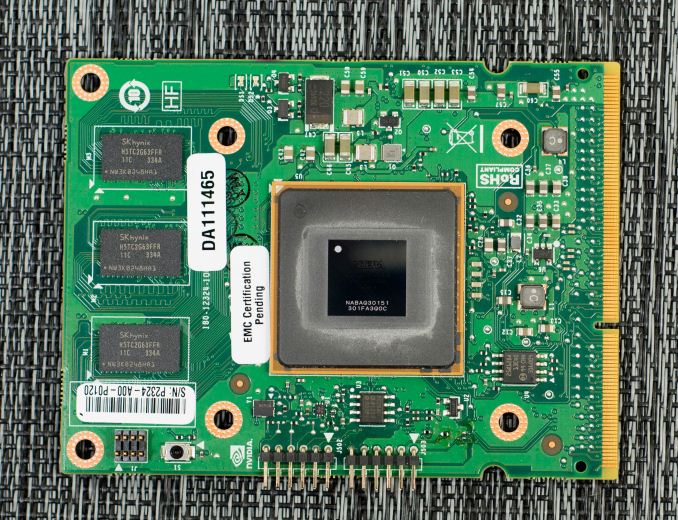 The G-Sync board itself features an FPGA and 768MB of DDR3 memory. NVIDIA claims the on-board DRAM isn't much greater than what you'd typically find on a scaler inside a display. The added DRAM is partially necessary to allow for more bandwidth to memory (additional physical DRAM devices). NVIDIA uses the memory for a number of things, one of which is to store the previous frame so that it can be compared to the incoming frame for overdrive calculations.
The first G-Sync module only supports output over DisplayPort 1.2, though there is nothing technically stopping NVIDIA from adding support for HDMI/DVI in future versions. Similarly, the current G-Sync board doesn't support audio but NVIDIA claims it could be added in future versions (NVIDIA's thinking here is that most gamers will want something other than speakers integrated into their displays). The final limitation of the first G-Sync implementation is that it can only connect to displays over LVDS. NVIDIA plans on enabling V-by-One support in the next version of the G-Sync module, although there's nothing stopping it from enabling eDP support as well.
Enabling G-Sync does have a small but measurable performance impact on frame rate. After the GPU renders a frame with G-Sync enabled, it will start polling the display to see if it's in a VBLANK period or not to ensure that the GPU won't scan in the middle of a scan out. The polling takes about 1ms, which translates to a 3 - 5% performance impact compared to v-sync on. NVIDIA is working on eliminating the polling entirely, but for now that's how it's done.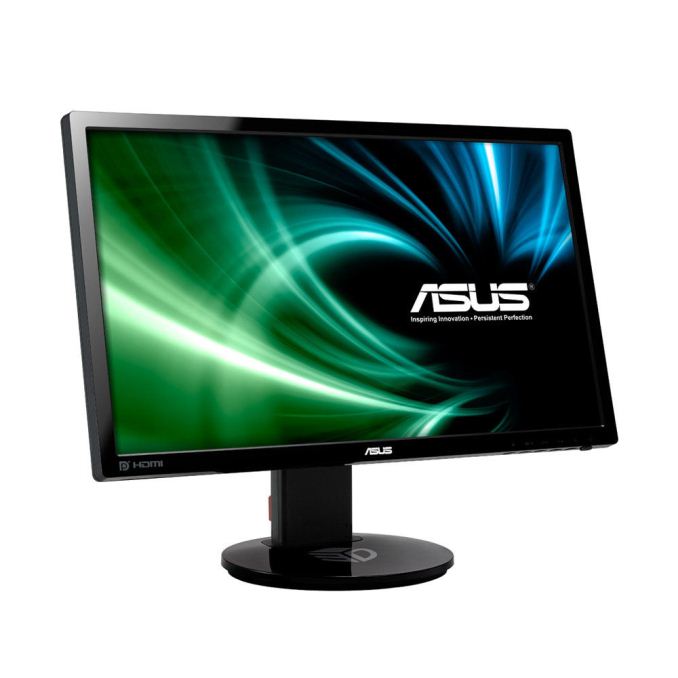 NVIDIA retrofitted an ASUS VG248QE display with its first generation G-Sync board to demo the technology. The V248QE is a 144Hz 24" 1080p TN display, a good fit for gamers but not exactly the best looking display in the world. Given its current price point ($250 - $280) and focus on a very high refresh rate, there are bound to be tradeoffs (the lack of an IPS panel being the big one here). Despite NVIDIA's first choice being a TN display, G-Sync will work just fine with an IPS panel and I'm expecting to see new G-Sync displays announced in the not too distant future. There's also nothing stopping a display manufacturer from building a 4K G-Sync display. DisplayPort 1.2 is fully supported, so 4K/60Hz is the max you'll see at this point. That being said, I think it's far more likely that we'll see a 2560 x 1440 IPS display with G-Sync rather than a 4K model in the near term.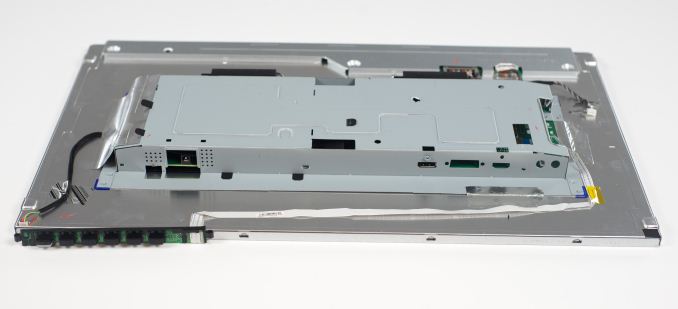 Naturally I disassembled the VG248QE to get a look at the extent of the modifications to get G-Sync working on the display. Thankfully taking apart the display is rather simple. After unscrewing the VESA mount, I just had to pry the bezel away from the back of the display. With the monitor on its back, I used a flathead screw driver to begin separating the plastic using the two cutouts at the bottom edge of the display. I then went along the edge of the panel, separating the bezel from the back of the monitor until I unhooked all of the latches. It was really pretty easy to take apart.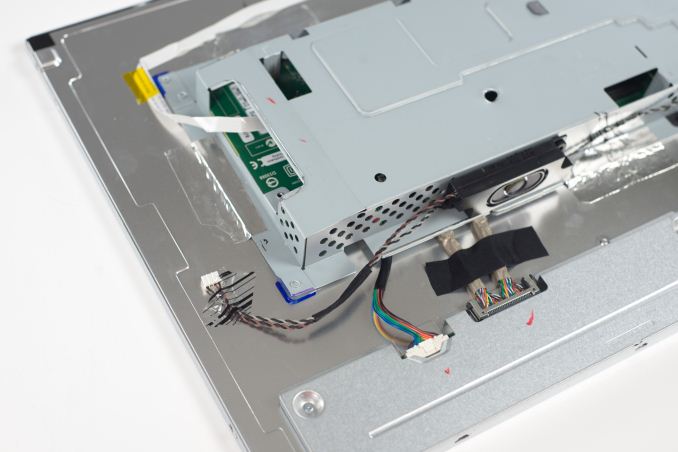 Once inside, it's just a matter of removing some cables and unscrewing a few screws. I'm not sure what the VG248QE looks like normally, but inside the G-Sync modified version the metal cage that's home to the main PCB is simply taped to the back of the display panel. You can also see that NVIDIA left the speakers intact, there's just no place for them to connect to.
It looks like NVIDIA may have built a custom PCB for the VG248QE and then mounted the G-Sync module to it.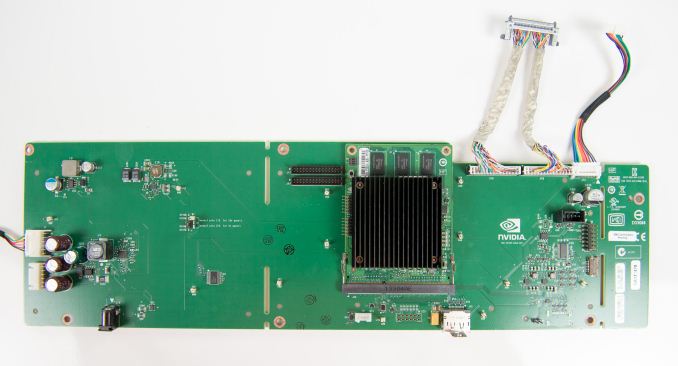 The G-Sync module itself looks similar to what NVIDIA included in its press materials. The 3 x 2Gb DDR3 devices are clearly visible, while the FPGA is hidden behind a heatsink. Removing the heatsink reveals what appears to be an Altera Arria V GX FPGA.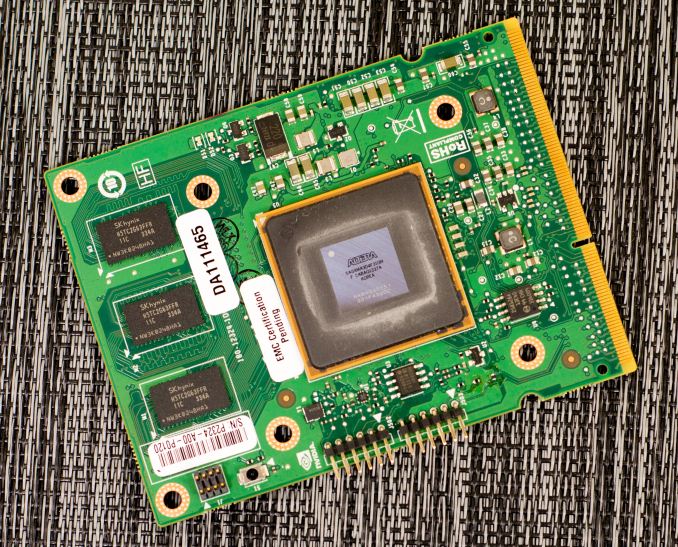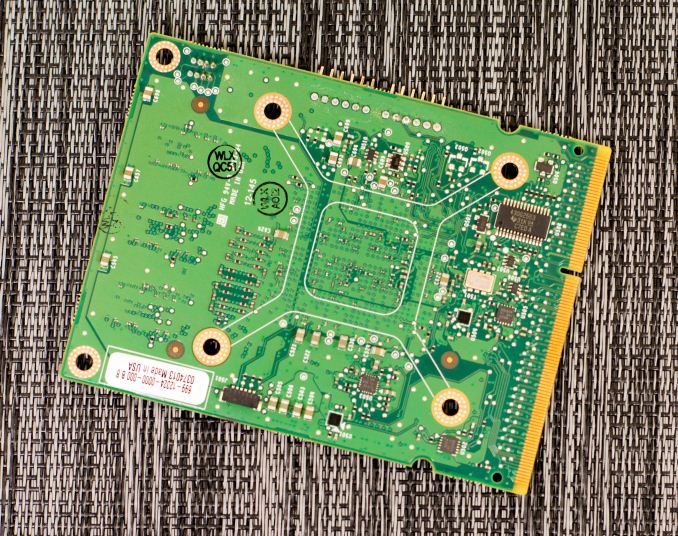 The FPGA includes an integrated LVDS interface, which makes it perfect for its role here.
How it Plays
The requirements for G-Sync are straightforward. You need a G-Sync enabled display (in this case the modified ASUS VG248QE is the only one "available", more on this later). You need a GeForce GTX 650 Ti Boost or better with a DisplayPort connector. You need a DP 1.2 cable, a game capable of running in full screen mode (G-Sync reverts to V-Sync if you run in a window) and you need Windows 7 or 8.1.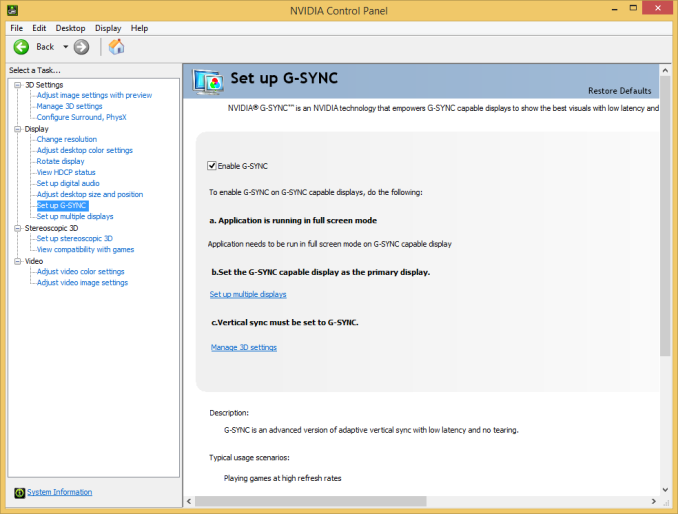 G-Sync enabled drivers are already available at GeForce.com (R331.93). Once you've met all of the requirements you'll see the appropriate G-Sync toggles in NVIDIA's control panel. Even with G-Sync on you can still control the display's refresh rate. To maximize the impact of G-Sync NVIDIA's reviewer's guide recommends testing v-sync on/off at 60Hz but G-Sync at 144Hz. For the sake of not being silly I ran all of my comparisons at 60Hz or 144Hz, and never mixed the two, in order to isolate the impact of G-Sync alone.
NVIDIA sampled the same pendulum demo it used in Montreal a couple of months ago to demonstrate G-Sync, but I spent the vast majority of my time with the G-Sync display playing actual games.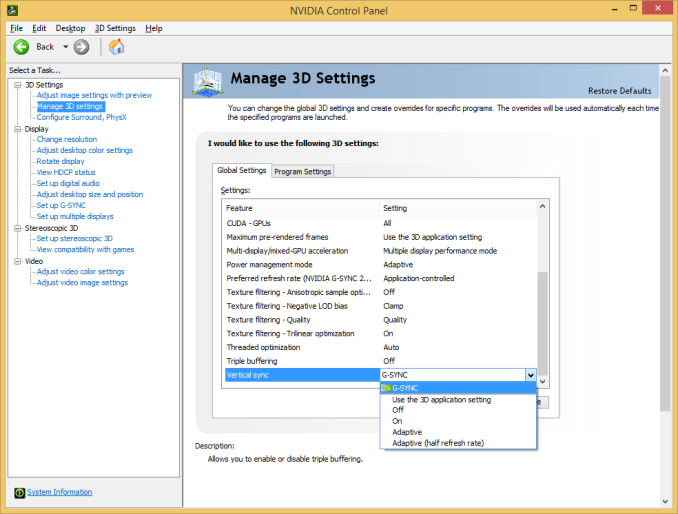 I've been using Falcon NW's Tiki system for any experiential testing ever since it showed up with NVIDIA's Titan earlier this year. Naturally that's where I started with the G-Sync display. Unfortunately the combination didn't fare all that well, with the system exhibiting hard locks and very low in-game frame rates with the G-Sync display attached. I didn't have enough time to further debug the setup and plan on shipping NVIDIA the system as soon as possible to see if they can find the root cause of the problem. Switching to a Z87 testbed with an EVGA GeForce GTX 760 proved to be totally problem-free with the G-Sync display thankfully enough.
At a high level the sweet spot for G-Sync is going to be a situation where you have a frame rate that regularly varies between 30 and 60 fps. Game/hardware/settings combinations that result in frame rates below 30 fps will exhibit stuttering since the G-Sync display will be forced to repeat frames, and similarly if your frame rate is equal to your refresh rate (60, 120 or 144 fps in this case) then you won't really see any advantages over plain old v-sync.
I've put together a quick 4K video showing v-sync off, v-sync on and G-Sync on, all at 60Hz, while running Bioshock Infinite on my GTX 760 testbed. I captured each video at 720p60 and put them all side by side (thus making up the 3840 pixel width of the video). I slowed the video down by 50% in order to better demonstrate the impact of each setting. The biggest differences tend to be at the very beginning of the video. You'll see tons of tearing with v-sync off, some stutter with v-sync on, and a much smoother overall experience with G-Sync on.
While the comparison above does a great job showing off the three different modes we tested at 60Hz, I also put together a 2x1 comparison of v-sync and G-Sync to make things even more clear. Here you're just looking for the stuttering on the v-sync setup, particularly at the very beginning of the video:
Assassin's Creed IV
I started out playing Assassin's Creed IV multiplayer with v-sync off. I used GeForce Experience to predetermine the game quality settings, which ended up being maxed out even on my GeForce GTX 760 test hardware. With v-sync off and the display set to 60Hz, there was just tons of tearing everywhere. In AC4 the tearing was arguably even worse as it seemed to take place in the upper 40% of the display, dangerously close to where my eyes were focused most of the time. Playing with v-sync off was clearly not an option for me.
Next was to enable v-sync with the refresh rate left at 60Hz. Lots of AC4 renders at 60 fps, although in some scenes both outdoors and indoors I saw frame rates drop down into the 40 - 51 fps range. Here with v-sync enabled I started noticing stuttering, especially as I moved the camera around and the difficulty of what was being rendered varied. In some scenes the stuttering was pretty noticeable. I played through a bunch of rounds with v-sync enabled before enabling G-Sync.
I enabled G-Sync, once again leaving the refresh rate at 60Hz and dove back into the game. I was shocked; virtually all stuttering vanished. I had to keep FRAPS running to remind me of areas where I should be seeing stuttering. The combination of fast enough hardware to keep the frame rate in the G-Sync sweet spot of 40 - 60 fps and the G-Sync display itself produced a level of smoothness that I hadn't seen before. I actually realized that I was playing Assassin's Creed IV with an Xbox 360 controller literally two feet away from my PS4 and having a substantially better experience.
Batman: Arkham Origins
Next up on my list was Batman: Arkham Origins. I hadn't played the past couple of Batman games but they always seemed interesting to me so I was glad to spend some time with this one. Having skipped the previous ones, I obviously didn't have the repetitive/unoriginal criticisms of the game that some other seemed to have had. Instead I enjoyed its pace and thought it was a decent way to kill some time (or in this case, test a G-Sync display).
Once again I started off with v-sync off with the display set to 60Hz. For a while I didn't see any tearing, that was until I ended up inside a tower during the second mission of the game. I was panning across a small room and immediately encountered a ridiculous amount of tearing. This was even worse than Assassin's Creed. What's interesting about the tearing in Batman was that it really felt more limited in frequency than in AC4's multiplayer, but when it happened it was substantially worse.
Next up was v-sync on, once again at 60Hz. Here I noticed sharp variations in frame rate resulting in tons of stutter. The stutter was pretty consistent both outdoors (panning across the city) and indoors (while fighting large groups of enemies). I remember seeing the stutter and noting that it was just something I'm used to expecting. Traditionally I'd fight this on a 60Hz panel by lowering quality settings to at least drive for more time at 60 fps. With G-Sync enabled, it turns out I wouldn't have to.
The improvement to Batman was insane. I kept expecting it to somehow not work, but G-Sync really did smooth out the vast majority of stuttering I encountered in the game - all without touching a single quality setting. You can still see some hiccups, but they are the result of other things (CPU limitations, streaming textures, etc…). That brings up another point about G-Sync: once you remove GPU/display synchronization as a source of stutter, all other visual artifacts become even more obvious. Things like aliasing and texture crawl/shimmer become even more distracting. The good news is you can address those things, often with a faster GPU, which all of the sudden makes the G-Sync play an even smarter one on NVIDIA's part. Playing with G-Sync enabled raises my expectations for literally all other parts of the visual experience.
Sleeping Dogs
I've been wanting to play Sleeping Dogs ever since it came out, and the G-Sync review gave me the opportunity to do just that. I like the premise and the change of scenery compared to the sandbox games I'm used to (read: GTA), and at least thus far I can put up with the not-quite-perfect camera and fairly uninspired driving feel. The bigger story here is that running Sleeping Dogs at max quality settings gave my GTX 760 enough of a workout to really showcase the limits of G-Sync.
With v-sync (60Hz) on I typically saw frame rates around 30 - 45 fps, but there were many situations where the frame rate would drop down to 28 fps. I was really curious to see what the impact of G-Sync was here since below 30 fps G-Sync would repeat frames to maintain a 30Hz refresh on the display itself.
The first thing I noticed after enabling G-Sync is my instantaneous frame rate (according to FRAPS) dropped from 27-28 fps down to 25-26 fps. This is that G-Sync polling overhead I mentioned earlier. Now not only did the frame rate drop, but the display had to start repeating frames, which resulted in a substantially worse experience. The only solution here was to decrease quality settings to get frame rates back up again. I was glad I ran into this situation as it shows that while G-Sync may be a great solution to improve playability, you still need a fast enough GPU to drive the whole thing.
Dota 2 & Starcraft II
The impact of G-Sync can also be reduced at the other end of the spectrum. I tried both Dota 2 and Starcraft II with my GTX 760/G-Sync test system and in both cases I didn't have a substantially better experience than with v-sync alone. Both games ran well enough on my 1080p testbed to almost always be at 60 fps, which made v-sync and G-Sync interchangeable in terms of experience.
Bioshock Infinite @ 144Hz

Up to this point all of my testing kept the refresh rate stuck at 60Hz. I was curious to see what the impact would be of running everything at 144Hz, so I did just that. This time I turned to Bioshock Infinite, whose integrated benchmark mode is a great test as there's tons of visible tearing or stuttering depending on whether or not you have v-sync enabled.
Increasing the refresh rate to 144Hz definitely reduced the amount of tearing visible with v-sync disabled. I'd call it a substantial improvement, although not quite perfect. Enabling v-sync at 144Hz got rid of the tearing but still kept a substantial amount of stuttering, particularly at the very beginning of the benchmark loop. Finally, enabling G-Sync fixed almost everything. The G-Sync on scenario was just super smooth with only a few hiccups.
What's interesting to me about this last situation is if 120/144Hz reduces tearing enough to the point where you're ok with it, G-Sync may be a solution to a problem you no longer care about. If you're hyper sensitive to tearing however, there's still value in G-Sync even at these high refresh rates.
Final Words
After spending a few days with G-Sync, I'm just as convinced as I was in Montreal. The technology, albeit a relatively simple manipulation of display timing, is a key ingredient in delivering a substantially better gaming experience.
In pathological cases the impact can be shocking, particularly if you're coming from a 60Hz panel today (with or without v-sync). The smoothness afforded by G-Sync is just awesome. I didn't even realize how much of the v-sync related stutter I had simply come to accept. I'd frequently find a scene that stuttered a lot with v-sync enabled and approach it fully expecting G-Sync to somehow fail at smoothing things out this time. I always came away impressed. G-Sync also lowered my minimum frame rate requirement to not be distracted by stuttering. Dropping below 30 fps is still bothersome, but in all of the games I tested as long as I could keep frame rates north of 35 fps the overall experience was great.
In many situations the impact of G-Sync can be subtle. If you're not overly bothered by tearing or are ok with v-sync stuttering, there's really nothing G-Sync can offer you. There's also the fact that G-Sync optimizes for a situation that may or may not be so visible 100% of the time. Unlike moving to a higher resolution or increasing quality settings, G-Sync's value is best realized in specific scenarios where there's a lot of frame rate variability - particularly between 30 and 60 fps. Staying in that sweet spot is tougher to do on a 1080p panel, especially if you've already invested in a pretty fast video card.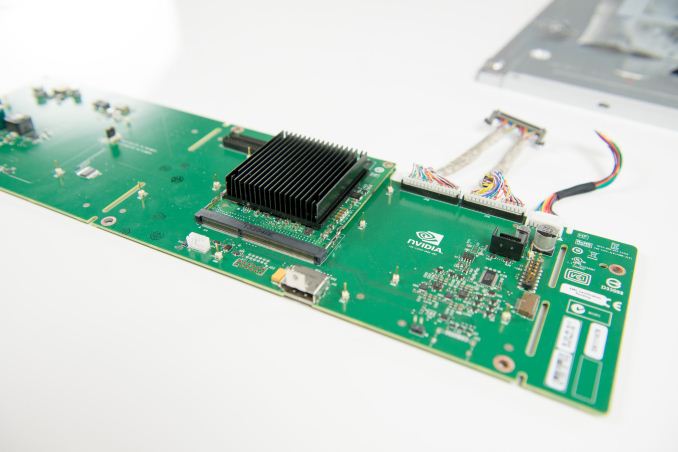 If you're already running games at a fairly constant 60 fps, what G-Sync will allow you to do is to crank up quality levels even more without significantly reducing the smoothness of your experience. I feel like G-Sync will be of even more importance with higher resolution displays where it's a lot harder to maintain 60 fps. Ideally I'd love to see a 2560 x 1440 G-Sync display with an IPS panel that maybe even ships properly calibrated from the factory. I suspect we'll at least get the former.
There's also what happens if game developers can assume the world is running on displays with variable refresh rates. All of the sudden targeting frame rates between 30 and 60 fps becomes far less of a tradeoff.
NVIDIA hasn't disclosed much about G-Sync pricing, although ASUS has already given us a little guidance. The VG248QE currently sells for $280 on Newegg, while the upcoming G-Sync enabled flavor will apparently be sold for $400. The $120 premium can be a tough pill to swallow. A 40% increase in display cost is steep, which is another reason why I feel like NVIDIA might have a little more success pushing G-Sync as a part of a higher end display. On the flip side NVIDIA could easily get those costs down by migrating from an FPGA to an ASIC, although to justify that move we'd have to see pretty broad adoption of G-Sync.
Some system integrators will be selling the aftermarket upgraded VG248QE between now and CES, but you can expect other displays to be announced over the coming months. NVIDIA still hasn't figured out if/how it wants to handle end user upgrades for those who already own VG248QE displays.
I feel like NVIDIA is slowly but surely assembling a bunch of components of a truly next-generation gaming experience. With all of the new consoles launched, the bar is set for the next several years. PCs already exceed what consoles are capable of in terms of performance, but the focus going forward really needs to be on improving ease of use as well as the rest of the experience. Things like GeForce Experience are a step in the right direction, but they need far more polish and honestly, integration into something like Steam. G-Sync just adds to the list. For PC gaming to continue to thrive, it needs to evolve into something even more polished than it is today. It's not enough to just offer higher resolution and a better looking image than what you can get on other platforms, it's very important to provide a smoother and more consistent experience as well. G-Sync attempts to and succeeds at doing just that.
With G-Sync enabled, I began to expect/demand more visually from my games. Aliasing and other rendering imperfections were far more pronounced now that a big portion of stuttering was removed. G-Sync isn't the final solution, but rather the first on a long list of things that need improving. There are other use cases for G-Sync outside of gaming as well. Streaming video where bandwidth constraints force a variable frame rate is another one I've heard passed around.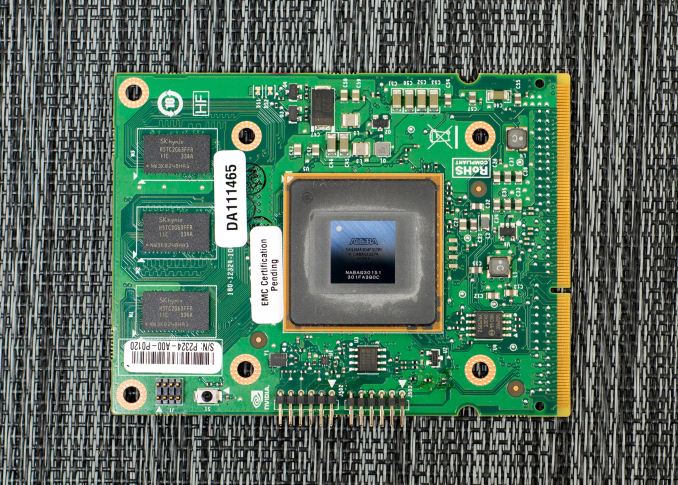 Although G-Sync is limited to NVIDIA hardware (GeForce GTX 650 Ti Boost or greater), the implementation seems simple enough that other manufacturers should be able to do something similar. That's obviously the biggest issue with what we have here today - it only works with NVIDIA hardware. For die hard NVIDIA fans, I can absolutely see a G-Sync monitor as being a worthy investment. You might just want to wait for some more displays to hit the market first.