Original Link: http://www.anandtech.com/show/7542/enermax-giveaway-2013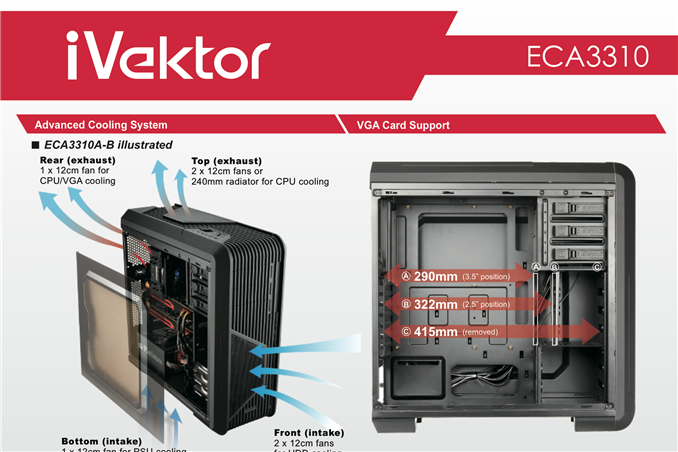 Going into this holiday season we're fortunate enough to have wonderful sponsors eager to show their support for AnandTech readers by providing us with some hardware to give away. First on the list is Enermax. If you're in need of a new case, CPU cooler and power supply you're going to want to enter this one.
We've got two case/cooler/PSU bundles to give away to two lucky readers. The first bundle features an Enermax Ostrog Pink case. With a white interior the Ostrog Pink is definitely a unique ATX case, ideal for someone who is a bit turned off by a more standard black chassis. Color preferences aside, the Ostrog definitely comes full featured: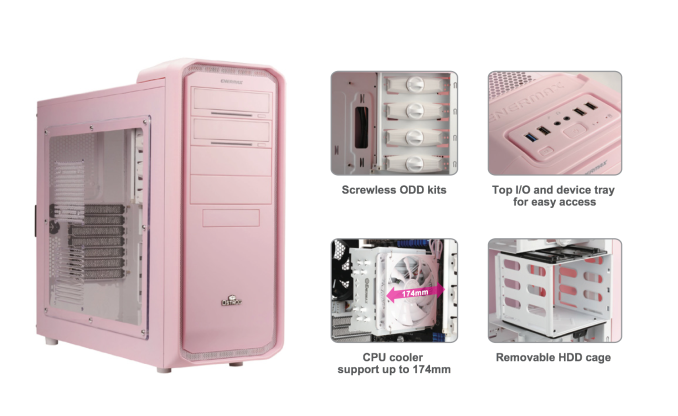 This bundle comes with Enermax's ETX-T40-W heatsink/fan. The white finish on the heatpipes is designed to match the Ostrog case, while providing support for virtually all current AMD and Intel sockets (LGA-775/1150/1155/1156/1366/2011, AM2/AM2+/AM3/AM3+/FM1/FM2). These larger heatsinks are a great way to maintain good cooling performance while reducing fan noise thanks to a good amount of surface area and a 120mm fan. The ETX-T40 actually supports up to two 120mm fans on the heatsink if you're looking to go a bit crazy. Finally Enermax is throwing in one of their 550W Triathlor Eco PSUs. This is an 80 Plus Bronze certified power supply that should be able to power the vast majority of configurations.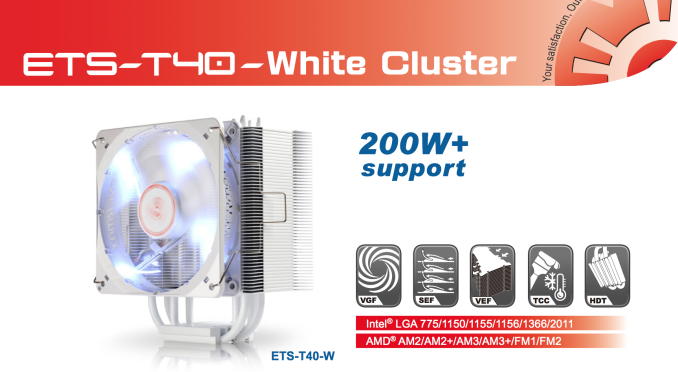 The second bundle up for grabs swaps out the case for something a little more traditional: a black Enermax iVektor ATX chassis (pictured above). Here you've got 3 x 5.25" bays and 7 x internal 3.5" bays or you can convert 4 of those 3.5" bays to 2.5" bays for SSD use. The iVektor adds support for two 120mm fans at the front of the chassis, one at the back, one at the bottom and two at the top (or a 240mm radiator). The iVektor also features two external USB 3.0 ports, two USB 2.0 ports, HD Audio header and a fan speed controller.
While the chassis changes in the second bundle, the cooler doesn't. Here Enermax is offering an ETX-T40-B, a black version of the T40-W from the first bundle. Rounding out the second bundle is the Enermax Revolution X't 530W PSU. The total wattage rating drops slightly compared to the Triathlor Eco but the efficiency rating goes up to 80 Plus Gold (87 - 93% efficient at 20 - 100% load). I'm a big fan of high efficiency PSUs, particularly given how little power is consumed by modern day desktops at idle or under partial load (e.g. CPU loaded but GPU idle).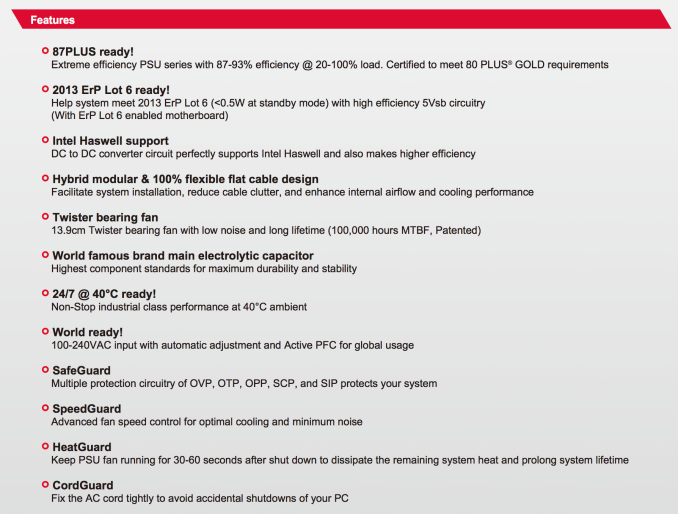 Both of these bundles will make great start to any new build, and we're giving them both away to two lucky AnandTech readers. To enter to win all you need to do is leave a comment below (please only post once). The sweepstakes is only open to US residents, be sure to read the terms below. We'll draw two winners and randomly assign one of the two bundles to each winner. We'll ask for your preference in bundle but if both winners choose the same bundle we'll have to randomly select between the two. Good luck!