Original Link: http://www.anandtech.com/show/7517/google-nexus-5-review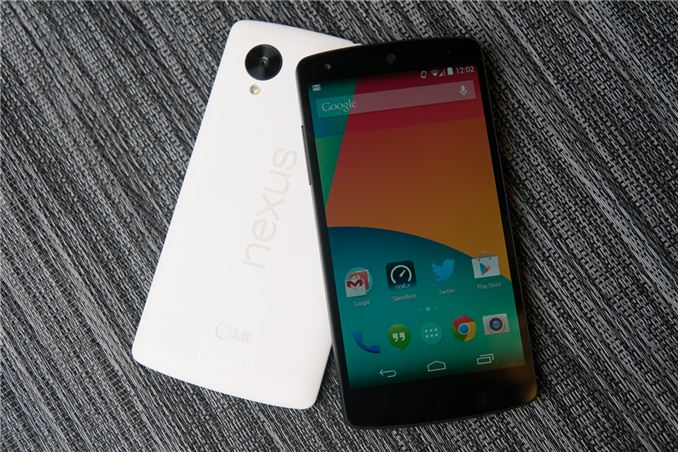 Each year, Google picks a silicon vendor, a hardware partner, and releases a new version of Android running on top of them. The result is a Nexus phone, and for five iterations now that process has repeated, resulting in a smartphone that's the purest expression of Google's vision for its mobile platform. Today we're looking at the Nexus 5.
Nexus 5, as its name makes obvious, is the latest generation of Google's line of Nexus smartphones, and also is topped by a 5-inch display. While the Nexus program originally started only for smartphones, we've seen Google since extend the program to include a 7-inch and 10-inch tablet form factor, as well as a line of accessories. In recent years, we've seen Nexus go from being part enthusiast curiosity and development device, to a brand tailored for consumers looking for the latest and greatest the Android platform has to offer at a killer price.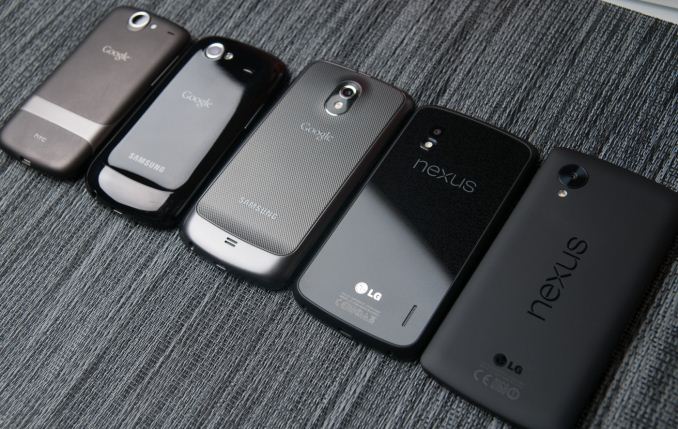 Last generation we saw the Nexus 4, a device that was essentially an LG Optimus G for T-Mobile in different clothing and priced at a competitive price, yet still included the latest and greatest silicon from Qualcomm with APQ8064 (S4 Pro). For Nexus 5, Google has once again gone with hardware partner LG and silicon vendor Qualcomm, this time with a phone that's somewhat analogous to the LG G2 (but not exactly the same platform) and using the latest and greatest MSM8974 (Snapdragon 800) silicon.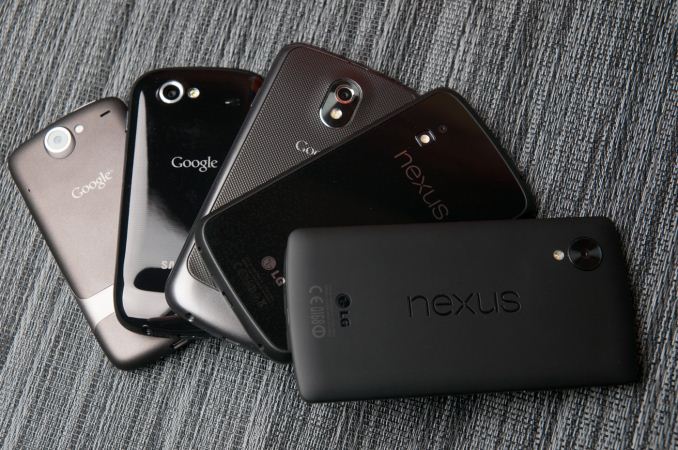 Let's start with the hardware, since that's the normal flow for a review. The Nexus 4 bore a lot of superficial similarities to the Optimus G, including a glass back with laser etched design below its surface, the same display, banding, and materials. The Nexus 5 on the other hand doesn't bear any similarities to the G2, with its buttons on the back, narrow bezel, rounded backside, and glossy plastic. Instead, the Nexus 5's design borrows much of its industrial design language from the Nexus 7 (2013), with the slightly rounded top and bottom, landscape "nexus" logo on the rear, and large radius curves all around the side. The Nexus 5 and 7 share almost the same shape and profile, and in the case of the black Nexus 5, same rubberized soft touch material on the back and sides. If you scaled down the Nexus 7 design you'd get something which is awfully close to the Nexus 5.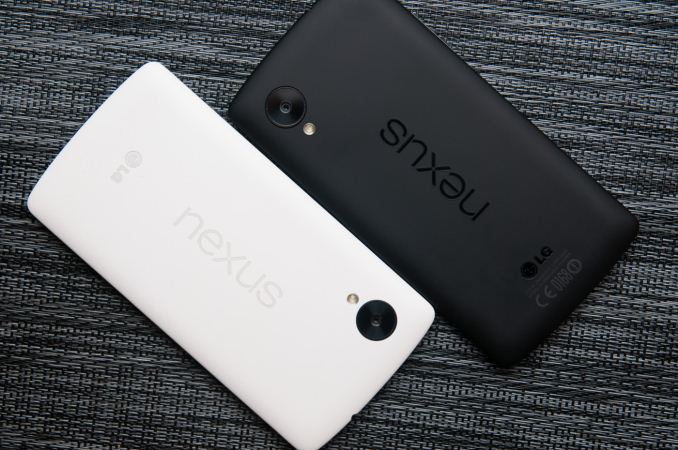 The result is a two-device family that feels like it was made by the same company, and it's really the first time Google has aligned its industrial design in such a sweeping fashion, in this case even across two different hardware partners. I guess you could make the argument that with the exception of the Nexus 10, Google has eliminated any industrial design fragmentation and finally crafted some hardware design language that it owns for itself.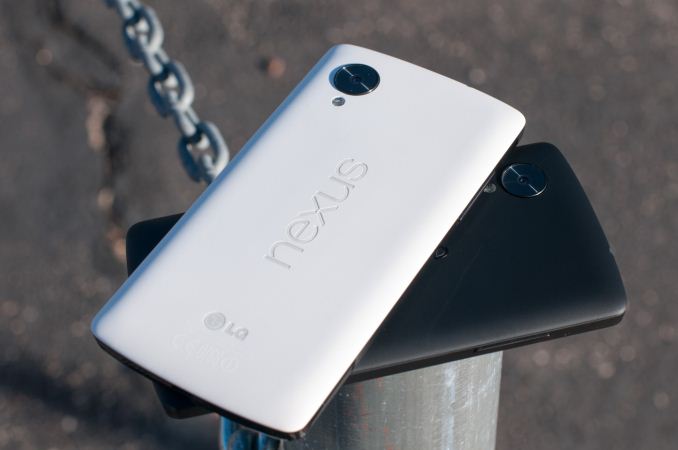 Google sampled us first a black Nexus 5, and later a white Nexus 5 at my request so I could check out the material differences I saw some discussion about. It's true that there are some differences between the two devices. For starters, the white device has a backside which eschews the soft touch material, instead giving the polymer-backed device a rougher, textured feeling. The absence of soft touch continues to the edge, which is glossy black plastic instead of the rubberized material, and comes with protective plastic installed over it by default. On the front the only visible difference between white and black is a white colored earpiece, the rest of the bezel around the display is still black.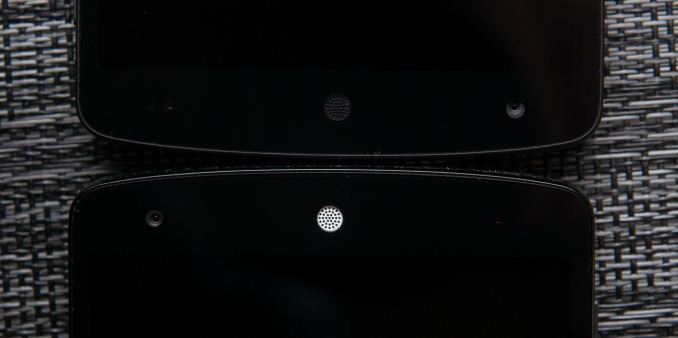 I'm reminded of the split between the white and black Note 3 with the Nexus 5, which also only includes rubberized material on the black model. I find myself preferring the feeling of the white model instead, but it's really just a story of personal taste. No doubt the absence of soft touch on the white material is to prevent staining from hand oils or other dyes as the device ages. I don't find that the absence of soft touch on the white model makes it any more difficult to hold or grip onto, the negative-angled bezel really does help the Nexus 5 fit into the hand securely.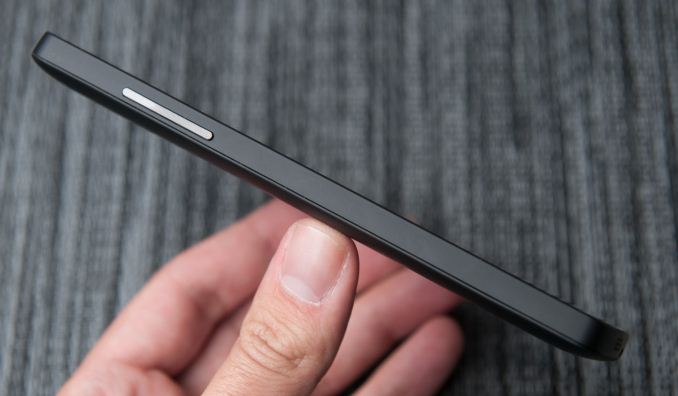 Although the Nexus 5 is a close cousin, it doesn't adopt the button arrangement from the G2, instead locating the volume and standby buttons in a normal place. Volume rocker ends up on the left, power on the right side.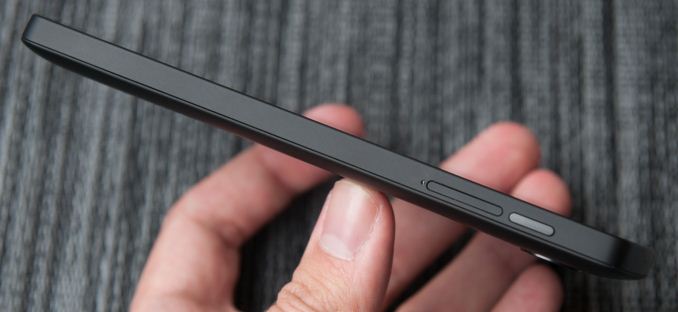 Likewise earpiece is on top and microUSB is at the bottom of the device. What's unique about the Nexus 5 buttons is the material of those buttons – they're ceramic, not polycarbonate. The result is that they're sharp and instantly locatable with the brush of a finger, it's a subtle thing that does feel different. The only complaint I have is that they do seem to rattle slightly inside their cutouts. I can affirm that the white model seems to have less rattle, but I'm not entirely sure how much of that is intrinsic to the color difference and absence of soft touch.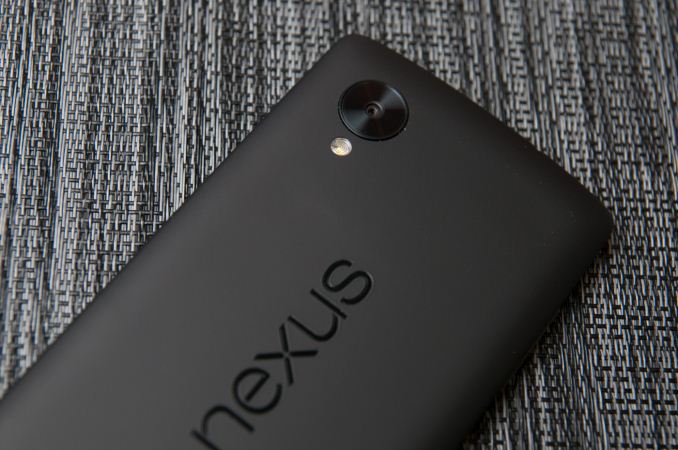 Also on the back is the Nexus 5's oversized camera cutout, which is slightly raised from the surface around it. It's fair to say that the Nexus 5 does have a camera bump, something that's not going away soon in all but the most iconic devices. When I first saw the oversized ring, I assumed it was just a design motif, and others later speculated it was for a line of magnetically-attachable add on lenses. To date none of those have materialized, and upon further consideration having magnets next to the VCM (voice coil motor) electromagnetic focus and OIS mechanism could complicate things. In any case, at present the oversized ring around the camera aperture is a unique design point rather than something which serves a function.
The only real negative about the camera cutout is that dust seems to be able to get into the crack surrounding it and the cover glass. It's something unfortunate about the Nexus 5's design in general – there are cracks that show dirt quickly, for example the backside has a seam around the edge where dust seems to intrude. It obviously doesn't change the Nexus 5's function, but immediately starts looking dirty on the black model, and part of why given both side by side I prefer the white one.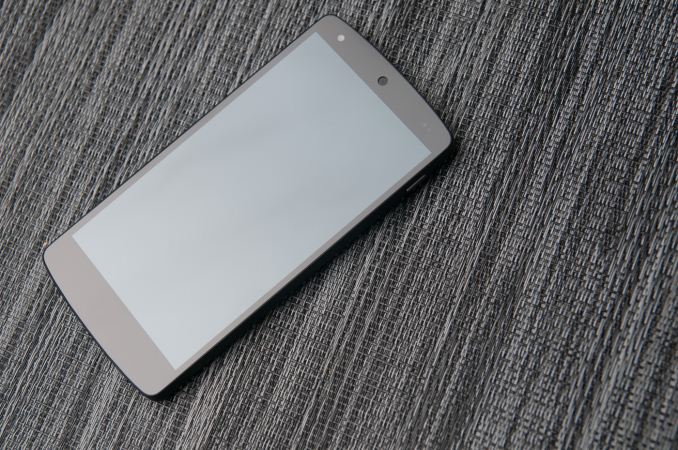 I think pragmatic describes the Nexus 5 design quite well, since honestly the design doesn't try to be flashy just for the sake of differentiation or make any crazy materials choices on the outside. There are subtle design features which definitely are appreciated, however, like the negative angle to the edge which makes the device easy to grip, those ceramic buttons, and the continuity of design language from the Nexus 7 of course. Materials are a big differentiator between devices right now, and again the Nexus 5 is relatively pragmatic with its choice of polymer, but does deserve kudos for not going with the slick, glossy-surfaced material still preferred by Korean handset makers.
The Nexus 5 feels well made and precision crafted, but I can't shake the feeling that Nexus 4 felt more like a standout design of its own. The Nexus 5 seems a lot more, well, traditional, without the rounded-glass edges, chrome ring, or pattern below the glass on the back (which I still maintain contained some kind of encoded message). The reality is that Google made a lot of decisions with Nexus to optimize for cost, and that the Nexus 5's design is actually quite differentiated given the price.
The Nexus 5 adds a lot over its predecessor – larger 1080p display, newer silicon, 802.11ac, better camera with OIS, and of course LTE connectivity, all while getting minimally more expensive than its predecessor. It's almost unnecessary to say that the Nexus 5 is obviously the best Nexus phone yet.
Physical Comparison
LG G2
Samsung Galaxy Nexus (GSM/UMTS)
LG Nexus 4
LG Nexus 5
Height
138.5 mm
135.5 mm
133.9 mm
137.84 mm
Width
70.9 mm
67.94 mm
68.7 mm
69.17 mm
Depth
9.14 mm
8.94 mm
9.1 mm
8.59 mm
Weight
143 g
135 g
139 g
130 g
CPU
2.26 GHz MSM8974
(Quad Core Krait 400)
1.2 GHz OMAP 4460 (Dual Core Cortex A9)
1.5 GHz APQ8064 (Quad Core Krait)
2.26 GHz MSM8974
(Quad Core Krait 400)
GPU
Adreno 330
PowerVR SGX 540 @ 304 MHz
Adreno 320
Adreno 330
RAM
2 GB LPDDR3
1 GB LPDDR2
2 GB LPDDR2
2 GB LPDDR3
NAND
16/32 GB NAND
16/32 GB NAND
8/16 GB NAND
16/32 GB NAND
Camera
13 MP with OIS and Flash (Rear Facing) 2.1 MP Full HD (Front Facing)
5 MP with AF/LED Flash, 1080p30 video recording, 1.3 MP front facing
8 MP with AF/LED Flash, 1.3 MP front facing
8 MP with OIS, AF, LED flash, 1.3 MP front facing
Screen
5.2-inch 1920x1080 Full HD IPS LCD
4.65" 1280x720 SAMOLED HD
4.7" 1280x768 HD IPS+ LCD
4.95" 1920x1080 HD IPS LCD
Battery
Internal 11.4 Whr
Removable 6.48 Whr
Internal 8.0 Whr
Internal 8.74 Whr
Google also sent over one of the Nexus 5 bumper cases, which really isn't so much bumper as it is, well, all around case. The Nexus 4 had bumpers that wrapped around the edge, but left the glass back exposed, much like the iPhone 4/4S era bumpers.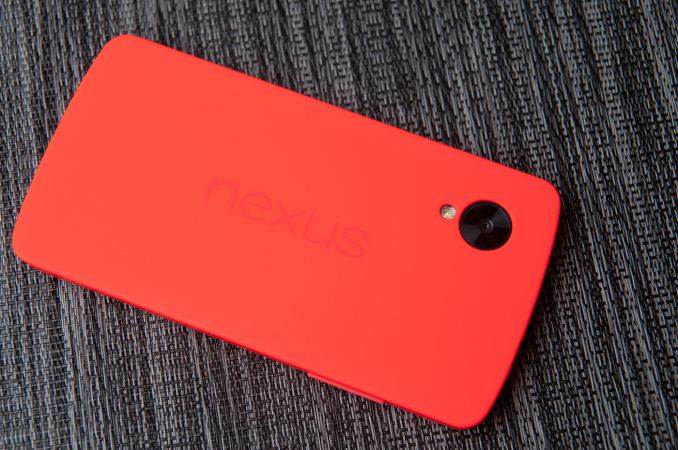 Nexus 5's bumper case covers up everything but the oversized camera aperture on the back. The red one I got doesn't seem to be silicone but some other thermoplastic.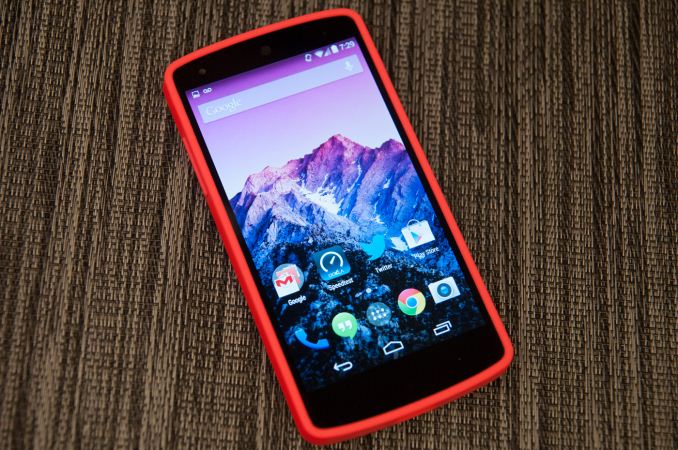 At $35 it's a bit on the pricey side, but it does fit the device nicely and get the job done with some cool neon colors that spice up the Nexus 5.
The K release of Android has been in the works for a while, and introduces platform changes that help slim the platform down even more, speed up system performance, and also introduce some new APIs and features.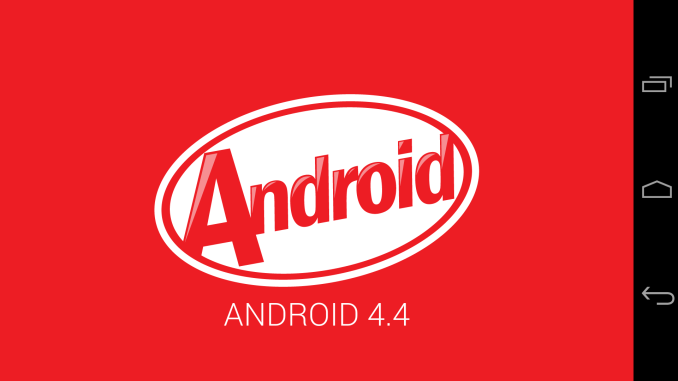 There's a bit of a discontinuity here since there's been a lot of discussion about the new Google Experience Launcher that came with the Nexus 5, although the reality is that this isn't canonically a part of KitKat so much as it is the exclusive (as of this writing) launcher for the Nexus 5. I won't walk through every pixel of change since I think others have that covered, and chances are they're already very familiar to most readers given Google's quick rollout to Google Play editions of the HTC One and SGS4, Nexus 7, Nexus 7 (2013), Nexus 4, Nexus 10, and of course almost all the Moto Xes by now.
From a UI perspective, KitKat makes a number of immediately obvious visual changes. The top status bar and bottom navigation bar are now translucent with a subtle gradient. I like this change as it manages to make the still rather static use of pixels for the navigation bar at least useful for looking at your wallpaper.
Another obvious immediate change is that a lot of holo's blue is now white. Truth be told it seems like Windows and Android (starting really with Honeycomb) loved blue perhaps a little too much. It used to be that Android overused green as the highlight color, something which hilariously enough still shines through in some other OEM skins. In KitKat, put simply, white is the new blue, and orange is the new white. The status icons are now white as well and simplified to not show data transmission arrows.
It took some time to get used to data transmission arrows not hinting to me when I was connected to the network and could expect that bits were flowing, thankfully they do still exist in the settings shade, and it's here you'll also see status indicators change color (remember, orange is the new white) if there's no connection to Google. Oh and the old abacus-like settings icon is changed to a cog, although the abacus settings icon still exists in a ton of Google's first party apps.
The stock apps get tweaks too, clock changes its picker, the lock screen loses the two different font weights and instead uses just one. Lock screen now also has full-screen album or movie art that corresponds to what you're listening to or projecting using Chromecast.
There's a new full screen "immersive mode" that hides all system UI and reduces distractions that developers can use. An edge swipe gets you back to a view with the system UI visible.
The phone app gets a big functional change by including more Google+ and Maps integration. The new UI hides the dialer by default, instead encouraging users to dial using their contacts by typing into a search bar that searches through contacts and nearby places. The result is you can dial businesses just by typing their names – I was searching for a camera store while in San Francisco and just typed the name of the store and hit dial at one point. Incoming caller ID also now looks up incoming callers against Google Maps listings, and at some point in the future, against people that have associated their numbers with Google profiles. On one hand it'll be nice to have contact photos and caller ID populate automatically without having to curate an address book, on the other there are obviously privacy concerns to address. Smart dialing was a new feature in 4.3, that is now shipped turned on by default in 4.4 if you pull up the dialer.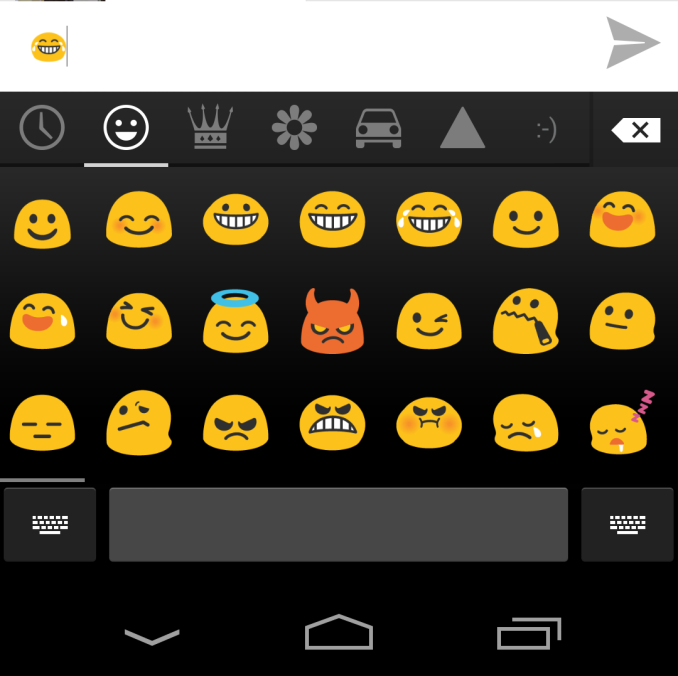 An improvement I'm sure a ton of people will enjoy is the inclusion of color emoji in KitKat. Android's prior emoji support left a lot to be desired and felt like it was stuck back in 2010. The new emoji and support straight from the Google keyboard will undoubtedly please a lot of people.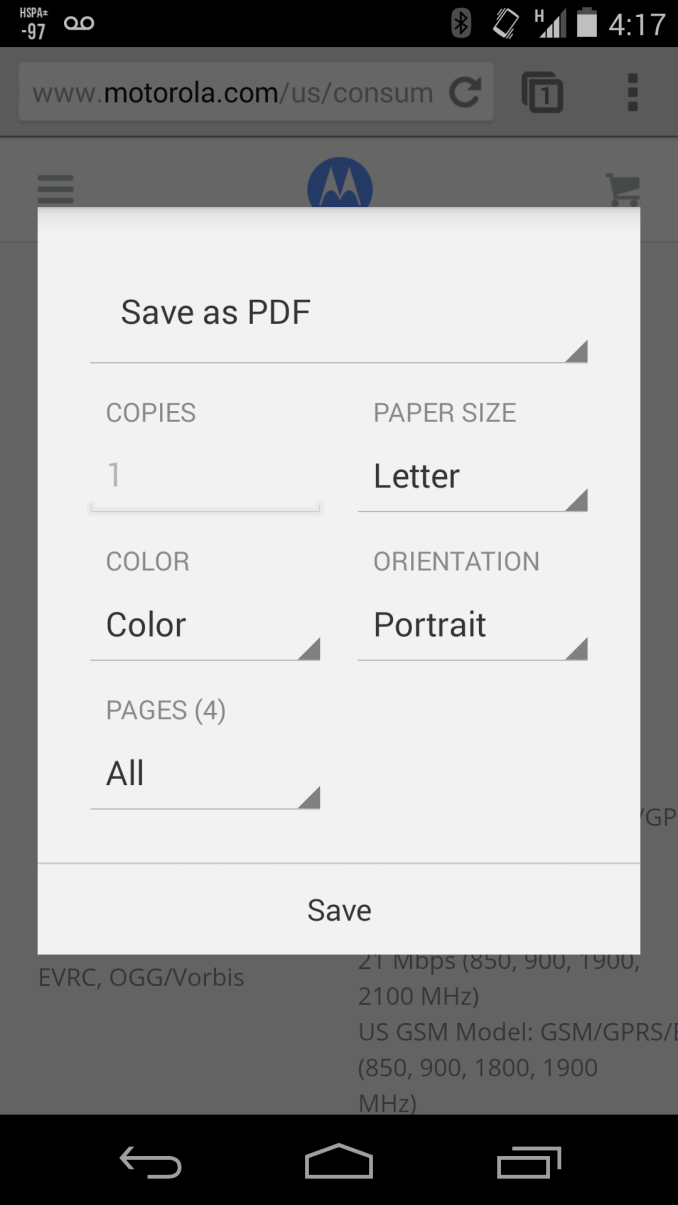 KitKat also adds printing support, either over local WiFi or cloud based. There's new APIs for printer manufacturers to use and build print services that can be distributed over Google Play. I haven't printed things in forever, so the most relevant part of printing support from my perspective is how this can also just be used to generate PDFs.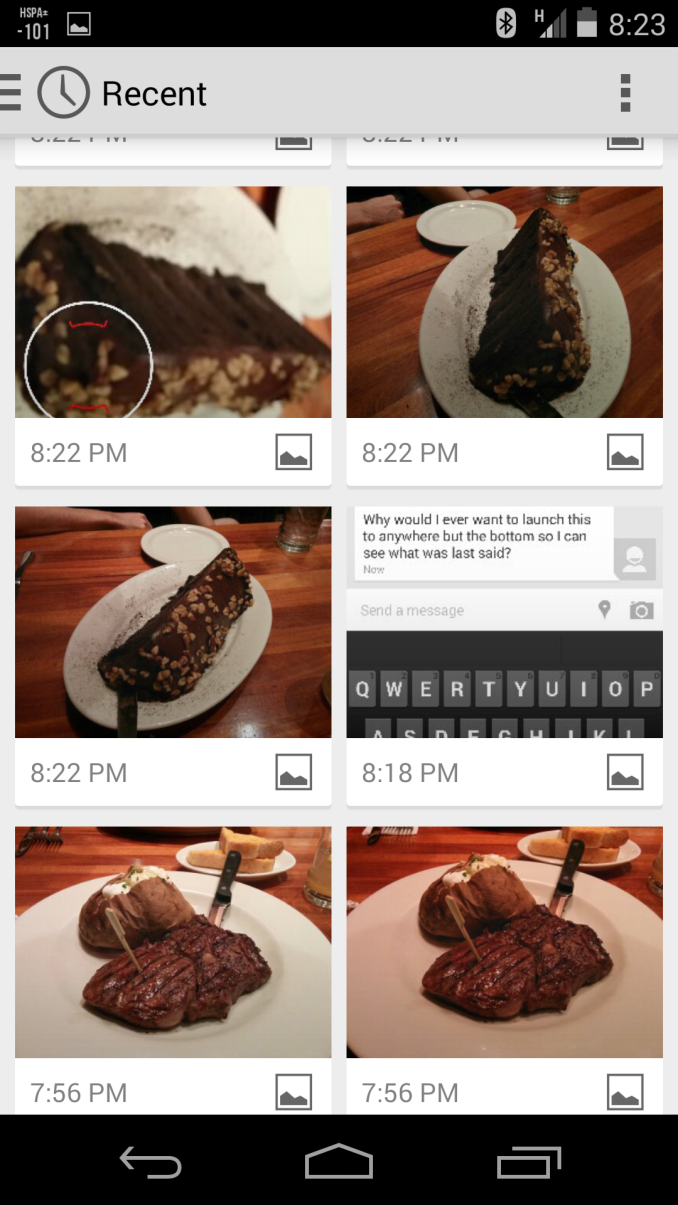 A new storage access framework comes with a revamped picker. The new picker is a dramatic improvement that integrates cloud and local storage services in one view, should the provider integrate with the APIs needed. Google does a good job with its own Google Drive service, I hope at some point Dropbox integrates the same way.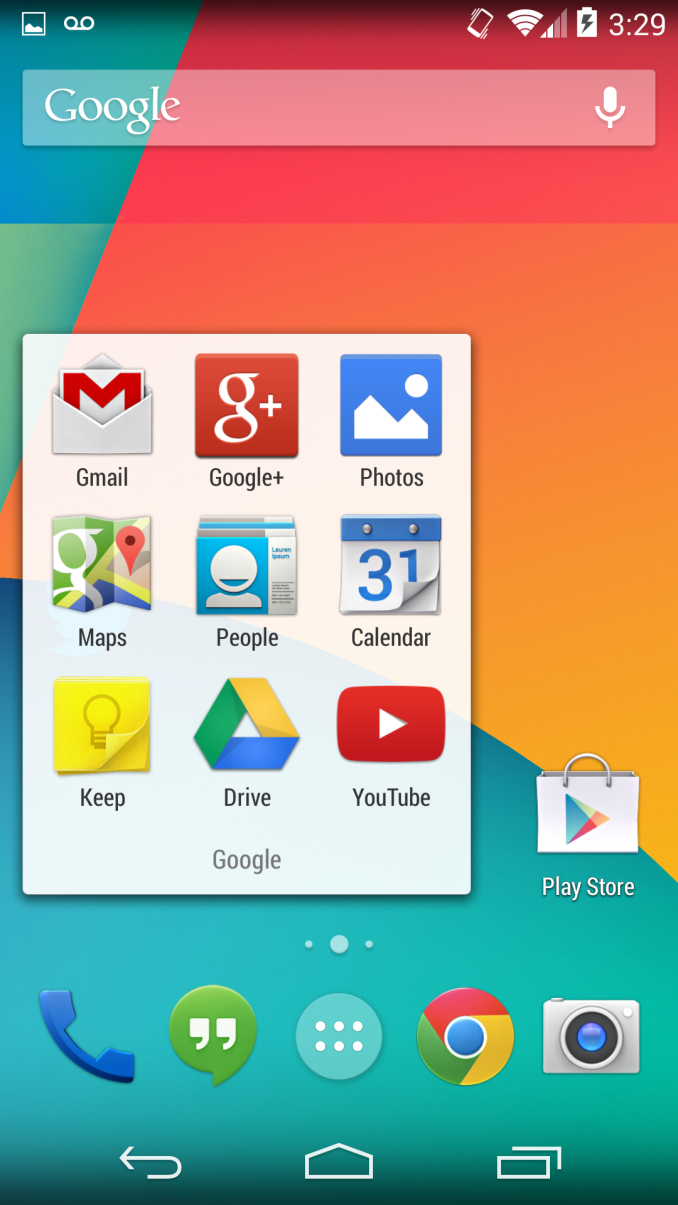 The Google experience launcher (actually Google Search) is the big Nexus 5 exclusive (for now), and includes a number of changes over the stock launcher. Chief among those is the ability to trigger Google Now by saying "OK Google" from the home screen or inside the interface – the device does need to be in the screen-on state as well. It doesn't activate the phone the same way the Moto X does, which is always listening for "OK Google Now" using a C55x DSP even when the screen is off. I find it a bit curious that Nexus 5 doesn't use keyword activation using Snapdragon 800 and WCD9320's voice activation feature, and it's a bit puzzling that there's already search-activation phrase fragmentation between the two devices, although Moto X probably added another word to decrease false positive activations from power off.
The Google experience launcher changes the widget panel navigation around, going left gets you to the Google Now and search, additional widget panels are added to the right, and you're no longer limited to just five. The launcher's apps view changes as well, there's no apps and widgets tab, just a grid of apps, and it's translucent like the rest of the UI. Widgets move to a menu you can get to by long pressing on a blank part of a home screen.
KitKat adds formal support for third party SMS clients with a shared SMS provider and official APIs, and Nexus 5 dives head in with Hangouts as the default SMS client on the device. Unfortunately the merging of SMS and Google Talk Google+ Hangouts instant message threads is half-baked at best. The two exist in the same application, but the implementation is still basically a discrete one, with two different conversation views for SMS and Hangouts. It's also frustrating to switch between SMS and Hangouts conversations quickly sometimes since you have to do this from the conversations view not the threads view. Notifications also are surfaced separately for Hangouts and SMSes.
Google can claim that SMS and IM are now merged nicely together under one roof, but it's still basically two discrete threads and views. It's amazing to me that it's 2013 and nobody has still been able to merge the two together the same way WebOS did with the Palm Pre.
KitKat also brings DSP accelerated audio decode, or "audio tunneling to DSP." This was another thing that silicon vendors would add in for OEMs, allowing them to have very low power playback of MP3s and other codecs that could be processed in the appropriate IP block on their SoC. Qualcomm's MSM8974 has two Hexagon DSPs inside, one QDSP6 V5A for applications to use, one QDSP6 V5H which runs the baseband. The V5A DSP now can offload playback of most common audio formats natively, which Nexus 5 uses.
We've been expecting it for a long time now, and with 4.4 the WebKit based rendering backend for WebView is out in favor of a Chromium open source one. This brings better HTML5 support and (thankfully) the ability to remotely debug WebViews over USB using Chrome.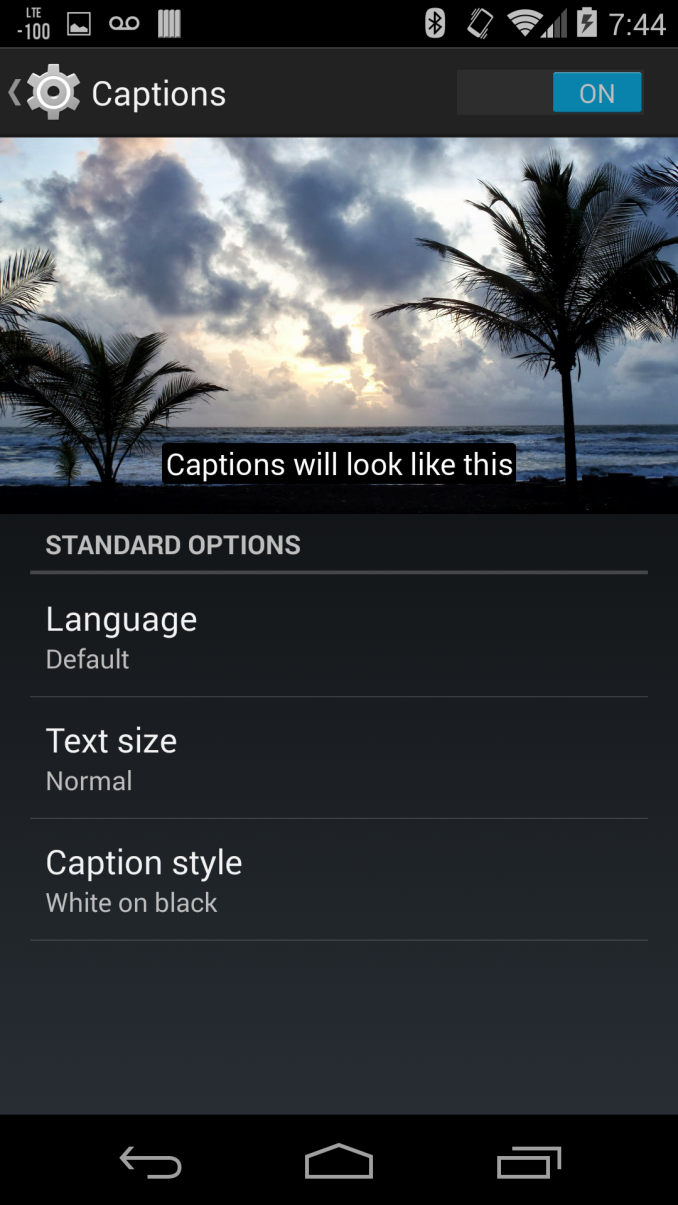 Closed captioning support for videos is also added, and gets a setting option under Accessibility. Apps using VideoView can deliver caption streams for rending now, and VideoView can auto display captions in WebVTT format.
A cool new feature is the new screen recording tool which is a part of Android 4.4. Using "screenrecord" on a device tethered over adb, you can easily make videos of exactly what's on screen for walkthroughs or tutorials, or of course, reviews. The best part is that it uses the encoder onboard the device and seems to have essentially negligible performance impact on the device while you're using it. I've settled on a bitrate of 10 Mbps as this seems to produce results free of encode artifacts. Recordings do seem to be limited to 3 minutes.
./adb shell screenrecord –verbose –bit-rate 10000000 /sdcard/recording.mp4
I used the screenrecord utility to record a simple demo of the new photo editor which is a part of the gallery in KitKat. The new nondestructive gallery editor includes 9 filters, 11 borders, and allows for cropping and changing around things like exposure, contrast, saturation and sharpness on images. There's an auto button as well if you're lazy but still want to add some more pop. What's interesting about the Gallery application is that it's implemented using Renderscript on Android and is impressively fast at applying new filters and finally rendering out the finished image.
There are a bunch of other software platform improvements in KitKat as well. The platform has been tuned to run well on devices with 512 MB of RAM, with more options for OEMs to manage memory on their devices. I originally started by trying to compare a Nexus 4 running 4.4 vs 4.3's fresh boot memory footprint, but soon learned that the improvements seem to really change Android's behavior as memory pressure is increased rather than lower the at-boot footprint. With a fresh install and fresh boot I didn't notice much difference on the Nexus 4.
Fresh Install:
N4 - 4.4 1523 MB free of 1834 MB
N4 - 4.3 1522 MB free of 1870 MB
What has changed are the tools available to developers – dumpsys meminfo now gives more streamlined output with an easier to parse summary of memory use for processes and the total system. Comparing side by side between 4.3 and 4.4 it's obvious how much this tool has been improved.
Total RAM: 1899564 kB
Free RAM: 1104240 kB (545300 cached pss + 329160 cached + 229780 free)
Used RAM: 606528 kB (453388 used pss + 89024 buffers + 11460 shmem + 52656 slab)
Lost RAM: 188796 kB
There's a new procstats tool (dumpsys procstats) which gives per process breakdowns with run times, memory footprint, and other info. There's also an in-device view under debugging that exposes a simpler summary of this information, with what percentage of the time the device was under different levels of memory pressure.
Android has been smooth and performant on the higher end devices for a while now, with almost all the jank and stutter that used to crop up being smoothed over with butter. That said, there were still project butter related improvements in KitKat which bear going over and improve the 2D rendering pipeline further. Google's Romain Guy went over a number of these changes in a Google+ post.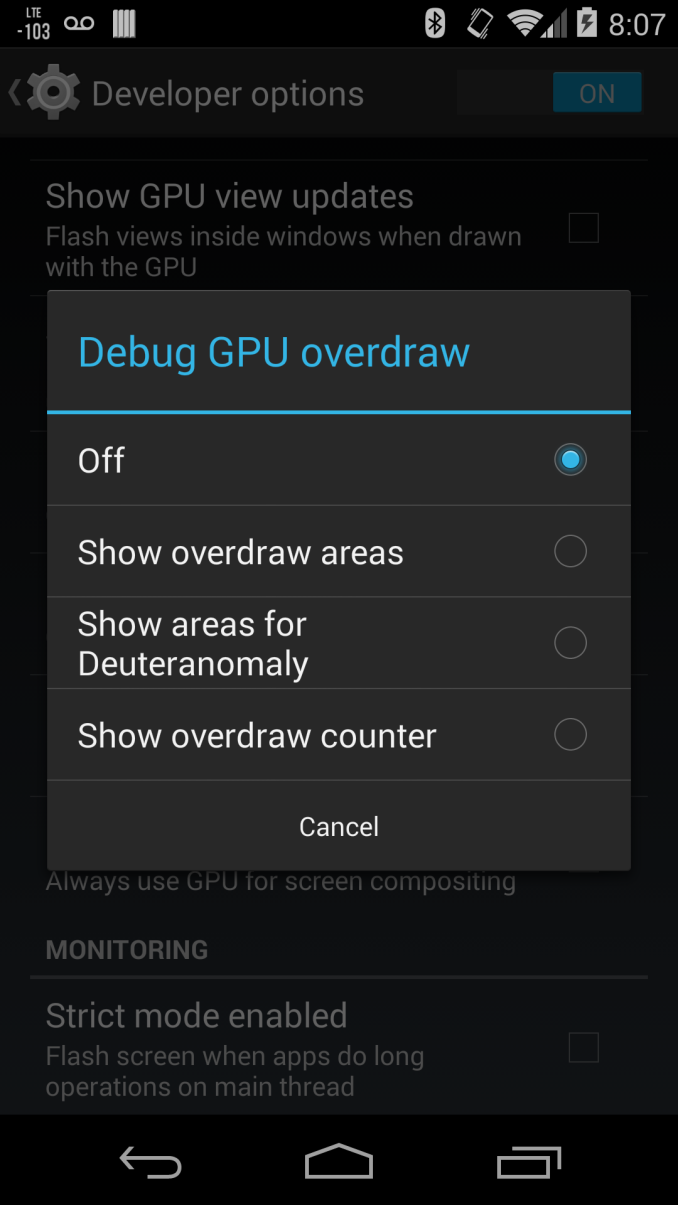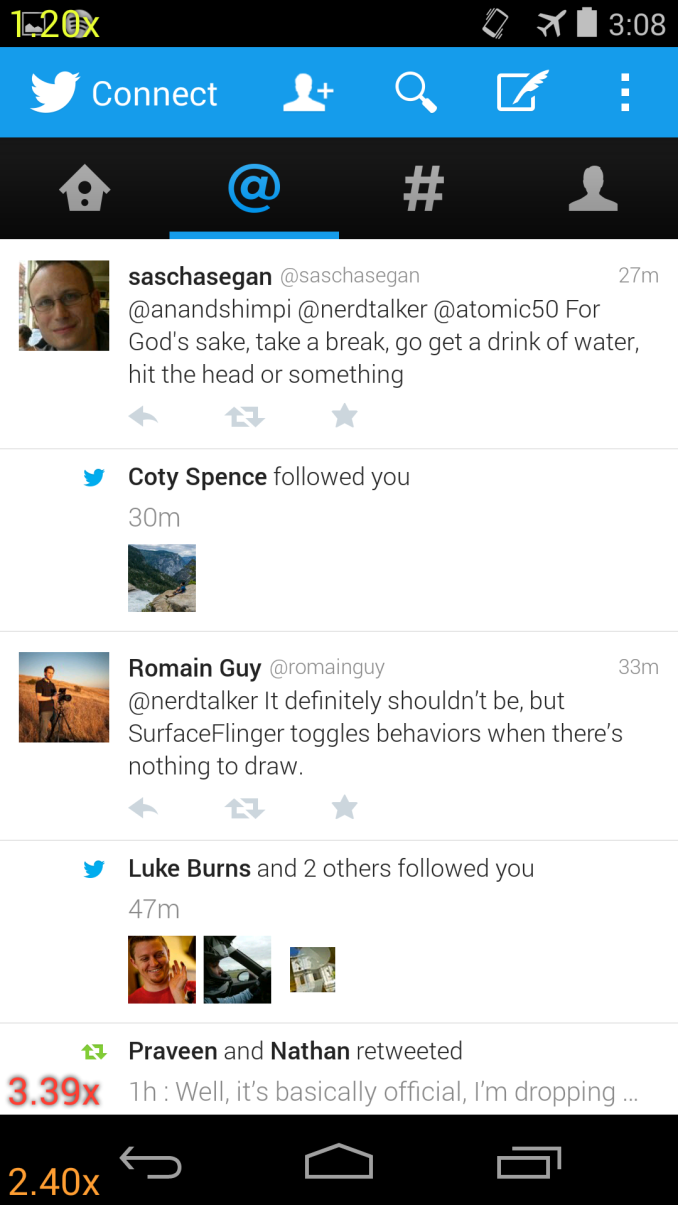 New on-screen overdraw counter option, the stock Twitter app remains a heavy overdrawer
First off, batching and merging in the rendering pipeline has been improved further. One big improvement is shared texture memory support for most common holo assets. Android will now generate a single texture with all the framework assets for a given device to be shared among all processes, which helps save memory and also helps with batching and merging of draw operations.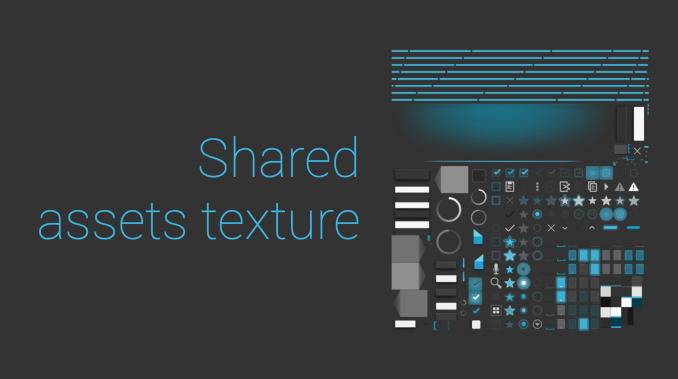 There are also further improvements to batching and merging draw operations, with more operations being merged together in KitKat. There's also better font cache management which helps remove pressure that would otherwise get added with things like the new Emoji support, and asynchronous texture upload support which also helps apps that use a lot of glyphs.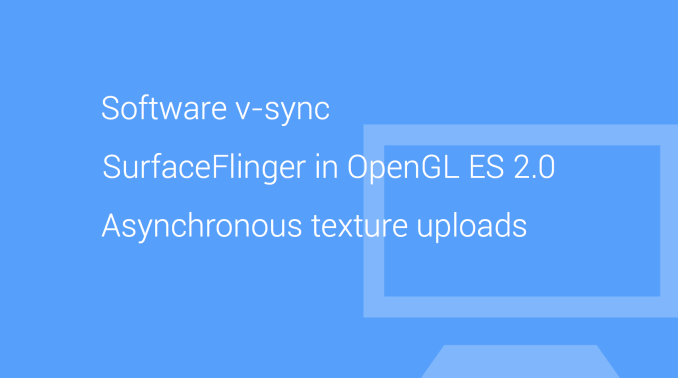 I touch on it in the display section but Android 4.4 also adds software vsync support. This helps make animations even smoother by triggering redraws just ahead of hardware vsync.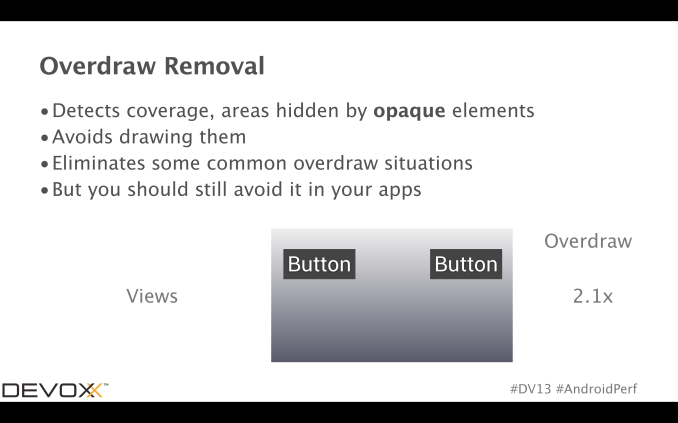 A while back, Android got the ability to visualize UI overdraw on-screen. This tool is improved in KitKat with a new view that shows a simple counter for tallying overdraw in a view, in addition to the older color coded region visualization. A big new improvement is automatic overdraw avoidance, which comes with KitKat, this can now remove simple cases of overdraw and avoid them entirely, like windows that are completely covered up.
ART - Android Runtime
Probably the biggest change people have asked about is the new Android runtime (ART) which is introduced as an experimental feature in Android 4.4. The Android source page on ART doesn't give much color beyond that it's an experimental runtime alternative to Dalvik, the longstanding runtime for Android. If you're not familiar, the Dalvik virtual machine runs processes and apps on android devices which are written in Java, compiled to bytecode, then converted to a .dex (Dalvik executable) format to be executed by the Dalvik VM.
Most Android enthusiasts will remember the large performance increase that came with Android 2.2's introduction of a JIT (Just In Time) compiler, which dramatically accelerated some applications. Although it hasn't undergone any dramatic performance improvements since, truth be told, Dalvik has been tuned considerably by silicon vendors and improved by Google since the introduction of JIT in Android 2.2. Most users are familiar with the "Android is upgrading" prompt which happens after a dalvik-cache wipe, and masks further optimizations (DexOpt running) to .dex files and building the dalvik-cache partition.
With ART, instead of a JIT the runtime moves to an AOT (Ahead Of Time) compilation model, which takes place at boot over the same "Android is upgrading" dialog, and takes quite a bit longer. If you watch logcat while this is happening, you can see dex2oat (the new ART file format) running and compiling out files and building the dalvik-cache.
I/art ( 615): DexFile_isDexOptNeeded cache file /data/dalvik-cache/data@app@com.google.android.apps.maps–2.apk@classes.dex does not exist for /data/app/com.google.android.apps.maps–2.apk
I/PackageManager( 615): Running dexopt on: com.google.android.apps.maps I/dex2oat ( 951): dex2oat: /data/dalvik-cache/data@app@com.google.android.apps.maps–2.apk@classes.dex
W/dex2oat ( 951): Compilation of com.google.zxing.g.a.s[] com.google.zxing.g.a.s.f() took 126.362083ms
At present, ART is compatible with ARMv7, x86, and MIPS, but not yet compatible with ARMv8 or AArch64. In addition only AOT compilation of bytecode to native code is supported at present, though I suspect a JIT mode will come as well in the future. It's obvious to me that ART is a work in progress, and its introduction in 4.4 is primarily to prepare silicon vendors for the inevitable switch to it as the default runtime at some point in the future. I think it's easy to speculate that ART's introduction might be in preparation for the inevitable switch to 64-bit (again, AArch64).
The performance associated with the VM underlying Android obviously translates to performance and battery life of the whole platform, at least for Java applications, and thus has huge importance. To investigate the performance deltas associated with ART I turned to two Nexus 5s and two Moto Xes, with Dalvik on one set, ART on the other. I brought out some of our old benchmarks which were written in Java or designed as Java benchmarks to test what's different. As has been widely publicized you can switch between runtimes under developer options on the Nexus 5 and other KitKat devices, although there are a few apps that don't behave nicely with ART, the majority work just fine.
Dalvik vs ART in Android 4.4 on Nexus 5
Dalvik
ART
Delta
AndEBench 1 Thread Java
266
250
1.065x
AndEBench 2 Threads Java
430
456
0.943x
AndEBench 4 Threads Java
450
710
0.633x
Caffeinemark
26906.4
17699.8
1.520x
Linpack
173.0275
133.4875
1.296x
The first table shows the delta between Nexus 5 with Dalvik selected and ART selected as the runtime, and a few benchmarks that are written in Java and thus test the performance of the runtime. Because garbage collection makes benchmarking on top of Android using Java apps non-determinstic with run to run variance, I ran these a lot of times and took and average.
AndEBench has interesting behavior, you can see up to a 10 percent improvement in performance in single thread, although the average ends up being around 7 percent. The two and four thread runs however lag behind Dalvik, clearly there's some thread dispatch tuning that needs to take place. Caffeinemark, a classic Java benchmark, shows a substantial 50 percent performance improvement, and good old, somewhat dated Linpack (the Java version) shows a 30 percent improvement. I would take Caffeinemark and AndEBench as sort of the high and low bounds for what kind of performance improvements we might expect from ART, ultimately it depends on whether the compiler can create faster native code than Dalvik.
I spoke with a silicon vendor who was impressed with ART, but noted that the caffeinemark scores I was seeing were already close to what they could already get out of Dalvik. For a while, optimized and further tuned versions of Dalvik have undoubtedly come with the BSPs given to OEMs to build their software. With how quickly a few OEMs have rolled out updates, we get the chance to look at Qualcomm's Dalvik vs ART pretty easily by looking at a Moto X.
Dalvik vs ART in Android 4.4 on Moto X
Qualcomm Dalvik
ART
Delta
AndEBench 1 Thread Java
199
195
0.976
AndEBench 2 Threads Java
336.4
357.4
0.941
AndEBench 4 Threads Java
N/A
N/A
N/A
Caffeinemark
19744.4
16659.6
1.185
Linpack
105.52
163.73
0.644
Interestingly enough if the comparison is not the stock Dalvik (Nexus 5) vs ART but rather the customized, tuned Dalvik from Qualcomm (Moto X) vs ART, the story is very different, with at most a 19 percent improvement in caffeinemark and essentially equivalent performance elsewhere. It's no surprise that I saw a lot of interest around sideloading and replacing libdvm.so on Nexus 5 with the one from Moto X or other Qualcomm 4.4 devices.
ART offers a performance improvement, of course it also introduces a few tradeoffs, like increased storage use in the dalvik-cache and potentially longer installation time and initial boot as AOT compilation runs. ART is experimental by Google's measure, so it's really premature to gauge performance right now, but it obviously has promise.
All around, KitKat is another sizable update to Android, with a ton of awesome improvements all around. I like the UI refinements and the improvements to the 2D rendering pipeline a whole lot and think Android has really matured into a capable computing platform.
It goes without saying that battery life is one of the huge cornerstones of smartphone evaluation and critique. In the case of Nexus 5, the battery is a 3.8 V, 2300 mAh 2D battery giving 8.74 watt hours total. Looking only at battery capacity doesn't always tell the whole story, since obviously it's just a tank to draw from – the overall efficiency of the entire system and the sum of the energy drain of its parts determines how long the platform will last. The comparison point of course for the Nexus 5 is its close cousin, the LG G2, which has a 3000 mAh (11.4 Whr) stacked (3D) battery by LG Chem. Smartphone battery sizes have been increasing for a while now, and the reality is that Nexus 5's is indeed on the smaller side given its display.
As I'll talk about later, one thing the Nexus 5 has over the LG G2 is a QFE1100 envelope tracker for its cellular power amplifiers, which lowers power consumption by up to 20 percent, the same RF360 part we saw in the Galaxy Note 3. Interestingly enough the LG G2 shipped with a variant of this same family, QFE1101, which works in an APT (Average Power Tracker) mode instead, whereas QFE1100 works in both APT and ET modes. I'll touch on these in the relevant section, but it's important to note that in the cellular tests one of the big consumers of power (power amplifiers are easily the number two after display) has the bleeding edge component available to curb consumption and is literally the second handset on the market to include it.
To evaluate battery life we turn to our battery life testing suite, which we run over WiFi and all the cellular interfaces appropriate for the device. Here we see a good combination of regular spikes in CPU usage with idle time, hopefully simulating constant, reasonably paced usage. As always the display is set to exactly 200 nits and configured the same way we always configure devices for maximum consistency.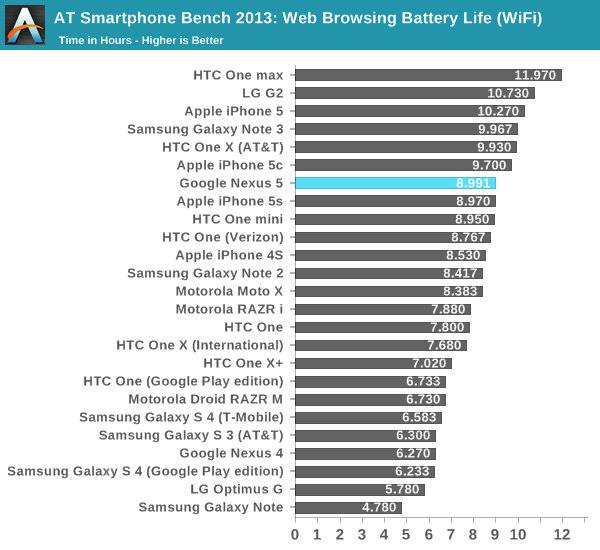 On WiFi, we see the Nexus 5 start off pretty well, behind the G2 and the newest 8974 phones, but no slouch at all, and considerably better than the Nexus 4. Of interest is how the Nexus 5 slips 16 percent versus the G2 despite having a 23 percent smaller battery.
For cellular, it's the same workload as always. Since the Nexus 5 now has LTE, I went back and re-tested the Nexus 4 with LTE enabled for a closer comparison. Although the Nexus 4 never shipped with LTE officially enabled, the device included it on Band 4 for some time until a baseband update finally locked it out for good. I flashed back down and ran the test just for the sake of completeness, and since I Know there are a fair amount of people out there using the Nexus 4 on LTE still. Of course I also tested on 3G WCDMA.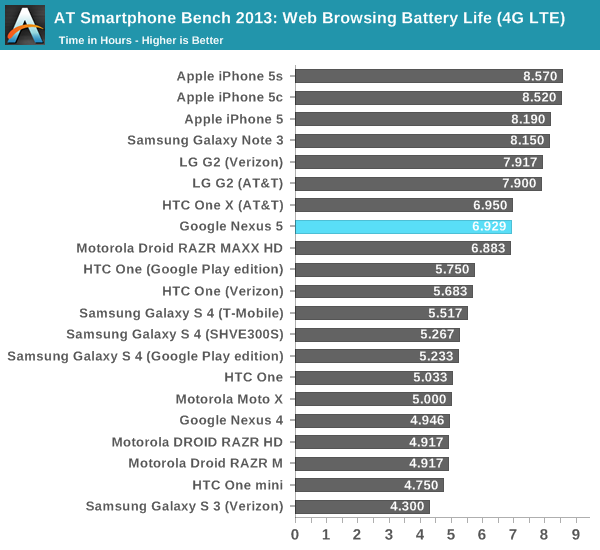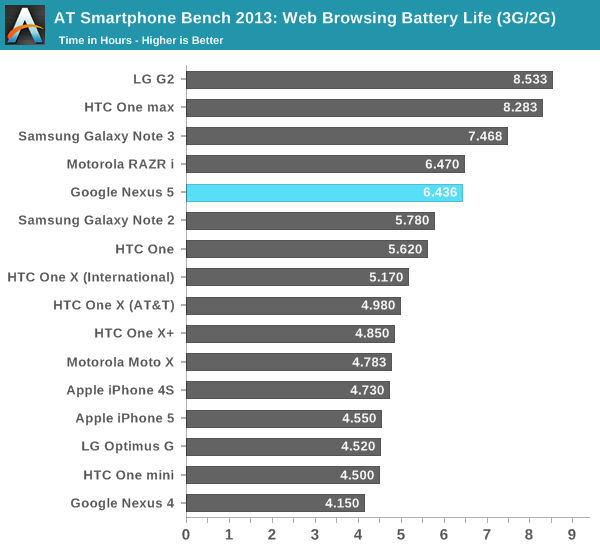 The Nexus 5 comes out far ahead of its predecessor on both 3G WCDMA and 4G LTE, although that's fairly unsurprising given the year of improvement, different process (28nm HPM), envelope tracking, and battery size differences. The more interesting comparison point is the LG G2, which Nexus 5 can't quite catch. Clearly the RF front end differences make a difference, otherwise the scaling would be 23 percent less battery on cellular, instead it is 12 percent on LTE. On 3G there's a bigger delta however, almost 33 percent worse than the G2's impressive result. Still, the Nexus 5 on LTE is no slouch.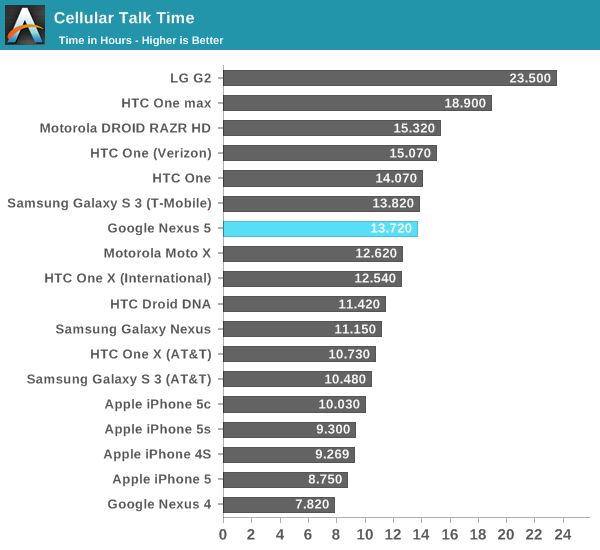 In the talk time test I was surprised to see a considerable falloff, although this is almost always gated by rock bottom power for the system. There clearly are some other consumers which either aren't powering down all the way or LG has better optimized for on the G2 versus the Nexus 5 which is Google's domain.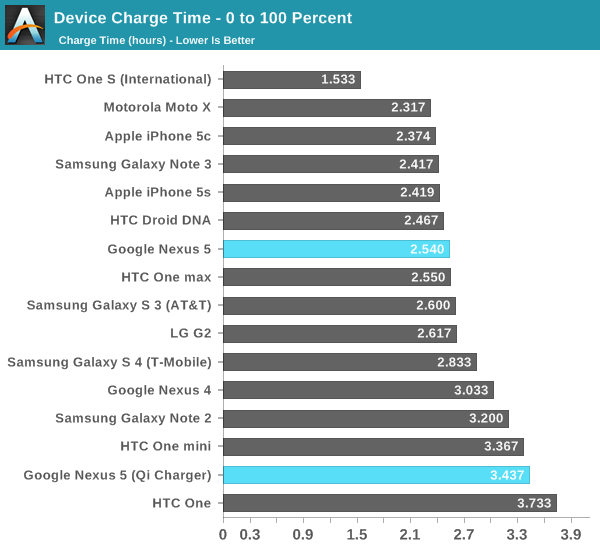 Looking at battery capacity alone would leave you with the impression that the Nexus 5 is woefully under-specced, when in reality battery life shows definite gains over previous generation devices. Although I'd love if the device somehow had the same size battery as the G2, it's clearly enough to make it through at least a full day, and in my time daily driving the device I've yet to come up short.
When it comes to charging, Google continues to do the sane thing and implement BC 1.2 signaling. Unlike the LG Optimus G, the Nexus 5 does not use the battery charging IC Qualcomm makes for use in conjunction with its normal PMICs, instead it uses the TI BQ24192 to charge at up to 1.5 A maximum and a MAX17048 fuel gauge. This seems to be done in order to accommodate wireless charging, though there could be other cost considerations at play. The Nexus 5 seems to charge in the linear region at just above 1 A however, although the limit set for BQ24192 is 1.5 A, and has a total charge time just above 2.5 hours on the supplied 1.2 A charger.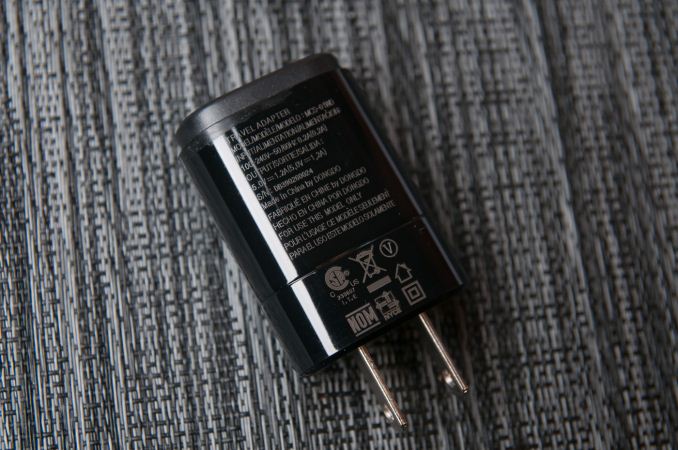 As I mentioned, Nexus 5 also works with the Qi (prounounced "chee") wireless charging specification which Google seems to have thankfully settled on for Nexus 4, 7, and now 5. The Nexus 5 uses TI's bq51013b power supply and charge receiver which is WPC 1.1 compliant. I praised the Nexus 4 for how well implemented Qi charging was and how it charged in basically the same amount of time on the charging mat or USB, as far as I can tell the Nexus 5 continues to implement things properly and will charge at accelerated rates. I've seen a few handsets that include Qi but oddly enough only charge at 500 mA like a USB data port, this is thankfully not the case on Nexus 5.
Nexus Wireless Charger
Google sent along their first party Qi wireless charger as well and I had a chance to check it out. I've never used the charging "Orb" that shipped with Nexus 4 so I can't comment on it, I have however used the two-position Energizer Qi charger and the Samsung Qi charger pad. Google's universal Nexus wireless charger works with the other Qi compatible Nexus devices, Nexus 7 (2013), 4, and 5, and of course any Qi compliant devices. I tested with the Droid DNA and had no issues charging like any other Qi charger.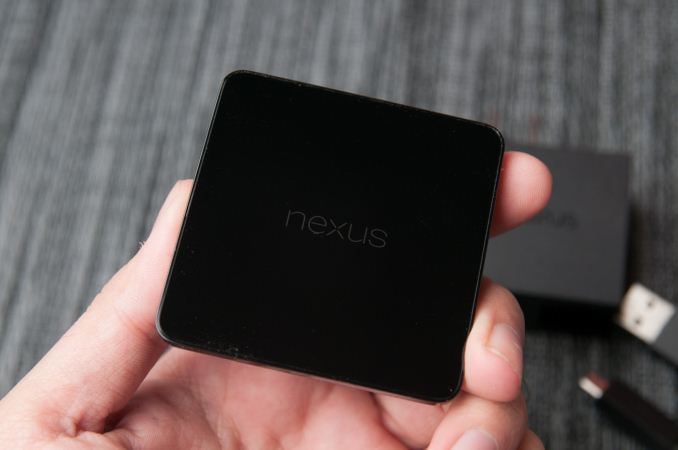 Google's charger works in conjunction with a 9 Watt USB AC adapter and plugs into the charging puck over microUSB. What's interesting about the charger is both how small it is (the outline is quite small) and how the bottom has a material that seems eerily reminiscent of what was on the bottom of the touchstone charger that shipped with the Palm Pre. The charger will securely adhere itself to surfaces, which it needs to since it has some magnets inside for alignment of devices.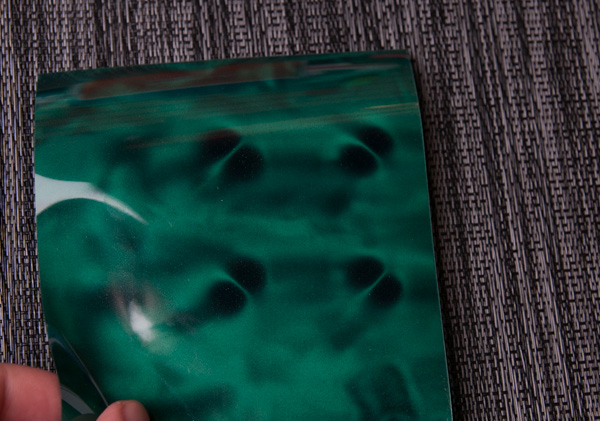 I put some magnetic field viewing film on top of Google's wireless charger, and you can see four magnets at the corners, which match up nicely with the four metal slugs on the back of the Nexus 5 around the charging coil.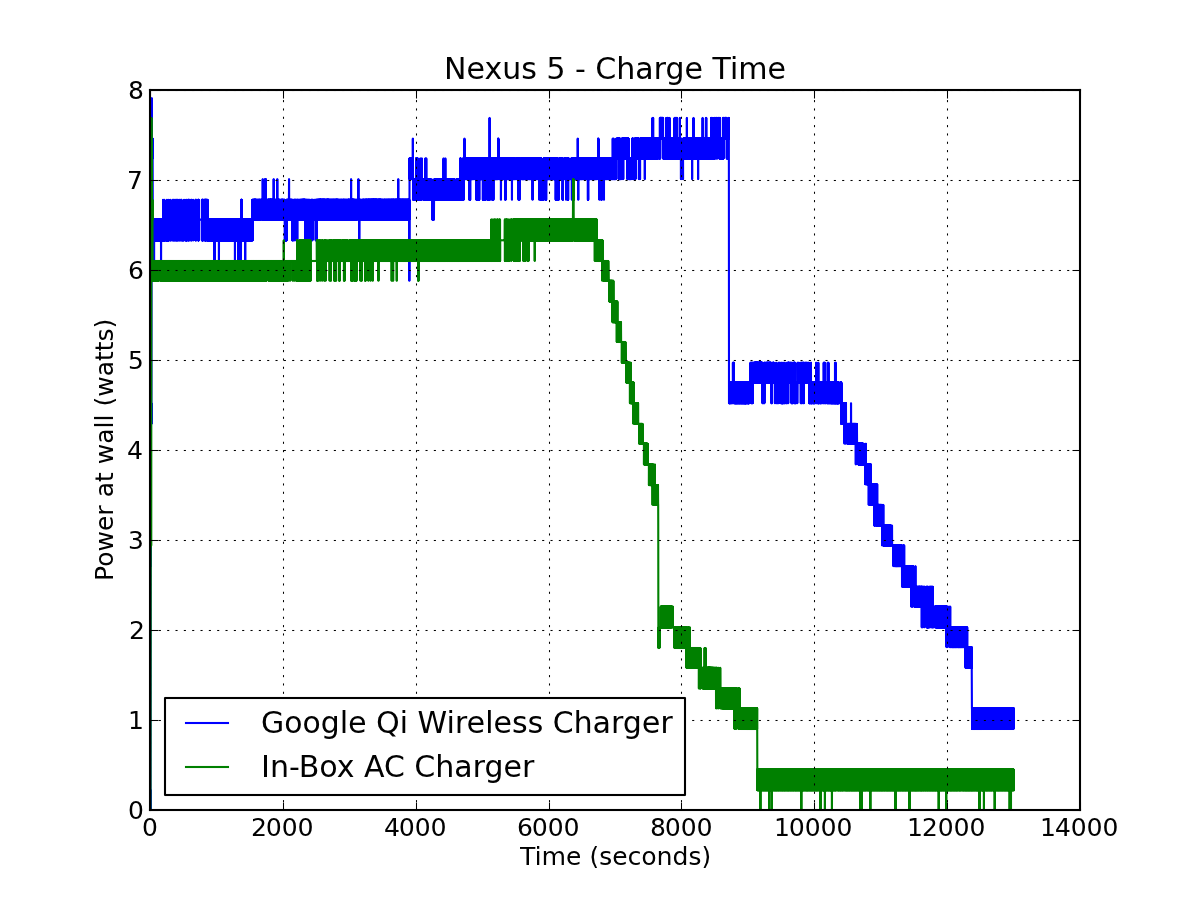 There's still some overhead and loss with all wireless charging, including Qi. I measured and plotted the power draw and thus charge time for a fully drained Nexus 5 being charged both using the in-box supplied AC charger from Google, and their wireless charger. There ends up being about a 50 minute difference between the two, so you're definitely trading convenience for a longer charge time, but once you've used wireless charging it's hard to give up that convenience. At the very least, Google's new charger addresses some of the complaints I saw levied against the original charging Orb with the inclusion of magnets that do seem to hold down devices better and keep them aligned so they charge properly, and included a very good grippy material on the back that adheres it to surfaces quite nicely.
At the core of Nexus 5 is a Snapdragon 800 SoC, specifically MSM8974. We've seen Qualcomm's latest silicon in a number of smartphones already, and it consists of four Krait 400 CPUs at up to 2.3 GHz, Adreno 330 graphics at up to 450 MHz, and integrated Category 4 LTE multimode modem, all built on TSMC's 28nm HPM high-k process. This is the higher 2.26 GHz (rounded up to 2.3 in most literature) clock, but don't confuse it with the 8974-AB or -AC variants that it's still a bit early for. Technically what's in Nexus 5 and other current other 8974 devices is 8974-AA. Last year I was surprised to see Nexus 4 get APQ8064 at its price point, this year I guess I'm also surprised that Nexus 5 is able to ship the best current silicon from Qualcomm at its own price point. There's also 2 GB of LPDDR3 at 1600 MHz data rate on a 2x32 bit interface for the whole system.
On paper, the Nexus 5 should be the fastest in the Android landscape, since in terms of silicon it has the bleeding edge of what's available right now. With the Nexus 4 the same was the case, although as we discovered thermal throttling prevented the Nexus 4 from looking as good as its other S4 Pro devices in benchmarks. I also mentioned on the podcast that it's likely that the fact Nexus doesn't switch into using a performance mode governor upon detecting certain benchmarks also contributed to the delta. Thankfully Google continues to not do an app detect and performance mode switch for benchmarks or a small whitelist of apps.
I Can't Believe I Still Have to Update This Table
Device
SoC
Cheats In
3DM
AnTuTu
AndEBench
Basemark X
Geekbench 3
GFXB 2.7
Vellamo
ASUS Padfone Infinity
Qualcomm Snapdragon 800
N
Y
N
N
N
N
Y
HTC One
Qualcomm Snapdragon 600
Y
Y
N
N
N
Y
Y
HTC One mini
Qualcomm Snapdragon 400
Y
Y
N
N
N
Y
Y
HTC One max
Qualcomm Snapdragon 600
Y
Y
N
N
N
Y
Y
LG G2
Qualcomm Snapdragon 800
N
Y
N
N
N
N
Y
Moto RAZR i
Intel Atom Z2460
N
N
N
N
N
N
N
Moto X
Qualcomm Snapdragon S4 Pro
N
N
N
N
N
N
N
Nexus 4
Qualcomm APQ8064
N
N
N
N
N
N
N
Nexus 5
Qualcomm MSM8974
N
N
N
N
N
N
N
Nexus 7
Qualcomm Snapdragon 600
N
N
N
N
N
N
N
Samsung Galaxy S 4
Qualcomm Snapdragon 600
N
Y
Y
N
N
N
Y
Samsung Galaxy Note 3
Qualcomm Snapdragon 800
Y
Y
Y
Y
Y
N
Y
Samsung Galaxy Tab 3 10.1
Intel Atom Z2560
N
Y
Y
N
N
N
N
Samsung Galaxy Note 10.1 (2014 Edition)
Samsung Exynos 5420
Y(1.4)
Y(1.4)
Y(1.4)
Y(1.4)
Y(1.4)
N
Y(1.9)
NVIDIA Shield
Tegra 4
N
N
N
N
N
N
N
The reality is that no mobile device right now is exempt from the realities of thermal throttling or the thermal constraints of a small mobile devices, even tablets. There's obviously a balance between skin temp of the device (and in many cases the safe limits for regulatory compliance), accelerated aging of silicon from high temps, and of course throttling causing short-term performance erosion during certain use cases like playing games.
Thankfully the Nexus 5 doesn't lock down its thermal configuration file, something I've seen other OEMs do. One thing to keep in mind is that setting these cutoffs isn't Qualcomm's responsibility, rather it's one of many knobs that OEMs have access to when building the software for a device, in this case Google with its Nexus 5. The reality is that vendors in the mobile device industry tend to advertise what ends up being a boost or turbo clock rather than the nominal or steady state clock, something that needs to and hopefully will change once we're out of the current mobile MHz race. I saw the Nexus 5 hit a maximum skin temperature of 45.2 degrees Celsius which is on the warm side but definitely not unacceptable.
It's actually easier to explain by seeing it in action, which thankfully we have tools for. I've tweeted before that to investigate thermal throttling I've resorted to running benchmarks with the device on a cold compress, which says nothing against Nexus 5 specifically since isn't the first nor is it the last device I will have to investigate this way. The red line shows CPU frequency on CPU0, other cores can and do plug in, it's just easiest to look at one core at a time to understand what's going on. The blue line shows GPU frequency, which is a maximum of 450 MHz in the case of the Nexus 5's Adreno 330. The workload is 3DMark Unlimited, the newly-added benchmark mode with better offscreen isolation for performance evaluation across devices.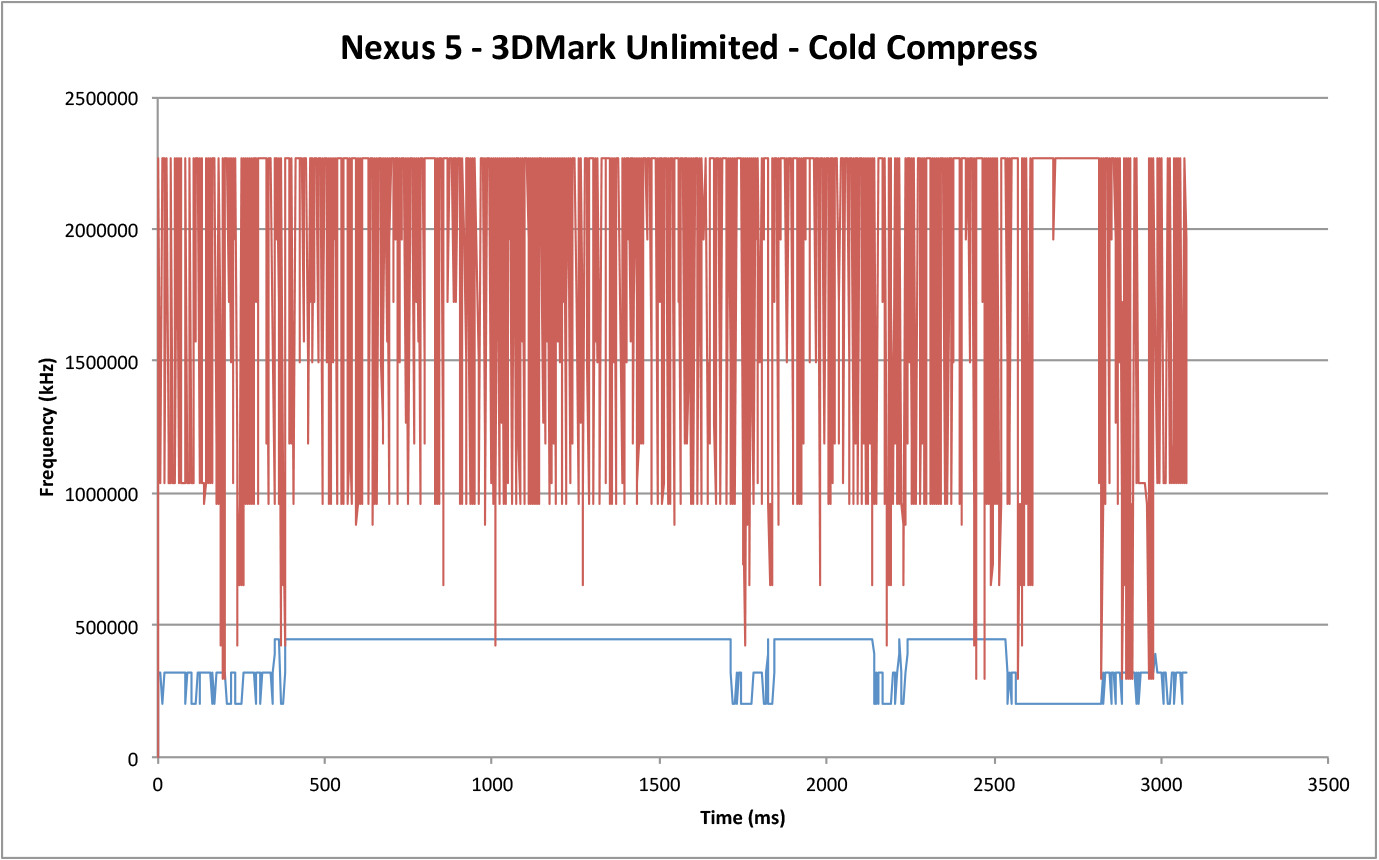 One of the things that stuck out to me running 3DMark Unlimited was how the graphics tests were relatively unchanged between runs, but I could tell that some runs were throttling because the Physics test (which is a CPU test) was changing dramatically between runs. The graphs bear this out, Adreno 330 stays at 450 MHz during its 3D runs while the CPU throttles down to its nominal 1.2 GHz frequency. By the time the physics workload kicks in (where GPU clocks go to their minimum and CPU to its maximum), the CPU throttling is already at maximum since the clocks are at their nominal frequency. I've seen GPU priority flags in NVIDIA's DVFS config, I suspect Qualcomm has the same in its mpdecision configuration framework available to OEMs. If you're playing games on Android which tend to be more GPU bound than CPU bound, the result is that performance shouldn't really regress all that much hopefully.
We covered most of the performance breakdown of Snapdragon 800 / MSM8974 in the LG G2 review, and at this point 8974 is pretty well understood. That said I still ran the Nexus through our usual set of smartphone benchmarks to see how the device fares.
CPU Performance
In our iPhone 5 and 5s review, we compared the newest hardware to everything prior. Having acquired every Nexus, I thought it worthwhile to do the same thing on the CPU side to illustrate how far we've come in the 3 years since Nexus One. There's platform differences here to be wary of, Nexus One Android platform support stopped with 2.3.7, Nexus S stopped at 4.1.2, and Galaxy Nexus stopped with 4.3, while Nexus 4 and 5 run Android 4.4. AndEBench is actually a decent comparison tool here since it's compatible all the way back to Android 2.2.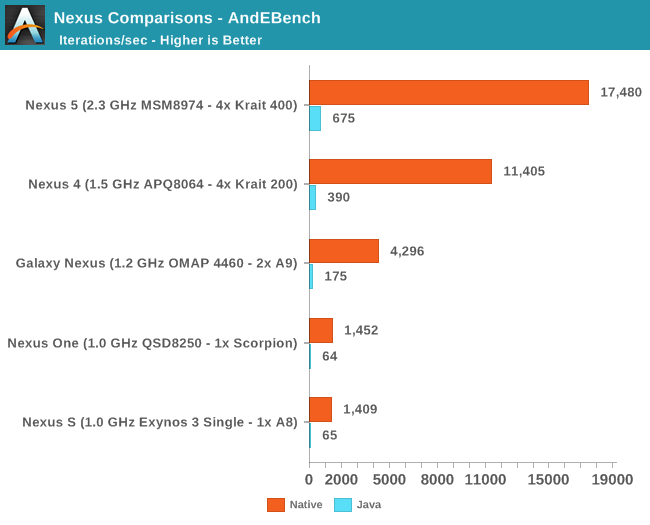 In both Java and Native modes, we see essentially 10x scaling from the first Nexus to today's latest and greatest.
Sunspider was one of the first benchmarks I started running on mobile devices, primarily since the web was (and still is) one of the few places you could test anything cross-platform. It's since become more of a performance optimization than anything, but here we see dramatic improvement. The Nexus S and newer are all running the latest version of Chrome for this test, Nexus One is stuck with the older webkit based browser that came with the platform since it's on 2.3.7.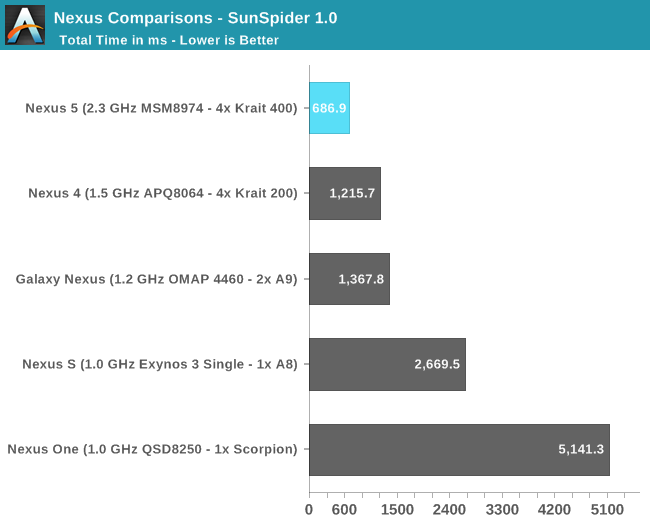 The scaling from Nexus S to Nexus 5 is just shy of 4x, and considering how lightly threaded Sunspider ends up being, it's remarkable how much things have improved. Going back and setting up these tests, installing APKs, and navigating the UIs of these devices makes me realize how far overall performance has come.
We start with our CPU related benchmarks which consist of a mix of JS benchmarks and a few others. I'm still not pleased with the state of CPU benchmarks on Android, even four years into this foray of characterizing mobile device performance the situation isn't pretty.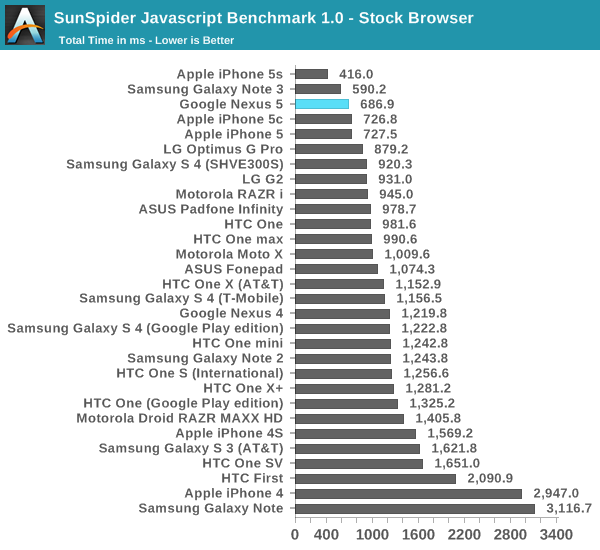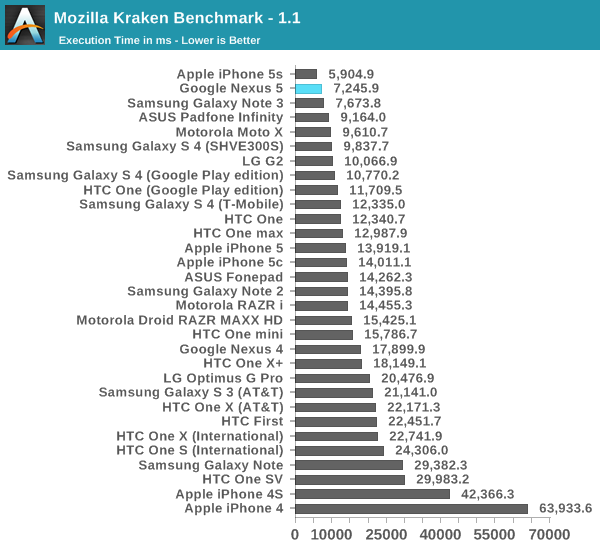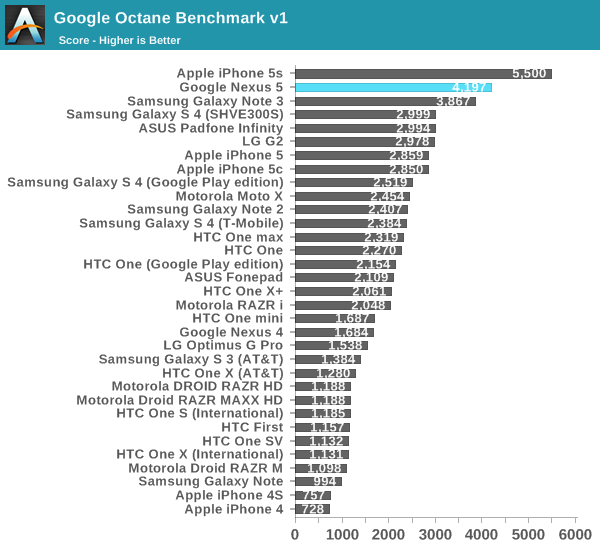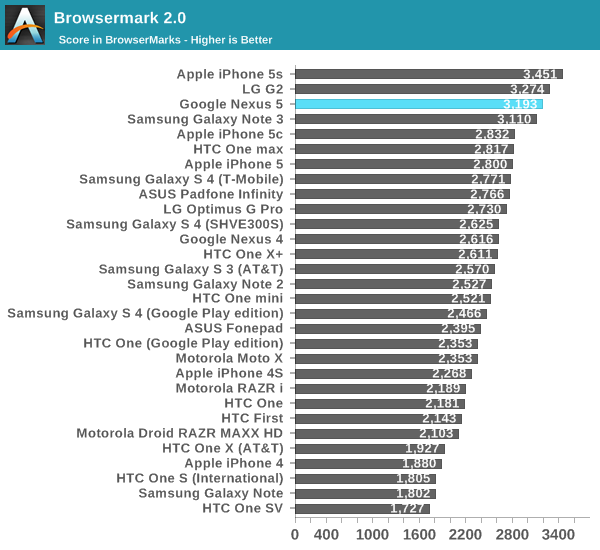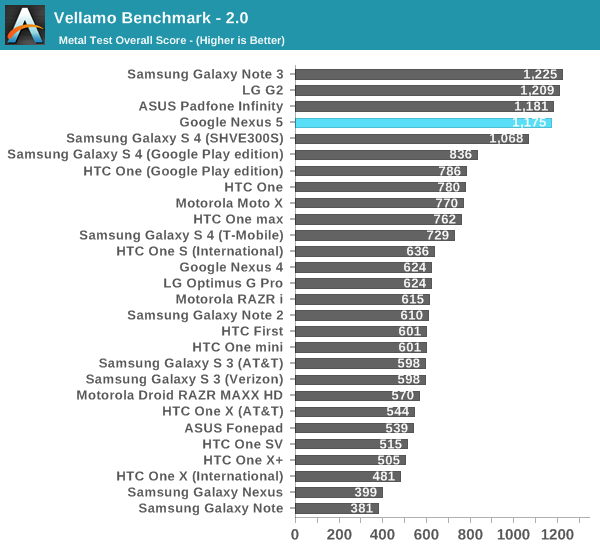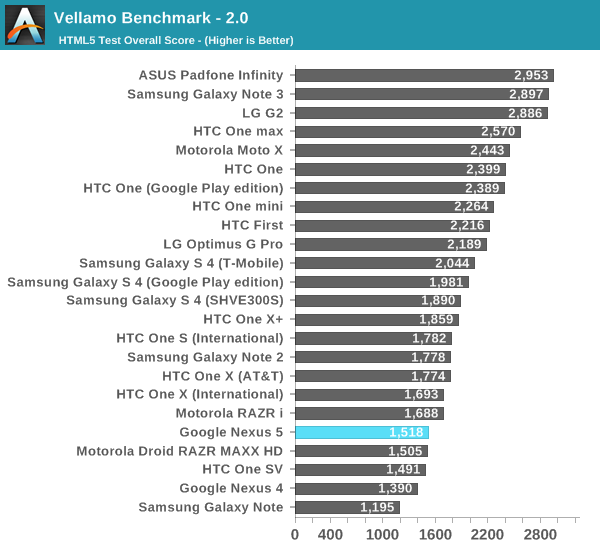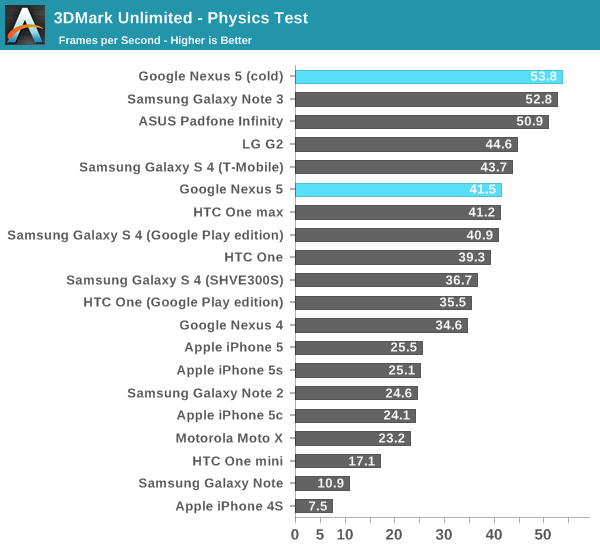 First, it's immediate just how well the Nexus 5 does in comparison to the other devices in the web test. Chrome has come a long way, and Nexus 5 seems well suited to running its web workloads inside what's now the default browser for KitKat.
One thing that sticks out is that Vellamo HTML5 which runs inside a WebView (which is now ChromeView in 4.4) suffers quite a bit. I'm fairly convinced that this is just a bug with Vellamo though as opposed to an actual regression in performance, especially as it seems Vellamo has fallen out of active development as a benchmark at this point.
I threw in the 3DMark Unlimited physics test with cold results just to show what the delta looks like there. It's a worst case primarily since it comes at the very end of the test and after the clock has reached its steady state. The rest of the results I should note were run, like every other phone, on my desk with enough time between for them to reach room temperature to mimic what you'd get if you just ran the test on your own.
GPU Performance
On the graphics side we turn to the usual assortment of 3Dmark, Basemark X, and GFXBench (formerly GLBenchmark 2.7) for comparing performance. At this point Adreno 330 GPU performance is relatively well understood, although there are slight differences between driver versions shipping between devices and total memory dedicated to GPU.
I'd argue that at this point Adreno 330 performance is fairly well understood, and as I touched on Nexus 5 has the same 450 MHz maximum GPU clock as other 8974 devices. 3DMark is up first, since as I touched on I ran this on and off of a cold compress to see the performance delta. The Unlimited mode is newest and recommended for cross device/silicon comparisons since it has the least overhead with an improved offscreen mode, normal we've run for a long time, and Extreme presents a more difficult workload than normal at 1080p. Standard is essentially already at vsync on the flagship devices, so looking at Unlimited and Extreme makes the most sense.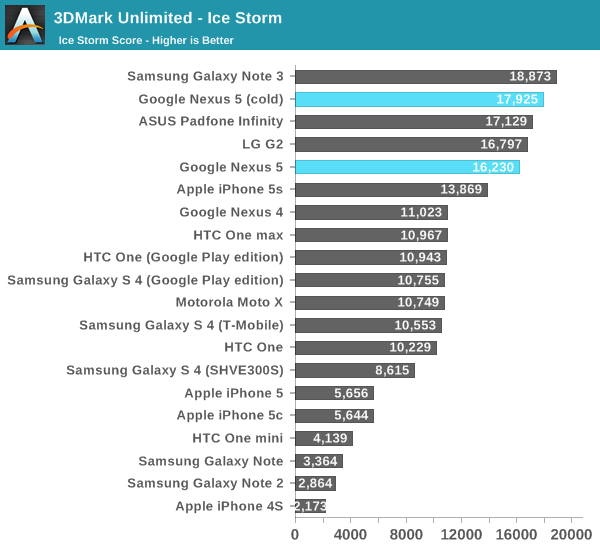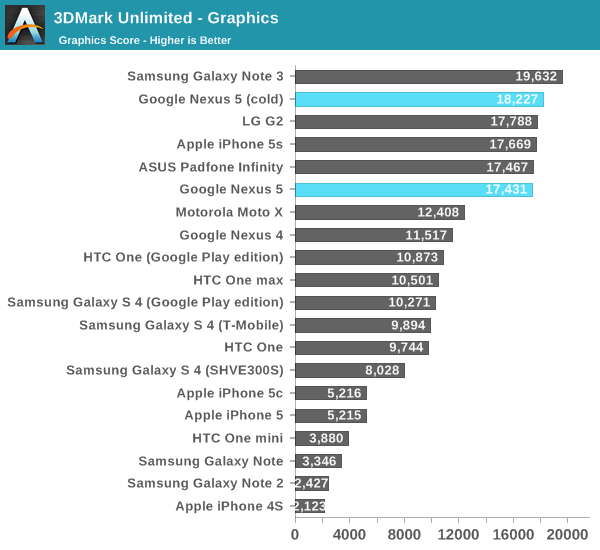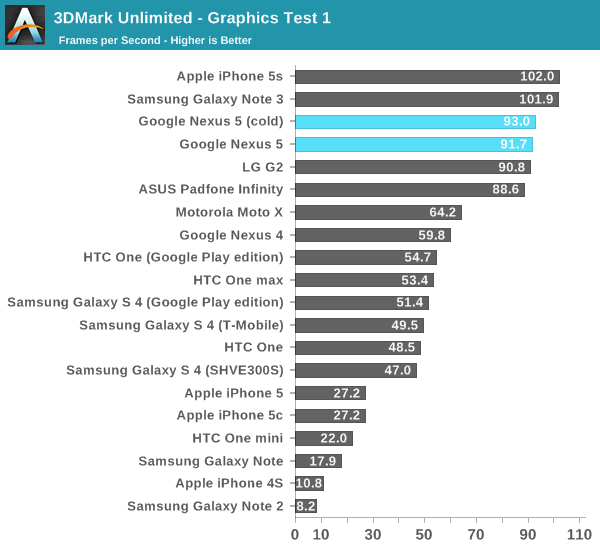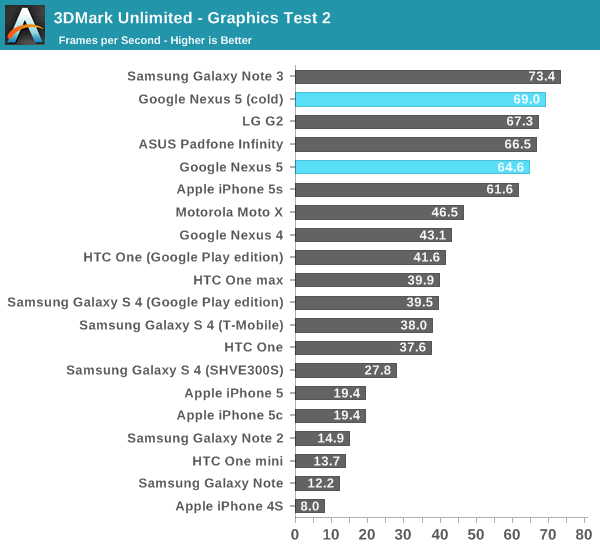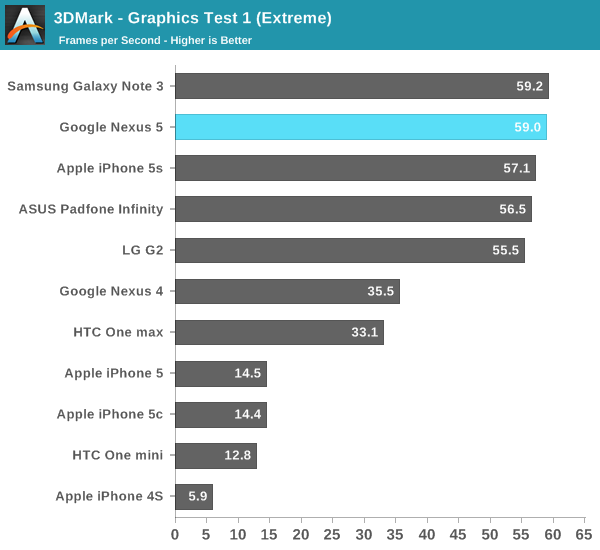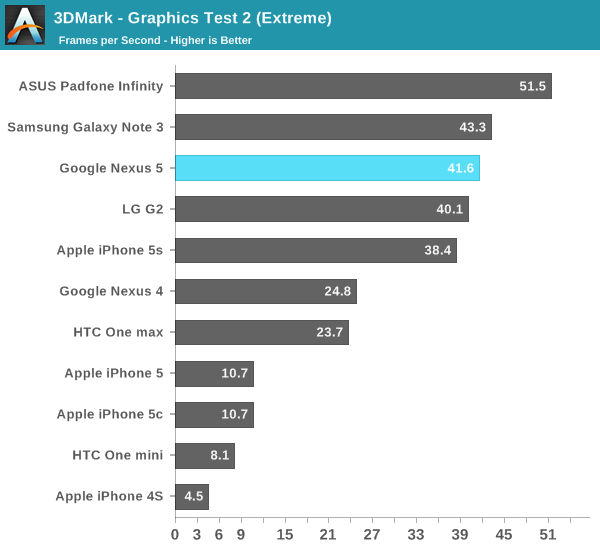 The Nexus 5 and G2 end up being separated by a small margin that's almost all measurement error when you just look at the graphics tests, there's undoubtedly a driver difference between the two at play as well, I suspect Nexus obviously has the newer drivers in this case.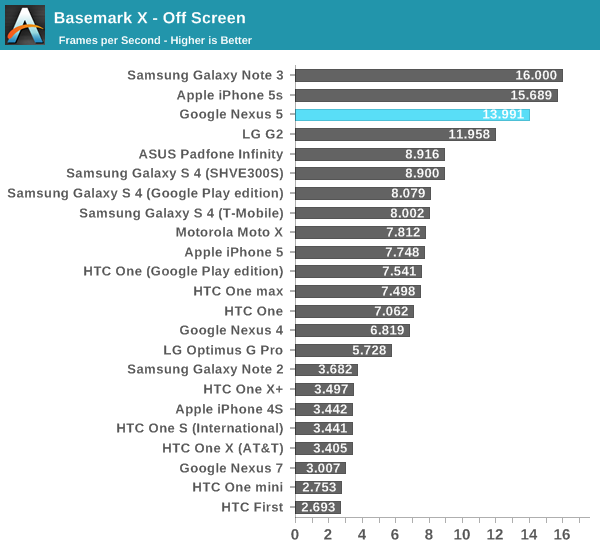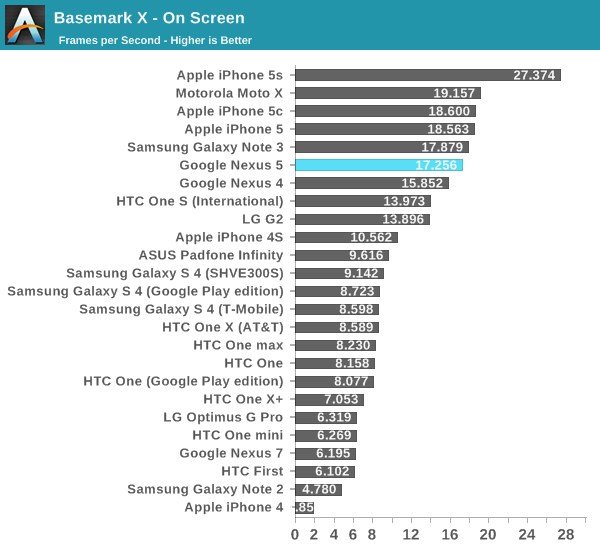 The G2 versus Nexus 5 comparison is more interesting in Basemark X where there's a delta that's definitely not just measurement error. The performance uptick over Nexus 4 is also substantial.
Epic Citadel's Ultra High quality test is nearly at the end of its usefulness, with most of the benchmark hitting Vsync at this point, but it'll still drop below it in some challenging scenes and give an average score that's useful, although it's limited to on-screen resolution.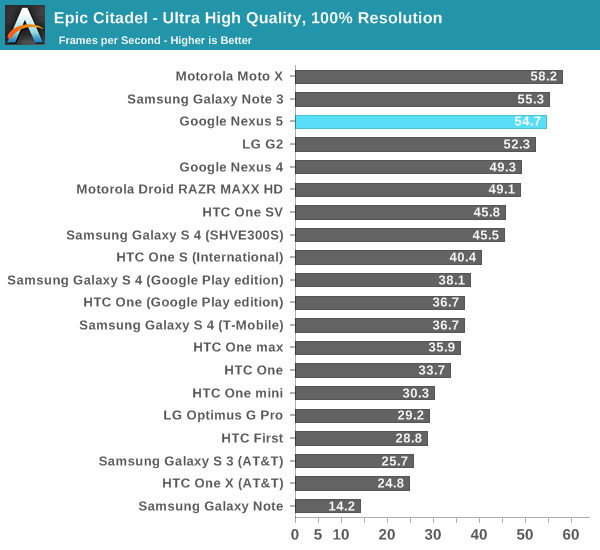 Again here we see the same kind of order, with the Note 3 on top among the 8974 devices, probably thanks to additional memory allocated to GPU, and the G2 and Nexus 5 close behind it.
Last but not least is GFXBench 2.7 (formerly GLBenchmark) and its associated subtests, which has been a long staple in the 3D graphics section and hopefully doesn't need much introduction at this point.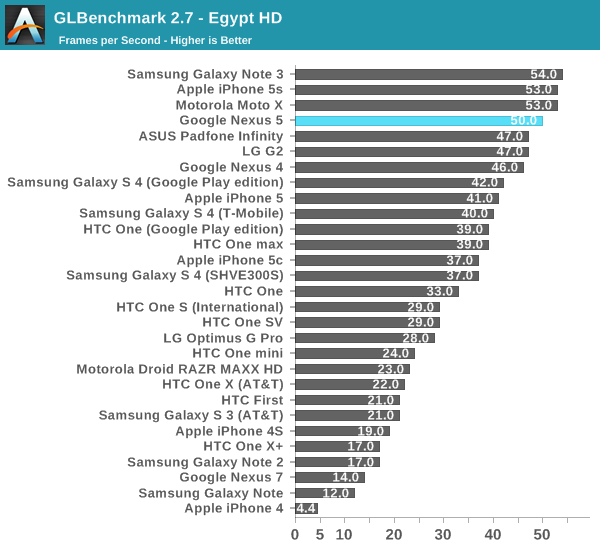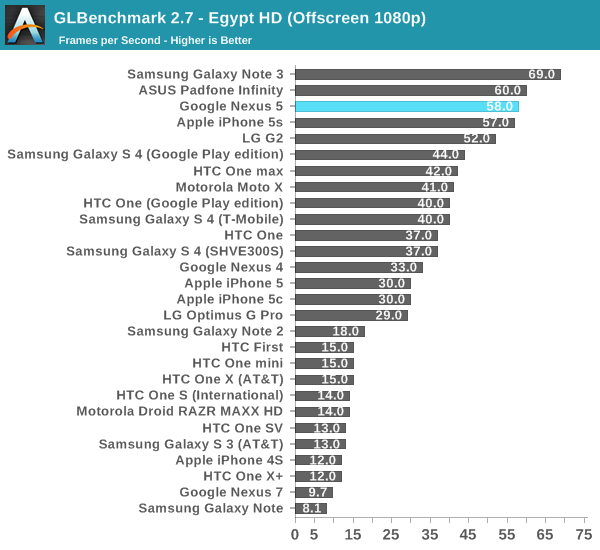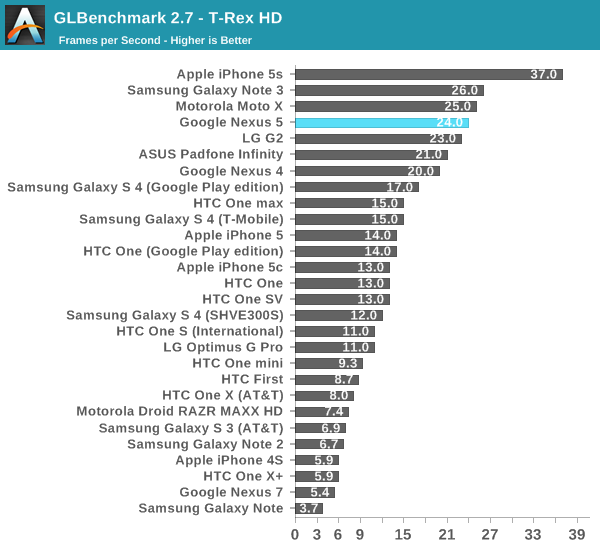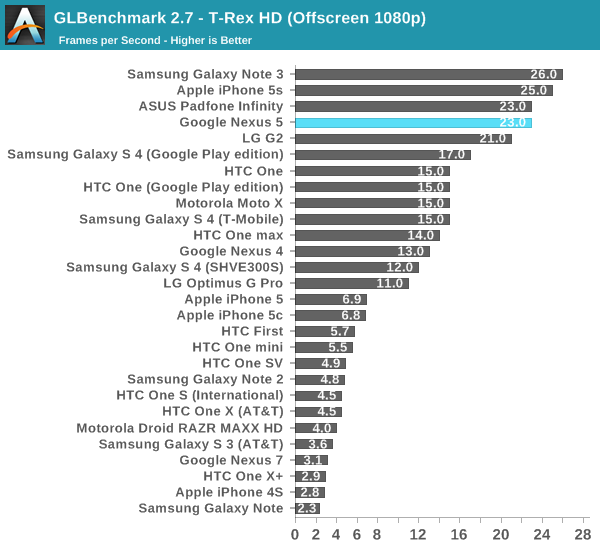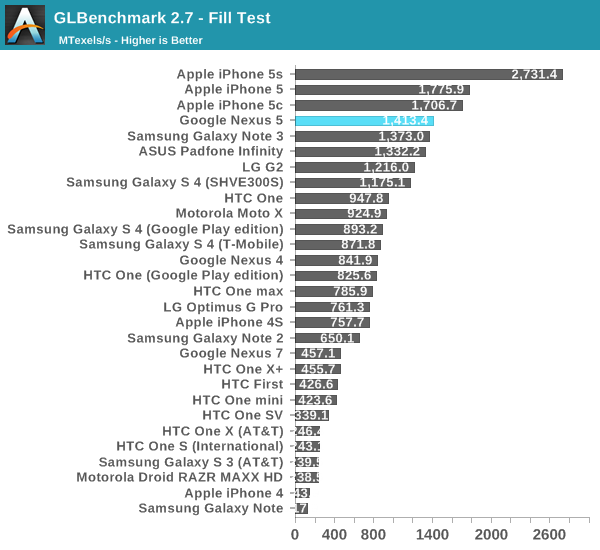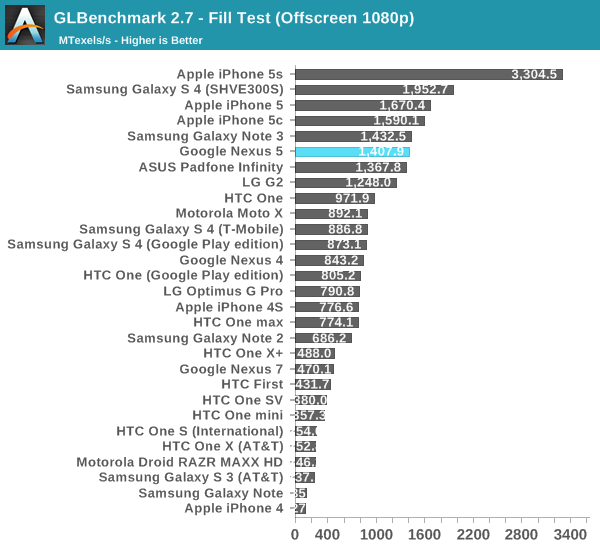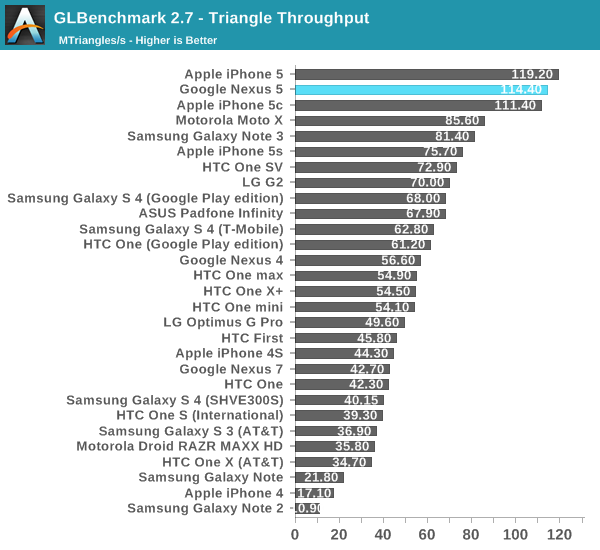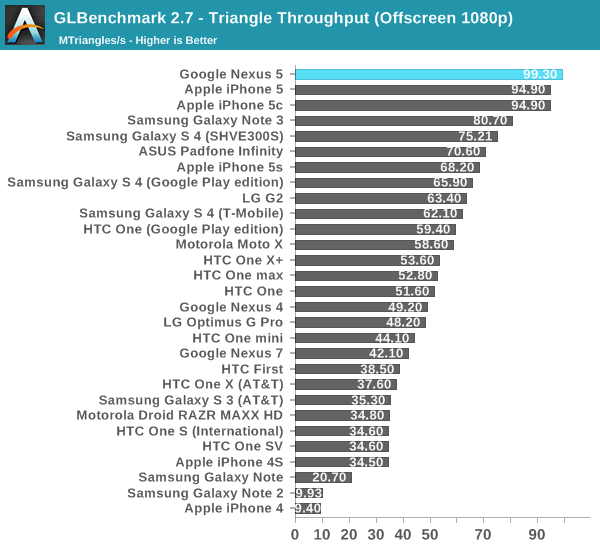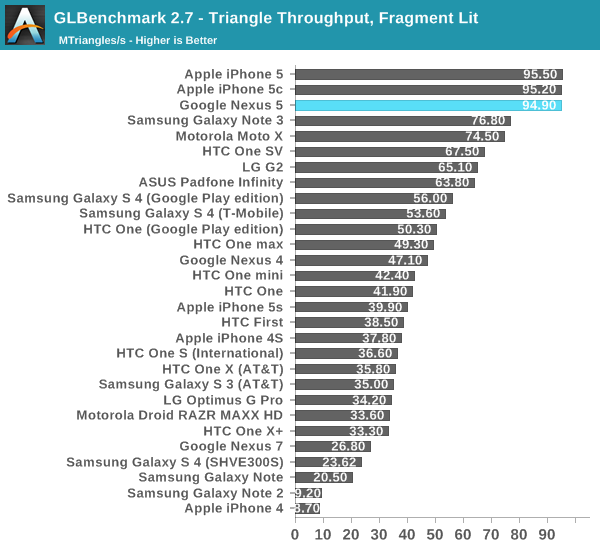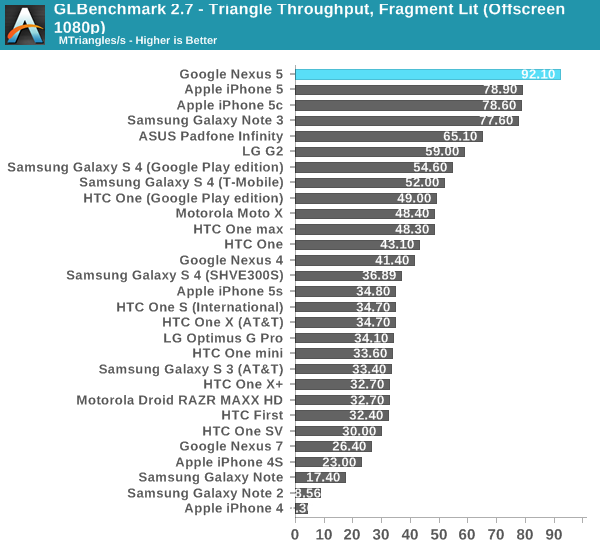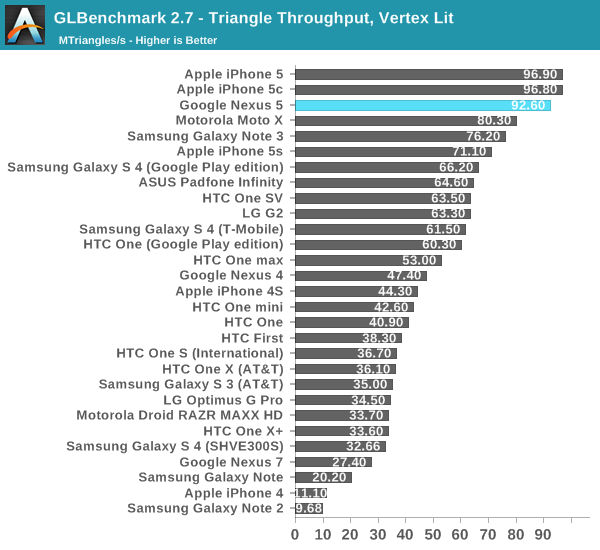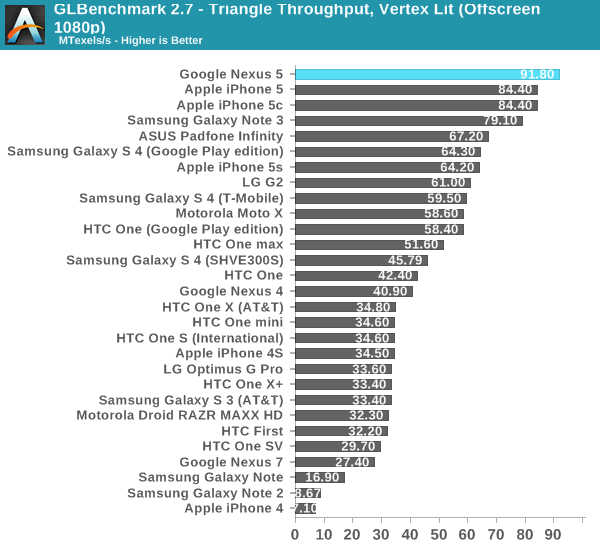 The GFXBench results show an impressive uptick in triangle throughput versus the other 8974 devices we've seen already, likely the source of the higher framerates in the higher level tests we've already looked at. For now Nexus 5 has the combination of platform improvements and newer code to draw from and give it an edge in 3D performance in spite of having conservative thermal limits.
NAND Performance
Last up is NAND or storage performance. We've been tracking storage performance on these devices for a little while now and have noticed forward progress over the generations. The Nexus 5 uses a SanDisk iNAND eMMC 4.51 module, SDIN8DE4 for storage, and the /system partition is EXT4 filesystem, and yes there's still TRIM support.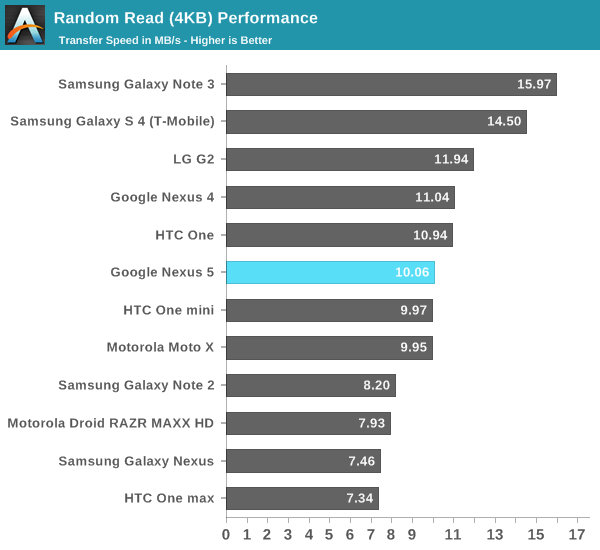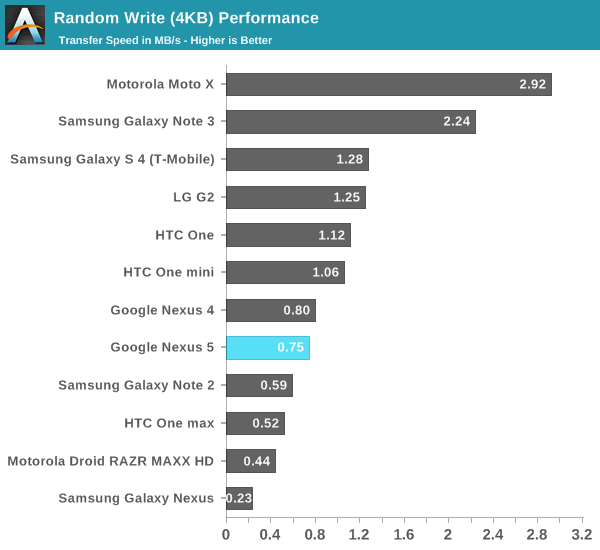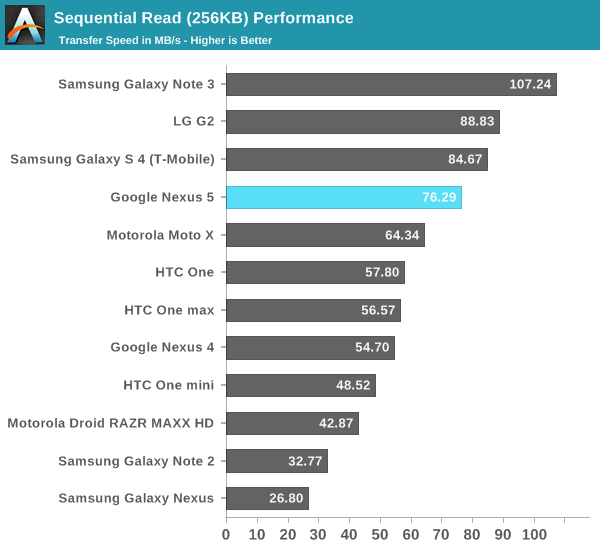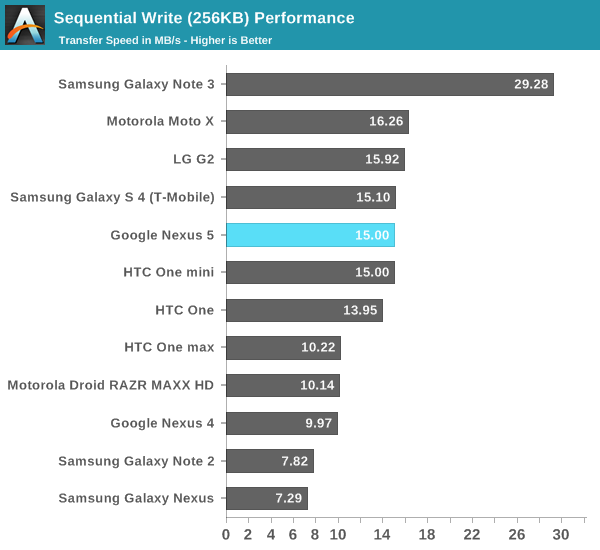 With the Nexus 5, Google upped the default storage amounts from 8 / 16 GB to 16 / 32 GB, which is a thankful move considering there's (as expected) no removable storage on the device. I should also note I was sampled a 32 GB Nexus 5. Random reads and writes are close to but just south of the Nexus 4 and nothing really awesome to phone home about, just par for the course. Sequential reads and writes are a step up from the predecessor, but still not the fastest around. I'd say that the Nexus 5 isn't really held back by storage I/O throughput, and considering the price of the Nexus 5 things actually don't look bad at all.
Display on mobile devices is one area where we've seen considerable improvement. Pixel density has gone up, contrast ratios have improved, and the emphasis on low power in a platform gated by its battery size means there's always innovation happening.
In the case of the Nexus 5, there's a considerable jump in resolution, from the WXGA 1280x768 display on the Nexus 4, to the now-standard 1080p. The biggest change is an obvious shift in aspect ratio from 15:9 to 16:9 once more. Back with the Nexus 4 and Optimus G, I noted just how surprisingly noticeable that extra 48 pixels of width was. Although we tend to think in absolute display resolution and talk about it quite a bit, Android uses display independent pixels or dips in order to keep layouts display density agnostic and support a wide variety of screen sizes and resolutions. Nexus 5 implements the 480 ppi or xxhdpi screen density, whereas Nexus 4 implements 320 ppi or xhdpi density. The result is that the Nexus 5's display is 360x592 dips in size, compared to 384x592 dips for the Nexus 4, coming in 24 dips narrower. It's important to note however that this change is intentional to maintain Android's DPI independence, even if it does mean less overall real-estate in apps and browser.
Display quality is a big deal in the Android space, with lots of variance between devices. In the case of the Nexus 5, I started by tracking down the display type. If you recall, 5-inches with 1080p is a resolution we've seen before in the Droid DNA and Butterfly. From what I can tell, the Nexus 5 uses a very similar evolved version of that panel, a JDI (Japan Display, Inc) 1080p display with in-cell touch courtesy Synaptics ClearPad 3350 solution.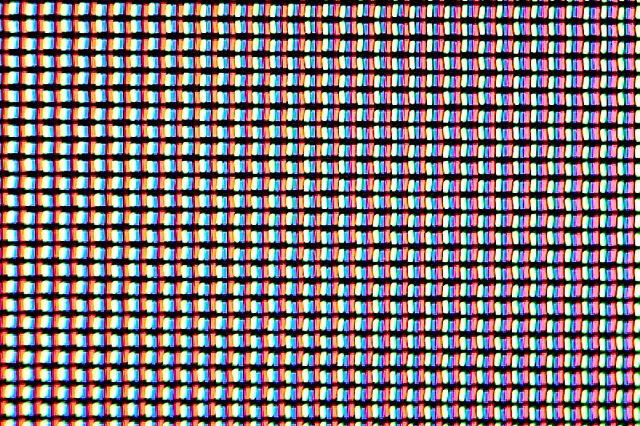 The other question was whether Nexus 5 also uses a PSR (Panel Self Refresh) type display. This display is indeed a MIPI command mode panel, the same kind of system, so yes it does include those features. An additional change is the addition of software vsync in Android 4.4, which to my knowledge the Nexus 5 does use, you can see this pop on and off depending on what's happening on-screen if you monitor surfaceflinger. Those improvements should decrease latency and improve how sticky animations feel.
To characterize display quality and accuracy, we turn to our usual display measurements.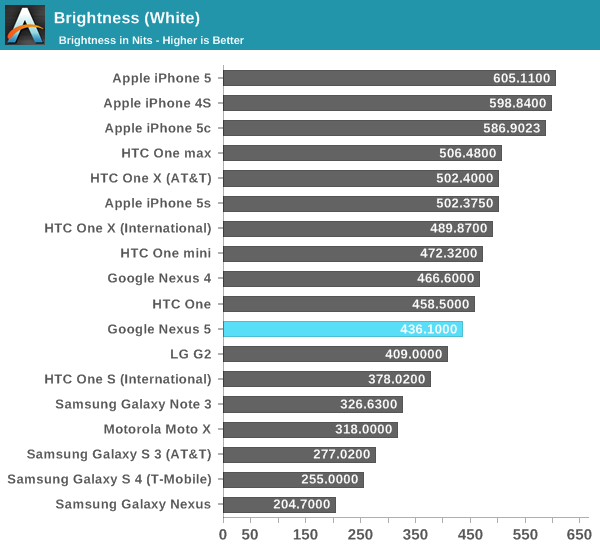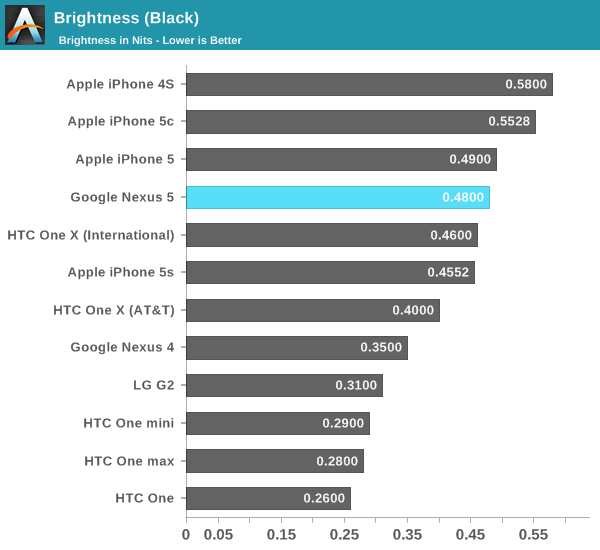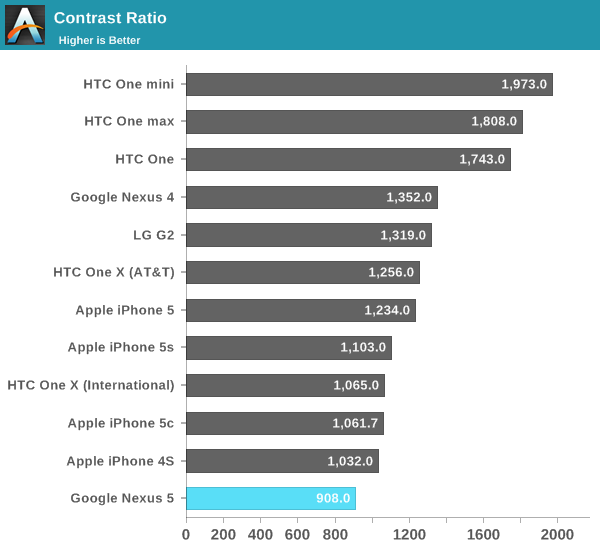 The Nexus 5 doesn't go quite as bright as Nexus 4, but it's still a very bright display. Blacks and contrast are a bit disappointing though, contrast is definitely on the lower end, but not bad. I definitely haven't been put off by them. I also haven't noticed any of the distracting dynamic brightness behavior I have on other handsets, which is awesome.
My only criticism is that I wish Nexus 5 would allow its auto screen brightness algorithm to go dimmer when in dark scenarios. There's still more dynamic range in the manual brightness setting bar than there is for the auto brightness routine from what I can tell.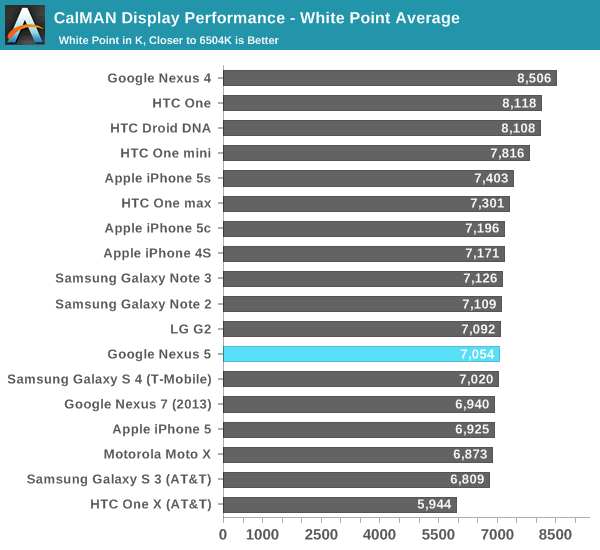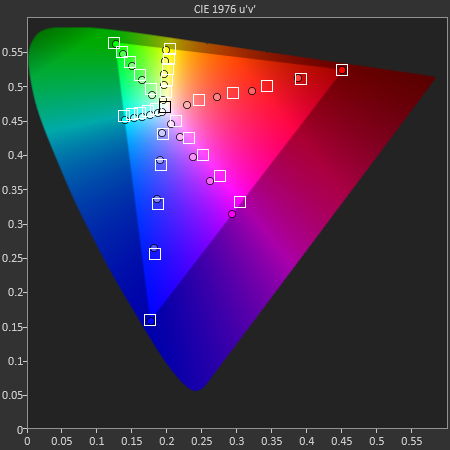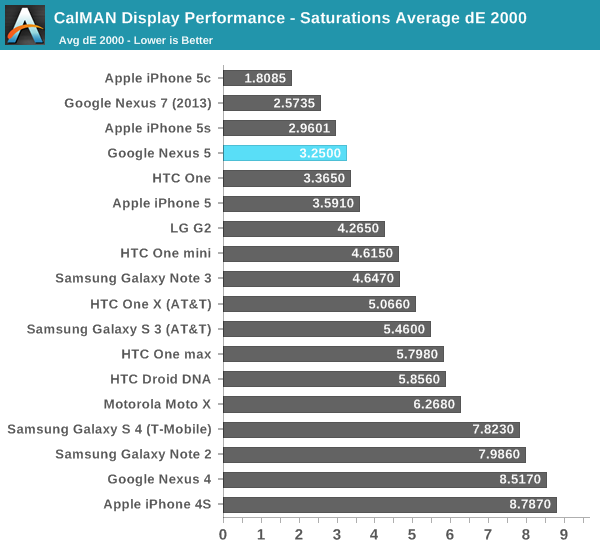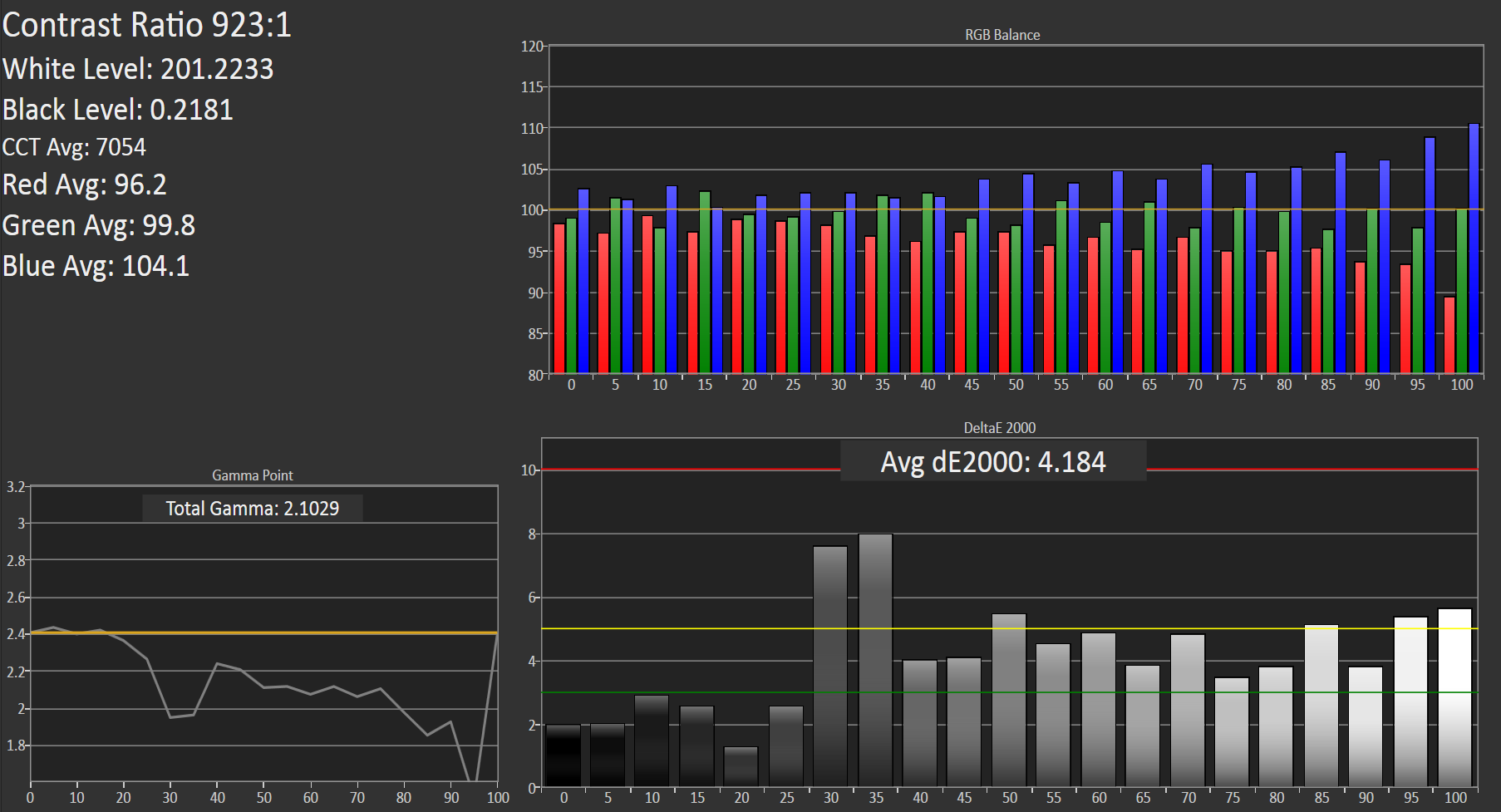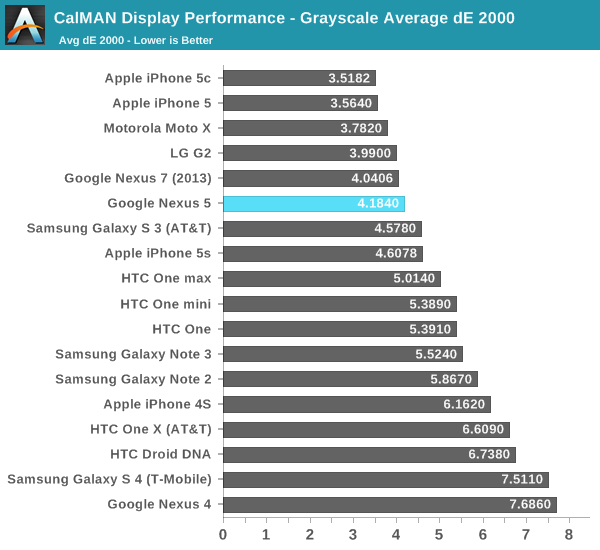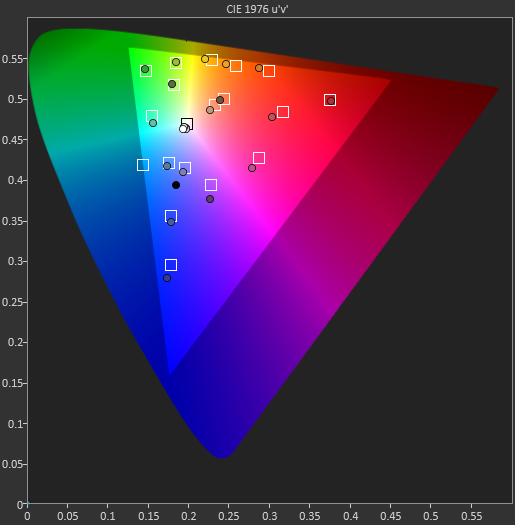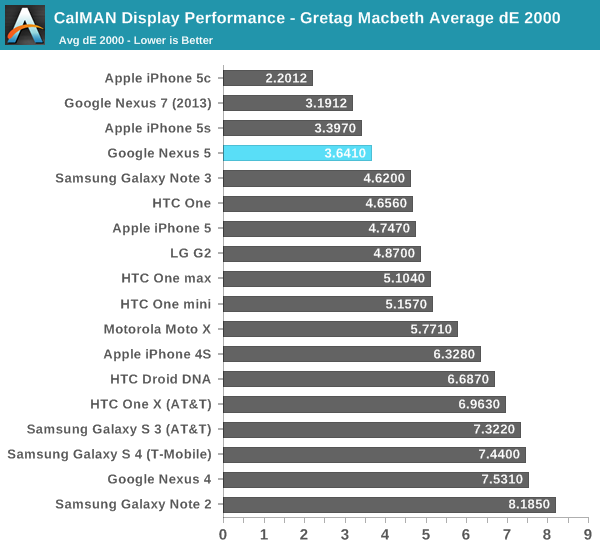 The new Nexus 7 impressed me with how accurate its display was in terms of color reproduction, beginning with Google stating it targeted sRGB (the color space for both the web and Android) calibration for it. The Nexus 5 seems to have done the same, and wowed me with the best GMB color checker Delta-Es we've seen from any Android handset. In addition, the Nexus 5 has none of the saturation boost that's sadly quite pervasive right now, instead giving the right evenly spaced saturation stepping on its color channels. The Nexus 7 has slightly lower Delta-E, but it's clear to me that Google has made color calibration an emphasis on the Nexus line.
It's interesting to hear some Nexus 5 users complain that the display seems undersaturated, since that kind of end user feedback reflects subjective comparison. It also suggests to me that a large percentage of the population doesn't know what some colors or system elements actually should be. Even for me, looking at the green elements inside the Google Play store on the Note 3 in movie mode or Nexus 5 initially seemed slightly more muted than normal. The reality is that this is what they actually should look like. We've just become accustomed to their oversaturated appearance on virtually every other device.
This kind of expectation about what looks right and what doesn't is rather telling for the state of display calibration in Android handsets, and how OEMs have used oversaturated colors to increase retail shelf appeal. Unfortunately the reality is that oversaturated colors do seem to win taste tests among shoppers, the same way that TVs in most big boxes do. We've been looking at them for so long that well calibrated displays like Nexus 5 initially do look noticeably different.
The end result is easy to sum up, however – Nexus 5 has the best calibrated display I've seen so far in any Android handset. It's also leaps and bounds more accurate and controlled than its predecessor display in the Nexus 4.
One of the things Google has been criticized for in years past was the quality of its imaging system on Nexus devices. We all remember the Galaxy Nexus which shipped with fast instant capture but a 5 MP camera in a world of 8 MP shooters, and last year the Nexus 4 which opted for the smaller of the two sensors LG gave as options for its brother, Optimus G, both with 1.1 micron pixels. With Nexus 5, Google has has righted itself with a solid hardware platform for imaging, at least on paper. It's an impressive combination of 8 MP CMOS with larger 1.4 micron pixels in a 1/3.2" optical format (Sony's IMX179 sensor) and the same optical image stabilization (OIS) module that was included in the LG G2. The optics atop that aren't bad either, F/2.4 with 4.0 mm focal length. On the front there's an Aptina MT9M114B CMOS sensor, 1.3 MP with 1/6" optical format.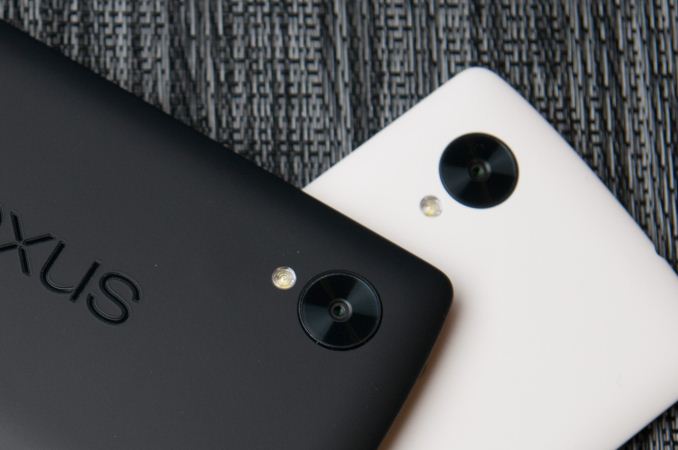 The rear camera module is ringed with an oversized circular design motif which, as I touched on before, is decorative. It's covered by Hoya's equivalent aluminosilicate glass (as a reminder there are three major glass foundries – Schott, Corning, and Hoya), although sapphire is starting to become a choice for flagships.
Nexus Camera Comparison
Nexus One
Nexus S
Galaxy Nexus
Nexus 4
Nexus 5
Front Camera
-
VGA
1.3 MP
1.3 MP
1.3 MP
Front Camera - CMOS
-
?
Samsung S5K6A1
(1/6", 1.75µm)
Sony IMX119
(1/7.8", 1.4µm)
Aptina MT9M114B
(1/6", 1.9µm)
Rear Camera
5 MP - 2592 x 1944
5 MP - 2560 x 1920
5 MP - 2608 x 1960
8 MP - 3264 x 2448
8 MP - 3264 x 2448
Rear Camera - CMOS
?
?
Samsung S5K4E5
(1/4", 1.4µm)
Sony IMX111
(1/4.0", 1.1µm)
Sony IMX179
(1/3.2", 1.4µm)
Rear Camera - Focal Length
4.3 mm
3.4 mm
3.37 mm
4.6 mm
4.0 mm
Rear Camera - Max Aperture
-
F/2.6
F/2.8
F/2.7
F/2.4
On paper Google has opted for what's from my perspective the right balance between pixel size (and image resolution) and sensitivity, and included OIS via basically the same module as the LG G2. There's both a MHz race and megapixels race going on right now, and Google seems to be on the right side of the fence this time, although casual outside observers will say that once again Google is behind on imaging if the only figure of merit being judged is just pixel count. It's incredible to me that even a device costing $350 now includes OIS, which is quickly becoming a baseline feature for flagship devices.
Google touted the inclusion of a new camera feature in the Nexus 5, HDR+, which isn't so much HDR in the traditional sense but rather what seems to be a combination of dynamic tone mapping from multiple images. The function doesn't always give images that same dynamic range pop between shadows and highlights, but it does produce images that look, well, different. Color temperature is different, there's also none of the blurry halos around high frequency features at exposure boundaries like you sometimes see from HDR images. HDR+ manifests itself by also giving you a slightly smaller image, from 3264 x 2448 for a normal image, to 3200 x 2368 for an HDR+ image, ostensibly so it can merge features that have moved when there's motion. I'm not really convinced that HDR+ results in images that look like they have more dynamic range, but it might be intentionally tuned this way. It does result in images that look a bit sharper and have different cooler color temperature.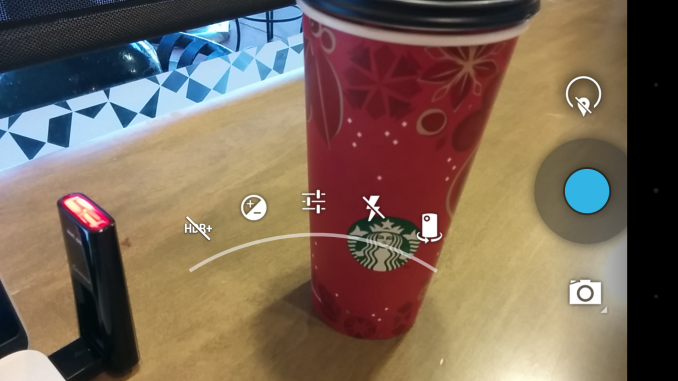 Stock Android Camera
Unfortunately the rest of the camera UI (which is really the gallery app) is unchanged in KitKat and along with it the Nexus 5. One of the big problems from last year was that the gallery presents a preview that's fit to the width of the view, but crops off the top and bottom, effectively giving a 16:9 aspect ratio window of what's really a 4:3 image being formed on the sensor and captured when you press the shutter button. This problem frustratingly still exists in Android 4.4 KitKat. Preview resolution also seems to be lower than the native resolution of the preview window. The result is a blurry upscaled image preview that's fit to the width of the camera viewport and doesn't reflect the actual camera field of view. I shouldn't need to emphasize that composition matters when taking a picture. The other problem is that I suspect a lot of people judge image quality in part based on camera previews, which may not always be indicative of what actually ends up getting captured. Previews don't always reflect the same image pipeline as the captured image, for example things like noise reduction or even the final exposure parameters. As an aside, the Nexus 5 does use wavelet noise reduction brought by Qualcomm's new ISP. For an aspect correct preview on the Nexus 5 I've resorted to using Camera Awesome which at least does present the full square preview.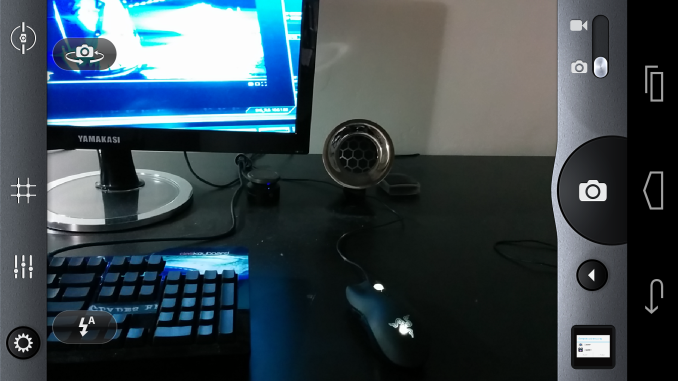 Camera Awesome preview
In the case of the Nexus 5, presenting what's at best an upscaled image in the stock camera app's preview makes it hard to tell when the camera has actually hit best focus or missed it entirely. In addition, the Nexus 5 makes the same mistake everyone but Nokia has and runs OIS during still image capture preview, potentially sacrificing accommodation angle when you finally do press the capture button. The drag-to-change settings menu also lacks features that are commonplace on other devices, like the ability to select ISO.
The Nexus 5 camera UI also behaves a bit, well, strangely. Tapping to focus after auto AF has already run sometimes doesn't run it again, and even after the AF routine runs sometimes you're left looking at a blurry image. Shot to shot latency is also much higher than expected on the Nexus 5, and there's no burst capture function at all. In theory and on paper the camera should be every bit as good as the G2, in practice the camera application remains the biggest obstacle to a good imaging experience, which was exactly the same problem Nexus 4 had. There's unfortunately been no real improvement from Nexus 4 to 5 in the camera UI department, other than the addition of HDR+.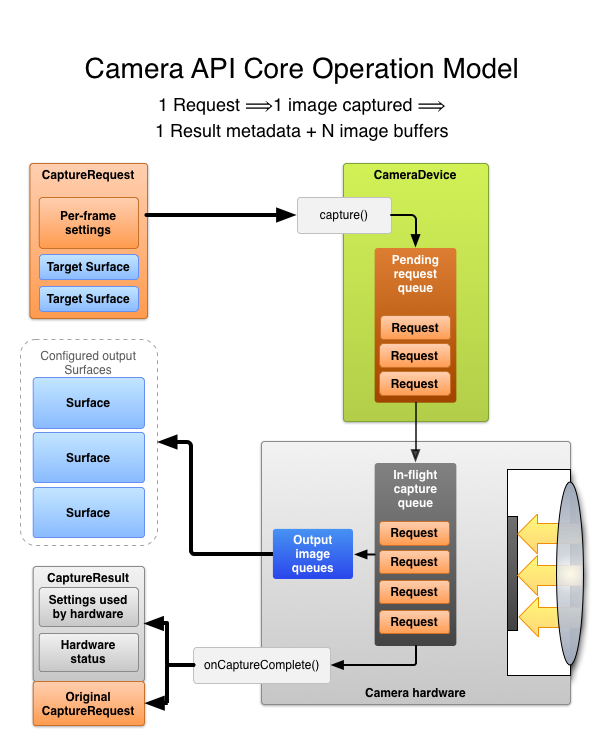 There's been a lot of discussion about the new camera hardware abstraction layer (HAL) v3 which Google is preparing to release a new API for. I remember sitting through a presentation a few months ago about the new camera HAL and how silicon vendors and camera module suppliers will have to effectively supply two HALs for a while as a result, but the existence of the new HAL and Google's camera improvement ambitions largely went unnoticed until Nexus 5's imaging shortcomings reignited discussion. The new camera API works a lot more like a real pipeline rather than a black box whose state is relatively unknown to the system above it. What features Google exposes with the new upcoming camera API will undoubtedly enable better camera apps, RAW capture, and burst modes, but I'd argue that the problem with Android's camera at present is really just a matter of tuning and lacking UI. I suspect Google has built its camera app using only the APIs available to the platform (dogfooding them) which results in this subpar experience. By comparison OEMs use their own proprietary hooks to deliver more feature-rich camera apps. Improving the camera API in the base platform will obviously dramatically change the kind of camera app Google can deliver with its Nexus phones or third parties can develop.
To evaluate image quality we turn to the usual variety of methods – test photos in the lightbox, photos at the normal bench locations, and miscellaneous photos taken with the Nexus 5 while using it daily, which sometimes are the most revealing.
I also though it would be interesting to look and see how far we've come with the Nexus line of devices and their respective imaging performance with a common scene. I re-shot the lightbox photo with each of the Nexus phones I have running their respective latest software versions and made a rollover. One thing's for sure, the Nexus 5 seems a whole lot better than the Nexus 4 both in color cast and how well it's able to resolve detail in the focus ring on the camera.
The Nexus 5 looks like it has great technical quality most of the time. I'm actually impressed with how well photographs turn out when the camera does hit focus properly and you are able to compose a photo after being informed about the preview shortcomings. In reality the Nexus 5 is capable of producing sharp images and doesn't use a sharpening kernel. There isn't a ton of noise, although there seems to be a lot of noise reduction at times which reduces high frequency detail to looking like an oil painting. I can't put my finger on it but the Nexus 5 also behaves a lot like the G2 in outdoors scenarios with a bit of overexposure. It's also a dramatic improvement over the Nexus 4, which doesn't do favorably at all in any of the side by sides.
With the jump to 1.1 micron pixels to increase resolution, low light was one of the axes of camera performance that really suffered. LG introduced OIS on its second generation of cameras with 1.1 micron imagers, Samsung will hopefully do the same, HTC of course uses OIS in conjunction with its huge pixels, Nokia has obviously made OIS a mainstay after its introduction in Lumia 920. There's a night mode on the Nexus 5 in its scenes menu, unfortunately this just seems to turn flash on rather than push exposure time any further. You can see just how much of a difference there is between the Nexus 5 and its predecessor.
I also went ahead and made some plots based on the EXIF data from the recorded images to get perspective for how the Nexus 5 camera is tuned. This is based on all the photos I've taken so far with the Nexus 5 so we can examine how its auto mode is configured, since this is essentially what will gate camera performance in the absence of any real manual shooting control.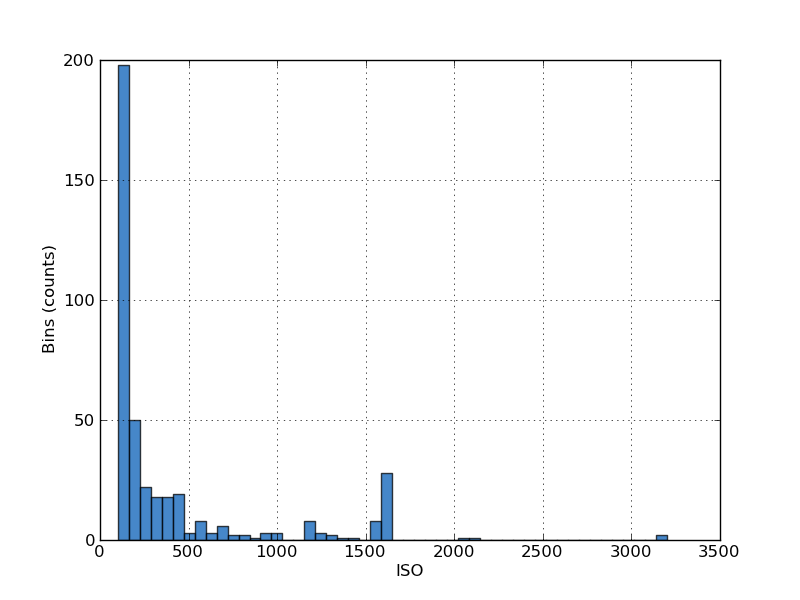 We can see that Nexus 5 varies its ISO between roughly 100 and 1600, with a few puzzling outliers at very high ISOs of 3000. Shutter times go up to basically either 1/8 or 1/6th of a second, with ISO varying to nail correct exposure in those two modes. I'm thankful that Nexus 5 isn't shy about pushing its exposure time out there, after all it does have ISO to damp out hand shake while running them.
When it comes to the Nexus 5's still shooting capabilities, I'm reminded a lot of the Moto X before its first (and recently second) update. On paper it has a lot of promise, maybe the optimal combination of hardware choices, but the software leaves a lot to be desired. The most frustrating part of the Nexus 5 is its inability to hit focus a lot of the time, a new HDR+ mode that doesn't really make images very HDRey at all, and the same overall problems with the camera interface as its predecessor had a year ago. Google has promised an update to the camera software on Nexus 5 will assuage most of the pain points, I certainly hope it does.
Video Quality
On the video side, Nexus 5 records video by default at a maximum of 1080p30 with H.264 baseline at 17 Mbps. This is neither the maximum nor most optimal place for 8974's improved video encoder which is capable of a lot higher throughput and encode quality. It's unfortunate as well that Nexus 5 doesn't support any of the 1080p60 or 4k30 modes we've seen other 8974 devices ship with for video recording, which really stands out in my mind as something that dramatically improves the video capture experience over previous gen.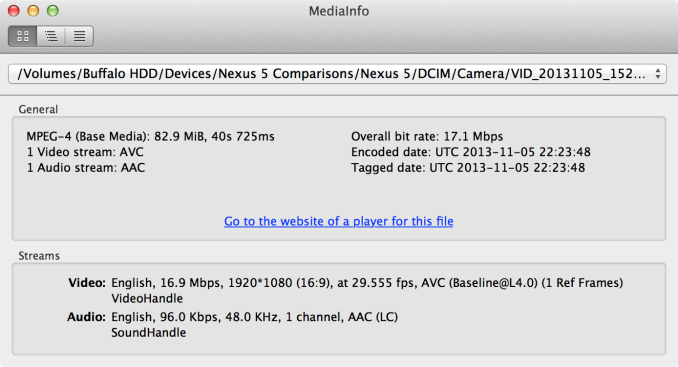 Audio is single channel AAC as well, curious given the presence of dual microphones. Another strange thing is that although the sampling rate is set to 48 kHz which would imply passing up to 24 kHz, audio from the Nexus 5 is chopped off after 17 kHz, which seems a bit odd.

The Nexus 5 does have OIS as well which runs and helps stabilize video recorded while the device is hand held. I shot an OIS comparison with Nexus 5 alongside the G2 just for comparison purposes. Although it's using (to my knowledge) the same module with the same accommodation angle, I suspect the active area on the Nexus 5 for 1080p video recording is a bit larger than the G2, reducing the effect of OIS slightly and making the G2's video a bit smoother.
As always I recorded a sample at the usual place and uploaded a copy in native format to our servers in addition to YouTube.
Bench Video:
OIS Comparison:
The Nexus oddly enough drops a few frames here and there, and although OIS is clearly helping to damp out shakes, you still have to be careful when shooting to not introduce them. I'm not really blown away by the video quality that the Nexus 5 records, it's decent but other devices have gotten a lot better lately.
Cellular
The Nexus 4 was lambasted for not including LTE, even though it shipped with Band 4 LTE inadvertently enabled before an update disabled it. What it did have was DC-HSPA+ and receive diversity that its predecessor didn't. With Nexus 5, Google has added LTE and done nearly the same two-device USA and rest of world LTE band combination split it did with the new Nexus 7.
LG-D820
(North America)
LG-D821
(Rest of World)
Baseband
MSM8974 (Category 4 LTE - 150 Mbps DL/50 Mbps UL)
Transceiver
WTR1605L
GSM
850/900/1800/1900 MHz
CDMA2000
BC: 0/1/10
-
WCDMA
1/2/4/5/6/8/19
1/2/4/5/6/8
LTE
1/2/4/5/17/19/25/26/41
1/3/5/7/8/20
The USA Nexus 5 is LG-D820 and includes the necessary LTE bands for AT&T, T-Mobile, and Sprint (yes it's a tri-band Sprint Spark device), in addition to DC-HSPA+, and CDMA2000. The "rest of world" Nexus 5 is LG-D821 and trades the North America specific LTE bands 4, 17, 19, 25, 26, and 41 for 3, 7, 8 and 20 which make a lot more sense for Europe and EMEA, and of course lacks CDMA2000. I've put a table together with the two variants and their band combinations.
The Nexus 5 uses MSM8974 which includes the third generation of Qualcomm's multimode LTE modem. It's a Category 4 LTE part, capable of 150 Mbps on the downstream and 50 Mbps on the upstream. That means if you're lucky enough to be using an operator who has 20 MHz of contiguous spectrum and is running 20 MHz LTE channels, you can realize that full 150 Mbps of downstream. Transceiver is still WTR1605L which obviously is still quite competent, with enough ports for the two LTE configurations Google went with. Nexus 5 goes with the typical pragmatic antenna placement of primary Rx/Tx at the bottom, secondary Rx at the top. There's actually a total of 5 antennas, if we look at the back of the device with the cover off it's easy to pick them out.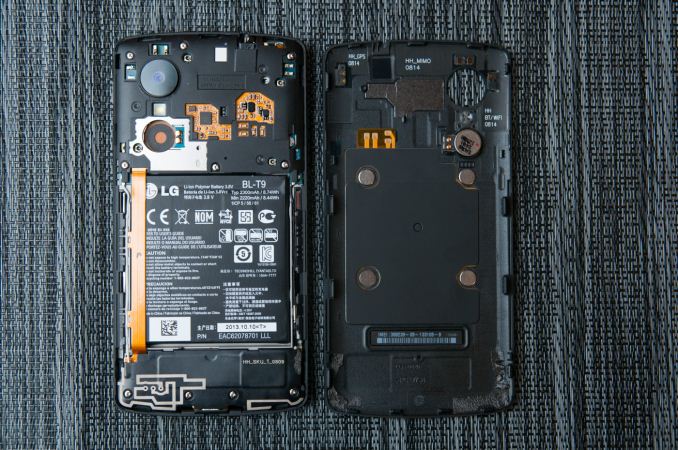 What's interesting about the Nexus 5 is that it's the second device on the market with one of Qualcomm's RF360 suite of RF front end components. In this case, that's the QFE1100 envelope tracker which the Note 3 also included, although interestingly enough the LG G2 includes a QFE1101 APT (average power tracker), a simplified version of the same component.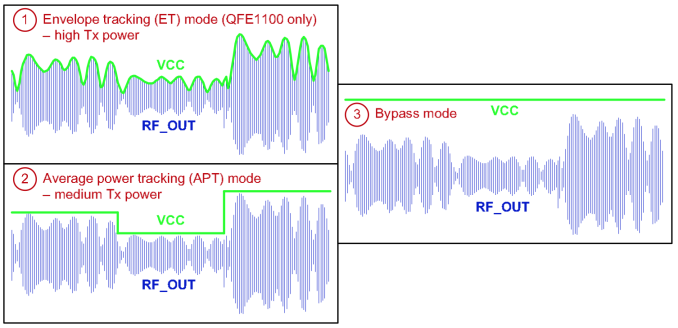 After display, power amplifiers are probably the second or third largest consumers of power in a mobile device attached to a cellular network. The envelope tracker's purpose is to increase DC to RF efficiency and correspondingly decrease current consumption and heat generation. The envelope tracker is essentially a DC to DC power supply that creates a supply voltage that tracks the envelope of the transmit signal, providing the correct amount of supply voltage to match instantaneous demand of the power amplifier. It's impressive that Nexus 5 includes an envelope tracker considering its economical price point.
An interesting consequence of the LG-D820 being a Sprint Spark device is that the Nexus 5 also includes some field test menus. Previous Nexus devices didn't afford any interesting details beyond what was exposed through the RIL, the Nexus 5 is the first that appeases me with some additional details. You can get to these either by making an activity to it, or there's also an awesome app with shortcuts already on the market.
Under mobile networks there's now the ability to change between 2G, 3G, and LTE for the preferred network mode. Up a level there's a new "mobile plan" shortcut which ostensibly takes you to the provisioning page for whatever operator you're attached to. Oddly enough this does nothing on T-Mobile, it'd make sense to have this go to T-Mobile's account status page.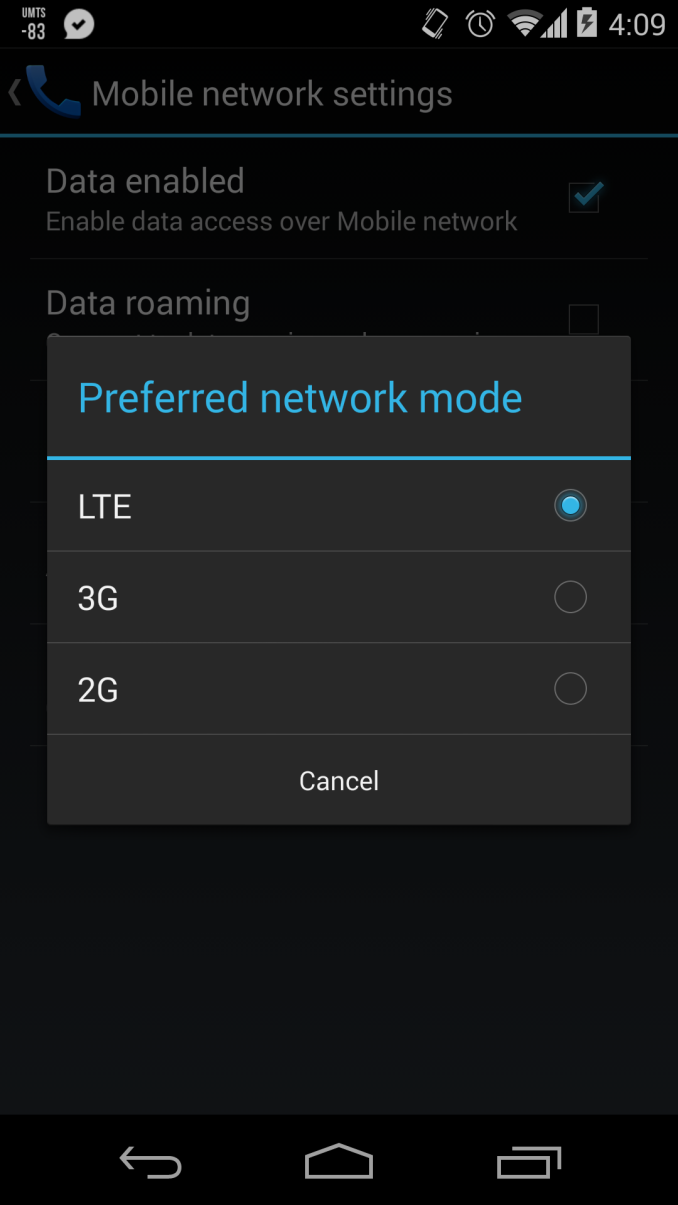 I have no issues with cellular connectivity on the Nexus 5, which I used on AT&T before switching to T-Mobile LTE just fine.
WiFi
Mobile handsets have steadily increased WLAN throughput rates and PHY capabilities each year. It seems that not a generation goes by that we don't get something more than the generation before it, and the latest handsets include 802.11ac, the new 5 GHz WLAN specification that includes support for 80 MHz wide channels and higher order modulation (256QAM) among other things. Nexus 4 included dual band WiFi (2.4 and 5 GHz) based on Qualcomm's WCN3660 WLAN combo chip, Nexus 5 adds 802.11ac with the latest Broadcom silicon, BCM4339, the evolution of BCM4335, their first 802.11ac combo. It's still single stream, which isn't surprising or a negative, giving it a maximum PHY rate of 433.3 Mbps.
BCM4339 we've already seen once in the Note 3, which is an easier to implement derivative of BCM4335 which includes on-chip 2.4 and 5 GHz transmit power amplifiers and receive low noise amplifiers. External front ends are still supported of course if an OEM wants to, though I can't see why they wouldn't just opt for a 4335 instead if they're going that route.
In any case the Nexus 5 has leading edge WLAN/BT with the same feature support as BCM4335, including Bluetooth 4.0 Smart Ready. To test I turned to iPerf to test throughput, same as always.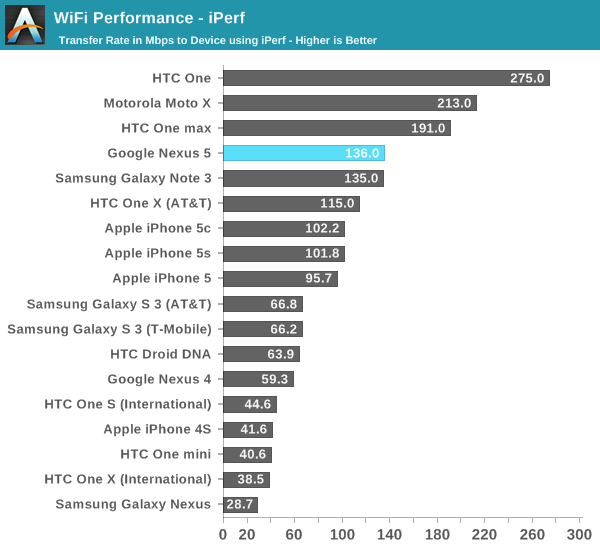 It's interesting to me that both the Note 3 and Nexus 5 pack the same combo, and end up having just about the same throughput, an average of 135 Mbps when attached with the best MCS, with very brief spikes to just below 300 Mbps. Oddly enough one thing I noticed is that touch input seems to be blocked entirely on the Nexus 5 until iPerf is quit. I'm not sure what's going on here when the WiFi link is completely saturated, but it seems that touch response becomes very slow. I have no issues with range or connection stability on the Nexus 5, and I'll also note that the device doesn't antenna share, but rather has a discrete antenna for WLAN/BT.
GNSS
GNSS (Global Navigation Satellite System) on the Nexus 5 uses the engines and support on MSM8974, in this case GNSS Gen 8B, which is capable of locking and using all three modern constellations in play right now – GPS (USA Navstar), GLONASS (Russian), and Beidou (China). I've always been impressed with how quickly Qualcomm's GNSS obtains a 3D fix from cold start (even though there's really no such thing as cold start anymore), and it's obvious that sharing clocks and rough position from the modem dramatically helps. I had no issues with GNSS on the Nexus 5. GNSS also has its own discrete antenna in the top right of the Nexus 5, there's no antenna sharing going on.
The location services menu in KitKat is changed around considerably as well, with a new icon and menus that now give some breakdown of per-app energy consumption based on how long they hold onto location services. Rather than a complicated menu with discrete checkboxes, the new configuration panel moves to a high accuracy, battery saving, and device only breakdown.
Sound
It's no secret that the audio subsystem on Android has been the subject of scrutiny and lots of OEM and partner tweaks for a while now. With KitKat, Google adds platform support for audio tunneling to the DSP in the device chipset. Specifically, this means tasks like audio decode (for common codecs like MP3, AAC, and so forth) and output effects (room simulation, spatializer) can be done on the much lower power DSP rather than run on the CPU.
In the case of the Nexus 5, this feature is explicitly used for lower power audio decode, and Google claims it results in 50 percent more audio playback time. I always assumed that the stock Android ports had this ability, but it turns out this was one of those things silicon vendors would add in atop the base platform.
Nexus 5 also implements the latest codec from Qualcomm, WCD9320, the successor to WCD9310 from the previous generation. A lot of people have asked for better line out audio quality comparisons, our Chris Heinonen is working on some awesome audio quality testing with a suite of devices. Of course the reality of audio quality on line out is that it's contingent on how well the OEM has implemented things, not just what hardware codec is used.
Nexus 5 has two speaker grilles at the bottom, but unsurprisingly only one speaker. The other grille just hides the primary microphone. The secondary microphone is up top on the Nexus 5 which is used for noise cancelation.
I measured speaker sound pressure level on the Nexus 5 the same way I always do for a voice call. Unfortunately my subjective impressions were confirmed – Nexus 5 is quite quiet on speakerphone calls, slightly louder than the LG G2. There's an odd bimodal behavior on the Nexus 5 as well, with some apps seeming louder than others by a fair margin. I suspect the gains for some of the DSP tunneled audio paths aren't quite matched to the software decode paths or something, another thing which hopefully will be fixed soon.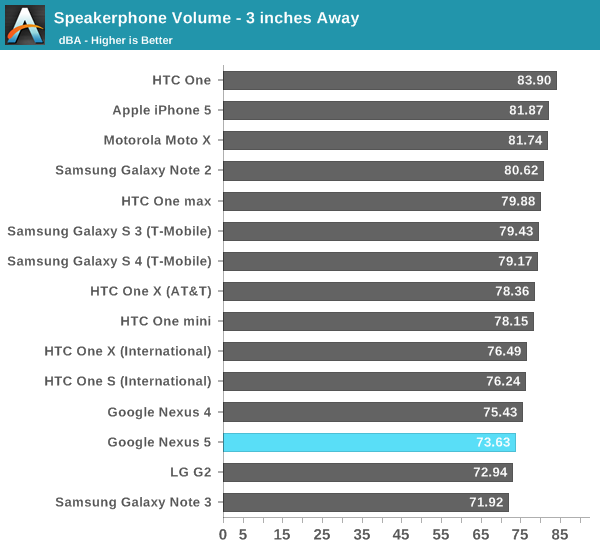 Noise cancelation is something I've been measuring or trying to get a subjective grasp on for a while now, and I tested the Nexus 5 the same way I have other devices, by placing a call in front of some speakers and increasing the volume while recording the far end of the call. In the case of the Nexus 5, Qualcomm's Fluence is doing the noise rejection heavy lifting between the primary microphone at bottom and secondary up top
I'm actually very impressed with how well the Nexus 5 performed at rejecting noise using the normal babble distractor track I use. In addition this was a T-Mobile AMR-WB "HD Voice" call between two Nexus 5s, illustrating that the Nexus 5 is indeed in the T-Mobile whitelist for HD Voice.

As an aside, the Nexus 4 oddly enough still hasn't been green lit for HD Voice on T-Mobile, and given its age probably never will at this point, although the hardware is entirely capable.
As is often the case, the conclusion to this Nexus review is one part software, and one part hardware. I'll start with a discussion of Android 4.4.
Google adds a subtle but appreciated level of polish to the Android UI with its latest iteration of the OS. This has been true for a while now, but the Android we're talking about today is really a far departure from what existed back in the early 2.x days. Anyone who hesitated to move from iOS back then will find themselves with an OS today that is clearly a substitute good. What once was an OS that only appealed to a crowd that appreciated its flexibility is now just as approachable as anything else on the market, and just as powerful as it always has been.
Likewise, Android is now smoother than before thanks to further improvements brought forth by project butter and refinements to the GPU-accelerated 2D rendering pipeline that was introduced in Android 3.x Honeycomb. Like any platform, it's still possible to craft apps that jank, but you have to look hard for examples that truly drag the experience down, and on the whole almost all the system apps are polished and performant. Project svelte also reduces memory footprint for midrange (emerging market) devices with 512 MB of RAM, where most of the remaining growth is for the smartphone market abroad and at home. I can't wait to see how that bears itself out even on devices like the Moto G with 1 GB of RAM or less, since it's hard to immediately find the difference on flagships with 2 GB or more that aren't always under high memory pressure.
I'm glad to see the antiquated SMS/Messaging app gone, but I'm puzzled by the poor integration into Google's new Hangouts app. The Hangouts experience in Android remains incredible, but the SMS component is far from the sort of seamless integration I had hoped for.
The most disappointing part about Android 4.4 is the miserable camera UI, but I'll get to its impact on the Nexus 5 in a moment.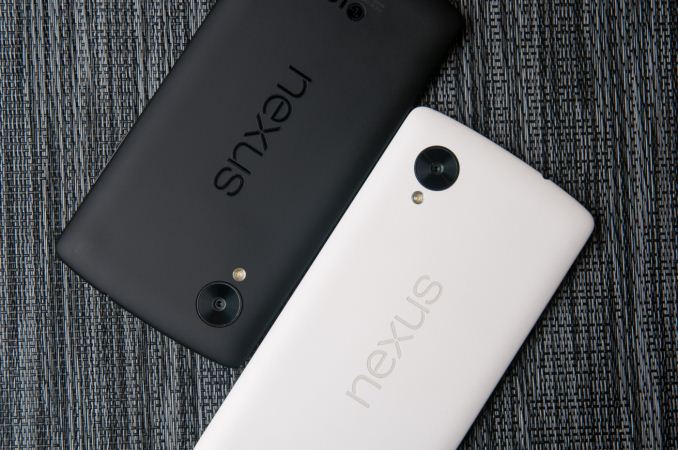 For the price, the Nexus 5 is easily one of the best buys on the market today. At $349 you not only get the absolute latest hardware, but the most accurate 1080p display available on an Android device. I really can't give Google enough credit here for doing what literally no other Android OEM seems to care enough about and actually shipping a display with proper sRGB coverage. It's not quite as good as what you'll get from a 2013 Nexus 7, but it's easily the best I've ever encountered in all of my experience with Android devices.
It's good to see the default storage capacity move from 8GB to 16GB, but I would really like to see Google embrace even larger options. There's no reason Google couldn't offer a 64GB Nexus 5, and/or be a little aggressive on NAND sourcing and push for a 128GB model as well.
The fact that the Nexus 5 ships unlocked at its price point is another huge selling point. It seems to me that what you can get for $179, $349 and $599 is improving substantially across the market. I would love to see Google extend the Nexus family both up and down the pricing spectrum to really provide excellent solutions for all segments of the market.
The camera story on the Nexus 5 is among the most frustrating aspects of this phone. From a hardware perspective, Google has settled on a combination of sensor and optics that's quite close to the most optimal configuration available today, and a dramatic improvement from the Nexus 4. The problem with the Nexus 5's camera is entirely limited to the horrible mess that is the default Android camera app. We're nearly into 2014 yet substantial shutter lag, focusing issues and a preview that doesn't reflect reality are still problems with the AOSP camera. The fact that many other Android OEMs have already worked around some if not all of these issues is hugely disappointing. Depending on how important the camera experience is to you will really determine whether or not the Nexus 5 is a good fit. Google has apparently told other publications that software fixes are on the way, but it's currently impossible to gauge the magnitude of improvement coming down the pipe.
Thankfully, we find ourselves in a time where there are a number of excellent options in the Android space.
Quite possibly the closest alternative to the Nexus 5, while still retaining the mostly-stock Android experience, is Motorola's Moto X. You lose out on core count and display resolution, but in return you get a smaller/more comfortable body, potential for color customization, and a far more usable camera today. The Moto X is just a much more polished device overall, and something you can also find on Verizon (not an option for Nexus 5). If having access to virtually-stock Android is of value to you and you want a cleaner experience today, the Moto X is a great alternative to the Nexus 5.
On the other end of the spectrum there's LG's G2 - the Nexus 5's closest hardware relative. Here you also get a much more functional camera offering and even better battery life. The tradeoff is of course that you lose the stock Android UI and the display isn't as accurate (it is however slightly larger), but it's absolutely a liveable option if you value things like a usable camera.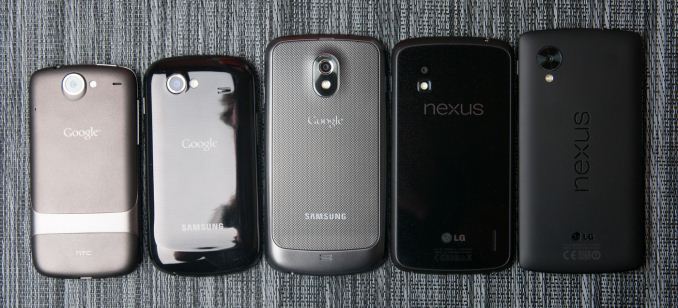 Google is really so close to perfecting the Nexus as a smartphone. Nexus 5 is a huge improvement over Nexus 4, and the obvious upgrade for Nexus 4 users, it just still needs a few refinements before I can comfortably recommend it to normal smartphone shoppers. For enthusiasts seeking the device that will get Android updates first, or shoppers looking for optimal value, the Nexus 5 is a definite buy.