Original Link: http://www.anandtech.com/show/7500/netgear-readynas-312-2bay-smb-soho-nas-review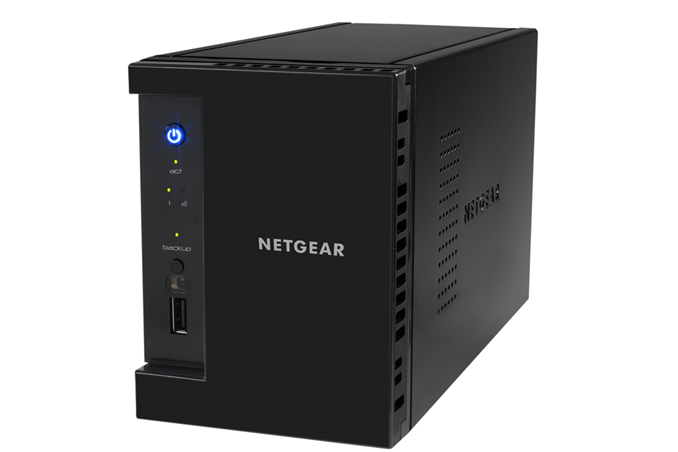 Introduction
x86-based NAS units targeting SMB consumers are usually of the 4-bay or more variety. However, there is a growing market for 2-bay high-performance units. Almost all major NAS vendors have an Atom-based 2-bay SMB NAS unit. We have not reviewed any 2-bay x86-based NAS units before, but a number of such units have been evaluated in our testbed. Over the next couple of weeks, we will be looking at some notes from our evaluations. Today, we are going to look at Netgear's 2-bay SMB offering, the ReadyNAS 312.
Netgear's storage lineup has been in a bit of flux over the last few years. While the x86-based versions have been quite stable, their SOHO / home consumer lineup had to shift from SPARC-based units to ARM-based ones. We covered the reboot of the ReadyNAS OS for ARM-based units in the review of the ReadyNAS NV+ v2. Despite Netgear's promise to work on adding features and making the new ReadyNAS OS better to use, here we are, two years later, looking at yet another reboot of the ReadyNAS OS.
In terms of redesign, ReadyNAS OS 6.0 is the most ambitious yet. Unlike other NAS vendors who opt for the safety of the proven EXT3 / EXT4 file system for the internal volumes, Netgear has opted for the cutting-edge BTRFS. The benefits of BTRFS over EXT3 / EXT4 are numerous. These include checksumming for integrity, in-built snapshotting mechanisms, continuous defragmentation, online data compression, scrubbing with error correction and built-in storage pools which make a separate LVM unnecessary. Compared to ZFS, the memory requirements are more manageable, but, deduplication support in ZFS is much better. However, there is an impression amongst some IT folks that btrfs is not stable enough for deployment in production environments. Netgear indicates that btrfs is part of Oracle's production kernel and, currently, the same code and kernel are being used in ReadyNAS OS 6.x.
The specifications of the RN312 are provided below:
Netgear ReadyNAS 312 Specifications
Processor
Intel Atom D2701 (2C/4T, 2.13 GHz)
RAM
2 GB DDR3 RAM
Drive Bays
2x 3.5"/2.5" SATA 6 Gbps HDD / SSD (Hot-swappable)
Network Links
2x 1 GbE
USB Slots
2x USB 3.0 / 1x USB 2.0
eSATA Slots
1x
Expansion Slots
None
VGA / Display Out
HDMI
Full Specifications Link
Netgear ReadyNAS 312 Full Specificatios
The ReadyNAS 312 runs a Linux kernel (v3.0.87). Other interesting aspects of the platform can be gathered after gaining SSH access into the unit.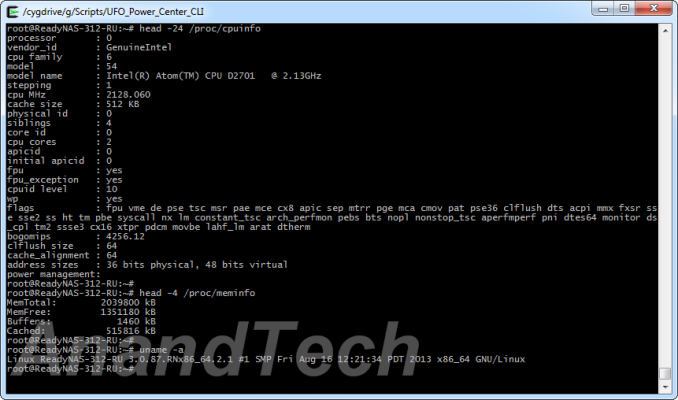 In the rest of the review, we will cover the setup and usage impressions followed by a description of our testbed setup and testing methodology for the ReadyNAS 312. This is followed by benchmarks in single and multi-client modes. For single client scenarios, we have both Windows and Linux benchmarks with CIFS and NFS shares. We will also have some performance numbers with encryption enabled. In the final section, power consumption numbers as well as RAID rebuild times will be covered along with some closing notes.
Setup and Usage Impressions
The Netgear ReadyNAS 312 is bundled with a 60W (12V @ 5A) adapter. Despite having two GbE links, only one network cable is supplied. The power cord is customized to the country of sale. Our evaluation started with a diskless system. After connection to the network, the unit could be discovered by RAIDar (offline discovery tool that has been around since the first generation ReadyNAS units). In addition, Netgear has also incorporated cloud discovery using the ReadyCLOUD service. Discovery worked well, and, as the steps indicated, starting off with fresh disks would have been straightforward too. Unfortunately, I put in a single disk with existing partitions (fresh from another NAS unit) and ended up with more problems than I bargained for. I still can't understand why NAS vendors (Netgear is not alone in this) refuse to format the disk after providing sufficient warning to the user. In any case, even with pre-formatted disks, it is possible to fully re-initialize the NAS unit by following some key press sequence after a factory reset (outlined in the supplied setup guide).
Netgear has completely reworked the UI for ReadyNAS OS. While it is not a very fancy desktop-like environment or mobile app-like interface, it already appears ready for use on touch-oriented operating systems. The interface is minimal, yet functional. One doesn't get fancy 'multitasking' features in the interface, but, for a business NAS, this is hardly an issue. The gallery below presents some screenshots from the ReadyNAS OS 6.0 UI.
One of the interesting aspects about the ReadyNAS OS 6.0 is the integrated snapshot facility. You can read Netgear's marketing whitepaper here (PDF). While btrfs has a COW (Copy-on-Write) snapshot mechanism, Netgear opts for a pointer-based one. This allows minimal performance impact. Snapshots can also be setup at frequent intervals due to low performance impact. The clincher, in our opinion, is for Windows clients. Files on a CIFS share mounted in Windows can use the snapshot copies as previous versions directly. The usage of this feature is outlined in the YouTube video here.
The ReadyNAS 312 is a 2-bay unit. Users can opt for automatic X-RAID protection or manually set the RAID level to 0 or 1. We benchmarked the unit with the RAID level manually set to 1 (same as X-RAID 2). Both network ports were bonded with dynamic link aggregation. We used two Western Digital WD4000FYYZ RE drives as the test disks. Our testbed configuration is outlined below.
AnandTech NAS Testbed Configuration
Motherboard
Asus Z9PE-D8 WS Dual LGA2011 SSI-EEB
CPU
2 x Intel Xeon E5-2630L
Coolers
2 x Dynatron R17
Memory
G.Skill RipjawsZ F3-12800CL10Q2-64GBZL (8x8GB) CAS 10-10-10-30
OS Drive
OCZ Technology Vertex 4 128GB
Secondary Drive
OCZ Technology Vertex 4 128GB
Tertiary Drive
OCZ RevoDrive Hybrid (1TB HDD + 100GB NAND)
Other Drives
12 x OCZ Technology Vertex 4 64GB (Offline in the Host OS)
Network Cards
6 x Intel ESA I-340 Quad-GbE Port Network Adapter
Chassis
SilverStoneTek Raven RV03
PSU
SilverStoneTek Strider Plus Gold Evoluion 850W
OS
Windows Server 2008 R2
Network Switch
Netgear ProSafe GSM7352S-200
Thank You!
We thank the following companies for helping us out with our NAS testbed:
Single Client Performance - CIFS and iSCSI on Windows
The single client CIFS performance of the Netgear ReadyNAS 312 was evaluated on the Windows platforms using Intel NASPT and our standard robocopy benchmark. This was run from one of the virtual machines in our NAS testbed. All data for the robocopy benchmark on the client side was put in a RAM disk (created using OSFMount) to ensure that the client's storage system shortcomings wouldn't affect the benchmark results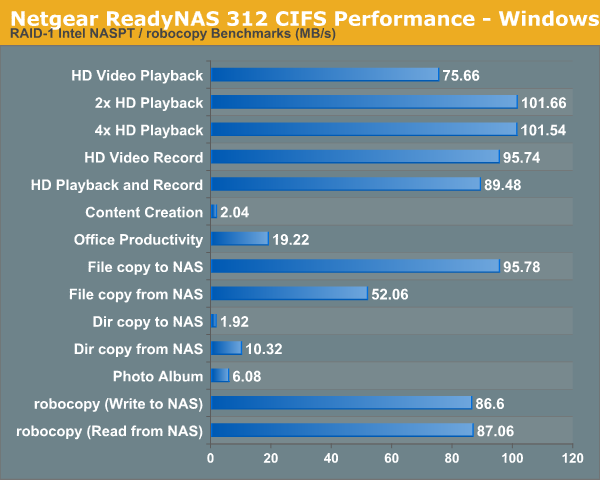 We created a 250 GB iSCSI target and mapped it on the Windows VM. The same benchmarks were run and the results are presented below.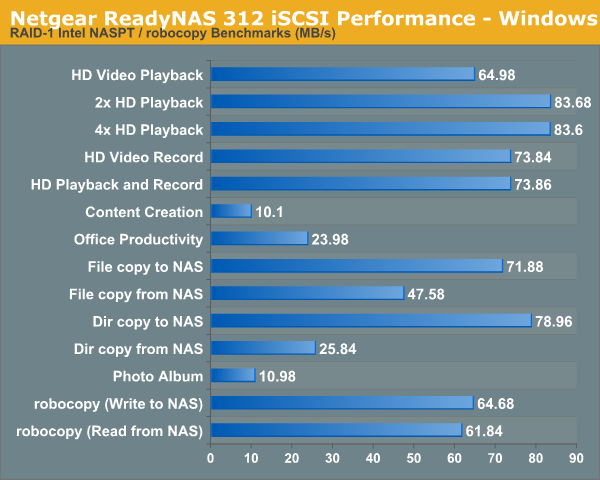 Encryption Support Evaluation:
Consumers looking for encryption capabilities can opt to encrypt a iSCSI share with TrueCrypt or some in-built encryption mechanism in the client OS. However, if requirements dictate that the data must be shared across multiple users / computers, relying on encryption in the NAS is the best way to move forward. Most NAS vendors use the industry-standard 256-bit AES encryption algorithm. One approach is to encrypt only a particular shared folder while the other approach is to encrypt the full volume. Some NAS vendors have support for both approaches in their firmware, but Netegar only opts for the latter. Details of Netgear's encryption strategy can be found in this forum thread, but the summary is that encryption relies on a key created and stored in a mounted USB drive at the time of volume creation (the volume can't be X-RAID, but has to be set up in a manual RAID level). The USB key needs to be present at boot time for the encrypted volume to be mounted, but, can be removed later. This allows for maximum security, as the encrypted data remains safe even if the unit itself is stolen.
On the hardware side, encryption support can be in the form of specialized hardware blocks in the SoC (common in ARM / PowerPC based NAS units). In x86-based systems, encryption support is dependent on whether the AES-NI instruction is available on the host CPU (not considering units based on the Intel Berryville platform). Unfortunately, the Atom D2701 used in the Netgear ReadyNAS 312 doesn't support AES-NI. However, we are dealing only with a RAID-1 volume. Therefore, impact might not be as brutal as it was seen to be on multi-bay RAID-5-capable NAS units.
We enabled encryption on a volume and created a CIFS share to repeat our Intel NASPT / robocopy benchmarks. The results are presented in the graph below (with the unencrypted volume numbers for comparison purposes).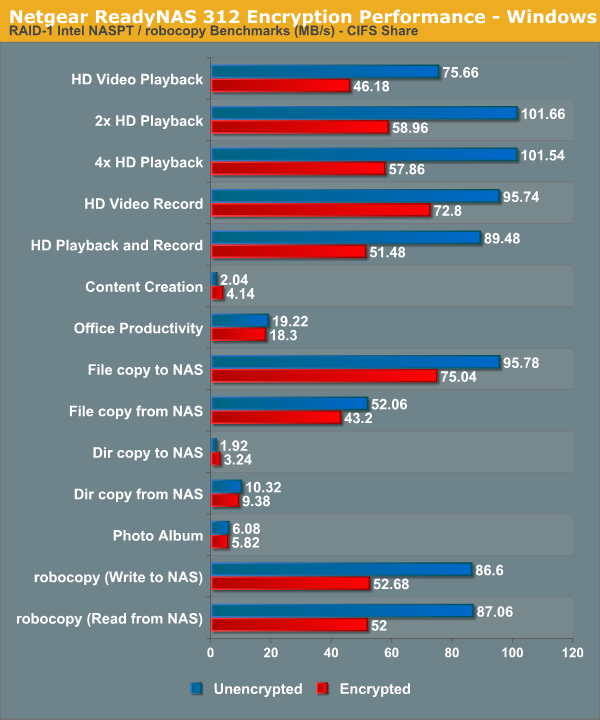 As expected, encryption carries a bit of a performance hit. In a couple of cases, the numbers seem to even favour the encryption case, but these are within the margin of error for measurements. It goes to show that the bottleneck is on the disk or client side for those cases, rather than the RAID and encryption-related computation on the NAS CPU.
Single Client Performance - CIFS and NFS on Linux
A CentOS 6.2 virtual machine was used to evaluate NFS and CIFS performance of the NAS when accessed from a Linux client. In order to standardize the testing across multiple NAS units, the following parameters were used to mount the NFS and Samba shares:
mount -t nfs NAS_IP:/PATH_TO_NFS_SHARE /PATH_TO_LOCAL_MOUNT_FOLDER
mount -t cifs //NAS_IP/PATH_TO_SMB_SHARE /PATH_TO_LOCAL_MOUNT_FOLDER
Note that these areslightly different from what we used to run in our previous NAS reviews. We have also shifted from IOMeter to IOZone for evaluating performance under Linux. The following IOZone command was used to benchmark the shares:
iozone -aczR -g 2097152 -U /PATH_TO_LOCAL_CIFS_MOUNT -f /PATH_TO_LOCAL_CIFS_MOUNT/testfile -b <NAS_NAME>_CIFS_EXCEL_BIN.xls > <NAS_NAME>_CIFS_CSV.csv
IOZone provides benchmark numbers for a multitude of access scenarios with varying file sizes and record lengths. Some of these are very susceptible to caching effects on the client side. This is evident in some of the graphs in the gallery below.
Readers interested in the hard numbers can refer to the CSV program output here. These numbers will gain relevance as we benchmark more NAS units with similar configuration.
The NFS share was also benchmarked in a similar manner with the following command:
iozone -aczR -g 2097152 -U /nfs_test_mount/ -f /nfs_test_mount/testfile -b NTGR_RN312_NFS_EXCEL_BIN.xls > NTGR_RN312_NFS_CSV.csv
Some scenarios exhibit client caching effects, and these are evident in the gallery below.
The iozone CSV output can be found here for those interested in the exact numbers.
Multi-Client Performance - CIFS
We put the ReadyNAS 312 through some IOMeter tests with a CIFS share being accessed from up to 25 VMs simultaneously. The following four graphs show the total available bandwidth and the average response time while being subject to different types of workloads through IOMeter. IOMeter also reports various other metrics of interest such as maximum response time, read and write IOPS, separate read and write bandwidth figures etc. Readers interested in the actual values can refer to our evaluation metrics table available here.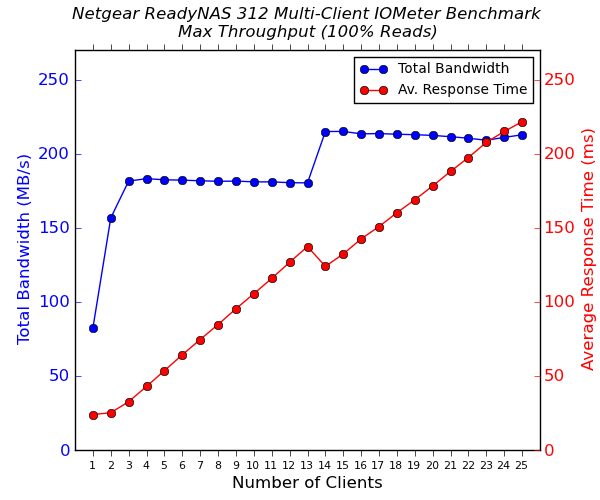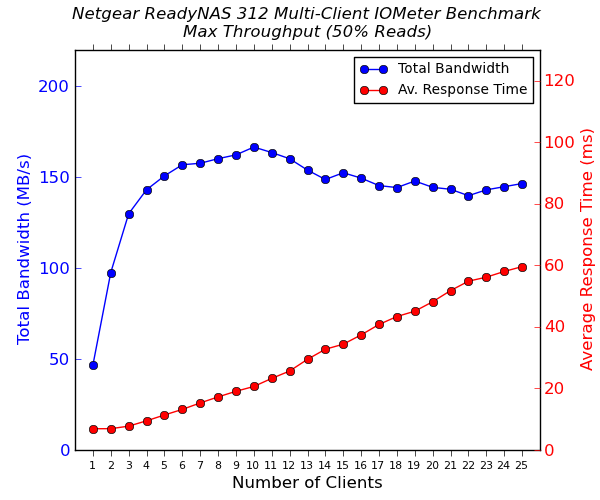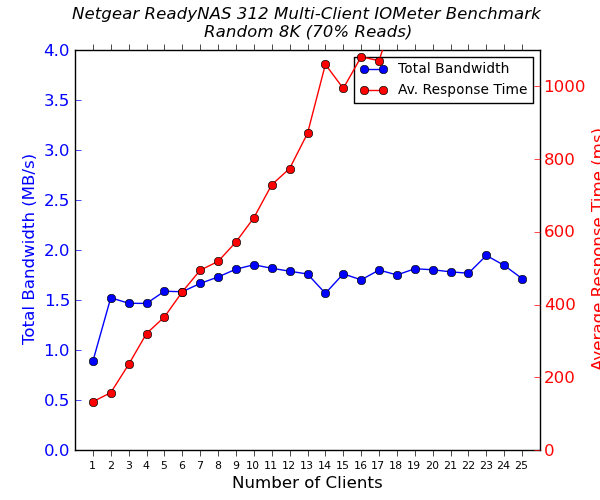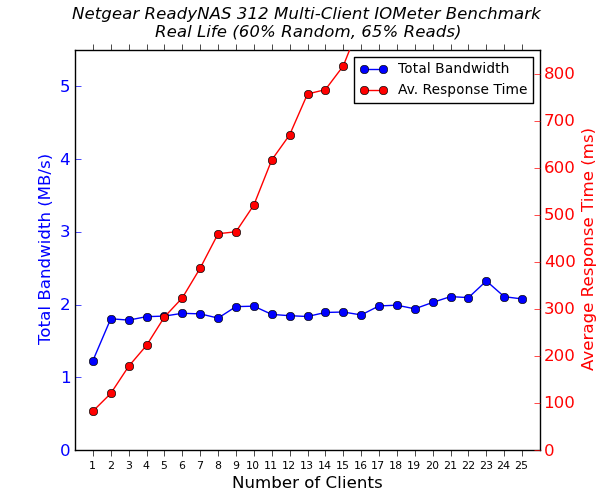 Since this is the first 2-bay unit that we are publishing benchmarks for with the new testing methodology, we don't have graphs for comparison, but, rest assured, upcoming reviews of NAS units with similar number of bays will see comparison graphs available for reference.
Miscellaneous Aspects and Final Words
The Netgear ReadyNAS 312 is a 2-bay NAS, and most users are going to use it in a RAID-1 configuration. Hence, we performed all our expansion / rebuild testing as well as power consumption evaluation with the unit configured in X-RAID2 (RAID-1). The disks used for benchmarking (Western Digital WD4000FYYZ) were also used in this section. The table below presents the average power consumption of the unit as well as time taken for various RAID-related activities.
Netgear ReadyNAS 312 RAID Expansion and Rebuild / Power Consumption
Activity
Duration
Avg. Power Consumption
Idle
11.53 W
4TB Single Disk Initialization
20.61 W
4TB RAID-0 to 4TB RAID-1 (Expand from 1 to 2 Disks)
10h 43m 40s
34.24 W
4TB RAID-1 Rebuild (Replace 1 of 2 Disks)
11h 10m 45s
33.85 W
Coming to the business end of the review, the ReadyNAS 312 has plenty of positives: a clean and refreshing UI that is not too over-whelming, an exciting choice of file system with btrfs, a snapshot feature with minimal performance impact and good performance in a small physical footprint (compared to other 2-bay NAS units). Some features such as cloud access / mobile apps for data access are indispensable in this product space and Netgear ticks the appropriate boxes in this offering. Unfortunately, there are a few negatives too: Initial setup could be more user-friendly (particularly for the 2-bay where there is no display on the unit), the app ecosystem needs a lot of work compared to the competition and the UI / OS could do with some extra stability when attempting to install apps on the unit. Admittedly, the negatives are not show stopper issues / particularly relevant once the unit is configured and up and running. In the bigger scheme of things, we also hope that Netgear will continue to support this product long-term and not put it to pasture within a couple of years like what was done with the NV+ v2.