Original Link: http://www.anandtech.com/show/7460/apple-ipad-air-review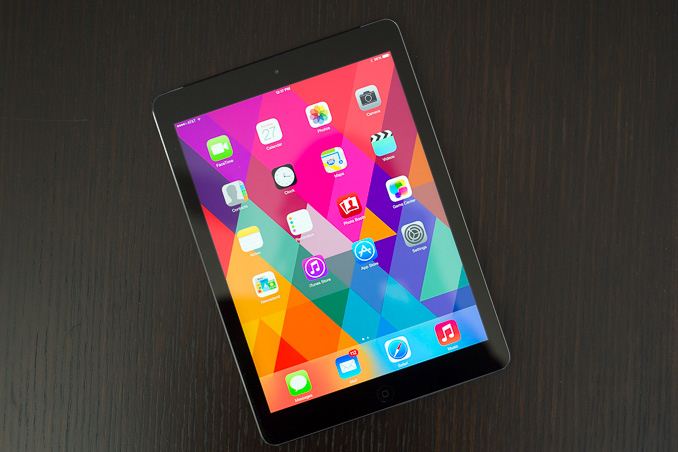 It seemed like a foregone conclusion that the 10-inch tablet market was done for, with all interest and excitement shifting to smaller, but equally capable 7 or 8-inch tablets instead. It also seemed like 15-inch notebook computers were done for a couple of years ago, then Apple launched the MacBook Pro with Retina Display. In a similar vein, last week Apple introduced the iPad Air.
A significant re-imagining of the original 9.7-inch iPad, the Air breathes new life into the platform. Much like the rMBP, the iPad Air borrows a lot of the learnings from its more popular ultraportable counterpart. I don't know that it will curb enthusiasm over the iPad mini, particularly now that the new mini shares the same hardware platform (including display), but it levels the playing field between the two models.
Trying to summarize what makes the iPad Air special quickly turns into a list of the things Apple likes to have with any evolution of an existing product: it's smaller, lighter and faster with absolutely no tradeoffs made in the process. The iPad Air feels like a true successor to the iPad 2. If we look at a table charting the progression of physical specs that argument seems even more credible:
iPad Dimensions/Weight Comparison
iPad
iPad 2
iPad 3
iPad 4
iPad Air
Height
243 mm
241 mm
241 mm
241 mm
240 mm
Width
190 mm
186 mm
186 mm
186 mm
170 mm
Thickness
13.4 mm
8.8 mm
9.4 mm
9.4 mm
7.5 mm
Weight
680 g
601 g
650 g
650 g
469 g
The iPad Air shrinks all dimensions compared to its predecessors, and in some cases does so quite substantially. The best example I have is actually this shot of the iPad 4 resting on top of the iPad Air:


iPad 4 (top) vs. iPad Air (bottom)
The overhang measures nearly an inch, yet the iPad Air features the same 9.7-inch display as its predecessor. Lower power components inside helped reduce the need for a huge battery. The iPad Air moves back down to a more reasonable sized battery (32.4Wh), compared to the downright notebook-sized 42Wh battery from the 3rd and 4th generation iPads. The Air still has a bigger battery than the iPad 2, but the device is still lighter. The smaller battery frees up a lot of internal volume, which allowed Apple to compress the big iPad without shrinking display size.
The visual tradeoff was the same as what we saw with the iPad mini: the iPad Air forgoes a uniform bezel around its display for an uneven design. There's a rather thick bezel at the top and the bottom, and a narrower bezel along the left and right edges. The whole thing now looks like a bigger iPad mini, rather than a completely unrelated device.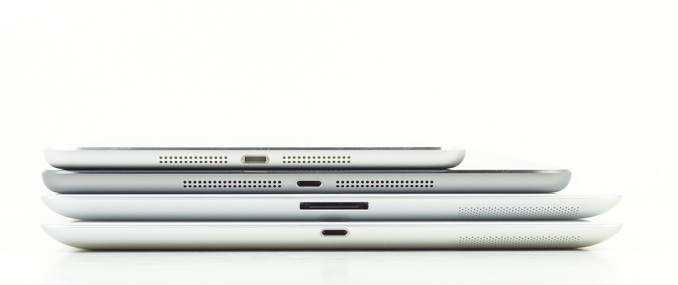 From top to bottom: iPad mini, iPad Air, iPad 2, iPad 4
The thinner bezel around the left/right edges doesn't pose a problem for using the device. Just as with the iPad mini, Apple does a good job of rejecting your thumbs while they're resting on the edges of the capacitive display. Sometimes it's a bit too good of a job as it'll reject the beginnings of my thumb placement if I'm trying to casually swipe between web pages in mobile Safari, but for the most part it's seamless and well done. Despite the thinner bezels, you can still use the iPad Air just like you would any prior iPad.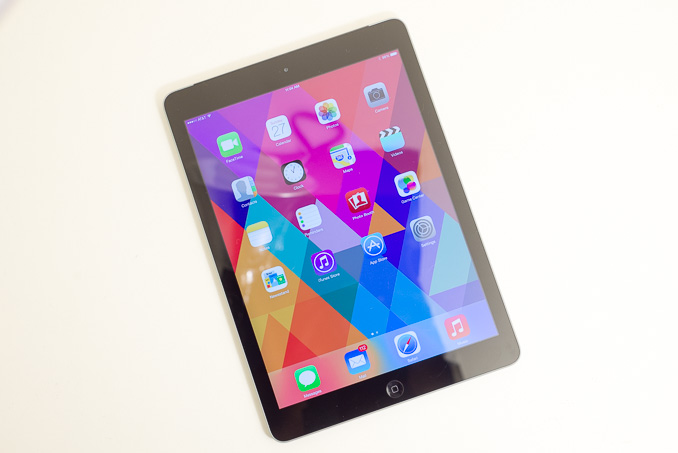 The weight of the iPad Air does its name justice. Without any covers attached the iPad Air weighs an even pound. Even the LTE version tips the scales at just 1.05 lbs. I weighed my LTE review sample at 474 grams, that's still a lot compared to a 7 or 8-inch tablet, but compared to the 3rd and 4th gen iPads it's a huge improvement.
The iPad was never light enough for me to comfortably hold in my hands, suspended above my face while lying in bed or on the couch for long periods of time. The iPad 2 got close, but the 3rd and 4th generation iPads reset the scale completely. That's actually one reason why I liked the iPad mini and Nexus 7 so much, they were far more comfortable to hold.
The iPad Air gets incredibly close. Sans case, the iPad Air is light enough that I can comfortably hold it above me (with two hands) for a while without my wrists getting tired. I still prefer propping the iPad up against something but I think 1 pound may be the crossover point for me personally. With a Smart Cover attached the Air is still passable, it's only with the Smart Case that I feel like the combination gets a bit too heavy to hold without resting against something for extended use.
One handed use, holding the Air above my face for long periods of time is still tough to do. I always have to prop it up against something rather than hold it like I would a paperback book or magazine. Literally all other use cases however are near perfect with the iPad Air: holding it in two hands, resting it against my palm, looking down at it, suspending it in front of me, or propping it up against my chest/legs. With just a little bit of support, the iPad Air's perceived weight quickly diminishes to what feels like nothing.
I'll always take lighter, but the iPad Air strikes a good balance between weight and material quality. There really isn't another tablet of this size that feels anywhere near as good.
Apple's insistence on marrying glass and aluminum continues to work, as the iPad Air looks great. The new thinner bezel brings a modern feel to the front, continuing throughout the rest of the device. You now get the same diamond-cut chamfered edges from the iPhone 5/5s and the iPad mini, and the same subtle curve around the sides rather than the steep rake from the iPad 4.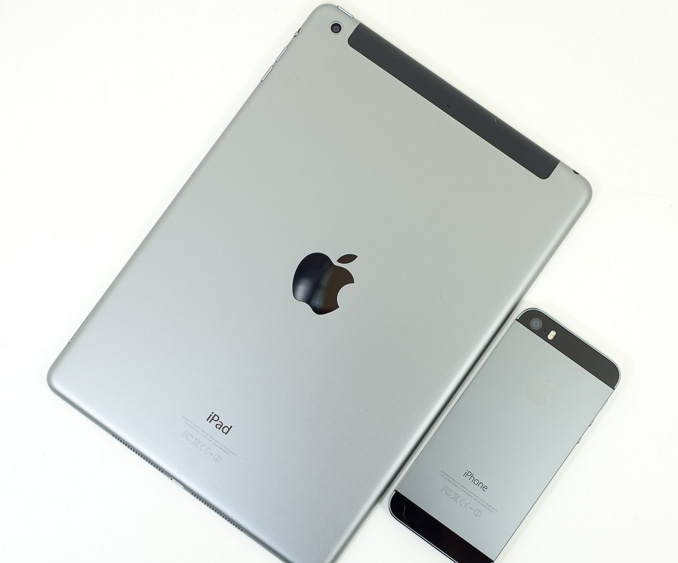 Color options remain at two: space grey and silver. Gold isn't an option on either the iPad Air or iPad mini with Retina Display. The Air's space grey looks identical to the finish on the space grey iPhone 5s, although the texture of the two is appreciably different.
I've been obsessed with devices that convey the sort of lightweight yet high quality computing slate feel that I always imagined tablets could be. The list of devices that achieves that goal in my mind is pretty limited. The iPad mini did it, as did the 2013 Nexus 7. The iPad Air joins those two in a major way. In fact it's the first tablet of this size to really feel right. The first iPad looked great but needed improvement on so many vectors. The second gave us a size and weight reduction but lost some of the luxury feel in the process. We know the story of numbers 3 and 4 which amounted to a set of tradeoffs in order to accommodate a Retina Display, but with the iPad Air Apple hits a balance of features, design and ergonomics that I don't think we've ever seen in the iPad.
Hardware

iPad Specification Comparison
Apple iPad Air
Apple iPad 4
Apple iPad 3
Apple iPad 2
Apple iPad
Dimensions
240 x 170 x 7.5 mm
241.2 x 185.7 x 9.4mm
241.2 x 185.7 x 9.4mm
241.2 x 185.7 x 8.8mm
243.0 x 190.0 x 13.4mm
Display
9.7-inch 2048 x 1536 IPS
9.7-inch 2048 x 1536 IPS
9.7-inch 2048 x 1536 IPS
9.7-inch 1024 x 768 IPS
9.7-inch 1024 x 768 IPS
Weight
469g (WiFi)
652g (WiFi)
652g (WiFi)
601g (WiFi)
680g (WiFi)
Processor
Apple A7 (2 x Cyclone 1.4GHz, PowerVR G6430)

Apple A6X (2 x Swift, PowerVR SGX 554MP4)

Apple A5X (2 x Cortex A9, PowerVR SGX 543MP4)

1GHz Apple A5 (2 x Cortex A9, PowerVR SGX543MP2)
1GHz Apple A4 (1 x Cortex A8, PowerVR SGX 535)
Connectivity
WiFi , Optional 4G LTE
WiFi , Optional 4G LTE
WiFi , Optional 4G LTE
WiFi , Optional 3G
WiFi , Optional 3G
Memory
1GB
1GB
1GB
512MB
256MB
Storage
16GB—128GB
16GB—128GB
16GB—64GB
16GB—64GB
16GB—64GB
Battery
32.4Wh
42.5Wh
42.5Wh
25Wh
25Wh
Starting Price
$499
-
-
$399
-
Like the mini, the iPad Air gets two speakers that flank the Lightning connector along the bottom edge of the tablet held in portrait mode. Speaker quality is good, especially considering how thin the device is. Lower frequencies played back at high volumes send notable vibrations through the aluminum chassis, but otherwise the sound reproduction is loud, crisp and generally high quality.


iPad 4 (top) vs. iPad Air (bottom)
In portrait mode, separation between the two speakers is great enough that you do get a stereo effect. Even lightly resting the Air against your body, blocking the speaker grills, doesn't substantially impact sound quality. In landscape, there's no getting around the fact that you only have speakers on one side of the device unfortunately. Speaker placement is a tough thing to get right on a tablet. Put them on the sides of a tablet and you potentially hurt portrait use. Pick the top/bottom for speaker placement and you do the same for landscape use. Given the iPad's 4:3 aspect ratio, there's a clear optimization for portrait mode. That combined with the plastic RF window along the top to accommodate the cellular antenna on LTE models leaves one location for the speakers.
Up top you'll find a power/lock button, headphone jack, and for the first time, two microphones. Along the right side you'll find individual volume up/down buttons, a rotation lock/mute switch and on cellular models a nano SIM card tray. All of the buttons feel clicky and high quality.


iPad 4 (top) vs. iPad Air (bottom)
Neither the iPad Air nor the new iPad mini with Retina Display feature Apple's Touch ID fingerprint sensor that debuted with the iPhone 5s. Both instead use the same home button as on previous iPads. The absence of Touch ID isn't a huge issue on a tablet, especially given the vast difference in usage models between a tablet and a phone. My guess is you're far more likely to repeatedly lock/unlock your phone than a tablet. That's not to say that Touch ID wouldn't be useful on the iPad Air. Not having to type in a long password to authenticate with the App Store would be nice, although I'm wondering if Apple would have to reconsider some of the timing limitations on how frequently you need to authenticate to avoid having to manually type in your password. Touch ID on the iPad Air wouldn't necessarily be a simple port over, but my guess is it didn't make the cut due to component availability more than anything else.
Pricing on the iPad Air hasn't changed at all. The entry level model comes with 16GB of storage and WiFi for $499. Each capacity upgrade sets you back another $100, while adding cellular connectivity to any model drives the price up $130.
An interesting side effect of Apple's pricing structure is that the cost for NAND upgrades actually gets pretty reasonable at the higher capacities. It's the lower capacities that are the most expensive to upgrade (e.g. moving from 16GB to 32GB will cost you $6.25 per extra GB of storage, downright enterprise NAND pricing, but going from 64GB to 128GB costs you another $1.56 per extra GB).
Cases
The iPad Air's new dimensions require new cases. Apple updated both of its iPad cases to support the iPad Air. First off is the new $39 Smart Cover.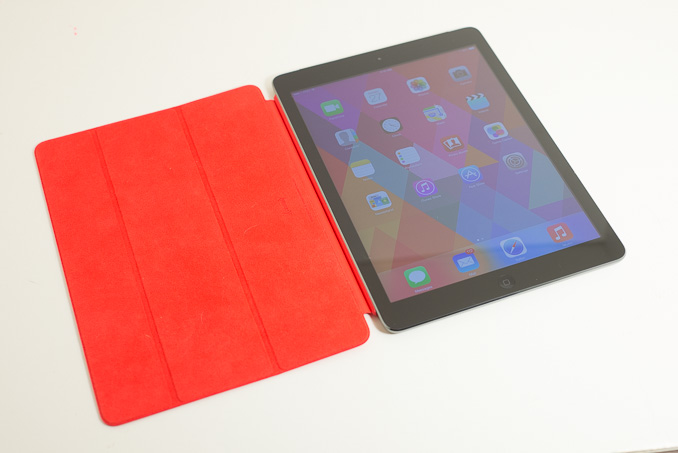 Apple originally introduced the Smart Cover alongside the iPad 2. Magnets inside the iPad and inside the case attract one another and make getting in/out of the case very quick. I never really appreciated the flexibility of being able to quickly detach the Smart Cover before, but given how light the iPad Air is now I found myself taking the cover off when using the iPad for a long period of time and just quickly re-attaching it before putting the tablet down or going somewhere.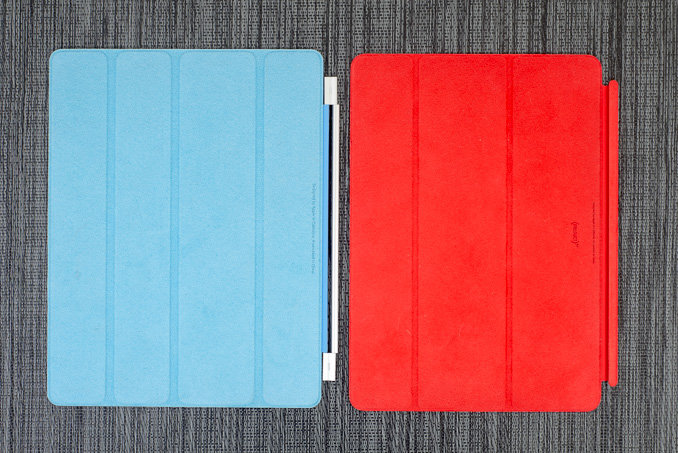 1st gen smart cover (left) vs. iPad Air smart cover (right)
The new Smart Cover moves to a 3-fold design similar to the iPad mini's Smart Cover. The cover is now all a single piece instead of the more complicated hinge design we saw with the original Smart Cover. The magnets handle alignment incredibly well. Just bring the Smart Cover close to the left edge of the iPad Air and let physics go to work. I don't know if the strength/size of the magnets inside the cover have changed at all, but the lighter weight of the iPad Air makes it much easier for the cover to support the weight of the iPad if you happen to pick the device up by its attached Smart Cover. It's not as strong as the connection between a Surface and one of its covers, and you can still get the two to separate if you swing the tablet around, but it's a far more stable connection than in any of the previous iPads.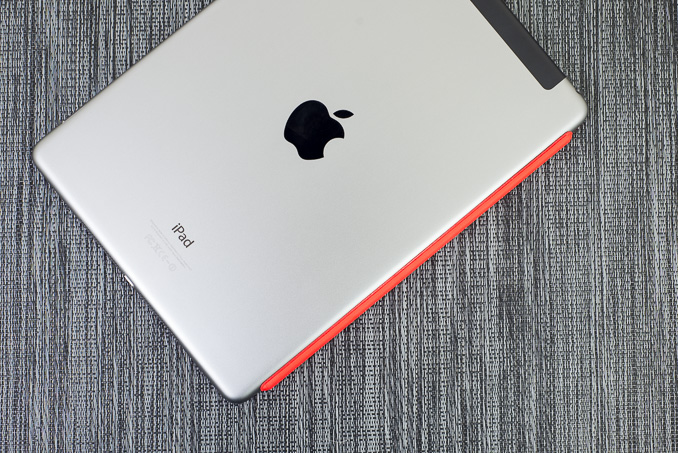 Magnets in the opposite end of the Smart Cover are still not strong enough to prevent it from flopping down when flipped around the back of the iPad Air.
Apple also relies on the magnets inside the Smart Cover to sleep/wake the iPad Air. By default, closing the cover will put the device to sleep. Similarly, pulling the cover away from the display wakes it up.
You can still use the Smart Cover as a makeshift stand for the iPad by folding it up. The new design means the iPad stands at a wider angle than with the previous design, tilting the display further away from you when the iPad is fully upright. For desk use I like the new angle, but if you're using your chest as a prop for the tablet it's arguably worse. Thankfully the iPad Air is so much lighter than its predecessor that it's still more comfortable to use lying down, even if you have to partially support the weight of the iPad with your hands.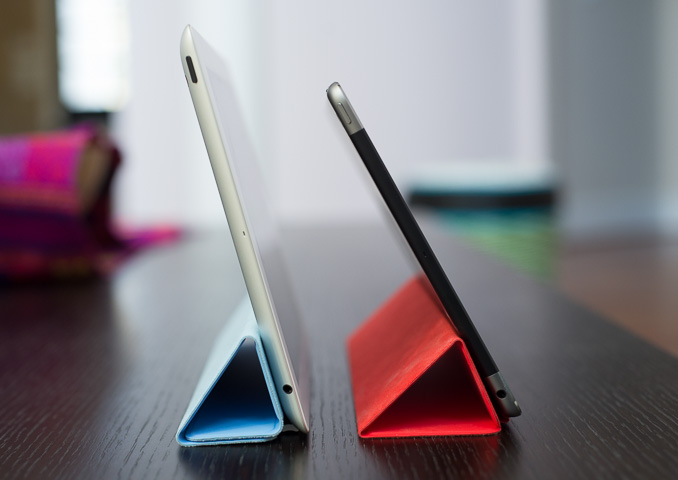 iPad 4 + Smart Cover (left) vs. iPad Air + Smart Cover (right)
The inside surface of the Smart Cover is still made out of microfiber which attempts to help keep your display clean when closed. The outside surface is a soft touch polyurethane. Smart Covers are available in six colors. Apple sampled me a Product Red cover, which I thought was a great fit for the space grey iPad Air.
While the Smart Cover offers screen protection, Apple offers a $79 leather Smart Case that protects all surfaces of the iPad Air. The inside of the case is still microfiber, and you still get the auto lock/unlock features of the Smart Cover. The cover flap also doubles as a stand.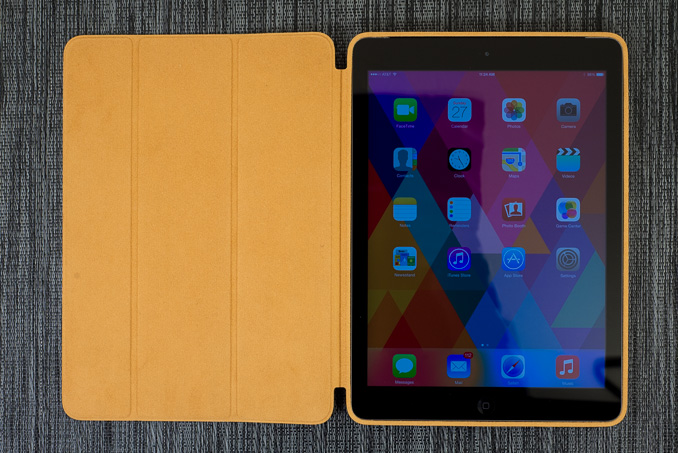 The new Smart Case feel great and seem to do a good job of protecting the iPad Air. The leather feels smooth and doesn't seem to have the durability issues of the new iPhone 5s leather cases.
Getting the iPad out of the Smart Case does take a little more time as you have to pull it out of a relatively tight tub, so I wouldn't recommend it as an option if you're looking to constantly get in/out of the case. There is a more noticeable weight penalty from using the Smart Case as well. As I mentioned before, the iPad Air is light enough that the addition of any case can have a substantial impact on the feel.

Both of the first party case options work really well. The only thing that Apple doesn't make for the iPad is a case that incorporates a keyboard, although I'm not sure that iOS is in dire need of a physical keyboard either. I can definitely appreciate a convertible/2-in-1, but I'm just not sure iOS is the right platform for such a thing.
An Update on Apple's A7: It's Better Than I Thought
When I reviewed the iPhone 5s I didn't have much time to go in and do the sort of in-depth investigation into Cyclone (Apple's 64-bit custom ARMv8 core) as I did with Swift (Apple's custom ARMv7 core from A6) the year before. I had heard rumors that Cyclone was substantially wider than its predecessor but I didn't really have any proof other than hearsay so I left it out of the article. Instead I surmised in the 5s review that the A7 was likely an evolved Swift core rather than a brand new design, after all - what sense would it make to design a new CPU core and then do it all over again for the next one? It turns out I was quite wrong.
Armed with a bit of custom code and a bunch of low level tests I think I have a far better idea of what Apple's A7 and Cyclone cores look like now than I did a month ago. I'm still toying with the idea of doing a much deeper investigation into A7, but I wanted to share some of my findings here.
The first task is to understand the width of the machine. With Swift I got lucky in that Apple had left a bunch of public LLVM documentation uncensored, referring to Swift's 3-wide design. It turns out that although the design might be capable of decoding, issuing and retiring up to three instructions per clock, in most cases it behaved like a 2-wide machine. Mix FP and integer code and you're looking at a machine that's more like 1.5 instructions wide. Obviously Swift did very well in the market and its competitors at the time, including Qualcomm's Krait 300, were similarly capable.
With Cyclone Apple is in a completely different league. As far as I can tell, peak issue width of Cyclone is 6 instructions. That's at least 2x the width of Swift and Krait, and at best more than 3x the width depending on instruction mix. Limitations on co-issuing FP and integer math have also been lifted as you can run up to four integer adds and two FP adds in parallel. You can also perform up to two loads or stores per clock.
I don't yet have a good understanding of the number of execution ports and how they're mapped, but Cyclone appears to be the widest ARM architecture we've ever seen at this point. I'm talking wider than Qualcomm's Krait 400 and even ARM's Cortex A15.
I did have some low level analysis in the 5s review, where I pointed out the significantly reduced memory latency and increased bandwidth to the A7. It turns out that I was missing a big part of the story back then as well…
A Large System Wide Cache
In our iPhone 5s review I pointed out that the A7 now featured more computational GPU power than the 4th generation iPad. For a device running at 1/8 the resolution of the iPad, the A7's GPU either meant that Apple had an application that needed tons of GPU performance or it planned on using the A7 in other, higher resolution devices. I speculated it would be the latter, and it turns out that's indeed the case. For the first time since the iPad 2, Apple once again shares common silicon between the iPhone 5s, iPad Air and iPad mini with Retina Display.
As Brian found out in his investigation after the iPad event last week all three devices use the exact same silicon with the exact same internal model number: S5L8960X. There are no extra cores, no change in GPU configuration and the biggest one: no increase in memory bandwidth.
Previously both the A5X and A6X featured a 128-bit wide memory interface, with half of it seemingly reserved for GPU use exclusively. The non-X parts by comparison only had a 64-bit wide memory interface. The assumption was that a move to such a high resolution display demanded a substantial increase in memory bandwidth. With the A7, Apple takes a step back in memory interface width - so is it enough to hamper the performance of the iPad Air with its 2048 x 1536 display?
The numbers alone tell us the answer is no. In all available graphics benchmarks the iPad Air delivers better performance at its native resolution than the outgoing 4th generation iPad (as you'll soon see). Now many of these benchmarks are bound more by GPU compute rather than memory bandwidth, a side effect of the relative lack of memory bandwidth on modern day mobile platforms. Across the board though I couldn't find a situation where anything was smoother on the iPad 4 than the iPad Air.
There's another part of this story. Something I missed in my original A7 analysis. When Chipworks posted a shot of the A7 die many of you correctly identified what appeared to be a 4MB SRAM on the die itself. It's highlighted on the right in the floorplan diagram below: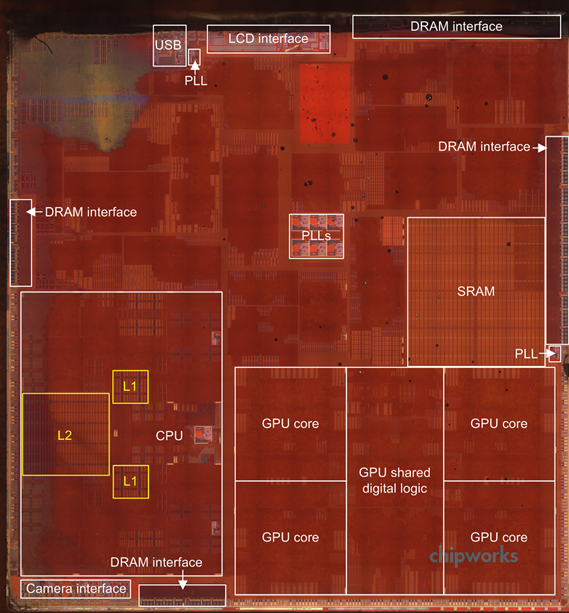 A7 Floorplan, Courtesy Chipworks
While I originally assumed that this SRAM might be reserved for use by the ISP, it turns out that it can do a lot more than that. If we look at memory latency (from the perspective of a single CPU core) vs. transfer size on A7 we notice a very interesting phenomenon between 1MB and 4MB: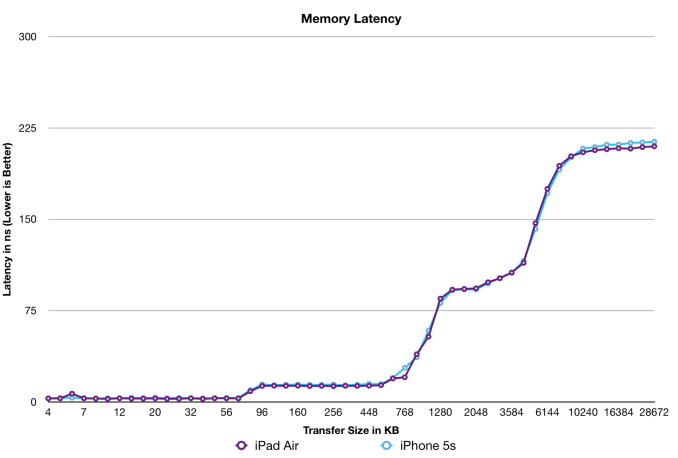 That SRAM is indeed some sort of a cache before you get to main memory. It's not the fastest thing in the world, but it's appreciably quicker than going all the way out to main memory. Available bandwidth is also pretty good: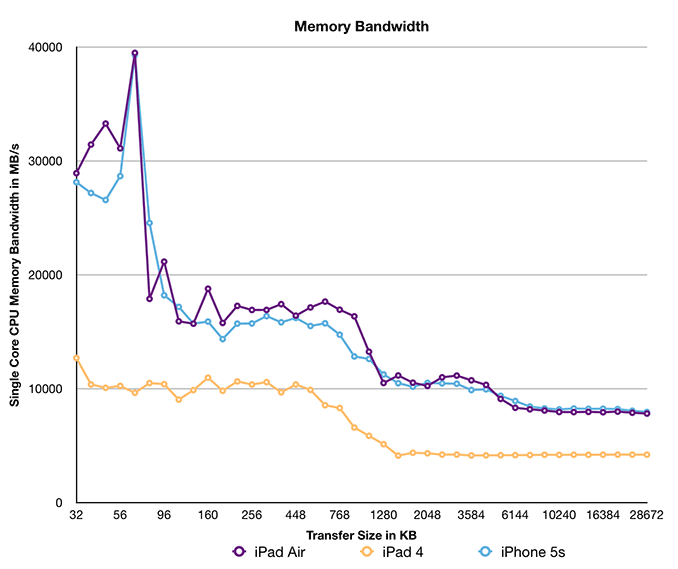 We're only looking at bandwidth seen by a single CPU core, but even then we're talking about 10GB/s. Lookups in this third level cache don't happen in parallel with main memory requests, so the impact on worst case memory latency is additive unfortunately (a tradeoff of speed vs. power).
I don't yet have the tools needed to measure the impact of this on-die memory on GPU accesses, but in the worst case scenario it'll help free up more of the memory interface for use by the GPU. It's more likely that some graphics requests are cached here as well, with intelligent allocation of bandwidth depending on what type of application you're running.
That's the other aspect of what makes A7 so very interesting. This is the first Apple SoC that's able to deliver good amounts of memory bandwidth to all consumers. A single CPU core can use up 8GB/s of bandwidth. I'm still vetting other SoCs, but so far I haven't come across anyone in the ARM camp that can compete with what Apple has built here. Only Intel is competitive.
iPhone to iPad: CPU Changes
Although the iPad Air uses the same A7 from the iPhone 5s (and M7 motion coprocessor), there are a few minor differences that do lead to better performance.
At a high level we're still talking about two 64-bit Apple Cyclone cores with 128KB L1s (64KB I$ + 64KB D$) per core, a shared 1MB L2 cache and a 4MB L3 cache that services the entire SoC. Apple increased CPU frequency from 1.3GHz to 1.4GHz in the iPad Air, a mild increase but in line with what we've seen from previous iPad designs. That's the first impact on performance - a 7.69% increase in CPU frequency.
The second impact on performance is something I only noticed while digging around under the hood of the A7. It seems like the implementation in the iPad Air can, for whatever reason, hold more instructions in flight (over 20% more) than the A7 in the iPhone 5s. It's unclear to me whether the A7 in the iPad is configured any differently via firmware/microcode or if perhaps we're looking at a slightly different revision of the core, but the delta was repeatable in my testing.
The third, and likely biggest change impacting the iPad Air's implementation of the A7 is the additional thermal headroom afforded by the larger chassis. I'm not going to go into details on exactly what this next test does (unfortunately we're going to occlude some of the low level work that we do in light of all of the benchmark cheating going on), but we're looking at a curve of performance vs. time for a particularly power heavy mix of code. We're running the same exact code on both the iPad Air and iPhone 5s here, the only real difference is the size of the chassis: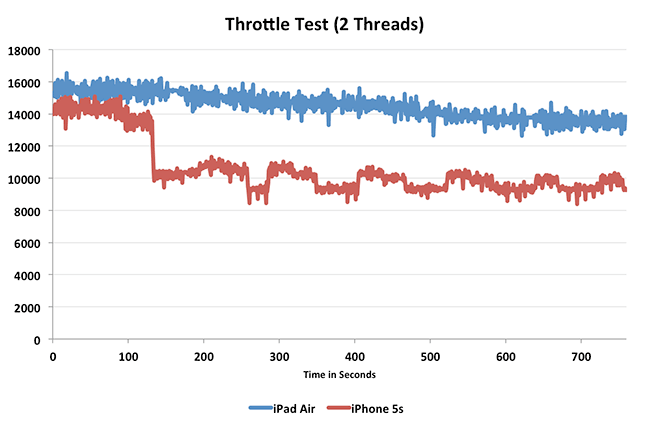 You can see the 5s throttles back its CPU frequency to about 1GHz after the 2 minute mark. The crazy thing is that until that point the 5s manages to run at full frequency without so much as a hiccup for two full minutes, running an incredibly power hungry task. Given that most iOS apps aren't this power intensive for such a sustained period of time, iPhone 5s users should almost always see the A7 running at a full 1.3GHz. Pretty crazy.
The iPad Air by comparison shows much more controlled behavior. Early on in the test we see a 7.7% performance advantage, which lines up perfectly with the iPad Air's 7.7% CPU frequency advantage. By the end of the test the iPhone 5s has throttled to 900MHz, while the iPad Air drops to around 1.2GHz. At this point the iPad Air's performance advantage grows to almost 40%.
CPU Performance
I've gone through our standard set of cross-platform browser based benchmarks to place the iPad Air's performance in perspective. As I mentioned in our 5s review, I don't know that there are many (any?) applications on iOS 7 that can really take advantage of all the A7 has to offer. There's definitely a ton of headroom left in the design. What's particularly exciting is when the A7 ends up in n-1 or n-2 iOS devices and it becomes the minimum developer target going forward.
I won't go through all of the results here again, but it's safe to say that the iPad Air is the fastest ARM based tablet on the planet at this point.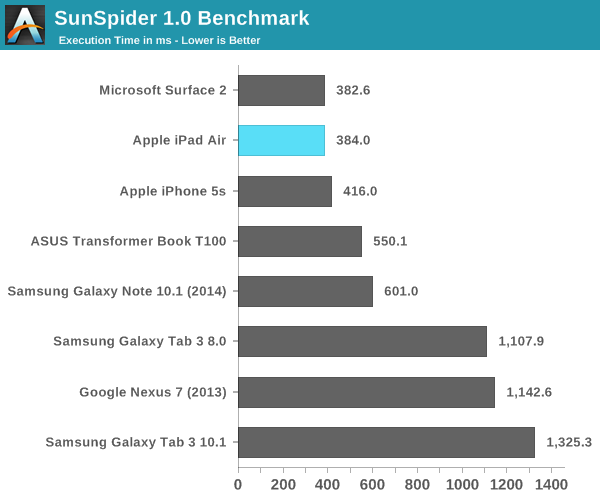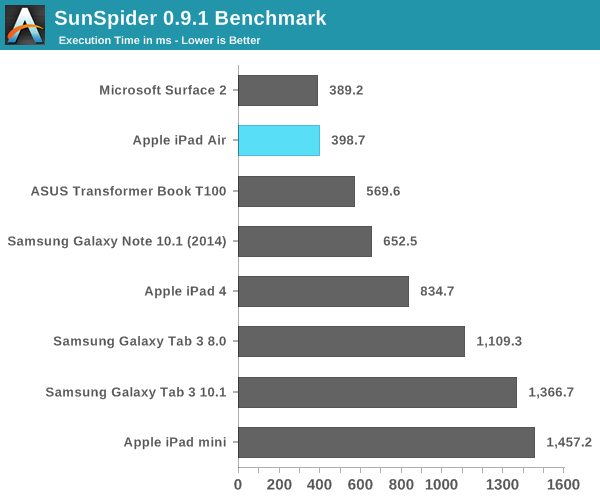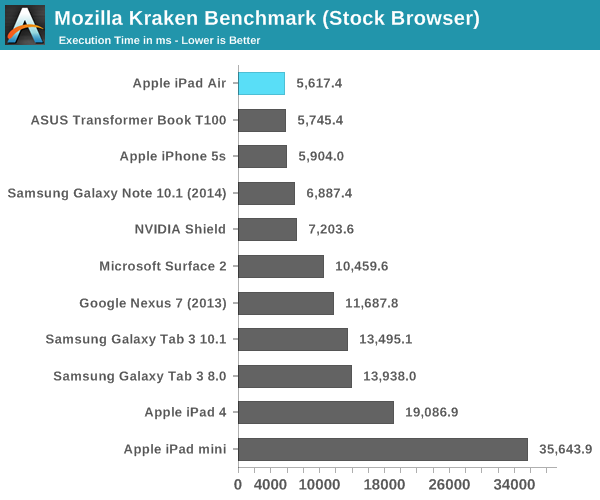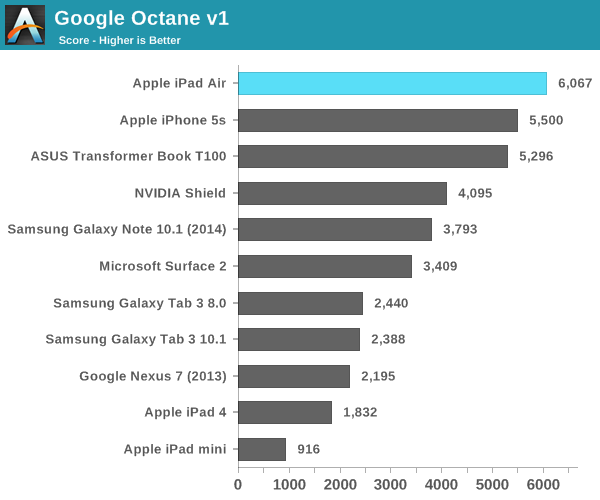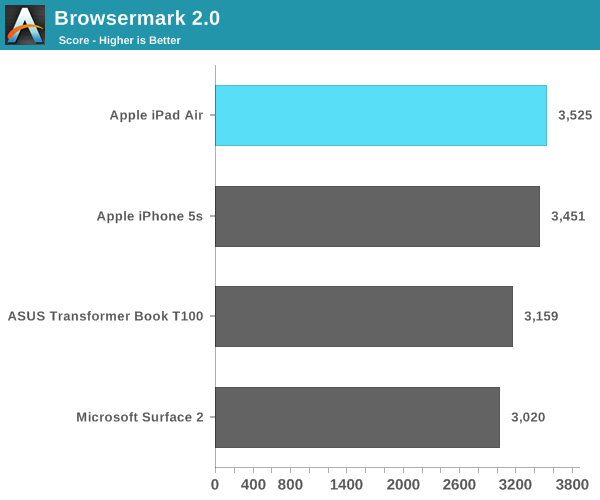 A7 Power Consumption
I'll get to battery life in a bit, but I've been curious about the dynamic range of power consumption offered by Apple's new A7 SoC. On the one hand we're dealing with a lower power process (28nm vs. 32nm), but on the other hand Apple's Cyclone cores can clearly draw more power given how beefy the architecture is this round. Apple frowns upon review sample dissection so I had to turn to a less scientific method of external platform level power measurement. The fidelity of the numbers here aren't all that great but it's better than nothing.
For the first test I measured platform power consumption during a Kraken run: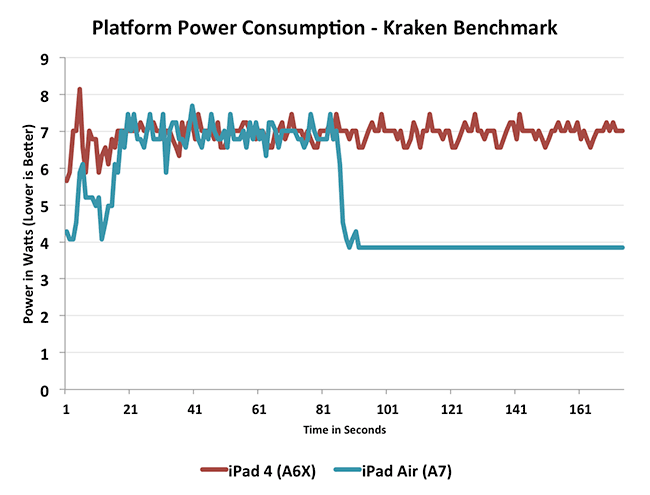 I purposely started measuring before the benchmark so I could get an idea of idle power consumption. The iPad Air consumes roughly 72% of the idle power as the iPad 4, both running at the same brightness. Here we're not just seeing the A7's advantages but also things like lower display power.
Focusing on the load portion of the measurement we see that both the new iPad and old iPad consume the same total power in this test. I suspect the A7 is drawing more power than the A6X, but it's masked by a lower power display. Given how much faster the iPad Air is, Apple's latest tablet features far lower overall task energy than the outgoing iPad 4. This is probably both the best case scenario for the iPad Air and the most likely case as well.
For kicks I wanted to see just how much power I could get the iPad Air to draw. Here I'm looking at platform power during our mini-power-virus test from above: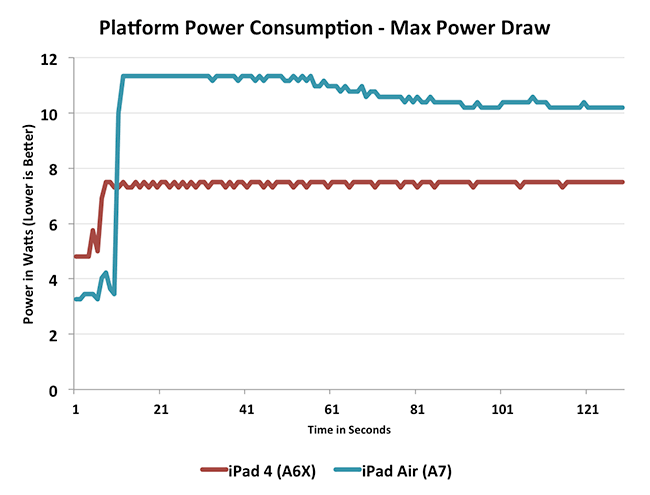 How's that for dynamic range? Almost 12W running all out, but around half that in what we'd normally consider to be a stressful CPU test. I couldn't get any actual applications/games on the iPad Air to behave like this so the results above are purely academic (for now). A quick run through GFXBench 2.7's T-Rex HD test confirms that even pushing the GPU won't hit these numbers. The max I saw running T-Rex offscreen was ~6W, and turning to an actual game (Infinity Blade 3) the iPad Air pulls less than 5W.
GPU Performance
Since the iPad Air uses the same A7 silicon as the iPhone 5s, it also uses the same on-die GPU as the 5s: IMG's PowerVR G6430. This is a 4-cluster configuration of IMG's latest graphics hardware, running at some relatively high frequency. I already went into some detail on the G6430 in our 5s review so I won't rehash that here, but we're basically looking at a shift to a more efficient scalar architecture.
I still don't have confirmations of clock speeds, but I believe we're looking at a max GPU clock of around 450MHz. As you'll see from the results below, there's a small difference in performance between the iPad Air and iPhone 5s in terms of peak GPU performance - implying very similar clocks. The difference is the iPad Air should be able to sustain its max frequency longer than the iPhone 5s can.
Mobile SoC GPU Comparison
PowerVR SGX 554MP4
PowerVR G6430
PowerVR G6430
Used In
iPad 4
iPhone 5s
iPad Air
SIMD Name
USSE2
USC
USC
# of SIMDs
32
4
4
MADs per SIMD
4
32
32
Total MADs
128
128
128
GFLOPS @ 300MHz
76.8 GFLOPS
76.8 GFLOPS
76.8 GFLOPS
GFLOPS as Shipping
68.1 GFLOPS (?)
115.2 GFLOPS
115.2 GFLOPS
Since we're talking about an A7 here and not an X-series SoC, there's still only a 64-bit wide memory interface. As memory bandwidth is a key enabler of GPU performance I was curious to see how GPU performance compared to the outgoing iPad 4 with its much wider memory interface. Do keep in mind that the A7 does include a large system cache on-die, which can help improve effective memory bandwidth.
GFXBench 2.7
We'll start our GPU performance analysis with a look at low level results using GFXBench/GLBenchmark 2.7. The low level tests, particularly the offscreen ones, should give us some idea as to whether or not there's any increase in GPU frequency for the iPad Air vs. iPhone 5s implementations of A7.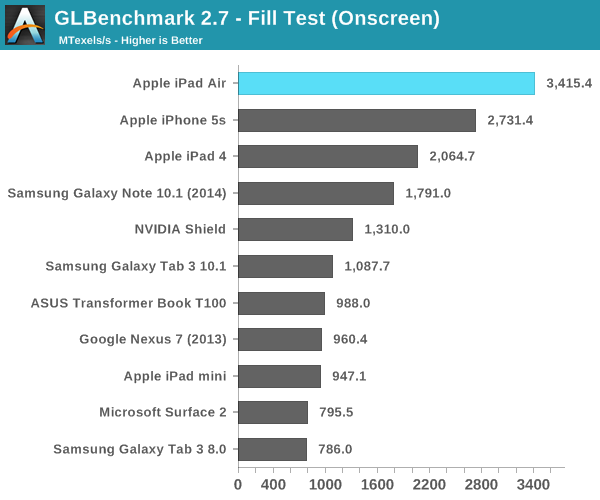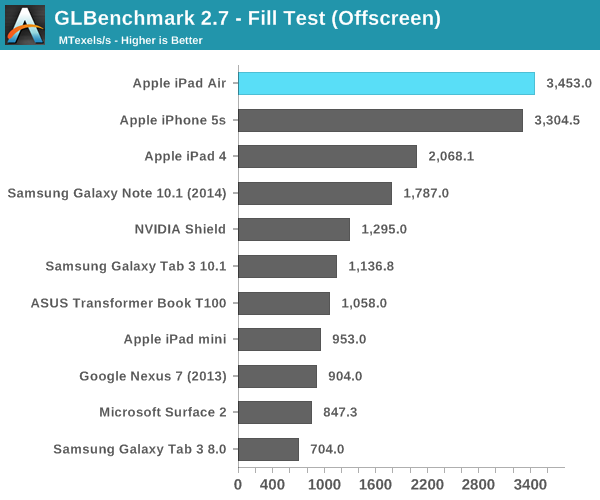 Looking at the fill rate results, there's a 4.5% increase in performance compared to the iPhone 5s. That could be the magnitude of clock increase that we're seeing between A7s. Apple could very well be relying on more thermal headroom in the iPad Air to provide any real world GPU performance advantages over the iPhone 5s.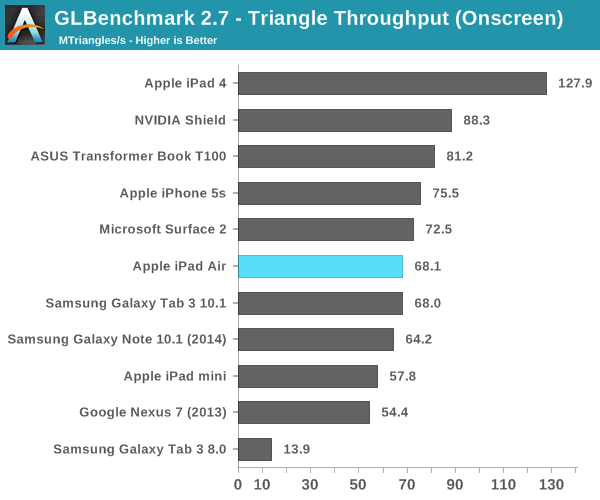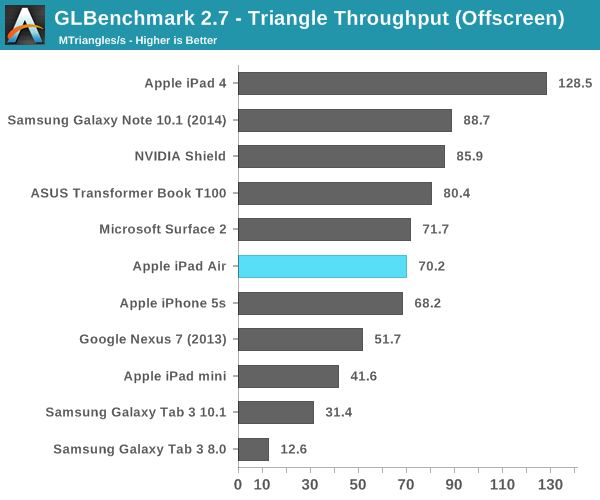 We see an even smaller gap between the Air and 5s in the triangle throughput tests (2.9%). There doesn't seem to be any substantial difference in GPU frequency between A7 implementations here. The regression in triangle rate performance compared to the iPad 4 is explained by differences in how Series 6 and Series 5XT GPUs scale in width. Whereas 5XT replicated nearly the entire GPU for "multi-core" versions, multi-cluster versions of Rogue only replicate at the shader array. The result? We don't see the same sort of peak triangle setup scaling we did back on multi-core 5XT parts. I'm not sure I'm particularly happy with the magnitude of the regression here, but I haven't seen any real world cases where it matters yet.
Next up are the game simulation tests. We'll start with the more strenuous of the two: T-Rex HD.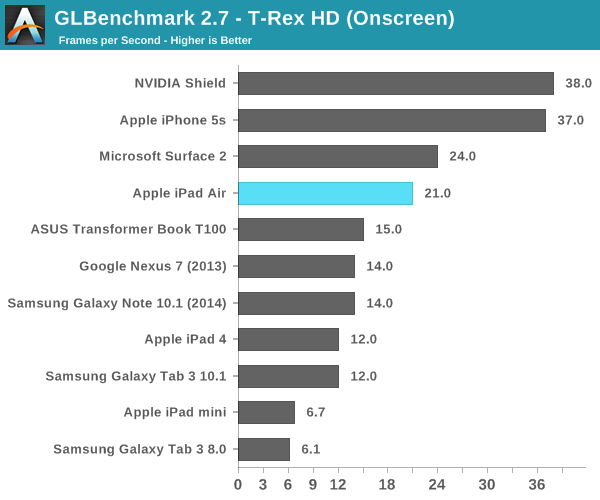 Here we get closer to Apple's claims of a 2x increase in performance. The iPad Air delivers 75% more performance than the iPad 4 in this test. Once again the iPhone 5s pulls ahead but that's because the onscreen tests render at display resolution, which is lower on the 5s.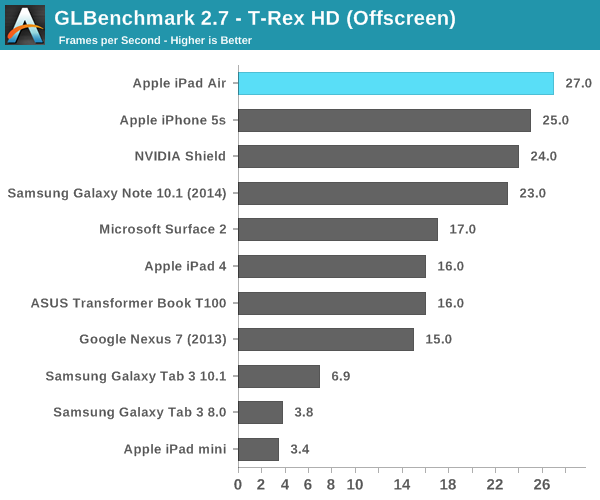 Offscreen performance sees similar scaling: ~69% better performance compared to the iPad 4.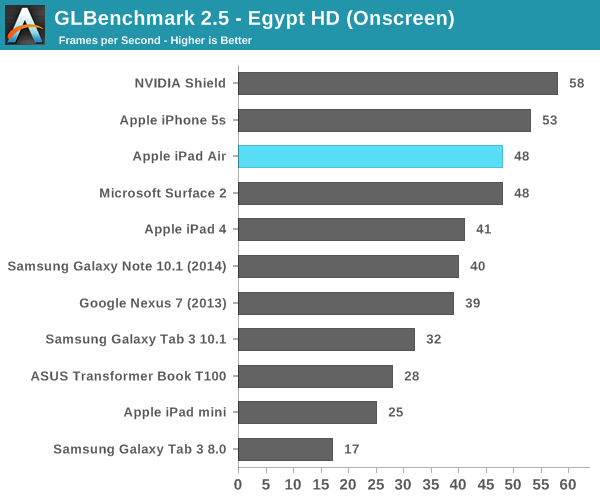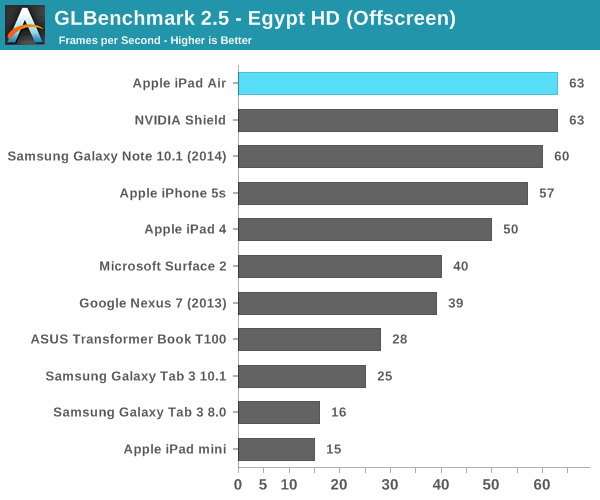 3DMark
We're once again running 3DMark's newest Unlimited mode which does its best to run independently of v-sync and at a standard resolution across all devices. I've also included 3DMark Extreme results below that feature a few more comparison points.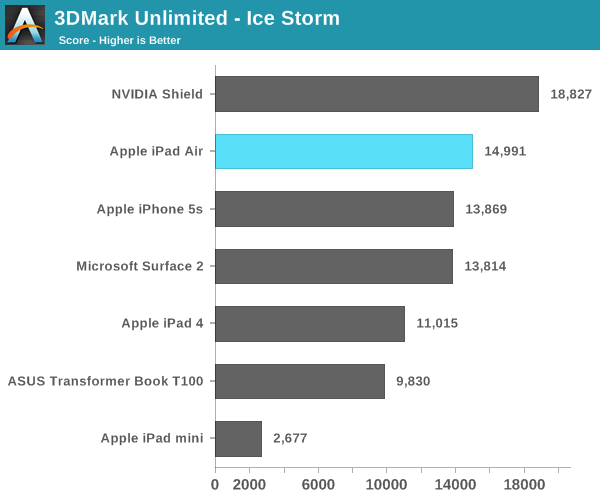 The overall Ice Storm scores show a 36% improvement in performance over the iPad 4 and an 8% increase compared to the iPhone 5s. Given the CPU frequency advantage of the A7 in the Air vs. the iPhone 5s, I'm guessing that's why we're seeing the performance gap we are here.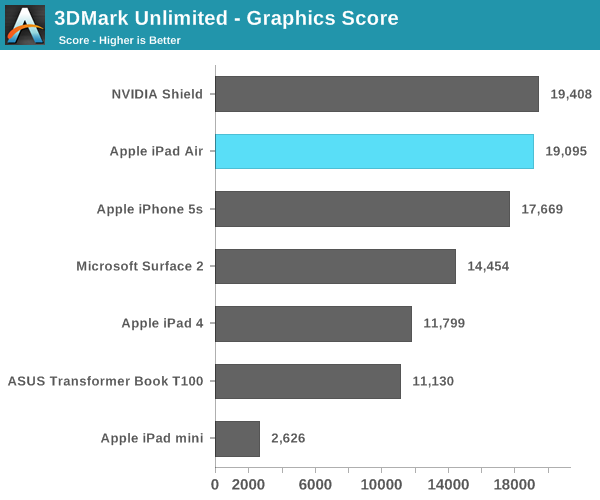 If we focus exclusively on the GPU tests (which themselves are still CPU bound), the iPad Air's performance advantage over the iPad 4 grows to over 60%.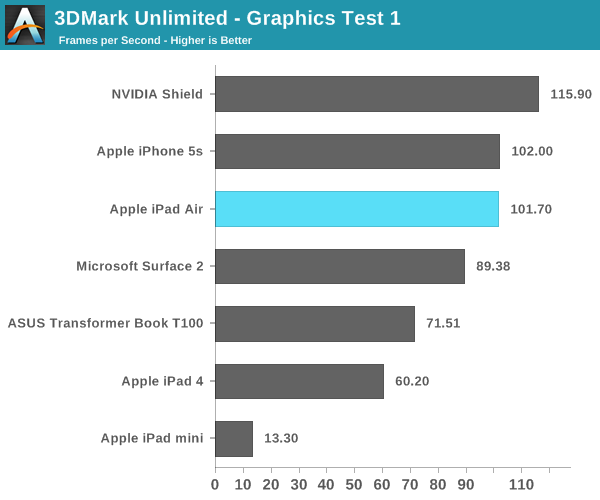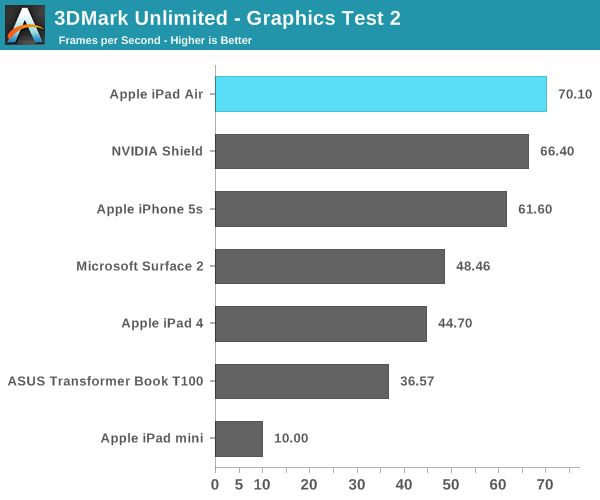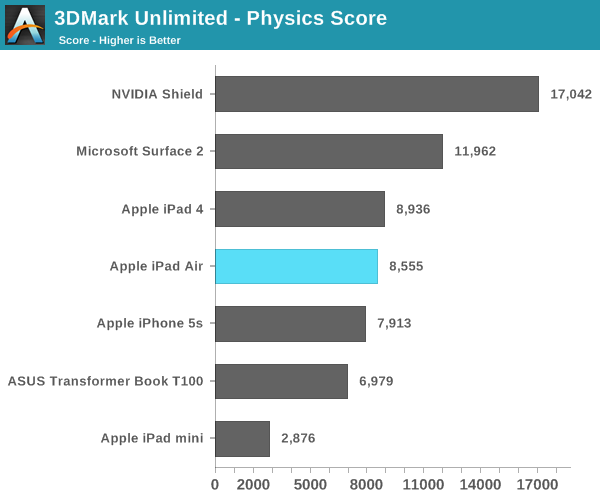 I'm still not entirely sure what's going on with the 3DMark Physics test, but we've seen this two reviews in a row now where Cyclone showed no performance increase at all compared to Swift despite this being largely a CPU test.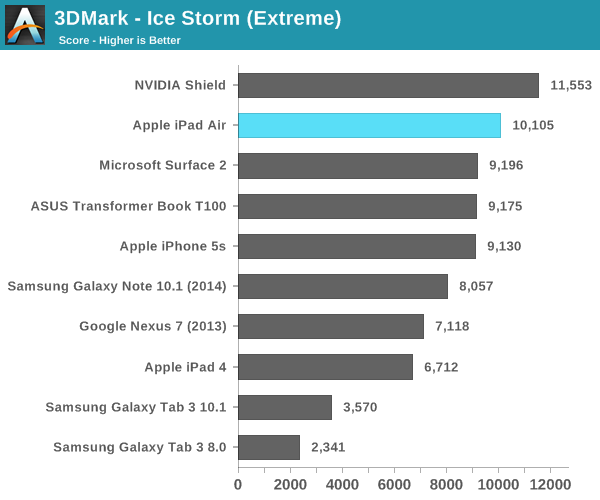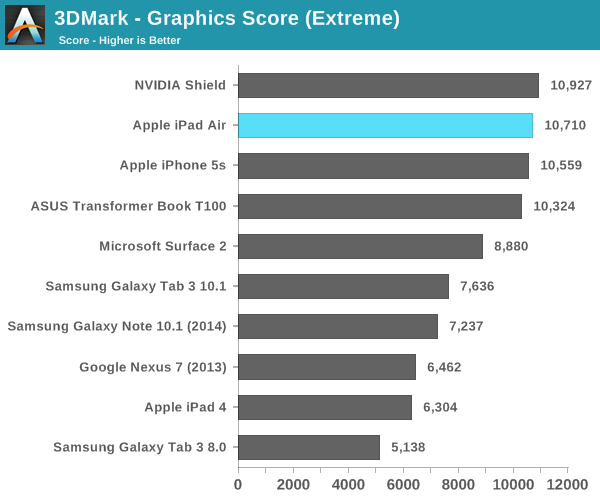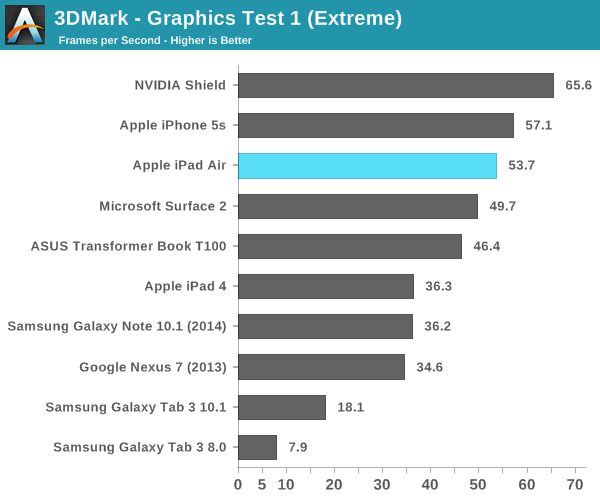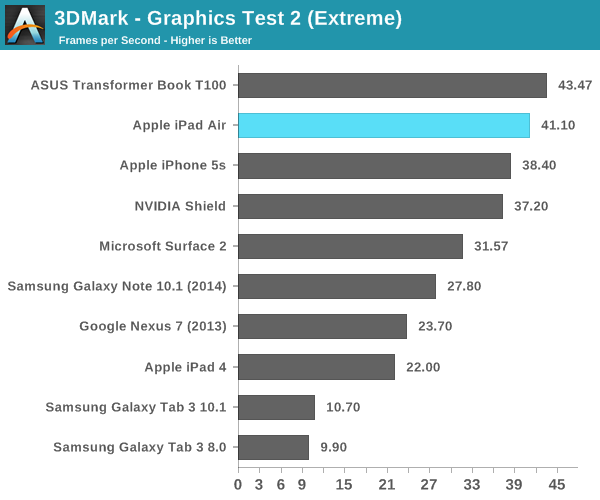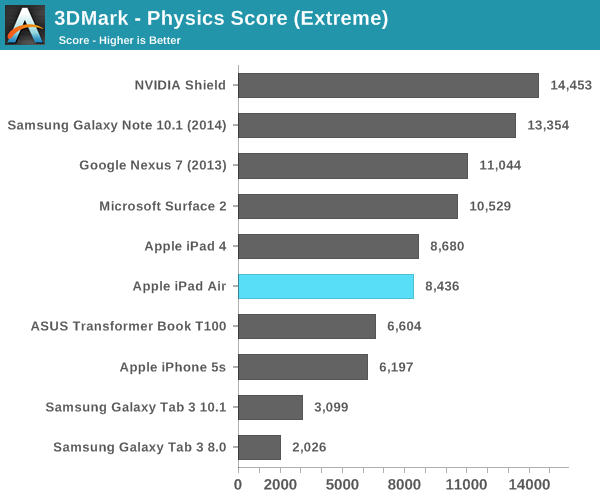 Basemark X
Basemark X is a new addition to our mobile GPU benchmark suite. There are no low level tests here, just some game simulation tests run at both onscreen (device resolution) and offscreen (1080p, no vsync) settings. The scene complexity is far closer to GLBenchmark 2.7 than the new 3DMark Ice Storm benchmark, so frame rates are pretty low.
I'm still having random issues with Basemark X reliably running both on and offscreen tests on iOS 7. Unfortunately I could only get onscreen results for the iPad Air, which came in at 46% faster than the iPad 4. Note the iPad mini and iPhone 5s benefit from having lower native resolutions here, which is why they perform so well.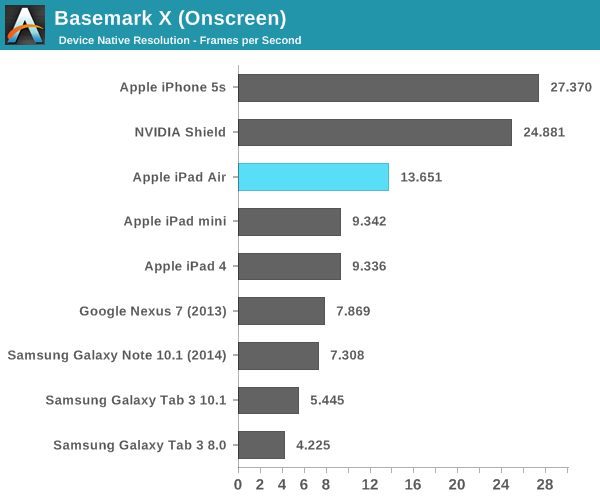 Display
In building the iPad Air Apple shrunk all elements of the tablet's design, including the thickness of the display. We're still dealing with a 9.7-inch 4:3 2048 x 1536 IPS LCD panel with true RGB stripe rather than some weird subpixel structure. Viewing angles are still great, and overall the display remains the best you can get at this size.
The iPad Air continues Apple's recent history of shipping color calibrated displays. Color accuracy on my iPad Air review sample is better than on any previous iPad I've ever tested, in fact it's more accurate than any other tablet I've ever tested. The numbers are easily backed up by images that show a vibrant and, more importantly, accurate display.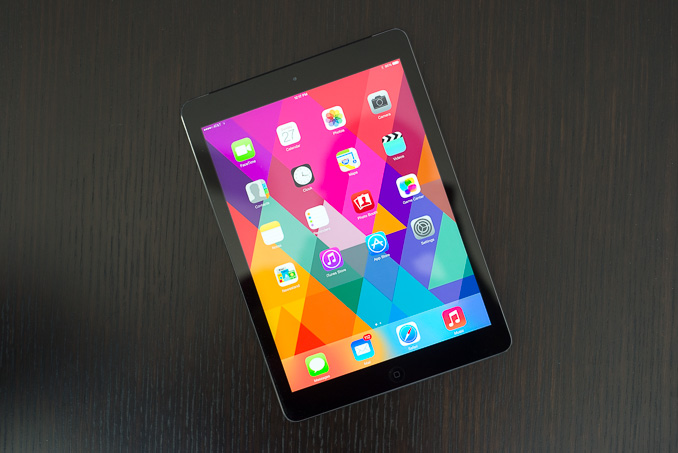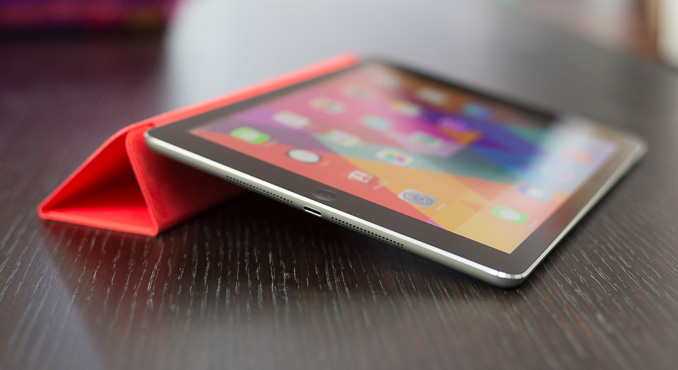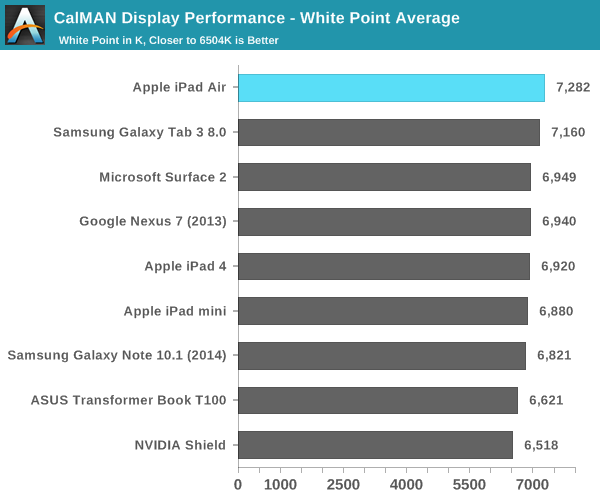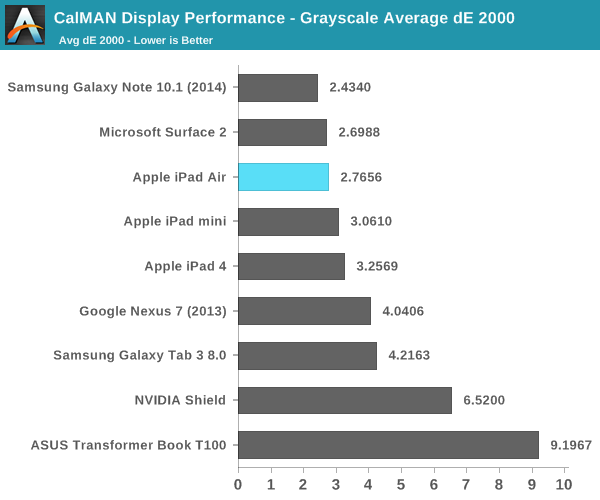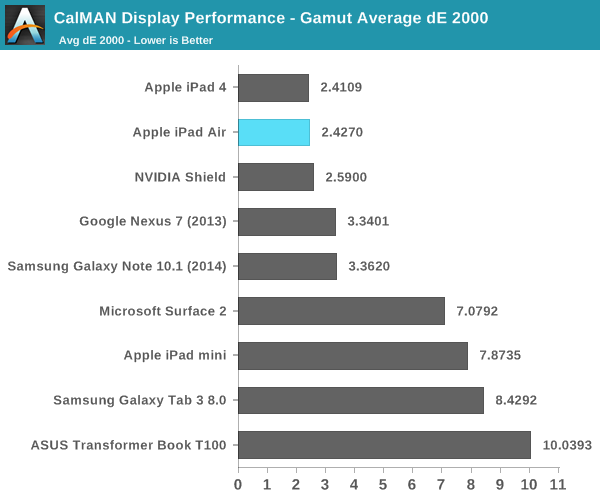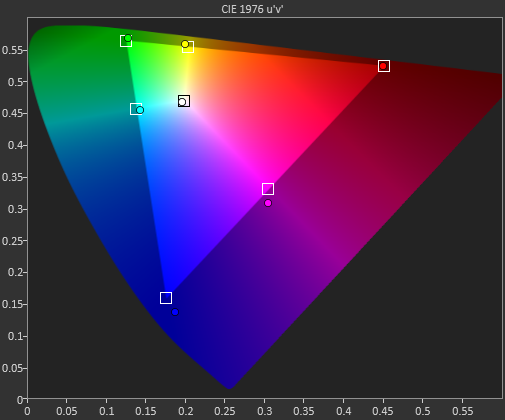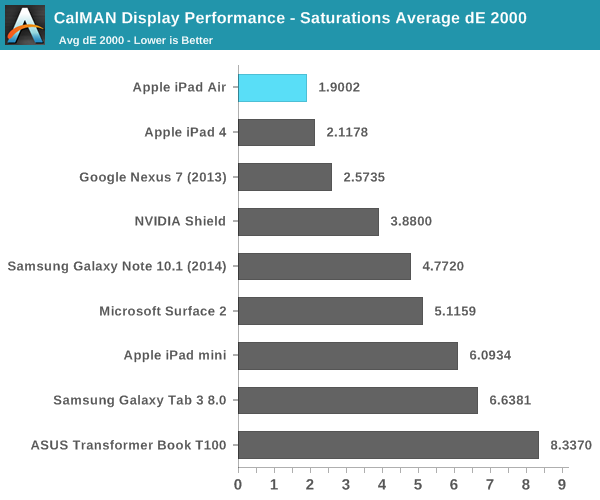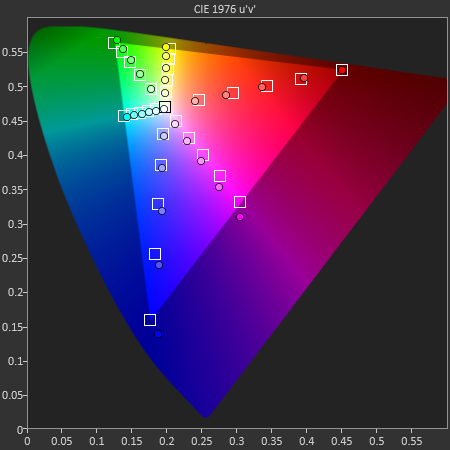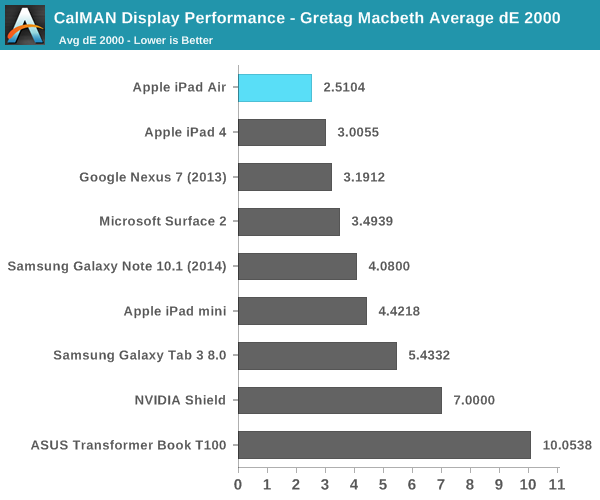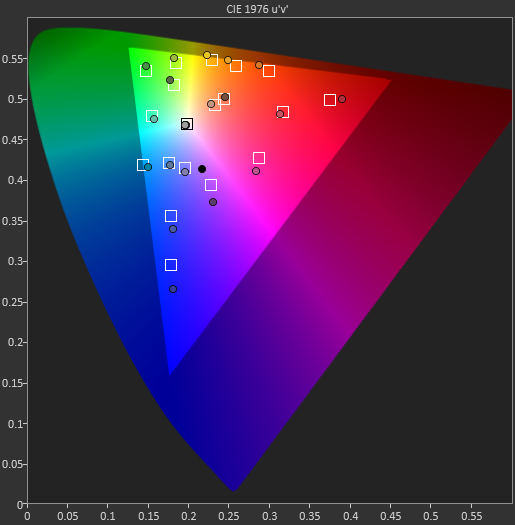 The iPad Air gets pretty bright at 426 nits, although black levels aren't all that impressive at 0.44 nits. Overall contrast ratio is in line with what we've seen from previous iPads. My only complaint on the display front is I would like to see Apple laminate the cover glass to the LCD display. Reducing reflections would go a long way towards improving the usability of the device, not to mention the impact that would have on improving display quality in dark movie scenes.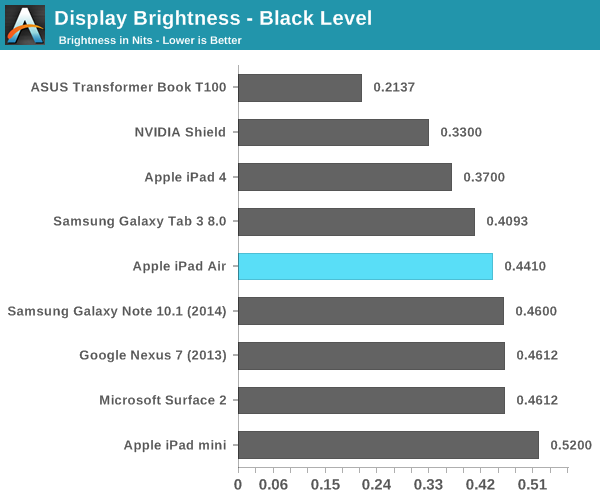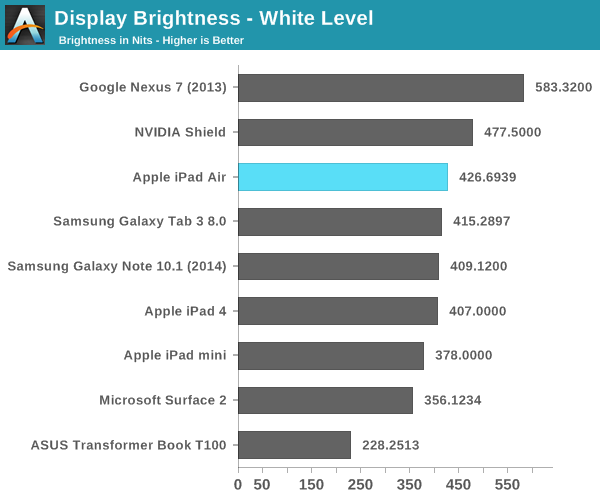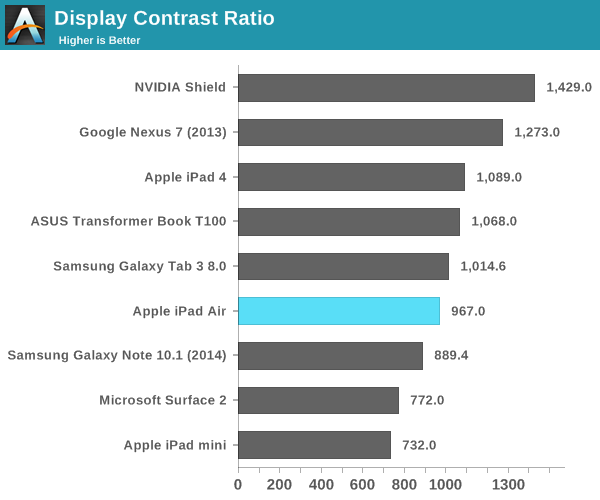 Camera
Front and rear facing cameras are necessary features on all modern, premium tablets. The usage model for a rear facing camera on a tablet is hopefully not as a primary image capture device but rather a convenient one. The idea being that if you're on location somewhere using the iPad for work or play and need to quickly grab an image, having a decent rear facing camera can come in handy rather than having to put away your tablet, pull out your phone and then switch back afterwards.
Apple has improved its iPad imaging systems almost every single generation. That being said, the iPad Air is a bit of an exception to the rule as it retains the same rear camera sensor as the 4th generation iPad. We're still talking about a 5MP sensor with f/2.4 lens, although the iPad Air now has a wider field of view with a 3.3mm focal length (identical to the original iPad mini).
Rear Facing Camera Comparison
Sensor
Resolution
Aperture
Focal Length
Apple iPad Air
5MP
2592 x 1936
f/2.4
3.3mm
Apple iPad 4
5MP
2592 x 1936
f/2.4
4.3mm
Apple iPad 3
5MP
2592 x 1936
f/2.4
4.3mm
Apple iPad 2,4
0.7MP
960 x 720
f/2.4
2.0mm
Apple iPad mini
5MP
2592 x 1936
f/2.4
3.3mm
The rear facing camera tends to shoot at lower ISOs than the rear camera on the iPad 4. Since there's no substantial change in the sensor or lens system however, the result is less noise but a darker image in low light situations. I suspect this might be more of a configuration default for the software layer driving the H6 ISP in Apple's A7. Image quality is surprisingly good: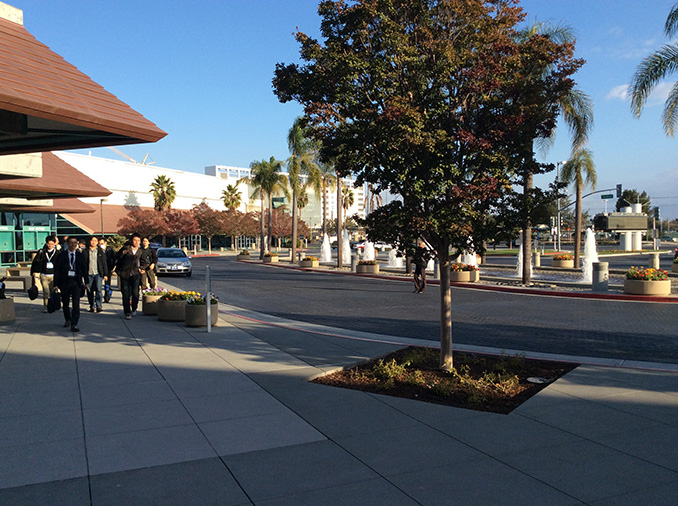 Even lower light shots come out fairly well: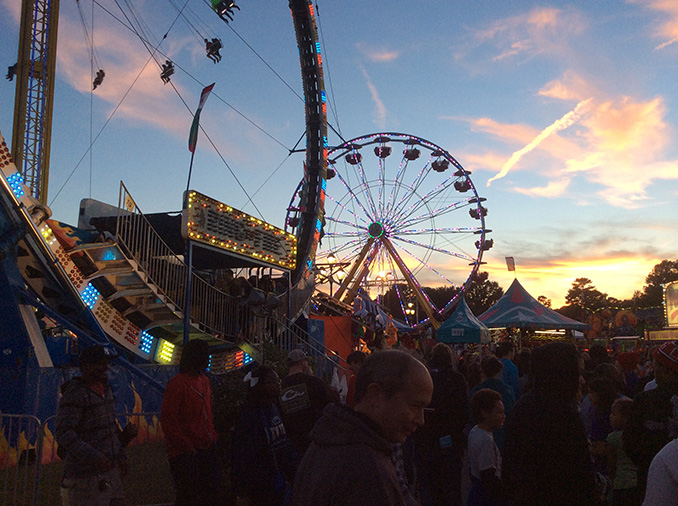 Although obviously noise goes up appreciably once you get into really dark scenes: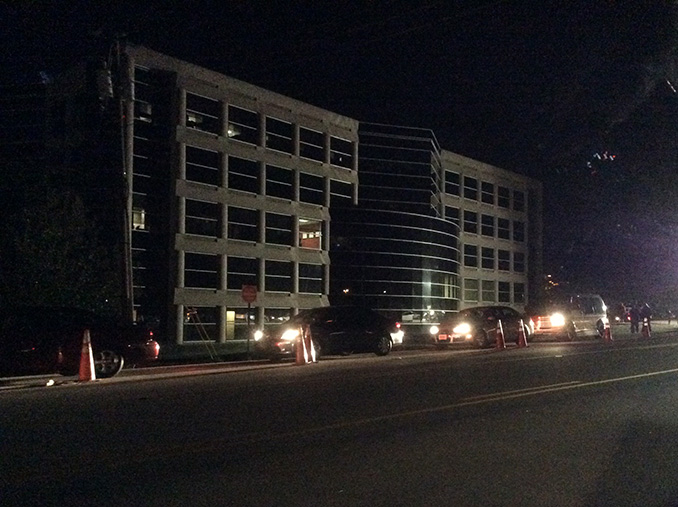 I took a bunch of photos at the NC State Fair as well as on my trip out to Santa Clara following the iPad launch event in the gallery below.
Despite using the same ISP as the iPhone 5s, there's no 10 fps burst capture mode on the iPad Air. Similarly there's no slo-mo video recording mode either. The iPad Air does inherit the other benefits of the new H6 ISP however. Image capture is still insanely quick, which makes me wonder if the A7's ISP also leverages that large on-die system cache.
Front Facing Camera Comparison
Sensor
Resolution
Aperture
Focal Length
Apple iPad Air
1.2MP
1280 x 960
f/2.4
2.15mm
Apple iPad 4
1.2MP
1280 x 960
f/2.4
2.18mm
Apple iPad 3
0.3MP
640 x 480
f/2.4
1.8mm
Apple iPad 2,4
0.3MP
640 x 480
f/2.4
1.8mm
Apple iPad mini
1.2MP
1280 x 960
f/2.4
2.2mm
The front facing camera does see an improvement in sensitivity thanks to a larger sensor format. My understanding is this is the same sensor/lens combination as what's in the iPhone 5s and 5c. Similarly to its implementation in the 5s, Apple seems to use the new front facing camera system to drive to lower ISOs and/or higher shutter speeds. You typically end up with a lower noise/sharper image, although sometimes there is a brightness/exposure tradeoff.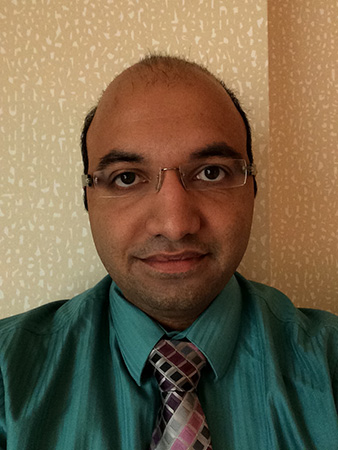 The other feature leveraged by the new front facing camera is the inclusion of a second microphone for noise cancellation. The goal here is to use the second mic to cancel out background noise and improve the quality of the audio you're actually trying to record (presumably your voice during FaceTime for example). The impact is pretty noticeable. I ran an iPad 4 and an iPad Air side by side while playing a background track and have embedded the resulting videos below:
In the iPad Air sample video my voice comes across considerably clearer, as you'd expect given the Air's second mic.
Video
Video capture settings look unchanged from the iPad 4. We're still dealing with ~17Mbps High Profile videos from the rear camera and ~10Mbps Baseline Profile H.264 from the front camera.
Video quality out of both is pretty good for a tablet. In well lit scenes rear camera quality is definitely sufficient for sharing on the web.
WiFi
The iPad Air moves to a 2-stream dual-band 802.11n solution, a sort of compromise between where the iPad was with its previous single-stream implementation and some of the newer devices shipping with 802.11ac. Moving to two spatial streams obviously helps improve performance tremendously. Peak performance on 5GHz 802.11n, assuming an equally capable AP, went as high as 180Mbps in my tests. I was able to average 168Mbps during our standard UDP WiFi test on 5GHz.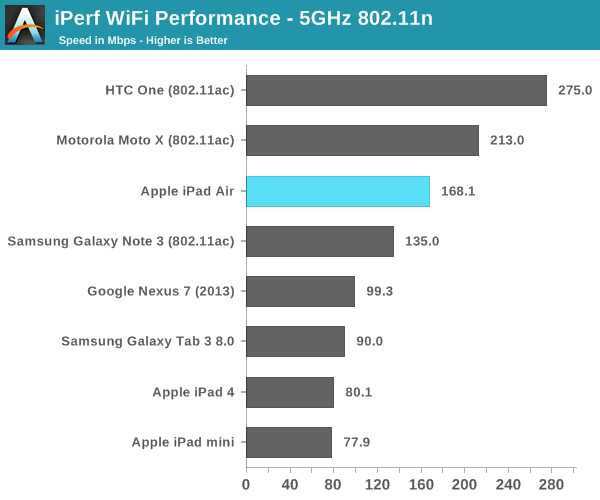 Cellular
Apple continues to use Qualcomm's MDM9615 modem in the iPad Air, the big difference this round is there's only a single SKU (A1475) for the cellular model covering a total of 34 countries across the Americas and EMEA. The LTE iPad Air supports a total of 14 LTE bands (1,2,3,4,5,7,8,13,17,18,19,20,25 and 26). In his usual awesome fashion, Brian speculated that the increased number of supported LTE bands was partially a function of moving to Qualcomm's WTR1605L transceiver.
iPad Cellular Speeds
Property
iPhone 3G/3GS/iPad 1 3G
iPhone 4 / iPad 2 (GSM/UMTS)
iPhone 4 / iPad 2 (CDMA)
iPad 3
iPad 4/iPad Mini
iPad Air/iPad Mini w/Retina
Baseband
Infineon X-Gold 608
Infineon X-Gold 618
Qualcomm MDM6600
Qualcomm MDM9600
Qualcomm MDM9615 w/RTR8600
Qualcomm MDM9615
w/WTR1605L
Max 3GPP Release Feature
Release 5
Release 6
Release 7
Release 9
Release 9
Release 9
HSDPA Category
Cat.8 - 7.2 Mbps
Cat.8 - 7.2 Mbps
N/A
Cat. 24 - 42 Mbps
Cat. 24 - 42 Mbps
Cat. 24 - 42 Mbps
HSUPA Category
None - 384 Kbps WCDMA only
Cat.6 - 5.76 Mbps
N/A
Cat.6 - 5.76 Mbps
Cat.6 - 5.76 Mbps
Cat.6 - 5.76 Mbps
EVDO
N/A
N/A
1x/EVDO Rev.A
1x/EVDO Rev.A
1x/EVDO Rev.A
1x/EVDO Rev.A
LTE
N/A
N/A
N/A
100/50 UE Cat. 3
100/50 UE Cat. 3
100/50 UE Cat. 3
From a spec and performance standpoint, the LTE modem in the iPad Air is no different than what was in the 4th generation iPad. Consistent cellular connectivity options remains one of the staples of the iPad lineup. Although WiFi tablets still tend to be the more popular, it's hard to argue with the productivity benefit to having LTE on a tablet. Being able to just reach for the iPad Air and know it'll have connectivity regardless of where I am, without having to search for and log in to a WiFi network, is tremendously convenient.
Just as before, there's no contract commitment necessary to buy an LTE iPad Air. You can manage your account directly on the device itself. Furthermore, at least in the US, the LTE iPad Air isn't locked to any one network operator. You specify what provider you'd like to go with at the time of purchase, but afterwards you're able to swap in any other activated nano SIM from a supported network operator. You could feasibly start out with a Sprint iPad Air and later switch to a Verizon, T-Mobile or AT&T SIM and continue using the device. The flexibility offered by a single SKU with support for a ton of bands is pretty awesome.
Battery Life
With the iPad Air Apple moved to a 32.4Wh battery, a significant decrease from the 42.5Wh unit in the 3rd and 4th generation iPads. The smaller battery doesn't come with a change to Apple's claim of 10 hours of battery life, which implies a reduction in overall platform power. I confirmed a substantial reduction in platform power in my crude measurements earlier in the article. Although it's possible for the iPad Air to draw substantially more power than the iPad 4, our earlier power data seems to imply that it's unlikely given the same exact workload. Our battery life tests agree.
We'll start with our 2013 smartphone/tablet web browsing battery life test. As always all displays are calibrated to 200 nits. The workload itself is hidden from OEMs to avoid any intentional gaming, but I've described it at a high level here.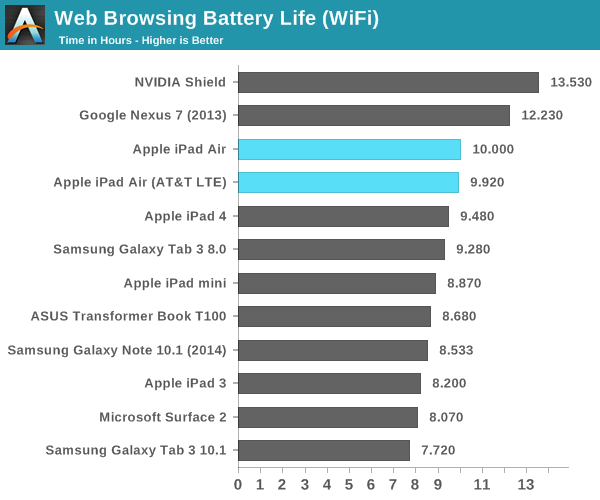 Our web browsing workload came in at exactly 10 hours of continuous usage - an improvement compared to the iPad 4. Battery life on LTE was good as well, consistently delivering just under 10 hours of usage. The fact that both LTE and WiFi tests deliver similar results tells me that we may be bottlenecked by some other component in the system (perhaps display?).
I've been running the same video playback test for a while now, although we're quickly approaching a point where I'll need to move to a higher bitrate 1080p test. Here I'm playing a 4Mbps H.264 High Profile 720p rip I made of the Harry Potter 8 Blu-ray. The full movie plays through and is looped until the battery dies. Once again, the displays are calibrated to 200 nits: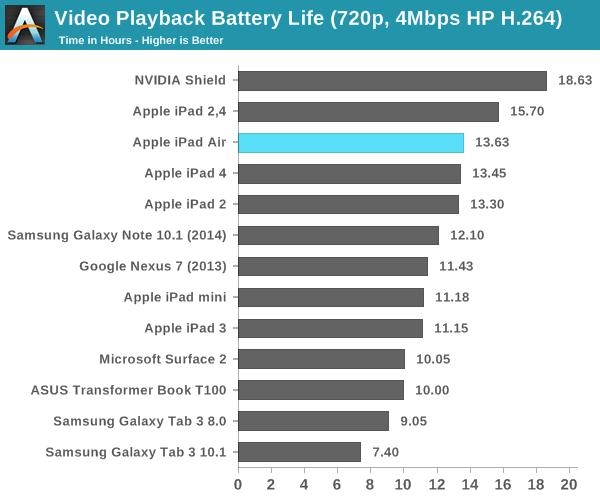 Video playback battery life also improves slightly compared to the iPad 4. Apple's battery life claims aren't usually based around video playback, so exceeding their 10 hour suggestion here shouldn't come as a shock. Apple's video decode power has always been extremely low.
Our final cross-platform battery life test is based on Kishonti's Egypt HD test. Here we have a loop of the Egypt HD benchmark, capped to 30 fps, running on all of the devices with their screens calibrated to 200 nits.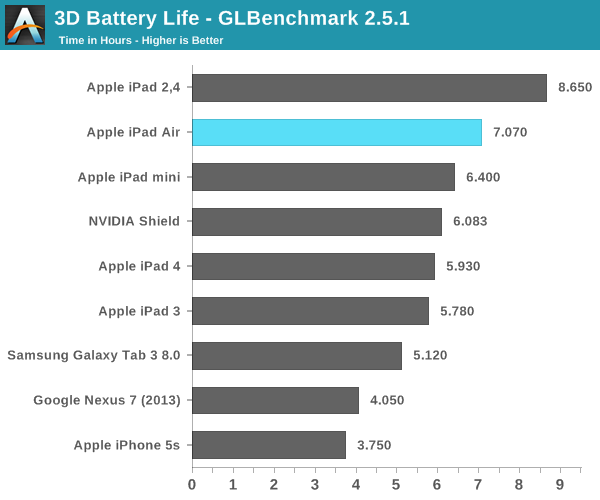 Our 3D battery life rundown test shows a substantial improvement in battery life over the iPad 4. IMG's PowerVR G6430, running a moderate workload, can do so more efficiently than any of the previous generation GPUs in Apple's SoCs. Much like the A7's CPU cores however, there's a wider dynamic range of power consumption with the G6430. Running at max performance I would expect to see greater GPU power consumption. The question then becomes what's more likely? Since the majority of iOS games don't target the A7 (and instead shoot for lower end hardware), I would expect you to see better battery life even while gaming on the iPad Air vs the iPad 3/4.
Charge Time
The iPad Air comes with the same 12W USB charger and Lightning cable that we first saw with the iPad 4. Having to only charge a 32.5W battery means that charge times are lower compared to the iPad 3 and 4: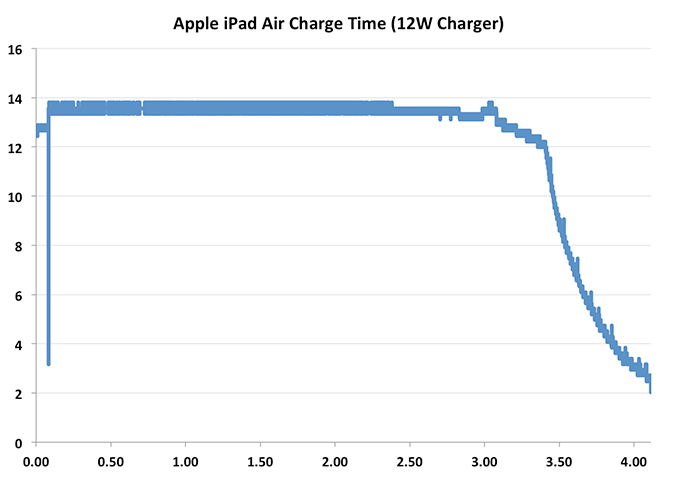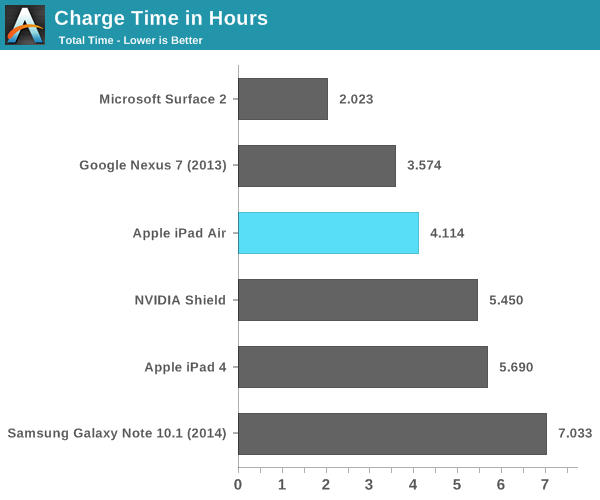 A full charge takes a little over 4 hours to complete. The adapter delivers as much as 12W to the iPad, drawing a maximum of 13.5W at the wall. I still think the sweet spot is somewhere closer to 2.5 hours but that's another balancing game that must be played between charge time and maintaining battery health. It's still so much better than the ~6 hours of charge time for the iPad 3 and 5.69 hours for the iPad 4.
Usability & iOS 7
The iPad Air remains one of the best consumer tablet experiences around. The OS and Apple's first party applications are both extremely well suited to the tablet, and there's a very healthy ecosystem of third party applications to fill in the gaps left by Apple.
Lately Apple has been doing wonders to limit those gaps. Both iLife and iWork suites are now free with the purchase of any new iOS 7 device, including the iPad Air. Previously each of the three iLife apps set you back $5 a piece ($15 total), while the iWork apps were priced at $10 a piece ($30 total). Apple has truly embraced its role as a devices and software company and is using the latter to help sell the former. On the one hand this is an admission that the market is growing more competitive, as tossing in free software is a great differentiator. On the other hand, freeing up iLife/iWork is a vote of confidence in Apple's ability to continue to demand a premium for its hardware. Neither suite comes preinstalled on the iPad Air, but upon a visit to the App Store users are reminded that they can get all six of the apps for free if they should desire to. I suspect part of the reason that they're not bundled by default is to avoid eating up space on the devices with less NAND by default.
The core iOS apps are quite approachable and easy to use. Applications like Safari and Mail make great use of the high resolution screen. Obviously the same can be said for things like Photos and iPhoto. The virtual keyboard experience is great on the large display (especially in landscape mode). Honestly, if there was a good Google Hangouts app (the Android version is much better in my experience) for iOS 7 I think I could be very comfortable and productive on the iPad Air.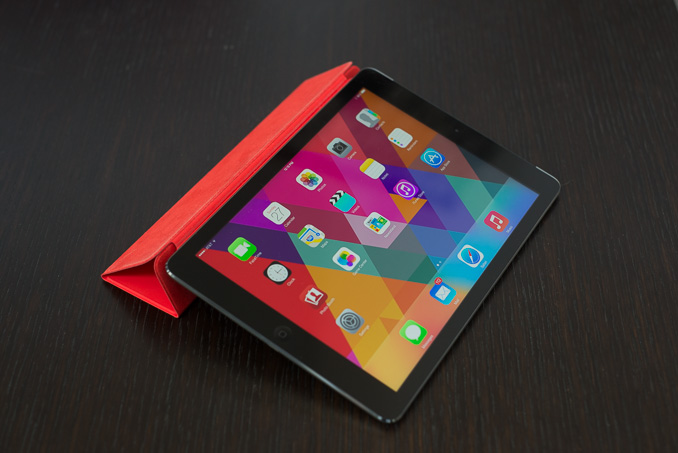 I find that task switching is far better on the iPad than it is on the iPhone since multitasking gestures are supported. A four finger swipe left/right between applications or up/down to bring up the task switcher is so much quicker for me than a double tap of the physical home button. Similarly a five finger pinch to get back to the home screen from any application is significantly faster. The new iOS 7 multitasking UI feels so much more at home on the iPad's large display as well.
My only complaint about task switching on the iPad Air is that UI frame rate will regularly drop below 30 fps during some of these transitions. The added GPU performance on the A7 doesn't seem to really impact things compared to the A6X, so I'm fairly convinced at this point that the solution to the problem will have to come in software. It's quite reminiscent of the Retina MacBook Pro UI frame rate issues under Mountain Lion, although not nearly as bad (and I'm hoping it won't take a year to get these ones resolved).
The release of iOS 7.0.3 addressed (at least partially) some of my concerns around the OS. As I already mentioned, stability on 64-bit platforms seems somewhat improved - at least compared to the initial release of iOS 7. The other big improvement in my mind is the ability to turn off/reduce the transition animations. The impact to usability on the iPhone 5s is huge, but it's also pretty significant on the iPad Air. The animations themselves are pretty but I find that they get repetitive after continued use.
Memory Size & The Impact of 64-bit Applications
The iPad Air, like the iPhone 5s, ships with 1GB of LPDDR3 memory. Apple frowns upon dissection of review samples but I think it's a safe bet that we're not talking about a PoP (Package-on-Package) configuration but rather discrete, external DRAM here. It's also probably a safe bet that even the iPad mini with Retina Display will ship with 1GB of memory as well.
Something I didn't have time to address in my iPhone 5s review was the impact of 64-bit applications on memory usage. I actually ran some tests after the 5s review hit but never got the chance to share the data, so I figured now is as good a time as any to do just that.
Unlike traditional desktop OSes, iOS doesn't support paging to disk (or in this case, NAND). Application data can either reside in memory or the associated process is terminated and has to be reloaded the next time you request it. It's a decision likely made to both maintain user experience and limit the number of program/erase cycles on the internal NAND.
The good news is that iOS was architected to run on as little hardware as possible and as a result tends to be quite memory efficient. There are also power implications of going to larger memories. The combination of these two things has kept Apple on the conservative side of increasing memory capacity on many iDevices.
The move to a 64-bit platform however does complicate things a bit. Moving to a larger memory address space increases the size of pointers, which in turn can increase the footprint of 64-bit applications compared to their 32-bit counterparts. So although there's clearly a performance uplift from app developers recompiling in 64-bit mode (more registers, access to new instructions), there's also an associated memory footprint penalty. Since the iPad Air and iPhone 5s don't feature a corresponding increase in memory capacity, I wondered if this might be a problem going forward.
To find out I monitored total platform memory usage in a couple of scenarios. Before measuring I always manually quit all open apps and performed a hard reset on the device. Note that the data below is reporting both clean and dirty memory, so it's possible that some of the memory space could be recovered in the event that another process needed it. I hoped to minimize the impact by always working on a cleanly reset platform and only testing one app at a time.
I looked at memory usage under the following scenarios:
1) A clean boot with no additional apps open
2) Running Mobile Safari with 4 tabs open (two AnandTech.com tabs, two Apple.com tabs, all showing the same content)
3) Infinity Blade 3 (64-bit enabled) sitting at the very first scene once you start the game
4) iOS Maps in hybrid view with 3D mode enabled, with a WiFi assisted GPS lock on my physical location
5) Google Maps in the same view, under the same conditions. I threw in this one to have a 32-bit app reference point.
In general you're looking at a 20 - 30% increase in memory footprint when dealing with an all 64-bit environment. At worst, the device's total memory usage never exceeded 60% of what ships with the platform but these are admittedly fairly light use cases. With more apps open, including some doing work in the background, I do see relatively aggressive eviction of apps from memory. The most visible case is when Safari tabs have to be reloaded upon switching to them. Applications being evicted from memory don't tend to be a huge problem since the A7 can reload them quickly.
The tricky part is you don't really need all that much more memory. Unfortunately as with any dual-channel memory architecture, you're fairly limited in how you can increase memory capacity and still get peak performance. Apple's only move here would be to go to 2GB, which understandably comes with both power and financial costs. The former is a bigger concern for the iPhone 5s, but on the iPad Air I would've expected a transition sooner rather than later.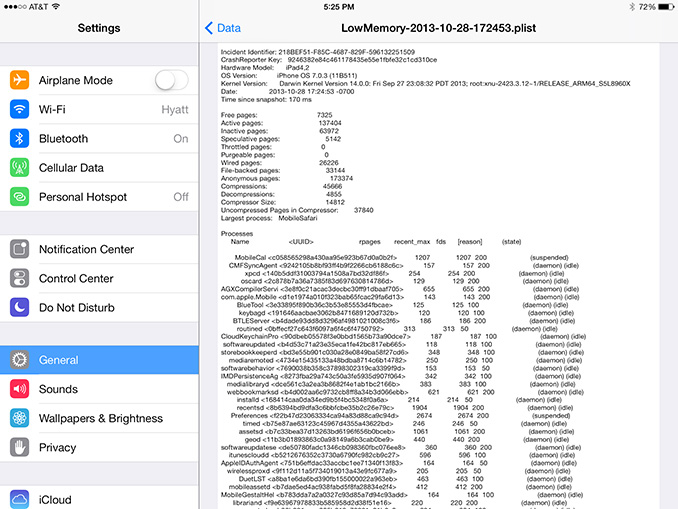 Although things seem to have improved with iOS 7.0.3, the 64-bit builds of the OS still seem to run into stability issues more frequently than their 32-bit counterparts. I still see low memory errors associated with any crashes. It could just be that the move to 64-bit applications (and associated memory pressure) is putting more stress on iOS' memory management routines, which in turn exposes some weaknesses. The iPad Air crashed a couple of times on me (3 times total during the past week), but no where near as much as earlier devices running iOS 7.0.1.
Final Words
Two weeks ago I had all but written off the bigger iPad. It was too bulky and just no where near as portable as the iPad mini. Once the latter gets a Retina Display and equal hardware across the board, why would anyone consider the bigger model?
The iPad Air changed my perspective on all of that. It really does modernize the big iPad. While I suspect there are still going to be a lot of users who prefer the smaller form factor of the iPad mini with Retina Display, I do feel like there are those users who will continue to appreciate all of the benefits that go along with having a larger display. Text is easier to read, particularly on desktop versions of websites. Photos and videos are larger and thus more engaging as well. In the past there was this complex matrix of tradeoffs that you had to make between iPad and iPad mini. This generation, Apple does away with all of that.
All you need to do is pick your screen size. If you prefer the 9.7-inch form factor of the original iPad, the Air gets you as close as possible to a mini without giving up that display size.


From top to bottom: iPad mini, iPad Air, iPad 4
The name does the product justice in this case. In two hands or lightly propped up against something (palm, legs, chest), the iPad Air feels incredibly light - the weight just seems to disappear. The larger chassis doesn't feel very dense at all. The in-hand feel of the device is really unlike any other iPad. It feels like a lightweight slate, rather than a heavy computing device. This is the iPad that Apple likely wanted to launch on day 1, it just took a bit over three years to get here.
Build and material quality are of course excellent. The iPad Air borrows much of the design language from the iPad mini, and makes the transition to a larger display quite nicely. The Air ends up looking a lot more modern than its predecessor.
Despite making the transition to a thinner touch and display stack, the iPad Air's display is every bit as good as previous Retina Display iterations. Color accuracy remains best in class, delivering an out of box display experience that's better than most systems, even at substantially higher price points. The only thing that the iPad Air leaves me wanting on the display front is a lower reflectance stack. Laminating the cover glass to the LCD panel is something that Apple does on both the iPhone and iMac, it's time that the same feature is brought down to the iPad.
Apple's decision to unify silicon across the iPhone 5s, iPad Air and iPad mini with Retina Display is an interesting one, but ultimately it doesn't come with any real tradeoffs for iPad owners. Apple's own 64-bit Cyclone cores are incredibly powerful, even more so than I originally expected when I reviewed the iPhone 5s. Apple seems to have built a bigger, higher performance CPU architecture than any other ARM player, including ARM itself. The design isn't perfect, but it's a completely different caliber performer than anything else it competes against. As such, Apple was completely justified in putting the A7 in both the iPhone 5s and the iPad Air. If anything, I'd argue that it might be overkill for the 5s given the device's smaller battery, but my sensibilities soon get the best of me and remind me that more performance on tap is never a bad thing.
On the GPU front, Apple does increase performance over the iPad 4 as well - despite having a narrower memory bus. The increase in performance ranges from 40 - 70% depending on workload. I suspect we're beginning to see some of the limits of 28nm here as Apple would've traditionally gone for an even larger GPU.
Despite having a smaller/thinner/lighter battery, battery life improves across the board compared to the 3rd and 4th generation iPads. Battery life in our web browsing, video playback and gaming workloads is better than either of the previous two iPads. Only the iPad 2,4 was able to deliver better battery life, but nothing with a Retina Display can match the iPad.
Cellular integration remains awesome on the iPad Air. With a single SKU covering 34 countries and no network operator lock, at least for those devices sold in the US, the LTE iPad Air is amazingly flexible from a network portability standpoint.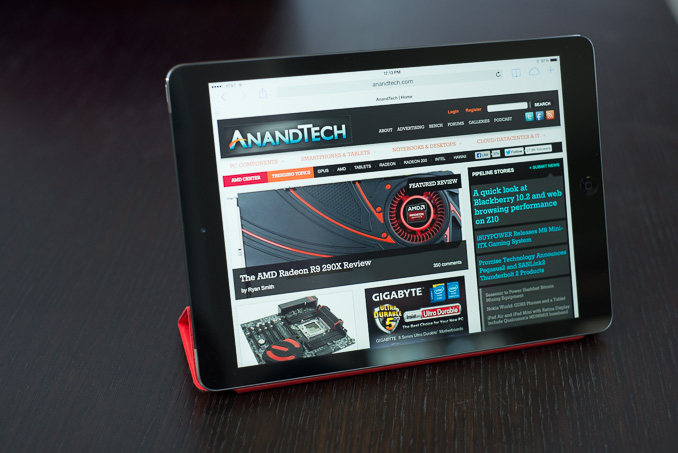 Improvements around the edges are nice as well. The inclusion of a second microphone can improve FaceTime HD calls in noisy environments, and faster WiFi is a nice addition.
My only complaints are limited to iOS 7, memory size and pricing. It's clear that even on the fastest hardware Apple has to offer, iOS 7 isn't always super smooth (particularly when using multitasking gestures to switch between apps) on an ultra high resolution device. The move to a 64-bit OS and applications makes a lot of sense, but with no corresponding increase in DRAM size Apple creates additional memory pressure on all of the A7 enabled devices. Finally, I'd love to see Apple update the default iPad configurations. Although 16GB is fine for a device that's not going to be storing a ton of photos/videos locally, it would really be nice to get at least 32GB on the entry level iPad. The first complaint I suspect will be addressed over time. The second is a reality we just have to live with unfortunately, and the third won't change until market dynamics force it to.

The iPad Air is the most significant upgrade to the 9.7-inch iPad in its history. It's lighter, more portable, more usable and faster than any previous iPad. It doesn't fundamentally change what you can do with a tablet, but if you're in the market for one the iPad Air really is the best iPad to date. Competition is definitely more stiff among the smaller tablets thanks to the Nexus 7, but in the nearly 10-inch tablet space it seems like Apple is going to continue to enjoy a great position there.