Original Link: http://www.anandtech.com/show/7428/asus-transformer-book-t100-review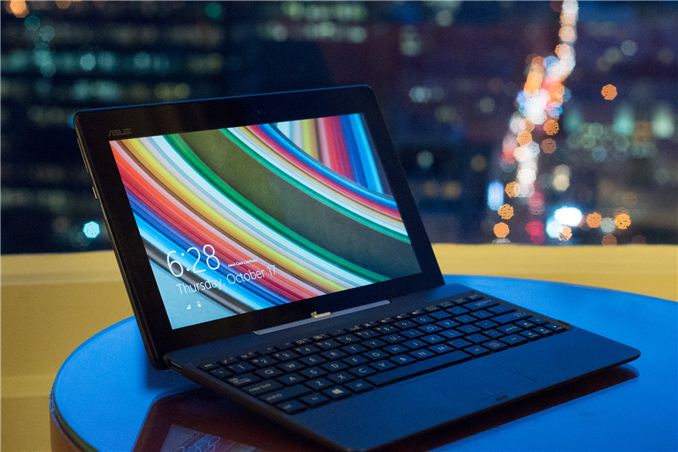 I started out our Chromebook 11 review with a reminder that we are in the midst of a netbook renaissance. Armed with better hardware, a better sense of materials/industrial design and better OSes, it's time for the next round of entry-level, ultraportable notebooks to have their chance in the market.
Literally everything is better this time around. While using a first generation netbook made me incredibly frustrated back when I tried that experiment, the situation is completely different today. Most of our focus on this new entry-level notebook market has been on the Chromebook front. Google and its OEMs choose a different balance of OS and hardware costs in order to bring well built, well designed notebooks to market at a very competitive price point. Since the introduction of the 11.6-inch Samsung XE303 last year, I think Google has clearly succeeded on that front.
Today we meet one of the best candidates from the Wintel side of the fence. Using the traditional formula of the latest version of Windows coupled with similarly targeted silicon from Intel, ASUS put together the Transformer Book T100. Built by the very company that originally kicked off the netbook revolution, the Transformer Book T100 attempts to breathe new life into the entry-level Windows notebook market. We were very excited at the prospects of a $349 10.1-inch Windows 8.1 tablet with keyboard dock back when ASUS announced the T100 last month, but let's find out how it holds up in its final, shipping configuration.
The T100's hardware isn't a tremendous departure from Transformer designs we've seen in the past. ASUS settled on a 10.1-inch 1366 x 768 display, a size that we've been fairly comfortable with and a resolution that's acceptable given the device's aggressive price target. I'll get to display quality analysis in a bit, but this is far from the sort of cheap PC panel we're used to. Viewing angles and contrast are both good, although the gap between panel and cover glass can create some annoying reflections.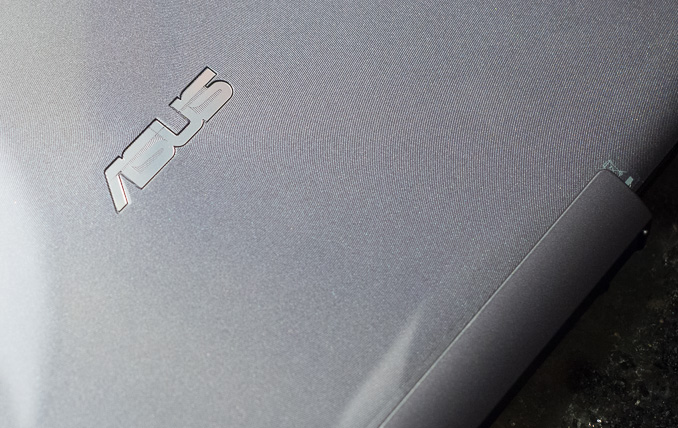 At $349 including a keyboard dock, Windows 8.1 and Office 2013, it's no surprise that the Transformer Book T100 isn't built out of anything exotic. Glossy plastic adorns the back cover, and the front is standard glass fare. Despite the cost constraints, the T100 still looks good. It's subtle, but ASUS' circular brushed pattern is visible beneath the outer layer of plastic on the back. I like the effect a lot, it's not very jarring but gives some depth to what would otherwise be a typical/boring design.
ASUS Transformer Book T100 Specifications
Dimensions
10.4 x 6.7 x 0.41" (without dock)
10.4 x 6.7 x 0.93" (with dock)
Display
10.1-inch IPS 1366 x 768
Weight
1.2 lbs (without dock) / 2.4 lbs (with dock)
Processor
Intel Atom Z3740 (1.33GHz/1.86GHz max turbo) Bay Trail-T
Connectivity
1-stream dual-band 802.11n, Bluetooth 4.0
Memory
2GB LPDDR3
Storage
32GB/64GB eMMC + microSD card
Battery
31Wh
I/O

1.2MP webcam, microUSB for charging, micro HDMI video out, headphone jack
1 x USB 3.0, keyboard, clickpad (in dock)

Starting Price
$349/$399 (including dock) + Unlimited ASUS web storage for 1 year
There aren't really any surprises as far as buttons/ports layout go. Looking at the T100 in landscape mode, the left side features a volume rocker and a physical start button. Up top there's power/lock, LED charge indicator and mic. The right side rounds out the port configuration with a microSD card slot, micro USB port, micro HDMI out and a headphone jack. All charging happens over the micro USB port, there's a dock interface connector along the bottom of the tablet but that's just for supplying power to the keyboard dock and sending data back to the tablet itself.
The T100 has a pair of speakers that port out of the rear of the tablet. They produce a surprisingly clear and loud sound, although understandably weak in low frequency reproduction. The T100's speakers are actually better than a lot of full sized, entry level notebook PC speakers I've heard in the past.
ASUS supplies a 10W (2A @ 5V) wall charger in the box, similar to what you'd get with most of their other tablets. I would've liked for ASUS to have tried something similar to what Google/HP did with the Chromebook 11 and use a higher current charger over micro USB. I think it's still too early for the USB Power Delivery spec but it's clear that you can boost charging rates while maintaining some backwards compatibility with USB.
The dock itself comes with the T100, making this a very affordable package compared to other similarly priced tablets. Unlike previous Transformers, the T100's dock doesn't include an integrated battery to keep both cost and weight down. The dock serves to give you a physical keyboard, clickpad and single USB 3.0 port. ASUS has clearly gained a lot from its experience in building these Transformer devices over the years as the docking mechanism feels very secure. While previous Transformers might've felt a bit awkward in clamshell mode, the T100 ends up feeling like a netbook once you've put both pieces together. The hinge doesn't have the widest range of motion but I found it enough for both on-lap and on-desk use.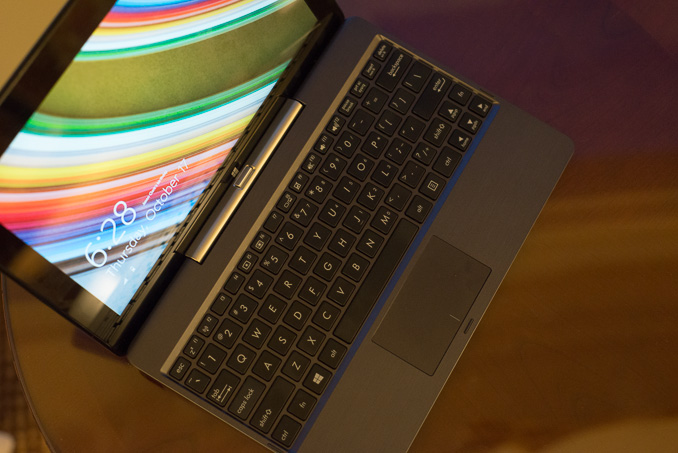 Although ASUS purports to have modeled the T100's keyboard after Apple's MacBook lines, the feel is pretty far off. Part of the issue is the obvious tradeoff you have with marrying a keyboard to a 10.1-inch form factor device, something that eventually drove Microsoft to a 10.6-inch screen size for Surface. It's a tough deal to navigate. I believe 10.1-inches makes for a better tablet experience but a compromised typing experience. If you see yourself putting equal amounts of time into using the T100 as a tablet as you would use it as a notebook then ASUS will have chose correctly. If all you're looking for is a touch enabled netbook however, I don't know that this is the ideal solution.
The keys themselves are small but completely usable, and it's still far faster for me to type on the physical keyboard than on the display. This entire review was written on the T100 and although I felt like I could be faster on my rMBP (or even the Chromebook 11), those options are either more expensive, less portable or less capable in the case of the Chromebook 11.
The trackpad is similarly small, though it is once again something you can get used to. Trackpad performance isn't great, but it's not terrible either. I feel like there's a small wakeup latency whenever you go to start using the trackpad after not having touched it for a while. Two finger scrolling gestures work relatively well, as does tap to click. The trackpad is actually a clickpad, hinged at the top of the pad. Clicks are well defined with a pronounced click, though a bit too loud/hollow of a sound for my tastes.
The trackpad is nice to have but it's something that's honestly less of an issue since the capacitive touchscreen is within a few inches of your reach. I don't know that I agree with Apple's position that a touch screen on a traditional clamshell is useless. I'm not sure how much less I'd use the touchscreen in clamshell/notebook mode if I had an amazing trackpad, but it's definitely a mitigation in this case.
The full sized USB 3 port is a nice addition, although you'll quickly find that you're limited by the performance of the internal eMMC storage if you're copying files to the device.
The Silicon: Bay Trail Inside
Obviously a big part of the Transformer Book T100 story is the inclusion of Intel's Bay Trail silicon. ASUS opted for Intel's second fastest solution: the Atom Z3740. That's four Silvermont cores running at 1.33GHz with a max turbo of 1.86GHz. I saw the T100 hit 1.86GHz fairly regularly, which backs up what we saw in our initial Bay Trail performance preview. For light tablet use, the Z3740 is incredibly quick. The beauty of Intel's latest Atom silicon is of course that it can run a huge library of x86 applications. I haven't spent enough time with Bay Trail to know whether or not its performance is truly good enough for most users. I suspect it probably needs to be a bit faster to truly replace a modern mainstream notebook + tablet, but if you're used to an older system you might be able to get away with Bay Trail. Intel claims ULV Penryn-like performance out of the fastest Bay Trail silicon, and I think that's a decent estimate. You benefit a lot from not having any silly mechanical hard drive inside, and unlike the initial wave of netbooks the T100 is actually usable.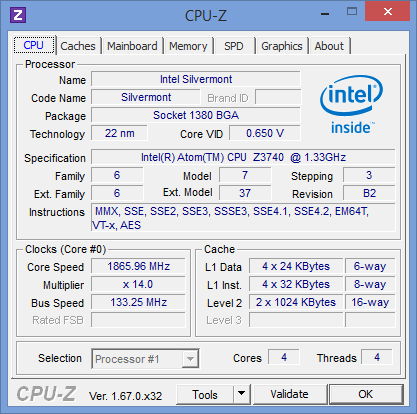 I complained about multitasking performance in our recent Chromebook 11 review. Intel's Bay Trail silicon in the T100 has no such problem. Playing YouTube HD videos in the background while writing in Google Docs is a non-issue. I do occasionally see periods of high latency response, particularly when installing a new application. I believe this may be due to background AV scanning at launch.
It's definitely possible to bring the T100 to its knees with just above a moderate multitasking workload. It's important to keep in mind that we're talking about ~1GHz Penryn sort of performance here and not what you'll get out of a Haswell system. Think of it as better than what you'll get from the ARM camp but still substantially behind what a more expensive Haswell solution will offer. Make no mistake, the T100 is very much an entry-level machine in terms of performance.
The four cores are paired with Intel's HD Graphics, a 4 EU implementation of the Intel GPU we saw in Ivy Bridge (running at up to 667MHz, sharing TDP with the CPU cores). The collection of CPUs and GPU are behind a 128-bit wide LPDDR3-1066 memory interface. Like most entry level notebooks in this price range the T100 comes with 2GB of memory. Internal storage is courtesy of an eMMC solution. I was sampled a 64GB model (using a SanDisk eMMC controller). Around 30GB of the device's storage was free at first boot (total partition size = 49GB, ~30GB free for additional apps/data).
ASUS equipped the Transformer Book T100 with dual-band (2.4/5GHz) 802.11n courtesy of Broadcom's BCM4357. The T100 features a 1-stream (150Mbps) implementation. I didn't have enough time to test wireless range/performance but the sheer inclusion of 5GHz WiFi in an entry level PC is music to my ears.
Software: Windows 8.1 + Office 2013

Although there are rumors of T100-like devices running Android, and eventually even dual-booting, the Transformer Book T100 launches with Windows 8.1. I haven't had much time to spend getting into 8.1 but it's largely an improvement over Windows 8. Overall it doesn't fundamentally change the concept behind the OS, although it does attempt to make migrating to it from other versions of Windows a bit easier. You have greater customization over the start screen's behavior, where the system boots by default (desktop or start screen) and installing applications doesn't automatically spam the start screen with tiles. You also get truly universal search now integrated into the start screen, which is a life saver.
Since you're dealing with an x86 version of Windows 8.1 here, you can obviously run nearly all old x86/Windows applications. This is a huge deal as it means you can replace IE11 with Chrome, not to mention use the T100 just like any other PC. I'm honestly surprised by the lack of really good 3rd party Windows applications that use the new UI. I expected there to be more uptake by now, but I was very wrong. The T100's success doesn't depend on having more modern UI Windows 8.1 apps since it can still function like a traditional PC, but the undocked tablet experience could surely benefit. Windows 8.1's native apps are definitely better this time around, but the tablet experience alone isn't as good as what you'd get on Android or iOS. Microsoft's new UI definitely has its moments (I'm still a fan of how easy it is to multitask in the OS), but it still has a long way to go.
Intel's silicon in the T100 is 64-bit capable but Microsoft still lacks a 64-bit version of Windows 8/8.1 with Connected Standby enabled. As a result, the T100 (just like all other Bay Trail platforms) ships with a 32-bit copy of Windows 8.1 (with Connected Standby enabled).
Another huge component of the T100 offering is the in-box Office 2013 Home & Student Edition serial key. Office 2013 is pre-loaded on the device, and each box should have a booklet with a serial key to unlock the Home & Student version of the suite. I realize there's this march away from Office, but to those who still heavily use and depend on the suite it's a tremendous part of the overall T100 value.
Display
The T100 features a 10.1-inch 1366 x 768 IPS display, which makes for awesome viewing angles and an experience that will put most entry level notebooks to shame. Compared to what we're used to seeing from Windows notebooks, ASUS did a tremendous job with the panel selection given the price of the T100.
Brightness, black levels and contrast are all reasonable but nothing extraordinary. Max brightness in particular is limited to only 228 nits. That's more than bright enough for indoor use, but outdoors or in direct sunlight you may wish for a brighter panel. Black levels are quite good, which helps deliver great contrast ratio. As I mentioned at the beginning of the article, the gap between display panel and cover glass is large enough that reflections can be an issue - a problem that is worsened by the fact that the panel can't get super bright.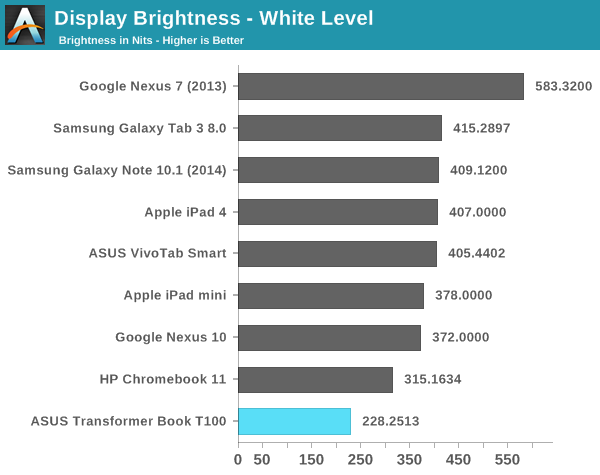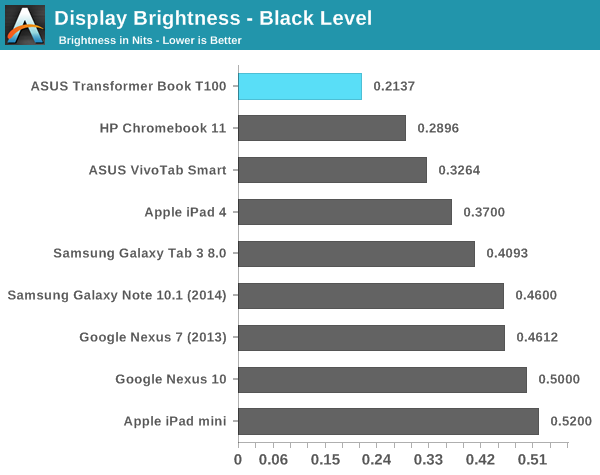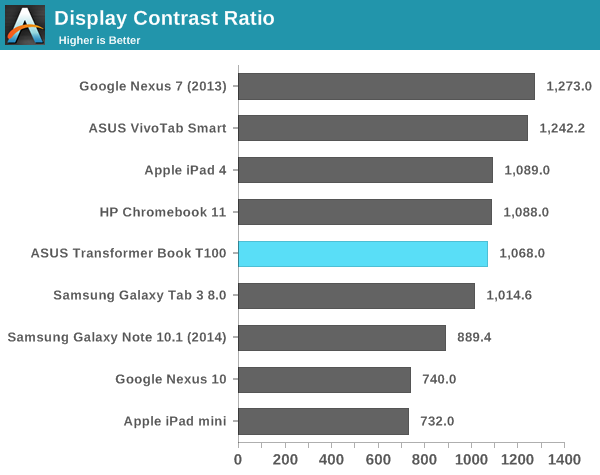 Whether or not any of this is a problem to you really depends on perspective. If we're limiting our comparison to traditional entry level PC notebooks then ASUS has really redefined what it means to be a $349 PC. If you broaden the comparison to Android tablets and even Chromebooks, the comparison grows more difficult.
Color accuracy isn't great on the T100. Once again, compared to what you'd traditionally get from a Wintel PC at this price point it's amazing. Compared to the Chromebook 11 we recently reviewed at $279 however, the T100 needs some work.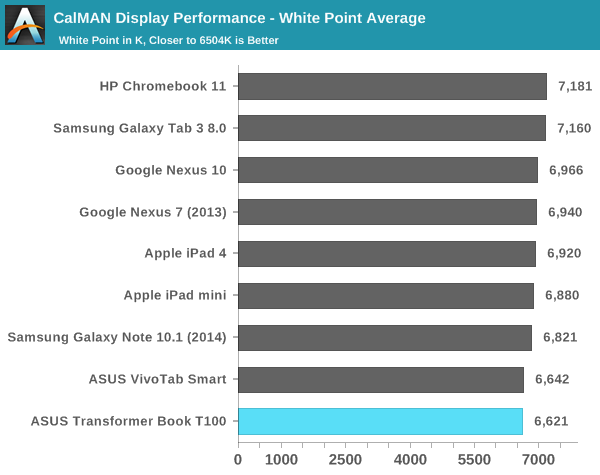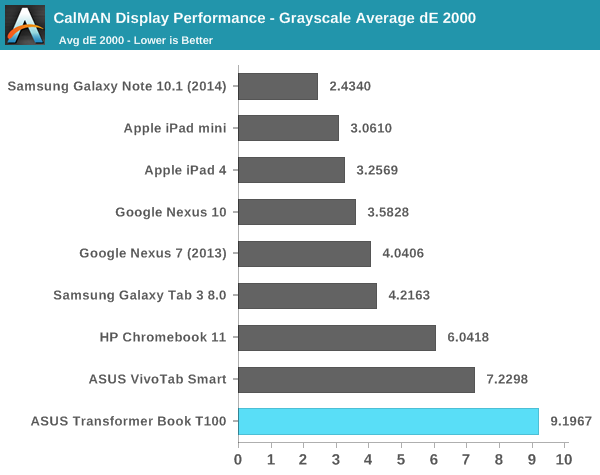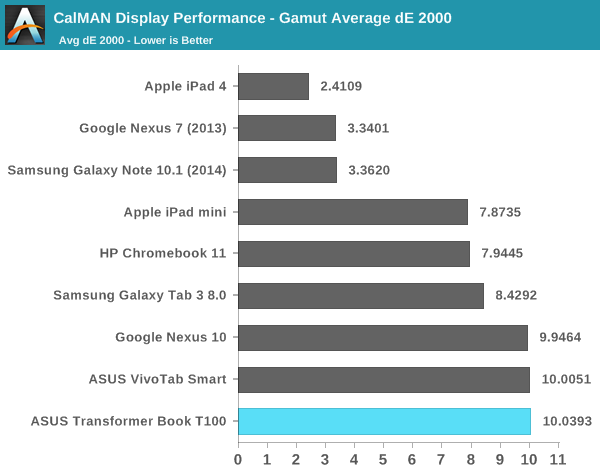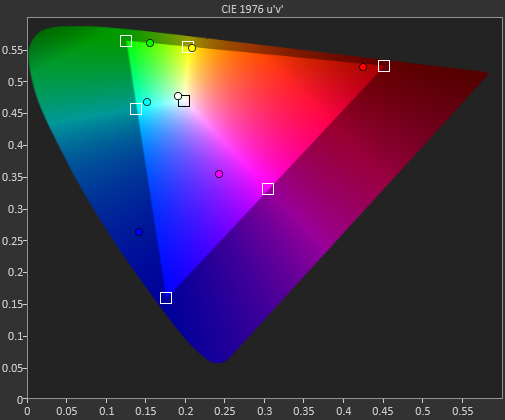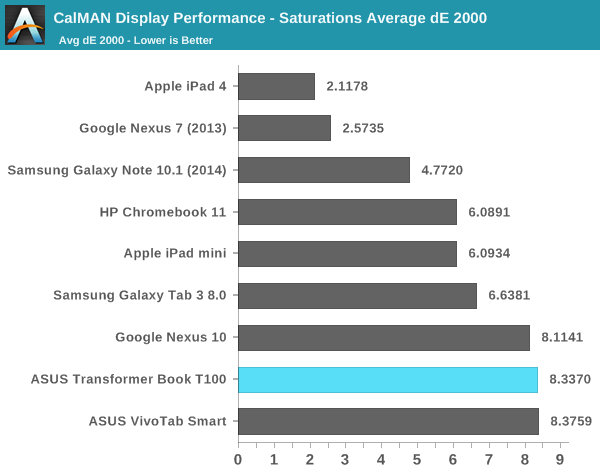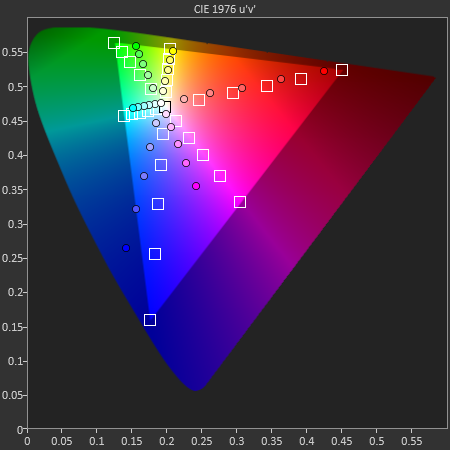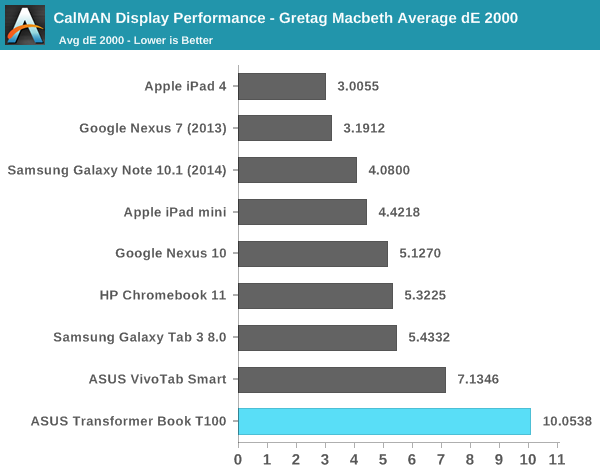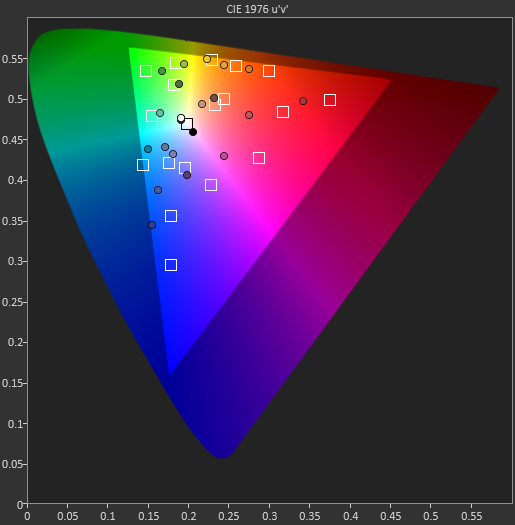 It's definitely not a bad display, it just doesn't live up to the expectations of some other low cost devices we've seen lately (e.g. 2013 Nexus 7, Chromebook 11). The charts below show you the stark difference between what we're expecting to display and what the T100 actually displays:



There's a green hue to all of the white/grays, and the other colors are just off. Users definitely benefit from the viewing angles of IPS but the T100 needs calibration.
CPU Performance
The Atom Z3740 in the T100 features a 9% lower base clock and  22.5% lower max turbo frequency than the Z3770 we previewed back at IDF. Given how good of a job Bay Trail does turboing up to max frequencies under normal use, I'd expect proportionally lower scores in our tests.
I'll start with our cross platform browser based benchmarks before moving on to a look at the Z3740 vs. Z3770.
Note for all of these benchmarks I've used Google's Chrome browser. IE11 integrates well into the modern UI of Windows 8.1 but is otherwise a pretty terrible browser by comparison. I think the modern UI Chrome experience on 8.1 isn't as good, but it's a better/faster/less-finicky option. Out of all of our tests only SunSpider seems to run quicker under IE11, whereas Chrome wins everywhere else. I think it's a bit insane to switch between browsers based on the benchmark being run, so we're sticking with Chrome across the board.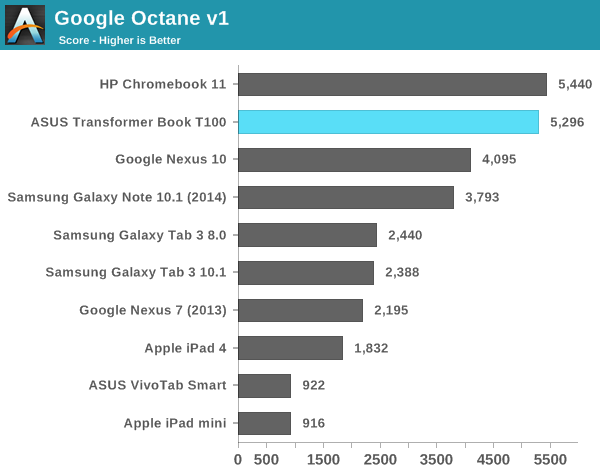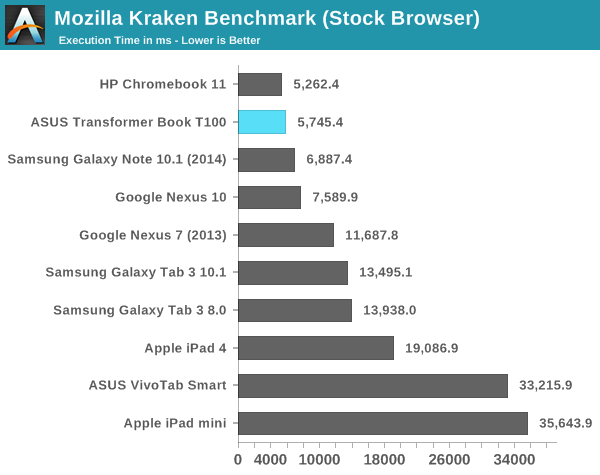 Lightly threaded performance is actually quite comparable to the Chromebook 11, which was a bit surprising. Throw a multitasking workload at the two notebooks and you'll separate the boys from the men though: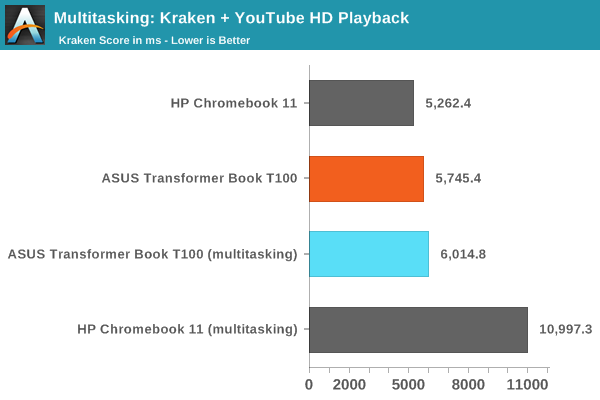 Chrome under Chrome OS performs extremely well for obvious reasons. But here the T100's additional cores and solid memory interface really come in handy when multitasking, there's hardly any performance penalty for this sort of multitasking on Bay Trail while the dual-core Cortex A15 based Chromebook needs serious help.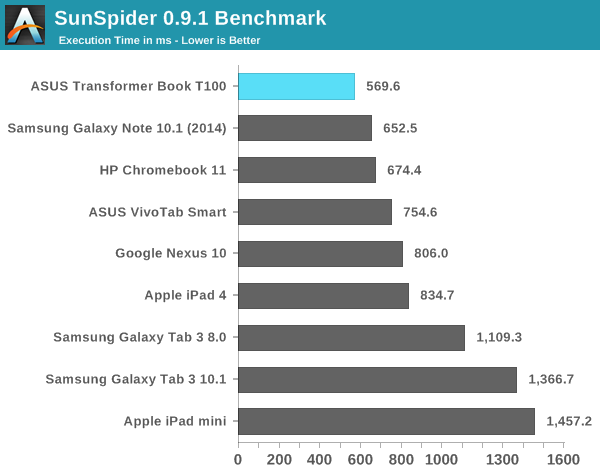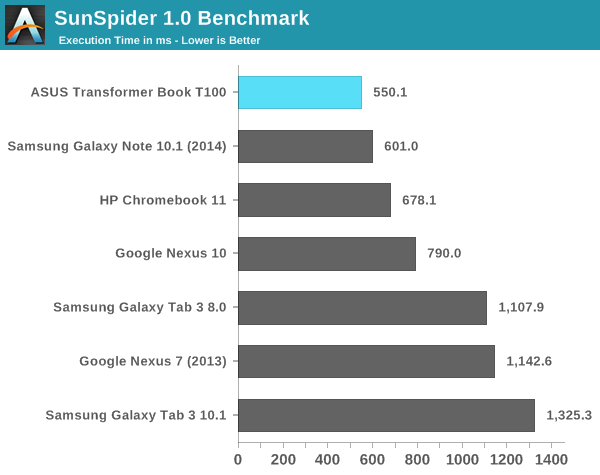 The T100 remains extremely competitive compared to the Chromebook 11 and definitely compared to Android tablets.
Next up is putting the Atom Z3740's performance in perspective compared to our earlier FFRD data: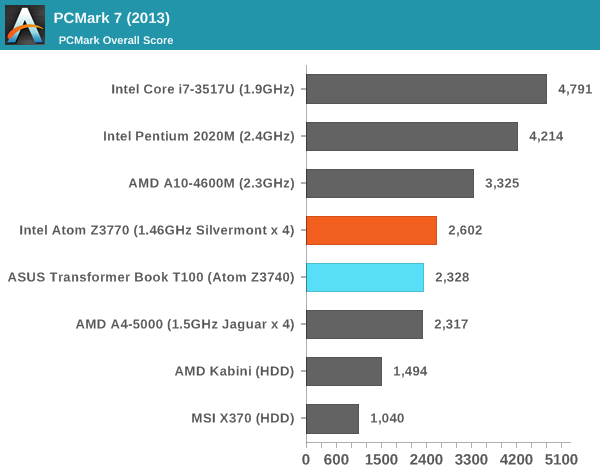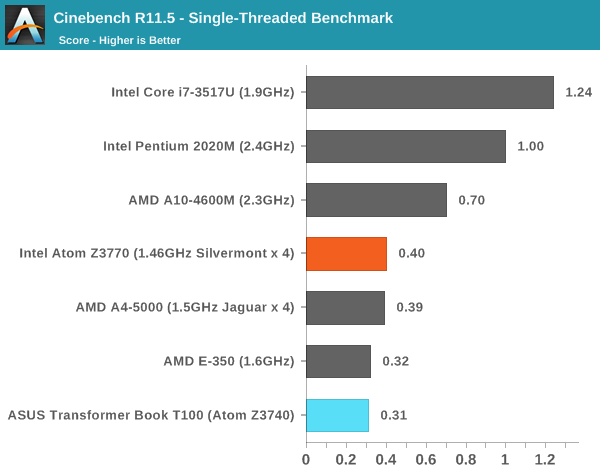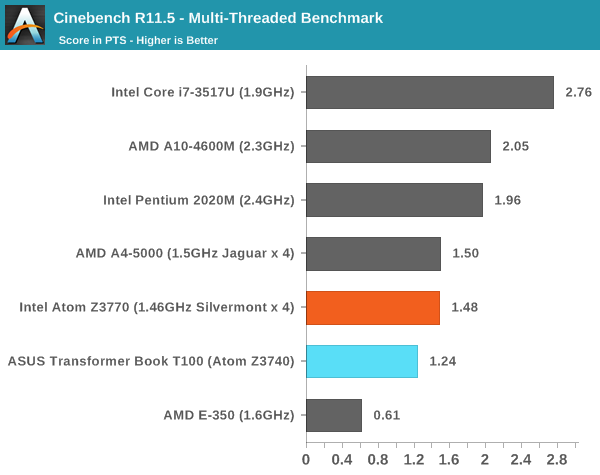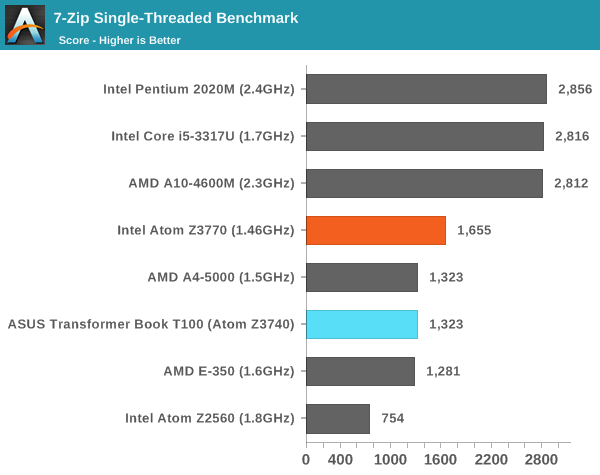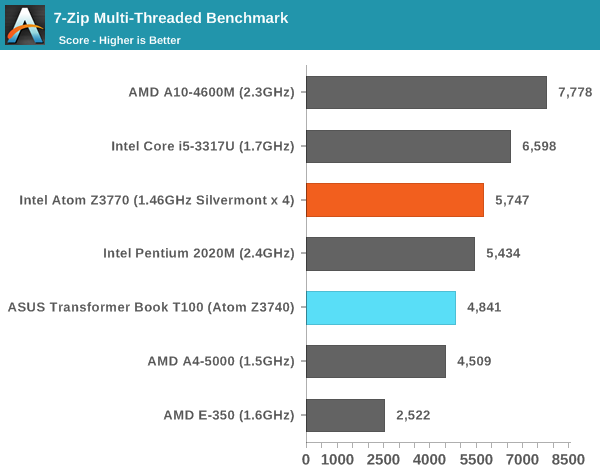 In all of these tests we see nearly perfect scaling compared to the Atom Z3770. Turbo frequencies are regularly hit when under load, and as a result see see proportionally lower performance from the T100. I would've liked to have seen the Z3770 used in the T100, but not if it meant a higher price, an optional dock or a worse display.
GPU Performance
I didn't have a ton of time to go through gaming performance on the T100, but with a quarter of the EUs of Ivy Bridge it's clear that you shouldn't expect a GPU monster out of Bay Trail. In our cross platform graphics tests however the T100 is quite competitive, although not industry leading by any means.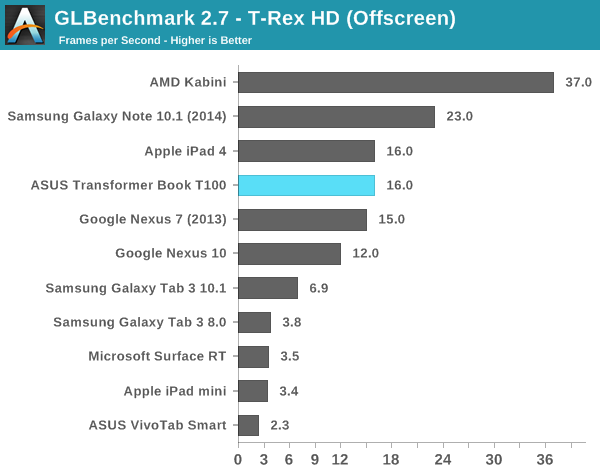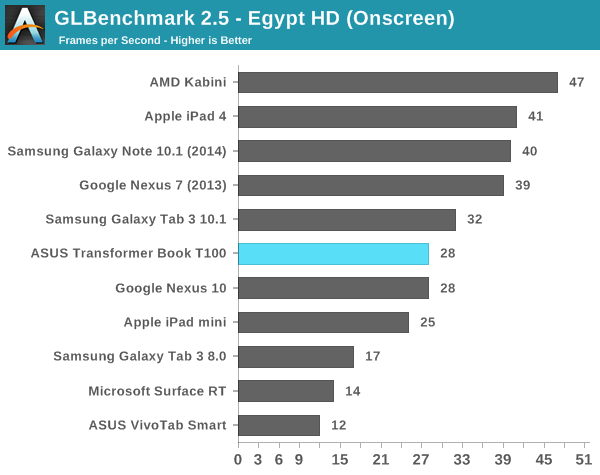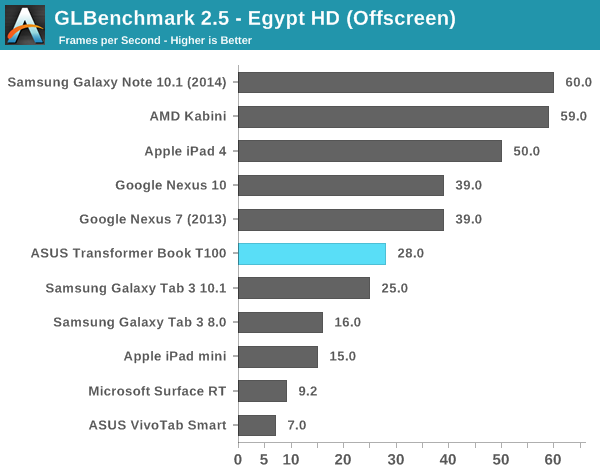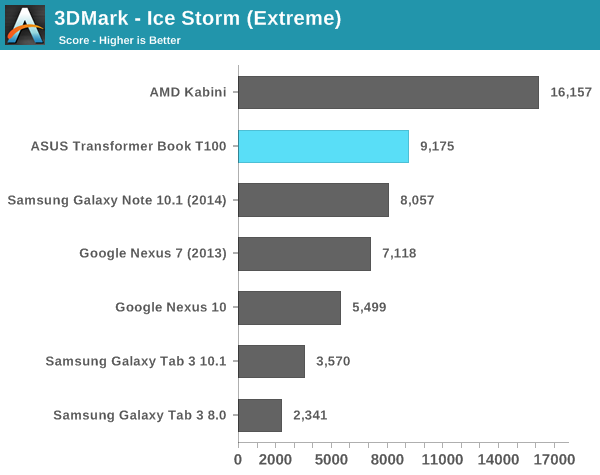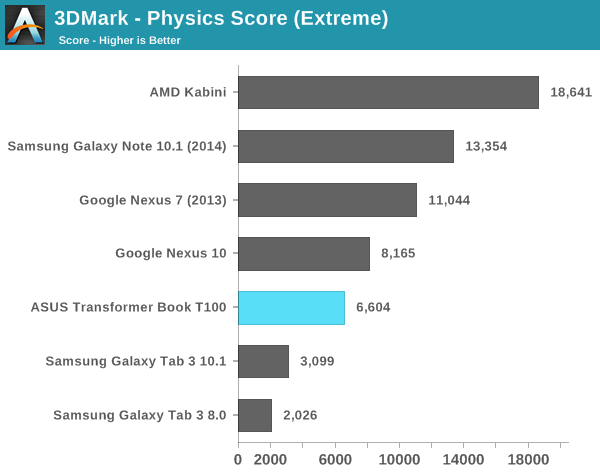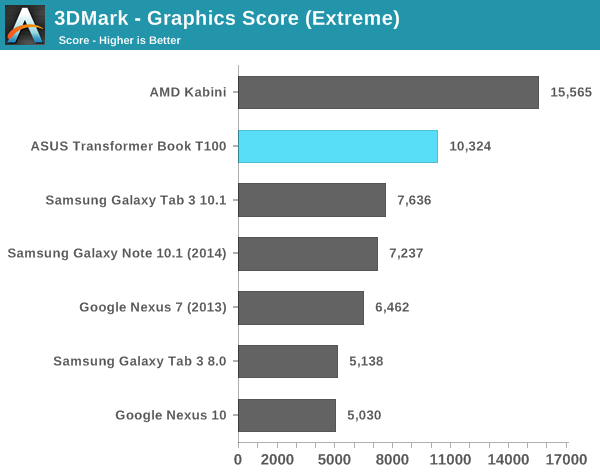 I did see some choppy animations at times and indications that the GPU (or its drivers) weren't up to snuff, but that's exclusively in classic desktop mode. In the modern UI, the Atom Z3740 was very smooth.
Storage Performance
Our Android IO tests rely on Androbench with a relatively limited LBA span. I increased the difficulty of the test a bit under Windows 8.1 but still kept it reasonable since we are dealing with eMMC solutions. I'm testing across a 1GB LBA span and testing for a period of 1 minute, which is an ok balance between difficulty of workload and sensitivity to the fact that we're evaluating low-class SSDs here.
Sequential read and write performance is competitive with the high-end examples we've seen in the Android space. Random read performance is similarly good, while random write performance is appreciably better than what we're used to in Android tablets. It is good to see ASUS/Intel/Microsoft concerned about random write performance, but I'd still like to see a 5 - 10x increase in these numbers with a focus on sustained performance before I'm truly happy.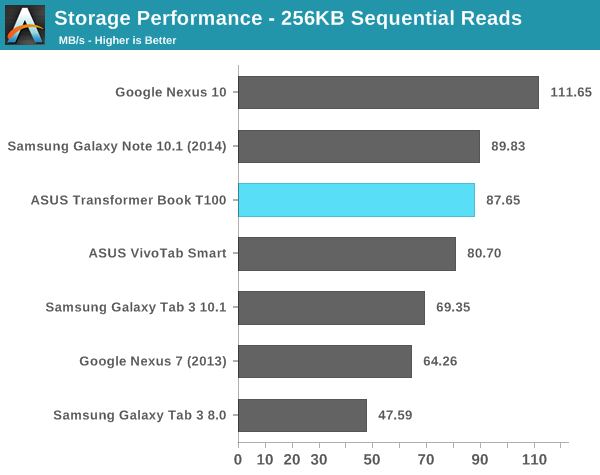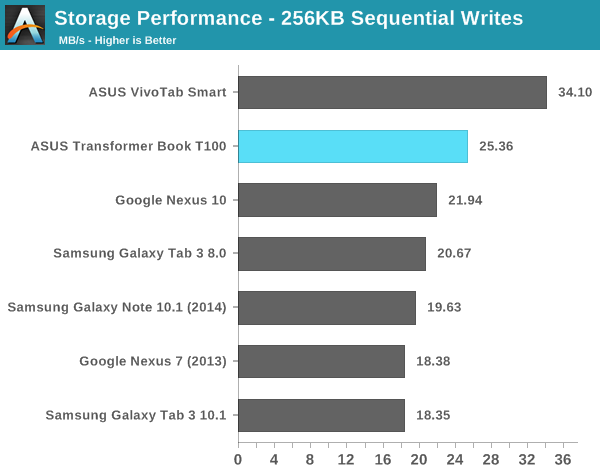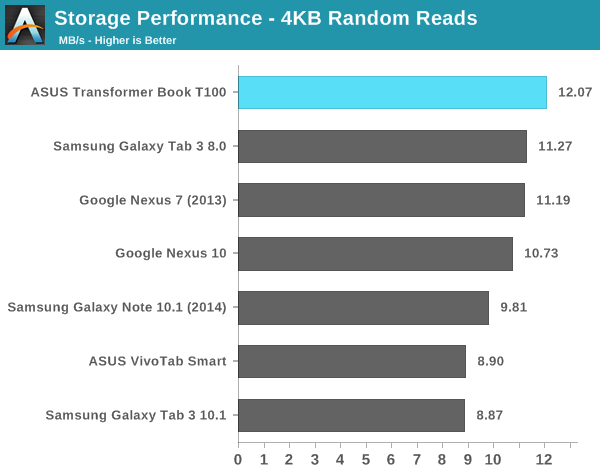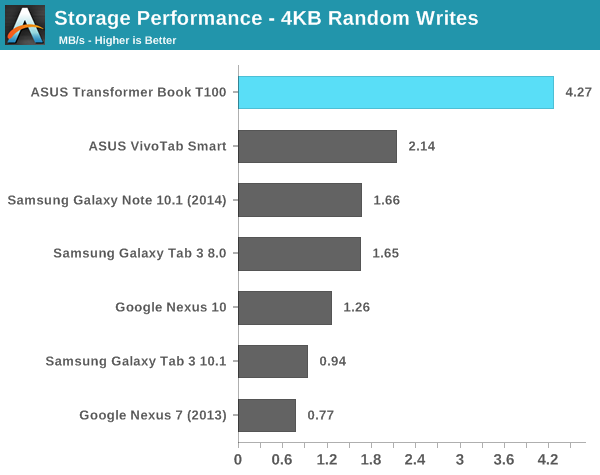 Battery Life
The Transformer Book T100 features an integrated 31Wh battery. As the keyboard dock doesn't include an extra battery, that's all you get. The good news is that Intel's Atom Z3740 is built on the company's first 22nm SoC process and it's paired with LPDDR3. At least on the silicon front, the T100 should be fairly power efficient. Granted there are still the PMIC, display, WiFi and other components to worry about, but here's to hoping ASUS did a reasonable job there as well.
Unfortunately ASUS delivered our T100 review sample less than 48 hours ago and I've been using it non-stop since then. I think I technically broke embargo by using it at a press event but it's the only way I'd get enough time with the thing under my belt to feel comfortable writing about it. The bad news is that I only had enough time to provide a battery life teaser. I'm still running more data but for now all I've got is our WiFi web browsing test.
The T100's results are presented with the keyboard dock attached and with the display calibrated to 200 nits: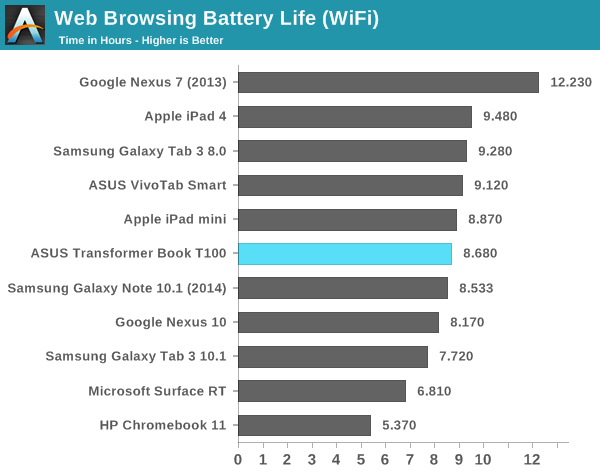 Battery life looks decent at just over 8.5 hours on a single charge. In practice I had no complaints about battery life while using the device. It feels more like a tablet in that regard and less like a notebook, which is a good thing. Once again we're seeing ASUS redefining what we've come to expect from an entry level notebook PC here. Even compared to Chromebooks we see the T100 do extremely well. I'm curious to get a better feel for how Bay Trail performs in the battery life department, which I'll be doing over the coming days. So far the results look good but not quite stellar if you compare it to traditional Android/iOS tablets. I am curious to see how BT running Android would turn out.
Final Words
It's tough to sell an entry-level Windows PC these days. You're sandwiched between a couple of aggressive price points: the Nexus 7 at $229 and the iPad at $499. Traditionally, the PC you'd get between those price points would have mechanical storage, the cheapest of cheap TN panels, be bulky as possible, an unimpressive keyboard/trackpad and have 2.4GHz-only WiFi. About the only solace would be that it'd have some insanely quick Core architecture CPU inside, which more or less didn't matter since the overall experience was hampered so much by the spinning disk inside. Thankfully, times are changing.
Assault first and foremost comes from Google's latest lineup of Chromebooks. The HP Chromebook 11 addresses many of these concerns but with a fairly limited OS and silicon that's honestly a bit too slow, even for the target market. But you do get an awesome keyboard, eMMC based storage, and an IPS panel among other things.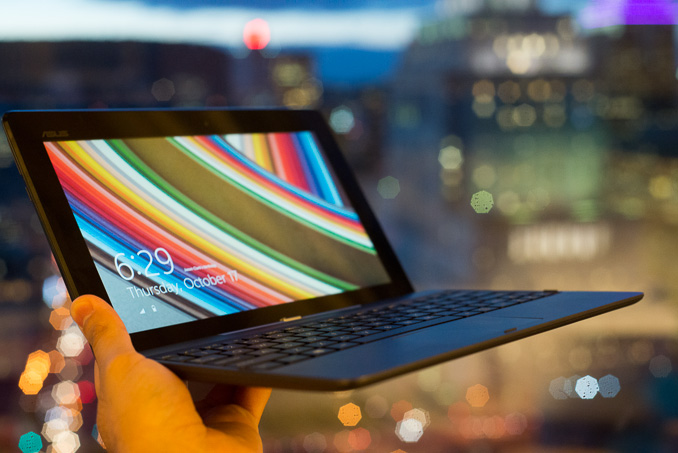 The Transformer Book T100 is really the Wintel camp's answer to the Chromebook onslaught. Compared to the traditional entry-level PCs out there, the T100 really is a breath of fresh air. You get an IPS panel, great battery life and modern WiFi all in a package that can work as both a notebook and a tablet. The system is responsive and predictable in its performance thanks to the use of solid state storage. While there isn't a full blown SSD inside, the eMMC solution is clearly better for light consumer workloads than a mechanical disk. Solid performance from the rear facing speakers and excellent portability round out the T100's package. If I had to compare it to what you'd normally expect to get from a $349/$399 Windows PC, I'd say the Transformer Book T100 is a clear winner.
Where things get complicated is if/when you start comparing across platforms. ASUS and Google set the standard for affordable color calibrated displays with the 2013 Nexus 7, and unfortunately the T100 comes no where close to that. Even HP's Chromebook 11 delivers a more accurate out of box experience than the T100. Again, the T100's display isn't bad, it just desperately needs a factory calibration.
It's important to keep the T100's performance in perspective. For light multitasking or single app-use workloads, the T100 does very well (much better than the Chromebook 11 we just reviewed). Light browsing and document work are at home on the T100. Don't expect it to be a Haswell replacement though. I would like to see the gap narrow between Intel's Atom and Core lines, but I'm afraid it's going to take real performance pressure from a competitor before we ever see that day.
The dock experience on the T100 is reasonable, but it's clear to me that the Transformer Book T100 is first and foremost a tablet, and only serves as a clamshell device as a secondary function. That's not to say it makes for a bad notebook experience, it can just be cramped as a result of the 10.1-inch display footprint. If you're looking for a device that you'll use mostly as a tablet but want the flexibility of turning it into a notebook when you need to, the T100 can definitely fit the bill. If your desire is primarily for a touchscreen notebook, then the T100's tradeoffs may be more frustrating.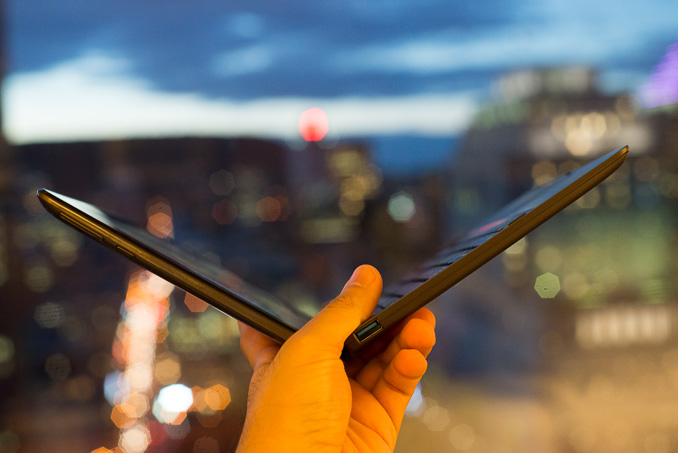 At the end of the day the T100 is a good device, but like the Chromebook 11 we recently reviewed it could've been amazing with a few tweaks. With a less reflective display, color calibration at the factory and a better feeling keyboard/trackpad I'd be absolutely in love with the T100. I also wonder if 10.1-inches is the right form factor for this sort of a device. I'm not sure that Microsoft's decision to go with 10.6-inches is the right one either, but the typing experience on a Surface's type/touch covers does feel remarkably less cramped.
The T100 truly lives up to the Transformer brand. The combination of Intel's Bay Trail silicon and ASUS' mechanicals gives the device a dual personality. In tablet mode it's just as portable as any other 10-inch tablet, while in clamshell mode it can be a netbook-style ultraportable PC. I'd love to see ASUS continue down this path and truly try to perfect the device. I look at the work that ASUS and Google do together and can't help but wonder what the T100 would look like if it had the same sort of pressure/influence. Perhaps that's a bigger criticism of how Microsoft works with its partners, but I look at the comparison of ASUS tablets with and without Google's influence and try to imagine a further polished Transformer Book. That's something I'd really like to see.
There are very few perfect computing devices out there, but ASUS is one of the companies with the ability to build one if it really tries.