Original Link: http://www.anandtech.com/show/7359/corsair-obsidian-750d-case-review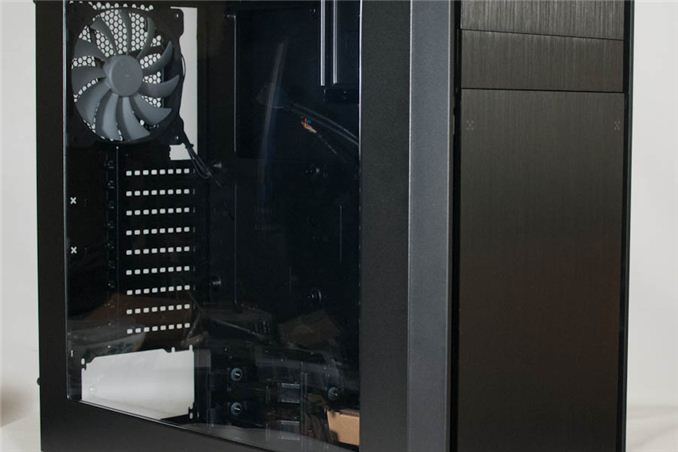 Corsair's case lineup has been growing over time with a trickle down approach, as they launched with the venerable (and expensive) Obsidian 800D and have been able to shrink all the way down to the Carbide 200R. Yet outside of the Obsidian 900D, their enthusiast high end (as opposed to the obscene beast that is the 900D) has actually remained relatively unchanged. Today the Obsidian 750D launches, covering the space the 700D and 800D used to occupy while trickling down the 900D's industrial design.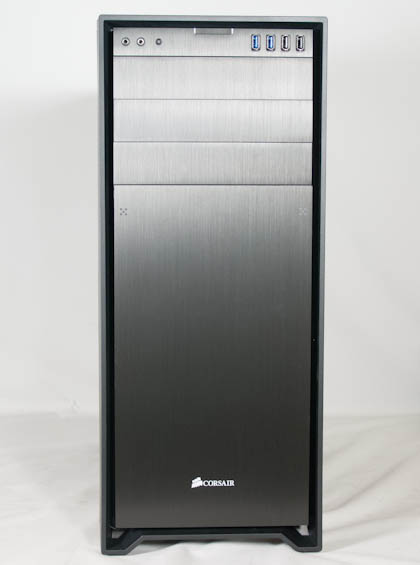 The "lip" that was on the Graphite 600T has become a part of the ID for Corsair's new Obsidian cases, and I like it. Corsair has actually turned it into a fairly smart, useful design cue; there are no unsightly vents on the front fascia of the Obsidian 750D, but the large plate at the bottom is actually almost totally ventilated in the surrounding area. It's a slick design. The black aluminum fascia suits the 750D and allows it to stand out even amongst other "black monolith" style enclosures. Corsair has also taken to using large square windows on the sides of their cases, and these sharp angles suit the rest of the ID well. Whoever is handling ID over there should be proud.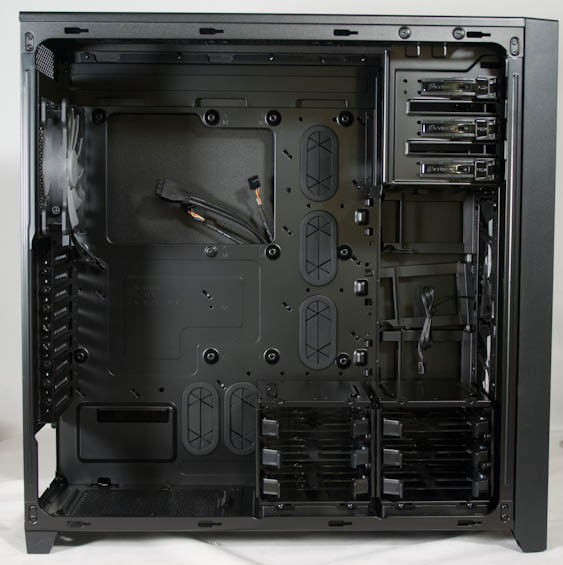 The interior of the 750D is a pretty bog standard case design, but it sports all the usability I've come to expect from Corsair. Both 3.5" drive cages are removable (or stackable), and toolless 2.5" drive cages line the back off the case (one of mine was jostled slightly in shipment). Corsair has been experimenting both with doing away with 3.5" drives (the Carbide Air 540 only supports two) and toolless 2.5" drive mounting methods, but the fly in the ointment for the latter has been the increasing popularity of 7mm drives instead of 9.5mm ones.
Air cooling is handled by a pair of 140mm intake fans and a 140mm exhaust fan; there's space to mount additional fans (or radiators) in the top of the 750D as well, and a large magnetic "sheet filter" is in place on the top of the case. Interestingly, Corsair has forgone including a fan controller with the 750D; instead, the 140mm fans are just tuned to what will hopefully be a happy medium.
Corsair Obsidian 750D Specifications
Motherboard Form Factor
Mini-ITX, Micro-ATX, ATX, EATX, XL-ATX
Drive Bays
External
3x 5.25"
Internal
6x 2.5"/3.5", 4x 2.5"
Cooling
Front
2x 140mm intake fan (supports 2x 120mm)
Rear
1x 140mm exhaust fan (supports 120mm)
Top
3x 120mm/2x 140mm fan mount
Side
-
Bottom
2x 120mm fan mount (with 3.5" cages removed)
Expansion Slots
9
I/O Port
2x USB 3.0, 2x USB 2.0, 1x Headphone, 1x Mic
Power Supply Size
ATX
Clearances
HSF
180mm
PSU
200mm with drive cages
GPU
340mm with drive cage / 460mm without
Dimensions
21.5" x 9.3" x 22.1"
546mm x 235mm x 560mm
Special Features
Removable drive cages
Toolless 2.5" caddies
Price
$159
The Obsidian 750D is essentially hitting the mainstream of the high end. This is a fairly competitive market, and it behooves Corsair to have a strong entry at the $159 price point. What's interesting is that while one of Corsair's main competitors, NZXT, is cramming their cases full of useful features, Corsair seems to be stripping them down to the essentials. The interior is primarily modular, sure, but there's no fan control, no acoustic padding, no funky LED lighting, nothing like that; this is a streamlined enclosure that seems to be heavily geared toward liquid cooling. That's fairly typical of modern Corsair designs; the 900D's entire reason for being is really to be a liquid cooled system, and the cumulative 1020mm of radiator support in the 750D should be fairly telling.
If it weren't for the weight, assembling a system in the Corsair Obsidian 750D would almost be like a vacation. Corsair's trademark at this point is ease of use, and that continues with the 750D.
The side panels are both hinged and held in place with two thumbscrews. From there, installing the I/O shield and motherboard is easy; Corsair has extruded all of the motherboard mounting points from the tray itself, and added a guide peg in the center. There's also plenty of space surrounding the motherboard, making it easy to route cabling.
With all of the different drive form factors having toolless installation, you can imagine how easy that was to handle as well. The 3.5" drive trays are typical of Corsair, but they snap in nicely and securely (as opposed to the NZXT trays which have a hard time staying in place). NZXT handily beats Corsair's toolless retention mechanism for the 5.25" drive bays, though; Corsair's isn't bad, but NZXT's is incredibly secure. You'll probably want to screw in the drive on the opposite side just to be safe.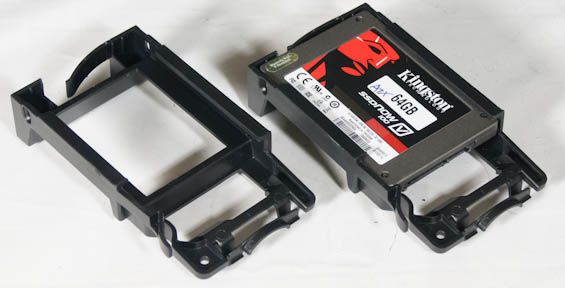 Corsair has been pursuing toolless mounting solutions for 2.5" drives pretty aggressively; they use modular, interlocking drive caddies for the Carbide Air 540, and those work well. With the 750D they have an even more novel approach, with a series of caddies that bridge the motherboard tray and front of the case. This system is also a pretty effective one, but if you're using a 7mm drive it's going to be a little loose. I'm not sure what they can really do about this. Create tiny drive cages and tiny drive trays that snap in on the sides? The arrangement of the 2.5" caddies behind the motherboard tray in the 750D is slick, but their alignment complicates cabling somewhat.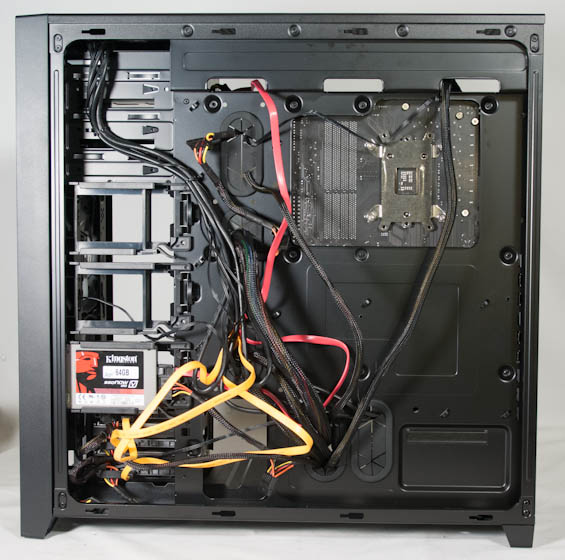 The power supply and expansion cards went in easily and smoothly, and cabling for the most part was a non-issue. Corsair's creative 2.5" drive solution does cause some minor problems, though. You can see where the bottom drive caddie would be that the cables from the 3.5" drives bunch up, and that's ignoring how the front fan cables have to route through one of the other caddies. The fan cables aren't a major issue, but the leads for the 3.5" drives are a problem waiting to happen. Kudos to Corsair for coming up with an innovative arrangement for the 2.5" drives, hopefully they can work out some of the kinks in a future revision.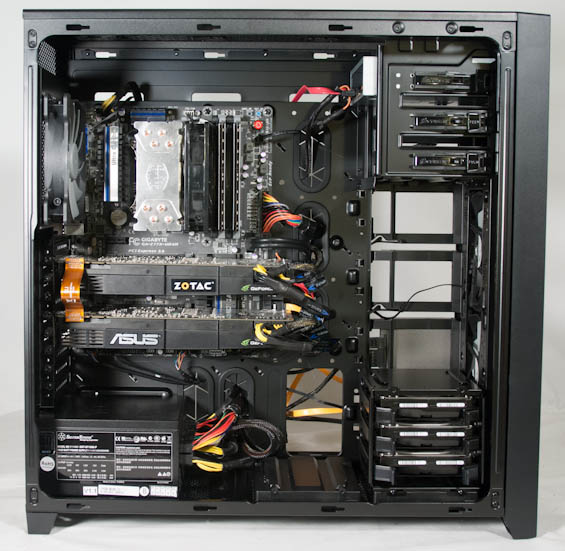 For how hideous my cabling job is, Corsair designs continue to lend themselves well to very clean interior builds. As a teenager I was huge on the idea of having a windowed case, then through most of my twenties I was interested in having a more modest machine. As I've gotten older (and broken thirty) and case designs have gotten more elegant, I've started to see the appeal in having a slightly more showy build. The 750D's window is welcome; it's able to handle our full fat testbed with aplomb, and makes even my crappy wiring look decent.
For testing full ATX cases, we use the following standardized testbed in stock and overclocked configurations to get a feel for how well the case handles heat and noise.
Each case is tested in a stock configuration and an overclocked configuration that generates substantially more heat (and thus may produce more noise). The system is powered on and left idle for fifteen minutes, the thermal and acoustic results recorded, and then stressed by running seven threads in Prime95 (in-place large FFTs) on the CPU and OC Scanner (maximum load) on the GPU. At the end of fiteen minutes, thermal and acoustic results are recorded. This is done for the stock settings and for the overclock, and if the enclosure has a fan controller, these tests are repeated for each setting. Ambient temperature is also measured after the fifteen idle minutes but before the stress test and used to calculate the final reported results.
For the "full fat" testbed, the GTX 560 Ti is swapped out for a pair of GTX 580s, and three hard disks are added to fill out the case.
Thank You!
Before moving on, we'd like to thank the following vendors for providing us with the hardware used in our testbed.
While Corsair cases are almost uniformly excellent for liquid cooling and the Obsidian 750D will no doubt be another success story in that respect, the monkey on Corsair's back has always been air cooling performance. Outside of the appropriately named Carbide Air 540, none of their cases has really had excellent air cooling, but up until the full fat testbed, Corsair's balanced approach with the 750D actually does a pretty solid job.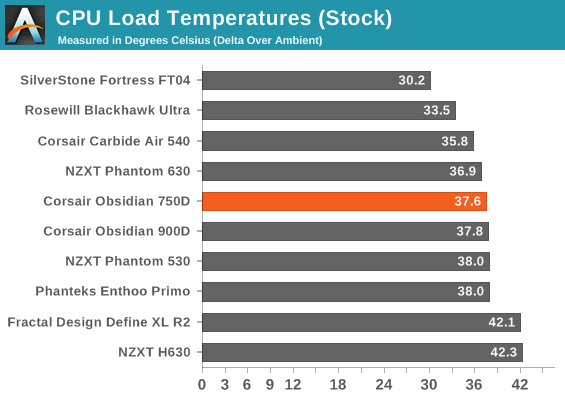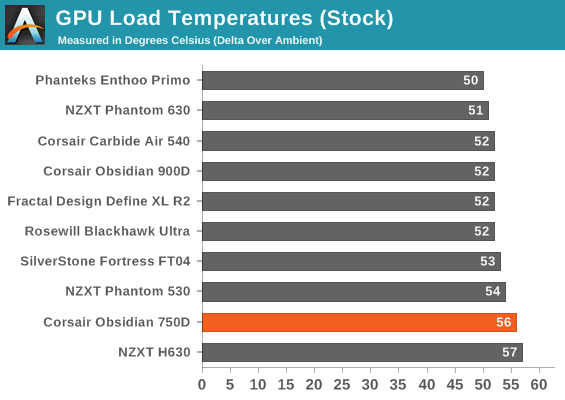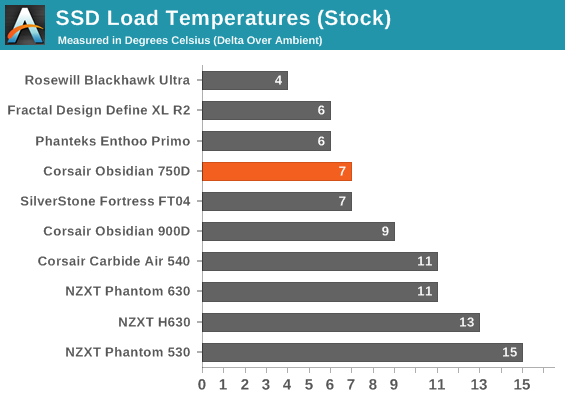 Stock air cooling performance is at least pretty respectable and competitive. It's not the monster that, say, the Air 540 is (let alone the SilverStone Fortress FT04), but it holds its own.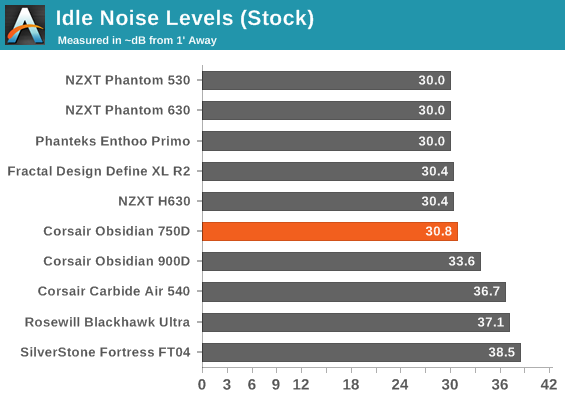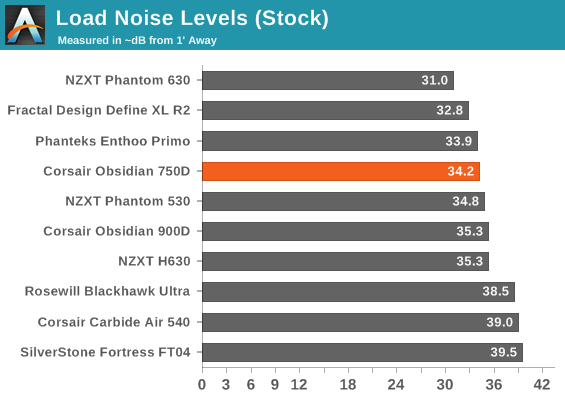 For at least stock testing, the Obsidian 750D is able to hit that middle ground pretty nicely. Load noise is better than a lot of the competing cases; SilverStone's FT04 has worlds better thermals on the CPU, but it's much louder in the process (though it can be tuned to a more pleasing balance of noise and performance depending on the end user's taste.)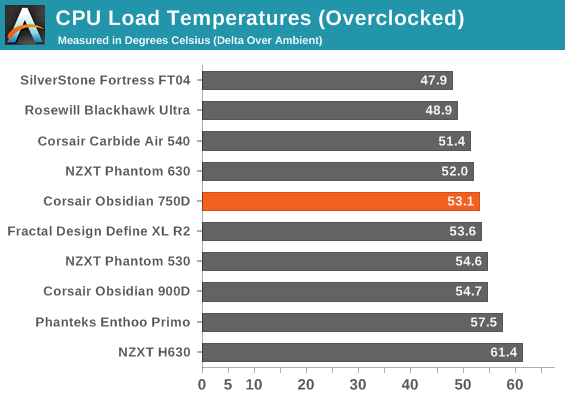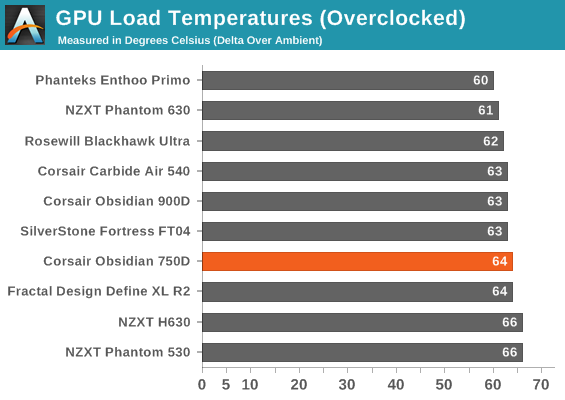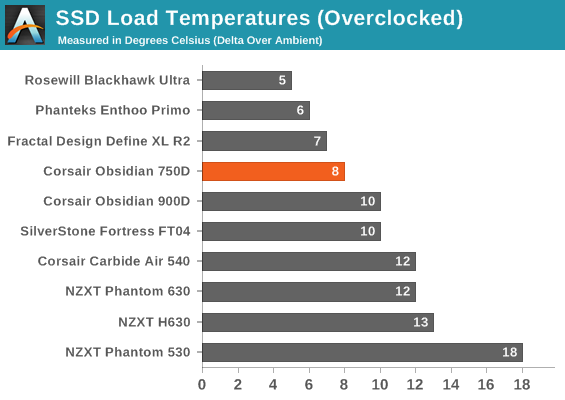 Overclocked thermal performance is surprisingly strong. The 750D isn't leading the pack, but it's posting closer to the top and maybe a degree and a half behind the beefier Air 540.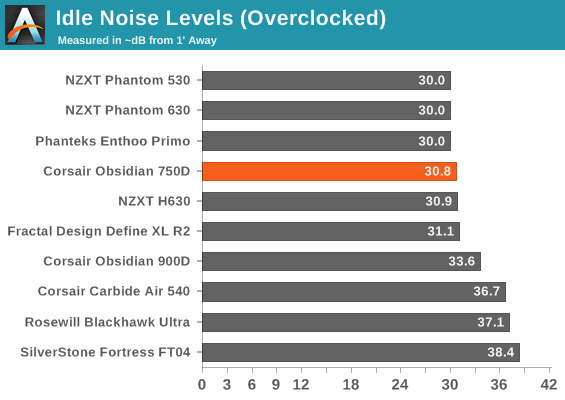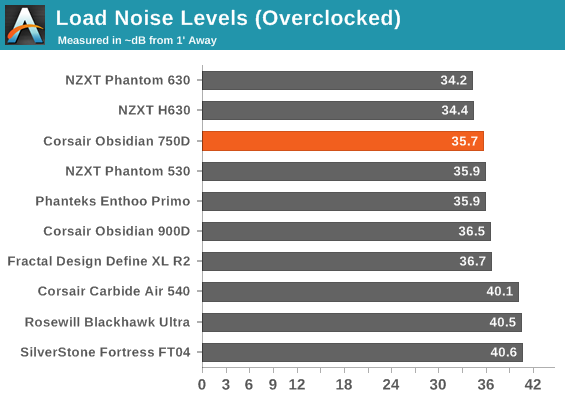 Noise levels prove to be a victory for Corsair, but they're still struggling to beat NZXT's Phantom 630, which runs both quieter and cooler. This is a step in the right direction and the difference between the cases is small enough that you can probably go with whichever you prefer. Corsair really needs to step their game up to compete with NZXT, though; Corsair makes arguably better liquid cooling cases, but NZXT doesn't make you choose.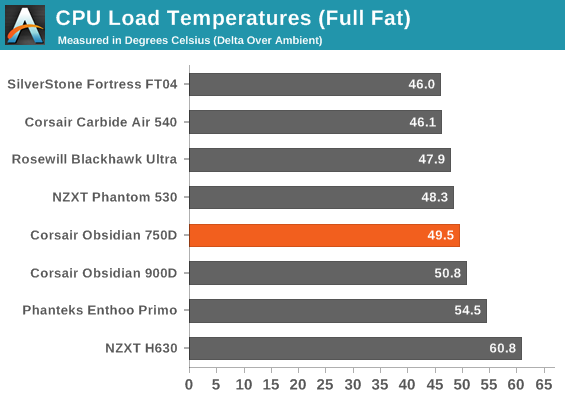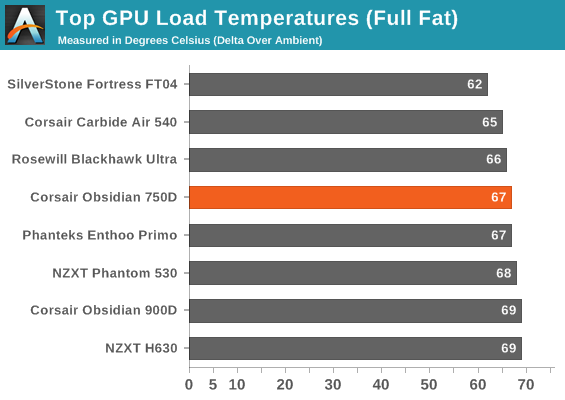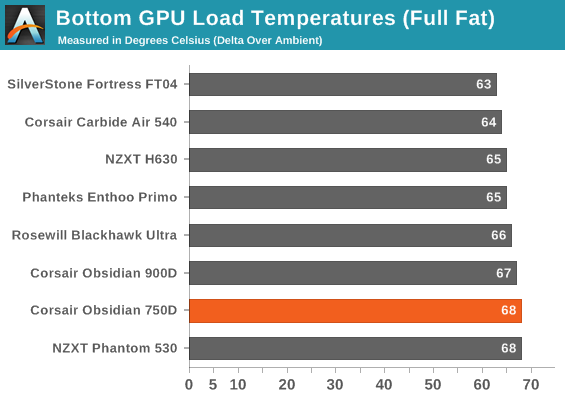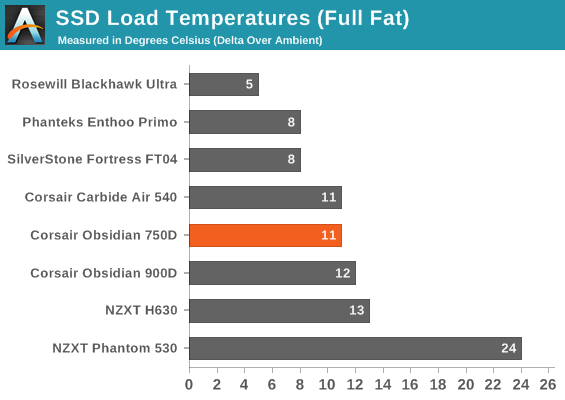 Our full fat testbed unfortunately hits the limits of the Obsidian 750D's stock cooling configuration. Thermals are mostly competitive but measurably weaker than the competition. The traditional ATX layout typically just plain needs more airflow when faced with this much of a thermal load.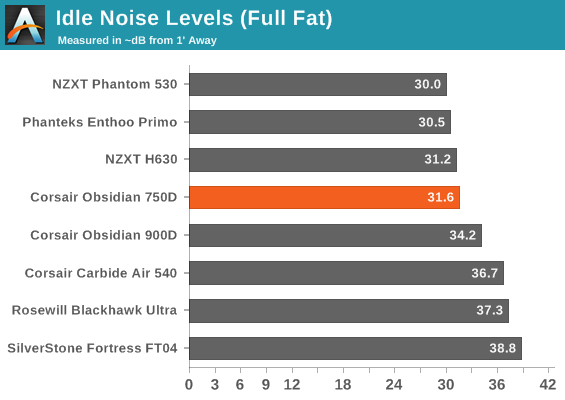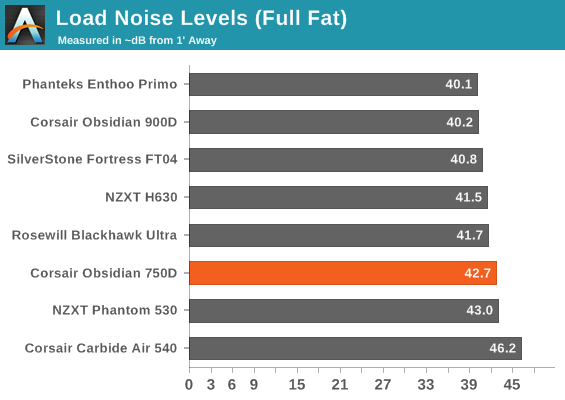 The 750D winds up being one of the louder cases as a result. Corsair's thermal target clearly wasn't something as grueling as this type of system, but this highlights the value of having either PWM fans or a built-in fan controller. Either will allow the case to be more flexible in terms of the systems it can support instead of starting to hit limits.
The script for Corsair cases is pretty much down pat at this point. You can expect ease of assembly, clean design, great liquid cooling support, and middle of the road air cooling stock performance. In these respects, the Obsidian 750D is a pleasant surprise; air cooling performance isn't pack leading, but it's slightly better than just competitive until you start really beating on the system. I'd come into this review having a clear idea of what to expect, but everyone loves when their expectations are exceeded, and that was true of the 750D.
To be certain, the 750D isn't a total, market-crushing homerun. Corsair has yet to really hit one of those, but this is at least an excellent entry in their portfolio. Usability has always been their strong suit and the 750D continues to improve on that; there simply isn't another company that makes easier cases to build in. The toolless 2.5" drive caddies hammer that home. SSDs continue to be a usability hiccup with modern enclosures, and only Corsair and NZXT seem to really be thinking outside the box here. We also continue to get solid build quality, good looks, and excellent liquid cooling support.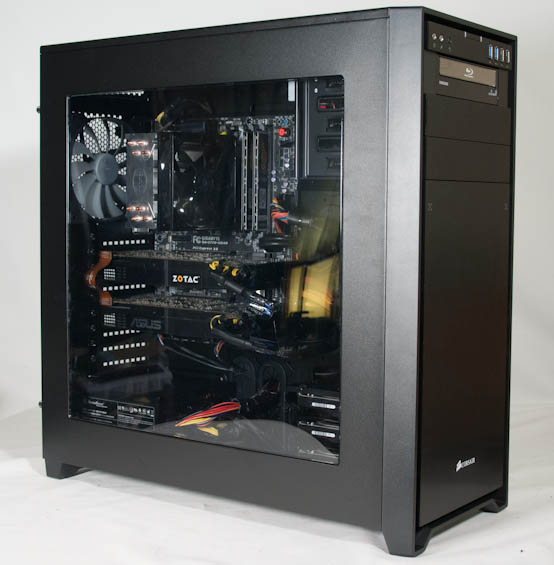 Corsair's seemingly ancient struggle with air cooling performance is starting to finally wane, but their balanced approach with the 750D's fans sacrifices performance in overclocked multi-GPU configurations. The old ATX standard is something Corsair continues to have issues with; only their exotic Carbide Air 540 is really able to offer a solid balance between liquid cooling support and air cooling performance. The cabling issues that spring up around their otherwise innovative SSD mounting system are also a small scratch on their otherwise excellent usability record.
The net result is that the 750D is exceptional, but still requires at least a little specialization. I think it's worth the $159 and I suspect any watercooling enthusiasts out there looking for something solid from Corsair that didn't cost an arm and a leg and weigh twice that much will be happy to see it; in some ways this is really a 900D for the rest of us. Corsair's case designs continue to grow and evolve and they're quickly becoming the new Antec (as that company seems to have unceremoniously ceded the case market they used to own), and the 750D is at least another interesting step on that road.