Original Link: http://www.anandtech.com/show/7314/intel-baytrail-preview-intel-atom-z3770-tested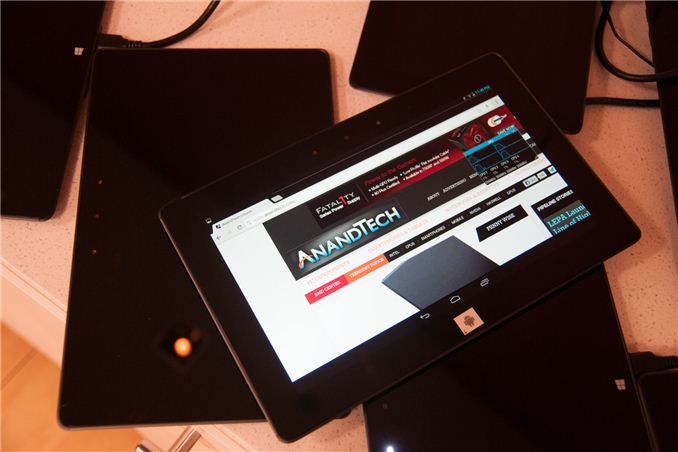 Earlier this year Intel unveiled Silvermont, its first true architectural update to Atom since its introduction in 2008. I won't rehash Silvermont's architecture here, but it's designed to be a true test of Intel's performance in the ultra mobile space. Leveraging Intel's first 22nm SoC process and a very low power/efficient microarchitecture, Silvermont aims squarely at the latest Krait cores from Qualcomm and ARM's Cortex A15.
Today Intel takes the next step forward, introducing the first tablet SoC based on Silvermont: Bay Trail.
Bay Trail takes up to four Silvermont cores, and for the first time in an ultra mobile Intel SoC pairs them with Intel's own graphics IP. That's right, rather than using a GPU block from Imagination Technologies, Bay Trail leverages the same GPU architecture as Ivy Bridge.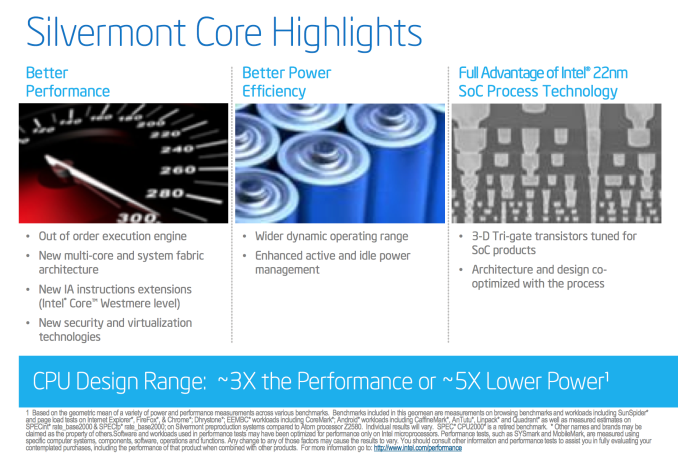 The first Bay Trail tablets will be shipping by the end of the year, across both Android and Windows 8.1. Intel expects Bay Trail to show up in tablets and 2-in-1s priced below $599, with everything above $599 falling under Haswell's jurisdiction.
Bay Trail & Branding

Bay Trail, like all Atom platforms before it, will be available in multiple form factors. Unlike the Atoms of yesterday however, the SoC will carry Pentium and Celeron branding when used in notebooks and desktops. Intel didn't disclose too much about its Silvermont plans in other form factors other than some basic naming:
Basically notebooks ship under the Pentium N3000 & Celeron N2000 series, while desktops will carry Pentium J2000 & Celeron J1000 branding. All Pentium SKUs seem to be quad-core, while Celeron SKUs will be available in both dual and quad-core versions.
Thankfully Intel shied away from introducing the same complexity with its tablet focused Bay Trail parts. All Bay Trail tablet SKUs carry Atom branding. There's the quad-core Z3700 series and the dual-core Z3600 series.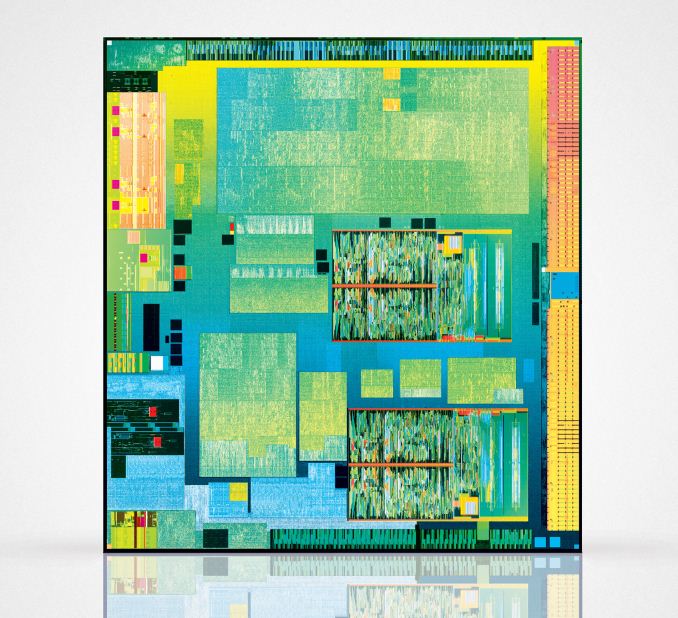 Although Intel offers both dual and quad-core Bay Trail SKUs, they are both based on the same single physical design. In other words, dual-core Bay Trail parts are just die harvested quad-core parts. Intel isn't disclosing die size or transistor counts, which is ironic (and disappointing) given that Apple just disclosed both (or at least relative magnitude of one) for its A7 SoC.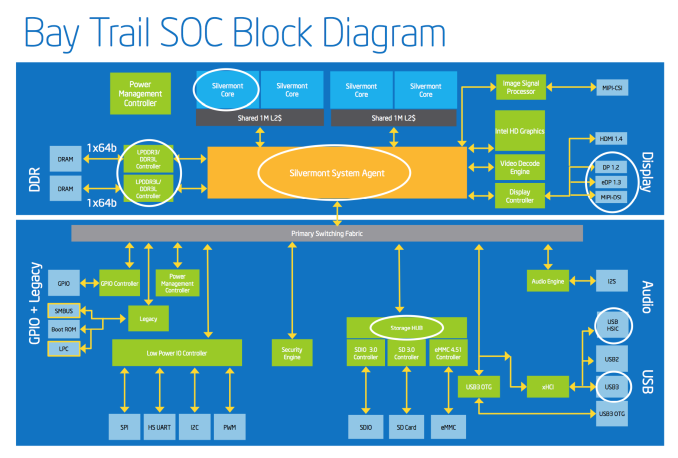 Internally, the Bay Trail design is pretty nice. There are either two or four cores enabled, each pair with a shared 1MB L2 cache (2MB total for a quad-core part). Intel is following the unfortunate lead of everyone else in the mobile industry and advertising max turbo frequencies exclusively.
Thankfully Intel hasn't yet decided to obfuscate max non-turbo frequencies:
Bay Trail Turbo Speeds
Z3770
Z3770D
Z3740
Z3740D
Z3680
Z3680D
Max turbo frequency
2.39GHz
2.41GHz
1.86GHz
1.83GHz
2.0GHz
2.0GHz
Max non-turbo Frequency
1.46GHz
1.5GHz
1.33GHz
1.33GHz
1.33GHz
1.33GHz
In general you're looking at 1.33GHz - 1.46GHz max non-turbo frequencies, with Bay Trail being able to turbo up to anywhere between 1.83GHz and 2.40GHz depending on SKU.
Although the core architecture is 64-bit in design, there will be no OS support for 64-bit Bay Trail at launch. Windows 8.1 with Connected Standby appears to still be 32-bit only, and obviously Android is 32-bit only at this point as well.
The memory interface is fairly ridiculous by mobile standards. You either get two 64-bit LPDDR3 channels (128-bit total width) or a single 64-bit DDR3L channel. In the case of the former, that's the same memory bus width as Apple's A5X/A6X line of SoCs as well as the standard Core i3/i5/i7 parts. Max supported memory frequency is 1066MHz in dual-channel LPDDR3 mode, or 1333MHz in single-channel DDR3L mode. The only benefit to the latter is really cost, as Bay Trail will purportedly show up in some very cheap devices.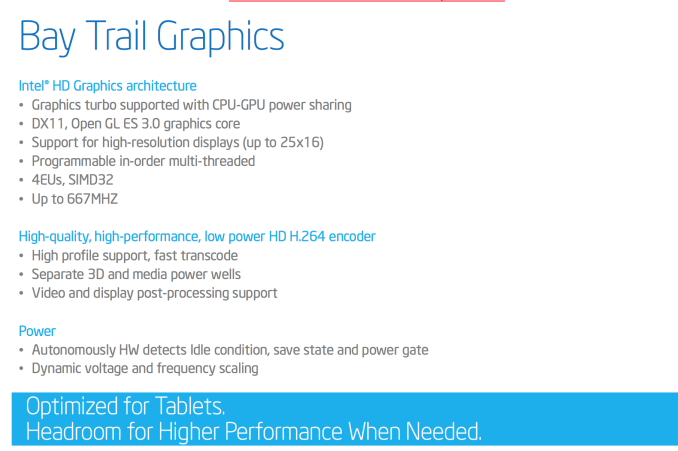 The GPU is Intel's own Gen7 graphics core, a cut down implementation of what we first saw in Ivy Bridge. I suppose it's premature to expect Merrifield, Bay Trail's smartphone counterpart, to also use Intel's own graphics core but it's clear this is the direction Intel is headed in - and away from licensing IP from Imagination Technologies.
Rather than 16 EUs in the Ivy Bridge GT2 configuration (HD 4000), Bay Trail's HD Graphics core ships with 4. The 4 EUs are otherwise effectively identical to what we found in Ivy Bridge. The GPU can dynamically scale frequency and share power between itself and the CPU cores. Minimum GPU frequency on Bay Trail is 311MHz and a max GPU frequency of 667MHz (or 688MHz for the DDR3L SKUs).
Intel is quick to point out that Bay Trail's GPU supports DirectX 11 and OpenGL ES 3.0. Unfortunately this support list appears limited to Windows. Under Android, it's unclear whether or not Bay Trail will ship with anything above OpenGL ES 2.0 support. The same goes for GPU accelerated Renderscript. Bay Trail supports up to 2560 x 1440 displays over eDP1.3/DP1.2, or 1080p over HDMI. Panel Self Refresh is also supported.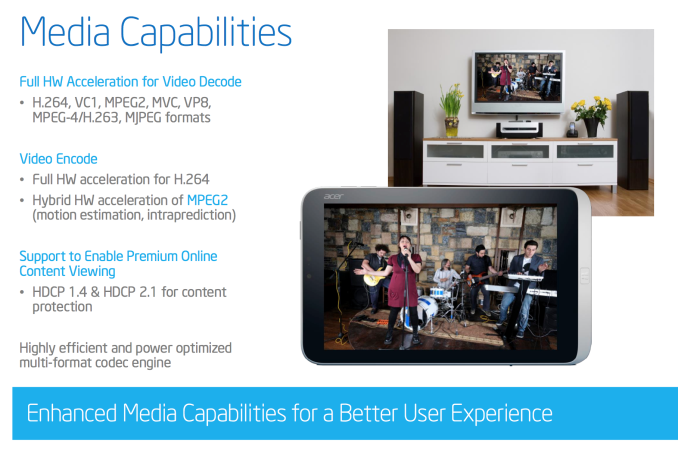 Video encode and decode blocks also shifted away from Imagination in Bay Trail. Both IP blocks are custom from Intel now. The ISP (Image Signal Processor) is from Silicon Hive (an Intel acquisition).
Our Windows performance analysis takes place on Intel's Bay Trail Form Factor Reference Design. The 10-inch tablet features a 2560 x 1440 display, 2GB of LPDDR3-1067 memory and a 64GB eMMC solution. The platform was running Windows 8.1 (32-bit).
Intel left me to install and run anything I wanted to during a period of a few hours at their campus in Santa Clara. I got a feel for the speed and snappiness of Bay Trail during my benchmark setup/installation process. While I don't believe Clover Trail was really usable in Windows 8's desktop mode (it was just too slow), the same is definitely not true for Bay Trail. With the exception of a few benchmark installs or loads that simply took forever, my Bay Trail experience was really quite good under Windows. Bay Trail is obviously not as fast as Haswell when it comes to general usage, but it's definitely worthy of a discussion. Whether or not it actually is good enough for an entry level machine will depend on how OEMs choose to configure their Bay Trail systems. I'll hold off on a final verdict here until we have some time with final Bay Trail devices and not just FFRDs.
Intel already teased the Atom Z3770's multithreaded Cinebench performance, but what about single threaded performance? Remember that single threaded performance is often a signfiicant contributor to things like application responsiveness.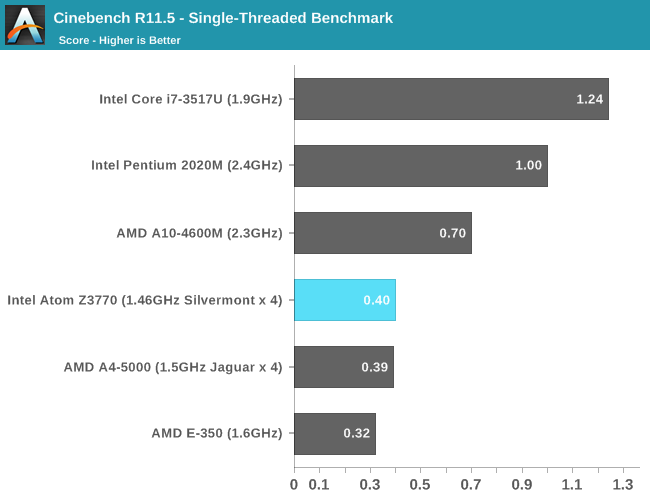 The single threaded performance numbers are just barely ahead of AMD's Jaguar based Kabini SoC. The big difference however is power. I had Intel measure SoC power at the board level while running a single threaded Cinebench 11.5 run on the Atom Z3770 and saw a range of 800mW - 1.2W. AMD on the other hand lists the A4-5000's SoC/APU idle power as 770mW. I don't have equivalent data for AMD, but with the A4-5000 idling at 770mW, it's safe to say that SoC level power consumption is lower on Bay Trail. The A10-4600M/Trinity comparison is interesting as it really helps put Bay Trail's performance in perspective as well.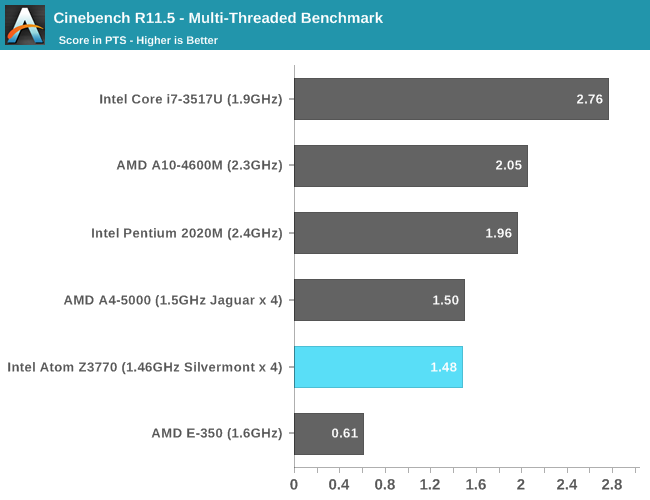 Multithreaded performance puts Bay Trail and AMD's Kabini at similar performance levels. Once again, looking at SoC power however the Atom Z3770 pulls around 2.5W in this test. Looking at the increase in platform power for the A4-5000 here, I'm assuming that the equivalent data for AMD would put Kabini in the 6W range. Multithreaded performance comes very close to the Pentium 2020M, but that's really overstating the strength of Bay Trail here as the Atom Z3770 has twice as many cores as the Pentium 2020M.
Single threaded integer performance is likely more useful to know, especially given Bay Trail's target market. For a rough idea of what to expect there, we turn to 7-Zip's built in benchmark. The dataset footprint is large enough to require main memory accesses, making this benchmark a little more interesting than it otherwise would've been. I unfortunately don't have access to all the CPUs here, so the 2C/4T 1.9GHz Core i7 3517U turns into a 2C/4T 1.7GHz Core i5 3317U as it's the only comparison data I had handy: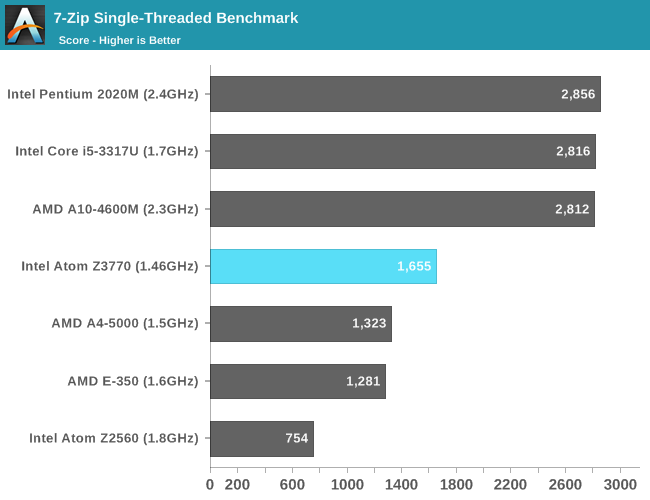 While Silvermont's single threaded FP performance seemed identical to Jaguar, its single threaded integer performance is much higher in the 7-Zip benchmark. Here the Atom Z3770 is 25% faster than the A4-5000. Looking further up the list however, there's still a healthy gap between thermally constrained Ivy Bridge Ultrabook class parts and the best Bay Trail has to offer. In this case Surface Pro's silicon is 70% faster than Bay Trail. Depending on your perspective that's either a huge difference or remarkably small given how wide the previous Atom to Core gap was.
7-Zip also features a multithreaded benchmark. Here we're looking at the same workload, but now split across all available cores/threads: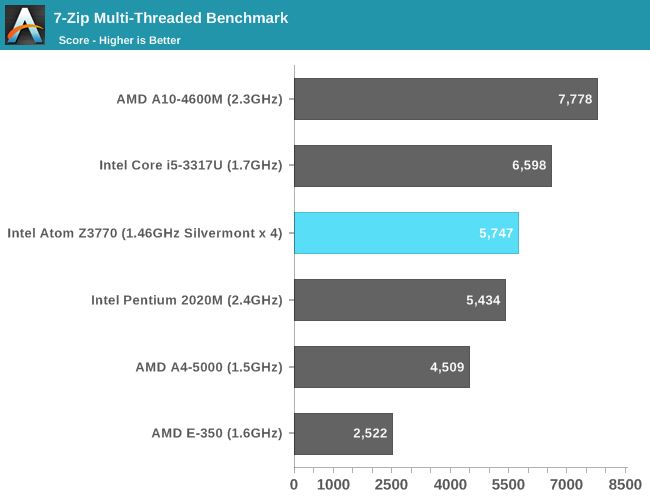 In multithreaded integer workloads, the Z3770 gets dangerously close to Ivy Bridge levels of performance. Again, we're overstating Bay Trail's performance here as the Z3770 has four cores while the Core i5-3317U only has two (but with Hyper Threading presenting another 2 virtual cores). I don't believe most tablet workloads are heavily threaded integer workloads, however the world is hardly single threaded anymore. The reality is that a quad-core Bay Trail should perform somewhere between 40% - 80% of a dual-core Ivy Bridge.
For what its worth, Bay Trail SoC power during the multithreaded 7-Zip benchmark was between 1.9W - 2.5W. At this point there's no question in my mind that Silvermont and Bay Trail are truly tablet-class power consumers.
Our next tests are browser based benchmarks that, once again, hope to characterize Bay Trail's performance in a manner that's more representative of lighter client workloads: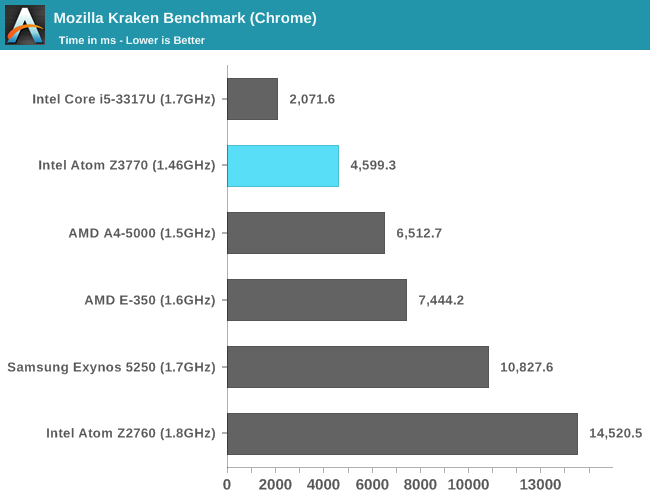 The Silvermont vs. Jaguar comparison shows a 29% advantage for Intel. Looking back at Clover Trail vs. Bay Trail, the performance improvement is staggering. Intel improved performance by over 3x at this point. The 17W Ivy Bridge vs. Bay Trail comparison continues to be interesting. Here the Core i5-3317U completes the Kraken test in half the time of the Atom Z3770.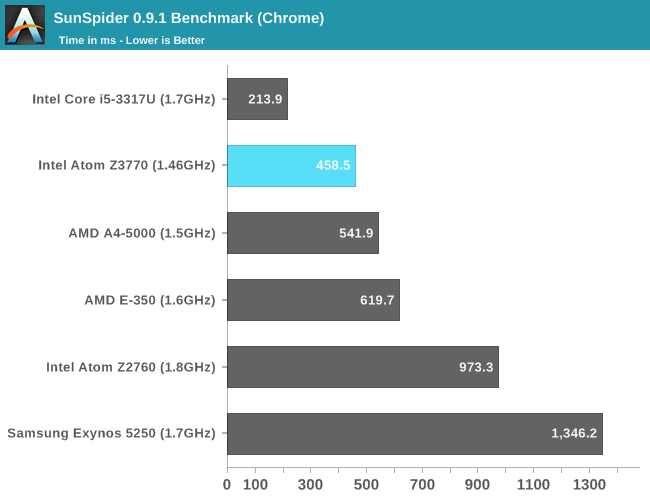 The Silvermont/Jaguar gap in SunSpider shrinks a bit in SunSpider. Bay Trail is still over 2x faster than Clover Trail, and Ivy Bridge remains over 2x the speed of Bay Trail.
For our final light CPU workload test we have PCMark 7. This is an interesting benchmark as it takes into account the storage subsystem a bit. Keep in mind here that the Bay Trail system is using eMMC based storage, while all of the others are using a standard SSD (Samsung SSD 830):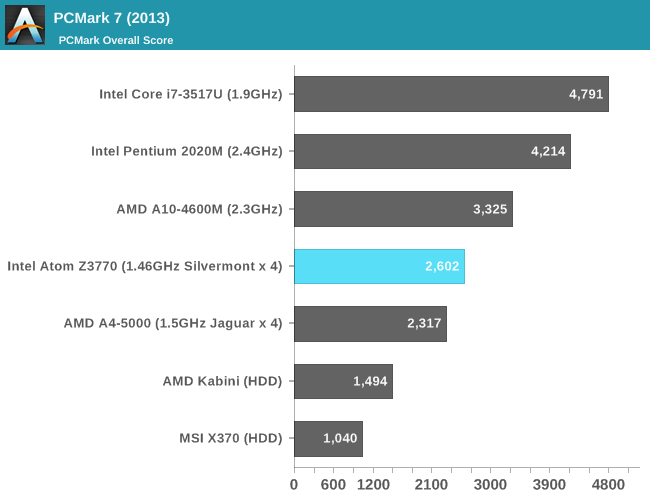 As we saw earlier, Bay Trail can make up for its single threaded performance by doing quite well in multithreaded tests. PCMark 7 attempts to present a mixed workload view of Bay Trail's performance and the result is relatively similar to AMD's Jaguar based A4-5000 Kabini APU. AMD's Trinity ends up being just under 30% faster than Bay Trail, while 17W Ivy Bridge is 60% faster. Overall platform performance is definitely not bad at all as long as the OEM does a good job specing the device. In this case the Samsung eMMC solution in the Bay Trail tablet reference design was surprisingly decent.
GPU Performance
Arguably the more interesting CPU and GPU tests will come in the Android section but I borrowed some Android data from our Kabini review and ran through 3DMark, GFXBench 2.7 and some lighter Steam games: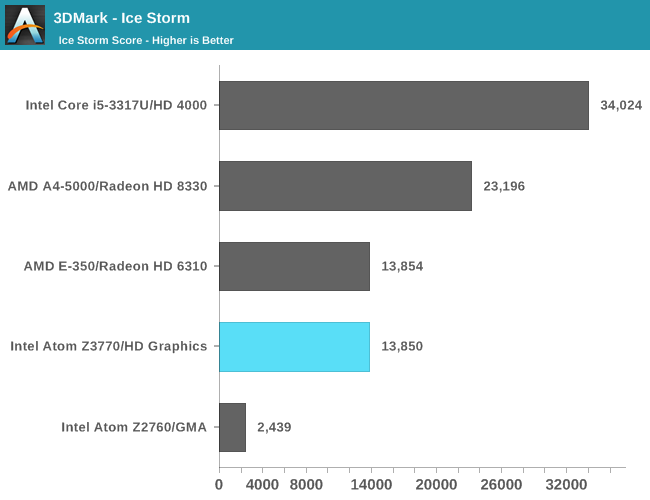 Bay Trail's overall 3DMark Ice Storm score (720p) is about on par with Brazos rather than being a competitor for Kabini. Bay Trail's HD Graphics core is based on Ivy Bridge and it's a cut down implementation at that.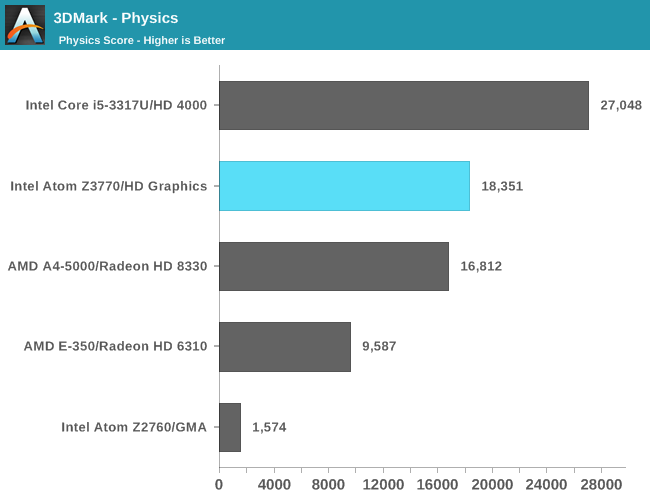 3DMark's Physics test is basically a multithreaded CPU benchmark, which allows the Z3770 to pull ahead of the A4-5000.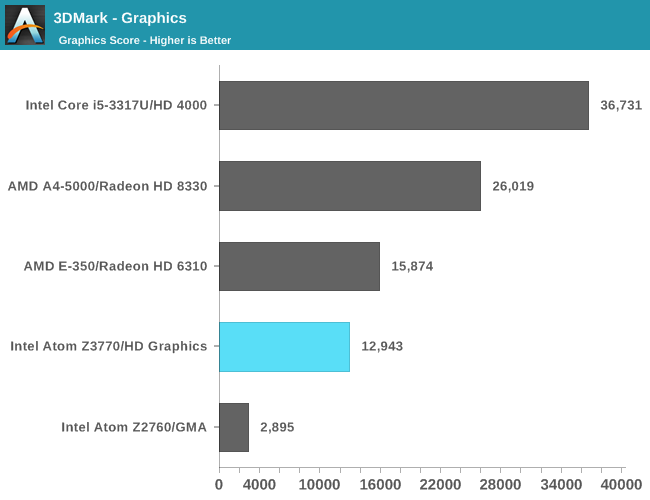 If we isolate graphics alone however, the Z3770 once again falls behind Brazos.
GFXBench 2.7's T-Rex HD test seems to agree with what 3DMark tells us: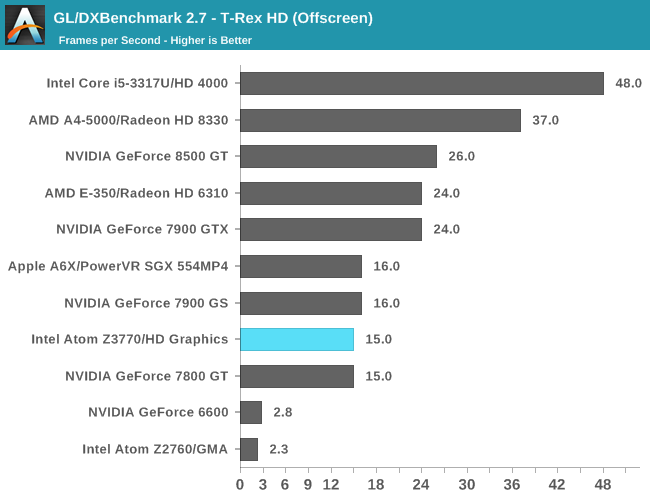 Obviously under Windows we have more opportunities to benchmark actual game performance. I turned to the lighter (1366 x 768, low quality) game benchmarks I ran for our HD 5000 comparison. I had to exclude Super Street Fighter IV as a driver problem kept it from running on the Bay Trail FFRD.
In a couple of cases Bay Trail delivers roughly half the GPU performance of a 2011 11-inch MacBook Air, but in a much lower power package. Minecraft saw a bigger gap at 1/3 the performance. None of these games are really playable, but that doesn't mean others aren't. I was able to play Team Fortress 2 on Intel's Bay Trail FFRD (with a Bluetooth keyboard and mouse of course) at reasonable frame rates. The system would chunk occasionally but for the most part it was relatively quick. Obviously Bay Trail's graphics are better suited for lighter tablet games.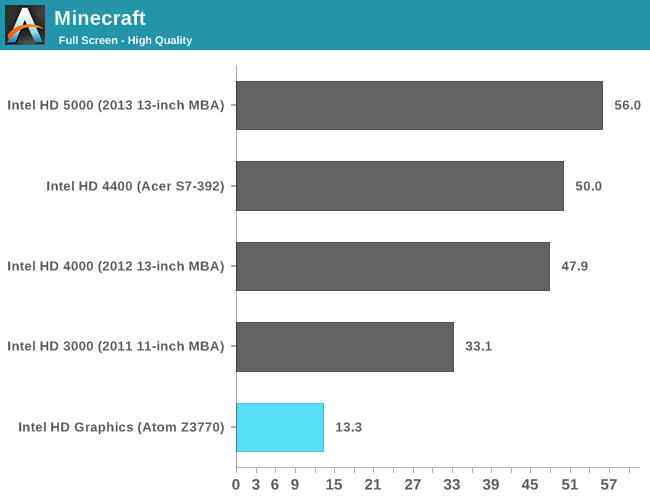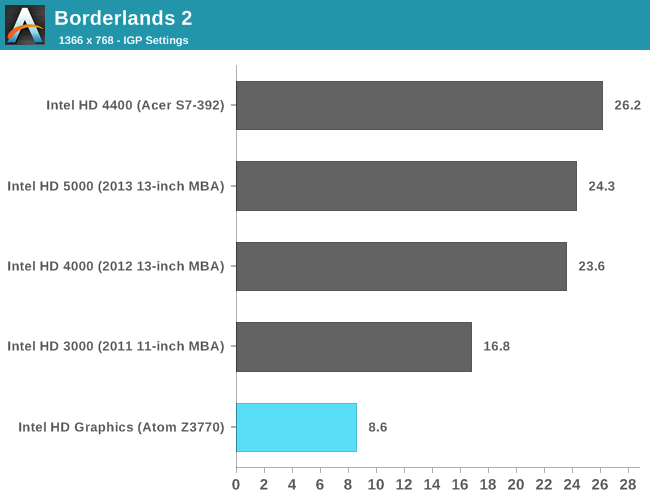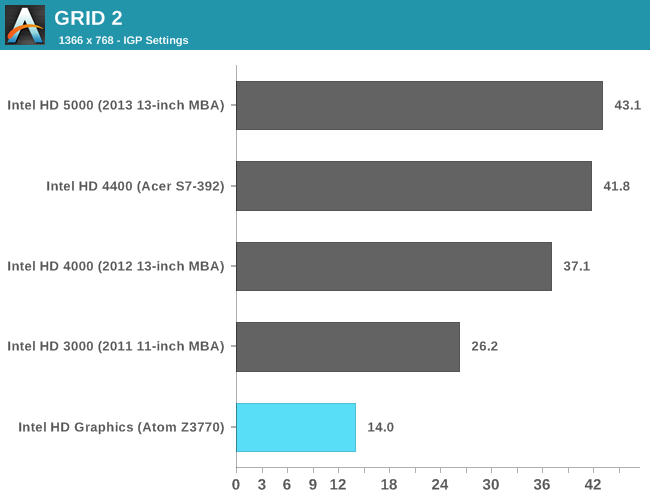 In addition to showing Bay Trail running on a Windows 8.x platform, Intel showed us a "pre-beta" version of the platform running Android 4.2.2. I have to emphasize that the build they showed us definitely seemed pre-beta, as there was some instability, but overall the build was good enough to run some tests on and get a feel for. Intel made it clear that they do have a lot more work to do on their Android build before it's considered close to final quality than the Windows equivalent.
Inside Android we can still see the CPU state table data and how long the cores are sitting in each performance state still, despite this now being managed in-silicon on Bay Trail. In addition Android sees the 2.39 GHz Z3770 boost frequency and reports it. I didn't see any strange behavior on the device while running tests and watching CPU frequency, if anything the reference design platform stayed at the maximum boost frequency even with four cores plugged in for an impressive amount of time. Of course this is a tablet so there's more TDP to play around with compared to a phone.
Depending on where you were in the Android UI, there was some definite stutter, but I'm told this is a result of an issue with Dalvik not allocating threads to cores properly that Intel is still tuning, something which you can see plays itself out as well in the AndEBench Java test that runs in Dalvik. The launcher especially had some stutter, but Intel claimed they were aware of it and that final performance in areas like that would be dramatically improved. Regardless of the state of Bay Trail's Android port, it affords us the opportunity to look at performance through our pretty standard benchmark suite.
On the CPU side for Android we're still limited to just a few tests that rely on a combination of native code and stuff that runs inside the browser. That means AndEBench, JavaScript benchmarks, and part of Vellamo.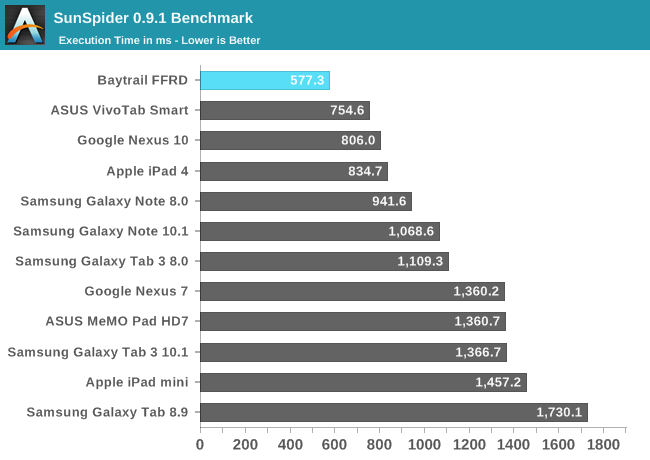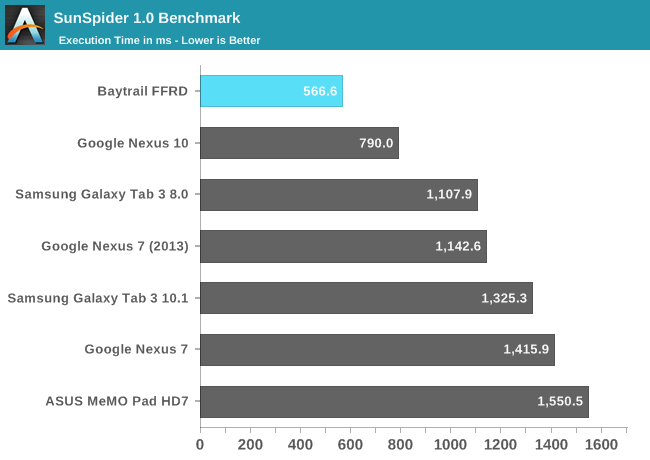 Sunspider has been a regular staple but in recent time has become an exercise in browser JavaScript engine optimization rather than actual performance. Nevertheless the FFRD takes the crown in both 1.0 and 0.9.1 (we have more tablet data from the 0.9.1 version so I replicated it here).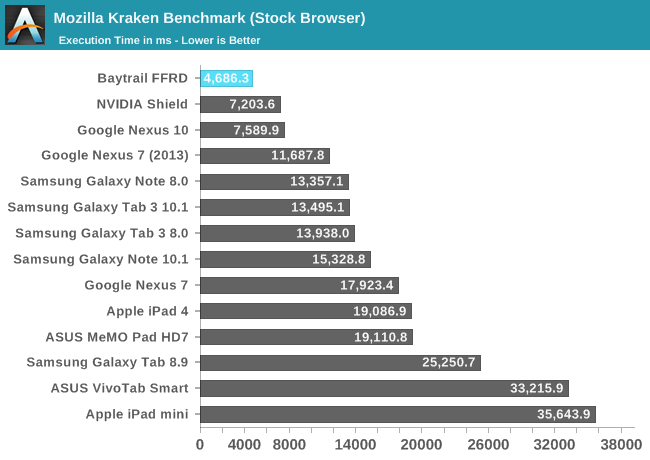 Kraken is another JavaScript benchmark which hasn't quite been an optimization target everyone has gone after lately, and it's also longer, which makes it a bit more reliable. Once again Bay Trail takes the crown here with notably faster JS engine performance.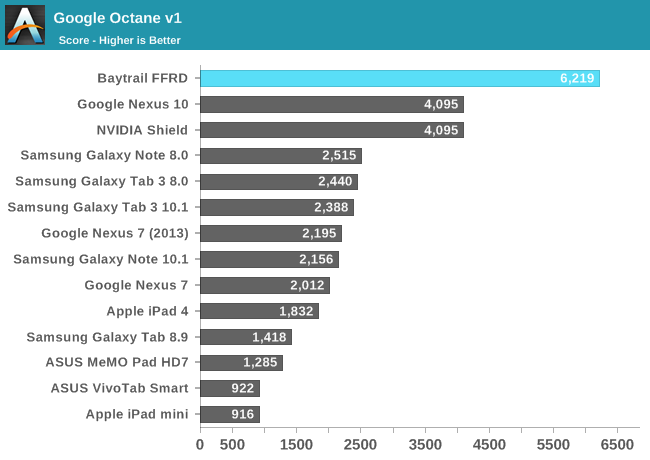 Google Octane is another JS test that isn't quite as platform optimized yet, here there's once again dominance by Bay Trail with just over a 50 percent higher score.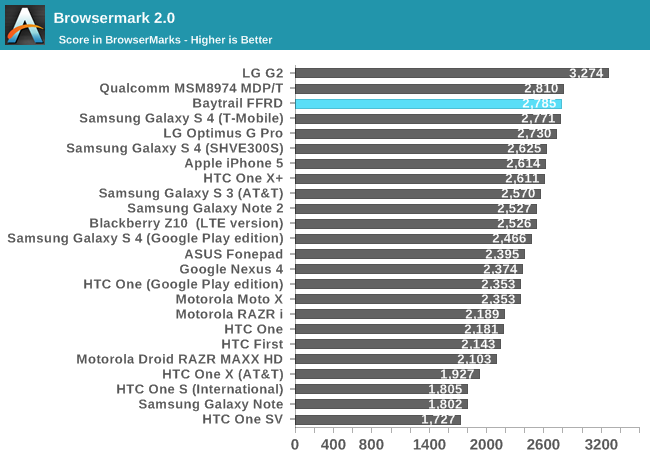 Browsermark has a combination of both JS tests and other web related performance metrics. Here the Bay Trail platform lags behind the 8974 based devices slightly. This isn't a raw JavaScript benchmark again but rather a more holistic web browsing performance test, so it's interesting to see Bay Trail a bit behind here.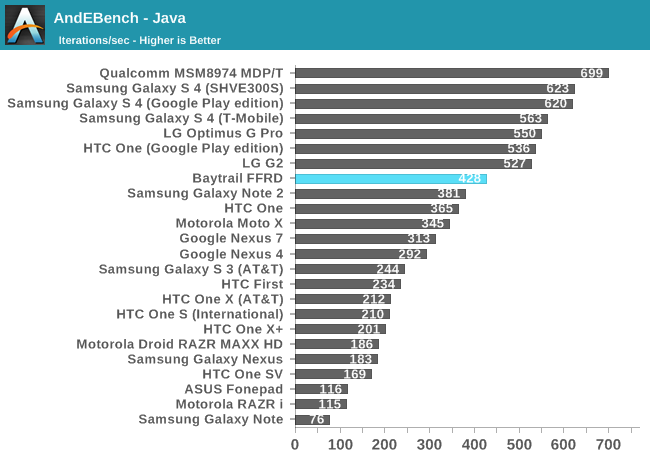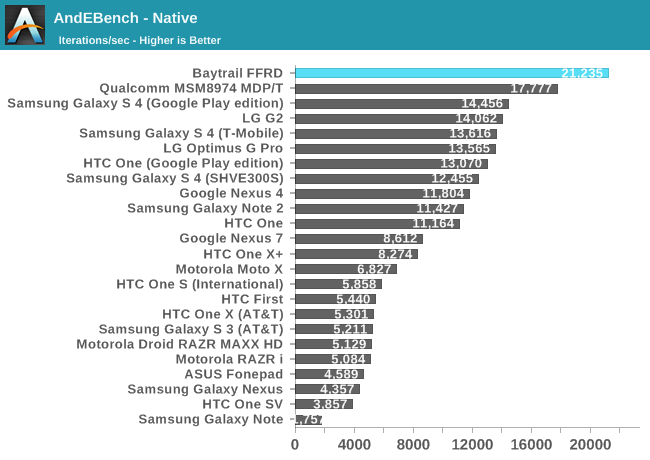 AndEBench is a combination native compiled microkernel benchmark (indicative of NDK application performance) that also runs a very similar workload atop Dalvik like a normal Android Java application. Here we can see what Intel was talking about when they said they have more work to do getting Dalvik working properly at dispatching threads to appropriate cores, hopefully the Java number will climb considerably. The native test also shows a lead over the competition.
GPU Performance
While Bay Trail clearly leads on the CPU side, its GPU performance is more middle of the road - at least among the higher end SoCs. In 3DMark Bay Trail's GPU performance is aided by the more CPU bound nature of the benchmark, but here Intel is able to beat the Snapdragon 600. Snapdragon 800 on the other hand pulls ahead by around 35%.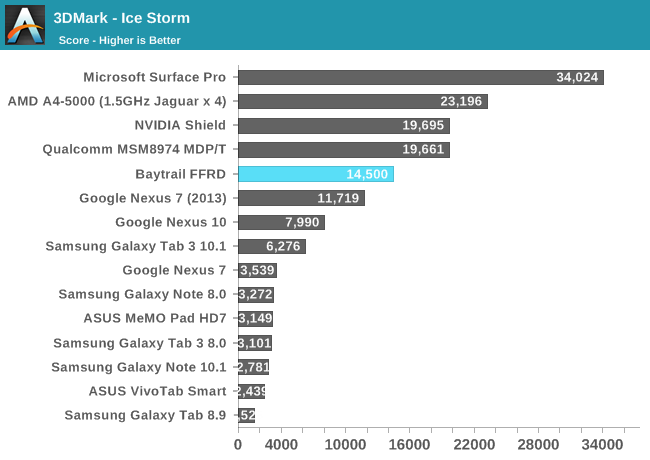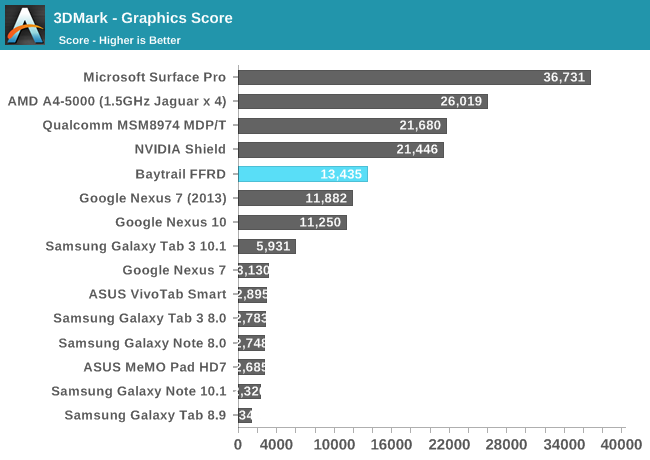 The 3DMark Physics test is effectively a CPU test, which once again plays to Bay Trail's strengths. Here it's faster than Snapdragon 800 and Cortex A15. Only Ivy Bridge is quicker in a tablet.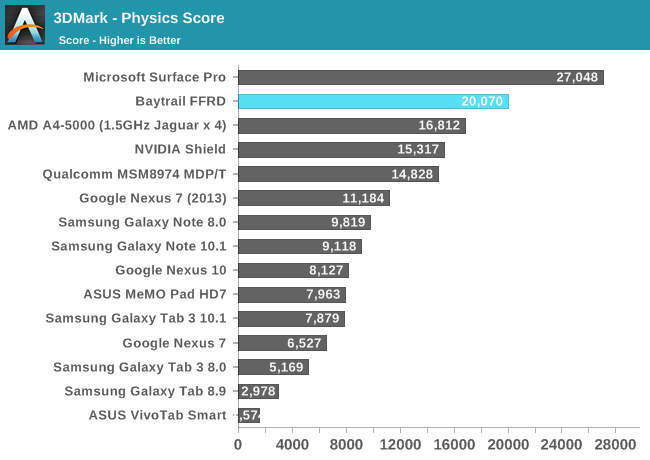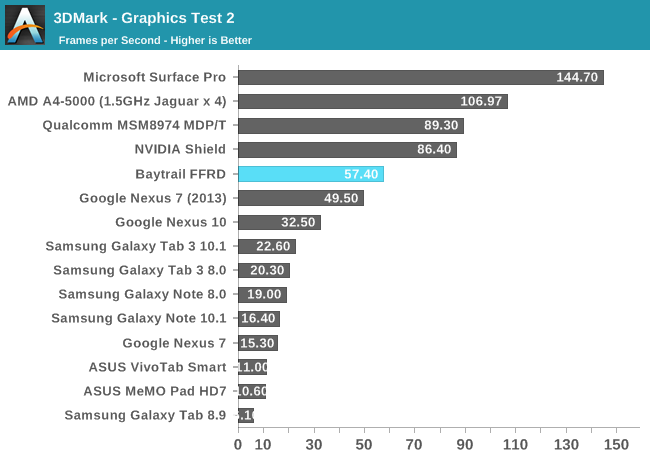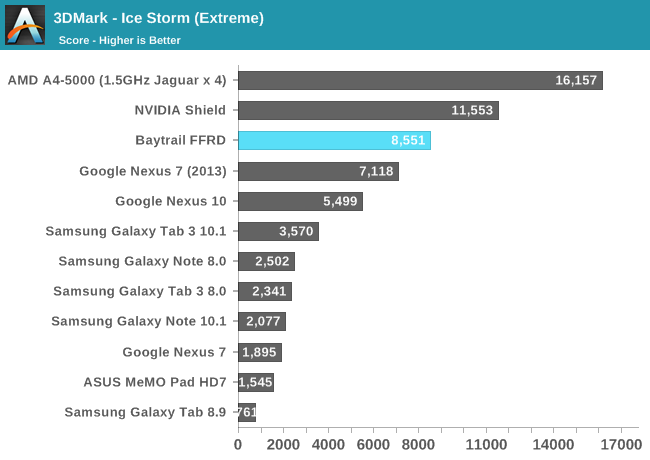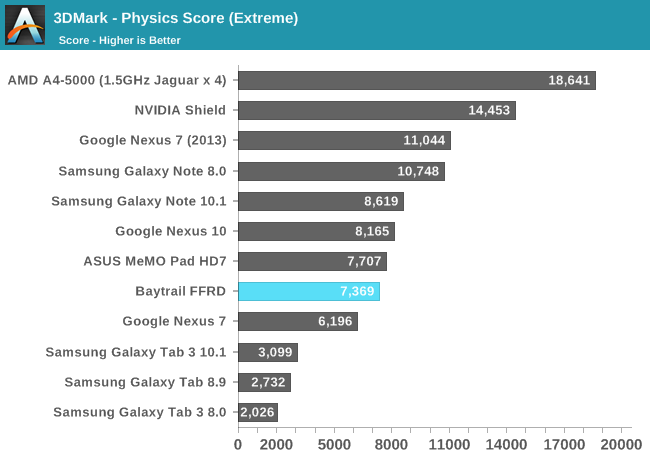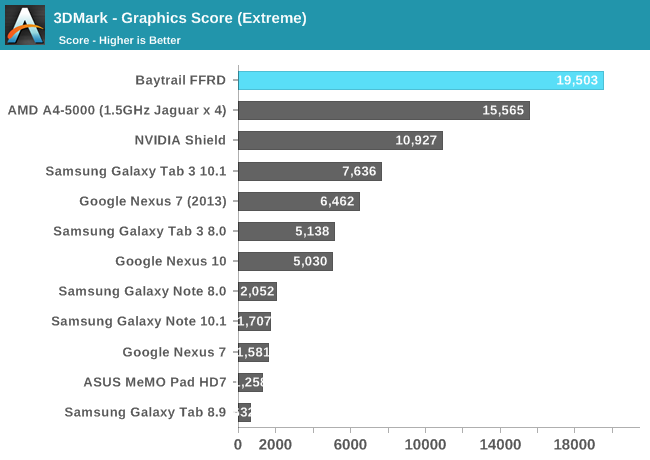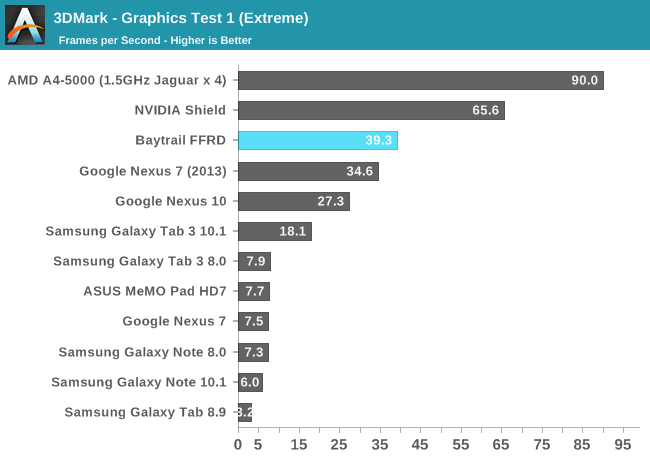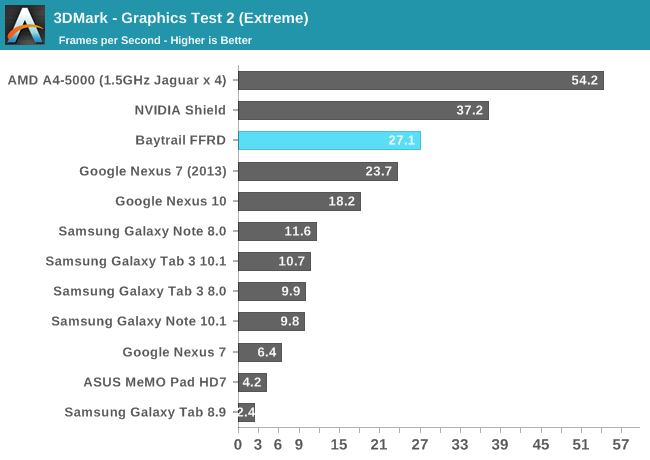 Basemark X
Basemark X is a bit more GPU bound than 3DMark, and we also have iOS data here so we can put Bay Trail's performance in better perspective. Here Bay Trail is a bit slower than the iPad 4, and clearly Tegra 4 and Snapdragon 800. Intel's GPU in Android is measurably quicker than Adreno 320/S600 though.
Bay Trail's onscreen performance is penalized by the FFRD's extremely high native resolution.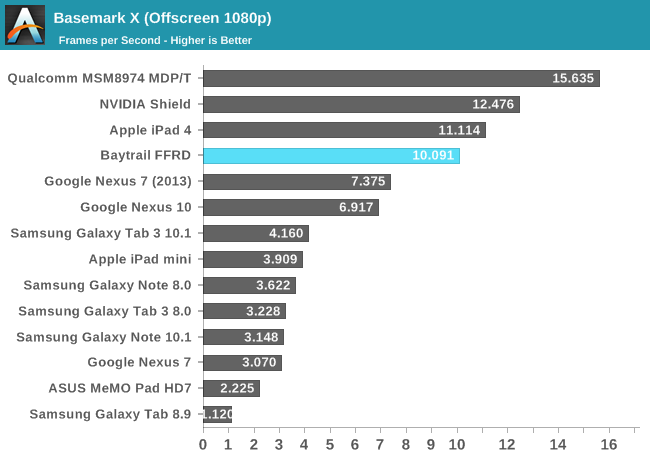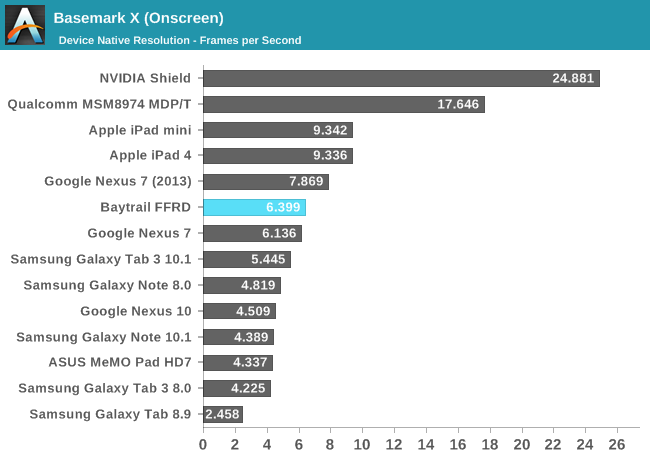 GLBenchmark 2.7
The more interested GLBenchmark numbers, T-Rex HD, show Bay Trail just behind the iPad 4 in performance. It's definitely not bad at all but clearly not industry leading.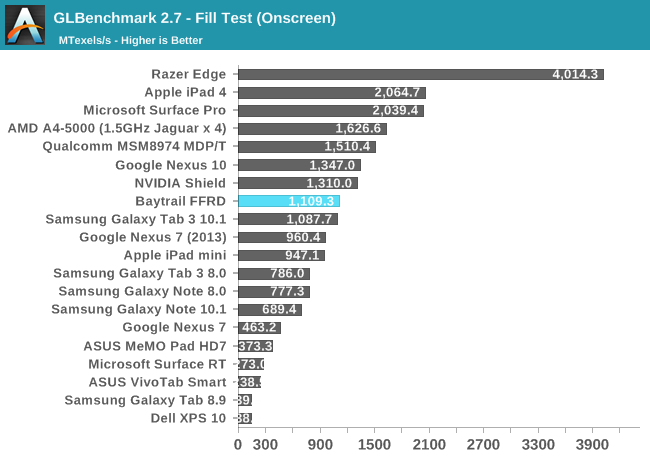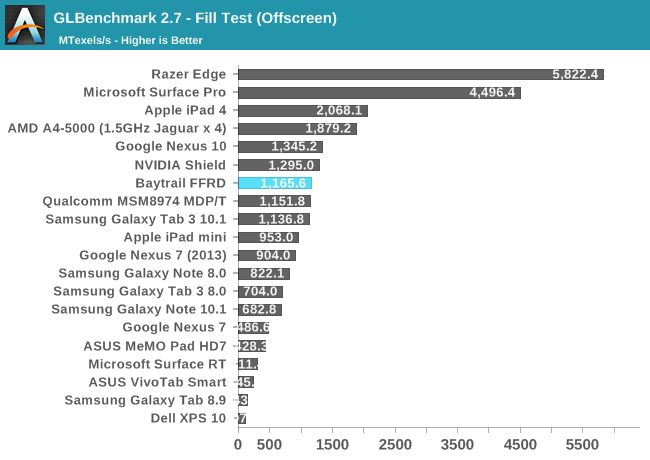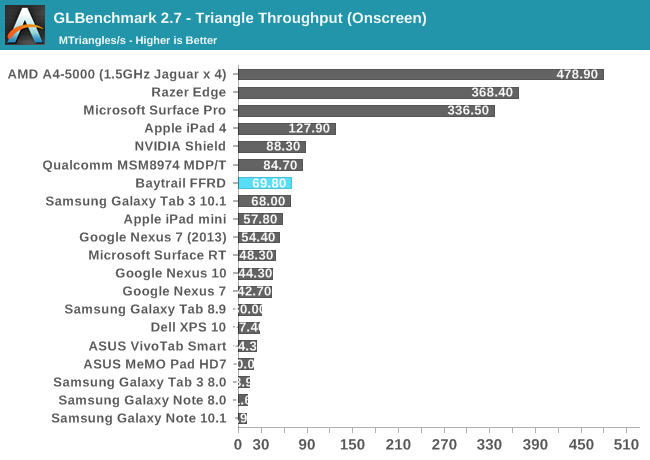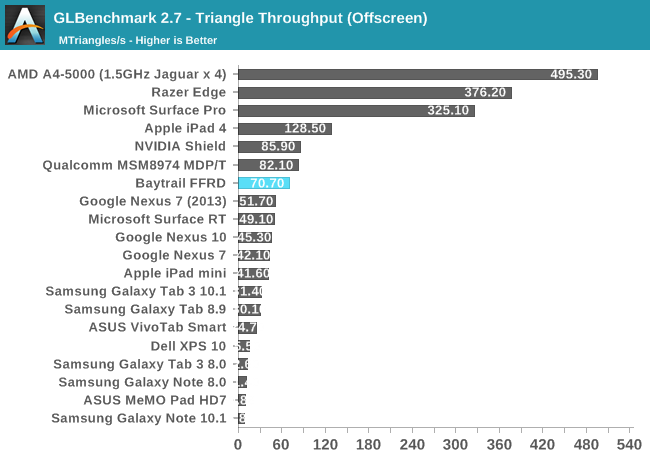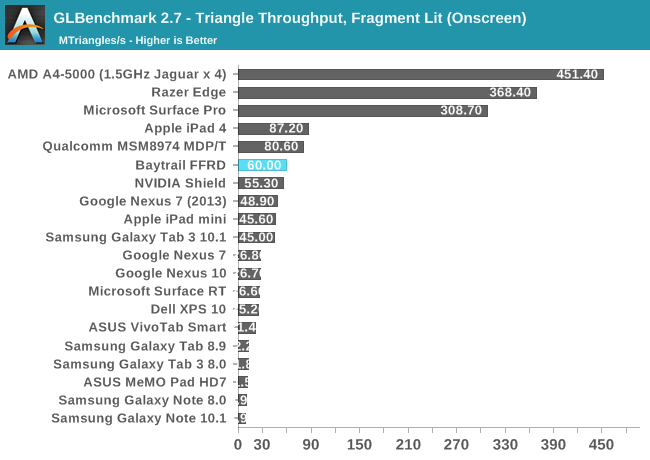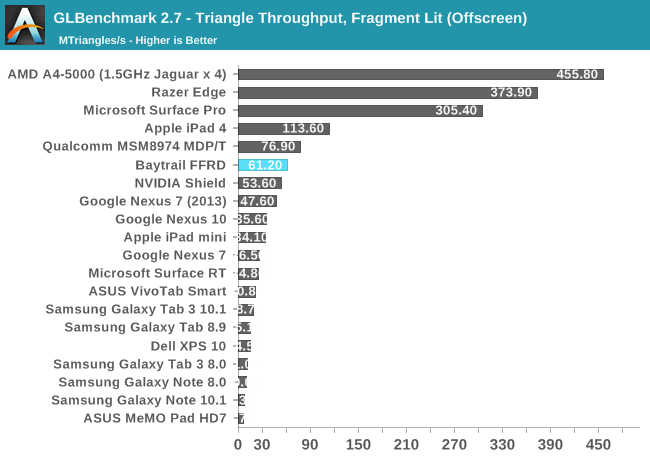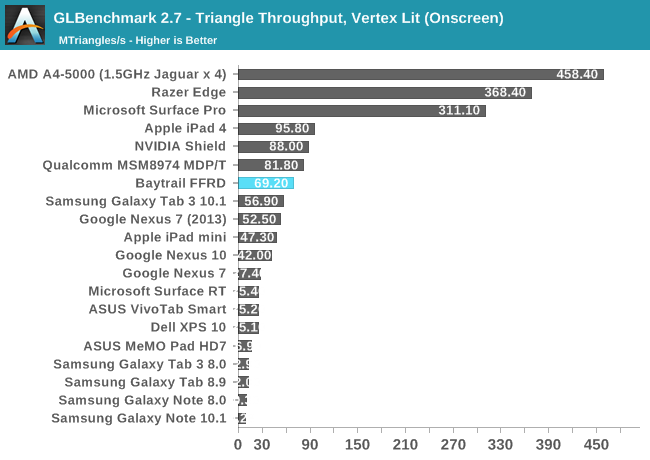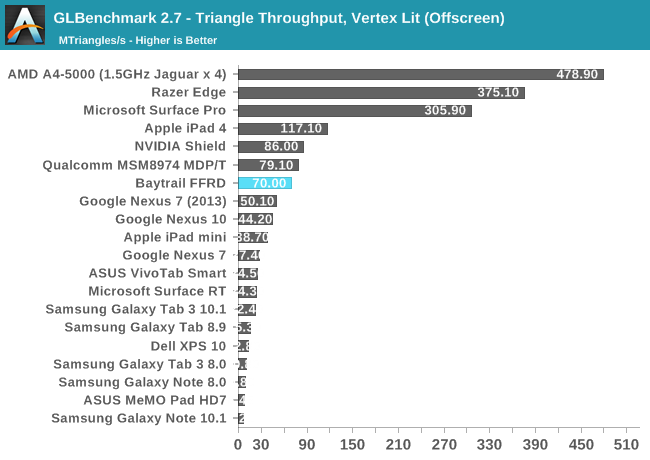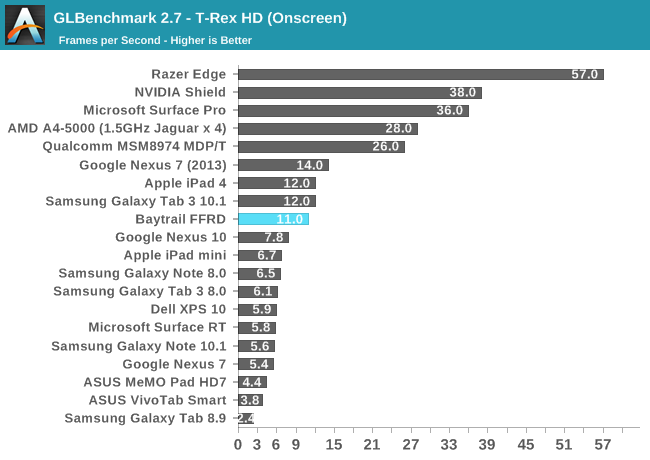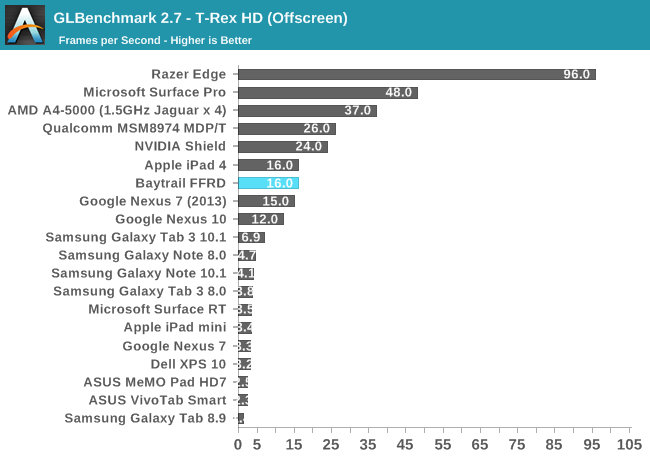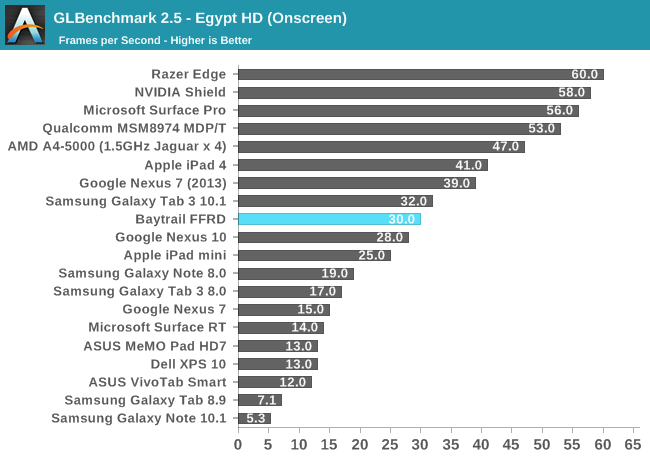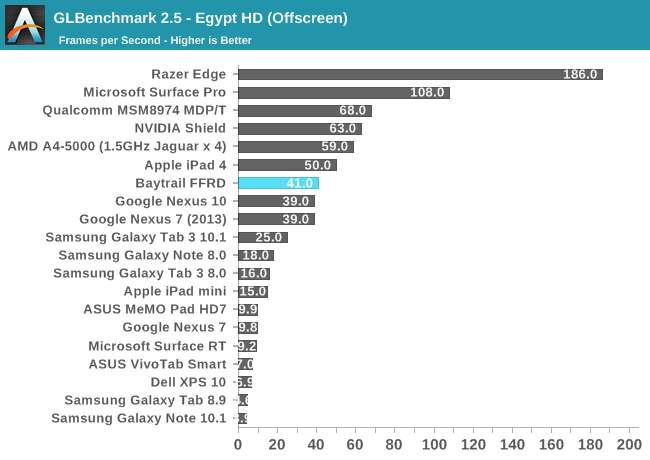 Final Words
At its Silvermont disclosure, Intel promised performance better than any other ARM based core in the market today. Looking at our Android results, Intel appears to have delivered on that claim. Whether we're talking about Cortex A15 in NVIDIA's Shield or Qualcomm's Krait 400, Silvermont is quicker. It seems safe to say that Intel will have the fastest CPU performance out of any Android tablet platform once Bay Trail ships later this year.
The power consumption, at least on the CPU side, also looks very good. From our SoC measurements it looks like Bay Trail's power consumption under heavy CPU load ranges from 1W - 2.5W, putting it on par with other mobile SoCs that we've done power measurements on.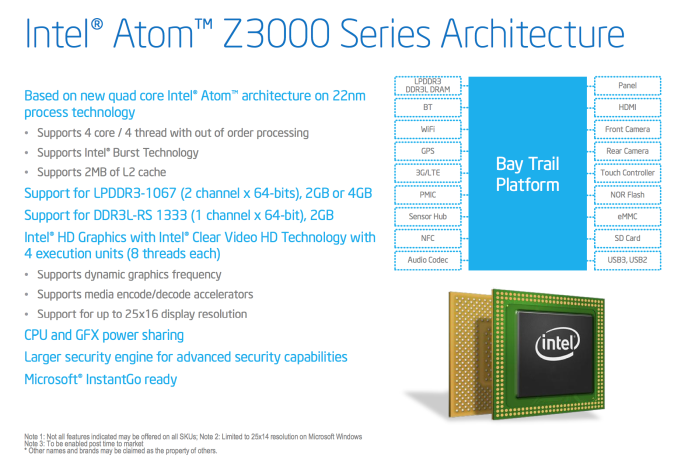 On the GPU side, Intel's HD Graphics does reasonably well in its first showing in an ultra mobile SoC. Bay Trail appears to live in a weird world between the old Intel that didn't care about graphics and the new Intel that has effectively become a GPU company. Intel's HD graphics in Bay Trail appear to be similar in performance to the PowerVR SGX 554MP4 in the iPad 4. It's a huge step forward compared to Clover Trail, but clearly not a leadership play, which is disappointing.
The big unknowns are things like video decode power efficiency, perf and quality of their ISP and idle power efficiency vs. Qualcomm.
Bay Trail looks like a good starting point for Intel in mobile, and the performance of Silvermont makes me excited for Merrifield in phones next year. What Intel needs to do going forward is simply continue to iterate and execute for the next few generations after Bay Trail and it will have a real chance at success in mobile.
My biggest concern is about the design wins we see based around Bay Trail. Although Intel is finally in a spot where it can be in devices on the market, none of those devices thus far have been any good. Bay Trail is attractive enough to garner more design wins for certain, the question is whether or not the quality of those wins will improve as well. In the tablet market there's the iPad and the Nexus lines that are really the most interesting, and I don't expect Bay Trail to be in either. Whether or not the quality of the rest goes up this generation and we find a Bay Trail in one of those devices remains to be seen.