Original Link: http://www.anandtech.com/show/7298/nzxt-h230-silent-case-review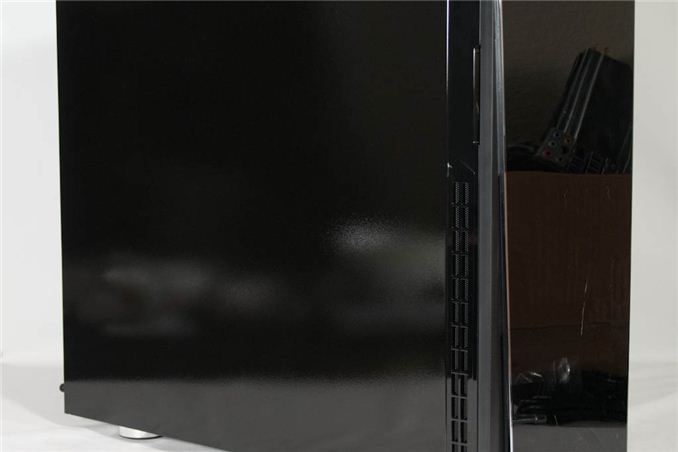 NZXT has been on a bit of a streak lately. Each new iteration of their Phantom chassis has proven to be stellar (or at least extremely solid), and the H630 silent enclosure was a fresh take on a stagnant concept. At the same time, the under $99 segment was still being served with one of their worst enclosures, the H2. A late and unmentioned tweak did help the H2 make up for its lackluster appearance by increasing ventilation around the front of the enclosure enough that the intakes weren't starved for air, and it's remained a favorite for system integrators.
Now we have a compliment to the H2 in the form of the H230. The H230 comes in at just $69, making it one of the most affordable silent enclosures we've ever tested, and at least in terms of build quality and features, you definitely get a good value for your money. It's when performance enters the mix that the H230 falls apart.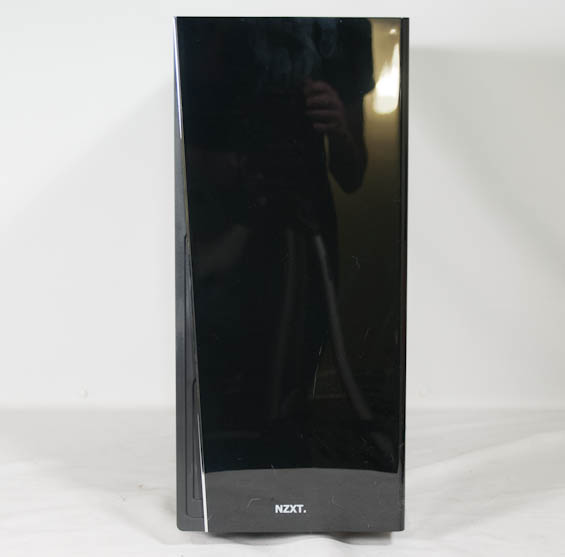 But first, the build quality and aesthetic. The H230 is, as you can see, extremely shiny. The side panels have been painted with a reflective black paint, and the front plastic door has a mirror finish to boot. As a whole the aesthetic is very simple, but ventilation is restricted to a set of openings on the left side as the door opens to the right. Open the front door and there's a single 120mm intake fan at the bottom.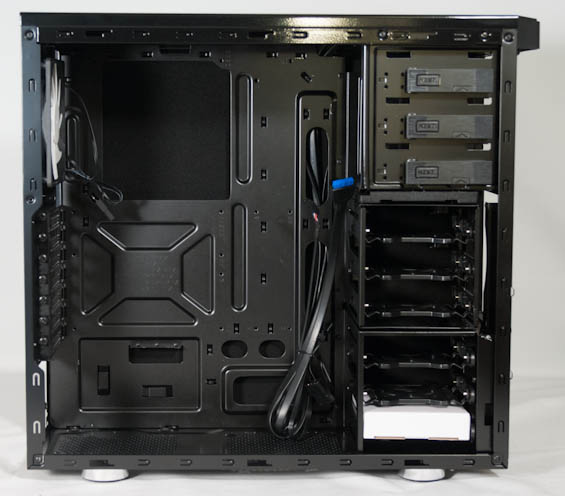 The side panels are both held into place with thumbscrews and notched as is unfortunately traditional of this market segment. Both side panels have sound dampening foam affixed to them. Remove the panels and you'll find a pretty run of the mill ATX case interior. Each drive cage holds three drive sleds; the bottom one is permanently affixed, but the middle one is removable. The sleds actually exit behind the motherboard tray and they're unfortunately pretty flimsy and not held into place especially securely.
Evaluating a $69 case, you have to learn how to make do with what's there. Evaluating a case designed for silent operation, you have to modulate your expectations accordingly. NZXT is still, at least in terms of features, making a fairly strong value play, but there are only two 120mm fans here and you can bet they're tuned for silence instead of performance.
NZXT H230 Specifications
Motherboard Form Factor
Mini-ITX, Micro-ATX, ATX
Drive Bays
External
3x 5.25"
Internal
6x 2.5"/3.5"
Cooling
Front
1x 120mm intake fan (supports 2x 120mm)
Rear
1x 120mm exhaust fan
Top
-
Side
-
Bottom
1x 120mm fan mount
Expansion Slots
7
I/O Port
2x USB 3.0, 1x Headphone, 1x Mic
Power Supply Size
ATX
Clearances
HSF
158mm
PSU
170mm with bottom fan / 280mm without
GPU
290mm with drive cage / 400mm without
Dimensions
17.6" x 19.8" x 7.7"
447mm x 502mm x 195mm
Special Features
Acoustic padding
Removable drive cage
Price
$69
NZXT's website even describes the H230 as "the perfect silent chassis for users looking for the bare essentials," and for the most part that's accurate. This is a no-frills silent case, with very little in the way of expandability. However, remember that "silent" design can't make up for mediocre airflow; two low-powered 120mm fans can be easily overwhelmed.
My last few building experiences with NZXT cases have for the most part been fairly pleasant, and I was expecting a pretty breezy experience with the H230 as well. I got...most of that breezy experience, but this definitely could've been easier.
I'm assuming in a bid to get the production cost down, the H230 doesn't come with any standoffs or guides installed in the motherboard tray. That's not a tremendous sacrifice given the price segment we're competing in, but it's a small nuisance. Installing the test motherboard was easy enough, but where things went a little bit south was when it came to installing the drives.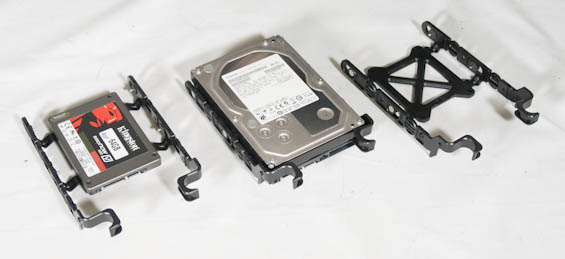 The toolless mechanism NZXT uses for the 5.25" drive bays is actually pretty excellent and one of the better ones I've tested, but the 2.5"/3.5" drive trays are pretty terrible. They're incredibly flexible and they don't lock into the drive cages very well. If you install a 3.5" mechanical drive into one, that will stabilize it a little bit, but I found it was easy to make the tray with the 2.5" drive installed in it fall out of the case. This won't be a major problem for a case that's going to spend its life stationary with very little modification, but it's just so...shoddy.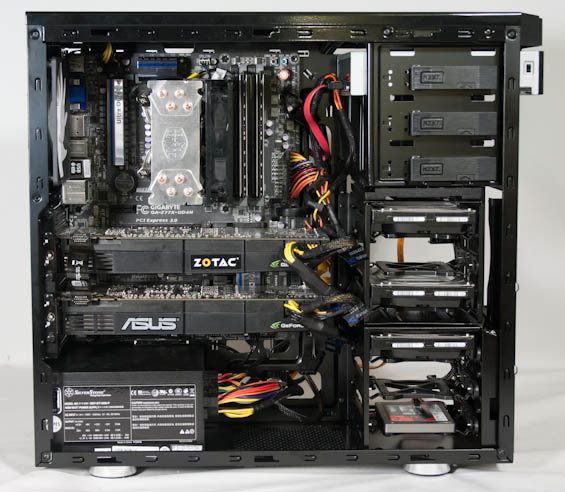 Installing expansion cards and the power supply was very easy, but this is not a case designed for a tremendous amount of hardware. For some time I've felt like that was really the paradox of the ATX case; built to house the ATX board, but not really designed to handle a fully fleshed out system that takes advantage of the ATX spec. The result is that cabling proved to be a nightmare exacerbated heavily by the notched side panels; getting the rear panel back on is an exercise in frustration, as the spacing offered by NZXT isn't particularly generous. Also keep in mind that because the drive sleds enter from the back of the motherboard tray instead of the front, the handles on them can actually impede drive cabling.
I want to cut NZXT some slack for the H230's assembly, but these are issues that BitFenix already resolved a long time ago. The H230's internal design just isn't as progressive as competing cases; space could've been better utilized by bevelling the motherboard tray to allow for better cable channelling, and the drive sleds desperately need to be rethought. I'm also not sure we even needed the center drive cage, which undoubtedly takes away from NZXT's budget for the case design but doesn't seem to offer enough in exchange. If we're talking about a stripped down $69 case, what do we need more than three drive sleds for? If anything, bump the bottom cage up to four and call it a day.
For testing full ATX cases, we use the following standardized testbed in stock and overclocked configurations to get a feel for how well the case handles heat and noise.
Each case is tested in a stock configuration and an overclocked configuration that generates substantially more heat (and thus may produce more noise). The system is powered on and left idle for fifteen minutes, the thermal and acoustic results recorded, and then stressed by running seven threads in Prime95 (in-place large FFTs) on the CPU and OC Scanner (maximum load) on the GPU. At the end of fiteen minutes, thermal and acoustic results are recorded. This is done for the stock settings and for the overclock, and if the enclosure has a fan controller, these tests are repeated for each setting. Ambient temperature is also measured after the fifteen idle minutes but before the stress test and used to calculate the final reported results.
For the "full fat" testbed, the GTX 560 Ti is swapped out for a pair of GTX 580s, and three hard disks are added to fill out the case.
Thank You!
Before moving on, we'd like to thank the following vendors for providing us with the hardware used in our testbed.
Plugging in and powering on the NZXT H230, there were basically two ways things were going to go: it was going to have adequate airflow and middling acoustic performance, or it was going to have poor airflow and good idle acoustic performance. Given the modest hopes NZXT has for the H230, though, just about anything beyond our stock configuration is probably going to be a bit beyond what this case was intended for.
Unfortunately, even the modest task of cooling a stock Intel Core i7-2700K and an upper midrange video card with an open air cooler instead of a blower is a bit beyond the H230. The GTX 560 Ti we use is rated with a TDP of 170 watts, which is high but not astronomical.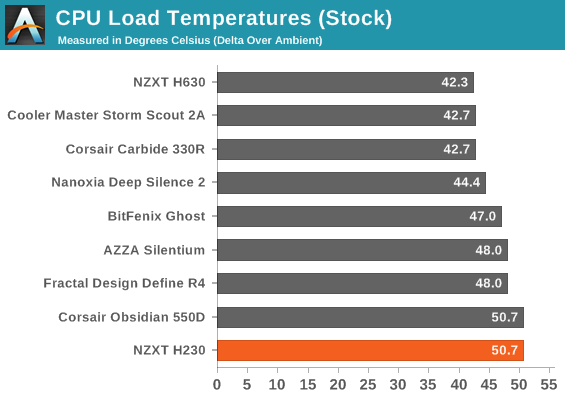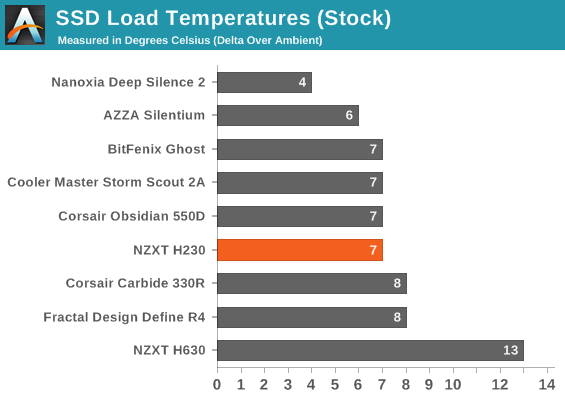 Every other silent case meets or beats the H230 thermally, and this is essentially "easy mode" right now. The cases included are mostly budget; this isn't a murderer's row of hardware but reasonable competition, and it's already not looking good.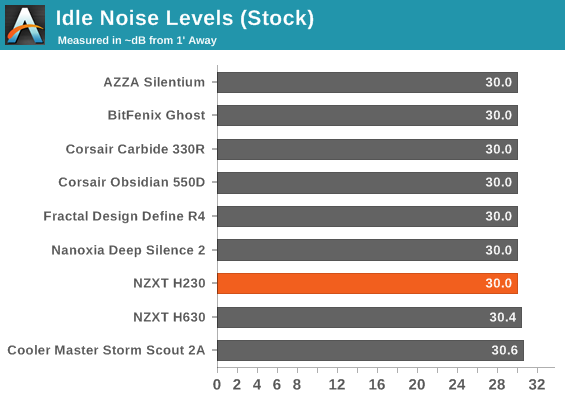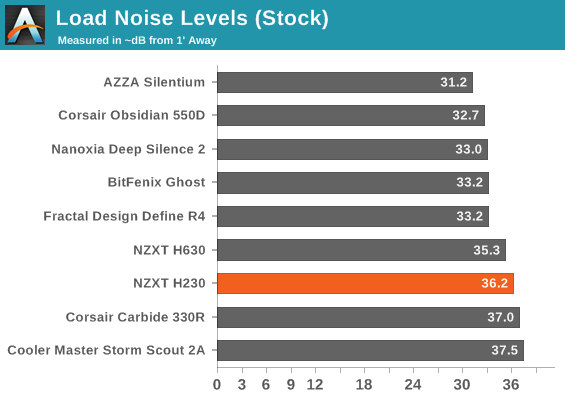 Poor thermals mean loud internal fans, and that's exactly what we run into. The H230 just doesn't have much in the way of cooling capacity, and as a result it's louder than most of the other cases under load.
Overclocking the testbed only made matters for the H230 worse.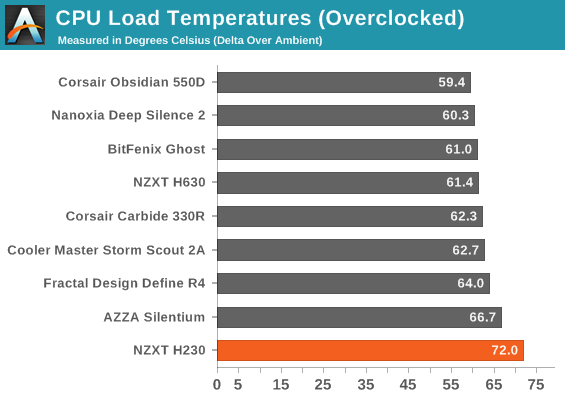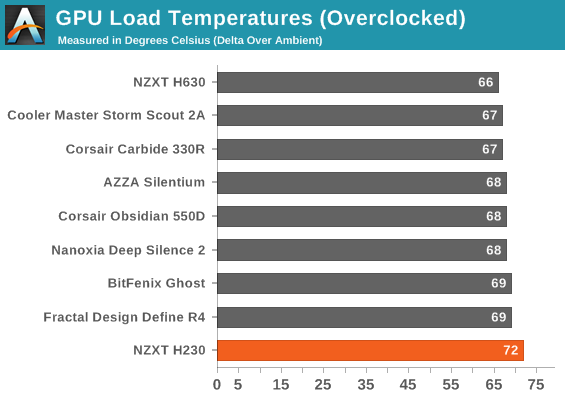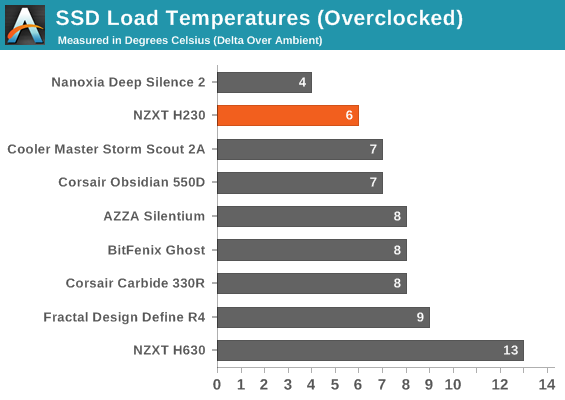 Overclocked thermals are pretty dire on almost every front but the SSD, which gets a healthy amount of totally unneeded cooling. The GTX 560 Ti and i7-2700K were both hitting temperatures well into the 90s, with the cores of the 2700K hitting as high as 98C in a 24C ambient room.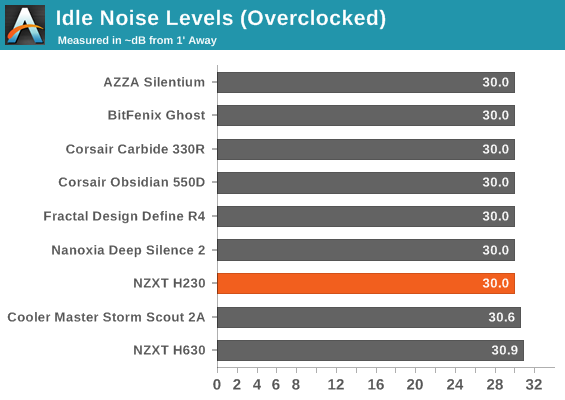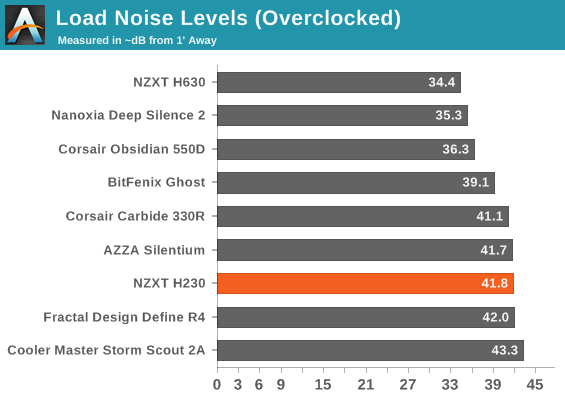 Noise levels go to hell right along with the thermal performance. The NZXT H230 was already having trouble keeping its components cool at stock speeds, bumping up stress just makes things worse.
To satisfy morbid curiosity, here are the test results from the full fat testbed, which goes well beyond the ~320W our overclocked testbed generates.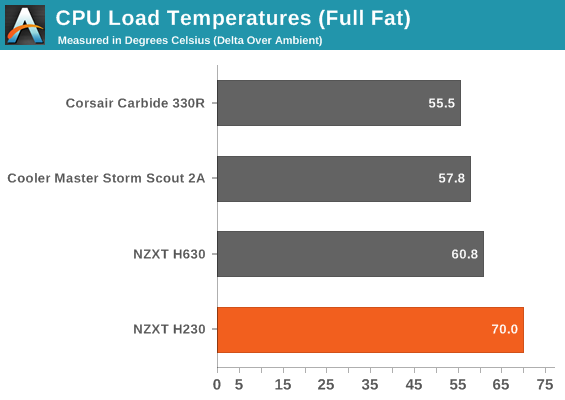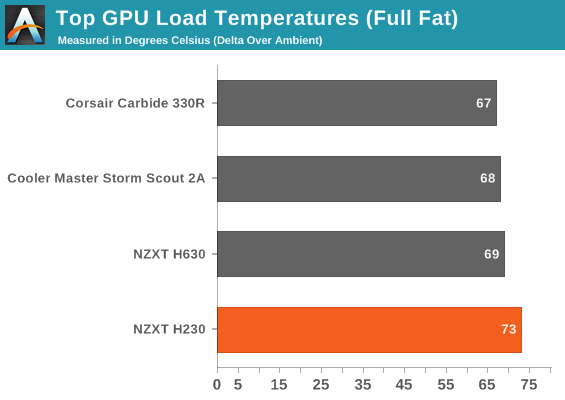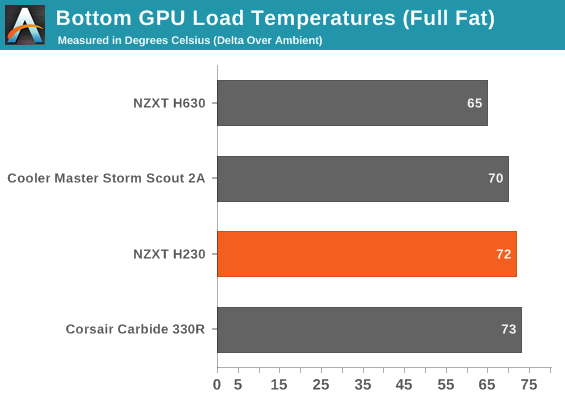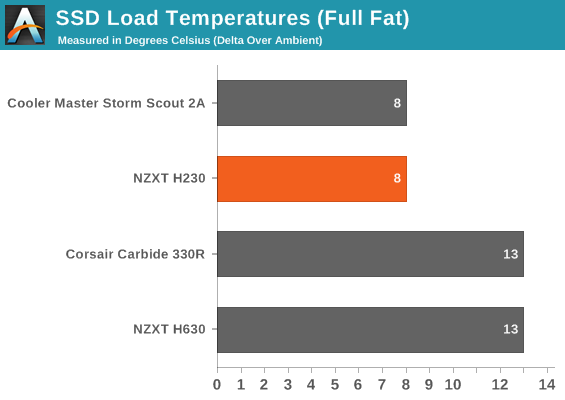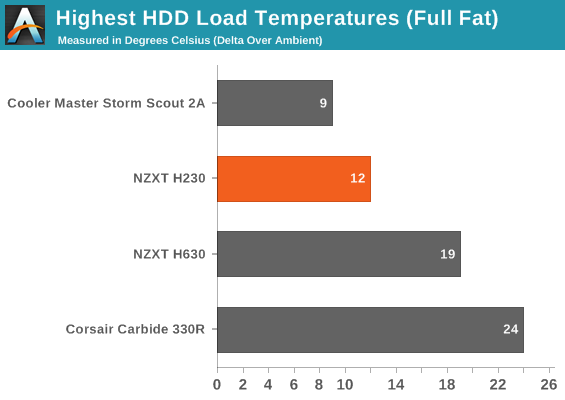 At least the storage is running cool?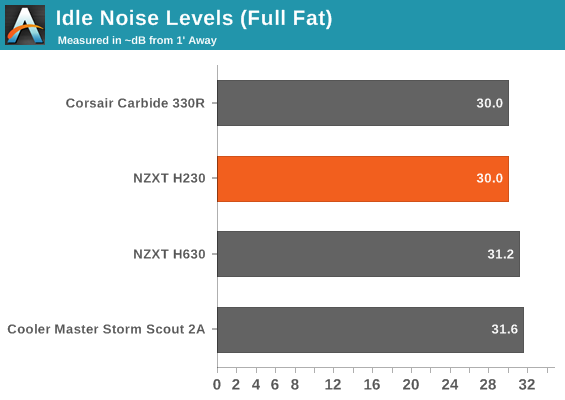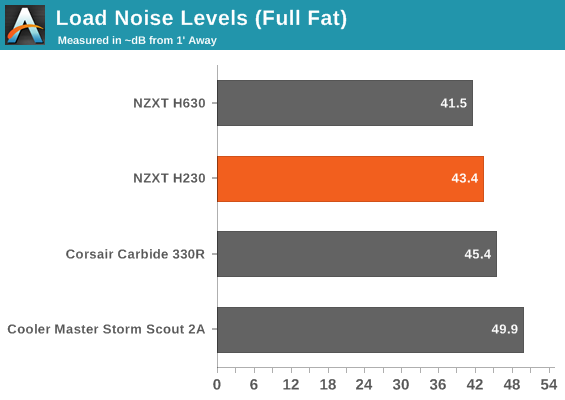 The H230 does some work containing the noise as its internals roast, but it should be abundantly clear at this point that this is not a case suited to even upper high end hardware. Those of you planning on using this for your AMD FX-9590 build will have to look elsewhere.
The NZXT H230 is a pretty open and shut case, if you'll pardon the utterly freshman grade wordplay. NZXT has a good streak going with the run of Phantoms and their H630, and that streak has essentially come to an end with the H230. NZXT has effectively hit the same wall Corsair tends to: solid hardware from a certain price point up, but having a devil of a time getting the balance right below that point. That's a segment of the market that, ironically, a company like BitFenix will (and does) thrive in.
Build quality of the H230 is for the most part very good, and the aesthetic is pretty simple. Those of you less impressed by the glossy black might be happier with the white version, but overall it at least looks nice enough. The interior has a decent amount of flexibility with the removable drive cage, and the toolless 5.25" drive bay clamps are fantastic, but the drive sleds desperately need to go back to the drawing board.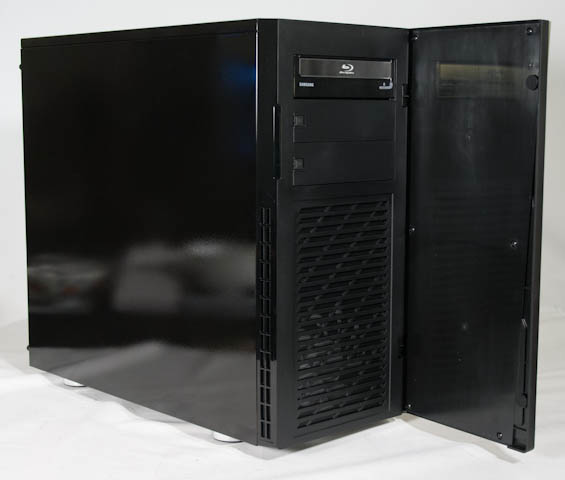 Unfortunately, once you do get to actually testing the H230, it's pretty much all over. The H230 provides good idle acoustics and that's about it, and unfortunately that's something you can get from other vendors. Load noise is poor with even an arguably modest system configuration, and thermals range from unnervingly hot to downright unacceptable.
I pretty much just plain can't recommend the H230. None of the innovation, creativity, or forward thinking NZXT demonstrated in many of their recent enclosures is evident here; the H230 is instead fairly generic with cripplingly poor performance. Hitting the $69 price point requires a lot of brutal tradeoffs, but I don't feel like NZXT made the right ones. If you're shopping for a silent case at $69, you're better off either tuning an Antec GX700 than going for a case designed specifically for low noise or just trying to expand your budget upward a bit until you hit either the Carbide 330R or a Nanoxia enclosure.