Original Link: http://www.anandtech.com/show/7284/alienware-17-gaming-notebook-review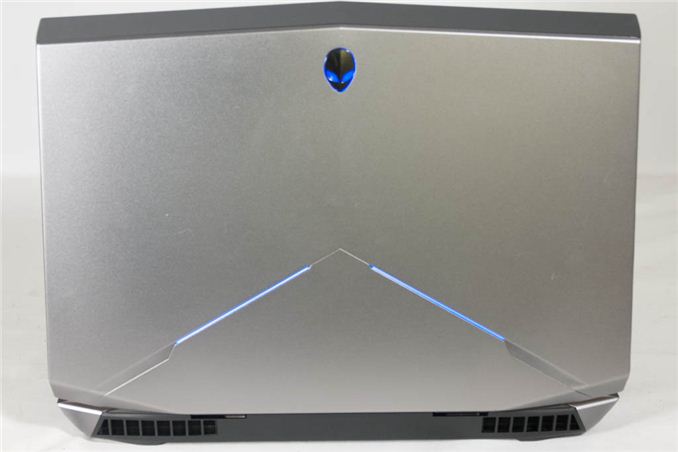 The Alienware M17x R3 and M17x R4 were, at the time, essentially the standard bearers of gaming notebooks. You've had your Clevos and your MSIs for as far back as I can remember; Toshiba throws their hat into the ring with the Qosmio and ASUS has their G series. But if you wanted the best and you were willing to pay top dollar for it, there was really only one vendor to go to. I was such a fan that I even went with an M17x R3 for myself, and though the Sandy Bridge CPU and GTX 580M are a couple of generations behind, they're still kicking and kicking hard.
As it turns out, the redesigned chassis and update to Haswell have kept Alienware on top. It's not the redesign I might have necessarily done, but just like the last one, it's something that's a lot more attractive and fun the more time you spend with it.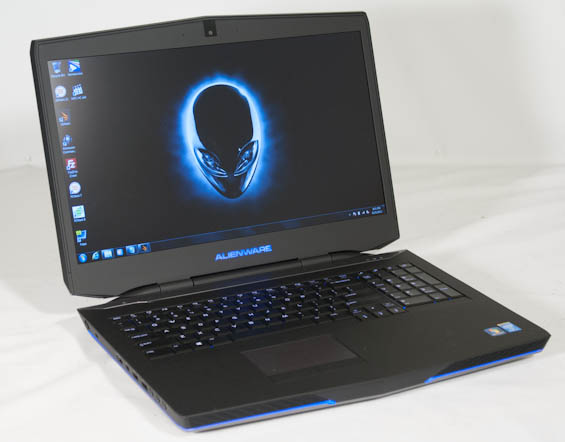 Amidst our continuing issues with Haswell and especially the NVIDIA GeForce GTX 780M, my refrain has been "let's wait for the Alienware 17." Jarred did a good job of sussing out what was going on when he reviewed the Mythlogic Pollux 1613 (Clevo P157SM): the long and short of it seems to be that NVIDIA still has some work to do on the GTX 780M's drivers, and Haswell's mobile quads are roughly as exciting as their desktop parts. Thankfully, the Alienware 17 is such a strong redesign of the chassis that whatever wrinkles there are in the current generation of hardware are made up for by it just plain being even better to use than its predecessor.
Alienware 17 Specifications
Processor
Intel Core i7-4800MQ
(4x2.7GHz + HTT, Turbo to 3.7GHz, 22nm, 6MB L3, 47W)
Chipset
Intel HM87
Memory
16GB (4x4GB) Micron DDR3L-1600 (Max 4x8GB)
Graphics
NVIDIA GeForce GTX 780M 4GB GDDR5
(1536 CUDA cores, 771MHz/823MHz/5GHz core/boost/memory clocks, 256-bit memory bus)

Intel HD 4600 Graphics
(20 EUs, up to 1.3GHz)
Display
17" LED Matte 16:9 1080p
LG Philips LP173WF1
Hard Drive(s)
LiteOn LMT-256M6M 256GB mSATA 6Gbps SSD

Western Digital Scorpio Black 750GB 7200-RPM SATA 3Gbps HDD
Optical Drive
HL-DT-ST CA40N slot-loading BD-ROM/DVDRW
Networking
Broadcom BCM4352 802.11ac Wireless
Killer Networks e2200 Gigabit Ethernet
Bluetooth 4.0
Audio
Realtek ALC668 HD audio
Stereo speakers
Dual headphone jacks and mic jack
Battery
87Wh
Front Side
-
Right Side
SD card reader
Slot-loading optical drive
2x USB 3.0
Ethernet
Left Side
AC adapter
Kensington lock
HDMI in/out
Mini-DisplayPort
2x USB 3.0
Dual headphone jacks and mic jack
Back Side
-
Operating System
Windows 7 Home Premium SP1 64-bit
Dimensions
16.3" x 11.8" x 1.9"
414mm x 299mm x 48mm
Weight
9.1 lbs
4.15kg
Extras
Webcam
USB 3.0
Killer Networks wired networking
802.11ac wireless networking
Configurable backlit keyboard with four user programmable keys
Warranty
1-year limited
Pricing
$1,499
As configured $2,799
The baseline Alienware 17 enjoys an Intel Core i7-4700MQ with a nominal clock speed of 2.4GHz, an NVIDIA GeForce GTX 765M, 8GB of DDR3L-1600, and 750GB of mechanical storage only; at $1,499 this model is cute but not really worth considering. Unfortunately configuring an Alienware isn't as flexible as it used to be, and as a result if you want any of the good stuff, you have to shell out for the $2,299 top base model and then upgrade that.
Our Core i7-4800MQ has a 2.7GHz nominal clock speed and is able to turbo up to as much as 3.7GHz; these are the same clocks as the previous generation Ivy Bridge i7-3820QM, but 100MHz slower than the i7-3840QM. The Ivy chip also had 8MB of L3 cache compared to the i7-4800MQ's 6MB. Haswell, ladies and gentlemen: the progress is palpable.
Meanwhile we're taking another run at the NVIDIA GeForce GTX 780M. On paper it's superior to the GTX 680M in every way, but for some reason it's having trouble consistently beating the 680M. This has held true across three notebooks now, and there have been measurable differences in performance between driver sets as NVIDIA continues to update. The 780M features a fully enabled GK104 chip, with 1,536 CUDA cores clocked at a minimum 771GHz and a 256-bit memory bus featuring 4GB of GDDR5 clocked at an impressive (for mobile) 5GHz. The 680M was already the fastest mobile GPU, so even just running comparable to that is fine, but as you'll see, underperforming continues to dog the 780M. In isolated circumstances, Jarred was able to suss out a difference due to the CPU speeds, but only to a point.
As for the rest of the Alienware 17, we can get the holy combination of a boot SSD and mechanical storage drive, and every Alienware 17 comes standard with Broadcom's 802.11ac wireless networking solution. One place where Alienware does come up short is the display, though; while the shift to a matte finish is incredibly welcome, both the Alienware 14 and Alienware 18 offer IPS displays while the 17 is only available with 60Hz and 120Hz TN panels. I'm hoping they eventually fill this gap, as I remain fairly confident the 17 is going to be the most popular in their lineup and it seems silly for it not to have an IPS display option.
Alienware has gone back and radically redesigned the chassis of their entire mobile lineup, and it's a difference you can see and feel. Their motif was to capture the difference between the 90s idea of alien technology which informed the previous designs and the modern pop culture idea of alien technology, and amusingly I do think they've found it. The base of the new 17 is bevelled and extends up and out, and illuminated lines ring it.
The lid and much of the shell is now aluminum; there's color-configurable illumination of the Alienware logo and two slits in the panel, as well as an aluminum trim surrounding the body of the notebook. Open it up and the interior is still the same soft touch black plastic we're used to from Alienware.
Gone is the group of shortcut buttons above the keyboard, with media controls now shifted to Fn key combinations. The keycaps and keyboard layout are also changed; the caps are a bit more subtle and still very comfortable, but the keyboard layout is a step back, I think. The document navigation keys have been moved (but are still dedicated, thankfully), replaced with a row of four configurable keys above the number pad. I feel like the essential problem with this placement is that it's not something you even see on desktop gaming keyboards; the old and more traditional layout was, I think, superior.
The new touchpad surface is comfortable and we still have dedicated buttons, but I'm not keen on having the touchpad itself backlit. Alienware went through the trouble of having the backlighting in the keyboard become less obtrusive, so why undermine that decision with a big fat backlit rectangle? It only lights up when you touch it, and it can be disabled entirely (along with all of the configurable lighting as is traditional), but it seems like a waste in the first place. The highlighted touchpad trim on the old chassis was more attractive and more sensible.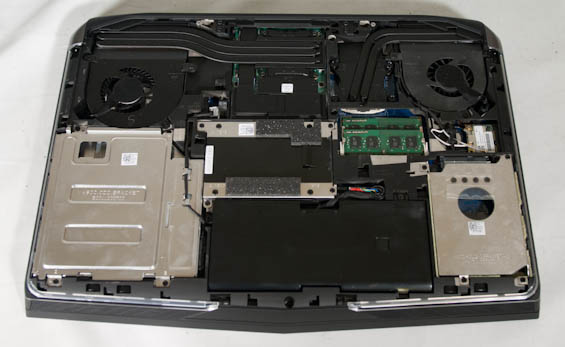 The interior of the Alienware 17 remains as sensible as ever, though. The battery is no longer easily user-replaceable, but notebooks like this one seldom spend much time off the mains in the first place. We still get a dual fan cooling system that isolates the CPU and GPU from one another. Honestly, this internal design remains relatively easy to service and upgrade independently, but remember that Dell/Alienware has a bad history of generationally updating BIOSes. There's no reason why the M17x R3 can't use a 680M or 780M, for example, or even an Ivy Bridge CPU, but a lack of BIOS updates made all but the 680M impossible, and that chip requires modified drivers.
Ultimately I'm fond of the Alienware 17 redesign, especially the switch from a glossy display to matte, but I feel like there's still a void in the market where a sleeker, more sophisticated and frankly adult design could exist. Razer is halfway there, but by being unwilling to produce a thicker machine, they're prevented from using the highest end mobile hardware. This redesign is fine and arguably an upgrade from the old chassis, but there's honestly a lot of room for improvement. Alienware really needs to find the happy medium between form and function.
We're starting to get a bit more of a feel for how Haswell performs on the CPU side. The Intel Core i7-4800MQ powering the Alienware 17 is undoubtedly one of the fastest mobile quad core CPUs, but the more testing I see with it, the more I get a distinct sense that we need to start digging deeper into how it handles turbo. Performance is complicated further when we start hitting the GeForce GTX 780M as well; NVIDIA has implemented boost clocks on their mobile part, but the boost range seems to be a lot more variable than it is on the desktop, probably owing to the more specific thermal headroom.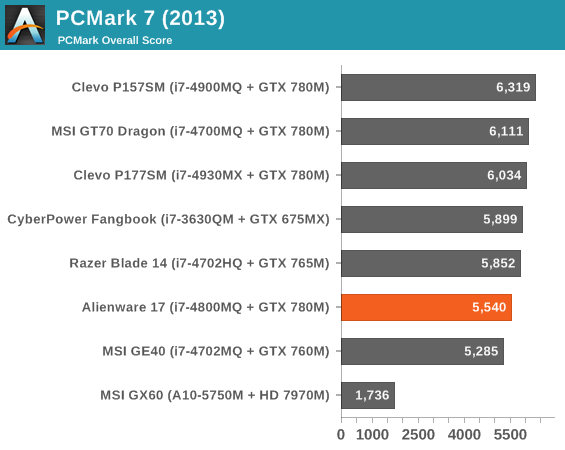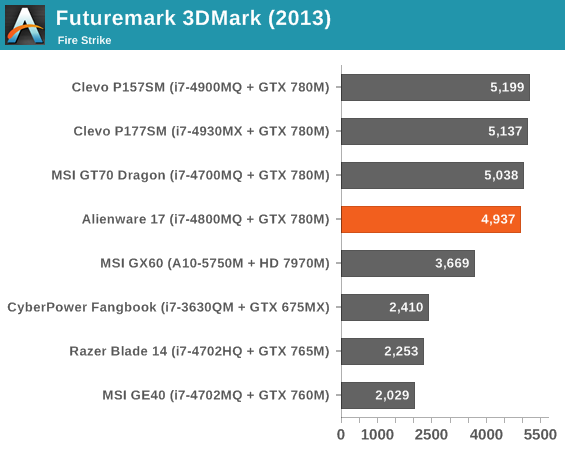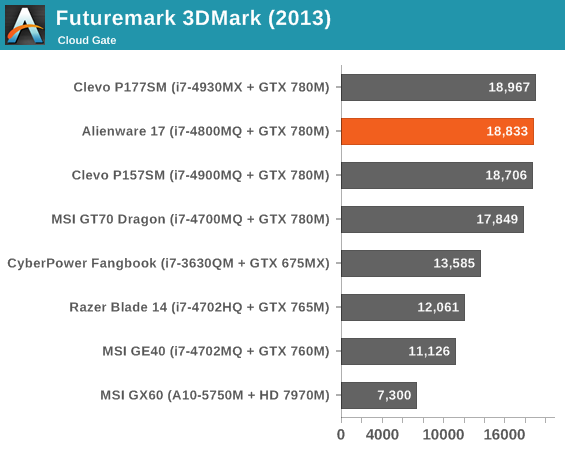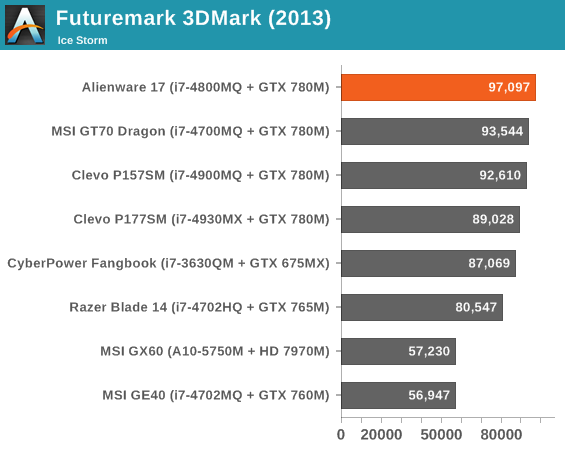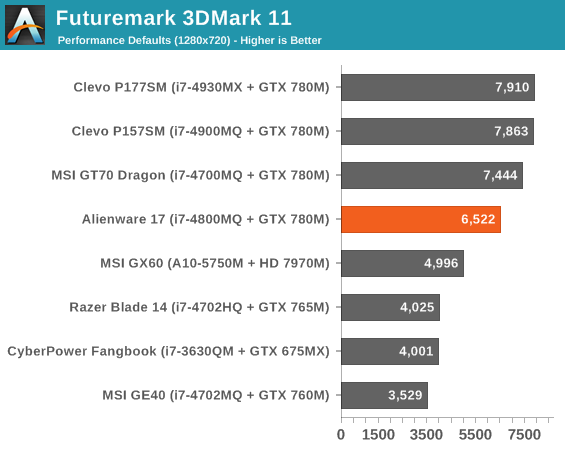 You can see we've got four different Haswell and 780M systems on hand, and the 3DMark scores are bouncing all over the place. I'd been expecting and hoping that the Alienware 17 would have the cleanest and most consistent implementation of this hardware pairing, but that doesn't seem to be the case. Instead we're all over the map. The 3DMark11 score is remarkably low compared to the other 780M systems, but it remains to be seen whether or not that performance deficit will resurface in practical game testing.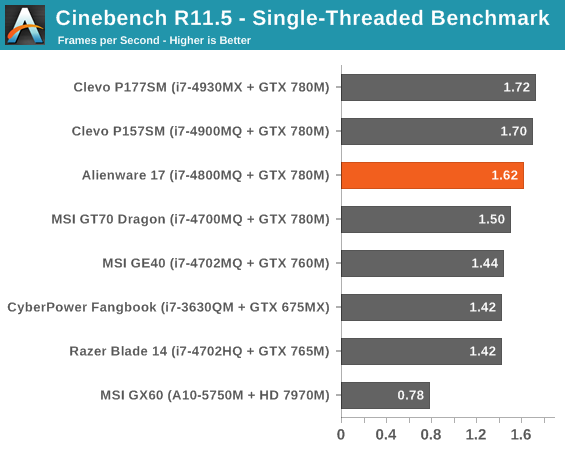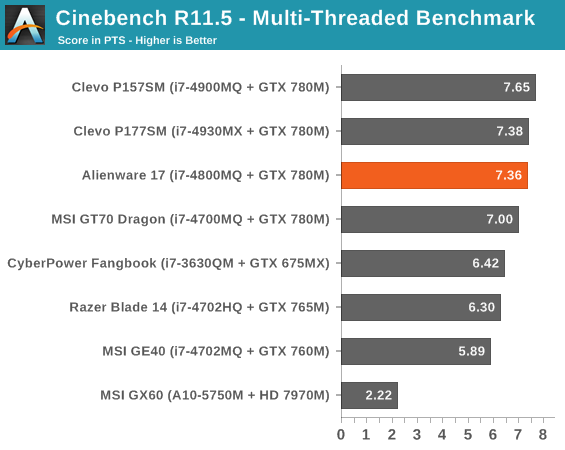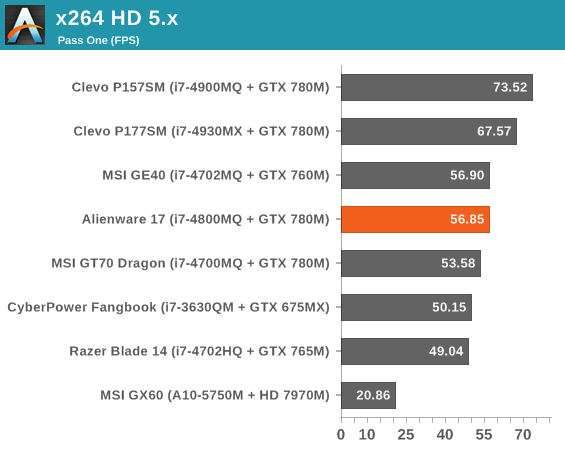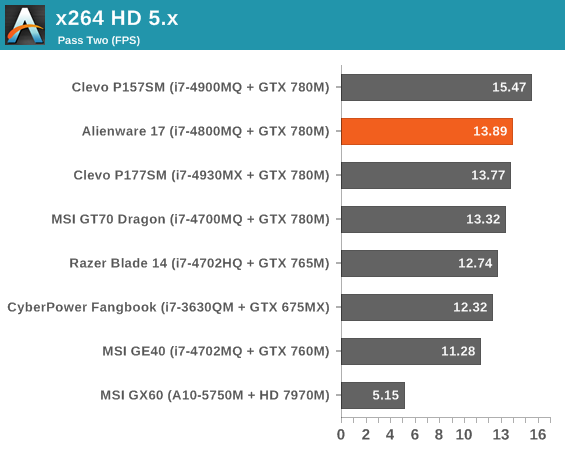 Cinebench is able to give us consistent results due, I think, to its more sustained load. Cinebench has historically been very consistent in the first place, so everything falls in where it ought to. But the x264 encoding benchmark is completely different.
We're essentially dealing with a lot of performance variables now. At first blush, Haswell seems to be more granular with its performance scaling than Ivy was. Mobile Kepler with boost is also very granular, but my experience with Kepler on the desktop is that its boost clocks are governed entirely by thermals. On the desktop, thermally-controlled turbo/boost speeds on hardware are easy to control for, but when you're talking about notebooks, you're at the mercy of the cooling systems implemented by the manufacturer, including the fan profiles.
For all the variation in the synthetic benchmarks, the Alienware 17 was more consistent in actual gaming benchmarks after flashing the BIOS. Oh, yes, you'll need to flash the BIOS to at least version A04; initial testing was done with the BIOS at A01, and while synthetics didn't seem to mind it too much, the original BIOS played hell with real world gaming benchmarks.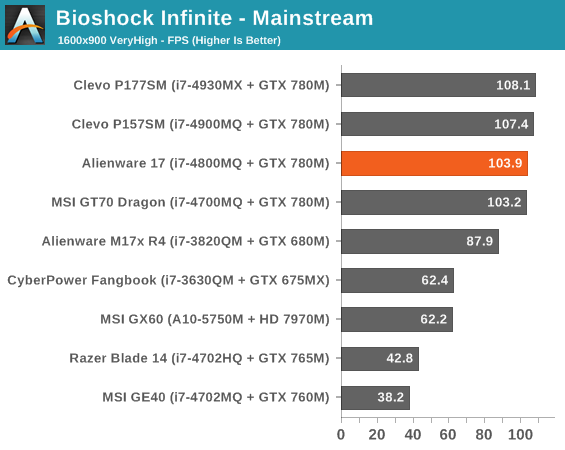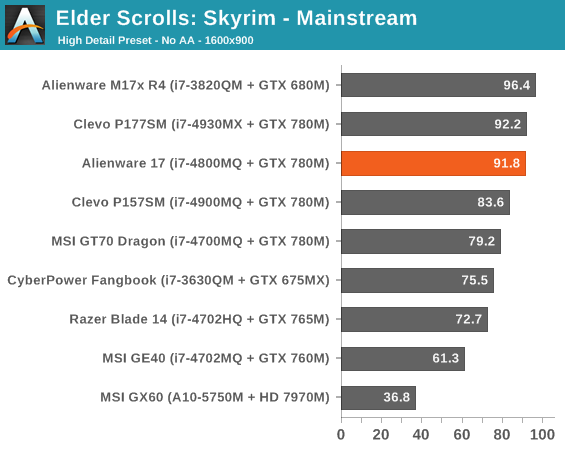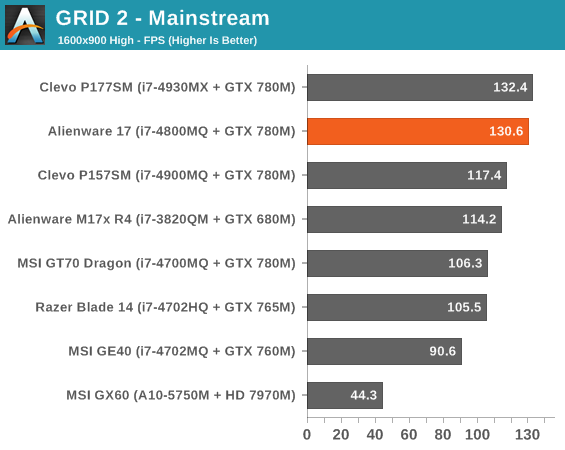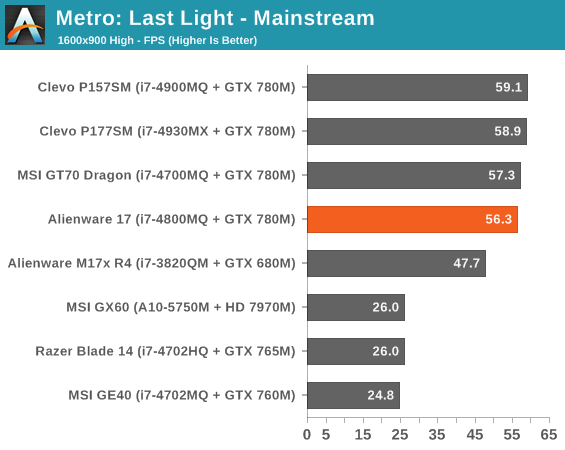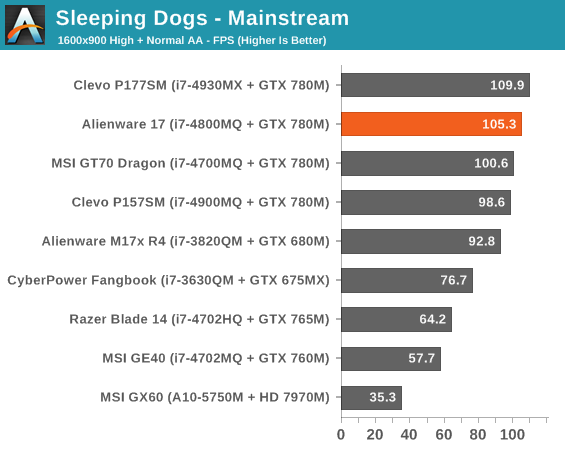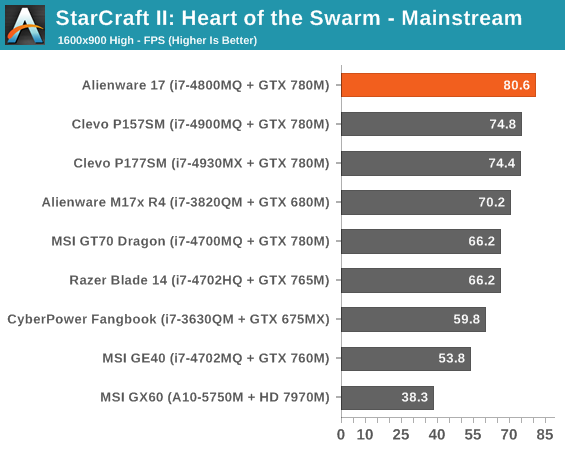 At our mainstream settings we're seeing substantial variation in system performance between systems equipped with the 780M. This is a combination of factors, some which are Haswell, but others I'll explain in a moment.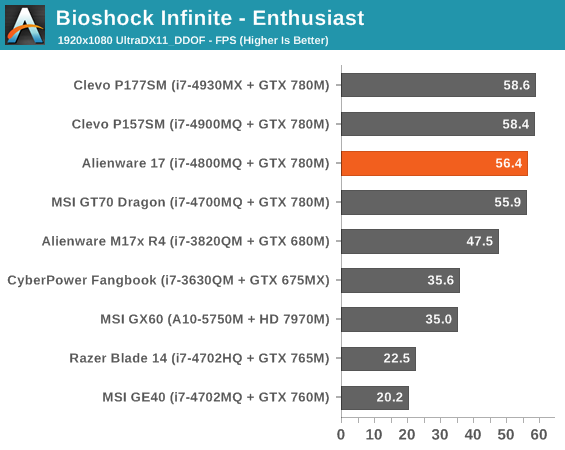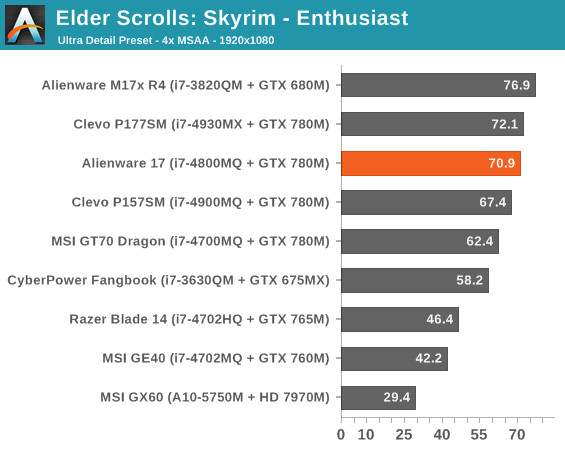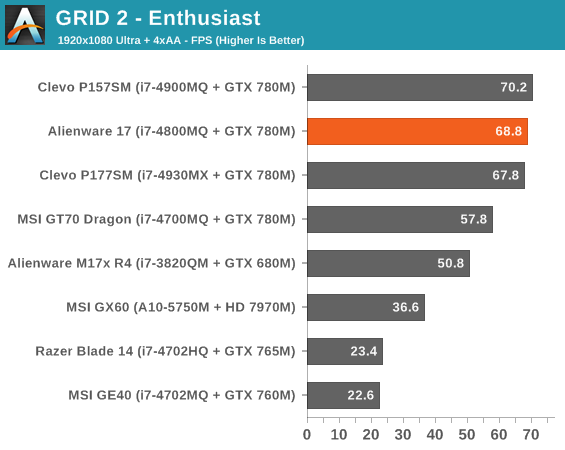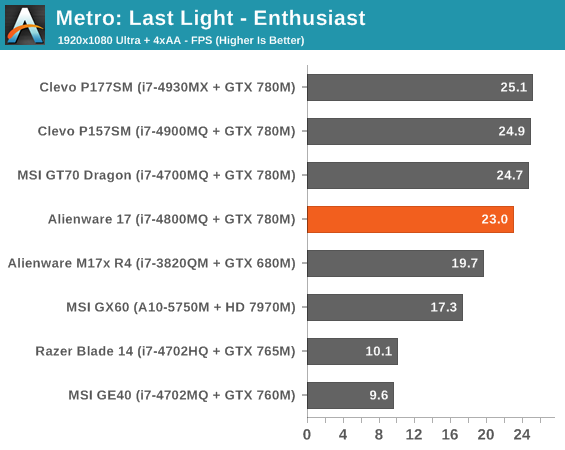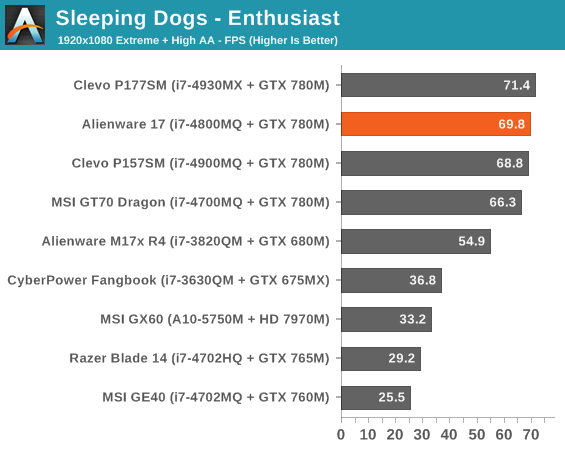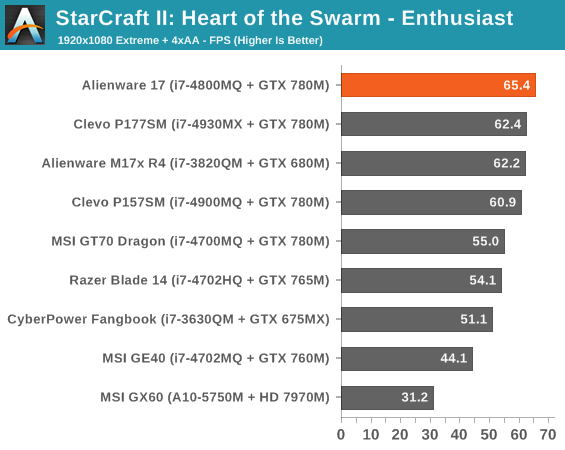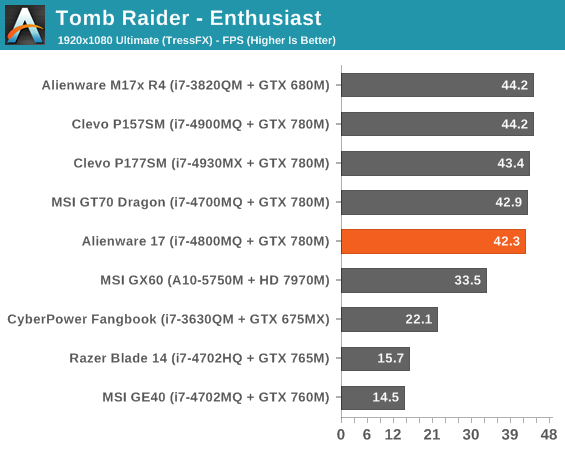 Unfortunately, our enthusiast benchmarks were initially pretty damning for the Alienware 17, or at least this review unit. Despite running with the most current drivers, the Alienware 17 just didn't seem to have as much headroom for boost on the 780M as the other systems. I'd run and rerun benches and done sanity checks; the 780M here just wasn't running as well as it did in the Clevo units.
Trying to determine what was going on, I ran GPU-Z in the background and re-ran the Tomb Raider benchmark since that seems to be the biggest problem child in the group. When testing the MSI GT70 Dragon I was used to seeing sustained boost speeds above 900MHz on the 780M. What I found was alarming: with the default BIOS, the Alienware 17 was needlessly throttling the 780M during Tomb Raider's benchmark and probably others. Despite the GPU never running hotter than 67C, the Alienware 17 was knocking the GPU speed down to just over 600MHz. So of course the system was quiet, it wasn't even allowing the GPU to really be stressed.
Updating to the A04 BIOS substantially alleviated the Alienware 17's performance woes. Boost clocks hovered around 850MHz instead, which is still lower than what I saw on other vendors' systems but at least manageable. There was theoretically thermal headroom on the table; the system's fan profile is designed to keep the 780M at about 75C, which is incidentally the cut off point for the boost clocks. Go over that temperature like Metro: Last Light did, though, and the GPU starts to throttle down to 666MHz. Owners of the Alienware M17x R3 will immediately recognize this type of behavior; Dell and Alienware are extremely aggressive with their thermal thresholds and they're willing to sacrifice a little performance to get them. I feel like a more reasonable target would've been 80C instead of 75C.
Display Quality
The panel employed in the Alienware 17 is by no means bad; it's actually pretty solid for a TN panel, and 1080p is really the target gaming resolution right now even as higher resolution panels are creeping up the vine in ultrabooks. The time when 1080p will be inadequate for a desktop replacement notebook is on the horizon, but we're not there yet.
But while I appreciate that Alienware offers a 120Hz 3D Vision enabled version of the 17, I'm still going to take them to task for not offering a high quality IPS panel on this notebook. When the 14 and 18 both have IPS options, why are we still stuck on TN for the likely most popular model in their lineup?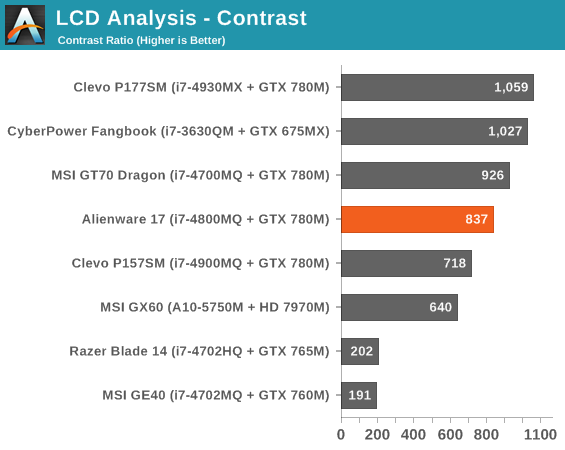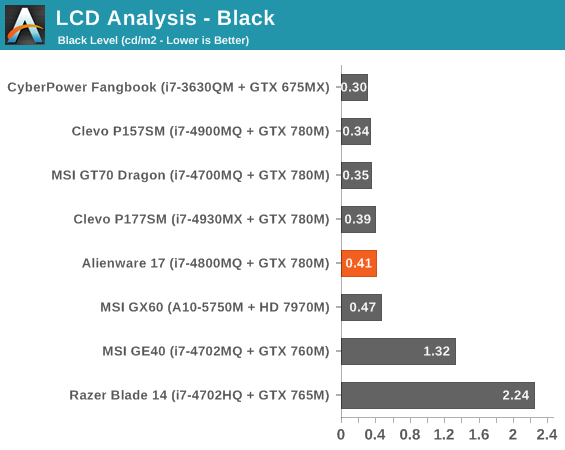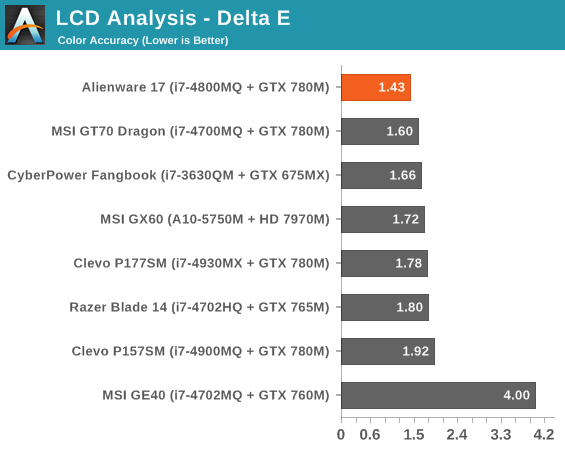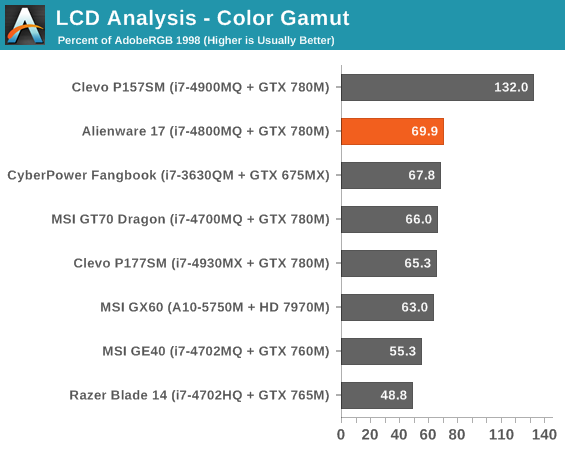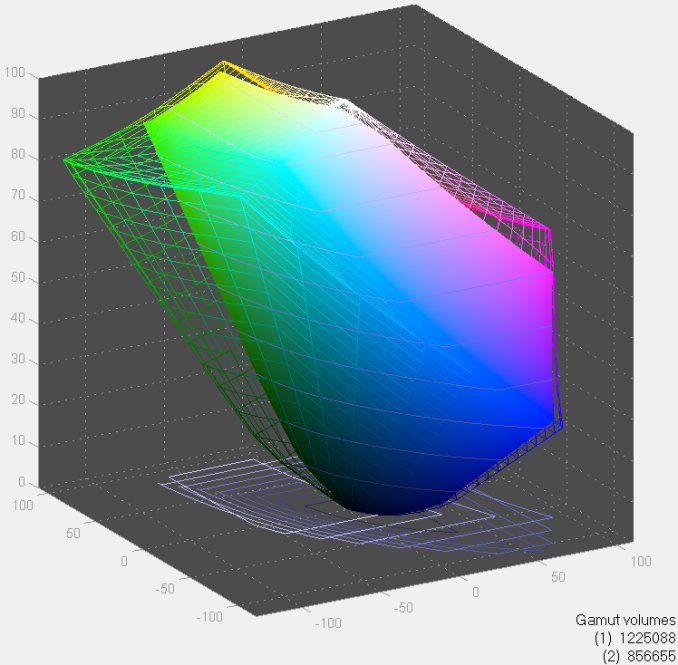 It's hard to complain too much, though. This is a TN panel, but it's a pretty good one, and the switch to a matte finish is tremendously appreciated. Alienware opts to tune the panel a little more for brightness, but it's still lovely and I have a hard time imagining any end users are going to be especially disappointed beyond the initial irritation that they couldn't request an IPS display.
Battery Life
This class of notebook just doesn't exist to run off the mains. We're talking about a nine pound notebook here; NVIDIA's Optimus does a fine job of curbing power consumption, but you're not going to actually game off of the battery, not when the GTX 780M is pulling 100W on its own.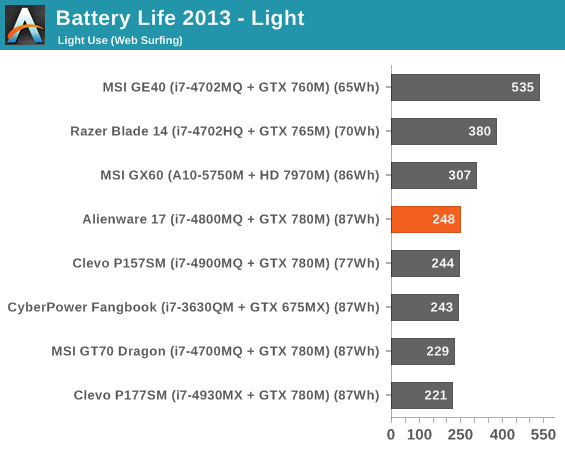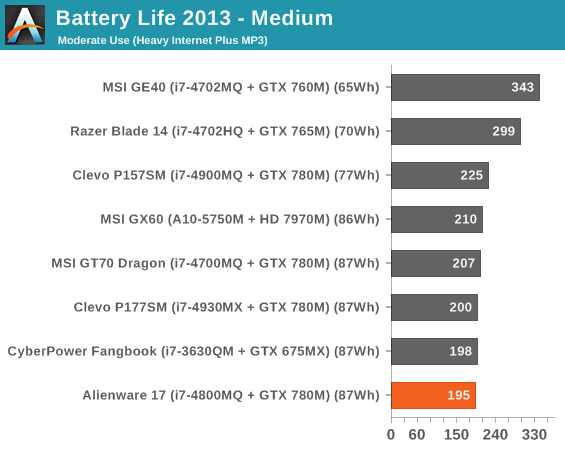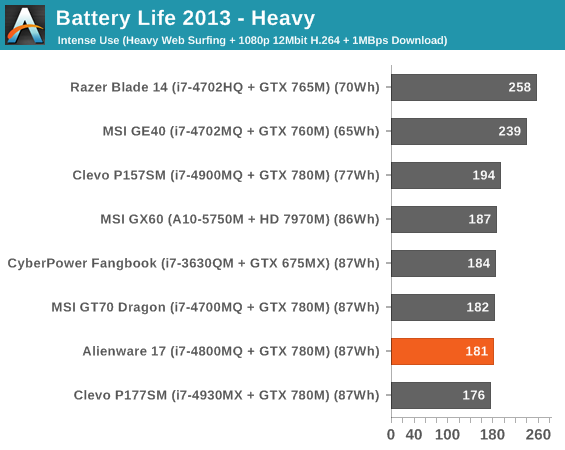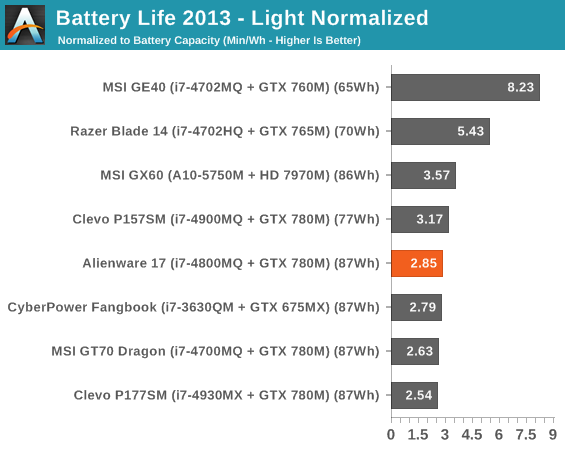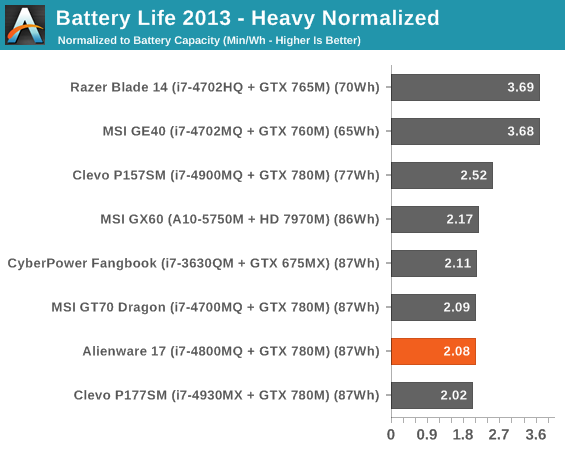 I never thought I'd see the day when Clevo notebooks would be posting better efficiency than Alienware, but there you have it. Battery life isn't awful and isn't as relevant for this class of notebooks, but the Alienware 17 does seem to be nipping at the heels of the competition rather than being out in front.
To say I went into this review of the Alienware 17 optimistic is accurate; surely Alienware would be able to tame Haswell and the NVIDIA GeForce GTX 780M, wouldn't they? If not them, then who? Yet the truth is unfortunately far more complicated, which has led to this review taking much longer than I had hoped. Testing, then retesting, then sanity check testing, then retesting again, then sanity check retesting...and even then being left without as clear a conclusion as I'd like?
I'm getting ahead of myself, though. First things first: the Alienware 17 represents the first major design change for Alienware in years. On the strength of the matte display, it's a net victory. The subtantial ridge at the edge of the chassis actually winds up being easier on the wrists for typing than the old design, the lighting rim is slick, and nobody complains about an aluminum lid. Alienware also smartly includes 802.11ac connectivity standard.
Yet there's still so much room for improvement. The new aesthetic, like the old one, takes some warming up to, but I can't help but feel like Alienware could've come up with something cleaner. When you open the bottom of the notebook you don't get the sense that space has been wasted, yet when you look at it you just wonder if it had to be this bulky. Backlighting the touchpad was arguably a waste of time and effort, and the revised keyboard layout is a modest step back.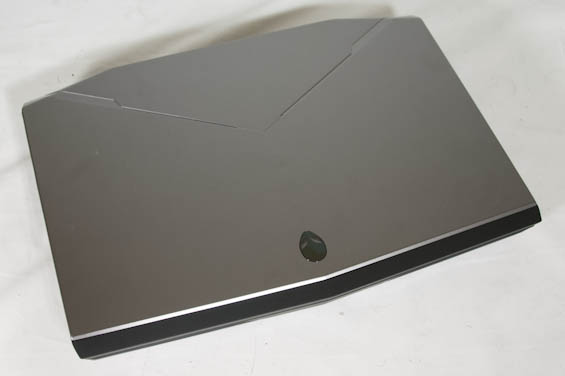 Once you update the BIOS in the Alienware 17, performance is brought in line with other Haswell/780M notebooks, but it's still a bit behind the curve. The 780M in our review unit wasn't hitting the high peaks that competing Clevo notebooks saw, and more and more I'm feeling like this is going to be a bit of a lottery. The performance difference is measurable but ultimately negligible. What we're really dealing with is twofold, I think: Haswell's turbo capacity could very well vary from chip to chip even among the same model, and that could also be true of the GeForce GTX 780M. We're already dealing with binned GK104 chips as it is. What we're looking at, as far as I'm concerned, is variation in "bonus performance" coupled with basic performance that needed to be eked out of the driver. The hardware is working fine, and it's stable, and it's a pleasure to game on.
While I'm more than happy to take Alienware to task for shipping with a performance crippling BIOS, once the A04 is in place the notebook is essentially golden. The Alienware 17 turned out not to be the flagship "this is how it's done" gaming notebook I'd expected, but it at least serves as a reality check in and of itself for what we can expect from Haswell and the 780M. It's also incredibly expensive, but that shouldn't surprise anyone. Ultimately, if you can afford it, I still think the Alienware 17 is the gaming notebook you want. It's not the homerun the Alienware M17x R3 was when it launched, but it's a worthy descendant.