Original Link: http://www.anandtech.com/show/7272/thecus-n2560-intels-evansport-nas-platform-review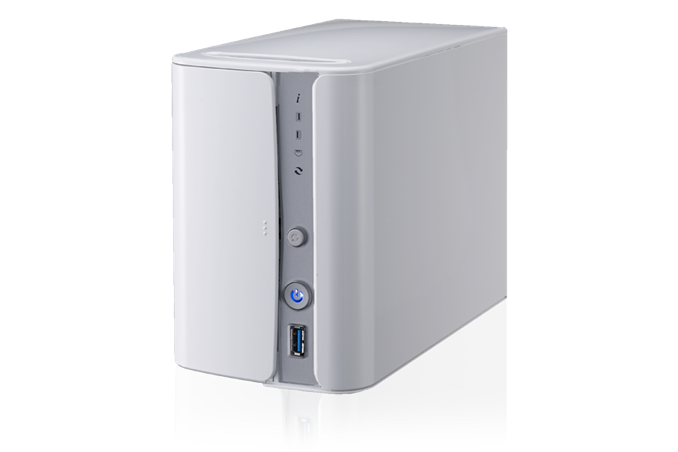 Introduction
NAS units targeting home consumers have traditionally been underpowered in terms of hardware as well as firmware features. Low power, reduced cost and media-centric features are primary requirements in this area. Intel has traditionally been loath to participate in this market segment, probably due to the obvious lack of high margins. However, the explosive growth potential in the consumer / SOHO NAS market has made Intel rethink its strategy.
The Atom CE5300 series was initially introduced as the Berryville set-top-box platform in March 2012. Almost a year later, the CE5300 series was re-launched in its EvanSport avatar as a storage solution targeting home consumers (in particular, as a media server platform). Asustor, Thecus and Synology were touted as partners building NAS units based on this platform, but only the Thecus units seem to be available in the market right now.
Thecus has four NAS models based on the Intel EvanSport platform. The following table summarizes the features of the four models. The review unit configuration (N2560) is highlighted.
Thecus EvanSport NAS Models
N2520
N2560
N4520
N4560
Processor
Intel CE5315 (2C @ 1.2 GHz)
Intel CE 5335 (2C @ 1.6 GHz)
Intel CE5315 (2C @ 1.2 GHz)
Intel CE5335 (2C @ 1.6 GHz)
RAM
1 GB DDR3
2 GB DDR3
2 GB DDR3
2 GB DDR3
Drive Bays
2x 3.5" (Hot-swappable)
2x 3.5" (Hot-swappable)
4x 3.5" (Hot-swappable)
4x 3.5" (Hot-swappable)
Network Links
1x 1 GbE (WOL supported)
1x 1 GbE (WOL supported)
1x 1 GbE (WOL supported)
1x 1 GbE (WOL supported)
USB Slots
1x USB 3.0 / 2x USB 2.0
1x USB 3.0 / 2x USB 2.0
1x USB 3.0 / 2x USB 2.0
1x USB 3.0 / 2x USB 2.0
eSATA Slots
None
None
None
None
Expansion Slots
None
None
None
None
VGA / Display Out
HDMI / SPDIF
HDMI / SPDIF
HDMI / SPDIF
HDMI / SPDIF
Full Specifications Link
Thecus N2520
Thecus N2560
Thecus N4520
Thecus N4560
The N2560 is not the first model from Thecus to have been put under the scanner in our labs. The N4800 was also evaluated last year. Performance wise, the N4800 fared very well. However, we never got around to publishing a dedicated review due to severe usability issues with the firmware. Therefore, it was with mixed feelings that we decided to evaluate the N2560. The main attraction, undoubtedly, was the new NAS platform from Intel.
Intel launched the new NAS platform to provide a solution for the NVR, media server and network storage segments. In their message to manufacturers, multiple applications were played up.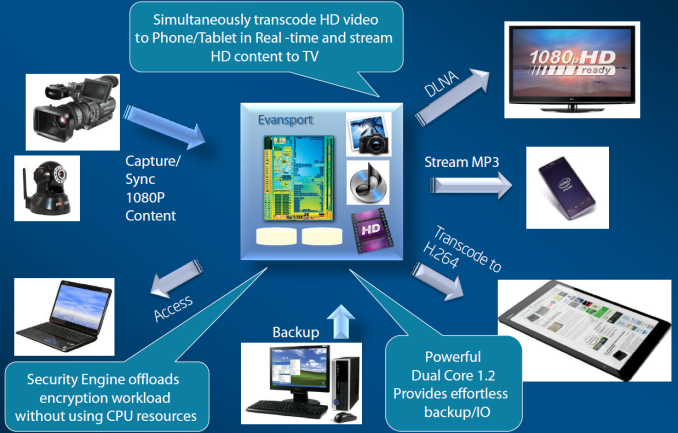 In the course of the review, we will see how Thecus has managed to utilize the above platform. We will talk about the specifics of the EvanSport NAS platform before going into the setup and usage impressions. Single client performance is presented followed by our standard multi-client performance benchmark results. Even though it doesn't make full sense to evaluate how the NAS performs when there are 25 concurrent users, it is only natural to expect the unit to be used by three or four users simultaneously as a media server. In the concluding section, we talk about power consumption, the mobile apps and the media-centric features. Prior to proceeding with these aspects, let us take a look at our testbed infrastructure.
Since the Thecus N2560 happense to be a 2-bay NAS, we used two Western Digital WD4000FYYZ RE drives as the test disks. These disks were configured in RAID-1.
AnandTech NAS Testbed Configuration
Motherboard
Asus Z9PE-D8 WS Dual LGA2011 SSI-EEB
CPU
2 x Intel Xeon E5-2630L
Coolers
2 x Dynatron R17
Memory
G.Skill RipjawsZ F3-12800CL10Q2-64GBZL (8x8GB) CAS 10-10-10-30
OS Drive
OCZ Technology Vertex 4 128GB
Secondary Drive
OCZ Technology Vertex 4 128GB
Tertiary Drive
OCZ RevoDrive Hybrid (1TB HDD + 100GB NAND)
Other Drives
12 x OCZ Technology Vertex 4 64GB (Offline in the Host OS)
Network Cards
6 x Intel ESA I-340 Quad-GbE Port Network Adapter
Chassis
SilverStoneTek Raven RV03
PSU
SilverStoneTek Strider Plus Gold Evoluion 850W
OS
Windows Server 2008 R2
Network Switch
Netgear ProSafe GSM7352S-200
Thank You!
We thank the following companies for helping us out with our NAS testbed:
Intel's EvanSport NAS Platform
Intel's recent foray into the consumer electronics (CE) space started with the 2007 launch of the Intel CE 2110 media processor. It was intended for digital set top boxes and media players / recorders. Based on a 1 GHz Intel XScale processor core, it had all the necessary integrated DSPs, GPUs, encryption engines and other I/Os. Around the same time, the Intel XScale business was sold to Marvell. Therefore, the follow-up Intel CE 3100 series for the same target market was based on a 800 MHz Intel Pentium M processor. The development of the Atom microarchitecture made it necessary to have yet another shift when it came to the Intel CE 4100. Fortunately, both Intel CE 4100 and the follow-up, CE 5300, are based around Atom cores. In an effort to branch out, the Intel CE 5300 series first debuted as a STB / media player platform (tagged Berryville in March 2012). A year later, it was also re-launched as a storage platform, EvanSport, for home users with media-centric usage patterns.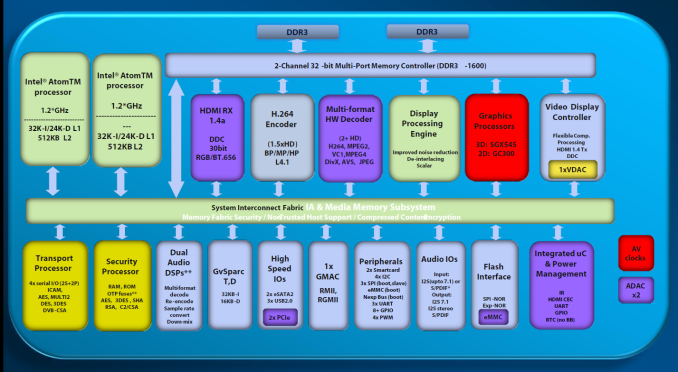 The CE5300 SoC ticks all the necessary I/O interfaces and features necessary for a media streaming platform. On the networked storage front, the blocks of interest are the high speed IOs, the GMAC and the security processor. We have one GbE interface. The typical x86 2-bay NAS usually comes with dual network ports (capable of port trunking), but units based on EvanSport are unlikely to have that. This is acceptable, considering that the unit is supposed to cater to home consumers who want to use it as a media server.
The other aspect of interest is the number of SATA and PCIe lanes. Two SATA ports point to most EvanSport designs ending up with two hard drive bays. As more and more data is generated by home consumers (thanks to smartphones which make it easier for users to shoot pictures and videos), two bays may not be sufficient moving forward (particularly when RAID protection is applied). NAS vendors may choose to use the two PCIe lanes along with a SATA bridge to provide two additional SATA ports on the board. Therefore, the maximum number of bays that we can hope to see with acceptable performance in a EvanSport-based NAS will be four.
The security processor is an interesting component. It contains an AES engine, but is primarily meant for handling DRM content in a STB environment. It should potentially be possible to use it to accelrate performance of encrypted volumes. However, it is up to the NAS vendors to take advantage of the feature.
Setup and Usage Impressions
Thecus makes it pretty clear on the package that the N2560 is meant for the average home consumer. There are claims of getting a complete installation up and running in 5 minutes and automatic RAID creation. Quietness and energy efficiency are also touted. The unit comes with a 40W DC adapter (12V @ 3.33A), a 3ft Cat 5 Ethernet cable, CD with firmware and allied software utilities, a warranty card and a quick start guide. The unit has a very plastic feel to it and doesn't look very well built (which is probably OK for a budget NAS).
The more obvious issue is the drive insertion mechanism. Instead of the standard drive bays which involves screwing in the drives, Thecus opts to make things easier for the users by doing away with separate drive holders. Four plastic strips are provided to place on either side of a 3.5" drive and these help in stabilizing them when being inserted into the drive slots. However, the mechanism didn't leave me with a positive impression. On the I/O side, we have both HDMI and SPDIF. These point to the multimedia focus of the N2560.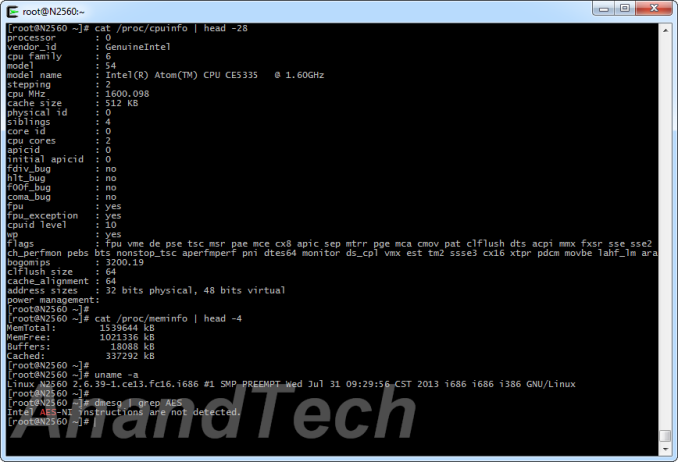 Internally, the Thecus N2560 uses the Intel CE5335 SoC with the Atom cores running at 1.6 GHz. These are the pervious generation Atom cores, which means no AES-NI support. The unit has 2 GB of RAM, but almost a fourth of it is reserved for the GPU. The OS itself is based on Linux kernel version 2.6.39.
Thecus expects users to use the Intelligent NAS utility (based on Adobe Air) to configure the NAS. While I found it passable to get the unit up and running, I felt more at ease with the browser interface. The Intelligent NAS utility provides information on the various file types stored currently in the NAS, configuration of copy tasks, a provision for firmware update and setup of cloud access with dynamic DNS. All in all, things that the average consumer should be quite happy with when taking advantage of the NAS.
Unfortunately, Thecus hasn't paid that much attention to the browser UI functions, which meant some of the options didn't work as intended. The most obvious issue was the fact that RAID rebuild failed when I tried to test that feature out. Interestingly, this was one of the issues I had reported to Thecus when evaluating the N4800 unit. Thecus units have consistently failed this test and despite the fact that I got the rebuild to work after a couple of attempts, I would have been certainly spooked if I had valuable data on the NAS.
Contributing to the multimedia focus is the presence of XBMC as an installable package. When I tested it out, the interface was restricted to 720p60. There was no HD audio passthrough, and multiple media files from our media streamer test suite just refused to play. I also found that XBMC loaded up more than 50% of the CPU even with the HDMI port disconnected. If one is not using that feature, it is advisable to terminate the process so that the CPU power is available for other NAS functions.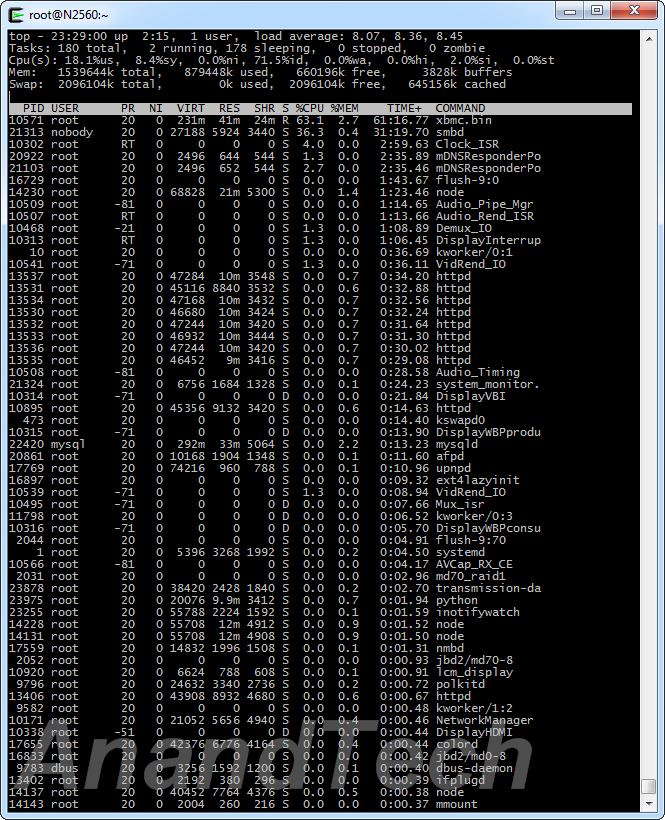 I wouldn't consider XBMC as a killer feature for the N2560. Currently, it is pretty half-baked. We have to wait and watch if Thecus is able to make any progress on this feature which currently seems like a novelty. Thecus claims on their product page that they are working with Intel to get the XBMC app out of the beta phase.
One of the apps available on the N2560 is the Plex Media Server. While trying to play back media on a mobile device with transcoding, we found that Plex doesn't take advantage of the transcoder built into the CE5335. With a single stream, CPU usage went up as high as 90%. Without taking advantage of the hardware transcoder, it is not going to be possible to stream multiple videos to multiple mobile devices.
In terms of miscellaneous features, we find that the N2560 doesn't support iSCSI or NFS. While the former can be excused in a NAS targeting home users, I find the absence of NFS very puzzling. Many media streamers work well with NFS shares. The N2560 doesn't support encrypted volumes or folders, though that can be excused in this market segment. However, Thecus does claim AES 256-bit encryption support for volumes on its product page. It is supposed to make an appearance in one of the upcoming firmware releases.
CIFS Performance Evaluation
Evaluating the N2560 was fairly straightforward. We only needed to check up on CIFS performance (as both NFS and iSCSI are not supported). The unit was configured with two WD4000FYYZ (WD RE) 4 TB drives in RAID-1 configuration. From the outside, it looks like it would be ideal to compare the performance of this unit with that of the ReadyNAS 312 we reviewed a couple of weeks back. Unfortunately, the presence of two GbE ports on the RN312, as well as business targeted feature set puts it in a different class. As such, we can compare with other ARM-based 2-bay units. The Synology DS213 is one such unit that we have evaluated before in the form of the ioSafe N2.
Single Client (Windows) Mode:
The single client CIFS performance of the Thecus N2560 was evaluated on the Windows platforms using Intel NASPT and our standard robocopy benchmark. This was run from one of the virtual machines in our NAS testbed. All data for the robocopy benchmark on the client side was put in a RAM disk (created using OSFMount) to ensure that the client's storage system shortcomings wouldn't affect the benchmark results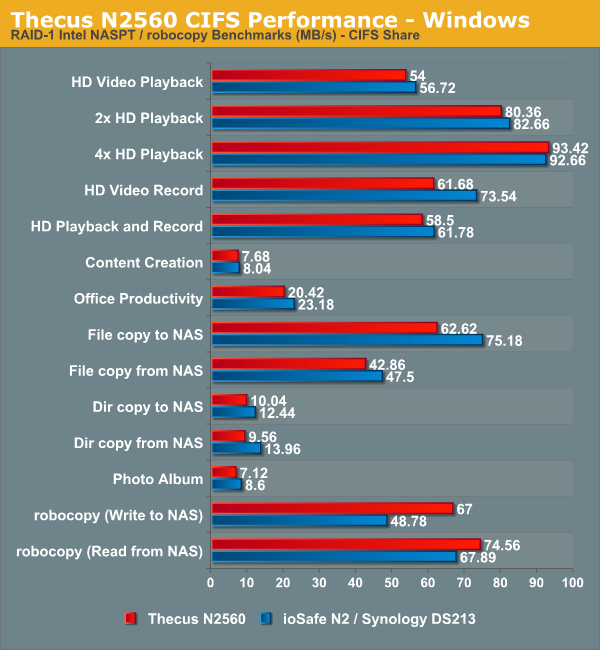 We find that the ARM-based ioSafe N2 / Synology DS213 performs better than the Thecus N2560 in a majority of the tests. However, the robocopy benchmarks (more representative of home users copying lots of files to and from the NAS) land in favour of the Thecus N2560. I would say that, based on performance alone, the Thecus N2560 will run neck-and-neck with the modern ARM-baed 2-bay units such as the Synology DS213.
Multi-Client (Windows) Mode:
We put the Thecus N2560 through some IOMeter tests with a CIFS share being accessed from up to 25 VMs simultaneously. The following four graphs show the total available bandwidth and the average response time while being subject to different types of workloads through IOMeter. IOMeter also reports various other metrics of interest such as maximum response time, read and write IOPS, separate read and write bandwidth figures etc.. Readers interested in the actual values can refer to our evaluation metrics table available here.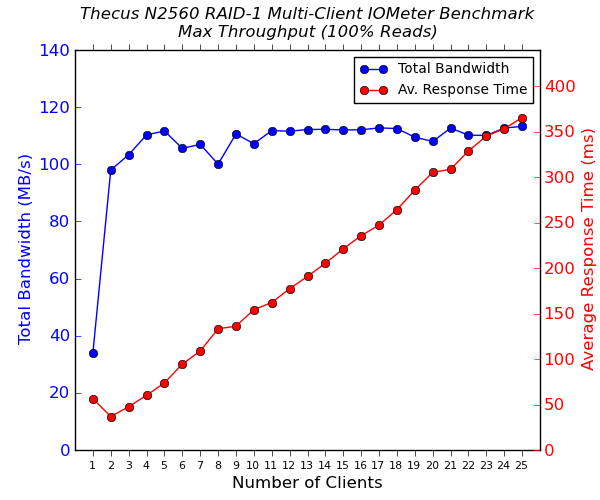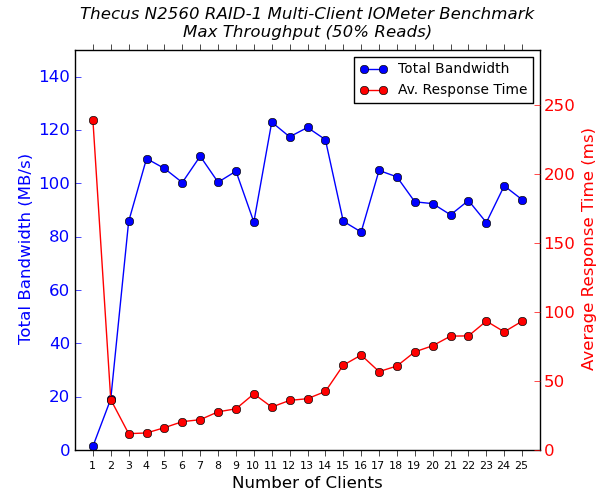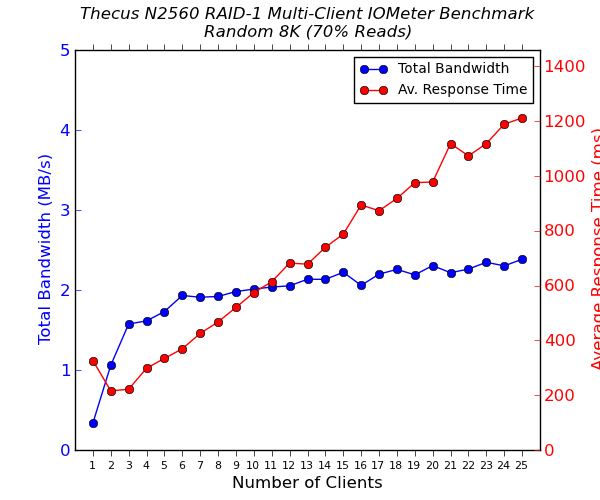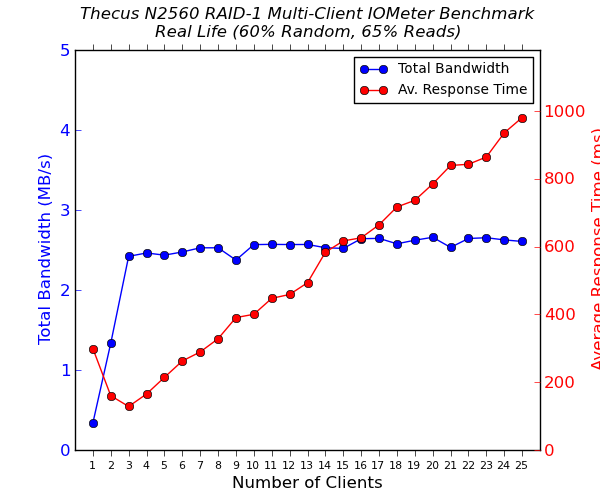 Comparing these graphs with what we obtained for the ioSafe N2 / Synology DS213, it can be inferred that the Thecus N2560 manages to maintain performance even as the number of clients connected to it keeps increasing. For the Synology DS213, we saw a dip in performance after more than 10 clients started connecting to it. The Thecus N2560 also manages to get consistently better average response times in various tests (for the same number of clients). However, it is not clear whether the average home consumer will have more than 10 clients simultaneously accessing data on the NAS. In that case, the choice may come down to non-performance aspects.
Miscellaneous Factors and Final Words
Power Consumption
The Thecus N2560 is a 2-bay NAS, and most users are going to use it in a RAID-1 configuration. Hence, we performed all our expansion / rebuild testing as well as power consumption evaluation with the unit configured in RAID-1. The disks used for benchmarking (Western Digital WD4000FYYZ) were also used in this section. The table below presents the average power consumption of the unit as well as time taken for various RAID-related activities. It must be noted that the Thecus firmware doesn't allow for single disk to RAID-1 dual disk migration. So, we don't have numbers for RAID-0 to RAID-1 expansion in the table below.
Thecus N2560 RAID Expansion and Rebuild / Power Consumption
Activity
Duration
Avg. Power Consumption
Idle (No Disks / Powered On)
11.04 W
4TB Single Disk Initialization
21.53 W
4TB RAID-1 Idle (2 Disks)
31.06 W
4TB RAID-1 Rebuild (Replace 1 of 2 Disks)
12h 11m 56s
33.85 W
Comparing this with the ioSafe N2 / Synology DS213, we find that the rebuild is slower on the Thecus N2560. It could indicate that the process is CPU-bound (since the DS213 SoC is clocked higher compared to the CE5335), or the software on the Thecus N2560 is not optimized yet.
Mobile Apps
The T-OnTheGo Android app was also tested out. While we did face some hiccups starting out, referring to the user manual made everything clear (particularly the format in which the dynamic DNS name had to be entered in the app). The app is one of the best parts of the package. It has an in-built media player, and is able to access both the local file system as well as the content on the NAS. Exchange of files between the two was also made possible. While I was feeling a little bit let-down by the Thecus firmware and its capabilities, the mobile app restored my faith a little. I would say that the mobile app is already very usable and feature complete, and Thecus should concentrate on bringing core firmware features out to bring the unit on par with offerings from competitors.
Concluding Remarks
Coming to the business end of the review, we must evaluate the pros and cons by keeping the price of the unit in mind. While the Thecus N2520 retails for around $200, I couldn't find an official price listing for the N2560. Since the only difference is the additional 1GB of RAM, I would imagine it would bump up the price by around $50 or so. The DS213 used to retail for $300 on Newegg (it has since been replaced by the DS214). On the price front (as well as power consumption and performance), I would venture to say that the Thecus N2560 works out OK. However, it is in terms of features and firmware stability that Thecus falls short. Given that single disk to dual disk RAID-1 migration is not possible, and RAID-1 rebuild failed on me multiple times, I wouldn't trust essential data to this NAS. As a backup target, it would probably work out. Thecus really needs to pull up its socks and get the firmware features up to date to match what they claim on their specifications page. This include working XBMC (with full hardware decoding of multiple formats / containers and HD audio passthrough), hardware transcoding for media serving using Plex or a custom app built in-house and encryption support.
From Intel's perspective, the EvanSport platform is an interesting attempt to cater to this market segment. However, they need to work closely with their customers to ensure that such half-baked products are not put out. Many of the SoC's hardware blocks not being used in the firmware. It is not clear where the blame lies - Intel's SDK or laxity on Thecus's part. For a follow-up SoC in this product family, we would obviously like to see an updated Atom core based on the Silvermont microarchitecture (with AES-NI support). It would also be nice to see the number of SATA ports increased to 4 (while retaining or increasing the number of available PCIe lanes).