Original Link: http://www.anandtech.com/show/7250/mythlogic-pollux-1613-clevo-p157sm-review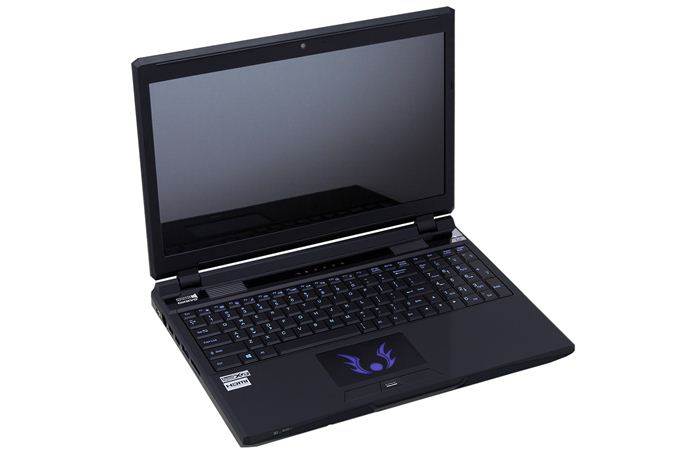 A couple months back we had the chance to review MSI's GT70 Dragon notebook, a high-end gaming system sporting the brand spanking new Haswell Core i7-4700MQ with a just as new GeForce GTX 780M graphics chip. What we found was that performance didn't impress us quite as much as we were expecting. Mythlogic wanted to show us "GTX 780M done right", more or less, so they shipped their Pollux 1613 (Clevo P157SM) system for review sporting similar hardware to the GT70 Dragon…and performance once again wasn't quite what we were expecting in games. It's not that either system was slow, but we simply expected to see more of a difference.
After some emails back and forth with NVIDIA and Mythlogic, we ended up with a second CPU for testing: the Core i7-4900MQ (not to mention some overclocking of both the original 4700MQ and the 4900MQ processors). NVIDIA has also sent two new MSI GT70 Dragon notebooks for testing, one configured the same as the original review (and it no longer hits 95C or higher temperatures during testing) and one with i7-4930MX. But we're getting ahead of ourselves. We'll look at the CPU scaling performance of GTX 780M in a future article, but for now let's talk about the Mythlogic Pollux 1613, a customized build using a Clevo P157SM chassis. Here's the specific configuration we're testing:
Mythlogic Pollux 1613 / Clevo P157SM Test Configuration
Processor
Intel Core i7-4700MQ
(Quad-core 2.4-3.4GHz, 6MB L3, 22nm, 47W)

Intel Core i7-4900MQ
(Quad-core 2.8-3.8GHz, 8MB L3, 22nm, 47W)
Chipset
HM87
Memory
8GB (2x4GB) DDR3-1600 11-11-11-28 timings
Max RAM: 4x8GB
Graphics
NVIDIA GeForce GTX 780M 4GB GDDR5
(1536 CUDA Cores at 771+ MHz, 5000MHz GDDR5)

Intel HD Graphics 4600
(20 EUs at 400-1150/1300MHz, 4700MQ/4900MQ)
Display
15.6" Anti-Glare TN 1080p
(AUO B156HW01 v4)
Storage
Samsung 840 Pro 512GB mSATA SSD
(PM841 MZMTD512HAGL)
Optical Drive
DVDRW (TSSTcorp SN208DB)
Networking
Gigabit Ethernet (Realtek RTL8111/8168)
802.11ac WiFi (Intel Wireless-AC 7260)
(Dual-band 2x2:2 300Mbps/867Mbps capable)
Audio
Realtek HD ALC892
Stereo Speakers
4 x audio jacks
Battery/Power
8-cell, ~14.8V, 5200mAh, 77Wh
180W Max AC Adapter
Front Side
N/A
Left Side
Flash Reader (SD/MMC/MS)
1 x USB 3.0/eSATA Combo
2 x USB 3.0
Gigabit Ethernet
1 x Mini-FireWire 1394B
Right Side
Optical Drive
4 x Audio jacks
1 x USB 2.0
Kensington Lock
Back Side
2 x Exhaust Vents
1 x DisplayPort
1 x HDMI
1 x mini-DisplayPort
AC Power Connection
Operating System
Windows 8 64-bit
Dimensions
14.7" x 10.55" x 1.38-1.77" (WxDxH)
(375mm x 268mm x 35-45mm)
Weight
7.26 lbs (3.3kg)
Extras
Fingerprint Reader
HD Webcam
102-Key Colored Backlighting Keyboard
Carbon Fiber wrapped LCD Lid
CPU Overclocking Support in BIOS
Pricing
Starting at $1543 (GTX 770M)
As Configured: $2400-$2739 (780M, i7-4700/4900MQ)
Most of the items are pretty much what you'd expect from a high-end notebook, with a quad-core i7 CPU and GTX 780M providing the raw horsepower for any games or other computationally intensive tasks. As mentioned above, we tested with both the i7-4700MQ and the i7-4900MQ, including overclocking via Mythlogic's customized BIOS. We also requested a single large SSD for our review unit and Mythlogic obliged and equipped the notebook with a 512GB Samsung PM841 mSATA SSD. The choice of SSD was less about performance than it was about convenience; I have found that 240/256GB SSDs just aren't quite large enough to hold everything I want. Bumping up to the 512GB class fixes this shortcoming, and there's still plenty of spare area available for future games and applications—and you can always add an additional HDD if needed for mass storage of data files. If I were buying a high-end laptop right now, I'd definitely splurge and get a 512GB class SSD.
Going through the rest of the list, most of the items are well-known quantities by now. The AUO B156HW01 v4 LCD is a TN panel, but it's one of the best 15.6" TN panel out there, with a wide color gamut and good (post-calibration) accuracy, as well as viewing angles that don't immediately wash out in off-angle viewing. RAM in our unit is "only" 8GB of low-voltage memory, but you can equip the P157SM with up to 4x8GB RAM if you need more, and Mythlogic's pricing for RAM upgrades is pretty reasonable. (The 32GB setup mentions that it requires the use of Windows 7 Pro/Ultimate according to Mythlogic's configurator; Windows 8 64-bit supports 128GB and the Pro version supports 512GB, so this is likely a note for Win7 users.)
The connectivity and I/O options cover just about everything you could want. There are three USB 3.0 ports, including an eSATA combo port. A single USB 2.0 port is also present for legacy/compatibility reasons (I've noticed that trying to install Win7/Win8 from a USB 3.0 port often creates problems). Clevo even includes a FireWire 1394b port for those that need it, and on the display side there are three digital connections: one full-size HDMI, one full-size DisplayPort, and one mini-DisplayPort. VGA and DVI users will need an adapter, but given where we're headed I think going with two DP connections is the best choice for most users. For wireless, we were very pleased to discover that Mythlogic equipped their notebook with an Intel Wireless-AC 7260 adapter; the configurator has now moved on the Advanced-AC 7260, which adds Bluetooth 4.0 support. Regardless, the ability to transfer data over WiFi at up to ~45MBps is something I've been longing for; range of 802.11ac won't be as good as 2.4GHz networking, but since you get 2.4GHz and 5GHz support it's not really a concern.
As far as the spec sheet goes, there really aren't any problem areas to discuss. You can custom configure pretty much whatever your heart desires, within reason. The P157SM chassis supports two mSATA drives, two 2.5" SSD/HDD drives, and if you want to forego the optical drive a caddy allows the use of a third 2.5" SSD/HDD. There's a very similar notebook that's also available, the Clevo P150SM/Mythlogic Pollux 1613-Black; the major difference is that it only supports a single 2.5" drive (with a second via the optical drive bay/caddy). It weighs a bit less than the P157SM and has a slightly different design on the hinges and multimedia panel above the keyboard, and no backlit trackpad, with a price that's around $20 less. (It's basically the last generation Clevo chassis but with an updated chipset/motherboard and other components.)
Mythlogic Pollux 1613 / Clevo P157SM Subjective Evaluation
Since Mythlogic uses Clevo notebooks and simply customizes them, the core hardware has a lot in common with previous Clevo notebooks that we've reviewed. That can be both a blessing and a curse, but they do offer up some interesting new options, along with the usual selection of CPU, GPU, RAM, display, and storage choices. While the performance of any particular notebook depends largely on the choice of CPU and GPU (and SSD vs. HDD), subjectively what we think of any notebook often has a lot more to do with things like the display, keyboard, touchpad, and general build quality. Here's another set of images of the P157SM, this time taken by yours truly:
Chief among optional extras is that Mythlogic will install a different keyboard in the chassis (provided they have keyboards in stock, apparently), which addresses some of the complaints we've had with previous Clevo keyboards. In practice, the changes aren't all that significant; the modified keyboard has chiclet style keys while the standard Clevo keyboard has beveled/ridged edges. You can get an idea of the difference by looking at images from our test notebook compared to the standard keyboard. The alternate keyboard is, as far as I can tell, identical to the MSI SteelSeries keyboards used in the GT60 and GT70 notebooks—though obviously they can't use the SteelSeries branding—with the only real change being the Fn and Start keys have swapped positions. There's also colored keyboard backlighting, and you can adjust the colors using a utility that you get by pressing Fn+[Keypad /]—and again, this is identical to the backlighting on the MSI GT70 and other modern Clevo designs.
Note that since the keyboard is not the default Clevo design, some of the Fn key combinations are not what you see on the keys—so Fn+[Left Cursor] doesn't reduce the volume; you'll need to press FN+F5 for that instead. Mythlogic includes a reference sheet with all of the Clevo shortcuts, and as you spend time with the Pollux 1613 you'll adapt—or you can just go with the standard Clevo keyboard. The feel of the MSI/alternate keyboard is very good, and it looks like the stock Clevo keyboards have finally fixed the 10-key and made it a standard layout (with a slightly narrower Numpad-0 key). Given the choice, I'd probably just stick with the stock Clevo keyboard now, but whichever way you got there are still aspects that aren't necessarily ideal.
Specifically, the keyboard still has some issues with layout and key assignments, and the lack of dedicated Home and End keys is bothersome to me. You need to use Fn+PgUp/PgDn to get those, which thanks to the right-hand location of the Fn key means using the right hand and stretching to reach both keys, or else move your left hand over to press Fn while you use the right to hit PgDn/PgUp. (Having Fn on the left side of the keyboard like most laptops would have helped, which is what MSI does on their notebooks with the SteelSeries keyboard.) Thankfully, there are utilities that allow you to remap most keys (Fn being the one exception), so you can assign Home and End to some other keys that you don't use much, like Scroll Lock, Pause/Break, or Insert. Ideally, though, I'd prefer to have the current Pause/Break become Delete, then assign Home and End to the current Insert and Delete locations, with Fn combos providing access to Pause/Break and Insert for those that need them. I'd also shift the extra Backslash over to the left of the Space and have it function as either Fn or the Start key, and then the current Fn key location could provide the Context function (Shift+F10). Of course, this is all personal preference so others might be happy with the current arrangement. YMMV.
The biggest flaw with the latest Clevo generation is next, and it's the touchpad. Previously I've seen plenty of decent touchpads on Clevo, but this time around they apparently skimped out and went with a Sentelic solution. The few times I've seen Sentelic touchpads have been very painful, and while this is actually much better than previous hardware it still feels a bit sluggish and unresponsive. Most of the multi-touch gestures work fine at least, but even with the "On-pad Cursor Speed" set to maximum (Level 10), it's nowhere near what I'm used to with touchpads. The result is that just to get the cursor from the bottom/left to the top/right of the display requires no fewer than four swipes of your finger—and if you're not careful, instead of a swipe you'll activate one of the Windows 8 gestures and bring up the Charms menu or switch applications, resulting in additional swipes. (Changing the Windows pointer speed thankfully fixes this, and with it set at about 70% I was much happier – it seems the Sentelic "On-Pad Cursor Speed" just doesn't work right now.
Anyway, the included touchpad works well enough, but I think Clevo should have done more research before going with the Sentelic touchpad. It feels like a decision a bean counter made rather than something to benefit the end users. For a high-end notebook, it's just not okay to continue cutting corners on little items like the touchpad. My advice is to make sure you bring along a mouse, particularly if you're planning on playing games, but that almost goes without saying. I've mentioned this before, by my personal hierarchy of touchpads in order of decreasing quality is: Synaptics, Elan, Alps, and then Sentelic (though I may have missed a couple of the smaller players in that list). Interestingly, the P150SM and P170SM go with a Synaptics touchpad instead (sans backlighting), and Mythlogic will replace the touchpad with a non-backlit option if you want (but still Sentelic), which is great as I could see more than a few users being turned off by the "tramp stamp" on the touchpad.
For the display, Mythlogic lets you choose between a standard matte 1080p display or a high gamut 1080p offering; it's only $35 extra for the 95% NTSC gamut panel, and I personally like this panel a lot. It's the AUO B156HW01 v4, which I've reviewed a few times already in other laptops, and it still impresses compared to most other options. I'd like to see better IPS or AHVA panels instead, but the truth is most of the current notebook IPS panels are using WLED backlighting, so you get improved viewing angles but a much lower color gamut, with a higher price as well. Until we start seeing higher quality backlights on the IPS/AHVA laptop panels, a good TN panel with a high gamut backlight is at least a reasonable alternative.
Everything else is decent if not exceptional. The build quality and aesthetics are standard Clevo fare, which means there's a lot of plastic with some slight flex if you press hard on the chassis. I'm not sure if the bezel is standard fare or if it's something Mythlogic customizes, but it's thankfully matte plastic this time and goes well with the matte LCD. Mythlogic did customize the lid on our review sample with their carbon fiber wrap, which is a $150 extra. It adds some visual flare to an otherwise black and nondescript design, but it shows marks and scratches more than the standard cover and for the price I think most users will be fine with the soft-touch coating Clevo uses. The use of plastic for the chassis also means that the surfaces don't tend to feel too hot, even under sustained loads—only directly under the CPU and GPU will you notice hot spots, as well as on the rear exhaust ports.
Audio quality is likewise good if not great—though somewhat surprising to me is that even at maximum volume the notebook doesn't get all that loud. (I was testing this at the same time as the Acer R7 and Acer V7, both of which put out more volume.) The P157SM does have a subwoofer that helps with lower tones, but at one point I had some friends trying to listen to an audio book and they felt it wasn't able to get loud enough. In a quiet environment it's okay, but if there are other people around that are talking or laughing then you'll likely also wish for increased sound output levels.
As you'd expect from a system that's designed to be customized by notebook vendors, getting at the internals of the P157SM is quite easy. There are four screws (two on the bottom, two on the back) that you need to remove, and then you can pull off the bottom panel that provides access to the HDD/mSATA slots and two of the SO-DIMMs, as well as the CPU and GPU. You can see the CPU upgrade process in the gallery above as well. The other two SO-DIMM slots are located under the keyboard, which can be a bit more of a pain to access but it isn't too difficult. I'd like to see Mythlogic populate the two less accessible SO-DIMMs first, but perhaps it's more stable with the bottom slots occupied than the reverse.
In my mind at least, Clevo has never been about the latest in design and aesthetics; if you want something flashy or with higher quality/higher cost materials you'll want to look elsewhere. Instead, Clevo is typically focused on providing as much performance as possible in a reasonably inexpensive chassis, with a thicker casing allowing for improved cooling. The MSI GT60/GT70 are very similar in a lot of ways, but Clevo uses two cooling fans instead of a single HSF – one fan/heatsink for the CPU and chipset, and the other for the GPU. The result is lower temperatures and likely improved longevity, and with the keyboard layout now mostly fixed the only real question is how the Clevo P157SM performs. So let's hit the benchmarks….
Mythlogic Pollux 1613 / Clevo P157SM Gaming Performance
I don't think many people looking at the Clevo P157SM are going to be super concerned with general application performance; as we've said numerous times, most notebooks have long since surpassed the "fast enough" mark for the majority of users. You're likely to buy a Clevo P157SM for the GPU more than the other elements, so we'll start with a rundown of gaming performance, focusing on our Mainstream and Enthusiast settings (though you can find the Value results in Mobile Bench, as usual). For our benchmarks, we have four configurations of the Mythlogic Pollux 1613 that we tested: stock i7-4700MQ, stock i7-4900MQ, and overclocked for both processors. The other laptops included in our charts are detailed (and linked) below. I'll have more to say on overclocking on the next page, but we'll start with our Mainstream and Enthusiast gaming results; as usual, the full set of results (including Value Gaming performance) is available in Mobile Bench.
Overview of Comparison Laptops
Laptop
CPU
GPU
Storage
RAM
LCD
Battery
Acer V7-482PG-9884
Intel Core i7-4500U
GT750M DDR3 / HD4400
1TB HDD + 24GB SSD
1x4GB + 1x8GB
14" 1080p Glossy AHVA Touchscreen
4-cell 54Wh
Alienware M17x R4
Intel Core i7-3720QM
HD7970M / HD4000
750GB HDD
1x4GB + 1x2GB
17.3" 1080p Glossy TN
9-cell 93Wh
Clevo P157SM (Mythlogic)
Intel Core i7-4700MQ
HD4600 / GTX780M
512GB SSD
2x4GB
15.6" 1080p Matte TN
8-cell 77Wh
Clevo P157SM (Mythlogic)
Intel Core i7-4900MQ
HD4600 / GTX780M
512GB SSD
2x4GB
15.6" 1080p Matte TN
8-cell 77Wh
MSI GE40
Intel Core i7-4702MQ
HD4600 / GTX760M
128GB SSD + 750GB HDD
1x8GB
14" 1600x900 Matte TN
6-cell 65Wh
MSI GT70 Dragon
Intel Core i7-4700MQ
HD4600 / GTX780M
128GB SSD + 750GB HDD
4x8GB
17.3" 1080p Matte TN
9-cell 87Wh
MSI GX60
AMD A10-5750
HD8650G / HD7970M
750GB HDD
1x8GB
15.6" 1080p Matte TN
9-cell 87Wh
Razer Blade 14
Intel Core i7-4702HQ
HD4600 / GTX765M
256GB SSD
2x4GB
14" 1600x900 Matte TN
6-cell 70Wh
Before we get to the benchmarks, a bit of history on the Haswell and GTX 780M notebooks is in order. With the MSI GT70 Dragon, Dustin measured some rather high temperatures and assumed that the CPU and/or GPU might be throttling performance. Our second test notebook from Mythlogic doesn't have any issues with high temperatures, and it's faster in some cases, slightly slower in others, but everything is close enough that it looks like throttling of the CPU wasn't actually an issue on the MSI GT70—the difference is never more than 7%, and in most cases it's closer to 1-3%. What's more, while the temperatures are higher than we'd like, I did some additional testing with a GT70 and found that the CPU and GPU clocks are right where they're supposed to be. So if the CPU isn't throttling, what's the problem?
It turns out there are several things going on with our gaming benchmarks as well as our test platforms. Clock for clock, Haswell really isn't much faster than Ivy Bridge—maybe 5% at best—and really even Sandy Bridge isn't too far off. The biggest changes between the last three generations of mobile Intel processors have a lot more to do with reducing power use and improving integrated graphics performance, neither of which proves particularly beneficial for high-end gaming notebooks. So when we have i7-2820QM and i7-3820QM going up against i7-4700MQ (basically the Haswell iteration of the earlier 3610QM and 2630QM), we're actually dealing with a slower CPU despite the newer architecture. At lower detail settings most games become more CPU limited, but even at maximum detail it turns out we have a couple of games that are still predominantly CPU limited—Elder Scrolls: Skyrim and StarCraft II: Heart of the Swarm are the big ones, but a few of the other titles also hit CPU bottlenecks.
How could the GTX 680M possibly beat the GTX 780M by 10-15%? Easy: it wasn't the GPUs being taxed so much as it was the CPUs, and a 3.7GHz maximum CPU clock (3820QM) is 9% higher than a maximum 3.4GHz clock (4700MQ), with the multiple-cores-active 3.5GHz clock being nearly 10% higher than the 3.2GHz multiple-core clock. Toss in the additional L3 cache on the 3820QM, some variation in drivers and optimizations, plus margin of error and 10-15% can easily come from just the CPU.
One final note: Mythlogic (Clevo?) by default includes Virtu's MVP 2.0 software. In theory this helps smooth out gaming frame rates; in practice, sometimes it helps and sometimes you get rendering errors or reduced frame rates. Thankfully, you can disable Virtu at any time, and I did so for all of my testing of the Pollux 1613. In fact, if this were my own laptop, I'd be inclined to simply uninstall Virtu MVP completely and be done with it, as it has to be disabled on each reboot.
Mainstream Gaming Performance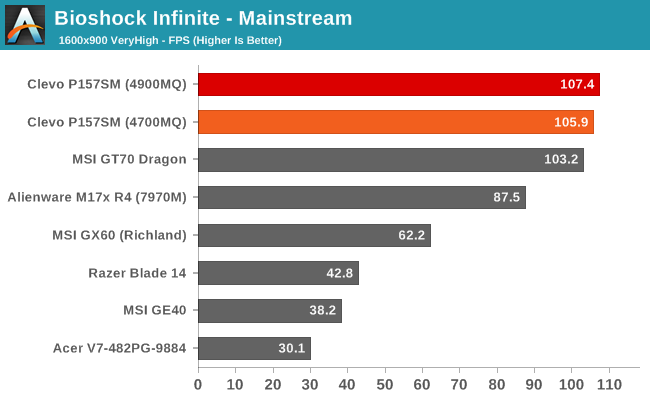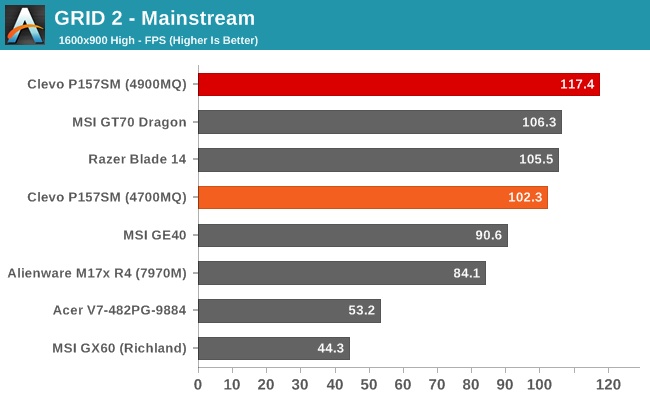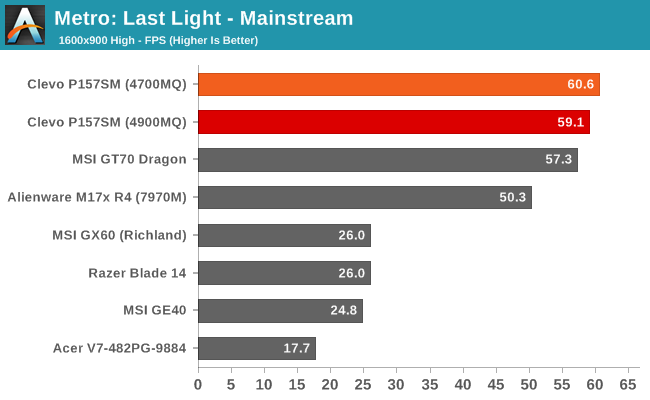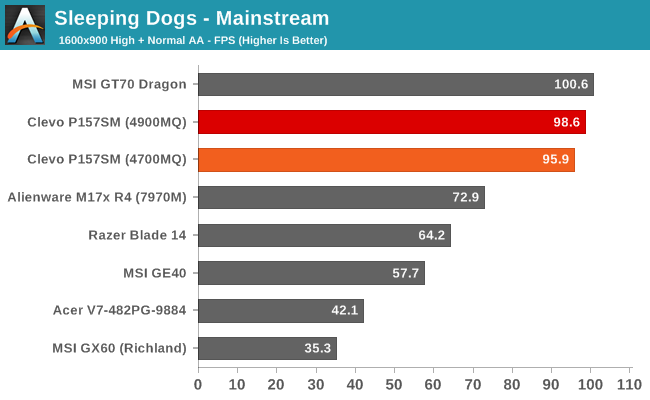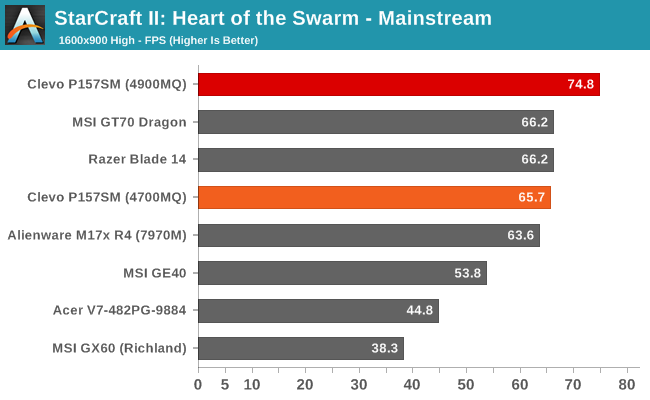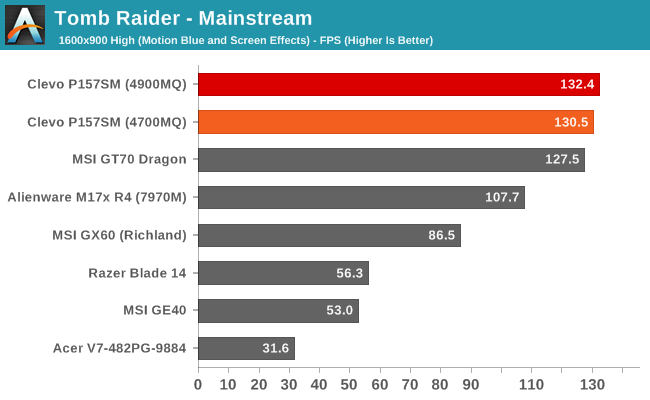 There aren't too many surprises here; the Clevo P157SM is one of the fastest gaming notebooks we've ever tested, basically trading blows with the MSI GT70. In many cases the P157SM comes out ahead, but it's not always faster; in fact, averaging the frame rates over the seven tested games (Company of Heroes 2 results weren't available for the MSI), the MSI actually comes out just ahead of the P157SM – though a difference of 0.2% is hardly worth mentioning. More noteworthy is that even at our Mainstream settings, the CPU upgrade to the i7-4900MQ improves performance by over 5% on average. In many of the games, the two CPUs are basically equal as the GPU ends up being the bottleneck, but Elder Scrolls: Skyrim, GRID 2, and StarCraft II all show significant gains. We're basically looking at an 11-17% clock speed increase by moving up to the 4900MQ, plus the extra 2MB L3 cache also helps. Skyrim improves by 7%, GRID 2 by 15%, and StarCraft II by 14%. If you're playing any CPU intensive games, you may find the faster CPU to be a worthwhile upgrade.
Enthusiast Gaming Performance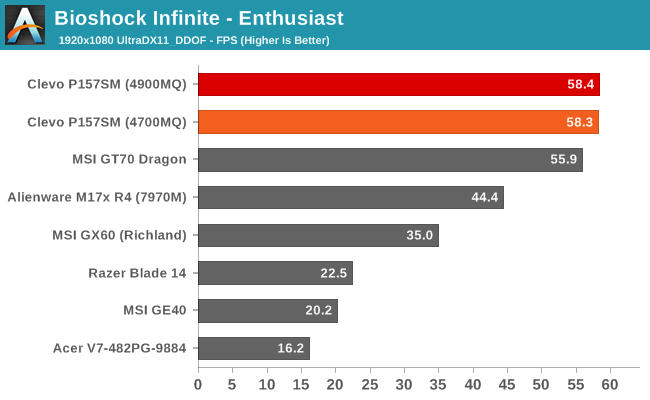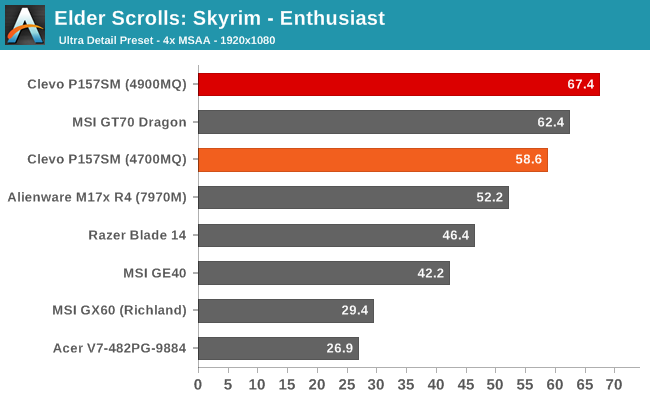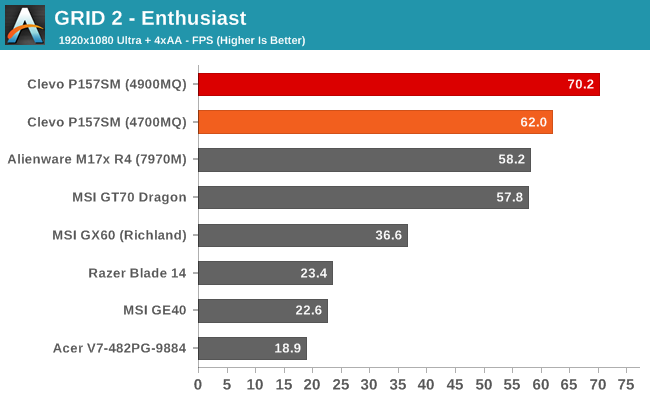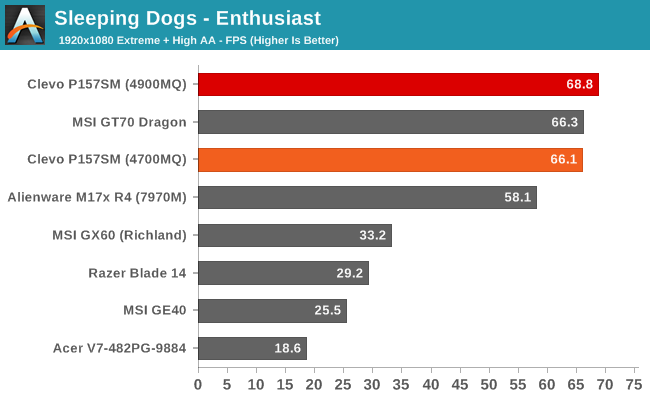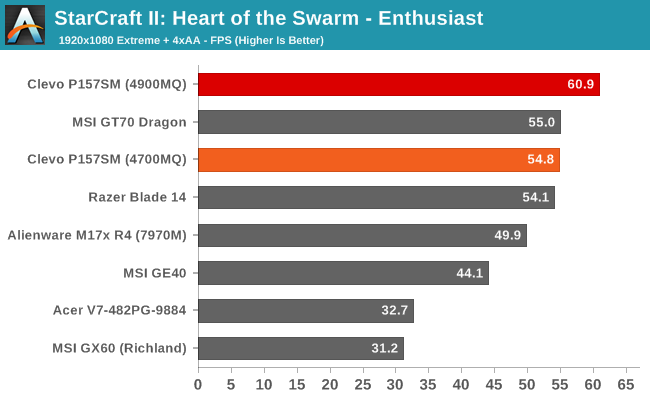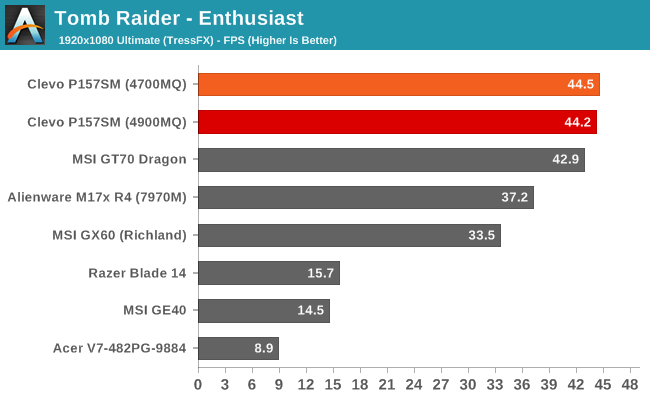 Performance with the GTX 780M notebooks flattens out at our Enthusiast settings, though again we see a sizeable jump in performance with Skyrim, GRID 2, and StarCraft II. The Clevo P157SM is now slightly faster on average compared to the MSI GT70 (1.2%), while the 4900MQ still improves the overall average frame rates by an impressive 7%. There's more at play here than pure frame rates, however, so let's discuss overclocking of the CPUs next.
Mythlogic Pollux 1613 Overclocking
One of Mythlogic's claims to fame with their Clevo-based notebooks is that they've customized the BIOS to allow overclocking. I haven't tested any other Clevo P157SM/P177SM notebooks so I don't know if they're done a lot or if they just tweaked a few items, but you're able to raise the maximum CPU multiplier. I'm not sure if there's a different limit imposed by Intel, but for the i7-4700MQ we could increase the single-core, dual-core, multi-core multiplier by two bins (3.6GHz max) whereas on the i7-4900MQ we're allowed to go up to four bins above the maximum single-core clock, so 4.2GHz for all settings. It's worth noting that we were not able to run at 4.2GHz stably, and in fact I couldn't get the Clevo P157SM to even boot into Windows. I didn't do any intense research, but ultimately I found that setting the CPU to 4.0GHz for all loads ran without crashing, so that's what I tested.
Before we get to the charts, there's on other tidbit I want to discuss that relates to Haswell. With Sandy Bridge and Ivy Bridge – and pretty much every CPU I can recall testing over the past decade or so – I've found that best performance is achieved using the High Performance power profile. However, at one point in the testing of the Clevo P157SM I ran some tests on the Balanced power profile. In most cases the difference wasn't anything noteworthy, and often the High Performance profile was indeed faster, but in some games the choice of Balanced actually improves performance quite a bit – GRID 2 being the main beneficiary. Our best guess is that with some titles, selecting High Performance tries to run all the CPU cores at maximum clocks and may end up lowering the maximum Turbo Boost multiplier. With GRID 2, at our Value settings the Balanced profile ended up 15% faster, and even at our Mainstream settings there was still an 8% increase in frame rates (though this went away at the Enthusiast settings).
I mention this because all of the initial testing with overclocking and stock CPUs was done using the High Performance profile. I could go back and rerun every test on the Balanced profile to investigate the topic more, but that's a lot of hours of running repetitive benchmarks for a relatively small payoff, and I've already benchmarked the P157SM far more than any other notebook in recent history. If the High Performance profile is indeed causing maximum Turbo Boost clocks to drop slightly because of increased heat, however, overclocking may further exacerbate the problem. If you end up buying one of these notebooks, I'd suggest at least looking at how the Balanced vs. High Performance profiles affect the games and applications you use. Of course, for laptops that I actually use, I tend to just stick with the Balanced profile as a good blend of battery life when I'm unplugged and performance when I'm plugged in, but it is an interesting change with Haswell regardless – possibly brought about by the integrated voltage regulator? Anyway, on with the overclocking benchmarks.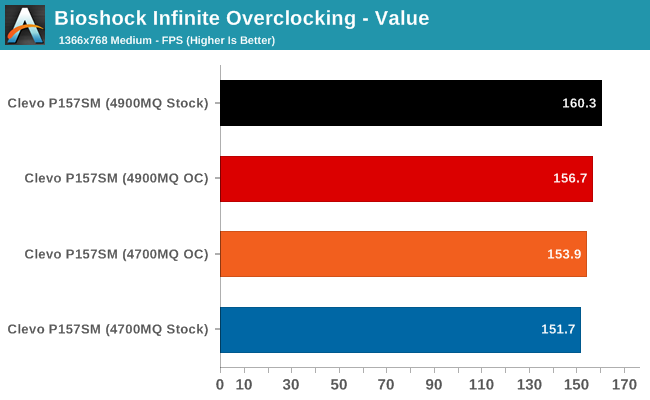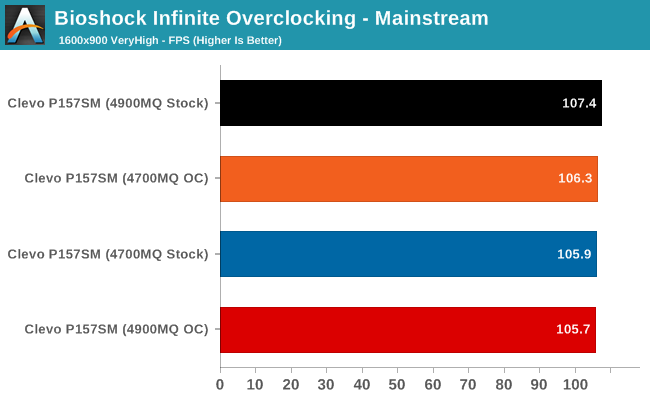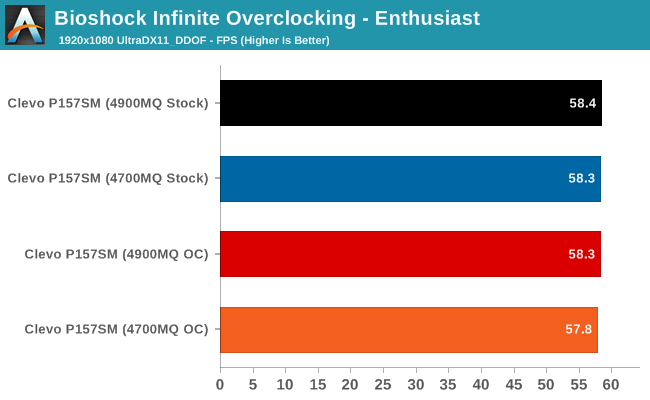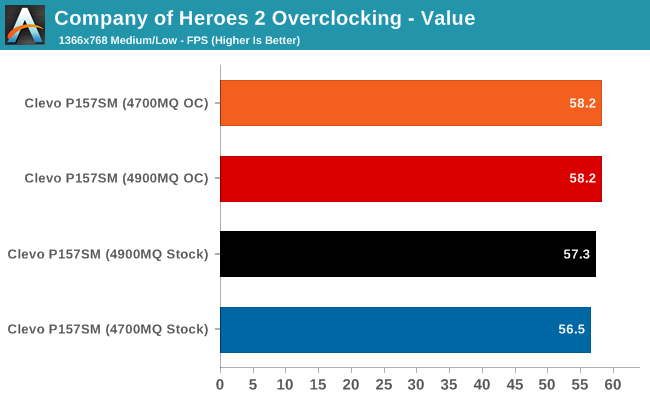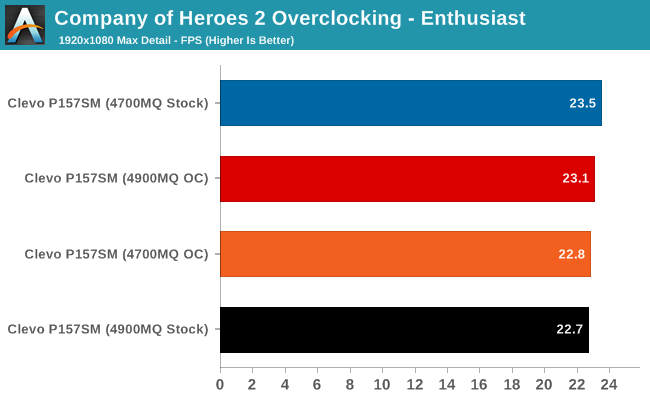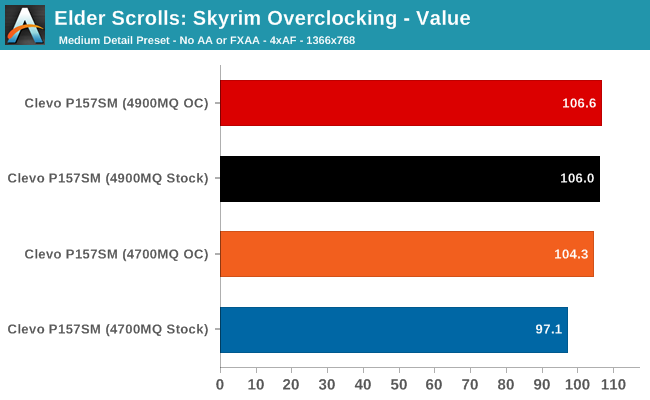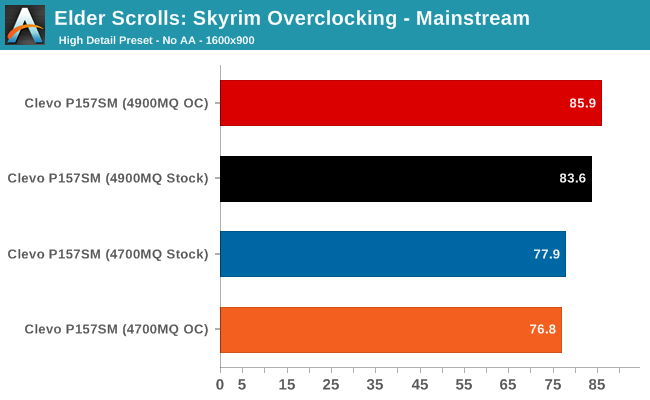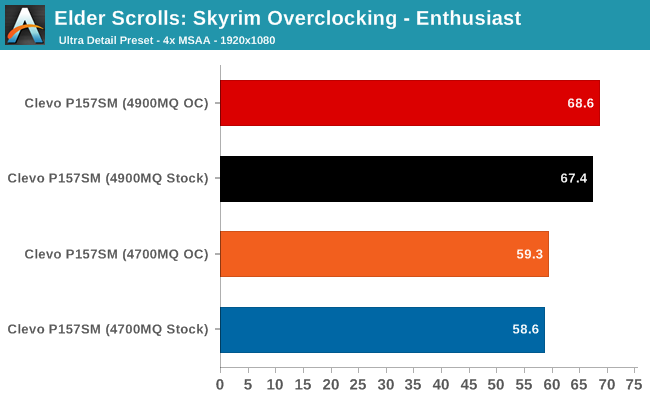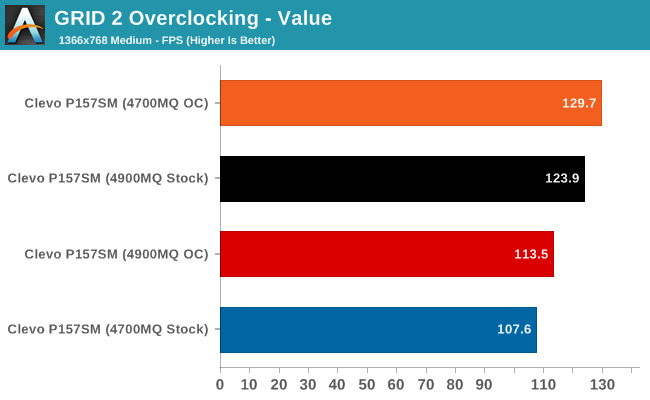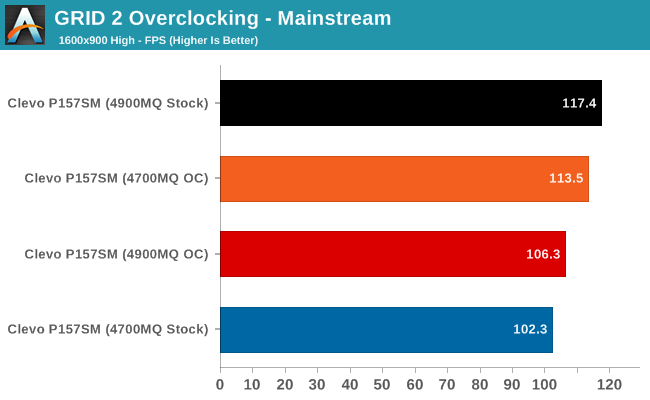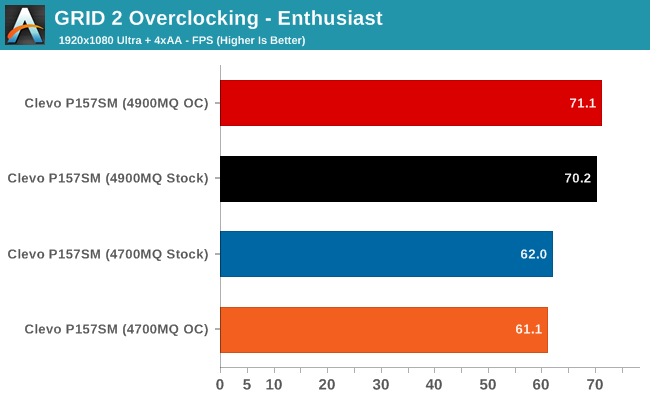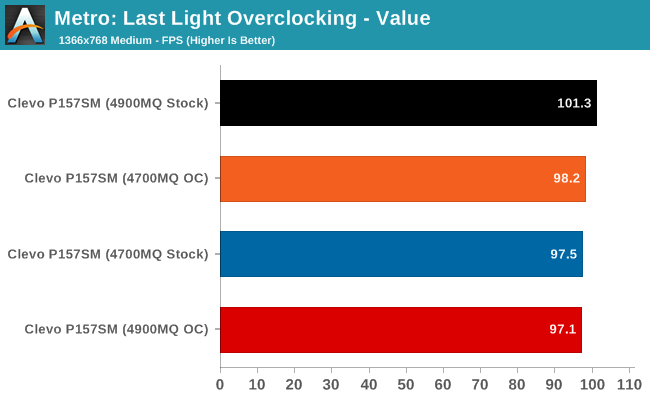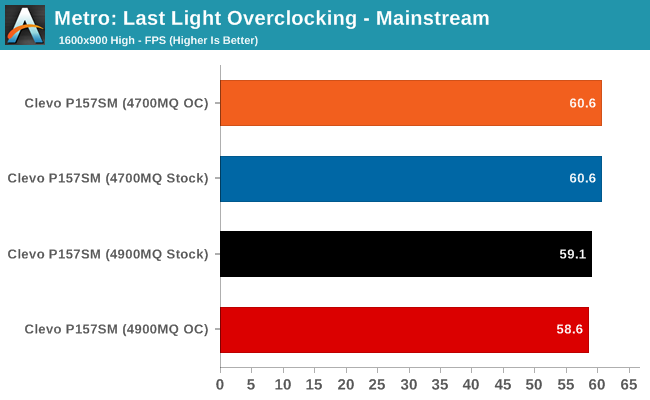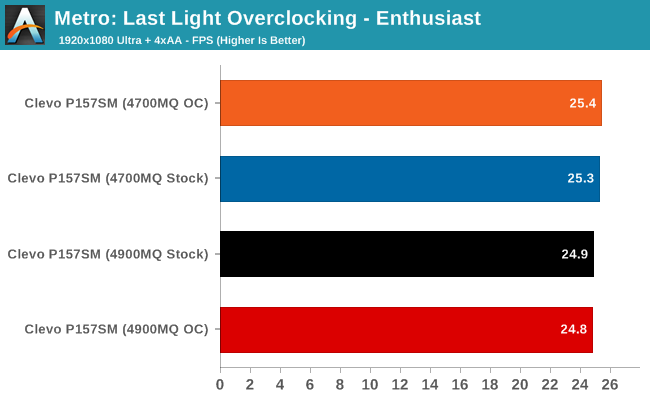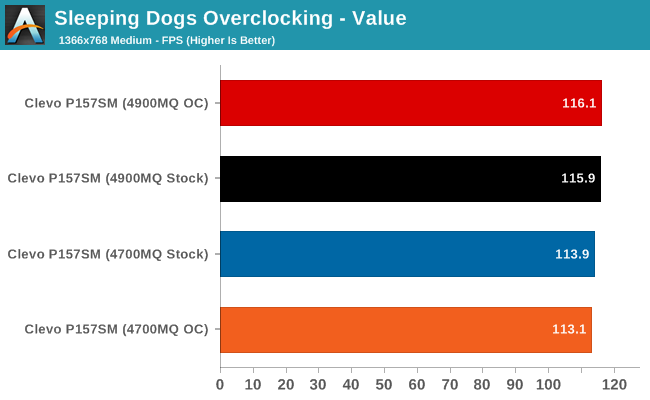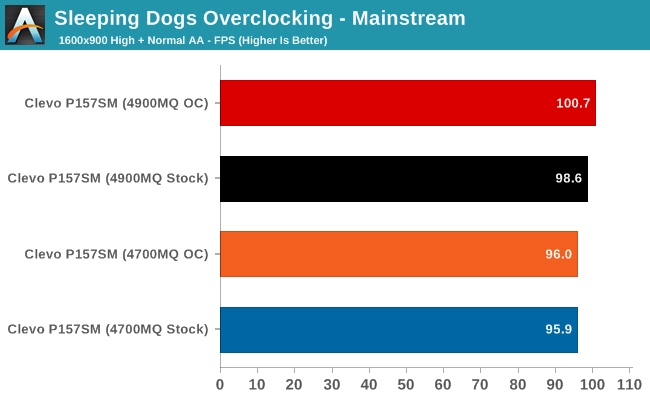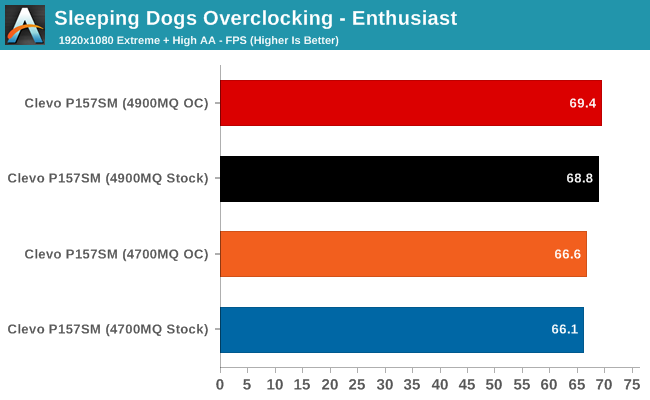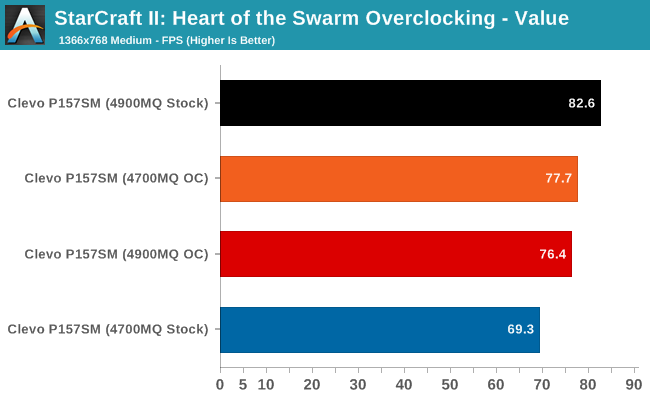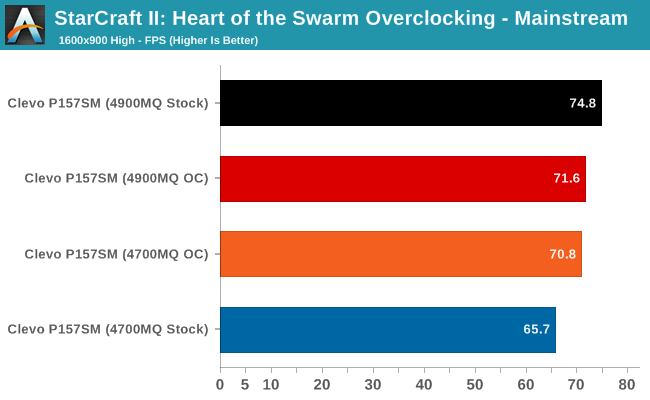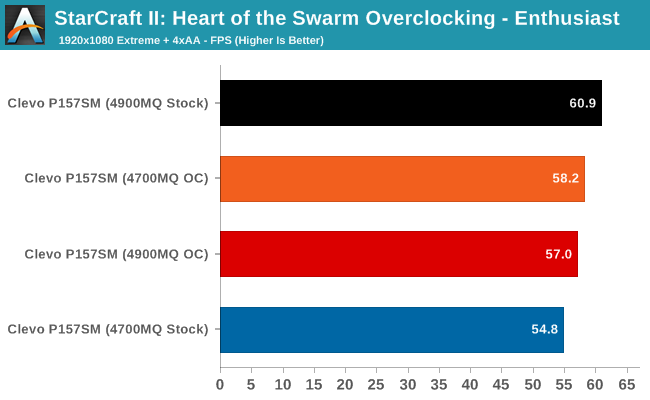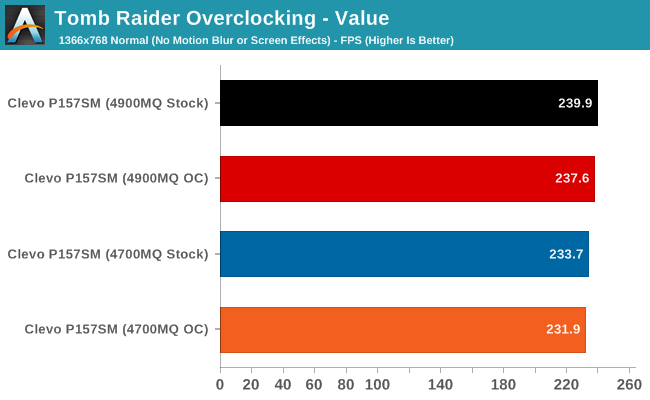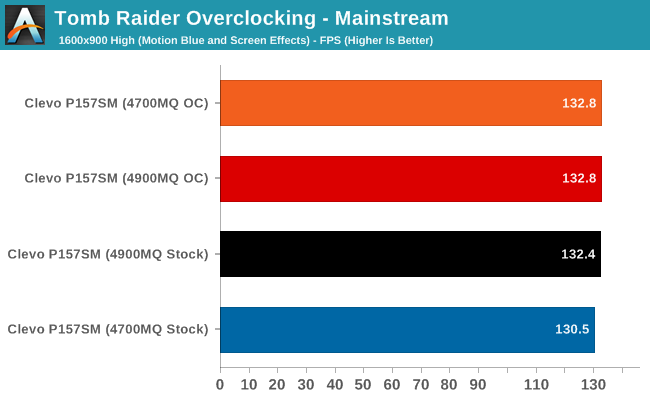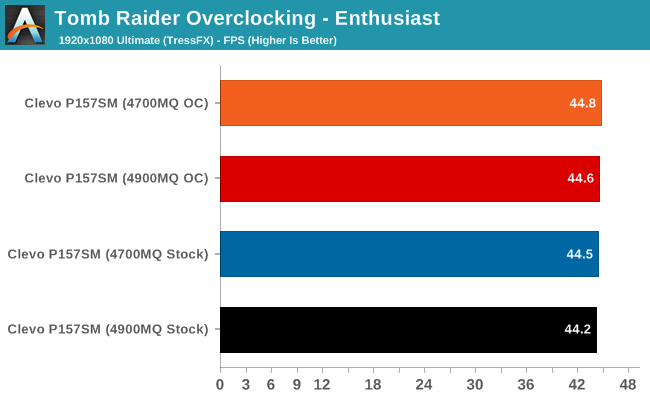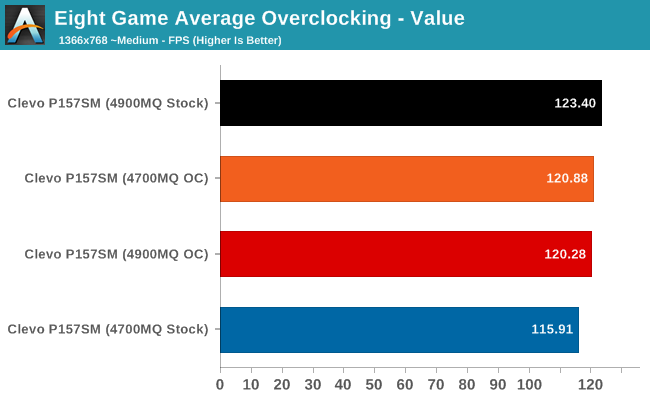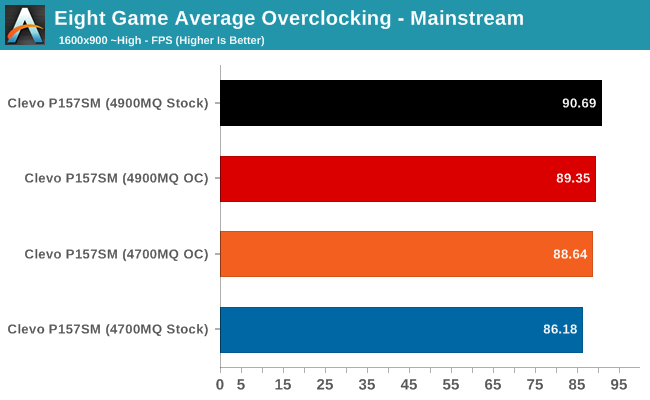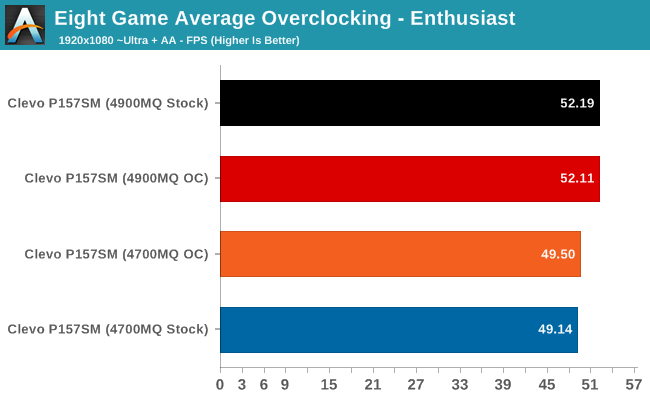 The same titles that benefit the most from the CPU upgrade should likewise benefit from overclocking. Skyrim, GRID 2, and StarCraft II apparently love having faster CPUs… but in practice, the gains from overclocking the CPU are small at best. The 4900MQ actually shows what I was talking about with the higher maximum clocks potentially ending up slower on average compared to the stock 4900MQ. In the end, the 4700MQ benefited more from overclocking than the 4900MQ, but perhaps with a bit more tuning I could coax the 4900MQ higher – like limiting the clocks to 4.0/3.9/3.8/3.7GHz for single/dual-triple/quad loads instead of setting them all to 4.0GHz. The short summary is that on average the stock 4900MQ is around 5-7% faster than the stock 4700MQ, while the overclocked 4900MQ is only 1-5% faster (and sometimes slower) than the overclocked 4700MQ.
Overall changes from overclocking the 4700MQ are anywhere from -3% to +8%, with larger changes at Value and Mainstream settings; the average change is +0.7% at Enthusiast, and +2% at Value and Mainstream. Overclocking of the 4900MQ shows changes ranging from -10% to +3%; GRID 2 and StarCraft II both drop in performance by more than 5%, so further tuning would be required to find a good balance. The 2-bin overclocking limit of the 4700MQ also prevents it from fully closing the gap with the stock 4900MQ, but it does get a bit closer.
There's obviously a second question that I haven't even touched on with regards to overclocking: can we get any additional performance out of the GTX 780M? Personally, with the GPU already hitting 85C under normal gaming use, I'm not inclined to push it harder. This is an expensive notebook with a very fast GPU, and until we get even higher resolution displays there's really not much need to overclock the GPU. Others are welcome to do so, and I know some have already done so and posted results, but if I purchased a notebook like this I wouldn't want to risk damaging a chip for a few more FPS.
Mythlogic Pollux 1613 / Clevo P157SM General Performance
I'm not going to dwell too much on the general performance numbers, as they're all what we'd expect. The 4900MQ is at the top of our charts (for now), sometimes by a sizeable margin. I do love having a 512GB SSD as well, as it allows me to put pretty much everything I want/need on fast solid state storage, and boot times are quick at less than 20 seconds. Here are the numbers. (I didn't run all of the application tests on the overclocked CPUs, but I can say that most of the results scaled as expected – it appears overclocking only creates anomalies when we tax both the CPU and GPU on the P157SM.)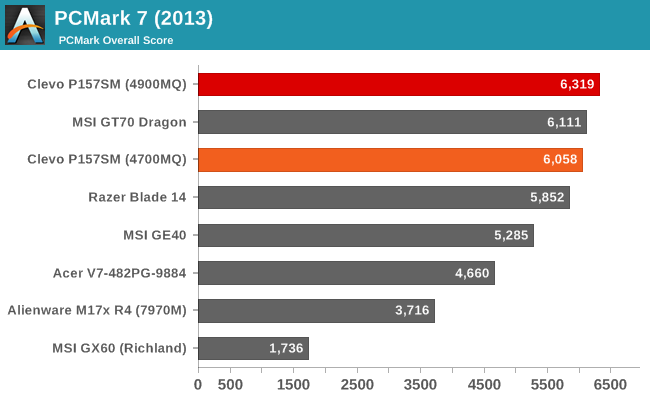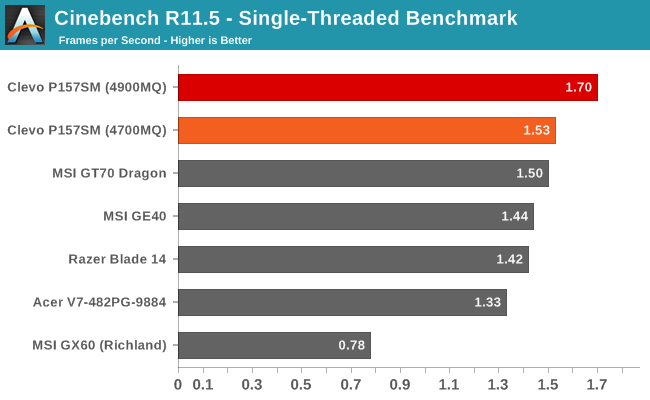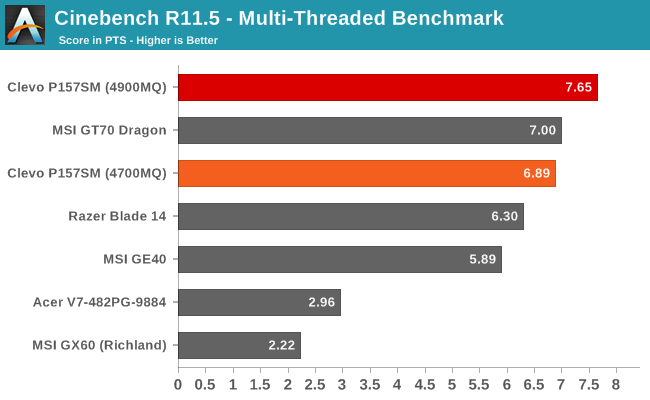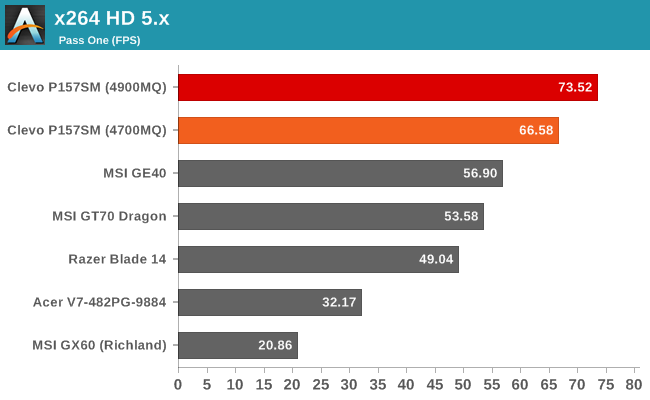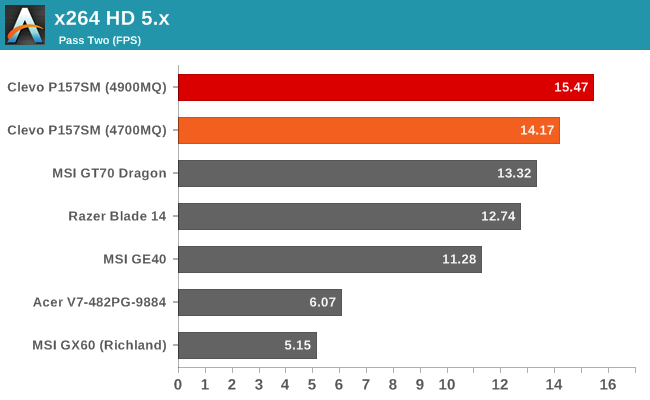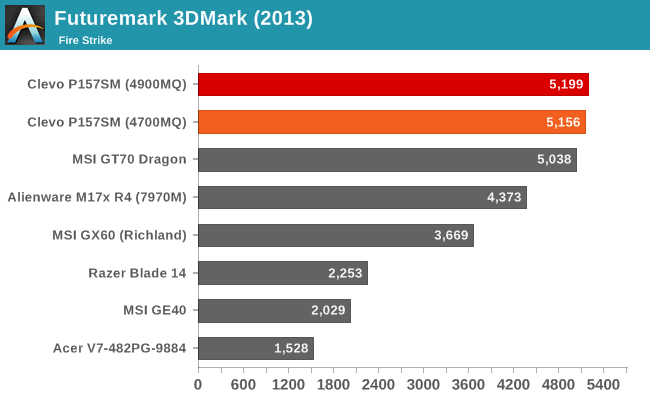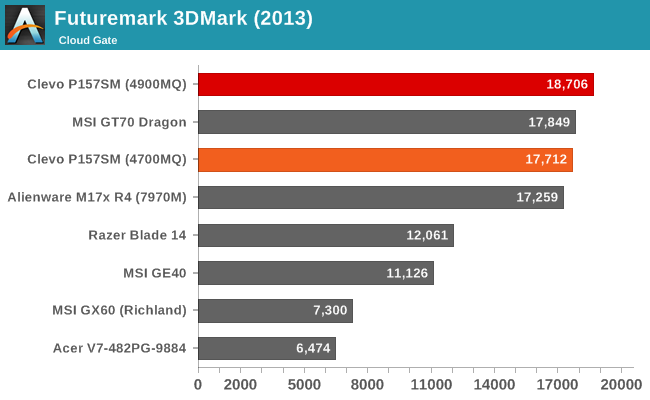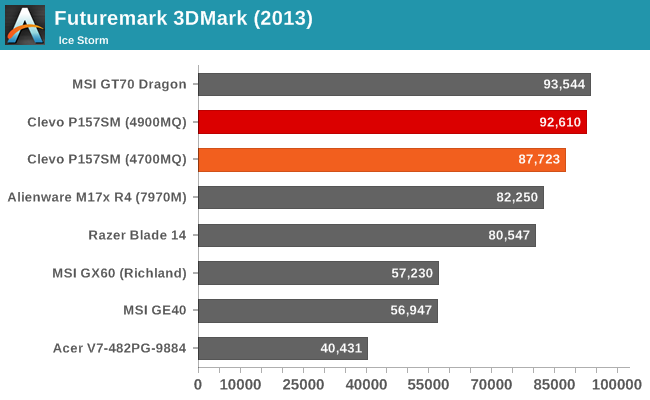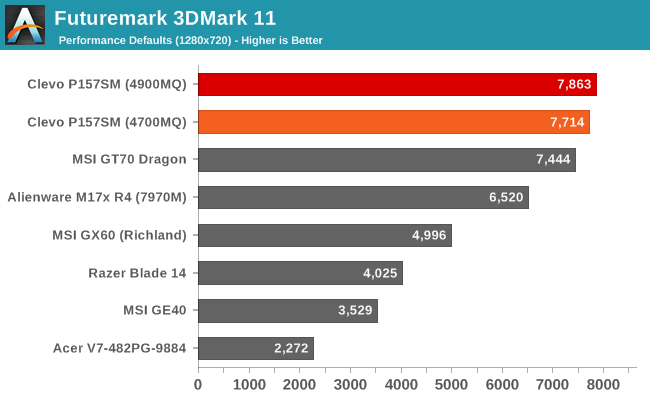 Mythlogic Pollux 1613 / Clevo P157SM Battery Life
If there's one weak spot in terms of objective measurements with Clevo's gaming notebooks, it's almost always battery life. Regardless of what power profile or other settings you might use, it's simply not as good as what we've seen with gaming notebooks from other vendors. Most of this is due to the tuning of the BIOS/firmware with a focus on performance rather than power efficiency.
The scores in the charts below include our initial testing results from the MSI GT70, but as one example of what's possible with further BIOS tuning, with an updated BIOS I measured 373/286/224 minutes on a GT70 – that's a 63% improvement in our Light testing, a 38% improvement in our Medium testing, and a 23% improvement in our Heavy testing. Performance (gaming performance in particular) dropped slightly in most titles along the way, but reducing performance by a few percent to get significant increases in battery life is definitely a worthwhile compromise on a notebook. Whether or not Clevo can duplicate that feat with an updated BIOS remains to be seen, but past experience isn't very encouraging.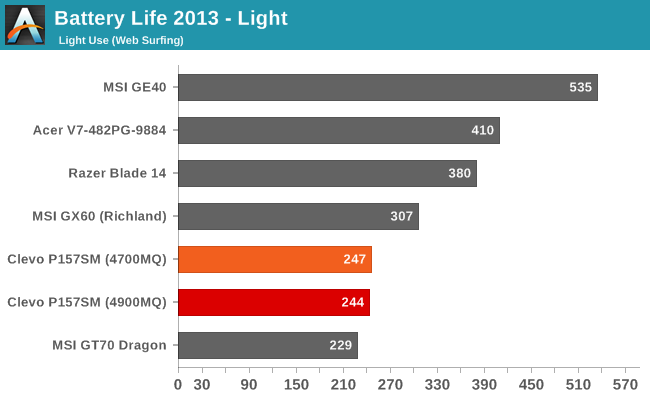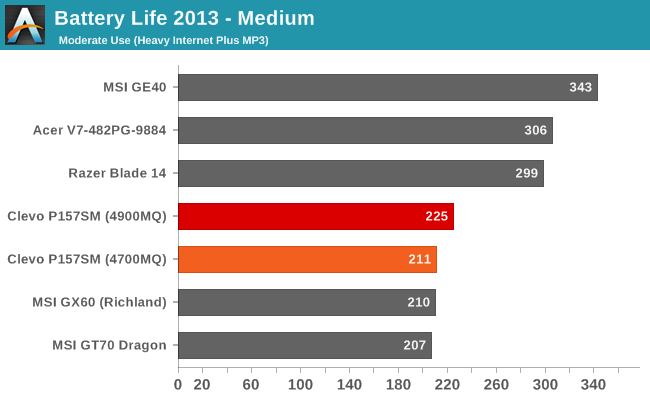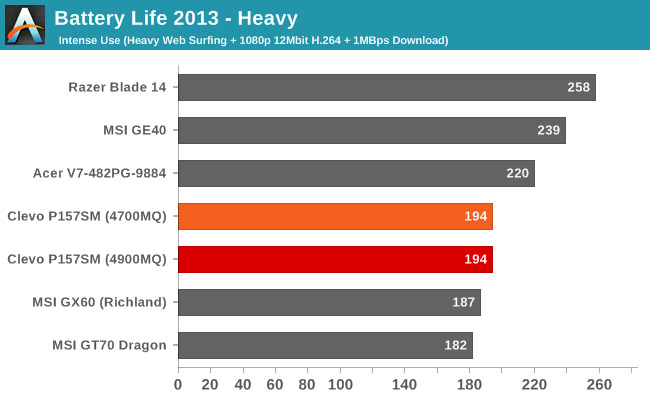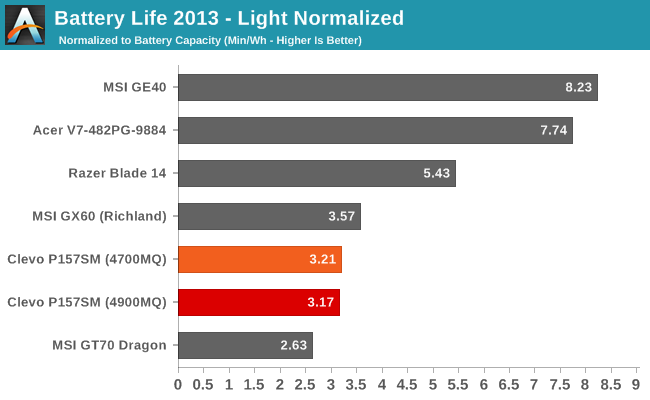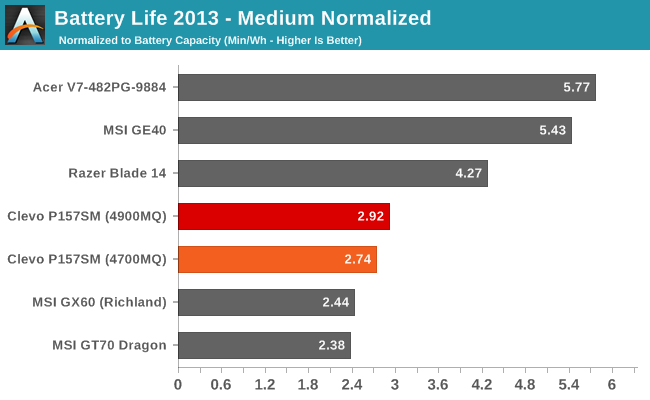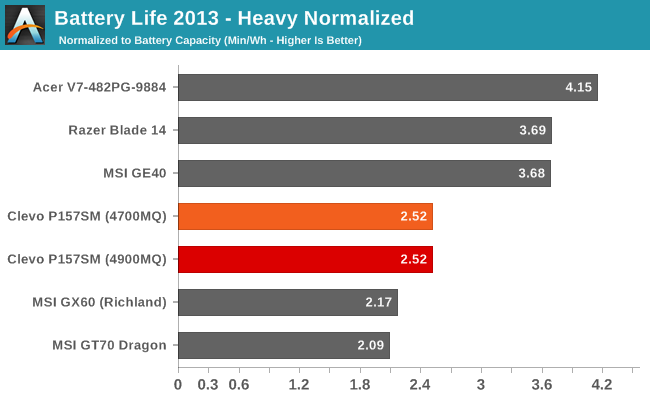 The good news is that battery life is still better than what MSI achieved with our initial sample, but it's a far cry from what we've seen with other laptops. MSI's GE40 in particular delivered some stellar results, with relatively similar hardware all told (other than the smaller and lower quality display). Keep in mind that for all of these tests, the discrete GPU is inactive, so we're only looking at the power and battery life with the iGPU and other components. Also interesting to note is that the choice of an i7-4700MQ or i7-4900MQ doesn't appear to impact battery life much at all.
I'm always asked for battery life while gaming, so I did run some tests there as well. First, as with most gaming notebooks, the dGPU throttles pretty heavily under load. I looped 3DMark11's demo at 1366x768 "Performance" settings until the battery went dead, and frame rates were around 30-50% of what you'd get while on AC power. The GPU clocks in a game are 850MHz+ on the core and 5000MHz on the GDDR5; unplug the notebook and the core clocks drop to 405MHz while the RAM drops to 1600MHz – not that you need 5000MHz RAM to feed a 405MHz core, but it's still a major castration of performance under battery power. What that means is that you can actually get nearly the same gaming performance on battery power from the Acer V7 with its GT 750M (which doesn't throttle as much), or the MSI GE40 (again, less throttling).
Battery life of course is going to be better than if you were running the GPU full tilt, but even with the reduce clocks the P157SM only manages 75-80 minutes before the battery is drained. Put another way, unplugged and running a game the P157SM draws about 63W. Plugged in, I measured 185W power draw at the outlet, so even if we assume an 80% efficiency power brick (and hopefully it's better than that), the laptop is using around 150W when plugged in, or more than twice as much power. Would someone be happy to get twice the performance but less than half the battery life with a gaming notebook? I doubt it, so the decision to throttle the GPU clocks on DC power is probably the right thing to do.
Mythlogic Pollux 1613 / Clevo P157SM LCD Analysis
The P157SM we received comes with the venerable AU Optronics B156HW01 v4, one of the best (if not the best) TN laptop panels around. It has a 95% NTSC color gamut, which translates into a much larger gamut than you will generally need. Of course, a wide gamut can actually end up creating seriously oversaturated colors if you're working in an sRGB color space, but considering the poor quality of most laptop displays I prefer this panel to the other TN alternatives.
A good IPS panel would still be the best solution, and one that's factory calibrated would be almost more than I could hope for. Mythlogic does provide a free "professional monitor color calibration" with the Pollux 1613, using a Spyder3 colorimeter, so you should at least get reasonably close to the calibrated results we show below, which is great. Unfortunately, the color profiles don't necessarily work in all applications – a profile stored in a monitor's LUT (Look Up Table) would be the right way of doing things, but I'm not sure I've ever seen a laptop other than the MacBook Pro Retina that takes such an approach.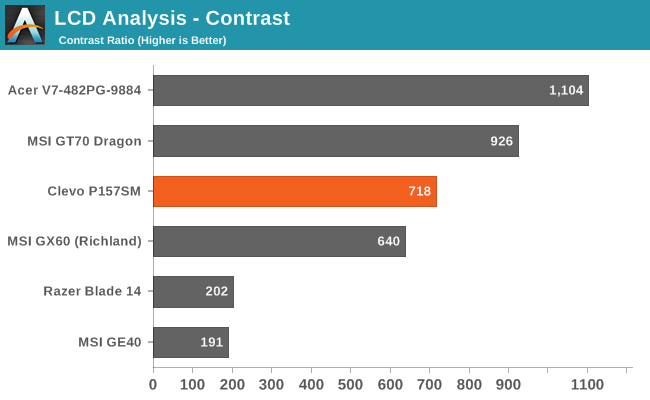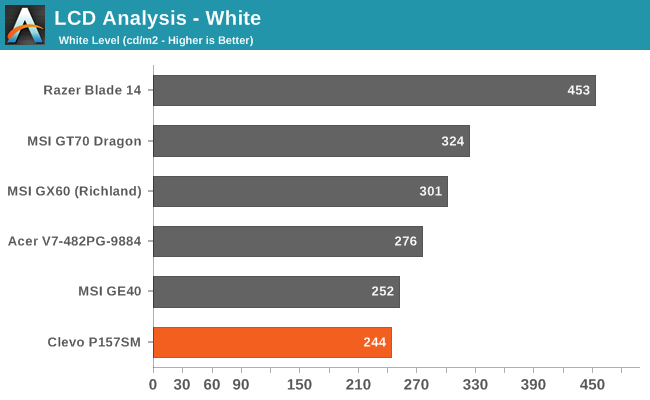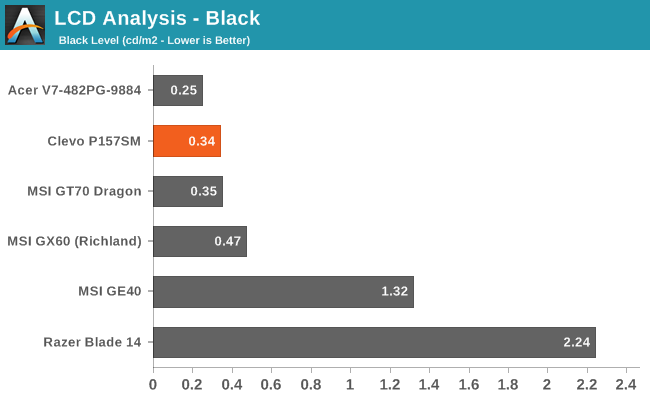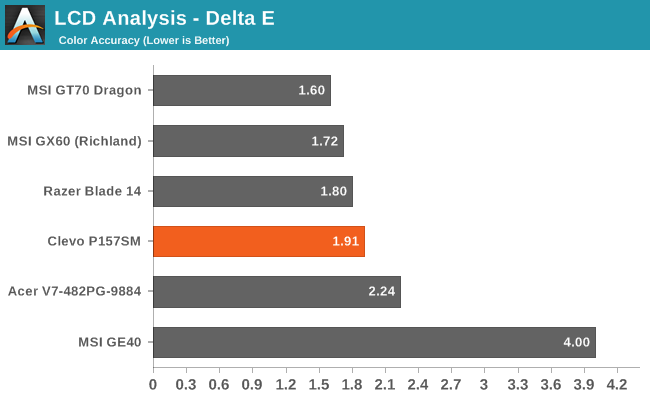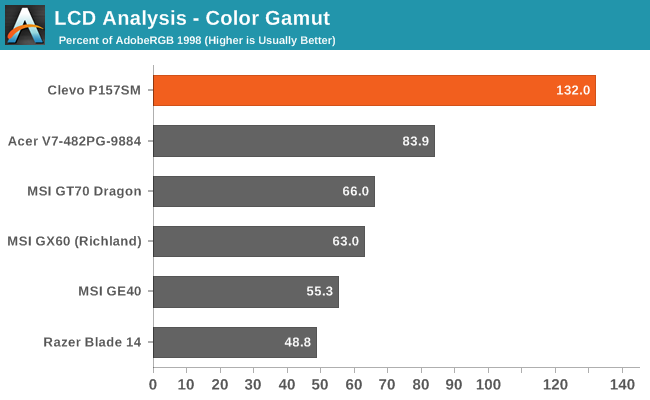 There are two complaints I have with the display: it's not able to get as bright as I'd like for use brightly lit environments, and with no calibration or profile loaded, the DeltaE on the B156HW01 v4 ends up being a rather poor 20.44 on average, with some colors hitting as high as 30 dE. Calibration thankfully fixes most of the problems, and we end up with maximum spikes of 5.3 and an average of 1.91. And as mentioned above, Mythlogic will calibrate your laptop to its specific display (using a Spyder3 colorimeter) for free; many of the other boutiques charge $50 or more for this service.
Contrast could also be better, as 700:1 isn't as good as what we're seeing with the new AHVA/IPS panels. Still, it's a pleasant panel to use in general, and imaging professionals will be well served by the colors. Viewing angles, as mentioned earlier, are also about as good as you can expect from TN – a little washed out from above and below, but nowhere near as bad as something like the MSI GE40 panel.
Mythlogic Pollux 1613 / Clevo P157SM: Much Improved
The last round of Ivy Bridge notebooks often felt like most of the vendors were simply phoning it in with hardware and component upgrades but no fundamental changes. Alienware had the M17x R4, which was identical to the R3 other than the chipset, CPU, and GPU options; most of the Clevo builds fell into a similar state of affairs. With the Haswell laptops, most things have remained similar to the previous generation Clevo notebooks, but at least my biggest complaint (the keyboard layout, and in particular the 10-key) has been addressed. Couple that with cooling that gets the job done much better than the MSI GT70, and the only real drawback is lower battery life than some alternatives, and potentially the aesthetics; both of these are typically not primary factors for gaming notebooks.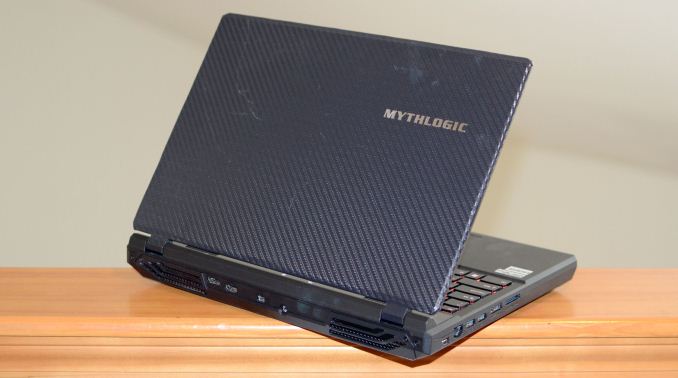 Note that the carbon fiber adhesive from Mythlogic tends to scratch easily.
After seeing CPU temperatures hit 95C+ on the MSI GT70 with the GPU only a few degrees behind (on three different MSI GT70 notebooks), it's clear that a single cooling fan isn't going to handle all the heat of a high-end gaming notebook – at least, not without higher fan RPMs and/or a larger fan. For the P157SM, maximum gaming temperatures hit 65-80C on the CPU and 70-81C on the GPU, depending on the game. Stress testing with a CPU intensive application running alongside a game actually lowered the GPU temperatures slightly (68C max after more than an hour) while the CPU got hotter and topped out at 88C. That's still warm, but we're looking at a 10-20C delta compared to the GT70 in our stress testing. And again, I've confirmed the MSI temperatures that Dustin saw with two additional GT70 notebooks, so it's not a fluke.
Since you're likely to buy a big and bulky gaming notebook for the purpose of playing games, performance and cooling have to be two of the most critical factors – price, features, aesthetics, and other aspects all still play important roles but they're generally not at the same level. This is where the P157SM delivers, and Mythlogic offers up a nicely customized build that hits all the right notes. The touchpad could have been better, but with a bit of tuning in the settings panel it's not bad – just a bit less responsive than I'd like. The keyboard layout is also mostly good, with my only complaint being that I'm accustomed to the Fn key being on the left hand, and the touchpad being off-center from the space bar means I'm more likely to inadvertently brush it while typing (which is easy to overcome by disabling the touchpad via the Fn+F1 shortcut.
As far as the component choices go, this is also the type of configuration I'd recommend for most high-end users, with potentially a 1TB HDD for storage of larger files that don't need fast access times (like movies, images, music, and possibly games depending on your own personal preference). The i7-4700MQ doesn't seem to be quite fast enough to really get the most out of the GTX 780M, but at maximum detail it's mostly splitting hairs – unless you're a professional StarCraft II player, in which case the extra 10-20% increase in frame rates that you can get with an upgraded CPU might be worthwhile. Given the overall price, I'd be inclined to upgrade to the i7-4900MQ, or maybe just the i7-4800MQ, but it's all relative. As for the storage, I'm sold on having a 512GB class SSD for your OS and "important" applications; some people would be fine with a 256GB or even 128GB OS drive coupled with a larger HDD, but I have enough applications and other items that I prefer more. And I love the fast WiFi speeds of 802.11ac, not to mention the fact that you're less likely to have 30 networks contending with each other in urban environments…though it's too bad the Intel adapter seems to lose the ability to communicate over 5GHz on occasion, requiring that you turn the WiFi off and then back on (Fn+F11).
The only real question – and one I don't have an answer for yet, though Dustin is working on the review – is how the Alienware 17 stacks up to the new Clevo offerings. It will cost more, that's for certain, but if it has a better display with similar cooling performance, there will be users that will prefer the Alienware design. What I do know is that Clevo trumps the MSI GT70 this round, and I hope all the decision makers and engineers start paying attention to cooling on systems that need it. It's not enough to simply stay below Intel's maximum rated temperatures, especially on a new notebook; it should be well below the 100C mark, as dust and other factors will only make things worse over time.
How does Mythlogic compare against other brands that have been around longer? If I take the baseline of an i7-4700MQ, 8GB RAM, 512GB SSD, GTX 780M, and a high gamut LCD as the configuration of choice, they do pretty well – particularly if we toss in the free color calibration. With that configuration and 802.11ac WiFi, the Pollux 1613 will run $2250. XoticPC with a 3% cash discount and their summer sale will run $2230, but you have to get a 2.5" SSD as the largest mSATA option they have is 256GB. Sager is basically the same, but they give you 16GB RAM for $2284. AVADirect has 512GB mSATA options, but they (currently) require a 2.5" drive as well; anyway, pricing there is currently $2367. There are other vendors as well, but pricing is all pretty similar to the ones I've already mentioned. My experience in communicating with Mythlogic over the course of the review was great, and they were always quick to respond to questions, but I can say the same for most of the boutique notebook vendors. Given that pricing is competitive and in many cases better than some of the alternatives, Mythlogic is definitely worth a serious look for anyone buying a new gaming notebook.