Original Link: http://www.anandtech.com/show/7233/cyberpowerpc-gamer-xtreme-5200-desktop-review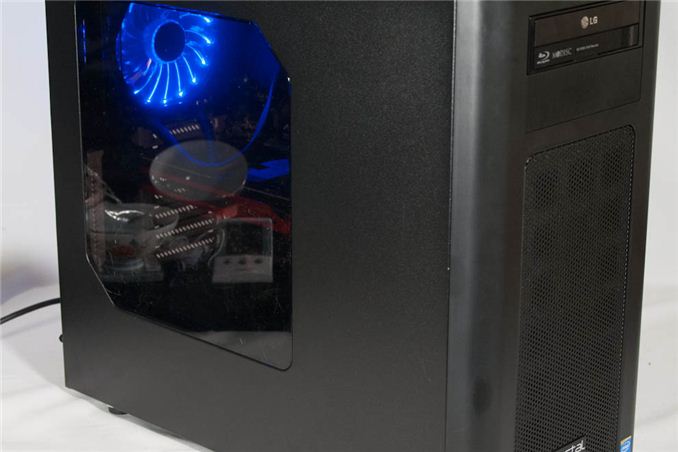 CyberPowerPC has carved out a niche for itself as a large scale system integrator that offers a build for pretty much any user, and today they're giving us an opportunity to once again put the screws to Haswell's new Intel Core i7-4770K as well as get some field practice in with the AMD Radeon HD 7990. These two are undoubtedly among the fastest products in their respective markets, and CyberPowerPC has seen fit to combine them in a reasonably small but attractive enclosure from Fractal Design.
Yet there's a little bit of skepticism when it comes to both parts. The i7-4770K is without a doubt the fastest mainstream chip that Intel has produced, clock for clock, but word in the corners of the internet is that the Haswell-based chip is having trouble hitting comparable overclocks to the previous two generations of Intel parts. Meanwhile, AMD was essentially caught with their pants down when the lack of frame metering in their drivers was exposed, making CrossFire a rough deal and taking a lot of the shine off the flagship Radeon HD 7990. CyberPowerPC can only work with what's available, so we can at least see what's going on with the Gamer Xtreme 5200.
CyberPowerPC Gamer Xtreme 5200 Specifications
Chassis
Fractal Design Arc Midi R2
Processor
Intel Core i7-4770K
(4x3.5GHz, Turbo to 3.9GHz, Overclocked to 4.2GHz, 22nm, 8MB L3, 84W)
Motherboard
ASUS Z87-K
Memory
2x8GB Corsair Vengeance DDR3-1600 (maximum 4x8GB)
Graphics
AMD Radeon HD 7990 3GB x2
2x (2048 GCN cores, 1000MHz/6GHz core/RAM, 384-bit memory bus)
Hard Drive(s)
Corsair Neutron 64GB SATA 6Gbps SSD

Toshiba DT01ACA 1TB SATA 6Gbps HDD
Optical Drive(s)
HL-DT-ST UH12NS30 BD-ROM/DVD+-RW
Power Supply
Cooler Master 800W Silent Pro Gold 80 Plus Gold PSU
Networking
Realtek PCIe Gigabit Ethernet
Audio
Realtek ALC887
Speaker, line-in, mic, and surround jacks
Front Side
Optical drive
Top Side
2x USB 3.0
Headphone and mic jacks
Power and reset buttons
Three-speed fan controller
Back Side
2x PS/2
DVI (IGP)
HDMI (IGP)
VGA (IGP)
4x USB 2.0
2x USB 3.0
Gigabit ethernet
Mic, headphone, and surround jacks
1x DVI (HD 7990)
4x Mini-DisplayPort (HD 7990)
Operating System
Windows 8 64-bit
Extras
80 Plus Gold PSU
120mm Asetek Closed Loop Cooler
Fan Controller
Warranty
3-year limited parts and labor, lifetime customer support
Pricing
Starts at $2,219
Review system configured at $2,316
First, it bears mentioning that certain components in our review unit aren't available on the configurator. The 64GB Corsair Neutron SSD isn't offered anymore, nor is the 800W Cooler Master Silent Pro Gold power supply. Comparable parts are available, but before we get into the meat of this configuration, there are some slightly odd component choices to be highlighted.
The ASUS Z87-K is by no means a bad board and will certainly get the job done, but it's bizarre to see a modern motherboard in a build above the $2,000 mark (let alone the $1,000 mark) that's missing all six audio outputs on the back. The back I/O cluster isn't supremely lacking but it's definitely feature light. Z87 boards are commanding a bit of a premium so it's understandable if SIs have to go with more "budget oriented" options, but this is an oddball nonetheless.
The other side of the budget equation is the storage subsystem. The 64GB Corsair Neutron is no longer available as an option, but the remaining 64GB storage options aren't exciting and either way, this segment of the SSD market really isn't compelling in any way anymore. I haven't been able to survive off of a 64GB system drive for a long time, and honestly the default SSD should really be 120GB/128GB at this point, especially since the price difference is arguably negligible. 1TB of mechanical storage isn't bad, but Toshiba hard drives really aren't what we want to be seeing as they tend to be a bit slower than competing drives from HGST, Western Digital, Samsung, and Seagate.
When we get to the heart of the Gamer Xtreme 5200, we're really dealing with the Intel Core i7-4770K and the AMD Radeon HD 7990. The Haswell-based i7-4770K gets a healthy boost in IPC performance over its predecessor, the Ivy Bridge i7-3770K, but loses that boost almost immediately in overclocking headroom. While it comes down to quibbling over 200MHz here or there, the increase in IPC does make that loss noticeable; either way, the i7-4770K is stuck at a dismal 4.2GHz overclock, just 300MHz over its highest stock turbo bin, a paltry 8% increase. Typical overclocks on Ivy were closer to 4.4GHz, and what we're left with is a plateau of overclocked performance over the course of three generations now.
Meanwhile, the AMD Radeon HD 7990 has had a bit of a troubled life since it was launched. Heat issues make it difficult to use in quad-GPU CrossFire, while CrossFire itself has had serious issues with frame metering. The current beta drivers do help with frame metering, but still not in Eyefinity. Performance potential is undeniably strong, and AMD has been slashing the hell out of the 7990's price to get it competitive, but users looking for triple-screen surround action might actually be better served saving some bread and buying either a single AMD Radeon HD 7970 or an NVIDIA GeForce GTX 780. The 7990 is actually the lion's share of the cost of this system, and if you must have multi-GPU performance and/or surround you can actually get a pair of GTX 770s for roughly the same price. I think that's a better deal.
The DigitalStorm Virtue we tested was running its Intel Core i7-4770K at 4.4GHz; with the CyberPowerPC Gamer Xtreme 5200, we get to see what happens when you knock it back to a more common 4.2GHz. Meanwhile, we're also testing the AMD Radeon HD 7990 in the Gamer Xtreme 5200 with AMD's most recent Catalyst 13.8 beta drivers that introduce proper frame pacing in DX10 and DX11 titles in CrossFire, but only on a single display. Since our framerate testing would render surround results essentially moot, we're skipping those. Inexplicably, those drivers also crashed repeatedly under 3DMark11, but otherwise worked perfectly fine, so 3DMark11 results unfortunately also had to be omitted.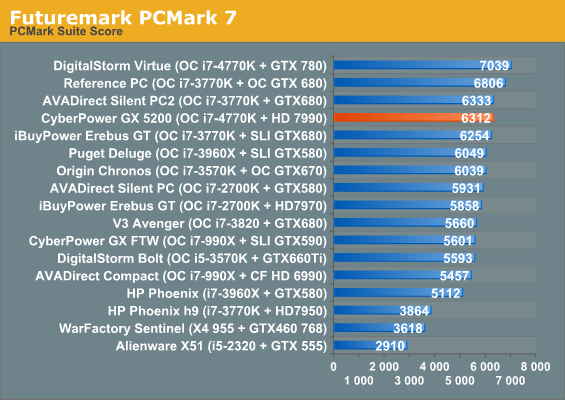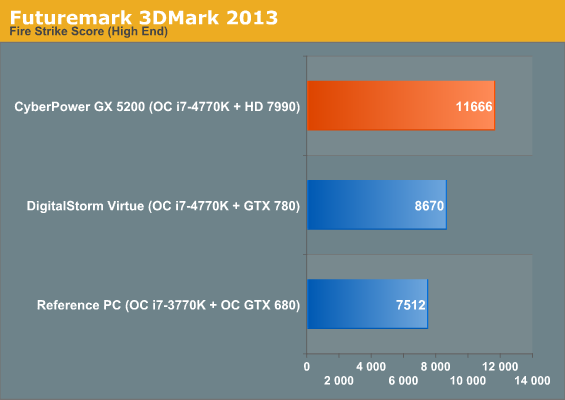 Futuremark's 3DMark (2013) certainly reveals the performance potential of the Radeon HD 7990, but jump up to PCMark 7 and you can see we're a little bit hamstrung, probably by the 64GB SSD and slightly lower overclock. Performance is still excellent, but in this price class we're missing some balance.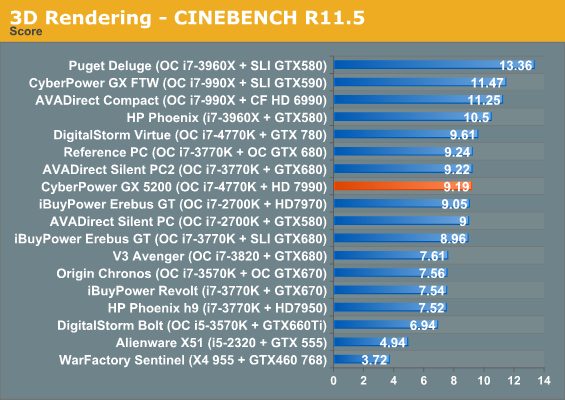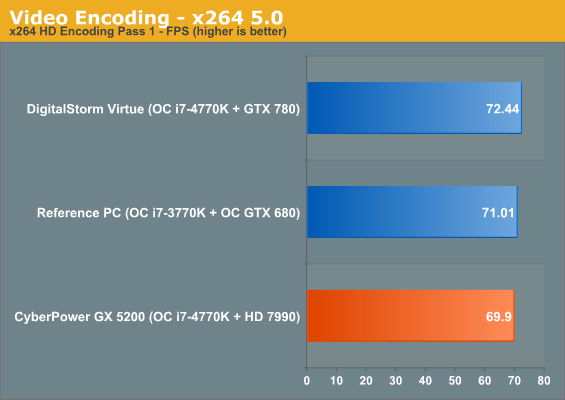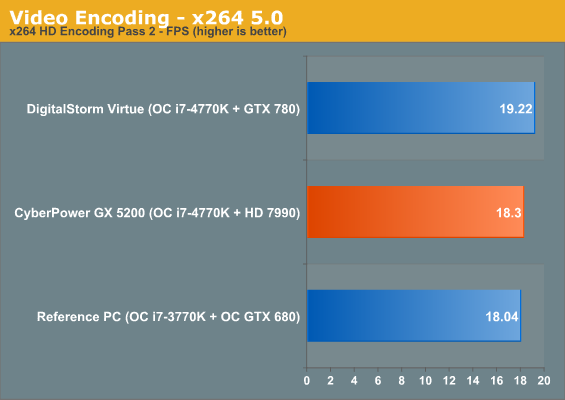 Cinebench and x264 testing are kinder to Haswell. The problem is that a 4.2GHz i7-4770K is roughly on par with a 4.6GHz i7-3770K, to say nothing of the overclocked i7-2700Ks listed that also totally hold their own. Arguably that's the really damning conclusion; Sandy Bridge users still really have no reason whatsoever to care about Haswell.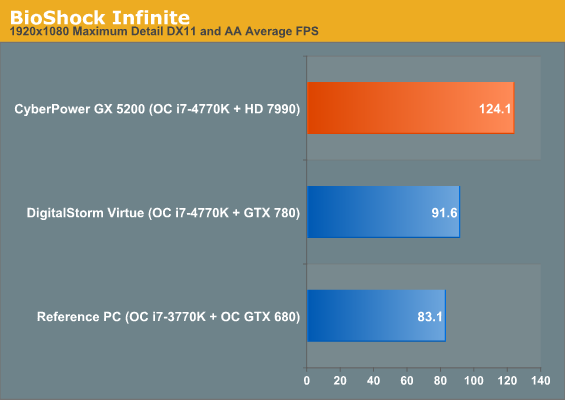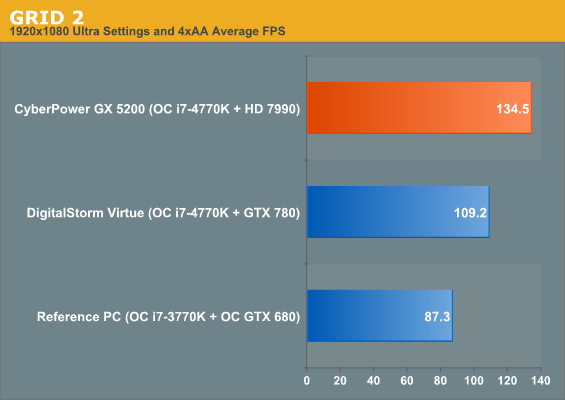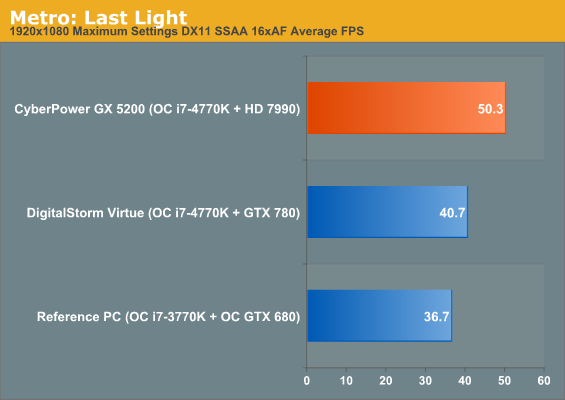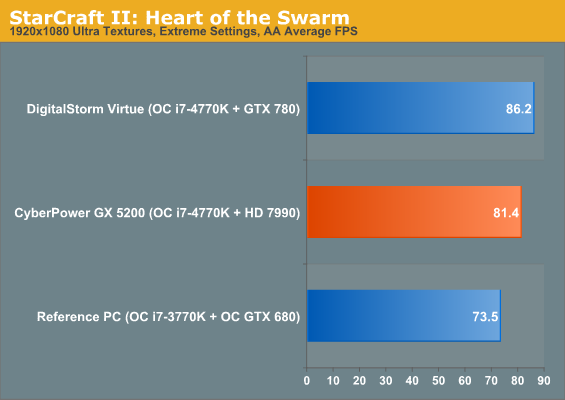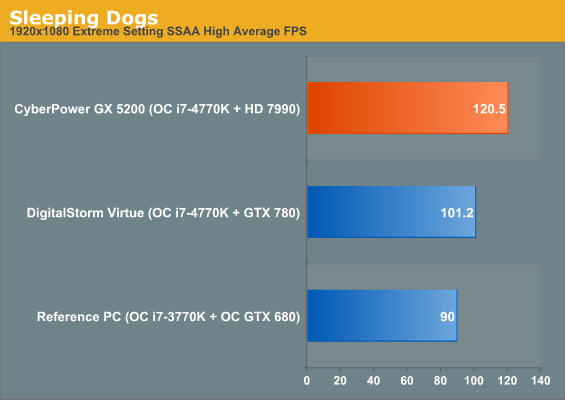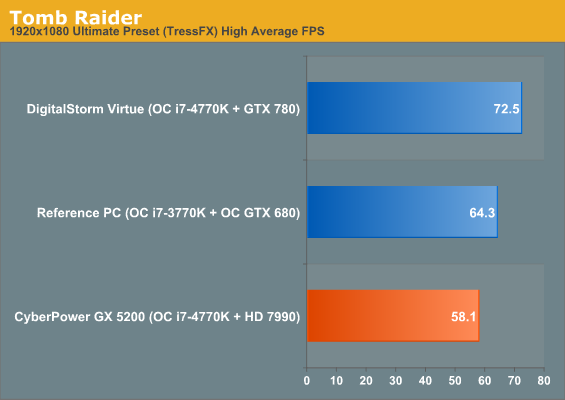 Gaming results reveal both the potential and the shortfalls of the AMD Radeon HD 7990. When performance is good, it's really good, but when it's not, it's essentially playing catch-up with an overclocked GeForce GTX 680. Multi-GPU solutions exact a bigger toll on CPU performance than just running a single graphics card, and while games like StarCraft II and Skyrim are still totally playable on the 7990, I'd still be more inclined to just go with a GTX 780 and call it a day. There are just too many caveats to the 7990's performance.
Build Quality
The build of the CyberPowerPC Gamer Xtreme 5200 is generally excellent. The Fractal Design Arc Midi R2 is a fine enclosure, and CyberPowerPC is able to keep cabling well organized and neat as you'd expect from an SI. Interestingly, though, the fan controller proves to be practically a non-starter, both literally and figuratively.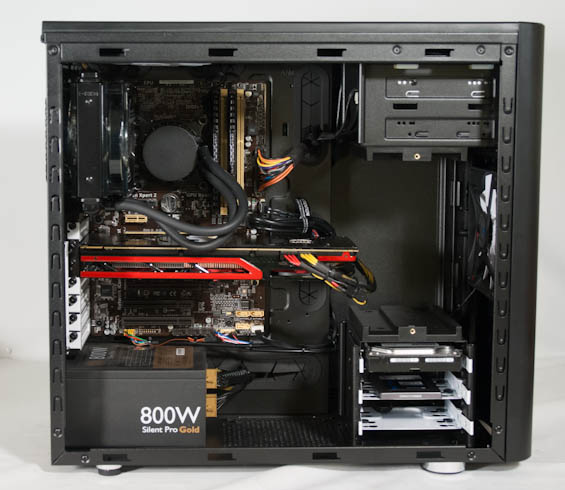 An unusual issue I ran into during testing was that the fans on the liquid cooling system would have a hard time starting up at anything less than the highest setting (12V). The top fan never started at all. These aren't actually major problems; the system is typically very quiet unless you're taxing the 7990, and the CPU isn't overheating. But it's very strange; the fan controller should be able to easily pull enough juice from a single molex connector, and all the cable connections are secure, so I'm not sure what gives.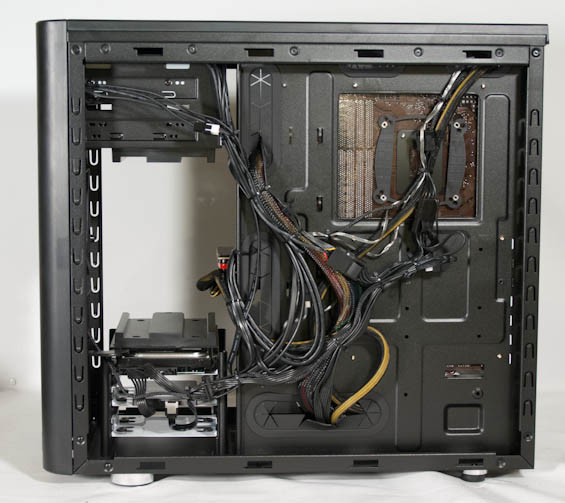 It also bears mentioning that the additional drive cages typically found between the 5.25" bays and the bottom 2.5"/3.5" drive cage were not included, presumably due to clearance issues with the 7990. Still, this limits expandability later on and it would've been nice for CyberPowerPC to at least include them in the package for futureproofing's sake.
Finally, there's the overclock, and someone at CyberPowerPC must have known I was going to eat them alive for this. There is no dynamic voltage scaling, no dynamic clock scaling; the i7-4770K is set at a fixed 4.2GHz which it runs at all times and the voltage does not change. This is lazy and a waste of efficiency.
Noise and Heat
The Asetek liquid cooler upgraded with the two silent Enermax fans is, frankly, pretty fantastic. At its highest speed the cooler is still incredibly quiet; unless you're hitting the Radeon, you can expect the Gamer Xtreme 5200 to stay well under 32dB. If you're running the air conditioner or have any kind of ambient noise, the system is drowned out almost immediately.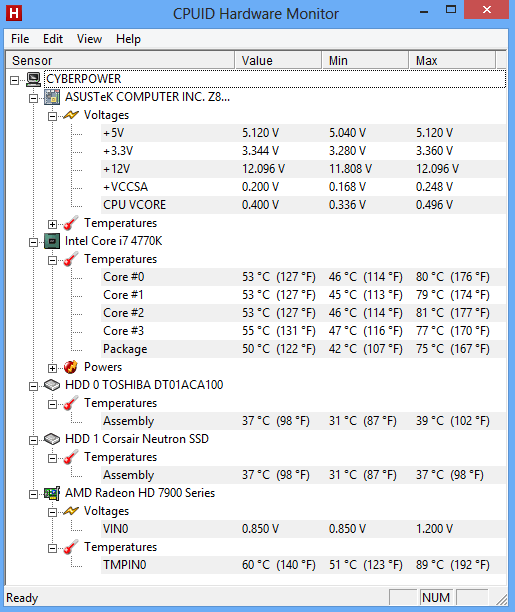 Thermals are certainly reasonable given the way the system is configured, but the AMD Radeon HD 7990 really is the problem child. Temperatures aren't too bad, but they're not stellar either, and worse, the card is loud under load. Not aggressively loud and certainly not over 40dB, but definitely very audible. This is another place where switching to a single GPU card would pay major dividends, and I'm keen to point out the stock coolers on the GTX 770 and 780 are incredibly quiet even under sustained load.
Power Consumption
Where the lazy overclock takes its toll is at the wall. The 7990 is actually a fairly frugal card for a dual-GPU solution, but the fixed voltage and clocks on the CPU hurt.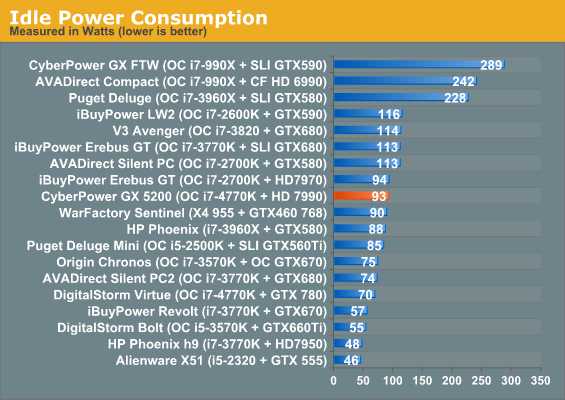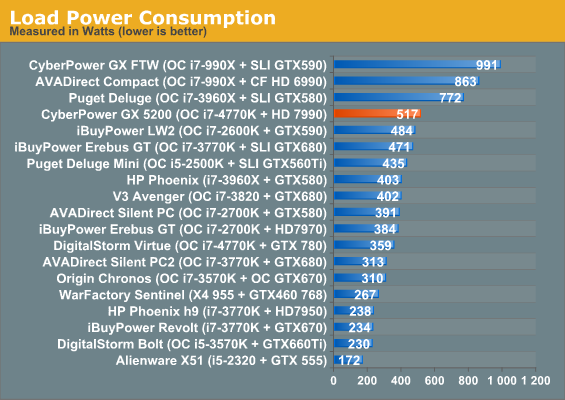 Power consumption is just unpleasant across the board. Idle power could be about 20W lower, and that's not too bad, but the 7990 is a power hungry beast, and you'll see it draws more current than even a few of our multi-GPU systems. The iBuyPower Erebus GT in particular offers potentially superior gaming performance and comparable CPU performance with less power consumption under load (although it loses big time at idle.) I'm left feeling like there's a better, more finely tuned build still waiting to happen.
The CyberPowerPC Gamer Xtreme 5200 leaves me with very mixed feelings pretty much across the board. Some of these are things that CyberPowerPC has no control over (Haswell and AMD's graphics driver issues); some of these are things that CyberPowerPC does have control over (component selection).
Starting with the components, while I like the Fractal Design Arc Midi R2 as a classier alternative to what I'm used to seeing from boutiques, I'm wondering if they wouldn't have been better off just dodging the fan controller for the CPU fans. Really I'm not sure what's going on there. As I said before, the motherboard itself definitely gets the job done, but there are only two USB 3.0 ports on the back and just three audio jacks. I maintain that storage should've been handled by a 120GB/128GB SSD and a higher quality hard drive choice. The CPU overclock needed to be tuned with at least a little bit greater care, and the Radeon HD 7990 is just kind of a non-starter, at least for now.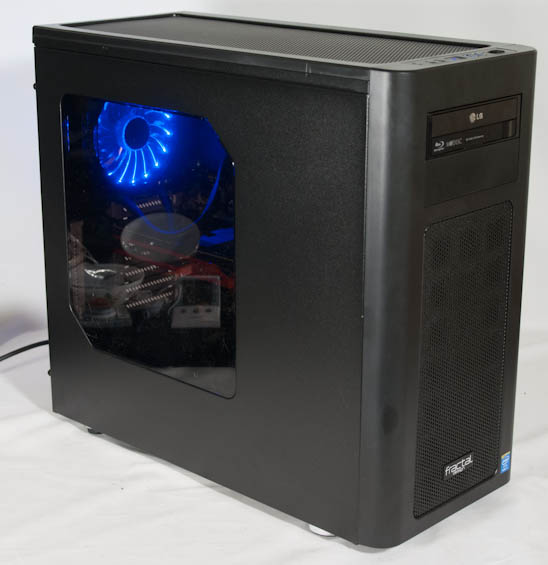 I feel like I'm almost doing a little bit of damage control, which isn't entirely fair. The system works and it works well, and when it performs, it does perform. But the balance is out of whack; this isn't the system I would build for this price tag. Frankly I'd grab the much less expensive Gamer Infinity XLC, add an overclock and an SSD, and call it a day. Really, I feel like where you need to be for a mid to high end gaming desktop that offers good value looks something like this: i5-4670K OC, decent Z87 motherboard, 8GB of DDR3-1866, 128GB SSD, 1TB HDD, GTX 770/HD 7970. If you want to go surround or just need more graphics horsepower, add a second GTX 770.
Ultimately, CyberPowerPC offers better configurations for the money, but the iffy QC on this review unit coupled with the poorly handled overclock does them no favors. There are little things that can be done here and there in the production chain to improve CyberPowerPC's profile; they have the economy of scale needed to compete with smaller boutiques, where they can match quality and offer a better price. They just need to get there, and I hope that they do.