Original Link: http://www.anandtech.com/show/7221/acer-r7-review-something-different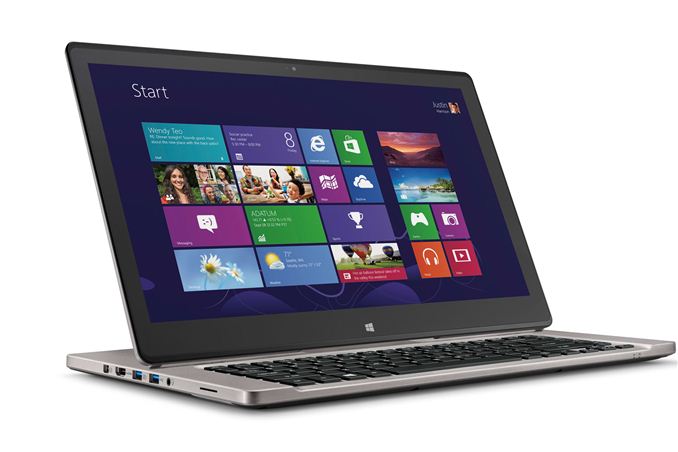 Several months ago, Acer released the Aspire R7, a new and interesting take on touchscreen laptops. We didn't have an opportunity to review it at the time of launch, but Acer did ship one out a bit later and it's an interesting enough laptop that we wanted to discuss some of what might make this laptop appealing to a subset of our readers. We'll start with the customary specifications table, and after you see the specs you'll hopefully begin to understand why we aren't going to do a super in-depth review.
Acer Aspire R7-571-6858 Specifications
Processor
Intel Core i5-3337U
(Dual-core 1.8-2.7GHz, 3MB L3, 22nm, 17W)
Chipset
HM77
Memory
6GB (4GB onboard, 2GB SO-DIMM, 12GB Max)
(DDR3-1600 11-11-11-28 timings)
Graphics
Intel HD Graphics 4000
(16 EUs at 350-1100MHz)
Display
15.6" Glossy AHVA 1080p (1920x1080)
(AUO B156HAN01.2)
Storage
500GB 5400RPM HDD (Western Digital WD5000LPVX)
24GB SSD Cache (Kingston SMS151S324G)
Optical Drive
N/A
Networking
802.11n WiFi (Broadcom BCM43228)
(Dual-band 2x2:2 300Mbps capable)
Bluetooth 4.0 + HS (Broadcom)
Audio
Realtek HD
Stereo Speakers
Headset combo jack
Battery/Power
4-cell, ~15.1V, 3560mAh, 53.6Wh
65W Max AC Adapter
Front Side
N/A
Left Side
Headset jack
2 x USB 3.0
1 x HDMI
1 x Mini-VGA
Right Side
Flash Reader (SD)
1 x USB 2.0
Volume Control
Power Button
AC Power Connection
Kensington Lock
Back Side
2 x Exhaust Vent
Operating System
Windows 8 64-bit
Dimensions
14.8" x 10.0" x 1.1" (WxDxH)
(376mm x 254mm x 28mm)
Weight
5.29 lbs (2.4kg)
Extras
HD Webcam
86-Key Keyboard
Ezel hinge
Pricing
MSRP: $1000
Online: $900
If we were to have looked at the R7 when it first launched three months ago, it might have made a bit more sense, but with the Haswell processors now launched and relatively available, Ivy Bridge is definitely showing its age. What's more, none of the other specifications really stand out as being marquee features… except for the display and its so-called "Ezel hinge". We'll get to that in a moment, but let's first quickly touch on the other specifications.
The R7 comes with 4GB of memory soldered onto the motherboard and a single SO-DIMM slot. There's only one model of R7 currently available now, at least in the US (and this is not likely to change for this generation), and Acer populates the SO-DIMM slot with a 2GB DIMM. Storage duties are handled by a 500GB hard drive with a 24GB solid state drive as a caching drive; unfortunately, Acer uses Condusiv's ExpressCache as opposed to Intel's Rapid Storage Technology, so in my experience the boost from the SSD cache isn't as noticeable. Still, it's better than relying purely on HDD storage. Considering the size of the R7, the lack of an optical drive and somewhat small battery are also going to raise a few question marks.
The model we're looking at uses a Core i5-3317U processor, with its associated HD 4000 iGPU. There was apparently a model overseas that had a GT 750M dGPU as well, but either it never made it to the US or it's no longer available. It's a bit of a shame, as having more potent graphics would have opened the door for additional use cases like gaming, and the touchscreen might have proved useful in some games (though the number of premiere games that are built with touchscreen support is amazingly limited right now).
Connectivity options are pretty much par for the course, though perhaps a little bit limited for a 15.6-inch notebook. You get two USB 3.0 ports and a single USB 2.0 port, HDMI and VGA outputs, a combination headphone/microphone headset jack, and an SD card reader. That's pretty much everything I use on a regular basis, with nothing extra. Note that there is not Ethernet, which is an unfortunate omission considering the size of this notebook. The wireless solution is at least decent, with both 2.4GHz and 5GHz radios and connection speeds up to 300Mbps, but the lack of 802.11ac means real-world transfer speeds will never be more than about 20-25MB/s.
The specs are a bit underwhelming, but if you really like the design it's possible to upgrade to the memory to 12GB with an 8GB SO-DIMM, and you can swap out the 24GB mSATA SSD caching drive for a full SSD, plus the chassis supports a standard 2.5" drive as well. You could try upgrading the WiFi as well, but many OEMs lock down the supported WiFi cards so that may not work. The only major drawback to upgrading is that you'll have to open the bottom of the laptop, which isn't too bad if not for one thing. You need a T-9 Torx screwdriver, and then you need to pry up two of the rubber pads to get to the last three screws. The rubber pads use an adhesive, so after prying them up you may find that they don't stay put as well. Other than the three hidden screws, it's pretty simple to get inside the R7, and the bottom of the chassis comes off with no difficulty.
As a final note, this is definitely a hefty notebook, weighing 5.3 pounds without any particularly demanding hardware. In fact, I've seen gaming laptops with 15.6-inch displays that have quad-core processors and discrete GPUs that weigh this much. The reason for the bulk probably has a lot to do with the Ezel hinge, though I have to say that as far as Acer products are concerned, this is possibly the most solid feeling laptop I've ever seen from them. There's no flex, creaking, or any other indication that this laptop might fall apart in a couple years. And with that said, let's move on to the crux of this review: a discussion of the Ezel hinge and the various operating modes of the Acer R7.
Acer's marketing material mentions that they rethought everything about the notebook when designing the R7, and I'm definitely not going to dispute that. Yes, this is still a laptop at its core, but things have been moved around in some surprising and perhaps interesting ways. The Ezel hinge and touchscreen are the primary discussion here, and the R7 comes with supposedly five different operating modes: regular laptop, laptop with the screen shifted forward, tablet, floating table, and presentation mode (flip screen laptop). The question most people will have is whether or not the changes made to accommodate the Ezel hinge are actually worthwhile.
Realistically, the floating table mode is pretty much useless as far as I'm concerned, and the presentation mode is only marginally interesting. Still, some people might occasionally use those modes. It's the other three modes that are going to pull the lion's share of the duty, so let's look at each of those.
First, you can just open up the display and use the R7 as a regular laptop. What you'll immediately notice however is that the touchpad isn't where it's supposed to be, and in fact there are no palm rests. Some people might hold their hands above the keyboard while typing, but I tend to rest my wrists on whatever surface is in front of the keyboard – be that palm rests, desk, or something else. I can type reasonably well on the R7, and I have no real complaints about the keyboard layout – in fact I actually like it – but the missing palm rests definitely detract from the overall typing experience. The good news is that if you're the type that has issues with inadvertently activating the touchpad while typing, that won't happen with the R7. The bad news is that the touchpad is in a weird location, and I should also note that the notebook feels quite back heavy due to the weight of the touchscreen and cover.
The second mode, and the one that I'm most likely to use with the R7, is as a laptop with the screen pulled forward. You still have the issues associated with the missing palm rests, but the idea is that the touchscreen is easier to reach this way. I should mention that the touchpad works okay, and it uses Elan Tech hardware, but it can still be a little bit choppy. The touchscreen on the other hand works well as an input device, providing a smooth scrolling experience and all of the other usual gestures. Except, not all applications fully recognize the touchscreen gestures, so for example swiping with a single finger to scroll doesn't always work. This is mostly a problem with third-party apps that haven't been updated to recognize Windows 8 gestures, but it still happens more than I'd like. Also, grabbing smaller elements like scrollbars for the edge of a window to resize can be difficult with a touchscreen – there's just not enough precision to pull it off properly.
On the whole, this is certainly an interesting idea, and for people that really like touchscreens it might actually be preferable to a standard laptop design. However, I do think there needs to be a bit of tweaking to the current design to get it right. Mostly, the laptop just feels a lot heavier than you would expect, and being heavy means you are less likely to carry it around which means you're not using it as a laptop. In a sense, the R7 is like a smaller, portable all-in-one that happens to have the ability to function as a laptop if you need it.
Finally, we have tablet mode, where you lay the top panel flat against the keyboard (or at least almost flat). I'm not sure most people are interested in a 15.6-inch tablet, and when you add on the bulk of the keyboard and hinge it becomes an even more difficult prospect to carry around. This is definitely the heaviest, largest tablet that I've ever tried to use, and while it can work as a tablet, it's not something I found necessary on a regular basis. Showing friends or family pictures on a 1.5 pound tablet is one thing; passing around a 5.3 pound tablet is another!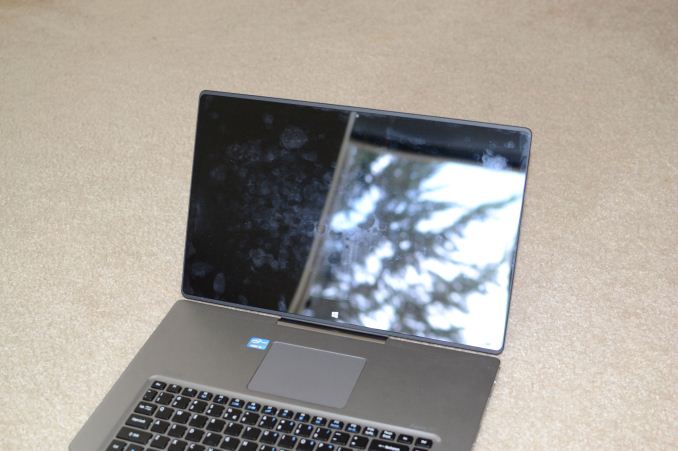 Of course, any time you use the touchscreen you also run into the usual touchscreen problem: fingerprints. On a laptop with a 15.6-inch screen, I find this is an even bigger issue. It's pretty easy to wipe off the touchscreen on a smartphone, but even a 10-inch tablet usually requires that you have a microfiber cloth on hand. With something the size of the R7, fingerprints run wild! And even when you're careful, there's always the chance that a stray spec of grit will leave a scratch instead of just wiping off. I also feel like the LCD backlight needs to be brighter; I measured maximum white levels of just shy of 300 nits, where most smartphones and tablets are more likely to hit 400+ nits. Obviously, having a large display running at higher backlight levels can easily chew up a lot of battery life, and as we'll see in a moment battery life isn't one of the strong points of the R7.
Taken as a whole, I definitely agree that Acer has stepped out of their comfort zone and tried to do something fundamentally different than what most laptops have been doing for years. This is a laptop that seems to be designed to bring the touchscreen into the foreground, and it generally succeeds at doing that. The problem is that I don't think touchscreens work all that well for Windows 8 or Windows 8.1 – not until you are able to completely leave behind Windows desktop apps does a touchscreen become better than a touchpad. In fact, even simple things like word processing and working with spreadsheets benefit from having a touchpad versus a touchscreen.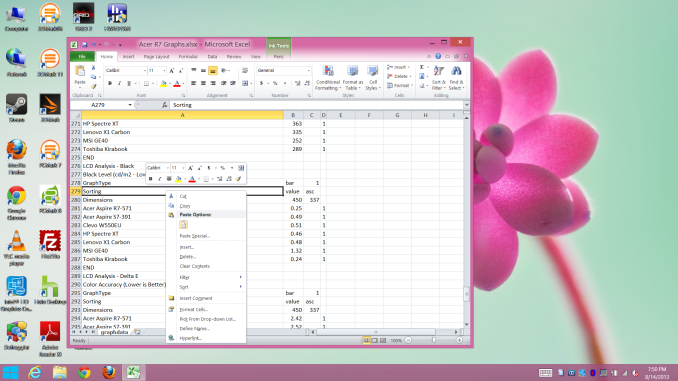 Windows Desktop: Not a great place for a touchscreen
Try resizing cells for example in Excel using a touchscreen; I can't get it to work. Well, I actually can, but it involves: long-press (on column header), column width, then guess a number... or go into the menus and on the Home section find Format->AutoFit Column Height/Width, or something similar. Basically, it's definitely not easier than using a mouse or touchpad to accomplish the same task. Selecting text in pretty much any application is also difficult – oh, you can do it with a touchscreen, but it's far easier to do with the touchpad or a mouse, especially if you only want to select part of a word or sentence. I think the problem with selecting text using a touchscreen is that your finger is obscuring what you're selecting; I have similar problems selecting text on Android tablets and my iPod Touch. A mouse or touchpad – or even a stylus – simply works better for this type of interaction.
Perhaps Windows just needs a paradigm shift in order to make some of these things work properly with a touchscreen, but at the same time they need to continue to cater to people who want to use a mouse or a touchpad. This is one of my biggest issues with Windows 8 – it tried to meet the needs of both tablet and notebook/desktop users, and in the process I think it came up short in both areas. I can get around most of the complaints I have with the notebook experience, simply by installing a Start Screen alternative and using it like Windows 7, but when I do that I just have to wonder: why did Microsoft even waste so much time and energy creating the Start Screen? Call me old-fashioned, but I'm perfectly happy with the Start Menu. Windows 8 has some other cool features, but none of them require the Start Screen (e.g. faster boot times and potentially improved battery life are part of the kernel, not the Windows 8 interface).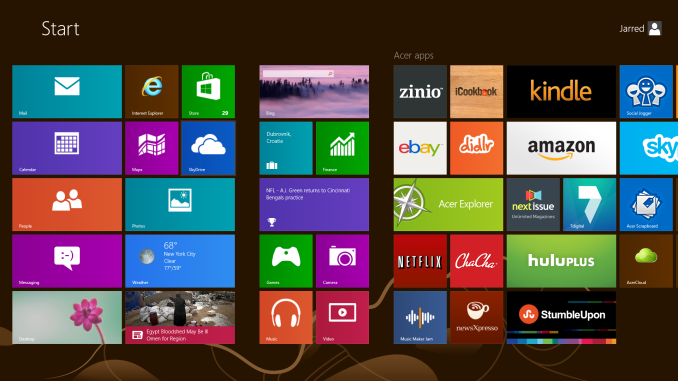 Windows 8 Start Screen: Built for touchscreens, lacking in apps
Getting back to the Acer R7, in many ways I feel like it was built to try and make use of Windows 8 features that aren't actually all that useful. Acer did a reasonably good job on most areas, but it's the whole operating system and software ecosystem that needs to change before touchscreens can become truly useful in Windows. Android and iOS have the advantage of starting from scratch with no legacy applications to worry about; Windows doesn't have that luxury, and trying to shoehorn features into the OS isn't helping. Acer has rethought a lot of our preconceptions about Windows notebooks, and kudos to them for trying something new and different. I'm certain there are going to be a subset of users that actually really enjoy using the Acer R7, but for me running the current release of Windows 8, this design revolution comes up a bit short – much like Windows 8 itself.
If Windows 8 works so well with a touchscreen, then a touchpad wouldn't be necessary. Clearly Acer wasn't willing to omit the touchpad entirely, so they shifted the keyboard forward and moved the touchpad back, which ends up being a poor design decision in so many ways as both typing and using the touchpad become far less than ideal. So why did Acer do it this way with the R7 instead of going whole hog and eliminate the touchpad entirely? I think the answer is in the above commentary: Windows desktop applications just don't work all that well with touchscreens, at least not to the point where you can totally omit the touchpad. Well, that and the fingerprints; even if the touchscreen interface worked ideally with every application out there, I at least would be unhappy about the amount of smudging regularly found on my display.
Obviously, this is just one man's opinion on the subject, but if you scour the web you'll find many others with a similar take on Windows 8. There are people that like the new interface, though, so for those users something like the Acer R7 might fare better. But it's still a very big, very heavy hybrid, which again is going to limit the mass appeal.
Wrapping up with some positive thoughts, again I have to state that this is probably the best built Acer laptop I've ever encountered. Perhaps that's also part of the reason why it feels so heavy – the metal is definitely thicker than you'll find on a lot of budget laptops. The sound quality is good as well, with speakers that provide a nice listening experience. The best part about this laptop though: the display. It's not that the display is perfect by any means, but I'm happy to see a decent quality 1080p panel in a $1000 laptop from Acer. The panel is from AU Optronics and it uses their AHVA (Advanced Hyper-Viewing Angle) technology, which is basically their take on IPS. Colors are good, viewing angles are good, and while it's not going to displace the MacBook Pro Retina by any stretch of the imagination, it won't make you want to scratch your eyes out and you can run at its native 1080p resolution without squinting.
I'm going to stuff all of the benchmarks onto one page for this review; there's really nothing noteworthy about the performance of the R7, at least on the CPU and graphics side of things. Battery life and display quality are a bit more important, but given the timeliness of this review (or the lack thereof), most of what we wanted to say was covered on the previous pages. So, here are the benchmarks, using our updated 2013 mobility suite. I'll save a bit of short commentary for after the break.
First, here's a quick overview of the laptops we're including in our graphs. With the update to our 2013 mobile test suite, we're somewhat at the mercy of our results database. Most of our comparisons that are meaningful are going to be with Ultrabooks, and given that were dealing with basically Ultrabook hardware the Acer R7 posts similar performance. We tossed in the MSI GX60 Richland APU notebook as a comparison, not because the notebooks are similar but because the A10-5750 APU more or less competes with Ivy Bridge ULV processors. Note that we did not run every benchmark on every laptop, so some charts might be missing certain laptops.
Specifications of Benchmarked Laptops
Laptop
CPU
GPU
Storage
RAM
LCD
Battery
Acer R7-571-6858
Intel Core i5-3317U
HD 4000
500GB HDD + 24GB SSD
1x4GB + 1x2GB
15.6" 1080p Glossy AHVA Touchscreen
4-cell 54Wh
Acer S7-391-9886
Intel Core i7-3517U
HD 4000
2x128GB RAID 0 SSDs
2x2GB
13.3" 1080p Glossy IPS Touchscreen
4-cell 35Wh
Acer S7-392-9890 (Preview)
Intel Core i7-4500U
HD 4400
2x128GB RAID 0 SSDs
2x4GB
13.3" 1080p Glossy IPS Touchscreen
4-cell 46Wh
AMD Kabini
AMD A4-5000M
HD 8330
256GB SSD
1x4GB
14" 1080p Matte IPS
4-cell 45Wh
Apple MacBook Air 13 (2013)
Intel Core i5-4250U
HD 5000
128GB SSD
2x2GB
13.3" 1440x900 Glossy TN
4-cell 54Wh
Clevo W550EU (Mythlogic)
Intel Core i5-3340M
HD 4000
256GB SSD
2x4GB
15.6" 1080p Matte IPS
6-cell 62-Wh
HP Spectre XT TouchSmart
Intel core i7-3517U
HD 4000
500GB HDD + 32GB SSD
2x4GB
15.6" 1080p Glossy IPS Touchscreen
4-cell 48Wh
Lenovo ThinkPad X1 Carbon
Intel Core i5-3427U
HD 4000
180GB SSD
2x2GB
14" 1600x900 Glossy TN Touchscreen
4-cell 45Wh
MSI GE40
Intel Core i7-4702MQ
HD 4600 / GTX 760M
128GB SSD + 750GB HDD
1x8GB
14" 1600x900 Matte TN
6-cell 65Wh
MSI GX60
AMD A10-5750
HD 8650G
750GB HDD
1x8GB
15.6" 1080p Matte TN
9-cell 87Wh
Toshiba KIRAbook
Intel Core i7-3537U
HD 4000
256GB SSD
2x4GB
13.3" 2560x1440 Glossy IPS Touchscreen
4-cell 52Wh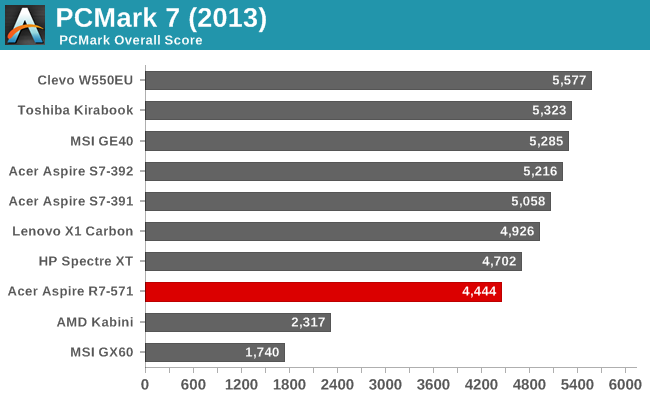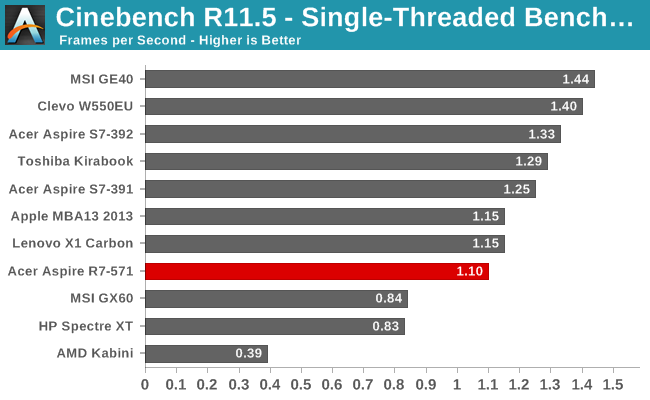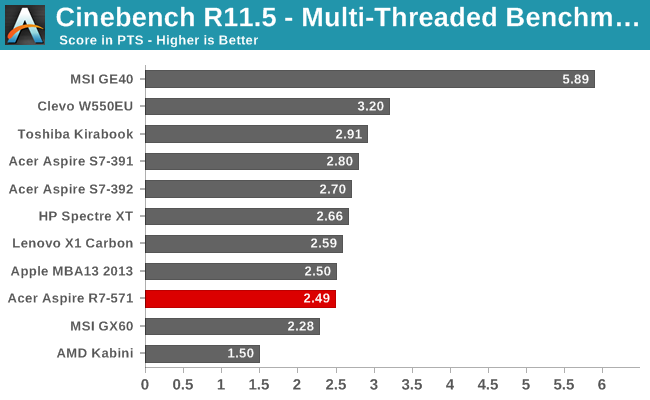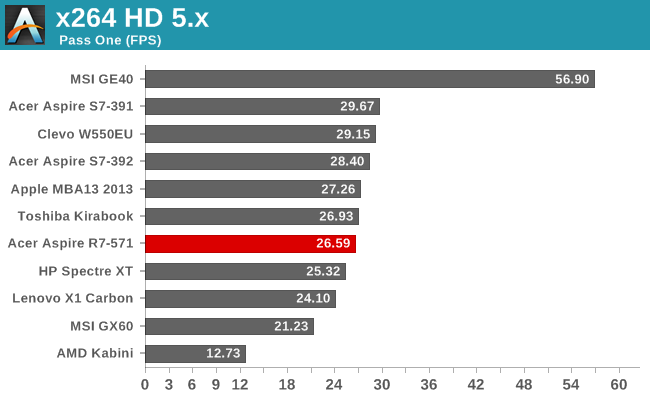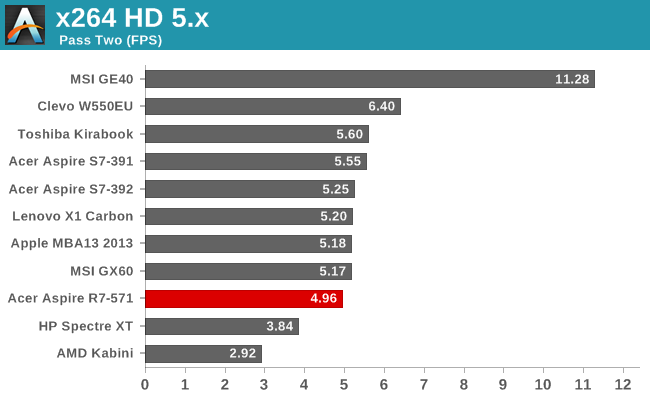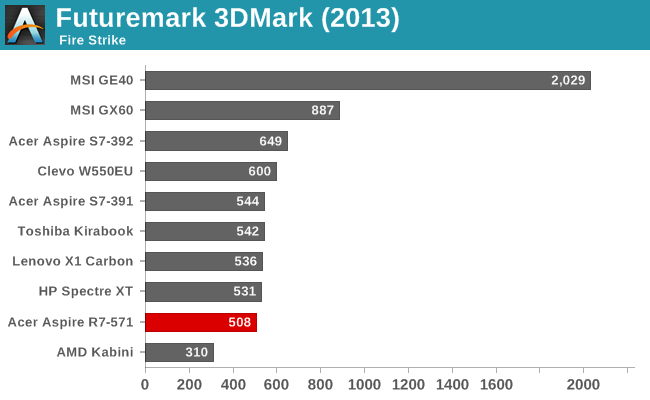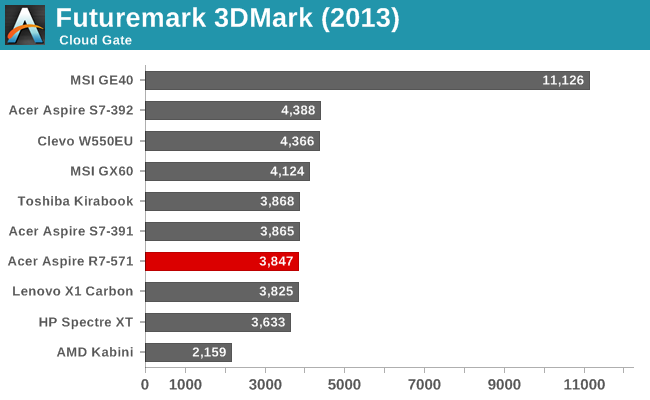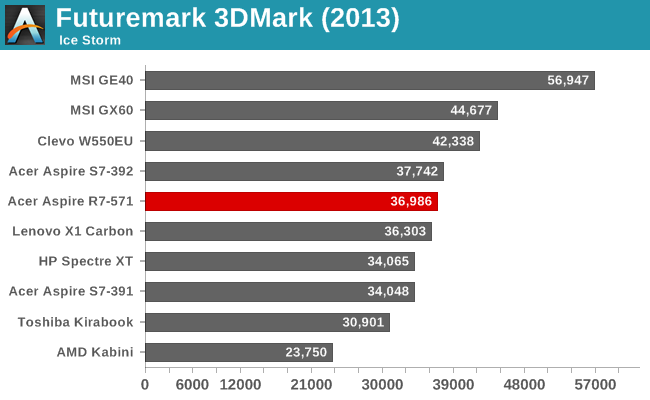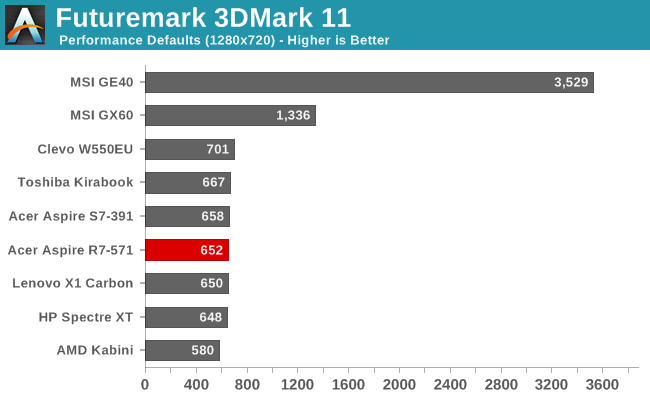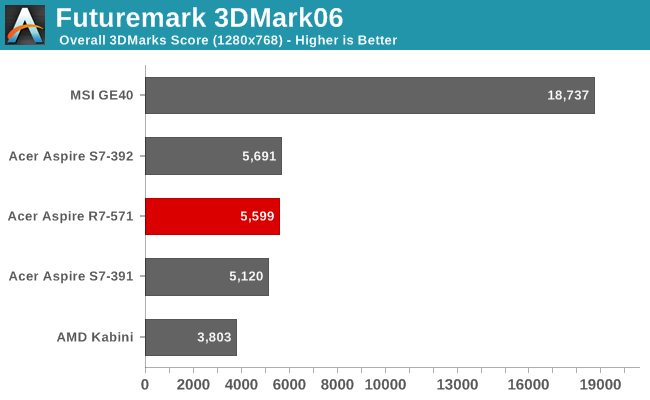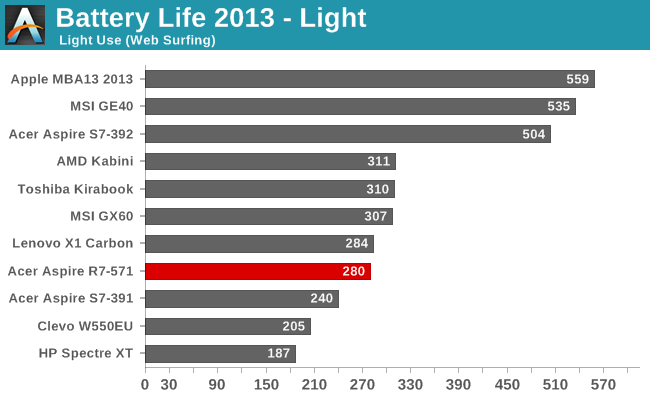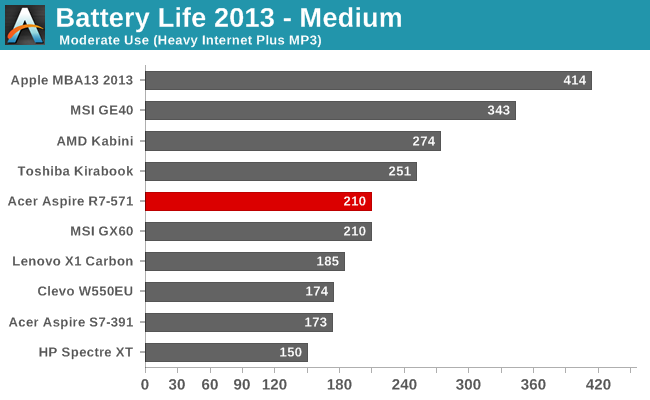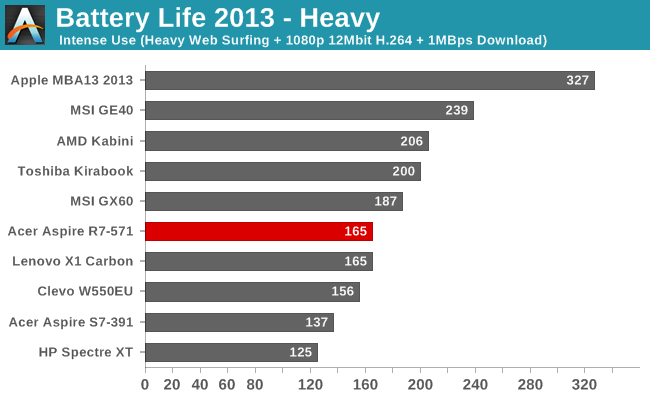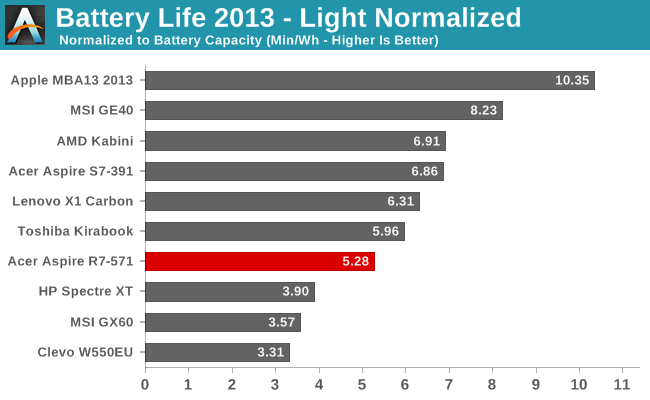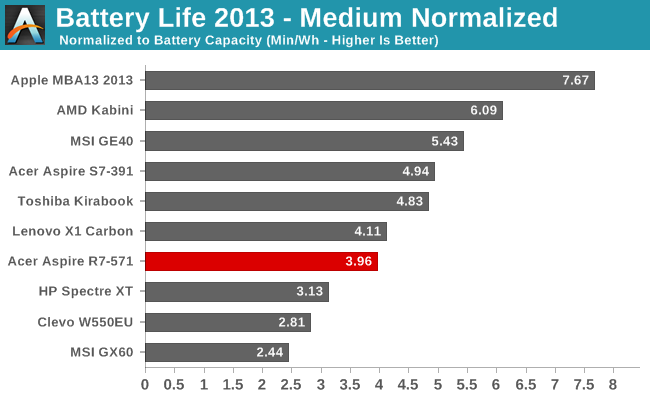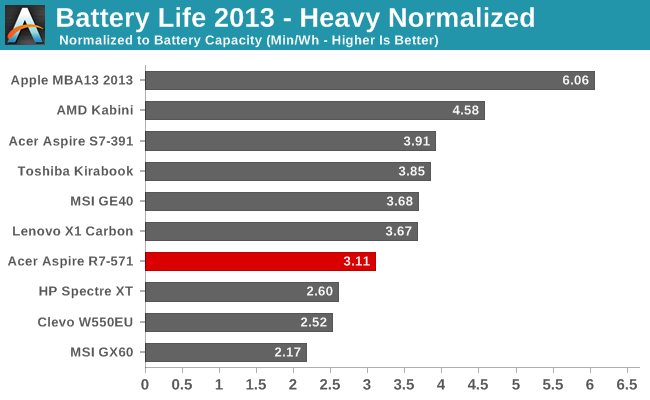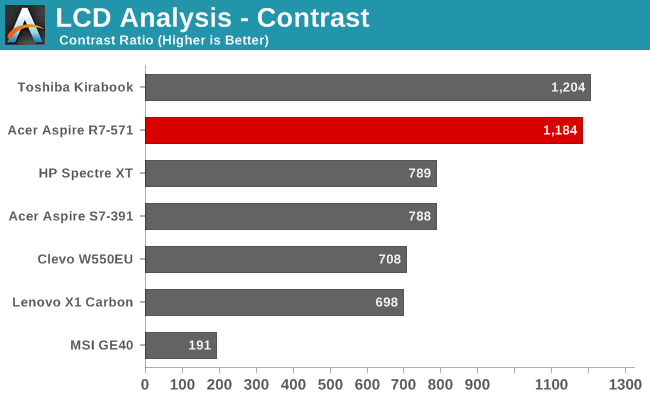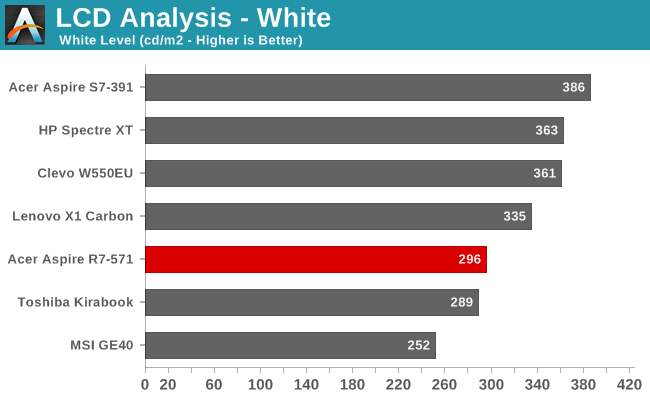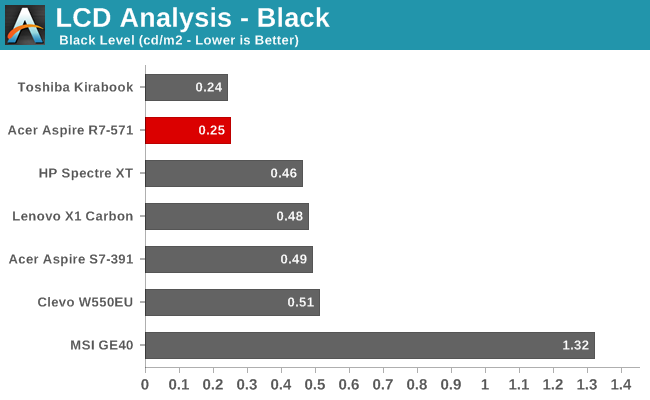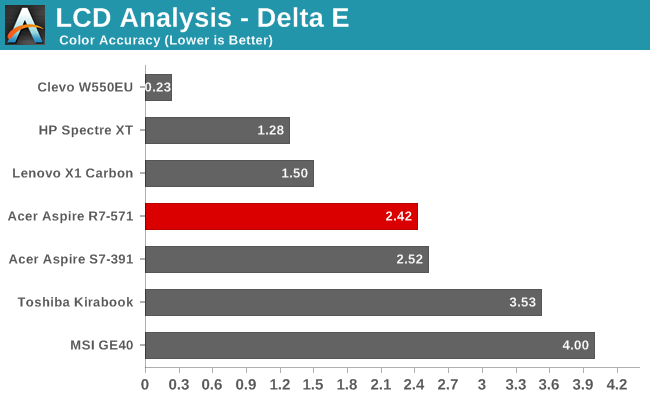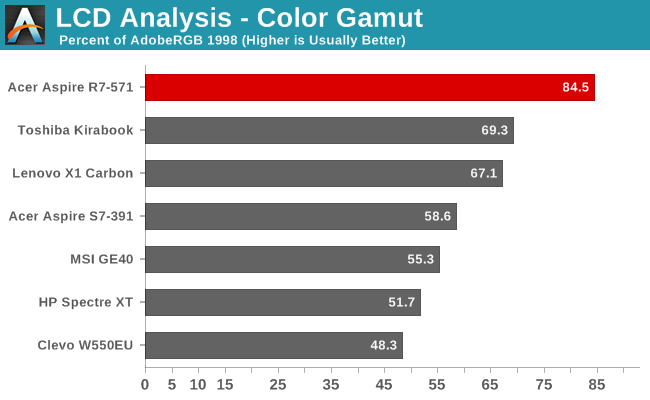 Whew! That's a lot of benchmarks, and there are even more results in Mobile Bench – like if you really want to know how the R7 handles our gaming suite, for example, it's there! If you don't want to look but want a short summary, only one game gets above 10FPS at the Enthusiast settings, and just barely; with Mainstream most of the games fall in the 10-20FPS range, so basically unplayable. Even our Value gaming settings are mostly too much for the HD 4000, though most of the Windows 8 games in the Store are far less demanding and will run just fine – no surprise given most of those are targeting Windows RT, which means GPUs that are often less than half as fast as the HD 4000.
Elsewhere, CPU performance is about where you'd expect it: lower than Core i7 ULV/ULT, and similar to other Core i5 ULV parts. The hybrid storage solution means that PCMark7 doesn't score quite as well as pure SSDs, but it's still a huge step up from what you'd get from a pure HDD setup (e.g. GX60). Since I just mentioned the GX60, it's also interesting to note that Core i5 ULV generally posts better CPU performance than AMD's Richland APUs – though the second pass of x264 HD at least put AMD slightly ahead. GPU performance is nothing to write home about; it's more than sufficient for running most Windows tasks, but anything graphically intensive is best off served by a dedicated GPU (or at the very least Intel's Iris HD Graphics Iris Pro).
Battery life isn't particularly stellar, but we've also seen worse – sometimes much worse. Realistically, four hours of light use is possible off a single charge, while heavier workloads will bring you closer to 2.5 hours. That puts the R7 slightly ahead of the Lenovo X1 Carbon in most tests, but only thanks to its higher battery capacity. In terms of normalized battery life, the R7 places fourth from last of the tested notebooks, and given that Clevo typically doesn't optimized very well for power use and the MSI GX60 is classified as a gaming notebook, only the win over the HP Spectre XT TouchSmart is really worth mentioning. When we start to look at Haswell-based notebooks, even though Ivy Bridge was pretty good it looks pretty poor in light of what's now available. Apple's MacBook Air 13 runs at different OS, but the MSI GE40 has a quad-core Haswell CPU and a slightly larger battery, with about 50% more battery life than the Acer R7.
Wrapping up the benchmarks, as I mentioned before, the one standout item in the R7 is the display. Contrast is excellent, and color quality is at least decent – the 85% color gamut is actually a bit overblown, however, as some of the colors are actually outside of the Adobe RGB 1998 color space while others fall far short (green in particular is lacking). Still, the great viewing angles offered by AHVA combined with good overall performance definitely deserve commendation.
We're definitely late to the party when it comes to reviewing the Aspire R7, but it's still an interesting design and we thought it was at least worth a look before we move on. And moving on we are: part of the reason why I wanted to look at the Aspire R7 is that we've also got the Aspire V7 in hand, and the review is nearly finished. The Aspire V7 is a far more traditional design, in that there's no Ezel hinge and the keyboard and touchpad are in the usual places. The general aesthetic and industrial design however is very similar to the Aspire R7. What's particularly impressive is that the V7 manages to pack more performance into a smaller chassis. But I'm getting ahead of myself; let's first wrap up the review of the R7.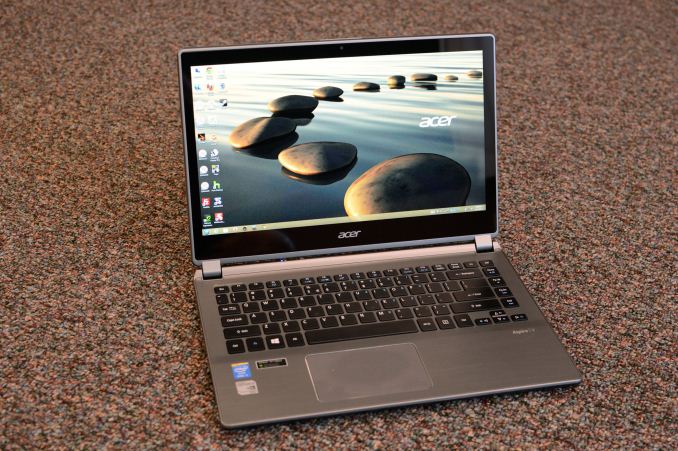 Acer's V7: Smaller and faster, and no Ezel hinge
I think over the last year we've definitely seen Acer begin to turn over a new leaf. Yes, we'll still see budget-oriented value offerings out of the company, and the Acer Chromebook continues to be one of the best-selling laptops around – mostly because of its incredibly low price. However, the industrial design and willingness to take some risks with both the S7 and R7 give us renewed hope for the future. A continued focus on high quality displays and improved build quality coupled with a more traditional design is pretty much all we want. (And as we'll see in the next few days, the Aspire V7 delivers exactly that.)
The other part of my conclusion is that I'm becoming increasingly convinced that Windows 8 is a serious misstep for Microsoft. I suppose we could say some of what they've done was almost required in order to try and compete in an increasingly crowded market, but when I look at the simplicity offered by Android and iOS and then look at the Jekyll and Hyde interface from Windows 8, I just don't see this ending well. I feel that Windows RT needs to be its own platform, and forget about backwards compatibility. Meanwhile, Windows 8 takes the Windows RT interface and forces that on many desktop and notebook users that don't want it, and while it's backwards compatible with existing Windows applications, most existing Windows applications don't play well with a touchscreen.
The good news is that with Windows 8 on desktops and notebooks, all I have to do is disable the Start Screen and ignore touchscreen interfaces and I get a similar experience overall to Windows 7, typically with faster boot times. And even if you do open or use a Metro app on occasion, it's not too difficult to do so with a mouse or touchpad (though it might be less than optimal). Going the other way isn't so easy, though, as desktop apps often don't work well at all without a mouse or touchpad. This is the problem that the Acer R7 faces, and unless/until Microsoft can fix things, at least personally I find the touchscreen to be mostly a gimmick that I don't need – just like most of the Windows 8 apps. At least with the R7, the gigantic hybrid tablet functionality provides a use case for Windows 8 apps on a notebook, and you can continue to use the keyboard and touchpad for desktop apps.
If you've always wanted a 15.6-inch convertible tablet thingy, the Acer Aspire R7 might be exactly what you need. I can't immediately think of any other competing systems, though perhaps I just haven't looked hard enough. It's a combination laptop/tablet/all-in-one, depending on how you want to use it, and if you're willing to give it a bit of a chance it can function in any of those ways reasonably well. There are definitely better tablets, better laptops, and better all-in-ones, but the R7 is pretty much unique in the marketplace right now. I'd still say it's not for me, even though I've enjoyed poking around at it off and on over the past month and a half, but the only real failures are the companies that refuse to innovate. I'll definitely keep an eye on Acer to see what other interesting ideas they have to offer in the coming years.