Original Link: http://www.anandtech.com/show/7201/nixeus-vue-30-30-2560x1600-ips-monitor-review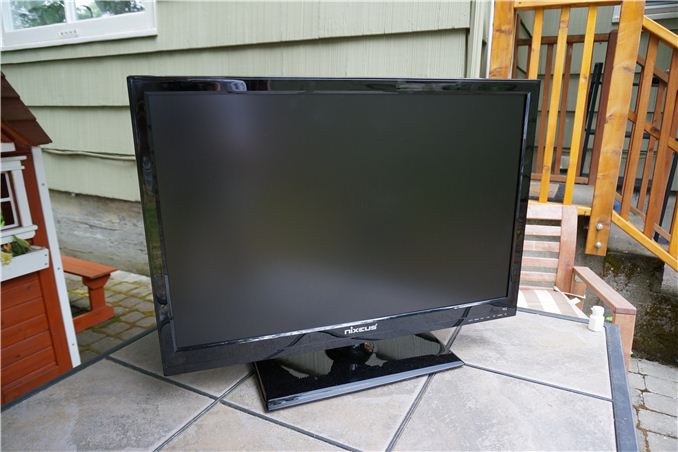 Over the past 18 months, we've all been happy to watch as the price of 27" 1440p monitors has steadily fallen. With cheaper import panels becoming available, the cost of moving up to a high resolution panel has fallen considerably. I reviewed the Nixeus VUE 27 last year as it was the cheapest way at the time to get a 1440p panel while still getting a US warranty. Now Nixeus is back with a 30" monitor, the Nixeus VUE 30. With the 16:10 aspect ratio that commenters continually ask for and an IPS panel, will this mark the shift of a downward trend for 30" monitor prices as well?
The design of the VUE 30 is similar to the VUE 27 that I previously reviewed. The controls for the display remain in the lower-right and it has the same OSD interface of its predecessor. Since the OSD was one of my faults with the VUE 27 I was hoping to see this improve but it did not. A welcome change, which I also saw on the ASUS PQ321Q, is locating the inputs on the left side of the display and not the bottom. This makes them far more accessible for quickly hooking up a device like a laptop. As the VUE 30 is so large due to the screen size, it has plenty of space to connect cables without them sticking out the sides of the display.
The connections options consist of DisplayPort, DSub, DVI, and HDMI, along with an audio output for headphones. The HDMI port is listed as 1.4a but it does not support 2560x1600 resolutions; if you want the full 2560x1600 resolution you will need to use a DVI-DL or DisplayPort connection. The back of the display is very solid and metal, but the front is a glossy plastic bezel that I would prefer be matte.
As with the VUE 27 the stand for the monitor screws together with some small screws and not with captive screws or a tool-free mechanism. Compared to the VUE 27 the packaging has greatly improved. Parts are well laid out in the package, and there are no cheap boxes or labels that look like it was transferred straight from a foreign assembly line. The initial feeling of opening the VUE 27 was one of my complaints, as it felt cheap and rushed. Nixeus has learned from that and the packing and presentation of the VUE 30 is much improved.
The stand is also improved from the VUE 27 model. It allows for an easier swivel but lacks any height adjustment and is not as solid as a Dell or ASUS stand would be. The VESA mounting holes are a less common 200mm x 100mm pattern, so aftermarket stands might require an additional adapter to be used. The external power brick and its custom connector have been replaced with a standard IEC port, reducing desk clutter.
One key difference with the VUE 30 from other affordable displays is the use of a wide gamut CCFL backlight. This allows for a gamut that goes well beyond the AdobeRGB gamut, as the testing will show later, and is not common to find except in displays aimed at graphics professionals. The displays that target graphics professionals also tend to have sRGB modes to reign in that gamut but the Nixeus does not. We will see in our testing the behavior that this causes.
Nixeus VUE30
Video Inputs
DisplayPort 1.2, DVI-D DL, HDMI 1.4a, Dsub
Panel Type
IPS
Pixel Pitch
0.25mm
Colors
1.07 Billion
Brightness
350 cd/m2
Contrast Ratio
1000:1
Response Time
7ms GTG
Viewable Size
30"
Resolution
2560x1600
Viewing Angle (H/V)
178/178
Backlight
CCFL
Power Consumption (operation)
130W minimum
Power Consumption (standby)
None Specified
Screen Treatment
Anti-Glare
Height-Adjustable
No
Tilt
No
Pivot
No
Swivel
Yes
VESA Wall Mounting
Yes, 100mm x 200mm
Dimensions w/ Base (WxHxD)
27.5" x 22" x 3"
Weight
22 lbs.
Additional Features
3.5mm Output, stereo speakers
Limited Warranty
1 Year
Accessories
DVI-DL Cable, Power Cable
Price
$730
With an IPS panel, the viewing angles on the VUE 30 are what you expect. Unless you try to sit perpendicular to the display you should be just fine. There is a bit of contrast wash-out at the extreme angles, but nothing you will see in daily use.
It seems that the larger the panel on a display I review, the brighter the display can get. I always expect the opposite, as lighting more screen would take more and more power. So far, that has not been the case. The VUE 30 is plenty bright, but not as blindingly bright as many other large displays. When I crank the brightness to maximum I measure 277 cd/m2 of brightness on a pure white screen. Moving the brightness to minimum drops this down to 77 cd/m2, which is below the 80 cd/m2 I like the minimum to fall under. This should provide plenty of range for most users.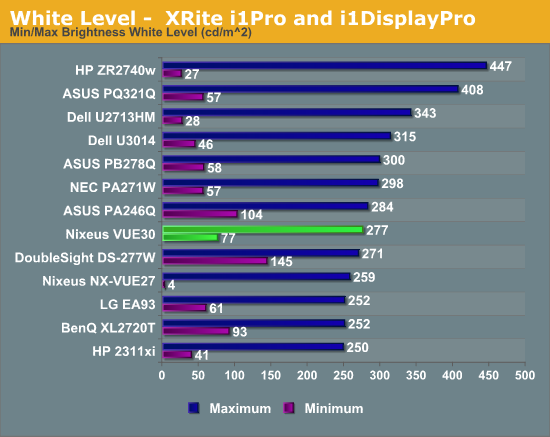 With a black screen, we see a black level of 0.126 cd/m2 with the backlight at the minimum level. With the backlight to maximum this jumps up to 0.45 cd/m2. This level is very much in line with other computer monitors. I won't fault Nixeus for this, but I'm always surprised at the level of black that is accepted with PC monitors that isn't acceptable with TVs. Modern plasma displays can produce black levels of 0.006 cd/m2 under the same test conditions, and modern LCDs can hit 0.05 cd/m2 as well. I understand why plasma isn't used for a PC display, but I'd like to see all vendors work on their black levels going forward. Basically, this panel seems similar to the 30" IPS displays we tested over five years ago; it's just half the price now.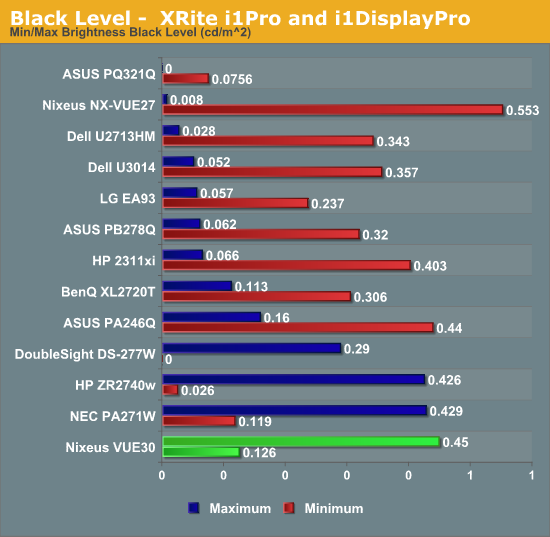 These numbers provide us with a contrast ratio of just 610:1 on average. This falls well behind the Dell U3014 and ASUS PQ321Q displays, which are the most recently reviewed 30"+ displays I have data for. Those both cost a lot more, but being close to 600:1 is a disappointment to me.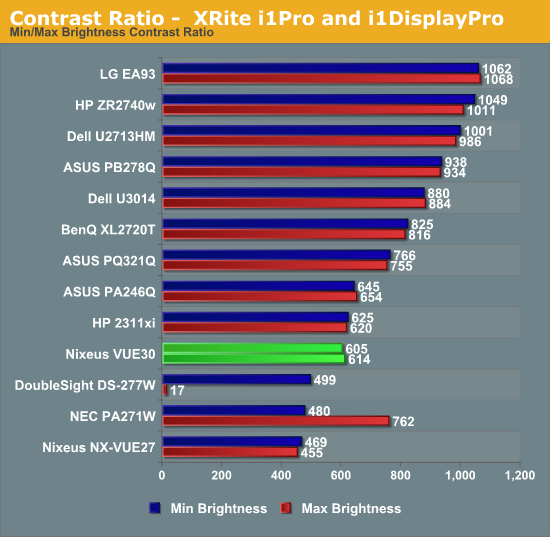 With those basic measures out of the way, it was time to see how accurate the VUE 30 is.
For our pre-calibration measurements we target 200 cd/m2 of light output, the sRGB gamut, and a gamma of 2.2. On the VUE 30 there are color temperature settings you can use for the grayscale and the warm setting was found to produce the most accurate image.
I'm also going to approach this review differently than before. The charts for all these measurements will be available in individual galleries. There is a table at the top of the page that summarizes the pre and post calibration measurements to easily see how well the monitor does before and after calibration. This should make it easier to read, and allow me to better focus commentary about the monitor performance on the areas that need it.
Pre-Calibration
Post-Calibration,
200 cd/m2
Post-Calibration,
80 cd/m2
White Level
201.78
195.562
77.6183
Black Level
0.3214
0.3197
0.1388
Contrast Ratio
628:1
612:1
559:1
Gamma (Average)
2.2552
2.2406
2.5132
Color Temperature
6657K
6593K
6452K
Grayscale dE2000
4.0657
0.7705
1.3304
Color Checker dE2000
5.7431
4.0627
4.3305
Saturations dE2000
4.6853
3.7814
4.1323
The major improvement that we see is for the grayscale and gamma. On our 200 cd/m2 target calibration, those both come out nearly perfect. There is a small gamma spike at 95% but nothing really bad at all. The overall dE2000 is so low as to be unseen. When targeting 80 cd/m2 and the sRGB gamma curve, the Nixeus doesn't perform quite as well. The gamma has a little more variation and the dE2000 is somewhat higher, though still very low. The loss of contrast ratio is the larger issue here.
Both grayscale results highly improve upon the original, which is slightly warm and has a very large error level as you approach peak white. The problem with the Nixeus VUE 30 lies with color reproduction. The errors for both the 96-point color checker and the saturations measurements improve, but not by a huge degree. Most of that improvement can be tied back to the grayscale improving since those numbers are a large part of these later tests. The default 6-point gamut chart is dropped here as the saturations chart covers that, and that dE2000 average is too heavily impacted by the grayscale data.
What we see is a wildly oversaturated gamut where green, cyan, red, yellow and magenta all fall far outside of the sRGB gamut boundary. With Green even the 60% saturation value is outside the sRGB gamut, which leads to very over-saturated colors. Even post-calibration we see that green dE2000 errors are past 5 from 40% on, and approaching a dE2000 of 10 by 100%. Aside from a few select colors in the Color Checker pattern, and the grayscale, almost all the colors have a large visible error.
The Nixeus lacks an internal LUT to fix this, and only so much can be done through the video card. A large gamut is nice, but just like with an OLED smartphone, we don't want that gamut to be wildly oversaturated and push the color way outside of their boundaries. For any sort of color-critical work, or even just browsing photographs, the wild gamut of the VUE 30 will likely be a bad choice for those people after accurate colors. If you like a big, punchy image, you'll probably like it.
Since we can't control this gamut, perhaps using AdobeRGB as a target will lead to a better result? I decided to give it a try and see if that improves things at all, or if it was still an issue.
AdobeRGB has a much larger gamut than sRGB. Even if we can't control the gamut on the Nixeus VUE 30, moving to a larger gamut target should result in smaller errors overall. If this improves things this might work well for those doing color work, as they may want the larger gamut anyway. For normal use like gaming or web browsing, very few applications use AdobeRGB so it won't be improved.
| | | |
| --- | --- | --- |
| | Post-Calibration, 200 cd/m2 | Post-Calibration, 80 cd/m2 |
| White Level (cd/m2) | 199.7718 | 81.959 |
| Black Level (cd/m2) | 0.3455 | 0.1473 |
| Contrast Ratio | 578:1 | 566:1 |
| Gamma (Average) | 2.1975 | 2.351 |
| Color Temperature | (missing) | 6521K |
| Grayscale dE2000 | 0.8217 | 0.8328 |
| Color Checker dE2000 | 1.3821 | 1.5443 |
| Saturations dE2000 | 1.5282 | 1.6211 |
Besides the gamut, I left every target the same as with our sRGB calibration. As we can see, we get far, far better results for the color than we did before. The performance for the 80 cd/m2 target has also improved a lot with the grayscale. That shouldn't have been affected, but it could be a better calibration run, as sometimes the software does better than other times. The visible difference with an average dE2000 of 1.33 vs. 0.83 for the grayscale is pretty minimal and hardly noticeable in real life.
The big change is the colors. While Red still falls outside of the AdobeRGB gamut, Green, Cyan and Yellow all line up nearly perfectly now. Magenta is still affected by the Red, but even those two colors are much closer to accurate than before. A quick look at the saturations table shows that the dE2000 stays below 3, or the visible error level, for every color except for highly saturated Red and Magenta. The 96-point Color Checker chart shows the same results, with those highly saturated red shades providing the only errors that really fall into the unacceptable realm.
One key chart to look at that I'll pull out here separate from the gallery is the Delta Color Error on the Color Checker chart. As you can see, the Red shades are highly affected by an over-abundance of color here. If I were to pull out the other charts that break down the individual color errors, Delta Luminance and Delta Hue, you would see that those errors are virtually non-existent. The issue is that red has too much saturation, but the light level and the tint on it is correct.

Moving to the AdobeRGB target really improved the performance of the Nixeus VUE 30, but that isn't without a caveat or two. Most people don't use AdobeRGB color, and most applications don't support the larger gamut. For those applications you are still going to see overly saturated colors on a regular basis and this won't correct them. However, for people that can use AdobeRGB, color accuracy might be more important to them than it would be for someone that doesn't use it.
If you are only gaming or doing general office productivity on this display, you might not care about the over-saturated gamut. If you are going to be doing photo work you certainly would, and hence this AdobeRGB target might solve your issues. If you want to have accurate colors on the Nixeus, this is the only way you can really get there, and you'll likely know if this will work for you.
Large panels seem to do better with our advanced uniformity testing, and the Nixeus does quite well overall here. There is an issue with some lack of light at the very top of the display, but overall most of the display is very even and uniform when compared to the center. White Uniformity is very good overall. That top row causes some issues, but the rest of the screen is very good. There isn't anything bad to say about it aside from the very top and I didn't notice that in daily work.


Black Uniformity is very similar. It has a drop in black level at the top, just like white does, but the rest of the screen is pretty accurate when compared to the center calibration target.

Since both White and Black have issues in the same screen areas, we wind up with a very uniform screen for our contrast ratio. It does dip down a little bit at a couple edges and corners, but most of the screen is +/- 5% when compared to center.


Our dE2000 errors compared to center are very good except for that top row. The lighting issue there causes a high level of error when compared to the rest of the screen, though the errors barely creep up into the visible level at the worst areas. The center of the screen is very good and would work really well for photo editing and other tasks. This makes the lack of a good sRGB mode even worse, as the good uniformity of the display would make it a nice choice for doing color critical work, but the poor gamut results make that a less likely use for it (though of course professional apps are the most likely to support the AdobeRGB color space).

For everyone else, the display itself is very uniform except for a slightly darker area at the top. The bottom-right corner measured slightly hot, but the light bleed there was only noticeable on a pure-black screen if I was really looking for it. Otherwise the amount of light leakage is so low as to not cause a problem.
Tested using the Leo Bodnar lag tester, I measured 29.23ms of lag with a 1080p signal on the VUE 30. TO use the Leo Bodnar I average the three areas of the screen; top, middle, and bottom, that it can provide data for. With the VUE 30 the Top and Middle were both really low, at 21.6ms and 27.5ms, but it jumped up to 38.6ms at the bottom. I usually see variations of around 7-8ms between the areas, or roughly half the 16.7ms it takes to move between frames, but not a spread of 6ms and then 11ms.
Despite that weird measurement, I didn't see any tearing or anything else that might be an issue when using the Nixeus for gaming. I'll just chalk it up to some slightly strange behavior with the scaler and its timing, but not something that I could actually see a problem with. Note also that lag might be lower running at the native 2560x1600, but I can't directly compare that with most other displays as they lack support for that resolution.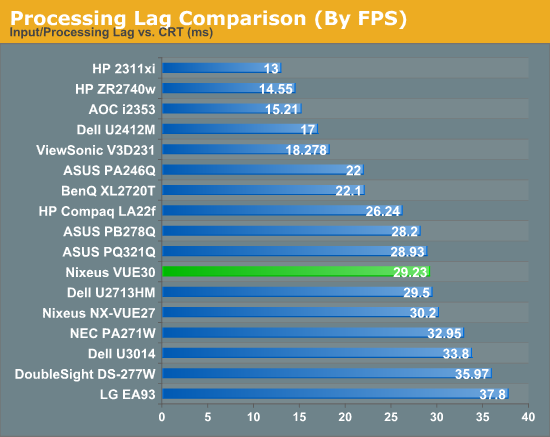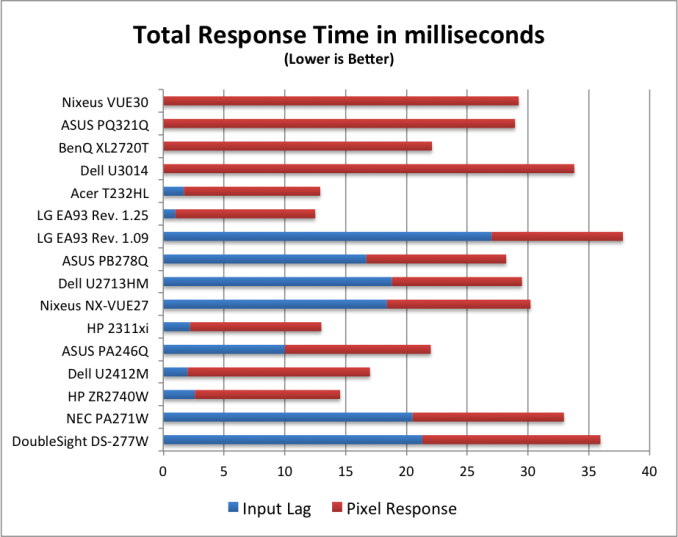 Power use is not a good area for the Nixeus. It is rated for < 130 watts of power consumption on the specs, but my unit managed to use over 150 watts at peak brightness. Since the peak brightness was also almost 75 cd/m2 below the specs, that is a large difference there in the power measurements. A white screen also uses less energy than a black screen with an LCD typically, so I'm not sure what would provide a power measurement that low while running at maximum brightness. Most likely Nixeus is rating power use by how much the display requires and not accounting for the efficiency of the power brick; 85% efficiency at 130W would give us 153W, which is close to what I'm seeing, but it's still quite a bit higher than a modern LED backlit display.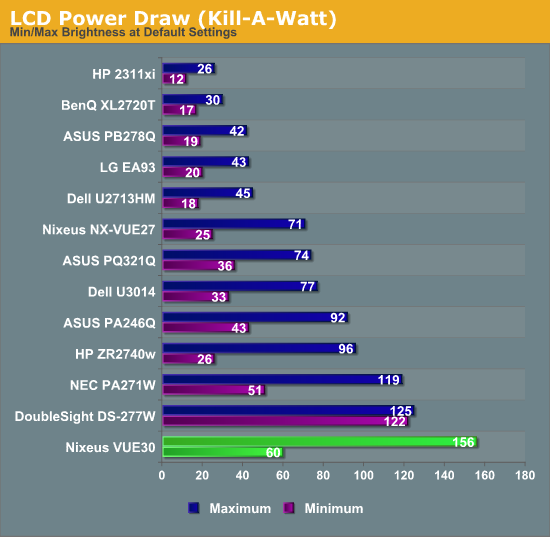 Going down to minimum brightness drops the power use to 60 watts, which is much more reasonable. Using my formula to get candelas per square inch per watt, the Nixeus came in dead last among the displays I have tested. All of the 30" displays do poorly here, as their more complex backlighting systems use a lot more power, but the Nixeus is the worst offender.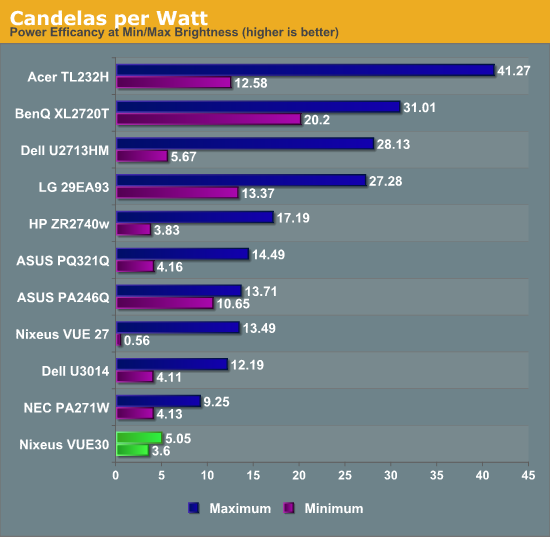 Running the Nixeus profile through Gamutvision, we see 103% coverage of the AdobeRGB gamut. This falls short of some other displays, but still is full coverage and as we saw it works pretty well when in AdobeRGB mode.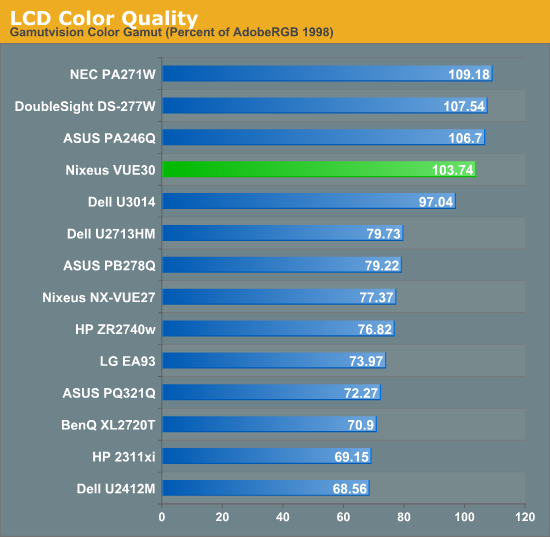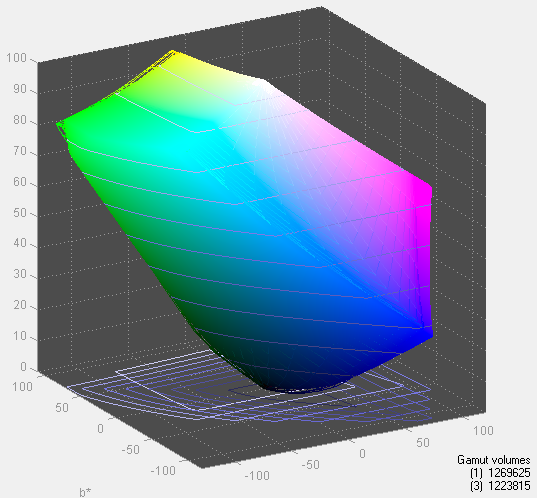 With the Nixeus VUE 30, I was looking for something that can drive down the prices of 30" LCD monitors while providing a display that is high quality for a general user. After using it and testing it, I feel like it has split the middle on this and made a choice that I don't really agree with.
Having a 30" display is very nice. Even the slight increase over a 27" 1440p display is noticeable, and I just can't get enough desktop space for getting work done. The prior 30" to come by here, the Dell U3014, was very nice but also aimed to a more discriminating user group that is willing to pay the extra money for its features. The Nixeus aims for a more general user, and the price reflects that.
What doesn't reflect that is the use of a wide-gamut CCFL backlight. Most people don't use AdobeRGB aware programs or content and don't have a need for this. If the Nixeus VUE 30 had an sRGB mode that reduced the gamut I wouldn't care, but it lacks that. Because of that it is using a feature that is aimed at a higher-end market but in a product targeting a more general user group. If there isn't going to be that sRGB mode, I'd rather see a standard gamut CCFL or LED backlight that lets more people see their images and games without over-saturated colors.
That makes the target of the Nixeus, and a recommendation for it, less clear. If you are someone that uses the AdobeRGB gamut and wants a 30" display, then I think the Nixeus is probably a great choice. The overall bench tests are very good, and in AdobeRGB mode the gamut is also pretty accurate. Finding a comparable AdobeRGB 30" monitor is also quite expensive. Searching at Newegg finds nothing below $1,000 and the Nixeus is currently $730 at Amazon as I write this. That 30% savings is quite large and makes the Nixeus a very good buy there.
If you don't use AdobeRGB then it's trickier. If you want a really accurate image and use the sRGB gamut, you have to look elsewhere. If you're planning to use the Nixeus for general office work and productivity, and some gaming, then you will probably be OK with it. The grayscale can come out very accurate in the end, and that matters more for general work than an accurate color gamut does. If you just don't care about image quality and care about having more screen area, then the Nixeus will be fine as well.
At $730 the Nixeus is much cheaper than prior 30" panels but still carries a significant premium over a 27" display. The VUE 27 is $475 at Amazon, so those extra 160 vertical pixels, 3" diagonal, and the larger gamut are costing you over 50% more than a 27" display. Is that extra price worth it? That's more for you to decide. I really hope the VUE 30 is the start of a downward trend in 30" displays that will mirror the one we have seen with 27" displays. I also hope we will see some that either have standard gamut backlights or an sRGB mode, to fix the one major complaint I have with the VUE 30.